Are you looking for fun things to do in Fort Collins?
As a Travel Writer, I was invited to explore Fort Collins this past fall and I can tell you that while it may have been my first trip, it won't be my last. The town boasts the title of being the inspiration for Disneyland's Main Street USA and it is as picturesque as it is welcoming. Located 5,003 feet above sea level, Fort Collins is where small town meets mountain adventure living and is the perfect base camp for exploring Rocky Mountain National Park.
Fort Collins also holds the esteemed title of being designated as a "Platinum Level Bicycle Friendly Community" by the League of American Bicyclists. As one of only 5 cities that hold this destination in the United States, you can spend your days biking the 285 miles of trails around town or hit the gravel paths and do some exploring.
Once back in the heart of the city, downtown Fort Collins is waiting for you. This artist-infused town is a bustling hive where art, music, culture, and food come together for a diverse and historic experience. With side-by-side locally owned stores rooted in the foundations of Colorado, you will quickly discover handmade items, sweet and savoury cuisine, and streetside patios that invite you to come in the afternoon and stay way past sunset. With a passion for vintage finds (my personal eco-friendly favourite) and a community that is truly welcoming to all, this small town has so many things to do and places to explore that two days simply wasn't long enough.
To help you find fun things to do in Fort Collins I've put together this list of 48 things to do in Fort Collins, broken down into:
Fun Things for Adults
Fun Things for Kids
Fun Things to do in Fort Collins at Night
Fun Things in both the Summer and Winter (as well as year-round)
Free Things (because we all love free!)
Final tip: Give yourself lots of time to explore this area. You won't regret it!
Fun Things To Do In Fort Collins For Adults
1. Chill Out in Old Town Square
Old Town Square is the heart of Fort Collins and definitely the first place to check out when visiting. Here you'll find 1920s-inspired architecture mixed with an infusion of modern art, beautiful hanging baskets, and stunning window displays in the shops. While the setting is quintessentially small-town focused, it's the Colorado vibe of the crafters, artisans, shop owners, and chefs that bring the square to life. With a focus on lifestyle, and healthy living, mixed in with a heavy dose of #yolo, this city and the people create a culture that is uniquely Colorado. So plan on staying longer than you expect if you're anything like me you'll fall in love with Old Town and want to keep exploring.
2. Fort Collins Foodie Walk – 3rd Friday Of the Month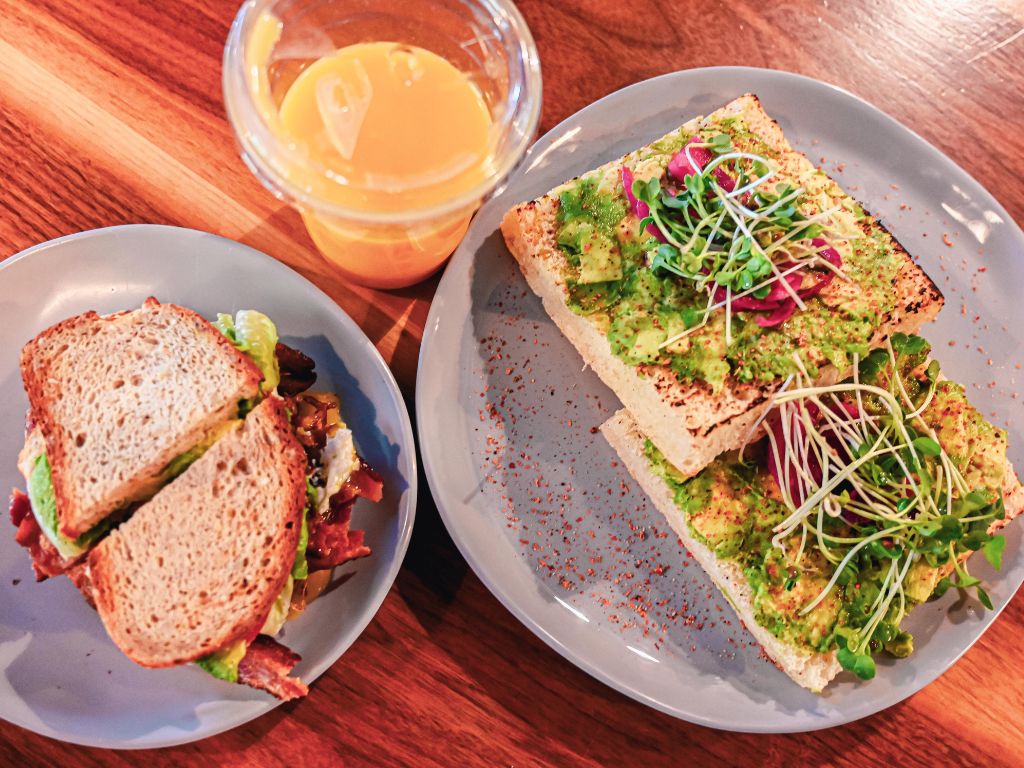 The food scene in Colorado is an art and science all to itself and if you are a foodie, plan to be there on the third Friday of the month for the Fort Collins Foodie Walk. A dozen of the culinary shops in Old Town open their doors from 5 – 8 p.m., inviting you to take part in interactive showcases, and tasting experiences as well as show off new things with seasonal flavours.
To plan your visit check out this website for participating businesses and a map as this is a self-guided tour.
Not going to be in Fort Collins on the 3rd Friday of the month but still want to have a guided food tour?
Book your Guided 3-Hour Fort Collins Old Town Food Tour here!
3. Visit the World's Only Otterbox Store
Did you know that Fort Collins is also a tech hub? With many innovations and big businesses having their headquarters based in Fort Collins, one of them that is fun to visit is the Otterbox store. Did you know that this is the only place in the world where Otterbox has a physical store? Check out their hip store, upgrade your phone gear, and even pose for a photo with their Jeep like I did!
4. Flip Through Vinyl At One Of The Many Fort Collins Music Shops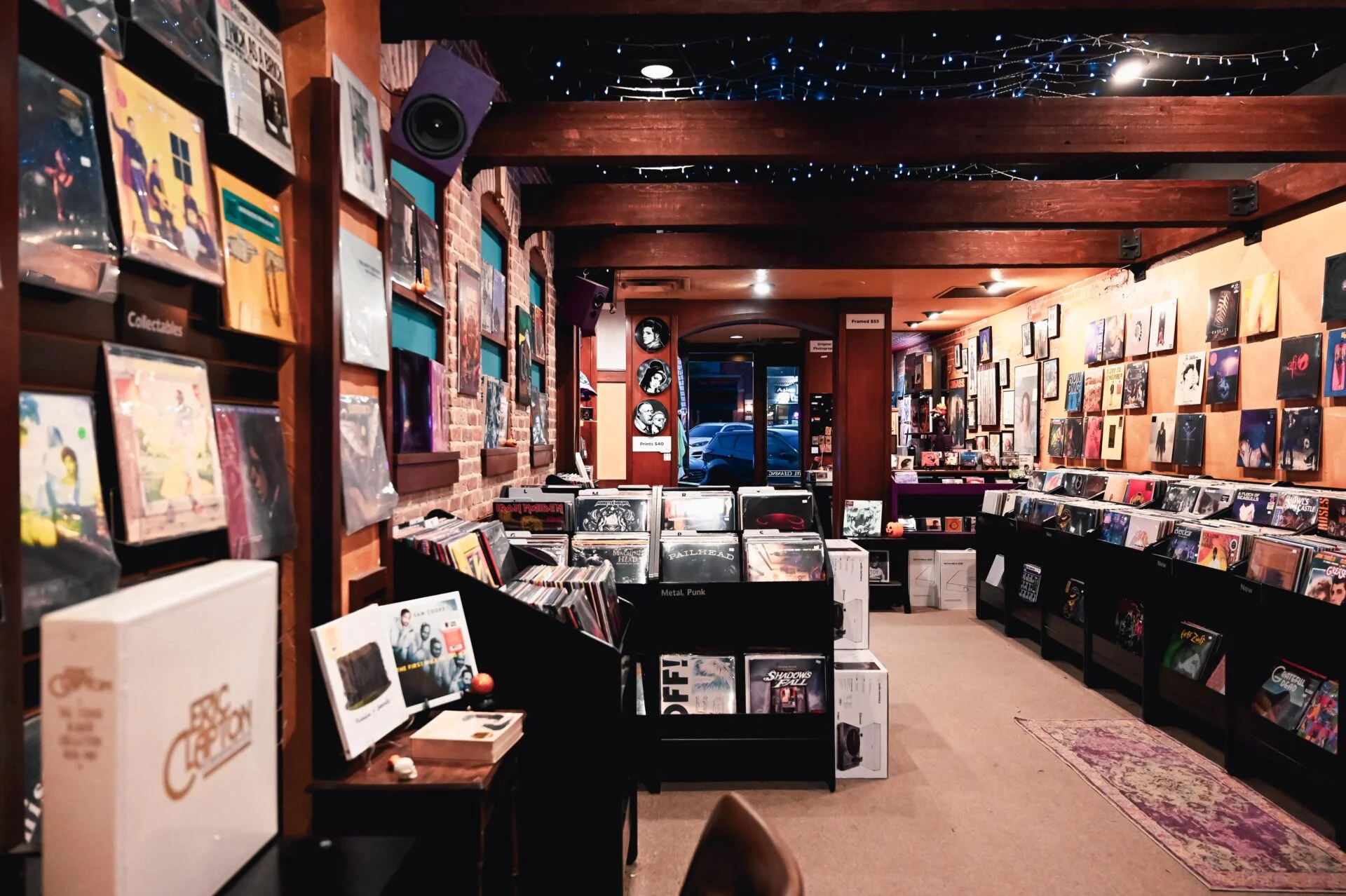 From a happening festival scene to a city collection of outdoor pianos, Fort Collins is passionate about music. The city boasts four shops in downtown Fort Collins that sell new and used vinyl records including Diver 8 Records, Bizarre Bazaar, Little Horse Vintage and All Sales Vinyl. My favourite part was visiting the shops and flipping through the old vinyl records, having songs jump into my head as I recalled the days of my youth.
If you're looking for an instrument check out Music Go Round or Boomer Music Company which both offer new and used instruments for you to try out.
Traveler Tip: If you're into music head down to the Fort Collins Museum of Discovery where you can "play" instruments and learn more about the science of music in this hands-on museum. I may have spent 30 minutes alone playing the drums and pretending like I was 15 again.
5. Global Village Museum
The Global Village Museum of Arts and Cultures is located in the heart of Fort Collins on Mountain Avenue. Their goal is to become an internationally renowned centre for "the celebration and preservation of world arts and cultures." Inside you'll find a curated collection of fine arts, folk art, and artifacts from around the globe, that foster and celebrate the connections between Northern Colorado and the world. Artifacts for the collection are sourced from local residents, of which many have been faculty and staff at the Fort Collins Colorado State University to provide international resources as well as educational opportunities.
To see their current exhibits as well as opening hours and ticket prices visit their website.
6. Find The Perfect Festival
Fort Collins is a Festival Town and has a festival for everyone, elevating the vibrant and unique culture that is only found in Fort Collins. From the music festivals at FoCoMX to the Taste of Fort Collins, Earth Day Celebrations, Fort Collins Art Week, Taste of Fort Collins, Fourth of July Parade and Fireworks, The FoCo Fondo, Summertime Concert Series, Tour De Fat, Tour De Corgi, Holiday Lighting Ceremony, this town knows how to celebrate.
While all of the festivals look incredible I think the Tour De Corgi (where hundreds of Corgi's dress up and parade through town) may win the prize for the most adorable festival.
Fun Things To Do In Fort Collins For Kids
7. Get Soaked In The Splash Pad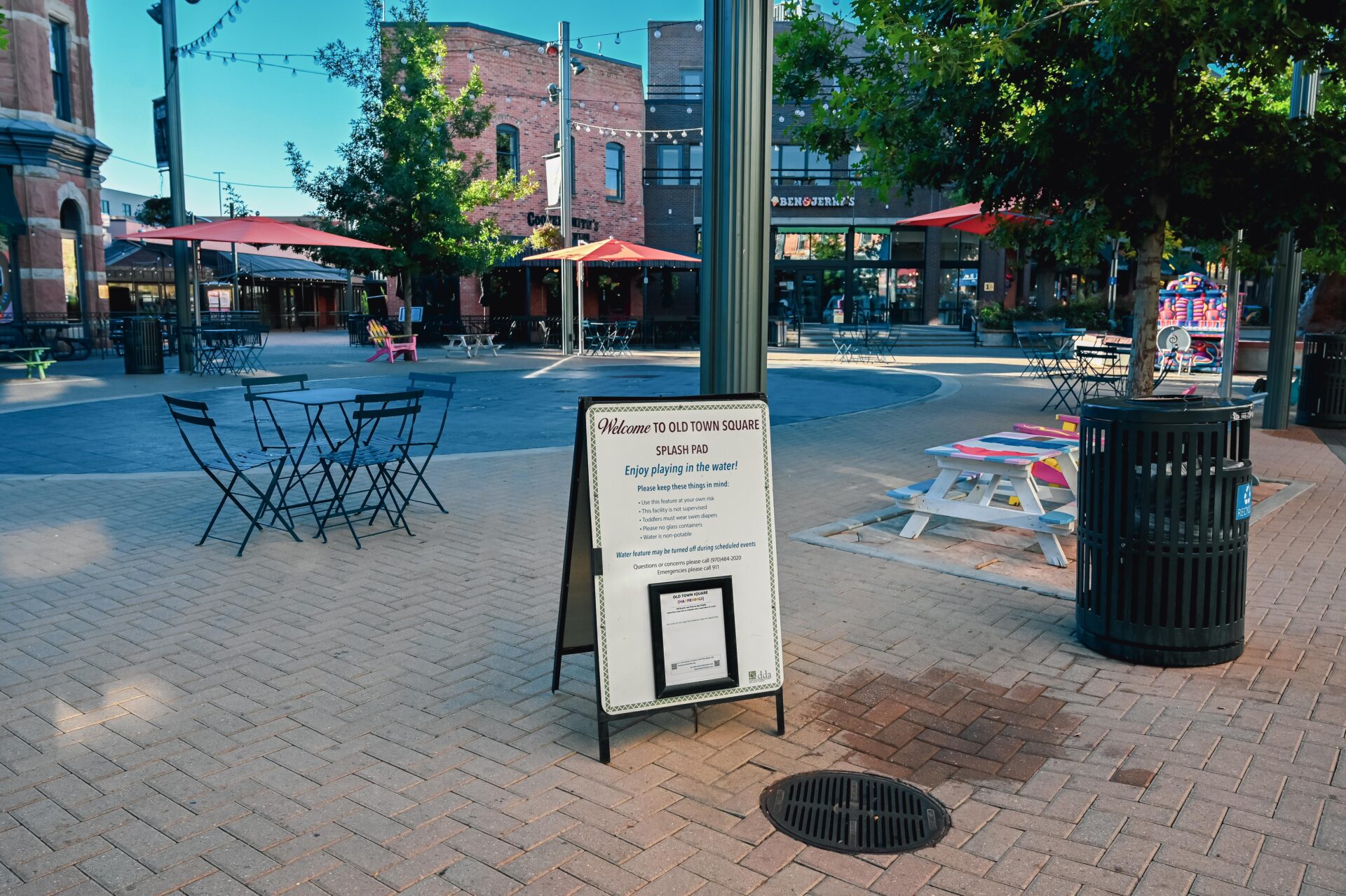 Whether you're looking to cool off or just embrace your inner child and play, the splash pad is the perfect place to stop and hang out. Surrounded by local shops (may I recommend Explorado Market which is a gluten-free bakery and cafe and has so many wonderful treats, or the Bandwagon sports shop which has every single sporting jersey you could possibly want), this outdoor gathering area is the hub of the community and a fun place for kids and adults to hang out together. Right next to the splash pad is the iconic Fort Collins bear, which begs to be climbed on and photographed. With so much to do, the Splash Pad is a great place in downtown Fort Collins to hang out.
8. Walk the streets that inspired Walt Disney
In the 1950s, Walt Disney discovered the town of Fort Collins and decided he wanted to model Main Street USA in Disneyland after it. He liked the Victorian architecture, red brick buildings, storefronts, and the small-town feel of Fort Collins.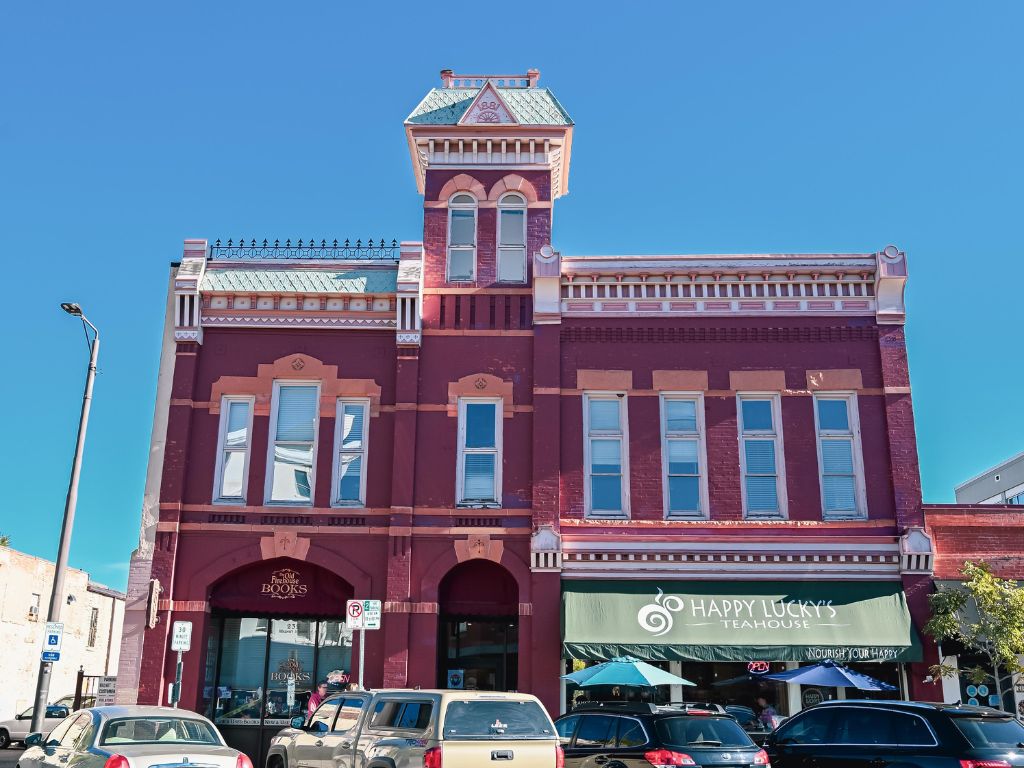 He specifically admired the Fort Collins Fire Station and the former Linden Hotel and asked Harper Goff, a Hollywood Set Designer who grew up in Fort Collins to recreate them in Disneyland. Today the Firehall in Disneyland and the Emporium Shop look almost identical to their inspirational twins here in Fort Collins. There's no doubt that you'll get the picture-perfect downtown Disney feel when you visit downtown FoCo.
9. Splash in the City Park Outdoor Pool
The City Park Outdoor Pool located in City Park invites you to join in some family fun in their large outdoor pool. The facility also has a variety of amenities for every member of the family including:
Outdoor pool
30-foot drop slide
Open curly slide
Lazy river, shallow water, geysers
Large play structure
Picnic area
Located next to Sheldon Lake
10. Bike around the Oval At the Colorado State University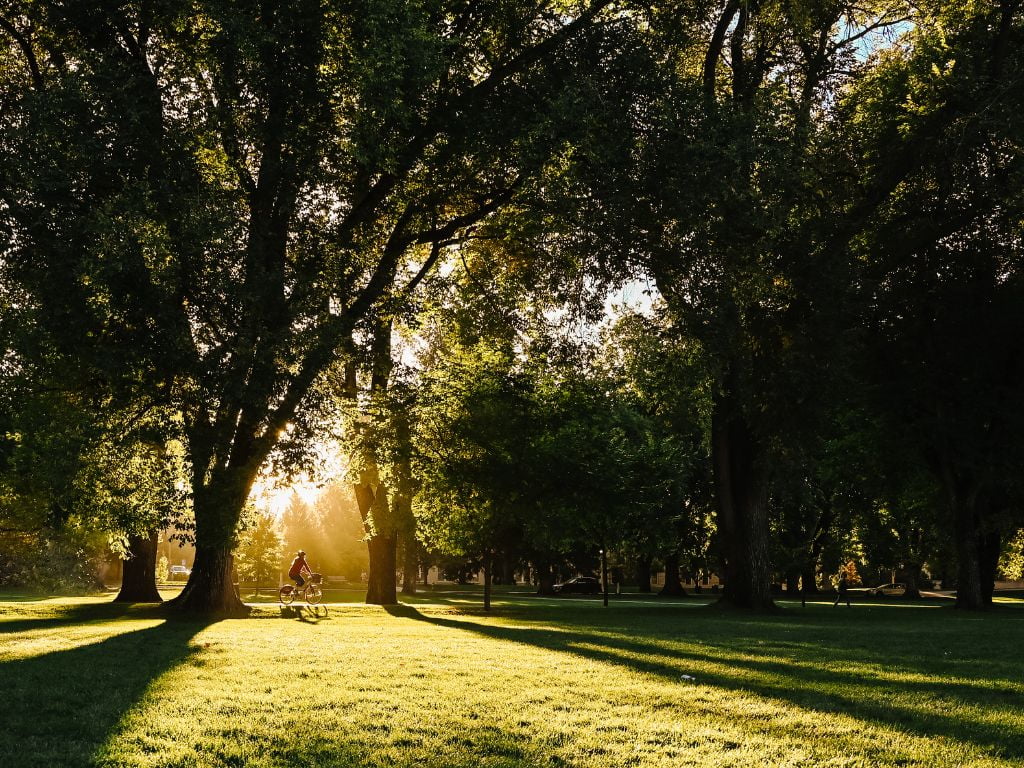 The majestic elm trees around the oval of the Colorado State University are absolutely stunning due to their grandeur size. We opted to get up early and borrow the free cruiser bikes from The Armstrong Hotel and catch the morning light right after sunrise. The result was a quiet oval, stunning photos, and a neat way to explore the University before it got busy with the hustle and bustle of students and faculty.
11. Explore the Fort Collins Museum of Discovery
Fort Collins Museum of Discovery is an all-ages, science, history and cultural museum that is an activity perfect for all members of your family. "16,000 square foot main exhibits gallery combines hands-on and collections-based exhibits in an open floor plan that invites you to discover the interconnectedness of everything from music to fossils to bicycles and everything in between."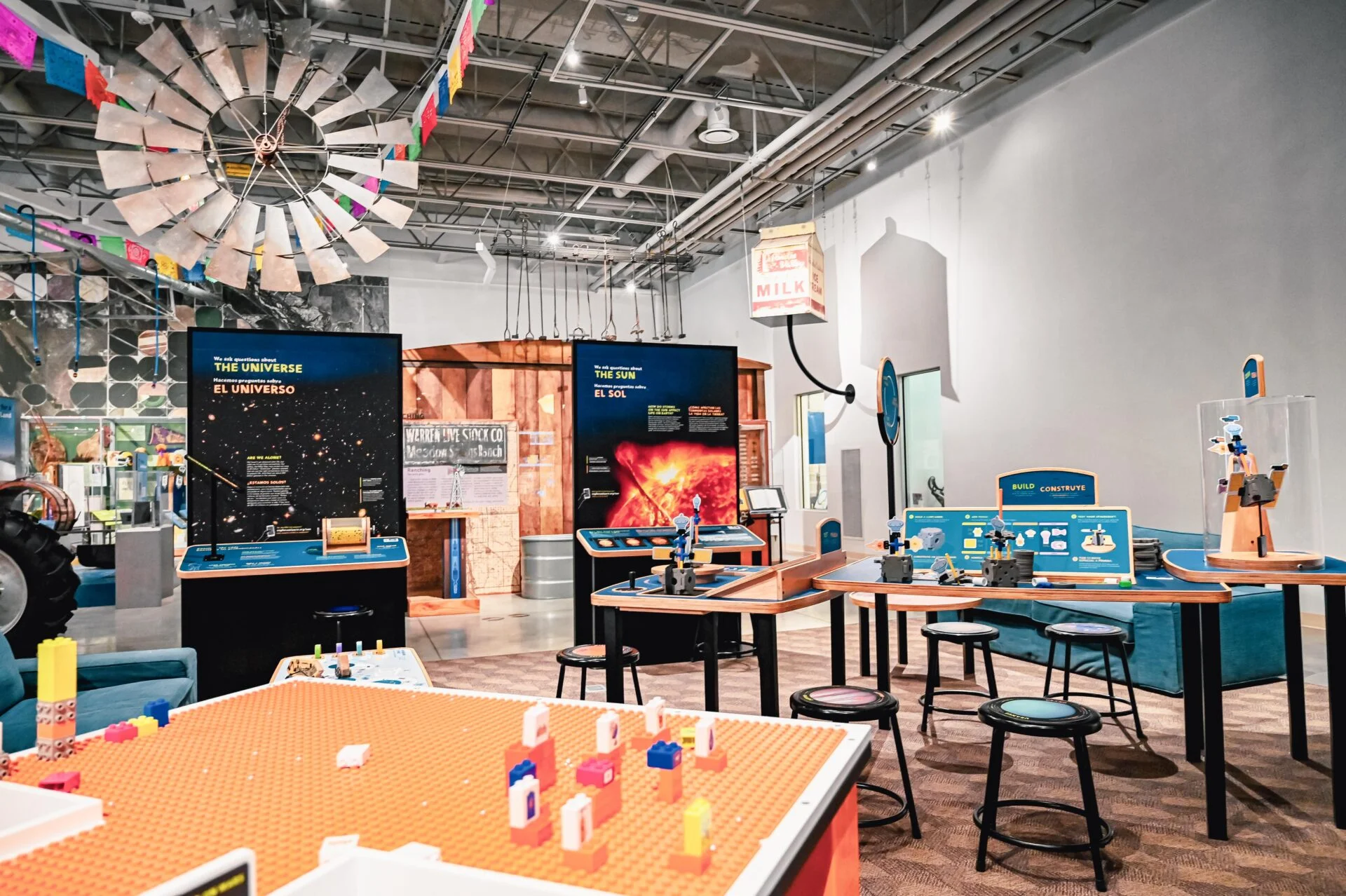 Visit the music and sound lab and try your hand at playing a variety of instruments, explore the science behind light, air, colour and motion and learn about the natural history at the fossil wall. There is so much to explore that you could spend a whole afternoon here (mom tip: this would be a great rainy day activity should you need one).
Fun Things To Do In Fort Collins At Night
12. Hang out at The Exchange
The Exchange is a modern mix of a neighbourhood block party combined with passionate entrepreneurs who want to bring everyone together over good food, sweet treats, and a little fun. With the atmosphere of "come as you are, stay as long as you want" you'll find a casual outdoor setting that is laid back.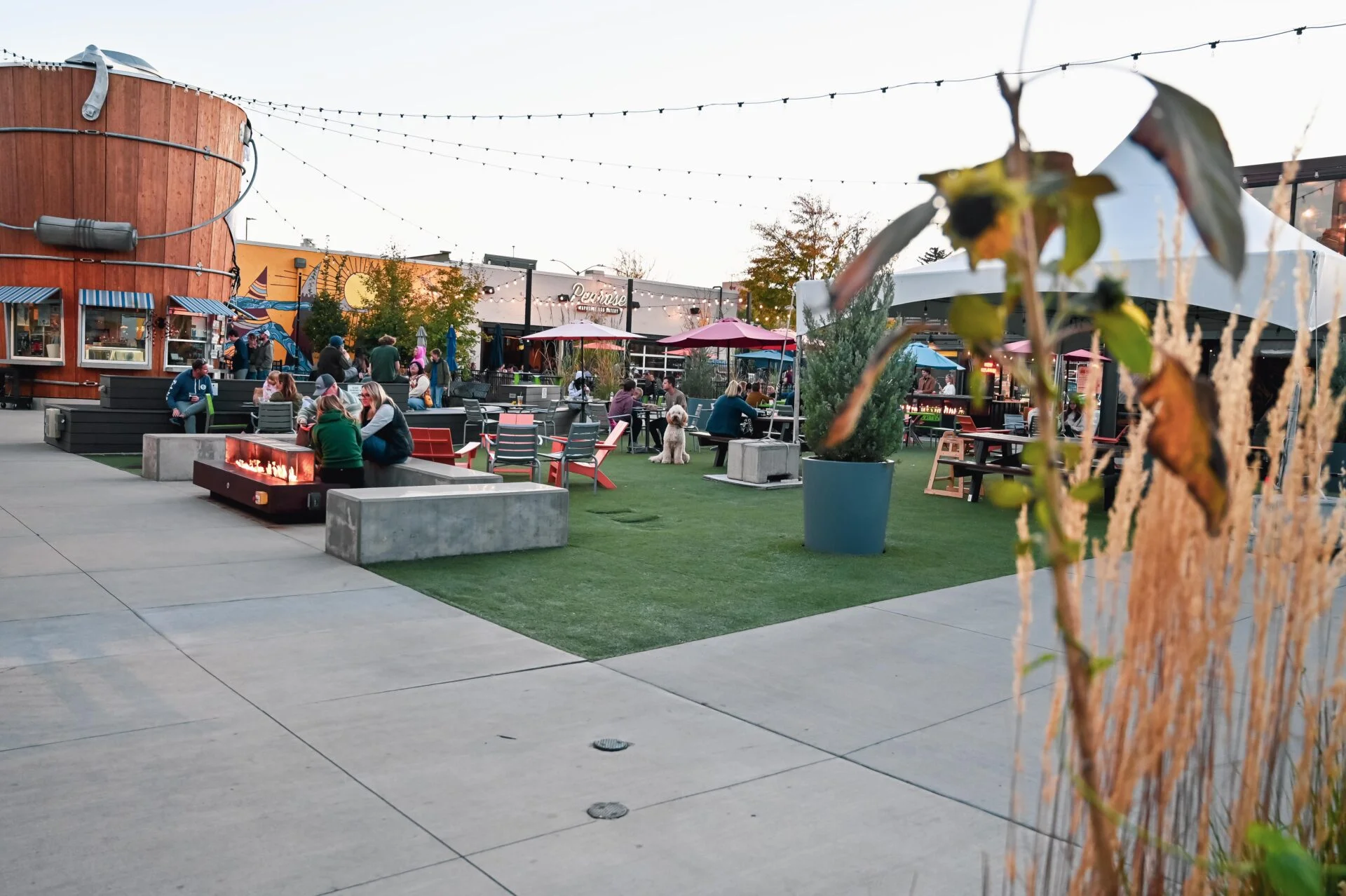 It's a unique complex and very visually appealing as many of the businesses are based out of shipping containers, or you can get ice cream out of a two-story antique-style ice cream barrel. This mix of good food, live entertainment, and creative spaces makes for a great place to hang out in Fort Collins at night (children are not permitted after 7 pm).
13. Outdoor Movie Nights
How about cuddling up and seeing an open-air movie at one of Fort Collins's outdoor theatres: The Lyric Cinema, Holiday Twin Drive-In, CSU Canvas Stadium and New Belgium Brewing. Be sure to check the websites of these locations as outdoor theatres are seasonal and only happening on certain dates.
14. Visit the Interactive Art Mural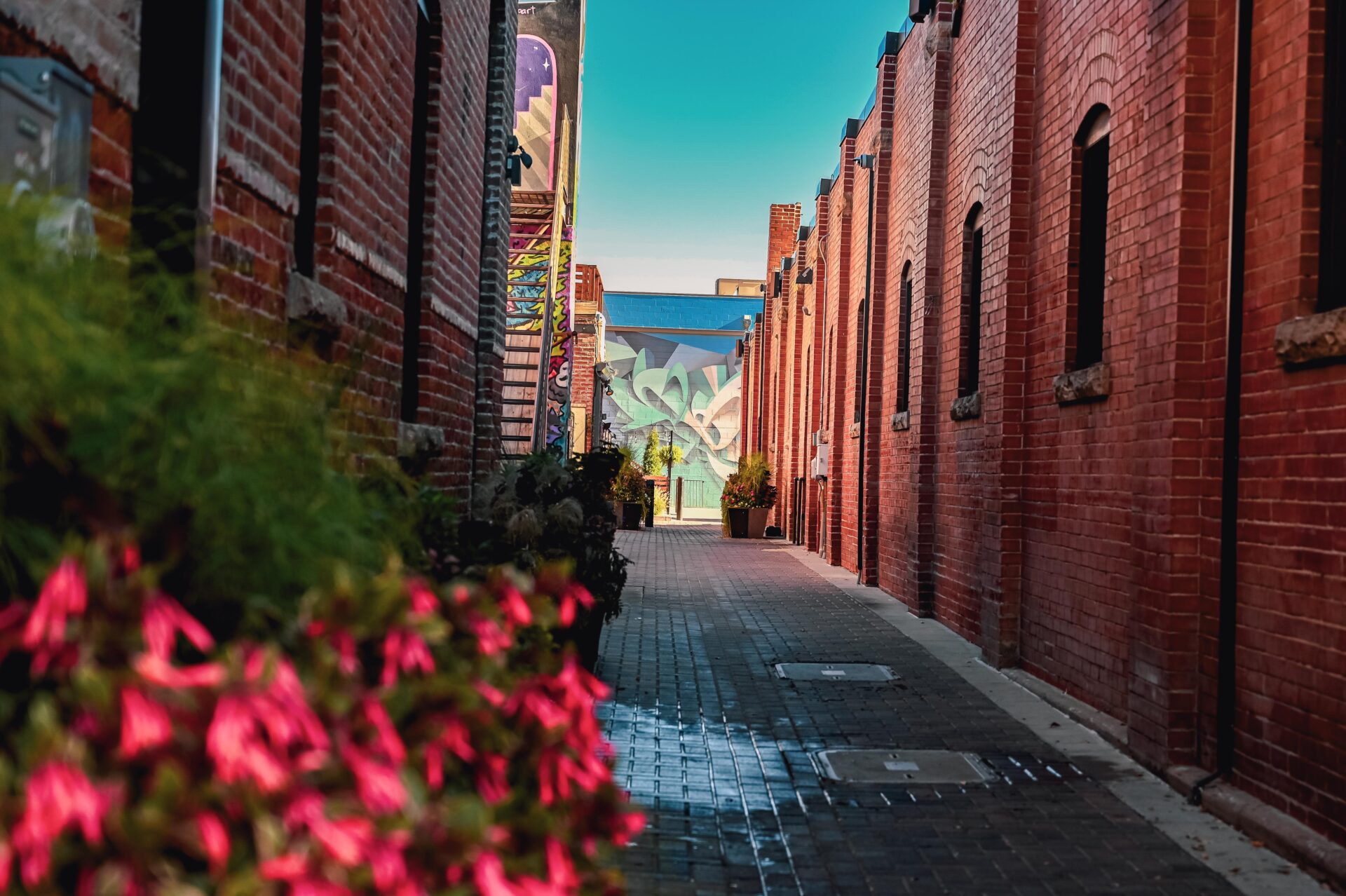 On our tour of Fort Collins, one of the "must-see" fun things to do and experience in Fort Collins at night was to head to the 3D projection-mapped murals in the alley between Linden Street and the Elizabeth Hotel. Italian Muralist, Peeta invites you to become part of the art with this experience and it is definitely something to head out at night in Fort Collins and experienc
15. Play Pinball at Pinball Jones
When touring through Colorado we noticed that there were multiple arcades that were bustling with people, and Pinball Jones is no exception. Pinball Jones welcomes you to come check out their pinball arcade and bar, where they've been welcoming guests since 2011. Located in Old Town Fort Collins you can try out one of their 38 pinball machines including classics, fan favourites as well as some of the newest machines on the market. I've got to admit I've got serious FOMO for not checking out this place so don't make the same mistake as me on your visit!
16. Go Golfing at Old Town Putt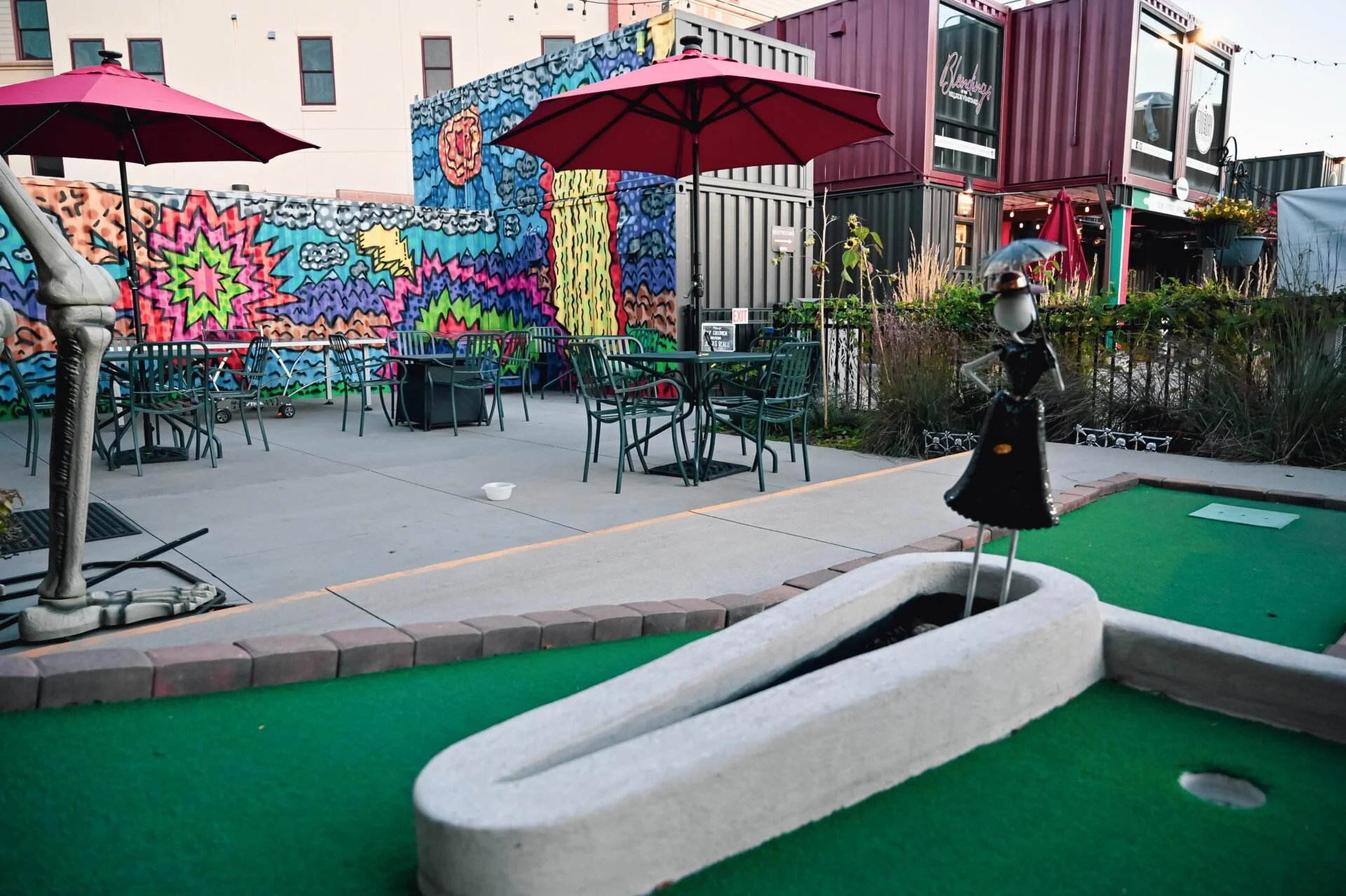 Dubbed as the new way to go "clubbing after dark" (see what they did there) Old Town Putt pairs mini golf with adult beverages and a new take on a clubhouse feel. Kids are welcome until 7 pm.
17. Vintage shopping and stroll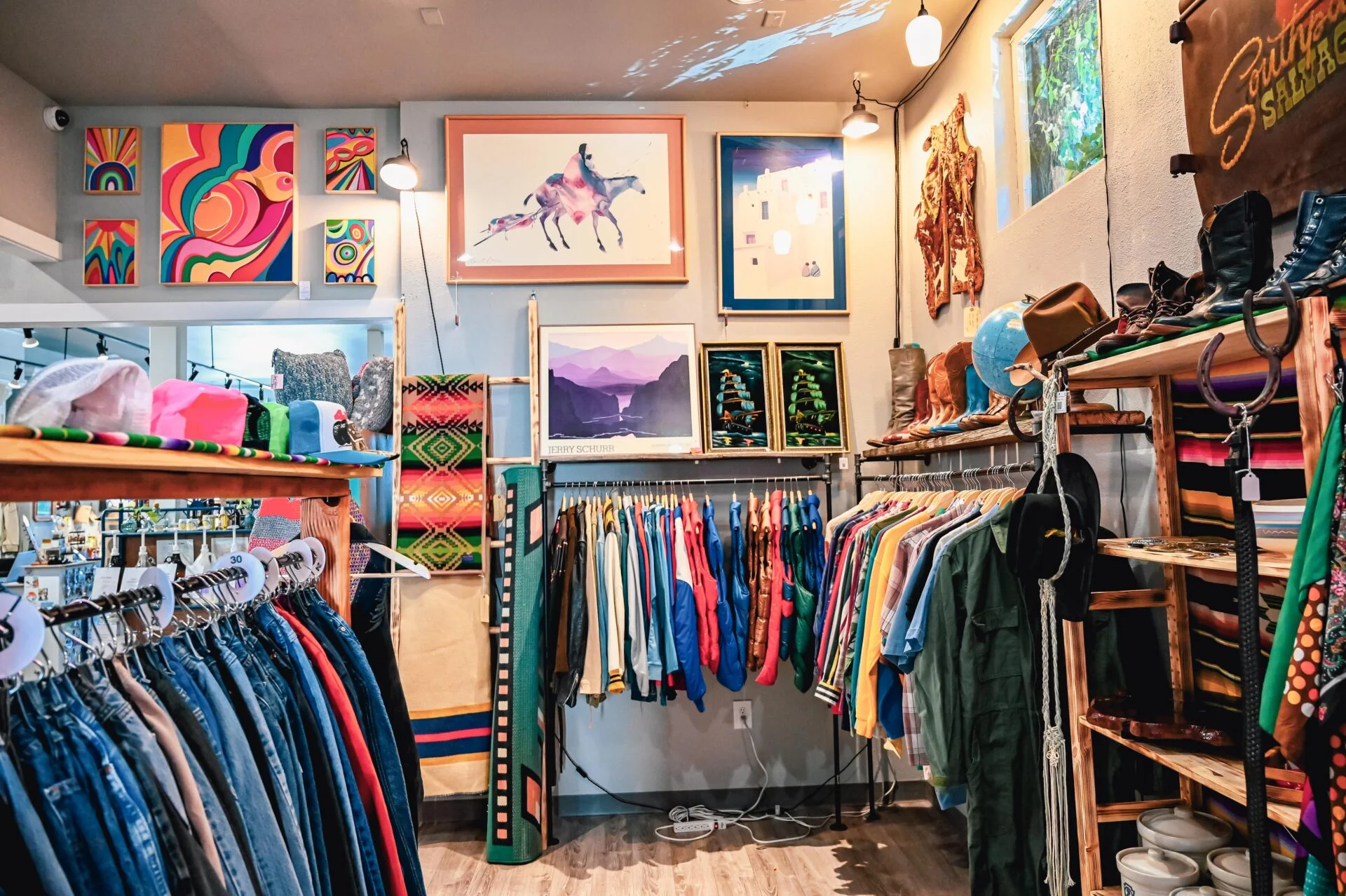 Vintage shopping is my jam, my passion, and makes my eco-friendly heart so happy as it's a fantastic way to keep things out of landfills and give them new life. So you can imagine how happy I was to come into Fort Collins and see a plethora of vintage clothing shops, almost one on every block. I found this to be quite different than my vintage shopping experience in Canada as items were carefully curated by locals who crafted collections of their own. If I lived in Fort Collins I could see how you could fall in love with a specific curator and the styles that they pull. (these types of curated collections were found in smaller stores, where consignment owners would have their own racks).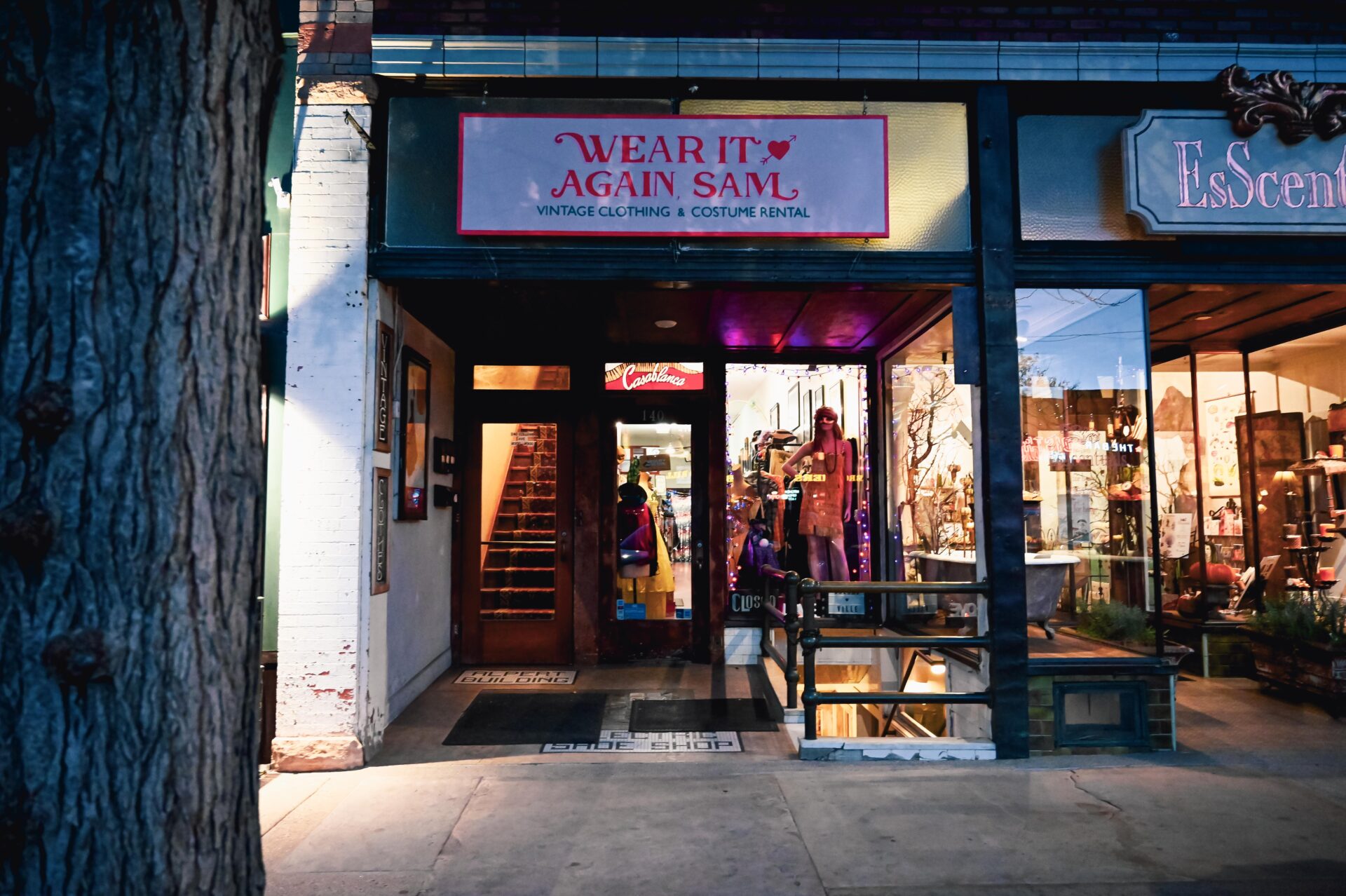 On a larger scale, there was Ragstock and Brand Spanking New Thrift Store which were the equivalent of Value Village. These stores were clean, everything smelled like it had been washed, items were organized by what they were and colour, making it easy to find, and there was inventory, wow was there inventory! Overall if you're looking to go vintage shopping in Fort Collins, you'll love finding treasurers in these and many other stores around Fort Collins.
18. Magic Rat At the Elizabeth Hotel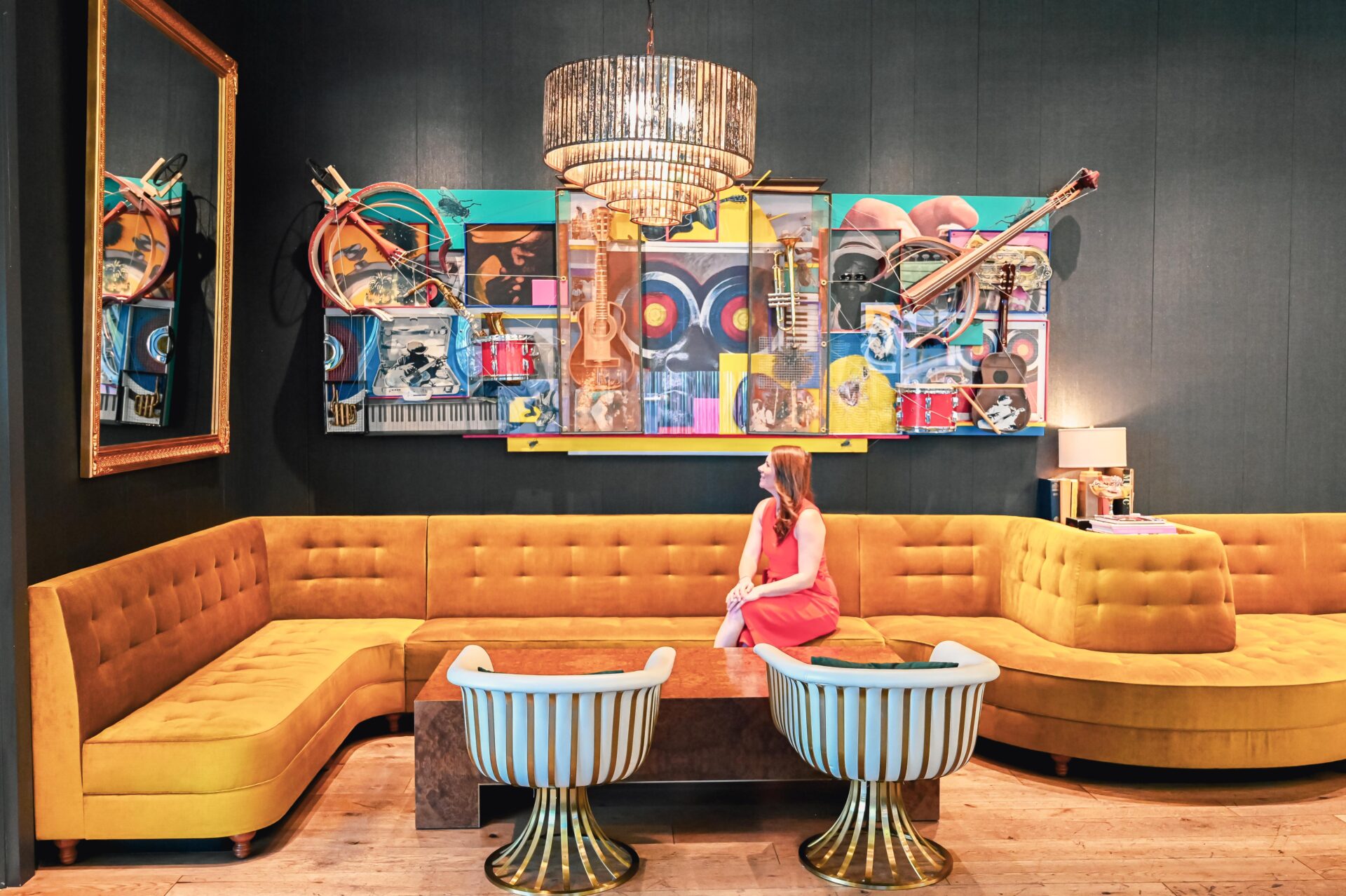 As soon as you walk through the doors of Magic Rat you know you're somewhere special. The unique design will transport you to a new era, which is a modern take on a classic speakeasy. After hours at The Elizabeth Hotel is incredible as Magic Rat comes alive.
"Everything about this live music venue is an unexpected turn of expression." – Magic Rat website. They offer a unique mix of being refined but still creating a uniquely comfortable atmosphere for all audiences. With a stage right in the center that sets the scene, you can experience live music, a fun and dynamic atmosphere as well as great eats and drinks.
19. Seek Out Sunset Views at Sunset Lounge
The Sunset Lounge at The Elizabeth Hotel invites you to new heights on their rooftop (see what I did there) where you can take in panoramic views looking out over the Front Range Mountains. An all-weather, open-air Jazz bar offers "delicious bites, libations, and unrivaled ambiance."
Note: You can not make reservations for your visit to Sunset Lounge so head up early. If you are looking for a unique experience they offer a high tea service on select Sundays!
20. Live Jazz at Ace Gillett's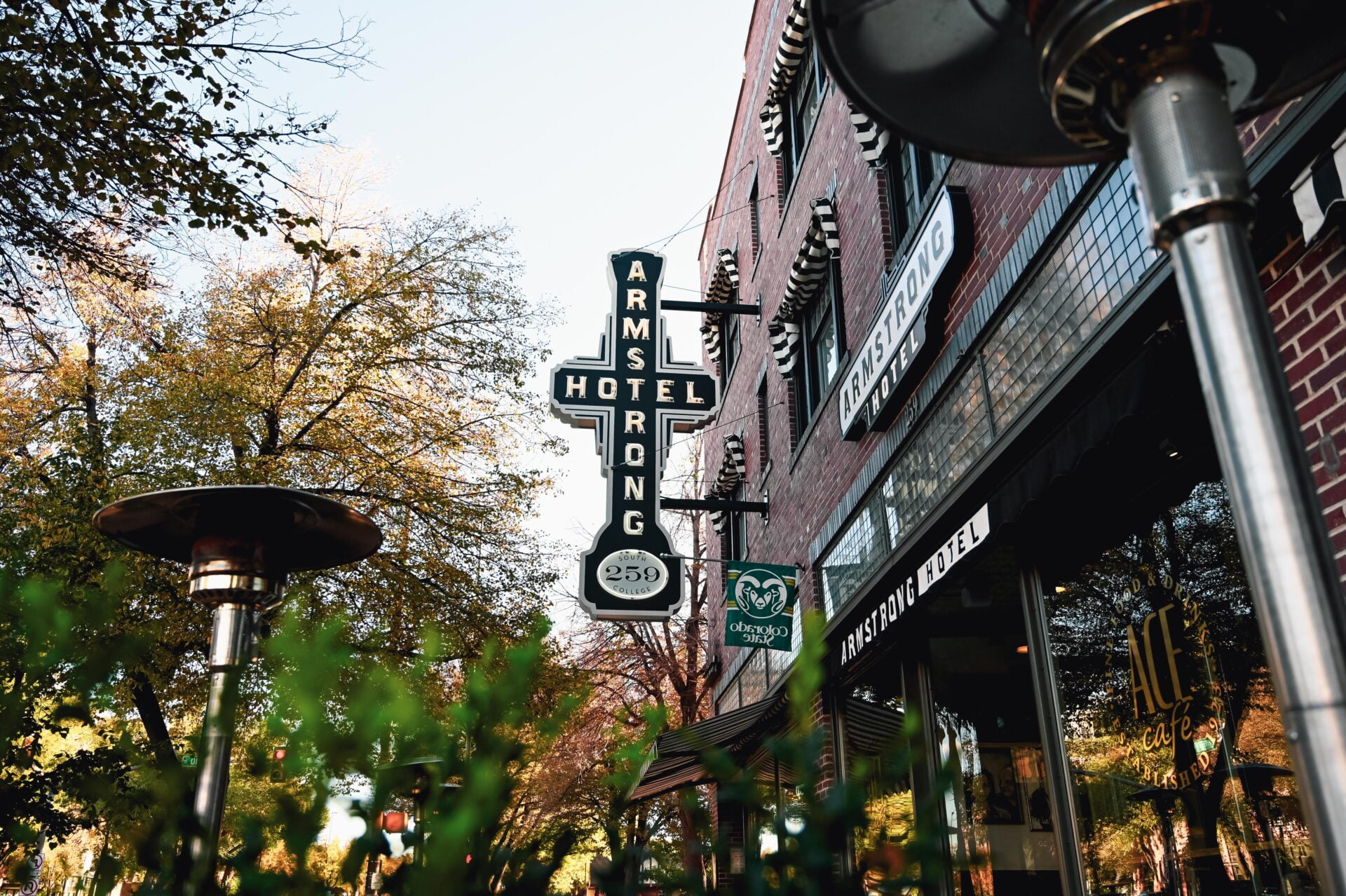 Located in the heart of The Armstrong Hotel, Ace's Gillett's Lounge and Supper Club is the place for those looking for an intimate lounge and supper club experience while soaking in the sounds of jazz. Their slogan is, "All are welcome; you're a stranger here but once," this clearly sets the stage, creating a welcoming environment for locals and visitors alike. With handcrafted cocktails and food menus designed for sharing, they offer well-refined food in an intimate and relaxed social environment.
21. Soak In The Seasonal Lights
From November 1 through February 14, Fort Collins celebrates the holiday season with a beautiful light display showcasing thousands of lights, and special events to go with it. From light displays around town, skating under the lights in Old Town Fort Collins, to taking a horse drawn carriage tour around town, you could plan a whole holiday just around the season in Fort Collins. Learn more on their website.
Fun Outdoor Activities in Fort Collins – Summer
22. Bike The Poudre River Trail
If there's only one thing you do while visiting Fort Collins, this should be it (okay it's number 21 on my list but really should be number one!). We rented e-bikes on a beautiful fall day and explored the trails along the Poudre River Trail under the stunning fall foliage. With 21 miles of well-maintained paved pathways to explore you can go walking, cycling, running, or rollerblading along the trail. I recommend biking if you are not in the area for a long time as it'll allow you to cover more distance and see more of the trail. Be sure to stop at the informational signs that share historical information and educational highlights about the area. Learn more and get your trail maps here.
23. Paddleboarding and Kayaking at Horsetooth Reservoir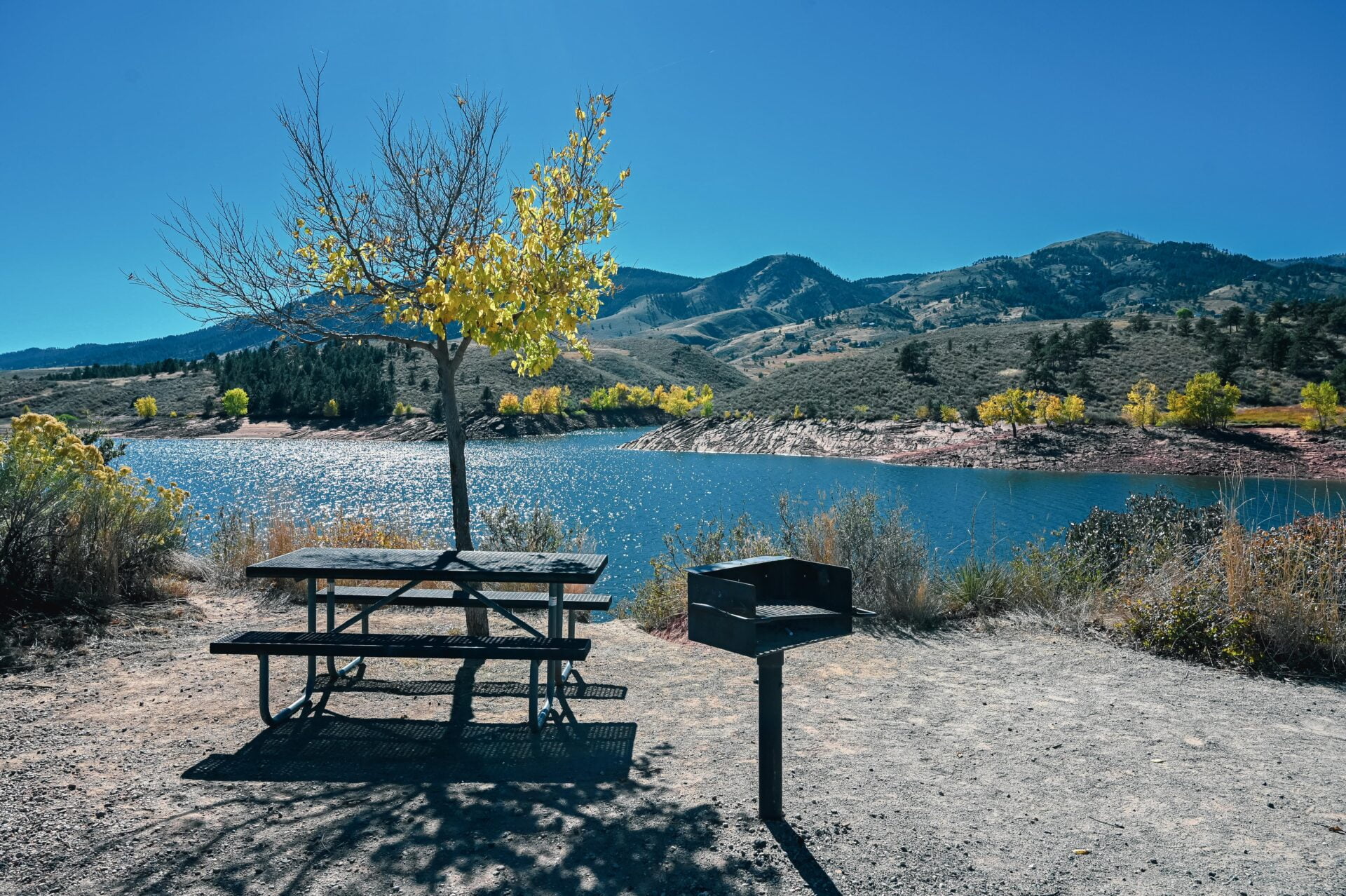 The Horsetooth Reservoir is really something that you have to see to believe. Constructed in 1949, Horsetooth Reservoir is 6.5 miles long and one-half of a mile wide. It is a beacon for recreation with many different parking lots and entrance areas for visitors to access the water. On our visit, we took the long way out to get to Horsetooth Reservoir, which led us along windy country roads and out over the top of the reservoir with 360-degree views over the water, city, and mountains.
On your drive, you can pick out the perfect place to park and launch your paddleboard or kayak. If we had the time we would have gone to Satanka Bay, this bay is a wakeless area as it is designated for
paddlecrafts only from Memorial Day to Labor Day (no motorized boats seasonally). We had stopped there to take photos of the red sandy beaches and unique homo-clinal ridges that surrounded the reservoir.
Traveler Tip: If you need paddleboard rentals, check out What's SUP, located right in Satanka Bay!
24. Whitewater River Rafting
Whitewater rafting is a popular adventure activity for those visiting the Fort Collins region. Rafting takes place on the Cache La Poudre, which is Colorado's only nationally designated Wild & Scenic River. The rapids have names like Mad Dog, Pinball, and Pineview Falls and are rated from family-friendly class II bumps to Class IV rapids that should only be explored with an expert. There are many companies that offer river rafting tours in Fort Collins, from May to August.
25. Mountain Biking, Fort Collins
If there was an adventure that got away from me it was mountain biking in Fort Collins. With incredible single track (and lots of it) I already know what I'll be doing first on my next visit to the region. Depending on your riding style and preference you can seek out rocky and technical terrain or find something more mellow that goes a bit slower and has lots of flow. They also have family-friendly trails along mellow dirt roads that even the youngest rider of the family can easily experience.
The best places to hit the trails are Lory State Park, Horsetooth Mountain Open Space, Soapstone Prairie Natural Area, Red Mountain Open Space the Blue Sky Trail, and the Cache la Poudre Canyon.
26. Hiking At Rocky Mountain National Park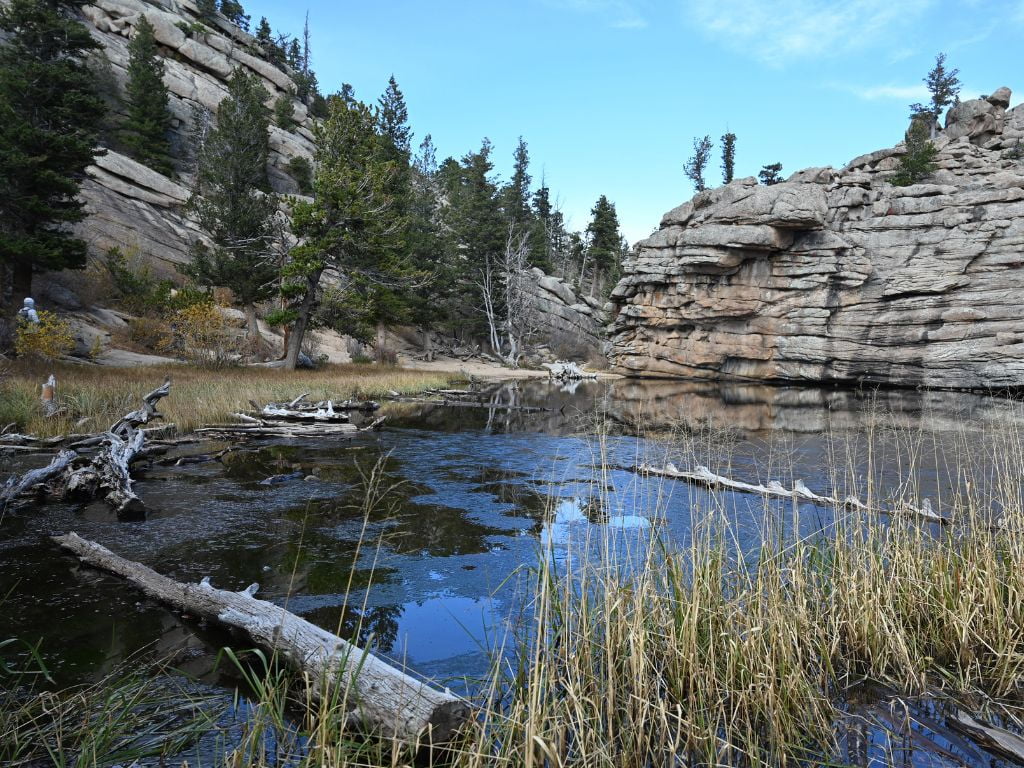 A trip to Fort Collins wouldn't be complete without at least one (if not more) visits to the Rocky Mountain National Park. In the 1920s Fort Collins was marketed as the perfect base camp to the Rockies and I think that's still true today.
Rocky Mountain National Park spans the Continental Divide and is known for popular trails like the Trail Ride Road and the Old Fall River Road. With aspen trees, rivers, and incredible views, there's a lot to explore in this stunning national park.
Whether you're looking to do some day tripping like we did (above is a photo from Gem Lake) or looking for a longer overnight camping adventure we have one tip that is not to be ignored BOOK AHEAD! We had booked an arrival window and upon stopping at the visitors centre to learn more and plan out our hikes we came across many visitors who didn't have a reservation and were turned around at the gate. Don't let that happen to you!
27. Visit Soapstone Prairie Natural Area and Red Mountain
These areas offer diverse adventures for you to choose from. Whether it's hiking, mountain biking, or horseback riding on their equestrian trails, there are lots of outdoor adventures for you to seek. They also have cultural prehistory artifacts, which if you're a Mom like me, you may be keen to sneak in some educational opportunities to your trip (or have a husband like mine who loves history). These areas are open from March through November and are 40 minutes from downtown Fort Collins.
28. Go Camping
The culture in Colorado is one that is based on the outdoors and one of the best ways to experience the magisticness of the mountains is to go camping in it! If you happen to be able to either be on a road trip and can bring your camping gear, or choose to rent an RV and head out on the open road, there are lots of great places to go camping near Fort Collins including:
Horsetooth Reservoir
Cache La Pourdre Canyon
Red Feather Lakes
29. Hike Horsetooth Mountain
The iconic Horsetooth sits like a beacon overlooking the town of Fort Collins, so why not take some time and hit the trails and actually summit it (or do what we did and climb to the base to take in the scenic views!). Be sure to wear sunscreen, plan to take a little more time due to the elevation, bring lots of water and snacks, sun protection, and proper footwear. The views at the top are worth hauling yourself up through the rocky trails!
30. Get Scrambling with Rock Climbing
If you're a rock climbing enthusiast there are a lot of really iconic sandstone rocks on the east side of Horsetooth Reservoir that are worth checking out. If you're into bouldering there is world-class bouldering at Rotary Park and Piano Boulders. If your climbing style is bolted anchor top rope climbing then Duncan's Ridge is for you. And the big stuff? Well, you can find that at Lumpy Ride or even at Rocky Mountain National Park.
31. Pose For The Perfect Photo – In Town or In Nature
The town of Fort Collins and the surrounding outdoor mecca of mountains is a photographer's dream. On most days while we were exploring the area I was averaging about 600 photos a day (or almost 4000 photos during our whole trip!). Whether you center in on the historic Victorian architecture that makes up Fort Collins or head out into nature to zoom on on some world-class landscapes, there's no shortage of subjects that will catch your camera's eyes. Misty mountains? Check. The perfect sunset? Golden hour that goes on for days… you have it all here.
For ideas and inspiration check out www.visitftcollins.com or on Instagram with #LoveFortCollins
32. Go Disc Golfing
Another activity that the whole family can enjoy is Disc Golf (note I didn't say the whole family would be good at it… I know I'm no good but I sure have a lot of fun!). Fort Collins has two 18-hole Disc Golf courses including Edora Disc Golf Course and Aggie Greens Disc Golf Course.
Fun Outdoor Activities in Fort Collins – Winter
33. Pop Up Skating Rink and Fire Pits in Old Town Fort Collins
It doesn't get any more festive than putting on skates and twirling around a skating rink in the middle of a small town. Located in the Old Town of Fort Collins, you'll be skating under the dazzling lights surrounded by scenes that only look like they come from a movie. Couple that up with a post-skate hot chocolate and you really do have the perfect winter day in Fort Collins.
34. Snowshoeing
In the winter the world-class hiking trails transform into world-class snowshoeing trails, allowing you to get up the perfect sweat all while checking out the scenic white views around you. I have never visited in the winter but I spoke with the local tourism board who recommended the following trails for snowshoeing near Fort Collins:
Lory State Park
Horsetooth Mountain Open Space
Mineral Spring Gulch
Little Beaver Creek Trail
Blue Lake
Trap Park
35. Cross-Country Skiing
City Park is nestled into the heart of Fort Collins and is the perfect place to go cross-country skiing right in Fort Collins. When there is fresh snow the fields are perfect for skiing, with the golf course offering the widest open space for you to explore. If you have the kids with you be sure to set aside some time to do some fort-building before or after you go cross-country skiing.
36. Skating, Ice Fishing, and Hockey at Sheldon Lake
When Sheldon Lake freezes in the winter, it's a scene right out of a movie, as it transforms into a place where you can go skating, ice fishing, and play pond hockey. One thing I love about hockey is that whether you're a local or you're visiting from out of town, pond hockey is a game where everyone is welcome to jump in and have some fun, make new friends, and play.
37. Go Snow Tubing (Without the sweating)
Beaver Meadows Resort is near Red Feather Lakes and they have 12 tubing runs that also have a tow rope system that will pull you back up to the top of the hill. This allows you to have more fun riding down without having to haul the kids and their tubes up the hill on your own! When you're done at the hill you can also check out skating on a pond as well as go cross-country skiing on their groomed trails.
38. Go Moonbiking
New to Beaver Meadows Resort is Moonbiking. A fusion of a snowmobile and a snow bike, this electric vehicle allows you to speed through the snow at 25 mph! I love that this is an eco-friendly way to explore the area and immersive yourself in winter without leaving a negative trace behind. Their eco-conscious design helps ensure that these vehicles produce no pollution (physical or acoustic) allowing you to view the natural habitat without disturbing it.
Fun Outdoor Activities in Fort Collins – Year Round
39. Fort Collins Farmers Markets
I love visiting farmer's markets, especially when I'm traveling to new cities. Farmer's markets offer a peek into the community to see what types of food they eat, treats they savour, what arts local crafters produce as well as what type of clothing and accessories one may need to be a local in the neighbhourood. The farmers markets in Fort Collins happen year-round, with the winter markets being held at the Shops at Foothills.
Tip: If you're visiting during the holiday season the local farmers market is a great place to go to pick up gifts from local artisans and crafters, which helps keep your money directly in the community.
40. Horseback Riding – Giddy Up at Sylvan Dale Guest Ranch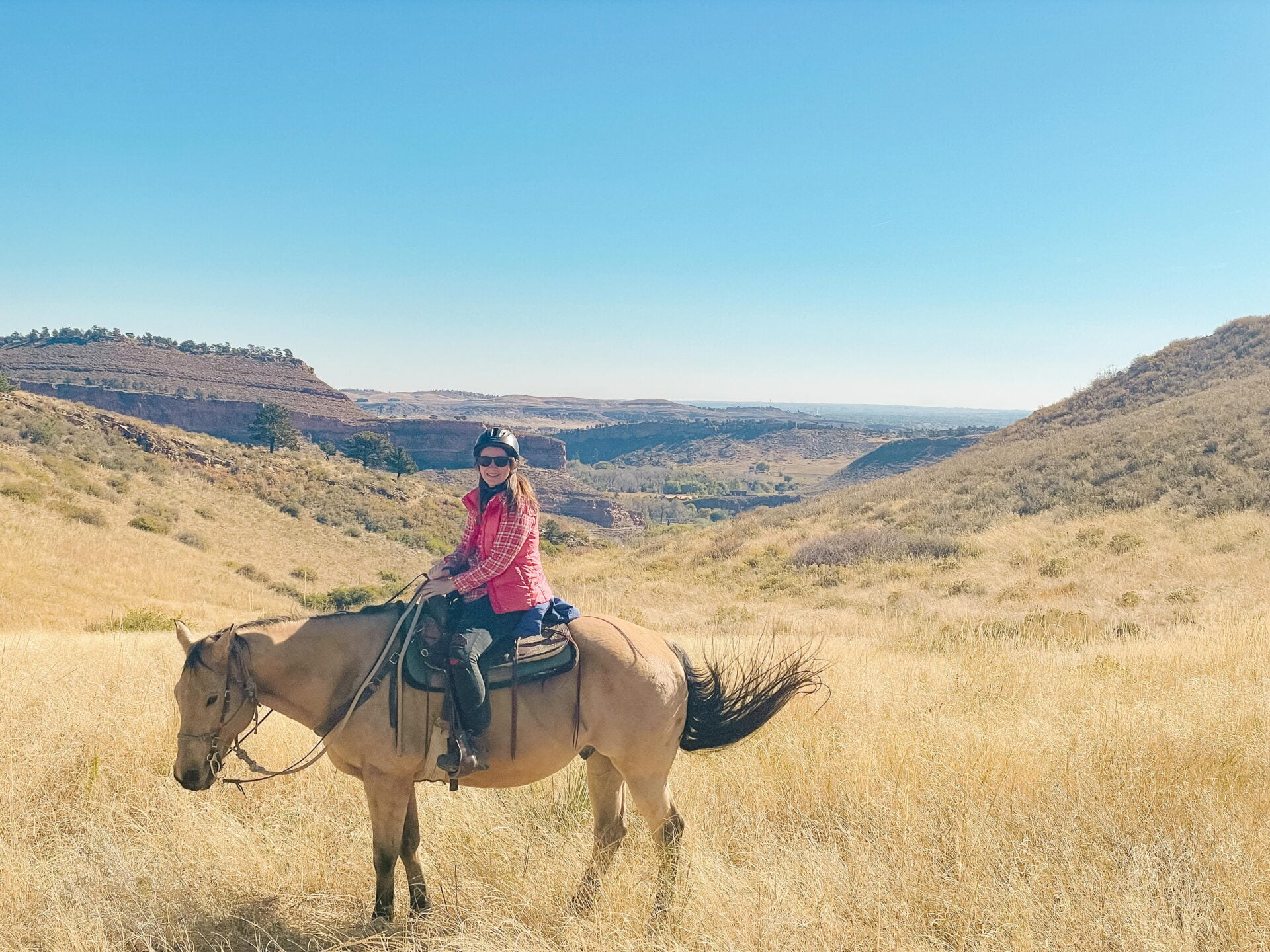 If you're like me and want to dress the part you can throw on a cowboy hat and matching scarf before you head out on a guided horseback riding tour. While the dress is not required (though long pants and close-toed shoes are) the clothing does make for a more authentic feeling while you're up on your steed riding through the mountain top trails. Horseback riding at Sylvan Dale Guest Ranch (40 minute drive from Fort Collins) was one of the highlights of our trip and we wholeheartedly recommend you seek it out when visiting Fort Collins.
Fun Free Activities in Fort Collins
41. First Friday Art Walk
If you're a visitor to the area one of the best ways to learn about the community is through art. On the first Friday of the month, there is a self-guided art walk, where the finest galleries, museums, and art-centered shops in Old Town stay open from 6 pm – 9 pm, inviting you to come and explore, learn, and shop.
42. Free Summer Concert Series
As I have mentioned many times the arts are celebrated and elevated in Fort Collins and music is an important element. There is a vibrant community that welcomes you to the free concert series four days a week! Bring a lawn chair or a blanket and check out these free summer concert experiences:
Traveller Tip: The Mishawaka Theatre looks like one of the most incredible concert venues I've ever seen in my life, and while I didn't get to experience a concert on my trip I sincerely hope that you can as it.
i. Sundays – Mishawaka Concert Series. Select Sundays from June through September. 1-4:30 pm.
ii. Sundays – Foothills Mall Summer Sundays Concert Series. June through August 6-8 pm.
iii. Wednesdays – Lagoon Concert Series CSU (Colorado State University) Lory Student Center west lawn, June – July (Check 2024 dates closer to your visit) 6:30 – 8:30 pm. Food trucks, interactive booths.
iv. Thursdays – Bohemian Nights Thursday Night Live. Old town square, weekly beginning June 1st until August 3, evenings.
v. Sounds of Summer Concert Series. Courtyard at Front Range Village, Summer 6:30 – 8:30 pm.
vi. Fridays – New Belgium Brewing Friday Live Music Series. New Belgium Brewing, 5-7 pm year round.
43. Get Lost In a Garden
The Colorado State University has the Flower Trail Gardens as well as the expanded Gardens on Spring Creek that invite you to come and explore. With a combination of exotic and native plants, flowers, and shrubbery this is a botanical wonderland that photographers and gardening enthusiasts alike will appreciate.
44. Play Pianos around town…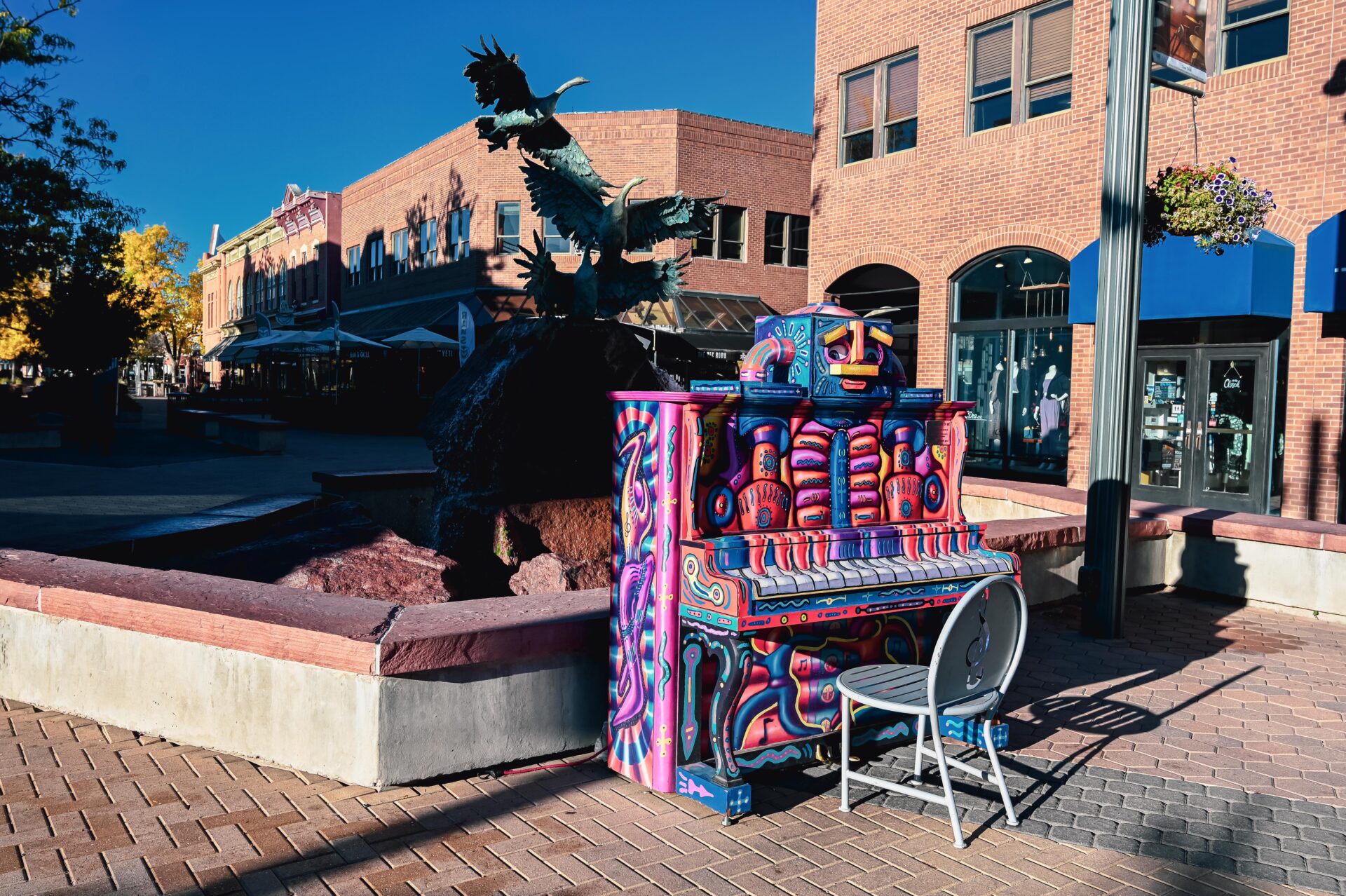 Do you play the piano? Share your music and local art around town at one of the colourful pianos at 20 locations in the summer and six in the winter. Fifty-seven artists have pained more than 100 donated pianos since the start of the collaboration in 2010. When we were visiting the splash pad in the fall we were surprised when two artists, a drummer and a piano player, came together to belt out an array of Coldplay music. Being that we both love Coldplay it made it even more special but I love how the streets can come alive and local talent can contribute to crafting those magical moments.
45. Spring Canyon Park
If you're looking for one of the best playgrounds in Fort Collins check out Spring Canyon Park. This inspirational playground has an inclusive design that welcomes guests with wheelchairs, walkers, and support braces to get lost in the magic of play.
46. Visit the Unique Stores In Fort Collins and Purchase "Made In Fort Collins" Products
One of the best ways to support local and keep your tourism dollars in the communities that you are visiting is to buy items from local artisans, crafters, and stores. Here's a list of the top seven places to shop locally in downtown Fort Collins, also known as the "Made in Fort Collins Trail."
a) Akinz (#132 – 15 Old Town Square)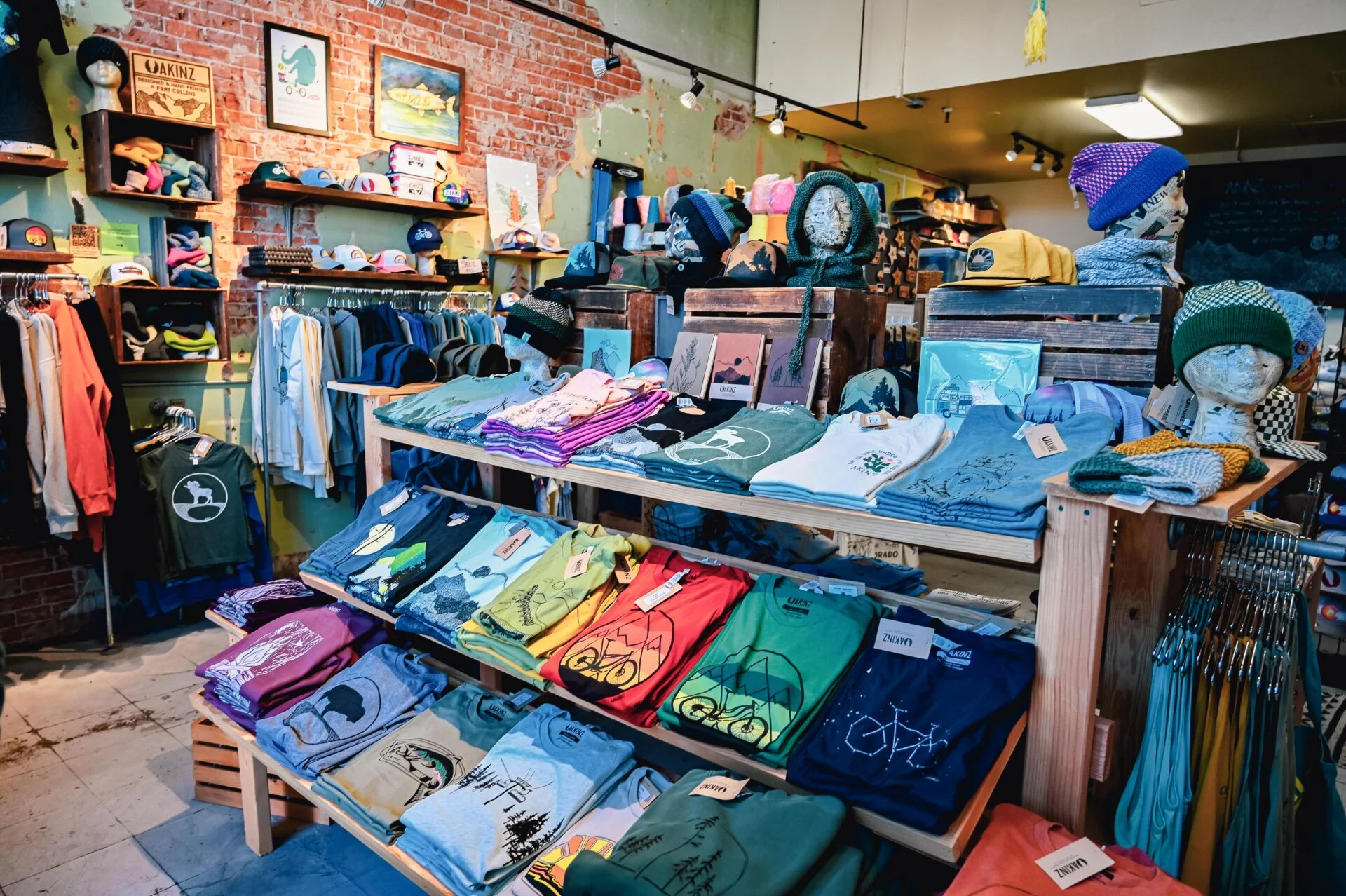 This is my new favourite store, showcasing outdoor adventure and empowering slogans that had me stocking up for myself and my kids within minutes of walking through the front doors. Akinz is a local clothing shop that has super soft t-shirts, sweatshirts with fun designs, and knitwear that is made in-house. You can even order custom items and see them made right in the shop.
b) Nuance Chocolate (214 Pine Street)
Fort Collin's Bean to Bar chocolate maker where you can find authentic, honest, spirited chocolate. Be sure to stop in for a sampler flight, a cup of hot cocoa, or pick up a box of chocolates to take home to family.
c) Trimble Court Artisans (118 Trimble Court)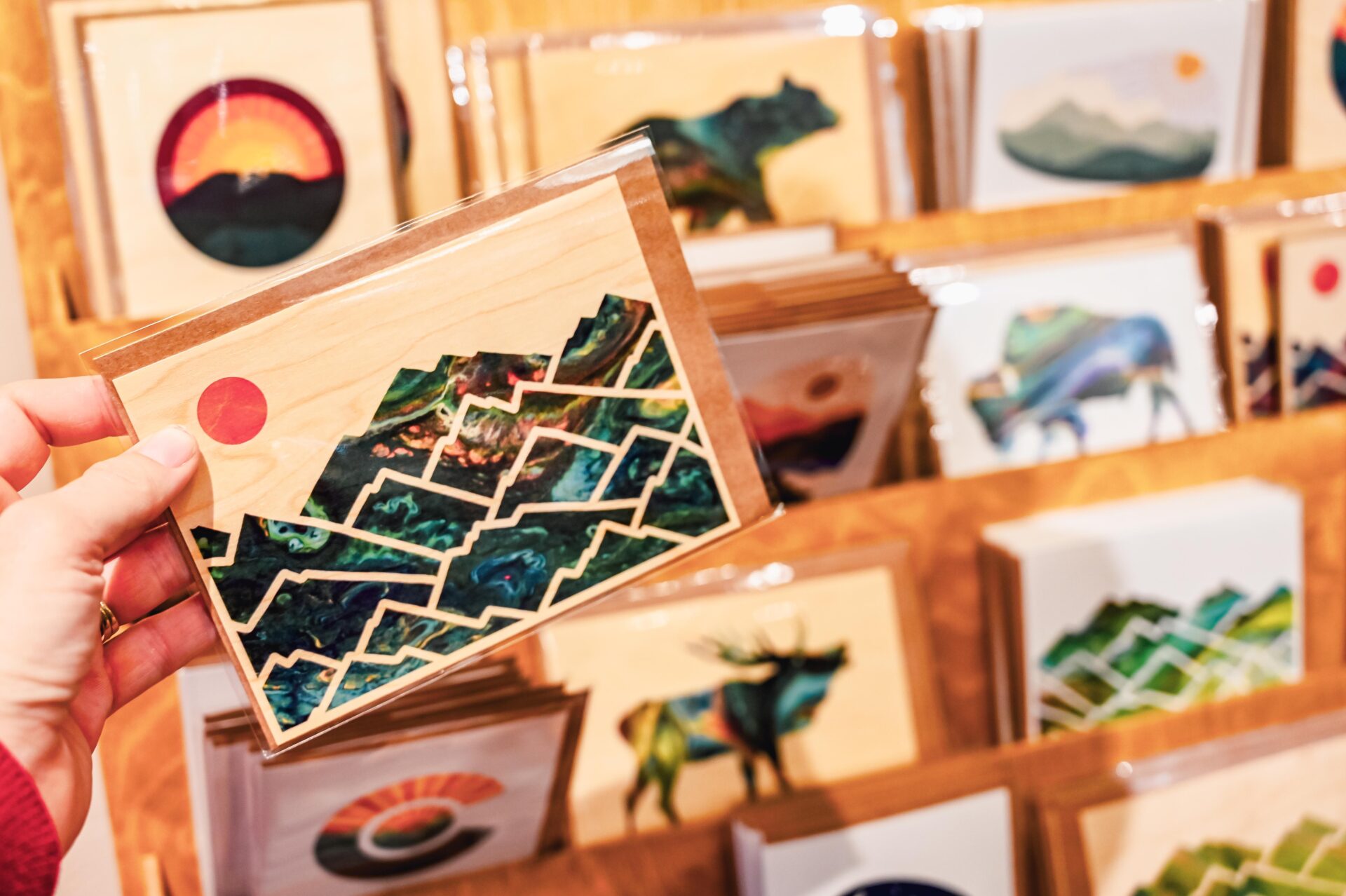 I love this gallery-style store because it proudly displays over 50 local artists' work, allowing you to shop a variety of designs and choose the one that aligns best with your style. From stickers to go on your water bottles, to hand-crafted pottery, to large paintings, and hand-made cutting boards, they support local artists one piece of art at a time.
d) The Cupboard (152 South College Avenue)
If you love being in the kitchen then you must plan a visit to The Cupboard. This well-stocked specialty kitchen store has everything and more. I loved window shopping for their seasonal items and easily could have spent hours in their store. Fun fact, they've called Fort Collins home since 1972.
e) Walrus (125 West Mountain Avenue)
Fort Collins' very own ice cream shop with 29 "ever changing" flavours to choose from. They pride themselves on using only the finest, all natural ingredients. Also note: their ice cream doesn't have eggs or gluten.
f) Old Town Spice Shop (130 South College Avenue A)
Another store for those who love to spend time in the kitchen, the Old Town Spice Shop invites you to "come in and taste the difference fresh spices, blends, seasoning, and teas can make in your life." They have over one thousand different items to peruse including high-quality spices, blends, salts, sugars, extracts, peppers, and teas!
g) Salus (240 Walnut Street)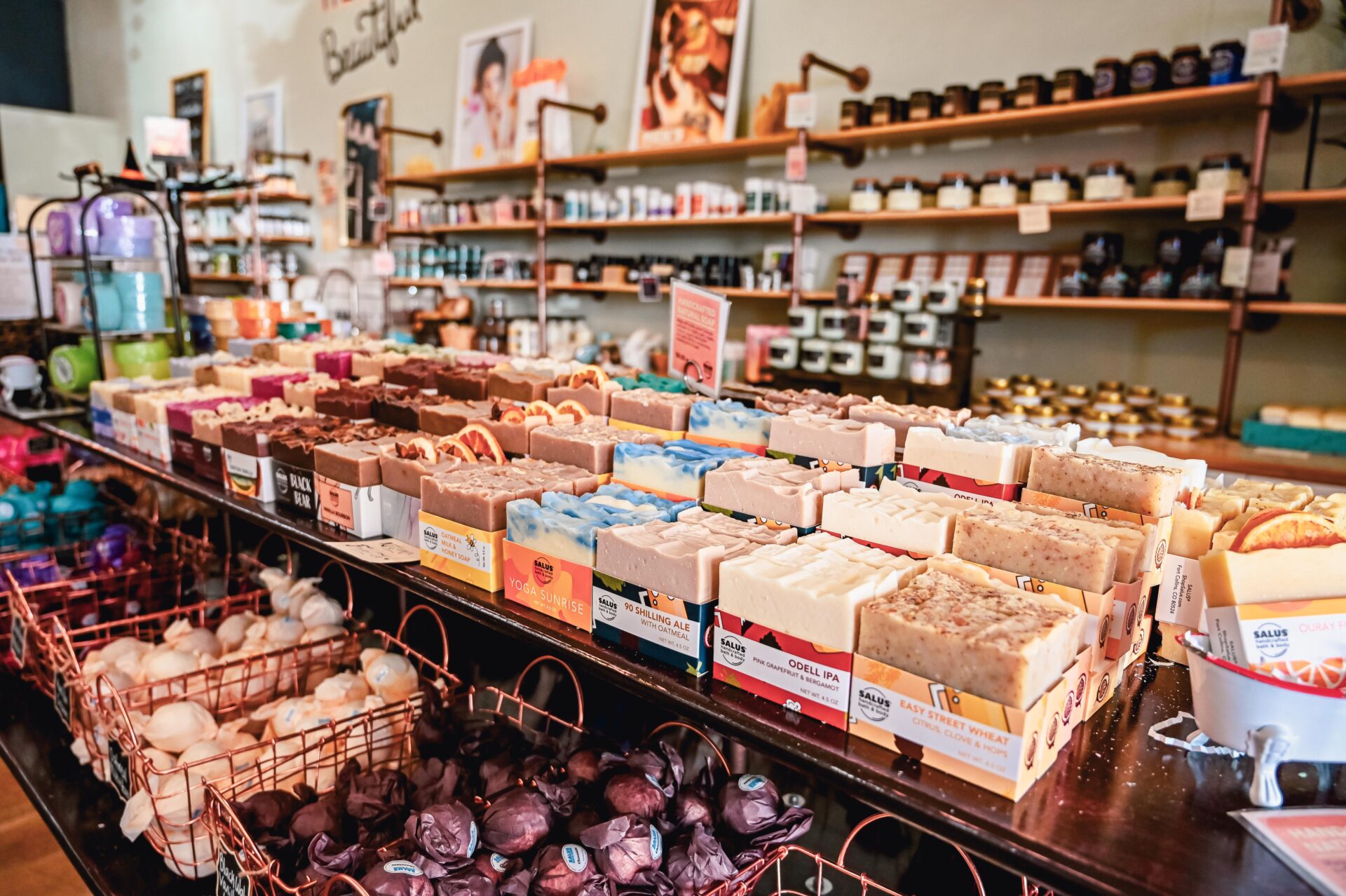 The senses come alive as you walk into Salus. A natural bath and body care store that sells premium bath bombs, shower bombs, lotions, creams, soaps, bubble bath, facial care, body care, essential oils and more! If you want to learn more about their products, their friendly and educated staff can help you out and recommend natural skin care products to suit your needs.
FAQs
Can you get altitude sickness when visiting Fort Collins?
Located at 5,003 feet above sea level, be sure to give yourself time to acclimate upon arriving, especially before tackling any major physical feats (like hiking or biking). Hydration is key (along with a good night's sleep). Also be sure to slather on extra sunscreen, because it can sneak up and burn you when you least expect it (just ask my travel companion Erin who found out the hard way!).
Where is the best place to stay in Fort Collins?
If you are looking for a hotel that mixes welcoming staff, a unique boutique property and is the perfect basecamp for your Fort Collins adventures, then look no further than The Armstrong Hotel. We can't say enough amazing things about this historic property and our cozy and welcoming stay. Check out our experience here.
Book your stay at The Armstrong Hotel here!
Conclusion
So as you can see, there's no shortage of fun things to do in Fort Collins, the only difficult decision to make is what to do first. With the options being overwhelming (in all the right ways) I recommend that you start at the heart of the city in Old Town Fort Collins and then map out the rest of your adventures. Be sure to plan a balance of outdoor adventures and thrills, combined with local art and culture, some great food, and of course, end your night right by checking out the vibrant night scene.
I know I'm already planning my next trip back! #AdventureAwaits
---
Check out these articles for more Colorado travel adventures!