In Part One of our Local Park Series, we've rounded up some of the Best Playgrounds! When it comes to playgrounds, there is no shortage in the Lower Mainland. Some are great for a quick stop when the kids need to stretch their legs and burn off some energy and others make for a great full day adventure, so pack a lunch for the whole family and get exploring!
We've created this list of playgrounds that we frequent and are loved by our kids!
Redwood Park
Located in Surrey, Redwood Park is home to not only an amazing area full of trails (including a fairy forest) but an incredible playground. This fully accessible playground created in partnership with the Rick Hansen Foundation has everything a kid could ask for! A giant spinning rope merry-go-round, a tall climbing structure complete with a slide, big saucer swings, and a sandbox with built in diggers. Pack a lunch and spend the day, as there are plenty of picnic benches, public washrooms and a large grass area perfect for spreading out a blanket.
John Lawson Park
The playground at John Lawson Park in West Vancouver not only evokes the imagination in kids, but has a ton for them to explore. There is a train, complete with a climb on train station, a big saucer swing, a small ropes course, outdoor musical instruments, a pirate ship climber, a roller slide and a small splash park. There is something for every kid at this park. Complete with covered picnic tables, benches, washrooms and the beach just steps away, this is another park you will want to pack a lunch for and stay the day.
Willoughby Community Park
Located beside the Langley Events Centre, the Willoughby Community Park has it all! A three level climbing structure with a huge spiral slide, rock climbing wall, monkey bars, bridges and lookout tower. This playground will keep all the kids in the family busy, as there is a second area perfect for the under 5 age group. Adjacent to the playground is a spray park and covered picnic shelter. Another great location for the family to spend the day or for a quick stop to let the kids release their energy!
Centennial Beach Park
Located within the Boundary Bay Regional Park, the playground at Centennial Beach is incredible! Designed for kids of all ages, this playground has equipment suitable for a huge age range. There are small slides, infant style swings and low climbers for the younger crowd. Plus a tall rope climbing tower, rock climbing wall, big spiral slide, and swings that take your toes into the clouds, all geared toward older children. With modern washrooms, picnic tables, benches for parents and a gorgeous beach just steps away from the playground, this is one place you are going to want to pack up the family and spend the whole day!
Queenston Park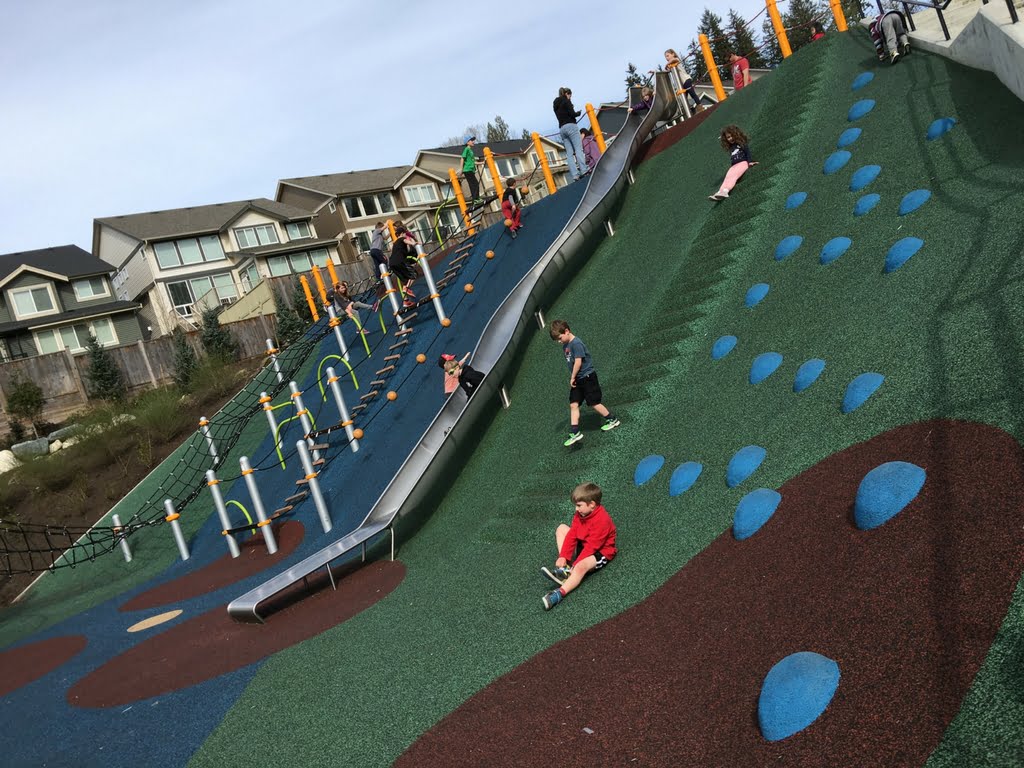 This playground is tucked away at the top of Coast Meridian Road in Coquitlam and is a must see! Integrated into the side of the hill, the Queenston Park playground is the ultimate spot for the climbers in your life. There is a rope net course, wobbly wooden slat bridge course, a hooped walkway, and stairs that you have to navigate and climb to get to the top before rushing down a half tube metal slide. There are also two other climbers with slides, great for both older and younger kids. There are some benches and grass areas, but sadly no public washrooms, so be prepared.
We know this list is just the tip of the iceberg…we'd LOVE to hear some of your favourite playgrounds in the Lower Mainland, so leave us a comment!
If you are you looking for another outdoor activity to do, try taking your family on a hike! Hiking is the perfect way to enjoy the sun, fresh air, mother nature and is a great family bonding experience!
Is this a sponsored post?: No, we were not paid for this post. We simply wanted to share our list of the Best playgrounds in Lower Mainland! We hope this inspires you and your family to get outside and try something new!