Are you looking for the best playgrounds in the Lower Mainland to take the kids out on a new adventure?
As park explorers for over 14 years, we love to check out our local parks and also visit new ones around the Lower Mainland. Some are great for a quick stop when the kids need to stretch their legs and burn off some energy and others make for a great full-day adventure. One of our favourite family traditions is to pack a picnic lunch and park hop for the day, making us tourists in our own backyards.
Parks have changed a lot from the days when we were a kid when splinters from the log beams were often one of the souvenirs we got to take home! Now there are 2 story slides, climbing nets, dinosaur-themed parks, and ziplines!
12 Best Playgrounds In Lower Mainland
Best Playgrounds in Vancouver
1. John Lawson Park
Park Address: 17th St, West Vancouver
The playground at John Lawson Park in West Vancouver not only evokes the imagination in kids but has a ton for them to explore. There is a train, complete with a climb-on train station, a big saucer swing, a small ropes course, outdoor musical instruments, a pirate ship climber, a roller slide and a small splash park. There is something for every kid at this park. Complete with covered picnic tables, benches, washrooms and the beach just steps away, this is another park you will want to pack a lunch for and stay the day.
Best Playgrounds in Surrey
2. Redwood Park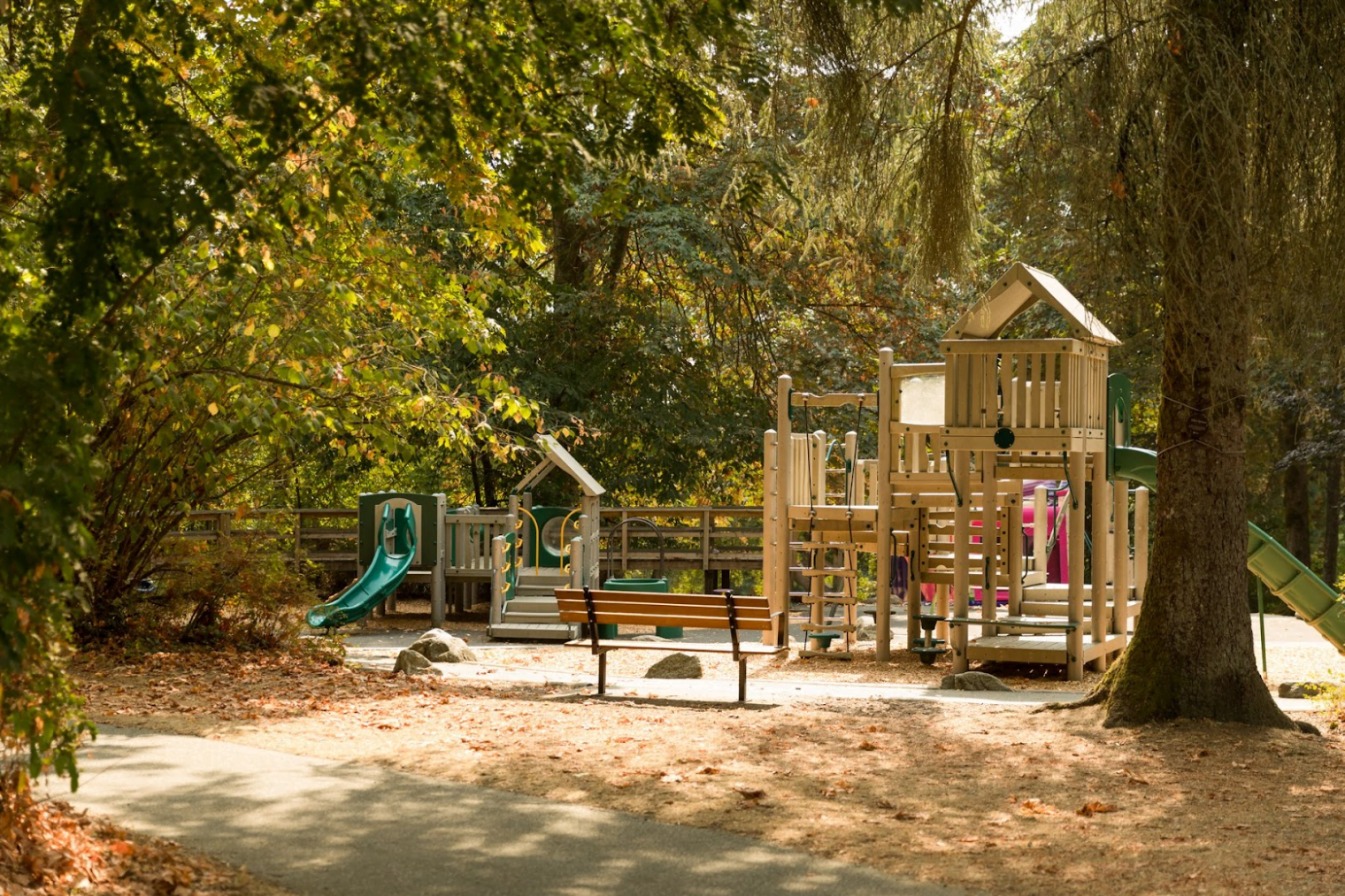 Park Address: 17900 20 Ave, Surrey
Located in Surrey, Redwood Park is home to not only an amazing area full of trails (including a fairy forest) but an incredible playground. This fully accessible playground created in partnership with the Rick Hansen Foundation has everything a kid could ask for! A giant spinning rope merry-go-round, a tall climbing structure complete with a slide, big saucer swings, and a sandbox with built-in diggers. Pack a lunch and spend the day, as there are plenty of picnic benches, public washrooms and a large grass area perfect for spreading out a blanket.
3. Unwin Park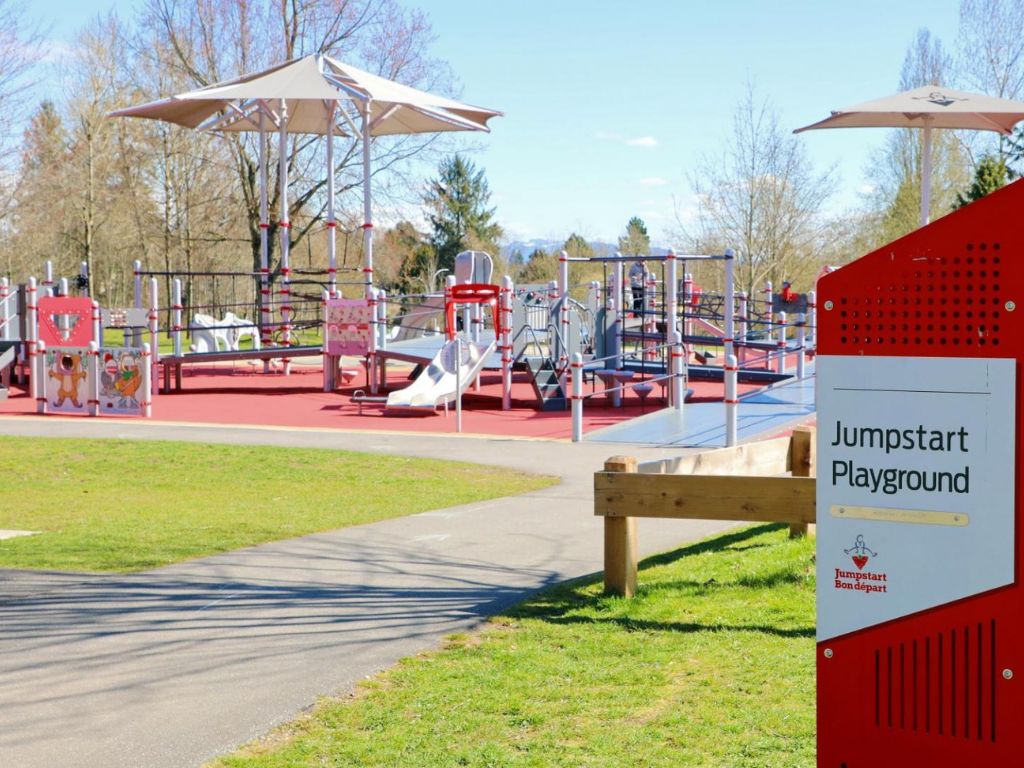 Park Address: 13313 68 Avenue, Surrey
Unwin Park in Newton is a 36-acre park offering residents and visitors a mecca of outdoor recreation. Their Jumpstart Inclusive Playground is the result of a unique partnership with the Canadian Tire Jumpstart Charities, with the goal of having a "Play Finds A Way" through a universally accessible playground. The playground is innovative and inclusive and helps remove accessibility barriers to sports and play. 
This 12,000-square-foot playground has a lot for kids of all abilities to explore including We-Go-Round, Sway Fun Glider, Omnispin Spinner, Cozy Dome, We-Saw, Netplex, Smart Play Motion, Sensory Play Center, Rhapsody Music Collection, slides with transfer benches, and a variety of swings, making this one of the best playgrounds in Lower Mainland. The whole playground is connected by a wide accessible ramp system allowing for seamless transitions. "The accessible play elements (sensory, climbing, motion, interactive and early childhood) are designed to encourage different motor, cognitive and social skills and engage kids' sensory systems." 
Unwin Park is another park that is perfect for planning a day trip as the park has so many amenities to explore including:
water spray park
outdoor pool
Picnic shelters
Dog park (off leash)
baseball diamonds
batting cage
cricket fields
dog off-leash area
soccer fields
lacrosse boxes
a basketball court
4. Edgewood Park, South Surrey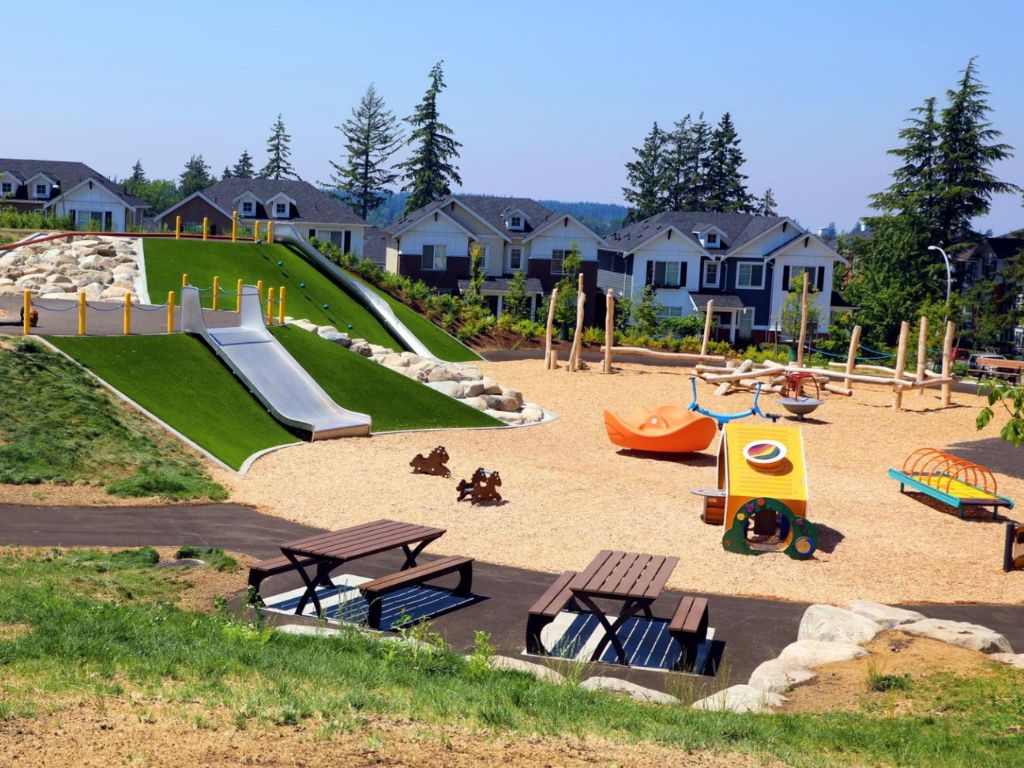 Park Address: 2284 – 165 Street, Surrey
While Edgewood Park has been around since the 1950's its recent renovation and innovative environmental programs are worth making a trip to this park. They have a newer playground that focuses on accessibility and providing children with a place to connect through nature and play. The playground has a roller table, a universal spinner, a dish swing and an extra wide slide. One of the passive goals of the park is to encourage cooperative play that encourages children to work together, resulting in grassroots community development. Also at the park is a basketball court, hockey box, and table tennis. 
When you're ready to take a stroll head down to the new Pollinator Meadow, a pilot project to help restore habitat for Surrey's pollinators. Plants native to the region as well as drought tolerant were planted to help provide food and cover for some of the city's most important residents, the bugs, birds, and wildlife.
5. Hawthorne Rotary Park
Park Address: 10513 144 St, Surrey
Hawthorne Rotary Park in Surrey is a park that was designed to have a beautiful playground and a large waterpark right next to each other, allowing kids to run back and forth under the summer sun, making this one of the best playgrounds in Lower Mainland when the weather is warm. There are lots of picnic tables, open spaces for wide games (bring a frisbee) and washrooms as well as changing rooms for your convenience. If you want to head further into the park there are nature trails that take you through the park's forests, where kids can spot birch trees, red alders as well as black cottonwoods. If your kids are into flowers they can check out the Hawthorne Gardens that come alive in the Spring!
Best Playgrounds in Langley
6. Dinosaur Park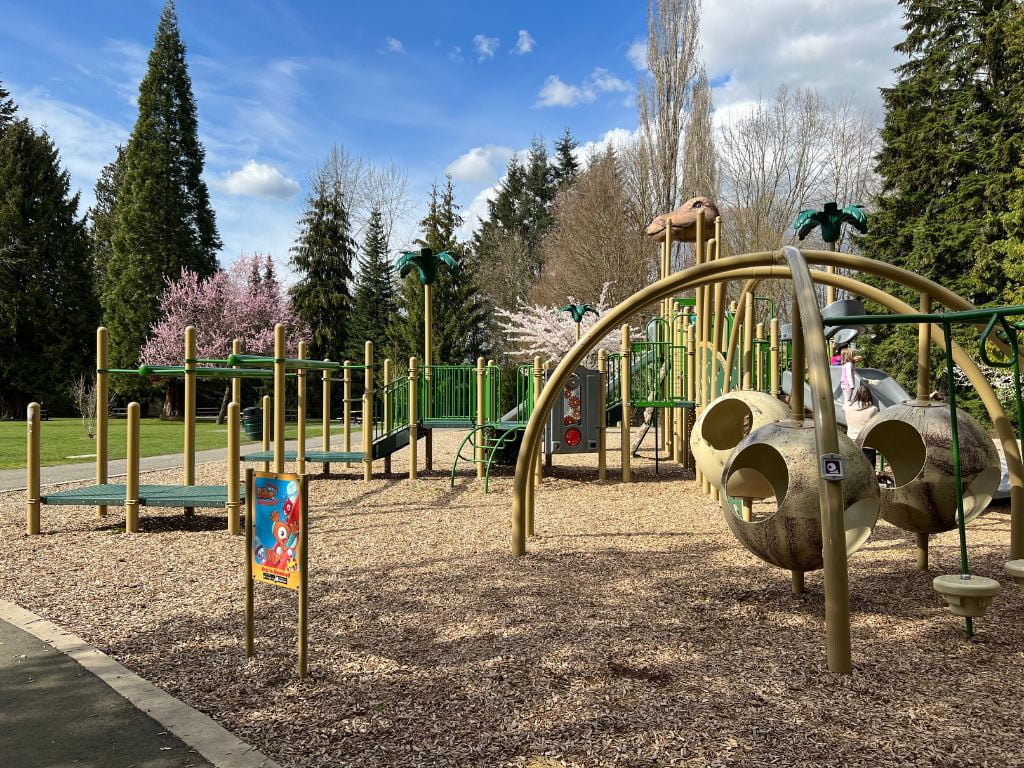 Park Address: 20577-20605 48 Ave, Langley
Whether you're a Jurassic Park fan or a Mom who trips over plastic dinosaur toys in her living room, a trip to the appropriately named Dinosaur Park in Langley is perfect for the whole family. 
The park features a playground with a gigantic T-Rex head on the top of the playground as well as big dino eggs to climb inside of. There is also a climbing wall that looks like a dinosaur spine.
If you're visiting on a warm Spring day or in the Summer, pack a picnic, sunscreen, and a swimsuit and visit the splash pad and outdoor pool and make it a full day at the park. With lots of large trees, picnic shelters, and shaded areas, it's a park that can welcome you for the whole day.
7. Langley Events Centre Playground – Willoughby Community Park
Park Address: 7888 200 St, Langley
Located beside the Langley Events Centre, the Langley Events Centre Playground has it all! A three-level climbing structure with a huge spiral slide, rock climbing wall, monkey bars, bridges and lookout tower. This playground will keep all the kids in the family busy, as there is a second area perfect for the under-5 age group. Adjacent to the playground is a spray park and a covered picnic shelter. Another great location for the family to spend the day or for a quick stop to let the kids release their energy!
8. Williams Park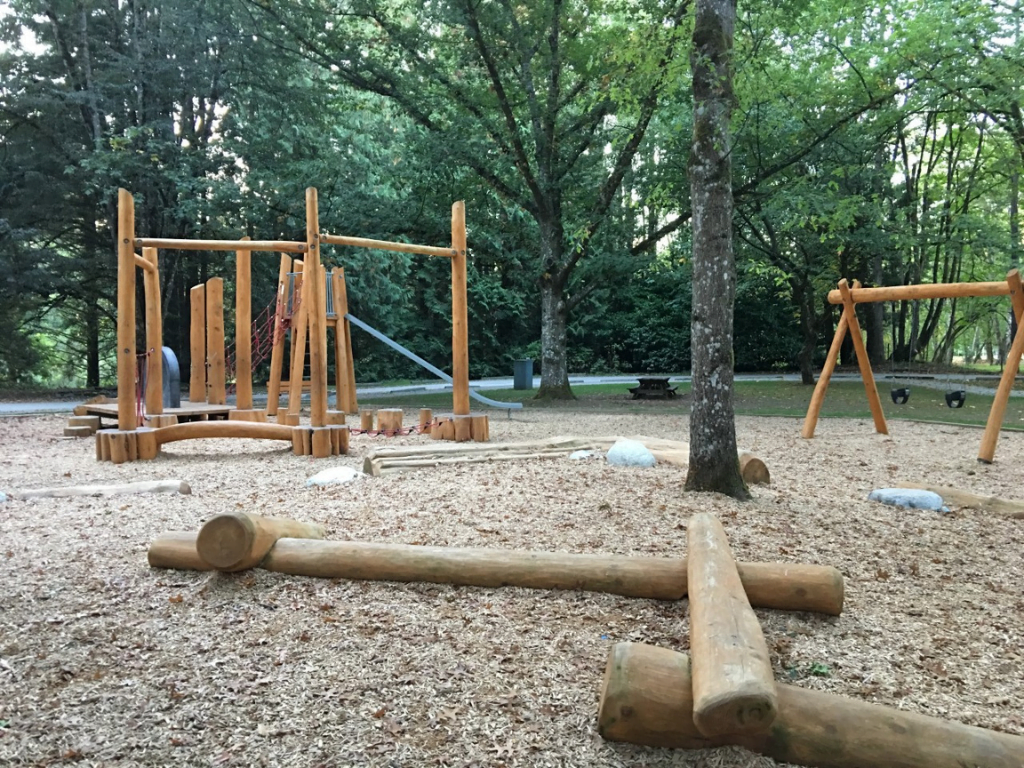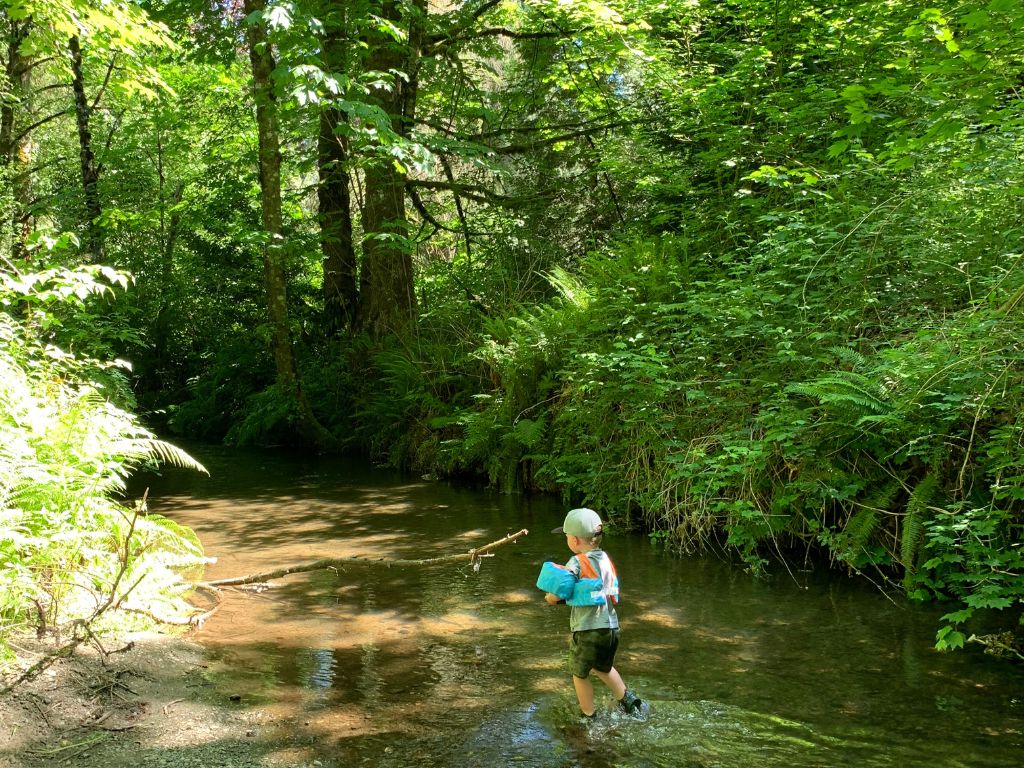 Park Address: 68 Ave & 238 Street, Langley
Williams Park in Langley is a forested oasis that welcomes you to explore forested walking trails, open winding meadows, and winding rivers filled with life (and educational signs to read up on too). The newly installed naturally themed playground is perfect after you've spent some time in the forest and want to settle down for a picnic and watch the kids play. With large picnic shelters, wide open areas, and beautiful bridges, this is a popular spot for family gatherings and even family photos!
Are dogs allowed at Williams Park Langley?
Dogs are welcome to visit the park but must be on a leash.
9. Penzer Park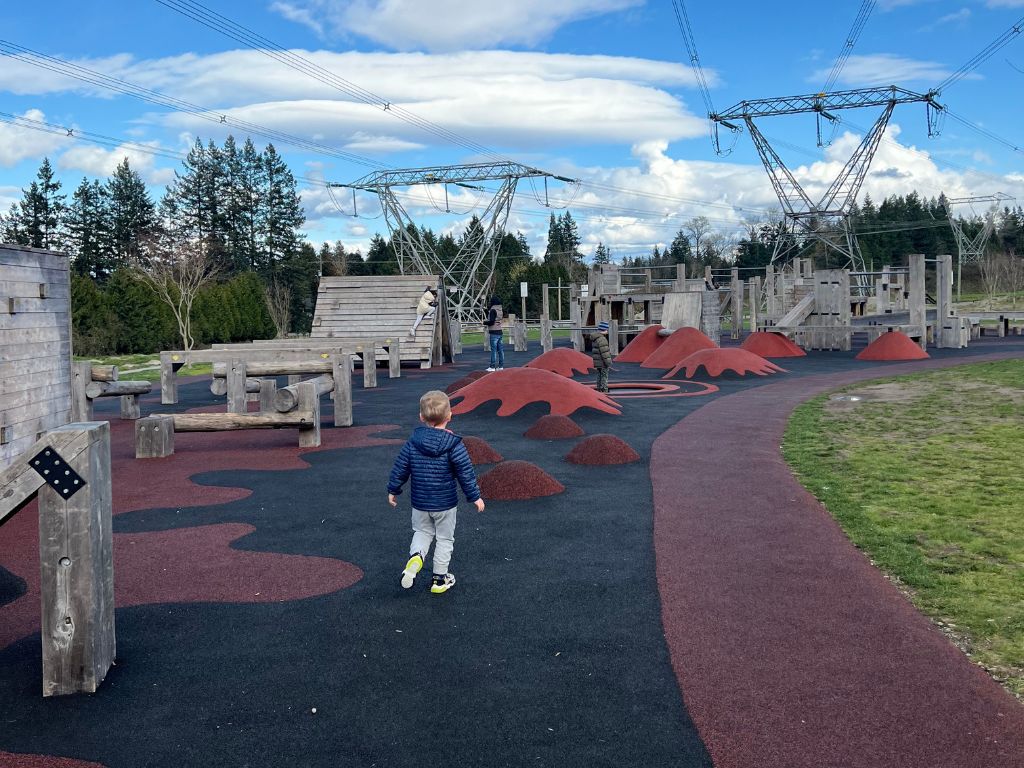 Park Address: 4748 198c St, Langley City 
Penzer Park in Langley is an adventure park filled with a parkour course, bike park, and skate park, all running along a greenway in the middle of Langley. If you have children with bundled-up energy, the innovative parkour park is a great place to take them, where you can get in on the fun of jumping around the obstacles within the park. This is not your typical playground which makes it the perfect destination park to visit.
Best Playgrounds in Delta
10. Centennial Beach Park
Park Address: Boundary Bay Rd, Delta
Located within the Boundary Bay Regional Park, the playground at Centennial Beach is incredible! Designed for kids of all ages, this playground has equipment suitable for a huge age range. There are small slides, infant-style swings and low climbers for the younger crowd. Plus a tall rope climbing tower, rock climbing wall, big spiral slide, and swings that take your toes into the clouds, all geared toward older children. With modern washrooms, picnic tables, benches for parents and a gorgeous beach just steps away from the playground, this is one place you are going to want to pack up the family and spend the whole day!
Best Playgrounds in Coquitlam
11. Queenston Park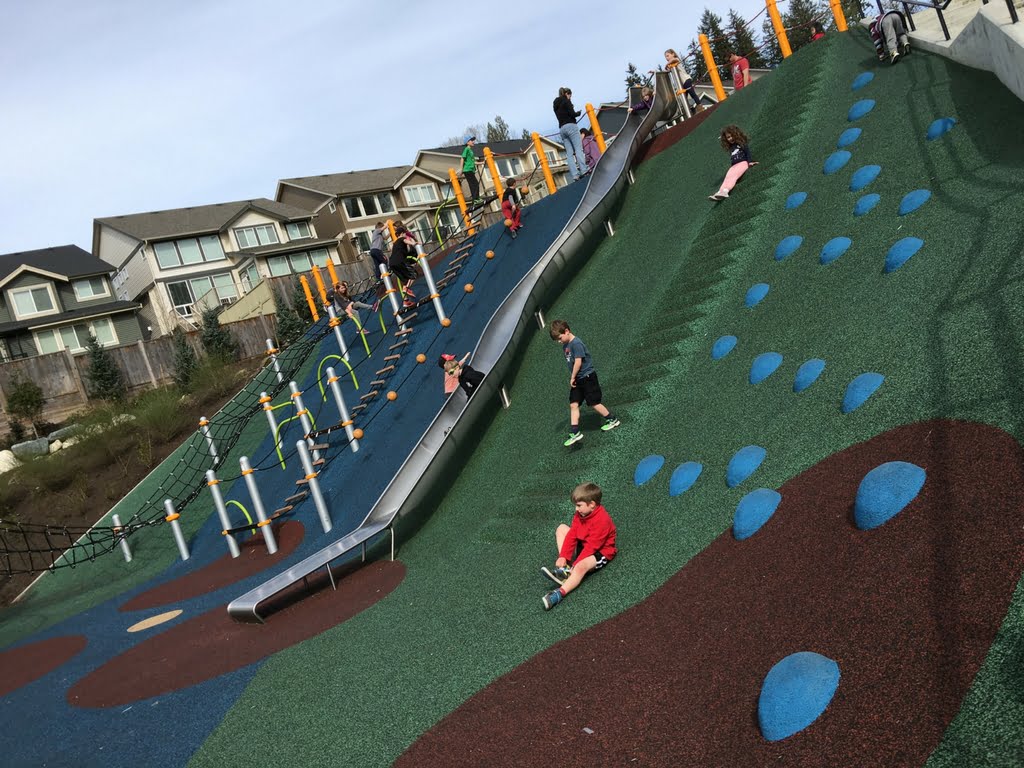 Park Address: 3415 Queenston Ave, Coquitlam
This playground is tucked away at the top of Coast Meridian Road in Coquitlam and is a must-see! Integrated into the side of the hill, the Queenston Park playground is the ultimate spot for the climbers in your life. There is a rope net course, a wobbly wooden slat bridge course, a hooped walkway, and stairs that you have to navigate and climb to get to the top before rushing down a half-tube metal slide. There are also two other climbers with slides, great for both older and younger kids. There are some benches and grass areas, but sadly no public washrooms, so be prepared.
Best Playgrounds in Pitt Meadows
12. Harris Road Park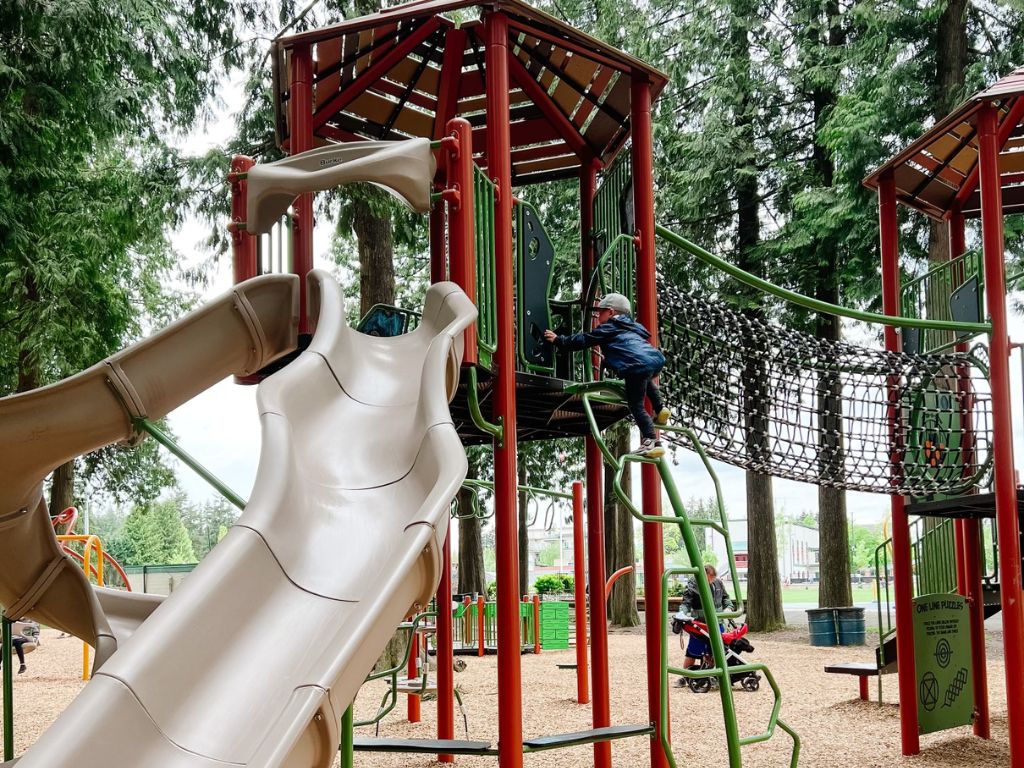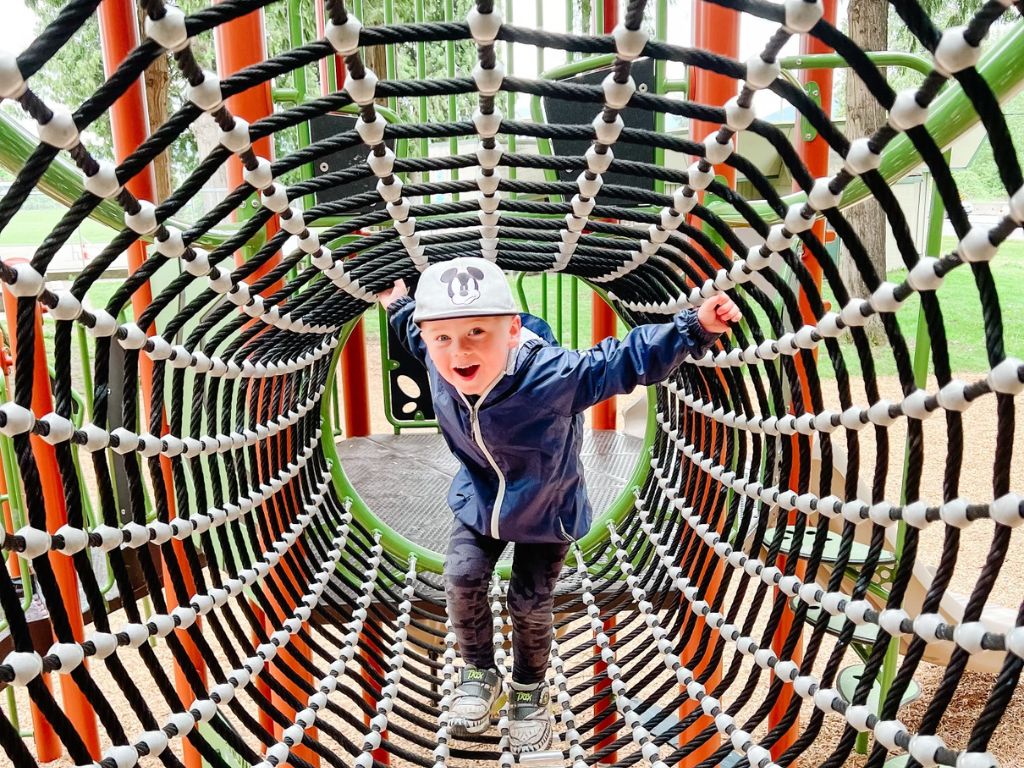 Park Address: 12472 Lougheed Hwy, Pitt Meadows 
The epic playground at Harris Road Park may be what brings you to discover this kid-approved oasis but know that there's a lot more to discover once you've arrived. Harris Road Park also has a spray park, skate park, walking trails as well as an outdoor pool. This park would be perfect to meet up with friends on a nice summer day, soaking in the rays and playing on the playground and in the water!
Best Playground in Richmond
13. Terra Nova Park Adventure Play Environment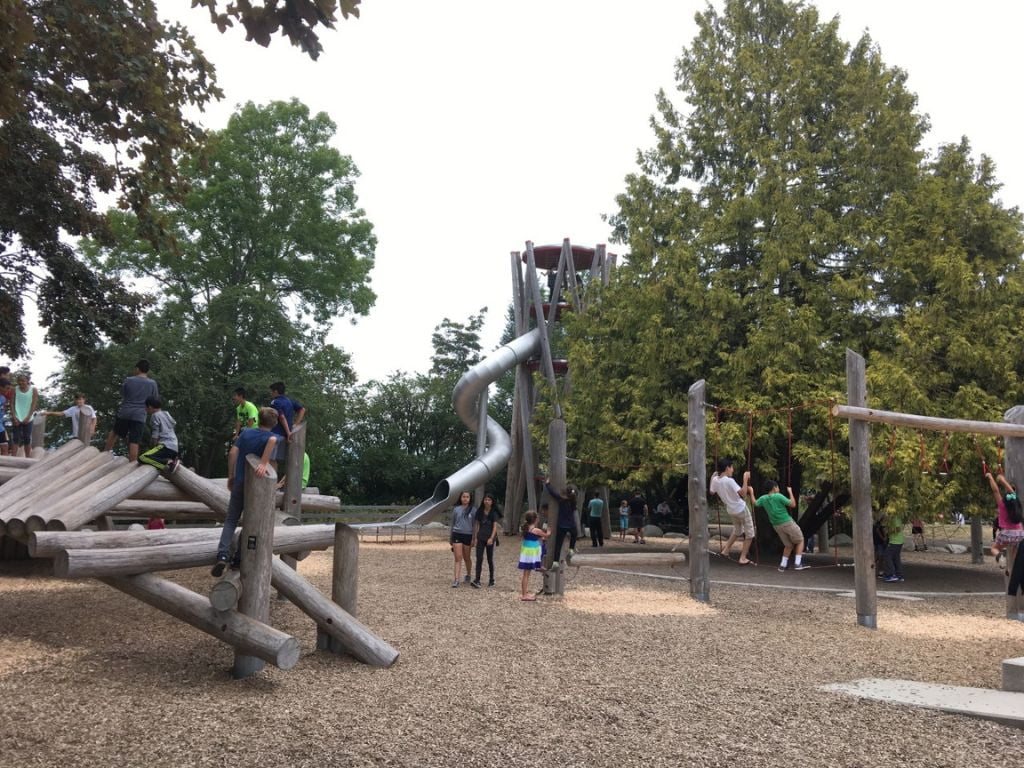 Park Address: 2340 River Rd, Richmond
Located in Richmond, the Terra Nova Adventure Play Environment is a kid's dream! Using its natural surroundings, this park encourages exploration through imagination. Featuring a 10-meter tall treehouse with a spiral slide, rope climbing course, natural log climbing structure, a slide built into a hillside, swings, a meadow maze, water & sand play area and tandem 35-meter long ziplines! With lots of wide open space and walking trails nearby, pack a lunch and spend the day at one of the best playgrounds in Lower Mainland.
FAQs
What is the biggest outdoor playground in Vancouver?
Creekside Park Playground, Vancouver – Creekside is Vancouver's largest playground located next to Science World. It has the perfect balance of trees and a play area which includes a play hut, sand and water area, jumbo tube slide and a climbing tower. The park is also accessible to kids who use wheelchairs.
Final Thoughts: 13 Best Playgrounds In the Lower Mainland
We know this list is just the tip of the iceberg…we'd LOVE to hear some of your favourite playgrounds in the Lower Mainland, so message us through Instagram and we can keep adding to this list of urban adventures! 
---
Check out These Articles for some Vancouver Adventure Inspiration!
Is this a sponsored post?: No, we were not paid for this post. We simply wanted to share our list of the Best playgrounds in Lower Mainland! We hope this inspires you and your family to get outside and try something new!