Looking for a summer camp for the adventurous kid in your life? Summer camps are not only iconic in Canadian culture, allowing children to make new friends and create lasting memories, but they are a way to introduce some much-needed variety to kids' summer vacation time.  We have handpicked the best adventure camps for kids who like to get outside and learn new skills.
Deep Cove Summer Camps
There are many different camp options at Deep Cove, depending on the age range and interests of your kids. Here are a few of the options they offer:
Deep Cove Kids Camp- The Deep Cove Kids camps run for 5 days. The camps start at age 7 for the Junior camps, which are for half days and can either be Level 1 or 2 depending on if they've attended a camp before. A basic comfort level around water is expected. Find more details, including dates and what to bring, click here.
Coastal Adventure Camp- 10-12 year olds can attend the Coastal Adventure Camps, which are for full days and include hiking around local trails as well as kayaking. Find more details, including dates and what to bring, click here.
Teen Adventure Camp- For up to 17 year olds, there are the teen adventure camps, which include an overnight camp trip up Indian Arm. Find more details, including dates and what to bring, click here.
Stand Up Paddleboard Camp- These are morning half-day camp trips for 9-12 year olds that will teach the basics of paddle boarding to your youngsters. Find more details, including dates and what to bring, click here.
Grouse Mountain Adventure Camps
Just 15 minutes from downtown Vancouver, Grouse Mountain kids' and teens' camps encourage outdoor exploration with hands on learning and activities every day. Campers will enjoy outdoor exploration, animal behavior, mountain rescue, archery, shelter building, hikes, and more. Campers get exclusive behind the scenes access to meet some of Grouse's famous animals, including their resident Owl. Their Junior Camps are for 5-7 year olds; Kids Camps are for 8-12 year olds; Youth Programs are for 12-15 year olds; and their Leaders in Training Camps are for 14-16 year olds. Single day camps start at just $60.
Find more details about the camp and its activities, visit their website.
Valley Wake Park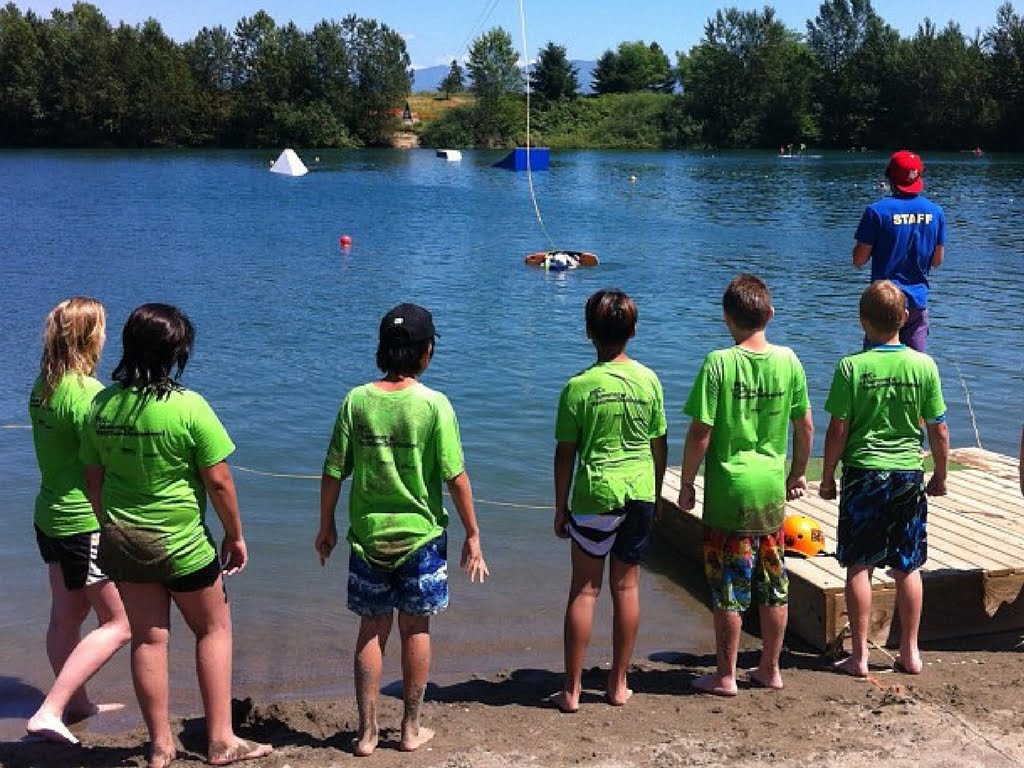 Wakeboarding camp at Valley Wake Park, for 7-12-year-olds, is an introduction to wakeboarding—a fun and cool way to enjoy the water this summer. Valley Wake Park is a "boatless" approach as riders are pulled on a cable system back and forth across the lake. Riders will be able to progress from basic riding to jumping obstacles, riding rails, 360 turns and more. No prior experience is necessary but it is recommended to book soon as this popular camp books up quick! Learn more here
Family Learn-to-Camp Weekends at Fort Langley National Historic Site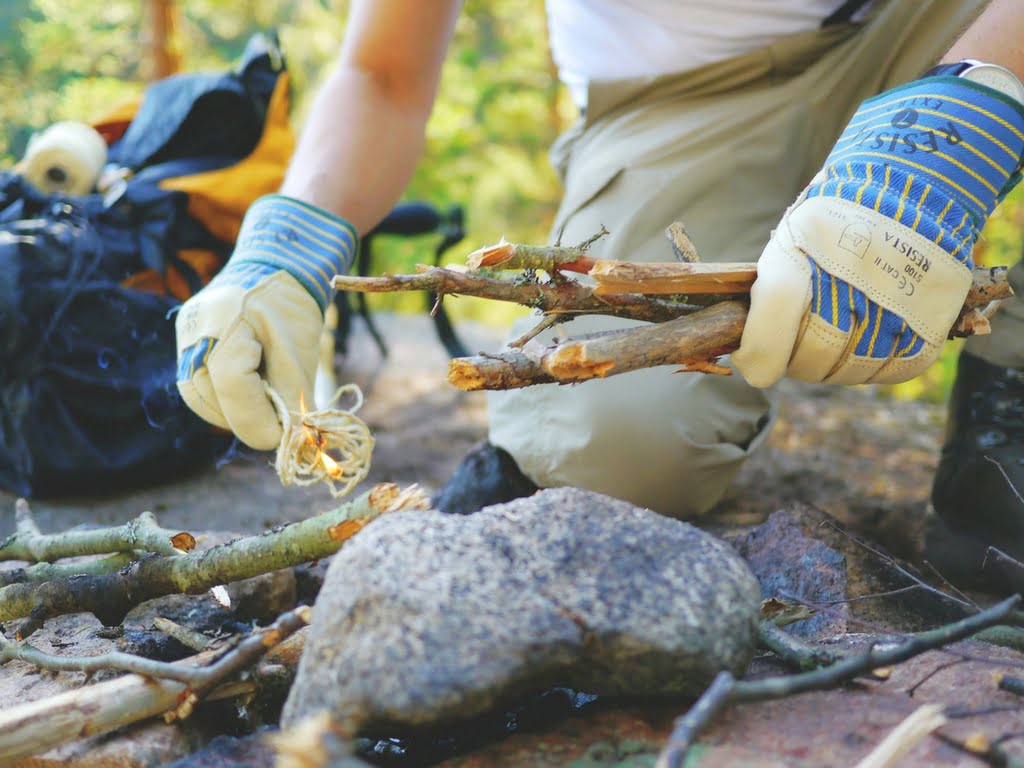 Thinking about learning how to camp? This year Parks Canada and MEC are teaming up to teach people how to camp! There are two weekends in June to choose from where you and your family can head to the Fort Langley National Historic Site and learn how to pitch a tent, build a campfire, learn outdoor recreation safety skills and camp cooking skills. Plus, you get to stay overnight at the Fort in the tent that you and your family learn to put up! Meals and some of the equipment is included.
For more information and to register, click here.
Camp Fircom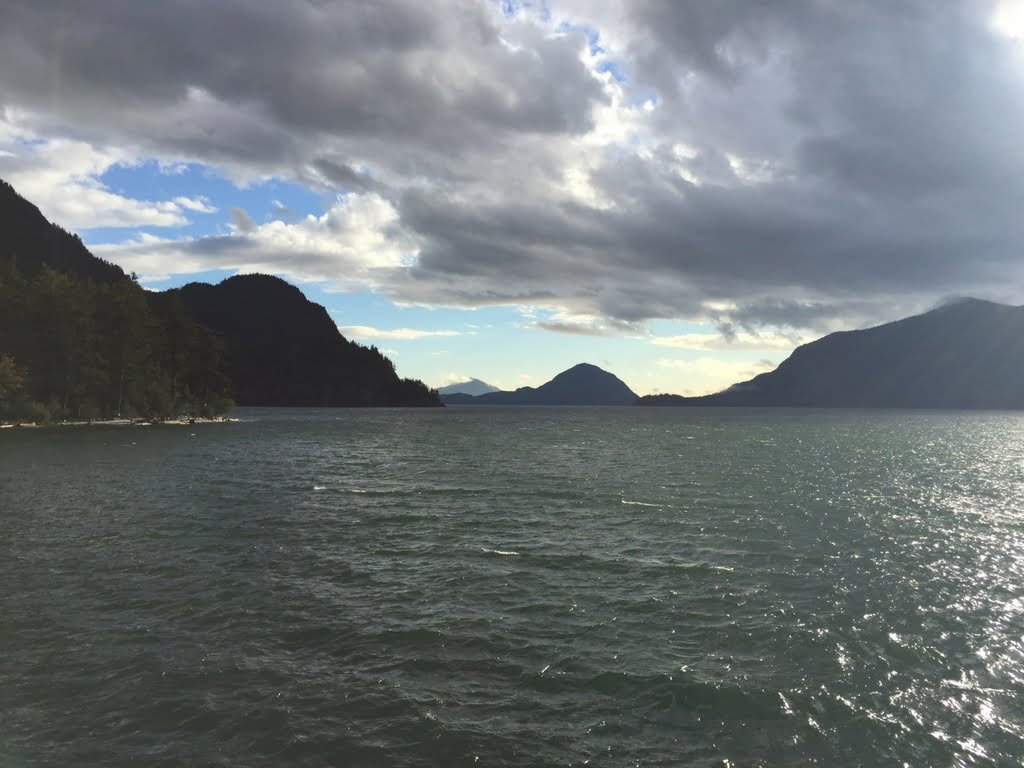 Since 1923 kids have been heading to Gambier Island to take part in summer camps. A short 20 minute water taxi ride from Horseshoe Bay, Camp Fircom offers a variety of camps for kids ages 5-17, family camps, as well as moms & kids and dads & kids camps. Campers will take part in many traditional summer camp activities including: archery, canoeing, kayaking, arts and crafts, skit nights, overnight out-trips, and singing and s'mores around the campfire.
To find out more detailed information and to register for camp, click here.
Mt. Seymour Eco-Adventure Camp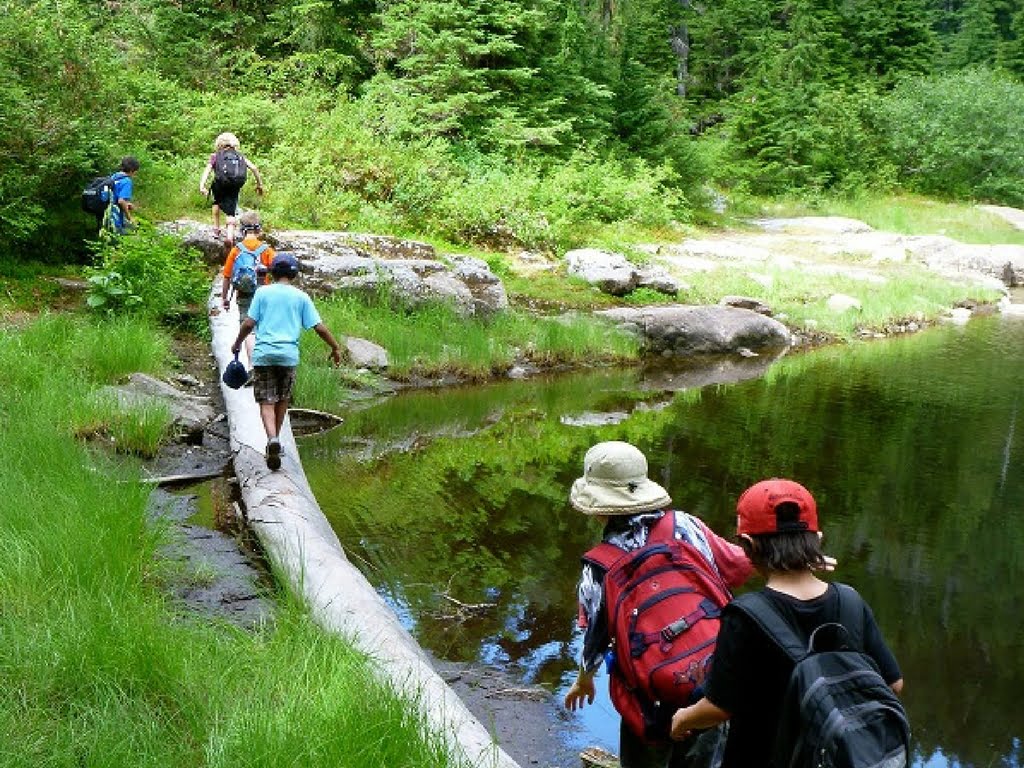 Mt. Seymour is offering experiential summer adventure camps for kids aged 5-14. These 4 or 5 day non-overnight camps will incorporate fun, education, skill development and adventure. Campers will gain a strong sense of place and belonging in the local natural world while exploring and participating in adventures on the top of the mountain. Every registrant will receive a 2017-2018 Mt. Seymour Season's Pass so they can hit the slopes next winter.
For more information on each camp, what is offered and the cost, visit their website.
Pedalheads
Whether your child is new to biking, or has hit some trails or roads before, Pedalheads offers camps for all riders and abilities. They also offer a few combination camps including a bike and swim camp and a bike and multi-sport camp. Here are some of the summer camps they offer:
Half Day Camp- This camp is for ages 4 and up, is 2.5 hours and teaches riders safety and skills needed to ride on both the road and the trails.
All Day Bike Camp- All riders (ages 4 and up) experience both morning and afternoon classes with a break for games and crafts before lunchtime. Young kids will have a chance to experience a variety of activities to keep them focused and intermediate kids will have the opportunity to challenge themselves with some off site rides.
Preschooler Camps- This camp is specially designed for the age 2-3 crowd and introduces kids to the joy of biking. Whether they bring their trike, run bikes or bikes with training wheels, this program teaches helmet and traffic safety, starting, stopping and steering skills.
Mountain Bike Camps- Half day camps for ages 4-15 and full day camps for ages 8-15 are brand new and are currently only offered in North Vancouver (with a Coquitlam location coming soon!). These camps will help kids build their skills while exploring some of the best wilderness parks in the North Shore.
Private Lessons- In addition to their camps, Pedalheads offers one on one lessons which are great for beginners or for someone looking to improve on a particular skill.
For more information on their general bike camps, click here. For their mountain biking camps, click here.
Aldor Acres Farm Camp
Do you have kids who love to be outside and enjoy animals? Aldor Acres offers 1-5 day farm camps for kids aged 5-12. They will get to experience farm chore time, vegetable planting in the gardens, creek exploration, picnics with bunnies and games of tag in the Christmas tree field, all taking place on their 80 acre family farm in Langley.
Camps start at $65 for one day. For more information and to register, visit their website.
YMCA Camp Elphinstone
The YMCA is a great resource for summer camp adventures! Whether you are looking for day camps or week long overnight camps, sailing camps, hiking camps, rock climbing camps or even a family camp, the YMCA has it all. Need a mom's getaway? They offer that too with their Women's Weekend camp. Camp Elphinstone, located in Gibsons on the beautiful Sunshine Coast, is the perfect setting for these adventure camps.
For more information on all the adventure camps for kids they offer, and registration, check out their website.
Are you an adventurous family looking for other things to do this summer, check out our Top 5 Family Hikes in Greater Vancouver. Do you already have a family camping adventure planned for this summer? We've come up with the Ultimate Camping List to make sure you don't forget any of the essentials!
Is this a sponsored post?: No, we were not paid for this post. We simply wanted to share our list of the best adventure camps for kids!  We hope this inspires you and your family to get outside and try something new!