Nestled in the heart of West Vancouver, Lighthouse Park is a gem that is perfect for a family outing. There are plenty of hike trails to choose from, all with stunning ocean views and lush vegetation. The kids will love playing in the tide pools and scrambling over the rocks, and everyone will enjoy a picnic lunch in the sheltered cove. In addition, the park is home to a historic lighthouse which is well worth a visit. Built in 1912, it stands 35 meters (115 feet) tall and the site offers spectacular ocean views. So whether you're looking for a historical adventure or a leisurely stroll, Lighthouse Park West Vancouver is sure to please the whole family.
Are you looking for one of the very best introductory hikes in Metro Vancouver? Well, it is without hesitation that I recommend Lighthouse Park in West Vancouver. This post is chalked full of photos to show why I loved this family adventure!
To the Lighthouse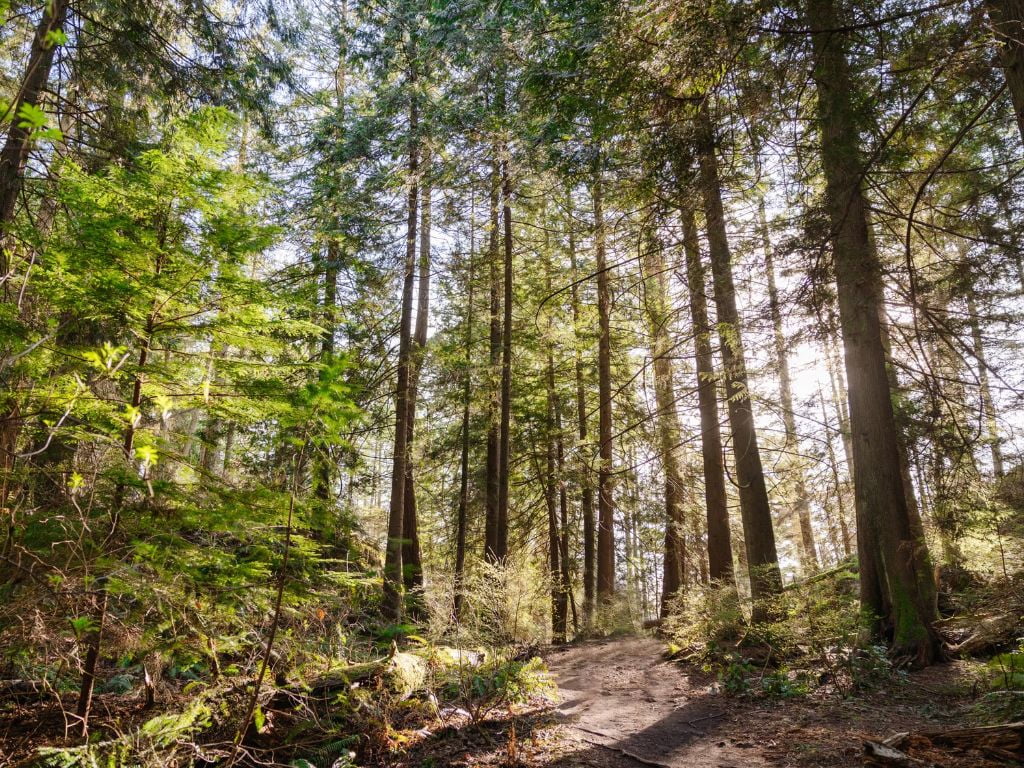 It was an average Sunday in our household, which means "Sunday – Funday!" While I had absolutely NO ambition to peel off the warm blankets and get moving, the reality is that you can't write a blog about adventure and spend Sundays on the couch.
I told the kids it was time for family fun and it warmed my heart how quickly they were digging out their hiking boots and collecting all of their gear. "I need a hat", "I need a whistle" – music to my ears.
We chose Lighthouse Park West Vancouver because of the family-friendly slope and the view of the lighthouse. Other than that, I had no clue about the park.
My first surprise was when we arrived. Apparently, the sunny 15-degree February day had given many people the same idea and the parking lot was PACKED. It turned out that it was a bit of a game, but there seemed to be as many people finishing up their hikes as there was starting them, so it only took a little wait before we had our spot.
The trail didn't disappoint. It had nice wide walking trails which my children "flew" down like airplanes. There were lots of points of interest along the way to stop and look at… way more than I expected.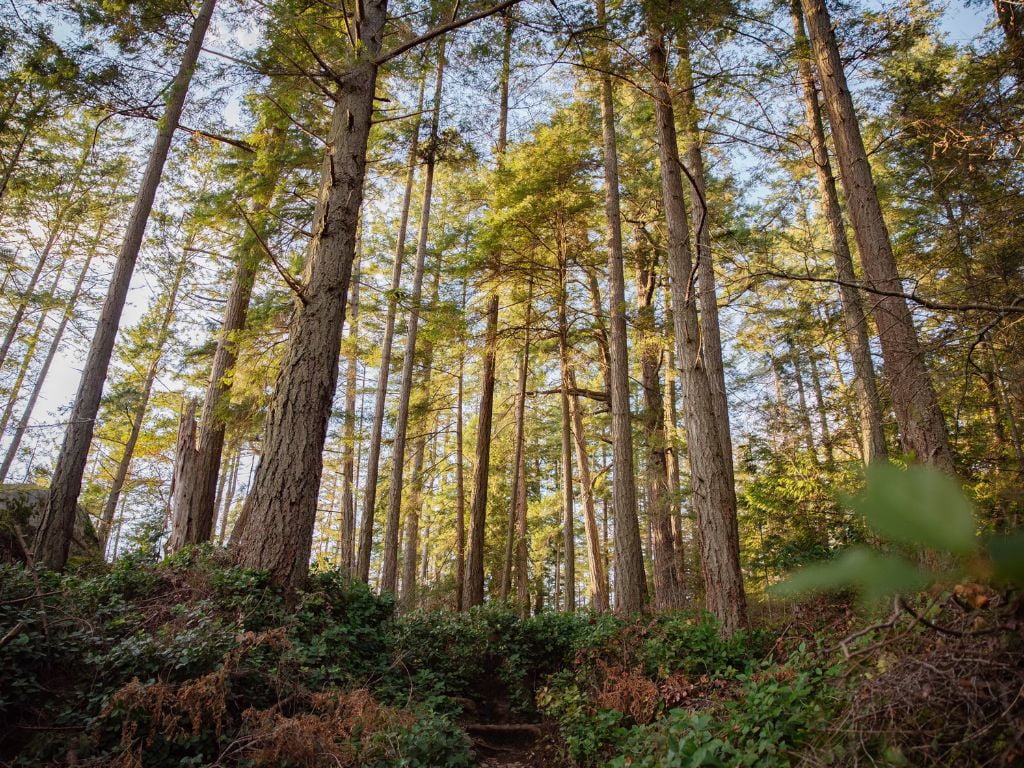 The kids took turns fighting over who got to take pictures of all the scenery. "Look at that tree…" "Let's go check this out"
"We never could have loved the earth if we had no childhood in it" George Eliot
After about 15 minutes we reached the trailhead for the Lighthouse.
At the Lighthouse
Another minute, up some steps, and we could see the awesome lighthouse. This immediately prompted questions about what a lighthouse is and why it's there… emergent learning… check! Built in 1912, the current lighthouse is a national historic site of Canada and there is a wealth of information on-site to answer all your young one's questions.
Beyond the Lighthouse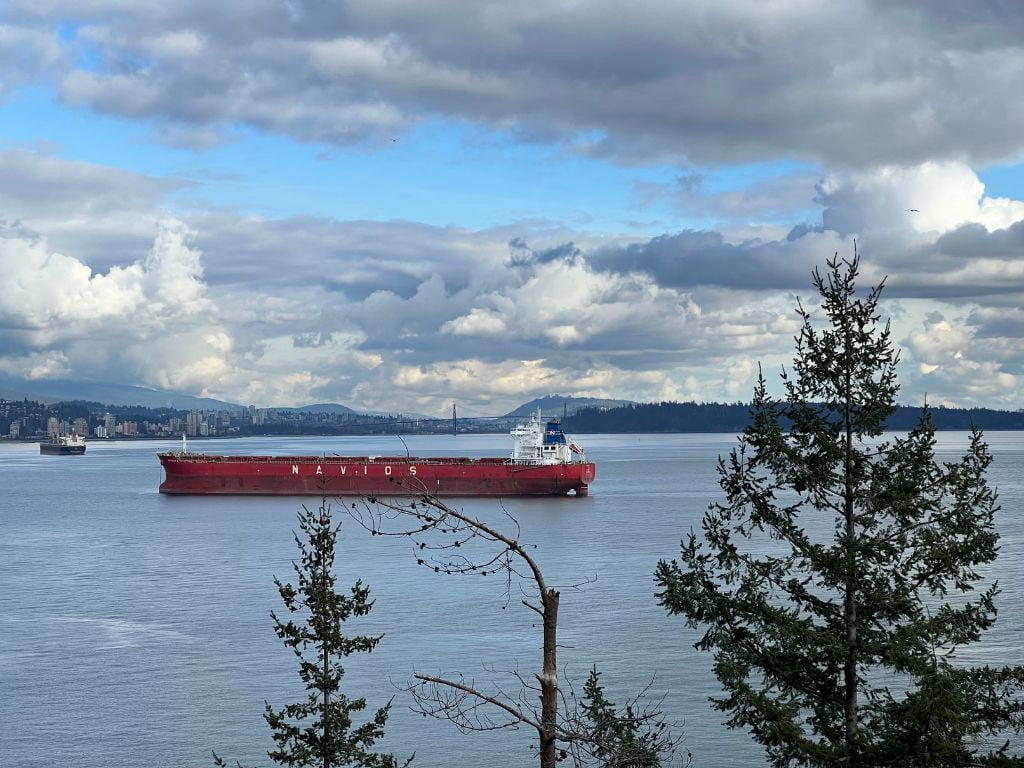 So we were about 20 minutes into our Lighthouse Park hike adventure at this point and we decided to check out some of the other trails… not part of the plan but we still had lots of energy. After a five-minute walk down another trail, we came out at the top of the beach overlooking Stanley Park and Vancouver. It was awesome!!!
The kid's legs couldn't carry them down to the beach fast enough! We spent the next hour rock climbing, beachcombing, looking for driftwood, taking photos, and watching boats go by – all under beautiful and warm sunny skies. It was a magical afternoon!
Homeward Bound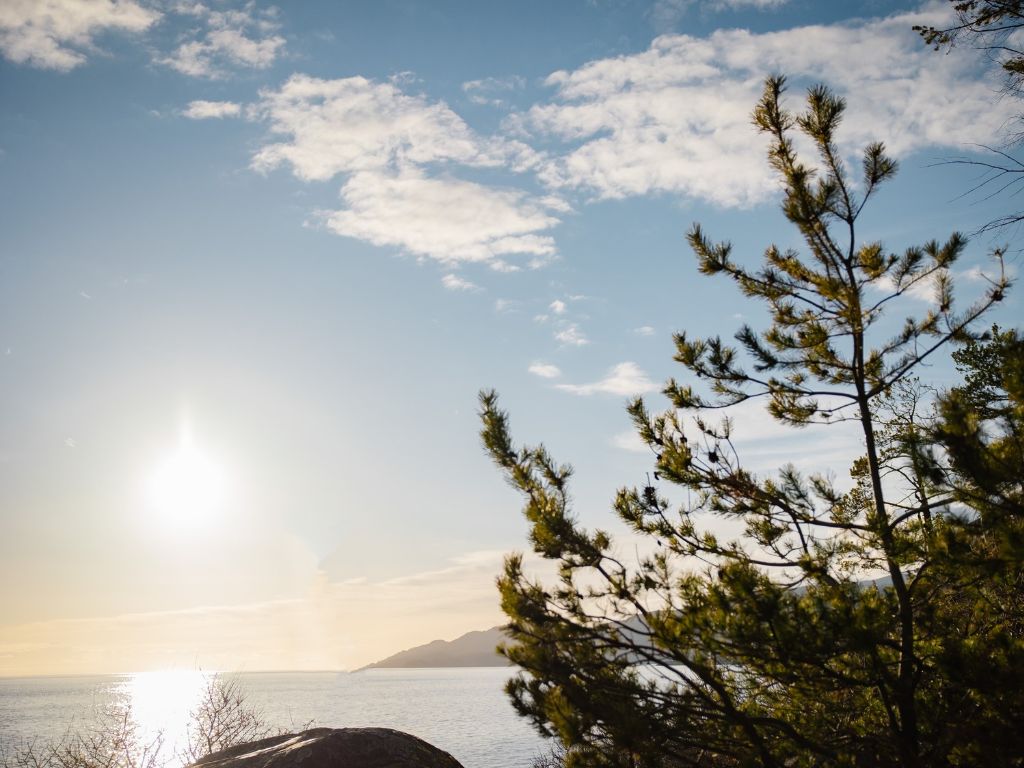 The hike back up to the parking lot was a little bit more challenging and the kids were a bit tired so I pulled out some "healthy" fruit candy and selected points of interest that once we reached them they got candy. Needless to say, we got to the Lighthouse Park parking lot quickly and without whining (or me having to carry anyone!) I don't shy away from a little bribing (in moderation, of course) – it's just another tool in the parental toolbox!
I highly recommend this excursion… it is well worth the drive (45 minutes from Langley) and it's a short enough hike that you can combine it with other activities during the day (we went to Stanley Park afterwards).
Hike Pros:
Family Friendly, easy terrain, even for strollers
Dogs allowed (on leash)
Washrooms on site
LOTS to look at (Mountain Bikers, hikers, other people, trees, hills, cliffs, etc)
AMAZING views right in our backyard!
Lighthouse Park, West Vancouver Hike Cons:
Parking – just be prepared to park tight and wait a bit for a spot to free up.
I didn't pack enough snacks… I normally pack too much!
Lighthouse Park, West Vancouver Hike Highlights:
Kids love maps, so on the way there, I gave them a map to look at and the whole time we discussed different elements of the map.
The Compass in my car was fun as it correlated to a map—an unexpected opportunity for learning.
Tons of opportunities for emergent learning in the forest, including the cut from the tree, the signage throughout the park, and the prominent elements like the lighthouse.
We listened for all the different languages we could hear and lost count… people from all over the world travel here, to a destination we take for granted. It opened up several different conversations which were great!
Lighthouse Park, West Vancouver FAQs:
How to get to Lighthouse Park?
If coming from Vancouver or the Fraser Valley, take Highway 1 west to Exit 4 (Woodgreen Dr/Headland Dr) just before the Horseshoe Bay Ferry Terminal then follow the signs left to Headland Dr. Headland Dr winds down to Marine Dr via The Dale. Honestly, it's a bit of a maze in there, so it's best to use a map or app if available or plan your route beforehand. The Lighthouse Park parking area sits at the end of Beacon Lane.
How long is the Lighthouse Park trail?
Trails range from 1km to 6km and from easy to moderately difficult. Check out this trail map.
Can you swim at Lighthouse Park?
During the summer, yes. Remember, though, that this is an open ocean. It is very cold and significant waves and currents occur in this area so keep an eye on the conditions. For children, shallow wading at the small beach areas is best.
Is Lighthouse Park stroller-friendly?
Yes, some trails are stroller friendly. Others have stairs or rocks and are not suitable for strollers.
Are there bears in Lighthouse Park, West Vancouver?
Occasionally. Like anywhere in the lower mainland, bears occasionally make their way into populated areas in search of food. We can do our part by making sure any food or garbage ends up properly recycled or disposed of. Remember the golden rule: if you brought it there, take it home!
How many acres is Lighthouse Park?
Big enough! Lighthouse Park is approximately 185 acres (75 hectares) in size.
Want to know a Secret?
Okay, it's not really a secret, but if you take the side trail to Juniper Point, you can often find rock climbers making their way up a number of climbing routes. But remember, these are ropes-only climbs and only for those with proper equipment and training!
---
Check out These Articles for some Hiking Inspiration!