Are you looking for the best Fraser Valley Beaches to take the family to this season?
As locals, we love digging out the sand toys and towels and heading to our local beaches for an afternoon of unstructured play in the sun. We've done the "hard work" of scouting all the beaches to bring you a complete list of all of the best beaches to check out with kids so that all you have to do is load up the car and floaties and get ready to hit the beach!

Mom Tip: Have a summer bucket list of all of the beaches you want to visit and then check them off as you visit each one! We even like going to beaches on overcast days, it's not as busy, you don't have to worry as much about the sun, and the kids still have fun!
15 of the Best Fraser Valley Beaches To Visit
LANGLEY BEACHES
Brae Island Regional Park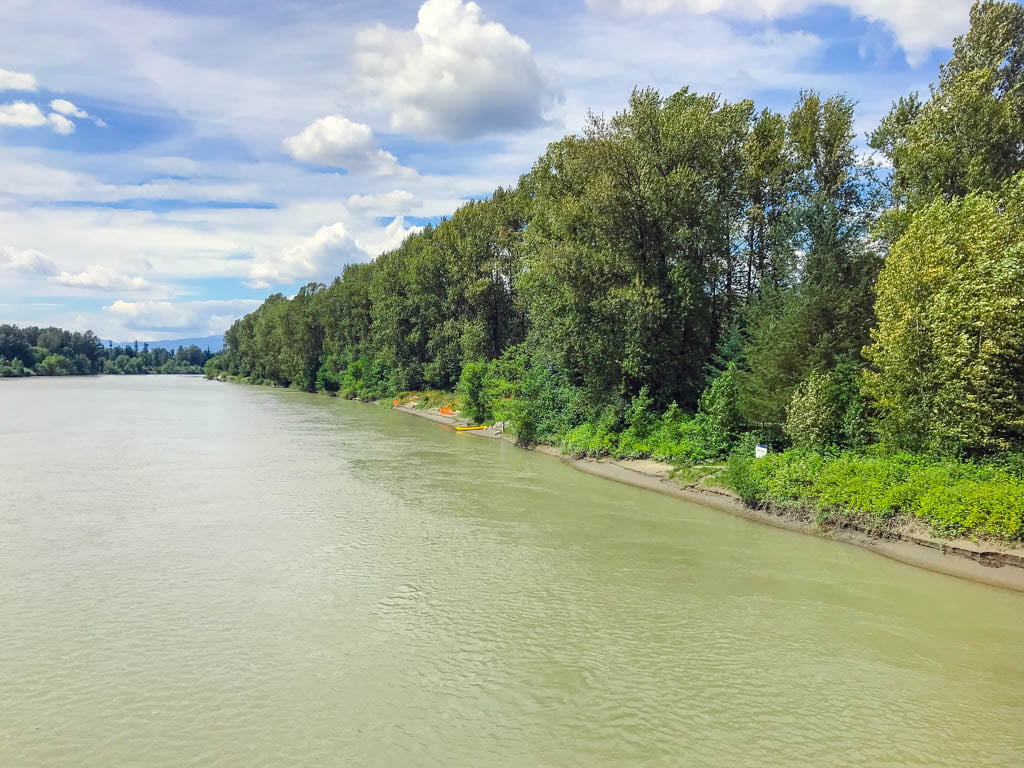 Located across the bridge from Fort Langley is Brae Island Regional Park. This park is home to both a day-use area and a full-service campground. The day-use area has a small but beautiful sandy beach and picnic areas.
If the kids need a break from the beach, there are 2 km of trails suitable for both walking and biking. These trails lead to 4 lookout points that offer views of the Fraser River, perfect for watching fishing boats and tugboats. We love the close proximity this beach is to the village of Fort Langley, so you can take an afternoon break and wander into town for treats and ice cream!
Safety First: The Fraser River is a strong and fast-moving River and water safety is a priority. We don't swim in the Fraser River but instead, hang out on the beach and build sand castles, skip rocks, and enjoy the cool breeze off the water.
Mom Tip: The Bedford Channel side of the park is a slower-moving tributary of the river, so we opt to visit on that side versus the Fraser River side.
Derby Reach Regional Park, Langley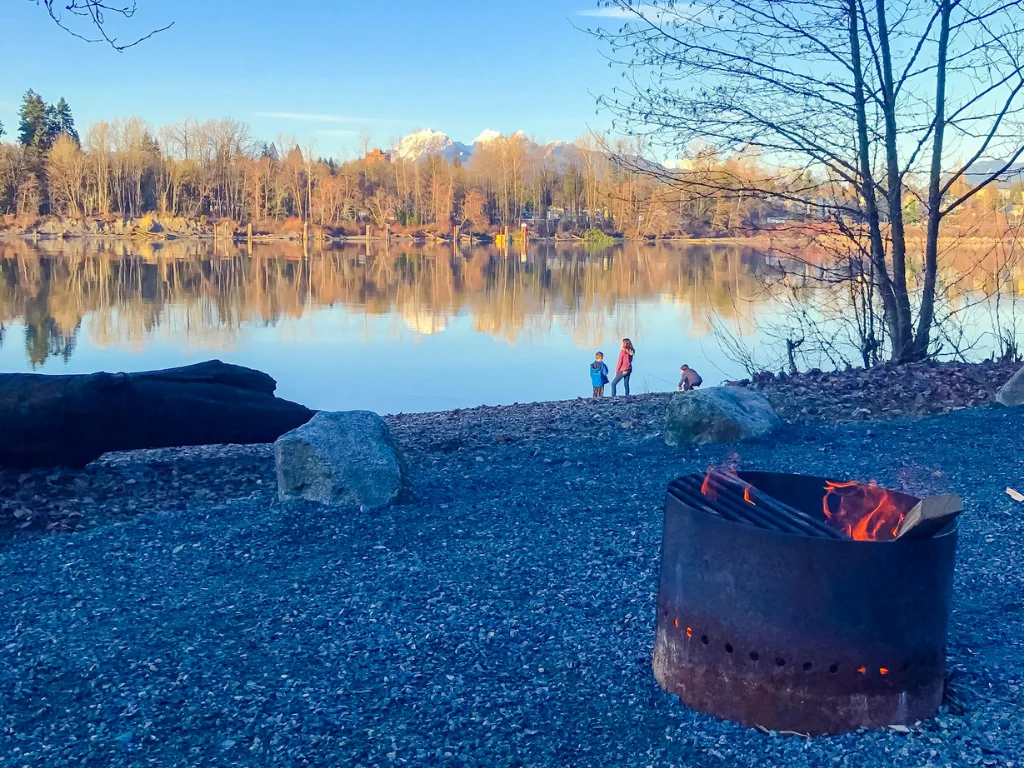 A favourite among us locals as well as a great destination beach is the Derby Reach Regional Park. What I love the most about the park is the beachside campfires, where you can bring a camp stove, camp chairs and have your friends join you for a hot dog and classic s'mores.
The beach itself runs along the river and has lots of amazing smaller rocks, perfect for skipping stones. The Fraser River isn't intended for swimming so it's more of a scenic beach to visit.
Mom Tip: Last-minute trips to this park are always one of my favourite things to do in the Summer. I'll send out a huge group text telling everyone to meet there and whomever can come, comes. Everyone can bring whatever food is in the fridge, snacks, sports equipment to play on the big field, and treats and it makes for a special afternoon (my husband even surprised me once there for a birthday campfire party!).
SURREY BEACHES
Crescent Beach, White Rock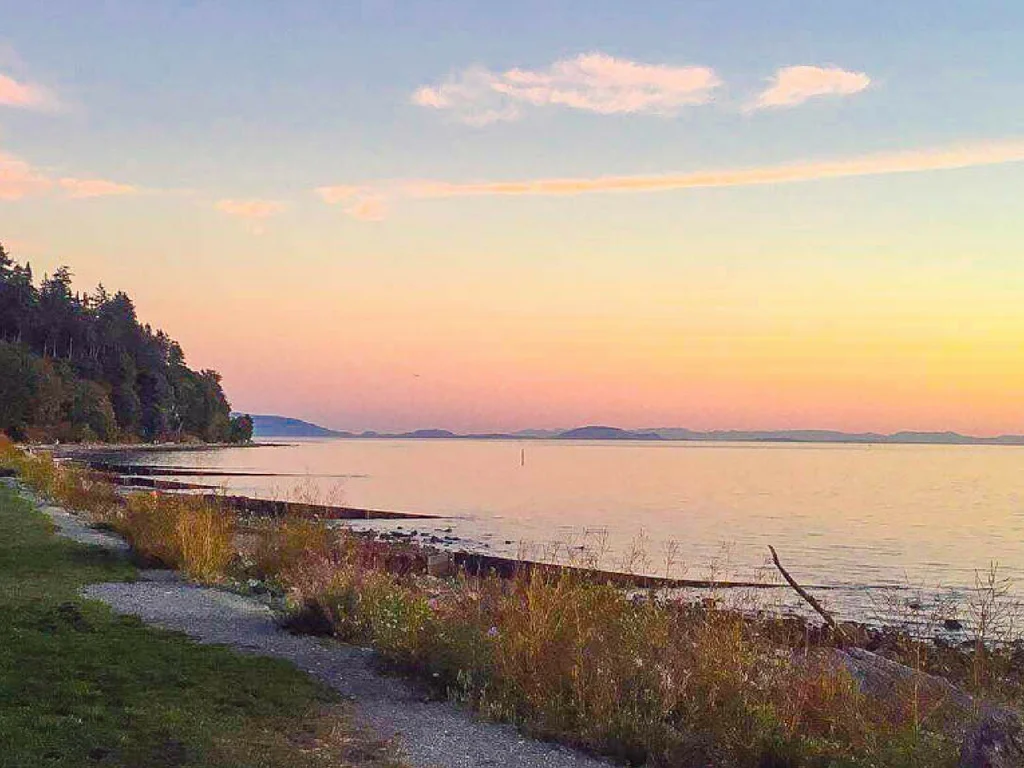 When looking for the perfect beach location for families, Crescent Beach is always a crowd-pleaser. With lots of kilometres of shoreline to explore, you can always find a spot to lay down a blanket, set up the beach chairs, plop down the picnic basket and spend the whole day.
Sullivan Point is a great location for families, as there are two designated roped-off swimming areas with lifeguards on duty (from June 24th to September 4, 2023 – they are on duty 11 am-8:30 pm every day during the summer). There is also a big grass area in case you need a break from the sand.
Mom Tip: Don't forget to wander Beecher Street and grab an ice cream! Crescent Beach is a very popular area, so come early to find parking and stay all day!
Green Timbers Lake, Surrey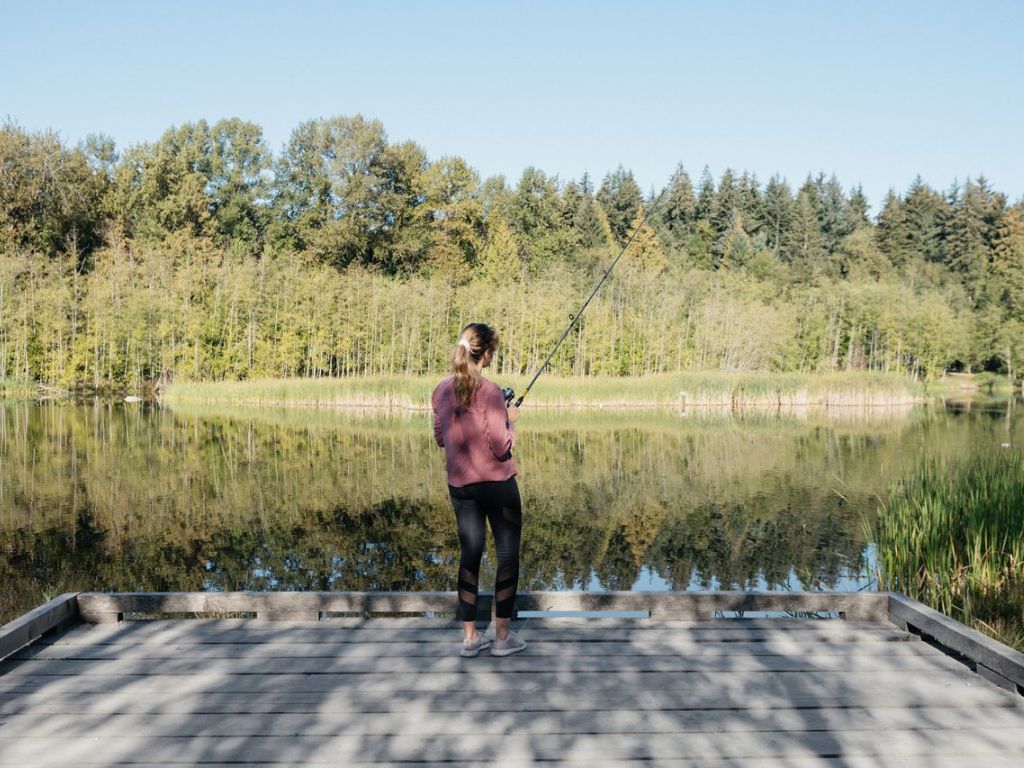 Set amongst the urban forest is Green Timbers Lake, an urban oasis in the heart of Surrey. The lake is only meant for fishing and walking around, so doesn't have a white sandy beach for kids to play on, but is a lovely stroll and an unexpected oasis for visitors. Year-round fishing is available from the shore, and no watercraft, wading, or swimming is permitted. Dogs are allowed to visit as well but must be kept on a leash and out of the water.
DELTA BEACHES
Centennial Beach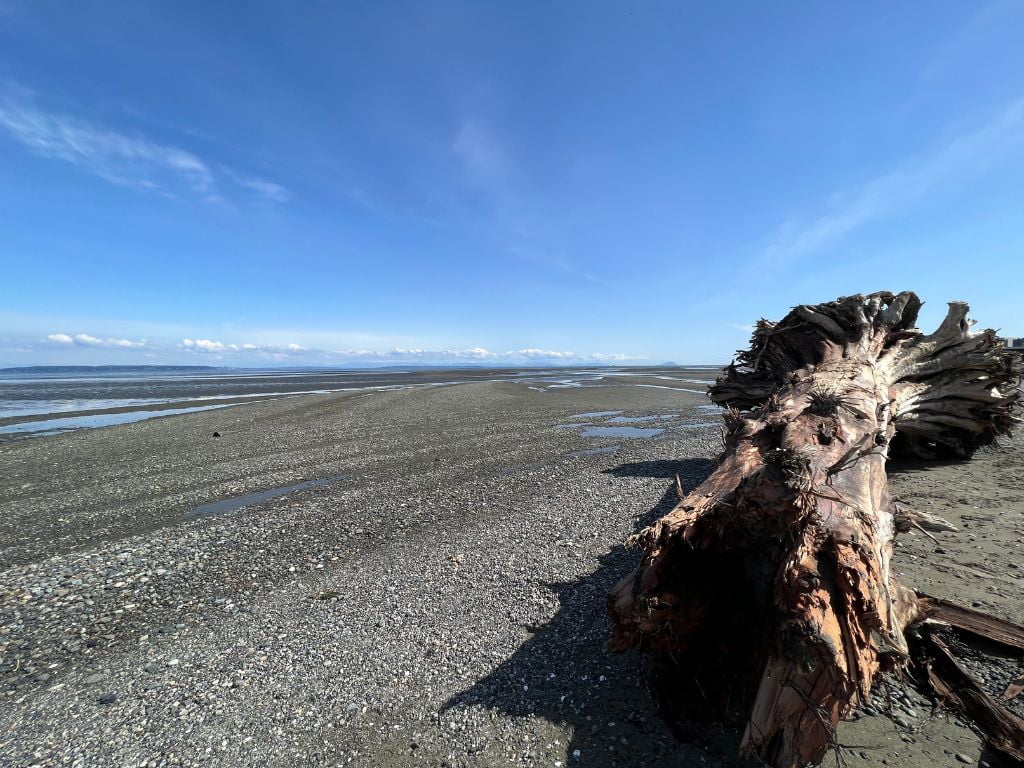 A huge beach alongside Mother Ocean awaits those looking to make the trek out to Delta to experience Centennial Beach. On a warm summer day, a gentle wind often welcomes you to the shore, where you can lay down a blanket, set up the sand toys, and dole out snacks before you settle into the sand.
Centennial Beach is an awesome destination beach in the Lower Mainland as not only does it have a fantastic beach in Boundary Bay Regional Park, but the park is filled with a giant playground as well as washroom facilities for guests.
Mom Tip: Invite some friends and make this a destination adventure! Try to visit during low tide, when you can walk out far onto the sand and explore tidal pools and search for fun things to take photos of!
Eco Tip: Take nothing but photos and leave nothing but footprints! Remember to leave ocean treasures on the beach and take all your garbage home with you!
MISSION BEACHES
Hayward Lake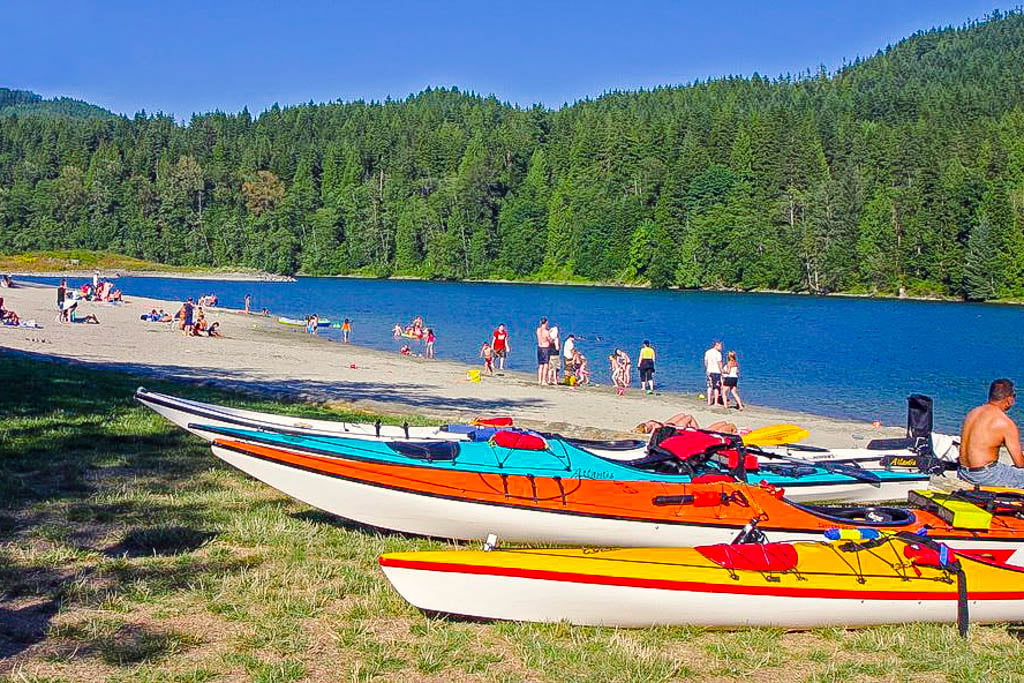 Hayward Lake is a great spot for families to enjoy a day of boating, swimming, fishing, hiking, biking and playing on a lovely sandy beach. This recreation area has a washroom facility complete with change rooms and a beach shower, open grass play areas, a picnic shelter, and an area to launch your car-top non-motorized boat. The Lakeside Railway Trail is a multi-use trail that allows for both hiking and biking. The trail is 12 km, wide and flat and takes roughly 3.5 hours to complete to Ruskin Dam and back to the Recreation Area. An added bonus to Hayward Lake is that the Powerhouse at Stave Falls is also located there. This 100-year-old power-generating facility is a National Historic Site of Canada and is a great family activity. With a Tesla coil electricity demo and many interactive and historical displays, you can take a walk back through time to see how hydroelectricity helped build our province. Arrive early on hot weekends, as this area gets busy!
ABBOTSFORD BEACHES
Albert Dyck Memorial Park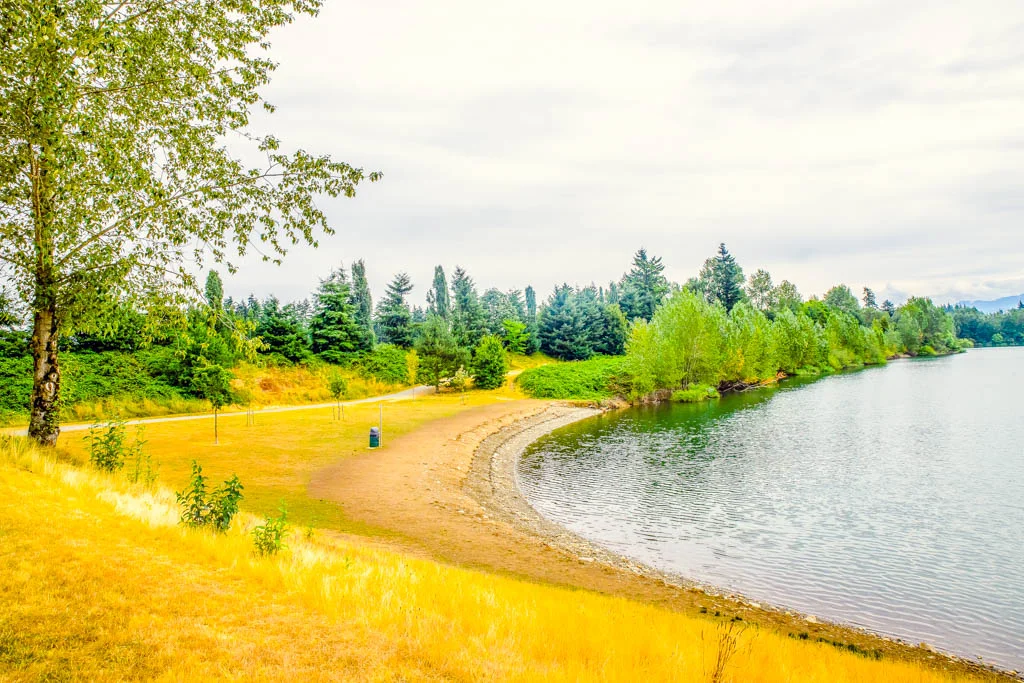 There is no doubt that Albert Dyck Memorial Park, home of Walmsley Lake (also known by locals as Molson Lake), is another fabulous family-friendly beach area in the Fraser Valley. This park offers visitors a 1.6 km hiking trail around the man-made lake, a sandy beach area for kids to play, a swimming area, lots of spots to fish for trout and an easy view to watch the people cable waterski and wakeboard. Located close to the Abbotsford airport, it is the perfect location to sit back and watch the planes come in. This lake is a popular spot for families on hot summer days, so pack a picnic lunch, arrive early and stay all day.
CHILLIWACK BEACHES
Cultus Lake
Located a short drive from the town of Chilliwack is Cultus Lake. This well-known and popular lake is a prime beach destination for families. The main beach area of town has lots of beach space, picnic tables, a dock and a well-marked swimming area. This beach is within walking distance of town, making it easy for families to head over to Cultus Lake Adventure Park and Cultus Lake Waterpark for some extra fun! There are also 3 beautiful day-use areas located within the provincial park boundaries which include roped-off swimming areas, docks and floats to swim off of, lots of picnic tables, washrooms and grass areas for playing and relaxing.
MAPLE RIDGE BEACHES
Alouette Lake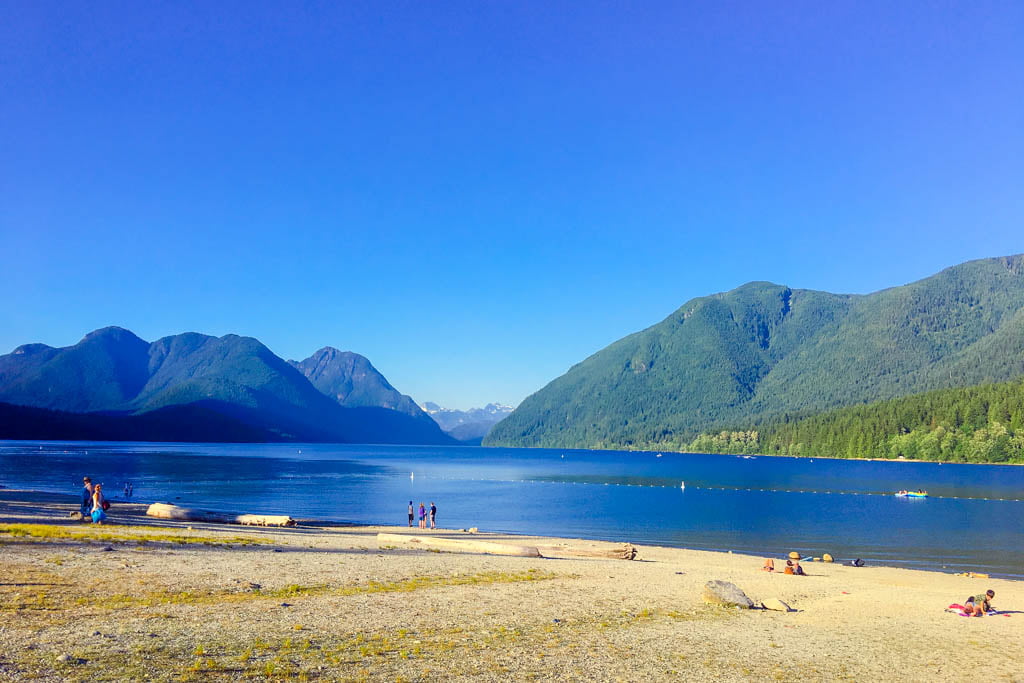 A visit to Alouette Lake, located in Golden Ears Provincial Park, is a popular spot for families in the summertime. With three different day-use areas to enjoy, there is a location that is perfect for everyone. The Alouette (south beach) day-use area features a vehicle-accessible sandy beach with a roped-off swimming area, canoe & kayak rentals, washrooms and lots of picnic tables. The camper's beach day use area is a hike-in area with a sandy beach and a roped-off swimming area. And the North Beach day-use area is adjacent to the North Beach Campground and a short walk from the parking lot. Due to its popularity, especially on weekends during hot weather, we suggest going early to snag yourself the perfect spot and pack a BBQ picnic and stay all day.
Mom Tip: At various times of the year, a pre-booked free day pass is required, be sure to inquire here before heading out to avoid disappointment.
Whonnock Lake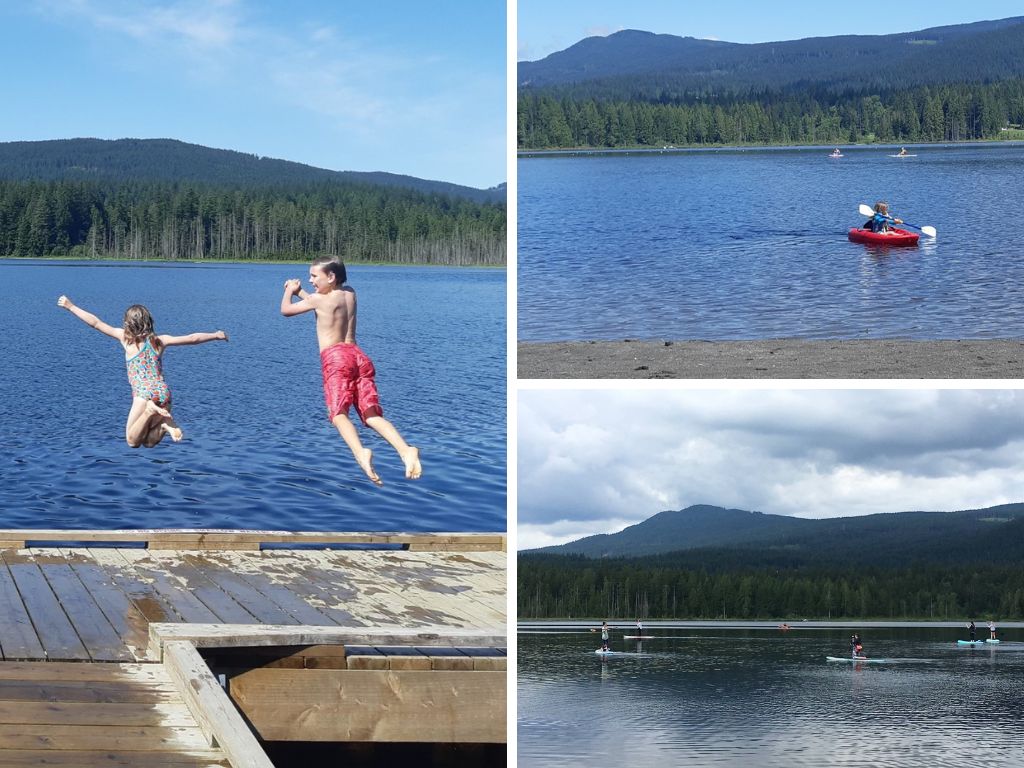 This unexpected Maple Ridge beach is my favourite gem that I ALWAYS take the kids to at least once a summer if not several times. Our whole crew of friends love this hidden oasis as it's often quite quiet there, the water is warm, the beach has lots of sand, AND there's a dock that the kids can run and jump off of into Whonnock Lake, making the quintessential kid's beach day dreams come true!
The park also has a great little playground and washrooms on site for visitors… aka you can stay all day if you want!
Mom Tip: There are no amenities such as stores close by so be sure to stock up before you leave home on the essentials (sunscreen, hydration, snacks, beach toys).
PITT MEADOWS BEACHES
Pitt Lake Beach, Pitt Meadows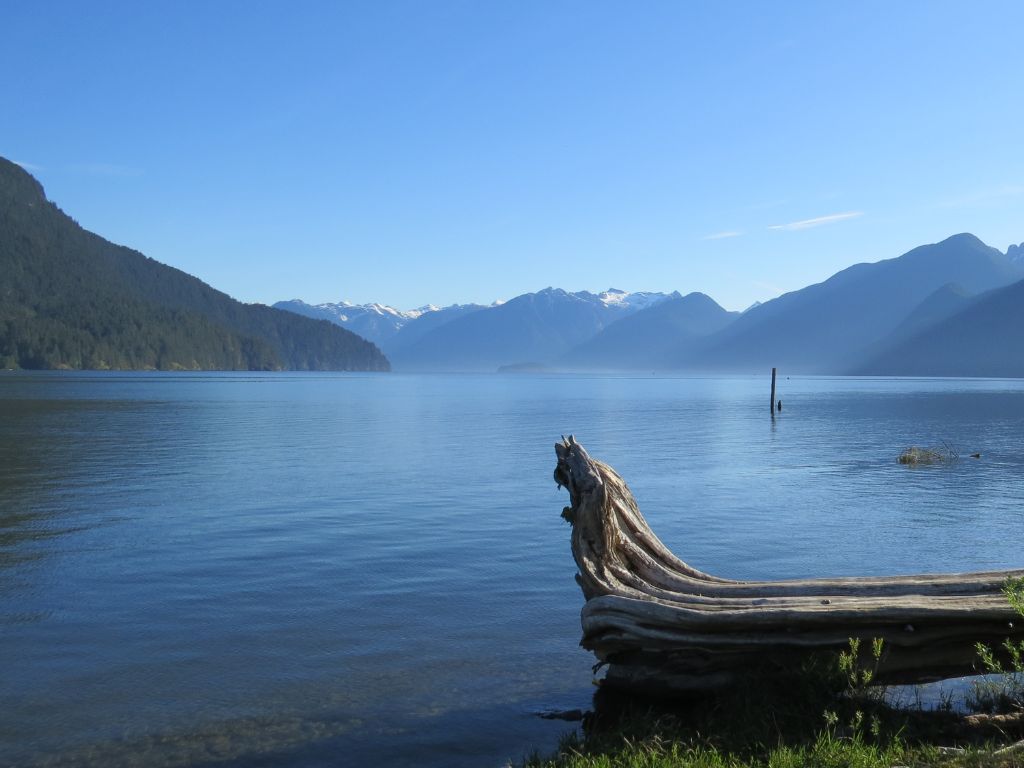 Located to the West of Golden Ears is Pitt Lake, a popular summer retreat for those looking to hit the beach, at the GVRD's second-biggest lake. This lake has a few different areas for you to enjoy the beach, with large stretches of sand close to the parking lot, and smaller "hidden" less popular beaches, for those willing to go for a bit of a hike.
With its size and accessibility, you'll see all types of water activities happening at Pitt Lake including boating, SUPing, kayaking, and of course beach favourites like volleyball, sand games, wading, swimming, and my personal favourite, floating!
PORT MOODY BEACHES
White Pine Beach, Sasamat Lake, Belcarra Regional Park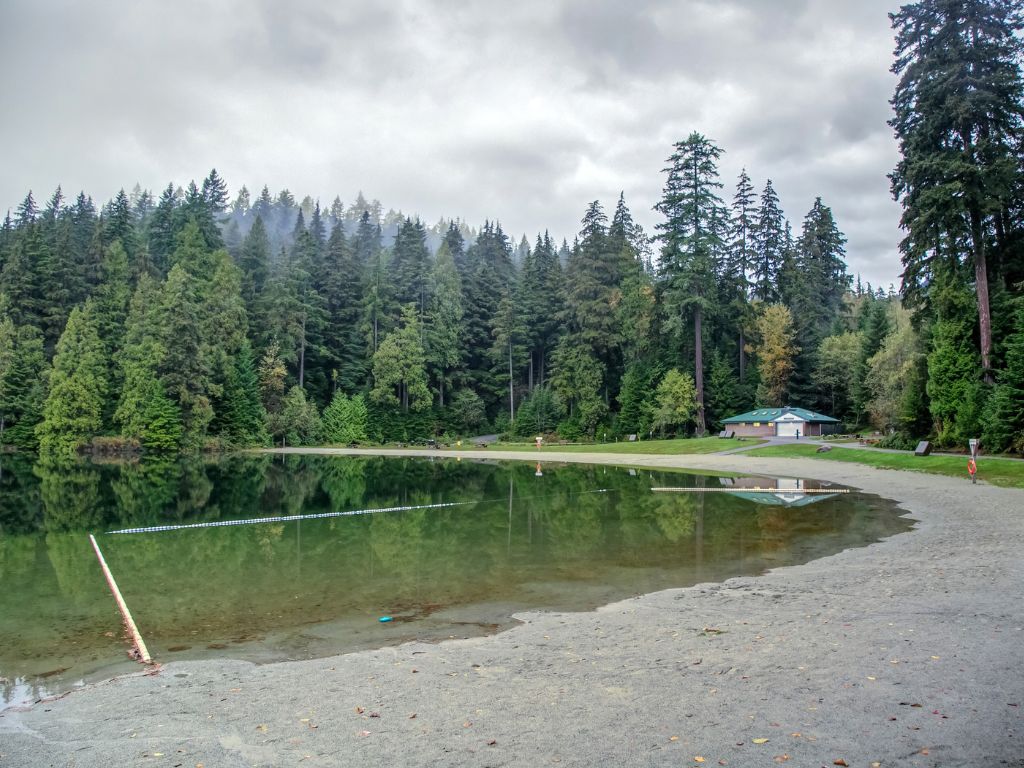 One of the most popular beaches in the GVRD, White Pine Beach is where teenage summer memories are made, families flock to the white sand, and the warm sun holds you there for hours and hours. Located on the northeast corner of Sasamat Lake in Belcarra Regional Park, White Pine Beach sits on one of the warmest lakes in the GVRD making it very popular.
Pay parking is in effect and there is a park ranger who will supervise your access, enforcing dog rules as well as full parking limitations. Because it is so close to Vancouver and such a popular destination the park can reach full capacity and you can be turned away if this happens, so tip: go early!
Transit Tip: During the Summer season White Pine Beach is accessible via public transit! Yeah! #GoGreen
Dog Tip: Dogs are not allowed at White Pine Beach, but there are other areas of Belcarra Park that are dog friendly if you want to take them for a hike.
COQUITLAM BEACHES
Buntzen Lake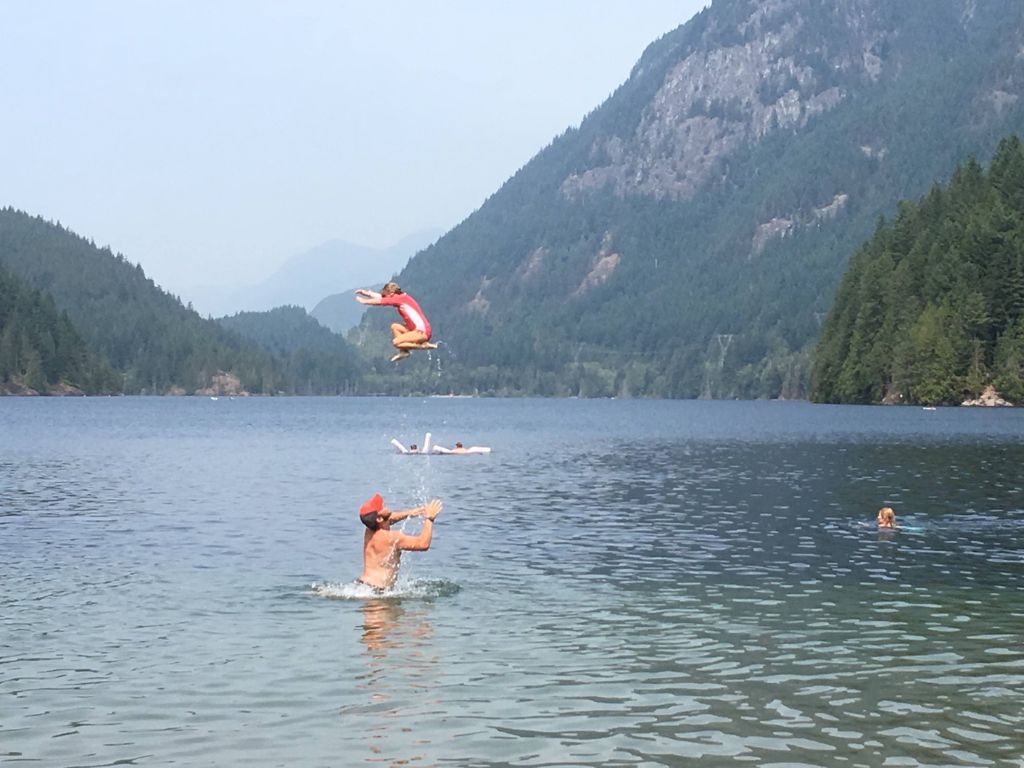 Buntzen Lake in Coquitlam is a beautiful lake in a mountain and forest setting. This picturesque beach is fun in the summer, where you can jump into the lake to cool down after a hot day. If you're up for a hike, the 10.5 km loop around the lake is a challenging hike and finishing off with a swim at the end is the perfect way to end the day.
Due to its popularity, this park does require reservations so be sure to book ahead when planning to visit Buntzen Lake Beach.
Fun Fact: The lake is Glacier fed, so it's colder than other lakes BUT the water is so crystal clear that you can see to the bottom of the lake in many spots!
HARRISON HOT SPRINGS BEACHES
Harrison Lake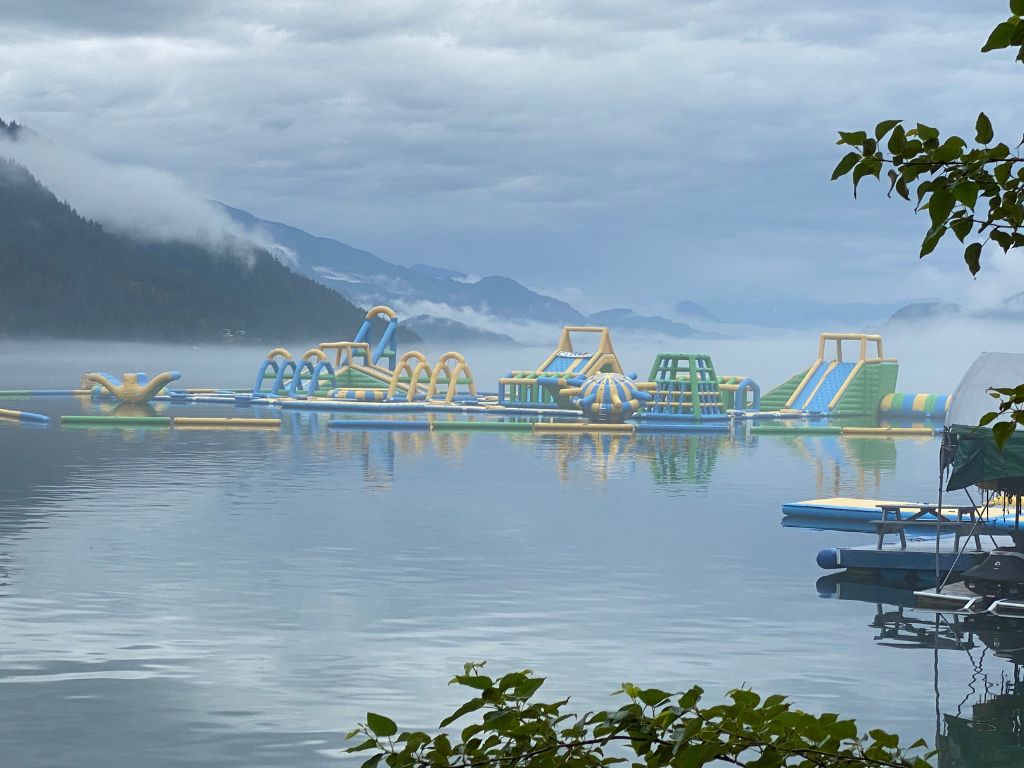 On the shores of Harrison Lake are the sandy beaches awaiting guests. Both a favourite for local staycations and a destination resort community, the beaches are a popular spot to spend the day. With long stretches of sand, there's ample room to spread out and visitors don't feel crowed when visiting.
While you're there you can check out many of the water-based amenities including the inflatable waterpark, the boat and seadoo rental, paddle boats, kayak and SUP rentals, and more! My recommendation is that you spend a weekend there, and my favourite place to stay is at Lodge on Harrison Lake.
Kilby Provincial Park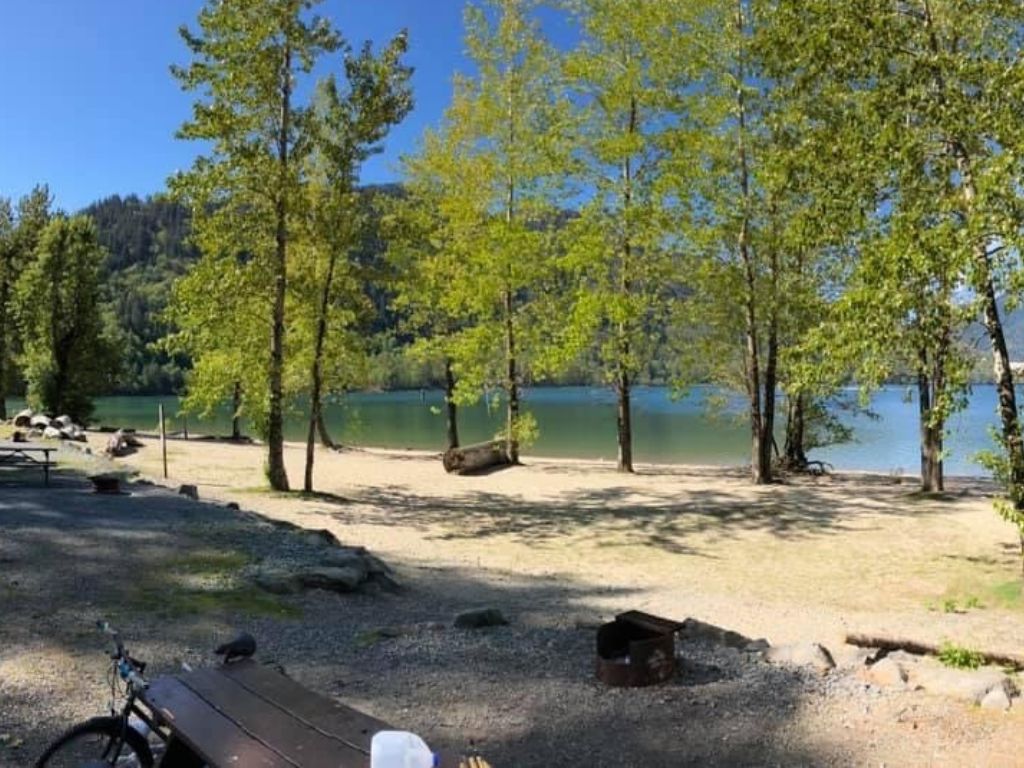 Located in the Harrison Mills region, a beautiful and sandy waterfront beach awaits sun and splash seekers. BC Parks calls it, "A beach tucked away in a rural pastoral setting" and being that it's off the beaten track means it'll be less busy and easier for you to access during peak season.
At Kilby Provincial Park, its scenic riverfront location shows local history right on its shores, with remnants from the region's pioneer history on display (I was fortunate to learn this while out on a local boat tour). While you're there you can visit the General Store Museum at the Kilby Historic Site to learn more about the region's history and why this area is so special to British Columbians.
And yes, the beach is awesome and perfect for "beaching" fishing, as well as boating.
Fraser Valley Beaches FAQs:
Where can I swim in the Fraser Valley?
My favourite beaches for swimming in the Fraser Valley are Centennial Beach in White Rock, Albert Dyck Lake in Abbotsford, Harrison Beach In Harrison Hot Springs, and Whonnock Lake in Maple Ridge. While I've listed lots of beaches to explore those are my go-to places for when the kids and I want to hit the beach for swimming.
Where can I learn about Beach Conditions and if it's safe to swim?
Fraser Health has a great website where they update all of the beach conditions, helping you plan the perfect day at the beach. Click here for a direct link to that site.
What should I bring to the beach?
There's nothing worse than heading out for the day at the beach and arriving at your destination and not being prepared. Here is what we always make sure we pack:
Bathing Suits
Sunscreen
Hydration
Food and snacks
Towels (more than you think you might need!)
Beach Toys
Cooler to keep food and drinks cool
Camera (if you like to take photos, if not, leave it at home so you don't worry about it.)
Shade Tent
Now that you have the list of Fraser Valley beaches, how many of these are you going to visit this summer?
---
Here Are Some Other Great Ideas to Get the Kids Outside this Summer!
Is this a sponsored post?: No! Summertime is our favourite time of year, and we love being able to share the Fraser Valley beaches that we love to explore with our family.