Pointing at the sign my children were quick to notice the strict rules that were being broken "Teen Centre 13 – 18 years ONLY." The excitement that there was an age restriction for parents thrilled them and they quickly enforced the library rules, modeling behaviour they have been taught for so many years. Once inside the teen centre at the Calgary Central Library, they found compelling displays where books of all genres could be showcased like a feast for the eyes. "Smart" wall paintings encouraged kids to get their devices out and learn about the history of the land through the interactive app. Around the corner, it truly was teen central, with gaming systems, socialization pods, sound booths for producing podcasts, and even video production rooms complete with lighting and green screens.
It's clear that innovation and evolution were at the forefront of the designers of the Calgary Central Library. With guest experience at the forefront, every aspect of the library has been re-created, leaving a new norm for how everyone engages in a library. Gone are the days where libraries are boring places you only go when you have a project due. Today, Calgarians line up upon opening, waiting to sneak away to their favorite corner of the library and engage in their activities for the day. 56% of Calgarians are active library users and Calgary is a city that loves its libraries, and it's easy to see why! The CPL system is the second most used library in Canada and the 6th most used library in North America!
A Library That Embraces the Land That It was Created From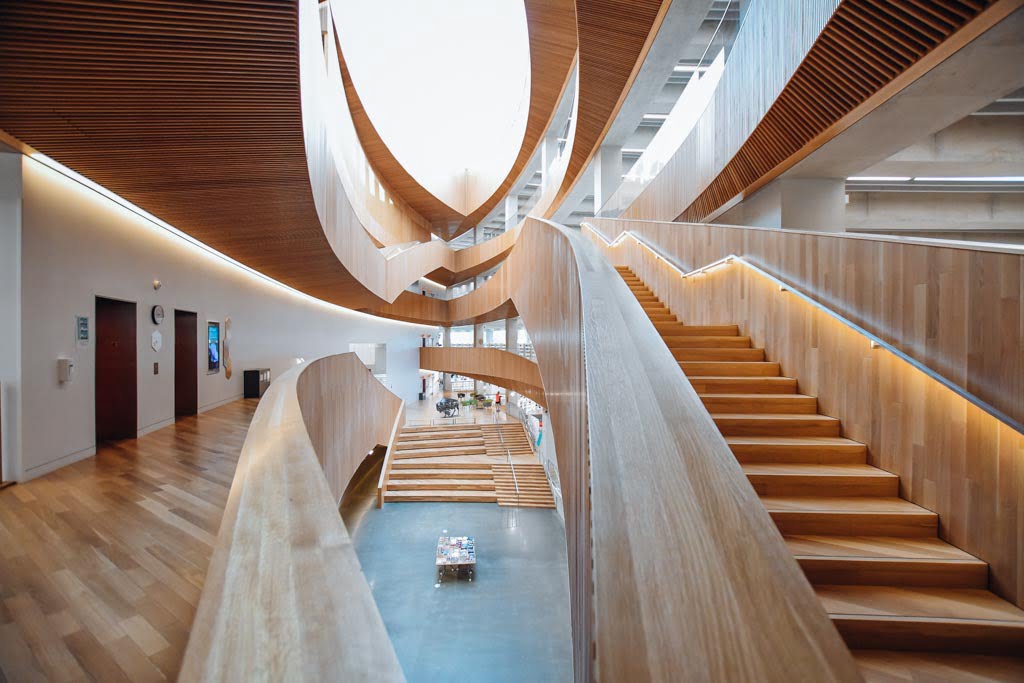 The oval-shaped building replicates the arched clouds that are made by chinook winds in Alberta. The western red cedars catch your imagination as you wonder where you should wander off to first. Built as a collaboration project by architects Snøhetta and Alberta-based DIALOG, this urban centre for the community is grounded in the place that it calls home.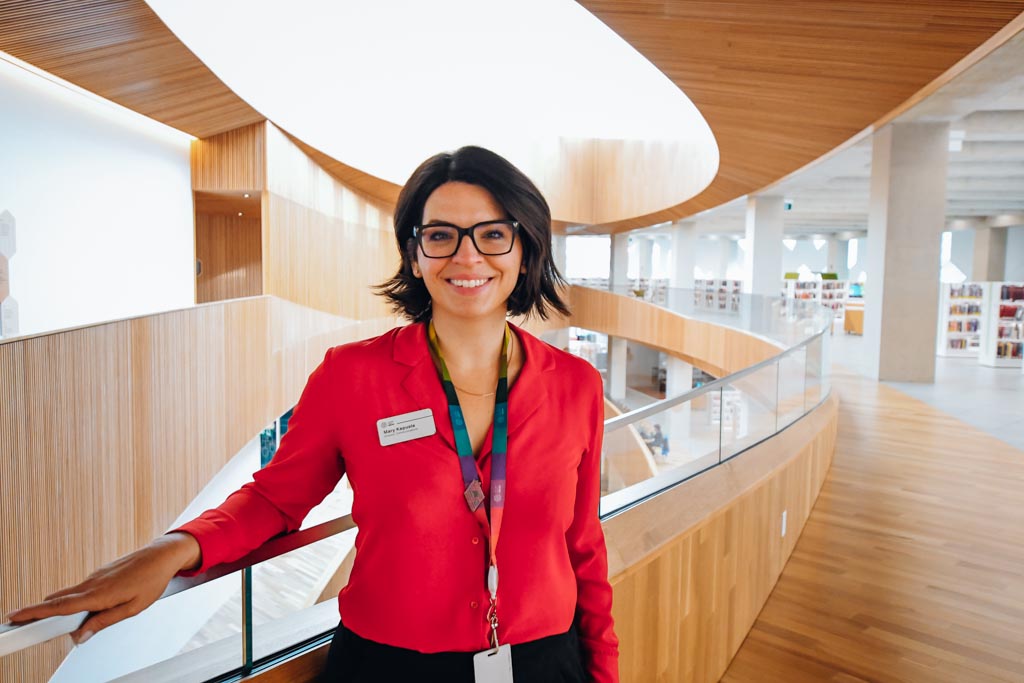 The Calgary Central Library opened its doors in 2018 to Calgarians. With a $250 million dollar investment, all parties were committed to creating a globally recognized evolution of community space… a place where democratic spaces were crafted and everyone is truly welcome. Where everyone is entitled to a comfortable space to sit. As Mary Kapusta, Director of Communications said… "A place that belongs to you."
Teetering Toddler Time At The Calgary Central Library
Imagine a board room with toddlers crawling on the tables and architects and library staff challenging themselves on how they could build these little people the perfect library. While I doubt this actual meeting took place, the concept of a child-centered library is clearly a motivating factor for everyone involved in the creative and functional process. The toddler section of the library is designed to be accessed at the average height of toddlers, with shallow accessible carts displaying the best hard-covered books in arms reach of the little readers.
Progressively the stairs to the next age group go up, so does the height of the shelves and the design of the space. But it all flows so seamlessly that if it isn't pointed out, you'll easily miss it. "Design is so simple, that's why it's so complicated," says Paul Brand. The books are wrapped with a ribbon of welcome, with cozy corners and cuddly rugs to snuggle into and read a book. Got an adventurous reader who may have too much energy to settle down? No need to leave the library, rather invite them over to the built-in, middle of the library playground (yes, that's not a typo) proving that reading and physical education should all be considered in your experience when you're a teetering toddler visiting your favourite library.
Community Connections – Figuratively and Literally At the Calgary Central Library
A CT train runs right through the first level of the library, where the kids ran to the window to watch it pass beneath them. The ingenuity of allowing the transit line to continue and ensure the connection of the city's communities was a testament of how this place is a gathering space for the community and the people who live here and visit, and that any problem can be overcome when everyone is willing to innovate.
An Astute Study Hall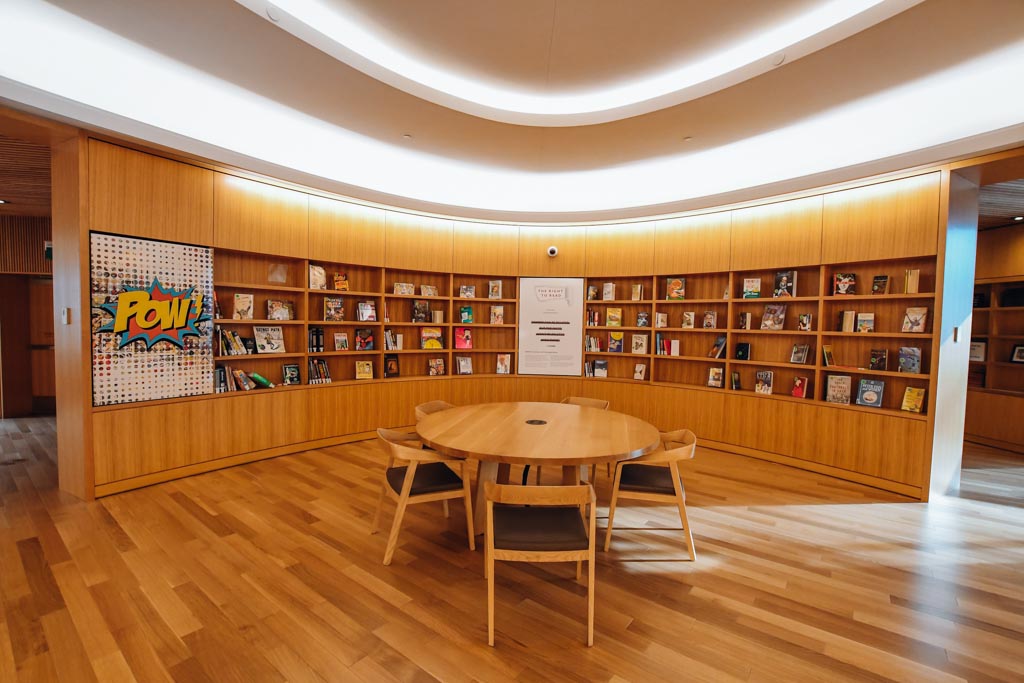 A photographer's dream is also a student's haven, this incredible study hall located on the top floor of the Calgary Library is one where work gets done, brain cells get challenged and you'll definitely walk out of the building a better person. Of course, none of this is officially verified but being in a place so inspirational and so well designed leads me to believe that only magic can happen here.
Modern Storytelling Settings Honouring Indigenous Histories
The power of storytelling is a key area of focus within the library with special opportunities for elders to connect with each other and share their culture, stories, crafts, and traditions in the proper setting. In these classrooms, no detail was overlooked, from the custom light feature that can showcase the evening sky, to the configuration, to the practical aspects (like refrigerators for gatherings with food) to the fabrics and materials that were borrowed to be displayed in the room. It's clear that this is a special place for learning, sharing, and growing.
When To Visit The Calgary Central Library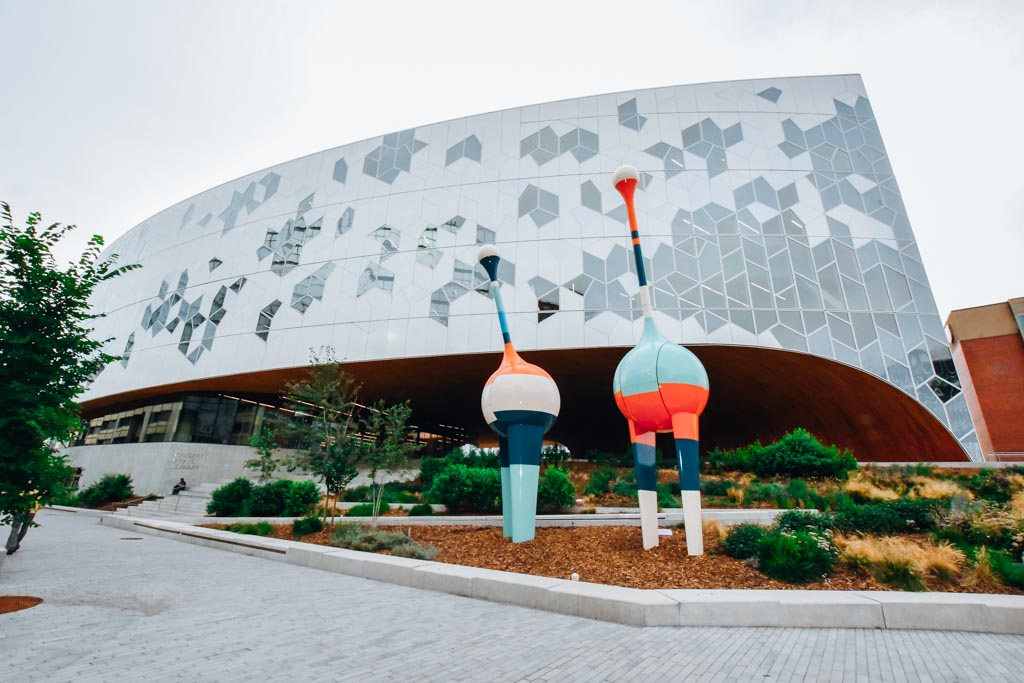 If you're visiting family and friends in Calgary and looking for the perfect indoor adventure, the library is a great place. We were only there for an hour and it wasn't long enough for any members of our group. Here are other reasons family travelers could easily incorporate a trip to the Calgary Central Library into their itinerary:
Somewhere cool, unique, and fun to explore.

Rainy days when you need a break to warm up.

Heatwave days when you need to cool down.

Snowy days – When it's just too chilly for an outdoor adventure!

When you have time between checking out of a hotel but before your flight.

Want to research your next Calgary adventure.

Want to access complimentary wifi.

Want to check out one of their drop-in family programs.
The Legacy Of The Library
The seeds that have been planted with this library will bear fruit for generations to come. From the environmental design that embraces each guest as they enter the main hall, to the hands-on and innovative library experience, to the new technology and ways of learning, to the sheer volume of resources available, this keystone library is something that will serve the community for generations to come, leaving a legacy beyond literacy with Calgarians and visitors alike.
---
For More Alberta Inspiration, Check Out These Adventures!
Sponsorship Disclosure: While this experience was hosted on behalf of Travel Alberta, Tourism Calgary, and Calgary Central Library, the opinions, thoughts, recommendations, and media is all my own. I only recommend companies that I would trust my family and friends with and that I would invest resources into myself.