"Magic is simple science waiting to be discovered!" – TELUS Spark. Here's how to explore the family friendly activities at the TELUS Spark Science Centre in Calgary with your family and friends!
As quickly as they could they gathered up their safety glasses and workers gloves and started to "learn with their hands" in the Open Studio. A space specifically designed to let children design and build skills with technology, real tools, and everyday materials, my kids were having fun without realizing that they were learning.
And this would be our first mistake. Where our perception of our experience would be way different than our reality. For example, we planned to stay for three hours but were there for six! With over 200 hands-on experiences designed to engage kids with science, and a lot of entertaining interludes along the way (like a toilet fountain – ewe!) there was more to explore than time allowed.
Family Friendly Activities at the TELUS Spark Science Centre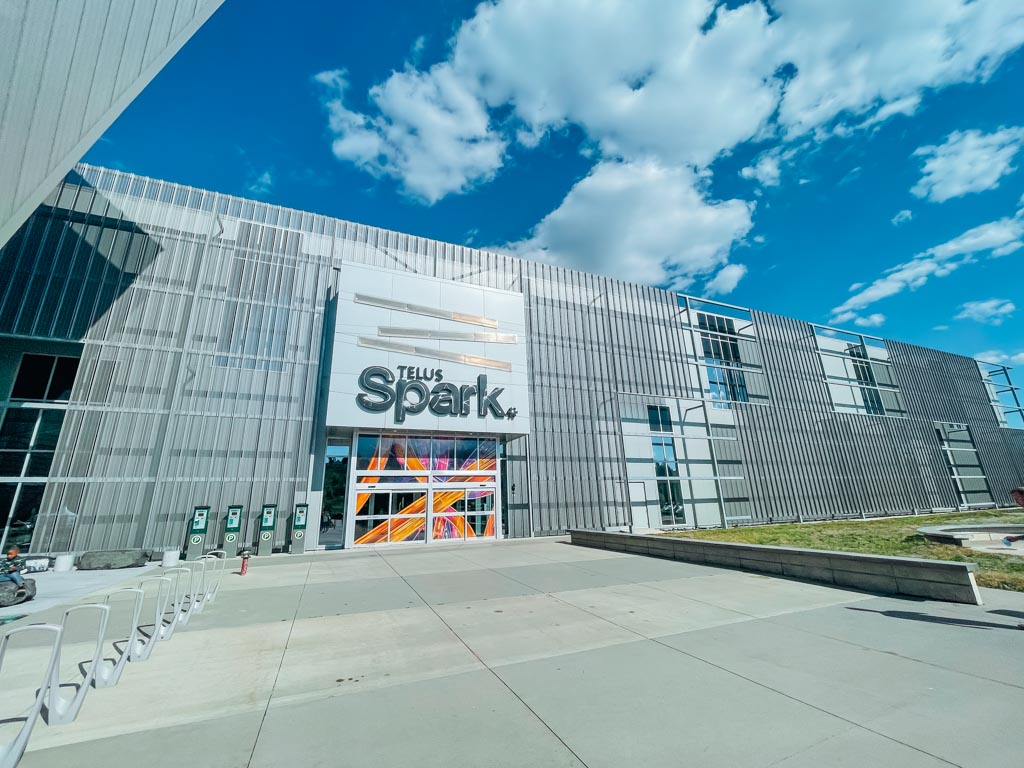 TELUS Spark is a science museum that is redefining the experience for families with each visit. Gone are the days of "stand there and watch" and now kids can expect to experience science in a hands-on environment with interactive activities and displays. You'll run out of time before you run out of things to explore as the museum boasts daily live science shows featuring explosive science experiments, 5 galleries, 1 outdoor park, 1 ice cream shop, 1 café (Spark Eatery), and 1 HD Digital Dome theatre.
Hello Venus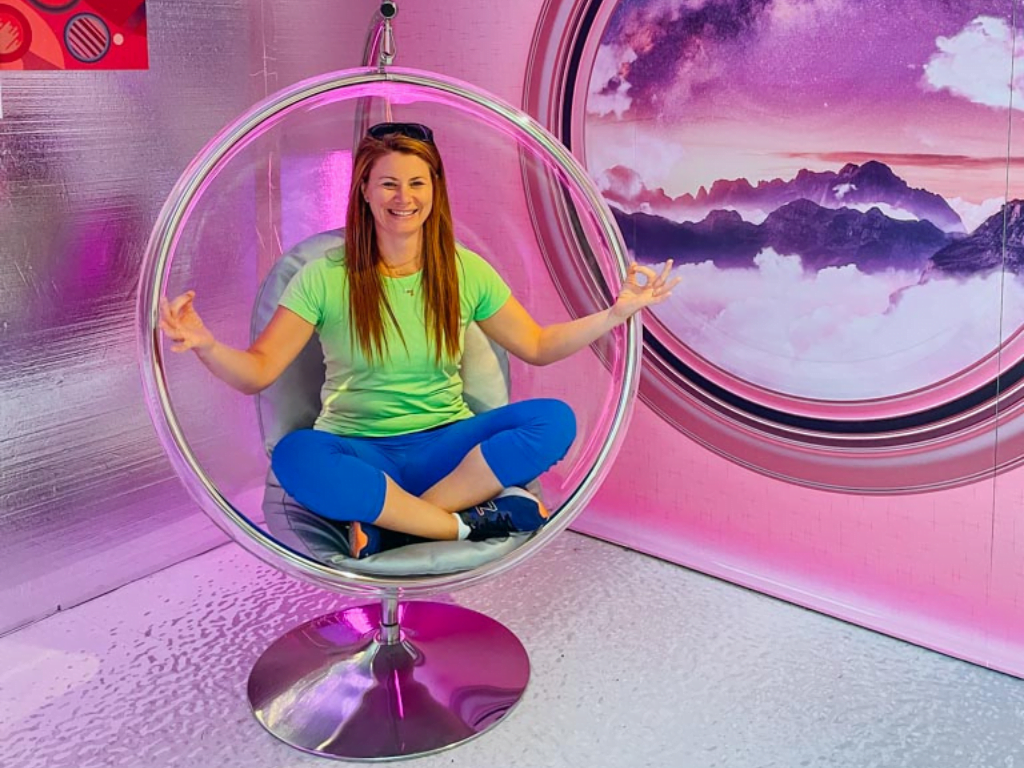 The feature exhibit changes every six months but on our trip the planet Venus was on full display in the main exhibition area. With Instagram-worthy settings that posed the question, "What would life be like on venus" it was a fun way to interact with the exhibit and take some "out of this world" photos.
Creative Kids Museum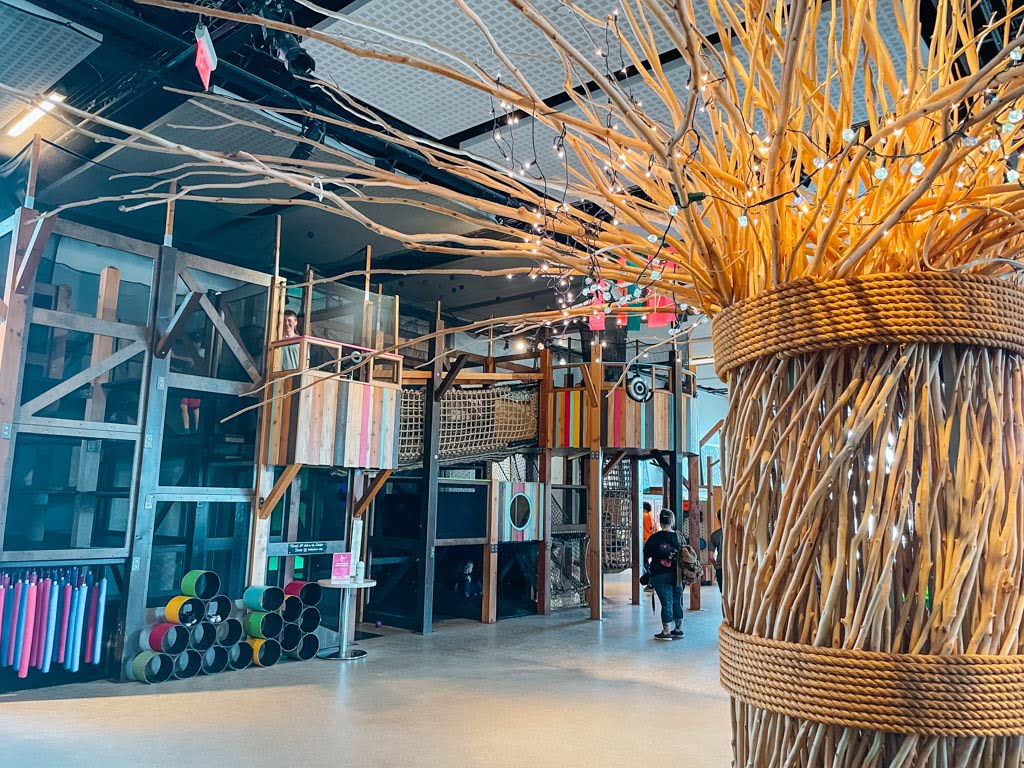 A giant game of hide and seek broke out in the Creative Kids Museum. Quickly there were kids from all different families collaborating to find the remaining hidden members of the game. Whether they were searching through the climbing structure, around the water features, or the crawling tracks, there were lots of places to explore and a great way to meet new friends.
While not the original intention of the place it did solidify the design that this area was meant to be played in. With many features including a maker space, miniature theatre, reading nook, and hands-on exhibits, the creative kids museum gave all members of the family a place to play and explore exhibiting exactly what a museum is all about!
Earth & Sky Family Friendly Activities at the TELUS Spark Science Centre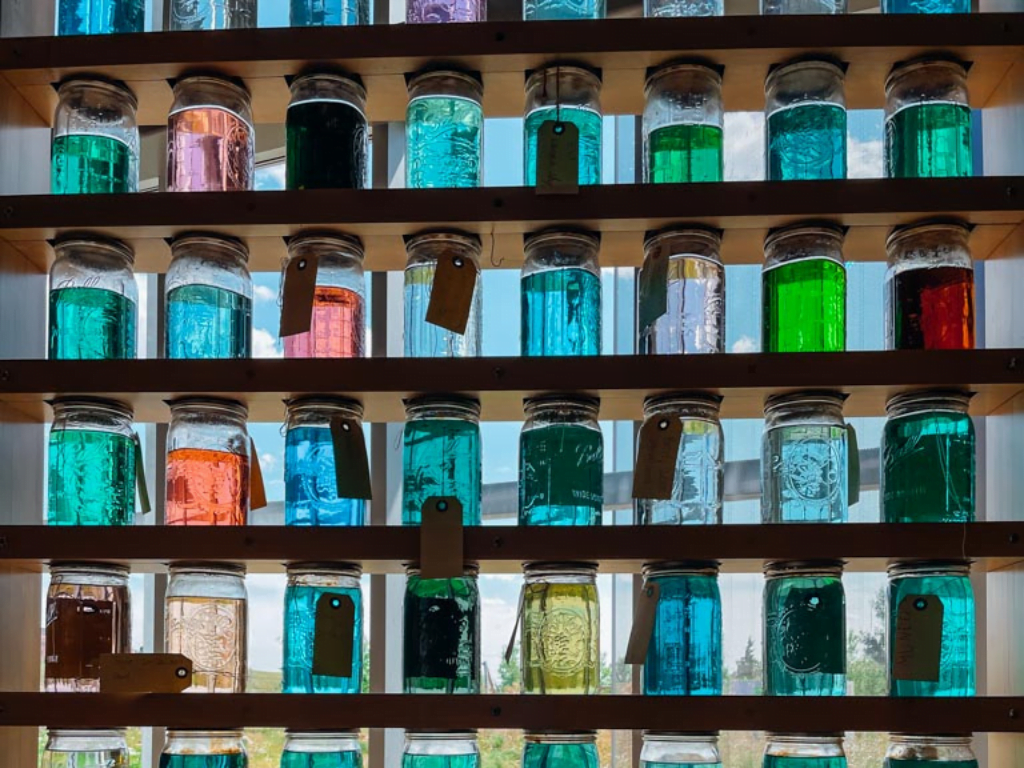 Explore Alberta's unique geology and investigate our world from the bedrock beneath us to the aurora overhead. Imagine an exhibit full of flora, vibrant colours, and hands-on activities to explore.
HD Digital Dome Theatre, an Immersive Family Friendly Activities at the TELUS Spark Science Centre
Every mom needs a break when you can settle in and do nothing but sit mid adventure day. The Dome Theatre is the perfect place to rest your, and your littles legs while everyone takes in a fully immersive HD Digital Dome theatre experience. With 17.7 million pixels, 4 SRX projects, and a 19,500 watt sound system, you'll feel like you're in the movie instead of watching something on a screen.
Being Human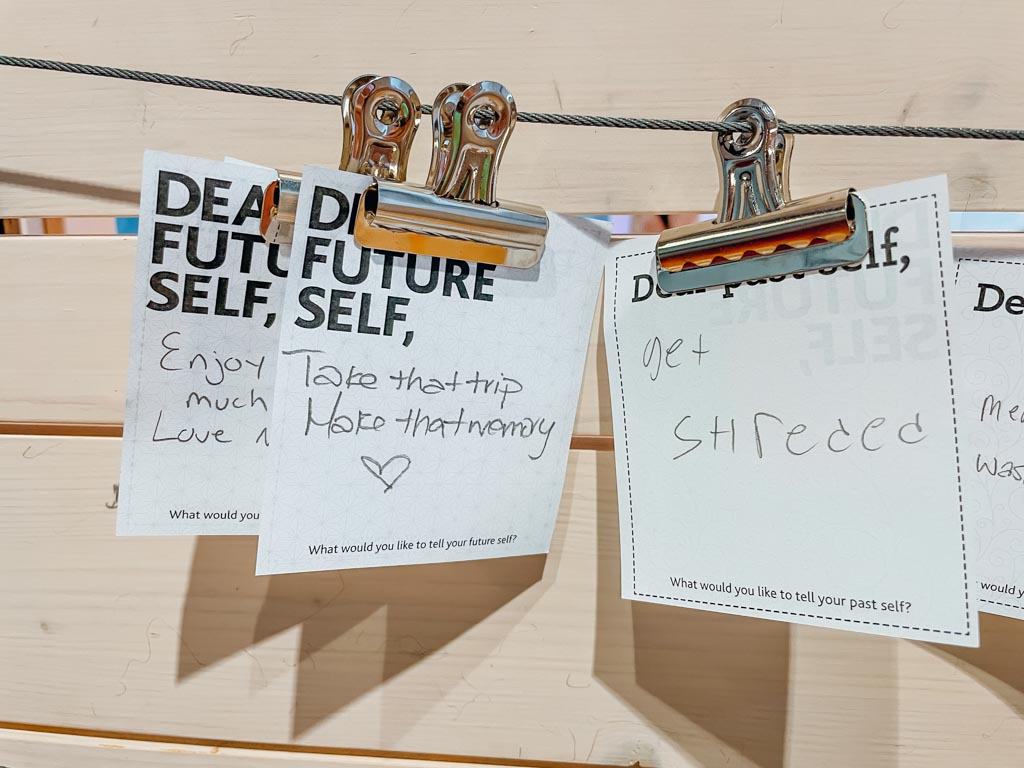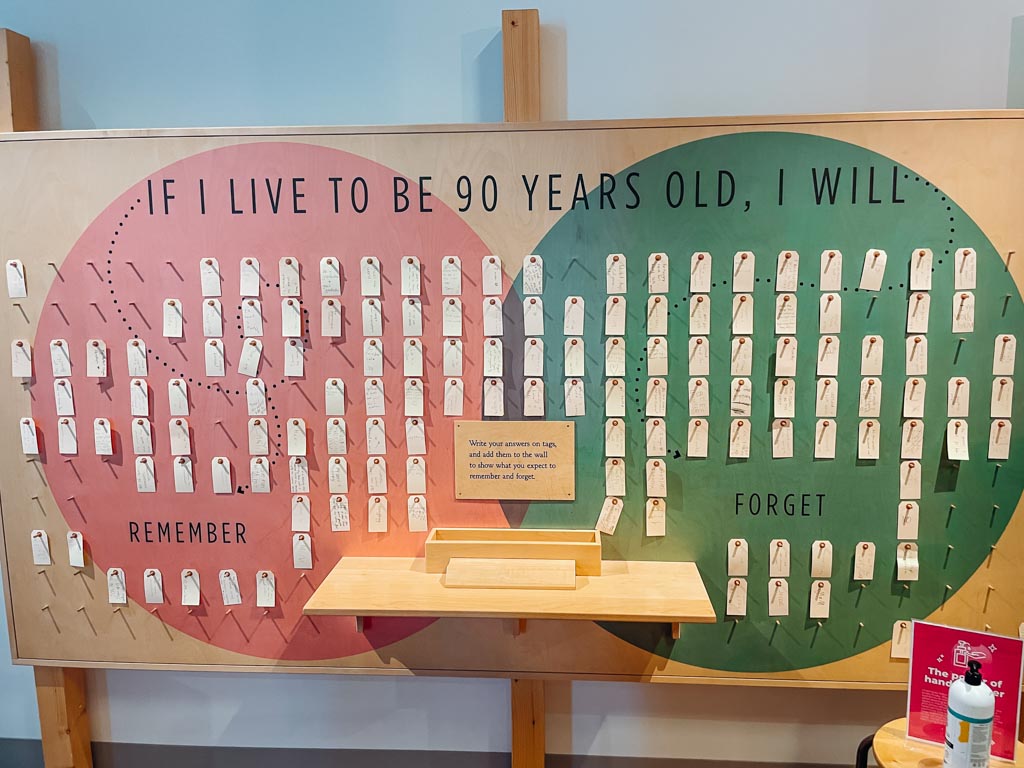 My favorite exhibit was the "Being Human" exhibit, which explores human physiology. One question that was posed to visitors was "If I live to be 90 years old, I will…" and I'd say about 25% of the answers revolved around travel. It was a great reminder that while traveling to new places is often on our priority list, it can often get put on the back burner. So like one guest said, "Take the trip, make the memory!" And better yet, do it with the family!
Brainasium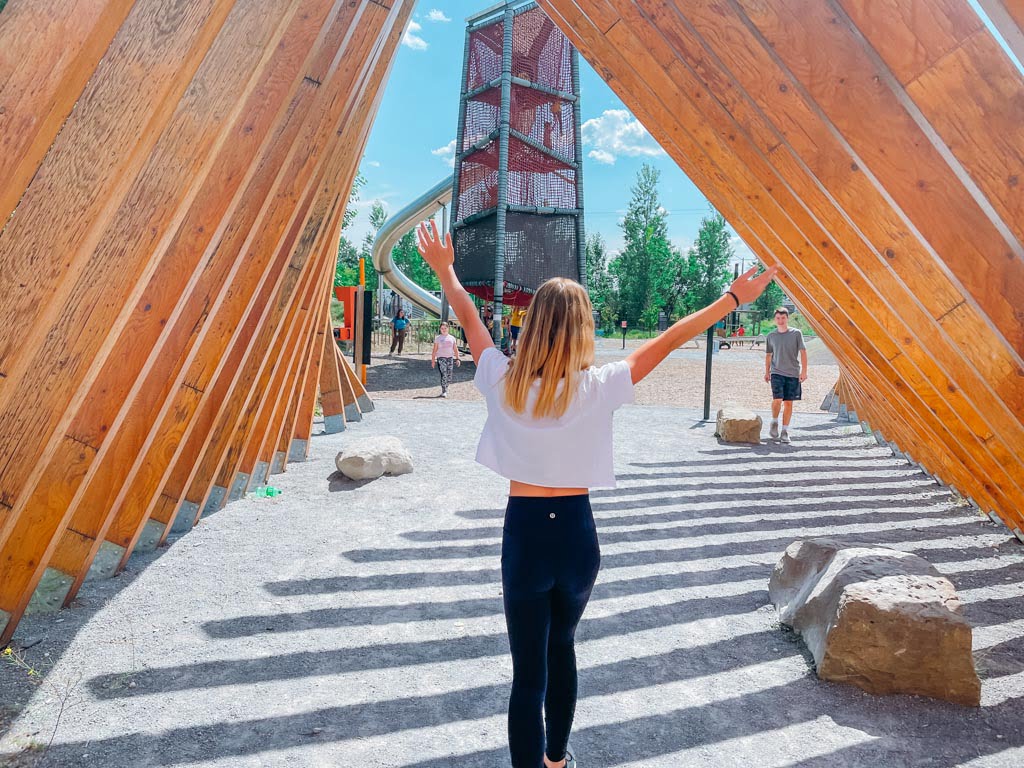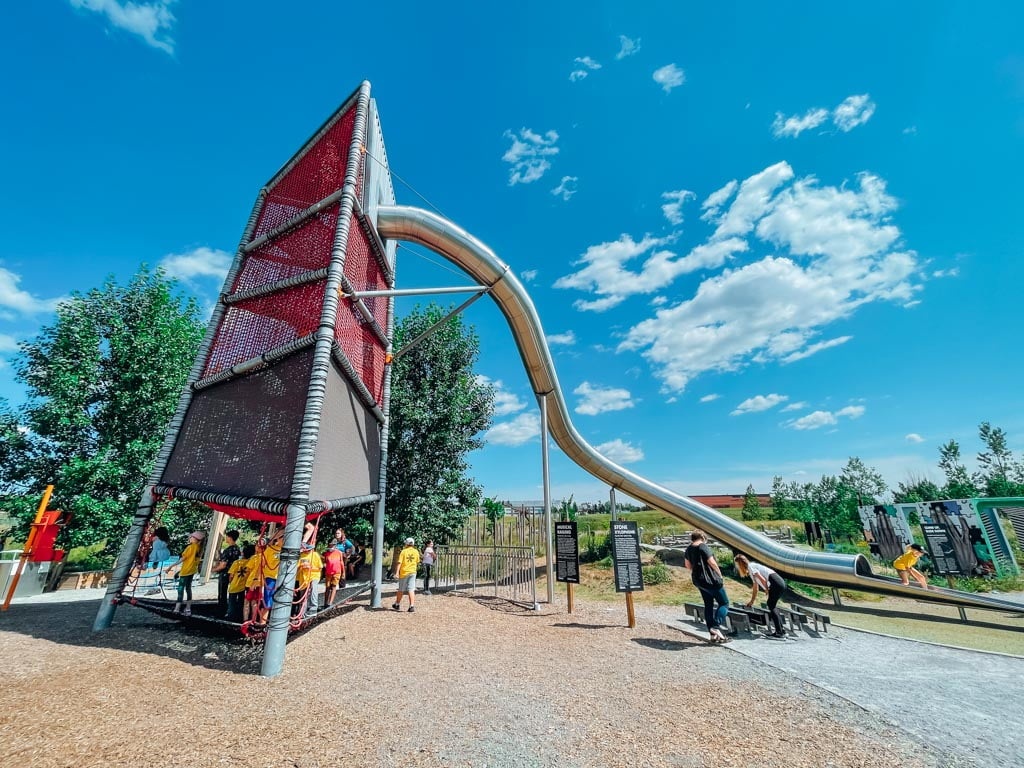 Most kids would call this an outdoor playground but of course, the Scientists at the TELUS Spark Centre know that there's more than meets the eyes. Neuroscientists know that physical play helps develop skills like problem-solving, spatial thinking, and cooperation. Kids can learn by climbing a 36-foot tower and then go whizzing down a 63-foot tube slide, and work together on a teeter-totter build for six! So Spark introduces you to the Brainasium, like a gymnasium only better!
Spark Eatery the Perfect Break from Family Friendly Activities at the TELUS Spark Science Centre
Healthy options at an attraction? How about a mix of science in with your meal? Of course, things are a bit different for all the right reasons at the Spark Eatery. As a Mom, I loved seeing the wide variety of healthy food options when our little scientists needed to refuel. Whether we were looking for vegan, vegetarian, gluten-free or dairy-free, they were able to accommodate almost all of our group's odd food requirements making this a great place for the whole family to stop, sit, and savour before they took off for another exploration.
Astronaut Ice Cream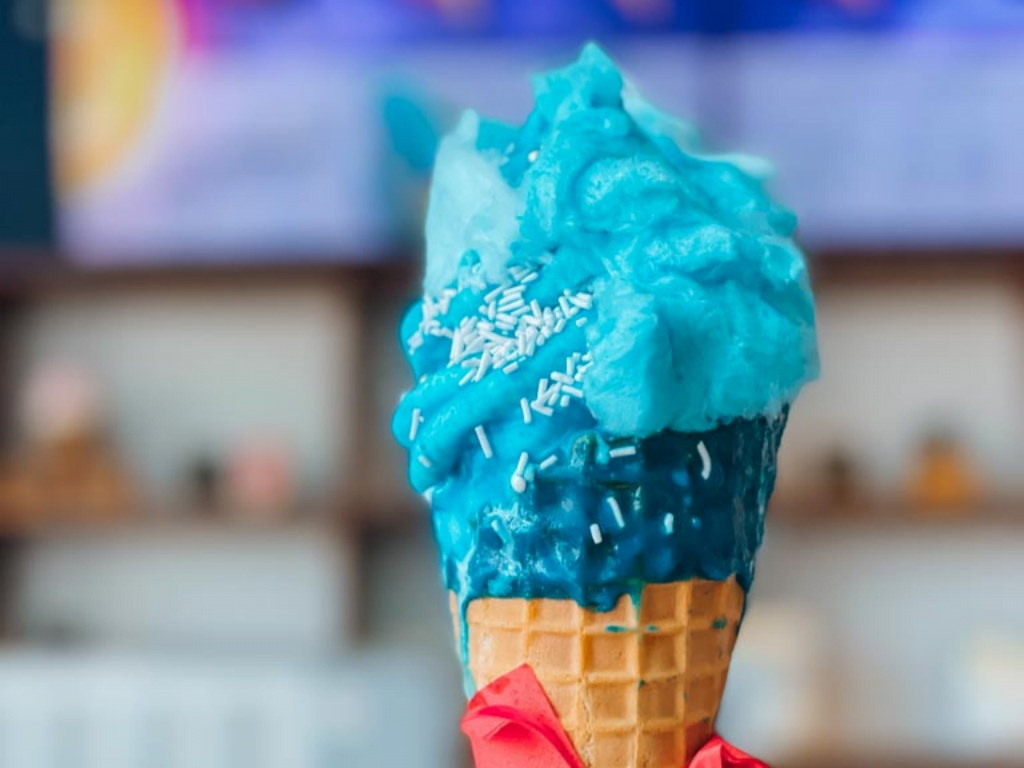 Out of this world culinary creativeness explodes with an ice cream menu offering only 9 options… one special ice cream cone named after each planet. (even though Pluto has officially lost its status as a plane). With names like Jupiter and Venus and decadent toppings including Mars bars (on, of course, the Mars Ice Cream Cone), cotton candy, and sprinkles there's no way you can't stop and indulge in the special ice cream that is astronaut approved.
Environmental Stewardship Through Science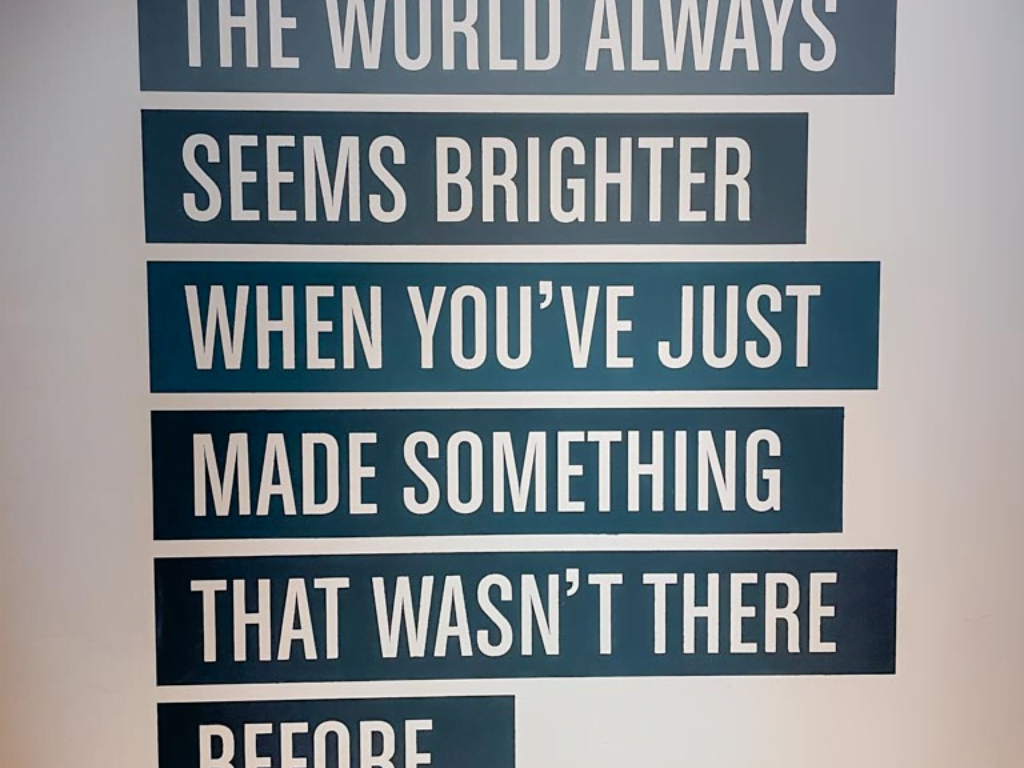 Visiting attractions that are innovative and leading the way in environmental design is a cornerstone of the types of places we like to promote. "Spark is part of the Leadership in Energy and Environmental Design (LEED) program, which provides standards for green building and renovations. As LEED Gold, it is environmentally efficient in heating and cooling. It uses grey water in toilets, has solar panels on the roof, and up until recently, did not use bleach or toxins in any of the cleaning supplies." Jacqueline Tran, Specialist, Marketing, Communications, PR
Top Mom Tips For Your Best TELUS Spark Experience:
Give yourself more time than you think you need. There's a LOT to explore.

Go outside! Bring clothing that will allow you to explore the outdoor experience called the "Brainaisium". With ample opportunities for gross motor play, kids will burn off lots of energy while learning outdoors. (Note: Bring sunscreen and water)

Pace Yourselves. Alternate between high-touch and slower exhibits to give your crew the stamina they need for the whole day.

Plan a little. Do a bit of planning to make sure you don't miss out on a dome show or digital experience. But not too much planning, this is not the place to be on a set schedule.

Sweet Treats. Be sure to save room for an ice cream cone from another planet!
---
Be Sure to Check Out These Other Alberta Adventures!
Sponsorship Disclosure: While this experience was hosted on behalf of Travel Alberta, Tourism Calgary, and TELUS Spark Science Centre, the opinions, thoughts, recommendations, and media is all my own. I only recommend companies that I would trust my family and friends with and that I would invest resources into myself.