Without hesitation I found myself singing "O Canada" at the top of my lungs at 8:30 in the morning in the middle of family canoeing on Lake Louise. The bright turquoise blue water stood a stark contrast off the red canoes that dotted the horizon as we paddled towards the Victoria Glacier. My little girls' blonde braids bouncing back and forth with each paddle, silently listening to her Mom singing the national anthem as we collectively floated in awe at the magic that was around us. "With glowing hearts" would forever have new meaning in our home, an ode to our National Parks and the amazing regions that they reside.
Pinterest and Instagram are flooded with the iconic red canoes on the blue lake often making this stop a "bucket list" experience for many visitors. And while it seems like you're looking at a perfectly edited experience, the view only improves in person where you actually feel as if you're standing in a piece of art, a landscape made exclusively for National Geographic. I can say the water really is that blue and the scenery, that amazing.
Family Canoeing On Lake Louise At the Fairmont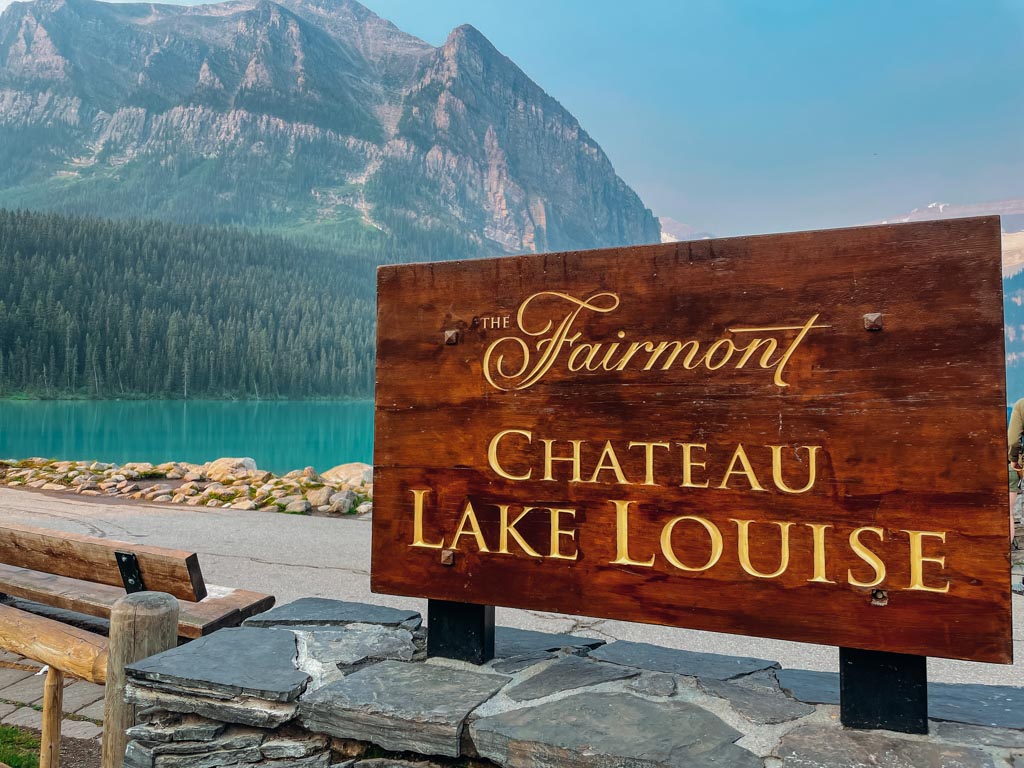 The Fairmont Chateau Lake Louise hosts this Canadiana experience, welcoming hotel guests and day visitors to the park. A luxury experience, the price is approximately $125 per hour for canoe rental, depending on if you are staying on the property or just visiting for the day. For full details on prices and booking your experience, visit the Fairmont's webpage.
At $125 an hour, many families would identify this experience as an expensive investment, and for our family, we would agree. However, once we were on the water we deemed that this would be a highly recommended experience and one worth splurging on. When we are faced with a more expensive experience we often get creative with the rest of our day, seeking out experiences that are low or no cost, and Lake Louise has a lot to offer. This could include visiting one of the local hikes, packing your own picnic for a post canoe lunch, walking along the trails next to the lake or visiting one of the iconic tea houses.
Best Time Of Day To Go Family Canoeing On Lake Louise
Lake Louise is one of the most popular "must see" destinations in Banff National Park, with visitors flocking to hike trails around the lake, visit the iconic Fairmont Chateau Lake Louise, and snap photos of one Mother Nature's masterpieces. In the summer months you can expect to see tour buses, parking control, and crowds at the park, which is why being able to hop out onto the lake and share the space with fewer visitors is quite unique.
We took the 6:30 am bus from our hotel and arrived in Lake Louise at 8:00 am, which we would recommend. Early bird gets the canoe, and while the Boat House didn't open until 8:30 am, there was already a line forming. So to be able to get out on the lake as soon as they were open was a huge benefit when travelling with kids, who wants to wait?
How to Get to Lake Louise
Our base camp for this trip was at the Tunnel Mountain Resort in Banff and we had opted to explore Banff by bus to reduce our environmental impact and congestion in the park. So we took Roam Transits 8X bus, which picked us up at the high school and took us directly to Lake Louise without stopping. The bus was a huge 2 level luxury bus, that was clean, roomy, and even had seatbelts for the passengers. After arriving in Lake Louise and seeing all of the parking restrictions, and on-site parking management I was grateful to be able to hop off the bus and not have to worry about logistics, and instead have a front-row walk right to the lake.
What To Expect
Songs, laughs, giggles, not going in a straight line….

Canoes are first come first served, so expect a lineup

Life Jackets Are Mandatory, lead by example and rock the jacket, and your kids will follow.

Glacier fed water – cold!

Each canoe can host three people, so if you're a family of four you may opt for two canoes or book the family voyager experience (must be booked ahead on their website).
What To Pack For The Family Canoe Trip On Lake Louise
With an early morning on the schedule, we recommend packing accordingly to help set you up for the best day possible. Here's a list of what we had in our packs:
Warm clothes

– The sun comes up around 8:30 mid-summer, so depending on when you visit and current weather conditions you could experience some colder morning mountain air. Dress in layers so you can adjust as it warms up.

Snacks

– There's nothing like a morning snack in the middle of the lake! After half an hour of paddling my kids were already hungry so we stopped for some "fuel" before heading back to the boathouse.

Water

– Hydrated kids are happy kids… So we always try to make sure everyone has their own water bottle. There are lots of Parks Canada bathrooms for when you need to make a pit stop, just not out on the lake!

Sunscreen & Hats

– While the cool air off the glacier can make it feel a little less intense, the sun is still out there and sunscreen and hats are always a good idea during our warm Canadian summers.

Camera

– Two cameras, tripod, backup battery, and four lenses. Didn't want to miss a single piece of equipment when capturing this amazing scenery.

Backpacks – Everyone has to bring their own backpack to help carry the load, as a Mom and the ultimate carrier I find I get cranky when I end up being the camel for everyone else's stuff now that they are big enough to help out.
Other Adventure Supplies – We packed the supplies we would need for the whole day as we had an action-packed itinerary and wouldn't be heading back to our hotel until late that night.
5 Pictures To Inspire You To Take A Family Canoe Trip On Lake Louise
Canadian. Iconic. Breathtaking. Unforgettable. These are just a few words that come to mind when describing what it's like to go canoeing on Lake Louise. However, instead of telling you all about it, here are my favorite five photos to help show you what makes this experience so incredible.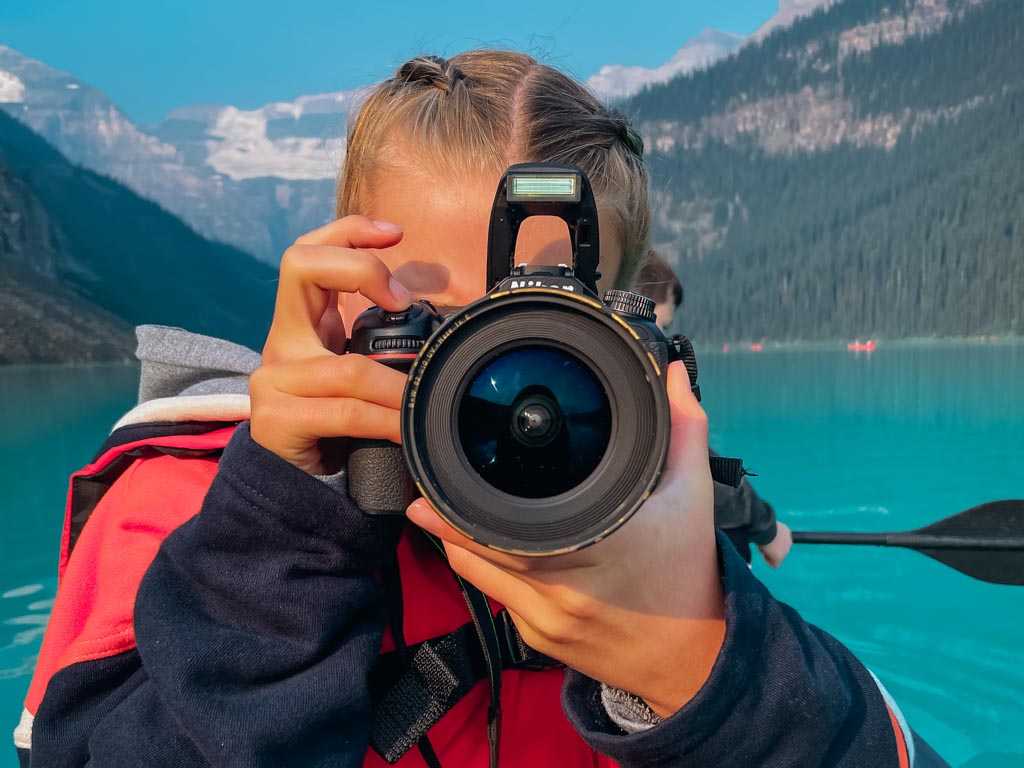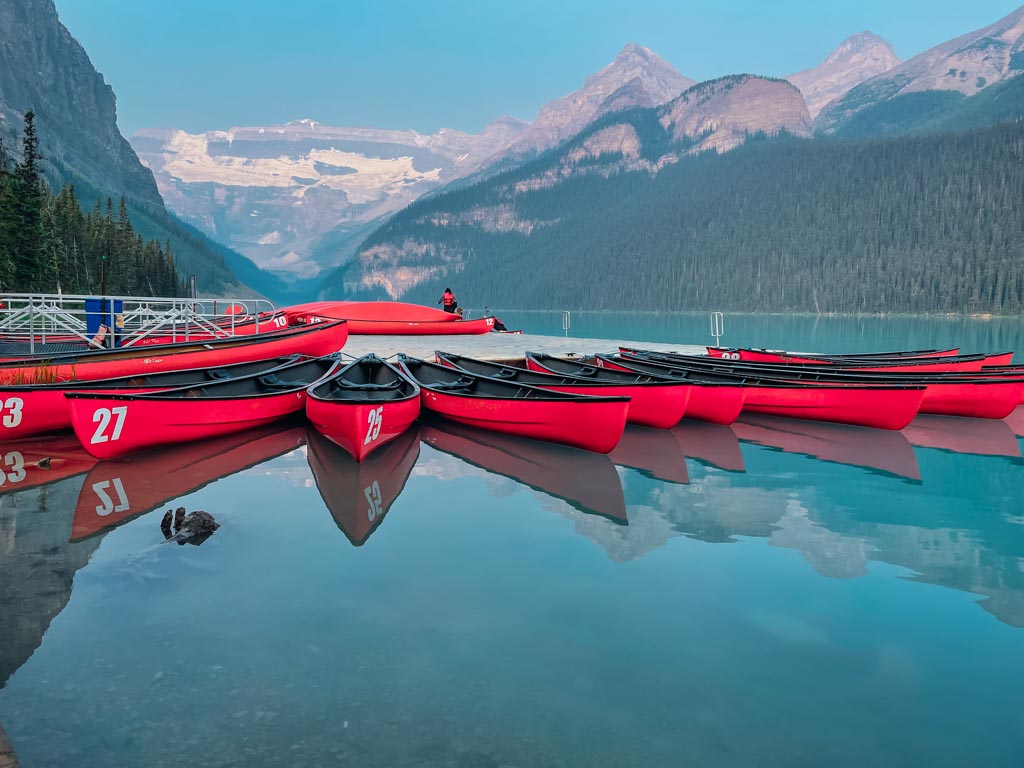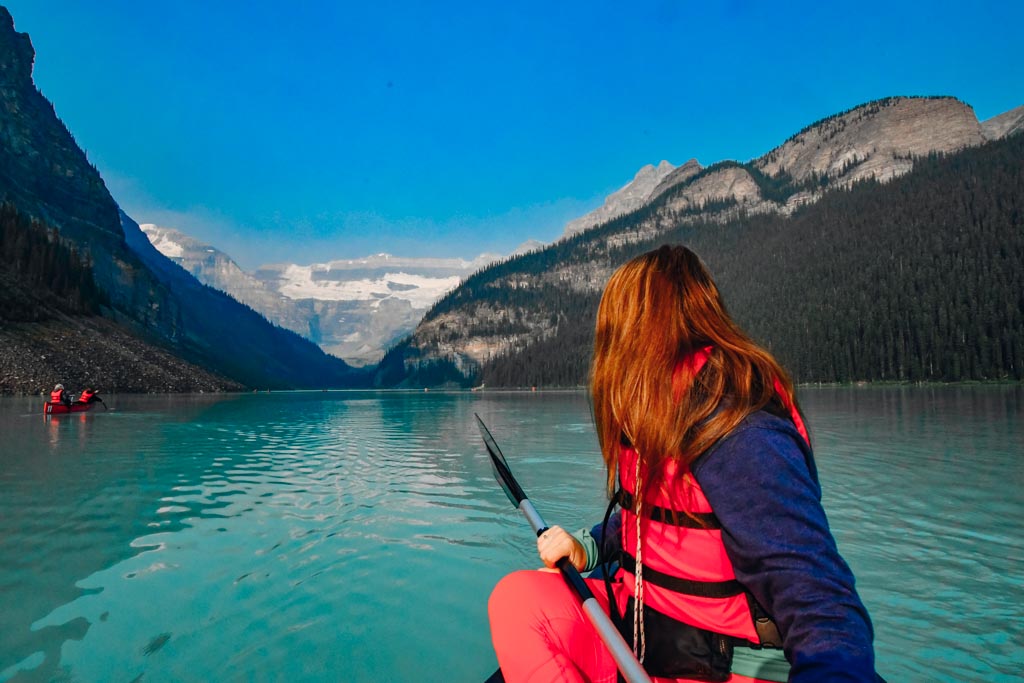 ---
Looking for Inspiration for Banff? Check Out These Articles!
Sponsorship Disclosure: While this experience was hosted on behalf of Banff & Lake Louise Tourism and The Fairmont Chateau Lake Louise, the opinions, thoughts, recommendations, and media is all my own. I only recommend companies that I would trust my family and friends with and that I would invest resources into myself.