Currently closed while they expand their family but be sure to check back in 2024 for new bookings!
With the sweetest little four-month-old on her hip, Banff Graze Co's owner Salina met us at Cascade Ponds and invited us to experience what would be the most luxurious picnic we had ever sat down to. The combination of delectable food with plush luxurious decor, surrounded by cascading mountains lake made for a Pinterest perfect picnic in the middle of Banff National Park. We couldn't wait to experience a Banff luxury picnic!
About Banff Graze Co.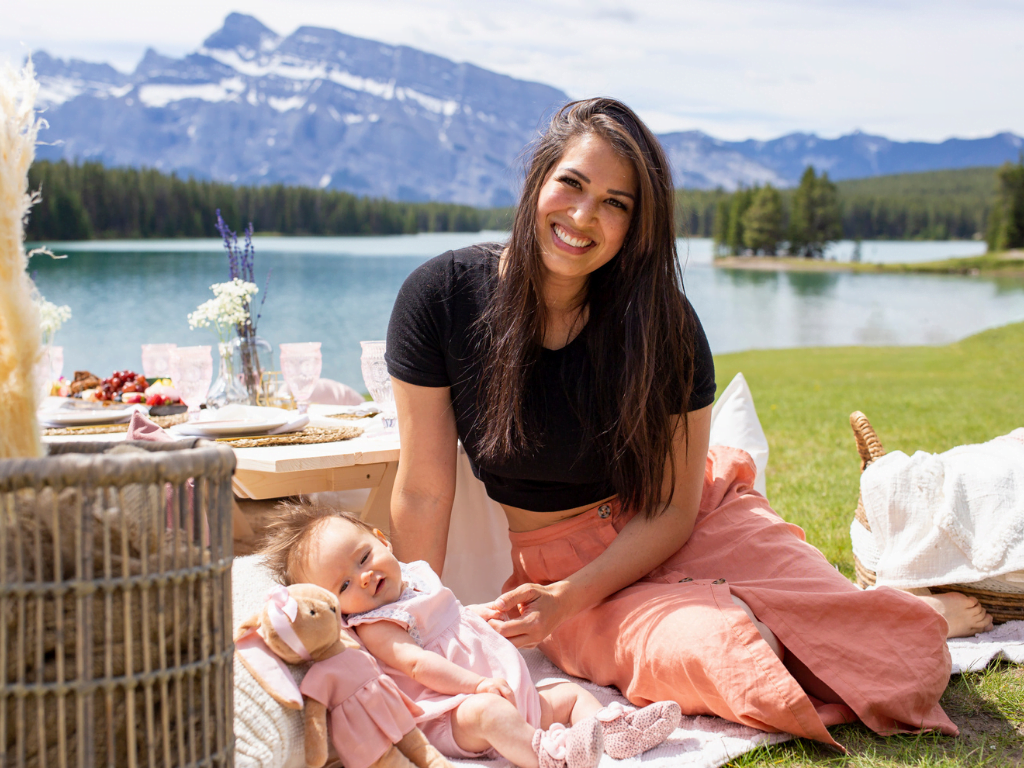 Banff Graze Co. was founded by Salina McNamara. Her job title pretty much says it all, "Mountain Maiden. Matcha Addict. Social Butterfly. Snack Queen." Her passion for planning spectacular events, her own artistic flair, and her appetite for locally sourced quality food led to the creation of Banff Graze Co., a Banff Luxury Picnic experience.
Banff Graze Co. is new to Banff this year, specializing in bringing the luxurious picnic experience to your mountainside (or mountain top) location. From small family picnics showcasing the gorgeous Graze Box to professional picnic-style events and long table celebrations, Banff Graze Co. brings something new and unique to your Banff experience.
Banff Luxury Picnic = Luscious Luxurious Lunches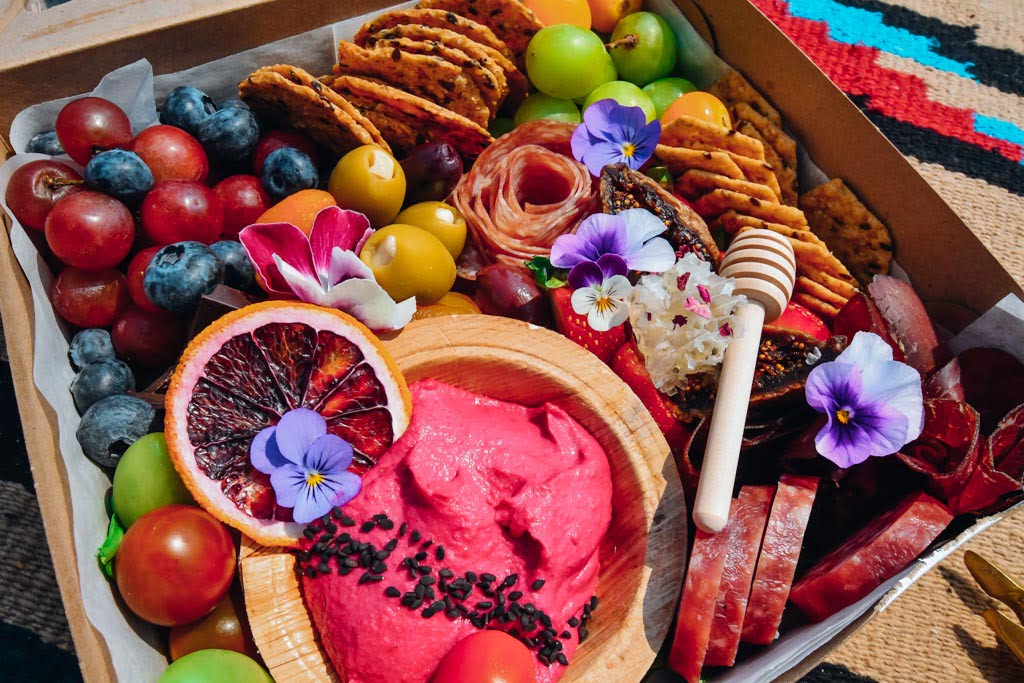 There's nothing more special than having lunch with someone you love. The time-honoured tradition of gathering around food is something that all of us took for granted pre-covid, and now we have learnt to savour every shared meal that comes our way. So once we were finished taking our photographs we kicked off our shoes and settled into the cozy blankets and started grazing. My son said it best, albeit we're not sure what he said because he kept trying to speak with a mouthful, indulging in the variety of tastes that were in front of him. From meat rolled into flowers, to fresh honeycombs, to crackers, fresh fruit, and floral garnishes, it truly was a spectacle that we almost didn't want to touch.
Cheers! Salud! Tchin Tchin! Cheers Mate!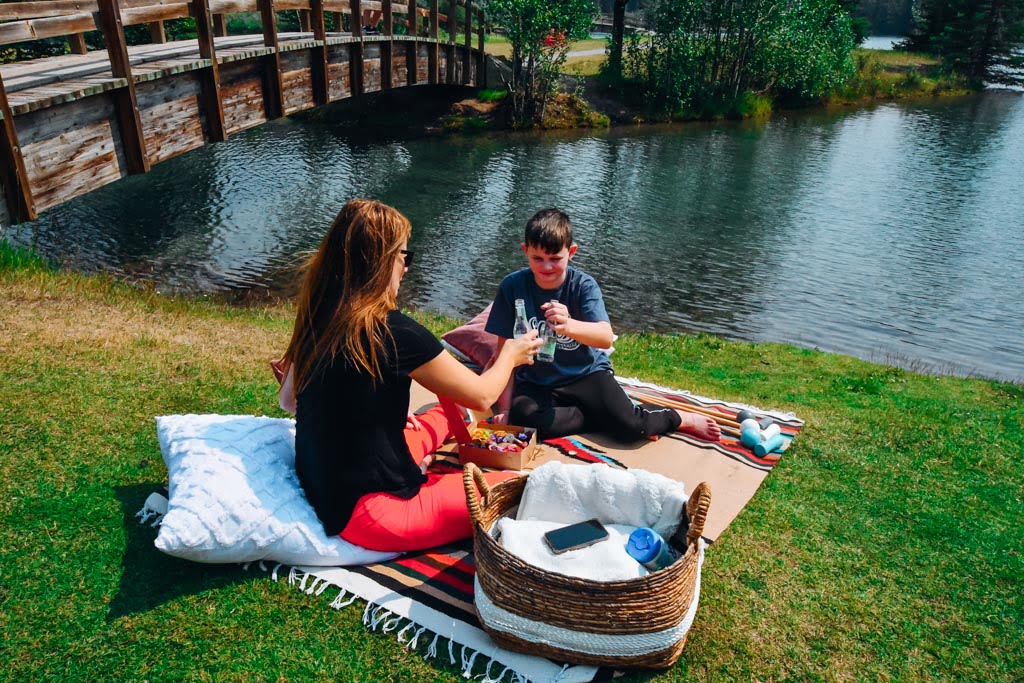 Glasses were raised as we said "cheers" to an incredible meal in the mountains!
The Ultimate Banff Luxury Picnic Location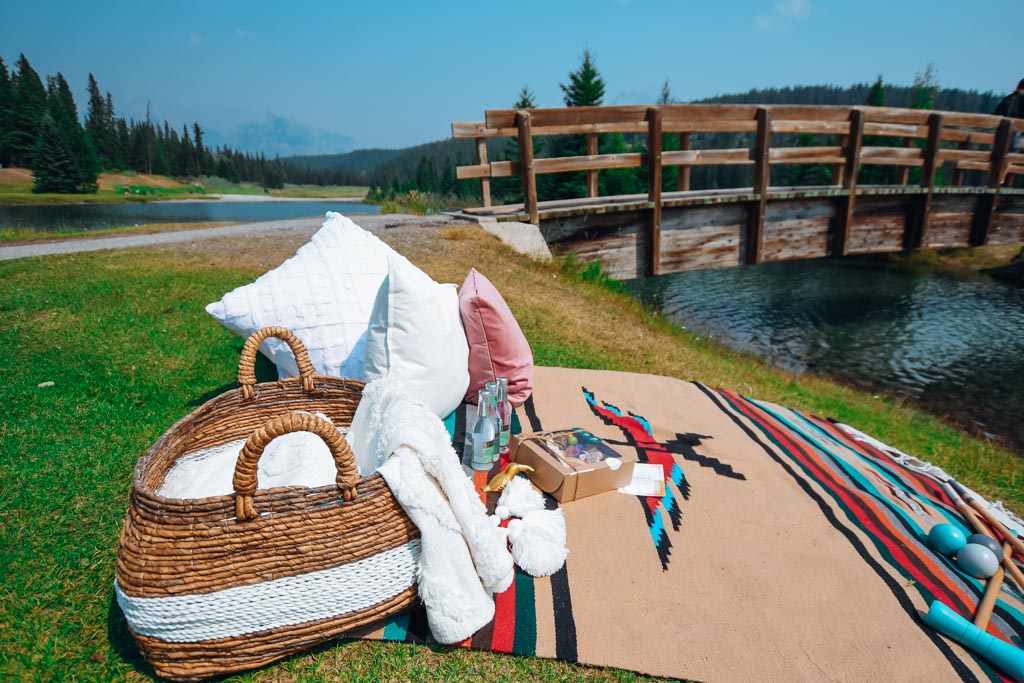 Whether you opt for an afternoon on cozy Cascade Pond or want to take your picnicking to a whole new elevation, Banff Graze Co. can make your dreams come true. As a local and a long-time resident Salina can help you choose the best location for your gathering and create custom decor to go along with the celebration. Speaking of decor, they have a variety of options to choose from including:
Mountain Magic

Linen & Blush

Bohemian

Rustic Fresh Whites

Tropical Paradise
Redefining Picnics, One Graze Box At A Time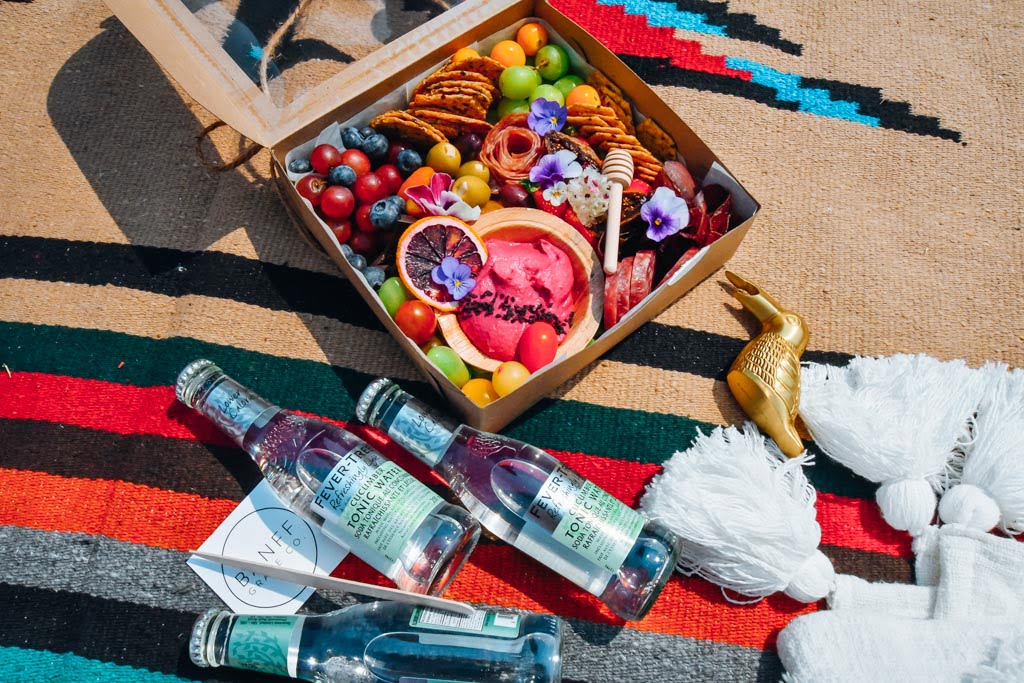 From one Mom entrepreneur to another I wanted to say kudos and congratulations to Salina for combining her passion and experience as a catalyst for the creation of Banff Graze Co. Her unique events will provide the perfect place for locals and visitors alike to create special memories. I know that our grazing experience won't be our last as I already dream of our next adventure, perhaps in the snow, with a grazing box awaiting our arrival at another unique Banff location. Nothing makes a mountainside better than sharing good food with your favourite people!
To book your own Banff Luxury Picnic or learn more about Banff Graze Co. visit their website or check them out on social media at www.instagram.com/banffgrazeco
---
Looking for More Adventures in Banff? Check Out These Articles!
Sponsorship Disclosure: While this experience was hosted on behalf of Banff & Lake Louise Tourism and Banff Graze Co, the opinions, thoughts, recommendations, and media is all my own. I only recommend companies that I would trust my family and friends with and that I would invest resources into myself.