Have you ever come across a photo that jumps off the page? You know, the one that takes your breath away, and leaves you wondering what it must have felt like to be the photographer, capturing the scene not just with your camera, but your own two eyes as well?
Now, imagine having a private guide that gives you a personal, behind-the-scenes tour of one of the most photographed regions of the world. A guide that can show you exactly where those breathtaking photos were taken, so that you may leave with a camera filled with National Geographic-worthy photos, as well as the memories of being there in person. 
This is exactly what you experience on the Discover Banff Photography Tour.
Based in the heart of downtown Banff, Discover Banff Photography Tours is a locally run company that specializes in small group, intimate personal tours. Founded in 1998, Discover Banff Photography Tours has over 20 years experience showing visitors and locals alike the best sides of Banff, from sightseeing trips and wildlife tours to glacier adventures, icewalks, snowshoe adventures and more.
As a family of shutterbugs, we were very excited to try out their Banff Photography Tours, and get backstage access to the beauty of Banff with our amazing host Matt. Matt has lived in Banff for 25 years, and knew all the off the beaten path stops that would make for scenic photos and even more scenic memories.
Morant's Curve
First up on our tour was Morant's Curve, one of the most photographed spots in all of Banff. A little off the main road, this scenic spot remains relatively unknown to tourists, making us very thankful to be travelling in the company of our local guide.
Made famous by photographer Nicholas Morant, who was hired to promote the region from 1929 to 1935, Morant's Curve is a picturesque ridge of Canadian Rockies that Morant first captured while photographing the CN train passing through the majestic mountains.
Old Highway
Next, Matt took us on the backroads from Lake Louise to Banff, which served as the old Trans Canada Highway. These roads are much smaller than today's modern highways and now act as a corridor for the local animals, increasing our odds of wildlife sightings. Excited for what we might find, we all kept our eyes peeled for deer, elk, wolves, and foxes.

Johnston Canyon
Since we had told him it was number one on our adventure list, Matt was able to customize our tour to include a quick hike to the lower falls at Johnston Canyon. And boy were we glad we did! The incredible display of groundwater pouring out of the landscape and freezing quickly into a collection of amazing ice sculptures left us all speechless. It was truly one of the most beautiful displays of nature we've ever seen.
Two Jack Lake
One of Banff's most popular summer destinations, this Parks Canada campsite is closed for the winter, however, visitors can still come to take in the epic view of the frozen lake. With the crisp blue skies and winter sun beginning its descent, the photos we captured here made for some of our favourites from the entire tour.
Lake Minnewanka
Another popular spot on Banff Photography Tours is Minnewanka Lake. This picture-perfect setting has an endless list of activities and adventures, no matter the season or temperature. During our stop we saw all sorts of visitors out and about, enjoying everything from fat biking and cross country skiing, to snowshoeing, skating and more.

Interesting Fact: During World War II the lake was dammed to make way for a hydroelectric plant, raising the water level up 90 feet. In the process, these rising waters completely submerged the original collection of small lakeside resorts, leaving an entire town preserved underneath the surface. This unique "sunken ghost town" now draws scuba divers from all over the world who come to explore this underwater treasure!
The Banff Bachelors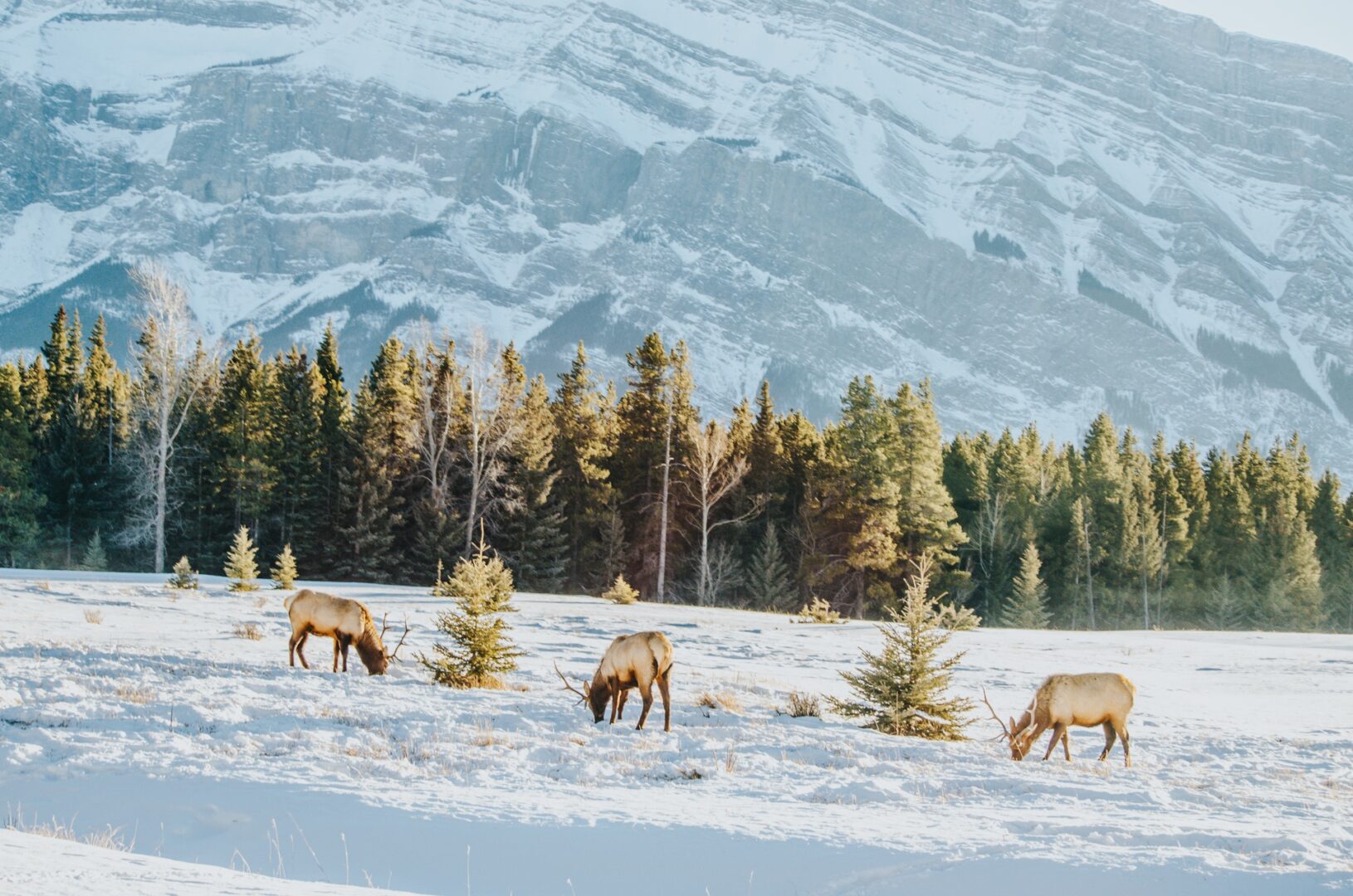 As we continued our tour with Matt, we were fortunate enough to meet up with the "Banff Bachelors". This group of male Elk had been kicked out of their herd for the year, as they were not strong enough to compete with bigger males and earn their own harems of females during the rut. Banding together, these guys now spend their days helping each other find food and grow bigger and stronger, in the hopes that they'll be able to successfully compete for their spot in the herd during next year's rut.
Banff Sunset
Our last stop of the day was at the Mt. Norquay Lookout to catch the sunset cascading down over the town of Banff. As we stood perched ready to capture the perfect shot of the sun in all its glory as if on cue, we heard the local train blow its whistle as it came barreling through Banff. After making its way through town, we watched it turn off towards the sunset, moving ever faster as if it were racing the sun towards the horizon. This unexpected cameo made for one incredibly memorable scene to end our amazing tour of Banff!

Family Friendly Tour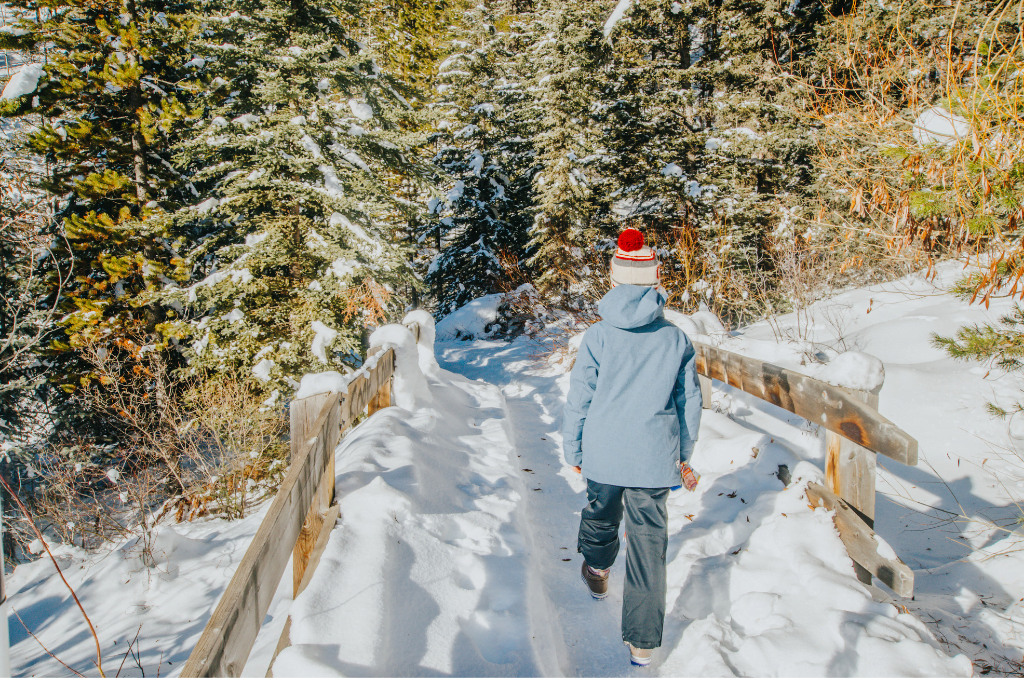 There's no better feeling after an activity with your family than hearing your kids say: "Mom, that was way more fun than I thought it would be!" Not only that, but the little ones made sure to let me know that "…it was so fun seeing all those cool places" and "Matt is so nice!"
With Discover Banff's private photography tours options, and the ability to customize our route to keep the young ones entertained, this outing was the perfect family-friendly activity. Though if you do choose to bring your kids on a similar tour, I'd highly suggest bringing little treats and/or the iPads to keep them happy as you drive from destination to destination.
Photographers Dream
As a travel photographer focused on finding those perfect shots, this tour saved me a ton of time and hassle. Rather than trying to research and navigate my way to all of these spots on my own, I was able to sit back and enjoy the journey with my family, knowing that our knowledgeable guide Matt would take us to the most serene settings. Not only that, but Matt was able to connect these settings to the local history, sharing great stories and background at each stop.
What to Bring
To make the most out of your Banff Photography Tour, you'll want to come prepared with all the gear you'll need to enjoy the day, and make sure you capture those iconic images:
Camera with wide angle lens

Camera with a zoom lens for animal encounters

Comfortable walking boots

Warm clothes

Snacks, water, and treats for the kids

iPads or car activity for the kids (total drive time for the day was about 4 hours)



To learn more, or to book your own photo adventure, check out the Discover Banff Photography Tours website and How to Get To Banff!
For tips on other great winter adventures to explore while in Banff, be sure to check out these articles!
Breathtaking Snow Sculptures at the Banff SnowDays Festival
Moments, Memories & a Giant Moose: Inside Banff's Newest Luxury Lodge
Snowboarding + Sunshine = Magic on the Mountains
My Life-Changing Moment at Fairmont Lake Louise
Is this a sponsored post?: Yes, however all our thoughts, opinions and views of our experience are our own.