Are you looking for the best family hotel in Banff?
As soon as you walk through the doors of the Moose Hotel and Suites you are greeted with its unmistakable mix of contemporary design and classic Canadian traditions. A true luxury Canadian Lodge, The Moose Hotel Hotel Banff is literally built around history (more on this later!) With its unique design that wraps you in nature from all sides, this property is the best family hotel in Banff.
As regular adventure seekers and an allergy family, I am excited to share with you how this property combines atmosphere, function, and hotel amenities to create the ultimate family vacation destination in Banff.
Disclaimer: While I share my own thoughts and stories about these experiences, should you click on the affiliate links, I may receive a small commission on that sale which helps fund Adventure Awaits.
14 Reasons Why The Moose Hotel and Suites Is The Best Family Hotel in Banff
1. Location: Hotel In The Heart of Banff, Alberta
Located only one block from the heart of downtown, the centrally located Moose Hotel & Suites is the perfect basecamp for all your family's Banff adventures.
Downtown Banff offers plenty of unique experiences that are worth trying out. For starters, exploring the local shops and dining spots is a must. From outdoor gear stores to handmade jewelry, the shopping options are endless. When it comes to dining, visitors can indulge in a variety of cuisines, ranging from comforting pub grub to international flavours like Japanese or Italian. Another popular activity is taking a stroll along the picturesque Bow River, which runs through the town. Families can also opt for a guided tour to learn about the history and culture of the area, one of the first places to visit should be the Parks Canada site!
When it comes to visiting Banff, there is never a shortage of activities to do. Thankfully, with such close proximity to everything downtown Banff has to offer, you'll be able to enjoy it all and still make it home in time for an evening soak in the hot tub under the stars!
2. The Warm Welcome and Canadian Culture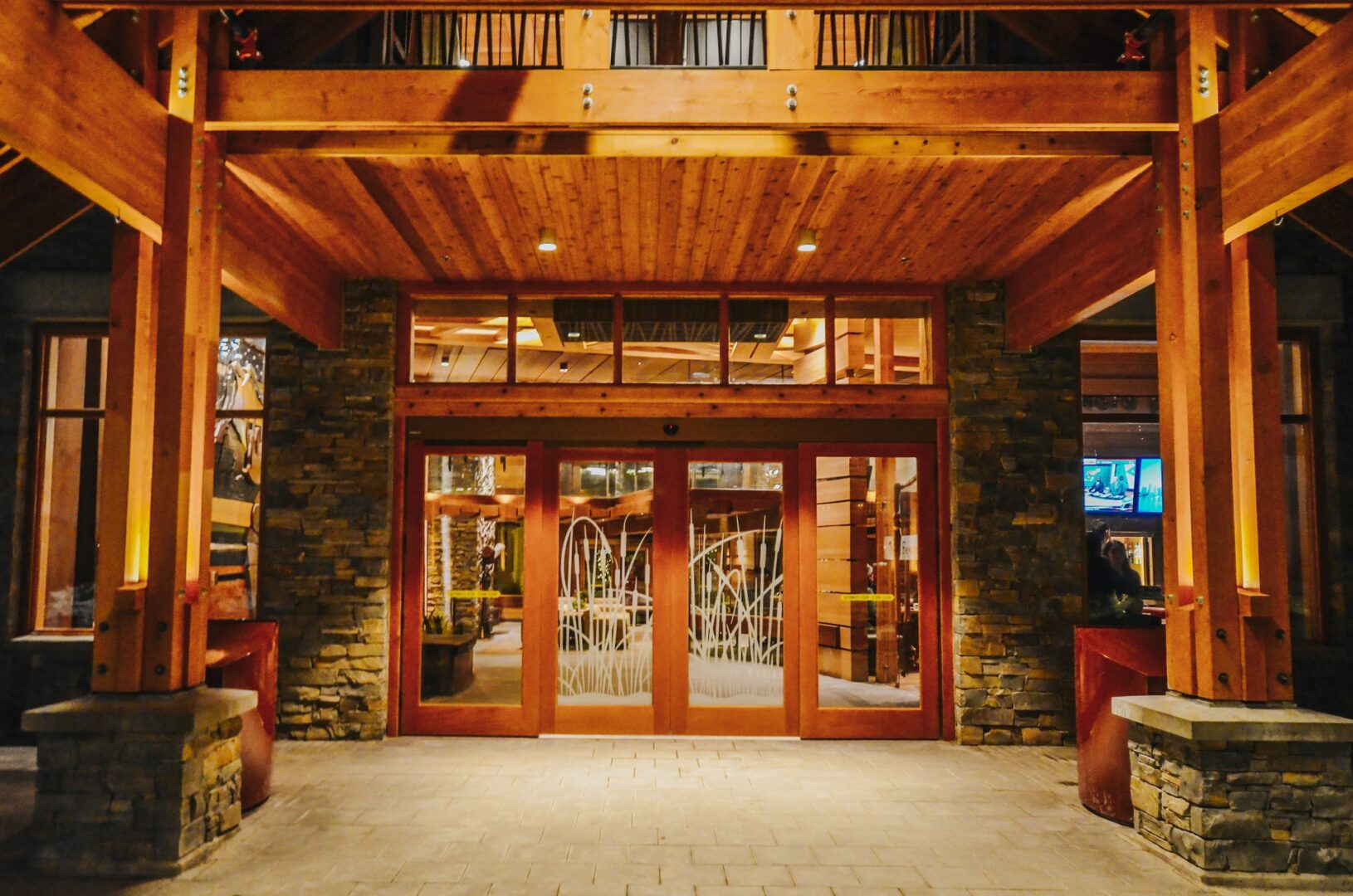 Walking through the front door of The Moose Hotel & Suites, you are immediately hit with sensory overload as you enjoy the warm, welcoming feeling that only comes from being inside a Canadian lodge. With beautiful red cedar beams serving as the centrepiece of the hotel's log cabin construction, walking into the lobby provides you with Canadian art, a smell that only cedar can offer, and a warm Canadian welcome you won't soon forget.
The hotel has been centered around sustainability starting from when it was constructed in 2016. A lot of the hotel features have been designed using reclaimed and salvaged wood. To learn more about the hotel's commitment to sustainability as well as the current programs in place visit this link.
Mom Tip: Check out the link above and learn how you can contribute to an eco-friendly vacation by being a responsible traveller.
Click here to book your stay at the Moose Hotel & Suites in Banff!
3. Naturally Inspired Canadian Art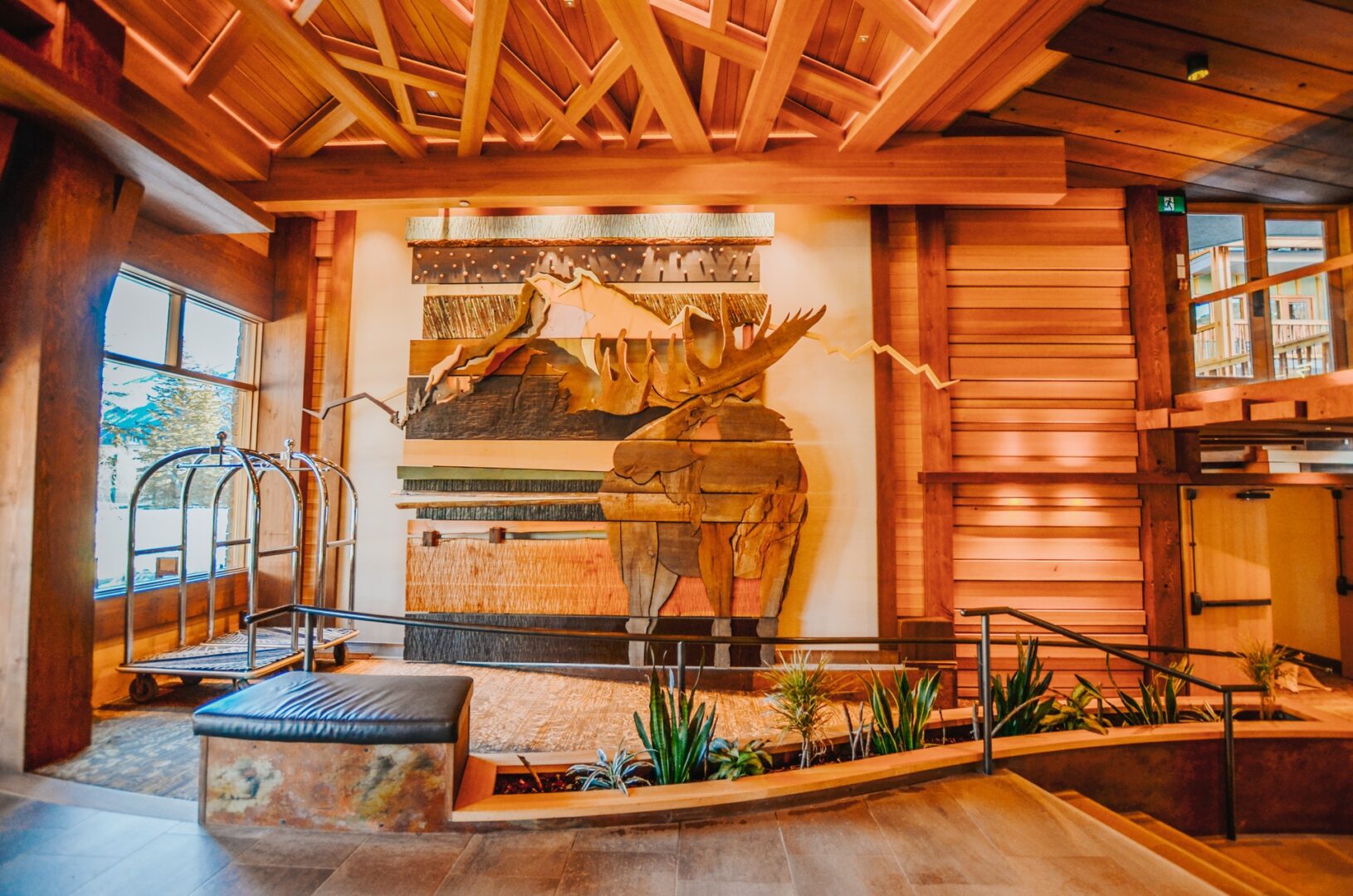 As the name suggests, it was just a few feet from the front entrance before we were greeted with our first piece of moose artwork. This particular piece stands nearly a full story tall, and tells all the hotel's guests two things when they walk through the door: 1. The Moose Hotel & Suites values and respects the unparalleled nature of Banff, and 2. Guests are in for a larger-than-life experience!
Moving from the lobby to the hallway as we made our way towards our room, our eyes were quick to notice that our moose friend at the entrance was far from the only one on-site. Nearly everywhere you look, the hotel has tastefully incorporated moose-inspired artwork: from a child-friendly moose rowing a canoe to more complex pieces that combine nature and modern art in truly inspirational and imaginative ways.
4. Inside-out Experience – Banff Family Resorts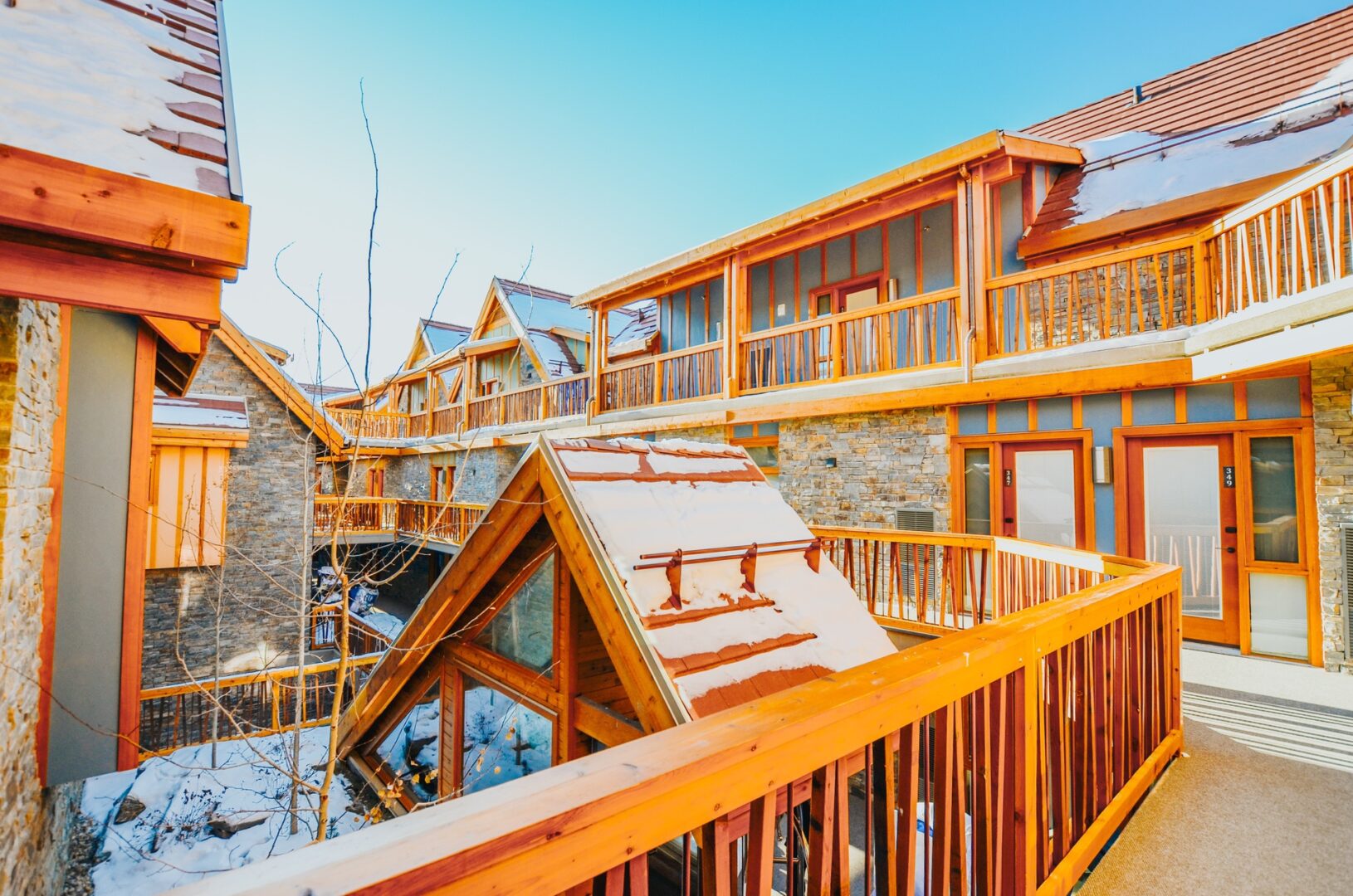 After making our way to the elevator, we pressed the button for our floor and were whisked into the sky. However, when the doors opened we found ourselves…outside again? It definitely was not what we were expecting!
As it turns out, all the hallways leading to guest rooms at The Moose Hotel & Suites are actually outside. By turning itself "inside out", this ingenious design allows guest rooms to be wrapped by mother nature on all sides, creating beautiful entrances and views from our private balcony.
This unique design truly brings the outside in, allowing guests to soak in as much of Banff National Park's beautiful surroundings as possible. It's truly a sight to be seen, and The Moose Hotel & Suites couldn't have done a better job in clearing your sight lines!
5. Kid (and Parent) Approved Suites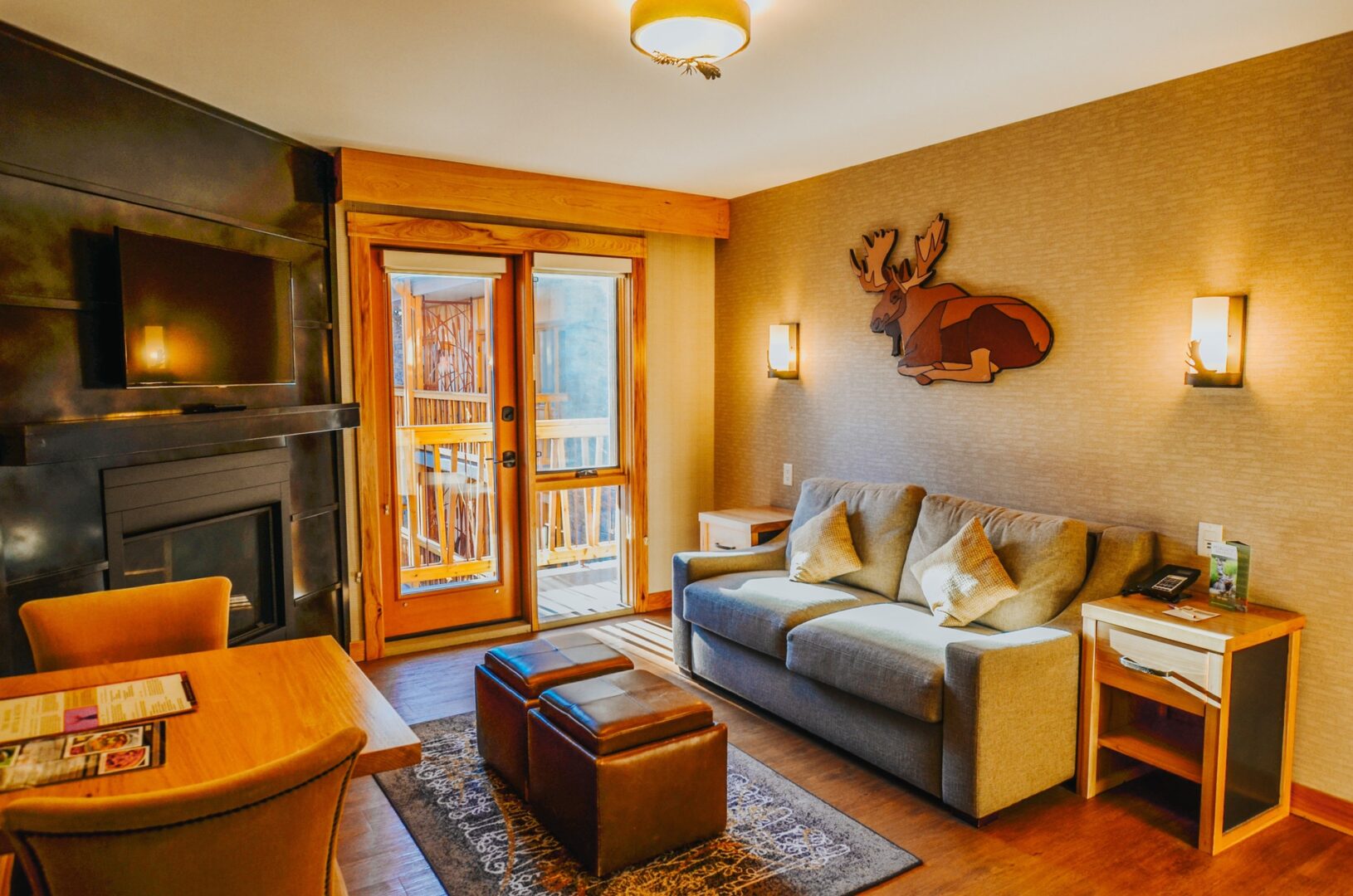 When we arrived at our door, the kids put down their bags with a loud thump. With full winter gear in tow, these bags were easily half the kids' body weight, and for their effort, they were given the "reward" of swiping our magnetic room key to what we discovered was the best family hotel in Banff!
"Ooohs and ahhs" permeated the space as the young ones ran through the suite, quickly claiming beds and making that oh-so-important pit stop that couldn't wait. While hotel booking sites like Expedia rank properties based on points and stars, any Mom can tell you that "kid approved" is the best rating a place can receive. And The Moose won the kids (as well as Mom and Dad) over quickly.
6. Family Style Sleeping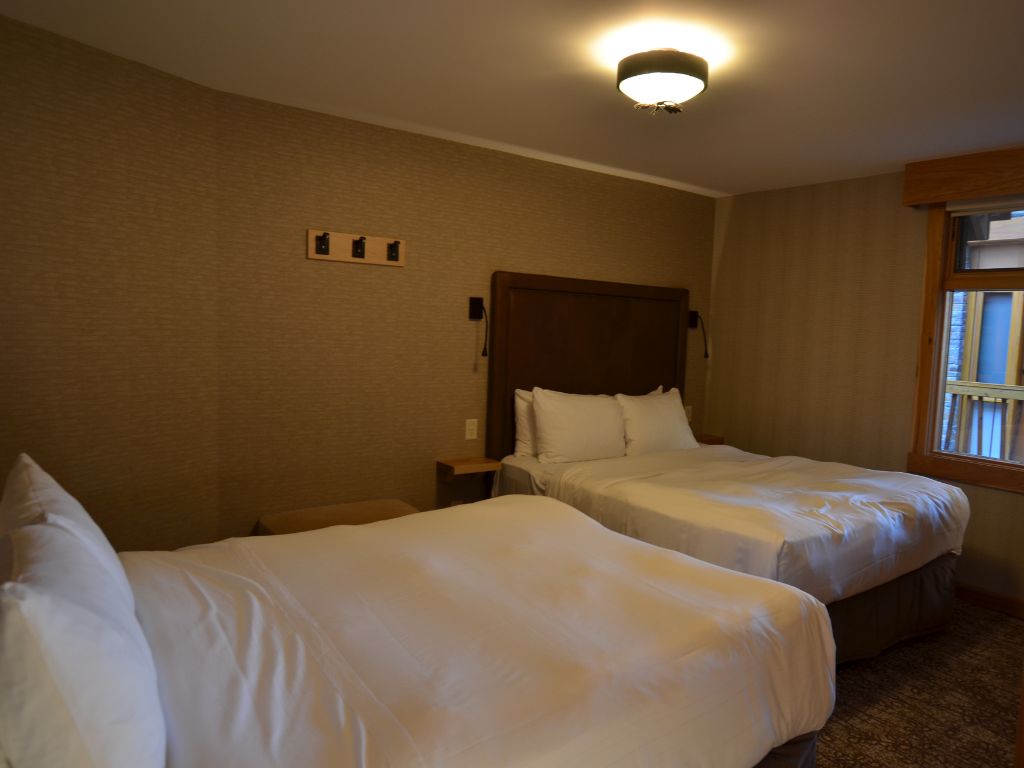 If you're looking for Banff family-friendly hotels, The Moose Hotel Banff really gets the value of family time with their creative family-style accommodations. My kids loved being able to have a big family sleepover in our family room, which was especially amplified during our pre-bedtime pillow fight routine! With these style of rooms, you can see why this is the best family hotel in Banff.
Sustainability Spotlight: The soap in the bathrooms is Rocky Mountain Soap which is made locally, and is natural and biodegradable.
7. In-Suite Kitchenette – AKA Snacks on Demand!
When travelling with kids there's nothing that makes the experience better than a kitchenette and being able to grab a quick snack or an early morning breakfast on demand. The Moose Hotel and Suites is one of the Banff hotels with a kitchenette and their kitchen amenities include a fridge, microwave, sink, coffee maker and kitchen essentials.
The IGA is the biggest grocery store in Banff and is only a three-minute walk from the Moose Hotel and Suites. My littles were able to help carry the lighter groceries for the short walk.
8. Best Rooftop Hot Tub In Banff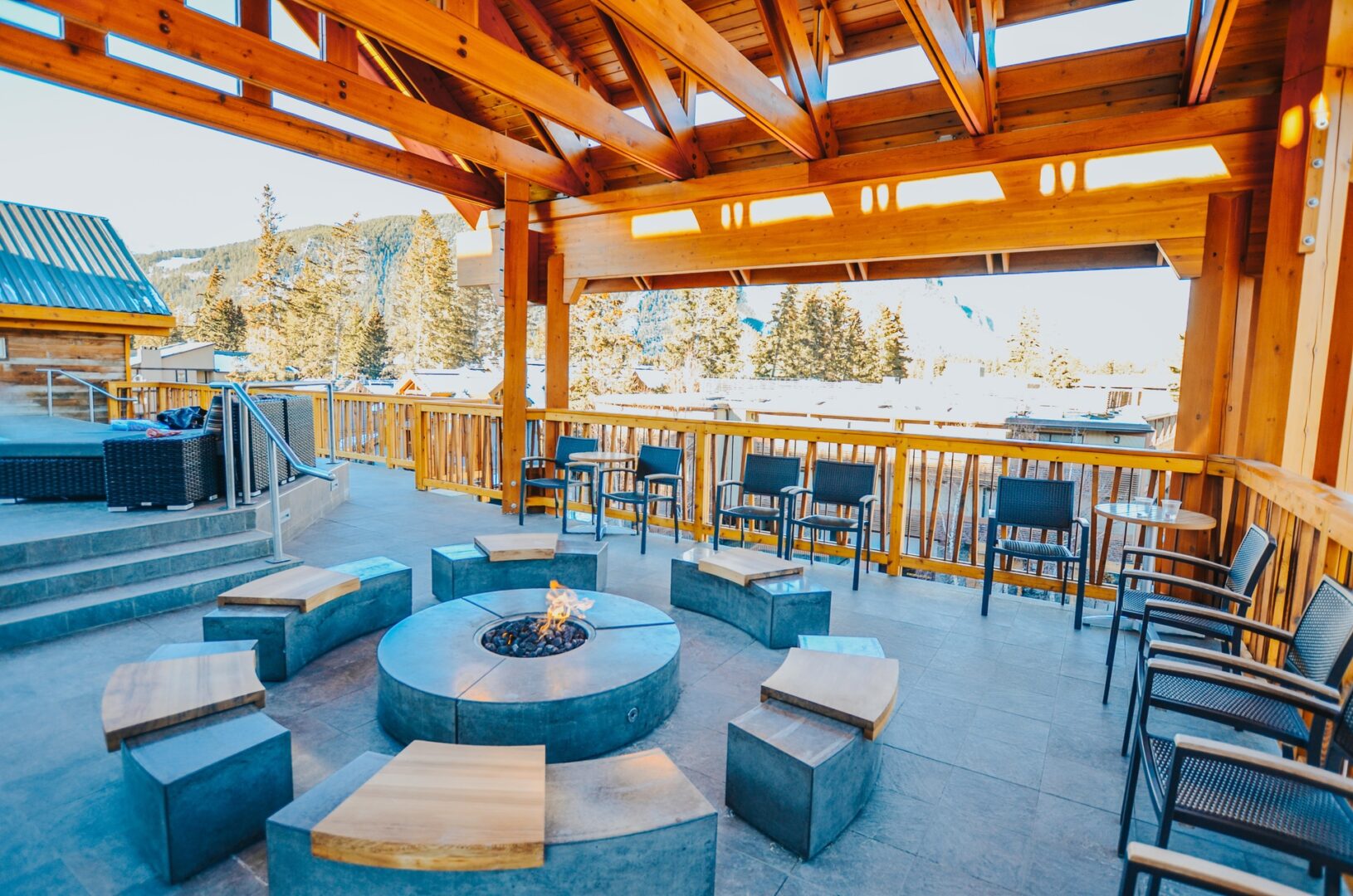 While it's not common for hotels to have a hot tub on their roof, once we arrived at the top floor of The Moose, it was pretty easy to see why they chose the location. During the day, guests get a full 180-degree panoramic view of Mt. Rundle (easily one of the best poolside views in all of Banff)! And at night when we returned to soak in the steamy tubs, we were welcomed by a star-filled sky and a full moon that bounced beautiful rays off of the stunning mountain facade we had gawked at earlier in the day.
9. Pool and Exercise Room
There's nothing I love more than a good exercise room, and The Moose Hotel delivers big time! Not only do they provide amazing equipment, but they've paired it up with an incredible view that will motivate you in more ways than one.
I know it sounds cliche…but this view really is one of the best I have ever seen from a fitness centre. The designers deserve many kudos for their innovative thinking, finding a way to put this gym in a prominent location as opposed to the basement, where most hotels like to banish them.
Thank you to The Moose Hotel & Suites for making fitness and healthy living a priority!
10. Banff Meadow Spa
Along with being Banff's newest hotel, The Moose Hotel & Suites also houses Banff's newest spa: Meadow Spa & Pools. Like everything else in this hotel, The Meadow Spa features stunning views of Banff's natural beauty, making your first step towards relaxation as simple as taking a quick look out the window.
With Dad volunteering to take the kids exploring for a few hours, I had the chance to escape for one of the spa's signature treatments. With a full selection of facials, massages, manicures, pedicures, aromatherapy, and more, the most stressful part of the experience was deciding where to begin! Thankfully, the friendly staff up front helped me select the perfect package of treatments to get me feeling as tranquil as the nature that surrounded us.
One nice surprise that I did not expect was the private outdoor hot tub and fireplace. Similar to the hotel's rooftop, this patio paradise provided the perfect place to soak your sore skiing muscles while soaking in your surroundings. And since it's reserved for spa guests only, this retreat was a little more "grown-up" and relaxed than the hustle and bustle of the rooftop scene. Needless to say, it was the perfect way to cap off my day of pampering!
11. On-Site Hotel Restaurant – Pacini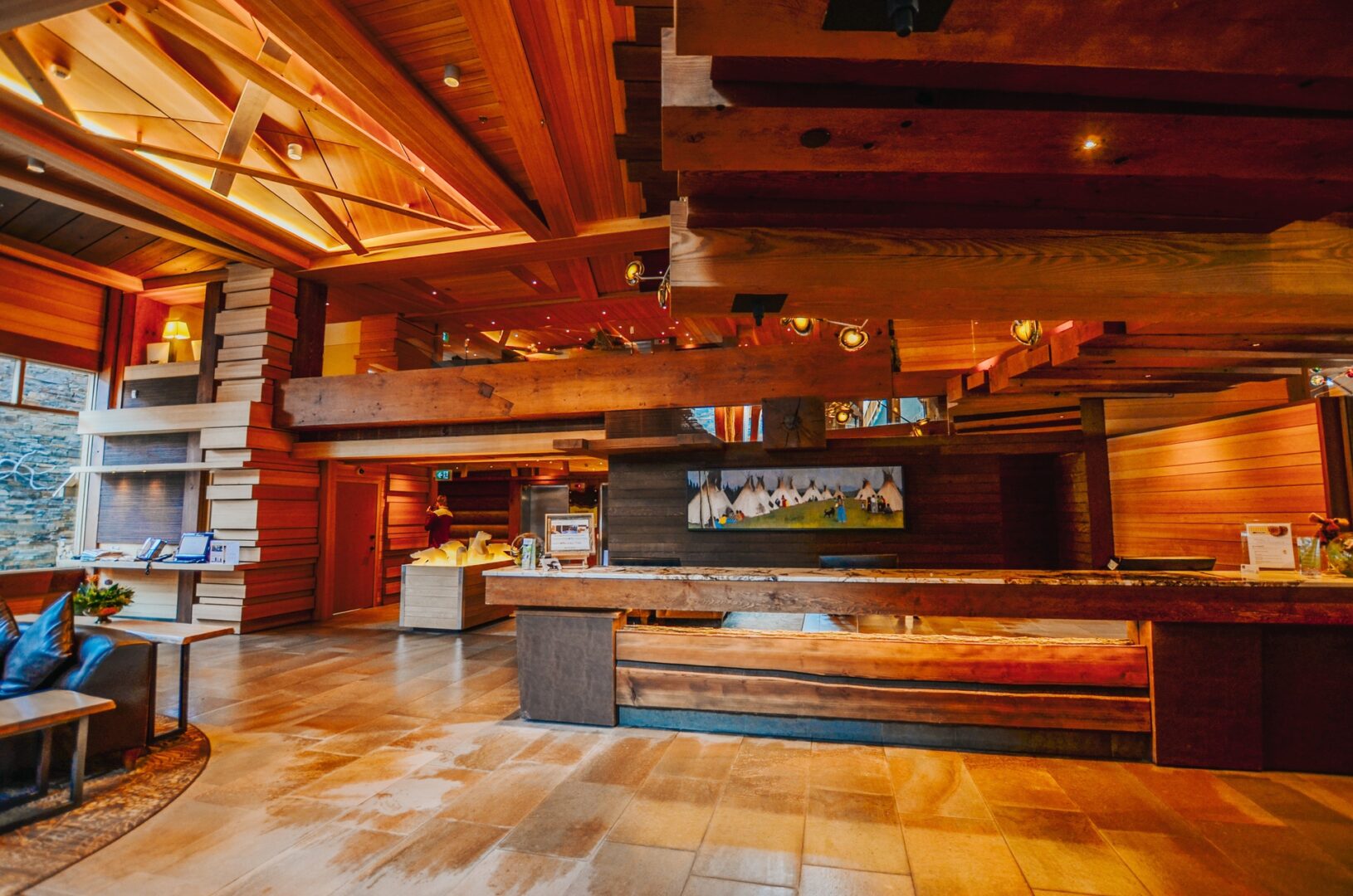 After a day of skiing, snowboarding and taking in Banff's hundreds of other attractions and adventures, it's easy to work up an appetite. Thankfully, The Moose Hotel makes it easy to refuel after returning from the slopes, with the delicious Italian Restaurant "Pacini" right in the lobby! As we quickly learned, this place is the ultimate apres ski.
With its warm atmosphere and friendly service, Pacini is one of those rare places where you can feel just as comfortable with your family of four as you can on a date night with your hubby. Its huge menu of Italian favourites meant that everyone was able to find lots of delicious options to enjoy as we recapped our favourite runs of the day.
While we had a fridge full of groceries in our suite, escaping downstairs for some fresh pasta and family time at Pacini proved to be one of our trip highlights!
12. Where Modern Development and History Align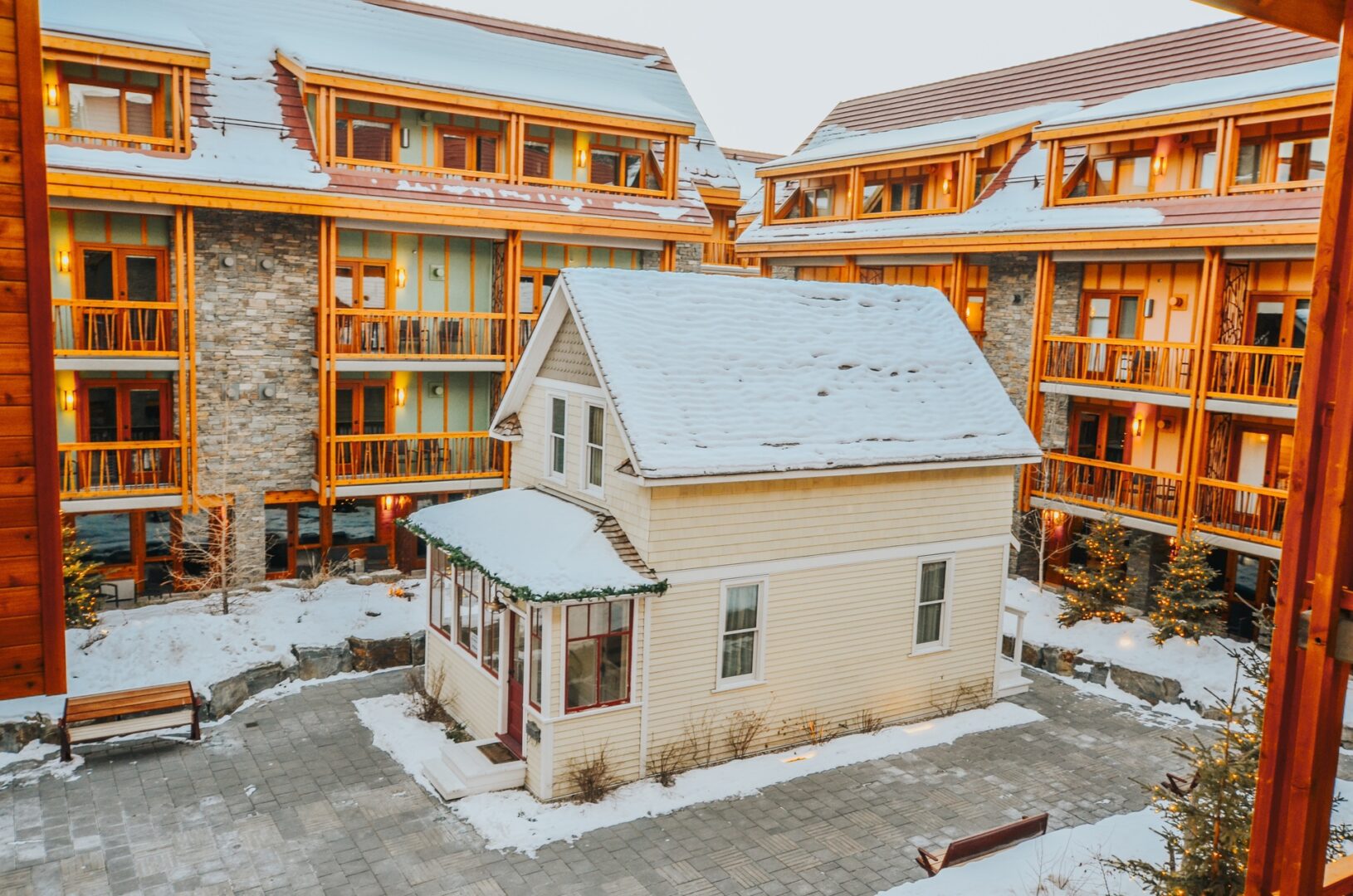 Earlier, I mentioned that The Moose Hotel & Suites was literally built around history. Well, I wasn't joking. Smack dab in the center of this brand new development sits "The Corner House", one of Banff's original mining dwellings that dates all the way back to the early 1900s!
This house was originally built in the nearby mining town of Bankhead and moved to downtown Banff in 1926 (placed right on the corner where you now find The Moose Hotel). With a rich history as old as Banff itself, the owners of The Moose Hotel knew that this historic property had to be "center stage" for their new development, and so they literally built The Moose Hotel around this cottage.
The best part? During the development of The Moose Hotel, the owners also took the time to painstakingly restore and update The Corner House, and it's now actually available to rent as a hotel guest! Talk about a unique stay...
13. Banff Hotel With Pool! Splish Splash!
There's nothing that says, "best family hotel in Banff" like a pool! Often one of our first stops at a hotel, the kids love changing into their suits and heading right for the pool to splash around and burn off their energy from being cramped up on the commute. This indoor pool is open year around and one of the things we love is going swimming when it's snowing outside, nothing quite like it!
14. Free Roam Pass
Part of being a responsible traveller is swapping out the car keys in exchange for public transit as much as possible. As a guest at The Moose Hotel Banff, you'll get complimentary Roam bus passes for you and the family. This will help reduce your carbon footprint, avoid the busy parking lots, and give you time to soak in all the sights while you visit places like Tunnel Mountain, Banff Upper Hot Springs, or even out to Lake Louise!
In Conclusion, The Moose Hotel and Suites is the Best Family Hotel In Banff!
Whether you come to check out The Moose Hotel and Suites for its unique, contemporary design, classic Canadian lodge atmosphere, its warm and welcoming spirit, or its 4-star amenities, you will walk away impressed. Perfect for family ski vacations, couples retreats, and everything in between, it's incredibly difficult to articulate just how wonderful this place is.
This hotel "checked all the boxes" when it came to finding the best Banff hotels for families. The Moose Hotel, was like we won the lottery, and were given everything we could have possibly asked for. Location, views, rooms, amenities…this place really does deliver in every possible category.
And while the creature comforts and amenities are wonderful, what really makes The Moose Hotel and Suites a special place is its ability to create lifelong moments and memories for our family. From the giant moose that greeted us at the door and our soaks under the stars to the stories told at family dinner and the breathtaking views from our cozy suite, the memories we made on this trip will most certainly stick with us forever…
Click here to book your stay at the Moose Hotel & Suites in Banff!
FAQs
How many rooms are at the Moose Hotel In Banff?
There are 174 rooms with a variety of styles, sizes, and layouts to choose from to accommodate your family.
Who owns Moose Hotel Banff?
Did you know that the Moose Hotel in Banff is employee-owned and operated under the Banff Lodging Company? The Banff Lodging Company is a local hospitality company based in the Banff town centre.
When did the Moose Hotel Banff open?
The Moose Hotel and Suites was constructed in 2016.
Reviews
"We loved the atmosphere of the hotel. The massive fireplace crackling in the lobby was so inviting. The little house situated in the middle of the buildings was so interesting and unique. The free parking was awesome and we were able to easily walk or use transit to visit most of the sites we were eager to see. The rooftop hot pools were amazing after a full day of exploring Banff." -Rochelle, Family Vacation
"This was one of our favourite stays! We stayed in a suite on the top floor, the room has the best mountain views. Great location, friendly staff and the food was great. The pool/hot tub were so relaxing with a beautiful view. Highly recommend this hotel and we'll definitely be back!" -Jassi
Family-Friendly Activities to Explore From The Moose Hotel And Suites
New Summer Family Friendly Adventures In Banff
Family Sunrise Yoga in Banff
Start your day off right with a family yoga class, surrounded by the majestic Rocky Mountains. Located only a 9-minute walk from the hotel, the family yoga class in Banff was a great way to slowly center ourselves in the destination, and reconnect with our own sense of adventure, all while stretching out and warming up our body for a day filled with adventure. The Banff Yoga Studio location is idyllic for any yogi to experience, and the family-friendly classes were a great way to do yoga with my kids by my side.
Family Mountain Biking in Banff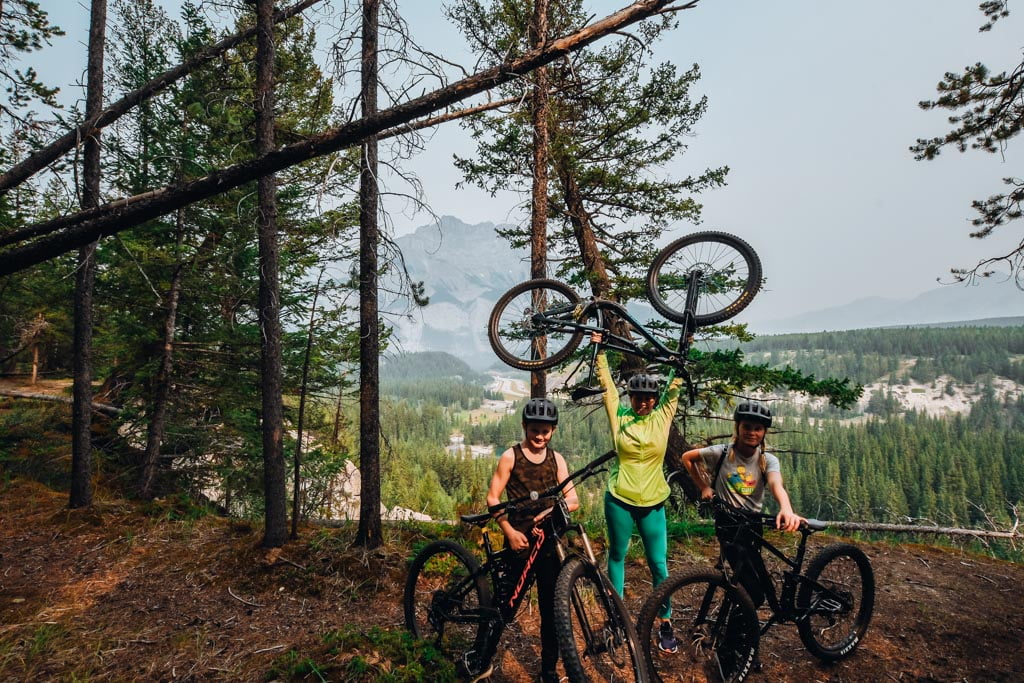 Bikescape was created by local, Clare McCann who saw an opportunity to get families out on wheels to explore Banff's backcountry trails. Families can expect to build confidence and skills on their "ridiculously fun, seriously safe, mind-blowing mountain bike adventure" Families will love having their own guide, ensuring that the whole family is comfortable and riding to a level (and a distance) that is age and skill appropriate. Learn more about this experience: Pioneering Pedals – The Best Family Mountain Bike Tour in Banff.
Family Friendly Hikes Banff with The Banff Hiking Company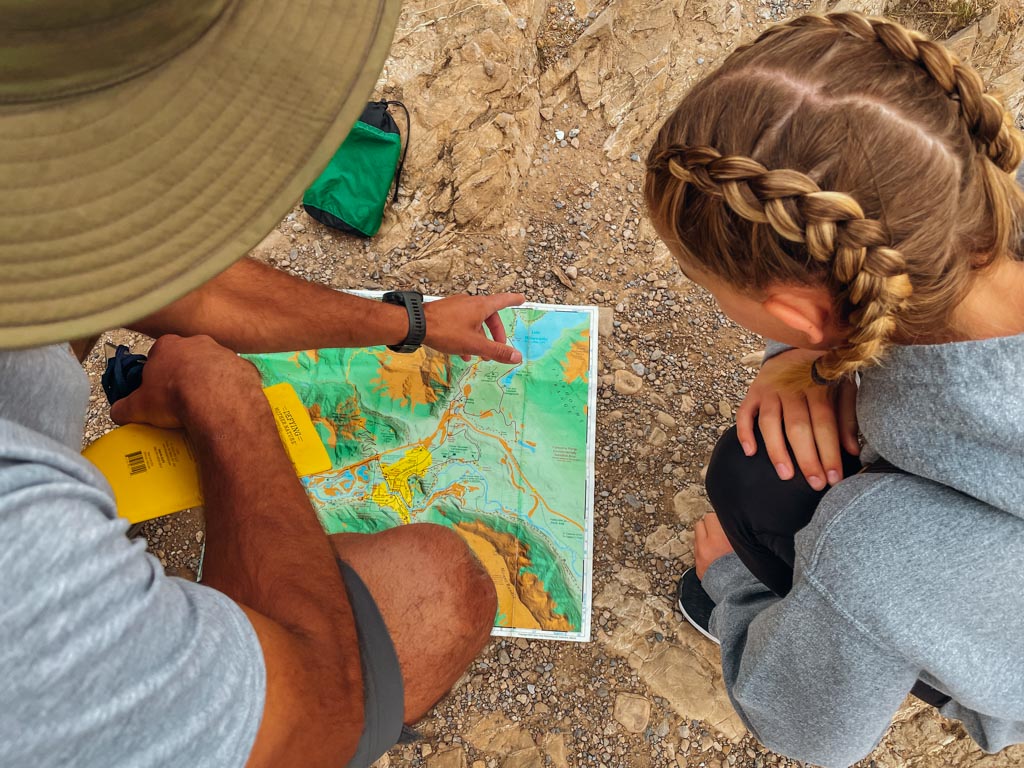 My son still says that Sam, was "The World's Best Hiking Guide" and that he wants to go back to Banff to go hiking with him again. The Banff Hiking Company is a locally owned, grassroots company that is passionate about taking families and adventure seekers out into Banff National Park. Sam was an incredible guide, making a hike fun, educating, and keeping the kids engaged in the process. Learn more about this experience: Raising Little Hikers with the Best Family Hiking Guide in Banff.
Luxury Picnic With Banff Graze Co.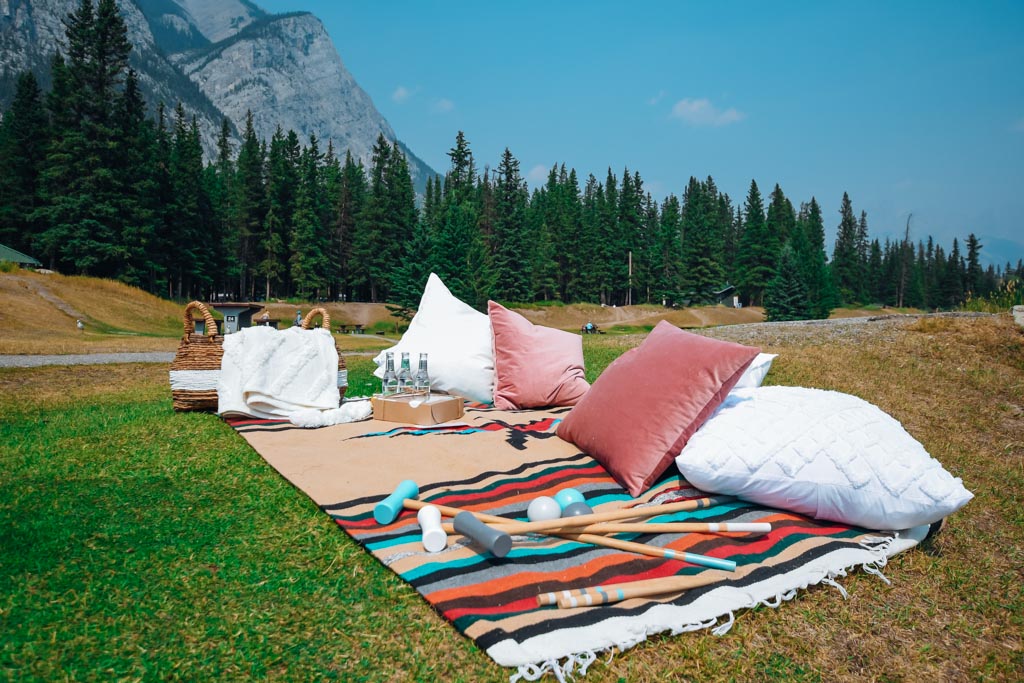 If you're looking for a luxurious dining experience, how about indulging in a family picnic hosted by Banff Graze Co. Created by a new and local mom Mom, Salina, she was excited to bring the art of grazing to Banff's culinary scene. I will definitely be booking another luxury picnic experience on our next trip to Banff… the setting, the food, and the ambiance is world class! (And fun for the whole family) Learn more about this experience: Picturesque Banff Luxury Picnic with the Banff Graze Co.
Connect with Culture On An Indigenous Medicine Walk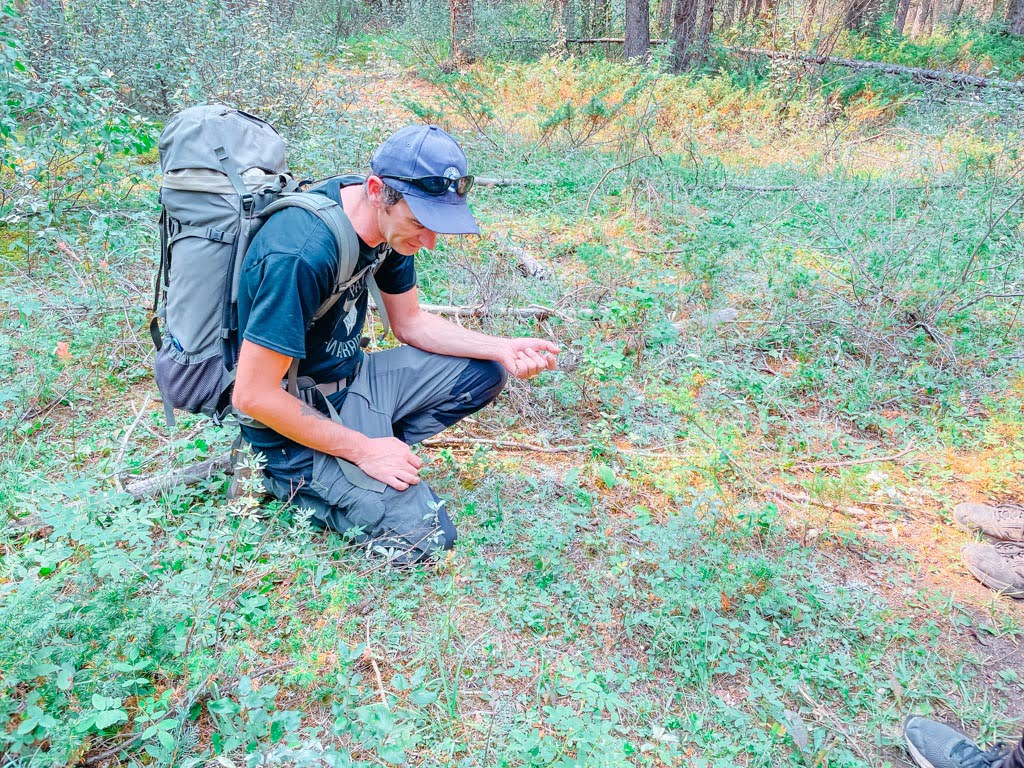 If your family is looking to create a connection with the land and to hear stories about the medical treatments the local flora has provided residents for thousands of years, from an indigenous guide, this tour is for you. Connecting to the land through the power of storytelling is an incredible experience and an honour to walk the trails with a guide, who has fun and educational stories to share. Learn more about this experience: Indigenous Inspiration Through Storytelling on our Banff Plant Medicine Walk.
Paddle A Classic Canadian Canoe on Lake Louise
If Instagram were a place it would be Lake Louise, and I have to say, being out on the water is like being in a photograph. Many Canadian families are yet to experience this iconic Canadian destination so if you have the time and want to invest in the adventure, it really is quite special. Hosted out of the turquoise blue, picture-perfect Lake Louise, families can rent a canoe (or two) and head out paddling for the hour. Warning, random bursts of songs, and giggles from yours and other passing boats are a part of the collective experience. Learn more about this experience: Proudly Paddling the Pristine – Your Ultimate Guide to Family Canoeing on Lake Louise.
Click here to book a Small Group Adventure Tour to Lake Louise!
Best Family-Friendly Restaurants In Banff
The Prow – Luxury Popcorn & Mocktails for the Win!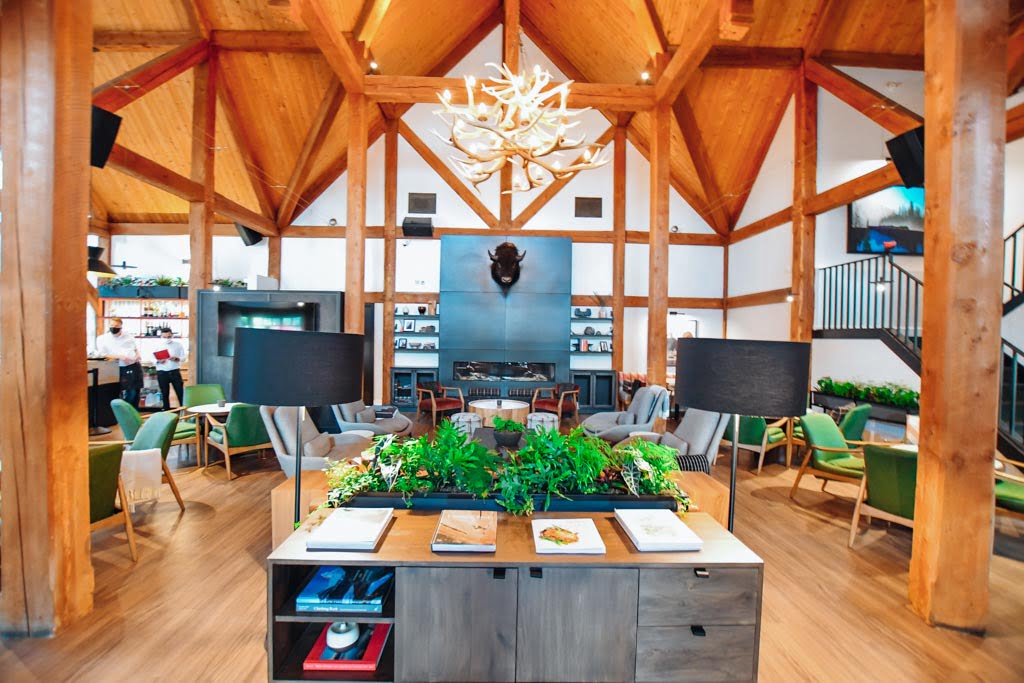 Truth be told, it's been a few years since we visited this restaurant and my kids are still talking about it as one of their favourite dining experiences ever! (their burger is unforgettable). As soon as you walk through the front doors you'll see Canadian timbers soaring high overhead and lush linens that embrace the Banff landscape surrounding you. Once you're seated at your table you'll receive the feature popcorn of the day, which was perfect to hold the kids over until dinner was served.
This modern twist on a classic Canadian look is not only present in the luxury decor but also in the menu. With local cuisine that takes families' needs into every element of design, kids will ask to come back to this restaurant more than once on their visit to Banff (trust me on this!).
3 Big Decisions at 3 Bears Brewery and Restaurant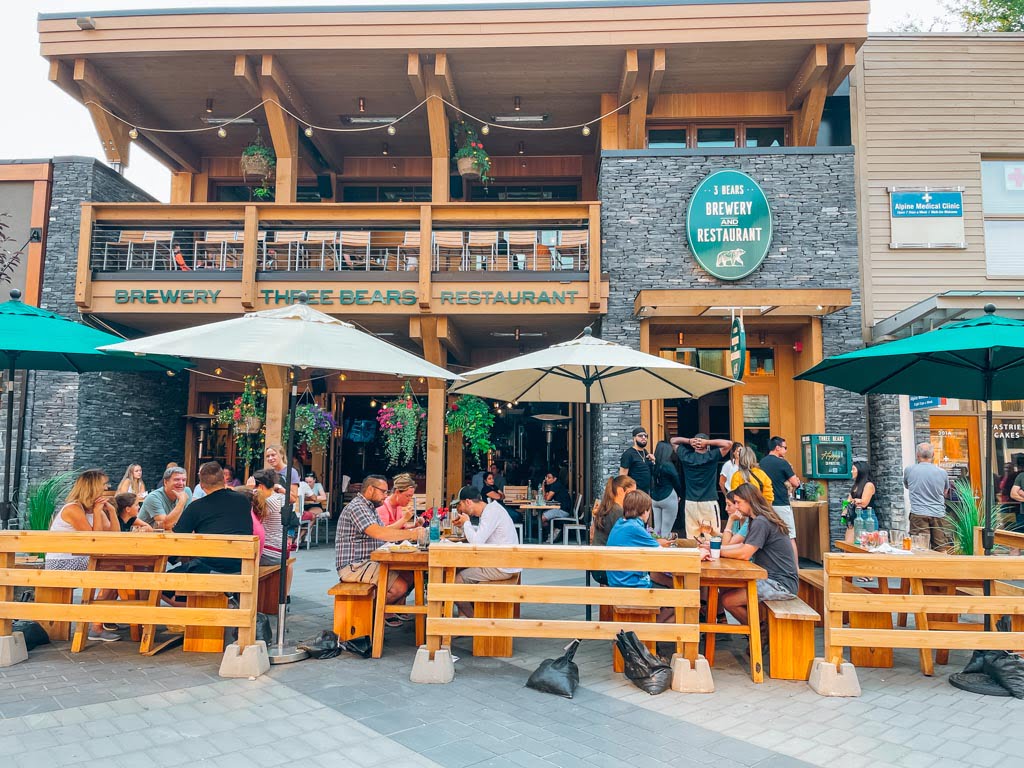 Patio, Rooftop, or Ground Floor… with 3 different places to dine, you're decisions are difficult in all the right ways from the beginning of your 3 Bears visit. The next big decisions come when choosing which drinks to indulge in and which menu items to dine on. With all of the passing plates and hungry bellies, we had a difficult time deciding what to order… but the classic burger and pizza were huge hits with the kids. One decision was easy though, we needed to head back ASAP and next time bring the grandparents.
Hello Karaoke at Hello Sunshine!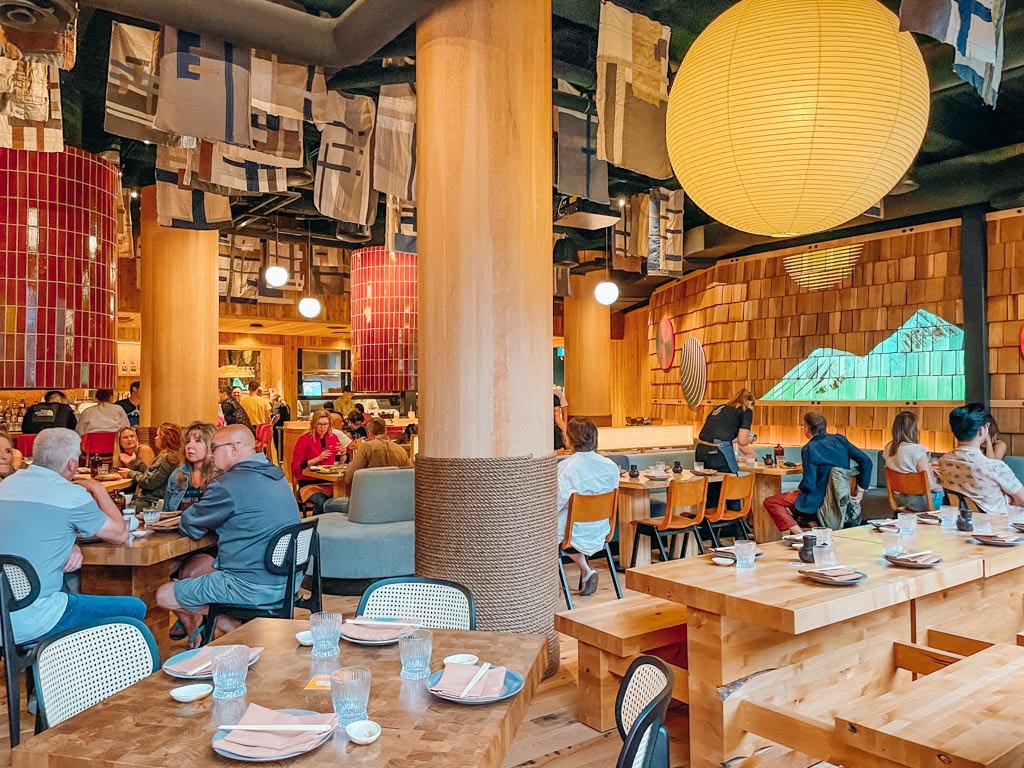 Banff's Japanese restaurant offers more than sushi and saki. As soon as you enter the front door you're surrounded by modern decor that is a feast for the eyes. At your table, you'll feast on all the classic favourites as well as new twists on dishes you've grown to love. Bringing the extended family or a group? Well, keep the tour going and head to one of the back private Karaoke rooms! With the shareable plates and the kid-friendly meals, your whole family will love this adventurous new restaurant in Banff.
For tips on other great winter adventures to explore while in Banff, be sure to check out these articles!
Breathtaking Snow Sculptures at the Banff SnowDays Festival
25 Years of "Frozen" Magic on Lake Louise
Snowboarding + Sunshine = Magic on the Mountains
My Life-Changing Moment at Fairmont Lake Louise
Is this a sponsored post?: Yes, however all our thoughts, opinions and views of our experience are our own.