Nestled into the edge of the lake, seamlessly flowing into the mountainside, as if it was designed by Mother Nature herself sits the Lodge On Harrison Lake. Surrounded by the lake on one side, and a combination of beautiful landscaping and old-growth forests on the other, along with a private beach, this unique property offers an eco immersion in a private setting.
This beautiful and modern waterfront getaway is perfect for your basecamp for your Harrison Hot Springs adventures. Each room leans out over the water, offering 180-degree views that welcome you to soak them in from first thing in the morning to well after sunset. There are five different accommodation styles to choose from including suites, a main house, and the carriage house.
Eagle Eye Views over Harrison Lake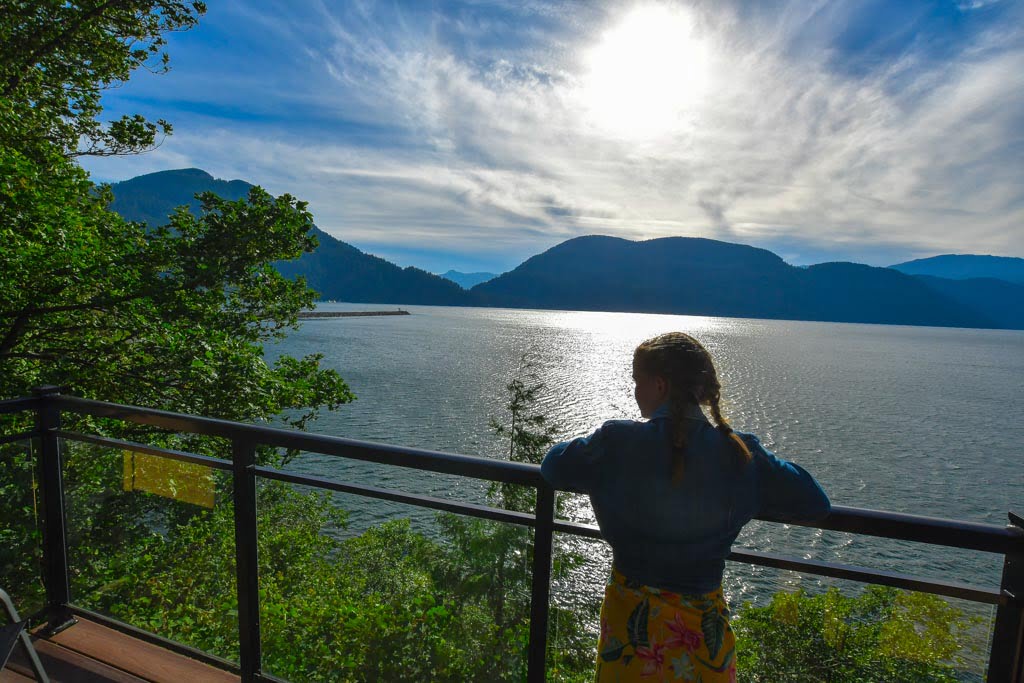 Standing at the kitchen of the Carriage house gives you a 180 degree, uninterrupted view over Harrison lake that makes you feel like you've got the whole lake to yourselves. During the day you can sit out on the deck and watch kite surfers, kayakers, and boaters sail by.
The Carriage House On Harrison Lake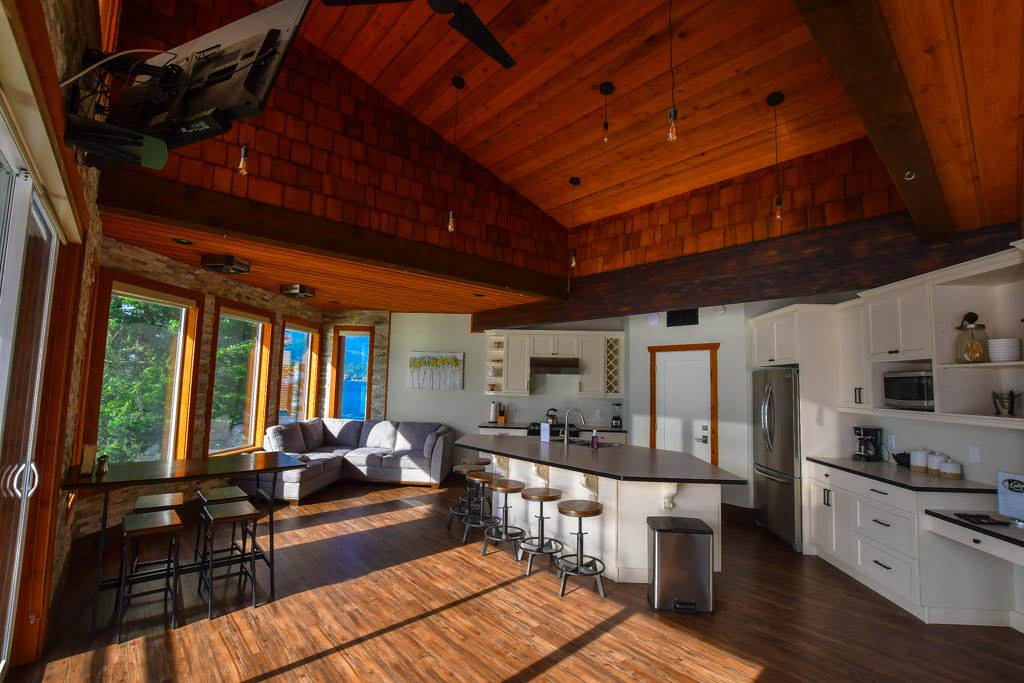 The Carriage House is a truly unique experience offering a whole private retreat for your family. With two bedrooms and a hideaway bed, it can accommodate up to 6 people. The main floor has the bedrooms and bathrooms, and up the stairwell is the kitchen that has you doing a double glance and asking yourself, "Is that view real?"
The Retreat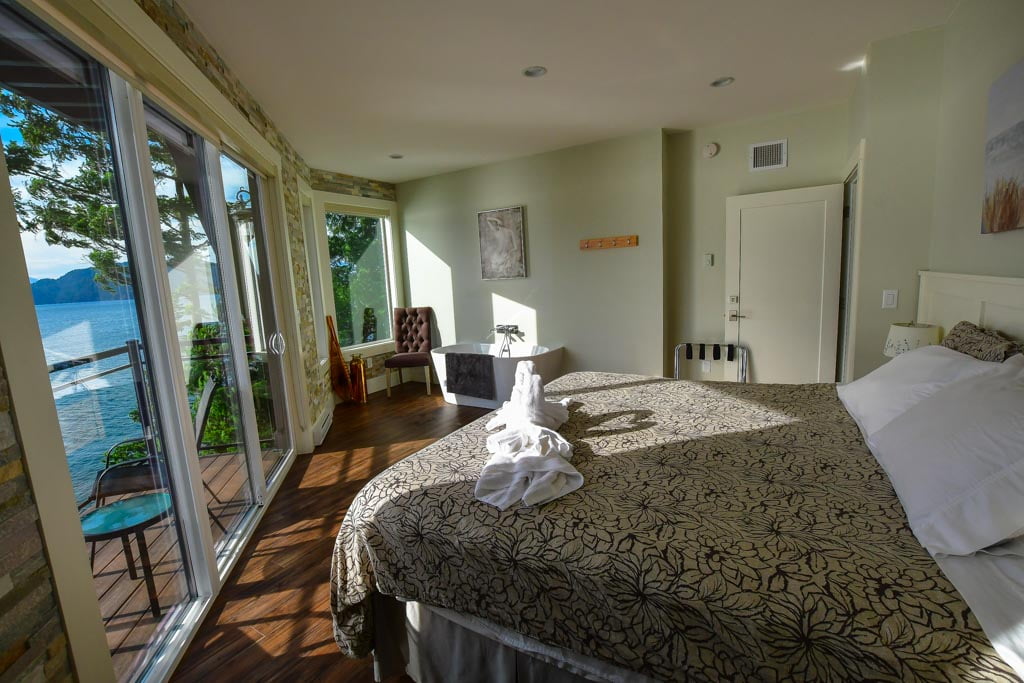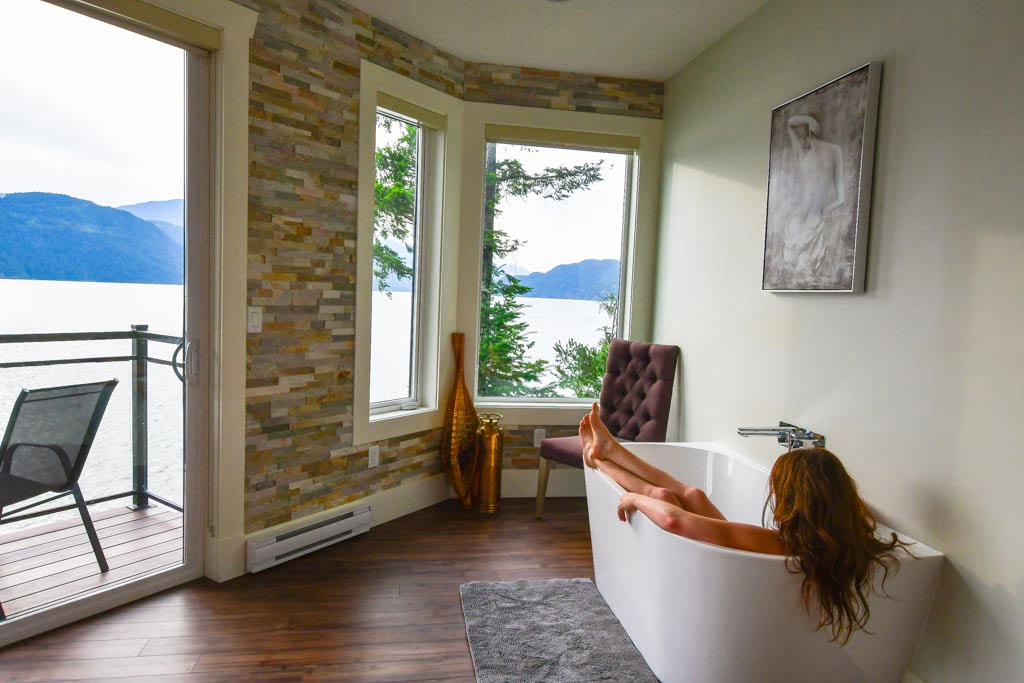 Also known as the master bedroom, I feel like it should be renamed "The Retreat". Partial to baths already, I was elated to find this huge soaker tub that I could sit and soak in, both the tub and the view at the same time.
(Behind the scenes disclosure – I'm fully dressed in this photo!)
Entertainer's Dream
With an island bigger than most Vancouver kitchens, and seating galore The Carriage House is an entertainer's dream. From pre-dinner appetizers, to sunset toasts, there is plenty of room for the whole family to enjoy each other, and the setting. My biggest problem was that I didn't want to leave! After we packed up I sent the family to the truck and sat and soaked it all in one last time before saying a sad goodbye.
Private Campfire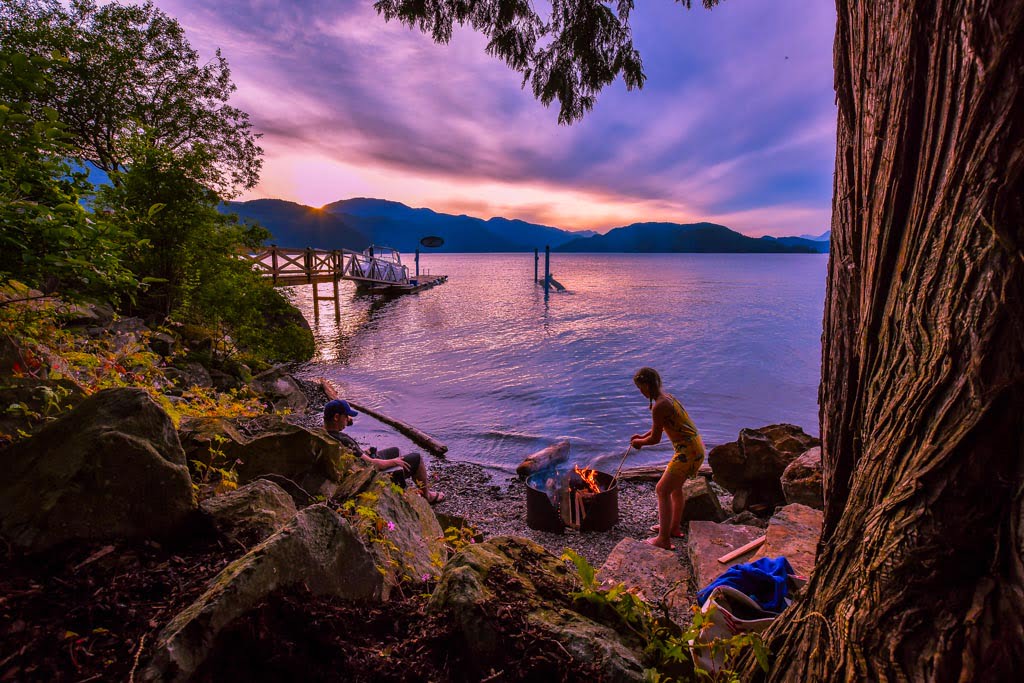 One of our children's favourite parts of the Lodge On Harrison Lake was the marshmallow roasting sticks that meant a campfire was close. A short 200m walk from our front door and we had arrived at our own private beach. From skipping stones to s'more covered fingers, and a private sunset view, it was a remarkable way to wind down after our day.
The Gift Of The UnTamed World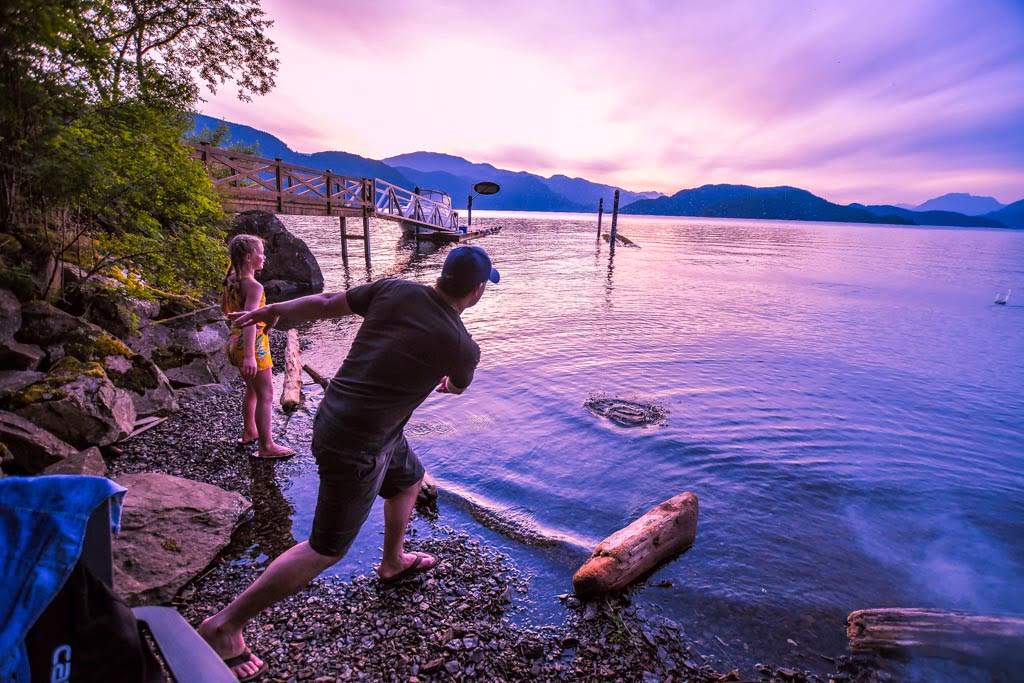 When we took our Forest Therapy Tour we learned about the "untamed world". One where you escape back to mother nature and remove the stimulus of the tamed world. The Lodge At Harrison Lake allowed us to do this, from skipping rocks to unlimited views, and soak in the majesticness of mother nature.
Harrison Lake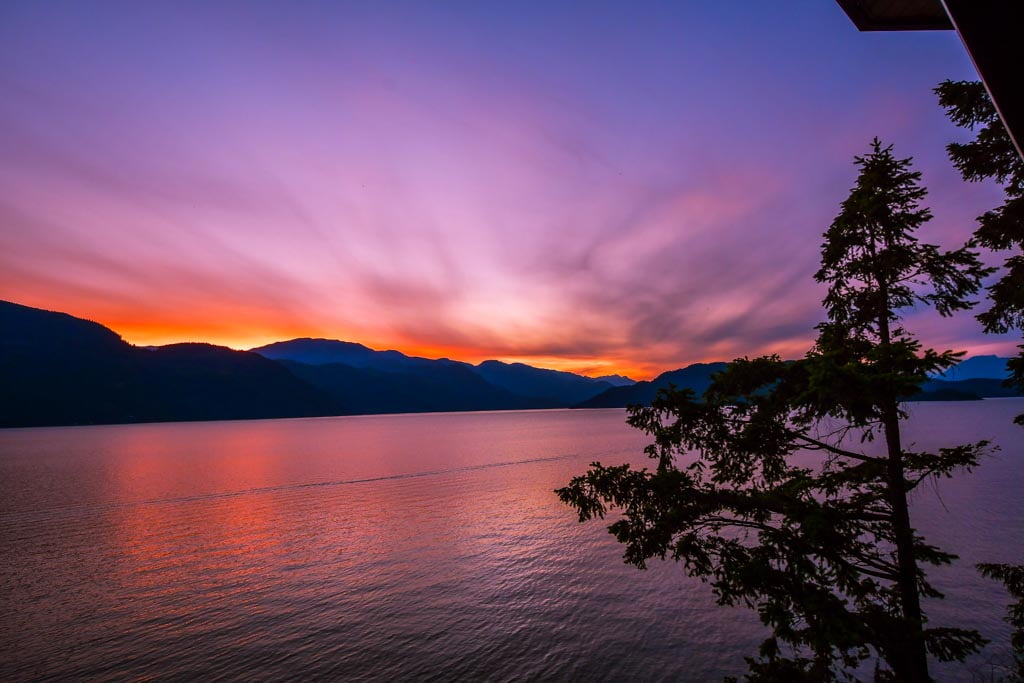 One of BC's largest lakes, this glacier-fed haven is the perfect weekend escape for Vancouverites to explore. I'd say more about it, but let's be honest, this picture speaks for itself.
Harrison Townsite
With a variety of water, forest, and land activities, the famous Harrison Hot Springs, the town of Harrison is a great place to spend a few days exploring. While we used the lodge as our basecamp, we were only a one minute drive into town. Here are some of our favourite places we recommending making time to stop and visit:
Morning Coffee at Muddy Waters Cafe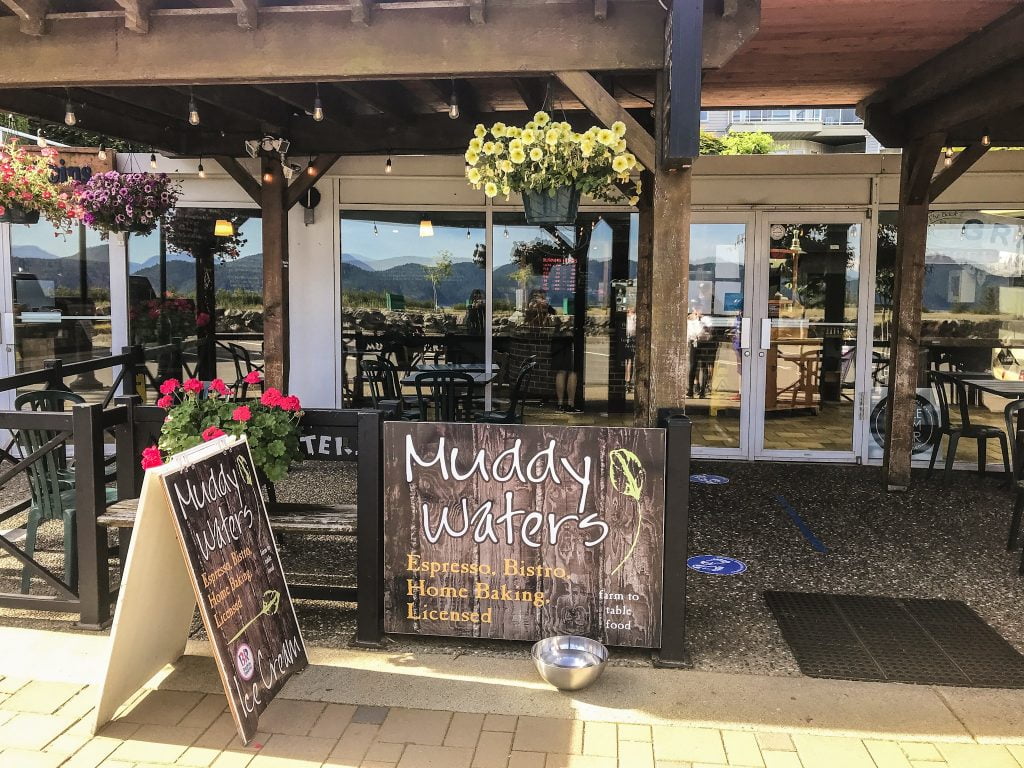 We were 15 minutes early before it opened and yet there was a line, which always tells you one thing, this must be the place to be! Sure enough upon opening, the smell of coffee filled the air and our first problem of the day occurred… which item would we choose to eat off the menu! Decisions decisions. So if you're looking for a morning brew, or a big breakfast to fuel you for the day's activities, start off your day at
Sweet Treats at Rocky Mountain Chocolate Factory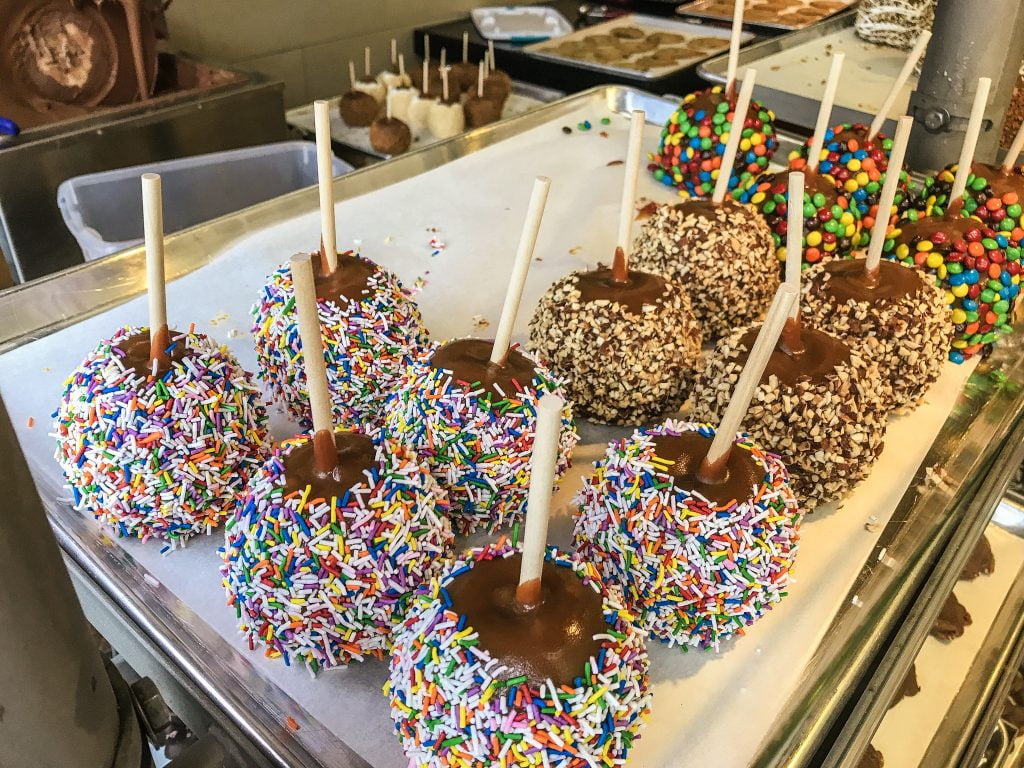 Local owners will welcome you with a huge smile and be sure to find the perfect treat for your sweet tooth! We chose to head over there after our kayaking adventure as a little reward for hard work well done!
Unforgettable Dinner at Morgan's Bistro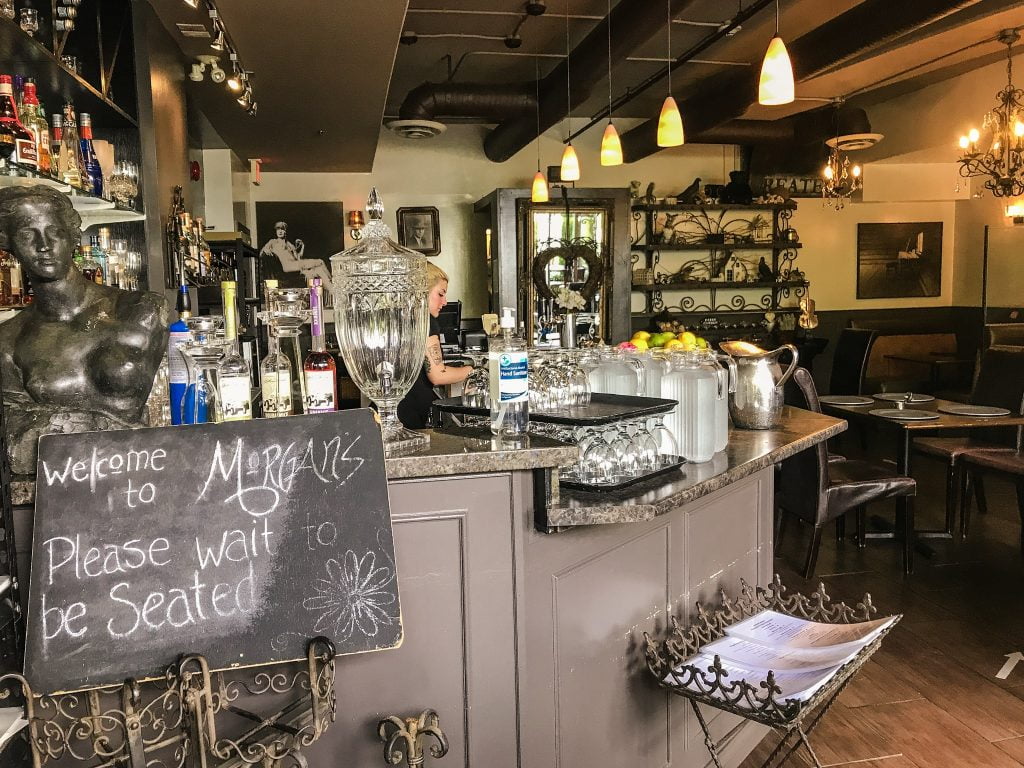 I will never visit Harrison Hot Springs again without planning a dinner at Morgan's Bistro. This beachfront property boasts a view right over the beach and the only thing that is better is their food. My meal was literally one of the best meals I've ever had in my life and Jason and I said it would be worth planning a trip JUST out there for the meal! Take my word… you won't regret it!
Things To Do In Harrison
Because The Lodge was so amazing we choose a slower itinerary so we could really enjoy our time. Our two activities that we would recommend are highlighted below. For a full list of family-friendly activities in Harrison click this link.
Forest Bathing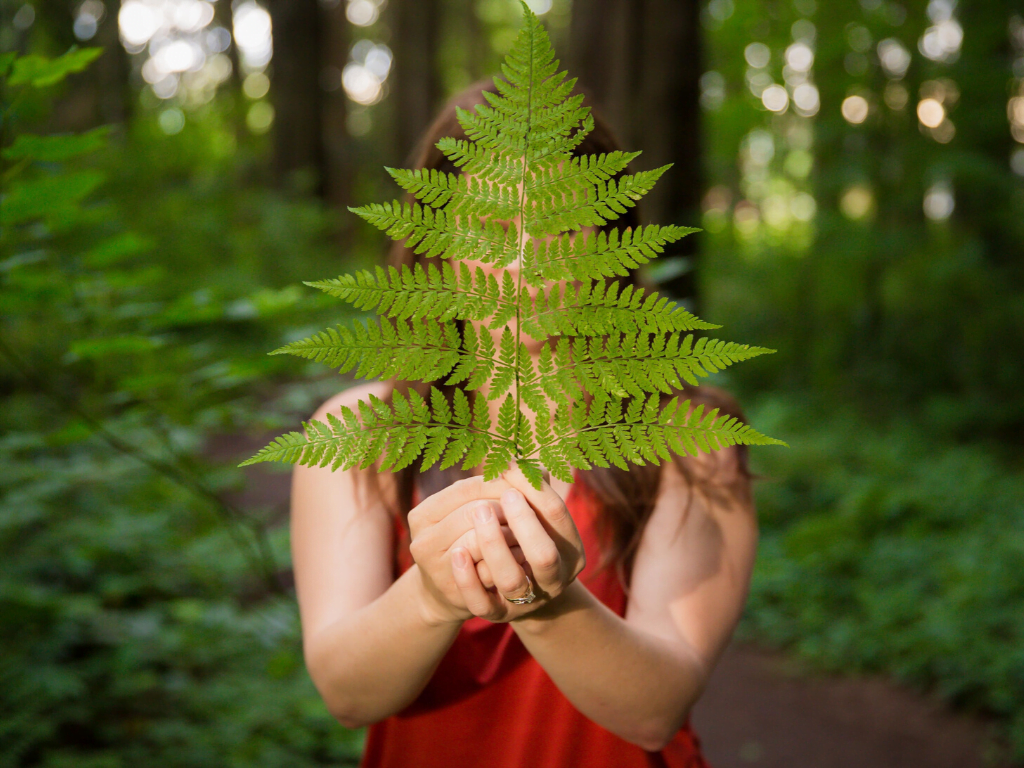 A unique nature therapy program designed for the whole family. 2.5 hours of games, explorations, reflection, and even a closing tea ceremony.
Kayaking The Harrison River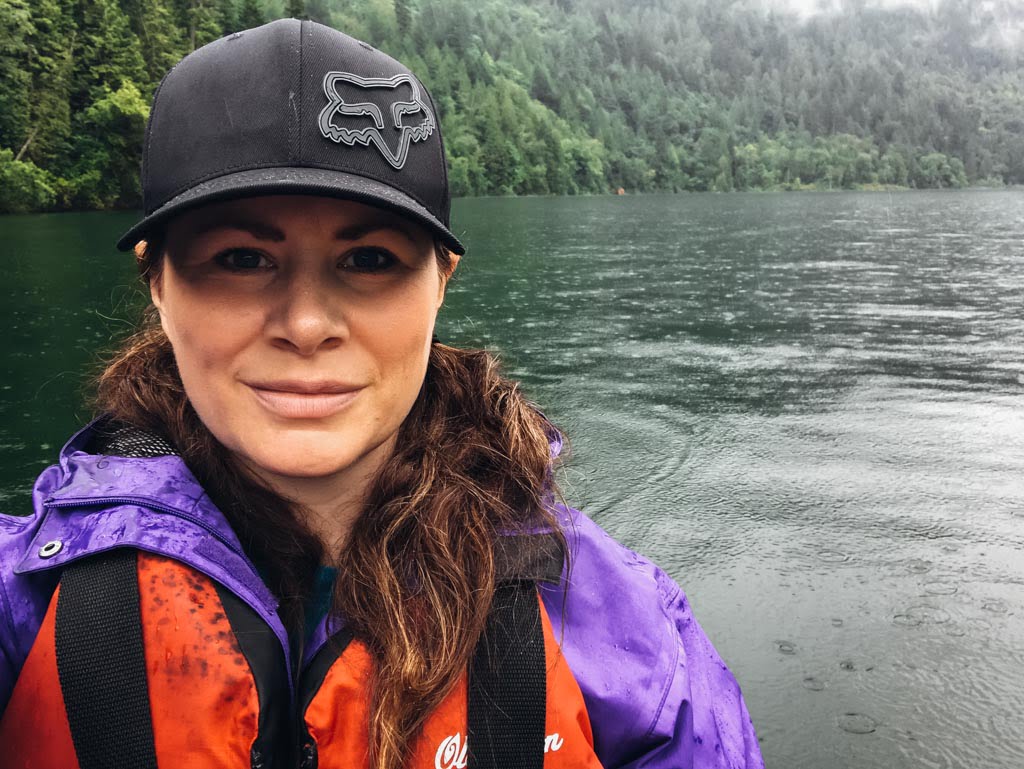 Did you know the Harrison River connects right into Harrison Lake? We took part in a 2-hour introductory kayaking tour with the kids which had us winding down the river and meeting up with some of the "locals".
Whether you're sneaking out for a weekend getaway, a one evening retreat, booking a family reunion, or planning a wedding, the Lodge on Harrison Lake is the perfect place to experience the magic and wonders of Harrison. To learn more or plan your trip, visit https://thelodgeonharrisonlake.ca/
---
Feeling inspired to explore BC by our adventures at the Lodge on Harrison Lake? Check out the blogs below!
Is this a sponsored post?: Yes. While our time at The Lodge at Harrison Lake was sponsored, all thoughts and opinions are our own.