Are you looking to plan a Northern Colorado Road Trip?
After spending a week exploring Denver and Northern Colorado I can tell you one thing, I'll be back. The mountain-inspired towns evoke a deep connection with the environment and locals are known for what they do, not… "what they do."
When you first meet someone new, one of the questions that always comes up is, "What do you do?" and people often refer to their work. In Colorado, it's different, when people ask, "What do you do?" they mean, "How do you make a life, not a living" and they want to hear all about how you spend your free time.
This insight was shared with us on our Denver Graffiti Tour with co-owner, Jana. A local to Denver, Colorado for years she was called to the mountains and never looked back, loving the outdoor vibes, rich art community, and passionate people that make up the state.
Our road trip introduced us to the same things, world-class food, art, creatives and collectors, the beautiful Rocky Mountain National Park, eco-adventures and horseback riding, and the world-famous town of Fort Collins.
We've put together a detailed itinerary showcasing all the best things to do and see on your Northern Colorado Road Trip. So dig in and start planning!
How To Plan An Adventure-Filled Northern Colorado Road Trip – 7-Day Itinerary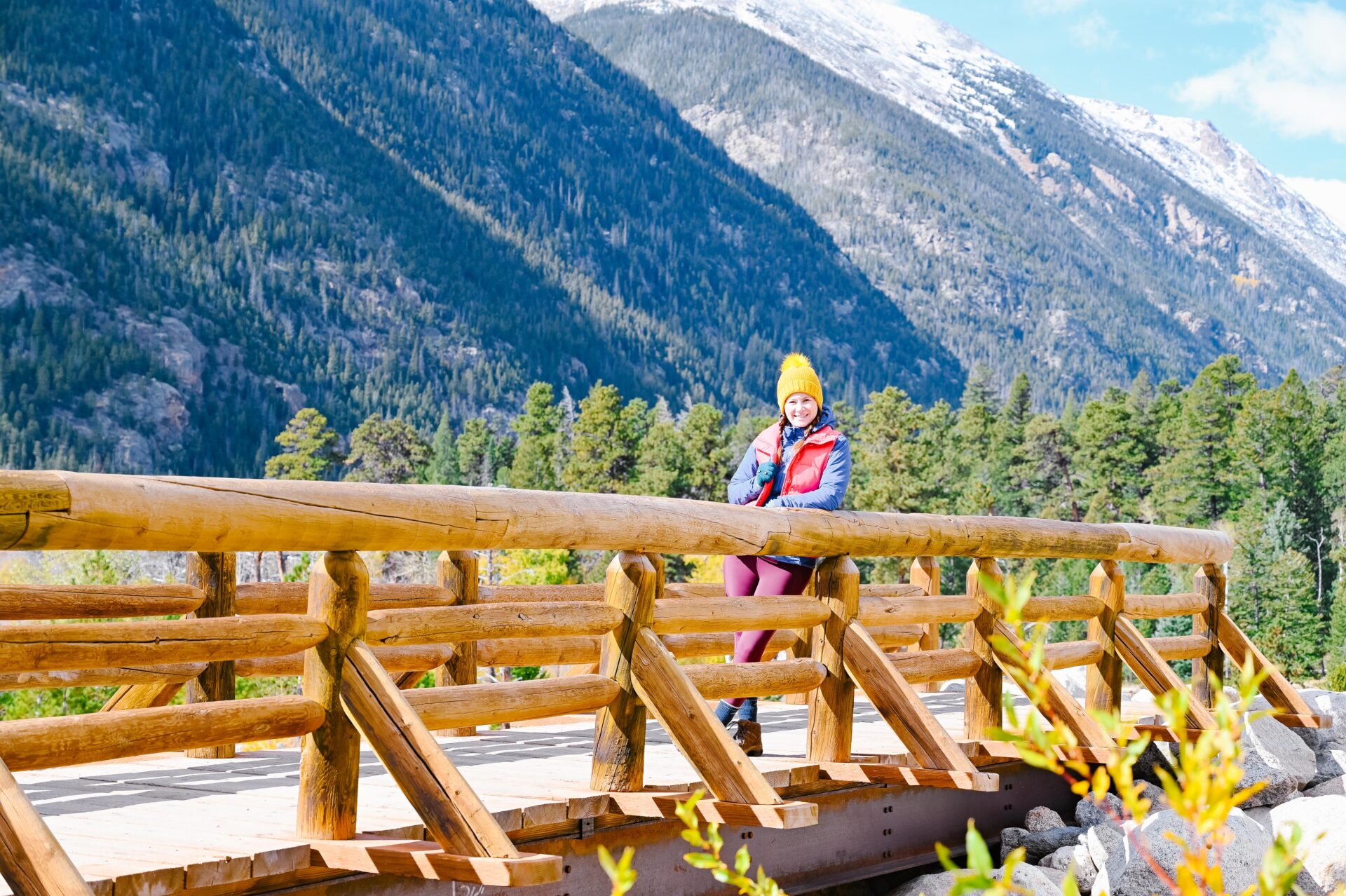 A Northern Colorado road trip will have you driving your way through luscious fields of gold, winding you through crooked rock-lined caverns, peeking out over scenic views of red lumpy rocks, and losing track of time while exploring small towns.
The best way to plan an adventure-filled Northern Colorado road trip is to:
Research: Do your basic research on key places you must see when visiting Northern Colorado (this blog is the perfect place to start and if you don't want to do any planning you can just use this whole 7-day itinerary to plan your whole trip!).
Plan Unscheduled Time: Leave time in your schedule for unexpected adventures. Ask locals for seasonal ideas, and don't rush your trip. The vibe in Colorado is chill and worth embracing on your road trip, you'll get more out of it.
Think Eco-Friendly: Invest in being a responsible traveler while you are on the ground in Colorado. Colorado has their own "Care for Colorado Leave No Trace Principles" which are worth familiarizing yourself with. For example, we opted to rent a hybrid car, and our gas for the week was a total of $30! Other ways to ensure you are being eco-friendly are to take advantage of the recycling programs in hotels and restaurants, use a reusable water bottle, opt for people-powered transportation whenever possible (bike, hike, walk), and invest in experiences and souvenirs that are offered by locals.
Pack Accordingly: At the end of this article, I showcase a list of what to pack for your Northern Colorado road trip, which in short includes a lot of layers. With a diverse landscape to explore and a wide range of temperatures, you'll want to be sure you have the gear you need when you need it.

Traveler Tip: Comfortable footwear is non-negotiable as we averaged 15K steps a day. Be sure to pack walking/hiking shoes and something more casual to change into at the end of your day.
Northern Colorado Road Trip Map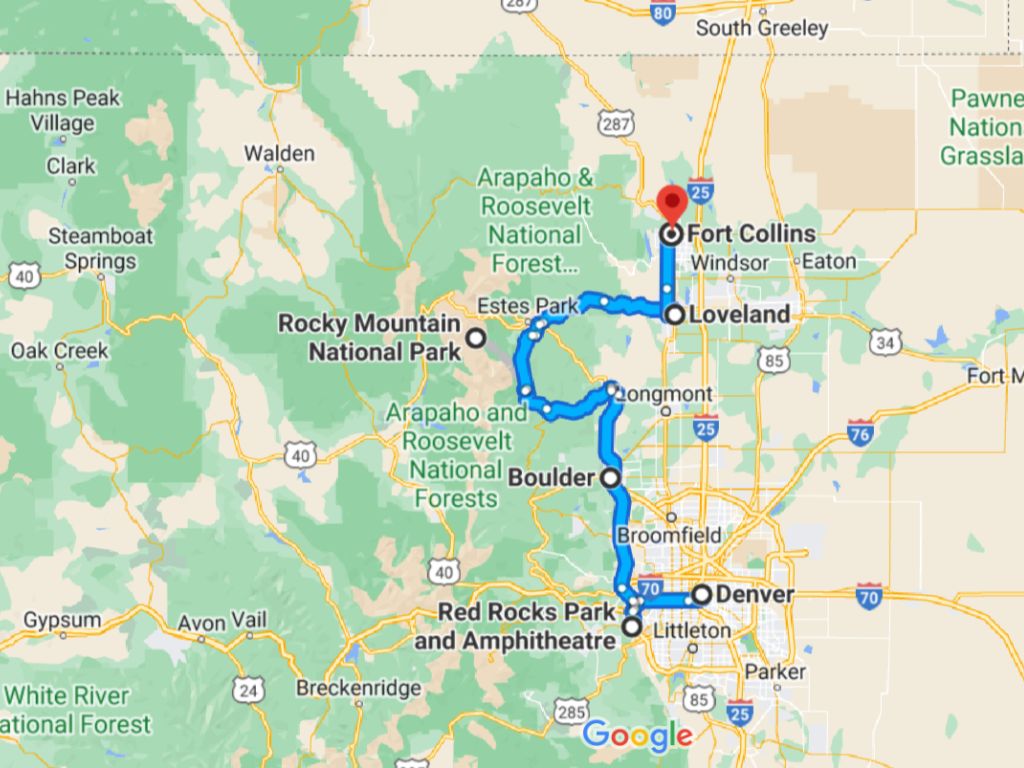 Here's our recommended Northern Colorado road trip map. You'll note that we recommend traveling a little slower and with intention, rather than checking as many things off a list as possible. With so much to explore in each region, we want to set you up to see it all and immerse yourself in the places you are visiting. Gone are the days of grabbing fast food and racing from one destination to another. Colorado is all about creating impactful adventures that benefit both you and the places and people you are visiting.
Northern Colorado Road Trip Itinerary
Day One – Denver, Colorado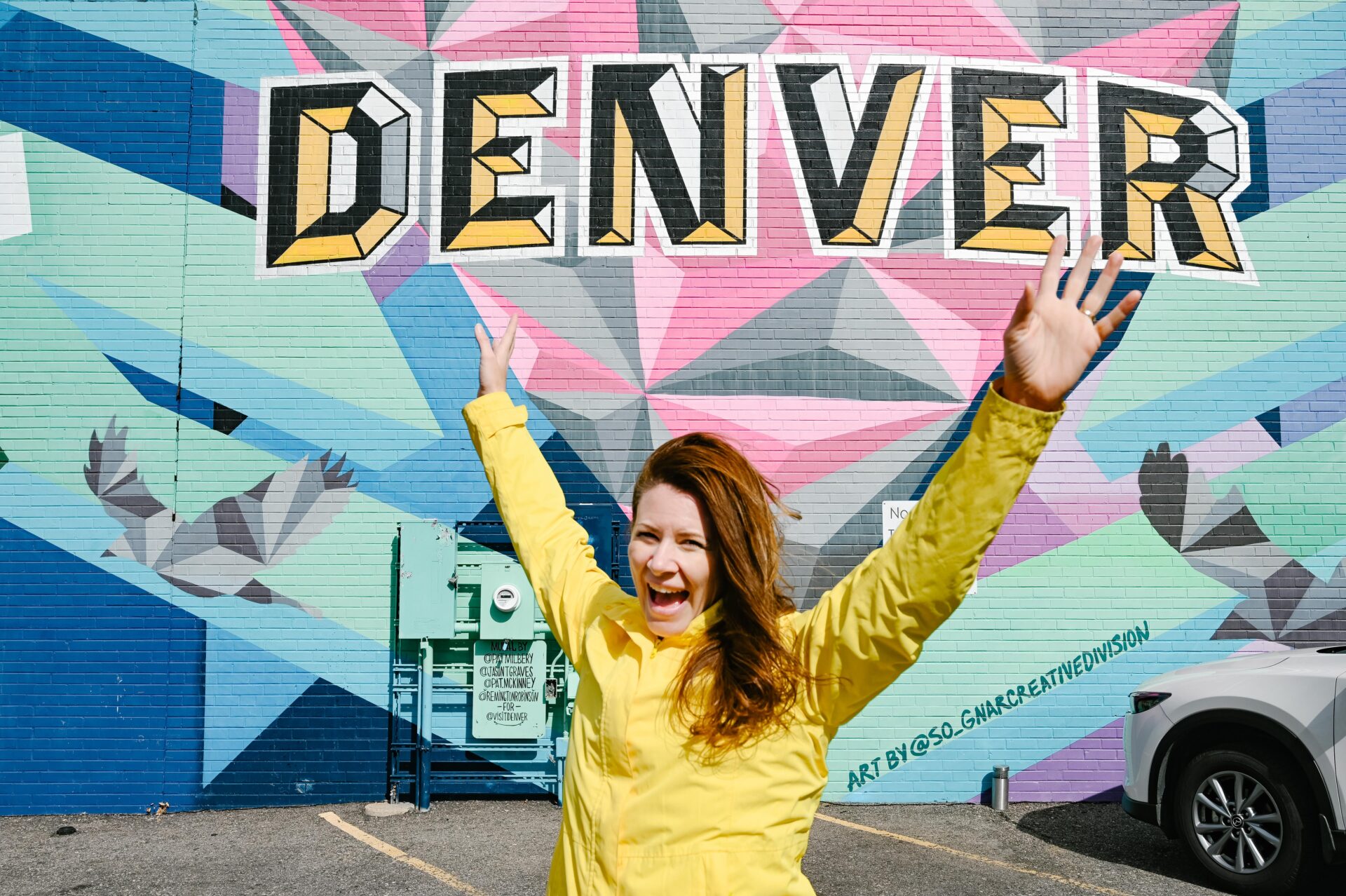 Start off your trip in the "Mile High City" where arts and culture are not only embraced but elevated in the many different neighbourhoods that make up the city of Denver. When I first arrive in a city, I like to check into my hotel, settle in, and then get ready to explore, so here's how to spend your first day in Denver!
Where to Stay In Denver: The Source Hotel
The Source Hotel was one of the most unique stays I have ever experienced and I will forever be recommending it again and again. A modern take on how a hotel can intertwine with its local community, this property welcomes you to come as a visitor and experience it like a local. At the edge of the RiNo Art District, this innovative hotel is so much more than just a place to stay overnight. Walking through the lobby you'll smell the aromas of the local restaurants (the pulled pork at Smok is an absolute must!). You can wander through Beet & Yarrow, a modern on-site florist, or head upstairs to the rooftop bar, restaurant, rooftop pool, and hot tub! Connected to the building is The Source Market Hall, which is a collection of restaurants and artisans all within an 1880s iron foundry. While you are there to visit Denver, you could spend a whole afternoon like we did just exploring the hotel and all the businesses in and around it.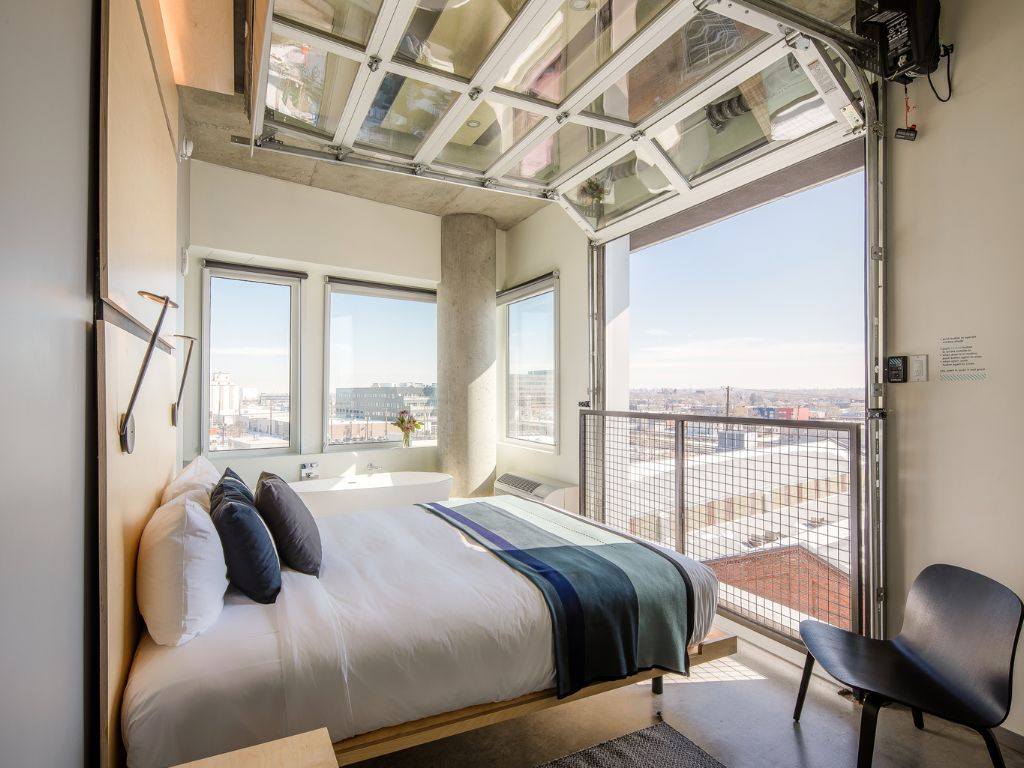 When you make your way up to your room you'll be welcomed with a fully stocked mini-bar and snacks, beautiful spa robes to cozy into, and the coolest part? Most rooms have a fully functioning garage door that transforms your whole room into an outdoor balcony when opened. See more photos and hear all about our experience by visiting this feature article.
Book your stay at The Source Hotel here!
Denver Graffiti Tour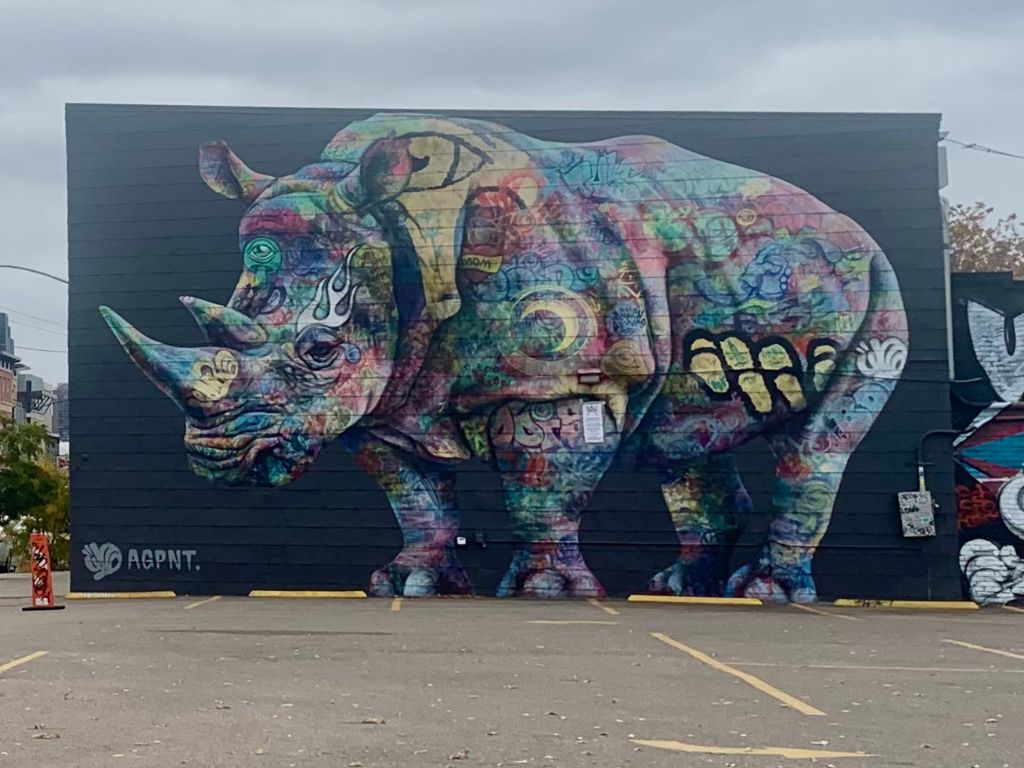 If there is only one tour you take while in Denver it has to be the Denver Graffiti Tour. This 2-hour tour will take you to the streets of Denver's RiNo art district where the local guide will teach you about the history, culture, and significance of the art, the artists, and the stories that each piece shares. Your guide will also help you understand why graffiti is an extreme sport: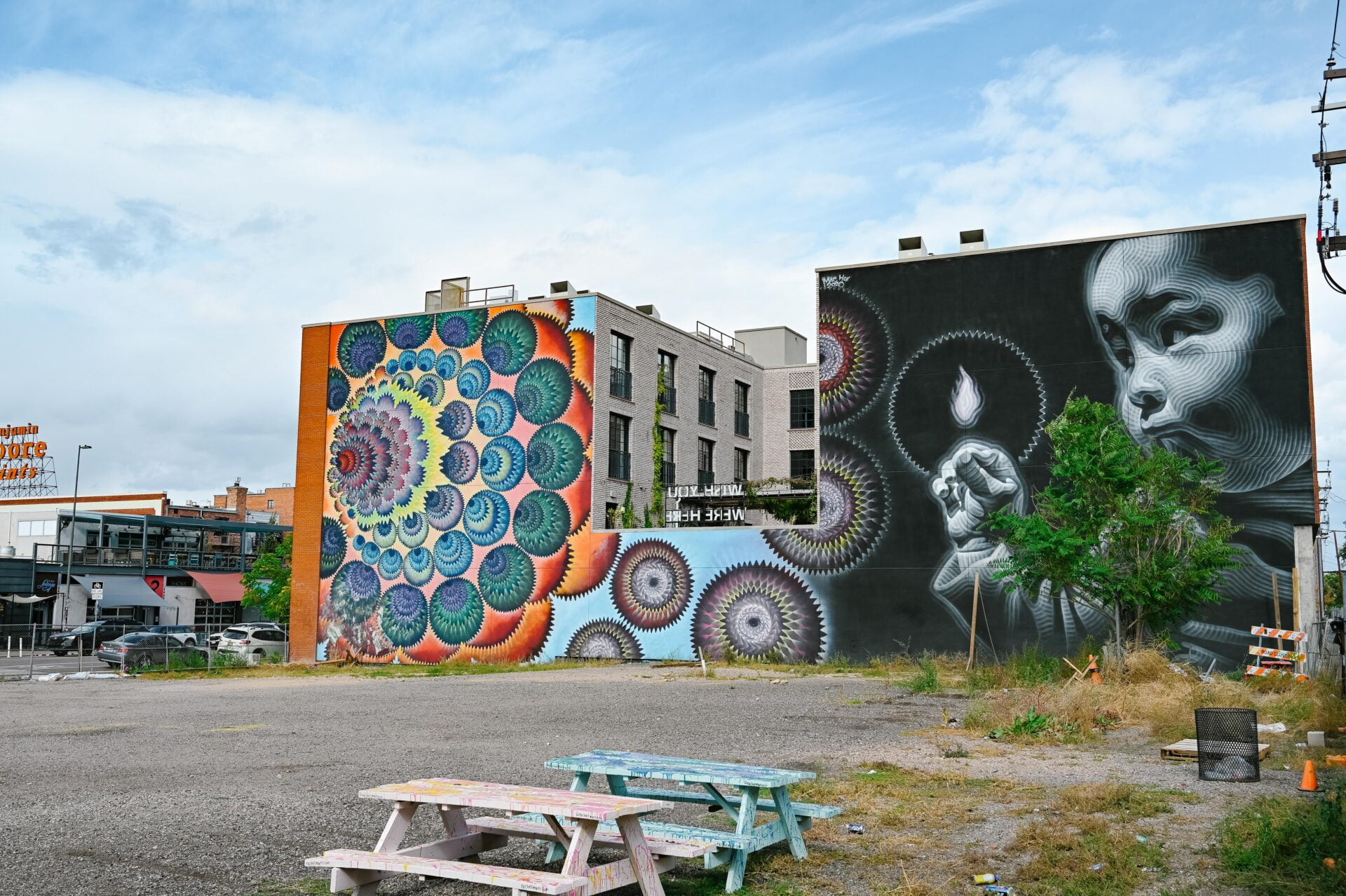 "Graffiti art should be seen as an extreme sport. For example, take a look at these murals we're looking at, some are so large they need ladders or boom lifts in order to paint the whole wall. These murals each took one week. It doesn't matter what the weather is, the artist has to get it done in that week. So at last year's street art festival, four of the days were over 100 degrees, and you had some of the artists out here working 16 hours a day, standing doing back-breaking work. Studio artists on the other hand, if you commission something they might get it to you in six months to a year. They work in climate-controlled conditions, they may be sitting, they are standing on cushy mats that we all have in our kitchens. Street artists on the other hand, well that's an extreme sport!" ~Jana Novak This tour is a must on your Northern Colorado road trip, check out our experience here!
Book your Denver Graffiti Tour here!
Where To Eat in Denver – Somebody People
After your first day of exploring Denver we recommend that you drive or take an Uber over to Somebody People, Denver's vegetable-forward dining experience. I'll be transparent, I wasn't sure if it was worth the 15-minute drive from the hotel as we were tired after a day of travel but after our incredible meal, it was and we wholeheartedly recommend it. With food that looks like art and brings you tastes that you've never experienced in a vegetable before, this rustic Mediterranean restaurant and cocktail bar is quintessentially Denver and worth visiting.
Day Two – Exploring Denver, Colorado
Morning Hot Tub On The Rooftop
Start your morning off with a pre-breakfast rooftop hot tub, and if you're lucky like me you'll have the whole hot tub and 180-degree mountain and city line views to yourself!
Breakfast With A View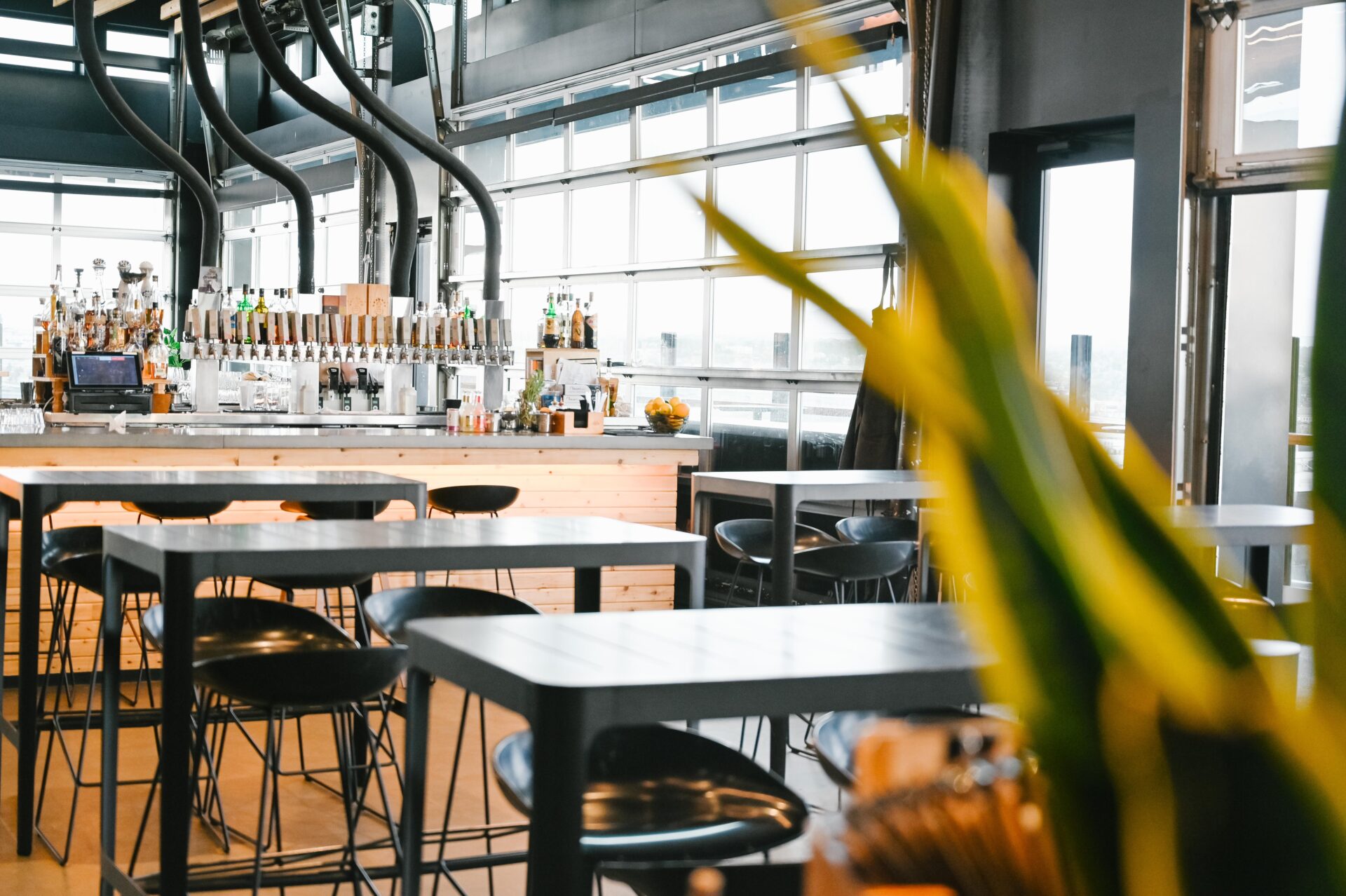 They say breakfast is the most important meal of the day so why not start it off with one of the best views in Denver? The Woods Restaurant is located on the top floor of The Source Hotel and offers a healthy, hearty breakfast menu to help fuel you for your adventure-filled days all while looking out over the Rocky Mountains and Denver Skyline. I especially appreciated the fact that they had healthy items like smoothies which are often difficult to find when you're travelling.
Art District On Santa Fe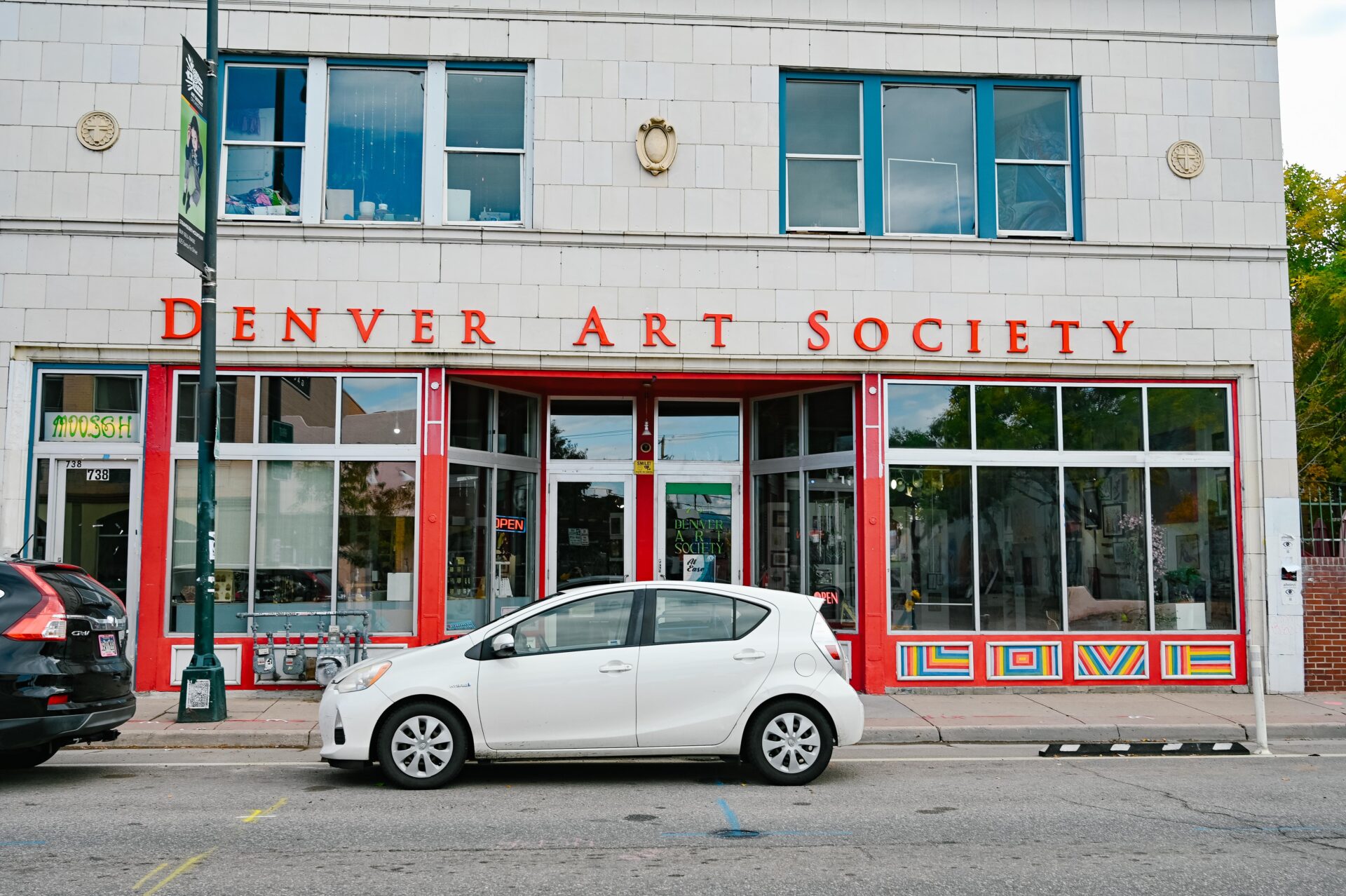 The Santa Fe Arts District is a place where you can immerse yourself in the local art scene, walking down the streets while strolling past galleries and local art. Our favourite stop in the area was the Denver Art Society where local artists volunteer in the gallery and then their work is put on display for others to see. Not only are they a fully functioning gallery but they also offer open mic nights, studio space for rent, and classes. If you're able to, I would recommend visiting on the first Friday of the month for the Santa Fe First Friday's celebration. During this time all the galleries open their doors and artists are available for you to mingle with. The Denver Art Society will see 10,000 visitors come through their door on this night, so it's definitely worth checking out.
Also if you're in the district for lunch or dinner know that some of the most authentic Mexican restaurants can be found here along with a variety of craft breweries. This is one of the reasons why we don't recommend a schedule that is too packed as we want you to be able to explore places like this.
Downtown Denver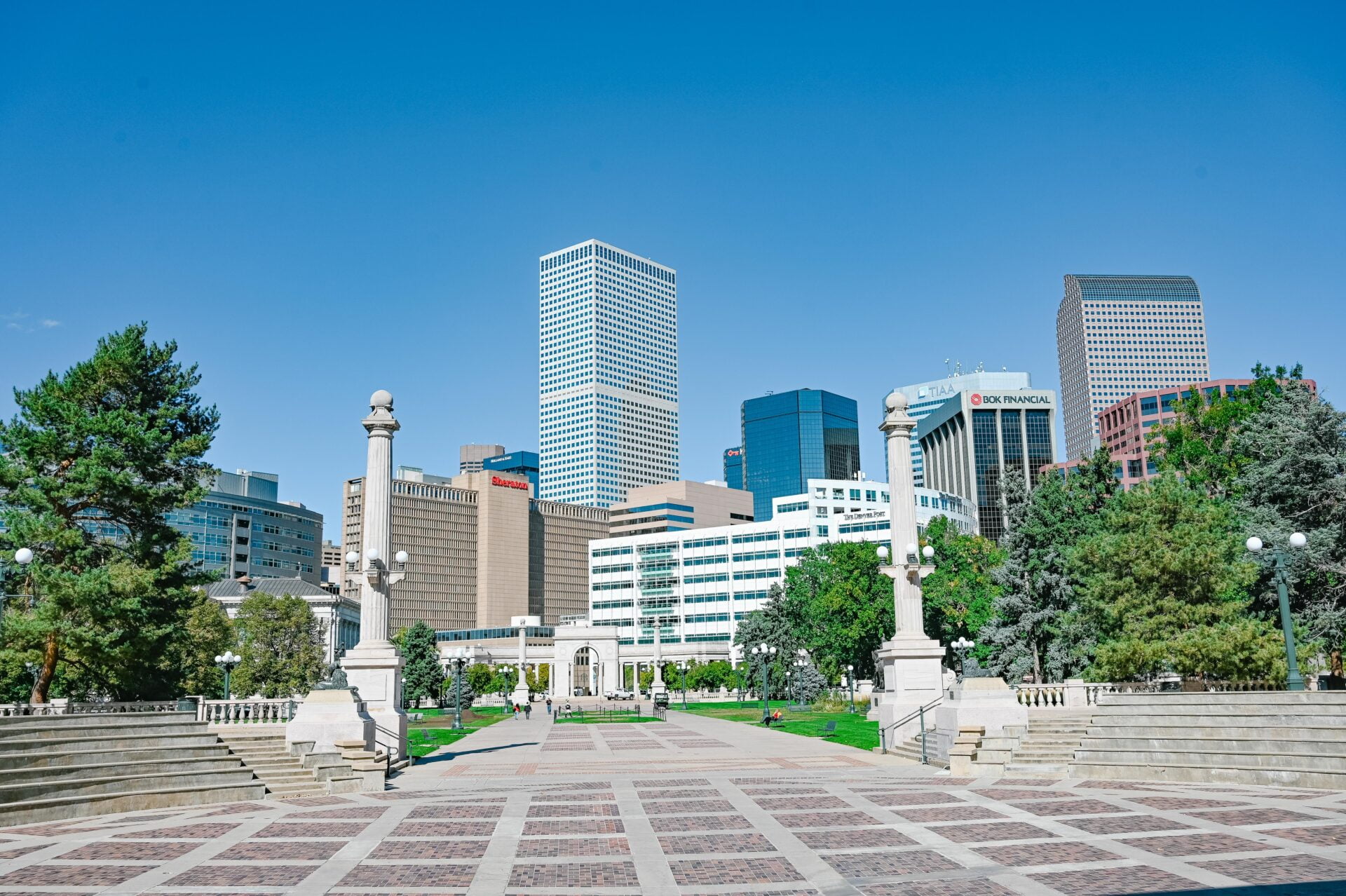 The Mile High City is waiting for you to explore and we recommend doing so by foot, allowing you to move on your own schedule and see some of the city's most famous attractions as well as find some of their hidden gems! Start your visit off at Union Station (I recommend parking in the parkade of The Coloradan, located behind Union Station) and then make your way to see these top spots in the city:
Union Station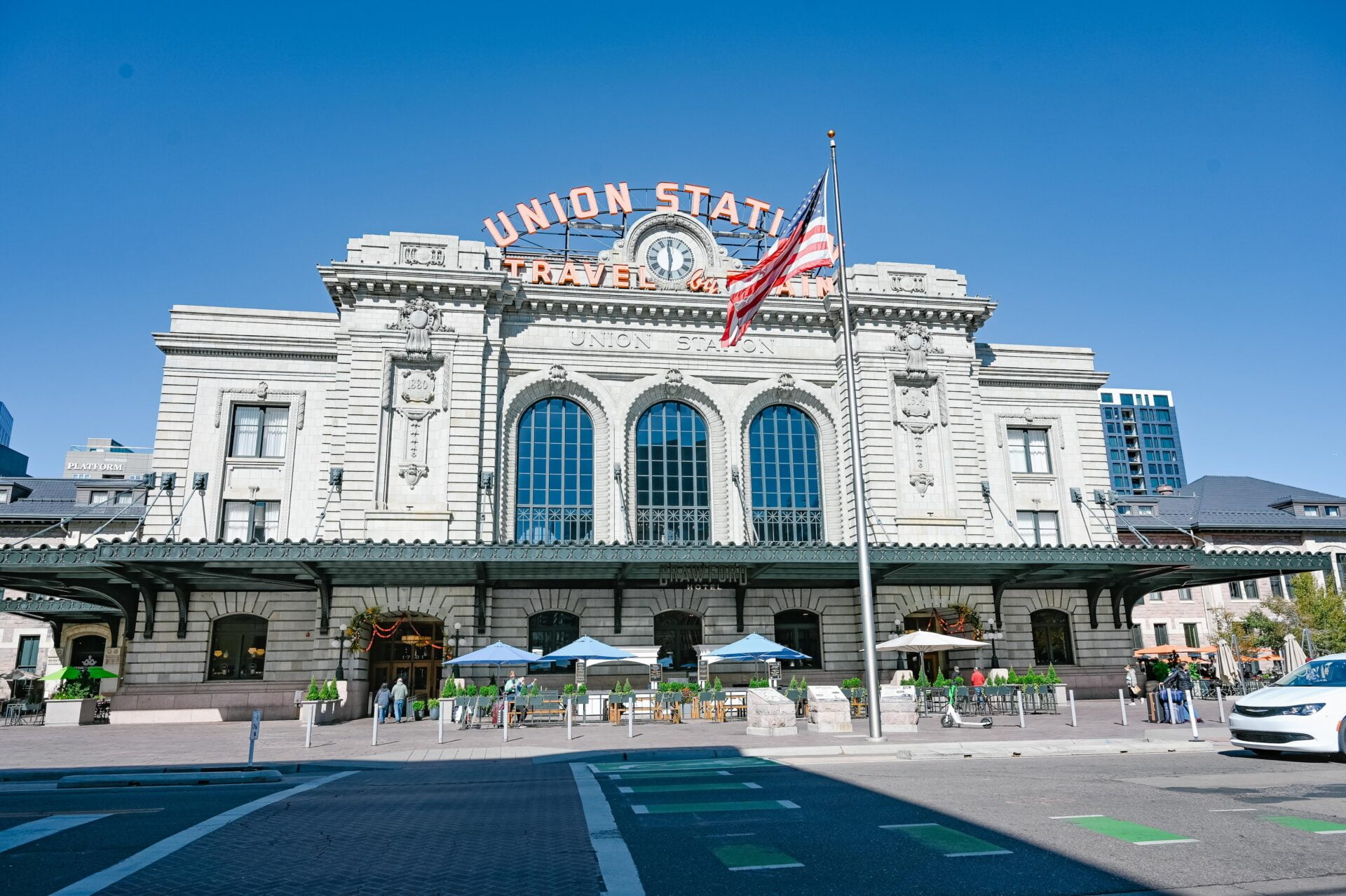 Union Station is not only photographically perfect but it is also a piece of Denver's living history and one of the "must-see" places on your visit to the city. Originally opened in 1881, the station has gone through a variety of iterations, including being taken over by a fire, and rebuilt in 1894. The 70's and 80's saw a major change in the downtown core and Union Station had lost its glory days of being the hub of the city. Fortunately, a local developer saw the potential and the revitalization that was needed and in the 90's refurbished and brought new life into Union Station. Today it is a hub of restaurants and shops, houses The Crawford Hotel, and is a place where you can do so much more than just take a train!
Larimer Square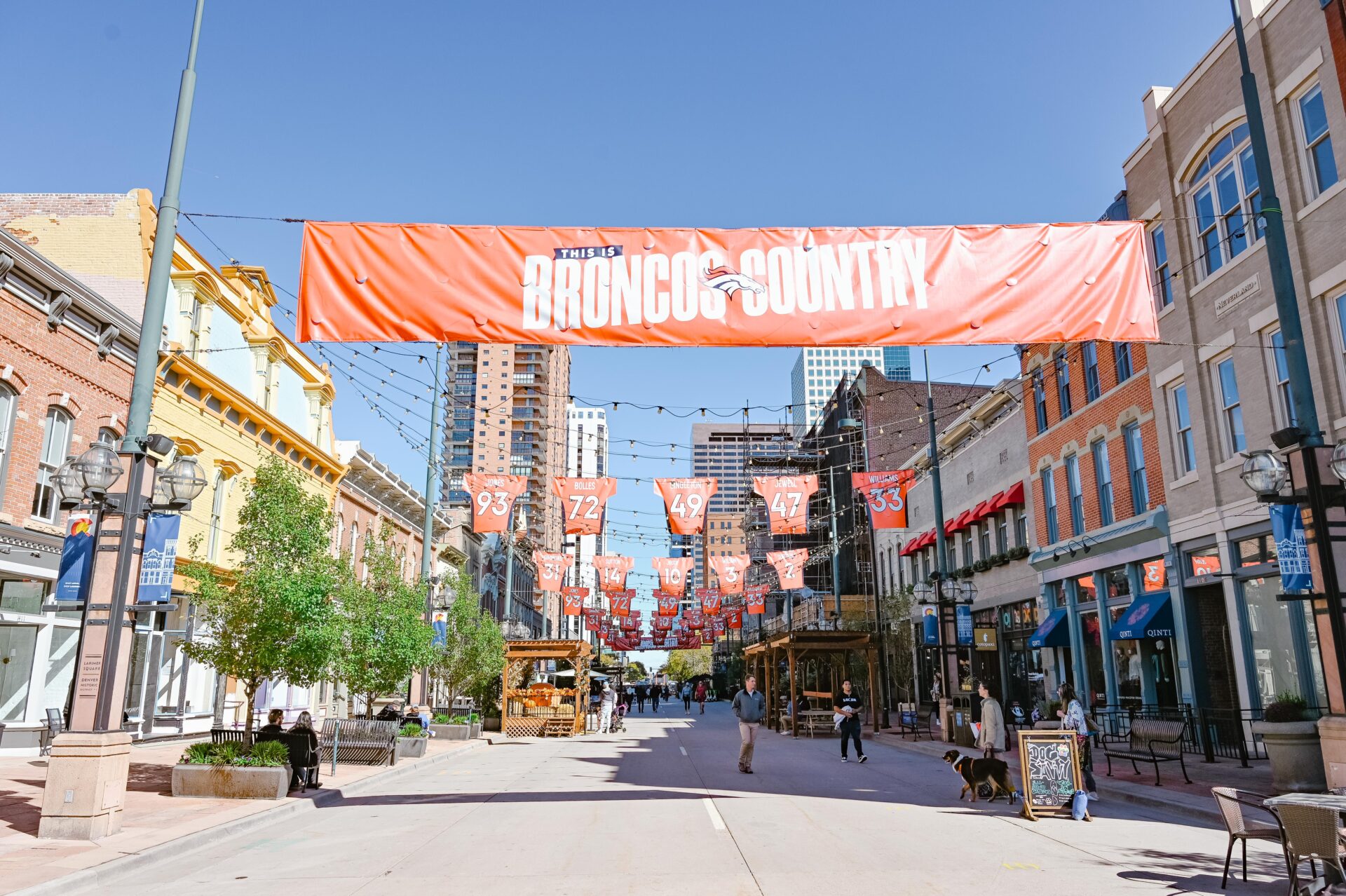 Larimer Square is the birthplace of Denver. The first cabin that was constructed in Denver in the late 1800s was once situated between 14th and 15th Street. Larimer Square is named after General William Larimer, who was a pioneer. From the rustic beginnings of the first cabin the street evolved into the city's first block, Denver's first commercial district, as well as its first city mall.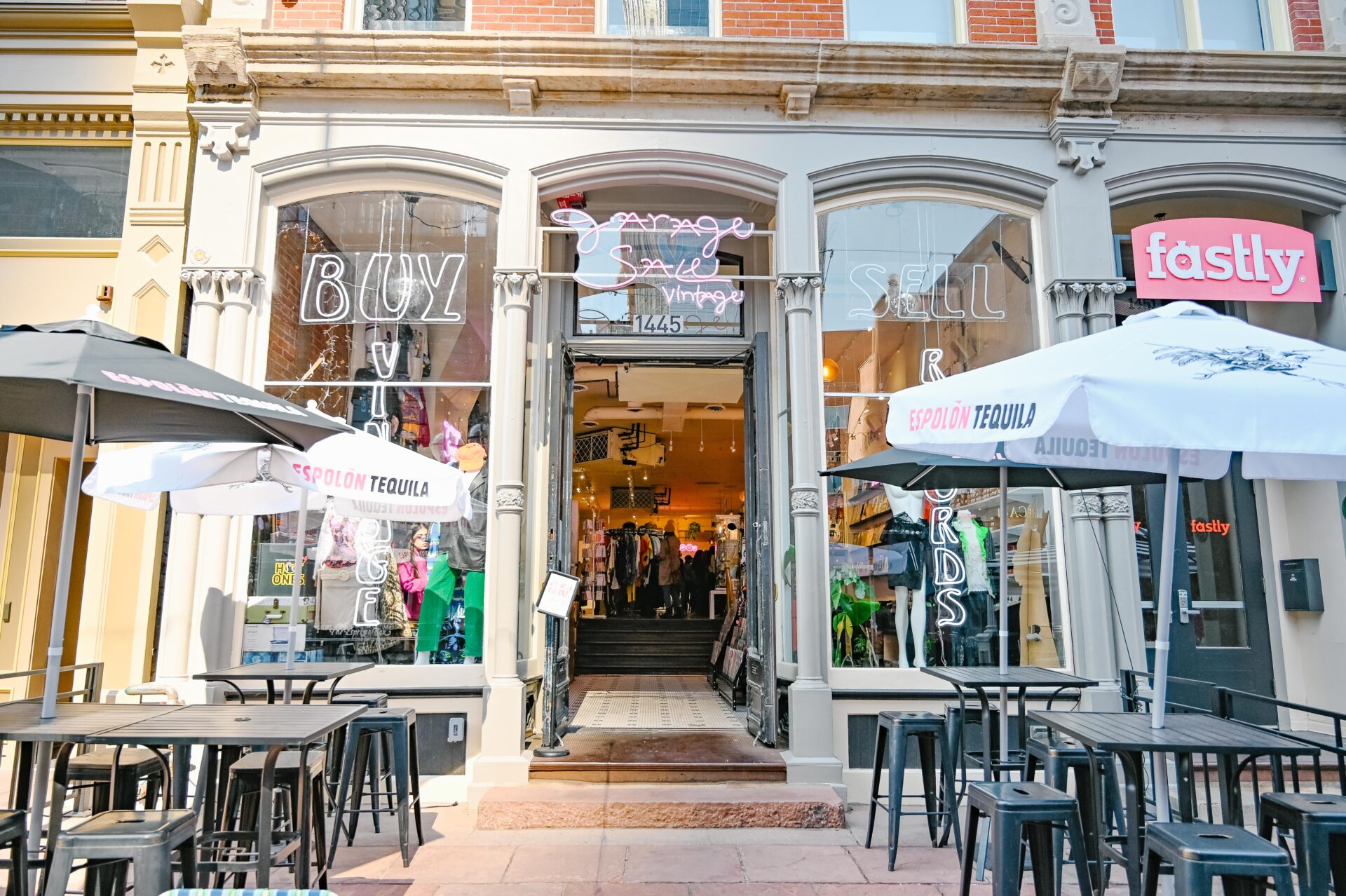 Larimer is now a designated historic district with beautiful shops and restaurants, as well as places of art and history interwoven into its architecture. One of my favourite places was Garage Sale Vintage where inside there are a ton of incredible vintage shopping racks and right in the middle of it all is a 360-degree full bar. They say to you "Come for the clothes, stay for the margaritas!"
Colorado Convention Centre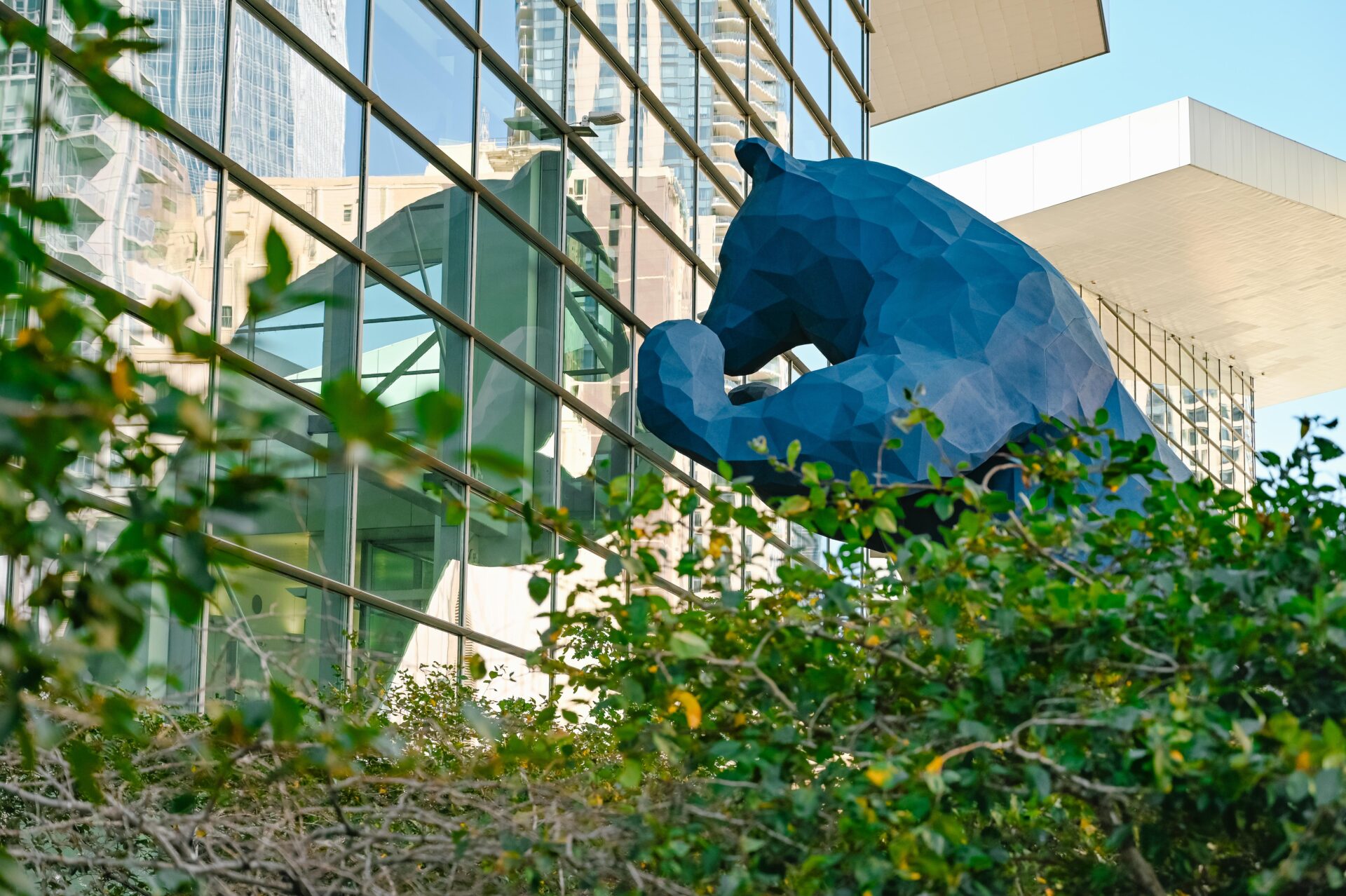 The 40-foot big blue bear grabs your attention even though it's clear that he's looking inside trying to scope out what's going on at the Colorado Convention Center. Created by local artist Lawrence Argent, who wanted to do something creative and different than the traditional landscape that Colorado is looking for, he crafted "I See What You Mean," (also known as the "Big Blue Bear," which has become one of the most popular photo ops in the city).
Sculpture Park At The Denver Performing Arts Centre
Take a stroll down to Sculpture Park where two 60-foot-high dancers will invite you to run on the lawn and possibly pose or "dance" with them for a photo. Created by sculptor Jonathan Borosky, these pieces are a part of the Public Art Collection and truly a landmark in Denver.
Traveler Tip: If you can, check out the schedule of performances that are happening at the Denver Performing Arts Centre BEFORE your trip, and if there's an artist that you're interested plan to go and see them one night. We missed TINA – The Tina Turner Musical by one day!
South Platte River Trail
Not too far from the Denver Performing Arts Centre is one of the access points to the South Platte River Trail. This is one of Denver's multi-use trail systems that runs along the river, for a total trail length of 30.3 miles! You don't have to do the whole trail to be able to appreciate it…I recommend heading down to it right after Sculpture Park for a great view of the bridges, the river, and the trails.
Traveler Tip: This would be an excellent place to stop for a picnic lunch or a leg break!
Denver City Hall & Civic Centre Park – New Art by Pat Milbery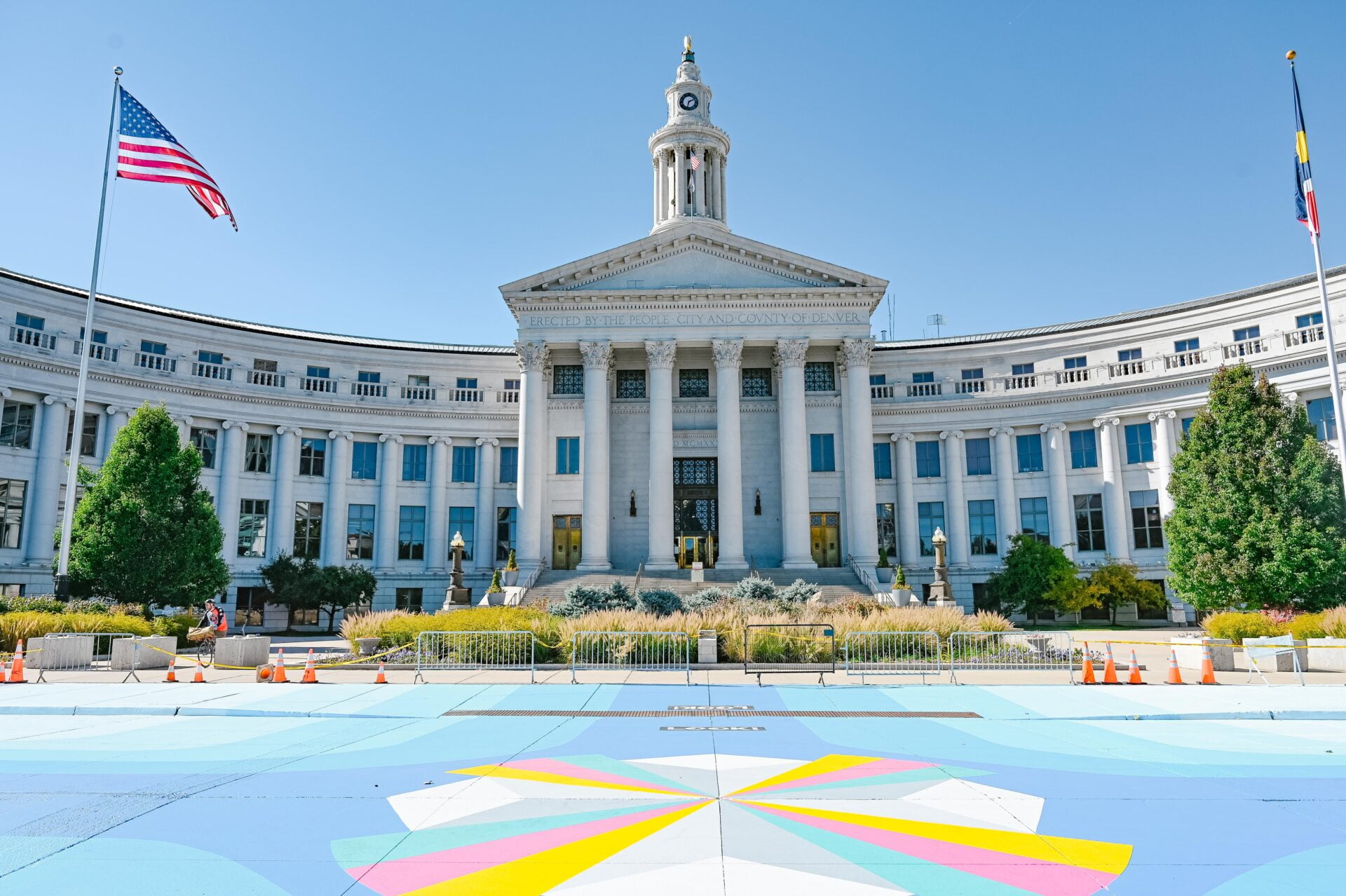 Head down to Bannock Street between 14th Avenue and Colfax Avenue to see a new art installation by local Pat Milbery. With the support of over 100 local artists, Bannock Street has been transformed again. Pat had originally painted another mural "Interwoven " in April of 2020 but due to the elements it had faded. Pat was commissioned by the City and the County of Denver to create a new installation and this time it has anti-slip aggregate as well as a protective clear coat to help preserve the stunning larger-than-life art. The new piece of art is the largest canvas in the city of Denver taking up one whole block of the street.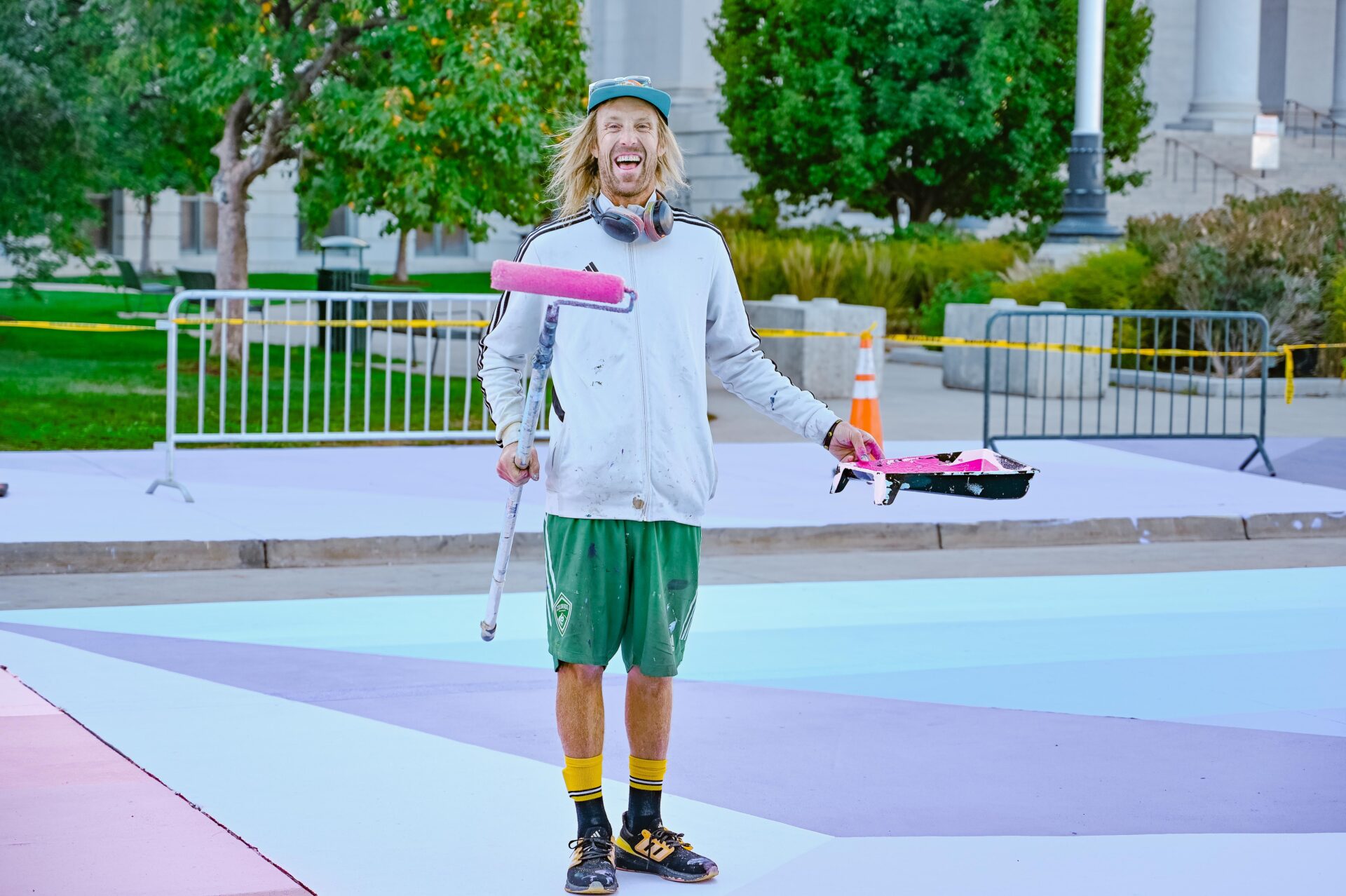 Traveler Tip: If you see Pat out working on a mural be sure to say hello, he's one of the kindest humans on the planet and loves to chat!
State Capitol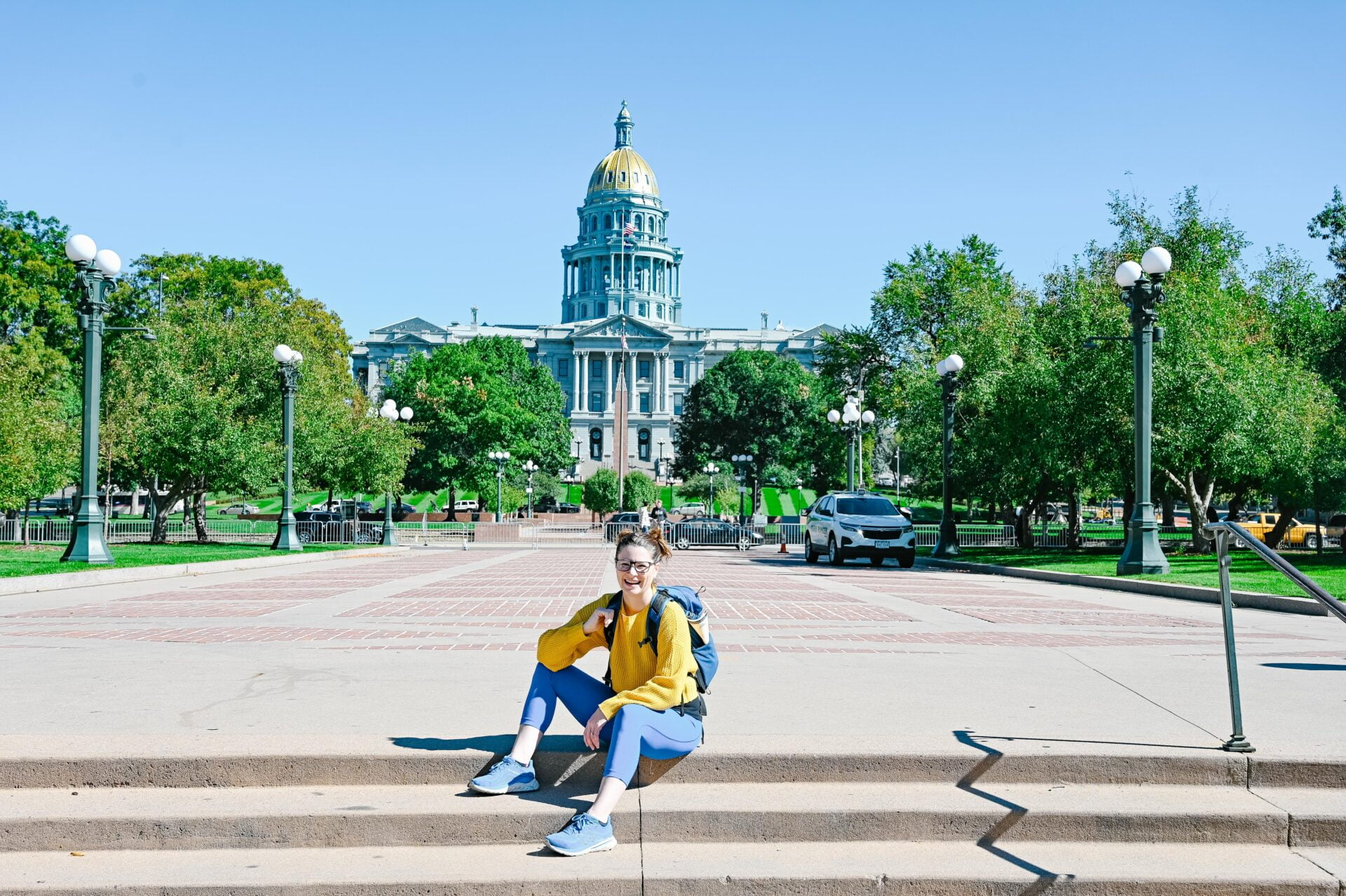 The State Capitol is a beautiful building from the outside but what is on the inside is what really counts! This beautiful building is the nation's ONLY capitol building that has earned its LEED® Gold certification, making this one of the greenest places in the city to visit.
Visiting the State Capitol is free of charge and you can opt for either a guided tour or a self-guided tour based on your interest as well as your time, the perfect stop on your Northern Colorado road trip.
Denver Art Museum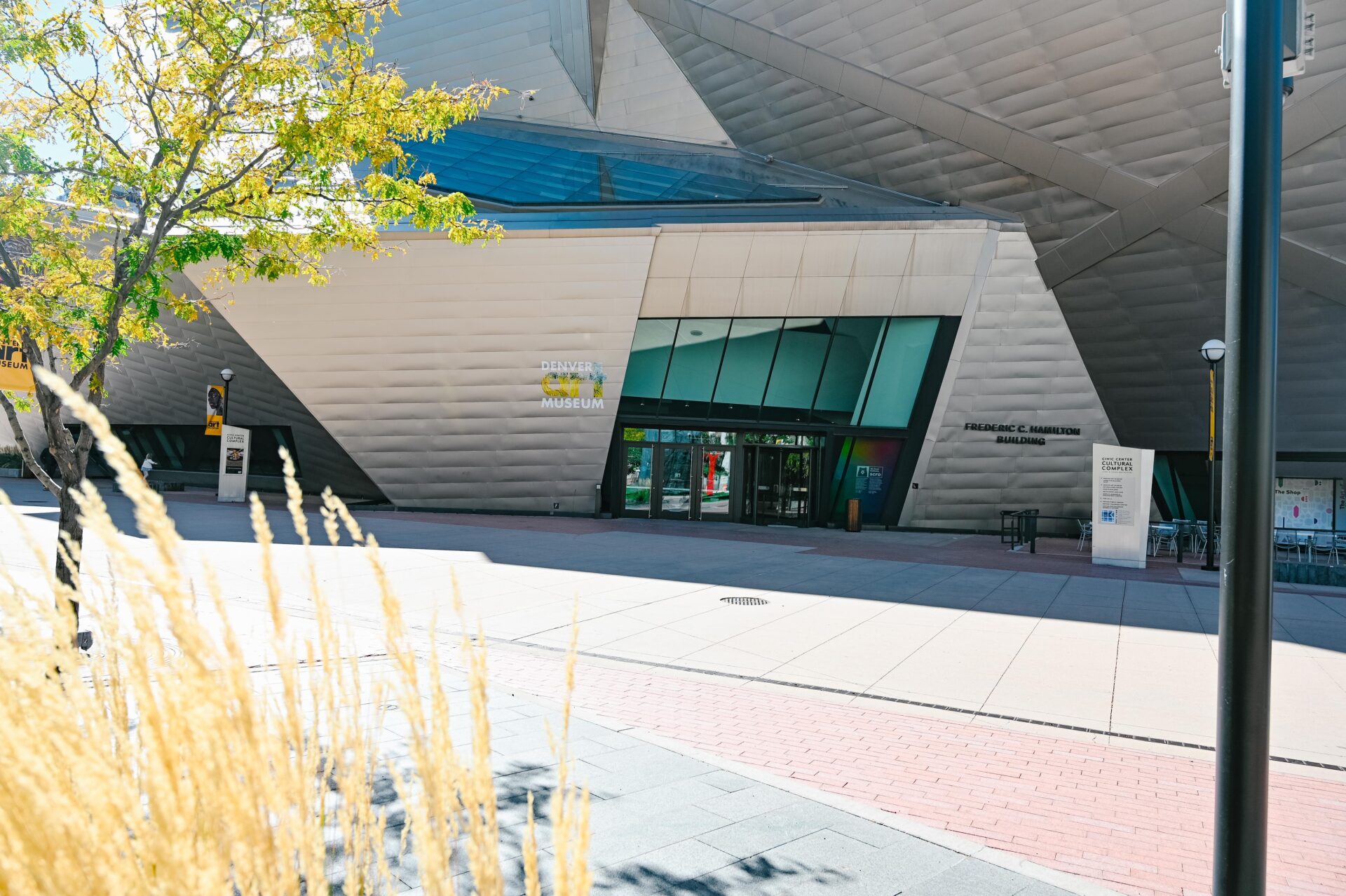 The Denver Art Museum is an adventure in itself and with 70,000 pieces of art you could spend the whole day just exploring the exhibits. It's one of the largest art museums between the West Coast and Chicago. I regret not having more time to explore this beautiful museum, and especially its inspiring gift shop/gallery!
Auraria 9th Street Historic District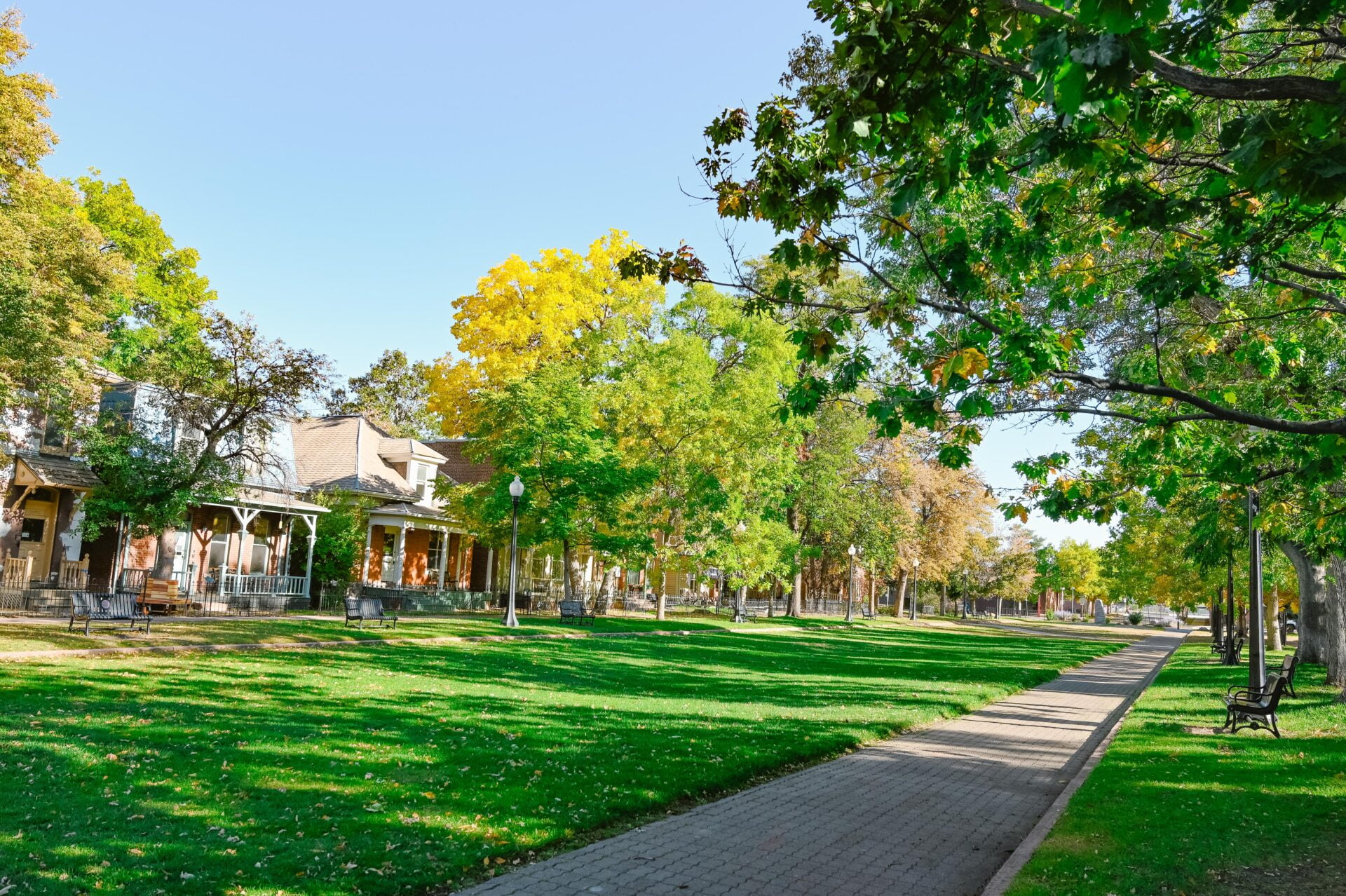 Located on the Auraria campus at the University of Colorado Denver, this area was once the site of some of the wealthiest that were in the Denver area around 1858 for the gold rush. In 1965, the South Platte River flooded, devasting much of Auraria and it was decided by Denver voters that that the land should be made into a higher education campus. Over the next couple of years, more than 300 households were pushed out the area has their homes and businesses were destroyed. Community members fought to save the neighborhood and with the help of Historic Denver, this three-acre piece of Ninth Street from Curtis to Champa streets was preserved!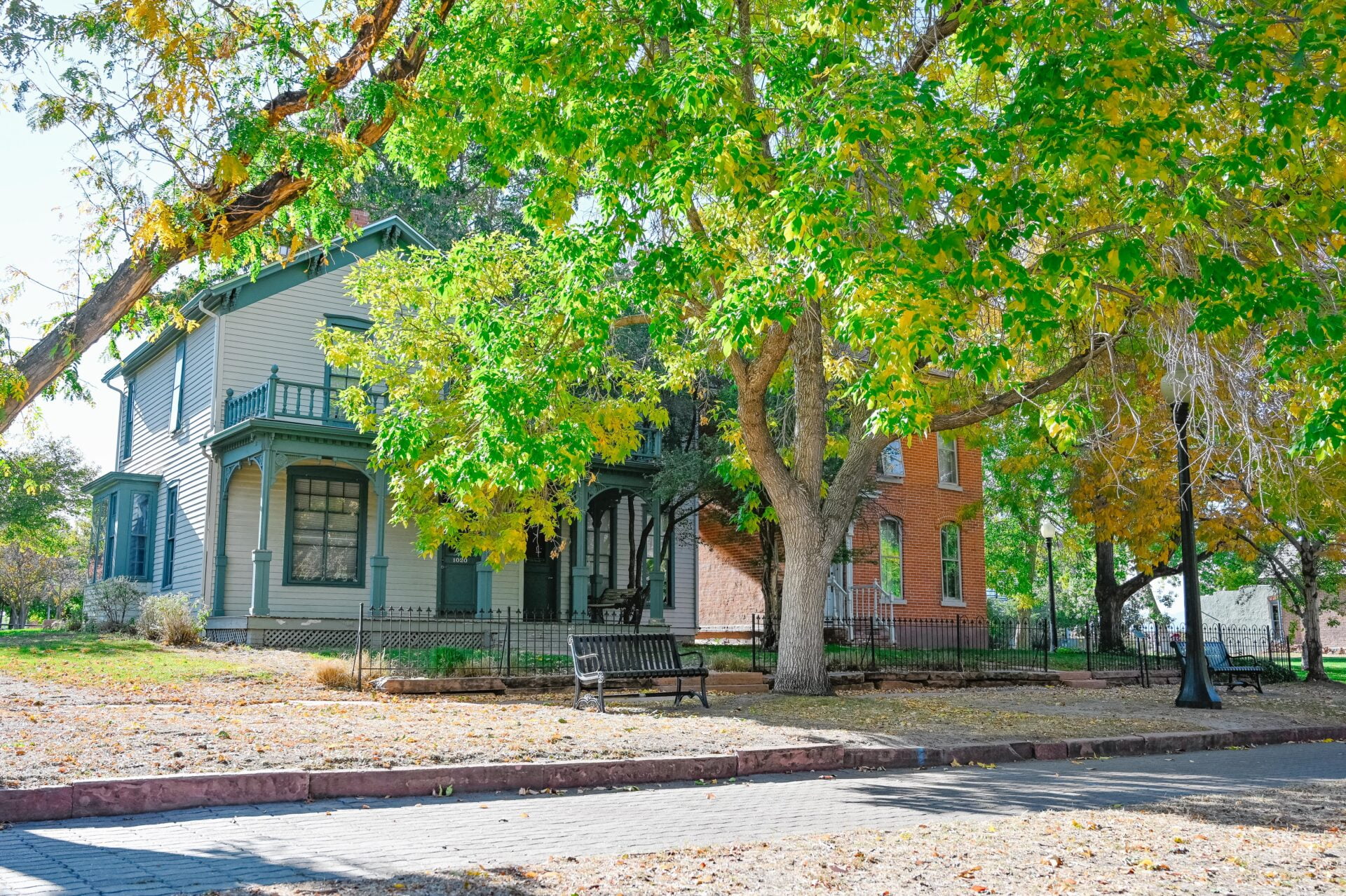 Today the roadway is covered in grass, buildings have been converted into office spaces, and the area is on the National Register of Historic Places. Currently the University is leading the renovations on 6 of the properties, bringing them back to their original glory.
The Brown Palace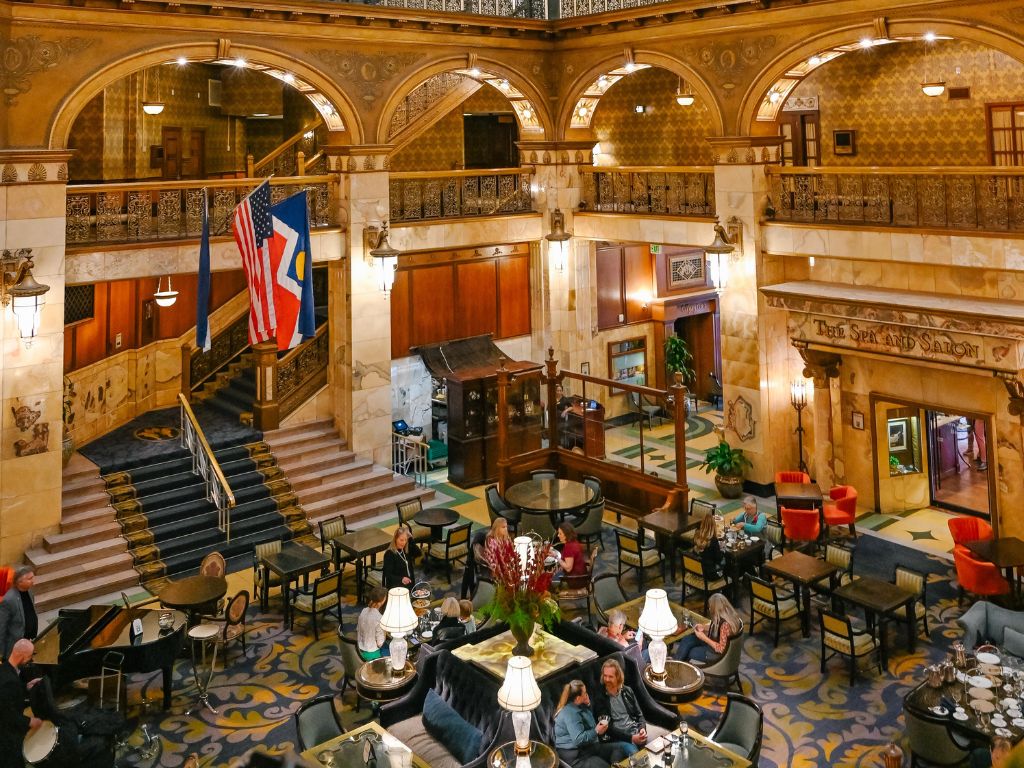 Whether you stop in for high tea, afternoon mocktails, or even just to take a photo, you won't regret taking a 5-minute detour to The Brown Palace. This iconic hotel has been in the downtown Denver neighbourhood since 1892 and since 1977 has been a four-star, four-diamond hotel. The atrium lobby is as welcoming as it is photogenic, with the ambiance of luxury squiring around each balcony. Topped off like a cherry on top is a stained glassed skylight. From intricately wrought iron panels to Florentine arches, this is a spectacle in itself.
Where To Eat On Day Two
I have two dining recommendations for you while you are in Denver, and I recommend that you find a way to work both into your schedule as they are each so wonderful in their own ways.
Vital Root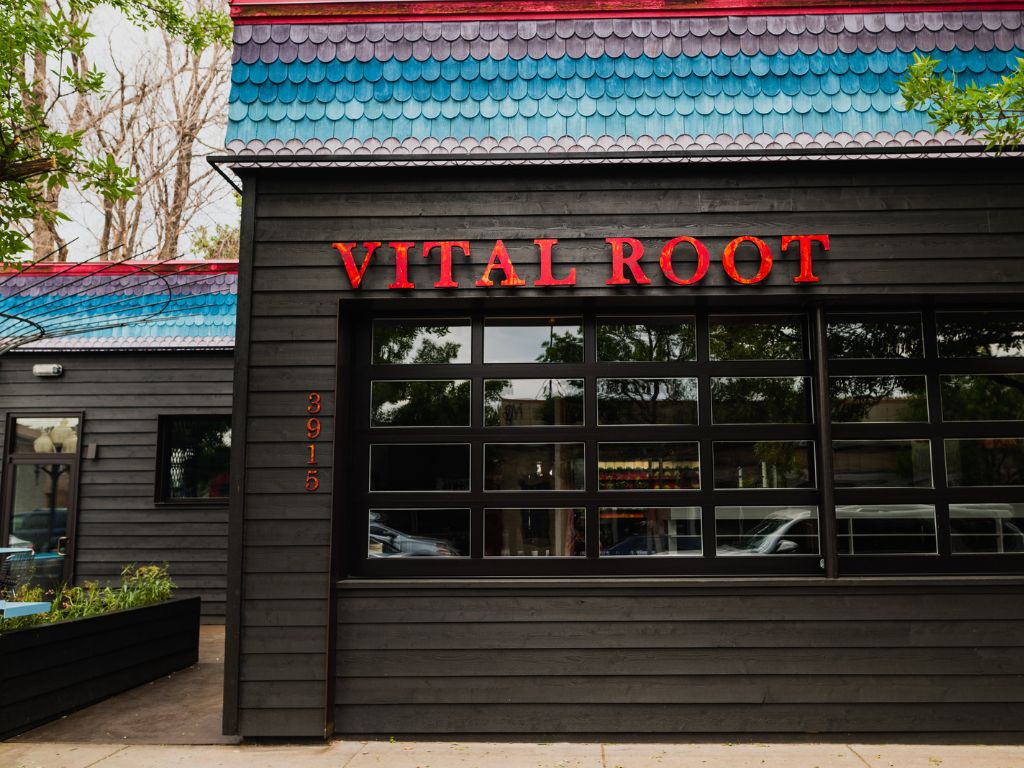 Located about a 13-minute drive outside of the downtown core of Denver this restaurant (and surrounding neighbourhood) is worth exploring. Vital Root was inspired by simplicity, with the goal of crafting delicious food that promotes wellness.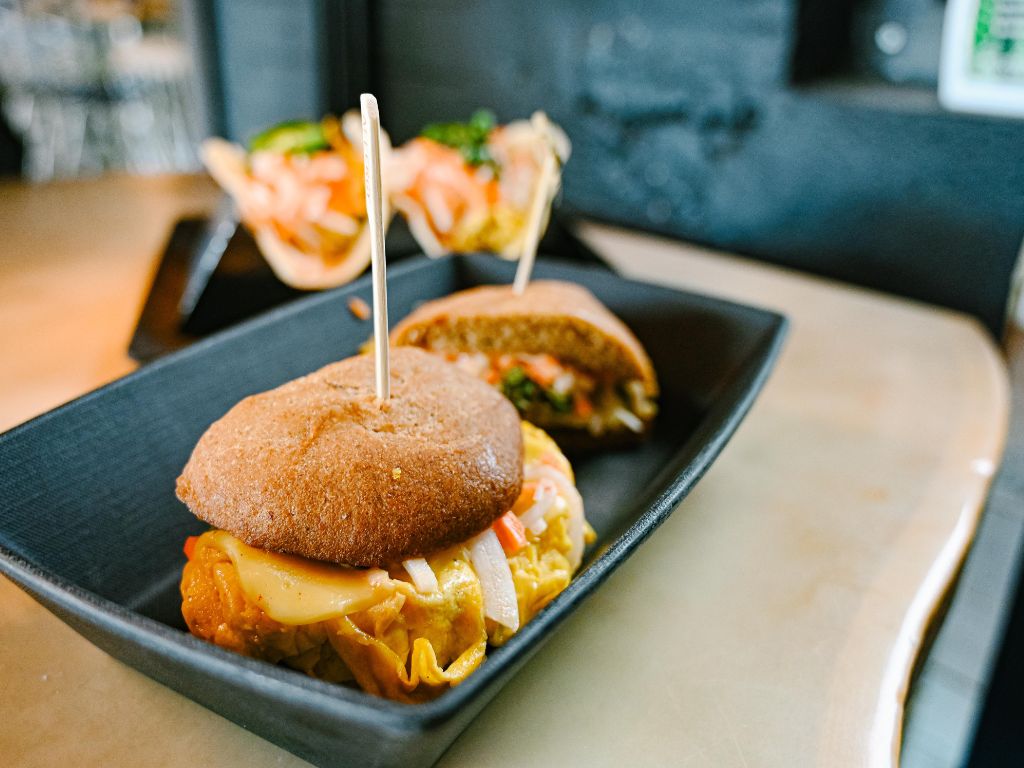 With a focus on plant-based, gluten-free dishes, as a traveler with a lot of allergies, I was so excited to check out this restaurant. But then it got better! You can use your phone to scan a QR code which takes you to their menu. You input your allergies and then it will only populate menu items that you can eat (or substitutions that could be made so that items would be safe for you)! I've never seen this technology used anywhere and it was so welcoming to be able to look at a menu and all of the things I could indulge in, versus feeling like I was being left out.
Leaders in Sustainability – Hydroponic FarmBox
After our meal, we were fortunate enough to meet with the Director of Sustainability for Edible Beats, a strictly employee-owned business that runs 5 restaurants within the city of Denver. Our meeting started off in the back alley, which had me a bit confused but I was quickly invited inside what looked like a large shipping container but was actually a hydroponic FarmBox! 
Inside was flourishing with life as the walls were filled with a variety of lettuce that would be used here on-site at Vital Root as well as at their other four restaurants. We got to take part in a detailed tour showing us the lifecycles of the different products they grow as well as the integrated science behind making a hydroponic grow site work efficiently. Some of the other projects that Edible Beats is working on are moving towards zero waste (that's not a typo, they are currently at 98%), continuing to evolve their food recovery program, offering DeliverZero – a reusable take-out container program, 100% wind-powered buildings, and more. 
It's clear that Edible Beats is focused on being a leader in sustainability in their city as well as in their industry, which is no easy feat (I was impressed by the fact that they had a Sustainability Director). So when you eat at Vital Root not only are you nourishing yourself but you're also supporting a business that is leading in sustainability, reducing their carbon footprint, and creating a greener future for us all.
The Wolf's Tailor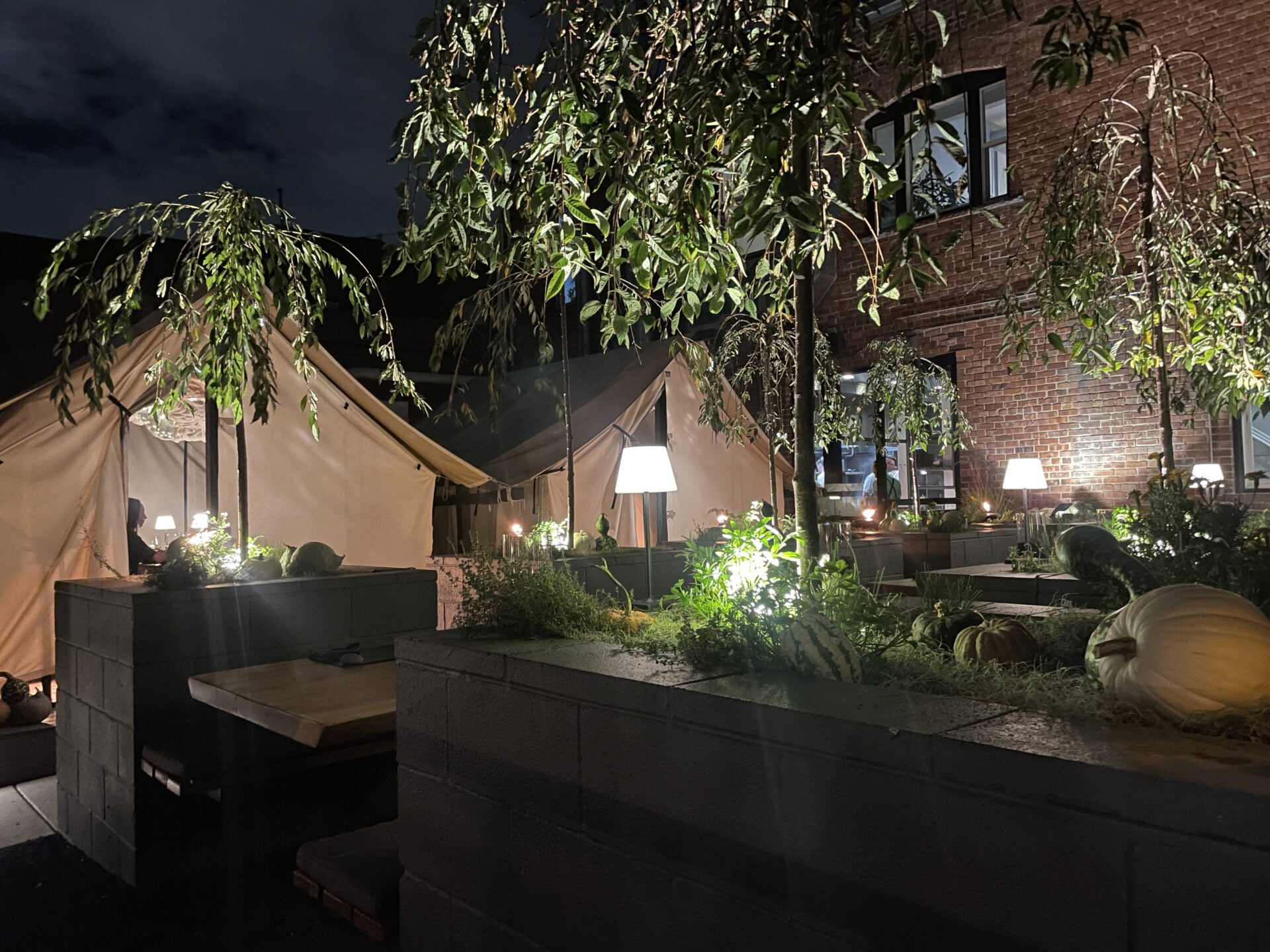 As a writer, I was lost for words after every scrumptious bite of my 7-course meal at The Wolf's Tailor. Simply put, our dining experience was unlike anything I had ever tasted and may forever go into my memory as the best meal I have ever had.
The Wolf's Tailor is a contemporary and creative Michelin-rated restaurant that embraces the artistry and inventiveness of food in a presentation and pallet-pleasing experience like no other.  When chef Taylor Stark came to the table, we started asking right away about his new Michelin Green Star of which he articulately said, "Well if you're not going for a Green Star, then you're missing the whole point." He went on to elaborate on how the restaurant is going through an evolution. "For this season we are stopping to take stock of who we are, and where we've been, questioning what it means to be a Colorado restaurant, and reexamining what we stand for moving forward. Our unwavering commitment to having a net positive impact on our community and planet has led us to revisit how, where, and from whom we source everything in our restaurant. From the ingredients used to compose each dish to the wood that heats our ovens. While this season is a complete overhaul, we are even more excited that it is just the beginning of the long journey ahead." – Wolf's Tailor menu. Some of the programs that they currently have in place include their "zero-waste mentality where they transform local apple cider vinegar; recycle bread waste into sourdough gochujang; contract farming to grow heirloom wheat for flour on organic, regeneratively farmed land; do on-site pollinators in their garden and have a certified sustainable foraging program." – expanded upon from Taylor Stark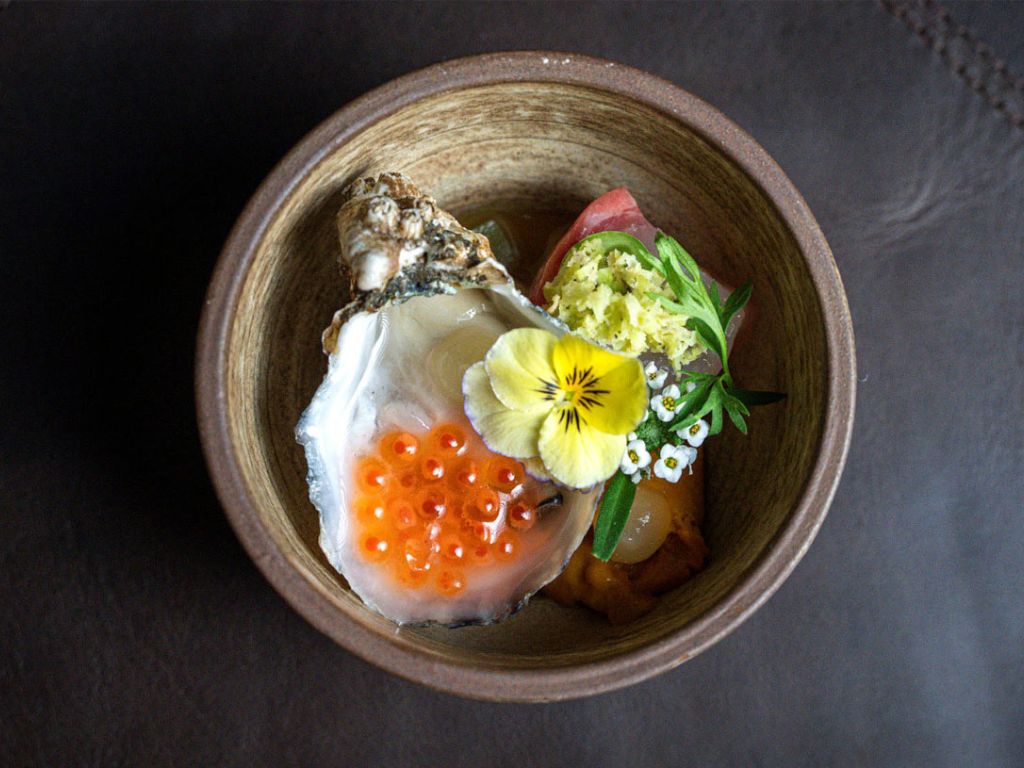 Our 7-course meal included a variety of plates from different genres including Nordic, Italian, and East Asian cuisines. With names like Chawanmushi, Robata, Dan Dan, and Bossam, the presentation was a piece of art and Erin and I would giggle after our meals had been presented. "Do they think we know what they just said?" some of the meals were so elaborate that we didn't even know half of the ingredients that were on our plate.
However, once we were indulging our taste buds felt like our eyes seeing fireworks for the first time. Robust flavours with long amazing aftertastes. For the first time in a long time, I truly enjoyed the luxury of dining.
Visitors tip: We ordered the mocktail menu pairing which brought us a new mocktail for every course of the meal. How many times can I say in one feature that it was an incredible experience?
Before you go: The Wolf's Tailor books out months in advance so if you are looking to go be sure to book before you arrive in Denver.
Day Three – Red Rocks Park & Amphitheatre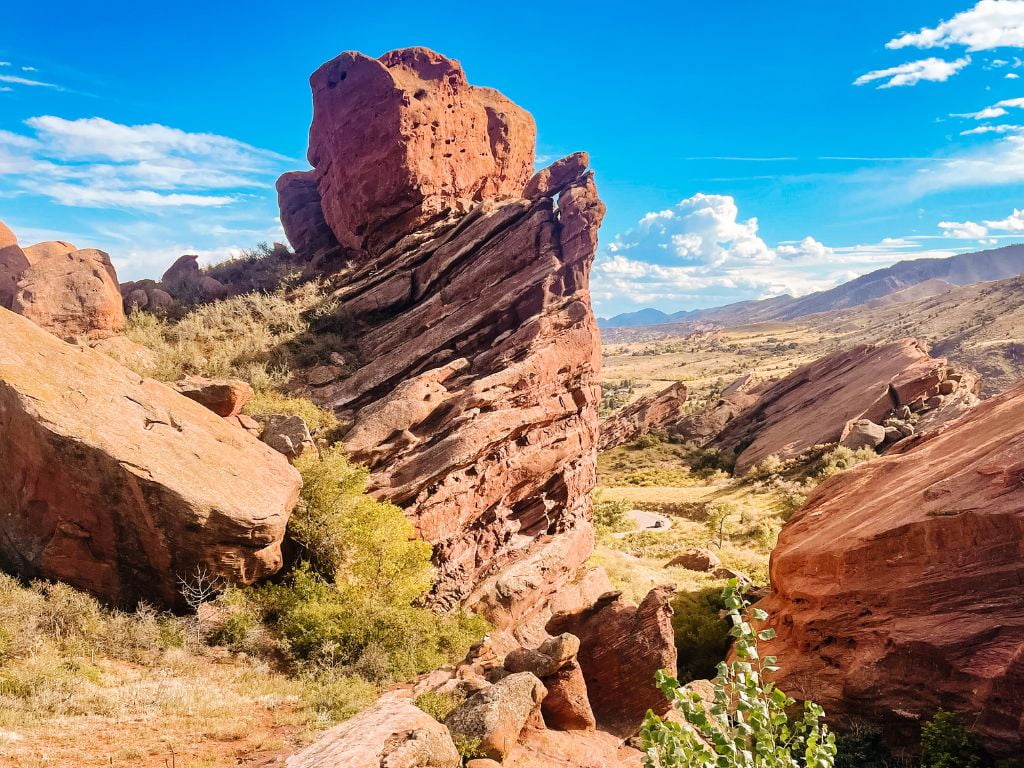 After seeing many of the great places that Denver has to offer, day 3 will take you outside the city to one of the most iconic event venues on the planet, Red Rocks Park & Amphitheatre.
A perfect amphitheater constructed by Mother Nature herself, (okay, there was a little help from the City of Denver who purchased the land in 1927 and opened it to the public in 1941), this open-air event venue is unlike anything I have ever experienced. We headed there during the day, exploring the hiking trails around the amphitheater as well as hiking the stairs inside looking down on the stage. With seating for 9525 guests, the sheer size and scope of the venue is truly remarkable. Here are some of our favourite images to help you see what it's like to visit Red Rocks Park & Amphitheatre while on your Northern Colorado road trip: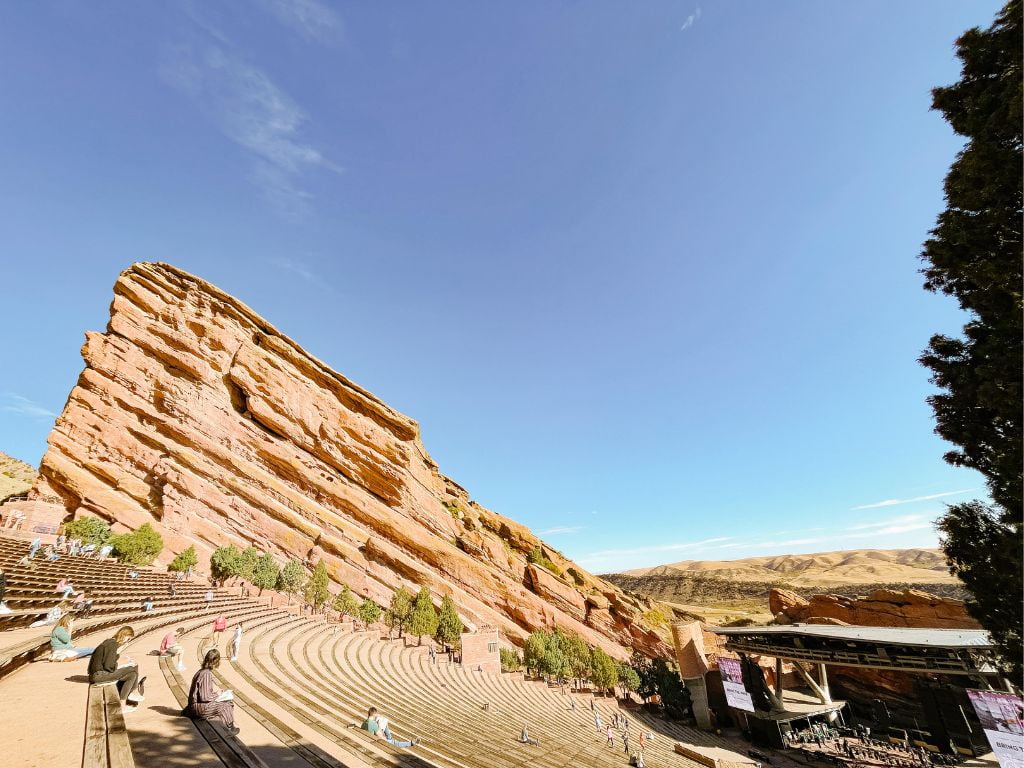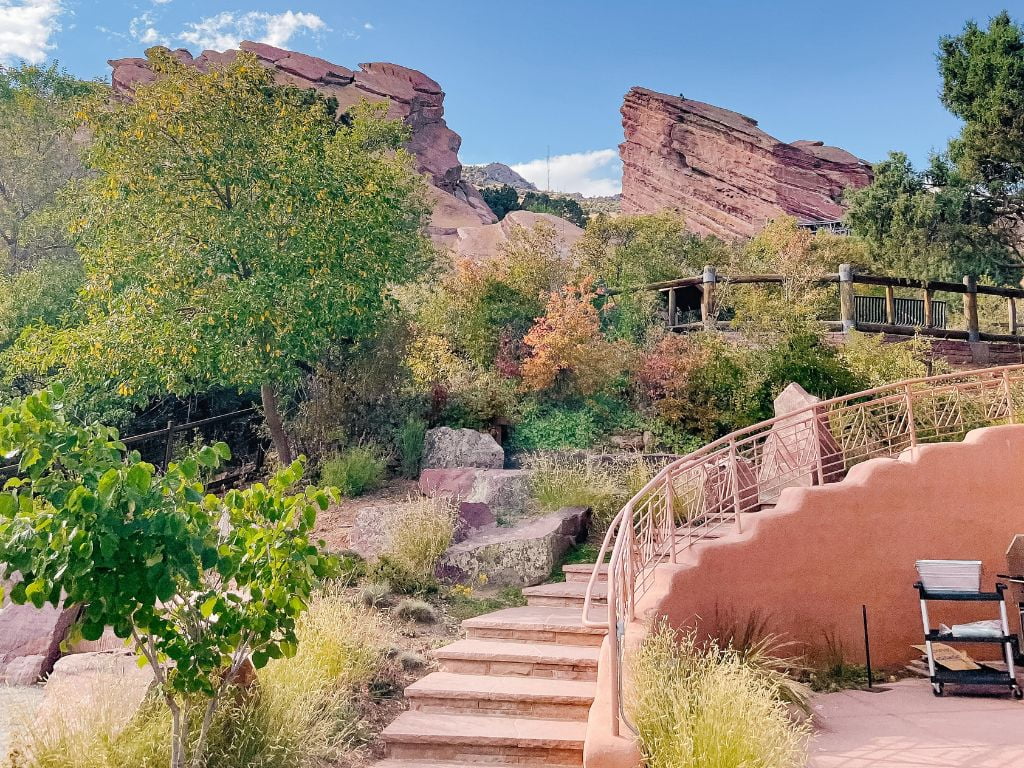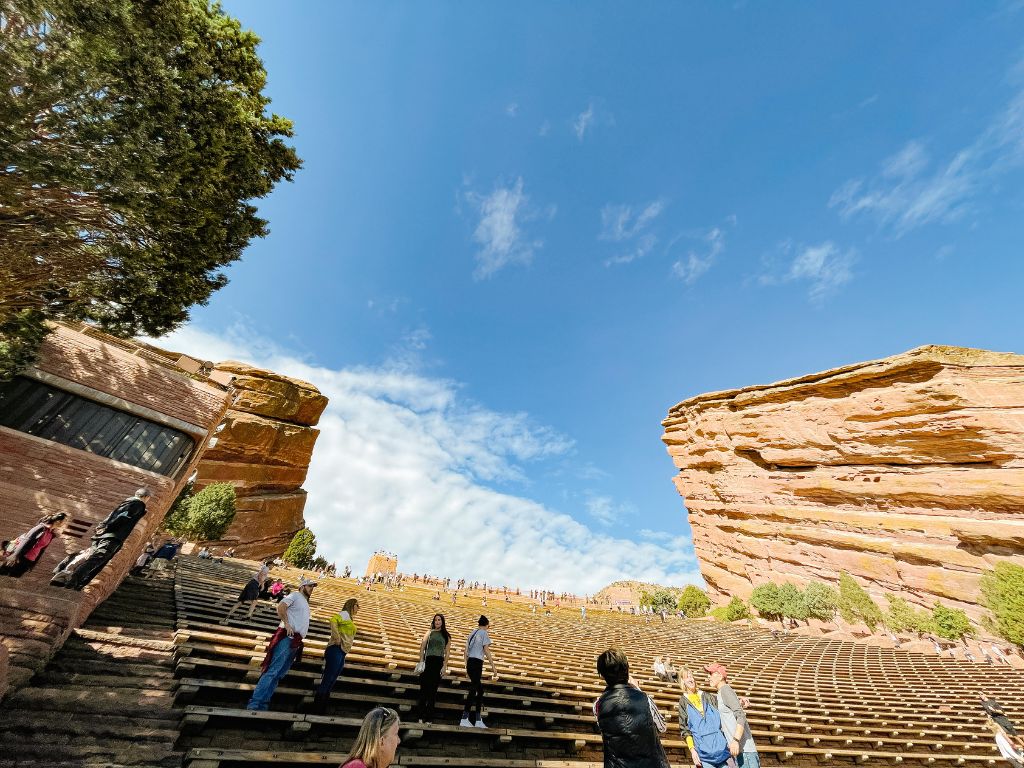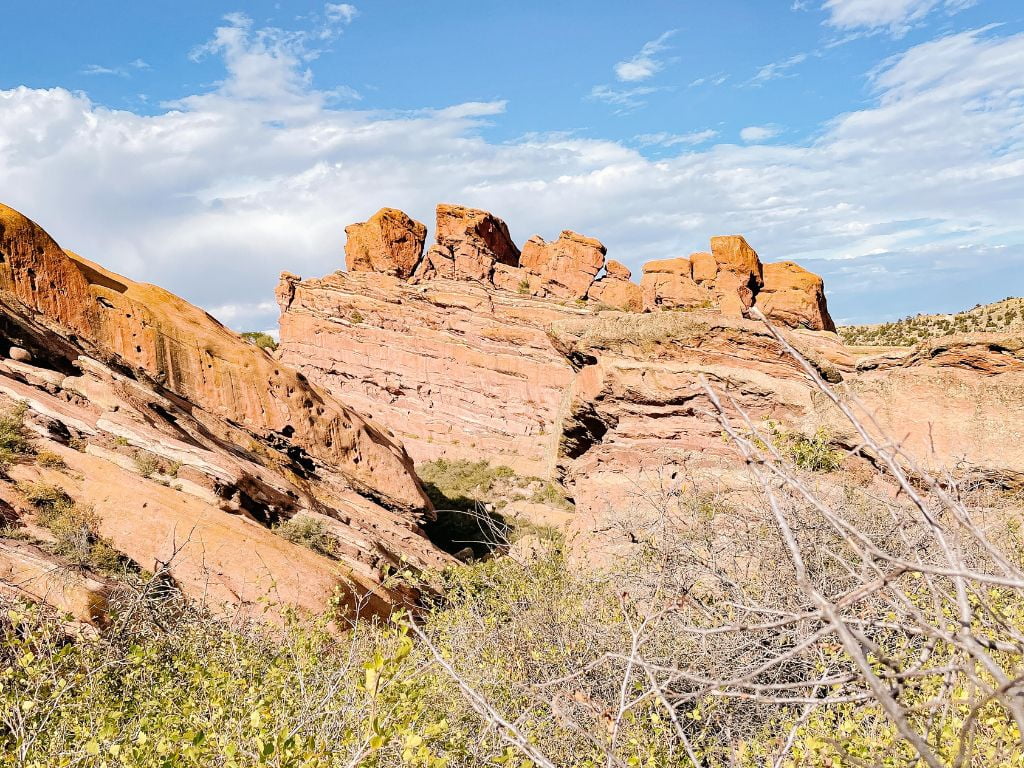 Hiking at Red Rocks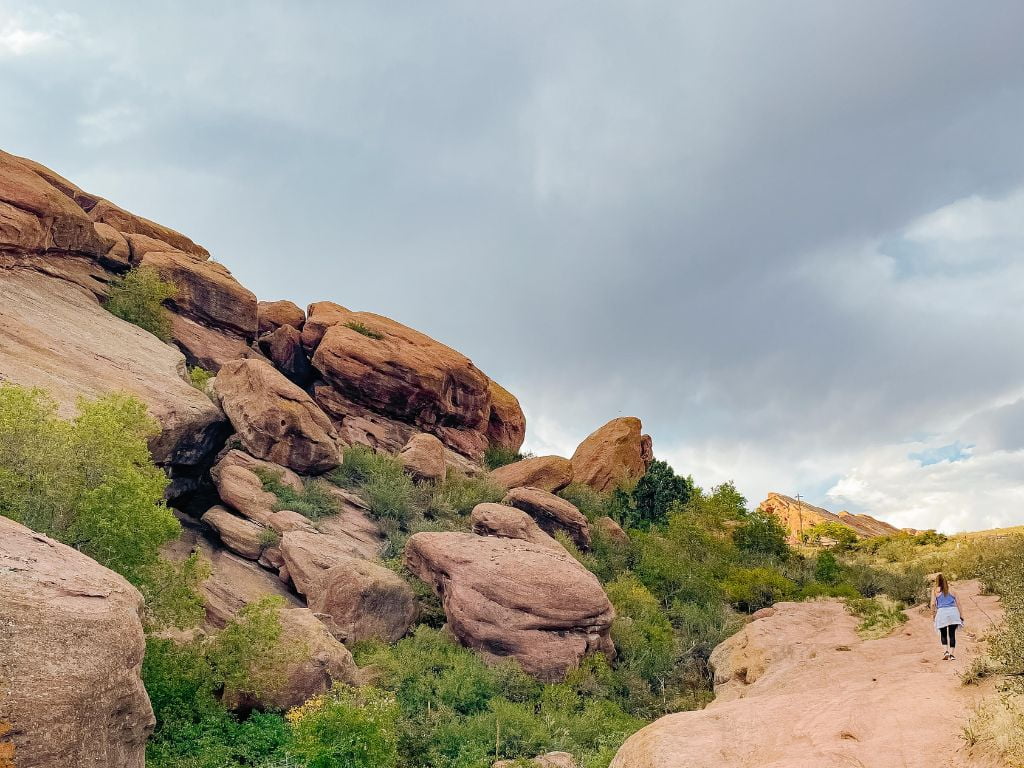 If you don't have a show booked but still want to visit Red Rocks, I can definitely say that it is worth it and I recommend going. With a variety of places to explore, you can choose a route that works for you. We chose the Red Rocks Trading Post Trail which was 2.4 kilometers long (1.5 miles) and was a perfect scenic trail for us to test out the elevation as well as the warm fall Colorado heat. Tip: Bring your own refillable water bottle as we forgot ours and had to purchase them from the Trading Post for $5 each! Here are some of our favourite photos from our hike: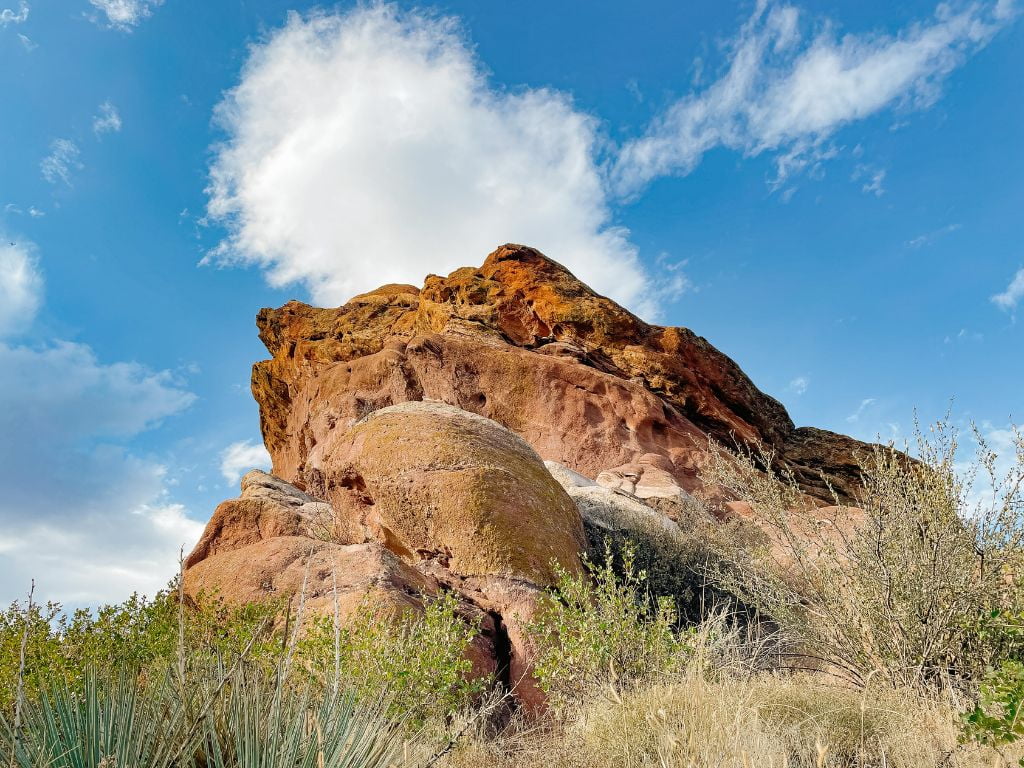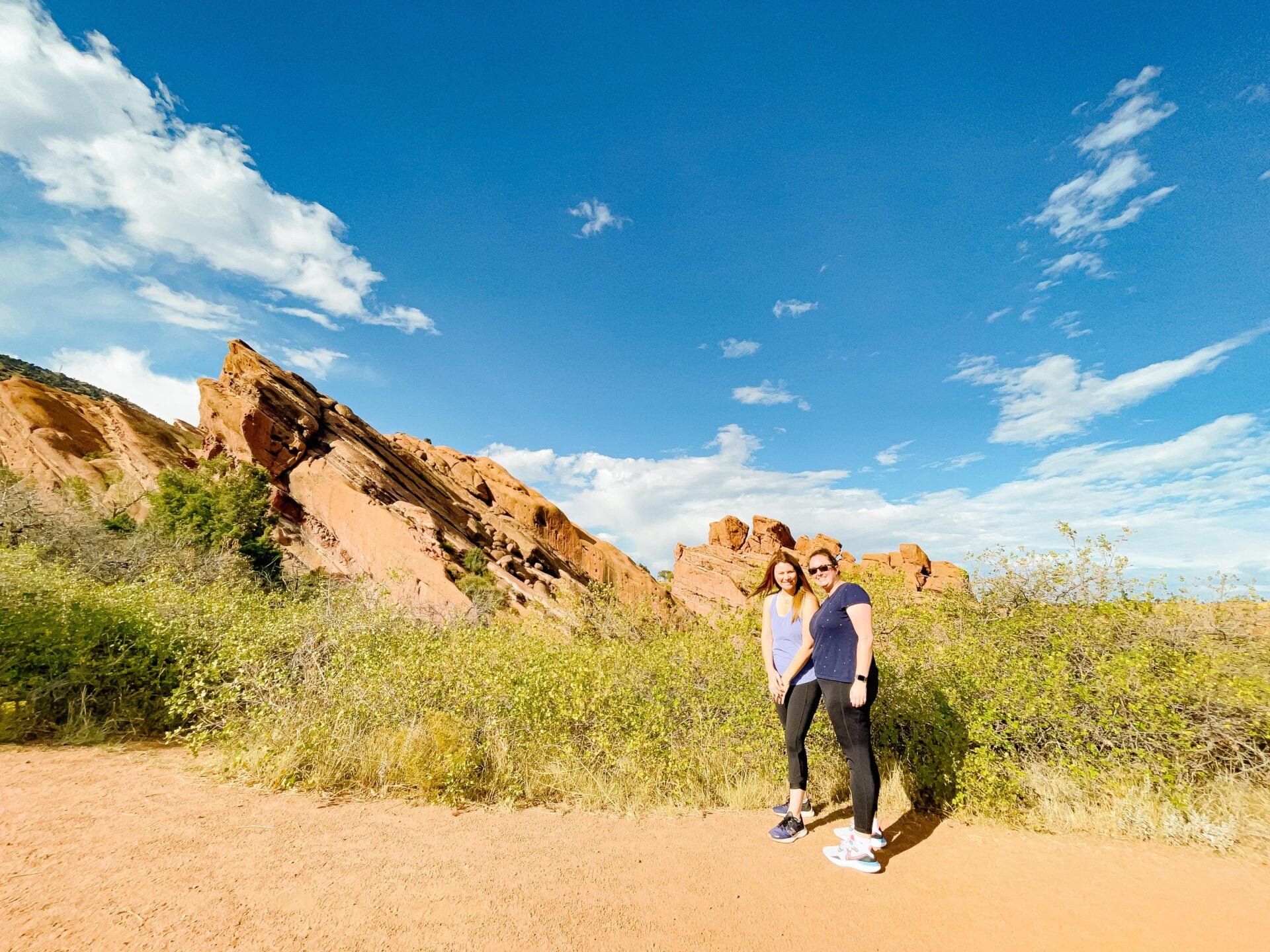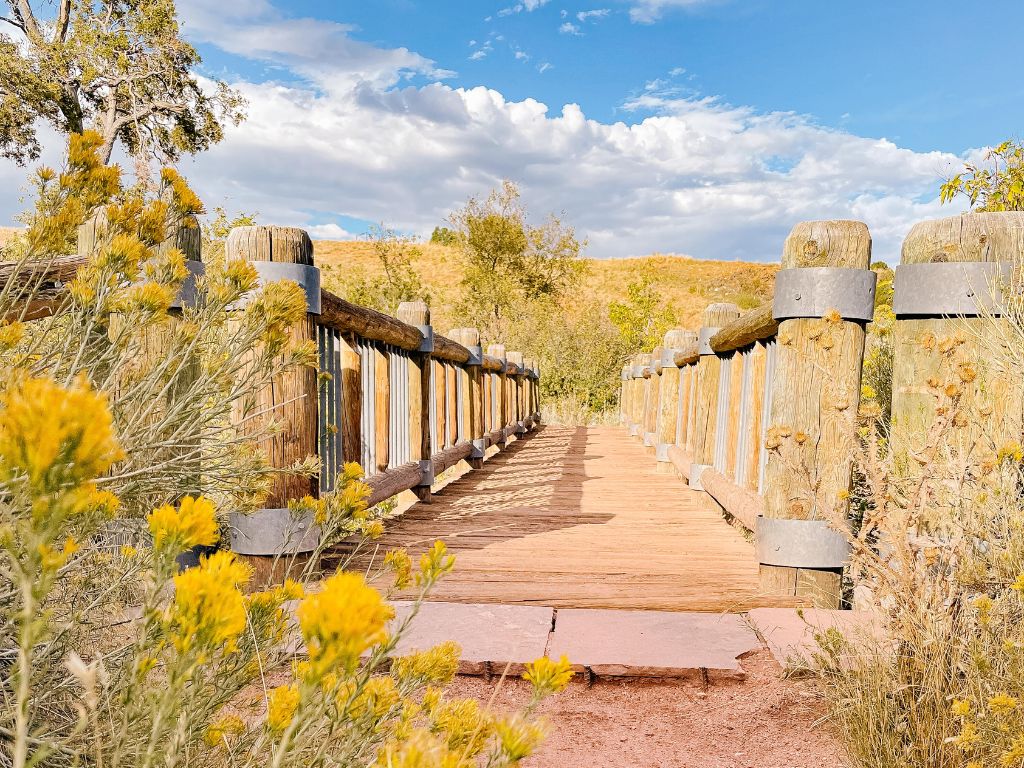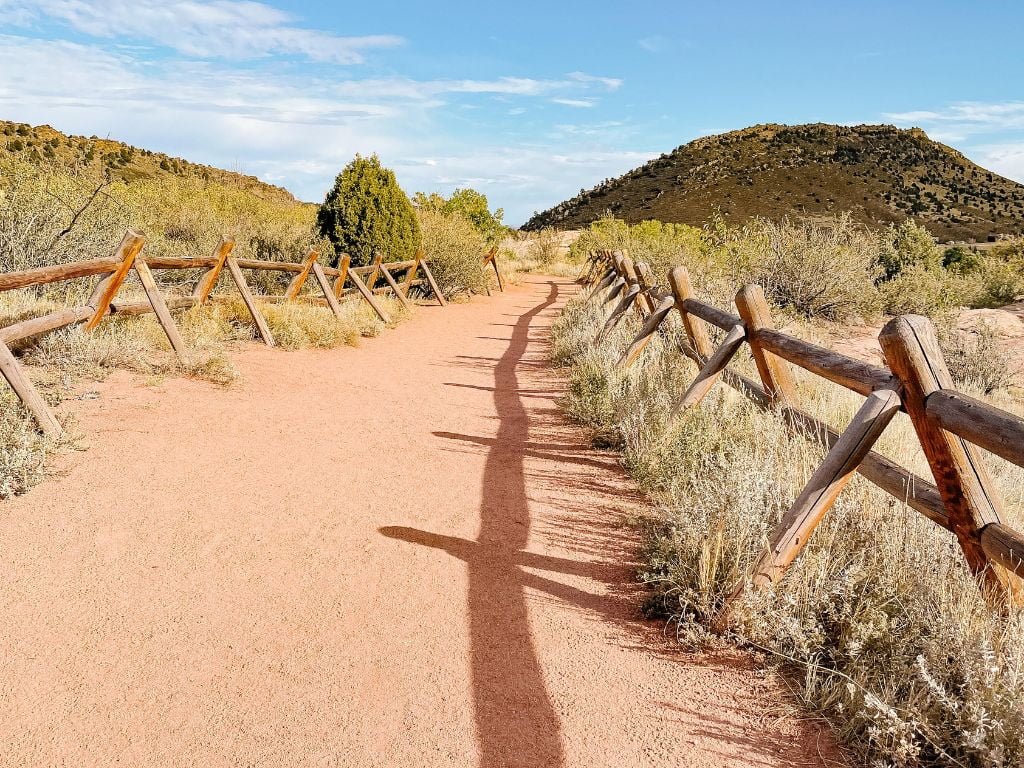 Colorado Music Hall of Fame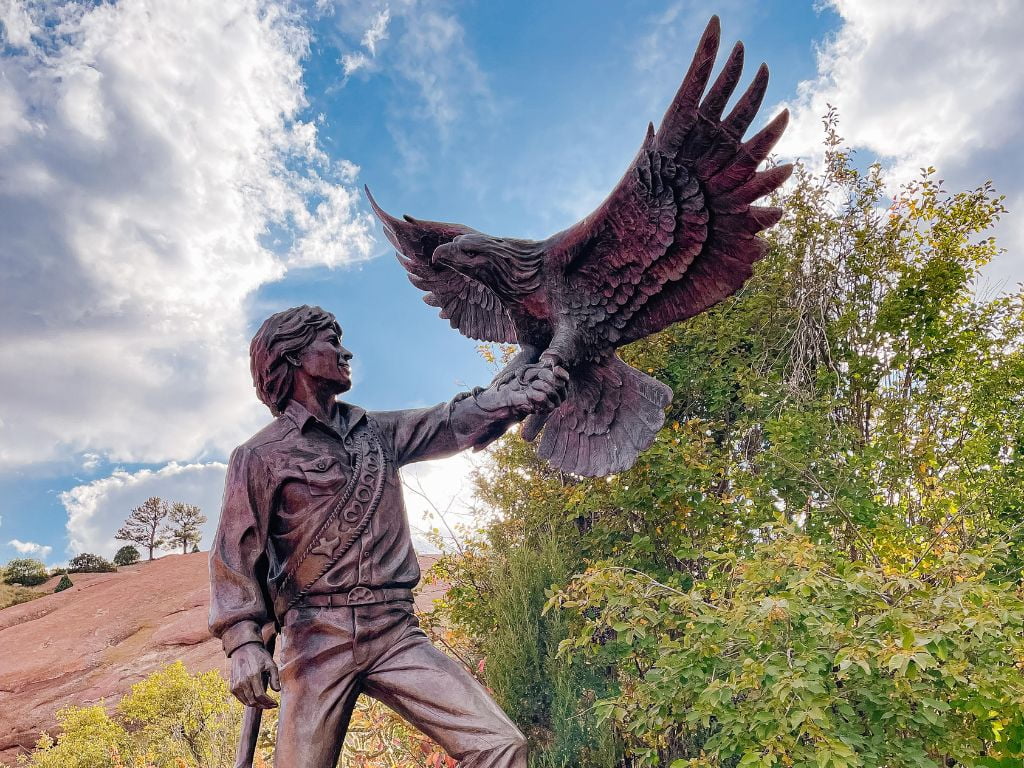 If you go be sure to check out the Colorado Music Hall of Fame that is located at Red Rocks. Walking down the halls you'll see familiar faces, both new and old who have played on on the stage in between the famous rocks.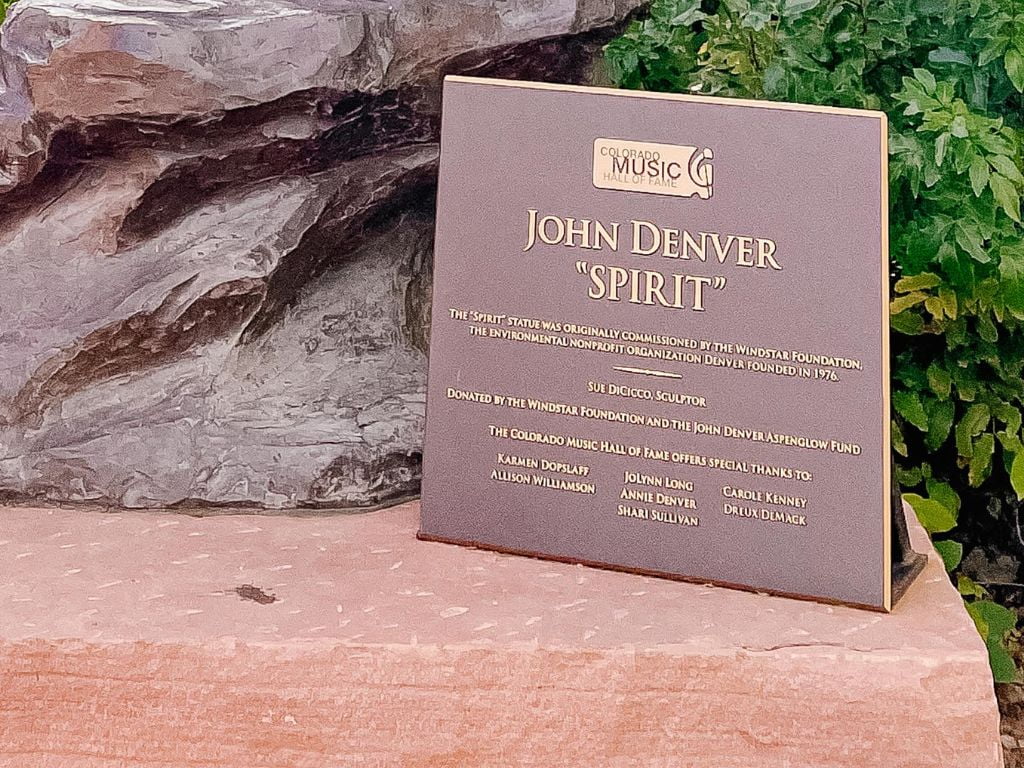 Seeing a Show at Red Rocks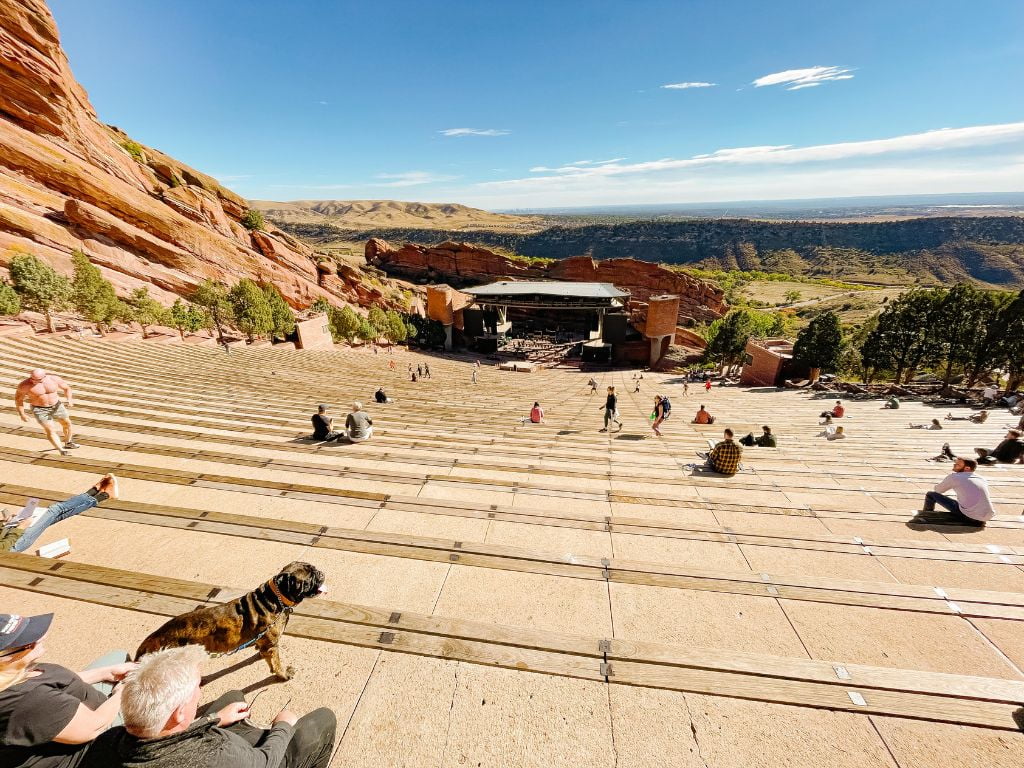 As one of the most popular music venues in the world, Red Rocks Amphitheatre has a robust lineup of performances with multiple shows every week (no shows in the Winter). If you are able to plan ahead I'd recommend booking tickets to see one of your favourite artists while you're visiting on your Northern Colorado road trip. I think seeing sunset over the Denver skyline as well as experiencing a concert under the stars would truly be a bucket list experience.
Yoga On The Rocks
While we didn't get to partake we did hear that there was a "Yoga On The Rocks" program that we think would be a really cool class to take part in at the Red Rocks Amphitheatre.
Travelers Tip: One thing to be keenly aware of is the elevation. At the top row, it is 6450 feet or 1965 meters above sea level, which can catch visitors off guard who are not used to the altitude. You may find climbing up the stairs a bit more challenging than you're used to. Be sure to stay well hydrated!
Boulder, Colorado
After your morning at Red Rocks Park & Amphitheatre, drive 40 minutes north to Boulder Colorado to refuel (both the car and your body) as well as stock up on supplies to spend a few days at Rocky Mountain National Park. Our favourite stop as Canadians was Trader Joe's in Boulder as we don't have Trader Joe's in Canada and well, they do have some of the best trail mixes that we have ever experienced.
Day Four – Rocky Mountain National Park
Before we get into WHY you should visit Rocky Mountain National Park, what to see, or where to go, let's make one thing very clear: You NEED a reservation. When we had stopped at the visitor centre for some hiking advice, we overheard a lady who had shown up to the park and didn't have a reservation so was being turned away. The goal of this is to reduce over-tourism and protect the park and natural areas. So I'm starting off this section because I don't want you to feel the heartbreak that this woman did and be turned away at the park, so get your park reservation here.
So now that we have that out of the way… Rocky Mountain National Park! As soon as you get close to the entrance to the park you'll see the famous, "Rocky Mountain National Park" sign and a few people out with cameras taking the tourist-style photos. I'm not going to lie, I stood in line to capture the shot as this is a pretty iconic park and one I was excited to finally visit.
The park itself is 415 square miles (265,807 acres) and has a variety of mountain environments all within the park. From long lazy meadows in the montane life zone to alpine lakes and peaks that look like they touch the sky, there is so much to discover in the park. There are over 300 miles of hiking trails so you'll have lots to explore while you visit the park. If you stop at the Visitor Centre they will give you a newspaper brochure that shows the different strolls and hikes that are open when you are there. Strolls are traditionally paved trails, that are easily accessible for those with a stroller or a wheelchair.
Hikes are not paved and vary in technicality as well as required physical fitness levels. I love how they break it down into both, so we decided to choose one of each!
Stroll: Alluvial Fan Trail and Waterfall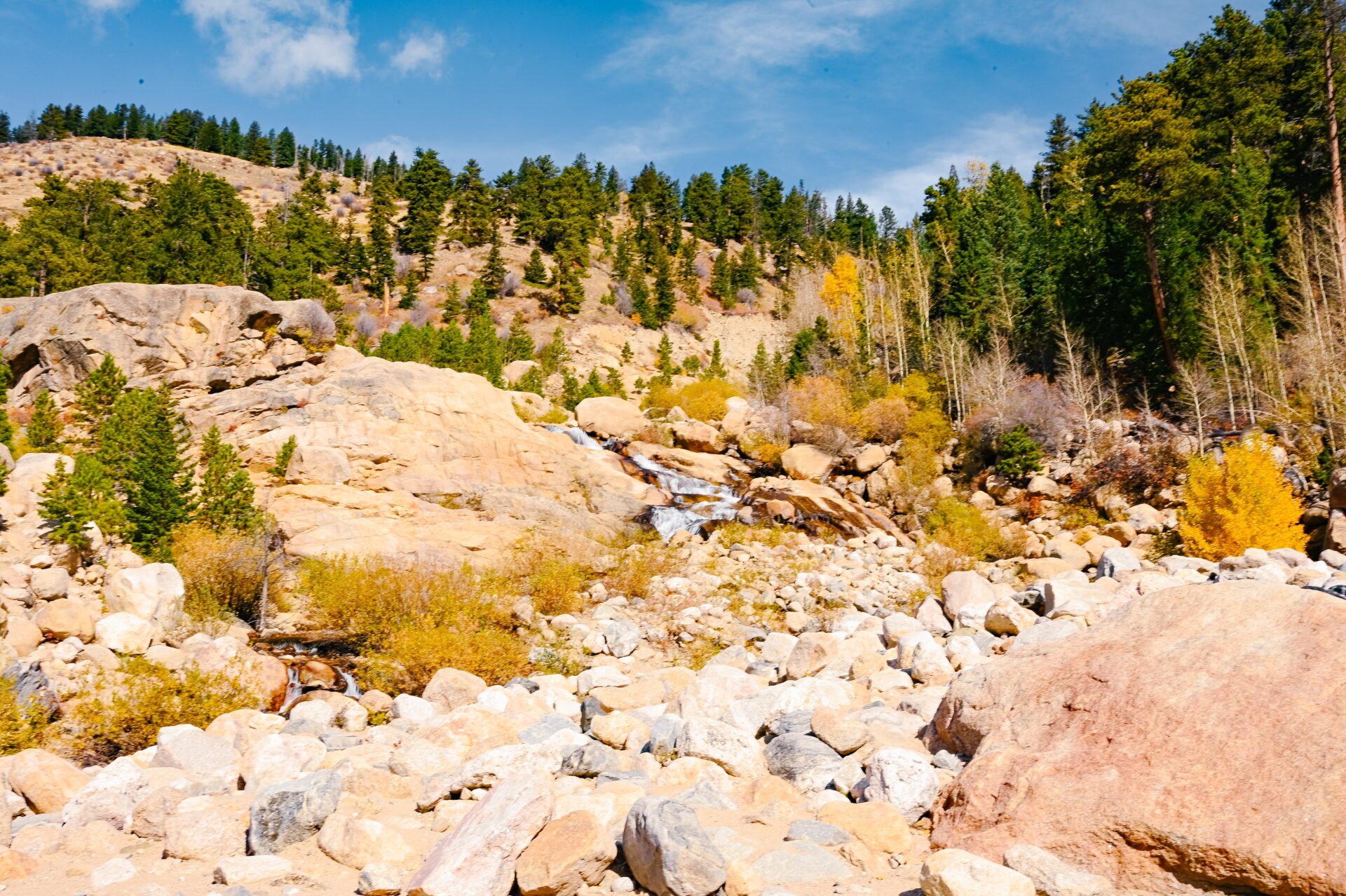 This trail is located off of the road to Endovalley and is a short .8 mile (or 1.3 km) out-and-back trail that takes you to a beautiful cascading waterfall that comes down in between a field of large boulders. In 1982 there was a break in the earthen dam at Lawn Lake which brought a "devastating wall of water" moving large boulders and vegetation across the land. This caused the alluvial fan that you see today.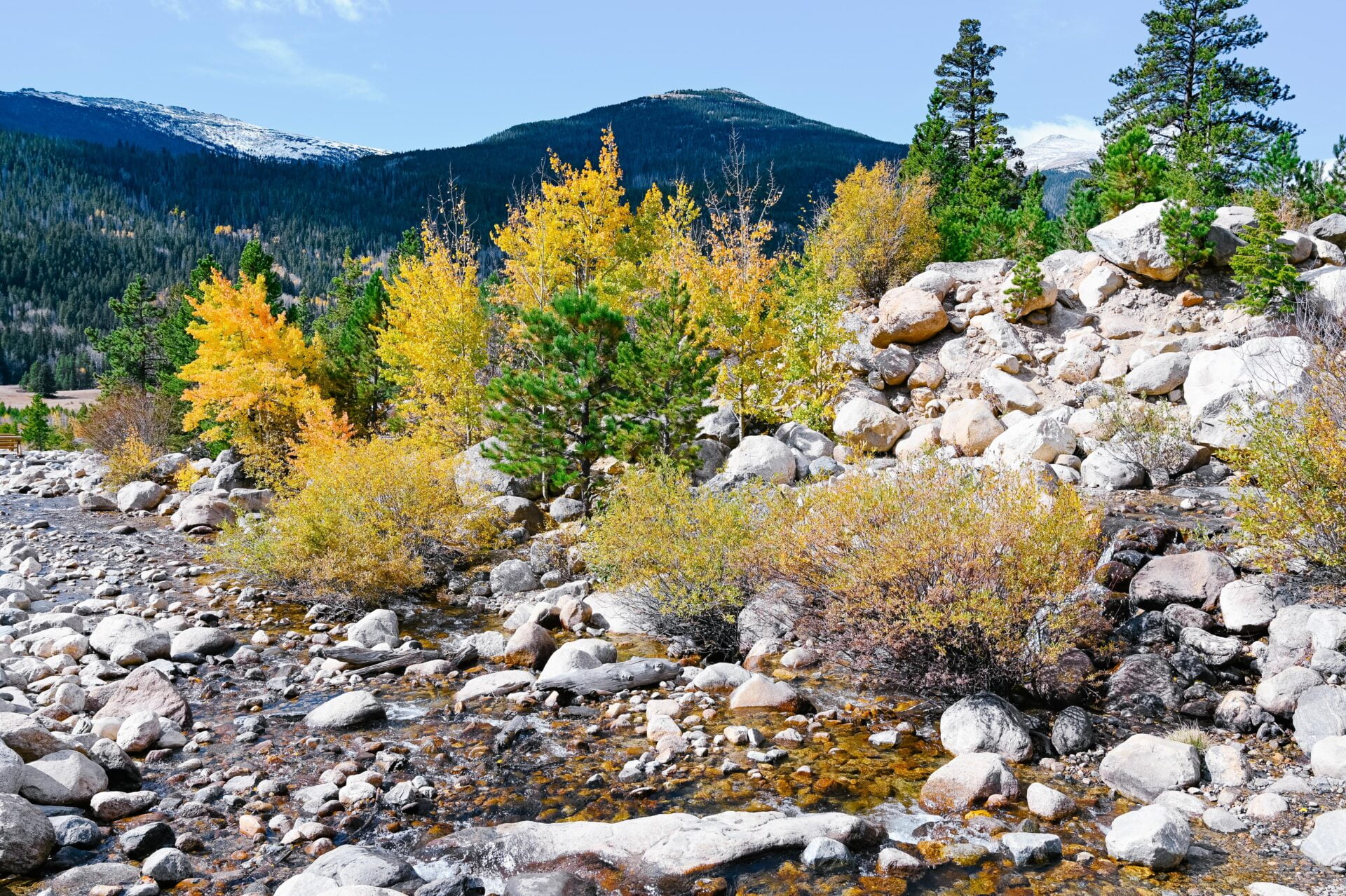 Best time to visit: The local rangers recommended Alluvial Fan as we were visiting during the fall and the changing aspen groves are stunning as they transform into their beautiful colours of gold.
Best places for photos:
The new 56-foot bridge that crosses the river is a great place to capture the essence of the river and its surroundings.
At the base of the waterfall.
On the trails through the aspen trees.
Responsible Traveler Reminder: Please be sure to embrace the Care for Colorado principles and execute ethical tourism while visiting this precious location.
Hike – Gem Lake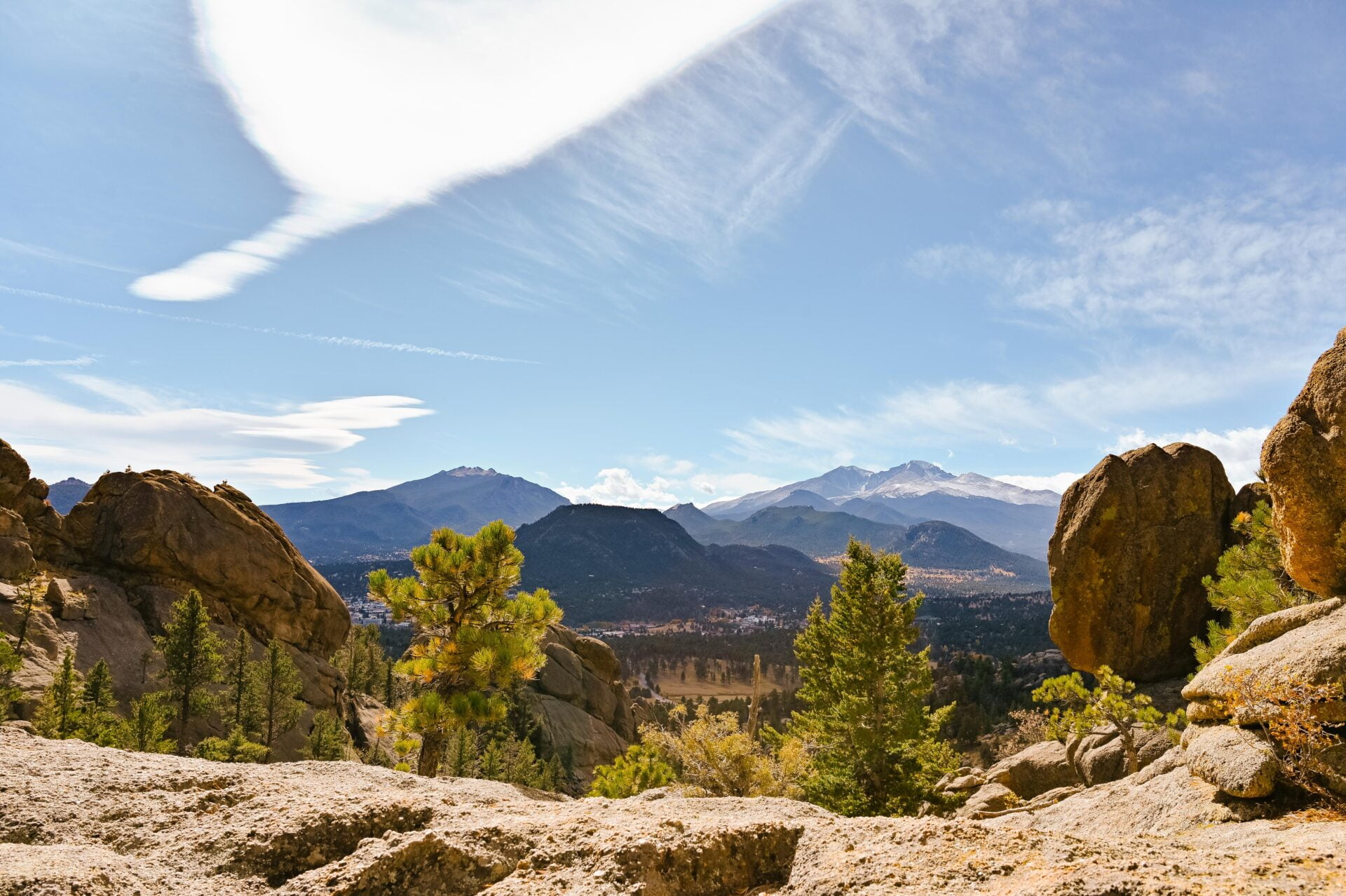 After our visit to Alluvial Fan, we decided to take on a more challenging and scenic trail that was recommended to us by the park rangers, which was Gem Lake. She thought it would be a good fit for us as it offered beautiful fall foliage and stunning views both heading up as well as ascending down the trail.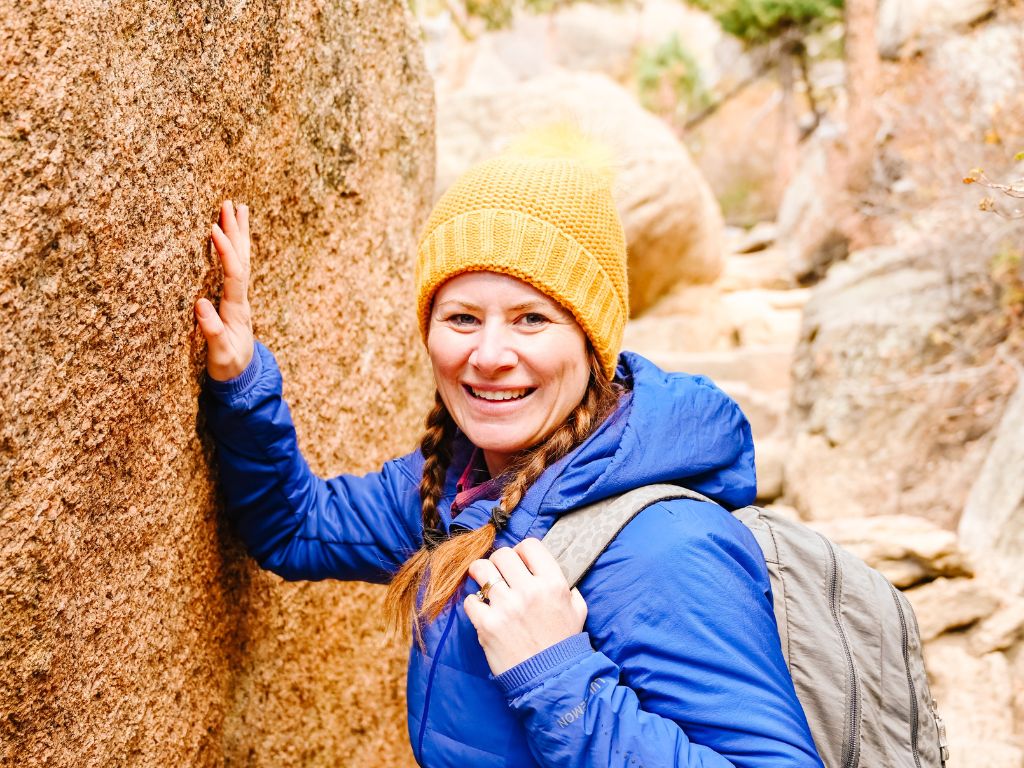 This traditional out-and-back trail exceeded our expectations as we trekked through large lumpy rocks and peeked out at various scenic points along the way. The trail was 5.1km with 301 feet of elevation gain, and in the hot fall sun and elevation, we found ourselves at a few spots stopping for shade and a quick break.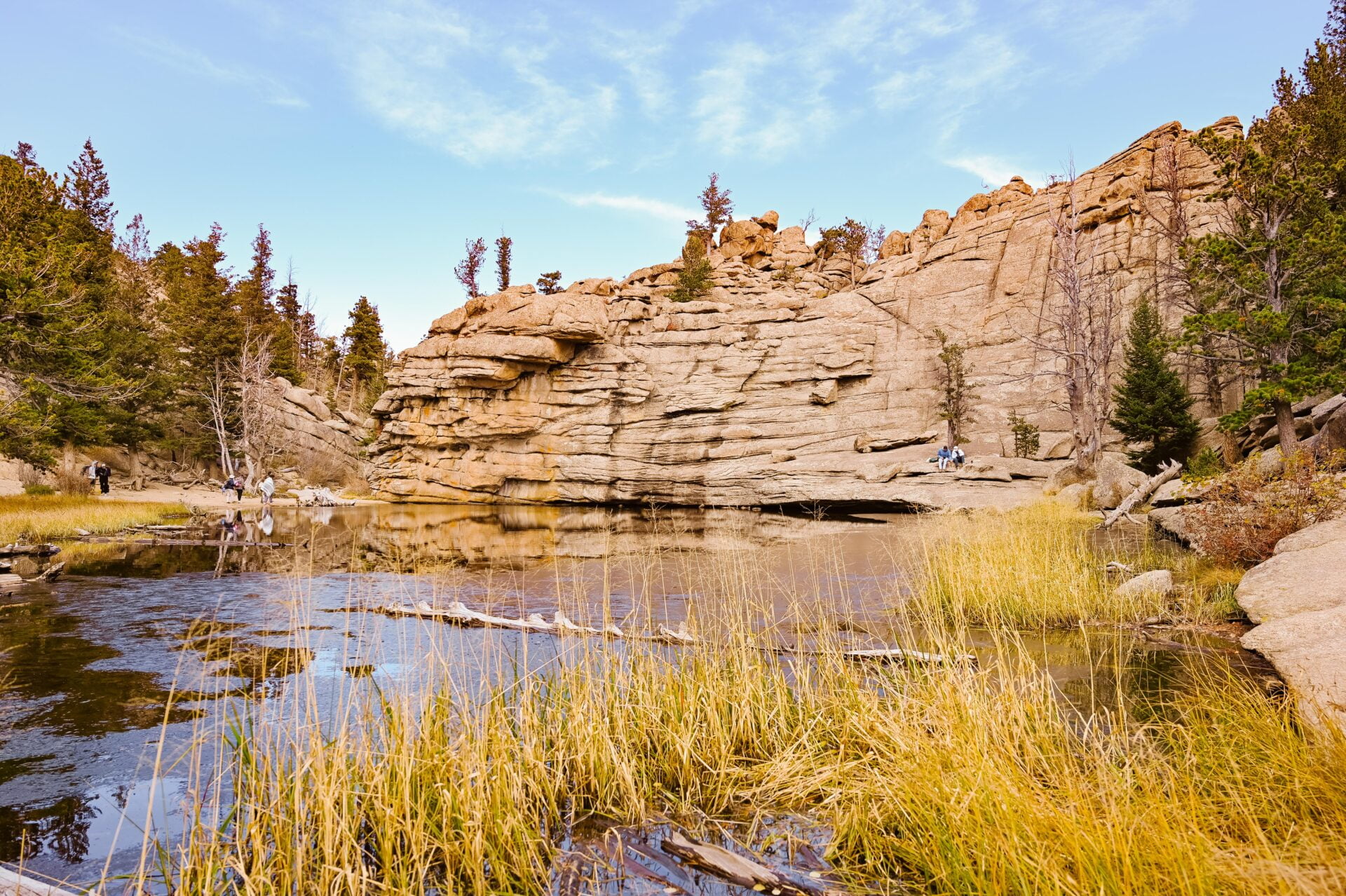 As a Canadian, the "lake" at the top was more of a pond, but it had a cool landscape setting that still was a rewarding place to sit and soak in the view after the last stretch of up that led us to the Gem.
Here are just a few of our favourite photos from our hike to Gem Lake, Rocky Mountain National Park, while on our Northern Colorado road trip.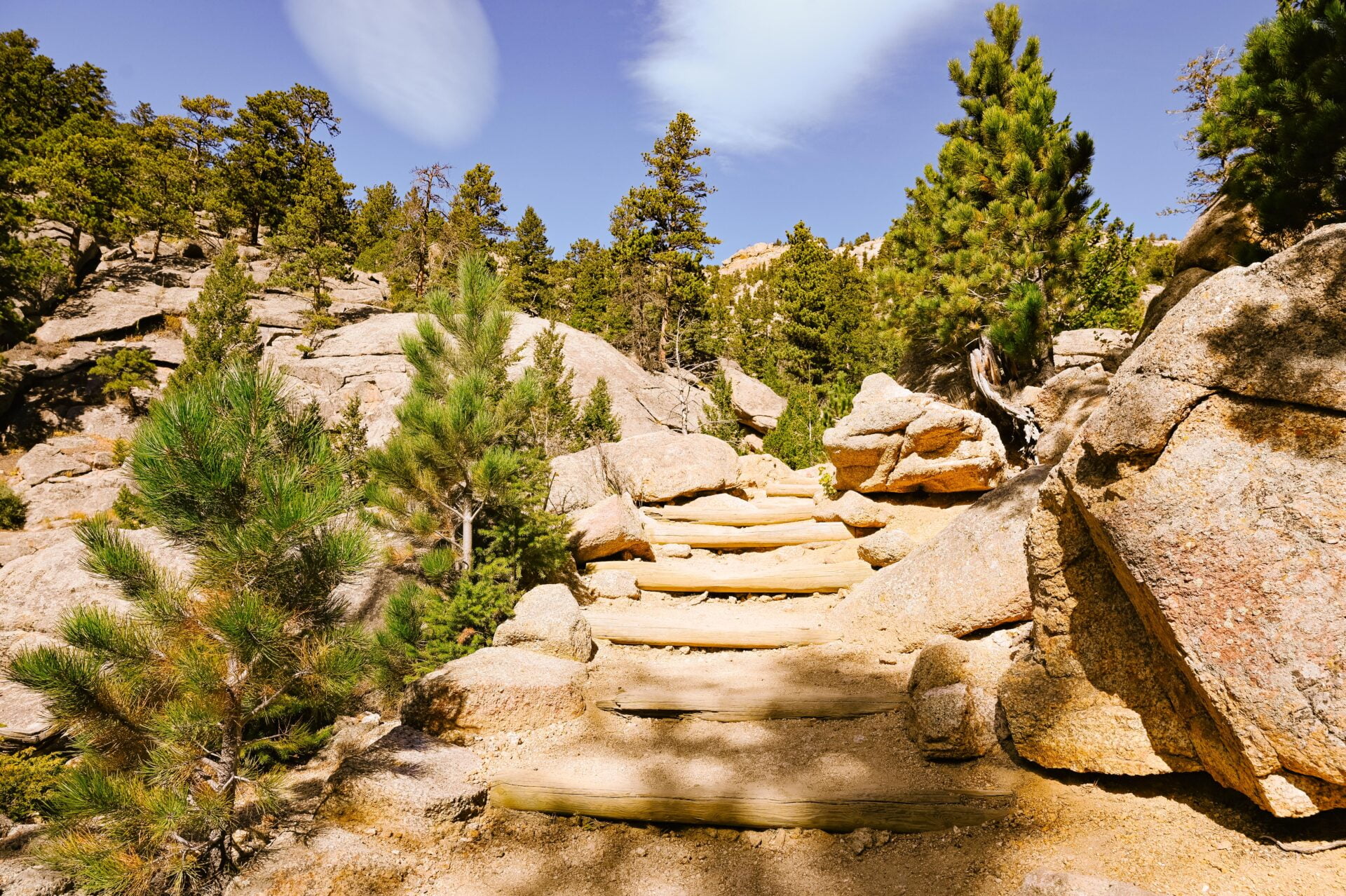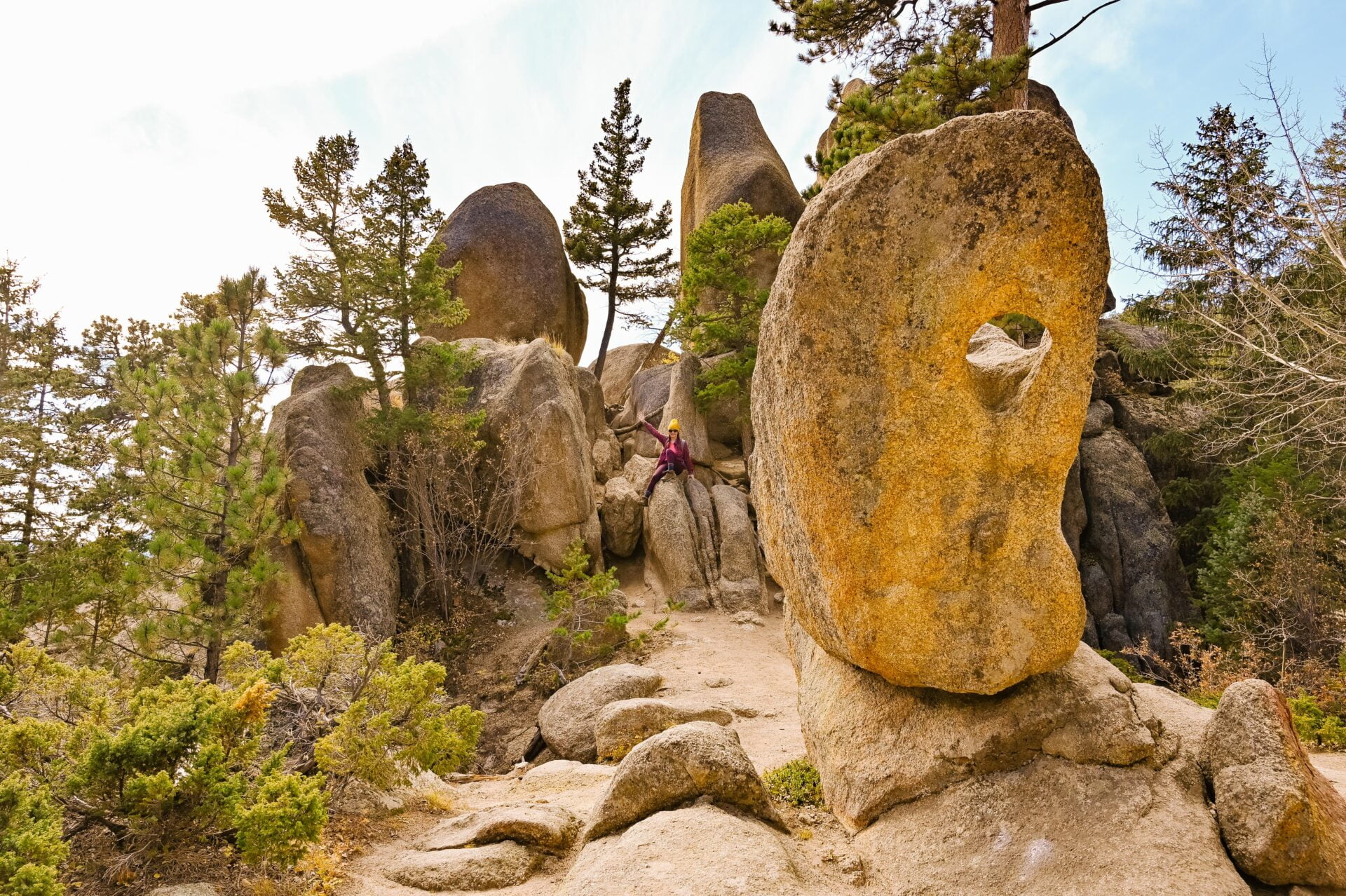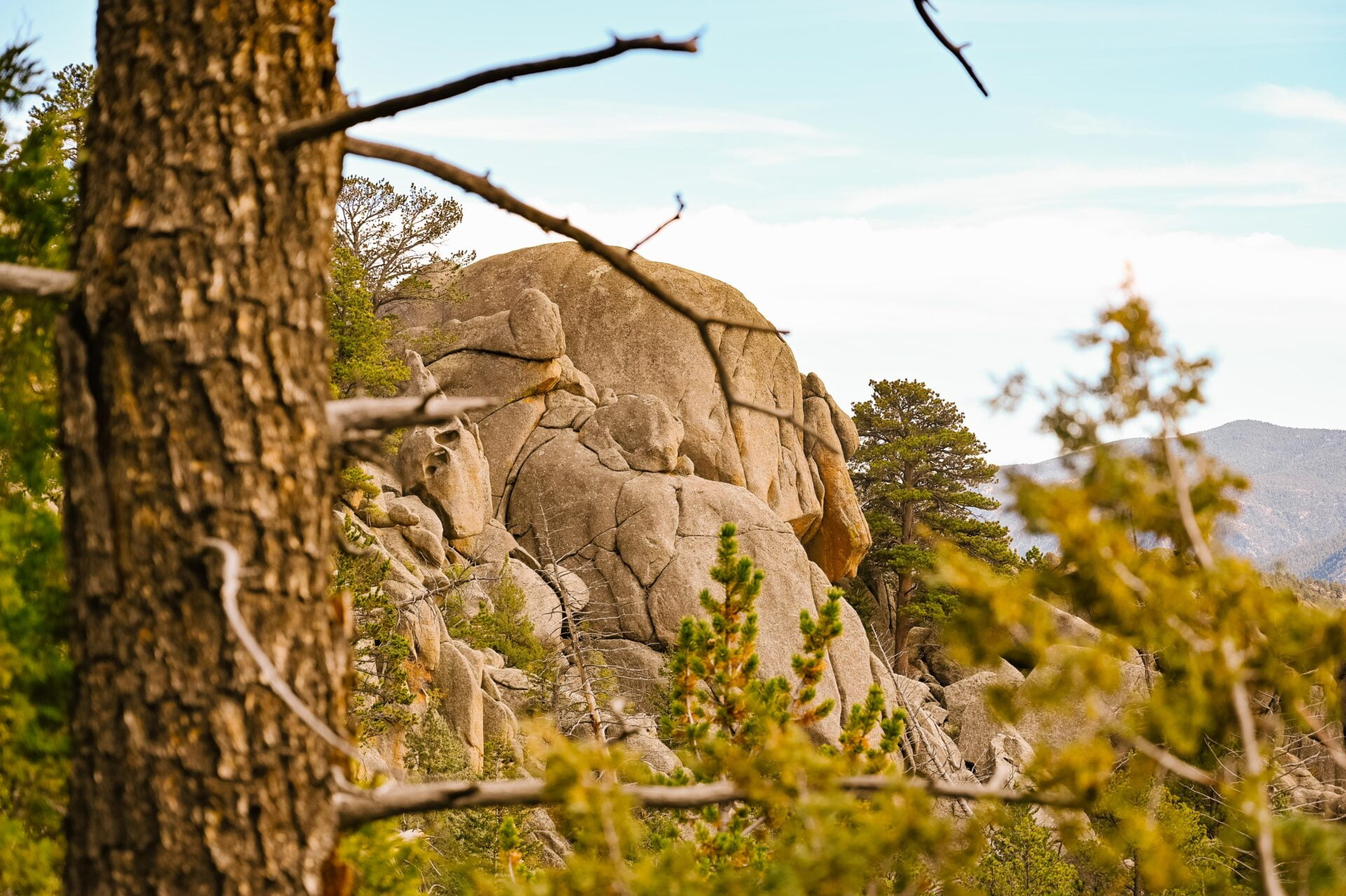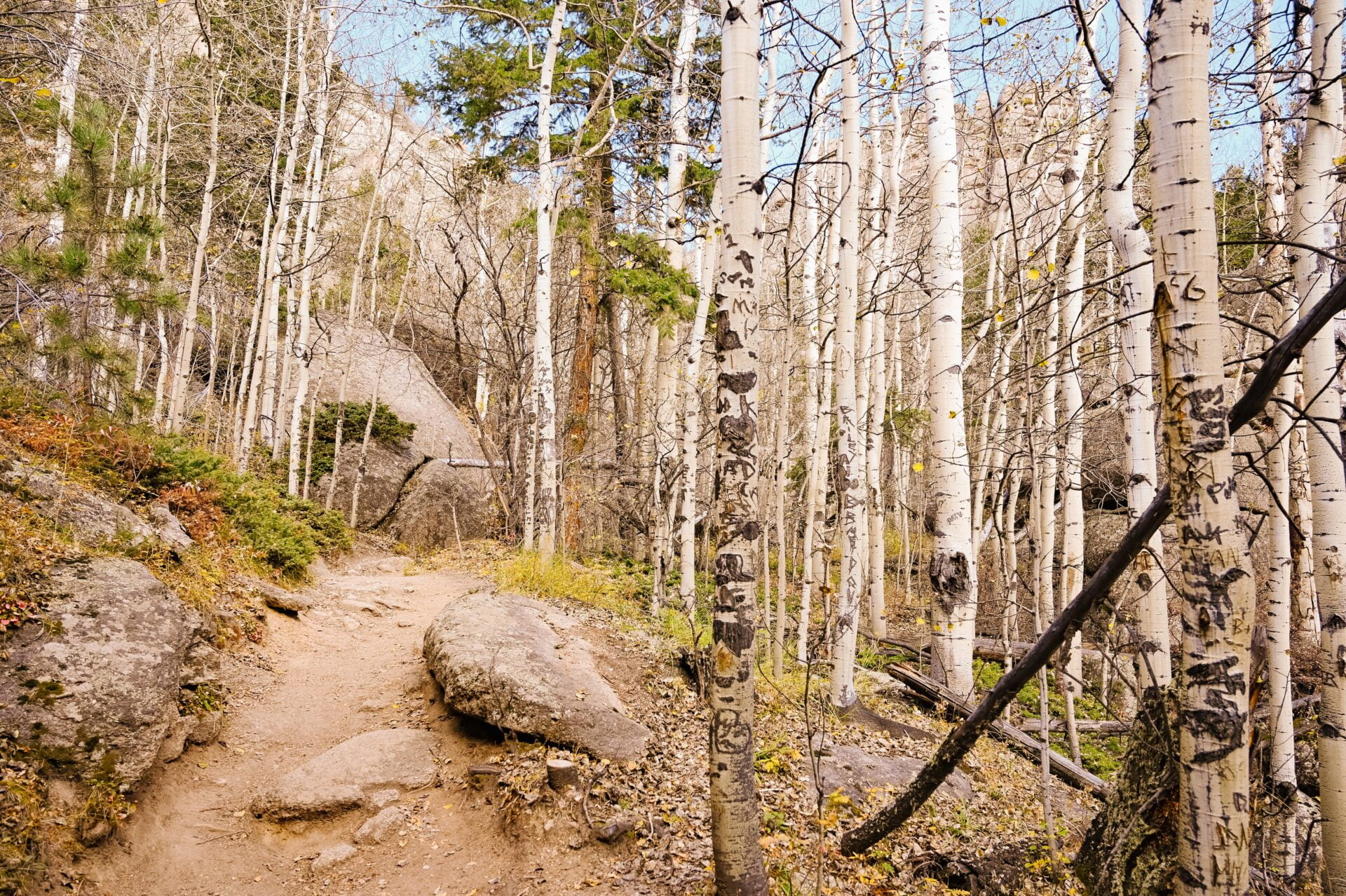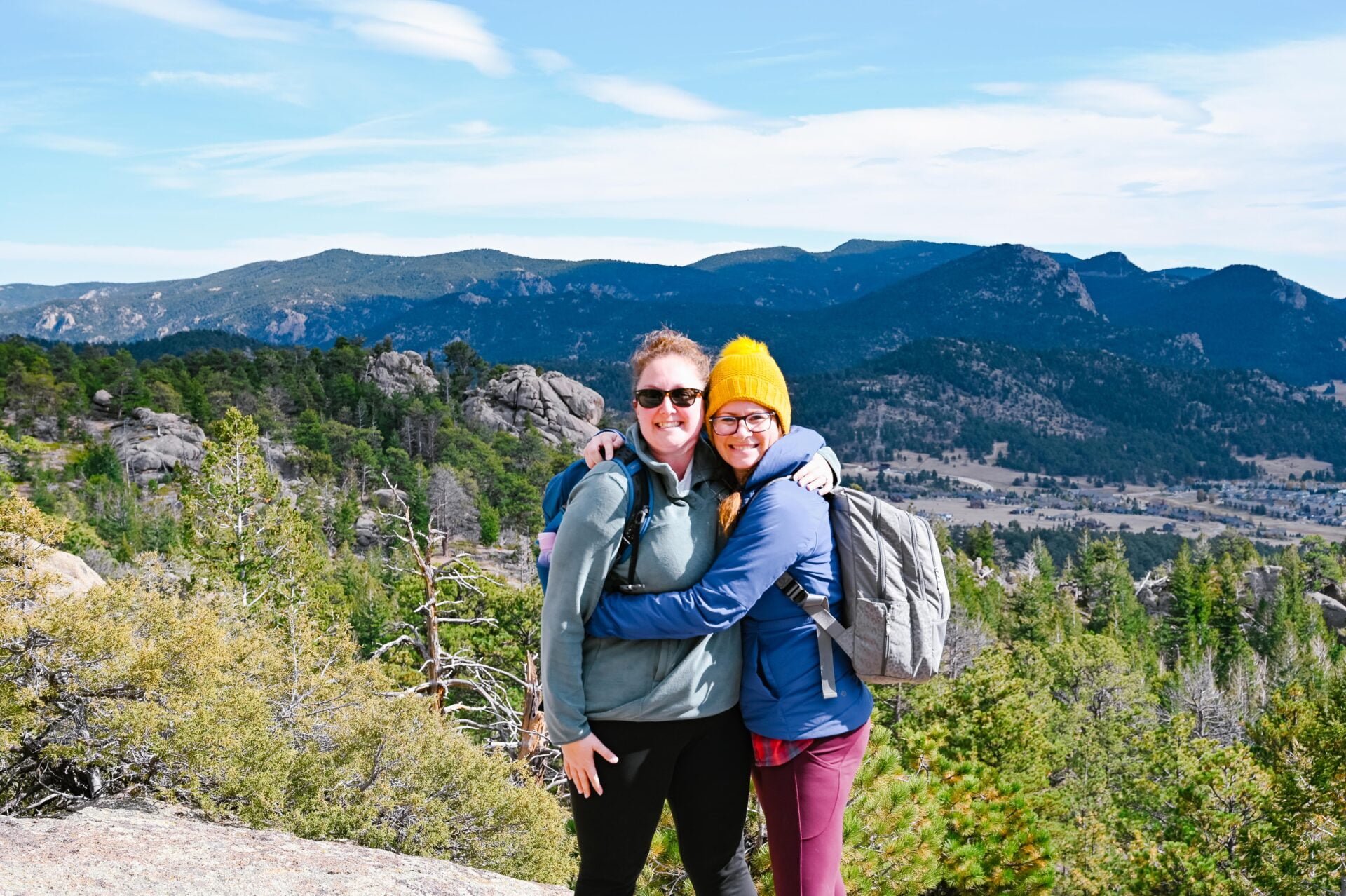 Responsible Guest Reminder: You'll note that there are lots of chipmunks in the area who have been fed by previous hikers and are not shy to approach you for eats. Don't feed them, it's not good for them! If you want to take anything, capture a photo but leave the wild animals, wild!
What type of wildlife you may see in Rocky Mountain National Park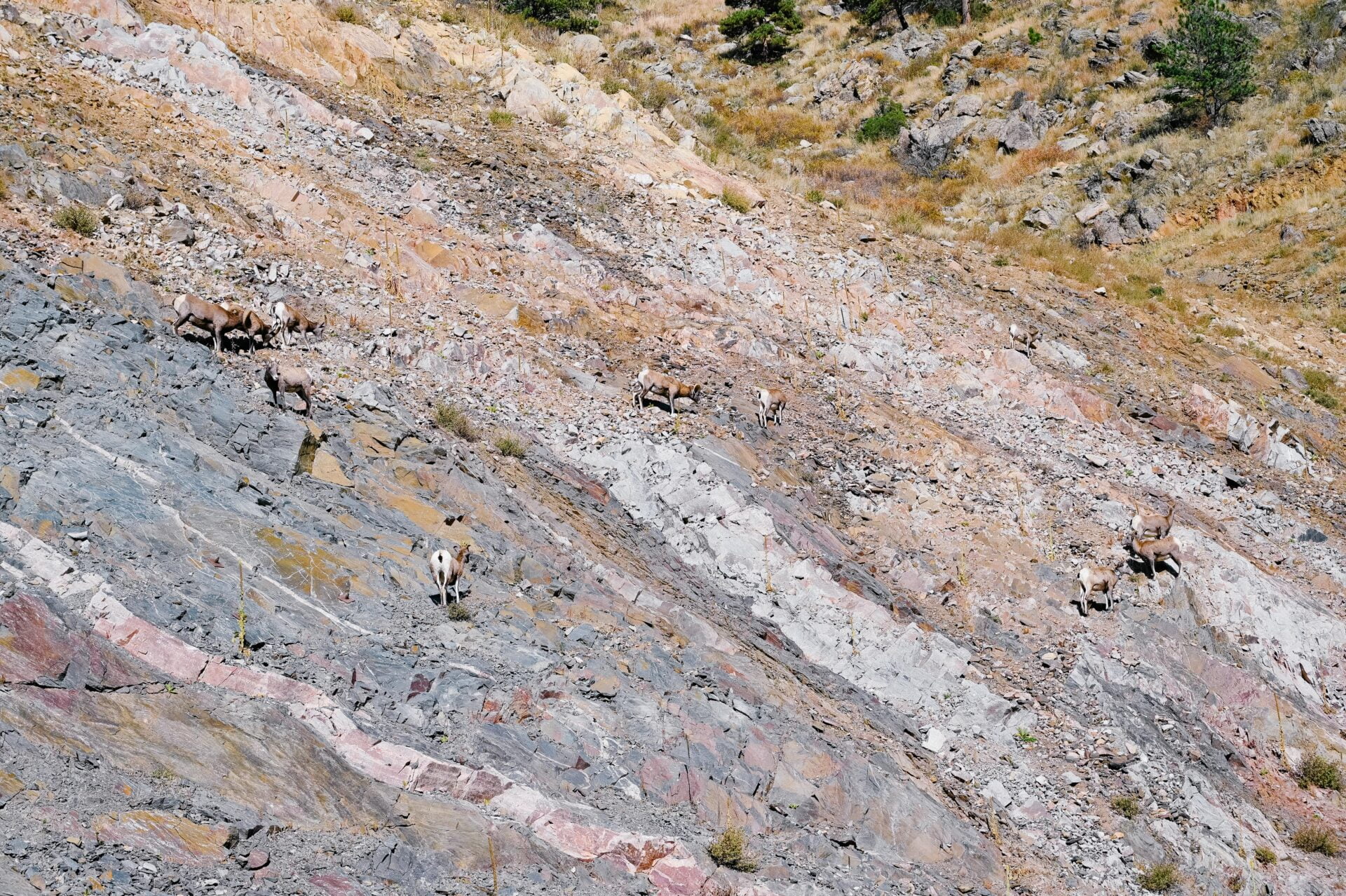 While you are visiting be sure to keep an eye out for some of the local residents of Rocky Mountain National Park. Keep your distance, respect their space, and do not engage with them (like feed them).
Elk
Elk call Rocky Mountain National Park home year-round, and you're most likely to see them in the meadows where the meadows and the forest meet. In the Fall mating season, you'll find them at lower elevations.
Mule Deer
These are regularly spotted in the park and can be seen in lower elevations and open areas of the park.
Moose
If you're looking to see moose, check out the area around the Colorado River in the Kawuneeche Valley, on the west side of the park.
Bighorn Sheep
Between May to August, you're most likely to spot sheep along the U.S. Highway 34/Fall River corridor on the East side. They also are often spotted on the Trail Ridge Road and rocky alpine on the West side of the park.
Pika and Marmots
These are tricky to spot but fun when you do! Keep an eye on the rocky areas where they can sometimes be seen darting in and out of the rocks.
Birds
There are a lot of different birds that you can see in Rocky Mountain National Park including Clark's Nutcrackers, Steller's Jays, Golden Eagles, Prairie Falcons, White-tailed Ptarmigan, and American Dippers. So if birds are of interest to you, be sure to pack your binoculars!
Where to stay by Rocky Mountain National Park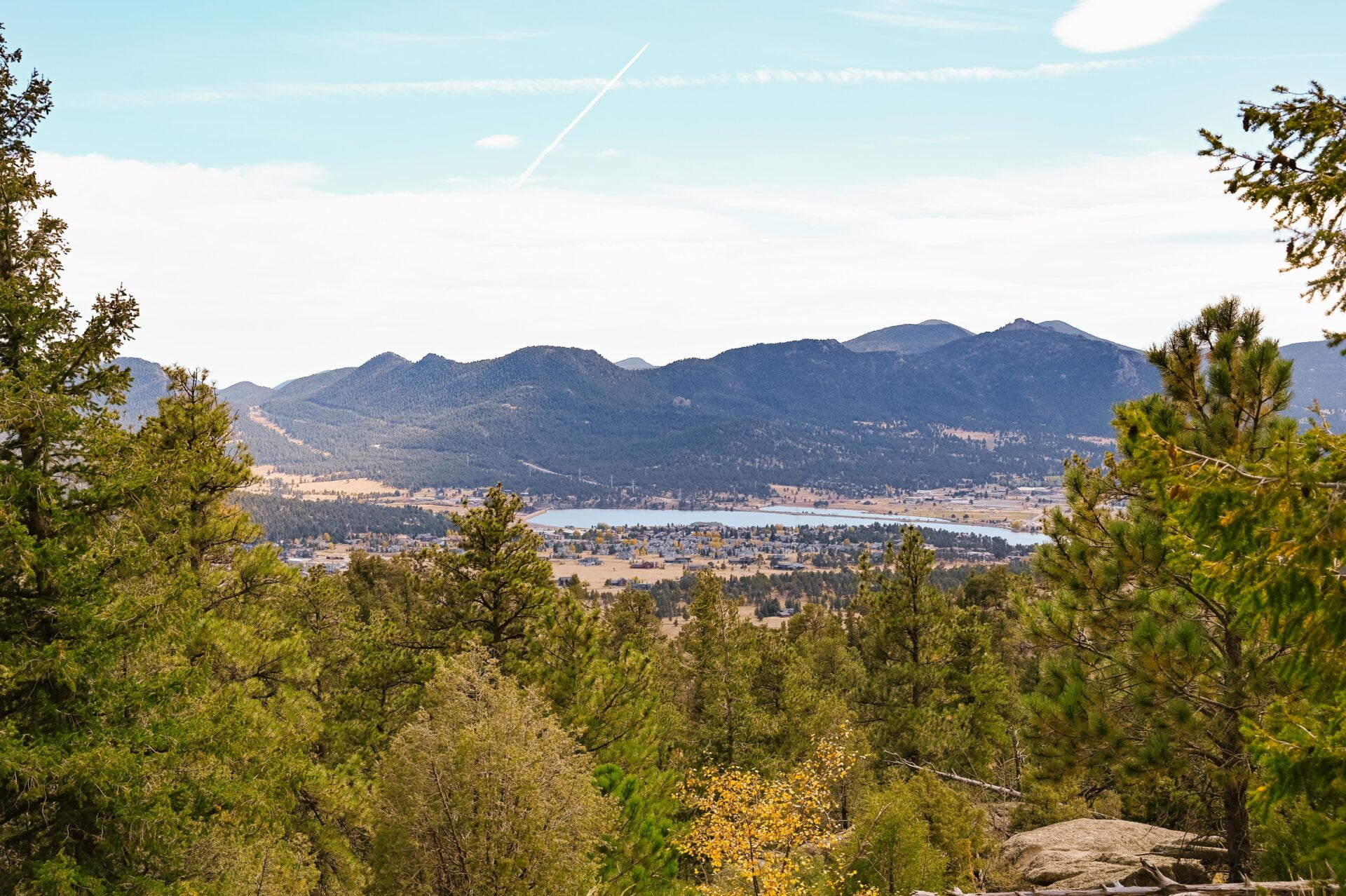 There are a variety of accommodations close to Rocky Mountain National Park in the nearby communities of Estes Park and Grand Lake, but there are no accommodations in the National Park. Here are some places we recommend:
Standard Hotel – Best Western Plus Silver Saddle Inn
If you are looking for a standard hotel with great amenities, then the Best Western Plus Silver Saddle In in Estes Park is for you. This hotel is a 6 minute drive from Rocky Mountain National Park, includes a buffet breakfast each morning, an indoor pool and hot tub and a variety of room options to suit everyone.
Book your stay at the Best Western Plus Silver Saddle Inn here!
Mountain Resort – The Estes Park Resort
If a lake front mountain resort with an onsite spa, fine dining restaurant and access to canoeing/kayaking, fishing, motor boating (marina), wildlife viewing and is a 7 minute drive from Rocky Mountain National Park, then book yourself a stay at The Estes Park Resort. With both hotel rooms & suites (the jacuzzi king suite is calling to me!) as well as mountain cabins (some with private hot tubs!) to choose from, The Estes Park Resort is a great basecamp for mountain adventures.
Book your stay at The Estes Park Resort here!
River Front Condos – River Stone Resorts and Bear Paw Suites
Featuring 1, 2 and 3 bedroom condo suites, each with a fully furnished kitchen, gas fireplace, master bedroom with a king bed, in unit washer and dryer, and a private deck/patio complete with a gas grill, these condos are perfect for families to stretch out with all the comforts of home. Just a 3 minute drive from Rocky Mountain National Park, these condos invite you to relax to the sounds of the Fall River, enjoy the towering pines and view the multitude of wildlife at your home away from home.
Book your stay at River Stone Resorts and Bear Paw Suites here!
Day 5 – Loveland and Sylvan Dale Guest Ranch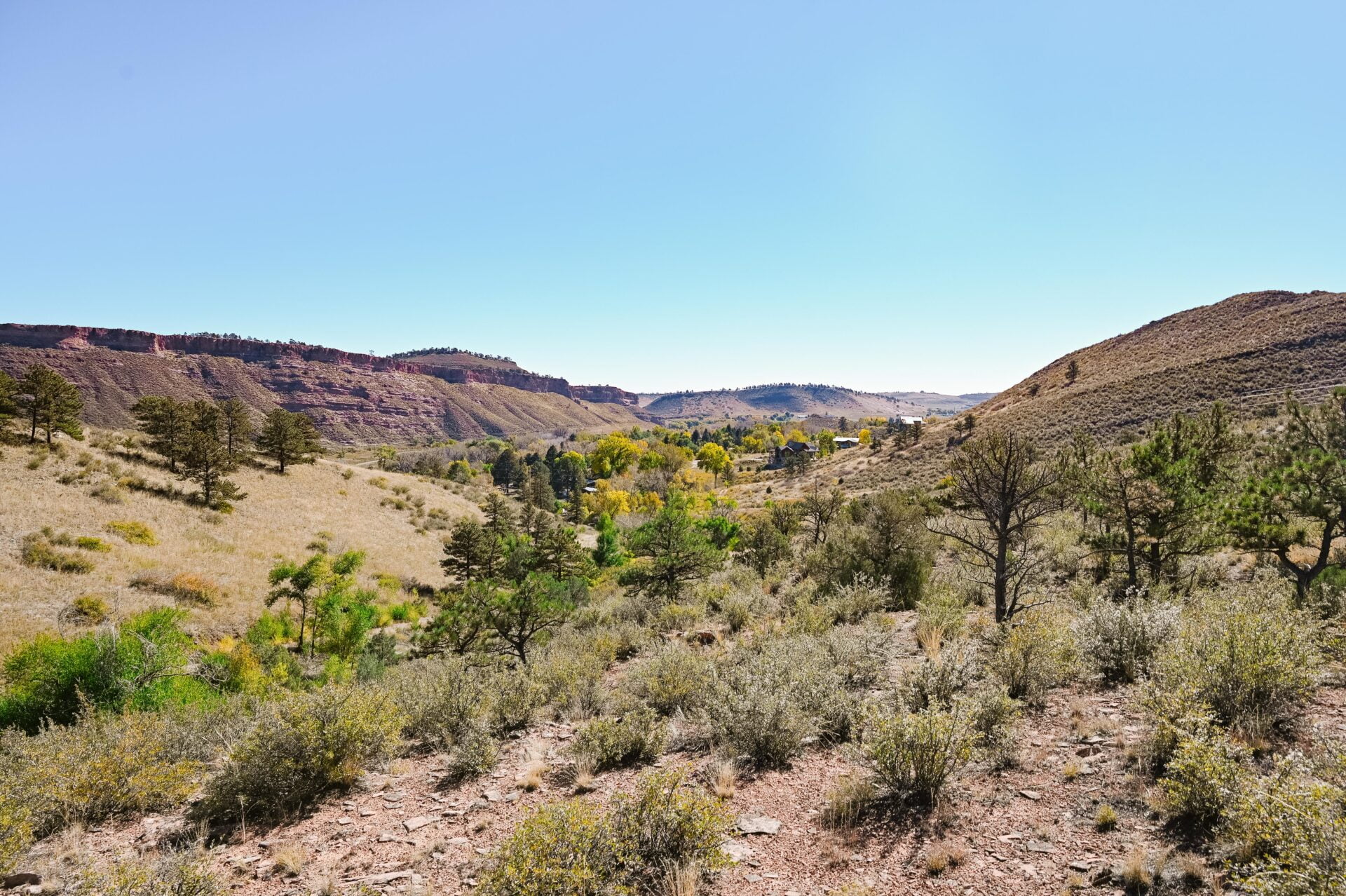 Day 5 brings you to the foothills of Colorado in beautiful Loveland. A city that has a thriving arts and culture scene interwoven with a passion for the outdoors, Loveland's motto fits so well with its culture, "Here we are free to roam and born to create."
What To Do In Loveland
My recommendation would be to start off in the town of Loveland and explore some of the attractions that make it a truly unique town to visit.
Loveland Visitor Centre
The first stop has to be the Loveland Visitor Centre where you'll be greeted by a large and appropriately oversized LOVE sign. Inside the visitor centre, you can buy a lock, engrave it and "lock your love" into a giant piece of art.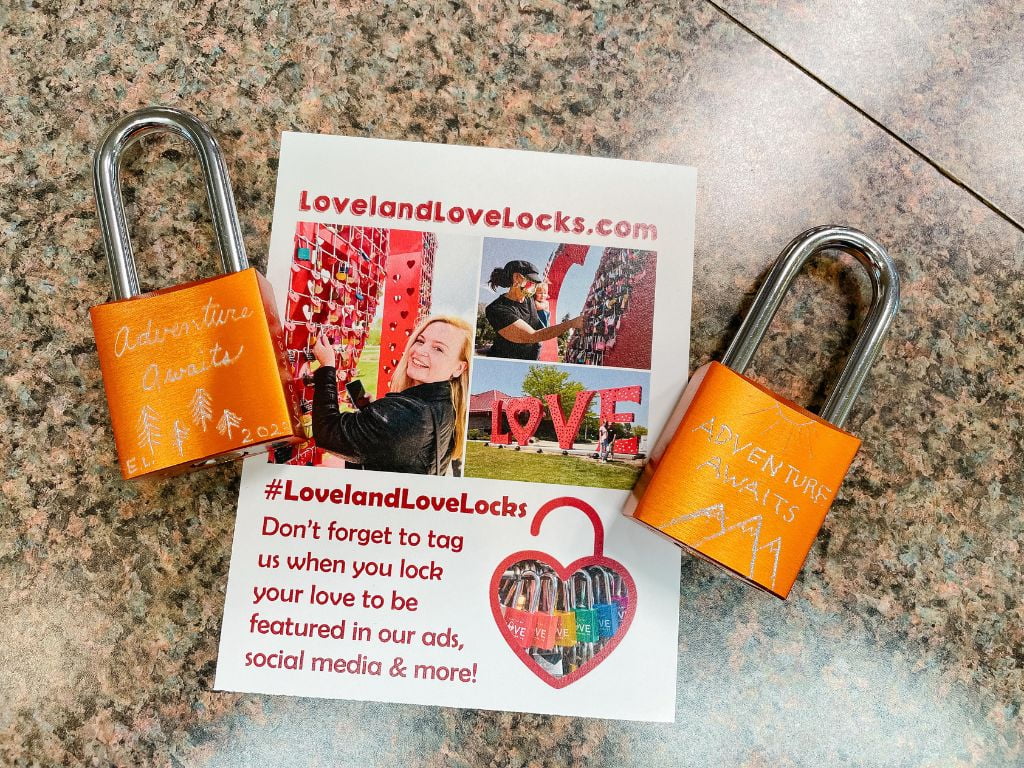 It was especially fun to craft our own designs and attach them to the frame! If you visit as a result of this article see if you can find our Adventure Awaits lock! (We're on the back of the L, on the far right-hand side, about 5 feet up from the ground!).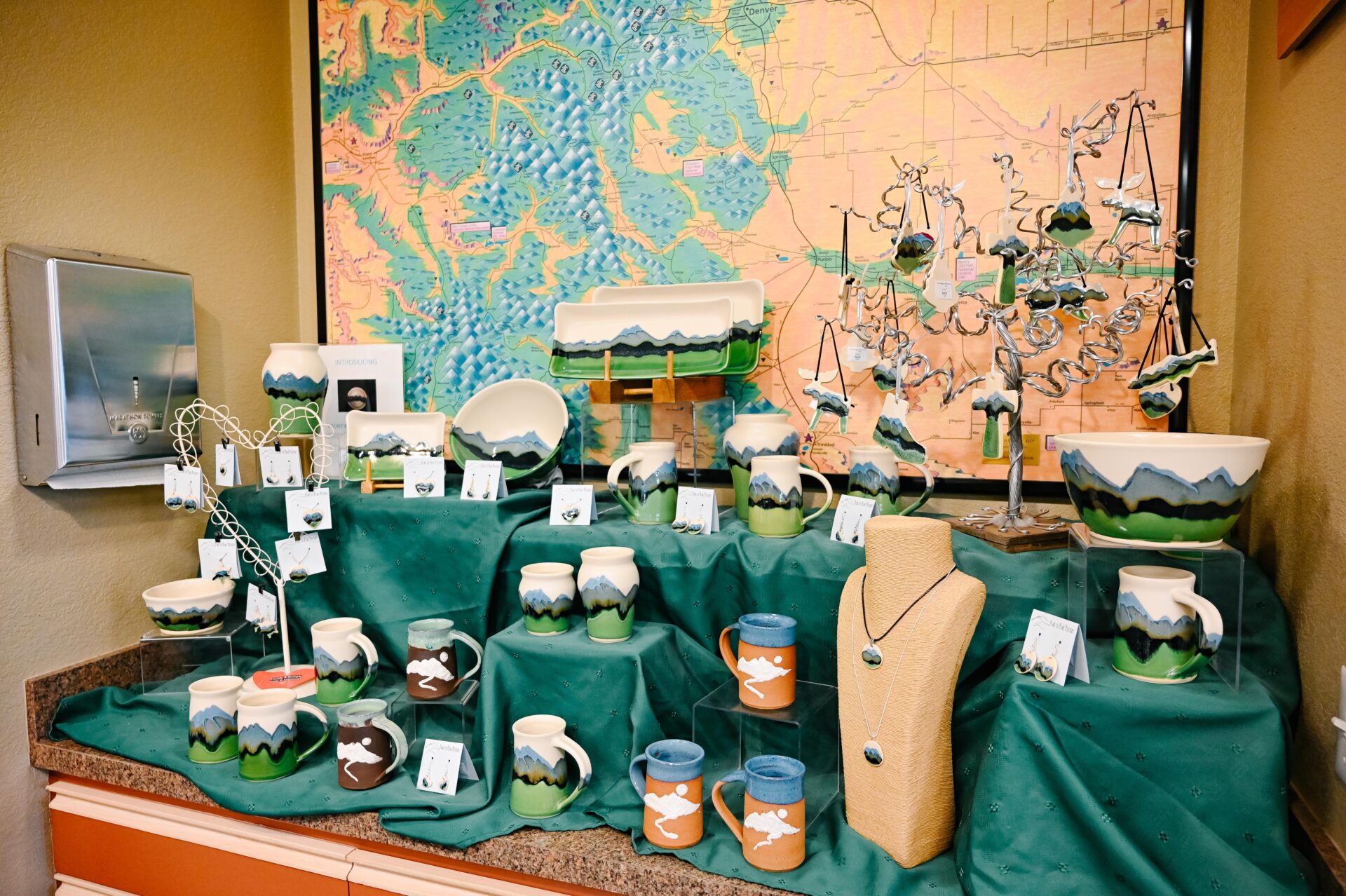 Inside be sure to pin your home location on the map (we were the first from Vancouver!) and then you can stroll around and do some shopping from more than 25 local artists. I LOVE that they have stocked their visitor centre with locally made items and I dream of a day when ALL visitor centers only have locally sourced souvenirs. Also, be sure to chat with one of the friendly visitor centre staff members who can share insights on what's happening in town during your visit and help you find adventures that will suit your own interests.
Visit A Sculpture Garden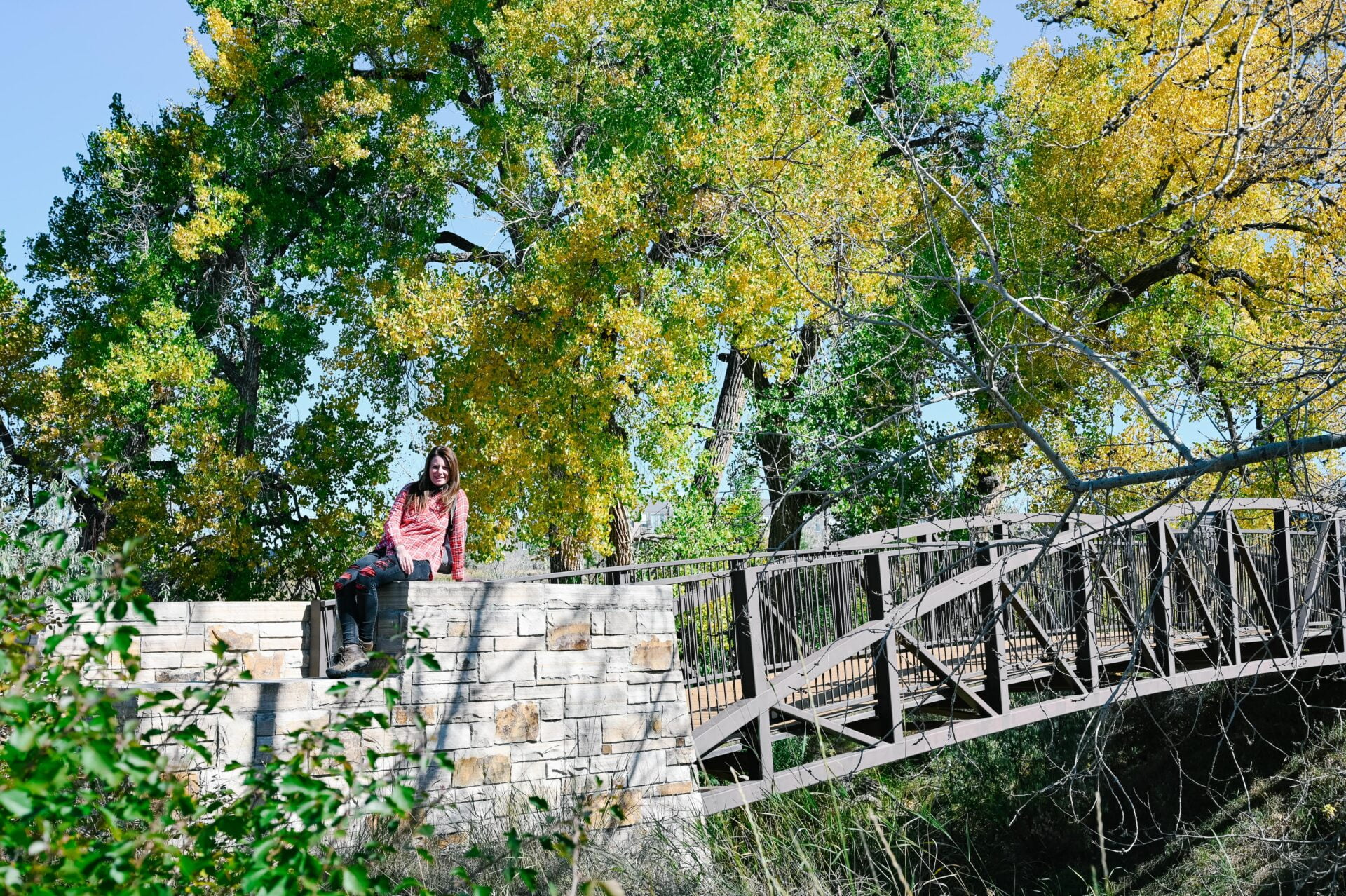 Loveland has four free sculpture gardens and they range from entertaining and engaging ones at the Benson Sculpture Park to thought-provoking masterpieces at Chapunga Sculpture Park.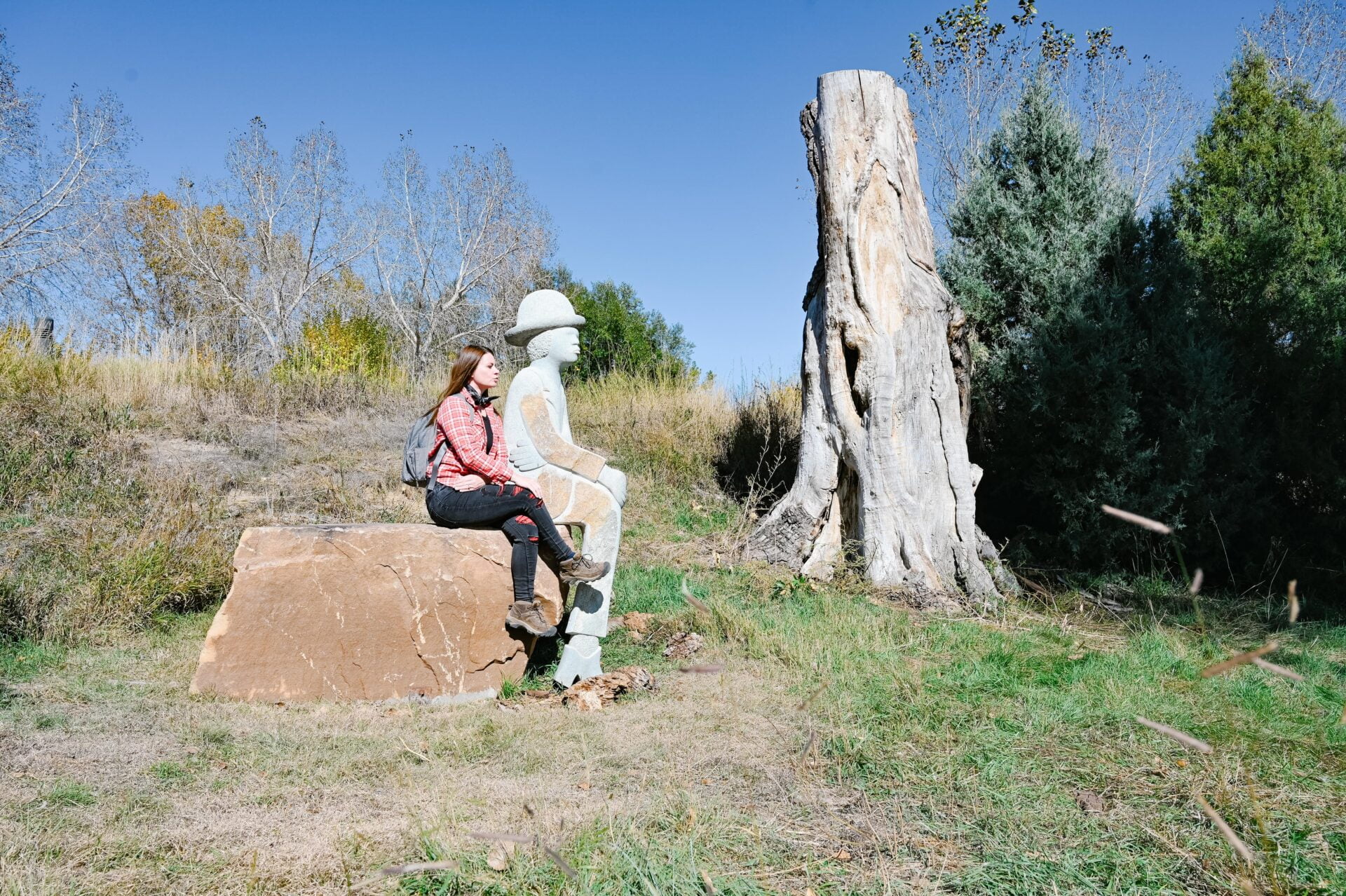 We visited both and the Chapunga Sculpture Park was beautiful in the fall with the changing leaves and the beautiful bridges. Benson Sculpture Garden was more playful, located next to the lake as well as next to a high school there were a lot of fun, animated, and even silly sculptures that would keep the whole family engaged on a tour around the park.
Traveler Tip: Chapunga Sculpture Park is located right next to a shopping centre so if you need any items this would be a good place to stock up.
Head To The Lake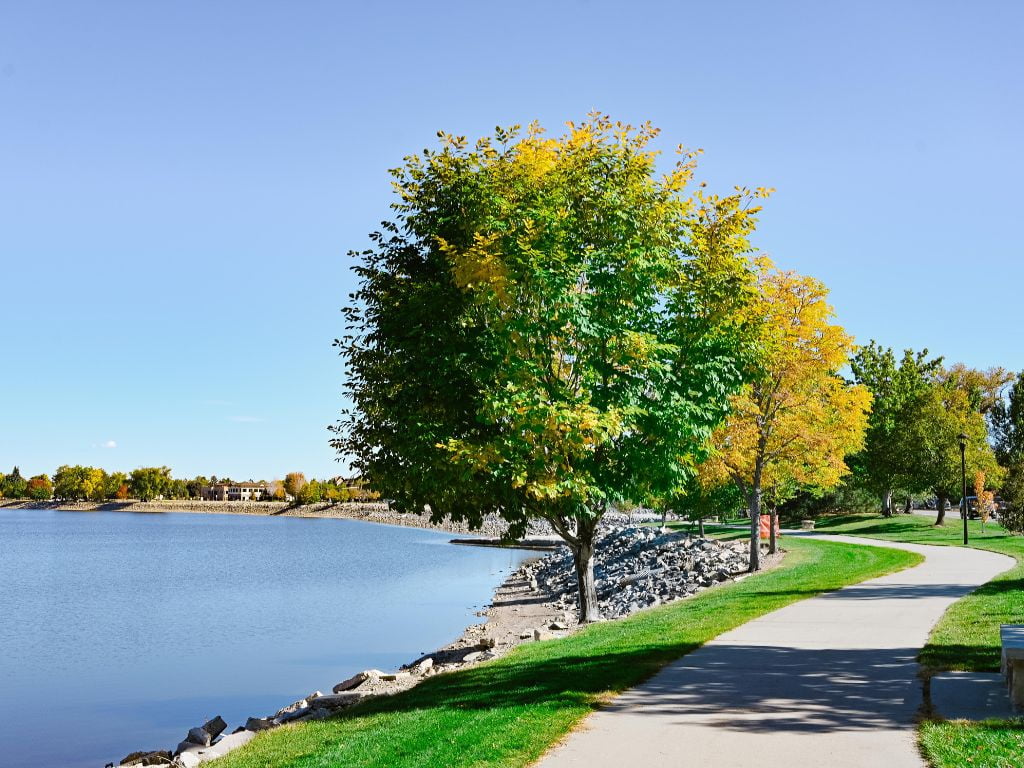 Loveland is filled with lakes including Boyd Lake, Carter Lake, and our favourite, Lake Loveland. (It was our favourite as it was so picturesque under the Fall foliage, and there wasn't anyone out on the lake so the reflections were incredible.)
If you're going during warmer months, the lakes will be filled with people swimming, building sand castles, paddleboarding, as well as jet skiing, boating, and fishing.
Find the Keyhole
If there's one adventure that got away, it was the hike up to find the famous keyhole in Loveland. Accessible by hiking, adventure seekers hike adjacent to the two-mile strip of the Dakota sandstone which is known as the Devil's Backbone. Through the keyhole, you can scope out amazing views that look out over the Rocky Mountains. My recommendation would be to go closer to sunrise or sunset, when it's not too hot and you can take in those stunning views. This is one adventure I look forward to doing on our next trip back to Loveland.
After spending the first half of your day exploring Loveland it's time to head over to the Sylvan Dale Guest Ranch for an adventure and an overnight stay!
Giddy Up At Sylvan Dale Guest Ranch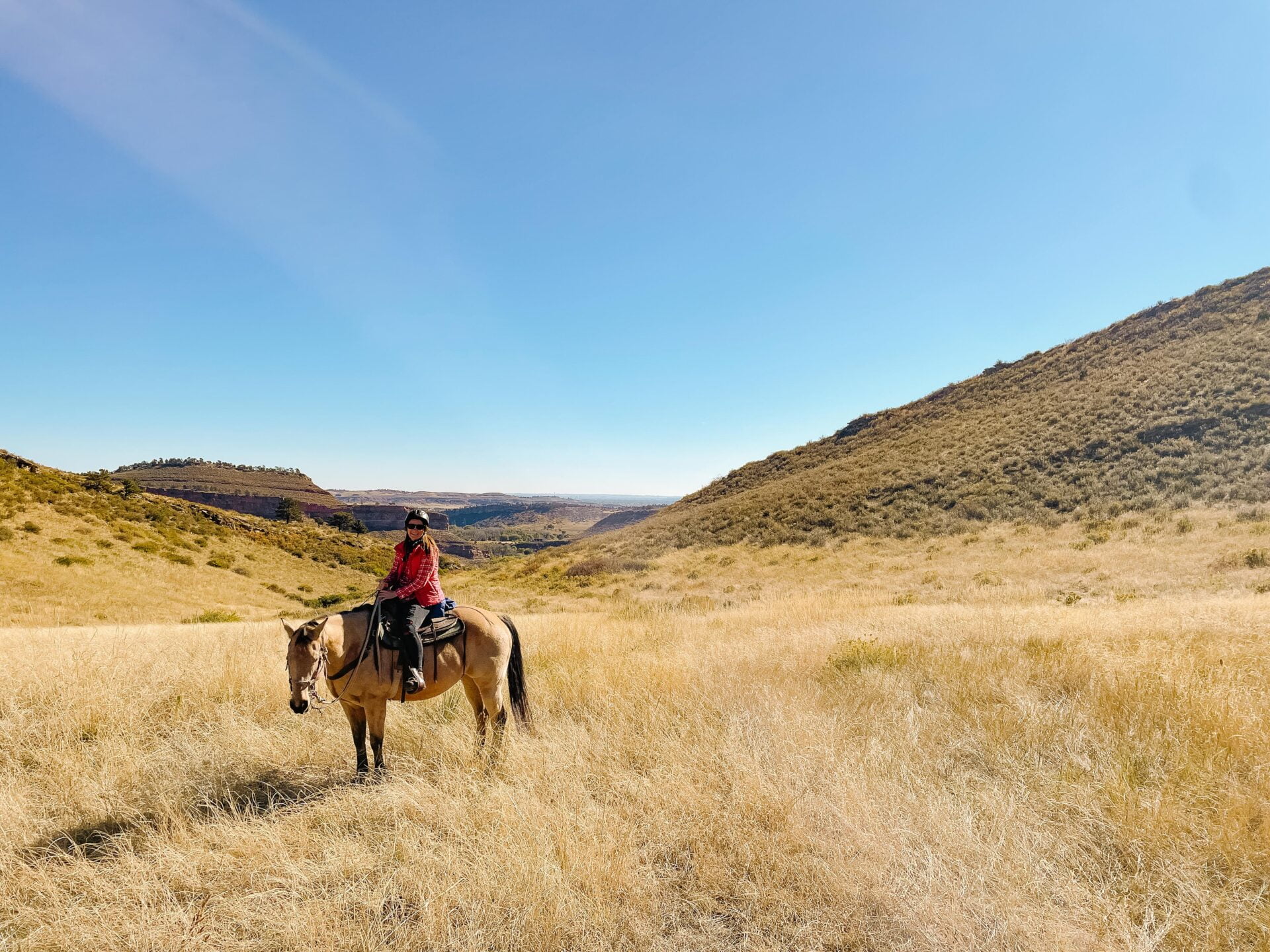 One of the highlights of our whole Northern Colorado Road Trip was hopping up onto the saddle at Sylvan Dale Guest Ranch and getting to be cowgirls for the day. Ben and Rawhide were our sturdy steeds who took us on a two-hour tour up through the mountains unveiling incredible views of the sandstone rocks and out over into the valley. With so many wonderful highlights and photos from this experience, we've put together a whole feature blog on it, check it out here!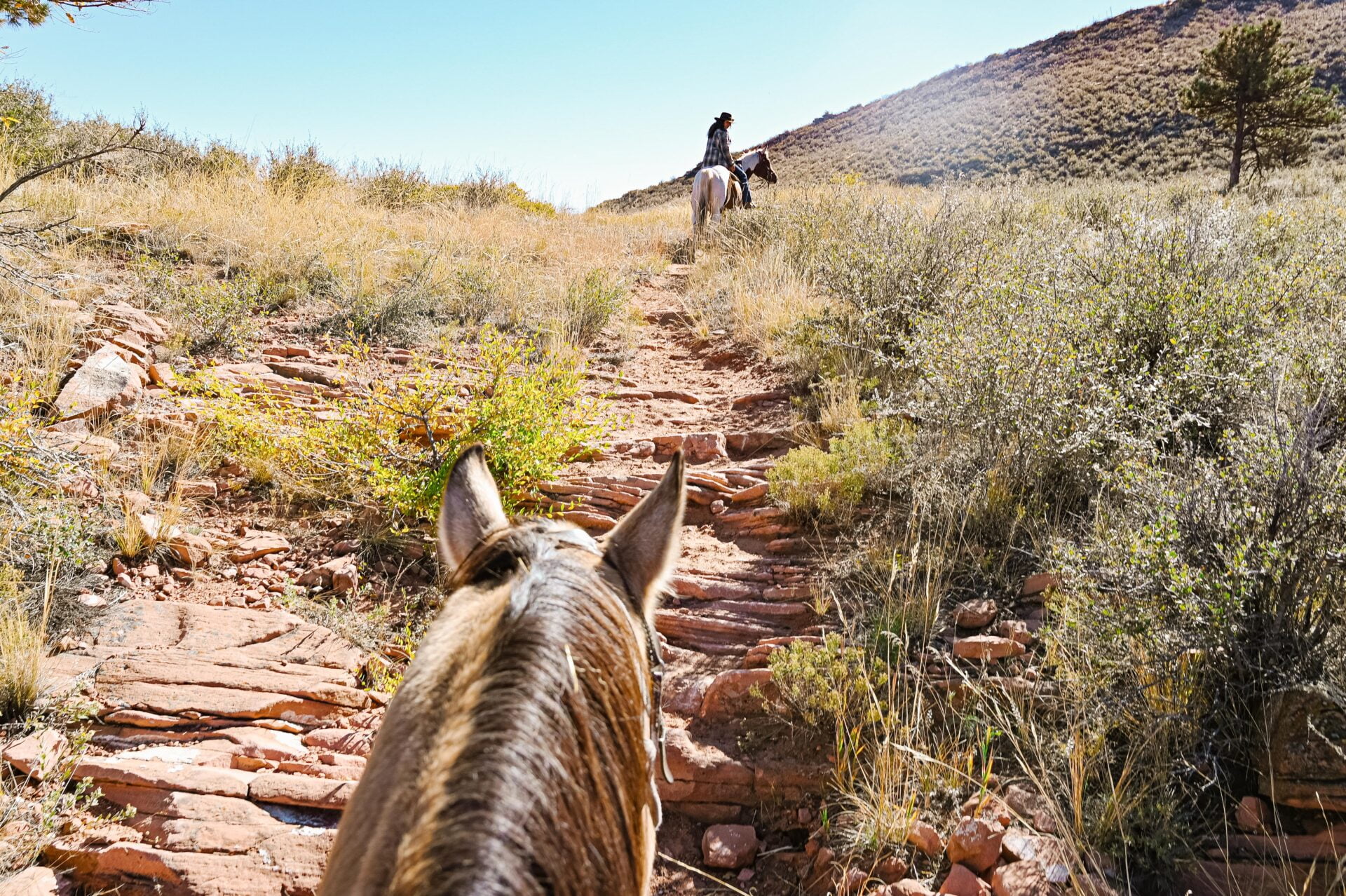 After your tour check into one of their cabins for a bed and breakfast experience and really soak in the chance to live the cowboy lifestyle in Loveland. The cozy cabins are nestled into the scenic valley where you can enjoy your evening out on the porch soaking in the view over the ranch's 3200 acres. The next morning you'll wake up for a hearty western-style breakfast which will fuel you right up for your day of adventure-seeking as you transition to Fort Collins!
Day 6 & 7 – Fort Collins, Colorado
Before this trip, I had never heard of Fort Collins and now I tell everyone that it's a MUST SEE, not only for your Northern Colorado Road Trip, but in general as it is a swoon-worthy destination. With bragging rights of being the actual town that Disneyland's Mainstreet USA was modeled after, Fort Collins is charming and picturesque but is also abundantly forward-thinking and modern with local shops showcasing inclusive and locally sourced art and goods.
Walking down the street in Fort Collins, you're surrounded by Victorian-style architecture that dates back to the region over a hundred years. The culture of the town is a mix of vintage classics with modern twists on everything from food to music, to art and culture. I had planned to spend just an afternoon in downtown Fort Collins but easily spent two days walking the streets and exploring the shops.
We had so much fun exploring Fort Collins that we came back and wrote an article showcasing 46 things to do in Fort Collins, so if you are anything like me you'll have a hard time checking them all off on your upcoming trip! But here are the essentials that can not be missed:
Walk The Streets That Inspired Disney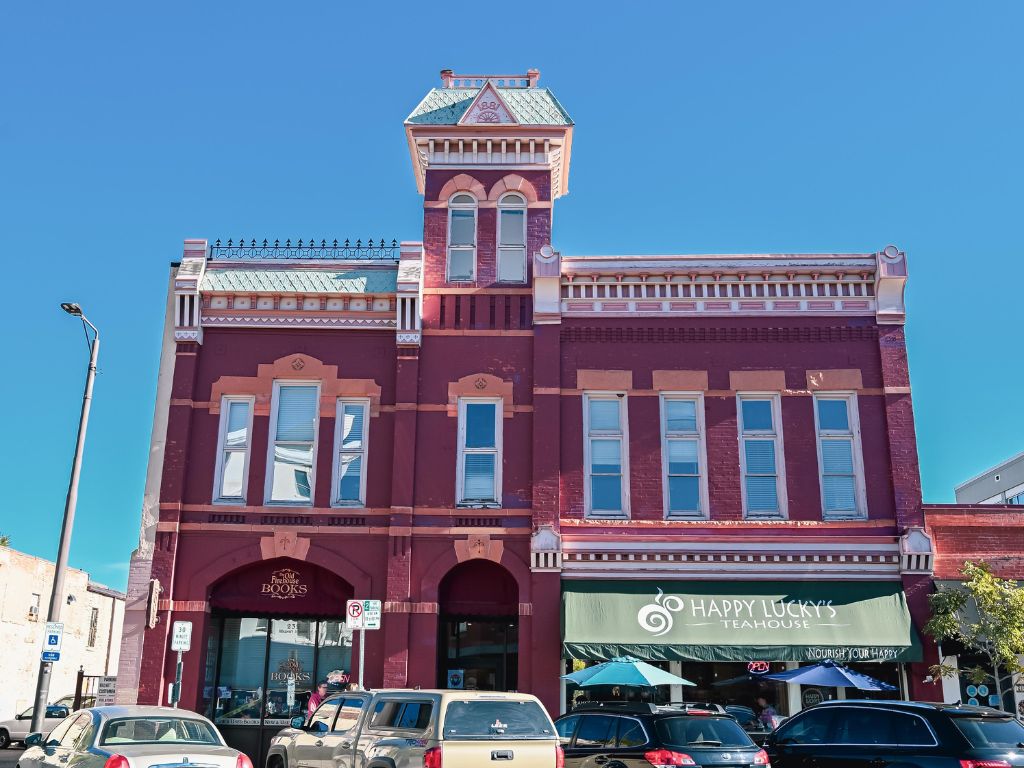 In the 1950s, Walt Disney walked the streets of Fort Collins and was so inspired that he wanted to model Main Street USA in Disneyland after it. He liked the Victorian architecture, red brick buildings, storefronts, and the small-town feel of the city. He specifically admired the Fort Collins Fire Station and the former Linden Hotel and asked Harper Goff, a Hollywood Set Designer who grew up in Fort Collins to recreate them in Disneyland. The Firehall in Disneyland and the Emporium Shop look almost identical to their inspirational twins here in Fort Collins. There's no doubt that you'll get the downtown Disney feel when you visit Fort Collins.
Bike, Walk, Run, Or Rollerblade Along The Poudre River Trail
Rent ebikes and explore the trails along the Poudre River Trail. With 21 miles (34 km) of well-maintained paved pathways to explore you can go walking, cycling, running, or rollerblading along the trail. I recommend biking if you are not in the area for a long time as it'll allow you to cover more distance and see more of the trail. Be sure to stop at the informational signs that share historical information and educational highlights about the area. Learn more and get your trail maps here.
Hike Horsetooth Mountain
The iconic Horsetooth sits like a beacon overlooking the town of Fort Collins so why not take some time and hit the trails and actually summit it (or do what we did and climb to the base to take in the scenic views!) If you use All Trails you can search the Horsetooth Falls and Horsetooth Mountain Summit and decide what portion of the trail you want to do depending on your physical fitness level, time you have, as well as interest. We opted to stay to the left and only hike out and back to the base of Horsetooth Mountain. If you do the full trail you'll be able to see Horestooth Rock, Walthan, Spring Creek, and Horsetooth Falls… but be warned the waterfalls are not worth chasing as they are really just springs with a little bit of dampness (so says a local!).
Be sure to wear sunscreen, plan to take a little more time due to the elevation, bring lots of water and snacks, sun protection, and proper footwear. The views at the top are worth hauling yourself up through the rocky trails!
Go Paddleboarding and Kayaking at Horsetooth Reservoir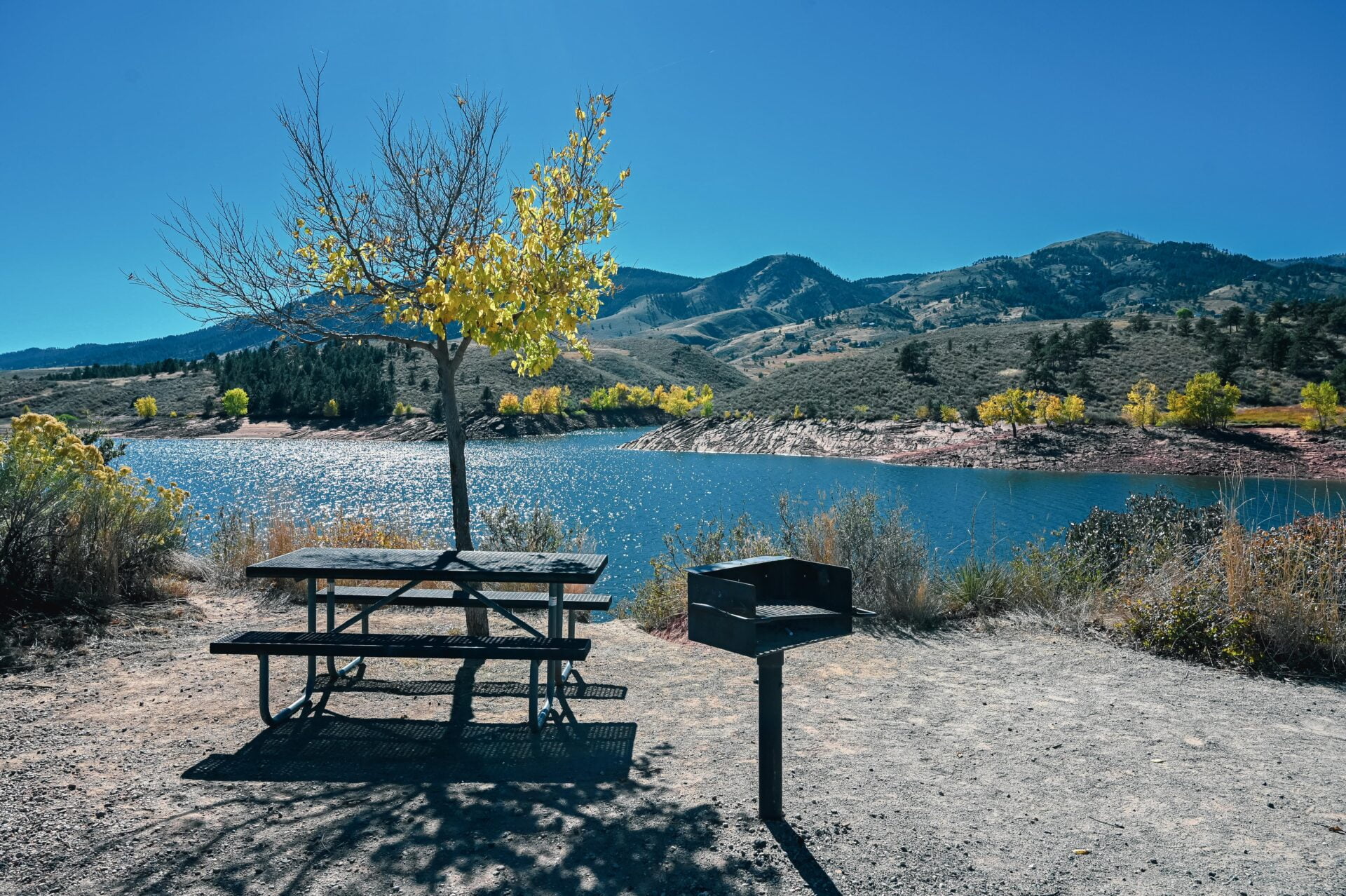 The Horsetooth Reservoir is another must-see while visiting Fort Collins. Built in 1949, Horsetooth Reservoir is 6.5 miles long and one-half of a mile wide. It is an idyllic place for recreation with many different parking lots and entrance areas for visitors to access the water. On our visit, we took the long way out to get to Horsetooth Reservoir, which led us along windy country roads and out over the top of the reservoir with 360-degree views over the water, city, and mountains.
On your drive, you can pick out the perfect place to park and launch your paddleboard or kayak. I recommend launching out of Satanka Bay. We had stopped there to take photos of the red sandy beaches and unique homo-clinal ridges that surrounded the reservoir. I can't wait to go paddleboarding on my next trip back.
Traveler Tip: If you need paddleboard rentals, check out What's SUP, located right in Satanka Bay!
FAQs – Planning your Northern Colorado Road Trip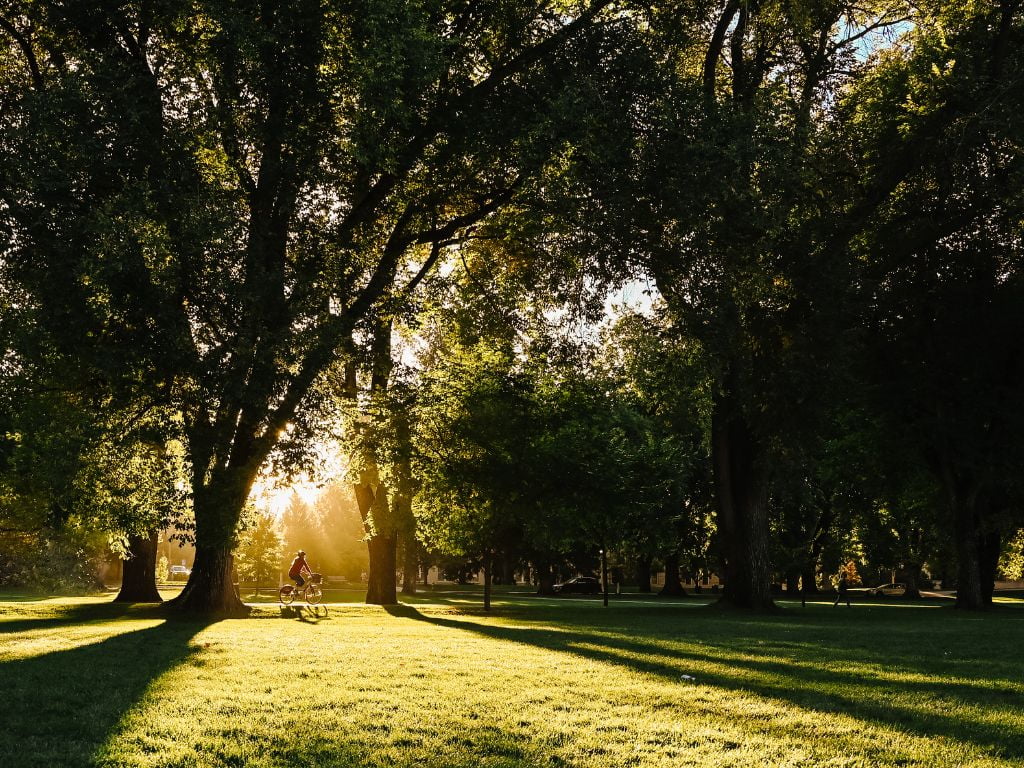 What to Pack for 7 Days in Colorado
If you're wondering what to put on your Colorado packing list, let me give you a jump start!
Clothing – Think in layers no matter what activity you are packing for. From hiking (base layer, warm layer, exterior protection) to going out for dinner (outfit, sweater, jacket) the weather changes in Colorado a lot so be sure to layer up so that you can enjoy all of your activities.
Footwear – Proper footwear is key so pack:
Comfortable walking shoes
Hiking boots for the trails
Dinner / evening shoes for heading to restaurants
Technical gear – Something that is often forgotten when traveling is the technical gear you need to head out hiking. Be sure to always have the 10 essentials and pick up any items you can't pack in your bag.
Toiletries & Personal Items – If you are checking any items make sure that any medications or personal items that can't be lost are packed in your carry-on.
Camera – The photo opportunities in Colorado are endless, so be sure to pack your camera (don't forget charging cords & batteries and memory cards!).
Does the altitude affect you in Colorado?
In short, yes! Denver Colorado is a mile high above sea level (1,560 to 1,730 feet). Be sure to stay hydrated, wear sunscreen, and give yourself time to adjust to the altitude before tackling harder physical pursuits like hiking or mountain biking.
Where to find the best resources for your Northern Colorado Road Trip
Well you've started at the right place, taking advice from people who have actually traveled there. I also recommend that when you're on the ground you visit the local Visitor Information Centres where they can share with you local events that are happening, updates on trail conditions, and insights that can't be found online or from anyone other than a local.
If you take us up on our recommendation for this 7 day Northern Colorado road trip you will have hiked, biked, paddled, shopped, and explored in true Colorado fashion. And I can guarantee you'll walk away with the same problems that we did, a desire to stay longer, see more, and keep exploring!
---
Don't Miss out on these Colorado Adventures & Experiences!