Their eyes lit up with sparkles as they opened the door into the fully decked-out holiday suite. With bags dropping at their feet, my kids ran into the room, trying to comprehend what magical door they had just walked through. While they were expecting a traditional hotel room they were instead welcomed into the "Jade Suite", where sparkling lights, a full Christmas tree, and even a gingerbread kit were awaiting their arrival. If guests get VIP experiences at the Fairmont, in the minds of the kids, this one was kid and Santa-approved! Here is our experience at the Fairmont YVR Hotel Vancouver Christmas suite.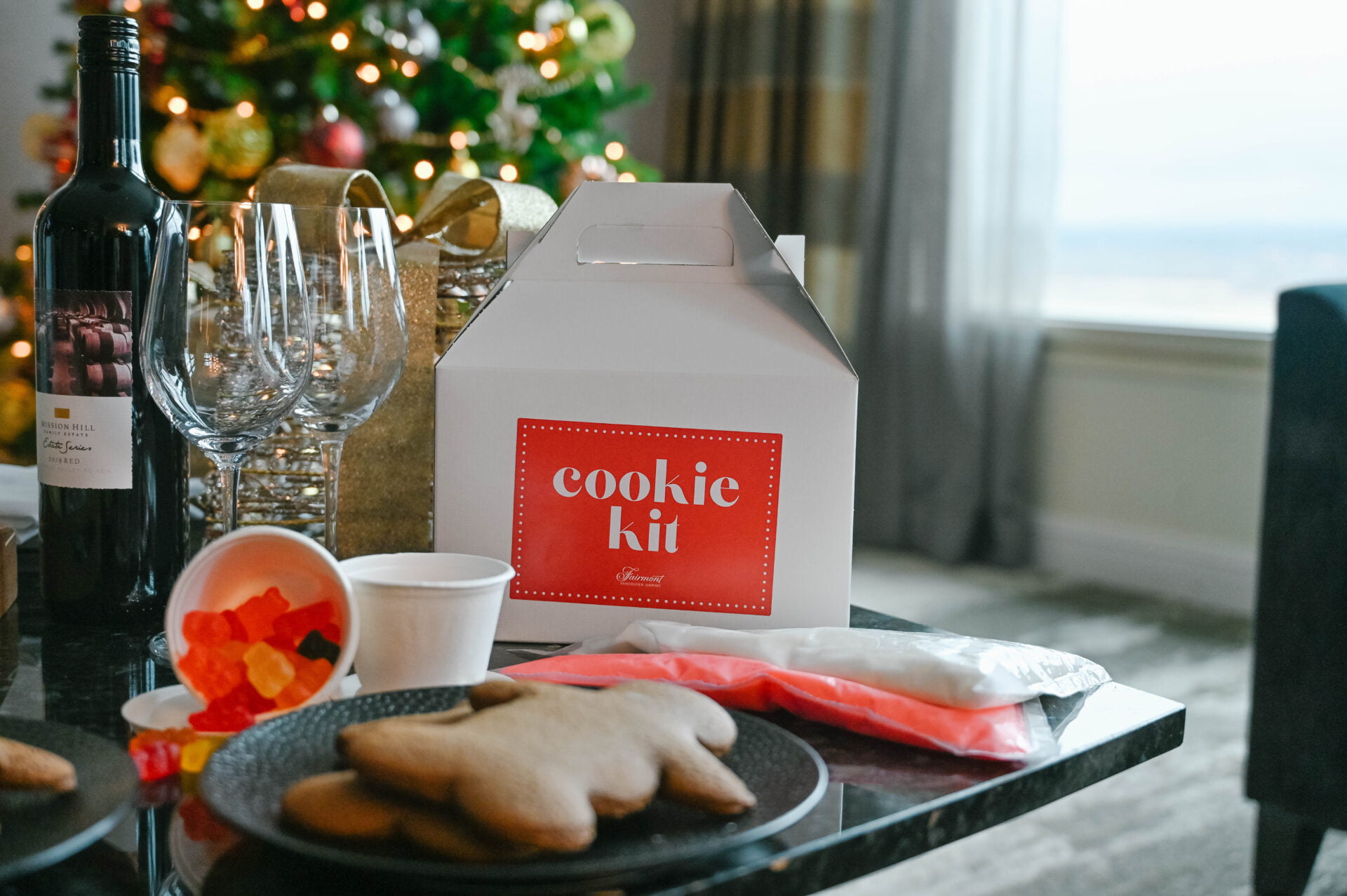 This magical stay was made possible in the Fairmont Vancouver Airport's Holiday Suite. A perfect holiday celebration for the whole family. At 1,250 sq. ft, the largest and most luxurious, Jade Suite guests are welcomed with beautiful holiday decor greeting a luxurious ambiance in celebration of the holiday season. From the king bed, living room with sofa bed, dining area, and a bathroom that you could holiday in itself, the experience in the Holiday Suite is like no other. Floor-to-ceiling windows overlooking the runways and North Shore mountains, keep the experience going as you can take part in plane spotting all night long. It's easy to see why the Fairmont Vancouver Airport Hotel has been voted the number-one airport hotel in North America, eight years in a row!
Disclaimer: While I share my own thoughts and stories about these experiences, should you click on the affiliate links, I may receive a small commission on that sale which helps fund Adventure Awaits.
Best Vancouver Hotel For Christmas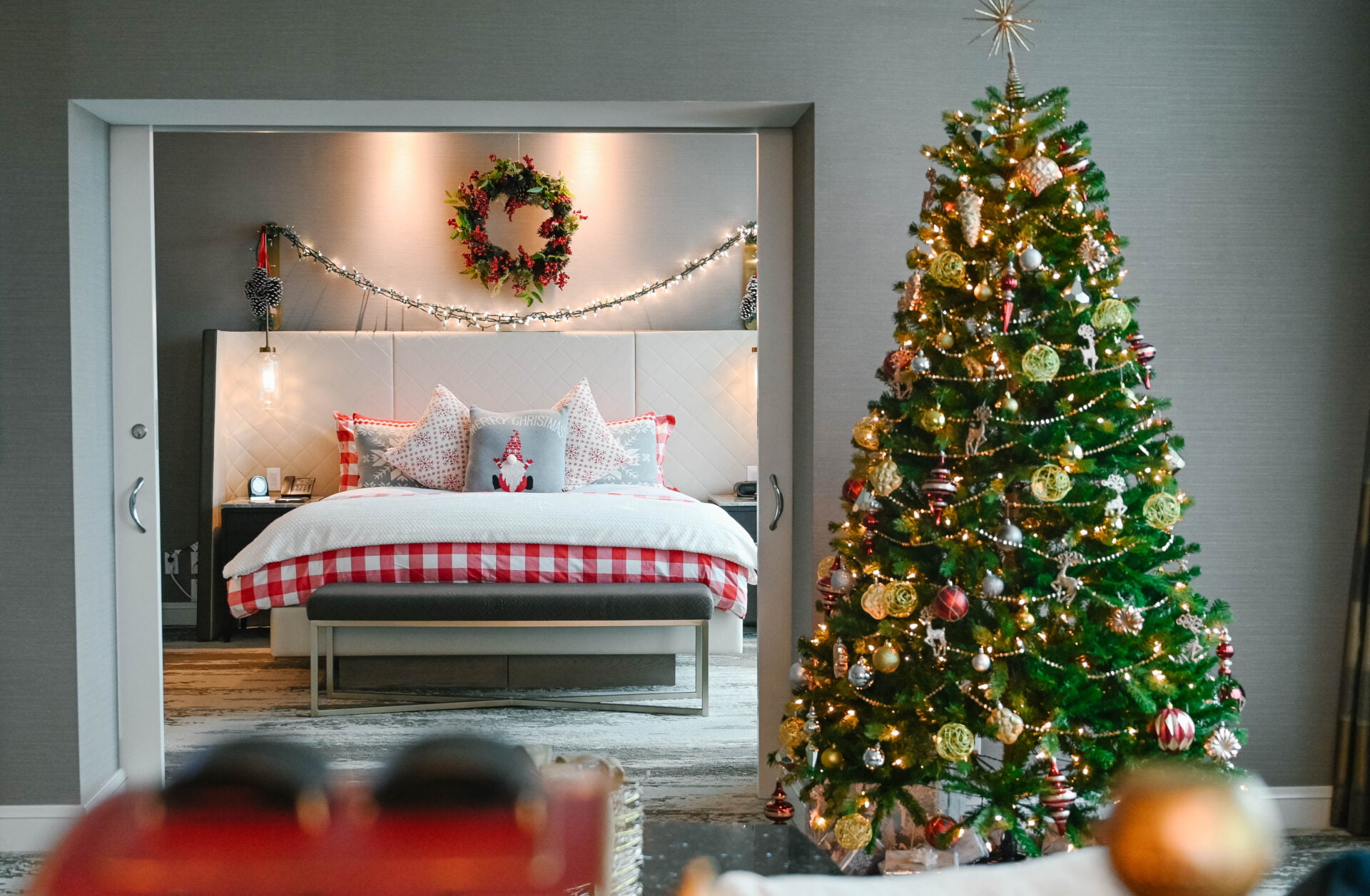 While there are no awards for the "Best Vancouver Hotel For Christmas," if there were, I'm sure that the Fairmont Vancouver Airport Hotel would win. From the twinkling lights above the bed to the oversized Christmas tree, to the seasonal blankets, and perfectly placed pillows, there's no questioning that the spirit of the holidays is bustling during your stay with Santa. Here are 10 photos from our stay showcasing the Best Christmas Vancouver Hotel experience at the Fairmont YVR.
Fairmont Hotel Vancouver Airport Christmas – 10 Photos To Inspire Your Holiday Suite Stay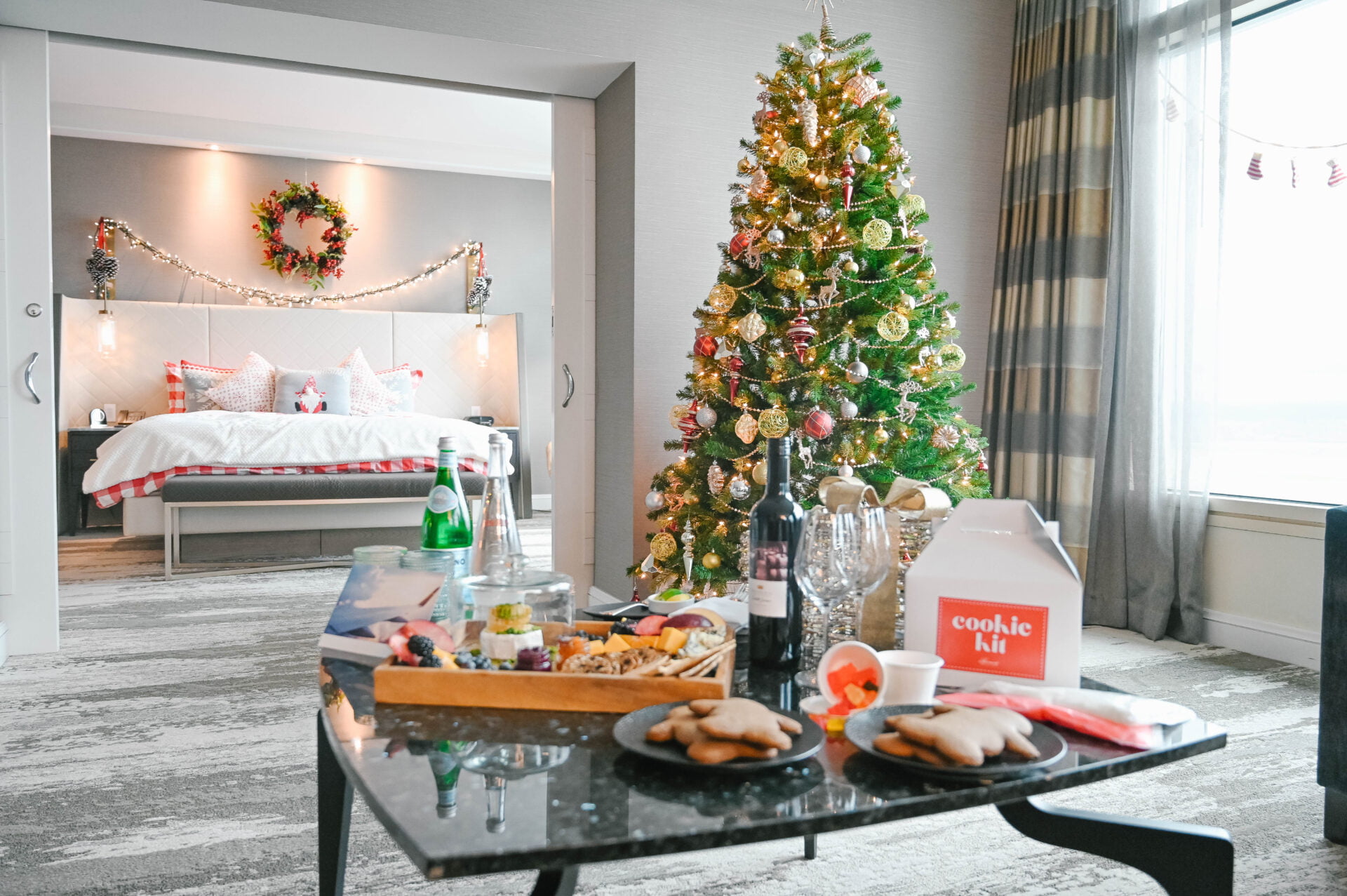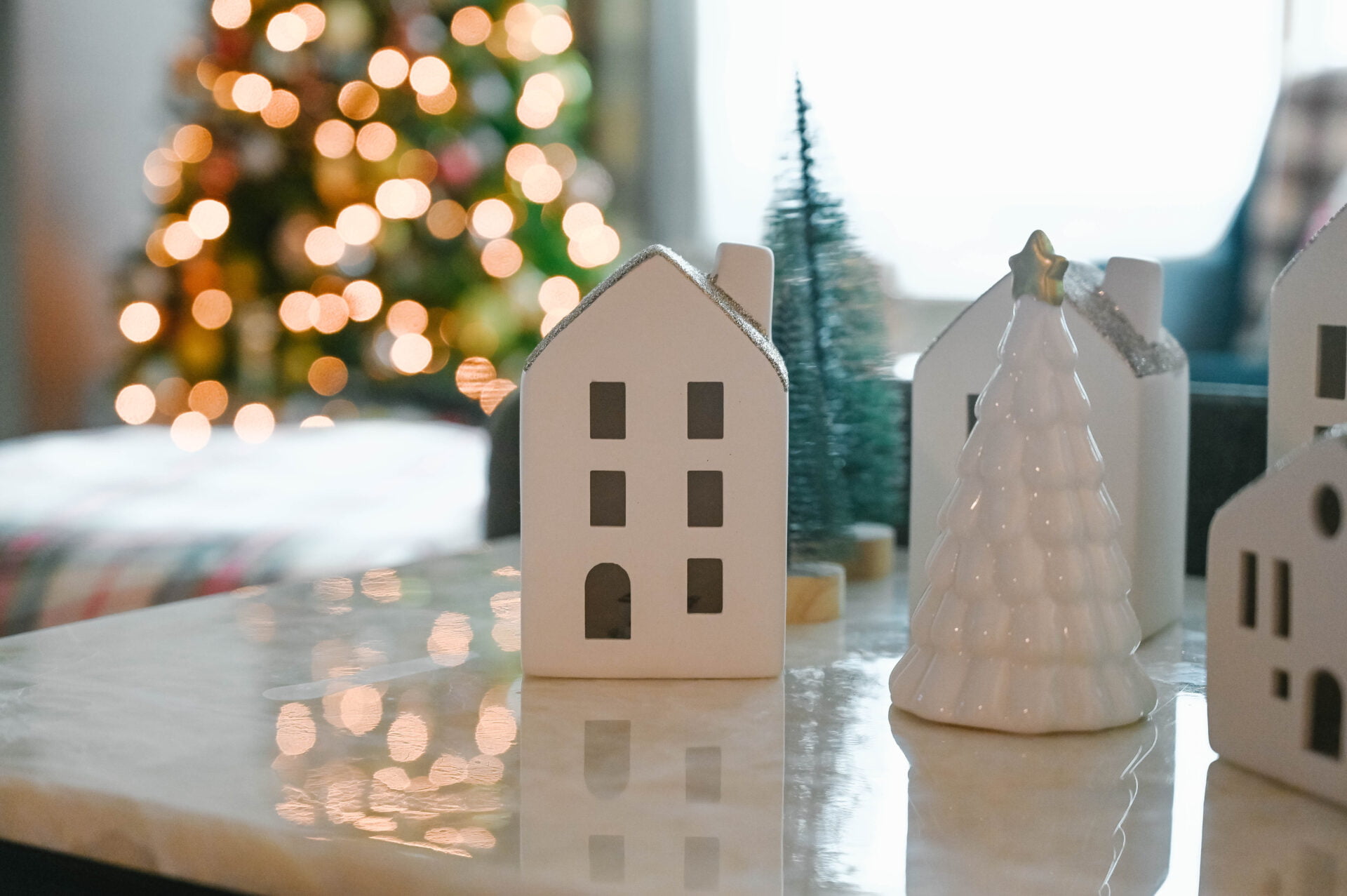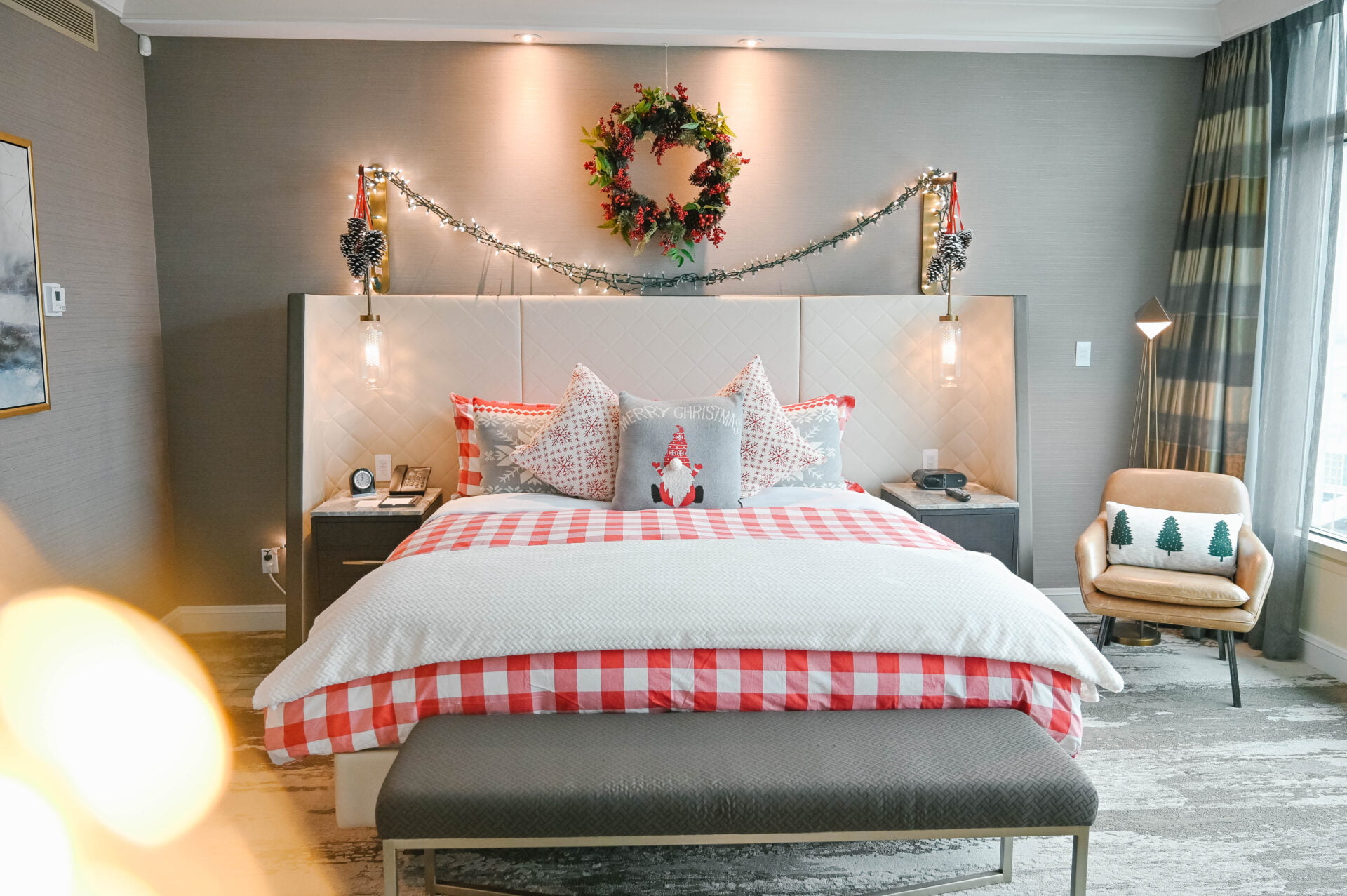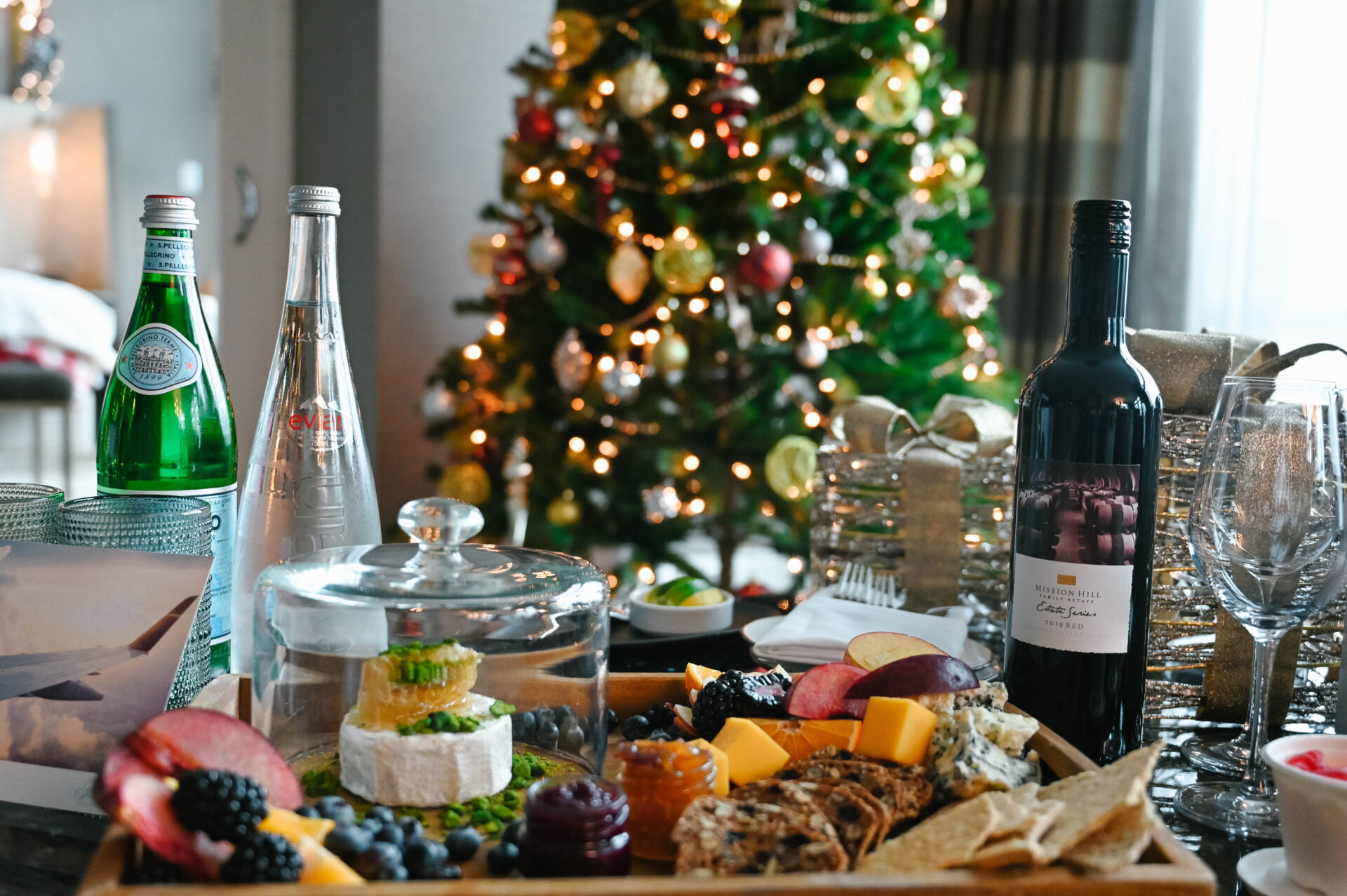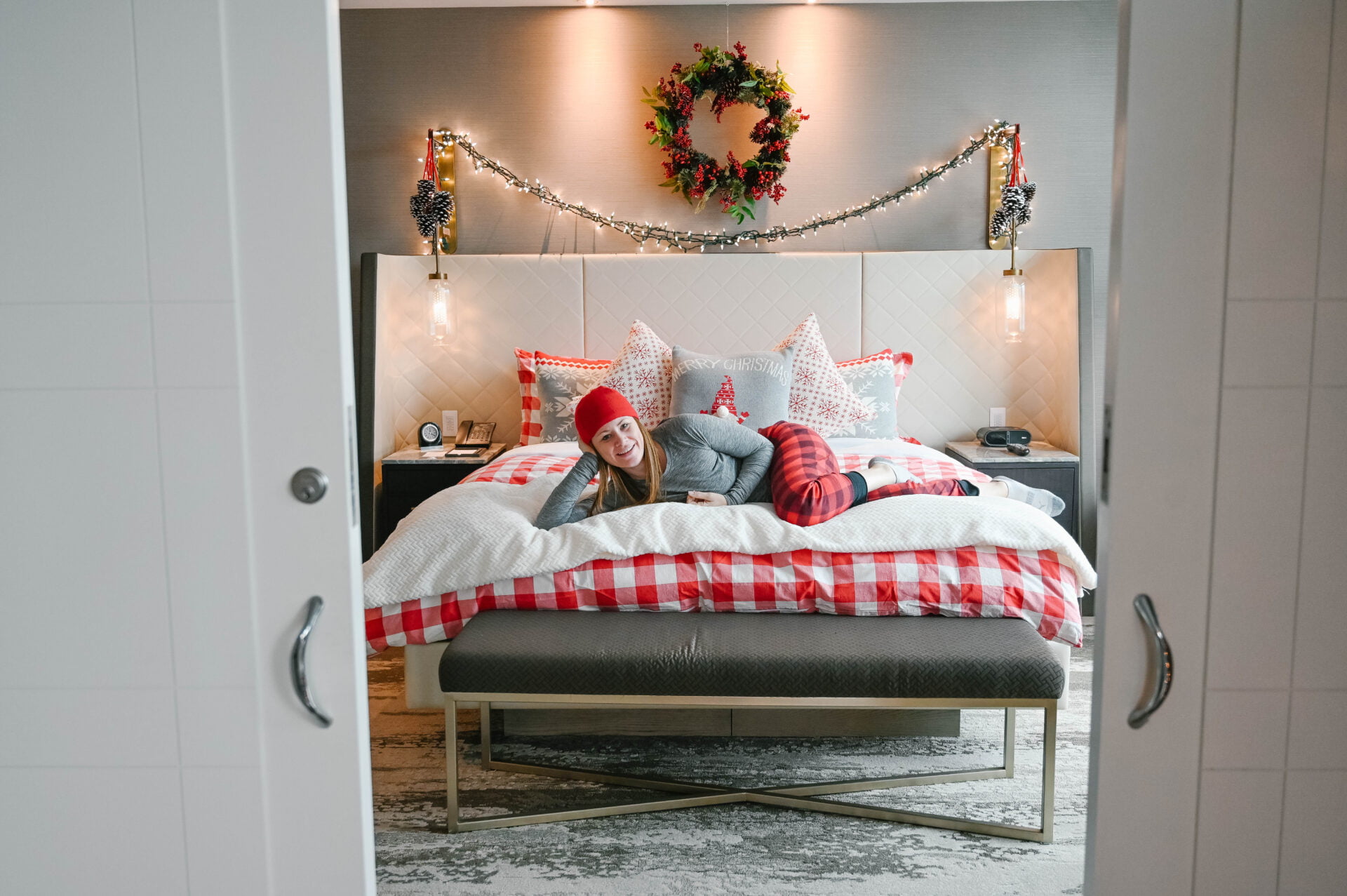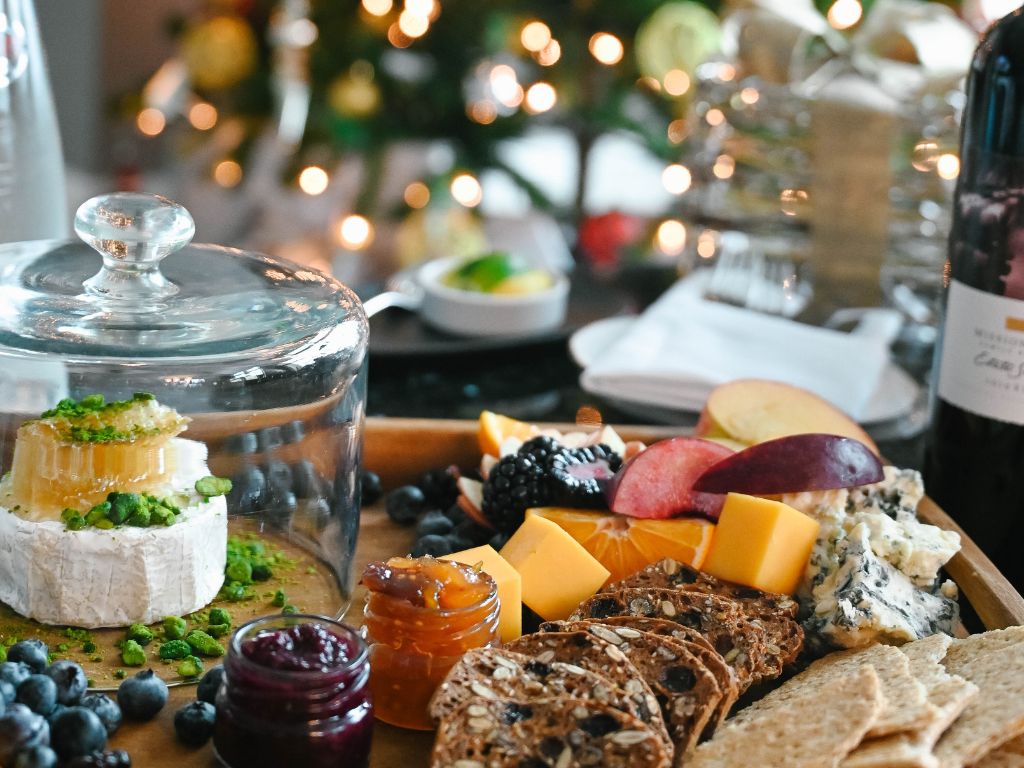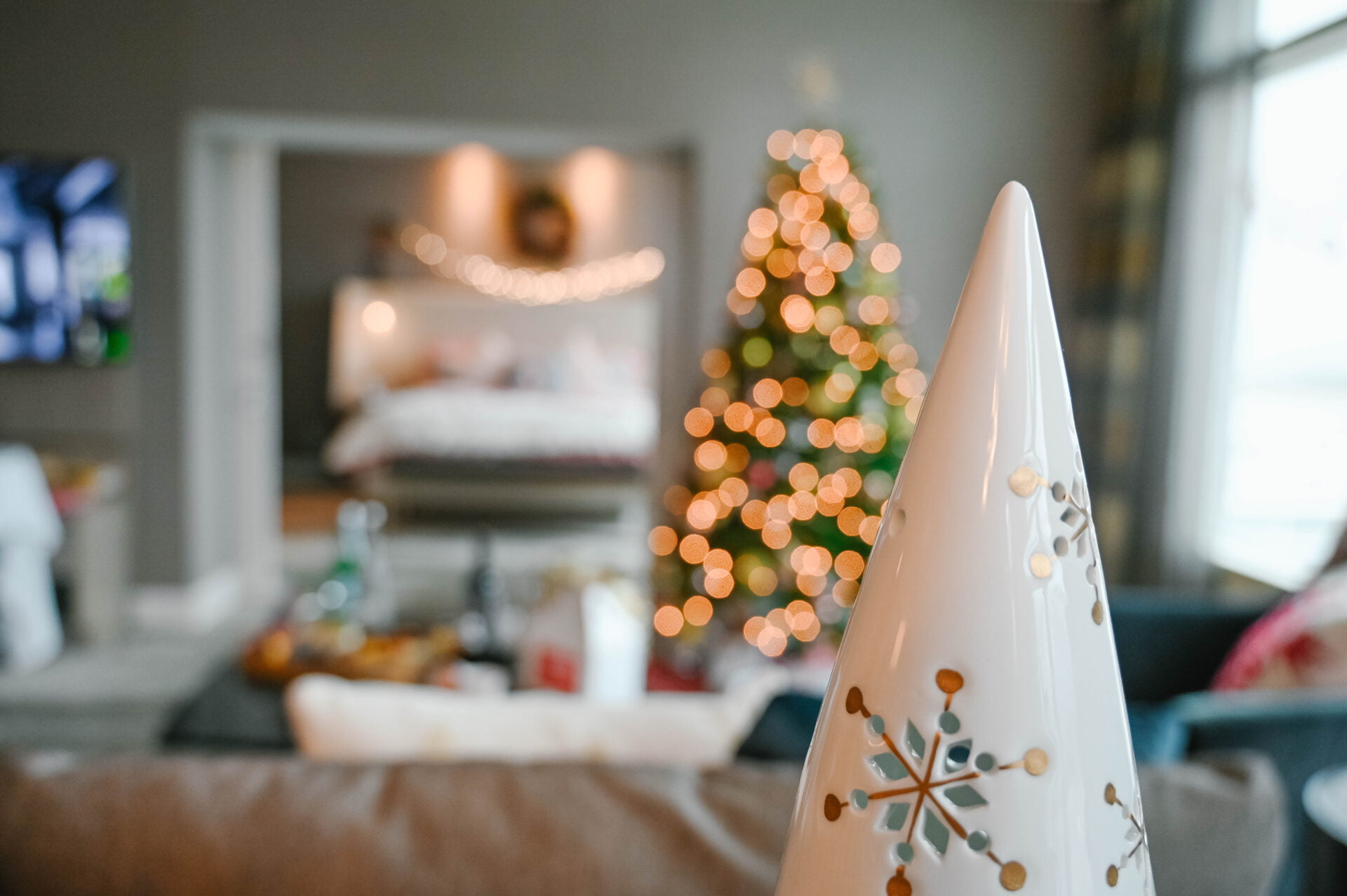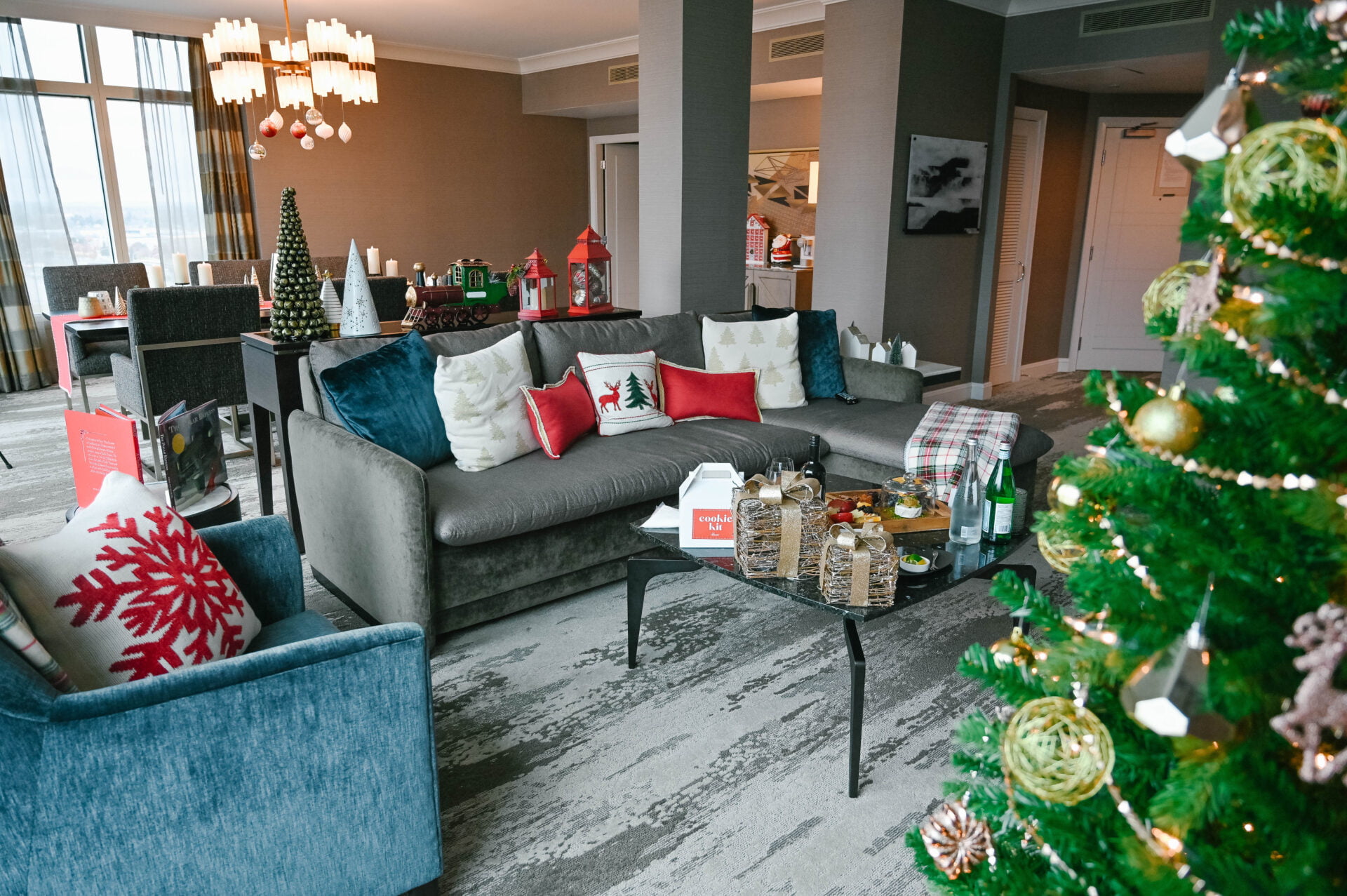 Christmas Amenities at Fairmont Hotel Vancouver Airport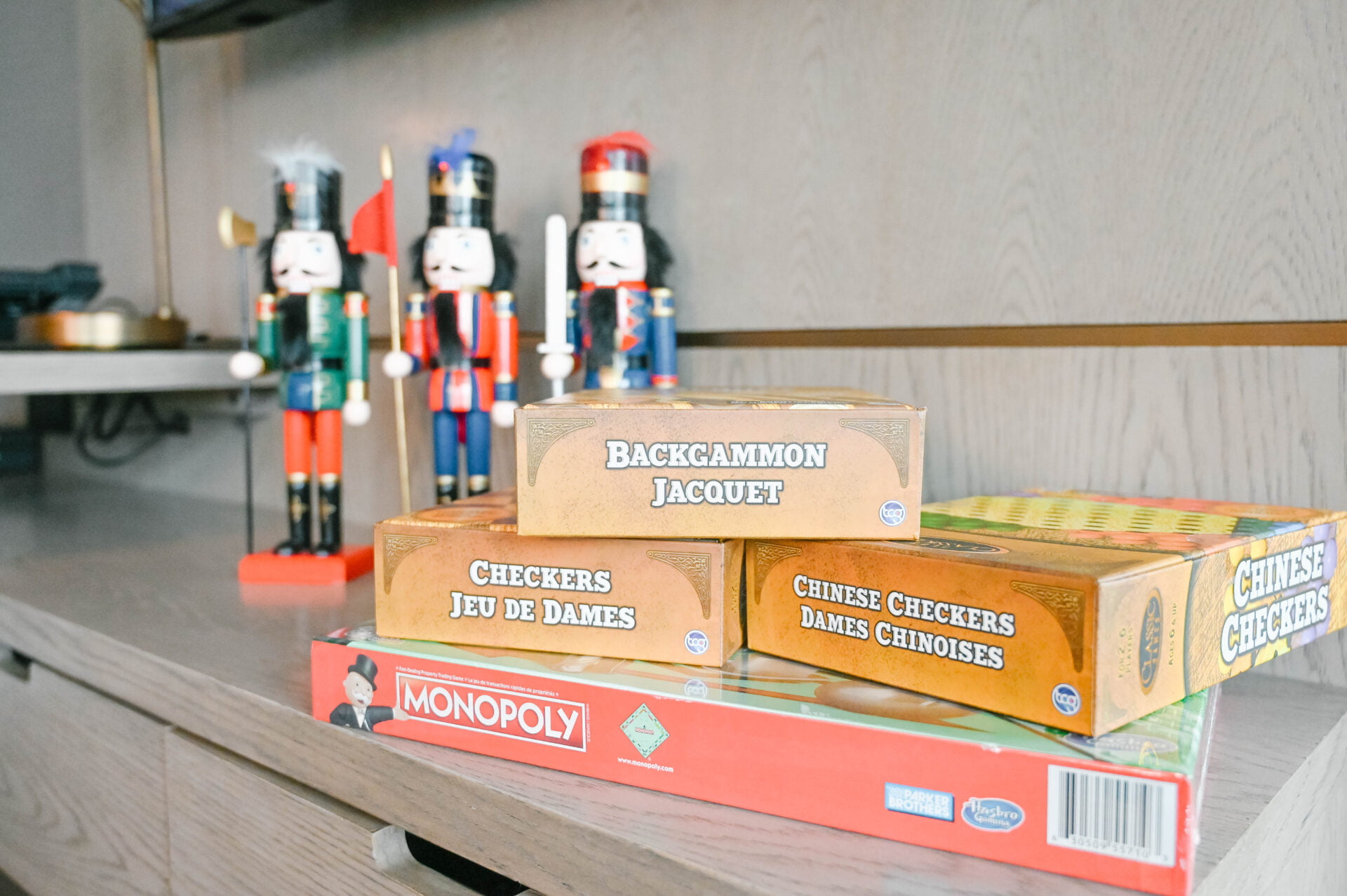 The Fairmont Vancouver Airport Hotel offers a variety of family-friendly amenities to make your seasonal stay more festive. Board games and holiday books are available for guests to use, and movies on demand are perfect for entertaining the whole family (our family favourite is Elf!). We love that the Fairmont YVR Hotel Vancouver Christmas suite includes such lovely amenities for families.
Breakfast in Bed in the Holiday Suite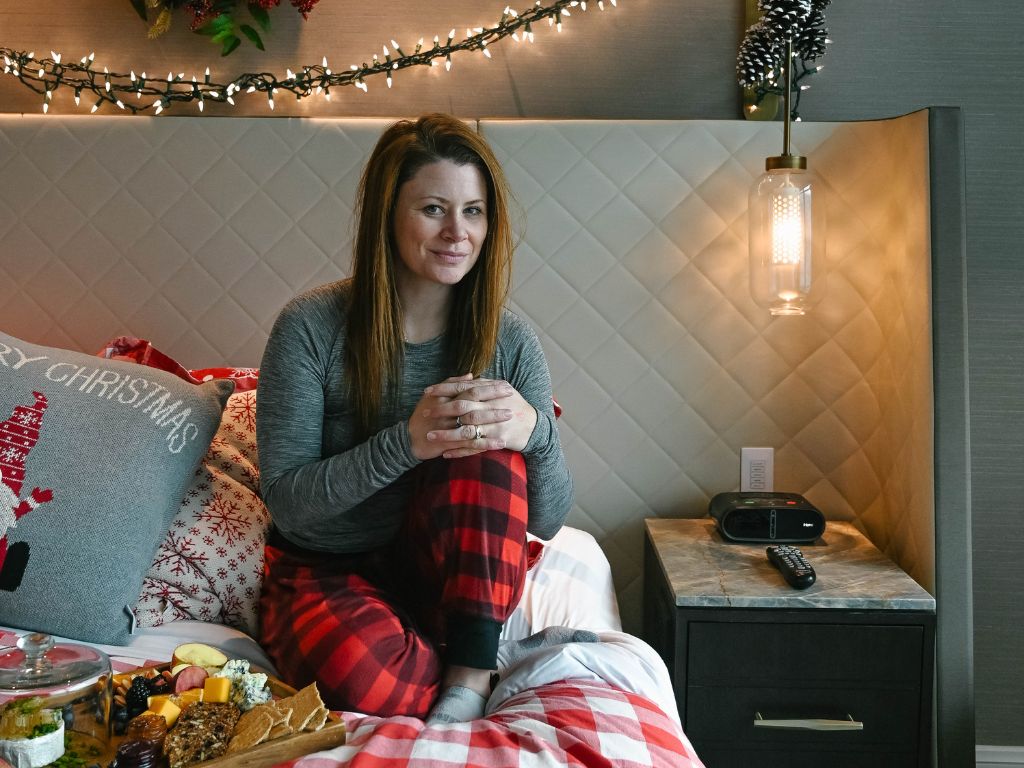 Getting ready for the morning flight just got a whole lot easier with the ultimate breakfast-in-bed experience. Whether you choose from the classics menu, which includes farmers' eggs your own way, to breakfast sandwiches, to pancakes, or opt for a healthy start or fuel up on loaded omelettes, having breakfast in bed is the perfect way to start your morning travels.
A Holiday Suite that Gives Back
When you book at the Fairmont YVR Hotel Vancouver Christmas, your stay will include a donation of $25 to Canuck Place Children's Hospice for each night booked.
What to do with Children at The Fairmont Vancouver Airport Hotel
Start your vacation off early and check in at the Fairmont Vancouver Airport prior to your departure. There's a variety of things for the kids to do that will keep them entertained and engaged, and most importantly leave them ready to hit the hay and get a good sleep before you check out the next morning!
Ground Control – Plane Spotting 101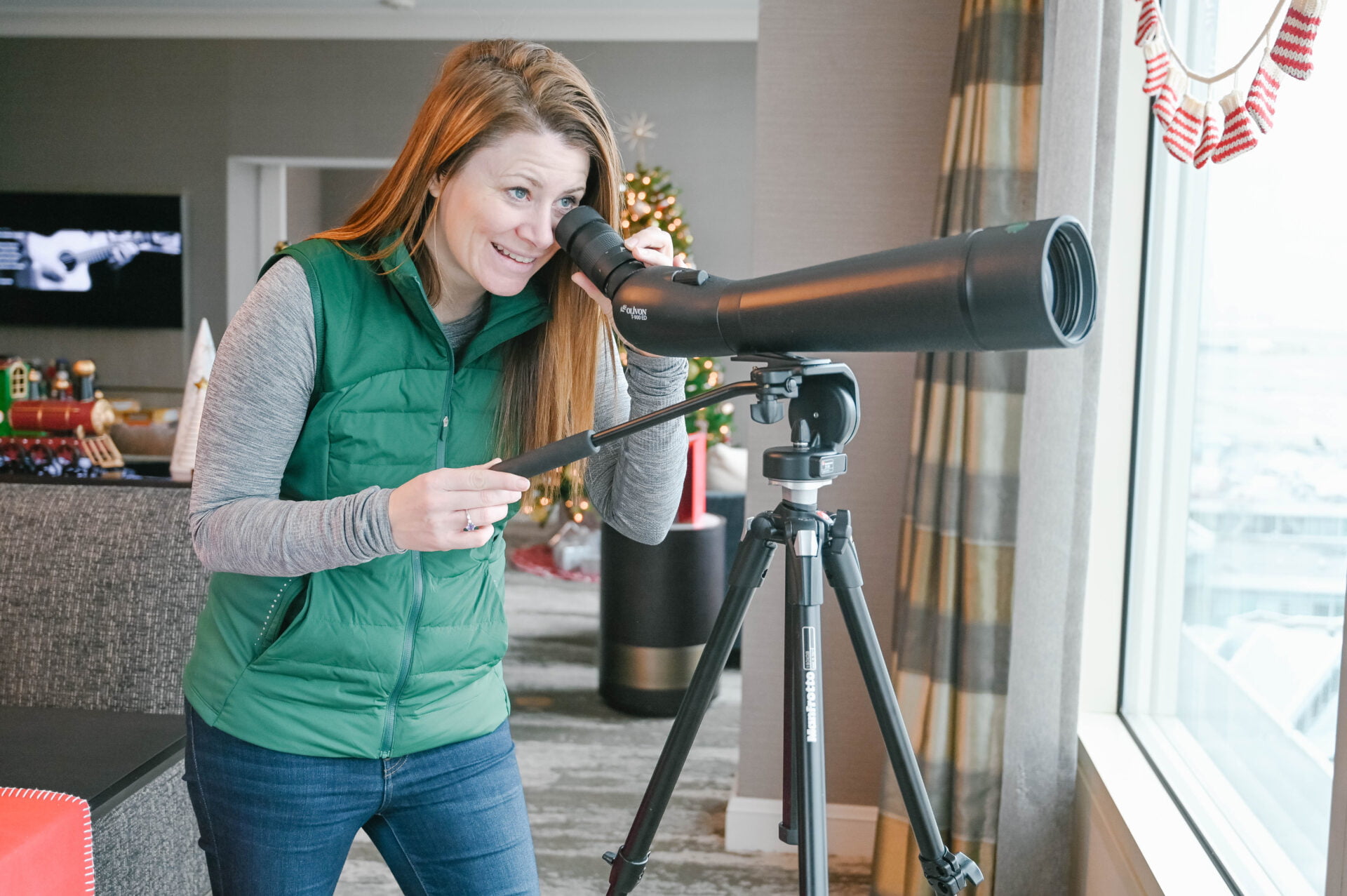 Kids (and adults) can pretend to be ground control and watch all of the incoming and outgoing travellers below on the tarmac. Each room comes with its own "plane spotting guide" so you can spot different planes as they prepare for takeoff and landing. My daughter and I laid out one of our travel blankets and had a picnic while plane spotting on our last stay at the Fairmont.
If you're staying on the Fairmont Gold level you'll enjoy your own in-room spotting scope, perfect for spotting planes or checking out the North Shore mountains in the distance.
Make a Big Splash in the Pool
From 6 am to 10 pm your whole family can take a dip in the pool. For the littles, there's a wading pool, and those looking for a workout can visit the mechanized lap pool. There's also a sauna for parents to warm up in and enjoy!
Tea Time at Fairmont Vancouver Airport Hotel
Tea time and The Fairmont go hand in hand, a time-honoured tradition that is a great experience for the whole family. With a Junior Tea for guests 12 and under, the whole family can enjoy a seasonal selection of finger sandwiches, house-made scones, and of course, a healthy serving of sweets and treats to finish up.
Terra Nova Rural Park & Adventure Playground
With Vancouver's mild climate, children visiting the West Coast can get outside and play year-round. We recommend visiting the Terra Nova Rural Park and Adventure Playground, a 63-acre park that has really unique attractions for the kids to explore and it's a short 15-minute drive from the Fairmont Airport Hotel. With the adventure park being the centre of the action there are also a lot of other things to do including the networks of trails, sharing farm, and great places for picnicking with a view of the North Shore and the Salish Sea.
Fairmont Vancouver Airport Spa
The Absolute Spa, located in the Fairmont Airport Hotel, is the perfect place to extend your holiday experience. The spa offers a variety of services to help guests get into holiday mode including massages, facials, and body treatments. The signature Jet Lag Recovery Treatment is a 90-minute massage that uses special techniques to help reduce fatigue and improve circulation. The treatment includes a footbath, reflexology, and aromatherapy, as well as a scalp and foot massage. Guests can also add on an express facial or exfoliating body scrub for an additional fee. The Absolute Spa is the perfect place to relax and get ready for a big flight or rejuvenate after a long flight.
Green Like The Grinch – Only Better!
"Going Green" isn't something that happens only during the holiday season at the Fairmont Vancouver Airport, the hotel is committed to constantly evaluating and evolving its sustainable practices to ensure they are doing its best to serve and protect our environment. This includes a commitment to making conscious purchasing decisions, supporting local, reducing plastic and choosing sustainable options whenever possible.
As a Travel Writer, I am passionate about working with companies that prioritize sustainable and regenerative travel so that I can confidently book vacations that align with my values. Here are some of the initiatives that are happening at this local hotel that shows their leadership in sustainability:
Reducing Single Use Plastics
The team at the Fairmont Vancouver Airport Hotel is currently on a mission to eliminate all non-essential single-use plastics. These small changes add up to a big impact! Some of the on-site changes you can expect to see include:
Changing small amenity bottles to large refillable bottles.
Replacing plastic key cards with wooden ones.
Encouraging guests to use the hotel water and refillable water bottles.
Stocking water bottles made from recyclable alternatives to plastic
Replacing takeaway containers/cutlery with fibre-based products.
Sustainable Partnerships at The Fairmont Vancouver Airport Hotel
Soap For Hope
Soap For Hope is a local non-profit organization that recycles discarded soap from hotels and turns it into new bars of soap for distribution to those in need. The idea for the organization came about when the founder, Anne, was wondering "Why don't vulnerable people in Victoria have soap and hygiene products? How could this be when we have thousands of pounds going into the landfill each day."  Soap For Hope collects donated soap from hotels and refashions it into new bars. The new bars are then distributed to homeless shelters, food banks, transition homes, elementary schools, remote Indigenous communities, and other places where people are in need. "We wanted to see if there was a need for essential hygiene products. Today, we proudly serve over 450 Community Facilities in BC and Alberta." ~C. Anne McIntyre

The program goes beyond soap and now accepts hygiene products, linens, and lost and found items that otherwise would be discarded. Volunteers then process and distribute those items to local community facilities or internationally through alliances including the Compassionate Resource Warehouse. In doing so, The Fairmont Vancouver Airport Hotel and all of their fellow participating hotels have helped to divert hundreds of thousands of items from landfills each year and are fulfilling local and international needs.
Habitat for Humanity
Habitat for Humanity is a nonprofit organization that helps to build and improve homes for families in need. The organization was founded in 1976, and since then they have helped to build or repair over 800,000 homes in over 100 countries, providing more than 4 million people with safe, decent, and affordable shelter. Habitat for Humanity works with both individuals and families to help them find affordable housing; they also partner with businesses and organizations to provide financial support and volunteer labour. In addition to their work with housing, Habitat for Humanity also runs programs aimed at improving access to clean water, developing green spaces, and providing job training. Their hope is that by working together, they can build a world where everyone has a safe and decent place to live.
Local Harvest Farm in Chilliwack, BC
The Fairmont Vancouver Airport Hotel is committed to using fresh, local ingredients in its dishes. One of the ways they achieve this is by sourcing organic, seasonal vegetables from Local Harvest Farm in Chilliwack, BC. The farm is located just 90 minutes from the hotel, and it produces a wide variety of vegetables that are used in the hotel's restaurant. The hotel is also able to source other ingredients from Local Harvest Farm, based on what is seasonally available. By sourcing its ingredients from the farm, the hotel is able to support local businesses and provide its guests with the freshest possible food.
Ocean Wise For Mother Ocean
Being located right on the Salish Sea it's no wonder that protecting our mother ocean is at the forefront of priorities for the Fairmont Vancouver Airport Hotel. Ocean Wise is an organization that helps educate businesses and consumers about making smart seafood choices that protect our oceans. With Ocean Wise's guidance, The Fairmont has made sustainable seafood choices that support healthy oceans, such as serving wild sockeye salmon and BC spot prawns. They are proud to be part of the Ocean Wise program and will continue to make choices that protect our oceans for future generations.
Honeybee Centre in Langley, BC
The Fairmont Vancouver Airport Hotel is committed to sourcing local ingredients, and that includes honey from the Fairmont hives at the Honeybee Centre in British Columbia's Fraser Valley. The honeybees at the centre are vital to the Vancouver area's agricultural industry, pollinating local crops like berries, cherries, and apples. The honey they produce is used in a variety of dishes at the hotel, from morning oatmeal to afternoon tea. The Fairmont Vancouver Airport Hotel is proud to be able to source such a unique and delicious ingredient right in its own backyard.
Best Family Holiday Day Trips From Fairmont Vancouver Airport Hotel
Grouse Mountain – Peak of Christmas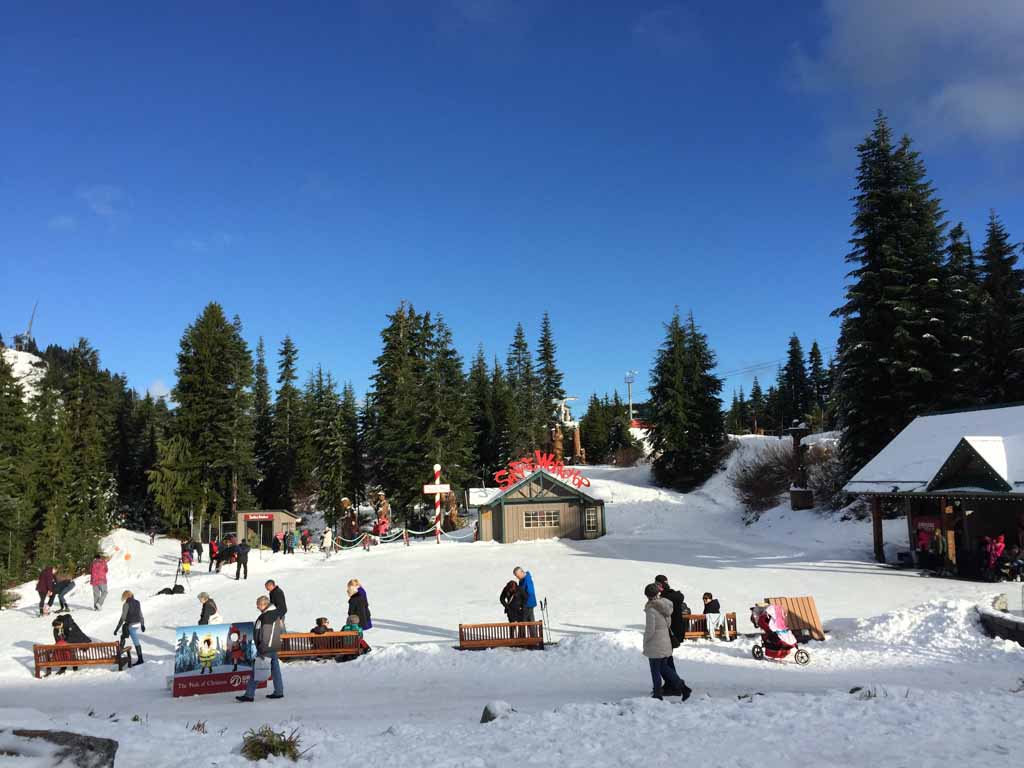 Also known as Vancouver's "North Pole" the holidays are alive at the top of Grouse Mountain. The Peak of Christmas is a festive event that features Santa Claus, live reindeer, and a variety of Christmas-themed activities. Families can enjoy ice skating, sledding, and snowshoeing, or take a scenic sleigh ride through the snow-covered forest. Inside the lodge, you'll find a gingerbread house competition, Christmas movies in the theatre, and a few different restaurants to choose from to grab the perfect warm drink.
Click here to purchase your Grouse Mountain tickets.
Stanley Park Lights
Stanley Park is a world-famous urban park located in Vancouver, British Columbia. The park covers more than 1000 acres of land and features a wide variety of landscapes, including forests, gardens, lakes, and beaches. In the winter, the park transforms into a festive wonderland with a series of light displays. Stanley Park also offers you stunning views of the Vancouver Skyline, so don't forget to bring your camera!
Capilano Suspension Bridge – Canyon Lights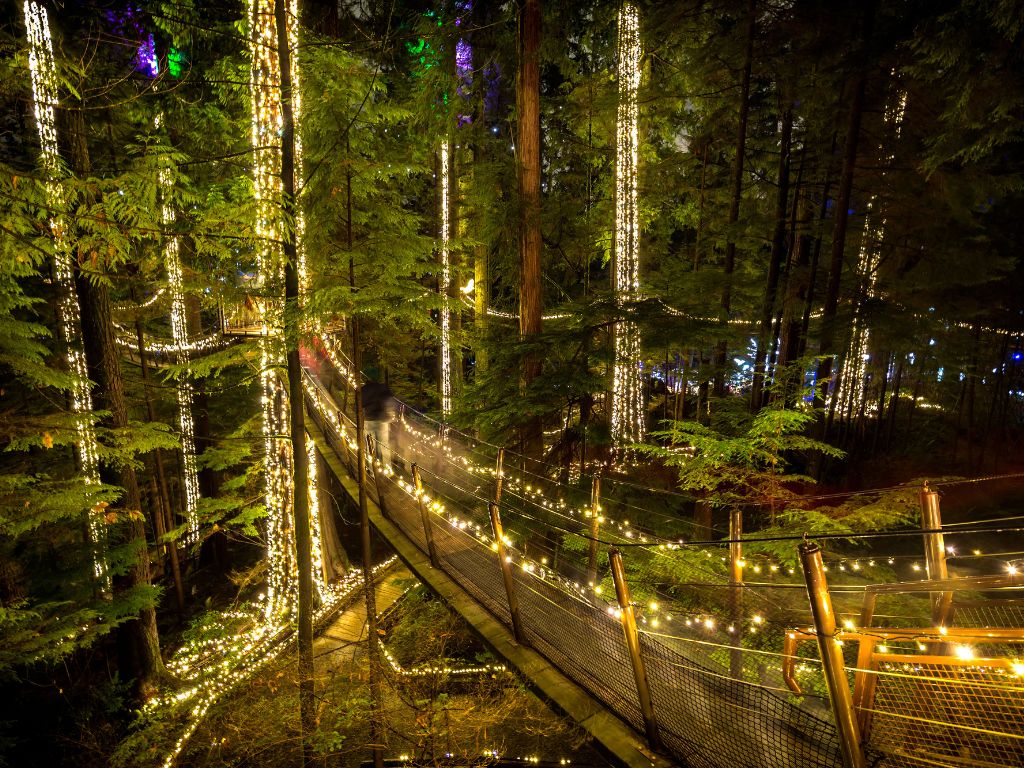 Canyon Lights at Capilano Suspension Bridge is a special event that takes place every year in North Vancouver. Families can enjoy a festive atmosphere with sparkling lights, holiday music, and warm drinks while they stroll across the famous suspension bridge. With the canyon walk, the treetop suspension bridges, and the lights on the lake, there's a lot of exploring to be done while visiting the park! Bring your camera, dress warm, and enjoy!
Get your Capilano Suspension Bridge tickets here!
Vancouver Christmas Market
The Vancouver Christmas Market is a family-friendly event that takes place annually in Downtown Vancouver. The market features a variety of festive activities, ranging from traditional German holiday performances to children's choirs and carousel rides. There are also a variety of food and drink vendors, offering everything from hot chocolate to grilled sausages. In addition, the market features a variety of unique gifts and souvenirs, making it the perfect place to do some Christmas shopping. Families who are looking for a festive and fun-filled day out will certainly enjoy the Vancouver Christmas Market.
VanDusen Botanical Garden
The VanDusen Festival of Lights is a much-anticipated annual event in Vancouver. Families come from all over to walk through 15 acres of illuminated gardens, admiring the thousands of lights and festive displays. From the lakeside stroll to the rose garden to the dancing lights, the festival at VanDusen Garden is a perfect way to get into the holiday spirit – be sure to check it out and buy your tickets in advance!
FlyOver Canada & Soar with Santa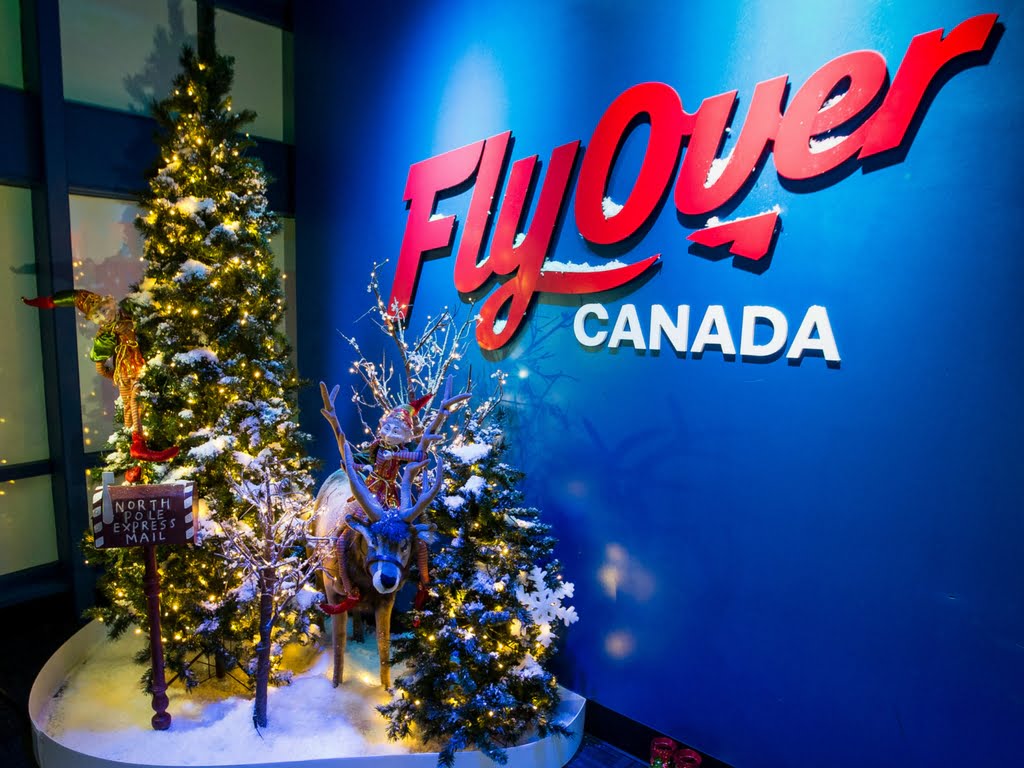 FlyOver Canada's Soar With Santa show is a must-see for families visiting Vancouver this holiday season. Guests will enjoy a magical sleigh ride through the skies, followed by a sneak peek into the North Pole as they all scurry around during their busiest season. After the show, you can browse the gift shop for seasonal and local souvenirs or head over to the cafe for some great treats. I recommend pairing this experience with the Vancouver Christmas Market as they are within walking distance of one another.
Purchase your FlyOver Canada tickets here.
Fairmont Gold Lounge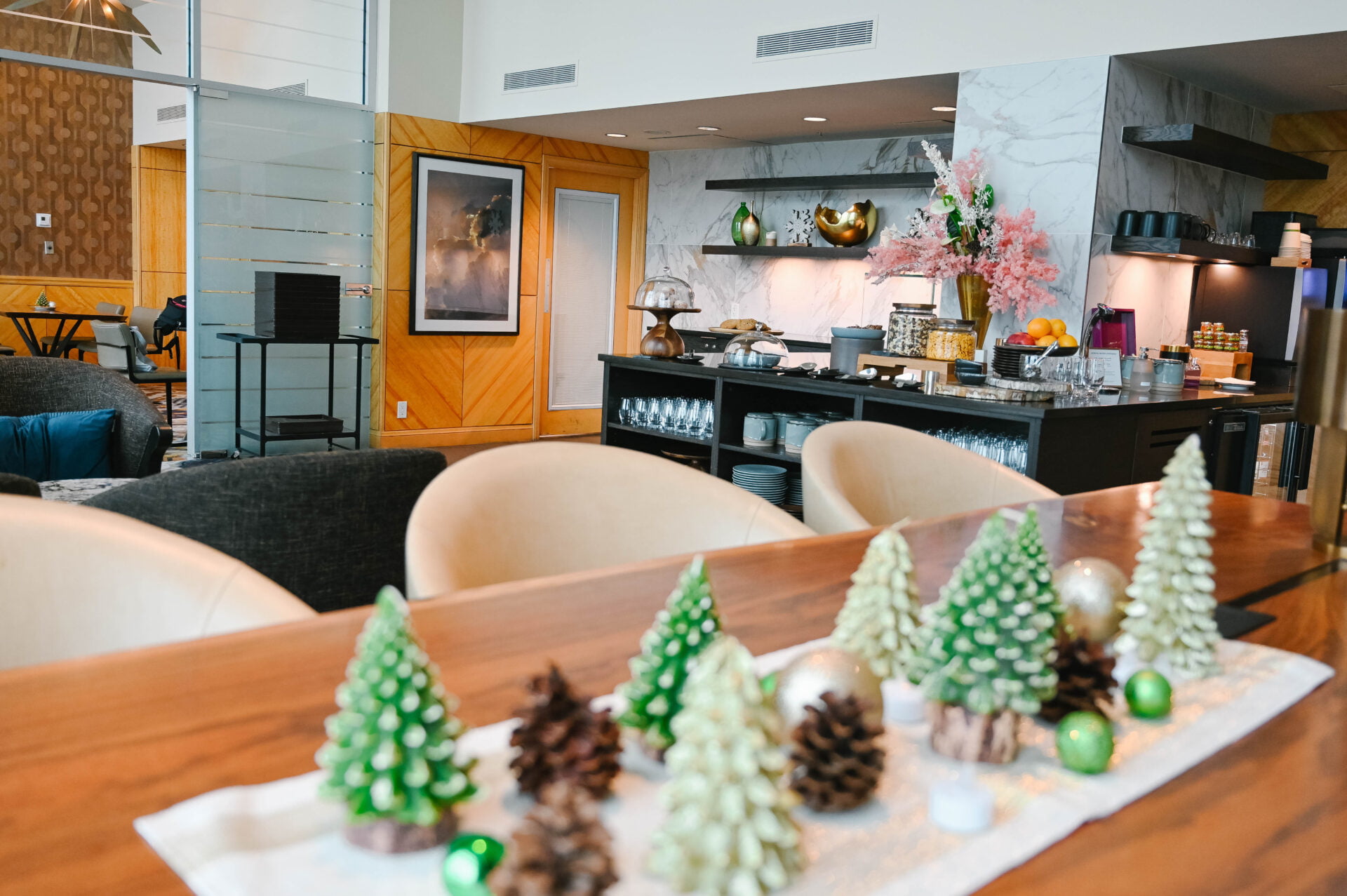 When booking the Holiday Suite at the Fairmont Vancouver Airport your experience comes with access to the Fairmont Gold Lounge. Fairmont Gold guests can enjoy an array of exclusive perks and services designed to make your stay truly unforgettable.
From the moment you arrive, their dedicated team will be on hand to attend to your every need, including making dinner reservations, booking limousines and performing any other special touches that may be required. Guests will also have access to the private Fairmont Gold Lounge, where you can enjoy stunning runway views, complimentary breakfast, canapés and an honour bar service. The gold lounge is always a hit when partaking in the Fairmont YVR Hotel Vancouver Christmas experience.
Family Friendly Offers at Fairmont Vancouver Airport Hotel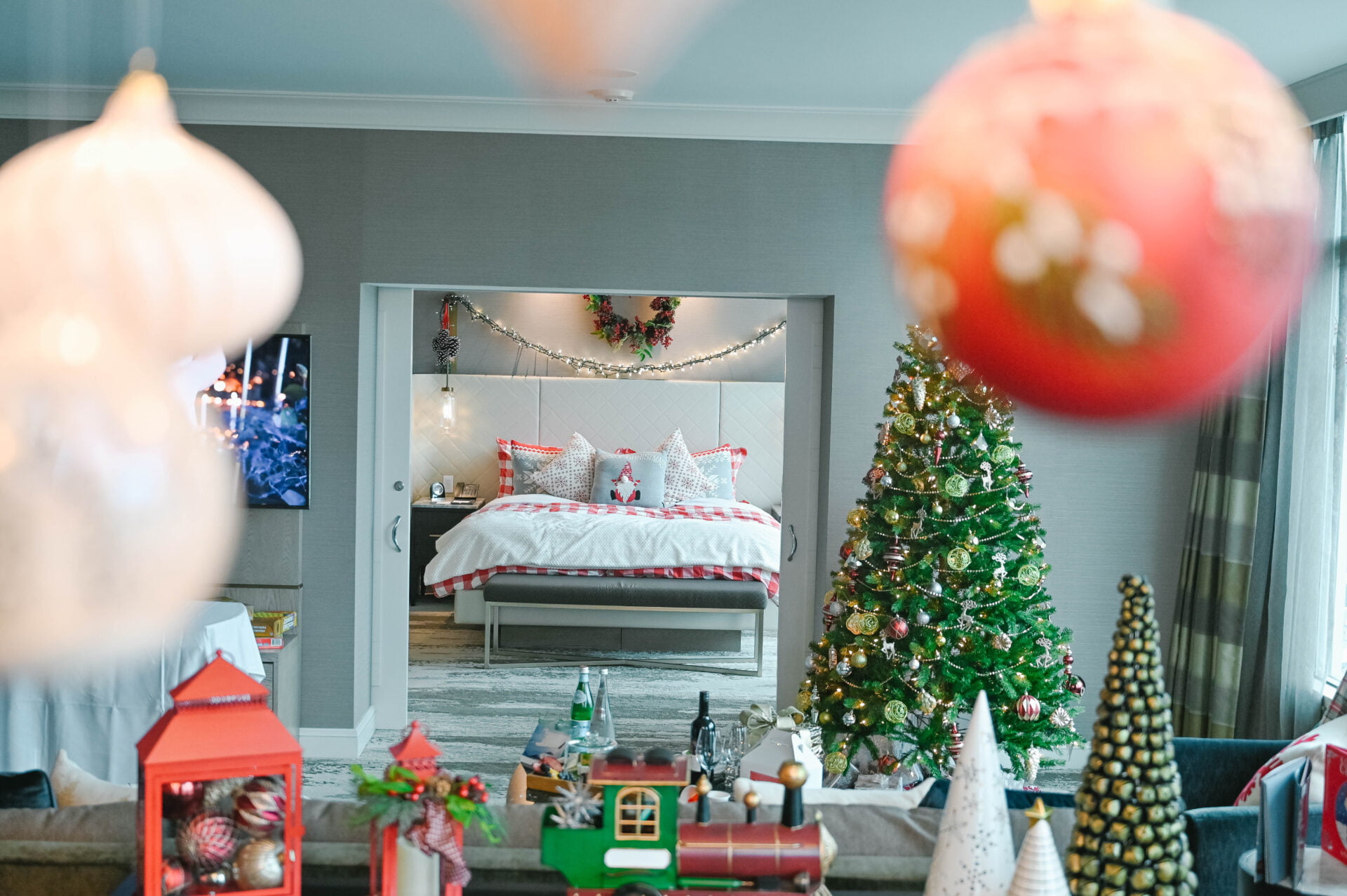 Travelling with children can be stressful, and I'll be honest, I had never stayed at the Fairmont Vancouver Airport before the fall of 2022. After our experience though, I don't think I'll ever not be able to stay. From the convenience of waking up in the airport to the luxury accommodations, to the plane spotting out the window, the hotel offers the perfect mix of comfort and convenience to kick off your family vacation.
Family Offers
Here's a list of some of the benefits that families can access when staying at the YVR Airport Hotel.
A second room at 50% off
25% off food & beverage for adult registered guests
Kids aged 5 and under eat free from the children's menu
Kids aged 6-11 eat for 50% off the regular menu
Welcome cookies and milk for children
Little Flyer's activity book and crayons
Fairmont YVR Hotel Holiday Suite FAQs
How much does it cost to stay in the Fairmont YVR Holiday Suite?
The cost to stay in the Jade Suite at the Fairmont YVR is $1899 per night (this is subject to availability. The rate is not inclusive of applicable taxes and service fees and has a maximum occupancy of 4 guests).
When do hotels in Vancouver get decorated for Christmas?
The holidays come alive in the city of Vancouver during the first couple weeks of November. This special holiday experience at the Fairmont Vancouver Airport is open for bookings between November 17, 2023, and January 2, 2024.
Book the Holiday Suite at the Fairmont Vancouver Airport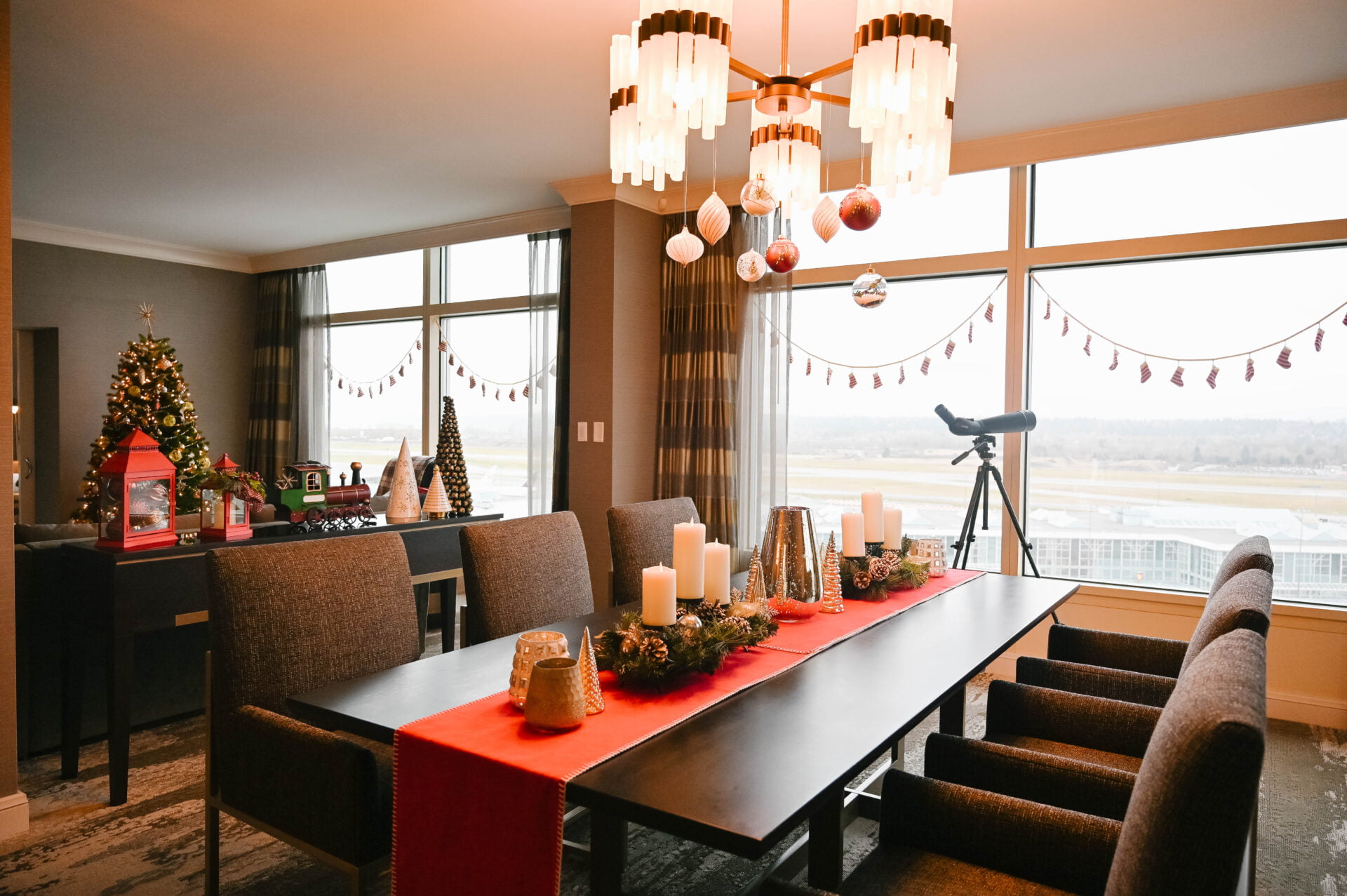 To book the Holiday Suite at the Fairmont Vancouver Airport for 2023, simply go to their website and click on the "Book Now" button. Enter your arrival and departure dates, (The suite is available November 17, 2023 – January 2, 2024) and then select the suite from the drop-down menu. You will then be able to choose your preferred method of payment and complete the booking process. The Holiday Suite is truly a cozy retreat that features a king-sized bed, a sitting area with a fireplace, and a private balcony with stunning views of the mountains and downtown Vancouver. Whether you're looking for a romantic getaway or a family vacation, the Fairmont YVR Hotel Vancouver Christmas Suite is sure to make your holiday special.
Is this a sponsored post?: Yes, our stay at the Fairmont YVR Hotel Vancouver Christmas suite was sponsored. However, we take the responsibility of shared posts VERY seriously and only work with partners we can wholeheartedly recommend and services we would purchase ourselves.
---
Check out these Articles for More Christmas Inspiration Ideas: