All work and no play make for not a very fun day! So when I travel for work I take every chance I can to explore the city that I'm visiting. Tourism Victoria welcomed us with open arms once again as we asked the question, what's the best way to work hard and play hard in Victoria? The answer we found…Wildplay Victoria!
Disclaimer: This article includes affiliate links from which I may earn a small commission if you choose to book. Money goes to help fund Adventure Awaits and keep more informational and educational articles coming your way!
Wildplay Victoria!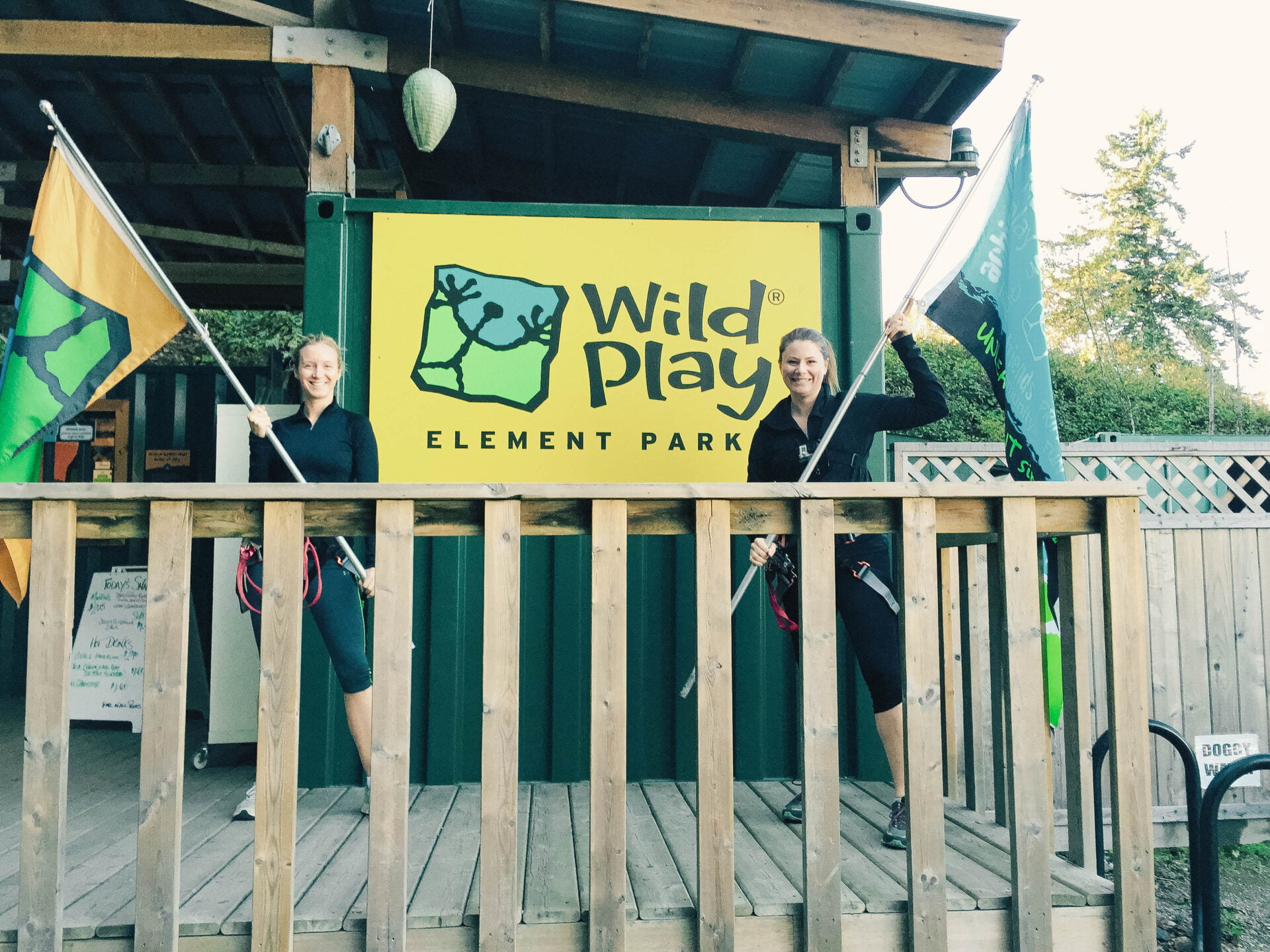 I had heard of Wildplay before but never had the opportunity to explore one of their parks. Wildplay Victoria is an adventure park full of challenges that will test you both physically and mentally. Whether you're ziplining through the trees, traversing a tight rope, or jumping into the abyss, the course gets more and more challenging and fun with every step.
After signing off our lives and posing for a few promotional photos we were off to orientation in the trees!
What to Expect at Wildplay Victoria
Before you take to the Tree Top Adventure Course the staff prepare you with their orientation class. The Wildplay staff were great at teaching us how to tie off, be safe, tie off again, and then be safer. The reality was that we would soon be 40 feet in the air dangling from a rope and it was somewhat important that our safety harnesses be latched on properly! After we proved our new skills it was time to hit the course!
Wildplay Victoria Adventure Course – 3 to Choose From
Kids Course
The kid's course is the perfect jungle gym for the little climbers in your life. Once on the course, kids can crawl, navigate, twist, and challenge themselves in this age-appropriate course.
Classic Course
The classic course starts off easy as you climb up a ladder about 12 feet into the air and test your skills on a short zipline as well as using the belay system. From there every obstacle gets a little more challenging as you crawl higher and higher into the trees.
I loved the variety of the challenges, whether it be jumping over logs, Tarzan swings, monkey bars 40 feet in the air, or rope crawls, this course had a ton of variety to keep your mind and body challenged.
The Extreme Course
Add this to your Classic Course and challenge yourself with the highest heights and unique obstacles. For me this is where I really soared, enjoying the hands-on challenge and the obstacles. My co-partner was way out of her comfort zone but managed to complete the course!
Don't Forget To Have Fun
I love that they have such a great sense of humour… oh wait, this could actually easily happen! 
Wildplay Victoria Photos
Here's a selection of photos from Wildplay that can help you visualize your own Treetop Adventures!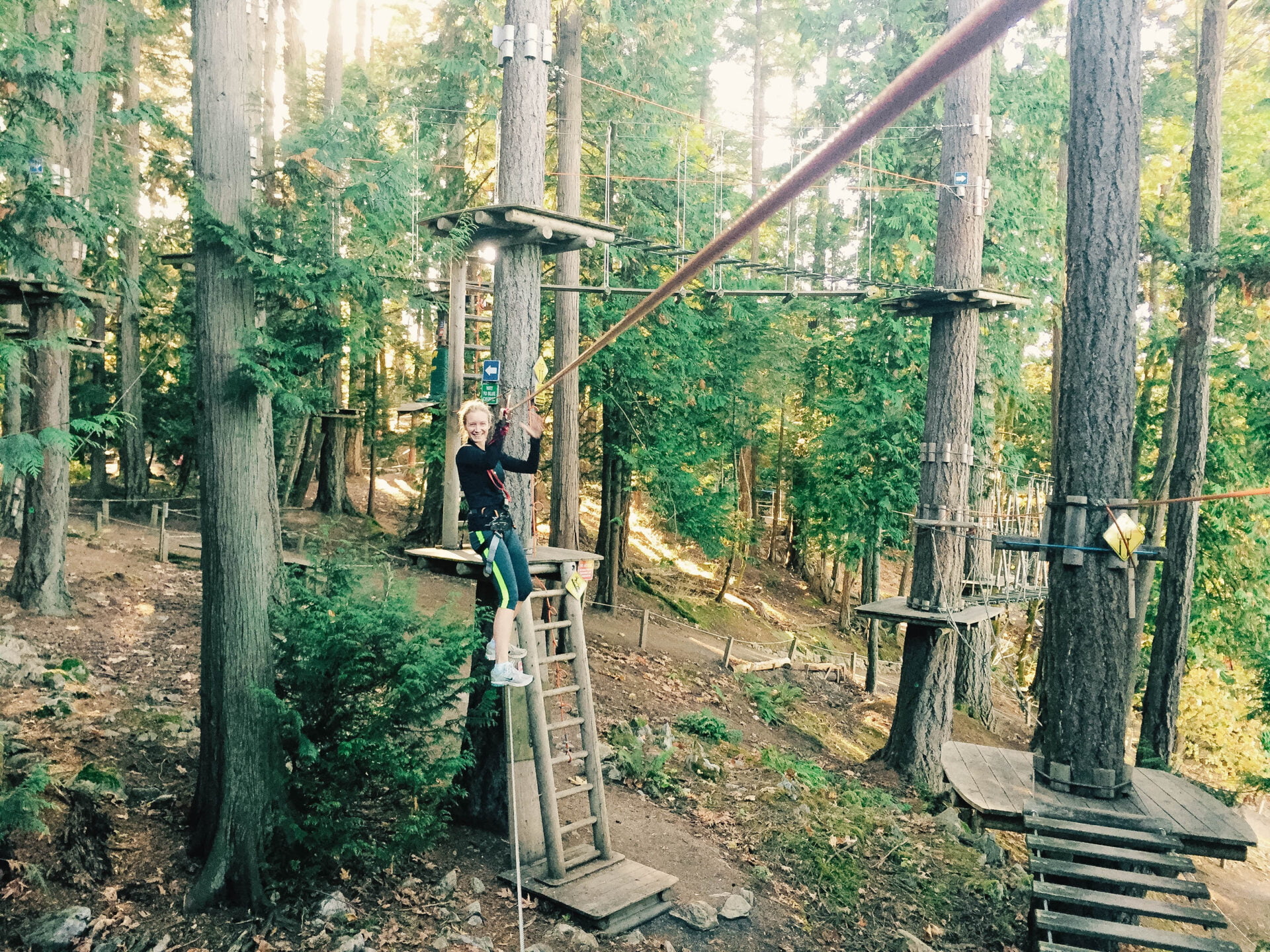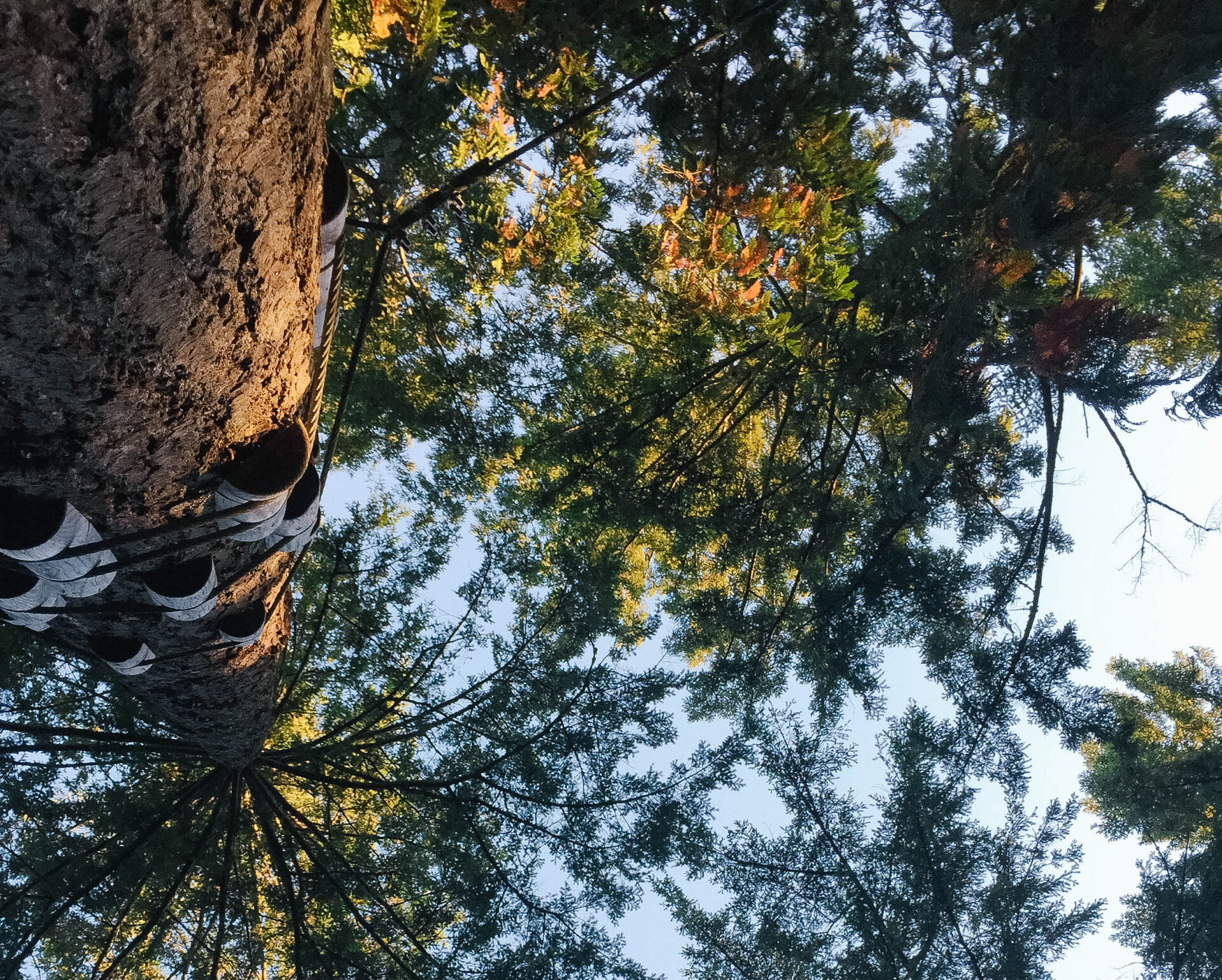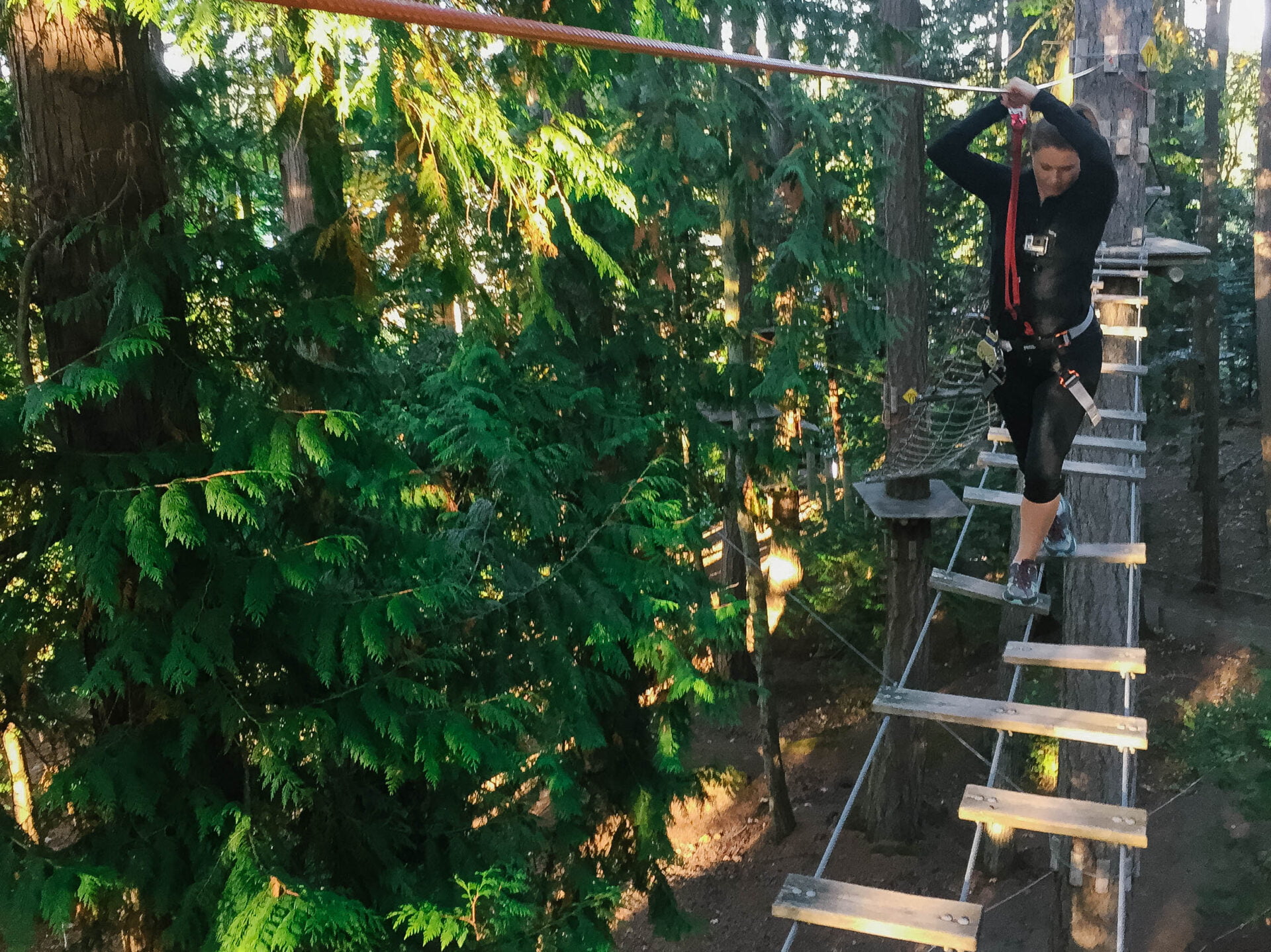 Wildplay Victoria Reviews
I can't wait to check out Wildplay again. They have a variety of locations and each one boasts its own challenges… Whether it be bungee jumping, gigantic swings, or lateral drops, each one will literally push you out of your comfort zone! They also have great kids courses which I think would be a neat birthday party or special event… any chance to get kids in the forest sounds good to me!
Hotels In Wildplay Element Parks Victoria
After our adventure, we headed to our "home away from home" at Chateau Victoria… the perfect place to rest and rejuvenate after our adventure in the treetops!
Click here to book your stay at the Chateau Victoria Hotel and Suites!
Wildplay FAQs
What are the height requirements at Wildplay Victoria?
Children must be at least 114 cm for the kid's course and in order to take part in the classic or extreme you must be at least 142 cm. This allows you to be able to reach the hooking mechanisms for your safety cords. 
Is Victoria Wildplay suitable for older teenagers?
Wildplay Victoria is a great way for older teenagers to enjoy some adventure. The location offers both aerial and ground-based activities that can get their adrenaline pumping! From conquering high ropes course elements, ziplining through the forest, or navigating a thrilling treetop obstacle trail, there are plenty of ways to challenge themselves.
Is Wildplay Victoria or Nanaimo better?
Both of the locations are packed with adventure, so it really depends on what you want to do. Wildplay Victoria offers the kids course, classic course and extreme course. Nanaimo offers the same but you can add on a bungee jump or a primal swing! So depending on your level of adventure, choose the park that's right for you!
Where is the Wildplay Victoria Location?
Wildplay Victoria is nestled in nature in a suburb of Victoria called Colwood. It's just a thirty-minute drive from downtown Victoria.
What is the Wildplay Victoria Phone Number?
They can be reached at 1-855-595-2251.
Where are all the Wildplay Locations?
There are Wildplay locations in Maple Ridge, BC, Nanaimo, BC, Victoria, BC, Niagara Falls, ON, Thacher, NY and Jones Beach, NY.
Wildplay Victoria Jobs
Do you dream of working at Wildplay Victoria? If you're a people person who loves being outside, this may be the perfect job for you! "Members of our team are active, outgoing, and dedicated people who will provide only the highest-quality service. If you have a reputation for exceeding expectations, and you think it's super cool to help others get outside their comfort zone, let's talk." Click here to learn more about career opportunities.
How do I Cancel Wildplay?
If you need to cancel your Wildplay Victoria experience be sure to do so before the 24-hour notice, as anything less than 24 hours will have the balance owed charged. To cancel your adventure: email [email protected] or call 1-855-595-2251.
Where is Wildplay Element Parks Headquarters?
Wildplay's headquarters are located in downtown Victoria at 103-2610 Douglas St, Victoria, British Columbia, V8T 4M1, Canada.
Click here for more information about Wildplay Victoria.
---
Check out These Articles for some Vancouver Island Inspiration!