In an age of global food markets, many families are choosing to make more local, sustainable food choices. So, throw on your favourite boots and flannel, because it's time to talk farming! Of course, I am not actually suggesting you grab a shovel and start planting. But what I am encouraging you to do is to take advantage of a Langley circle farm tour, available right here in British Columbia, as they've got everything you need for a fun and safe (even during a pandemic!) outing: you don't have to travel far, they're outdoors, there's plenty of space, and as you'll see, there is literally something for everyone in your family to enjoy. Circle farm tours in Langley are a great way for families to connect with local food and support local farmers. Langley is home to many different farms, each with its own unique products and history. During a tour, families can explore the different ways that these farms operate and learn about the various types of products that they offer. In addition, they can also interact with the farmers (and the animals!) themselves, getting a firsthand look at the hard work that goes into producing fresh food. By taking part in a Langley farm tour, families can gain a greater understanding of where their food comes from and how it is produced. In doing so, they can help to support the local farming community while also increasing their own knowledge about healthy, local eating.
Ready to trade the TV for a tractor? Let's look at the best places to farm-hop and locally shop this weekend. To make things easy, we've grouped these incredible local businesses into two groups: farm tours and farm markets. Farm tours are local farms that offer hands-on family farm fun, while farm markets offer locally grown and raised farm products for purchase. Some farms have both! We further broke the farm tours into Langley and Abbotsford locations. First up, Langley family fun farm tours!
Langley Farm Tours
Eagle Acres Dairy Farm & Pumpkin Patch SaFarmi Stroll
A working dairy farm, Eagle Acres is usually bustling with all sorts of tours and activities this time of year. After converting to a car tour during 2020 & 2021, Eagle Acres is now offering walking tours again, so your family can get up close and personal with the farm animals.
Have you ever taken a SaFarmi?
That's right – Eagle Acres is offering what might be a first of its kind – a Safarmi Stroll farm tour. Your family will walk the SaFarmi Stroll route through Eagle Acres, stopping to admire the different animals that call the farm home. To guide your journey, Eagle Acres has created a special read-along guide to teach you all about the fuzzy farm creatures you meet along the way.
Eagle Acres also offers a Bucket List guided tour, birthday parties and pumpkin patch tours in the fall.
Admission: $10 per child/senior, $12 per adult for Safarmi Stroll
Location: 8796 240 Street, Langley
Website: Eagle Acres
Falconglen Organic Farms
Photo Credit: Falconglen Organic Farms
Do you love organic blueberries? Do you love organic tea? Nestled in the heart of Langley, Falconglen Organic Farms has both. In fact, they also have organic blueberry tea! Falconglen Organic Farms features an abundance of organic blueberries, which can be picked by visitors during the u-pick season from July until August—check their website for upcoming u-pick dates. With over eight acres of organic farmland, there's plenty of room to explore and find the perfect berries. In addition to blueberries, the farm also grows organic bi-colour corn. Falconglen is committed to sustainable farming practices, and all of their produce is grown without the use of synthetic pesticides or fertilizers. So whether you're looking for a delicious snack or want to make your own jam, Falconglen organic farms has you covered. Best of all, because the berries are picked fresh, they're sure to be delicious! Falconglen also offers organic, farm-made teas with green, black, herbal, and Bergamot blends on offer.
Admission: $3.75 per pound for u-pick organic blueberries
Location: 26345 88 Ave, Langley
Website: Falconglen Organic Farms
Kensington Prairie Farm
Photo Credit: Tourism Langley
Need to check "walking an alpaca" off your bucket list? Look no further than Kensington Prairie Farm in Langley, BC. Part of the Circle Farm Tour in Langley, this farm is home to all things alpacas! Visitors can take tours of the farm, meet the alpacas, chickens, ducks, and rabbits, and learn about farm life. There's also a gift shop on-site, where you can purchase alpaca wool products and related souvenirs (I'm talking cute alpaca stuffies!). Whether you're a budding alpaca enthusiast or just looking for a fun day out, Kensington Prairie Farm is sure to please.
Love farm-to-table dining? Kensington Prairie Farm offers exquisite 3-course farm-to-table dinners featuring local products by local chefs on select nights. Live music and a pre-dinner farm tour are included! Check out the Kensington Prairie Farm website for more information.
General Admission: $7.50 for adults and teens (free for children!)
Guided Farm Tours: $20 for adults, teens and youth (5 and under free)
Location: 1736 248 Street, Langley
Website: Kensington Prairie Farm
Driediger Farm U-Pick Fields
What better way to enjoy the fruits of the farm than to pick them yourself?
Langley's Driediger Farms has been a premier U-Pick destination for over 50 years! Open most days of the week (check their website or social media pages before you go to ensure they're open), your family can enjoy an afternoon in the sun picking the freshest strawberries, raspberries, blackberries, red currants, and blueberries you've ever tasted. Having picked it themselves, you kids (and you!) will have a new appreciation for their food.
Additionally, the farm has a market where you can purchase fresh and frozen berries, fruit pies, gifts, as well as seasonal Okanagan fruit.
Admission: Free (pay by the pound for the berries you pick)
Location: 23823 72 Ave., Langley, BC
Website: Driediger Farms
Aldor Acres Farm
Aldor Acres Family Farm is a year-round working farm but is perhaps best known for its pumpkin patch and Christmas celebrations. Pop-up openings and private birthday parties and events are offered during the spring and summer before things really get going in the fall. Pass by animals in the farmyard, the meandering creek, the old-growth forest, the sunflower patch, and so much more as you explore the farm. And if you're looking for treats when you're done, pop by the Farmacy farm market for some farm-fresh products, produce, and homemade goods.
The Aldor Acres Farm is open only on specific dates during the spring and summer, so be sure to consult the website before you hit the trail at this Langley farm tour.
Location: 24990 84 Ave., Langley
Website: Aldor Acres
Abbotsford Farm Tours
Maan Farms Barnyard Adventure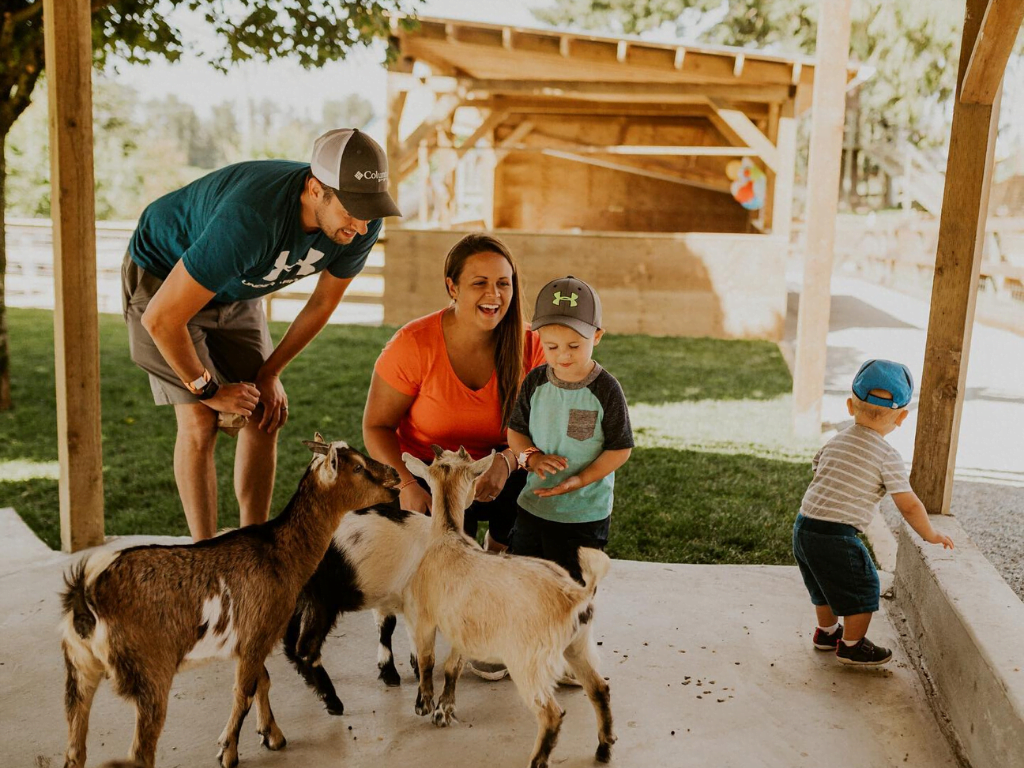 Maan Farms Barnyard Adventure is a true family experience. This place has everything – a petting zoo, pedal go-karts, a zip line, a spider web, corn maze and pumpkin patch (come fall), a jumping pillow, a wooden fortress, a tire clubhouse, two massive slides, and yes, they even have baby goats! Did I mention goat yoga? No, that's not a typo. It's a thing and you can check it out at Maan Farms. And with nearly everything open for business (with certain restrictions in place), this is one of the most immersive adventures your family can have.
Of course, the farm is taking extra steps to ensure safety remains a top priority for visitors. Washrooms and high touch points are sanitized regularly, and safe social distancing is encouraged at all times.
If you and the kiddos are ready to get out and explore, Maan Farms is the place for you!
Admission: $18.50 for ages 3+, parents with children $16.50. Two and under are free.
Location: 790 McKenzie Rd., Abbotsford
Website: Maan Farms
Taves Family Farms
If there's one thing Taves Family Farms is known for (besides their delicious cold-pressed ciders), it's the goats.
Another Abbotsford favourite, the Taves Family Farm is home to the cutest baby goats you'll ever see. The Farmville area also has a donkey (Jelly Bean), a pig (Charlie), turkeys (Tom and Terri), chickens, rabbits, sheep and an Alpaca (Marley). The kids will also love the giant jumping pillow and pedal cart course.
The farm offers U-pick goji berries, strawberries, apples, and pumpkins in season and plenty of delicious farm products and refreshments for purchase, including apple cider slushies and mini doughnuts. Plus, mom and dad can grab some apple cider (soft or hard) to bring home on the way out.
Admission: Farmville is open on weekends from 11:00 am to 6:00 pm (best to call or check their website, as these days/times can change)
Location: 333 Gladwin Road, Abbotsford
Website: Taves Family Farms
Langley Farm Markets
Milner Valley Cheese (and Gelato!)
Photo Credit: Tourism Langley
Three words: goat's milk gelato! While Milner Valley Cheese is known for its goat cheeses, kids might be more interested in their gelato. From Cookies and Cream to Pumpkin Spice, enjoy a variety of fabulous gelato flavours while visiting the shop at this fifth-generation family farm. Milner Valley Cheese is a heritage farm that produces a vast array of delicious farmstead goat cheese and goat milk products. The farmstead has been in the Smith family since 1885, and the 1910 farmhouse is a registered heritage site. The cheese is made from the milk of Alpine and Saanen goats, and it is absolutely delicious. The milk is incredibly rich and creamy, and the cheese has a lovely smooth texture. The farm also offers a variety of other products, including goat milk soap and lotion. If you're ever in the area, be sure to stop by Milner Valley Cheese and pick up some of their delicious farmstead goat cheese. You won't be disappointed!
Hours: April through December, Tuesdays to Saturdays 10:00 am – 5:30 pm.
Location: 21479 Smith Crescent, Langley
Website: Milner Valley Cheese
Cedar Rim Nursery
Photo Credit: Tourism Langley
If you're looking for a local nursery with a wide selection of plants and knowledgeable staff, Cedar Rim Nursery in Langley, BC is the perfect place for you. This family-owned business has been serving the community since 1978, and they have the expertise to help you find the perfect plants for your backyard or vegetable garden. Whether you're looking for annuals, perennials, herbs, vegetables, shrubs, or trees, Cedar Rim has a great selection to choose from. They also offer helpful advice on plant care and gardening tips. So if you're looking for a great selection of plants and helpful advice, Cedar Rim Nursery is the place to go.
Hours: Monday – Saturday: 9:00am – 5:30pm, Sundays & Holidays: 10:00am – 5:00pm
Location: 7024 Glover Road, Langley
Website: Cedar Rim Nursery
BC Buzz Honey
Photo Credit: Tourism Langley
Looking for a delicious and natural way to sweeten your food? Look no further than BC Buzz Honey! This local company produces high-quality honey and a variety of honey products, all of which are perfect for adding a touch of sweetness to any dish or eating on their own. The on-farm Honey Hut is the perfect place to start if you're new to BC Buzz Honey. Here, you will discover a variety of honey flavours, from classic clover honey to exotic wildflower honey. And if you're looking for something a little bit different, be sure to check out the honeycomb! This unique product is made of beeswax and is perfect for spreading on toast or enjoying straight from the comb.
Hours: Weekdays 9:00 am – 5:00 pm and weekends 11:00 am – 4:00 pm.
Location: 6321 248 Street, Langley
Website: BC Buzz Honey
Ralph's Farm Market
Photo Credit: Ralph's Farm Market
Ralph's Farm Market is a family-owned business that has been operating in Langley, BC for over 30 years. The farm market was started by Ralph and his wife, who were passionate about fresh, British Columbia food. They wanted to provide the community with a place to buy farm-fresh produce and other goods. Today, the farm market is still run by Ralph and his family. They continue to source their produce from local farms in the Okanagan Valley. In addition to fruits and vegetables, the farm market also sells honey, eggs, baked goods, and Meridian Meats products. The market is open year-round, and customers can always expect to find fresh, seasonal produce. For those looking for a taste of BC, Ralph's Farm Market is the perfect place to start.
Hours: Seven days a week from 8:00 am to 8:00 pm
Location: 22728 Fraser Highway, Langley
Website: Ralph's Farm Market
JD Farms Specialty Turkey Farm Store and Bistro
Photo Credit: Tourism Langley
JD Farms Specialty Turkey Farm Store and Bistro offer visitors the chance to not only purchase non-GMO grain-fed, antibiotic-free, locally raised turkey, but to also enjoy a delicious meal made with farm-fresh ingredients. The store sells a variety of turkey products, including turkey sausages, turkey bacon, and turkey jerky. And the bistro serves up turkey burgers, turkey sandwiches, and turkey pot pies. So whether you're in the mood for a quick snack or a sit-down meal, JD Farms has you covered. And best of all, you'll know that your turkey was raised in a humane and sustainable way. So come on down to JD Farms and have yourself a turkey feast!
Hours: Monday to Saturday 9:00 am to 6:00 pm, Sundays 10:00 am to 5:00 pm
Location: 24726 -52nd Ave, Langley
Keep the Farming Spirit Alive with Local Farms and Fruit/Veggie Stands
Once your family gets a taste of farm life, it's going to be hard to return to your normal, mass-produced grocery store produce. So why not keep the farming spirit alive by making trips to your local fruit and veggie farm stands a part of your weekly or monthly routine?
Most of you likely live closer to fresh, organic, local farm-produced goodies than you realize. A quick Google search should reveal the stands closest to you, and you'll now have a recurring adventure for the kiddos. And as an added bonus, you'll ensure your family is eating nothing but the freshest fruits and veggies too – a win, win!
Why Your Family Needs the Farm
If we're all being honest, this pandemic has dragged out longer than any of us had hoped. But that doesn't mean your family can't have fun. It just makes the great outdoors even greater!
Circle farm tours are the perfect, safe way to enjoy a taste of your local scenery. There are wonderful sights, great smells, amazing tastes, educational opportunities, and an endless stream of fun things to keep the kiddos smiling and laughing for hours. Who knows…a trip to your local farm might be all the family needs to forget the craziness that the pandemic has brought us.
So this weekend, grab those boots and hit the open road to the Abbotsford or Langley circle farm tour nearest you. I promise it'll be an experience your family won't soon forget!
Langley Circle Farm Tour FAQs
Is it safe to pet the farm animals? Only if the farm says it is okay. Most of the farms are very clear about which animals can be touched. These critters are used to being petted and are gentle. Be sure children are being equally gentle back… any animal will defend itself if it feels threatened. Also, be sure to sanitize or wash your and your child's hands afterwards.
When are u-pick farms open? U-pick farms open when the berries or other produce is ready. Be sure to call or check each farm's website or social media page for openings.
I live in the eastern Fraser Valley – are there circle farm tours available in my community? Chances are, yes! Check out the Fraser Valley Circle Farm Tour website for information on Chilliwack and Agassiz-Harrison Circle Farm Tours.
Feeling inspired by our Circle Farm Tour in Langley blog? Looking for more Fraser Valley summer activities? Check out the articles below!
Is this a sponsored post?: No, we just wanted to share some Langley Farm Tour activities with our followers!