It's no secret that families are struggling to come up with new things to do this summer. Parents and kids alike are frustrated with the lack of safe, fun-for-all activities and outings, leaving many families with no option but to plop on the couch in front of the television night after night.
But what if I told you there was a fun and safe way to spend some quality time together as a family this weekend? One that harkens back to the days of the original social distancing?
Well, throw on your favourite boots and flannel, because it's time to talk farming!
Of course, I am not actually suggesting you grab a shovel and start planting. But what I am encouraging you to do is to take advantage of a Langley farm tour available right here in British Columbia, as they've got everything you need for a fun and safe pandemic outing: you don't have to travel far, they're outdoors, there's plenty of space, and as you'll see, there is literally something for everyone in your family to enjoy.
Ready to trade the TV for a tractor? Let's look at the best places to farm hop this weekend…
Eagle Acres Dairy Farm SaFarmi Tour
A working dairy farm, Eagle Acres is usually bustling with all sorts of tours and activities this time of year. Unfortunately, most of the regular activities have been cancelled due to COVID-19, but that doesn't mean your family can't still enjoy this wonderful farm.
Have you ever taken a SaFarmi?
That's right – Eagle Acres is offering what might be a first of its kind – a safari farm tour. From the comfort and safety of your own vehicle, your family will drive the SaFarmi route through Eagle Acres, stopping to admire the different animals that call the farm home. To guide your journey, Eagle Acres has created a special read-along guide to teach you all about the fuzzy farm creatures you meet along the way.
Admission: $10 per vehicle
Location: 8796 240 Street, Langley
Website: Eagle Acres
Aldor Acres Farm Cruise
What better way to enjoy 80 acres of farmland than by cruising along a 2.5km path on bike or foot?
Well, this is exactly what your family will enjoy on the Aldor Acres Family Farm Cruise. Pass by animals in the farmyard, the meandering creek, the old-growth forest, the sunflower patch, and so much more as you cruise along the farm roads at your preferred pace. And if you're looking for treats when you're done, pop by the pasture-side pickup stand for some farm-fresh products, produce, and homemade goods.
The Aldor Acres Farm Cruise runs on specific dates, so be sure to consult the website before you hit the trail at this Langley farm tour.
Admission: $9 per person (Family rates also available)
Location: 24990 84 Ave., Langley
Website: Aldor Acres
Maan Farms Barnyard Adventure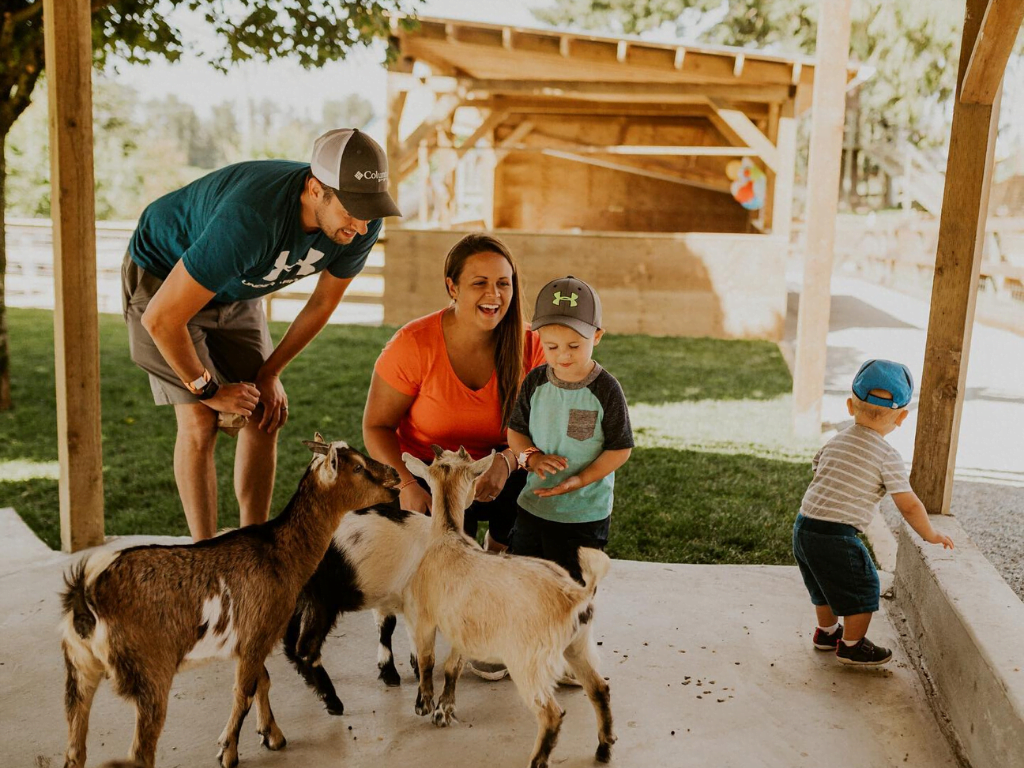 Maan Farms Barnyard Adventure is a true family experience. This place has everything – a petting zoo, pedal go-carts, a zip line, a spider web, corn maze and pumpkin patch (come fall), a jumping pillow, a wooden fortress, a tire clubhouse, two massive slides, and yes, they even have baby goats! And with nearly everything open for business (with certain restrictions in place), this is one of the most immersive adventures your family can have during the pandemic.
Of course, the farm is taking extra steps to ensure safety remains top priority for visitors. Guests must purchase tickets for specific time slots and are limited to a two-hour visit to ensure capacity remains at a safe level. Washrooms and high touch points are sanitized regularly, and safe social distancing is encouraged at all times.
If you and the kiddos are ready to get out and explore, Maan Farms is the place for you!
Admission: $7.95 – $9.95 per person
Location: 790 McKenzie Rd., Abbotsford
Website: Maan Farms
Taves Family Farms GOATerdays
If there's one thing Taves Family Farms is known for (besides their delicious hard ciders), it's the goats.
Home to the cutest baby goats you'll ever see, the Taves Family Farm has just completed work on an adorable new playpen for these little guys. And they're not letting the pandemic keep families like yours from enjoying the adorable critters in all their glory.
That's why the farm is hosting "GOATerdays" – a drive-in goat watching experience. Pull up right to the new playpen, and enjoy an afternoon of goat watching and goat feeding while safely social distanced from other guests. The farm offers plenty of delicious refreshments, including apple cider slushies and mini donuts. Plus, mom and dad can grab some hard apple cider to bring home on the way out.
Admission: Free
Location: 333 Gladwin Road, Abbotsford
Website: Taves Family Farms
Driediger Farm U-Pick Fields
What better way to enjoy the fruits of the farm than to pick them yourself?
Langley's Driediger Farms has been a premier U-Pick destination for over 50 years! Open most days of the week (check their social media pages before you go to ensure they're open), your family can enjoy an afternoon in the sun picking the freshest raspberries and blueberries you've ever tasted.
The farm is taking extra precautions this season, including single-use containers, row assignments to ensure social distancing, and the ban of fruit tasting in the field (I know, it's a bummer!). However, these steps will ensure that your family can have a fun and safe outing, with an added bonus of delicious fresh berries for days or weeks to come!
Admission: Free ($2.75 per pound for berries you pick)
Location: 23823 72 Ave., Langley City
Website: Driediger Farms
Keep the Farming Spirit Alive with Local Farms and Fruit/Veggie Stands
Once your family gets a taste of farm life, it's going to be hard to return to your normal, mass-produced grocery store produce. So why not keep the farming spirit alive by making trips to your local fruit and veggie farm stands a part of your weekly or monthly routine?
Most of you likely live closer to fresh, organic, local farm-produced goodies than you realize. A quick Google search should reveal the stands closest to you, and you'll now have a recurring adventure for the kiddos. And as an added bonus, you'll ensure your family is eating nothing but the freshest fruits and veggies too – a win, win!
Why Your Family Needs the Farm
If we're all being honest, this summer is not turning out like any of us had hoped when we were dreaming of warmer days back in January. But that doesn't mean your family can't still have fun.
Farm tours are the perfect, safe way to enjoy a taste of your local scenery. There are wonderful sights, great smells, amazing tastes, and an endless stream of fun things to keep the kiddos smiling and laughing for hours. Who knows…a trip to your local farm might be all the family needs to forget the craziness that 2020 has brought us.
So this weekend, grab those boots and hit the open road to the farm tour nearest you. I promise it'll be an experience your family won't soon forget!
---
Feeling inspired by our Langley Farm Tour blog and looking for more COVID friendly summer activities? Check out the blogs below!
Is this a sponsored post?: No, we just wanted to share some Langley Farm Tour activities with our followers!