Are you looking to take part in one of the newest Fraser Valley Fall attractions: The Cranberry Plunge Langley?
As a local Langley resident, I can tell you that one of the things I love the most about living in the Fraser Valley is the changing of the seasons that happens in the Fall. September and cooler weather are always apparent in Fort Langley as the local fields transition to bright red and the harvesting of one of my favourite fall treats begins. There's no better way to kick off the cranberry season than by plunging into a field of them at a cranberry farm in Langley!
If you're looking for a fun fall activity this blog post will give you all the information you need to plan the perfect trip to The Bog Riverside Cranberry Farm in Langley where you too can take the big Cranberry Plunge Langley. Grab your boots and camera and get ready to have some fun!
Please Note: The Bog Riverside Cranberry Farm is currently undergoing a major building renovation project in 2023 that will bring a new barn with a new storefront (complete with a porch), large event space and new fruit processing plant. So you may see and hear construction activity during your visit.
As a Travel Writer, I have had the opportunity to take part in adventures all around the world but I have to say the cranberry plunge Langley is one of my favourite local adventures that celebrates the Fall Season with the perfect blend of adventure, and amazing eats, all while supporting local business and families.
Disclaimer: While I share my own thoughts and stories about these experiences, should you click on the affiliate links, I may receive a small commission on that sale which helps fund Adventure Awaits.
Cranberry Plunge 2023
Cranberry season is among us and it's the perfect time to plan a trip out to one of Langley's Cranberry farms where you can take part in a Cranberry Plunge!
What Is A Cranberry Plunge?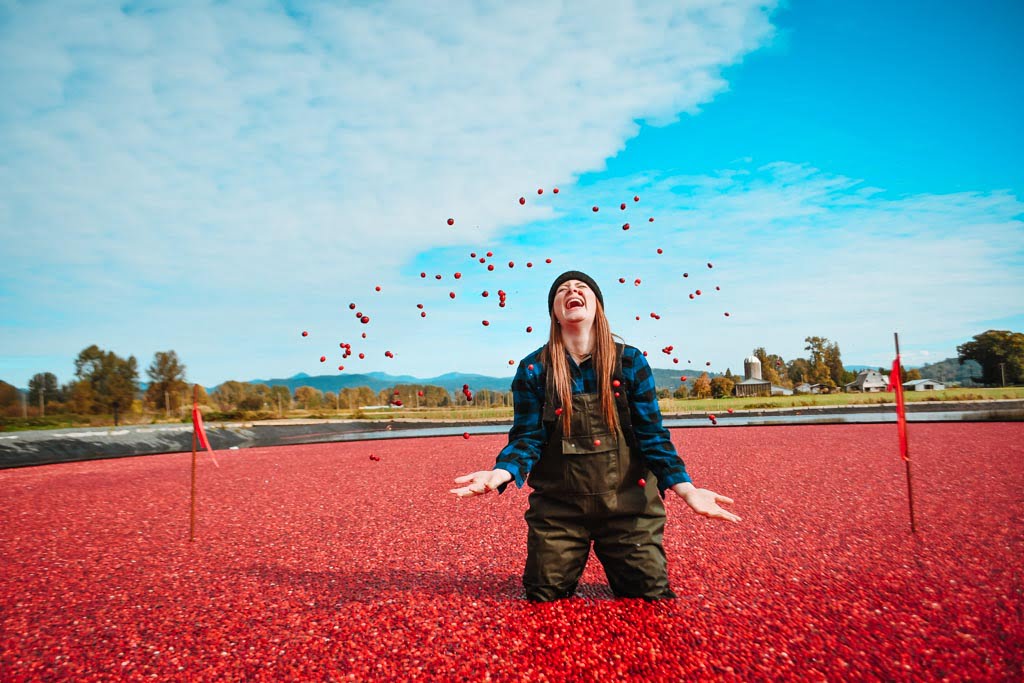 A cranberry plunge is where you get to put on special waders and make your way down a boardwalk into a cranberry field. You'll slowly walk down steps into the cranberry field where floating cranberries will surround you while you stand in the cranberry pool, up to your waist in cool water and thousands of cranberries.
Locals Tip: The most surprising aspect of the experience was how chilly the water in the cranberry field was. Even though we were wearing big thick waders, you could feel the cold water below. The plunge is only a few minutes though so it's totally worth it!
Where Is The Best Place To Go For a Cranberry Plunge In Langley?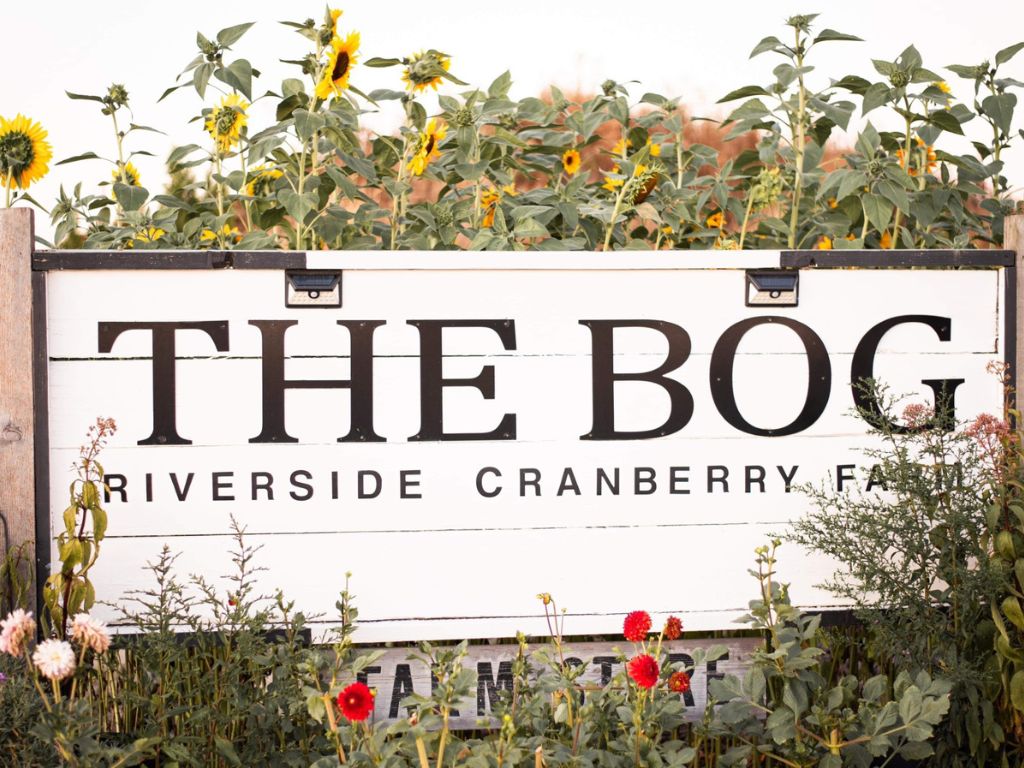 Our favourite cranberry farm in Langley is The Bog Riverside Cranberry Farm in Fort Langley. They are a multi-generational family farm owned by a local family that invites you to come and take in the iconic cranberry plunge, but also learn more about the history of cranberry farming, tour old-fashioned farm equipment, see the working field in full operation, shop the local market for treats to take home, and enjoy educational tours while on the property.
We also love that it is located only minutes from the townsite of Fort Langley where you can explore local shops, antique stores, The Fort Langley National Historic Site, or just stroll the streets and do some window shopping.
When Is Cranberry Season?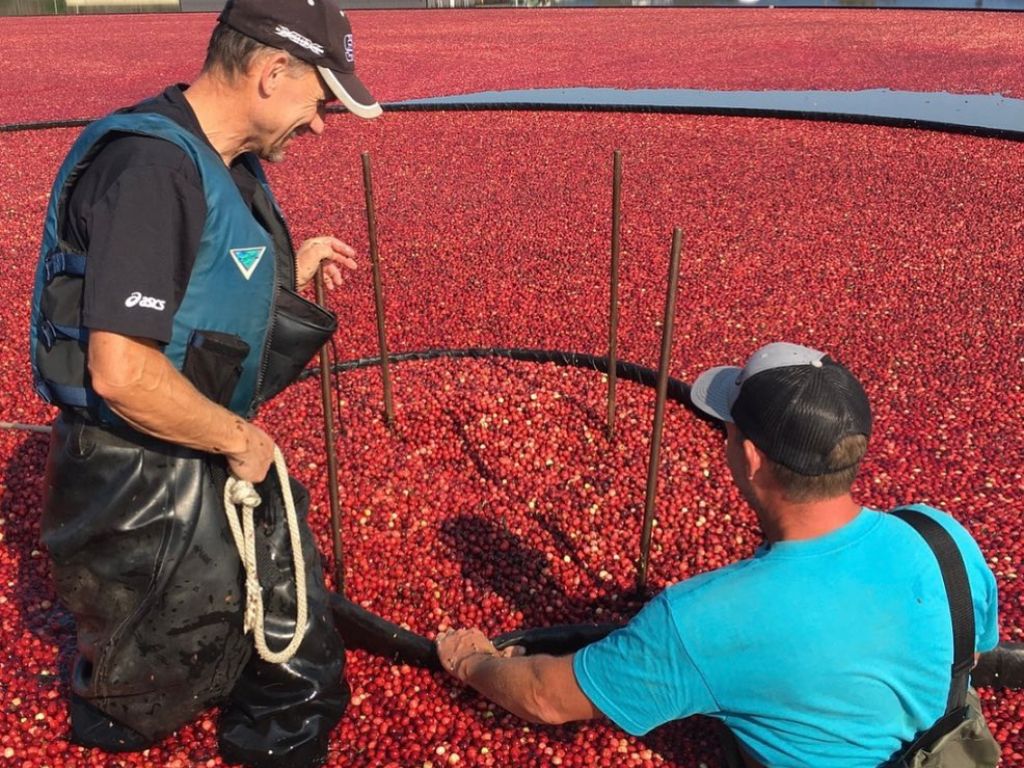 While cranberries can be seen around the Fraser Valley from April to September, Cranberry Harvest Season is typically from mid September until the end of October, depending on the year. For 2023 the harvest season at The Bog will be running Mid-September to early/mid October (as the variety of cranberries they grow are ones that ripen earlier in the season).
How Are Cranberries Grown?
Cranberries are perennials, so they go dormant through the winter (Nov – April) and then wake up for the growing season between April – October. Cranberries require a unique environment as the cranberry vines thrive in layers of wood chips, or acidic peat soil or sand. They grow on farms from April to October and then in Langley they are harvested via "wet harvesting."
Wet harvesting is where the cranberry bog gets flooded with 12-24 inches of water about 12 hours prior to the harvesting beginning. The next morning the farmers use tractors that have attachments that comb through the plants and knock the berries off the vine. Many BC farms still use a beater as the tractor/harrow is a much newer and more expensive type of harvester. At The Bog, they use both. This loosens the cranberries so that they float to the top of the water where either a suction pump transports them from the field to either a semi or a truck. From there the trucks take them for processing, where they will be transformed into their next version of their best selves (cranberry juice, cranberry sauce, frozen cranberries, and more!).
What To Wear When Visiting A Cranberry Farm In Langley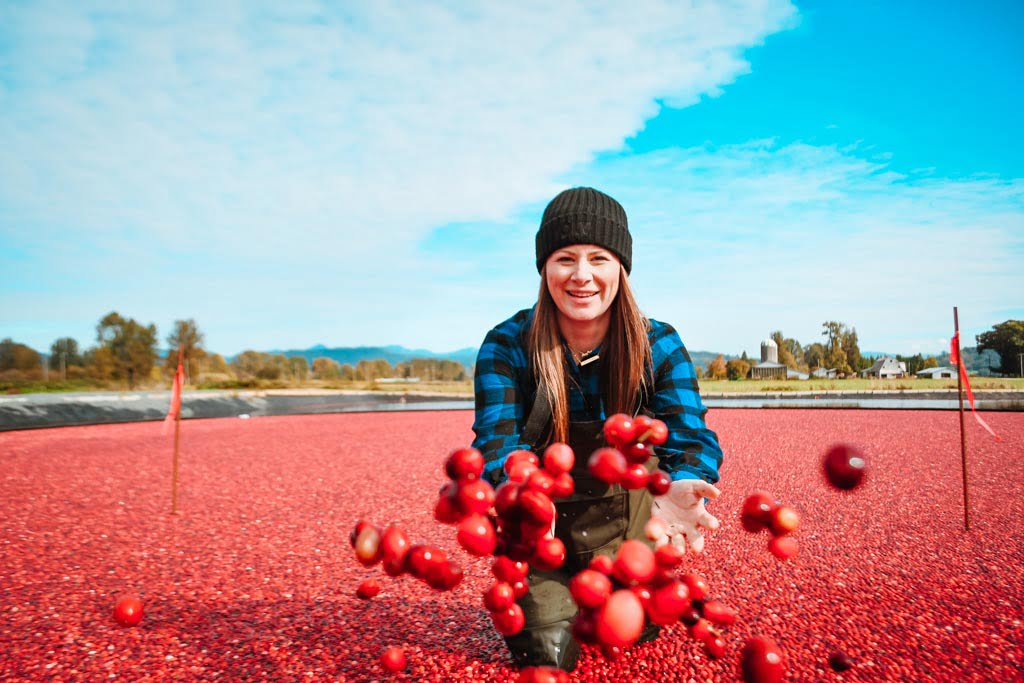 Because you will be visiting a group of working cranberry fields, it's important to make sure you're geared up in the right clothes for your farm adventure. Think of walking through fields filled with mud, water and dirt. I recommend long warm pants or jeans, sturdy walking boots or rubber boots, and layers on top. We were surprised at how warm our Fall day was and took off our layers not long after arriving.
What to Wear for a Cranberry Plunge Langley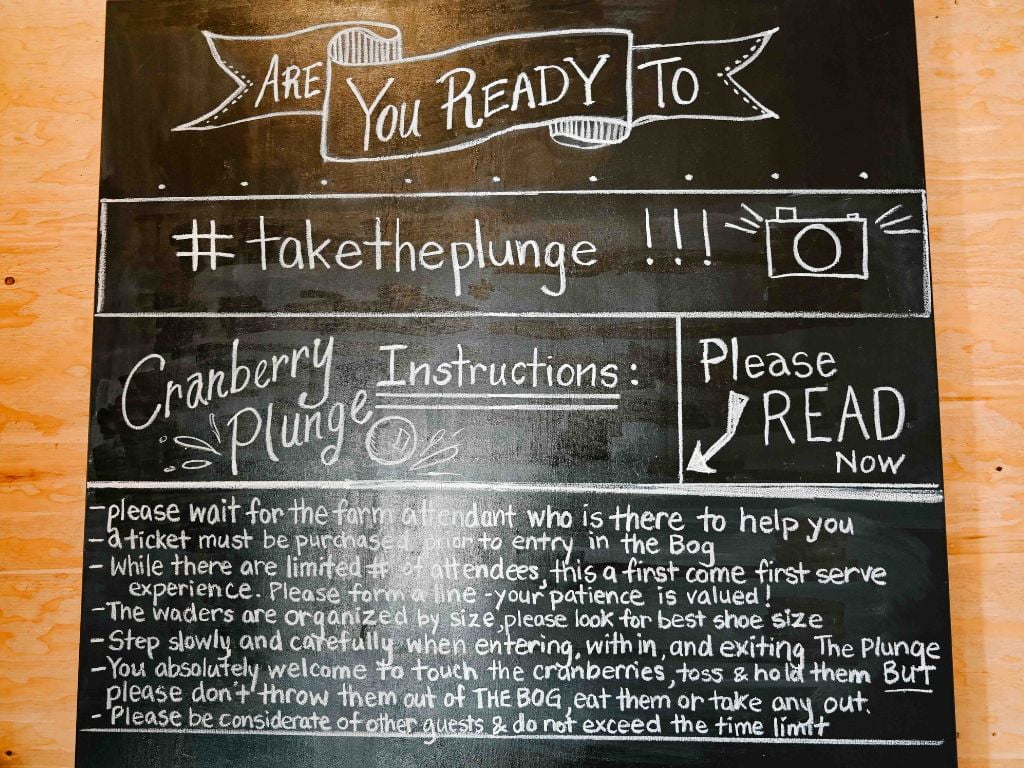 When you go for a cranberry plunge at Langley's Riverside Bog they will welcome you to a dressing station inside their new building where they will provide you with a very fashionable wader and boot combination, allowing you to go chest-deep into the cranberry field. This will also give you a place to change, store your backpacks and any other items that you don't want to carry into the field with you.
If you're looking for Instagram-perfect photos I recommend wearing a yellow or blue top and a fun coordinated hat or toque. Those colours will pop best off the backdrop and will make for the most fun photos.
Photography Tip: See how my black hat gets lost in this, if I was wearing blue or yellow toque it would pop out even more. The real advice: Bring a couple outfit options!
How to Capture the Best Photos of a Cranberry Plunge
While any photos in the cranberry field will be fun, if you're looking for action-packed ones like mine I'd recommend using a camera that allows you to put it on sports action mode or shoot manually so you can adjust the shutter speed to get the action shots!
Be sure to take multiple attempts and more photos than you think you'll need so that you can sort through them after and search out that perfect shot. The ambiance and action of the cranberry plunge langley does make it easy to capture great photos!
Photography Tip: Make sure you have someone who knows how to use a camera and take the photos for you, you won't be able to set up a tripod and there may be a lineup of people so you'll have to move quickly.
Cranberry Farm Pictures – Fun Poses to Try at the Cranberry Farm in Langley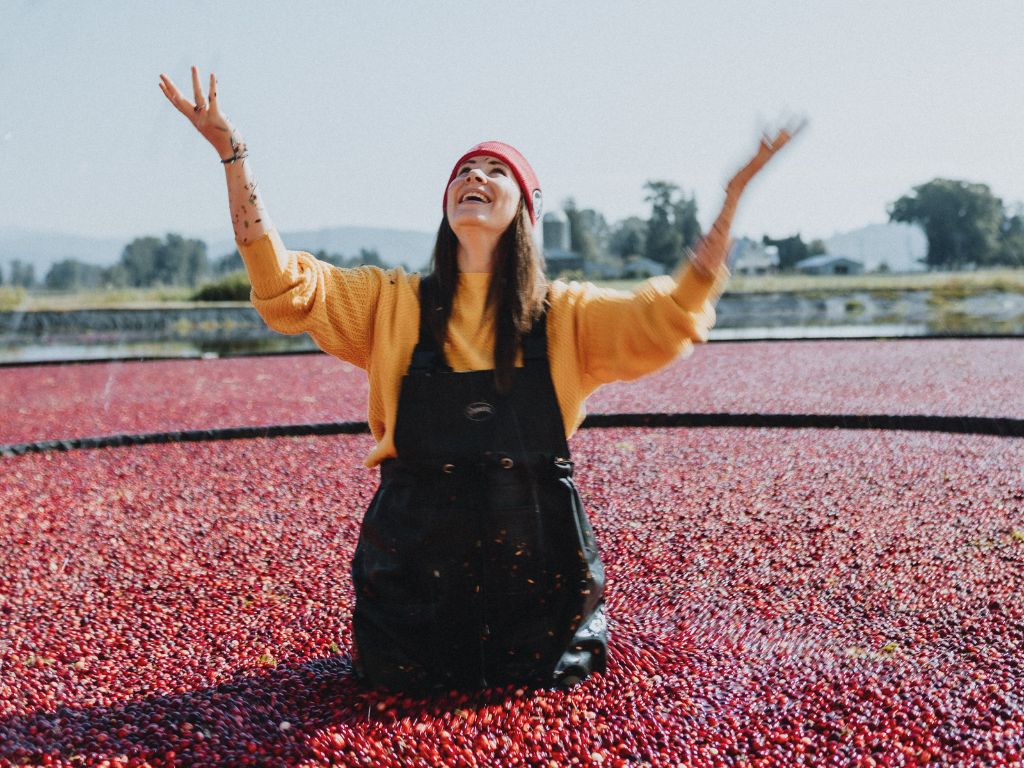 Taking cranberry farm pictures is a fun and relatively easy thing to do since the bright colours and beautiful scenery make for easier photography. Here are some action shots and poses you can try in a cranberry field to take your images to the next level:
Throwing cranberries at the camera
Throwing cranberries up in the air
Arms high up in the air
Looking out over the fields
Holding a bunch of cranberries in your hands
Arms around your cranberry plunge partner
Hands-on your hips and smiling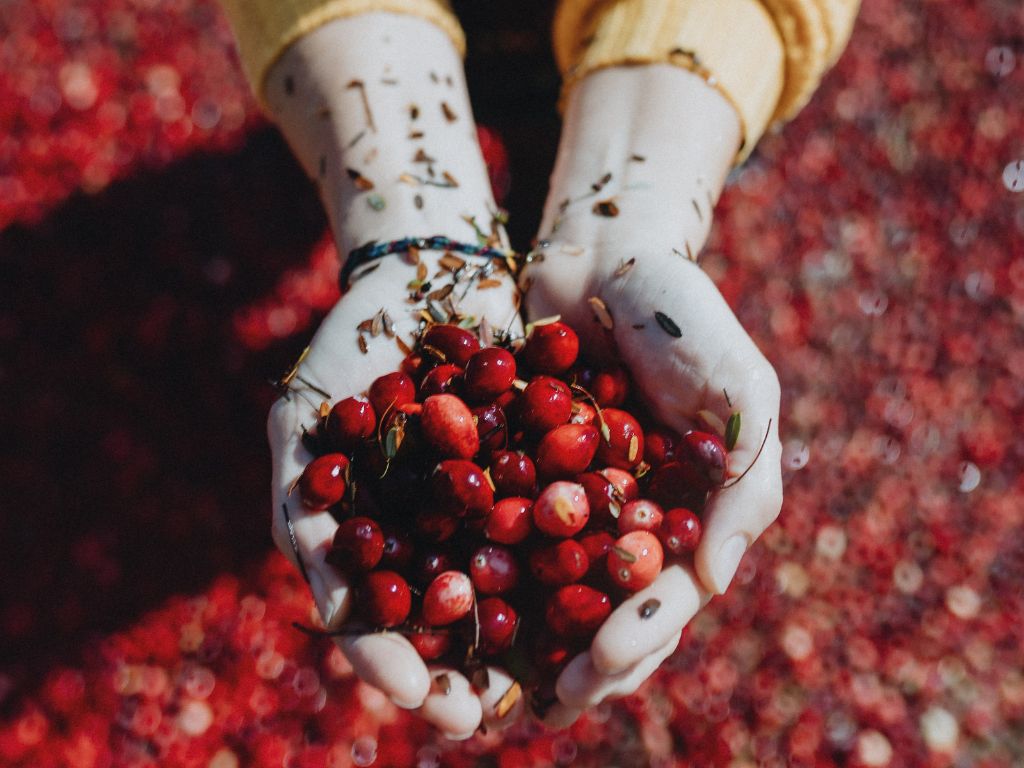 Cranberry Farm Tours
Cranberry farms offer more than just a cranberry plunge experience, you can also go for a cranberry farm tour while visiting a bog. Here's a list of other experiences you can expect when visiting cranberry fields, such as The Bog Riverside Cranberry Farm in Langley:
Antique Cranberry Farming Equipment
Did you know that cranberries have been harvested on farms since the 1800s and Canada produces the second largest amount of cranberries in the world? Learn about the history of cranberry farming and see the antique cranberry farming equipment in action (I have to say this was really neat to see!).
Harvest Walk
Soak in the last of the late summer season and stroll around the perimeter of the cranberry fields, watching the crop being harvested. See the harvesting machine pumping the cranberries off the field.
Self Guided Tour
Follow the self-guided audio tour around The Bog. Be sure to take your time and stop and read the informational displays to learn about the exciting facts about cranberry farming in Langley.
Photo Ops at the Cranberry Farm in Langley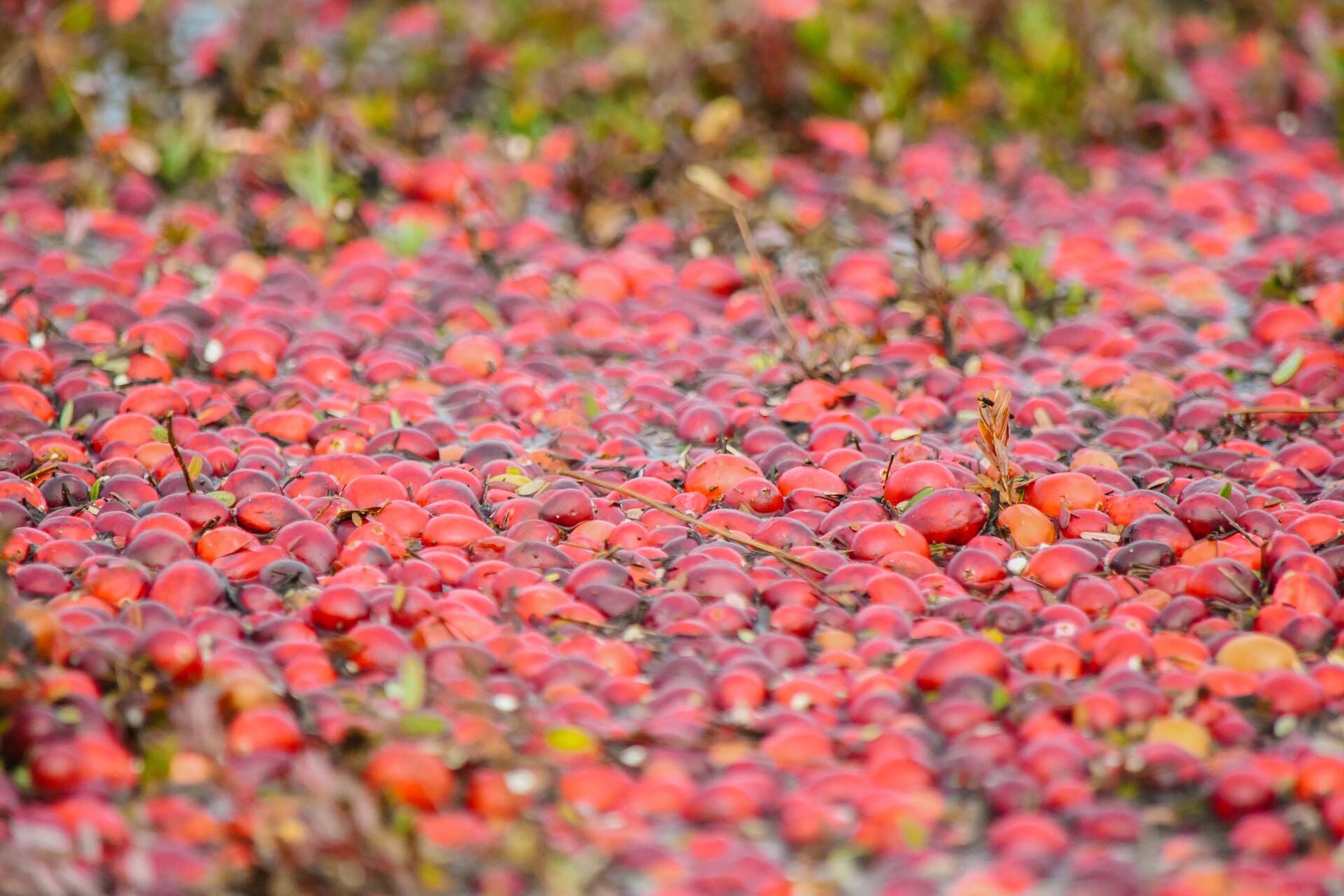 Cranberries are a photographer's dream, with their bright red colours popping off the field. With lots of opportunities to get close up with the cranberries or take scenic photos of the whole farm up against the mountains, do know there are lots of places to stop for photography and in the big open spaces you won't feel rushed or be too crowded.
Bring Home Some Treats from the Farm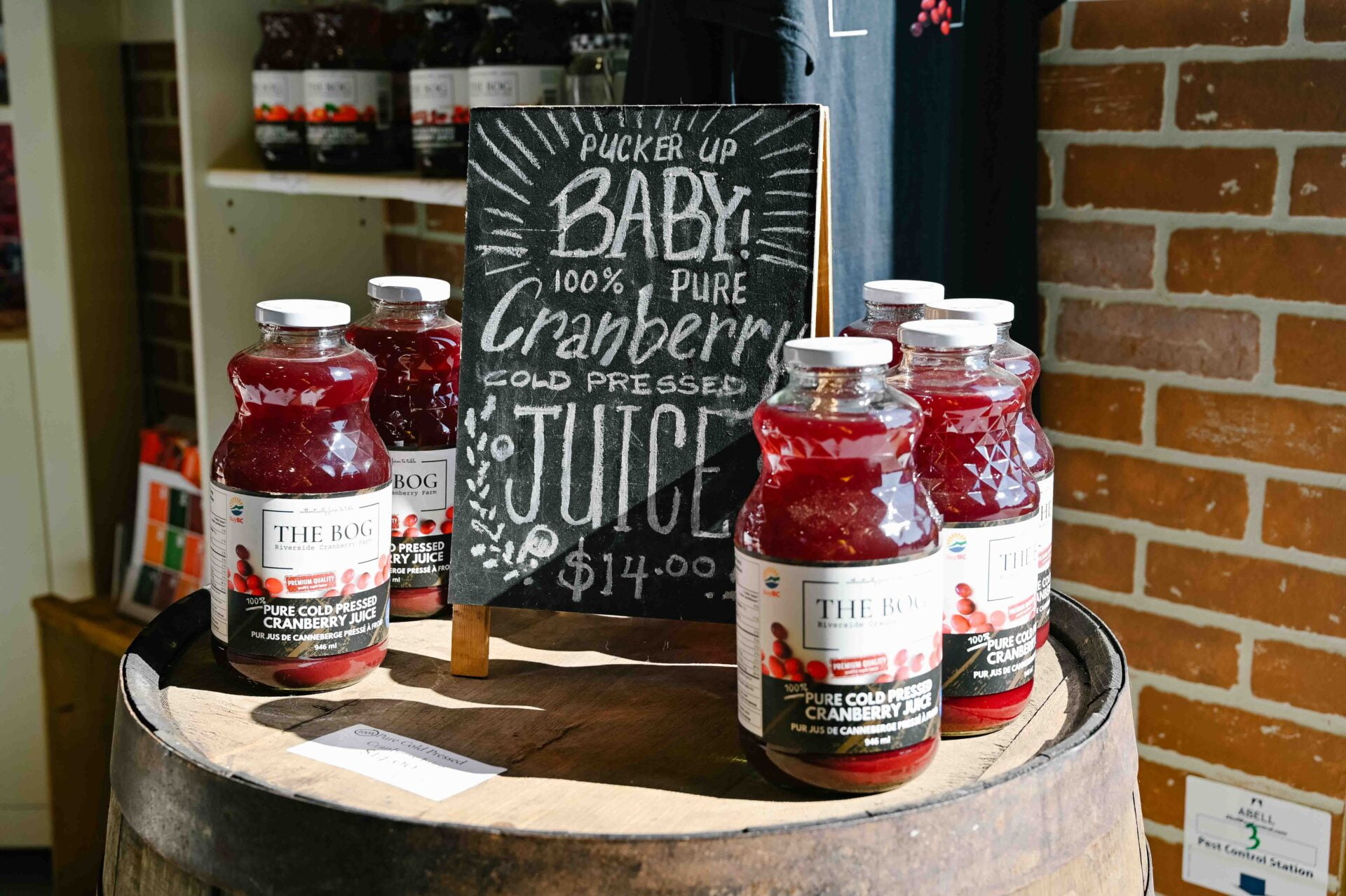 A trip to the cranberry farm in Langley isn't complete without a visit to the adorable farm store. Stocked with cranberry goods of every variety, this is a great place to stock up and spoil yourself! They also have fresh baked goodies and beverages for you to enjoy.
Freeze-Dried Cranberries At Riverside Bog In Langley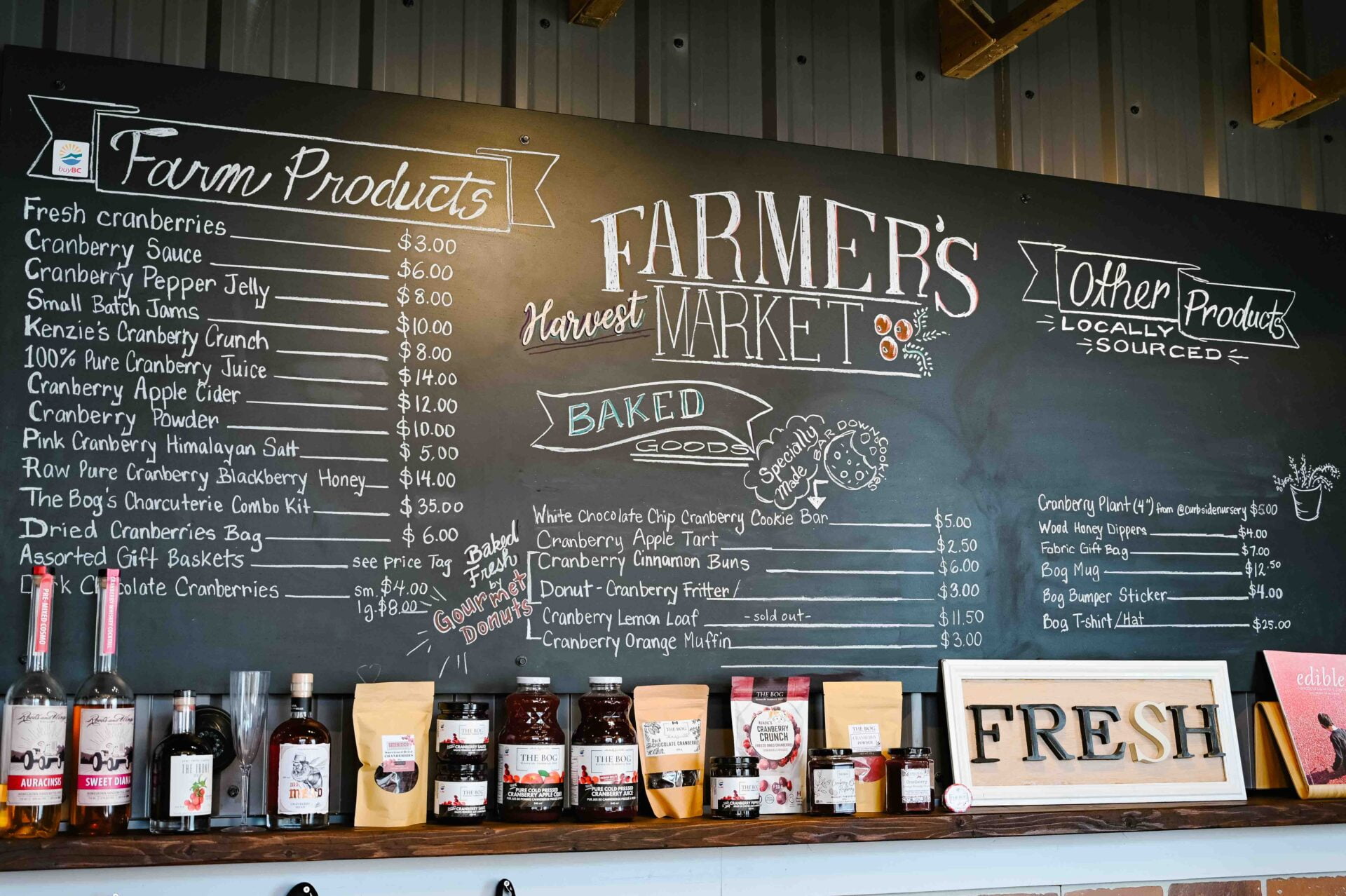 One of my personal favourites are freeze-dried cranberries. They taste like air-popped skittles and are so delicious that I can eat a whole bag myself. If you've never tried them, definitely stop in the farm store and pick some up.
Cranberry Farm Langley Tickets
If you're looking to book your Langley Farm Tour or Cranberry Plunge Langley head on over to The Bog Riverside Cranberry Farm's website to get your tickets.
The season will run from late September to October and the final schedule will be posted once the harvest season is confirmed. I recommend you get your tickets online as there is limited availability and popular dates may book up (so don't rely on being able to book at the gate).
Cranberry plunge langley tickets include the use of waders (you are not allowed to bring your own). Children must be at least four years old to take part. Be sure to bring your own camera and be ready to take photos!
Note: Sorry puppies, no pets are allowed on the farm as they are a Canada GAP certified food facility.
Langley Cranberry Plunge Prices
Tickets for the The Bog – Self-guided Harvest Tour at Riverside Cranberries are:
Family Pass (2 adults & up to 4 children): $41.80
Adult Admission: $11.98
Child Admission (4-12 years): $7.72
Youth Admission (13-17 years): $8.79
Cranberry Plunge Add-On: $16.24 per person (available on a limited basis. Only 60 people per time slot booking. Waders will be provided by the farm and staff will help find the appropriate size for you.)
Cranberry Farm Store Langley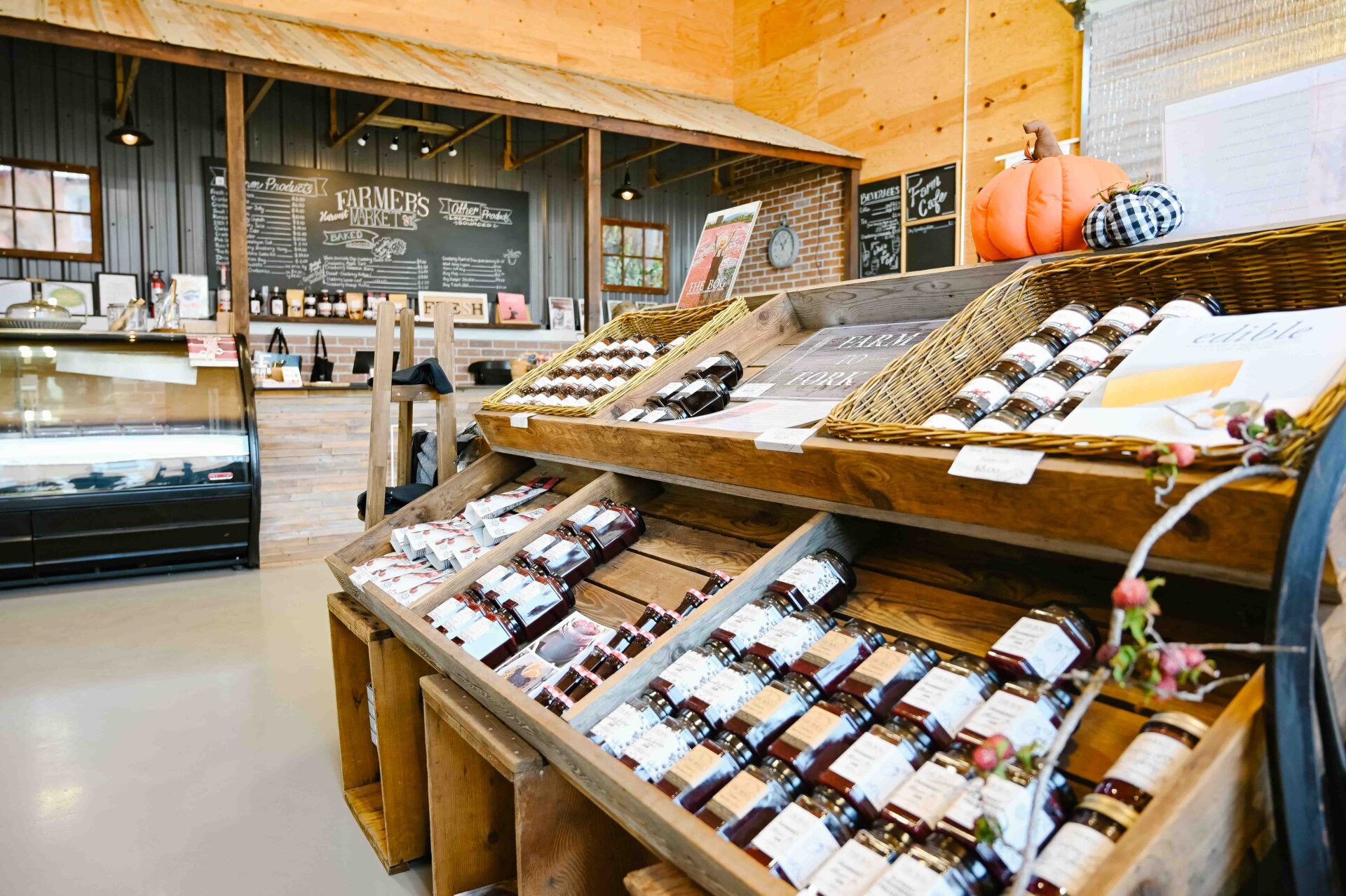 The Cranberry Farm Store at The Bog Riverside Cranberry Farm will open September 15th and from 12 – 5, Monday through Saturday.
The Bog Riverside Cranberry Farm
I wanted to take this moment to share more about the people behind The Bog Riverside Cranberry Farm. It's important for me to share the people who make these experiences possible, are harvesting local food to bring to your table, and are supporting local tourism which helps keep tourism dollars in our local economy.
Brian and Mandy Dewit are the current owners of The Bog and when you follow them on Instagram you get a behind-the-scenes look of what it's like to run the cranberry farm as hands-on farmers, alongside their five children (who are officially third-generation farmers). Mandy and Brian operate their business with a kind and welcoming heart, a passion for their product, and a dedication to the community of which they serve.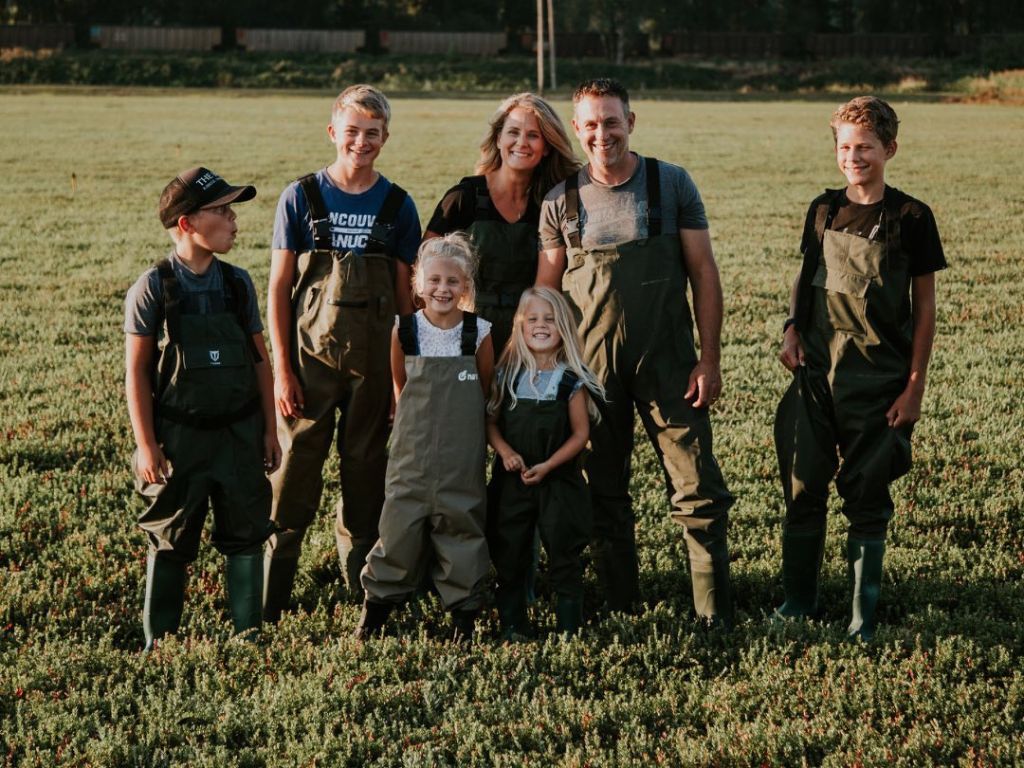 Farming runs deep in the family, Brian's grandparents were local Langley dairy and poultry farmers. Jack and Joanne Dewit (Brian's parents) continued farming, raising dairy and hogs in Fort Langley. In 1999, the Dewit family took an opportunity to transition their farming into cranberries and in 2010, Brian and Mandy started their own separate cranberry farm with 35 acres across the farm from the family fields.
While they originally started off as part of the Ocean Spray Collective, they decided to shift focus and share their berries directly with the local BC market, making the move to become independent producers. What I love about this is that when you pop into a grocery store or market in the BC region you can pick up fresh cranberries and seasonal products from The Bog Riverside Cranberry Farm!
Cranberry Recipes
Cranberries have to be one of my favourite foods and from juices to muffins, to savoury treats, there are so many wonderful eats and treats that can be made with cranberries. I'm not about to subject you to my lack of culinary skills but if you're interested in getting great recipes straight from the Cranberry Bog Langley from those who know best check out Mandy's recipe page.
Where To Buy The Bog Riverside Cranberry Farm Products
During the fall months you can shop The Bog Riverside Collection at many local stores (don't forget to pick up my favourites, the freeze-dried cranberries!) such as 32 Safeway stores across BC, Thrifty Foods, IGA, Fresh Street Markets and some Real Canadian Superstores, as well as many independent grocery stores across BC. Their products can also be purchased online at The Bog Riverside Cranberry Farm online store and from Direct Food Store – Truly Farm to Table. For an updated list of retailers, visit their website.
Fort Langley Cranberry Festival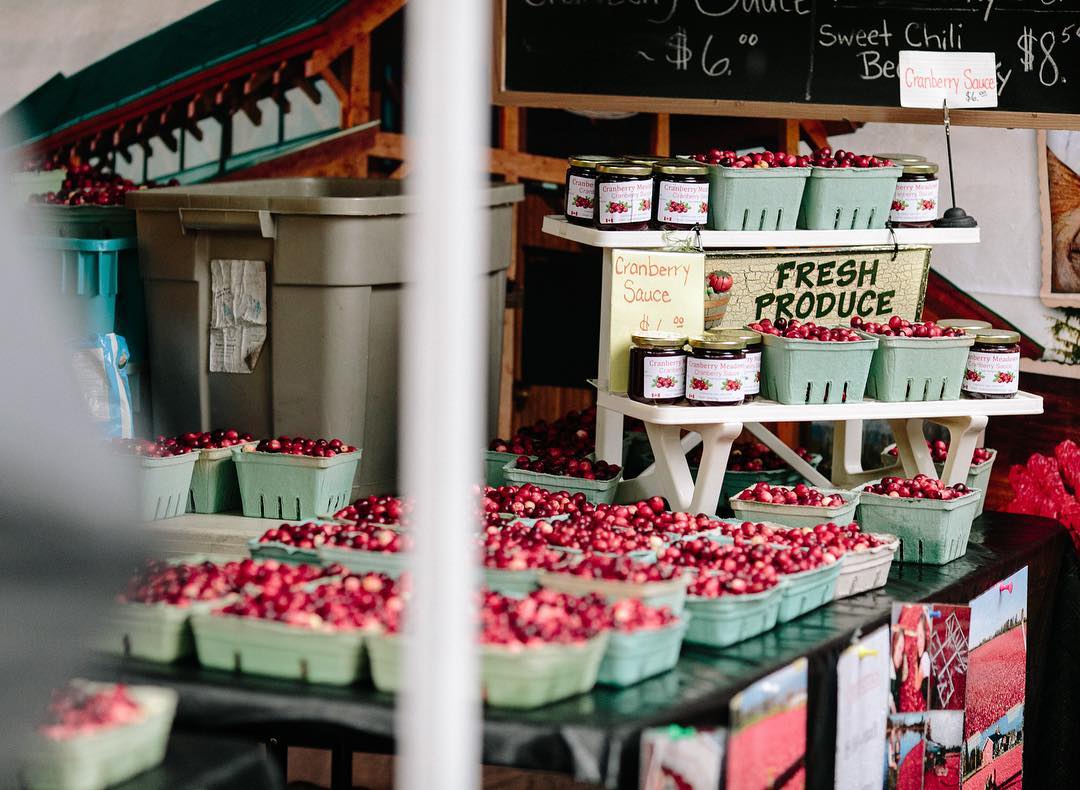 If you're looking for another amazing cranberry themed event the Fort Langley Cranberry Festival is an event not to be missed! Held each year on the Saturday before Thanksgiving (this year the festival is on October 7, 2023), this much loved annual event celebrates and recognizes the cranberry's role in the local history.
It's a great day out, an incredible way to support local businesses and vendors, it entertains and brings the community and visitors together in the heart of Fort Langley. So mark your calendar, you don't want to miss it!
Make it a Fall Weekend!
Extend your stay in the Fraser Valley and make it a fall weekend adventure! With plenty of pumpkin patches (Fraser Valley circle farm tour!), trails bursting with colourful fall foliage (it's leaf peeping season!), variety of eateries, the Fort Langley National Historic Site, museums, food tours and more, it's easy to spend a whole weekend. Here are a few things we recommend:
Tours
This tour was designed to provide a local's perspective of the best places to sip and savour in Fort Langley. Follow your "treasure map" (itinerary) as you taste the local flavours at 6-8 stops on your tour. All tastings are including with the price of your tour. Sip, taste, connect with owners, bakers and coffee makers.
Get your Tasty Tour Tickets here!
There's nothing like setting out for a kayak paddling tour on a cool, crisp, fall morning! Harrison Eco Tours offers fully guided kayak tours through the serene waters of Harrison River, Harrison Lake and the surrounding mountains, while exploring the area's abundant wildlife and fascinating history.
Where to Stay
Centrally located, the Signature Sandman is the perfect basecamp for your Fraser Valley adventures. Featuring an indoor pool and hot tub, an on-site restaurant, and a variety of room configurations, makes this a great family friendly accommodation.
Book your stay at the Signature Sandman Langley here!
The Lodge at Harrison Lake is a beautiful and modern waterfront getaway is perfect for your basecamp for your Harrison Hot Springs adventures. Each room leans out over the water, offering 180-degree views that welcome you to soak them in from first thing in the morning to well after sunset. There are five different accommodation styles to choose from including suites, a main house, and the carriage house.
Book your stay at The Lodge at Harrison Lake here!
So Are You Ready to Take the Cranberry Plunge Langley?
Now that you have all the information you need to plan the perfect trip to The Bog Riverside Cranberry Farm in Langley where you too can take the big Cranberry Plunge Langley, are you ready to dive in? (not literally of course!).
---
Looking for more fun activities in the Fraser Valley? Check out these articles!