Mādahòkì Farm – An Inspiring Indigenous Experience in Ottawa
The warm sun teased our cheeks as we walked through the frosty grass, each step resulting in a satisfying crunch. Bundled up in gloves, toques, and winter coats we made our way toward the Obijwe horses under the icy sun at Mādahòkì Farm. A sense of summer warmth mixed with the welcoming of winter invited us to explore this unique Indigenous farm in Ottawa.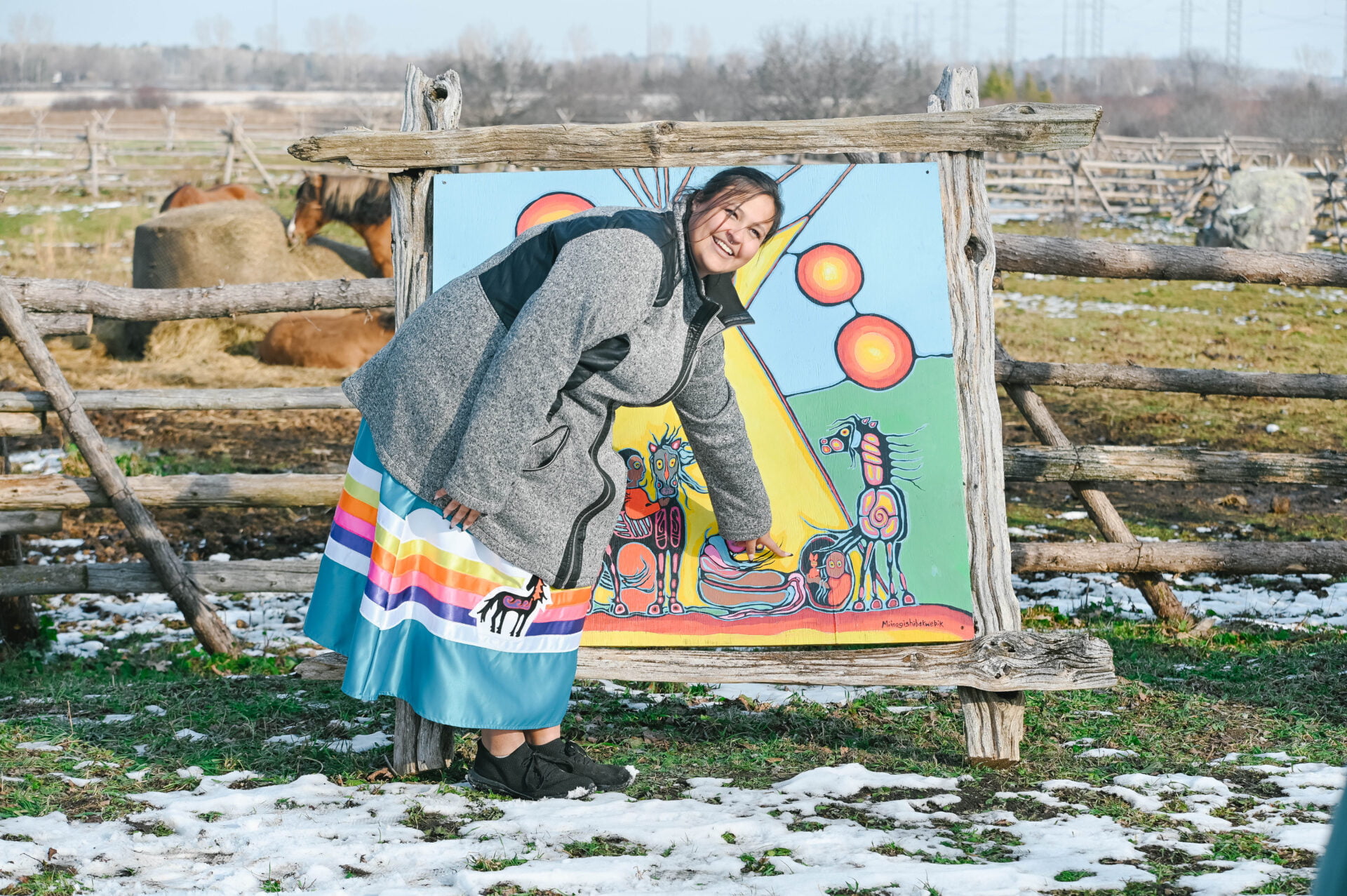 Maggie Downer, our guide for the day welcomed us to the unceded territory of the Algonquin Nation. Under her winter coat, you could see a beautiful turquoise skirt peeking out that we would later learn was inspired by resident artist, Rhonda Snow. Maggie greeted us with the perfect mix of passion, knowledge, and electric energy that instantly made us feel welcome and a part of the farm family.
Mādahòkì Farm – Grass Roots And Big Dreams
Mādahòkì Farm is an all-female-owned Indigenous experience just 20 minutes outside of Ottawa. An idea that started from a seed, when founder Trina Mather-Simard shared her vision for a year-round Indigenous experience. A champion for Indigenous culture and a host of Indigenous festivals and events for 20 years, Mādahòkì Farm would give Trina and the whole team a basecamp from which to create a year-round experience for guests from around the world to come and visit and bring Indigenous people and guests together. The Farm is in its early years and the team has lofty goals of how to grow the farm and the experiences for guests. 
"We definitely have different uses and visions for the farm but, first and foremost, we're about creating opportunities to bring Indigenous people and other Canadians together," said Mather-Simard in an interview. 
Today the farm is just over a year old and welcomes guests to experience the land, the animals, the people, and the stories that connect it all. From leisurely visits getting to know the jovial  Obijwe Spirit horses, to meandering down their forest trail for outdoor explorations, to stopping in at the marketplace to shop from one of the 45+ vendors, Mādahòkì Farm is a great place to slow down, to learn, and to connect with the Indigenous culture and land.
7 Things to do at Mādahòkì Farm
1. Ojibwe Spirit Horses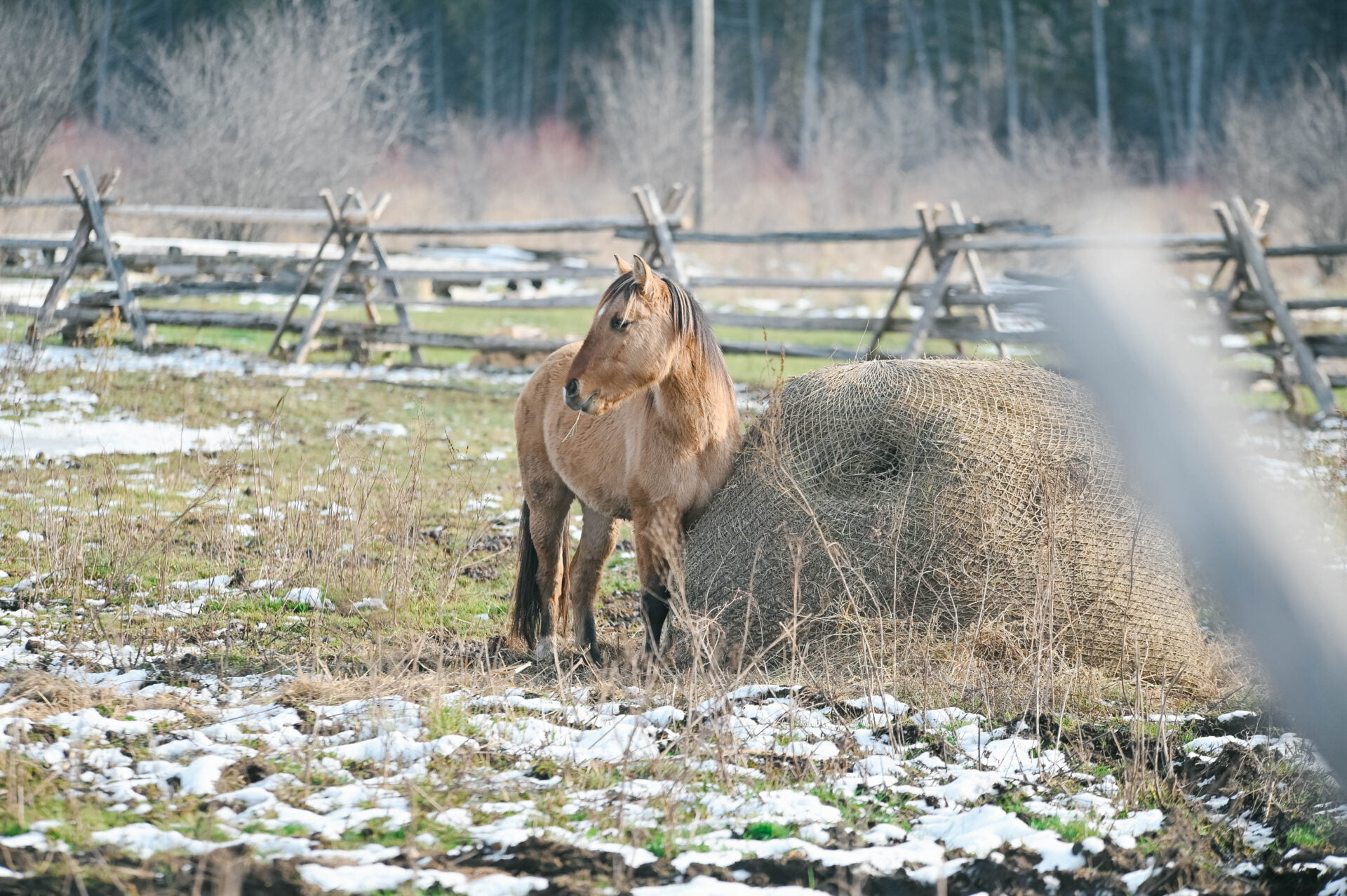 The farm's most famous attraction is the 9 Ojibwe Spirit Horses. These beautiful creatures are different from other horses, small in stature with long colourful manes, bubbly personalities, and soft fur. They are technically ponies and quite small compared to your standard horse.
What makes these Ojibwe Spirit Horses so special is that they are a breed that almost went extinct. When Turtle Island (the Indigenous name for Canada) was inhabited primarily by Indigenous people the land was filled with herds of wild Spirit Horses. The Indigenous people had a great relationship with the animals and they would often help each other out. For example in the wintertime, the Métis people would invite the horses to help them in the cold season, hauling things like ice and fish off of the big frozen lakes. This wasn't a domestication of the animal though, it was a mutually beneficial relationship that the horses willfully engaged in as they enjoyed the caring and safe environment as well as the nourishment that went along with the work. In the spring the horses would return to their wildland and then come back each winter to align with the Metis people to support them through the season.
Ojibwe Spirit Horses Genetics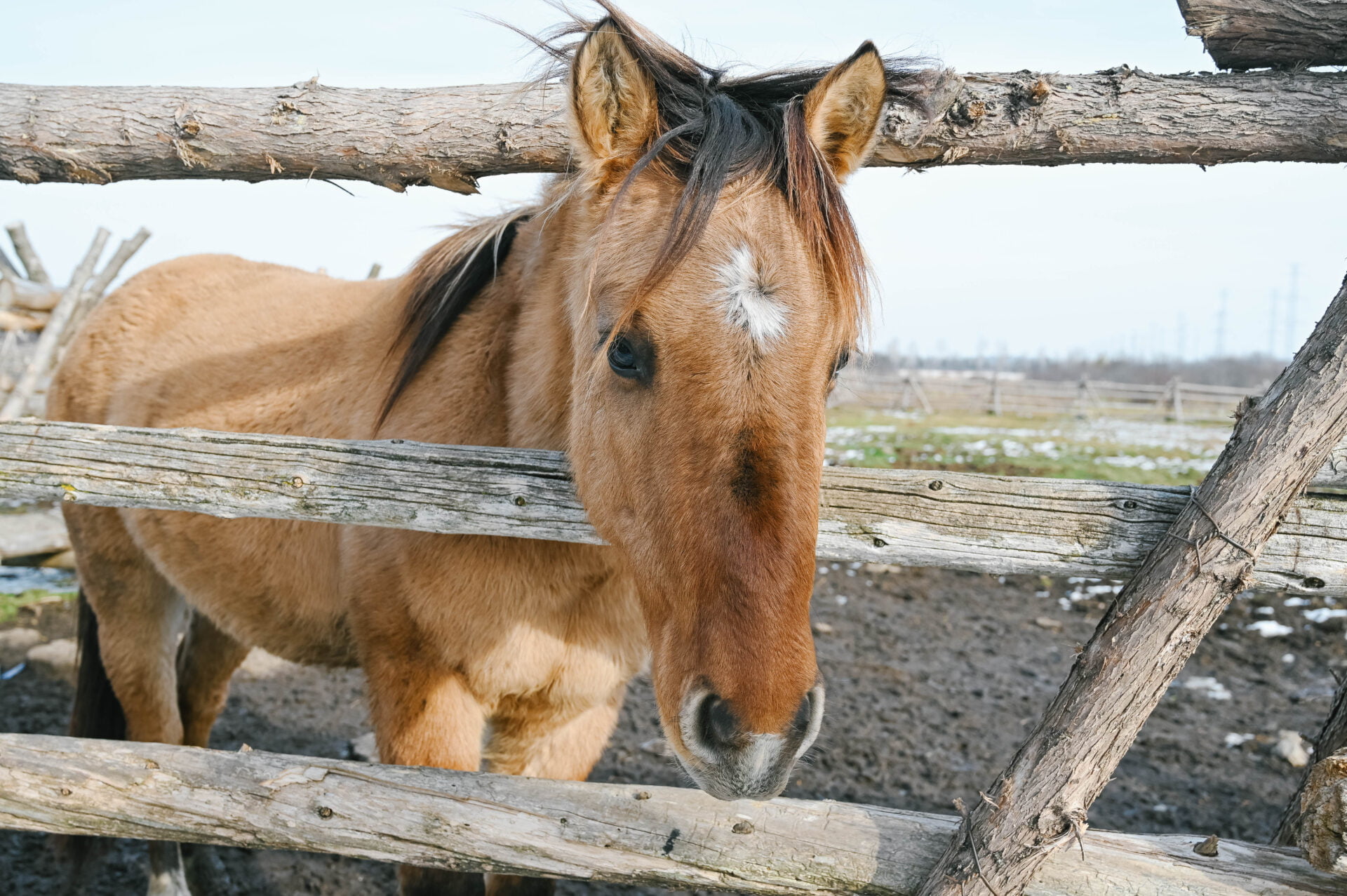 In 1977 there were only 4 Ojibwe Spirit Horses left, unfortunately, all of them were mares (females). Four local men went and rescued them from the wild, and shipped them to Minnesota where they were bred with Mustangs. Now with the support of organizations like Rare Breed Canada, the population has been saved and there are now 150 – 250 in Canada and the US.
Can you feed the Ojibwe Spirit Horses?
The Ojibwe Spirit Horses have sensitive stomachs, and some of them even have severe allergies. With their specialized diets, it's really important that guests do not feed the horses. But you don't need to tempt these horses with a carrot to get a visit, they are very friendly and will often come right over for a hello or show off in the paddock by running around and playing in front of you.
2. Feed the Farm Animals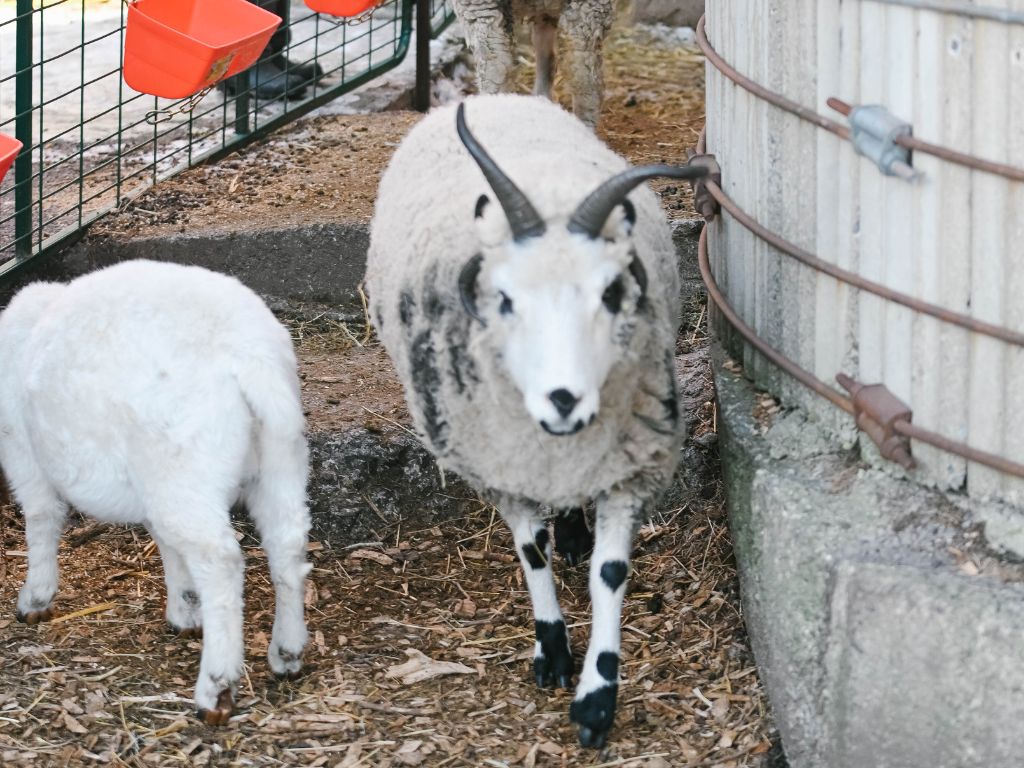 If you or your companions want to feed the farm animals there are a lot of eager residents who will await your arrival. You can pick up feed bags at the marketplace and then head over to the barn and visit with goats, sheep, and even a chicken or two! Bring your camera as these guys are hams and love to get up close and personal for poses!
3. Mādahòkì Farm – Legacy Trail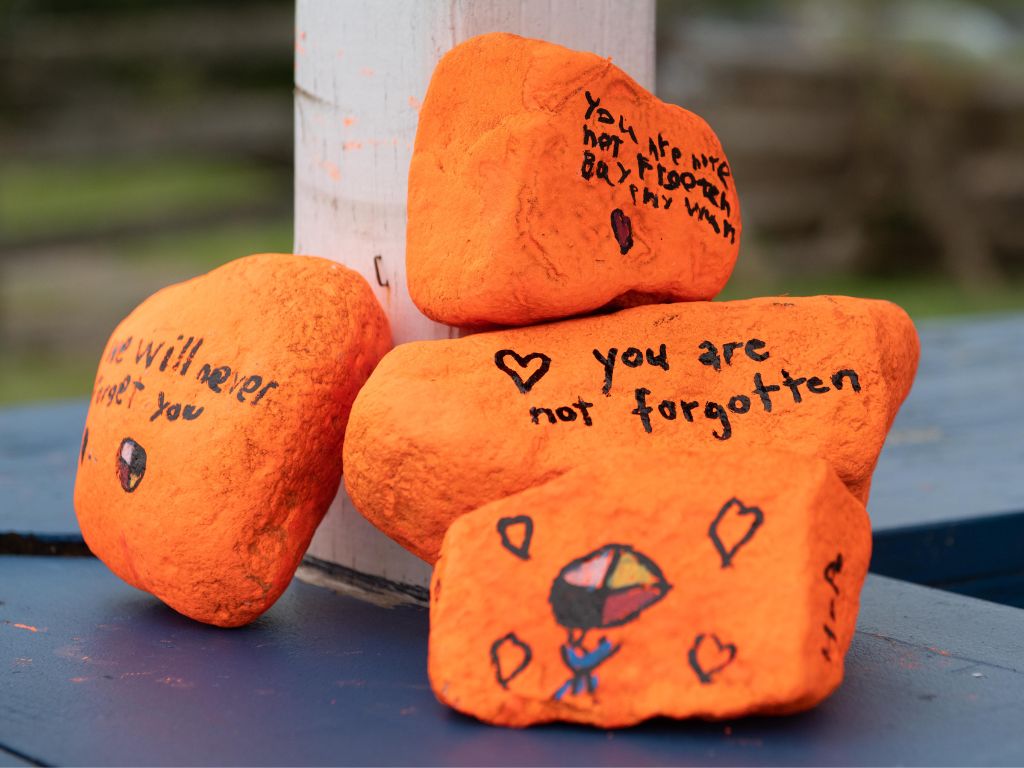 The Legacy Trail is a place where guests can traverse from the tamed world – the city's urban life, to the untamed world, where you can reconnect with Mother Earth. Created in partnership with the farm, elders, and volunteers built the Legacy Trail, a place where you can wander, ponder, and learn. It's a trail that celebrates intergenerational strength and the journey of those that have walked before you and who will walk behind you.
Winding through forested areas this trail is lined with reconciliation rocks, where you can read other messages of reconciliation or get a rock from the marketplace and leave your own message of reconciliation (in the marketplace you can see some of the rocks that have been left behind by famous Canadians). Be sure to pay attention to the many signs along the trail that mark traditional medicines, sharing stories from elders about traditional medicines that have been used by Indigenous people in the past and present.
For school groups, you can hire an Indigenous Guide to take you on a tour of the Legacy Trail and share some ancestral knowledge about traditional medicines that have been used from the land, as well as the significance of some of the flora and fauna that make the land so special.
4. Enjoy The Art Of Indigenous Dance
Touted as some of the best Indigenous Dancers in Ottawa, the team at Mādahòkì Farm is passionate about the power of storytelling through the ancestral dances that have been passed down from generation to generation. While on our visit we were fortunate to see three different types of dances: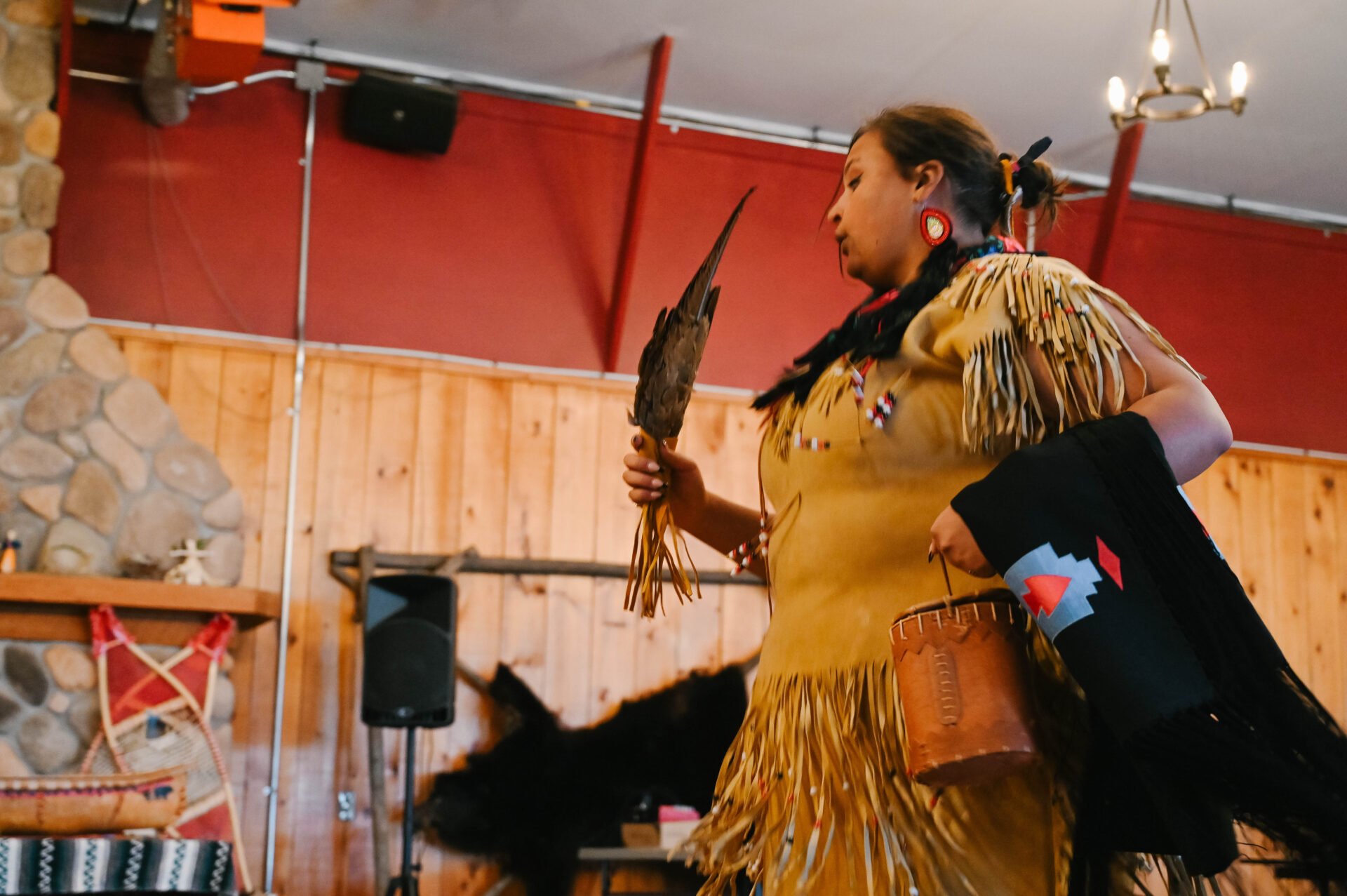 Woman's Traditional Dance – This is an old and sacred style of dance that traditionally would be done by the elder members of the group. Dressed in moccasins, the dancer's feet barely leave the ground, always building a connection with mother earth, one step at a time. The message of the dance is to be grateful and show appreciation for the things we have in our lives. Dance is seen as emotional medicine and good for the soul. It is also to show their appreciation for Mother Earth, how important she is, and how grateful they are for her, and we massage her back by dancing across her. It demonstrates how they want to respect and protect Mother Earth.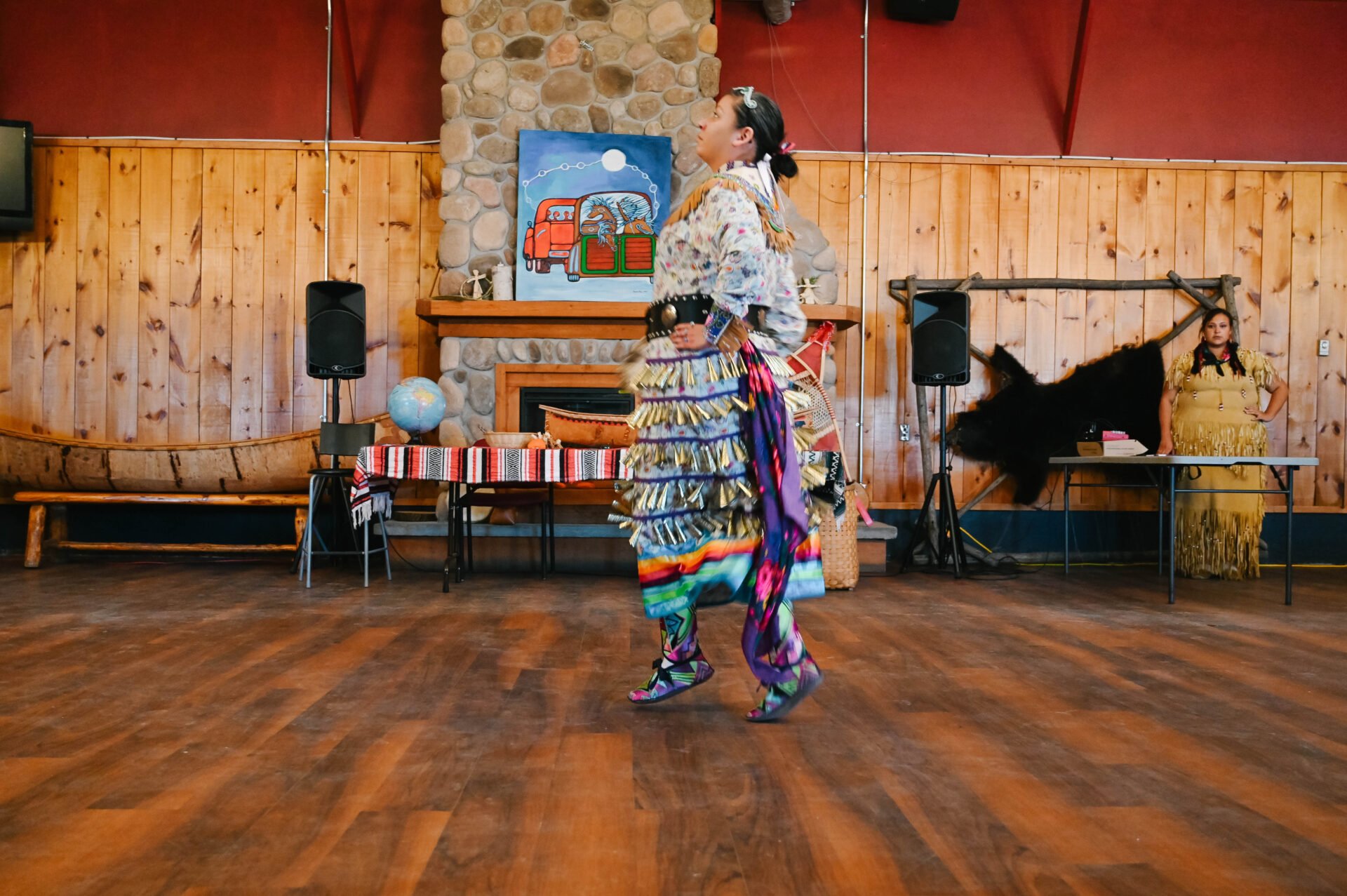 The Jingle Dress Dance – The Jingle Dress Dance is a healing dance that is a newer style of dance that showcases a special story. Young Annishable, Maggie White, was really sick, and someone in her community had a vision of a blue dress with teardrops that helped her heal. So the community got together and recreated the dress that was in the vision. They took chewing tobacco cans and rolled them into cones to create the teardrop shapes that were in the vision. Once the dress was made Maggie put it on and within a few steps, she started to become more and more healthy, to the point that she was able to dance this new dance at a Pow Wow. For many women who dance this, it's for prayer and as they are dancing they are praying.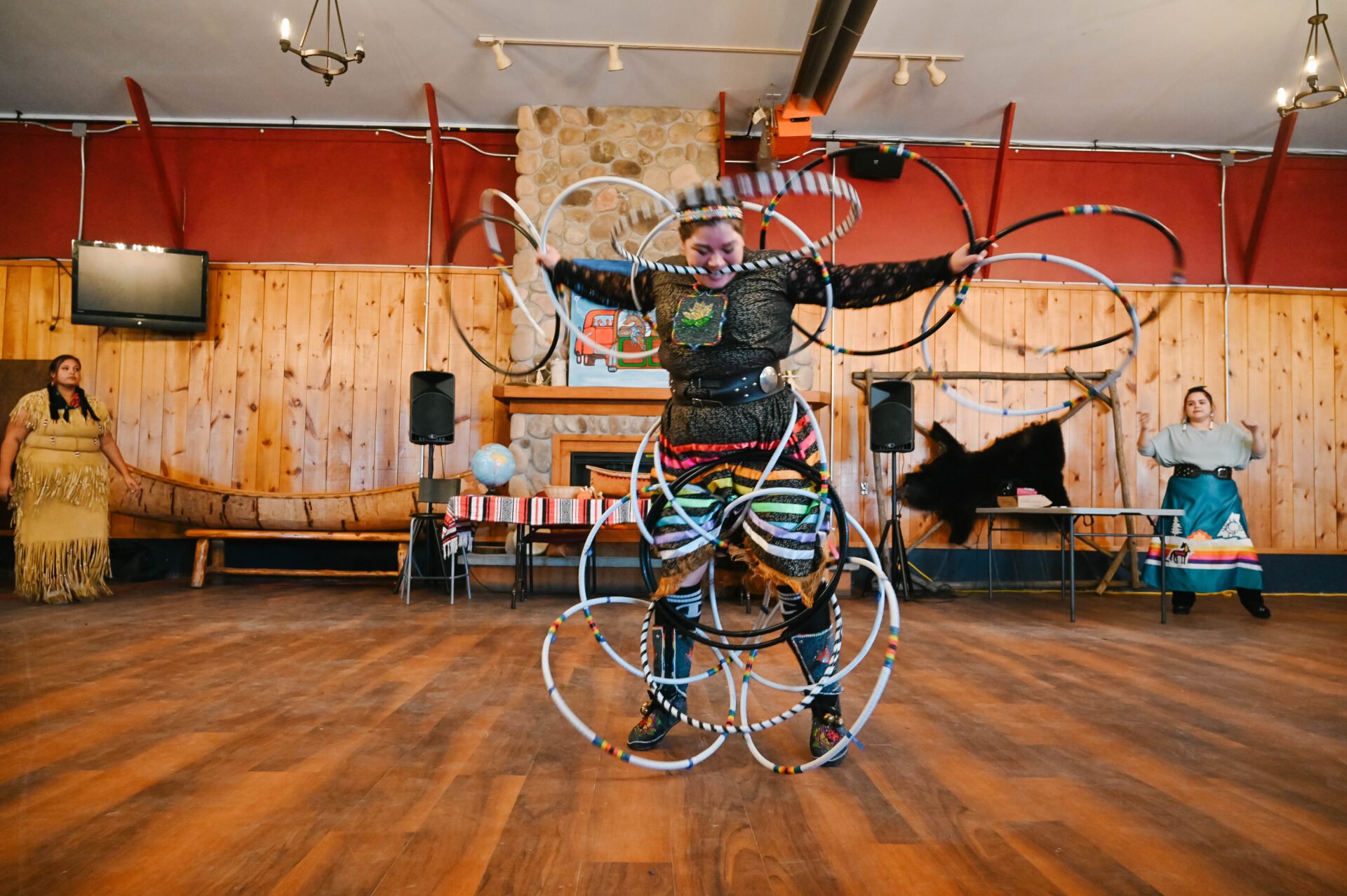 The Hoop Dance – The oldest style of dance that the Indigenous people have is the very visual, colourful, and powerful Hoop Dance. Mariah was the Hoop Dancer for the day and through her story made a variety of different patterns, including an eagle, butterfly, and a person, transforming herself through athleticism and dance. The purpose of the dance is to showcase the beauty in everything, demonstrating appreciation through visual storytelling. When you watch the hoop dance, it means something to the dancer but each person will be able to have their own unique experience seeing their own visions (for example, one person may see a butterfly while the person next to them sees a mosquito).
5. Let The Children Run Wild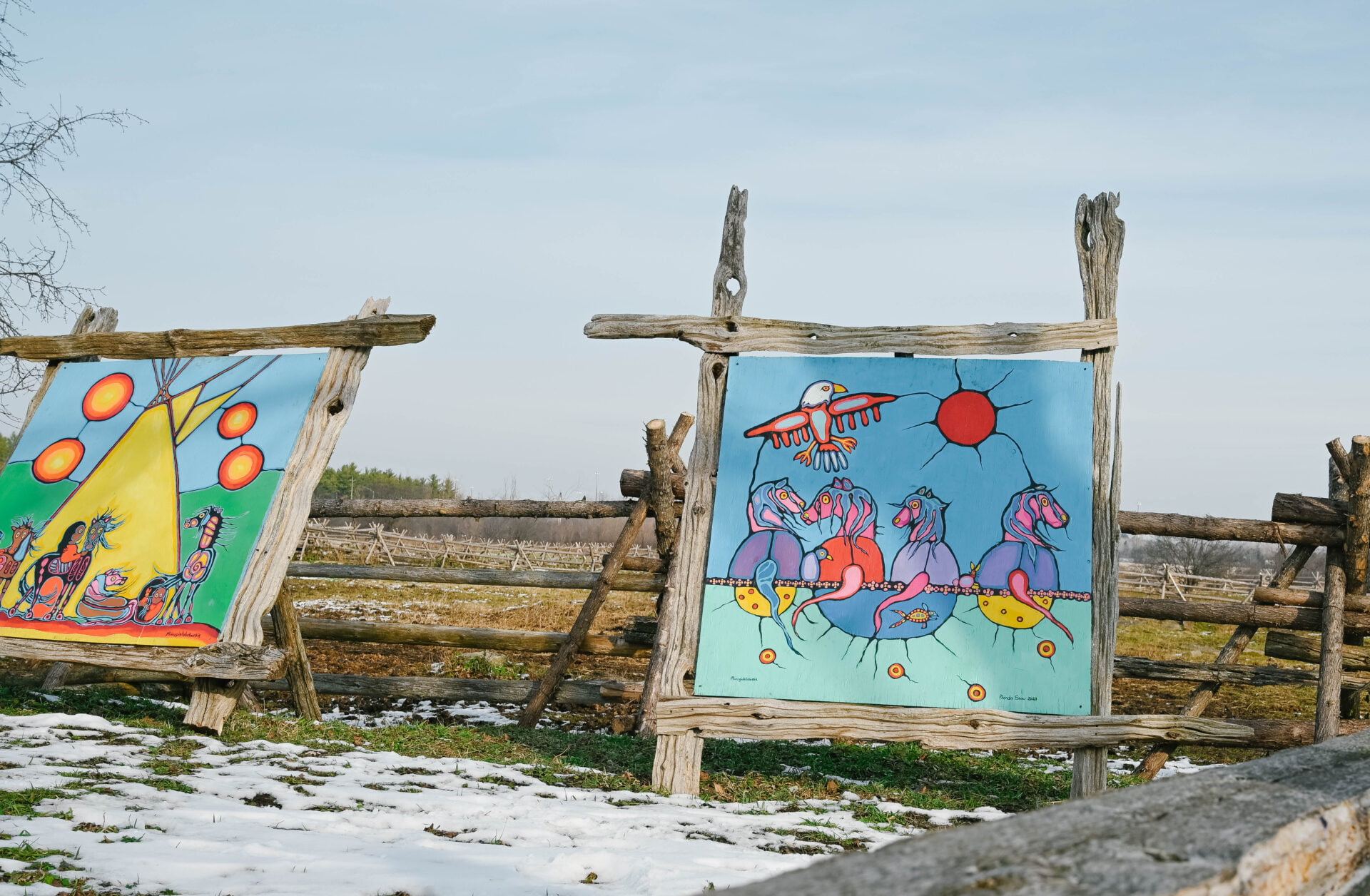 There are a lot of places where children can run on the farm and enjoy the outdoors. From the children's playground which has a teeter-totter, bales of hay to climb on, and lots of places to run, my recommendation would be to bring some water and snacks and let the kids play.
6. Indigenous Marketplace at Mādahòkì Farm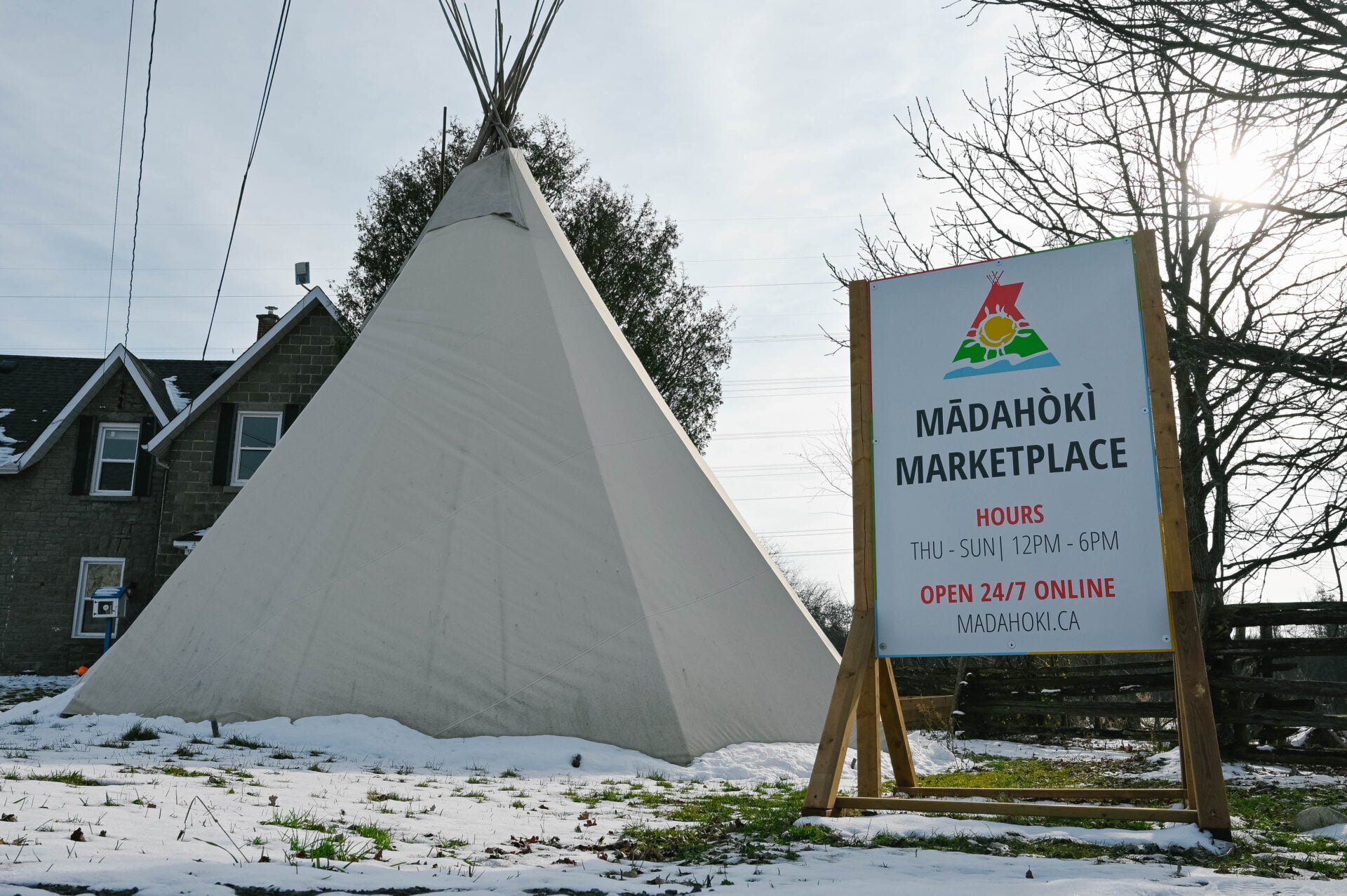 In the centre of the farm is the Indigenous Marketplace which hosts a wide variety of work from 45+ local artisans. Arts and crafts, jewellery, silverware, paintings, clothing, traditional pieces of art, and even food and preserves can be found in this magical marketplace. The spirit of creativity and passion for locally sourced goods is evident and abundant in the marketplace.
7. Take Part In An Indigenous Festival In Ottawa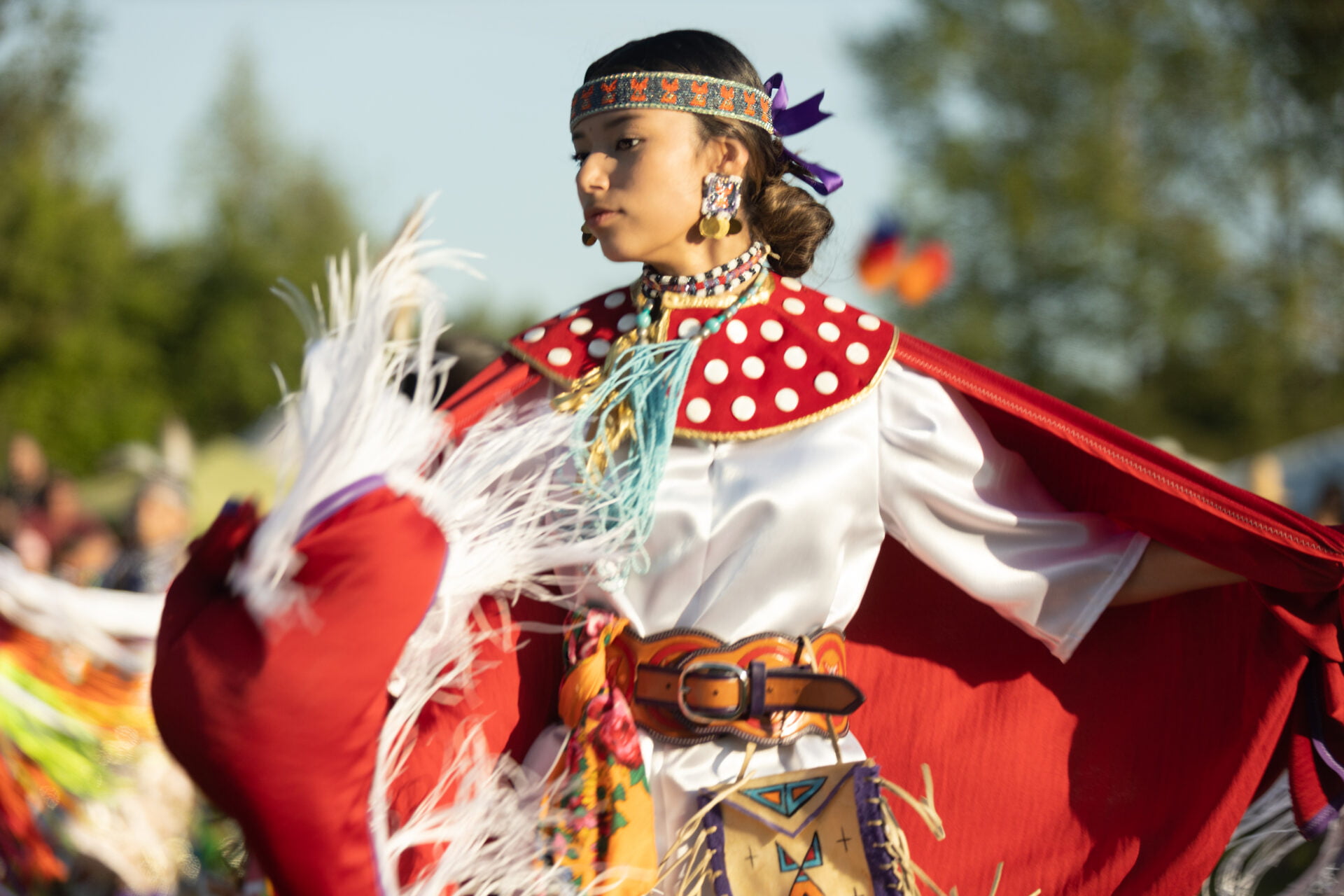 Mādahòkì Farm comes alive during their four festivals where the public is welcome to come and join in on Indigenous experiences including arts, music, dance, vendors, and traditional foods (along with all of the other activities to explore on the farm). Each festival is rich with its own activities, celebrations, and traditions, so you're invited to experience one, or come back for new ways to welcome the changing season, as each festival is unique. There are four festivals celebrated at Mādahòkì Farm every year:

Tagwagi – Autumn Festival
Reconnect or create a new connection with the land while learning Indigenous traditions during one of the most beautiful changing of the seasons. You'll be invited to create your own Indigenous crafts, savour meals inspired by the Annishanaabe Harvest Moon, and enjoy cultural experiences, pow-wow dance, and storytelling on the Celebration stage. There will also be horse-drawn carriages on site to help you tour the property. Click here to learn more about Tagwagi.
Pibon – Winter Festival
A free family festival the Pibon festival at Mādahòkì Farm is a popular event for all ages. This multi-day event invites you to come to the farm for a hands-on immersive experience where you can choose from a variety of activities to participate in. From Moccasin-making, to dream catchers, to deer hide mittens using traditional methods, to caribou antler earrings and paint nights with Rhonda Snow, there are a lot of wonderful winter opportunities awaiting your arrival.
The Winter Festival also boasts the Indigenous Night Market where over 40 vendors will set up in the pavilion and invite you to take part in a shopping experience. Outside you can bundle up for time around the campfire with your family or make new friends and enjoy food from the farm. Click here to learn more about Pibon.
Note: While most of these experiences are complementary, some of them may have a fee associated. Also, parking is quite limited on site so public transportation and carpooling are recommended.
Sigwan – Spring Festival
There's nothing like the welcoming of new beginnings like the season that is Spring, and the Sigwan festival embraces all of these changes and invites you to come and celebrate. From crafting your own Indigenous crafts to savouring meals inspired by the Annishnaabe Sugar Moon to making your own maple taffy with Indigenous harvested syrup. You can even pull up a seat by the fire to watch and learn the traditional process of boiling sap into maple syrup!  Grab a seat at the Celebration stage to enjoy live cultural performances, or climb aboard the horse-drawn wagon for a tour through the property. Click here to learn more about Sigwan.
Summer Solstice – Indigenous Festival
The Summer Solstice Indigenous Festival in Ottawa kicks off with an Indigenous Day celebration and carries on through five days of celebration. From a long table dinner to a weekend of festivities at the farm, this is a large-scale week-long event that has many partners involved to help make it a success. From throat singers to traditional dancers, a Celebration Stage, culinary experiences, creative workshops, a family fun zone, educational displays and activities, and more, this is a world-class event showcasing the best Summer Solstice Indigenous Festival in Ottawa. Click here to learn more about Summer Solstice.
Mādahòkì Farm FAQs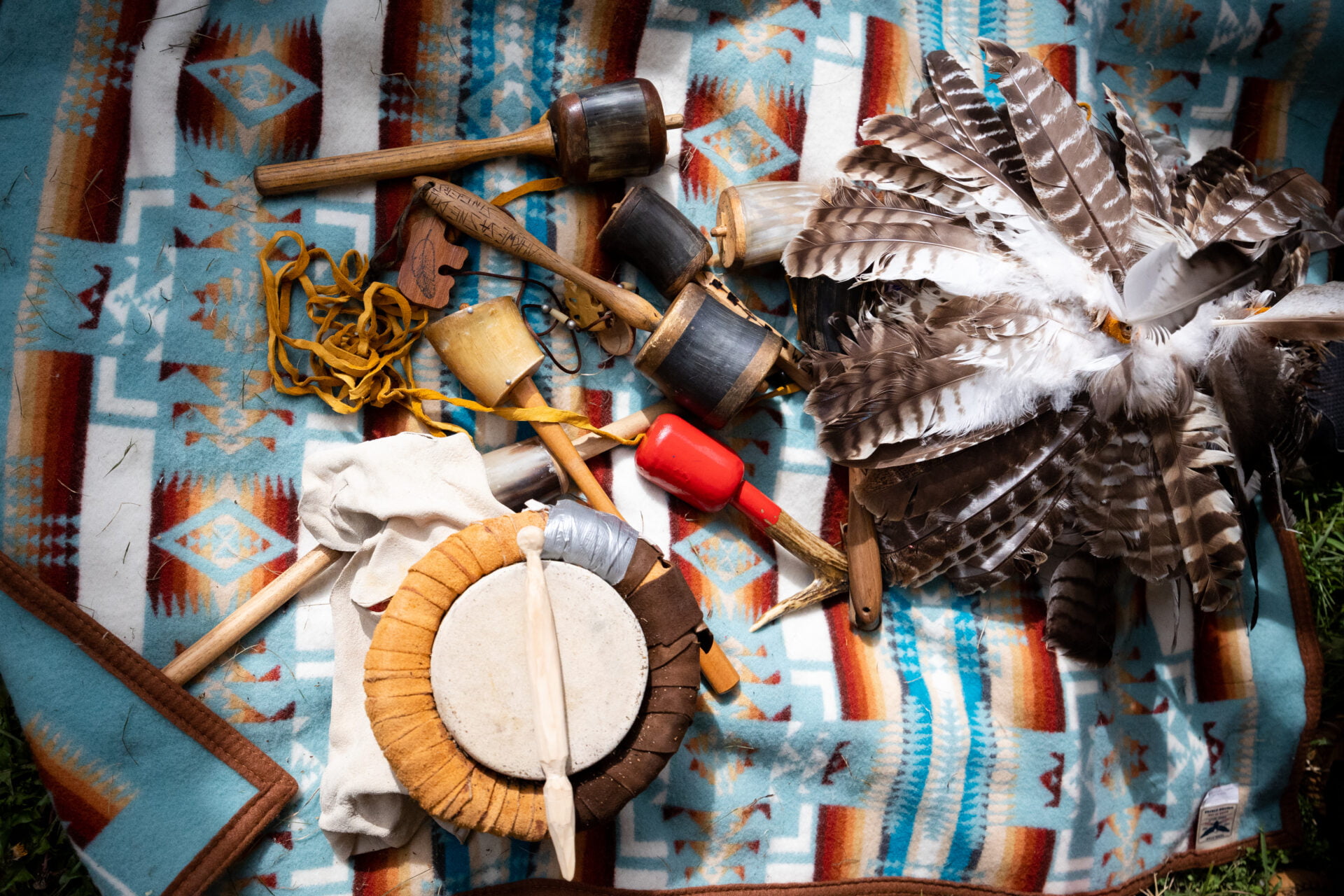 What does Mādahòkì Stand For?
Mādahòkì means "to share the land" in Anishinaabe. "For us, it's about sharing the land with our community but also about welcoming everybody, from all walks of life, to understand how we live in harmony with the land." – Trina Mather-Simard, Founder 
Where is Mādahòkì Farm?
Mādahòkì Farm is located a short 20-minute drive outside Ottawa on the traditional and unceded territory of the Algonquin Nation. Their formal address for Google and navigation is 4420 W Hunt Club Rd, Nepean, ON K2R 1E7.
Note: Parking for festivals and events can be tight so plan to take public transit or carpool to reduce the need for vehicles.
How Big Is Mādahòkì Farm?
Mādahòkì Farm is on 164 acres of land. There you can find horse paddocks, stables, forest trails for horseback riding and walking trails, as well as events buildings, stages, and an Indigenous Marketplace.
Who Owns Mādahòkì Farm?
Mādahòkì Farm is a registered not-for-profit that is run by women (there is one gentleman that helps out occasionally so Maggie and the team wanted to be sure to give him recognition where it was well earned). The vision for the farm came from the long-time champion for Indigenous tourism, Trina Mather-Simardrun who for more than 20 years has been a trailblazer in the industry. Her idea to buy 164 acres and create a year-round inclusive Indigenous experience came after hosting 20+ years of indigenous festivals and events. Mādahòkì Farm allows for a place for year-round immersive experiences as well as the opportunity for the business to grow to be financially self-reliant through business incubators, agriculture production and tourism revenues.
When is Mādahòkì Farm Open?
Mādahòkì Farm is open year-round with varying hours based on programming and community needs. The best way to check on their current hours of operation is to visit their website.
---
Check Out These Other Incredible Indigenous Experiences to Have in Canada: