It was 7:30 in the morning and the warm summer sun had barely peeked over the treeline. The kids, hopped out of bed and were getting dressed, and racing past the breakfast table to head outside. There was 35 acres of farm and forest to be explored.
Now this may sound like a summer holiday or an eco resort, but this is the story about a family leaving the city and moving to the country to start a farm, and our experience visiting them throughout their first year.  
In 2016  James and Chelsea Keenan lived in Surrey, BC with their four children. (Four under six years old I may add). They lived the typical suburban dream,  living in a beautiful home, two cars, white picket fence… you get the idea. They also lived the lower mainland suburban reality, with both parents having to work, long commutes and extra hours to make ends meet, and less family time then they wanted. After a brief work stint in Alberta they realized that they could move away from family and be on their own, and the "seed" was planted for them to do just that… oh and also, start a farm!
With that, they sold their New Westminster condo and traded in their postal code for a new home in Armstrong, BC. With 35 acres and what used to be a functioning farm, their reality was about to change!
Did you say 35 acres?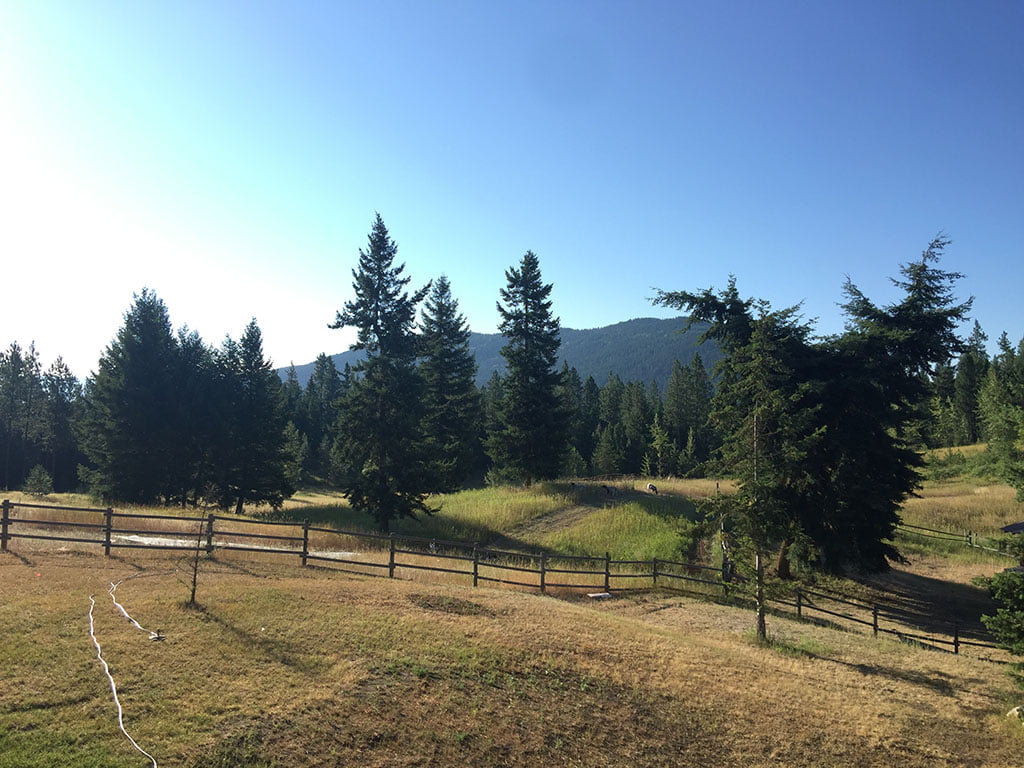 Yes. 35 ACRES! Fast forward to March, 2017. It was our first visit up to see the Keenan Family Farms and our two kids were loving every minute. With a backyard that was literally 1000 times (or more) bigger than our own, the freedom to run around and play, ALL day, was almost overwhelming for my children to experience. They felt the need to stay close to the house, "to be safe," not even knowing what to do with their new found freedom!
Here's a sneak peek at what life is like on the Keenan Family Farms…
The Farmers!
I'd like to introduce you to the  Keenan Family, James, Chelsea, Josh (5) Jessa (4) Hannah (2) and Ben (1). While this couple often disagrees about who's idea it was to start a farm, it's practically the only thing they don't see 100% eye to eye on. While James is the carpenter, farmer, and main muscles behind the operation, Chelsea is the homemaker, marketer, accountant, homeschool teacher, and chief Mom at Keenan Family Farms. This powerhouse couple has been brave enough to make a huge leap of faith, put in a ton of sweat and hard work, and is making a dream come true that is bigger than they ever could have imagined.
Why did the chicken hop on the fence?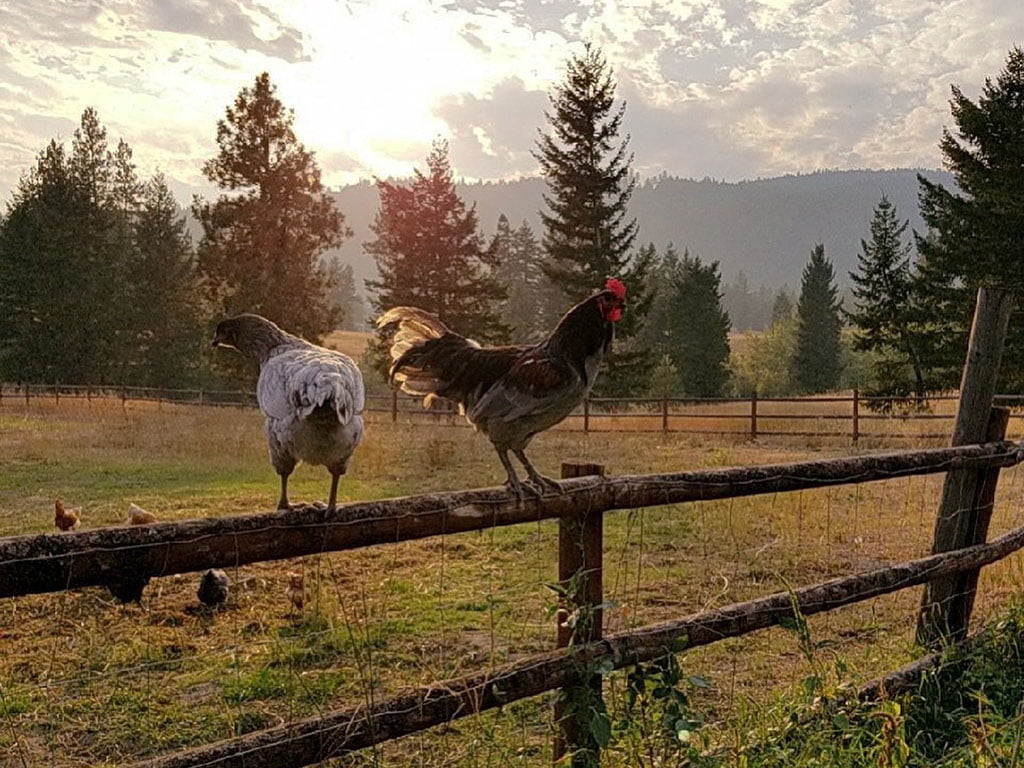 Because it could! Because free-range chickens on Keenan Family Farms are free to roam, exercise, dig for worms, and play! When you envision chickens living on a farm, this is what you expect. Unfortunately our modern day food chain mass produces our eggs and meat products which provides lower quality of life for the animals and lower quality foods for us to consume.
At Keenan Family Farms chickens are free range, ethically raised, grain fed, using sustainable practices. I love buying their eggs and chickens knowing that my family is eating better quality food and that the animals who provided it have lived a very, very good life.
Farm School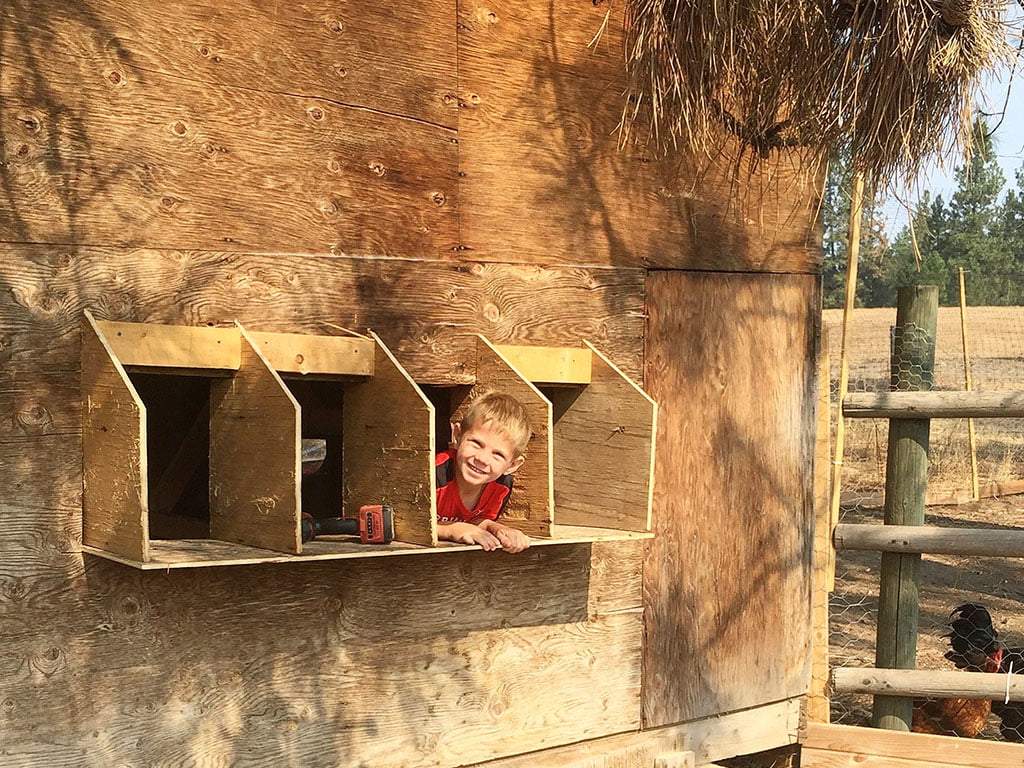 Their oldest son Josh started kindergarten at home, being home-schooled by his parents, and he couldn't be happier. Being able to work alongside his Dad, building everything from chicken coops to fixing machinery has been a little boys dream come true. When he's not in his Dad's shadow Josh is working with Mom, on everything from egg science 101, to learning about the life cycles of food in the farm garden.
Farm to Table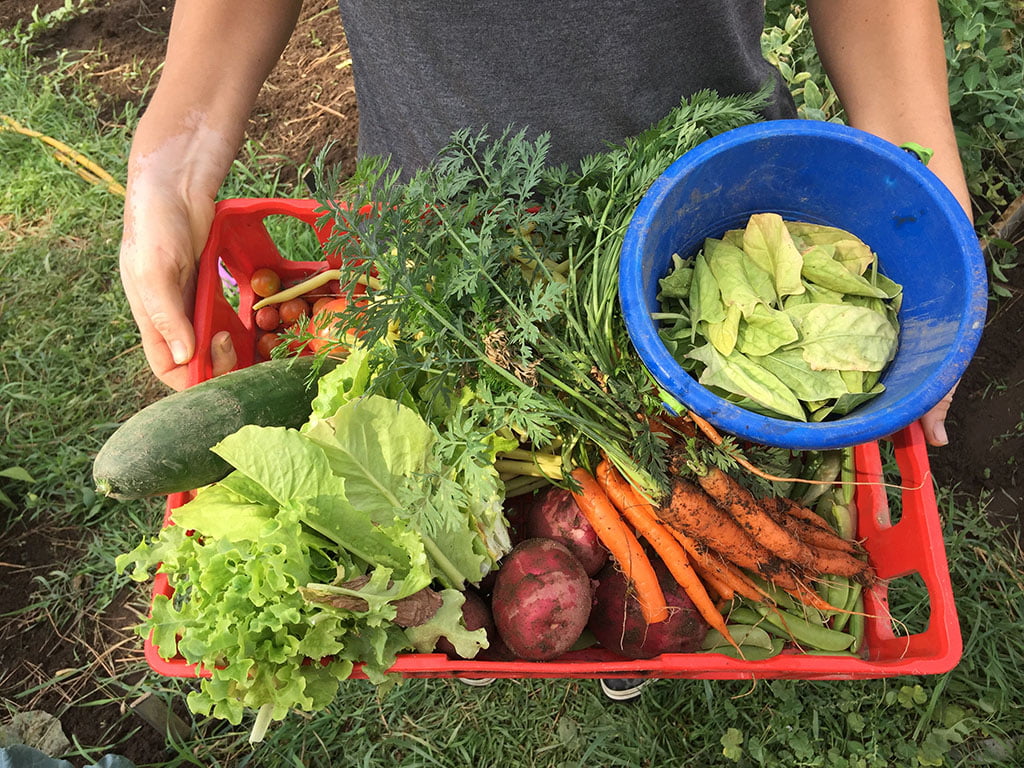 Chelsea wasn't a gardener until they started a farm! But with a little help from Google, and a few failed crops, they were quickly able to turn their garden into a food producing machine! On our August visit, we were able to harvest all of this food for our big Saturday night family dinner. Not only was it delicious but it was neat for my kids to see the food go from farm to table.
This Little Piggie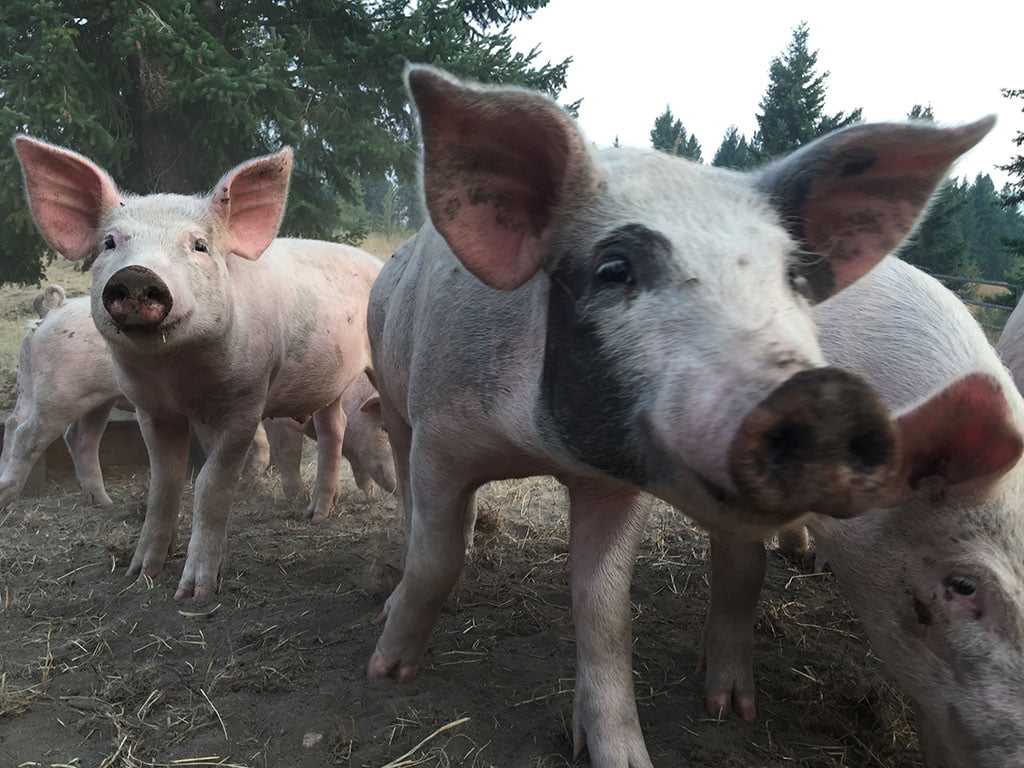 This little piggy is one of many on the farm. The kids love feeding them, throwing them extra scraps, making mud puddles for them in the hot sun, and even scratching pregnant mommas bellies when they need a prenatal massage! The Keenan's will raise and process these pigs and you'll be able to purchase them if you're on their mailing list. (Hint: Check the link below to sign up)
Scrambled Eggs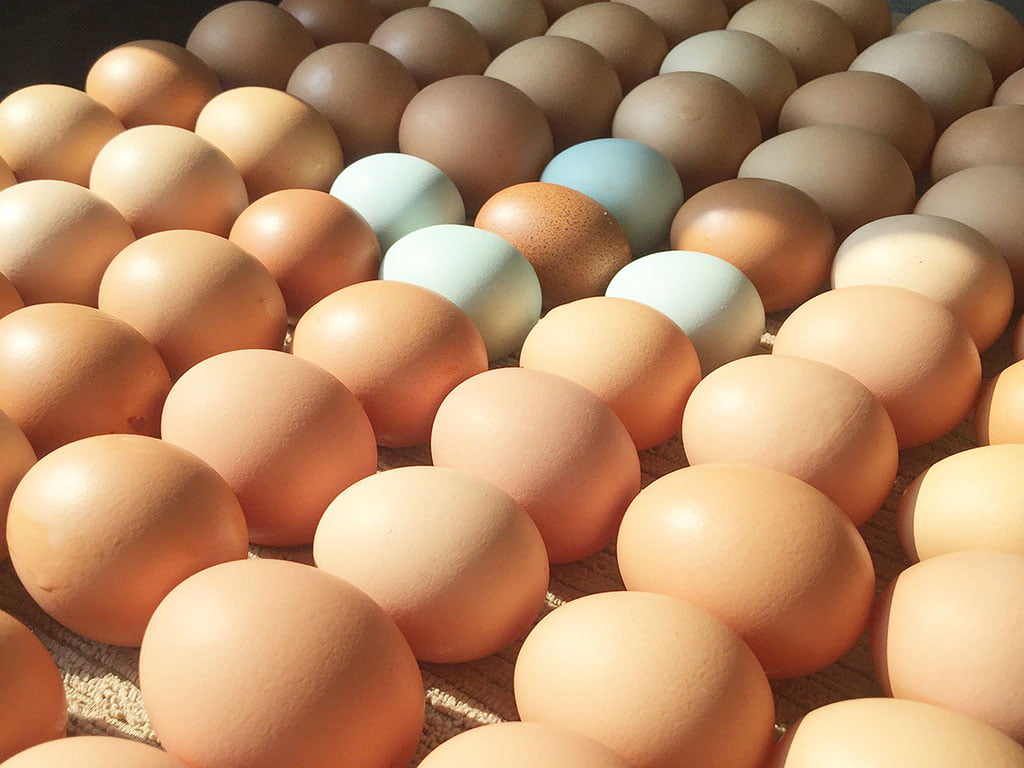 "It's a blue egg" James yelled across the field, and the kids and I went running up to the back door! It was the first blue egg that had ever been hatched on the farm, so we were all filled with excitement to see and hold the beautiful treasure!
James and Chelsea have tried hard to have a variety of different species of birds so that the type of eggs that hens are laying is different. The Keeenan Farm is currently home to the following breeds of hens: Production Red, Barred Rock, Welsummer, Maran, and ISA Brown. I love getting a beatuiful mix of eggs, including a variety of colours and sizes! These blue eggs seen here are from a heritage breed of bird called Ameraucana and take an average of 3-4  weeks longer to lay their first eggs.
The Fourth R
Typically when we think of Recycling we think of reducing, reusing, and recycling. None of this is more evident on the farm, where no object is overlooked, and items are saved for a "when needed" situation, such as when a pig shelter needed to be made for a hot pregnant momma.
The fourth R is something that the Keenan's excel at though, which is "Rethinking". James and Chelsea are very critical of traditional marketing, media, and what society has tried to push us to think we need or want in life. Instead, they focus on the basics. Family. Love. Laughter. Teamwork. Quality Food. Health. Friends. With these things as their foundation, they are able to really focus on what matters and live a healthier, happier life.  
Insta-Education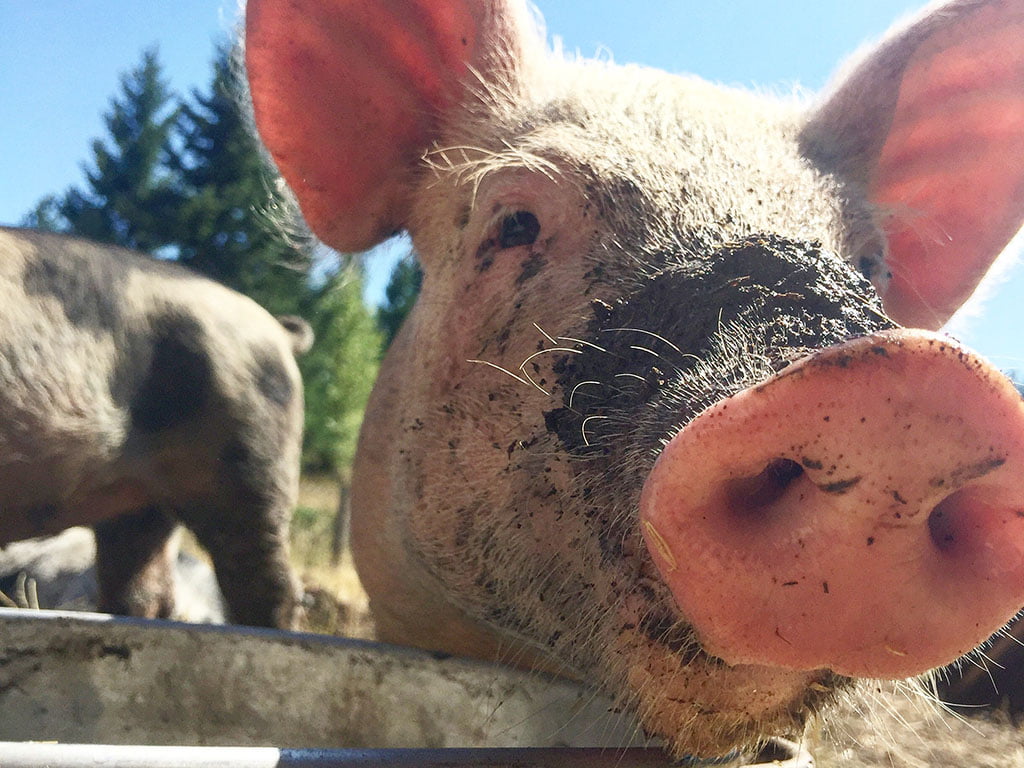 If you only do one thing after reading this blog you need to follow Chelsea on Instagram. She's is utterly (pun intended) hilarious, sharing the behind the scenes wins and woes of what it's like to be a first-generation farmer. Her wicked sense of humour and willingness, to be honest, is not only entertaining but educational. Tune into her intsta stories and you never know what you're going to find… baby pigs being born still in the sac… yes. Pictures of her after she's gone into town covered in poop… that's there too! Check her out at www.instagram/keenanfamilyfarms
FarmHER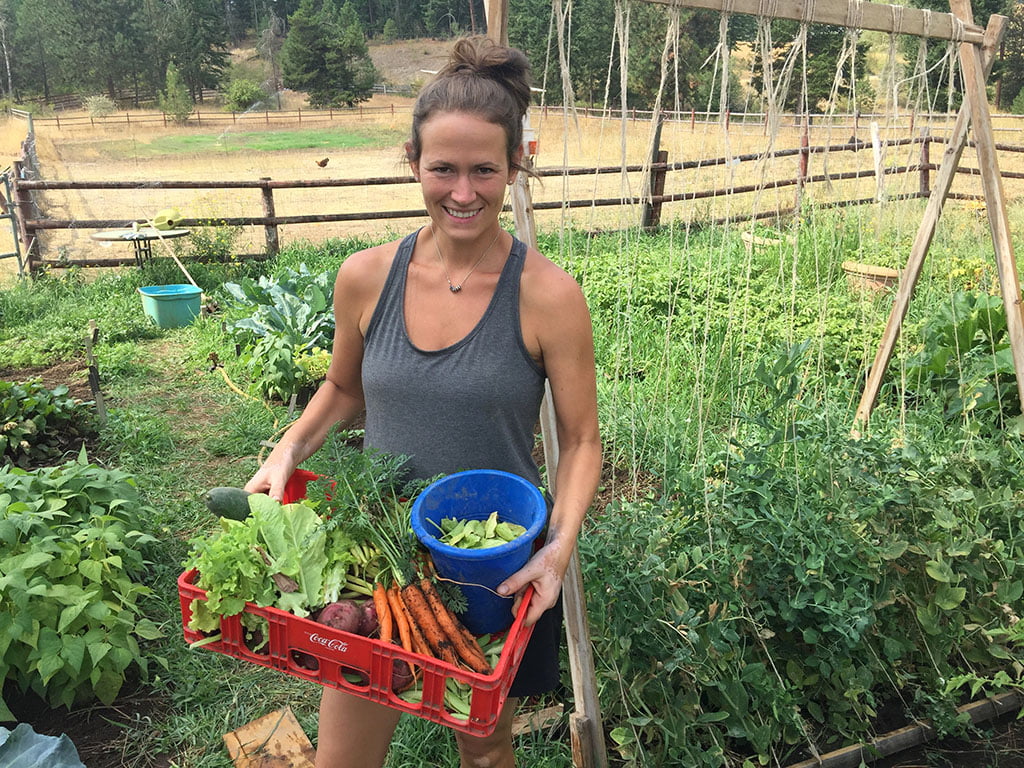 Chelsea is a powerhouse, in more ways than one. Between raising four children, starting a farm, starting up a new business, moving 400km from home,  and having over 250 other mouths to feed, she seems to do it all, with nothing but a huge smile on her face and a witty remark for when things go wrong. She makes following your dreams look easy, and I congratulate her on being willing to step outside her comfort zone and chase down something that is truly remarkable. It may not be for everyone, but it's everything to the right one and she's shown us what the power of a dream can really be.
Who needs Disneyland?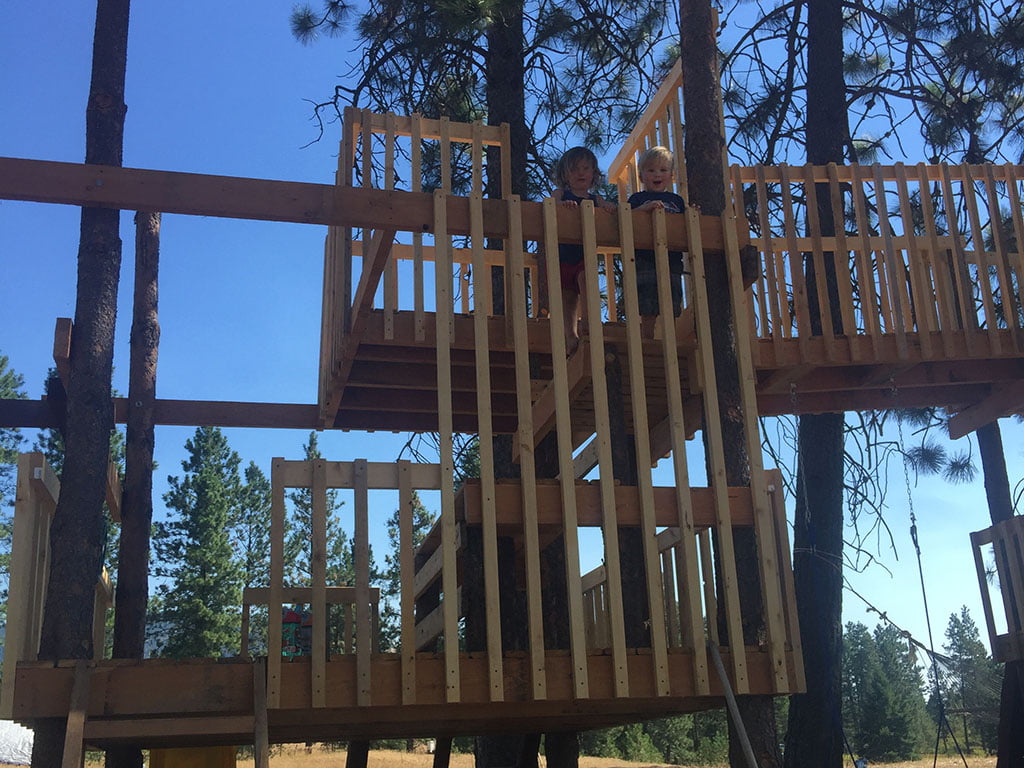 With forest and fields as far as little legs can run, a custom built tree house, a trampoline, outdoor pool, ride on toys, bikes, swings, and more, who needs to go to Disneyland when you have your own theme park in your backyard?
Simpler Time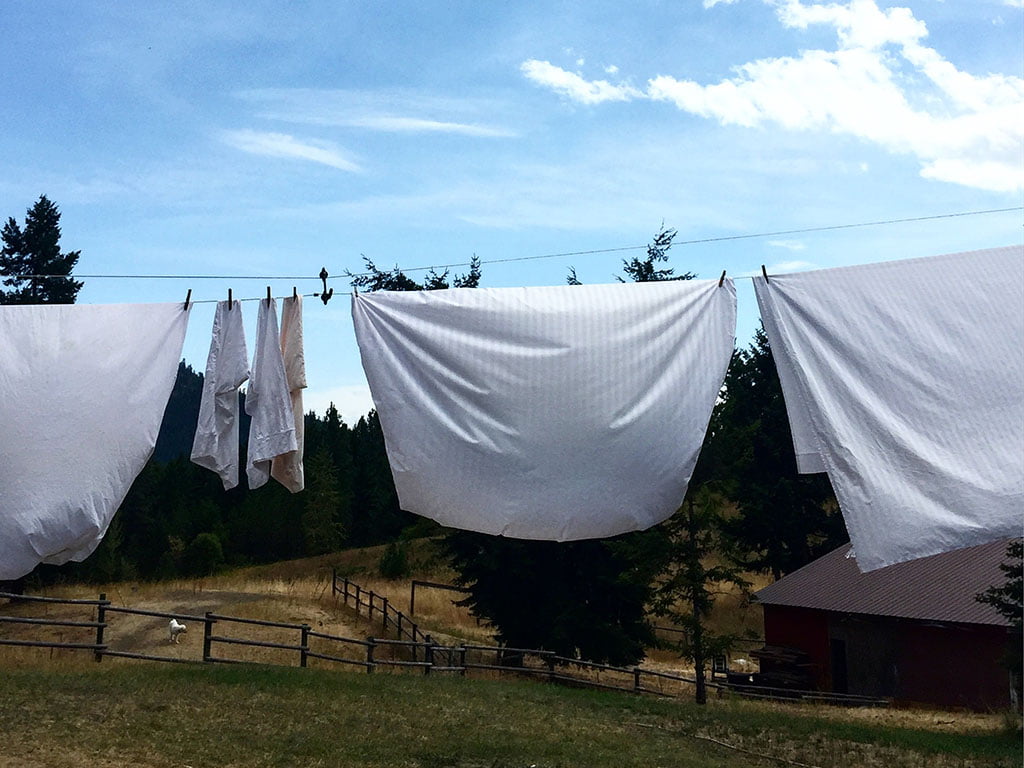 Fresh Laundry strung out on the line. Children running through the hills without shoes on their feet or a care in their minds. Friends who come for a visit and quickly grab a shovel and start helping out. It's been inspiring to see the family slow down, reconnect with each other, deeply connect with the environment, and create, what I'm sure will be is an amazing life or their children.  
Do you want to learn more or order from Keenan Family Farms?
Step one: Sign up for their mailing list. Chelsea will send our product information and availability updates via email. Sign up for their list here: http://eepurl.com/c6te4L
Step two: Accept your delivery and eat healthy, ethically raised sustainably produced food!
Is this a sponsored post?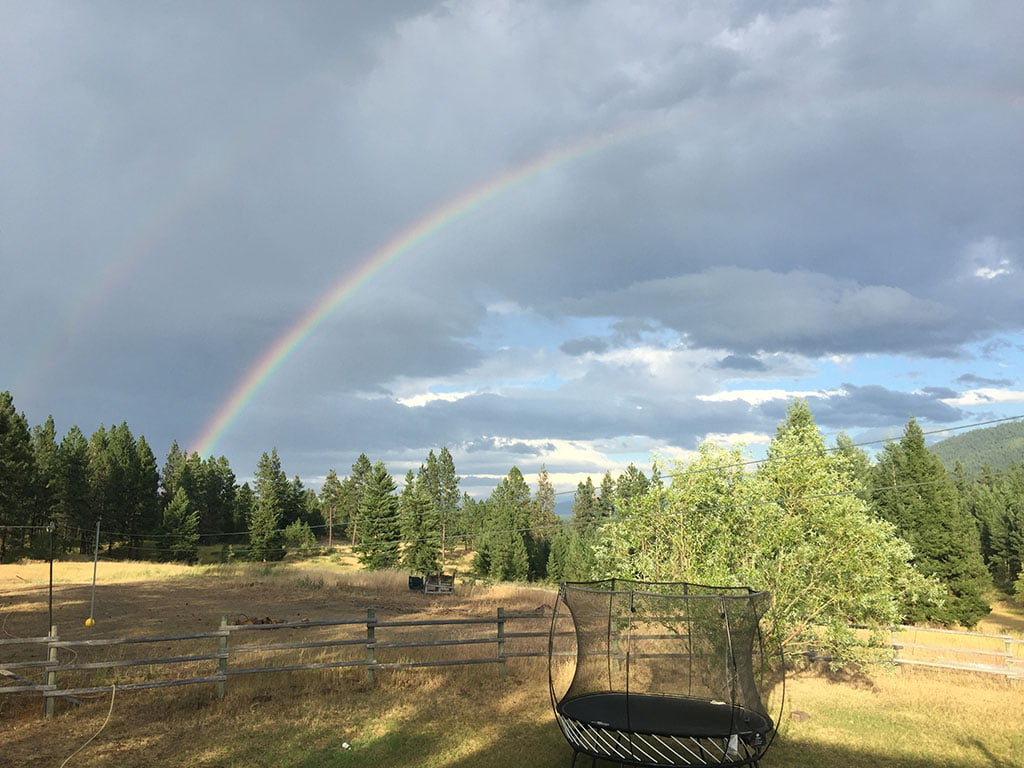 James and I met almost 20 years ago when I met my boyfriend (now Husband) Jason. Jason and James are pretty much inseparable and so getting to know my boyfriend at the time also meant spending a lot of time with James. Once Chelsea came along it was clear that it was a perfect match and shortly after came baby 1 through 4. James has always been an amazing friend to both Jason and me, and we couldn't be happier to see him chase his dreams with his family. So while this may look like a sponsored post at times it is certainly nothing more than our family sharing another family's amazing and inspiring story.  
"My grandmother used to say that once a life you need a doctor, a lawyer, a policeman, and a preacher, but every day, three times a day, you need a farmer" Brenda Schoepp.
I was thinking about adding this to the bottom of the blog… thoughts?
FAQ's
Here are the top questions I always get about the family and their products:
What's the biggest challenge they have faced since leaving the city? 
Chelsea says, "As a wife and a mom I've struggled to find the balance.  In the city, I was a "homemaker".  And now on the farm, my house is the last priority.  There is always piles of laundry and dirty floors.  But I suspect that this city mentality of "keeping a perfect home" will fade soon enough.  We are creating memories and learning lessons that can no way compare to sparkling floors and fancy cupcakes."
Don't they miss their family and friends?
The Keenan's have been inundated with guests, who visits often last for 2 – 3 days. So if you calculate the actual time that they are spending with their friends, they are spending MORE time with them now, than they did when they lived on the coast. The time is better quality and not rushed.
Don't you feel bad eating food after meeting the animals?
No, and neither do our kids. We are meat eaters in our house and feel that protein is a valuable part of our diet. Our kids understand the lifecycle and specifically request food from their farm. I also like knowing that by choosing to support a local farmer I am choosing to consume animals that have been well loved and well cared for. If I was eating grocery store food I would actually be supporting suppliers whose standards of care and priority to mass produce, I don't agree with.
Isn't it more expensive to order pasture-raised food?
While the sticker price appears to be bigger, if you plan it out properly it's actually a great way to save money. For example, a roasted chicken from Save on costs $9.99. A Keenan chicken on average costs about $17 – 20. However, the Keenan chickens are 2.5 times bigger! So we will roast a chicken and then use it in a stir fry or wraps the next evening… making our average cost per meal still the same, if not less. (Especially if we use the extra meat for sandwiches for lunch!
Were their parent's farmers? How did they learn to do all of this?
Youtube. Google. Instagram. Books. These first-generation farmers are research junkies who have the perfect combination of "let's learn about it" to "Let's just give it a try". They've had a few bumps along the way but overall been way more successful than they ever could have imagined.
For more information about Keenan Family Farms visit www.keenanfamilyfarms.ca