Click here to watch Jami Savage of Adventure Awaits, live on CTV News, providing tips on how to plan a vacation that aligns with your values!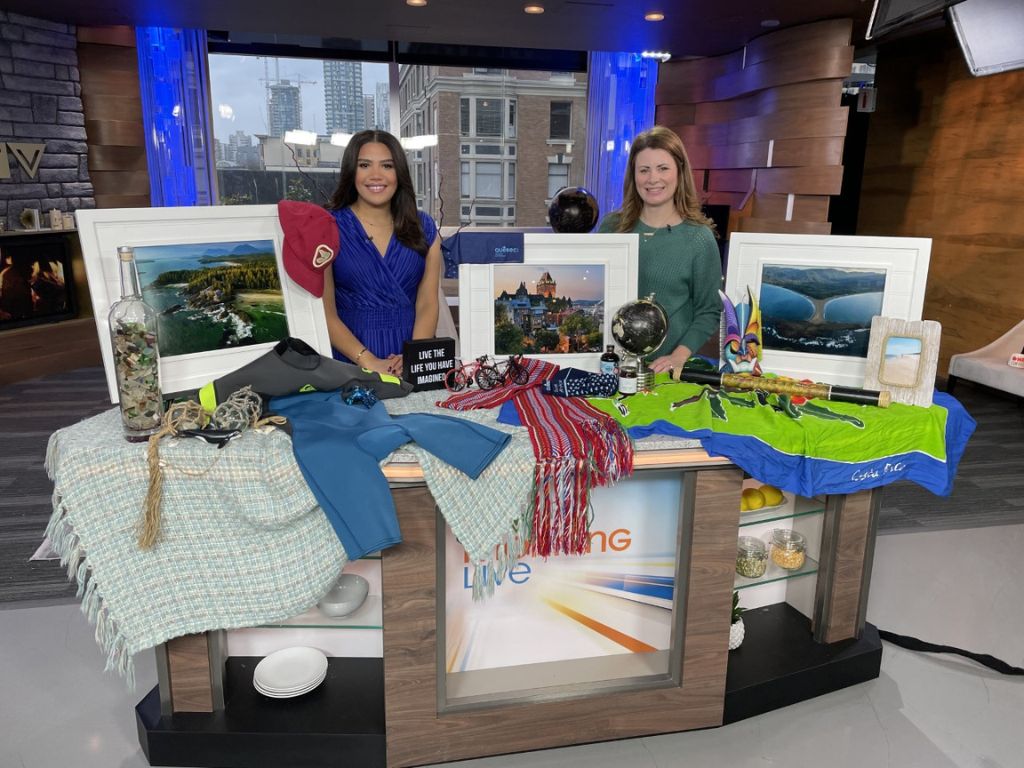 Today's travellers have the opportunity and responsibility to embrace the theories of responsible travel and are encouraged to "lean in" to regenerative travel – planning trips that will truly have positive impacts on the places and people that they are visiting. Responsible travellers are aware of the negative effects of travel and are willing to plan a vacation that aligns with their values, seeking out more responsible ways to explore our beautiful world and make a positive impact in every way possible. Let's explore how to plan a vacation that aligns with your values.
What is Responsible Travel?
Responsible travel is the act of understanding that being a traveller is a privilege and with that privilege comes responsibility. As travellers we can use our time, our dollars and our desire as a catalyst for positive change in the places and the people we visit. When done right, we can create massive positive change in these communities and countries.
6 Actionable Ways we can be more responsible travellers and how to plan a vacation that aligns with your values:
Investing in eco-friendly experiences
Staying at locally owned eco-friendly accommodations
Eating and shopping local
Supporting certified companies
Reducing your carbon footprint
Volunteering on vacation
What is Regenerative Travel?
Regenerative travel is a newer trend in tourism that strives for travellers to contribute to improving the environment, benefiting local cultures and communities, and making positive changes in the places that they visit. Simply put, "The places you visit are better off because you came" (and so are you).
3 Destinations That Are Leading The Way – how to plan a vacation that aligns with your values
The Wickaninnish Inn – With the Land, For the Land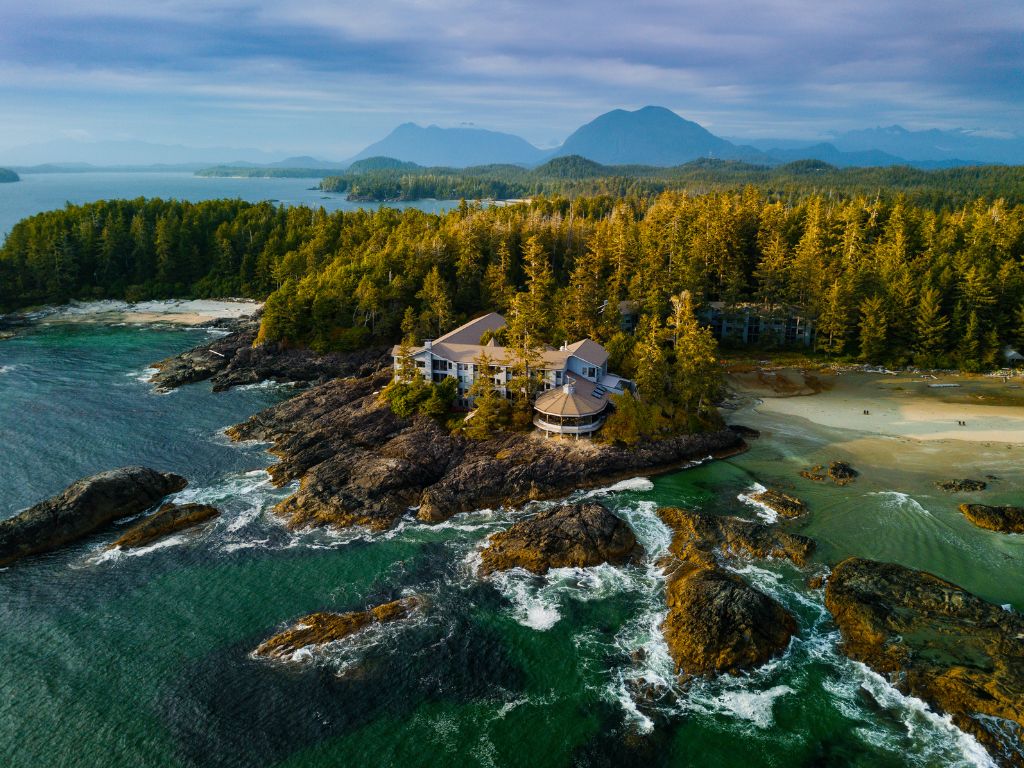 Perched on the edge of the mighty Pacific Ocean you'll find one of Tofino's oldest, and most cherished resorts – the Wickaninnish Inn. A world-class Relais & Châteaux property, the Inn has been designed to welcome guests to experience the majesty that is Clayoquot Sound, to become one with the sacred land, and to integrate and immerse themselves in the experience wholeheartedly.
The Inn's story began 68 years ago when the McDiarmid family moved to Tofino. Only accessible by plane or boat, Tofino was a remote community, on a rugged west coast with a small coastal community. While their family had planned to stay a few years, their love for Chesterman Beach and the way the waves never stop kissing the shore led the family to settle down, and in 1996 open up their own Inn.
Built on a foundation of deep respect for the environment, Charles McDiarmid (now Managing Director) and his family envisioned a resort experience that was with the land, and for the land, preserving as much of the beauty and natural integrity as possible. A property that would immerse the guest into the experience of the wild west coast from inside their room right through to providing them with boots to head outside and walk the rocky shores.
"We live in an area that is one of the most beautiful places on the planet – surrounded by an old-growth temperate rainforest with First Nations history that goes back 10,000 years. We have a National Park at our doorstep, and we're in a United Nations Educational, Scientific and Cultural Organization (UNESCO) biosphere reserve. We look out on the mightiest ocean on the planet. If those elements don't make you want to respect the environment, nothing will." – Charles McDiarmid
Rooted in sustainability before it was a tourism trend, the Inn has led the way in prioritizing the integrity and sustainability of the environment at the forefront of its operations. When the Inn was being designed the on-site trees were surveyed to assist with the placement of structures. The natural underbrush was hand cleared by Charles and his brother Bruce to ensure that as much vegetation could be protected and preserved. The Western Red Cedars and Sitka Spruce trees that had to be removed can now be seen inside the Inn, as part of the textured walls of the lobby, Driftwood Café and Lookout Library. So if you are looking at how to plan a vacation that aligns with your values at the Wickaninnish Inn, here is why you should be planning your trip.
6 ways the Wickaninnish Inn is leading the industry in sustainability (and always has been)
Sustainability Committee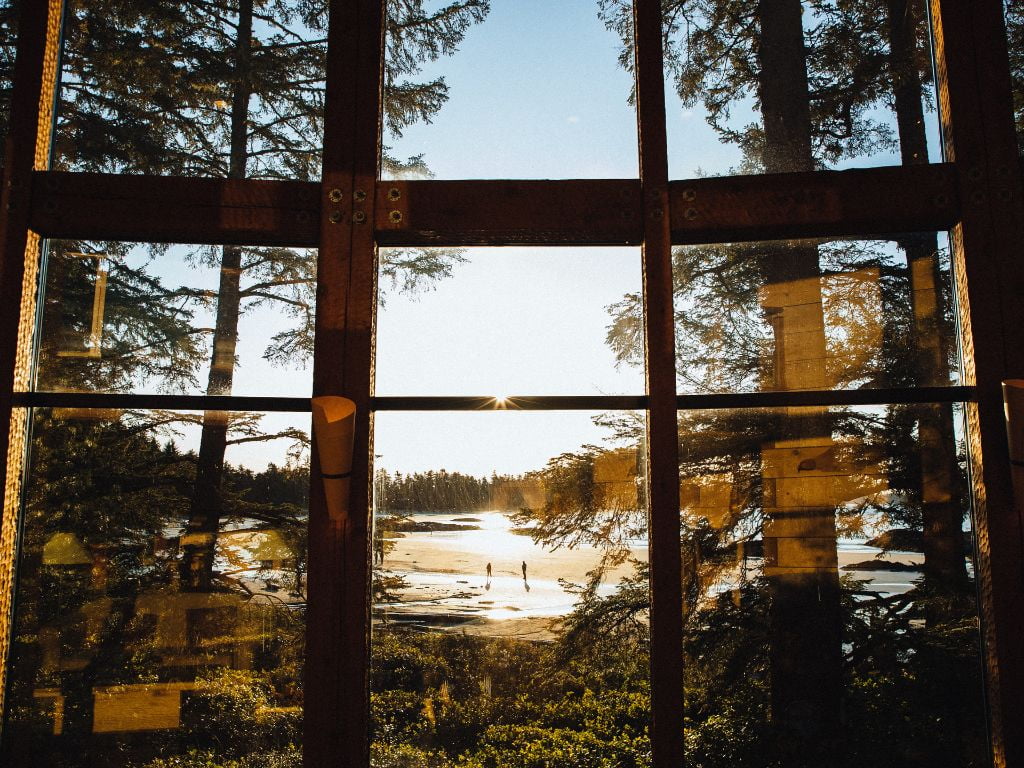 The hotel has an active sustainability committee whose focused mission is: "The Wickaninnish Inn is dedicated to the journey toward sustainable tourism because it is the right thing to do. We are committed to maintaining the highest environmental practices while delivering value to our guests, a safe workplace for our employees, and a lasting legacy for our families and community." Some of their initiatives include supporting organizations like Soap for Hope to help upcycle used products, composting practices and mechanical upgrades for reduced emissions. Speaking of emissions, the Inn has installed EV charging stations to help reduce emissions for those commuting to and from the Inn.
Sustainability Certifications
The Inn is a leader in sustainability and has earned a variety of industry certifications including:
Green Key Eco-Rating Program: They have achieved the highest 5 key status by employing innovative technologies, policies, and programs that set the international standard for sustainable hotels.
Sustainable Tourism: Every two years the Wickaninnish Inn is graded on over 80 criteria, and consistently achieves gold certification through the Sustainable Tourism Program, the world's largest and most credible sustainability certification for tourism businesses.
Green Leader Business: The Inn has achieved a green-level score for at least 3 consecutive years as scored through the Vancouver Island Green Business Collective.
Ocean Friendly Business: The Inn has been awarded for its initiatives to reduce its plastic footprint. "As stewards of the environment, the Inn is committed to continuing to implement reusable wares and technology and adopt measures that divert waste that could end up in our oceans."
Follow this link to read more about the Inn's sustainability practices.
Investing In Local Art
Walking through the Inn you'll see an array of artwork on display ranging from paintings, statues, carvings, and sculptures, some of which may be available for purchase. The families' passion for art and for supporting local artisans has resulted in two permanent features including the Henry Nolla Art Gallery, which is an onsite art exhibit that features 3 – 4 artists at a time, showcasing their work to guests. There is also an onsite local artisan who has a workshop on the property, providing artists with a place to create and showcase their work. Guests are welcome to walk down to the workshop and meet with the artist, see what projects they are currently working on, and hear their stories.
Giving Back To The Community
The team at the Inn is passionate about giving back to the community. From beach clean-ups to golf tournaments that have raised over $120,000 for local high school athletics, to donating funds for festivals in Tofino, to their Surfriders Sessions Gala which raised over $60,000 for the local Pacific Rim Surfrider Foundation. They live and believe it is best to "give where you live" and showcase their leadership in supporting the community year-round.
Welcoming All Family Members – Dogs Need Vacations Too!
Family is the heart of the Wickanannish Inn's story and they recognize that no holiday is complete without all members of the family being able to take part. Therefore dogs are not only welcome at the Inn but they get VIP service including customized welcome emails, personalized amenities package, and paw-friendly beach towels after chasing sticks on the beach (to name a few!).
Always Looking To Improve
Leadership is not only doing what you can now, but it's looking ahead to create a brighter future. "We aim to be better today than we were yesterday and better tomorrow than we are today." – Charles McDiarmid
Click here to learn more and to plan your own trip to the Wickaninnish Inn.
Quebec City – A City Takes a Stand On Sustainability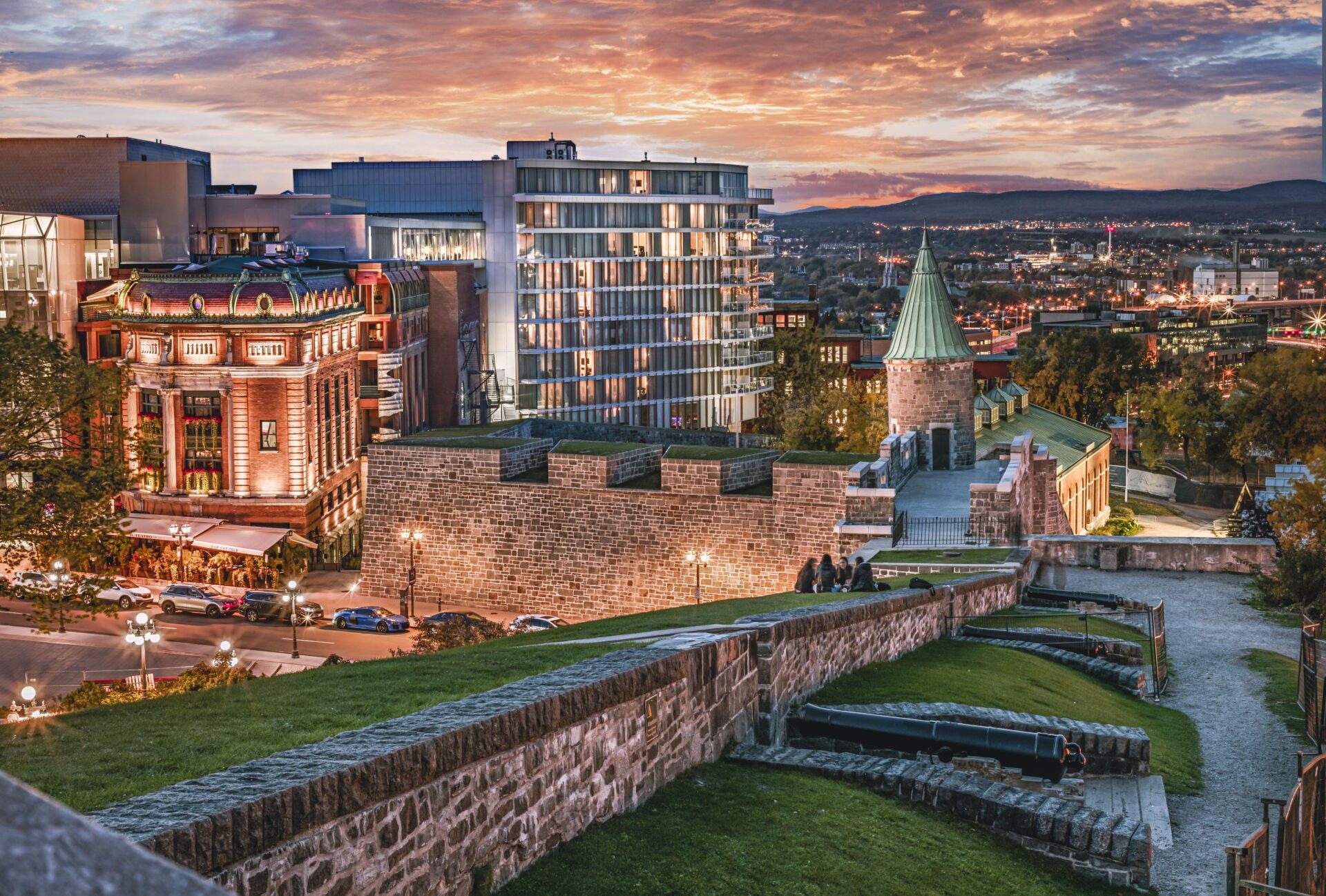 Quebec City is leading the Canadian tourism industry with lofty goals and on-the-ground action.
It is showing great results, proving to everyone that the tourism Industry CAN change and be a leader in sustainability and regenerative travel. "Sustainable tourism is the key to our long-term social, environmental and economic prosperity for our destinations." – Robert Mercure, General Manager, Tourism Quebec City.
Steeped in Canadian history and culture, this magnificent city boasts incredible architecture, stunning city views, and National Historic Sites – and all within the city limits. The culture is unlike any other Canadian city. To visit is to fall in love with the city. To spend time there is to plant a seed – knowing you will want to return.
Quebec City has followed examples of leadership from European countries that are passionate about sustainability. They have invested in building systems and infrastructure with goals of creating the most sustainable city in Canada. If you are looking at how to plan a vacation that aligns with your values in Quebec City, here is why you should be planning your trip there.
5 Ways You Can Embrace Responsible Tourism In Quebec
Carbon Offsetting Tool
During the planning stages of your trip, Quebec City has made it easy to help you learn about the carbon that your trip will generate, show you ways to reduce that footprint and invest in carbon offsetting to help make your trip more environmentally friendly. They have set up a really easy-to-use tool on their website for visitors to use. As a city and Tourism Board, they are also working towards carbon capture in the near future, seeking innovative solutions to support a carbon-neutral city.
Fairmont Le Château Frontenac – First hotel in Canada to Achieve Carbon Neutrality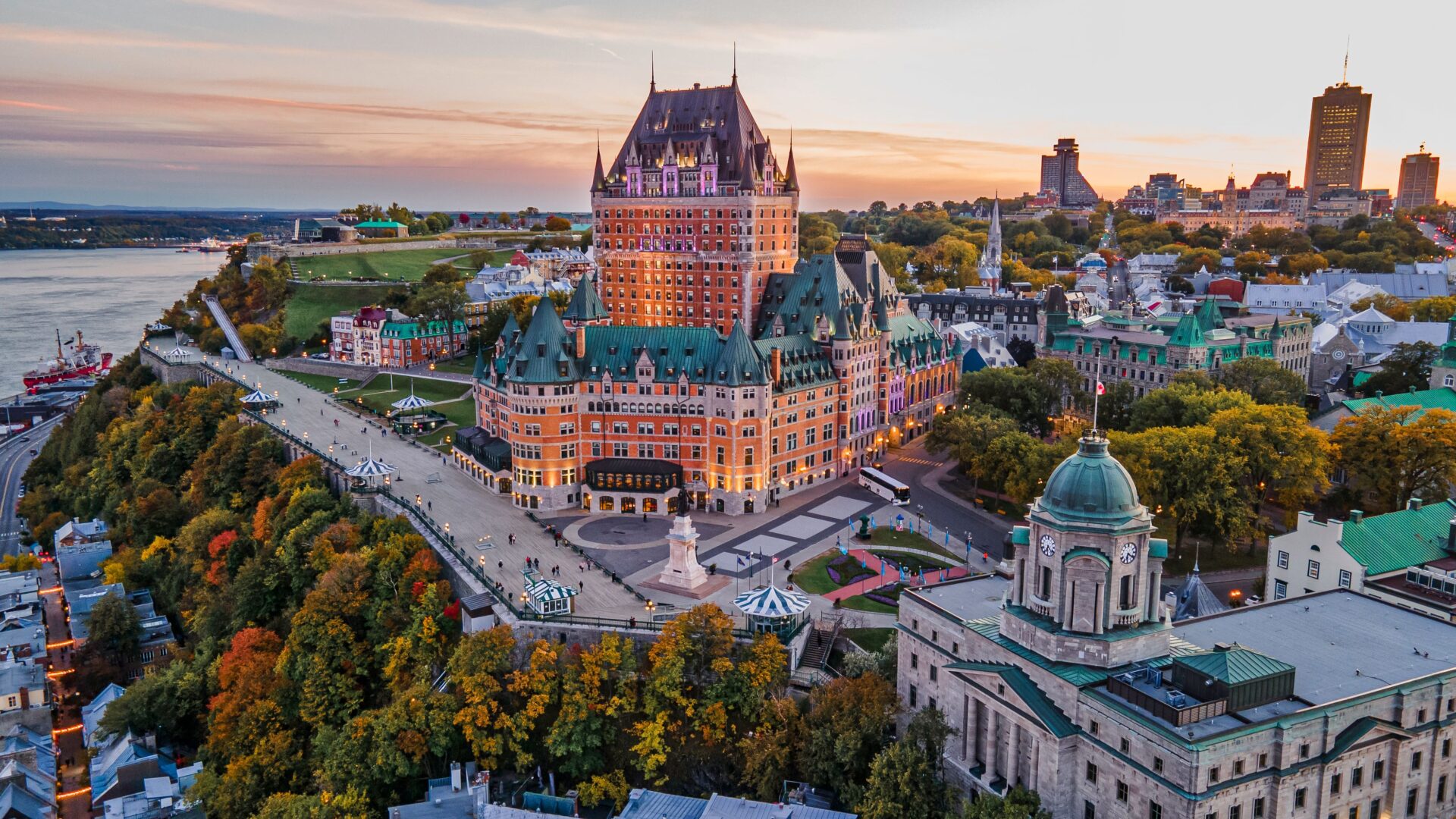 Stunning in design, the grand stature of the Château Frontenac overlooks the city of Quebec – an iconic landmark that is world-renowned. While its' unparalleled beauty may bring guests to the hotel, the Château Frontenac is leading the industry after partnering with Université Laval and has become Canada's first hotel to achieve carbon neutrality. This was no easy feat, especially for such a historic property – but what an amazing example of what can happen when you combine the power of passion for sustainable living and innovative solutions.
The hotel also has invested in certifications including the Green Key program from the Hotel Association of Canada as well as the Plant 231 program, of which they have earned the highest platinum level. From using compact fluorescent lighting, reducing food waste, supporting local products, and investing in the community, the hotel is consistently investing in the brightest future for the community and visitors it serves.
One of the most interesting initiatives is their Château Boréal Project. If a guest forgoes housekeeping services for their room, a tree is planted for them! Over 5000 trees have been planted in the 7 years this program has been running!!
Free Bus Tickets – Ditch and Hitch!
To encourage guests to reduce their carbon footprint, Tourism Quebec City has partnered with the RTC Bus service to offer guests the ability to ditch the rental car and hitch a ride on the bus with free bus tickets when staying two or more nights. This small gesture has had a great impact and in 2021 Quebec City saw between 5,000 utilize this system.
E-bikes – 400 E-bikes and 40 Charging Stations Await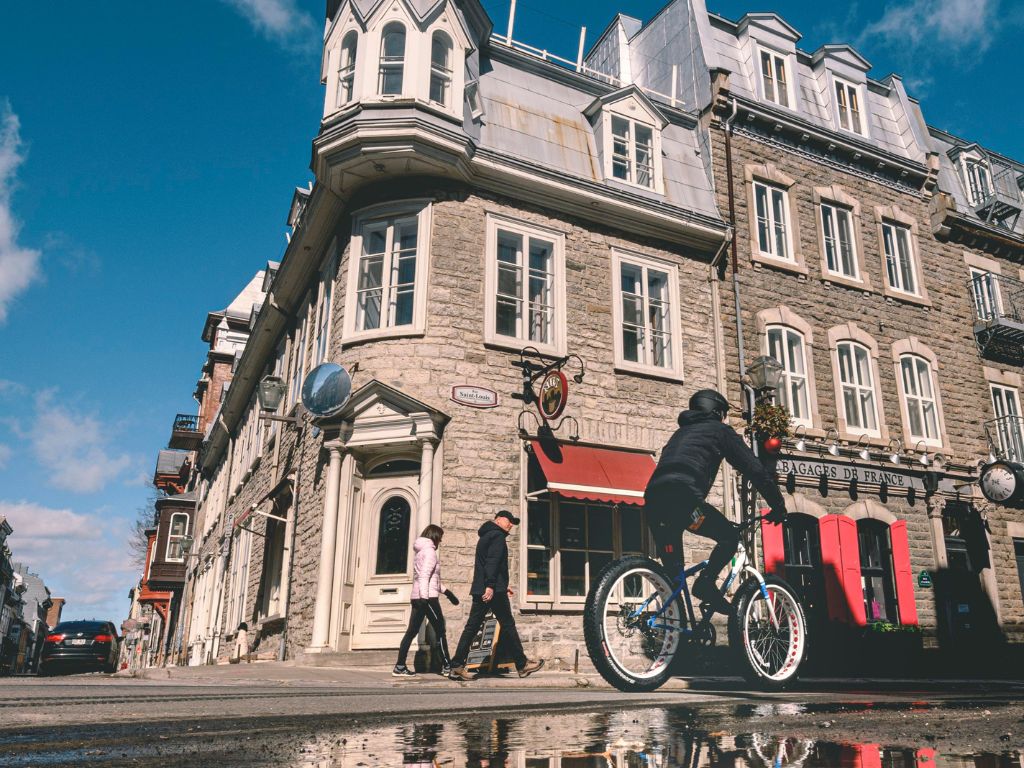 A bike-friendly city allows you – as a traveller – to pedal power your way with ease as you traverse through the cobblestone streets of the city. With 400 e-bikes available and 40 charging stations around town, biking allows you to immerse yourself into the community and create much deeper connections with the place you are visiting than if you were stuck in the confines of a car.
Wellness and Historical Travel Combine at Le Monastère des Augustines
Le Monastère des Augustines first opened its' doors in 1628 and has the honour of being Canada's oldest hospital. This beautifully preserved building welcomes guests to experience almost four centuries of history in what has now become a wellness retreat. Operated as a "not-for-profit" their mission is to make the heritage of the Augustinians accessible to the entire population and offer support and respite for those that take care of others. Through cultural and educational programs, caregivers, companions, workers and volunteers are invited to come and enjoy accommodation and revitalizing activities specifically designed for them. Sustainable and responsible development and programming are one of their guiding principles and they have earned accolades, awards, and accreditations for their work. Click this link to learn more about Le Monastère des Augustines.
Click here to learn more and plan your own trip to Quebec City.
Bodhi Surf + Yoga – Uvita-Bahia Ballena, Osa, Costa Rica
Bodhi Surf + Yoga is a small business looking to make a big impact by leading the industry with the highest standards of ethical tourism and showcasing how it can be used to positively transform a community. "At Bodhi Surf + Yoga, we use our business as a force for good and believe that we must be the change we seek in the world."
A boutique retreat nestled into the shores of Bahia Ballena, this two-story lodge and two ground bungalows can welcome up to 10 guests per session, maximizing the power of intimate group experiences and offering the best opportunity for crafting high-quality connections for each guest. If you are looking at how to plan a vacation that aligns with your values in Costa Rica at Bodhi Surf + Yoga, here is why you should be planning your trip.
5 Ways Bodhi Surf + Yoga IS Serving Mother Ocean Through Regenerative Travel
Purpose Filled Place
Bodhi Surf + Yoga is, "a place to awaken your purpose." Located in the small coastal community of Bahia Ballena, Osa, Costa Rica, their intentional immersive experiences have been designed for guests to connect with Mother Ocean and Mother Nature. Bahia Ballena (which translates to "Whale Bay") invites you to come and explore Ballena Marine National Park where at low tide a natural whale tail forms.
But that's not the only reason "Whale Bay" has earned this name. The warm Pacific Ocean also provides the perfect birthing ground for whales, and they come from the north and the south to give birth to their young.
The environmental significance of this area, combined with the people and animals that call it home is the absolute focus of the Bodhi Surf + Yoga mission – to serve and protect the region through transformational tourism and ethically centered tourism experiences.
Certifications Backed By Action
Bodhi Surf + Yoga is a B Corp certified company as they have invested in this rigorous process to ensure that they are offering the highest level of ethical and sustainable travel for their community and for welcoming guests. Their mission is "educating, inspiring, and empowering our stakeholders to live more sustainably through surfing, yoga, nature immersion, and community engagement." Their foundation is that they can use their business as a tool to forge a better world for themselves, for their community, and for future generations. They are proud change makers and action takers investing in certifications such as BCorp as well as contributing to 1% For The Planet.
Their 6 actionable pillars of business include:
Community Programs
Community Investment
Environmental Awareness
Impact Reduction
Global Donations
Responsible Travel
Mother Ocean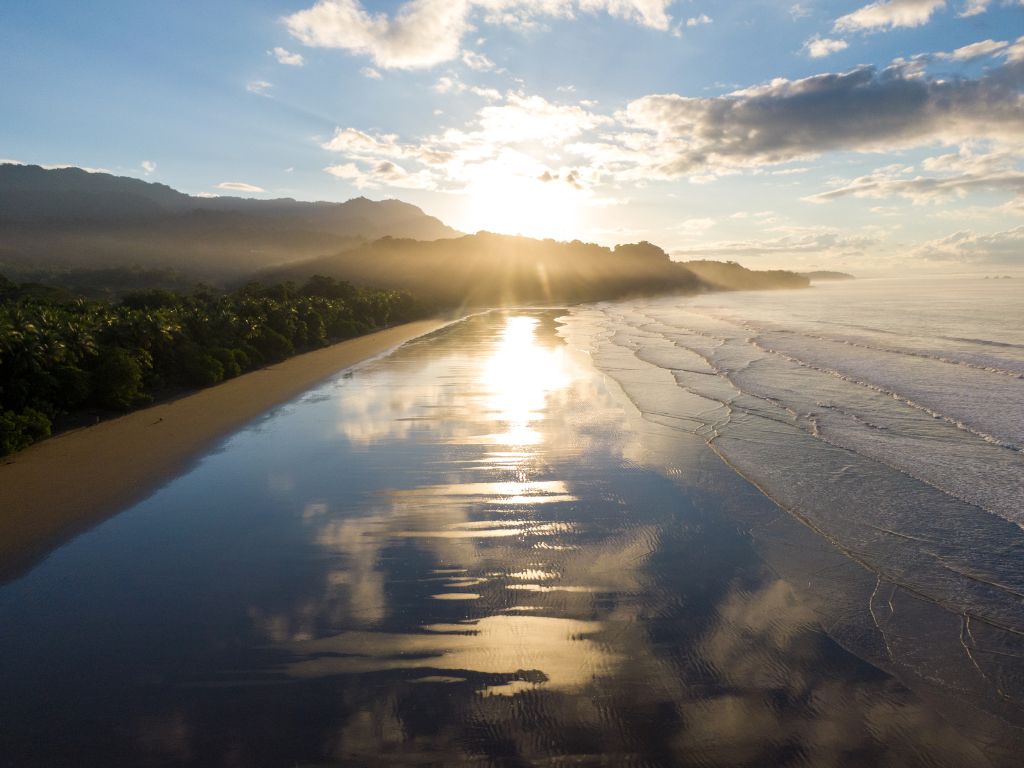 I first met Travis, Owner of Bodhi Surf + Yoga on a zoom call in the middle of a rainy Vancouver day. Through the computer screen, I could feel his electric energy and see the lush Costa Rica background. His passion for crafting authentic travel experiences is aligned with the highest values.
It was on that call that I first heard him use the term, "Mother Ocean" "I think mothers, in general, are more giving, and the ocean is a GIVER… it gives, and gives, and gives, and we take, and we take, and we take. The ocean is the provider of life as are mothers." Travis went on to share how "The sea, as the mother of all life, holds enormous significance for human health". Every action he has in his business directly relates to serving and protecting our beautiful Mother Ocean.
Family Immersive Experience
If you're looking for the ultimate family surf camp, Bodhi Surf + Yoga is an experience that balances fun and education through learning to surf, experiencing local culture and cuisine, as well as connecting to the local community organically as well as through organized volunteer opportunities. Whether it's a parent and child experience or the whole family, it's a unique experience that will create unforgettable memories.
The Positive Power of Surf + Yoga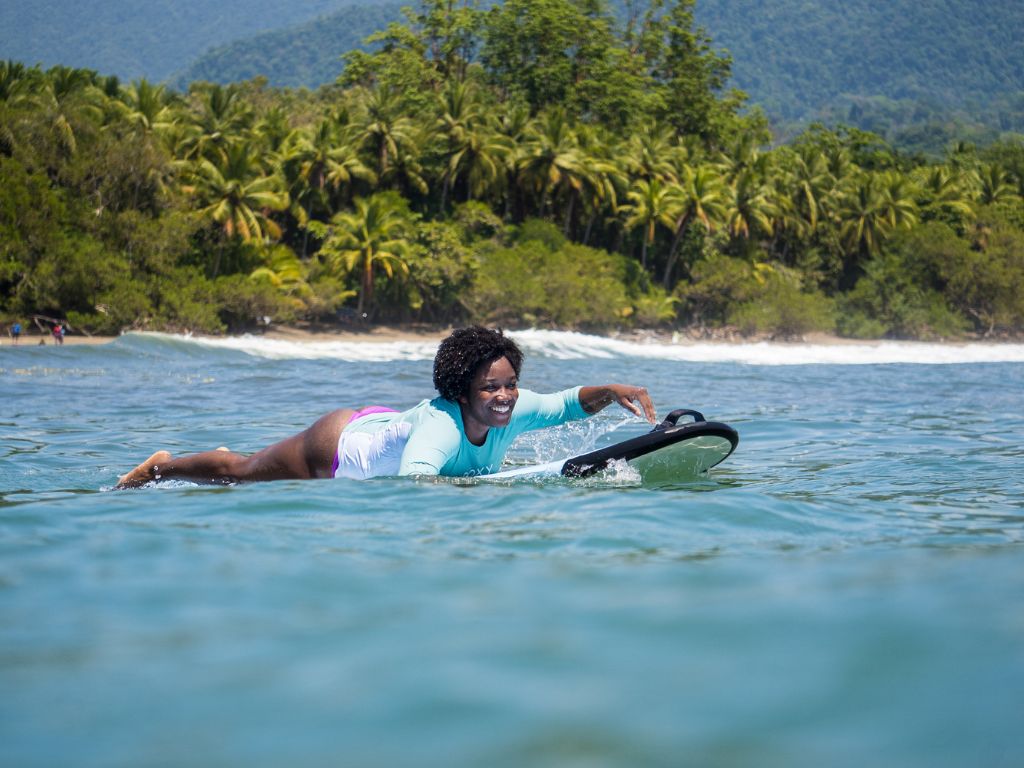 Surfing + yoga are good for the soul, and with over two decades of experience, Travis and the team at Bodhi Surf + Yoga are the perfect leaders to take you on a transformational experience. Both practices combine body, mind, and spirit and inspire us all to appreciate the journey, rather than the destination. Combine these practices with the ultimate Costa Rica sand and you're guaranteed to have an experience that gives you new skills, great memories, and most importantly- an awakened sense of purpose.
Click here to learn more and plan your own trip to Bodhi Surf + Yoga.
Questions To Ask When Planning a Responsible Vacation
Still curious about how to plan a vacation that aligns with your values, be sure to ask these questions when planning your trip:
How can your actions become a part of a solution for the places that we visit?
How can you reduce your carbon footprint commuting to our destination and while you are there?
Where can you shop locally?
Where can you stay locally?
Where can you eat locally?
Ask your hotels, tour operators, or travel providers about the social and environmental policies in place for the resort including specific examples of how local people benefit from the resort and how environmental impacts are minimized.
Ask for certifications in sustainability. Some of the big green certifications include Main Travel Gold Certificate, Green Globe Certification and Global Sustainable Tourism Council.
What Indigenous cultural experiences can you experience and participate in?
Hotel Checklist:
Does the hotel have a responsible tourism policy?
Does the hotel support local people and businesses? How?
Does the hotel hire locals and does the hotel pay them a decent salary?
Is the hotel independent? Often boutique or independent hotels are locally owned which means that more money stays in the local economy.
Did you know?:
Google Flights can show you the best flights with the lowest emissions.
Google Maps can show you the most eco-friendly route.
---
Check out these Articles for More Inspiration
and Education: