I could hear them screaming from the top of the waterslides as their bodies flew side to side down the big yellow tube. Their giggles and squeals represented everything that was right about summer… splashing around in the water, family time, adrenaline rushes and laughing until your stomach hurts. As we wrapped up our final days on our big BC adventure, we realized we had done one thing right… spent a whole lot of time playing together.
Osoyoos gives families just that, the chance to slow down and spend a lot of time together, doing quality activities in the summer. A quaint, lakeside community begs you to slow down as soon as you enter. Their attractions are small when compared to bigger communities like the Cultus Lake however, it's their size that allows you as a parent to be able to sit back and relax a bit more, and worry less about where they are as you can see and hear them no matter where you are in the park!
When you need time to cool off there's lots of indoor activities for families to explore too! With world class resorts and accommodations for every style and budget, Osoyoos is ready for families looking to slow down and spend time together in the summer.
Here are our top recommendations for things to do in Osoyoos in Summer:
Osoyoos Lake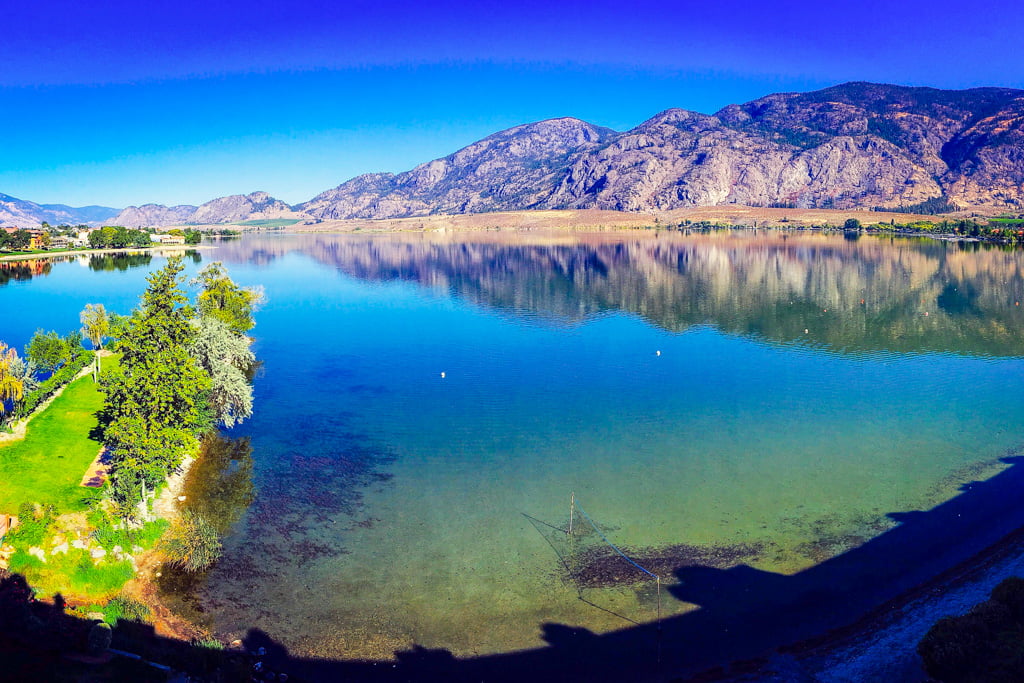 As Canada's warmest city, and our nation's warmest lake, Osoyoos is the perfect place for families to spend a few days (or a week) exploring. Centered around the beautiful Osoyoos Lake, you can play all day on the water, kayaking, SUPing, swimming, boating, playing volleyball, or building sandcastles in the sun. The two most popular beaches in Osoyoos are Gyro Beach and Cottonwood Beach. If you're staying in a hotel many of them come with their own private beach as well for guests.
If you are looking to take part in some activities on the lake, we recommend these local companies:
Rent a Boat (charters & rentals), Waterski, Wakeboard/Wakesurf, Jetski: Wakepilot
SUP, Kayak & Canoe: Above the Board
Go Fishing: Rodney's Reel Outdoors
Waterpark Play: The Osoyoos Splash Park is the perfect place to cool off and watch the kids burn off some energy. Or try the Osoyoos Waterslides.
Best Beaches to Experience the Water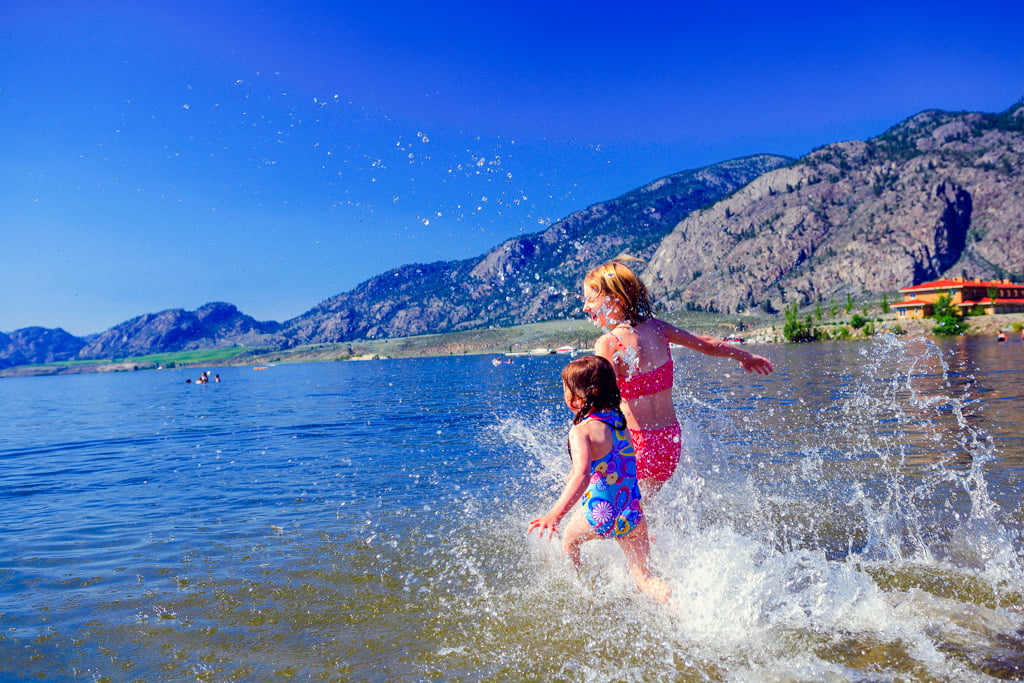 Gyro Beach – main city beach, close to downtown where you can grab food/drinks/snacks/water toys, gorgeous sandy beach, lots of shade and grass as well if it's too hot.
Cottonwood Beach (same side of bridge as the hotels, just farther down and public) – fairly shallow which means the kids can wade out super far and still only be waist deep, not as much shade or grassy area.

Lions Park – located just north of Gyro beach, this park features a playground for the young ones, as well as grassy and shaded areas. The beach here is a little rockier versus sandy.
Osoyoos Lake Waterslides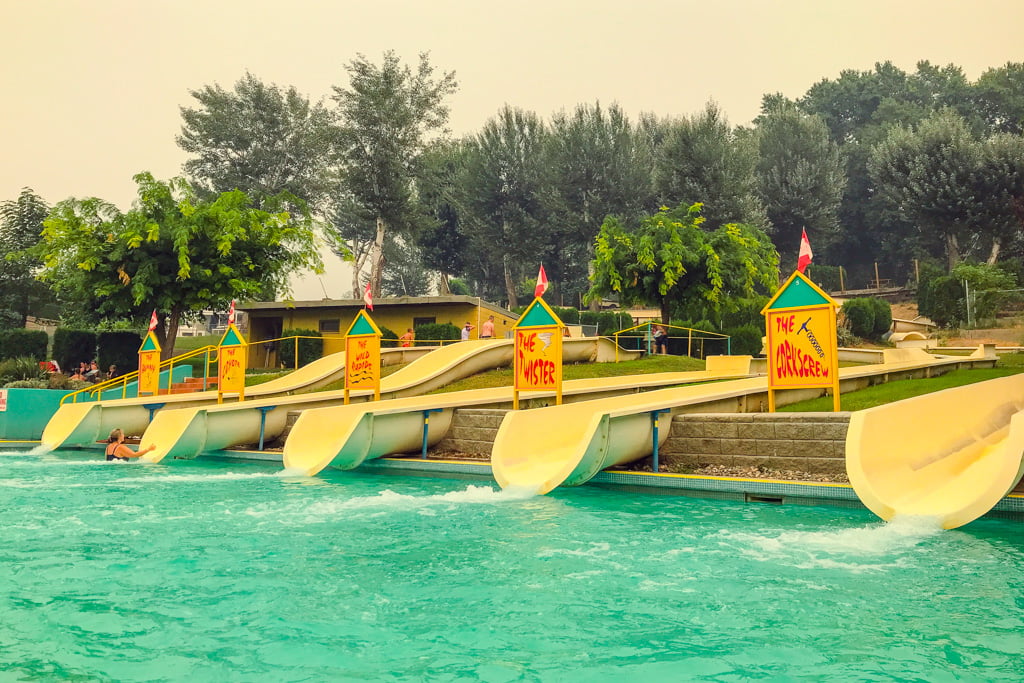 Imagine being able to sit on the grass and see your kids run up to the waterslides and then hear them screaming all the way down! No lineups, no crowds, just good old fashioned waterplay for the family. A mini park when compared to it's out of city cousins, however the charm and quaint attraction is perfect for families who want to give their kids some space to play and perhaps as a parent give themselves some downtime.
Looking to Hit the Hills for Some Hiking or Mountain Biking?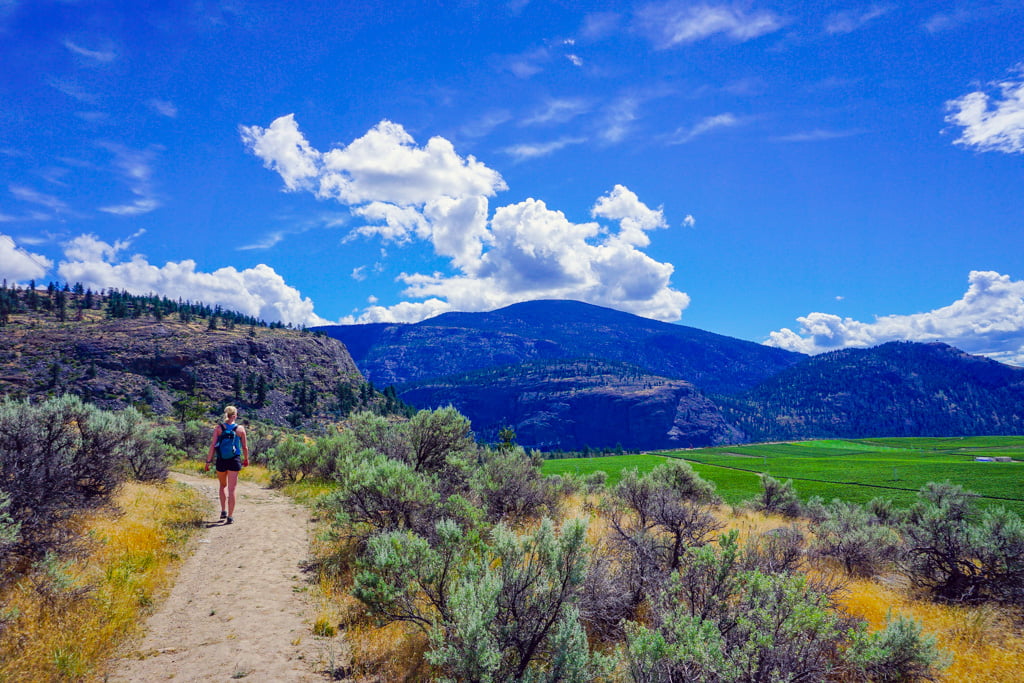 Check out these awesome family friendly trails:
The

International Hike/Bike trail

between Oliver and Osoyoos is popular with families. It follows alongside the canal and is about 18km round trip. Families can go for as long as they like, making a lovely day trip. The trail is relatively flat and hard packed gravel.

The

Canal Walkway

, is paved and relatively flat and about 5km round trip.

Haynes Point

is a great walking/biking trail for younger kids, gorgeous views, 2km round trip

Lakeshore Drive and the Pioneer Walkway

follows alongside the lake from the Watermark, past the Holiday Inn, and all the way to the end of Lakeshore Drive.

McIntyre Bluff

is one of the best trails for both hiking/mountain biking in the area, and is just north of Oliver. 10km round trip (might be okay for some families) and gorgeous views!

Trails above the Osoyoos Golf Course are great for

mountain biking

. Found at the end of Fairwinds Drive, local children love exploring the different trails on mountain bikes.
Wildlife Viewing and Bird Watching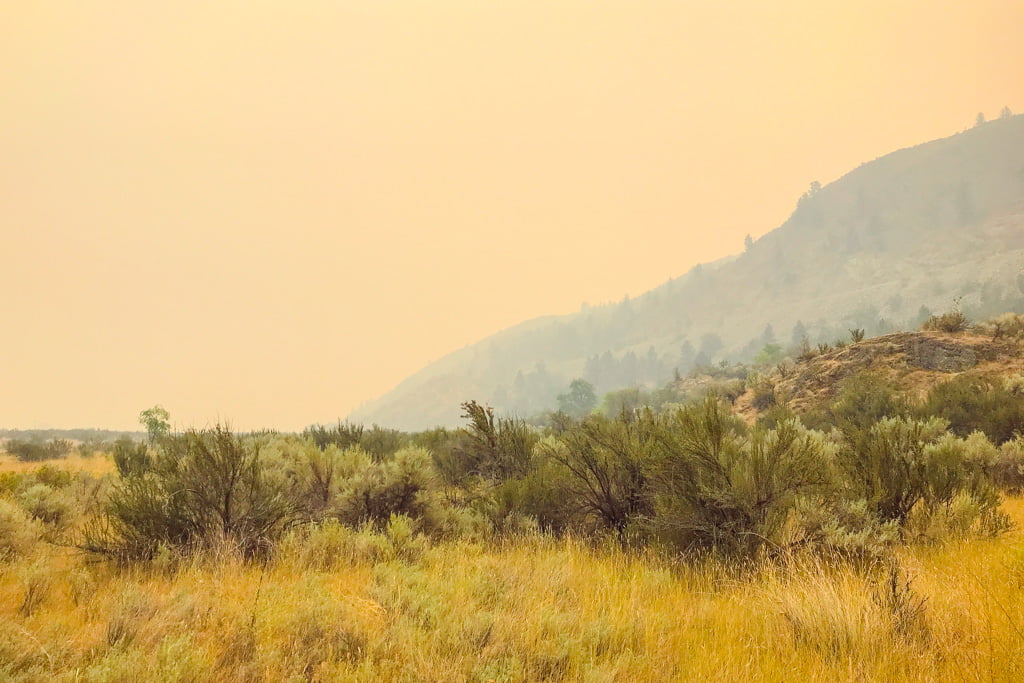 Osoyoos is on the migratory path of many bird species and is one of the best places in the provinces to watch birds.
Osoyoos Desert Centre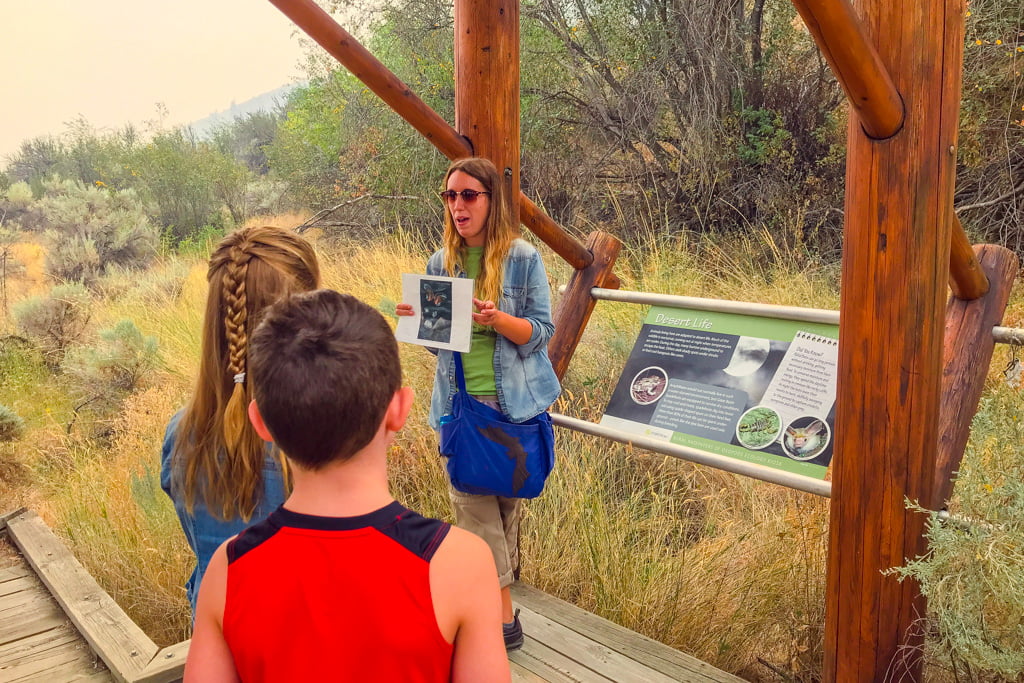 Did you know that Osoyoos is home to Canada's only true desert? The Desert Centre was set up to protect and help educate visitors on how precious this ecosystem is and what we can do to protect it. Home to over 100 rare plants and 300 rare invertebrates, visitors can take a 45 minute guided tour and walk around the 1.5 km raised boardwalk exploring the region. Watch out for burrowing owls, rabbits, snakes and signs of bigger predators like coyote and bears. One of our favorite highlights of the tour was learning that burrowing owls are released at the Desert Centre. After meeting them face to face at the BC Wildlife Centre and learning about their rehabilitation program, it was neat to connect with the environment where they are actually released and get to call home!
Mom Tip: As this is a 45 minute walk in one of Canada's warmest cities, I recommend that you go in the early morning, or later in the afternoon when it's not as hot outside. Dress for the sun as you'll be in direct sunlight for the whole tour (including hat, sunscreen and a water bottle). Also, set aside a couple dollars for the gift store, my daughter found an owl shirt she loved and there's some fun educational gifts as well that were great for kids.
Inside Adventures
When visiting Osoyoos you'll probably see your thermometer gauge reach 40 degrees (symbol) more than once and be needing an indoor retreat, especially for the littles in your group. Here's some activities that allow you to cool off and explore indoors:
Osoyoos Desert Model Railroad
When you walk through the upstairs doors of the Osoyoos Desert Model Railroad, you'll hardly believe your eyes. A 4000 square foot miniature wonderland await you with scenery of every kind imaginable. This is North America's Largest Marklin Train layout and is over 30 years in the making! My son ran over to the water scene, where you can see above and below sea, including a shipwreck and a mermaid! The kids loved watching the 45 trains that ran in between the scenes on 2 kilometers worth of track! The best part? Being able to press buttons on the displays, allowing the kids to interact with the scenes and engaging the characters in funny situations (like boxers getting into a fight and a construction worker popping out of a man hole).
Mom Tip: Come fueled (make sure your kids have had food and drinks) and give yourself lots of time to explore this attraction. There's so much going on that it takes a lot of time to soak it all in!
Nk'MIP Desert Cultural Centre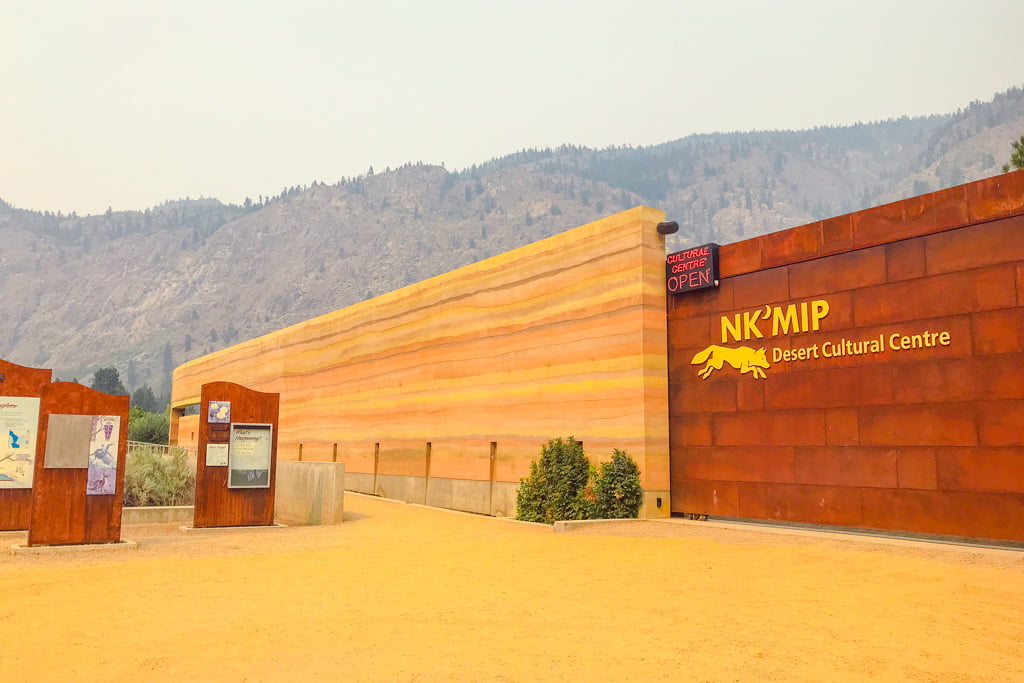 Not to be confused with the Desert Centre, the cultural centre is a place where families can learn more about the first nations, their history and their experience living in the Osoyoos region. There are a lot of great hands on displays inside as well as a "Living Lands" outdoor exhibit where guests can explore the living culture of the Osoyoos Indian Band.
Our favorite part of our visit at the Cultural Centre was the 45 minute snake presentation. Osoyoos has a very large snake community and the educational tour allowed us to learn all about the local residents. From how to identify snakes, to how to act safely when outdoors, to coming face to face with a rattlesnake, my kids loved the presentation (and looking for snakes outside afterwards!) I loved the practical knowledge that was passed on about the snakes including how to avoid being bitten and what to do if you are. Like bears (link) snakes don't want to be bothered or to bite you so as long as you're making noise and avoiding confrontation the odds of having a snake encounter is rare.
There are plenty of things to do in Osoyoos in summer, whether you're looking to spend your days splashing in the water, or slowing down and taking in the surrounding desert. Osoyoos is the perfect small town to spend your summer in.
Heading to the Okanagan? Check out these articles for trip planning inspiration!
Is this a sponsored post?: While we were invited to experience and visit Osoyoos, our thoughts and opinions of things to do in Osoyoos in summer are our own.