"We believe in conservation through education" Shayla said. "If we do a really good job and teach people how to protect and treat animals, hopefully the need for our rescue centre and park will decrease and there will be less animals in need or our care!"
I've never heard a "zoo" employee talk like that, but that's the exact difference of the BC Wildlife Park Kamloops, it isn't a Zoo at all. The animals that are in the park can only get there three ways, by being injured and coming to their rehabilitation centre, by being orphaned and found and brought to the centre, or by being born in captivity.
For the animals that are brought to the rehabilitation centre most of them are set free back into their natural environment. On their Facebook page they regularly feature animals being released which is the most rewarding part of their job at the Wildlife Centre.
The second most rewarding piece of their job is educating guests about the parks residents, who they are and how they came to the park, and how we as humans can make sure more animals don't end up needing human interaction and support in order to survive in the future.
Here are some highlights from our day at the BC Wildlife Park Kamloops:
Burrowing Owls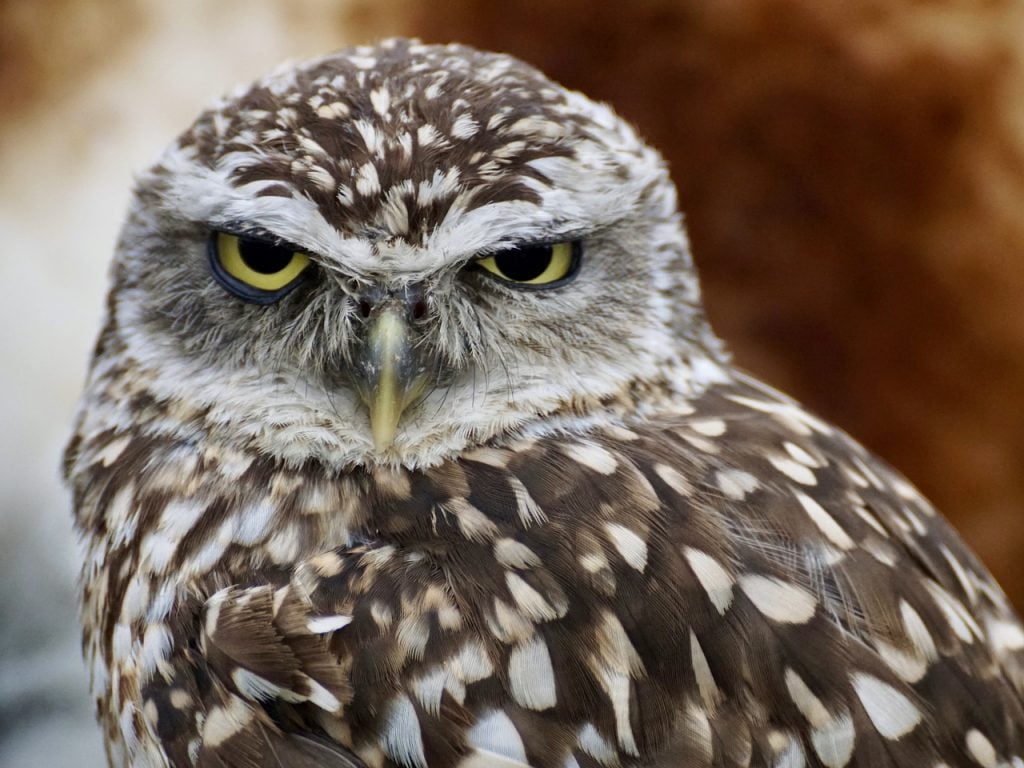 One of the first residents that we met at the park was a burrowing owl. Recently, as in the 1980's, these owls were nearly extinct. But with the help of this conservation centre and others around the province they have been able to create a captive breeding program which has helped build the population back up in the region and after almost 3 decades, the population is starting to stabilize. To learn more, click here.
Playful Grizzlies
Knute and his sister Dawson are grizzly bears that were abandoned and orphaned as babies. Getting within a few feet of a grizzly is a very rare opportunity as was being able to see them play, jump in their pond, wrestle like siblings and having fun in their home. While I hate seeing bears in the wild, I support conservation based parks like this, as it allows my children to see these bears up close. It teaches them responsibility for their actions when we're in the wild to protect these beautiful animals, such as making sure we're always camping with "Bear Aware" sites.
Birds of Prey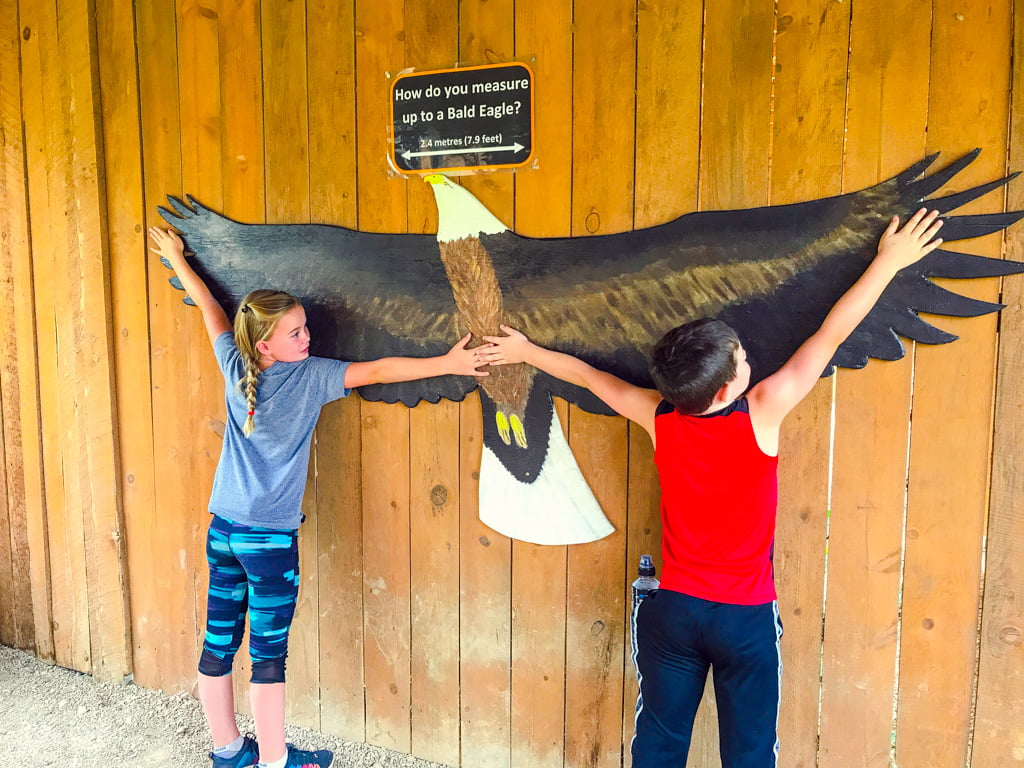 How big is an eagles wingspan? Surrounded by birds who were too injured to fly (mostly from getting hit by cars), these birds act as ambassadors for their species, teaching children and adults how to act more responsibility and to lower their negative impacts on the animals we share this space with.
From coming up close and personal with eagles, great horned owls, and falcons, to seeing how big an eagles wingspan is, through education the children are able to connect more closely with these animals and hopefully create a better world for them to live in.
Close Up with Clover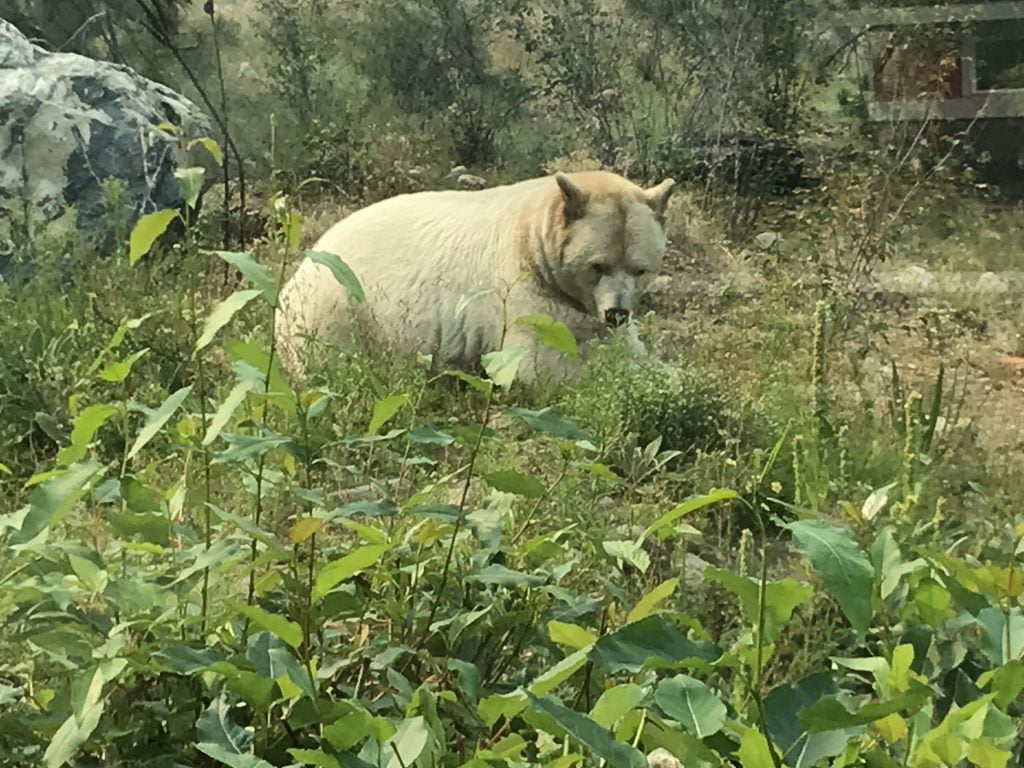 Clover is a kermode bear whose beautiful white fur is a rare feature for black bears. Outside of BC, kermode bears are found at a ratio of one in a million bears. In BC's rain forest, they are about 1 in 10. Researchers suspect that this is because when fish look up, they can't see the white bears like they can see the black, allowing this breed to flourish in our ecosystem. Clover was abandoned as a young bear and quickly turned to people for support… including their tents! Multiple rehabilitation attempts were made but his resilience and fearlessness around people meant that he could no longer live in the wild. He now serves as a beacon for educating people about his species and what we can do to keep bears where they belong… in the wild.
Train Ride
Want to give your legs a break and see the park from a different perspective? Buy a $1 ticket for the open air train and enjoy the ride around the park. There you'll get to see the animals from different viewpoints, including some up and close encounters, depending of course on where the animals are hanging out for the day!
Cougar Encounter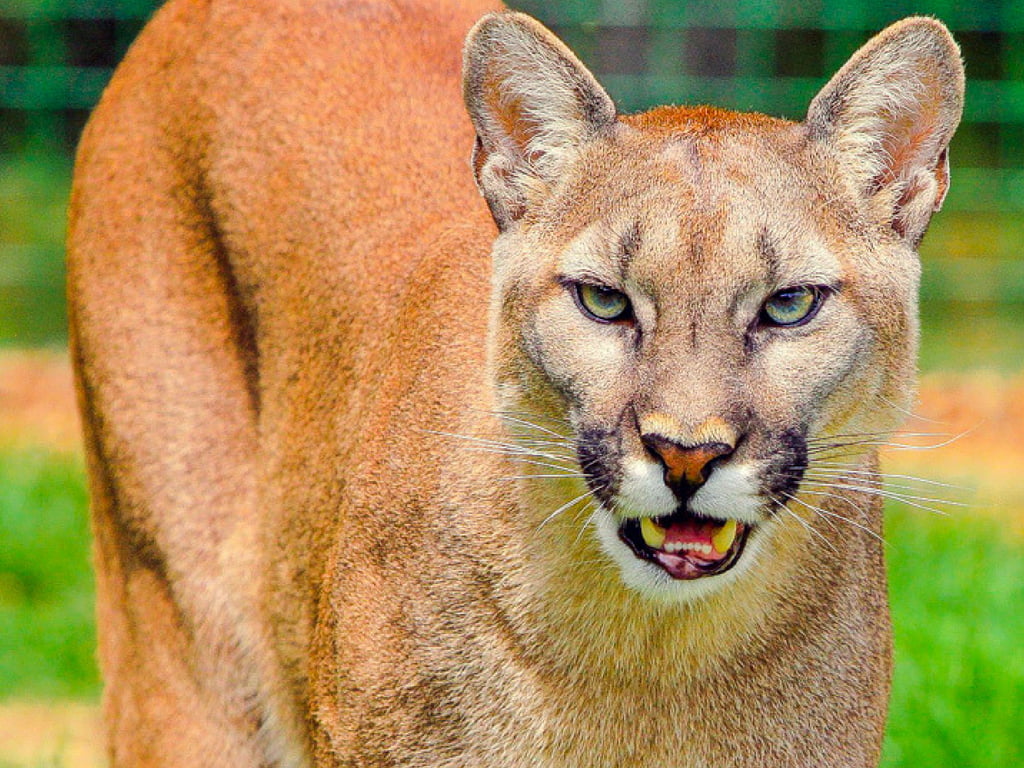 As hikers we practice cougar and general animal awareness, always wanting to let the animals know we're coming into the forest. I've never seen a cougar until today and wow… these animals are huge!
"A healthy cougar population is the sign of a good eco system as cougars are at the top of the food chain. Cougars feed on elk, deer, bison, rabbits, and the list goes on… needless to say these cute cats mean serious business and deserve the utmost respect and space when we're in the wild!"
Waterpark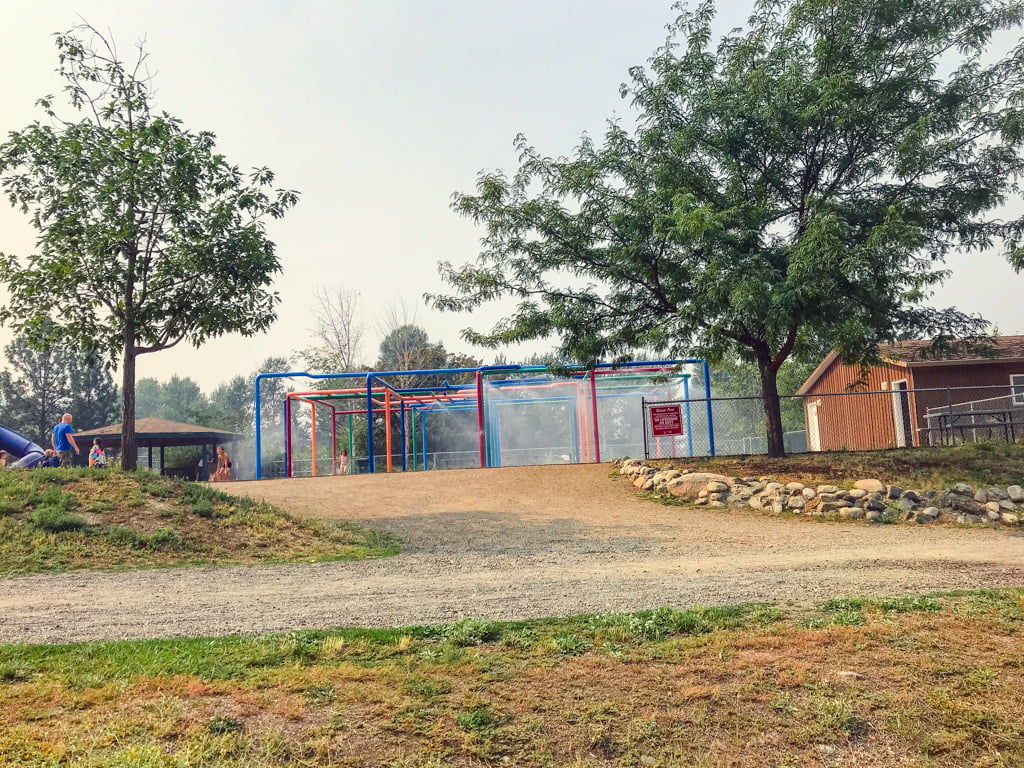 We wish we had brought swimsuits and towels and allowed ourselves more time for a picnic and a play date in the park. A perfect way to cool down from the hot Kamloops sun!
Take a (Stuffed) Animal Home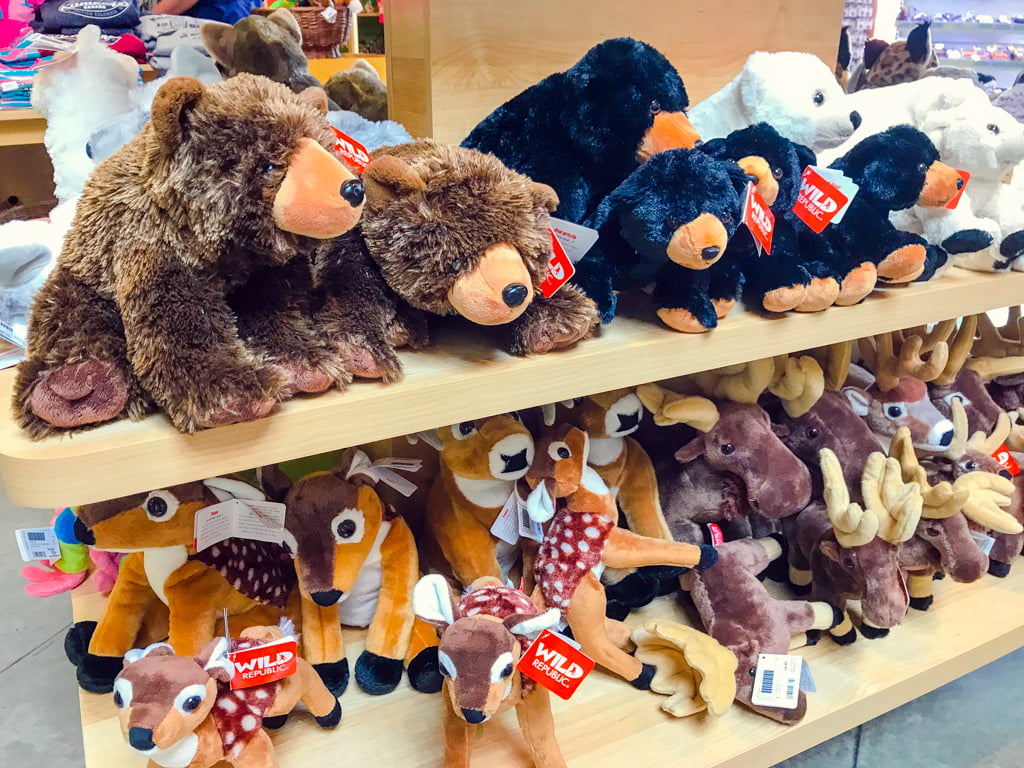 Before you head home check out the gift shop and choose a cute stuffy to take home! All proceeds from the sale of these stuffies goes right back into the park and their real life counterparts!
Other Park Amenities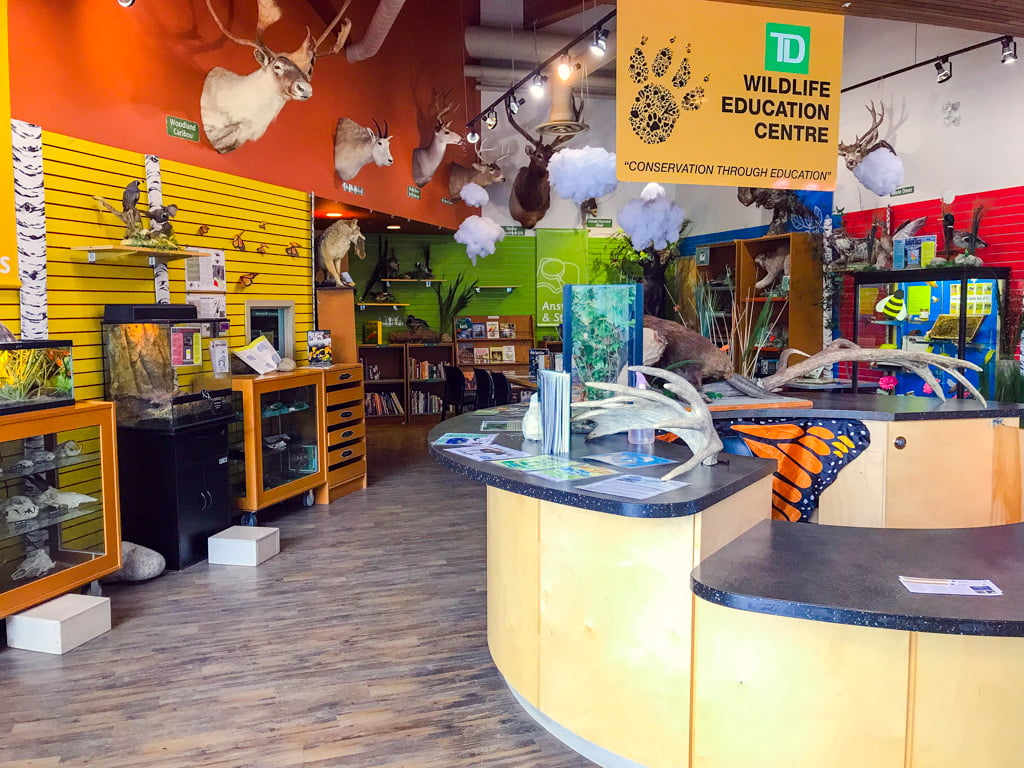 With over 100 acres to explore we didn't get to see everything in the park on our visit! Give yourself lots of time so you can check out:
Birds of Prey flying demonstration

Home Hardware Family Farm

Playground

Maze

Open fields for picnics and blankets
Mom Tips:
Kamloops and the park can be quite hot so dress appropriately and bring hydration so you are well prepared for the sun.

Bring a wagon or rent one for $5 from the front desk, making it easier to haul all your gear around.

Bring snacks and lunch or buy some at the cafe.

Give yourself enough time, I'd say at least 3 hours to explore the whole park.
To learn more about the park or plan your visit check out the BC Wildlife Park Kamloops website.Check out these articles for more adventure inspiration in and around Kamloops!
Is this a sponsored post?: While we were graciously invited to experience the BC Wildlife Park Kamloops, all of our thoughts and opinions are our own.