Penticton was made for kids, or at least that's what my children have said. A paradise for parents, where kids have lots of opportunity for free outdoor playtime combined with modern entertainment centers and amenities. If a destination was made for Summer, this…was…IT!
Upon arrival, we were spoiled with local guide books and the kids flipped through them madly planning a week's worth of activities. From the Loco Landing Adventure Park to the trampoline water park, to kayaking and rock climbing, to the beautiful beach, they were glad we were here for a week to explore.
The problem? We weren't. Not at all…as I had only allocated one day on our road trip itinerary for this little town! So first word of warning… don't make the same mistake!!! A rerouting and reorganizing of schedules and we were able to add an extra day to our itinerary giving us more time to explore.
Here's some of the best adventures in Penticton for families to explore:
Fuel Free Activities
One of the things I loved the most about Penticton, is that once you arrive in town, you can park your car and have a "fuel free" holiday. Everything you need is within walking (or biking range), making for a cheaper, easier and healthier holiday!
Kayaking
Penticton is one of only two cities in Canada that is located directly in between two lakes… which means you have lots of opportunity to get out on the water and explore. We did a two hour kayaking tour with Hoodoo Adventures and the kids loved exploring Vaseaux Lake, the amazing cliff formations and searching for turtles in sink holes. Check out all the photos and our full story here.
Loco Landing Adventure Park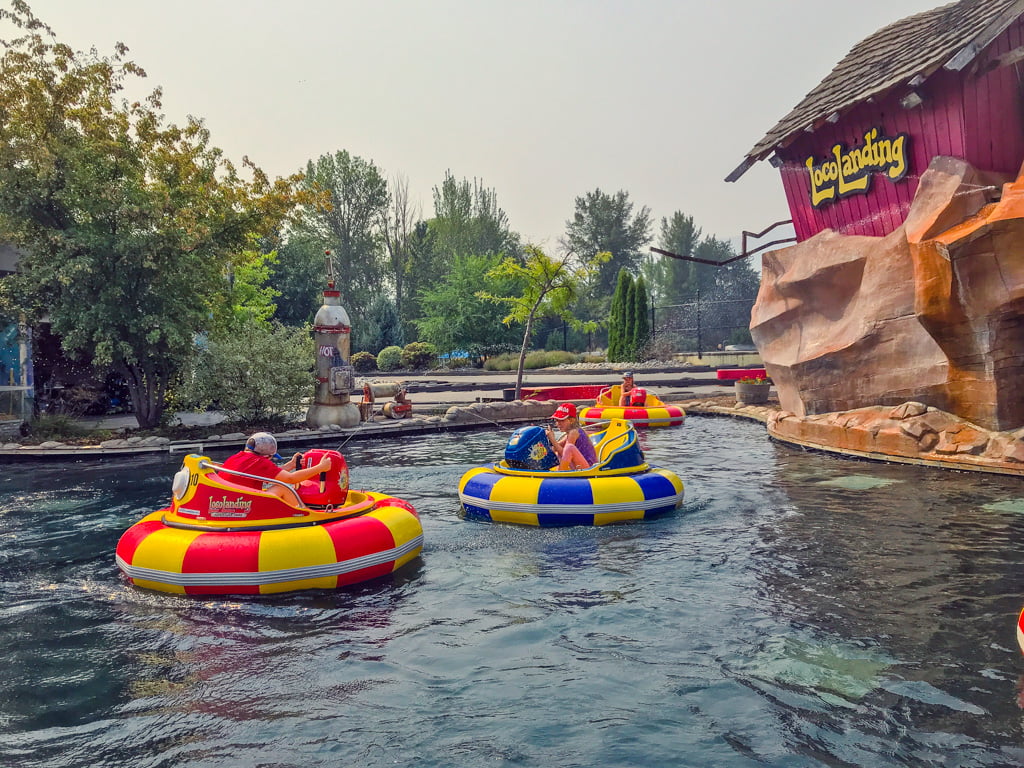 Flying out of the truck and towards the entrance of Loco Landing, the kids were buzzing with excitement and  were ready to spend the morning in a theme park designed for them!
After picking up our value pack tickets, it was time to head into the park, pulling each other in different directions as they tried to navigate and choose which one of the ten activities to do first. With a ropes course, monkey motion, water spraying bumper boats, rock climbing, mini golf and more, the kids grabbed their punch cards and took off for a morning of fun!
Wibit Floating Waterpark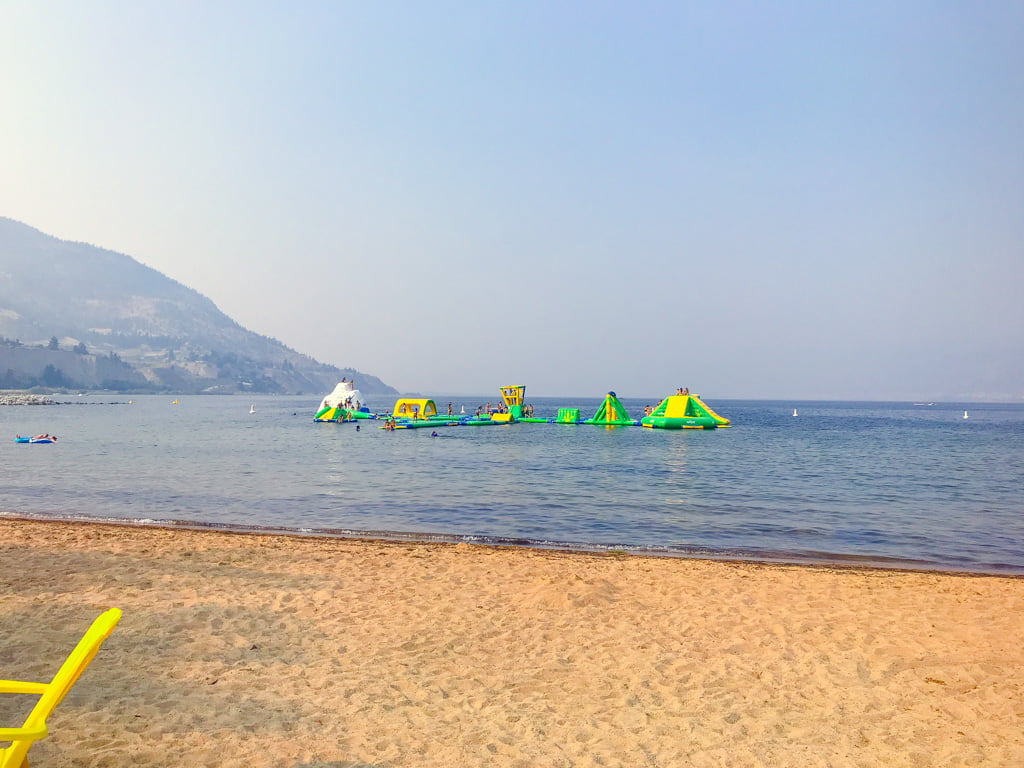 My arms and legs were shaking as I pushed one kid up on one side of me while pulling another out of the water, all while trying to cling to the side of a slippery, 15 foot, ice berg shaped floating mountain. The goal was the get to the top and jump off into the water and we made it, laughing every second of the way.
A floating water park / obstacle course, the Penticton Wibit Park allowed me to be 8 years old again, racing the slope and slide, climbing over obstacles, falling off into the water, jumping off high dives and racing down slides. I am so grateful that my son was too young (minimum age to go unsupervised is 8) which meant I "had" to go and play. We played hard for two hours and my abs are sore from all the balancing but also because of all the laughs we shared.
Mom Tip: Go with your kids, no matter how old they are! It's a memory you'll all cherish. Tip Two: Take a bathing suit that fits well and can get beat up… coverage is key!
Ice Cream On The Beach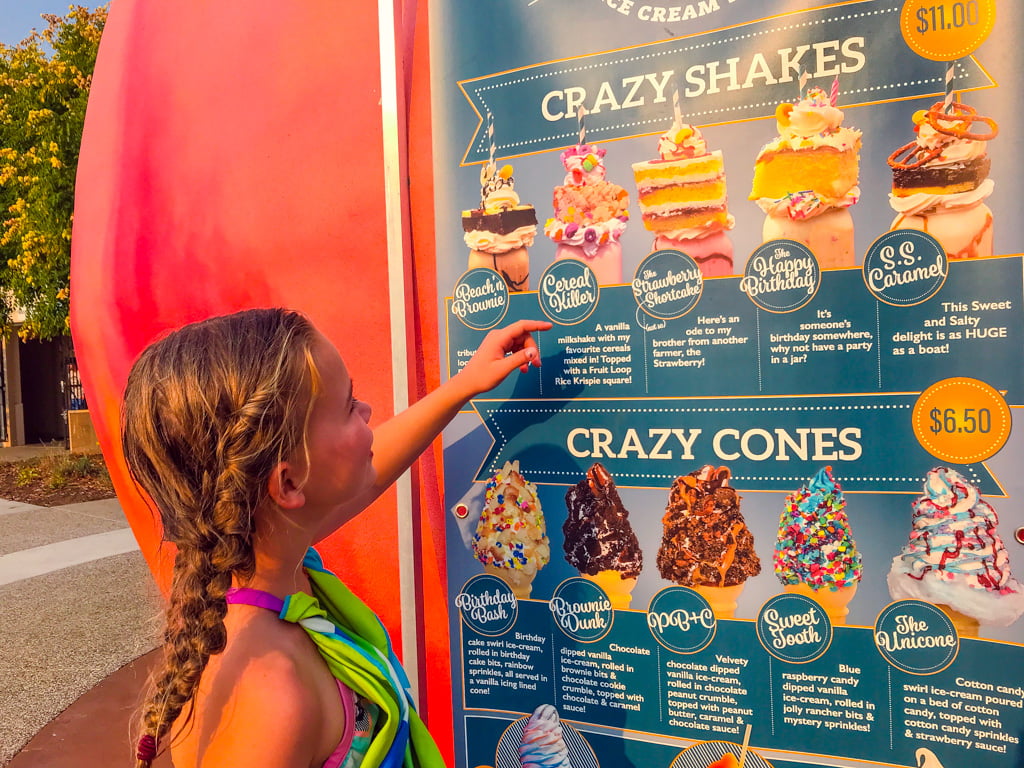 With names like "Unicone" and ""Beach'n Brownie," we had to check out the ice cream treats that were flowing out of the giant peach on the beach. A meal and a piece of art, these delicious creations are what childhood dreams are made of. My daughter was even able to indulge as they had a nut free ice cream that stood 8 inches tall. Not only were these sweet treats needed after our Wibit adventure, but they were so big that they doubled up as dinner! This is summertime living at its best!
Tubing Down the Channel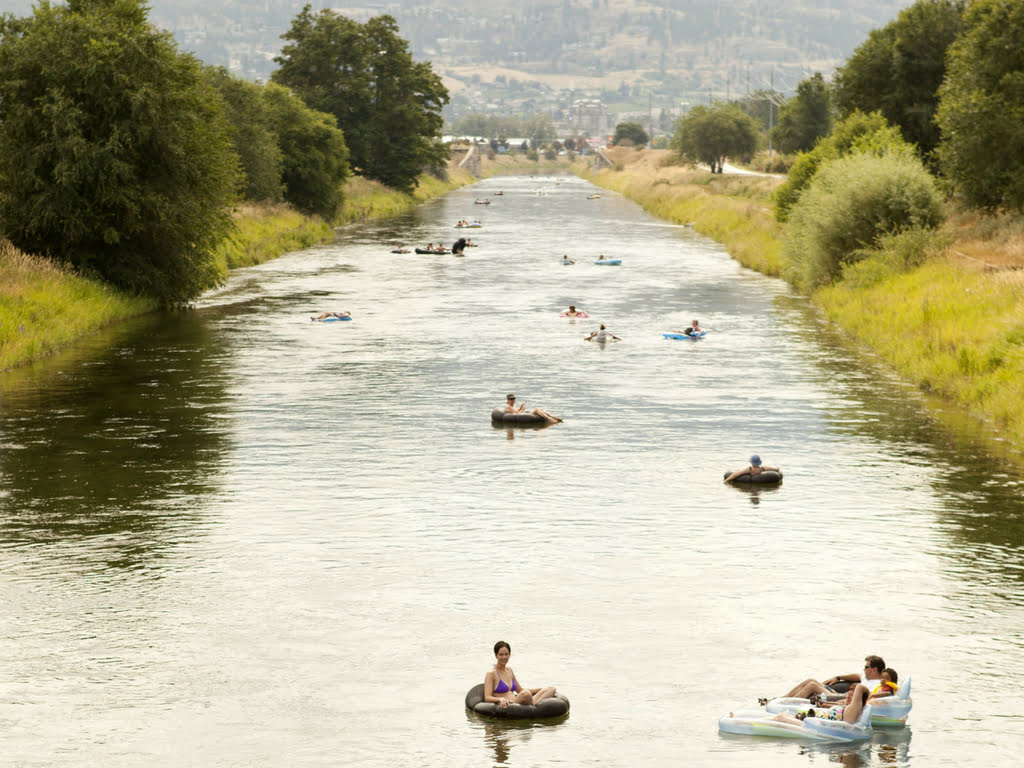 Grab your rainbow unicorn, a floating cooler and be ready to check one off the bucket list as you float down the river channel. A 3 hour leisurely float awaits you and when you're done, the team at coyote cruises can bring you back to your car. Bring on the swan!
Mountain Biking the Kettle Valley Trail
Continuing your "fuel free" vacation, pack a lunch and head to the Kettle Valley Trail for some family biking. The perfect combination of child friendly inclines and declines, and amazing lakeside scenery for the adults, while you wind in between vineyards, makes this the perfect day trip. Be sure to stop for poses on the bridge! (which we only rode across because there was no one else on it and didn't see the sign that said you're not allowed to ride on the bridge until after!)
Beach Day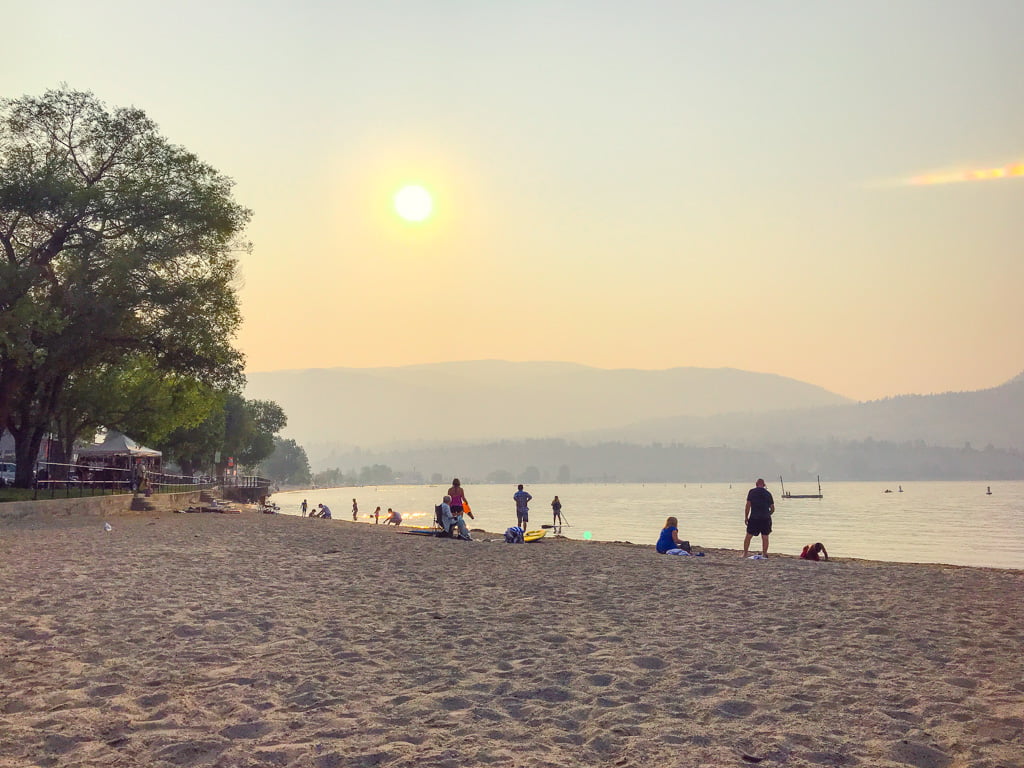 "Mom, can we spend the whole next summer here?" My kids stood in awe of the sandy beach and "play stations" that surrounded them. They were joking and went on to explain how Penticton was their favourite beach town that they had ever been to. With endless beach front to choose from, I have a feeling this day at the beach won't be our last.
Hotel Pool Day
Spend the whole day in your bathing suits and never leave the hotel! Kids will love running back and forth from the room, only to refuel and reapply sunscreen! Parents will love hanging out poolside and swinging by the on deck bar for drinks or ordering food delivered right to the pool deck. Having a pool day is a great way for kids to find friends to play with and for parents to enjoy some downtime and relaxation… after all that is what you're supposed to be doing on holidays!
Where to Stay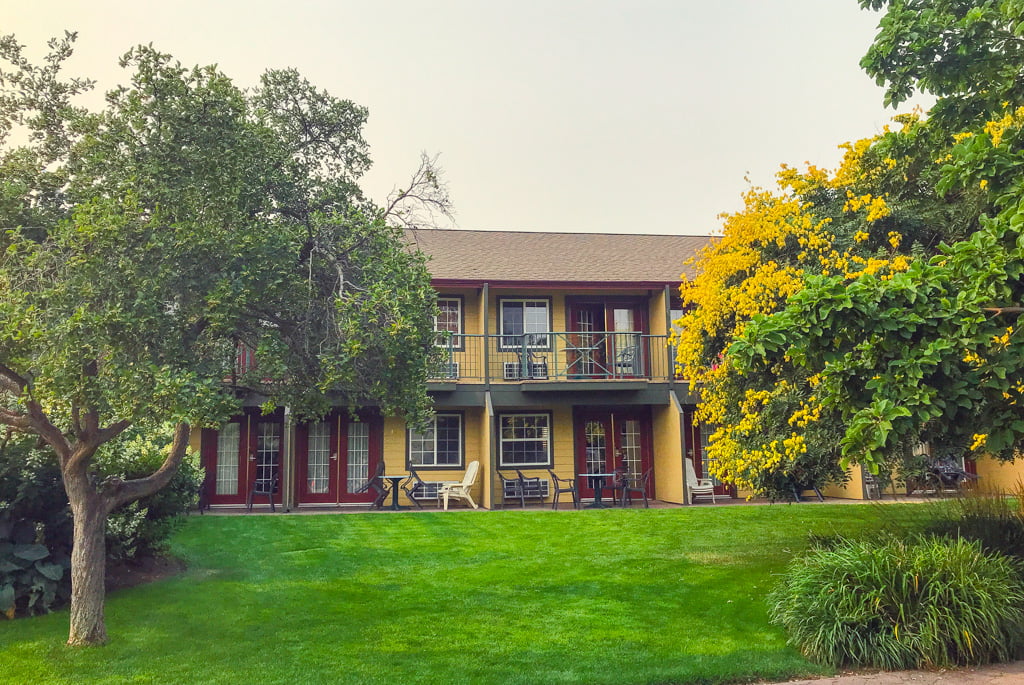 The Ramada in Penticton offers visitors a resort style community with a variety of accommodations and amenities to choose from. With ground level bungalows next to the pool, to full apartment style condos in the tower, there is an accommodation for every need and budget. The whole resort is centered around the huge outdoor pool and hot tub, complete with poolside bar for adults (with slushies for kids) and a playground. Hungry? Order deck-side food delivery. We truly didn't want to leave! Check out our full article about the Ramada in Penticton here.
We fell in love with Penticton and can't wait to come back for another visit!
The Okanagan area of British Columbia is a true gem! Take a peek at these articles for inspiration for your next trip!