A crystal clear lake with a sandy bottom that you can see from your paddle board, ten feet above. Your paddle dips into the water, some splashes up on your toes and you realize how warm the Kalamalka Lake is. While you're soaking in all of the scenery, your kids are yelling "Come on Mom," as they've taken off on their SUPs and are wanting you to catch up. After all, they are on the hunt for turtles. You're one hour into your adventure filled week in Vernon and on all accounts, it looks like it's going to be an amazing stay!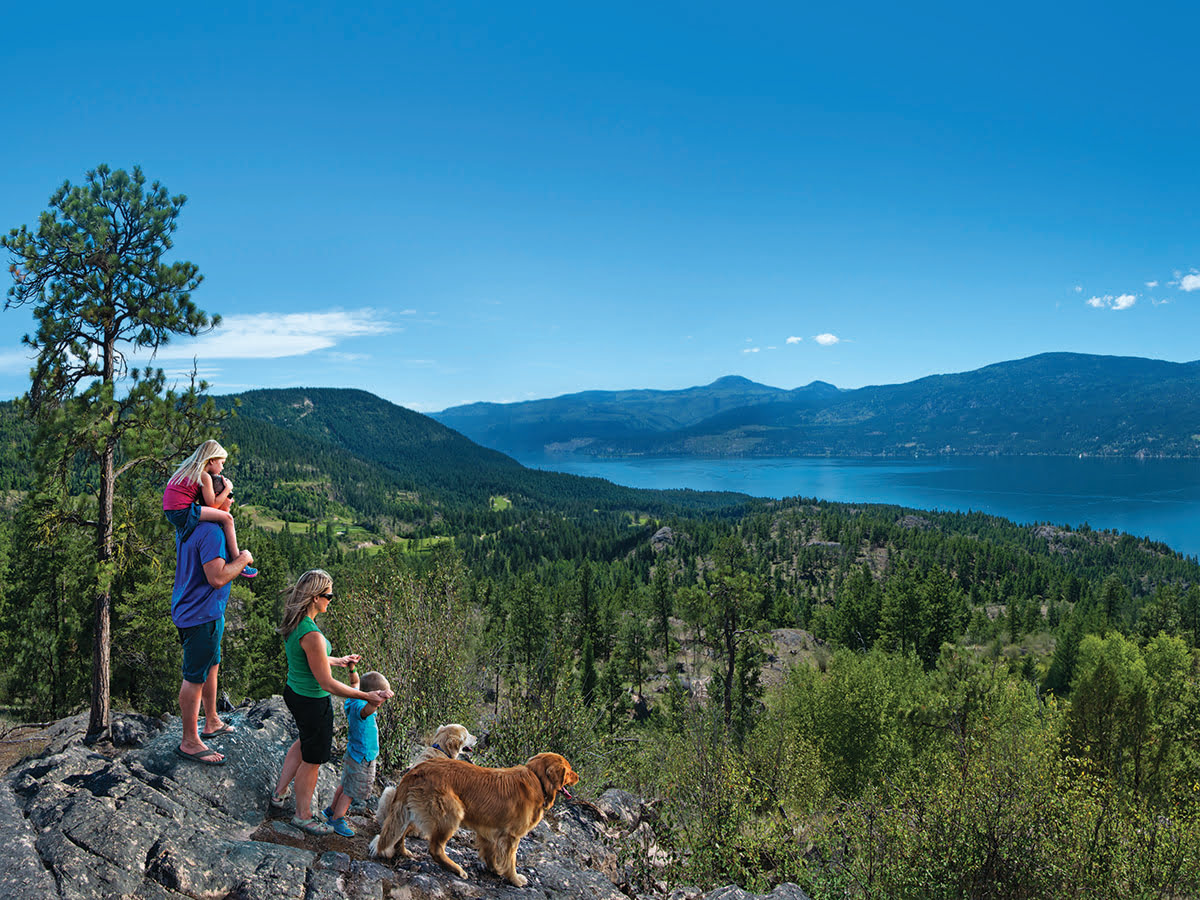 Located on the edge of Kalamalka Lake, Vernon is a little town filled with big adventures. Outdoor families will love visiting during the summer, where you can mountain bike or hike in the mornings and then spend your afternoons cooling off at one of the many beaches. I love Vernon, as it's a lot smaller and not as busy as some of the other popular summer vacation spots around, making for less traffic and more beach time with the family. However, it is a great little city with every amenity you could need, including restaurants, grocery stores, great downtown shops, recreation centre and a variety of accommodations to choose from.
Looking for an adventure filled week in Vernon, here's what we suggest:
Stand Up Paddle Boarding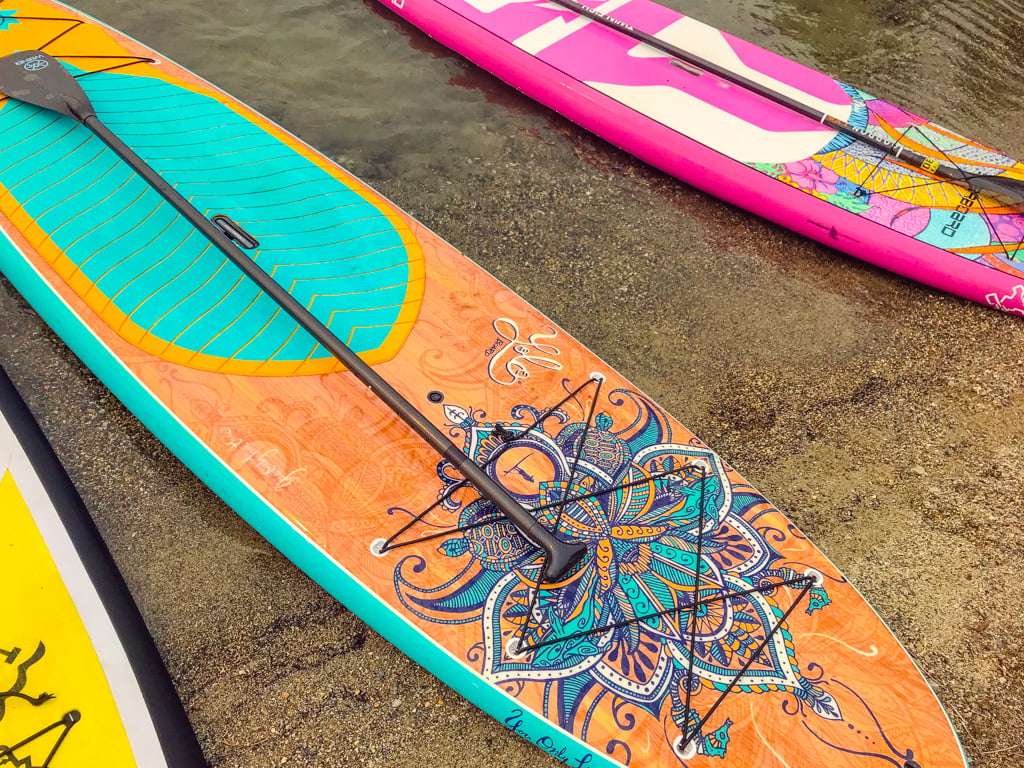 The town of Vernon wraps itself around Kalamalka Lake and for good reason. This picturesque lake is inviting, not only in looks, but also in temperature and conditions.
We started off our Vernon adventures with a guided SUP tour hosted by Kalavida Surf Rentals, where we were able to explore the lake and a side estuary and even got to see a baby turtle!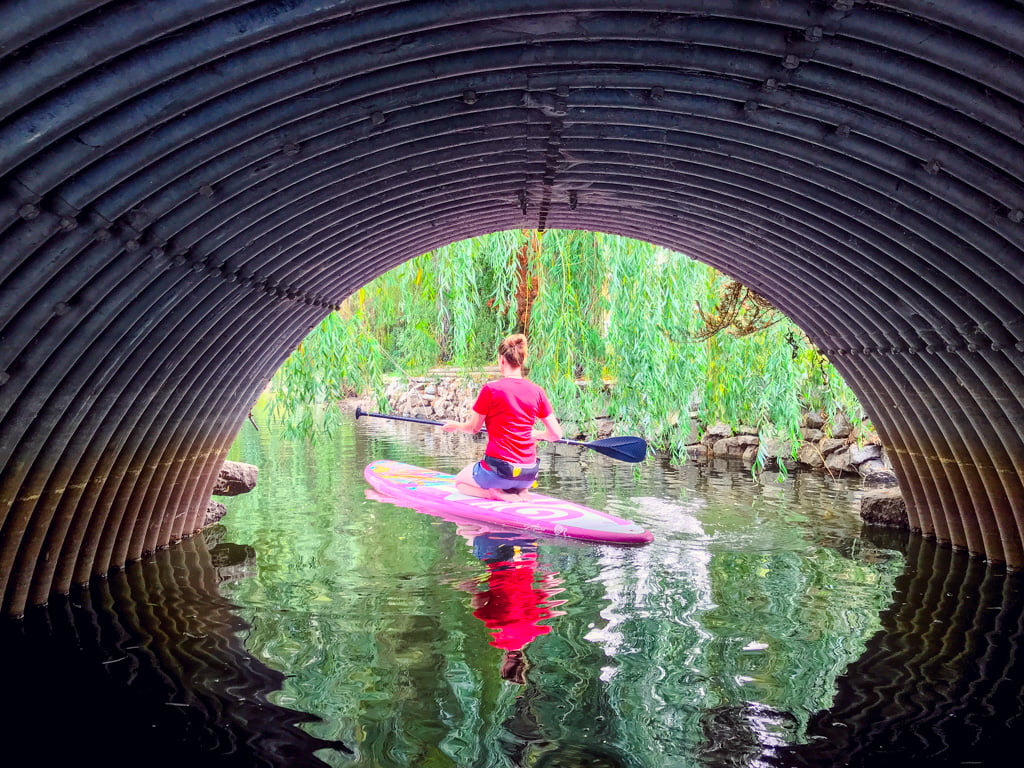 Vernon is quickly becoming one of Canada's top SUP destinations, and it's easy to see why. With their calm bay and easy access to rentals, everyone can get out on the water in Vernon and quickly get addicted to the sport!
Lunch Time at Davison Orchards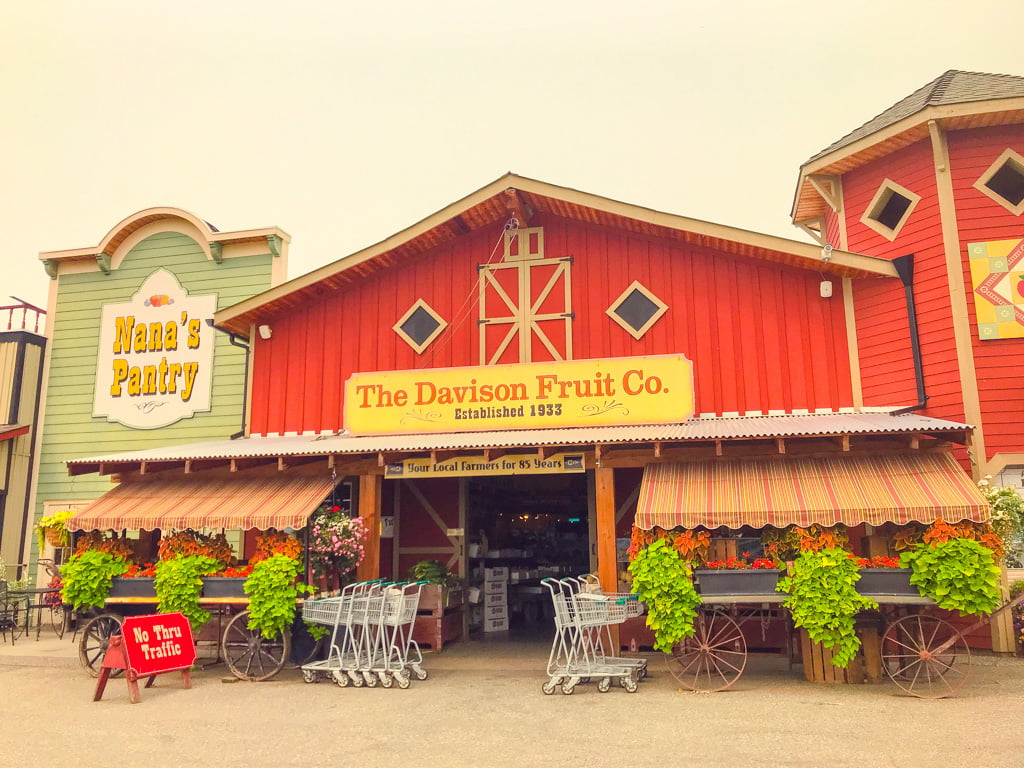 Pulling into the farm you wonder if you're on a movie set. The old fashioned style farm buildings with names like "The Davison Fruit Co" and "Nana's Pantry" greet you upon entry. For over 80 years, the Davison farm has been welcoming families to their farm and they have the perfect combination of farm treats and activities for families to enjoy. The kids were hungry, so we headed right into the bakery where they watched 6 women hand-make pies in the bakery. The smell of apple pie and cinnamon was wonderfully overwhelming, and my sons mouth was watering, which ended up with the purchase of a cinnamon bun!
As you transition out of the bakery and into the store you're overwhelmed with the home fashion items at your fingertips. From modern farm home decor, to retro aprons, to a farm themed children's section, you could do all your birthday and Christmas shopping for your whole family! Don't spend all your time shopping though, as there's lots to explore outside the farm too! My kids favorite was the "Crazy Cow Kids Corral" offering kids over an acre of area to play in… the old fashioned way! Your kids will enjoy climbing, playing with tractors, digging in the sandbox, and racing ducks, the old fashioned way with water pumps! Also, be sure to check out the animal barn where you can get up close with the farm animals and take one of their tours! To plan your trip visit their website.
Mountain Biking at Predator Ridge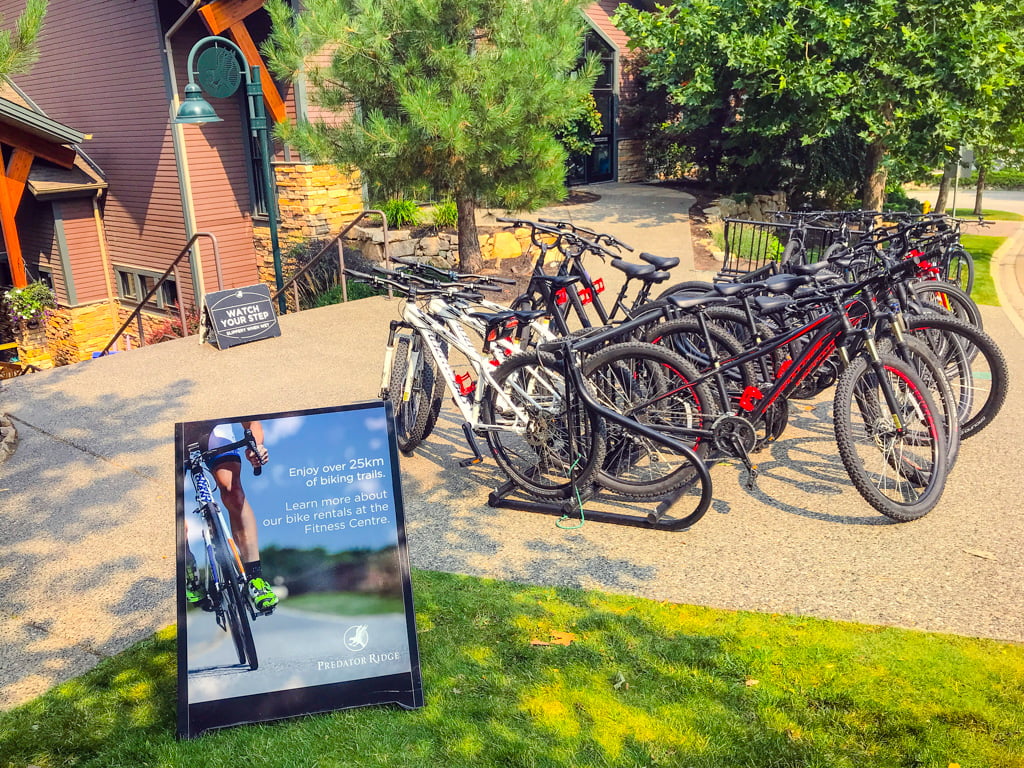 Day 2 took us up to Predator Ridge, a mountain side community, surrounded by views of Kalamalka and Okanagan Lake. After touching base with the Fitness Centre (where you can rent bikes if needed), we geared up and headed out onto the trails around the ridge. With map in hand, we had to choose between multi-use and dedicated mountain biking trails. There was 12.5 km's of biking trails, with a 2.5 km connector trail linking to the 40+km of trails in Ellison Provincial Park.
My kids opted to ride the multi-use trails and take a ride around Birdie Lake (it was a really hot and smokey day so I was okay to take it a bit easier). Next time, we'd like to go back and explore some of the more forest setting rides, that would take us out to panoramic views of the lakes below. Being that the trails are more strong beginner to intermediate, I'll choose a day when the weather isn't too hot for my kids, or perhaps bring some girlfriends out so we can really get some kilometers under our belt!
Meeting a Queen at Planet Bee
The challenge was on when my daughter read the quote, "Can you find the single queen bee among 99,999 other bees?" We had been enjoying lunch, but she was ready to go and see if she could be the lucky one to "meet the Queen!"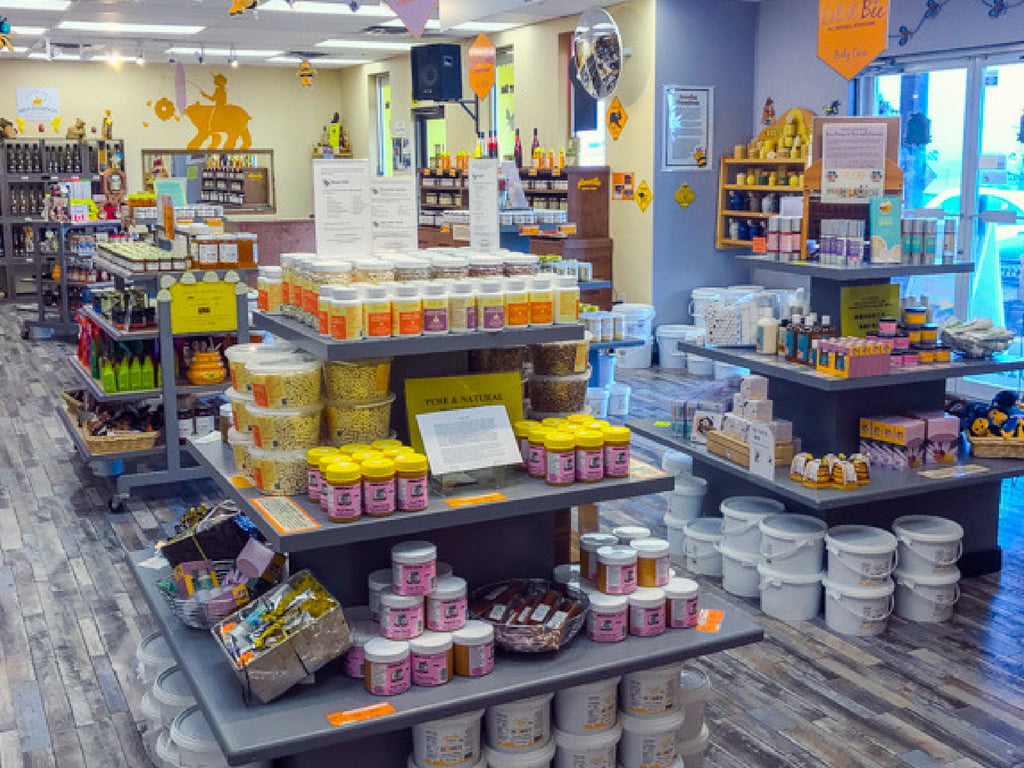 While we weren't able to locate the queen on our own, a staff member was quick to spot her and "formally" introduce her to us. As soon as we pulled into Planet Bee, my kids were welcomed by bee statues, all in fun poses, setting the fun scene and welcoming you inside. After walking through the beautiful store, we made our way to the educational room where the 99,999 bees were waiting. And we searched. And searched. And searched. In all our searching we were also learning all about the bees, watching them as they made their way in and out of the hive, "dancing" for each other, and busily making honey right before our eyes. I loved how engaged my kids were in the centre and wish we had planned our trip better so that we could have taken part in one of their tours! Oh well, looks like we will just have to come back!
Vernon Farmers Market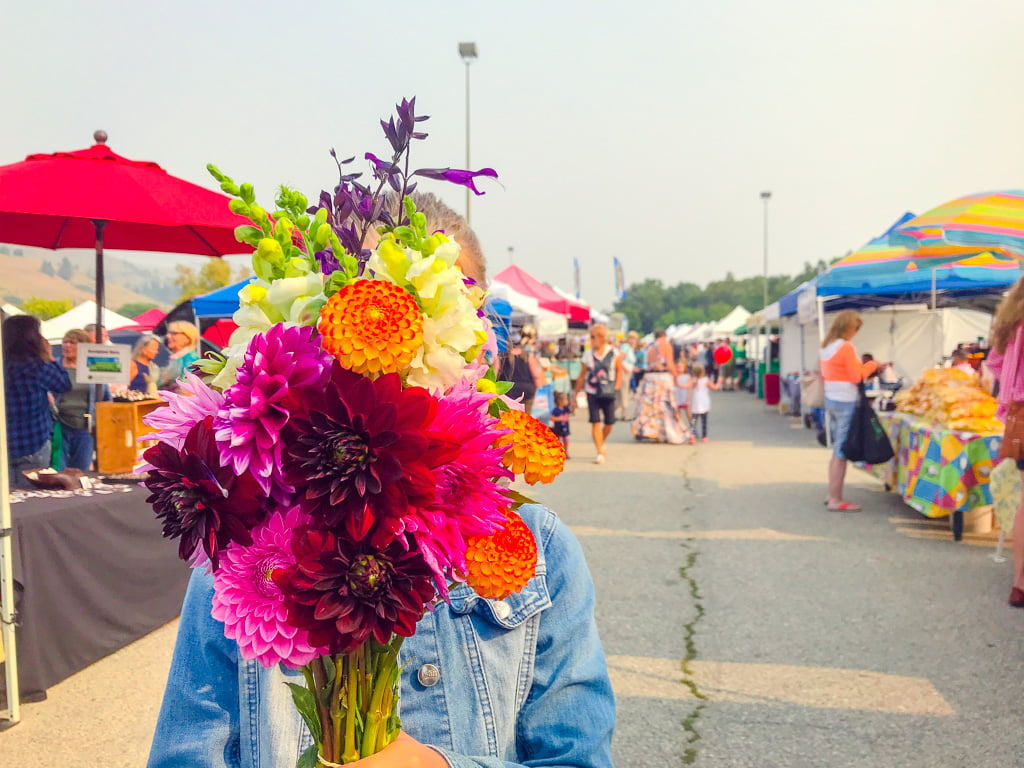 We were fortunate enough to be in Vernon on a Thursday morning, allowing us to attend the local Vernon's Farmers Market. We were there early, which meant my kids were able to indulge in large lemonades and kettle corn, before they had even had their breakfast! Drinks in hand, we spent an hour wandering through all of the vendors, picking up beautiful Okanagan peaches, strawberries and blackberries.
It was hard to choose which fruit to buy, with so many beautiful fruits and veggies on display. I loved seeing all of the locals out doing their weekly grocery shopping, reusable bags in hand! My kids loved browsing through the local artisans booths and shopping for everything from jewelry to clothing, artwork, and flowers. My daughters favorite find, was a fresh flower booth, where we were able to pick up a special bouquet for a friend!
O'Keefe Ranch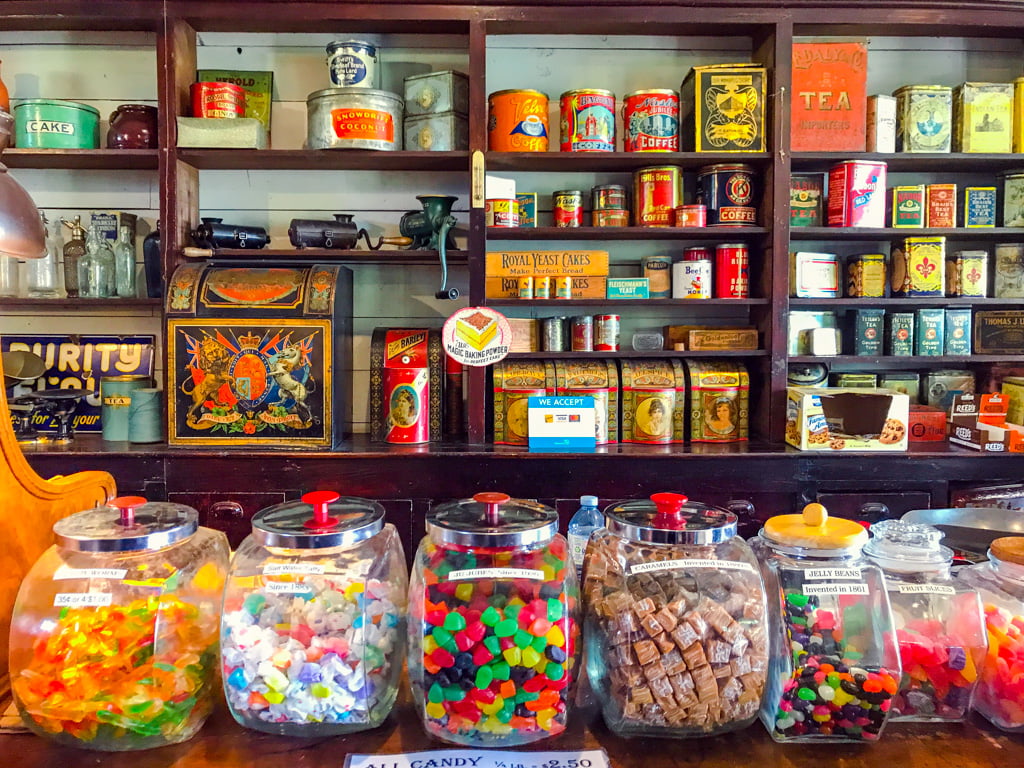 On our way out of Vernon,we decided to stop at the O'Keefe Ranch. O'Keefe Ranch is a small community that was founded back in 1867 and just walking through the front gates, you feel like you're stepping back into that time period. We explored a variety of buildings including a blacksmith, Chinese cook house, church and farm. My kids loved the general store, where they sold 5 cent candies and included the dates on the jars as to when the candies first started being made (some were as old as the farm!). They loved imagining what it would be like to only have the general store for all your shopping needs!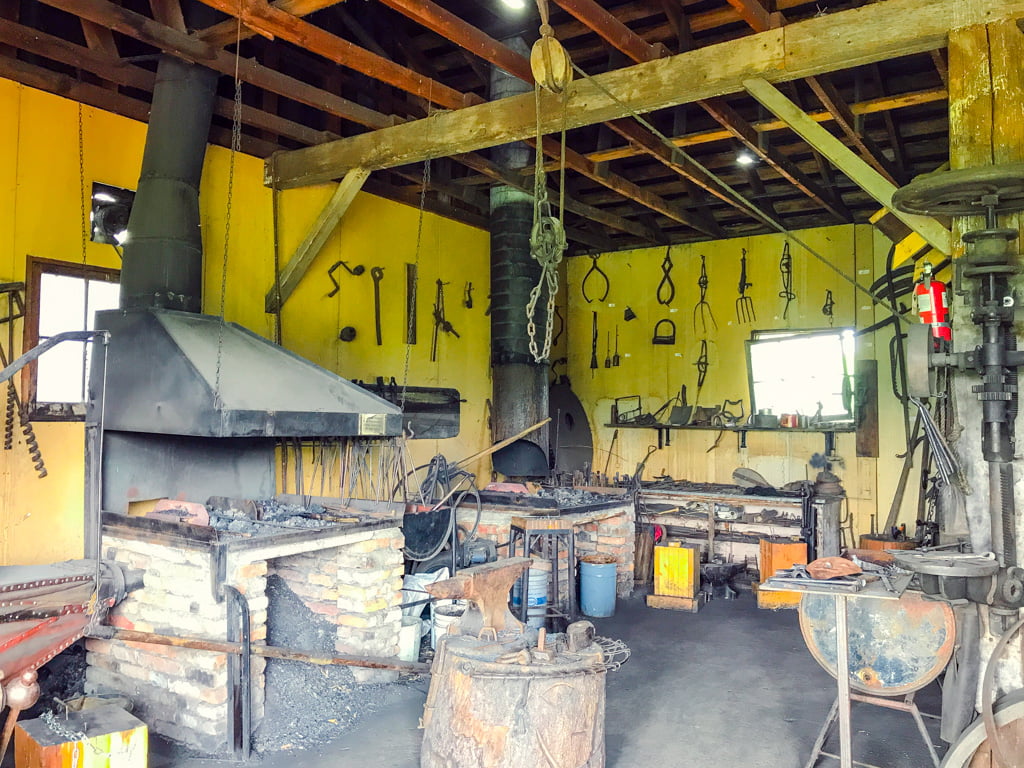 Next door was the blacksmith where my kids got to see what tools used to look like. This sparked an interesting conversation about how different the tools that we use today are. The next stop was the log house, where a family of 9 lived, in a very small log home. My kids noticed right away the lack of comfortable couches and electronics in the home, which opened up to some interesting conversations! Another favorite stop was the miniature train display where we got to see what the "town" looked like years ago. The kids enjoyed pressing the buttons, making the trains run and seeing them rush through town.
The O'Keefe Historic Ranch is a great place to have lunch and let the kids explore a period in time, where life was very different! To plan your visit to the ranch, visit their website.
Vernon had so many outdoor family activities that I know we will be back to explore the region again soon. Plus, as a full four season town, I know that we won't have to wait until next summer to come back!
Are you interested in more amazing adventures? Check out these articles from our Ultimate Summer Road Trip!
Top 10 Things to Explore in Tumbler Ridge
Roadtripin' Through The Canadian Badlands
Merridale Cidery and Distillery
Is this a sponsored post?: While we were invited to explore these amazing adventures, all of our experiences and photos are our own.