"Mom!" she said across the water, "You should call this one tunnels and turtles!" The excitement of sharing her SUP experience while it was happening was exactly what I wanted to hear.
We had woken up that morning to a blanket of smoke covering the whole city of Vernon. With limited visibility and a cooler summer temperature, we weren't sure what our morning of paddle boarding would entail. But after making our way through a grove of weeping willows and finding turtles, the kids were swooning with excitement after their explorations!
Here's our Vernon SUP experience!
Kalavida Surf Shop
Located right on Kalamalka Lake, The Kalavida Surf Shop is the epitome of what a SUP rental Vernon beach shack should be. Thatched grass roof, long haired surfers greeting you with a smile and stacks of paddle boards with cool designs, making choosing one a hard decision. As soon as we walked through the doors, my kids felt welcomed and excited to start out their day on the lake!
Let's Gear Up and Go!
We geared up and adjusted our paddles to height and headed over to the lake for a quick orientation.
Another Rider is on my Board!
When we arrived at the lakes edge, we found out that another rider was already on my sons board! A little duck with no name had decided to take a little nap and was in no rush to move upon our arrival. My kids loved getting so close to the birds to watch them rest and almost felt bad waking them up so we could take the board out!
Lessons? What Lessons!
While our instructor was prepared to take us out on lessons, my kids took off before she had the chance to do any instruction! I loved that she then changed the lesson into a tour and we were off exploring the beautiful lake.
From Ducks to Ducking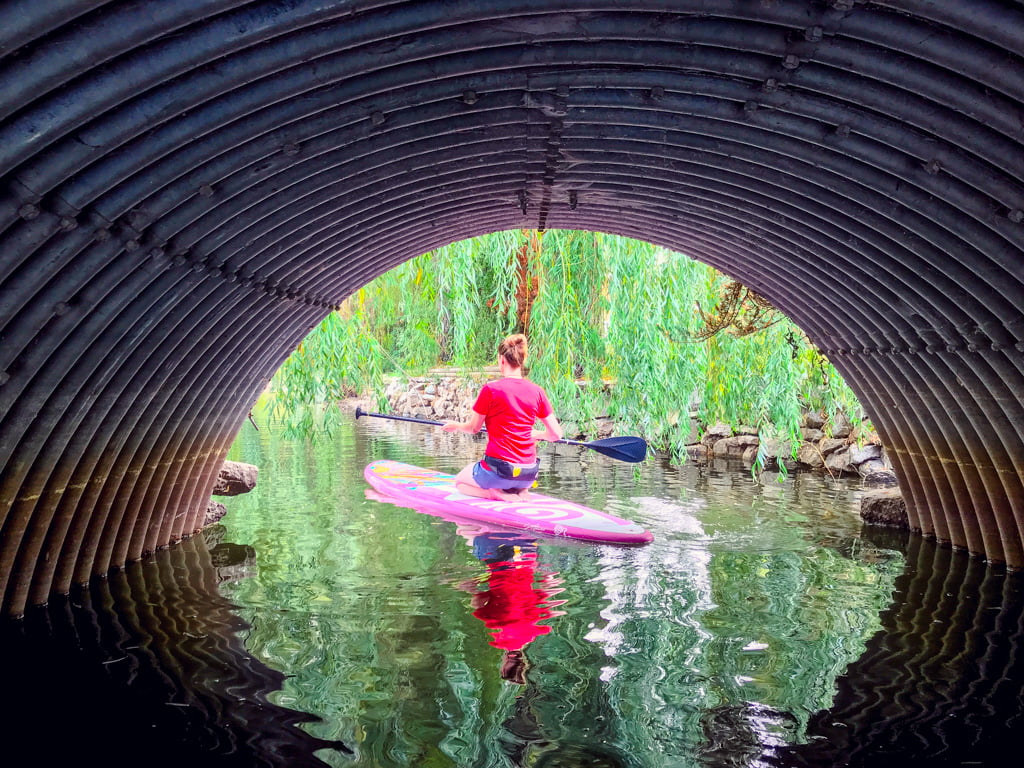 Our guide, Tori, led us down a side estuary that took us through an awesome little tunnel that we all had to duck through to get to the other side. While we've done a lot of paddle boarding, this was a new experience and tested the kids agility to move up and down before and after.
Grove of Cascading Willow Trees
On the other side of the tunnel, we were welcomed to a grove of willow trees, who's branches were draped over us. Working our way through them reminded me of paddle boarding in Costa Rica. Who knew such a magical experience existed right off the side of the lake!
Turtles!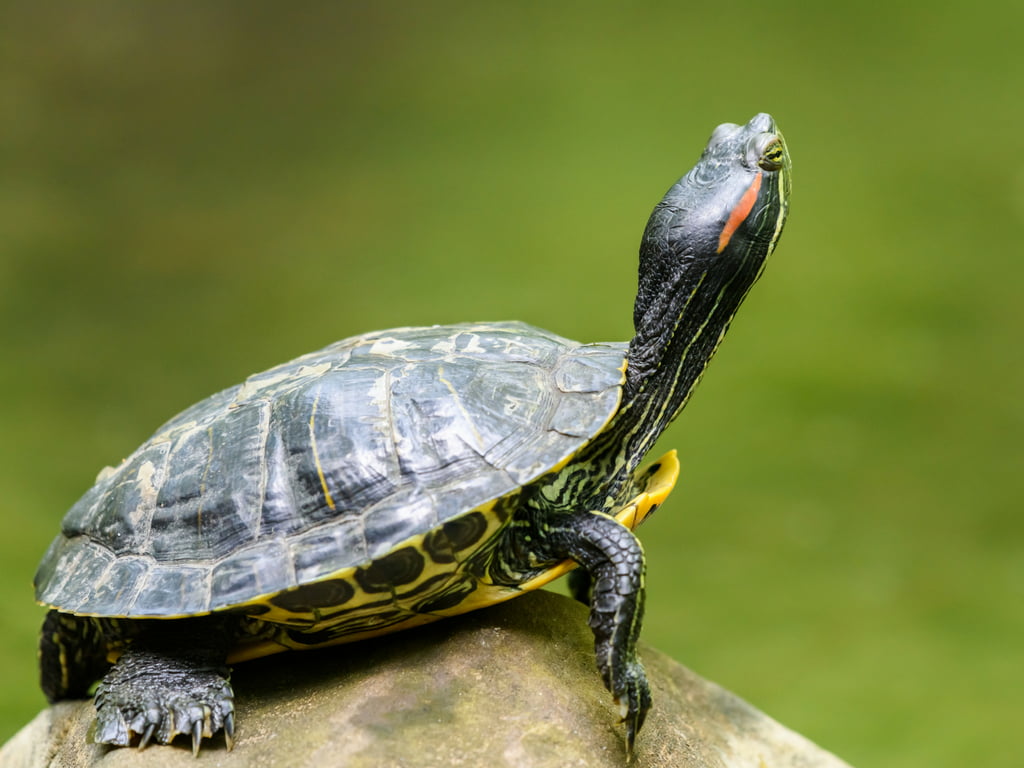 When it's hot (which it normally is in Vernon) the turtles come out and sun themselves on the logs. However, the smoke led to cooler temperatures and we thought we weren't going to see any. However, on our way out we spotted one baby turtle! We were so excited that we went rushing over and scared the poor little thing back into the water.
Tough Decisions, To Paddle or to Swim!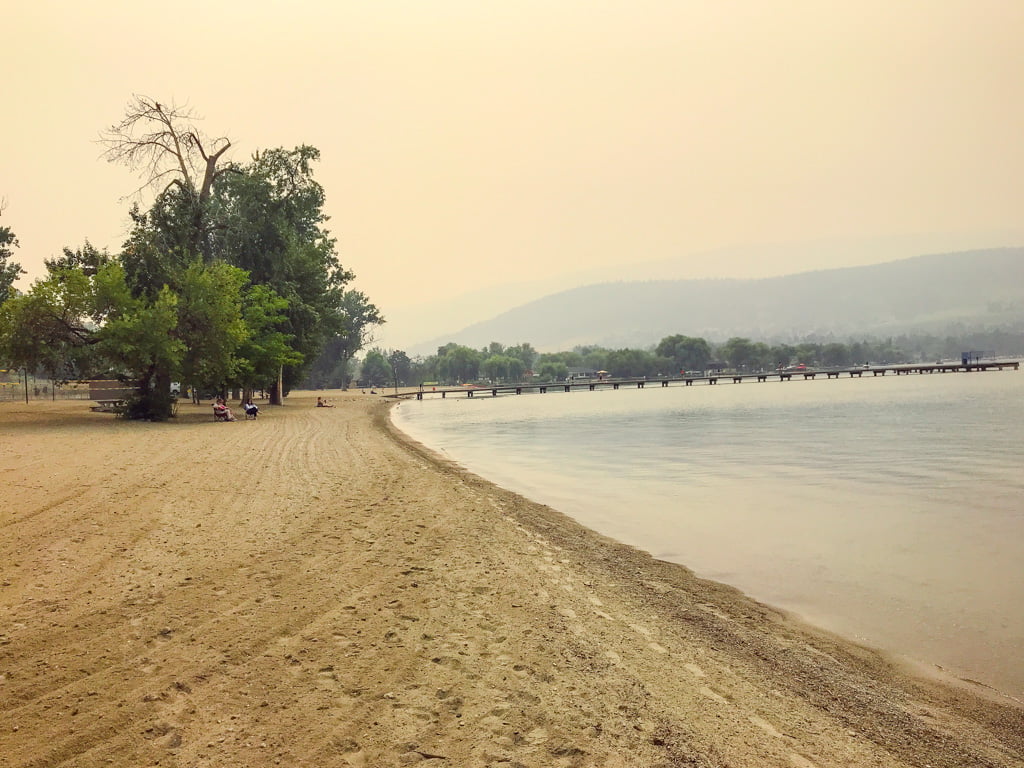 The kids were warmed up and loving the temperature of the water, begging to jump in. We decided to wait until we were closer to the beach before we dove in! The sandy bottom and the warm water made the lake too inviting to say no to!
SUP Rental Vernon Central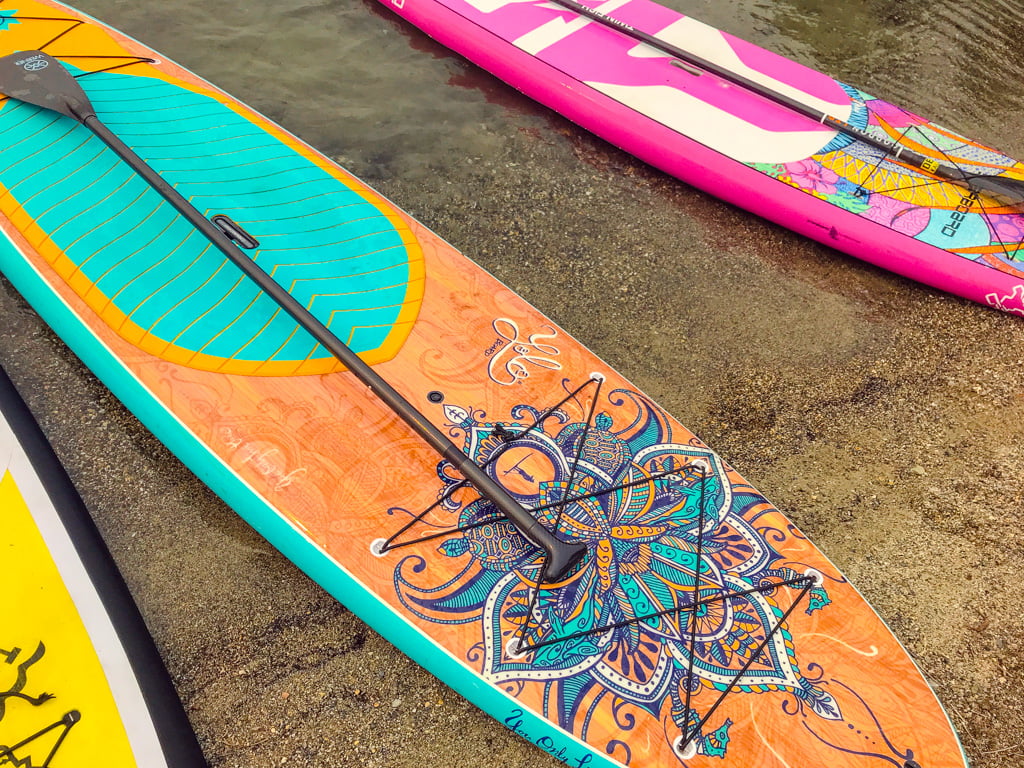 Kalamalka Lake is a great place to go if you're looking to go SUPing. We had a very calm lake on this day and many scenic areas to explore, even though it was smokey!
If you're in Vernon, I highly recommend a day out on the lake with Kalavida Surf Shop. You can do a private tour, or rent stand up paddle boards from them. To learn more about them visit their website.
Check out this video of our amazing experience with Kalavida Surf Shop!
Looking for more outdoor family adventures? Check out these articles for inspiration.
Surfs Up with Tofino Surf School
Surfing, Snorkeling, and SUP at Lake Newell
Hot Springs, Hiking, and Humpbacks in Tofino
The Ultimate Underground Eco-Tour-Caving!
Is this a sponsored post?: While we were invited to experience SUPing a and provided a SUP rental in Vernon with Kalavida Surf Shop, all of our experiences, thoughts and photos are our own.