Are you looking to hit the slopes in Vancouver this spring? Are you an adventure seeker or a weekend warrior seeking out thrill-inducing runs while also trying to get the most bang for your buck with a spring ski pass?
Which Spring Ski Pass In Vancouver Is The Best Deal?
We've scoured Vancouver's local resorts and done a deep dive into what each ski hill is offering as its best deal for spring season passes. So lather up that sunscreen and get ready to hit the hills as we help you figure out which one of these ski passes gives you the most runs and the best fit for your family.
Overview of Vancouver Ski Resorts and their Spring Season Passes
If you're looking for skiing thrills in Vancouver, there's no shortage of options. There are three great local hills to choose from including Grouse Mountain, Cypress Mountain Resort, and Mt Seymour Ski Resort, each offering something different for visitors. The best part… all of them are within 30 minutes of the city making a Spring Ski Day possible, even if it's only for a few hours.
Tips on How to Choose the Best Spring Ski Pass
With each mountain having its own amenities you'll have to choose what the right mountain is for you, and cross-reference that with the Spring ski pass that they are offering. Here are a few things to consider:
Grouse Mountain Resort: At the top of a gondola (which some people love while others loathe) this mountain-top retreat offers excellent local skiing and boarding but also a host of other amenities to enjoy including sledding, snowshoeing, ice skating, movie theatre, and lots of special events. This mountain is also very popular with tourists. Grouse has a Y2Play pass that allows you to ski for the rest of the season for free with the purchase of next year's pass. A great deal! (more details below).
Mt Seymour Ski Resort: Touted as "where Vancouver learns to ski" (even though all the local mountains have their own learn-to-ski programs) this is a beginner mountain with mostly green and blue runs. They do have a fantastic terrain park which keeps youth coming back and engaged. Mt Seymour also has snowshoeing, tobogganing, and a great tube park that is fun to mix it up (we like to go at least once a year).

Cypress Mountain: Perfectly poised for intermediate and advanced riders, Cypress is about fifteen minutes further drive from Grouse Mountain but has different terrain and views that look out over Howe Sound. They also have tubing, cross-country skiing, and snowshoeing. Their seasons passes do have blackout dates so be sure to cross-reference those with your schedule.
Is Grouse or Cypress better for skiing?
This really depends on your own skillset and what you want to experience. Grouse has 3 green runs, 15 blue and 9 black runs. Cypress has 3 green runs, 12 blue runs, and 14 black or double-black runs. So Grouse is great if you're a beginner or intermediate and want the resort lodge feel and additional amenities. Cypress is more suited for intermediate and advanced riders with longer runs, steeper terrain and more treed runs.
Cost Comparison of Different Vancouver Spring Ski Passes
Cypress Mountain Resort
Cypress Mountain's Spring Sale on their bountiful Beach Pass is on now – so hurry over to check it out while you can. The Beach Pass can be purchased for only $209 and is valid from March 1, 2023, until the end of the season. This pass offers unlimited skiing or snowboarding. If you have a 22/23 Sky Card or already have your 23/24 seasons pass, the beach pass is only $159! If you want to secure your season's pass for next year their Silver Pass is a great deal at $459 (blackout periods apply). To learn more about all their pass options visit their website here.
Mt Seymour Ski Resort
Mt. Seymour is a short 30-minute drive from downtown Vancouver. The Spring Pass at Mt. Seymour is on sale now from March 6 – April 9, 2023, and costs only $129 for adults, youth, students and seniors. A pass for a child between the ages of 5 and 12 is only $79. The Mt. Seymour hills give you an unbeatable view of the Vancouver city lights as well as plenty of snow and sunshine.
You can learn more about the Spring Pass deals at their website here.
Is Seymour mountain good for beginners?
Seymour is branded as "where Vancouver learns to ski" and with their amazing rentals (and great location and proximity to the parking lot) and gentle terrain, combined with a huge fleet of instructors it's a great place for beginners to learn a new skill and develop on the hill.
Grouse Mountain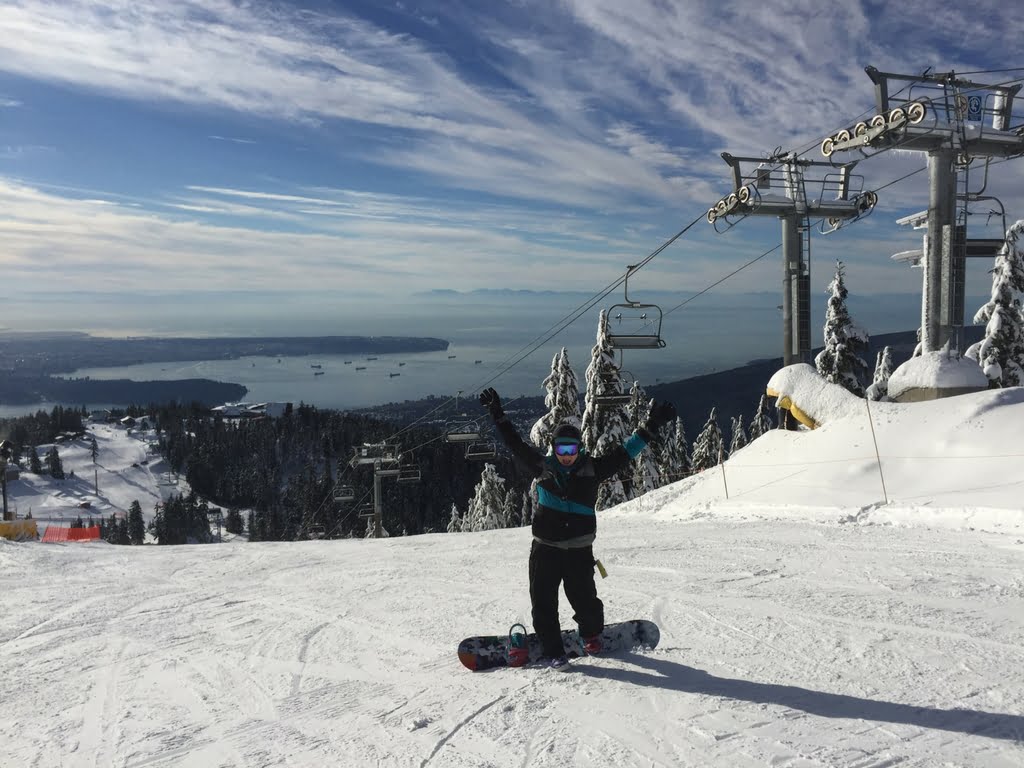 The Y2Play Snow Pass (2023/24) gives you access to skiing and riding areas through the current spring season and then from the start of the 2023 season to the end of the 2024 winter season. Owning the Y2Play Pass does more than just give you access to the sweet slopes – it offers discounts on food and retail purchases as well as many other perks.
The cost of Y2Play passes ranges from $569 for adults (aged 19-64), $379 for youth (aged 13-18), $159 for children (aged 5-12) and $379 for post-secondary students (19+ and proof of full-time registration in a recognized post-secondary institution). The instant savings incurred may be anywhere from a couple of hundred dollars to a thousand, depending on the package you select.
When bundled with the pass, you can save up on everything from rentals to lessons, and benefit from new perks such as access to the summer ropes course, free lift tickets at their sister resort in Revelstoke, as well as free lift tickets to bring a friend!
You can learn more about the Y2Play Pass and winter sports on Grouse Mountain at their website here.
Benefits and Drawbacks of Each Vancouver Ski Resort
Grouse Mountain:
Pros: Easily accessible (no snow tires needed) and is on a bus route, lots of other winter activities, which is especially beneficial for beginners who have shorter attention spans, or parents who want to snowshoe while their older kids ride, great terrain, very family centered.
Cons: The gondola can have wait times during the busy season, which some people don't like. The Y2Play pass is a great deal but also sells out quickly.
Mt Seymour
Pros: Family friendly, easy terrain, great night skiing, tubing and snowshoeing and affordable. Excellent rental and lesson program for riders of all ages. Kid-friendly "Lodge Chair" is the perfect place for the family to do laps and see each other for almost the whole run.
Cons: Limited additional activities for those waiting for riders, can be really busy during peak times. Snow tires are needed to get to the top of the mountain.
Cypress
Pros: Excellent terrain for intermediate and advanced riders. (there are trails for beginners but this is really a more intermediate mountain, which is great to "graduate" to after spending time on the other mountains). Their snowshoeing and cross-country skiing is great too. But the best part is the view at the top over Howe Sound… world-renowned and picture-perfect.
Cons: About 15 additional minutes of commuting, snow tires are needed. Parking can be tricky during the busy season forcing you to hike a way to the base of the mountain. They also have blackout dates on some of their passes, so be sure to check those out.
Advice on When to Buy Your Spring Ski Pass
For the most adventurous of skiers, now is the time to buy a spring ski pass in Vancouver. Planning ahead and buying a pass now gives you the flexibility to follow your ski dreams wherever they take you this snow season and next.
Tips for Saving Money on Vancouver Spring Ski Passes
When it comes to finding the best spring ski pass in Vancouver, the most important thing to consider is what you will get out of it. Everyone's needs differ and there is no one-size-fits-all solution. Depending on your budget, what type of skiing or snowboarding you plan to do, and when you are free for a day/week trip to the slopes, any of these passes could work for you. Enjoy your time on the slopes!
Spring Ski Pass FAQs
What is the best mountain to learn to ski in Vancouver?
Each mountain has great programming, so when choosing which is best for you it comes down to accessibility – which mountain is going to be easiest for you to get to, as well as cost – what program aligns with your budget as well as your timeline. Each mountain has a variety of learn-to-ski programs so you'll have to do some research to determine which is the right fit for your family.
Can you ski in Vancouver in April?
Yes! There's nothing like Spring skiing in Vancouver. Many days I've gone up there and ended up only wearing a t-shirt while riding in the 15-degree sun! Swooshing down the slopes while looking out on a sunny day in Vancouver… it's a "must" for everyone, and for us something we do a few times a year!
Each pass offers skiers and riders their own benefits. It's really up to you on what experience you're looking for, what mountain you prefer, and how often you're going to ride. Whether you snatch up a Spring sale or a season's pass, all of the mountains are great places to GET OUTSIDE and play!
---
Check out These Articles for some Skiing & Snowboarding Inspiration!