Have you ever had the chance to experience a tube park? There really is nothing like the feeling of your stomach rising into your throat as you fly down the hill on a snowy slope.
At least once per year we make a visit to the Whistler Tube Park, as it is always a highlight of our trip to Whistler. The kids beg us to go and love every second of their hillside adventures.
Overview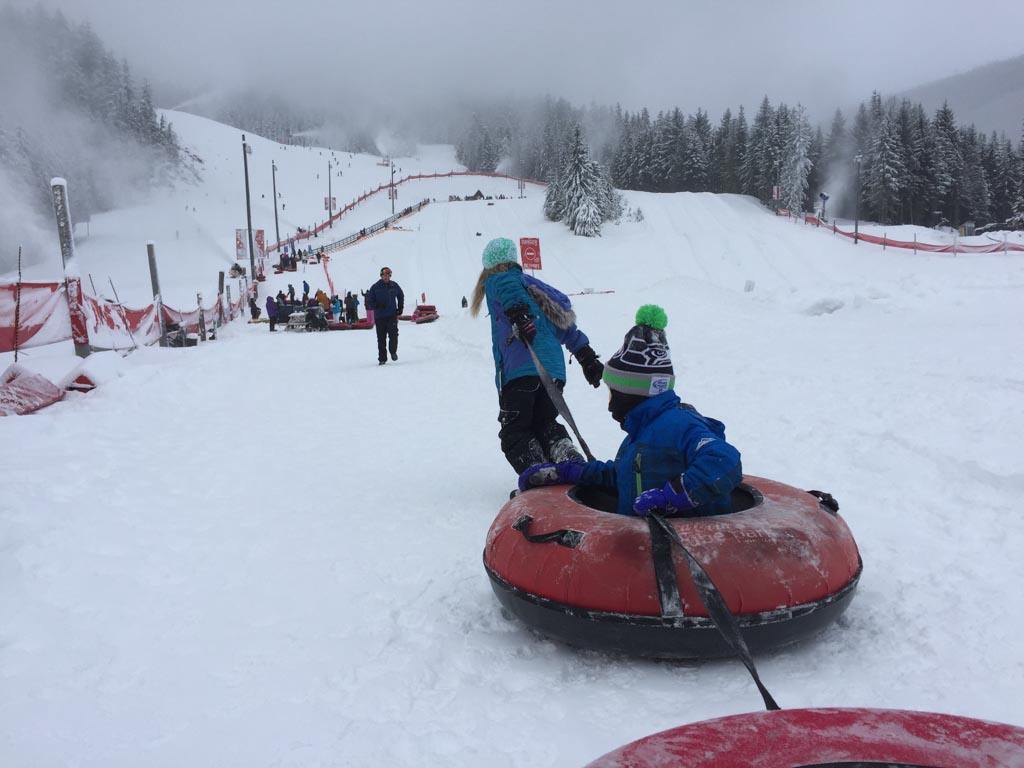 As you walk up to the Coca-Cola Tube Park you can hear the music blasting and the kids screaming… and you know you're about to have a good time! Imagine flying down the hill in a tube, listening to your children scream and their grandparents laugh. The Coca-Cola Tube Park in Whistler offers just that, a perfect adventure for everyone in the family!
The tube park has seven lanes, ranging from smaller slopes to heart pumping fast ones that will make you fly. The best part about the park is that they've made it easy to do lap upon lap of sliding.  A magic carpet lift that takes you from the bottom of the runs back up to the top.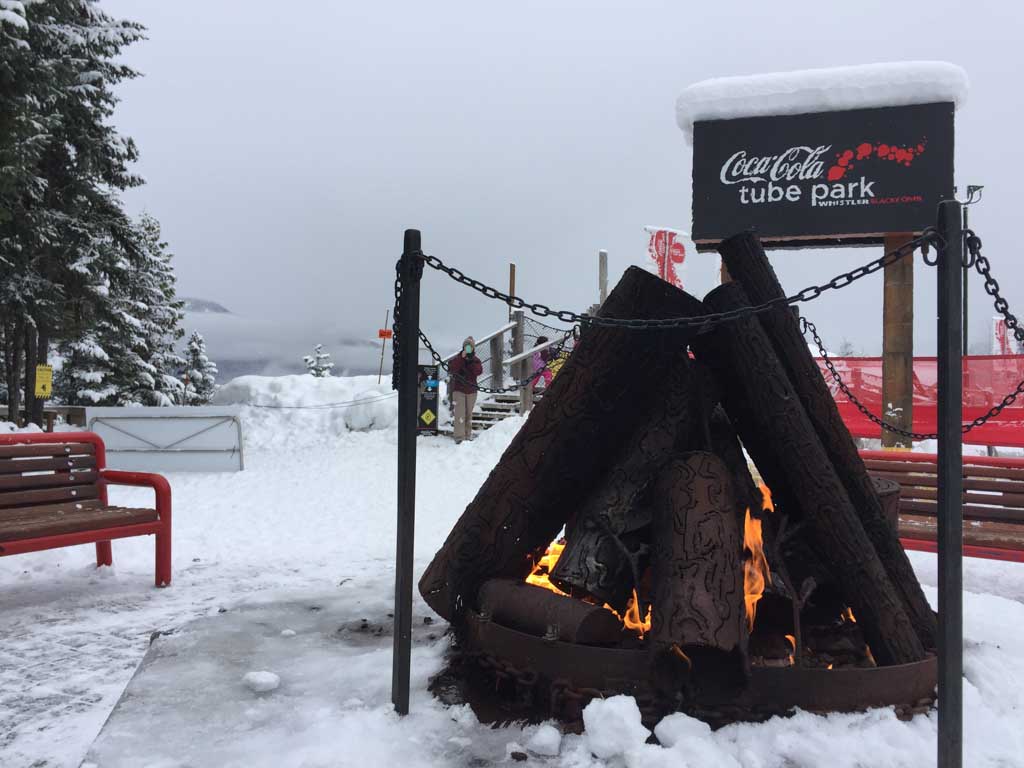 When your day is done and you're ready for a sit down and a snack, there's nothing like cuddling up to the huge outdoor fire pit with a bag of kettle corn and hot chocolate, sharing stories with the kids about your rides.
Are you thinking about planning your own trip to the Tube Park? Here's what you need to know:
Location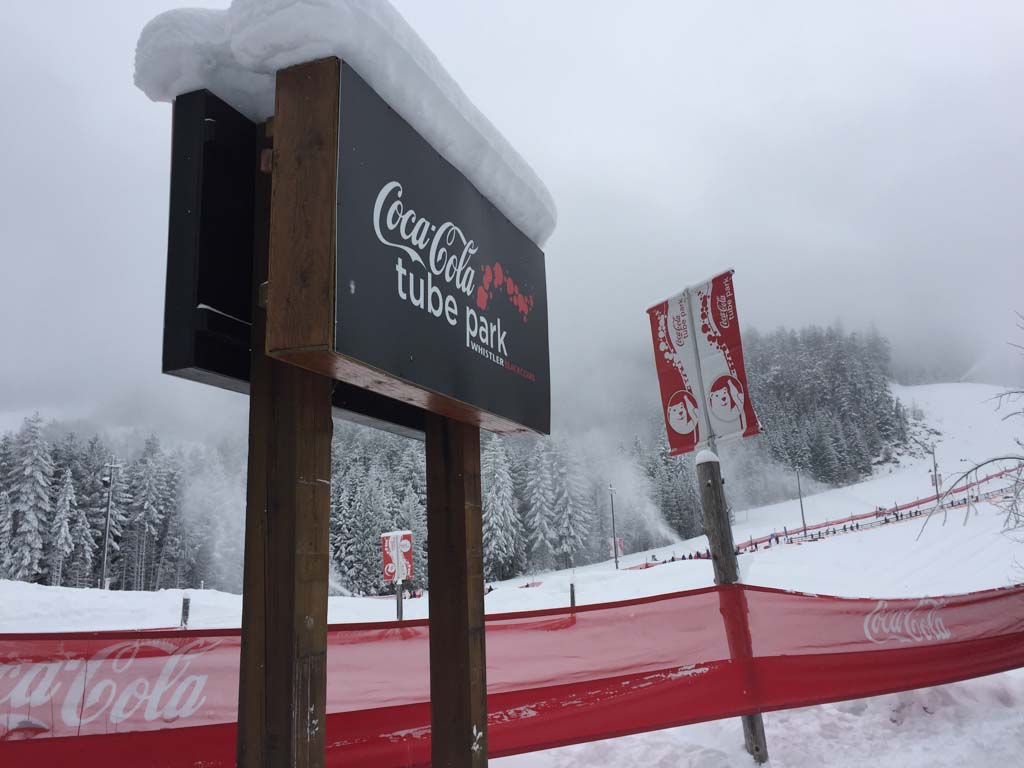 The Whistler Tube Park is located on Blackcomb Mountain and is a good 20 minute adventure from the village, if travelling by foot. While easily do-able, know that it's a long trip for shorter legs! If you're walking up from the village, take the Excalibur Gondola to the mid-station (no charge) and then walk towards lot 7, and then take the stairs up to the tube park.
If you choose to drive, head into the upper village and follow the signs to parking lot 8. The directional signs to both lot 8 and the Tube Park are great. Parking is free and you'll be right next to the tube park. If you go during peak times, be prepared to search for a parking spot as lot 8 is a busy lot.
When to Go
Our family has visited the park during evenings, weekends, and afternoons. I would recommend that you try to choose non peak times to maximize your riding time. I absolutely love going in the evenings! Tubing in the dark is not only fun, but it's not as busy and it's a great way to burn out the kids. Plus, there's nothing like warming up in a nice hot tub after and then sending the kids off to bed!
Height and Ages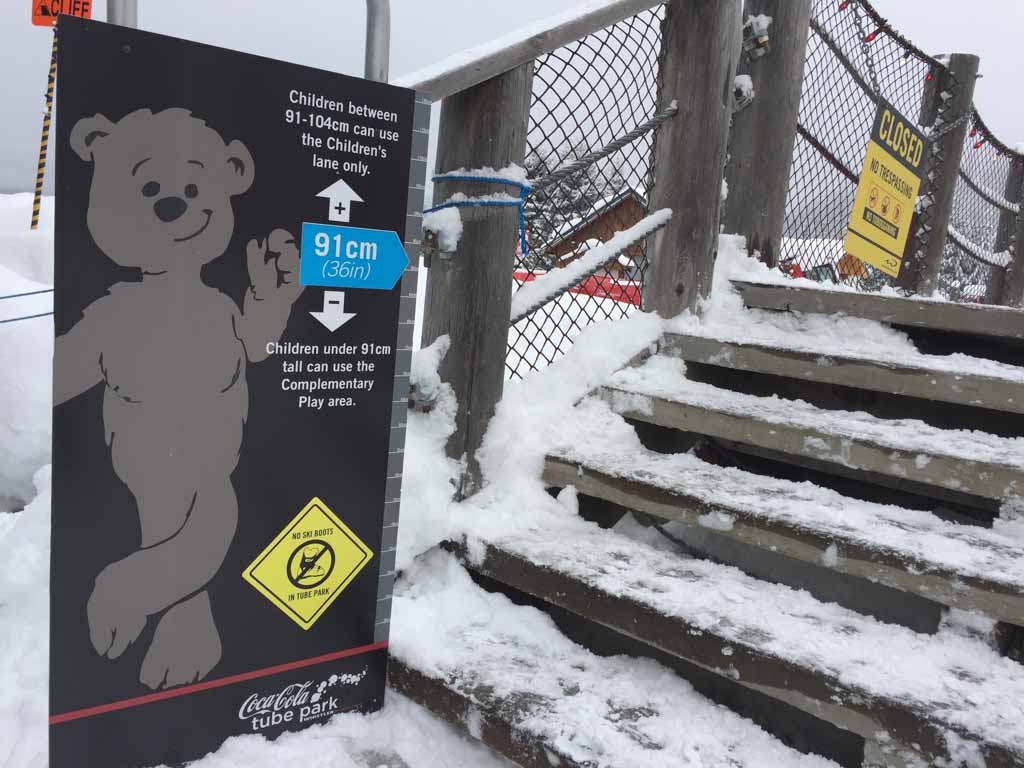 This activity is perfect for children three and up. Children that are between 36" and 41" only have access to the "mini-kids" lane, which is a shorter lane at the halfway mark of the longer slides. The best part about that lane is that there is never any lineups! Children over 41″ are allowed to tube on the longer lanes. Children 12 and under must be accompanied into the park by an adult (but can slide on their own if they are over 41″), making this activity the perfect family adventure.
Are Helmets Required?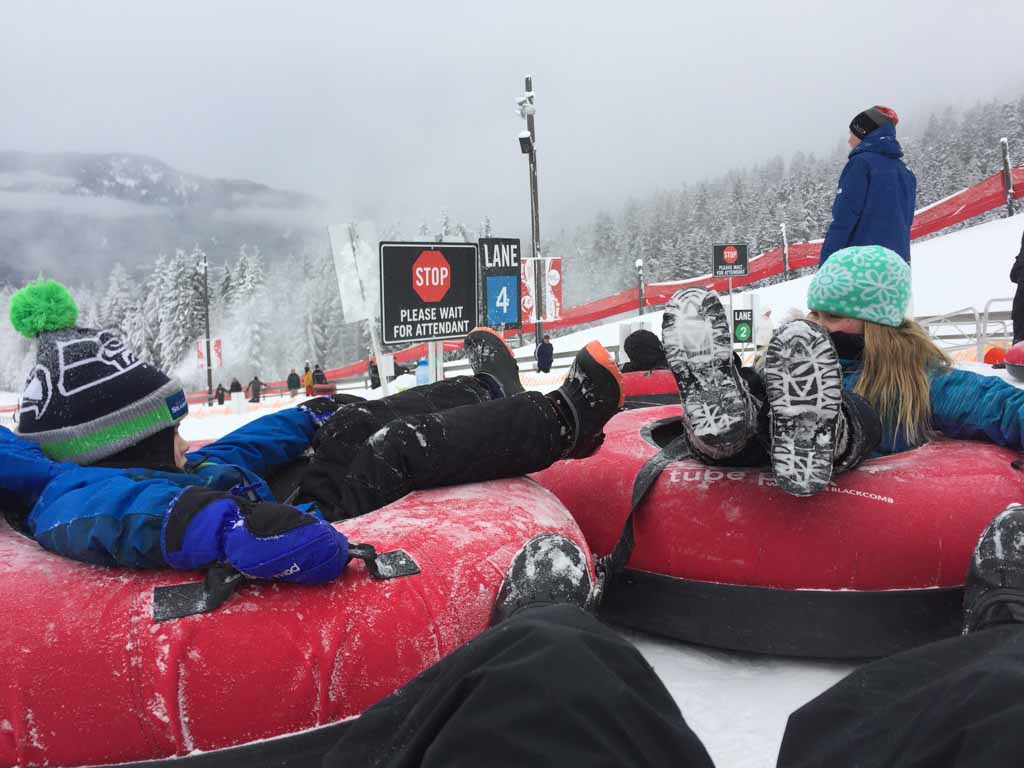 Helmets are not required. We've never worn helmets and wouldn't think that they are necessary for my family for this activity. When you're sitting in the tube you are well centered and protected. We didn't see anyone else wearing helmets any of the times that we have been there.
How Much is There to do for the Little Kids?
There are two short runs for the little kids (under 36″) to play on, which was more then enough when my kids were younger. There is no line up for them to wait in and they get a good thrill rushing down the hill. The only challenge would be if there is only one adult attending, the adult must stay with the younger child and send the older one (over 36″) up the hill and meet them at the bottom. With great sight lines and facility design, I felt totally safe doing this with my children.
What Should you Wear?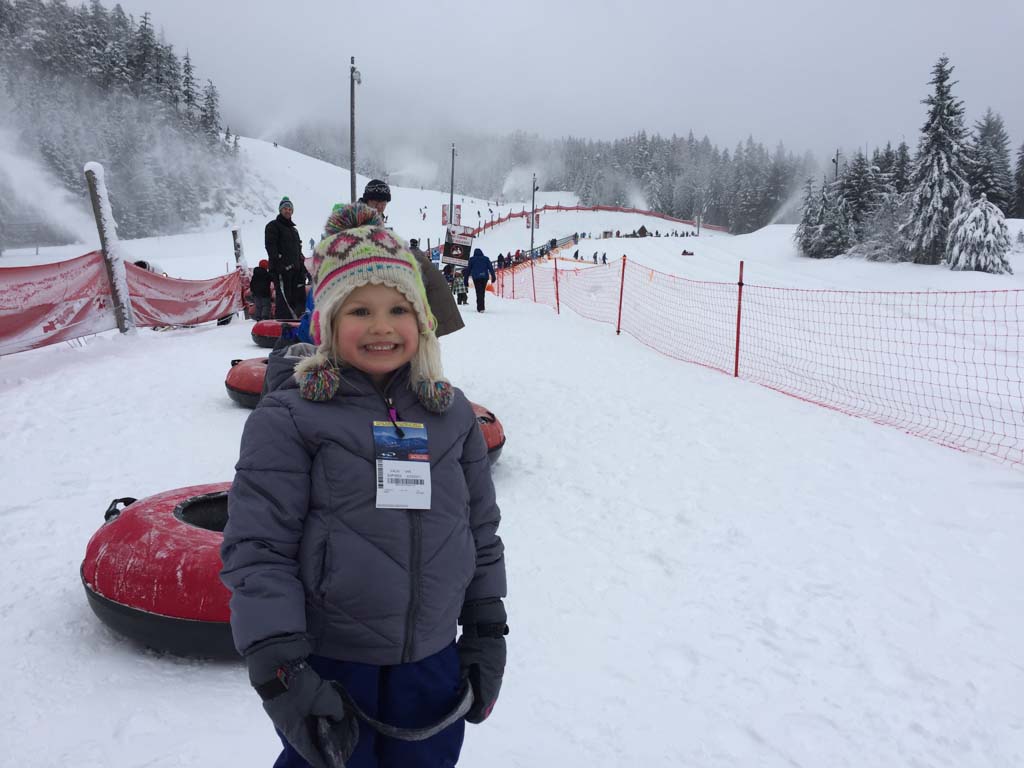 I highly recommend that you prepare for a day in the snow and have your family geared up head to toe, nice and warm! The basics, including: base layers, full snow gear and warm boots with good grip. I also recommend two key pieces of equipment not to be left at home: goggles for the little kids, and neck warmers for the whole family. Both of these items will take your comfort to the next level and make your trip more enjoyable. (The Clearance Center in the village sells neck warmers for $6.)
Do you Have to Bring your Own Tube?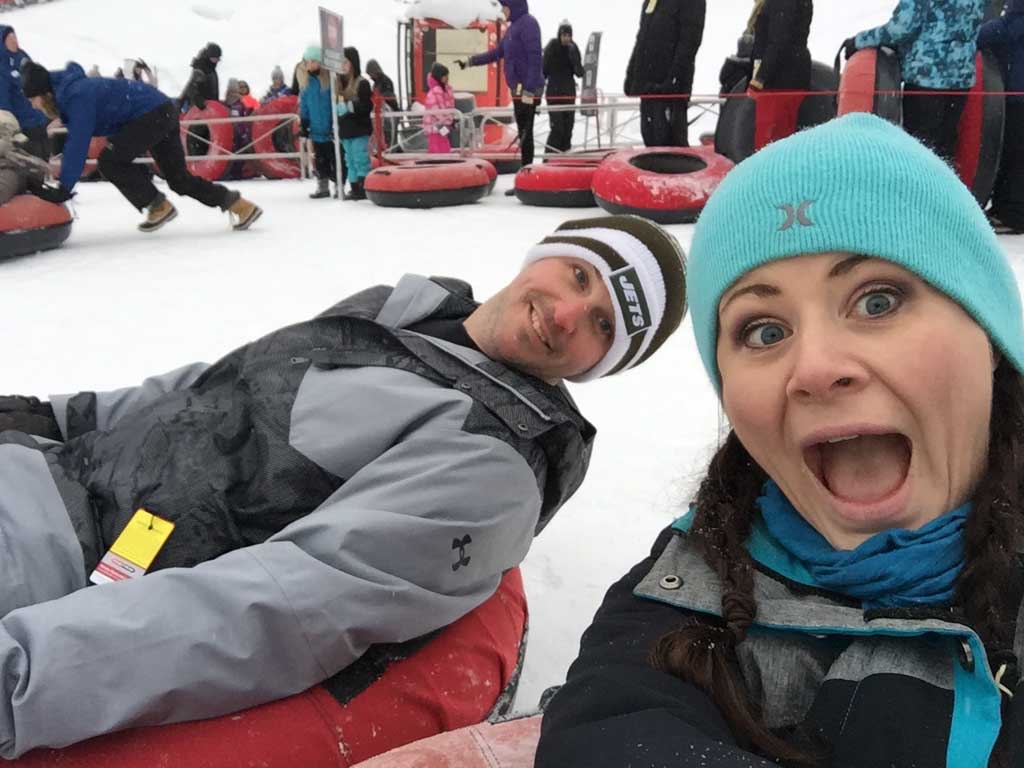 Nope! The tubes are designed specifically for the park (complete with pull handle). When you show up you'll grab one and hit the hill.
How Much does it Cost?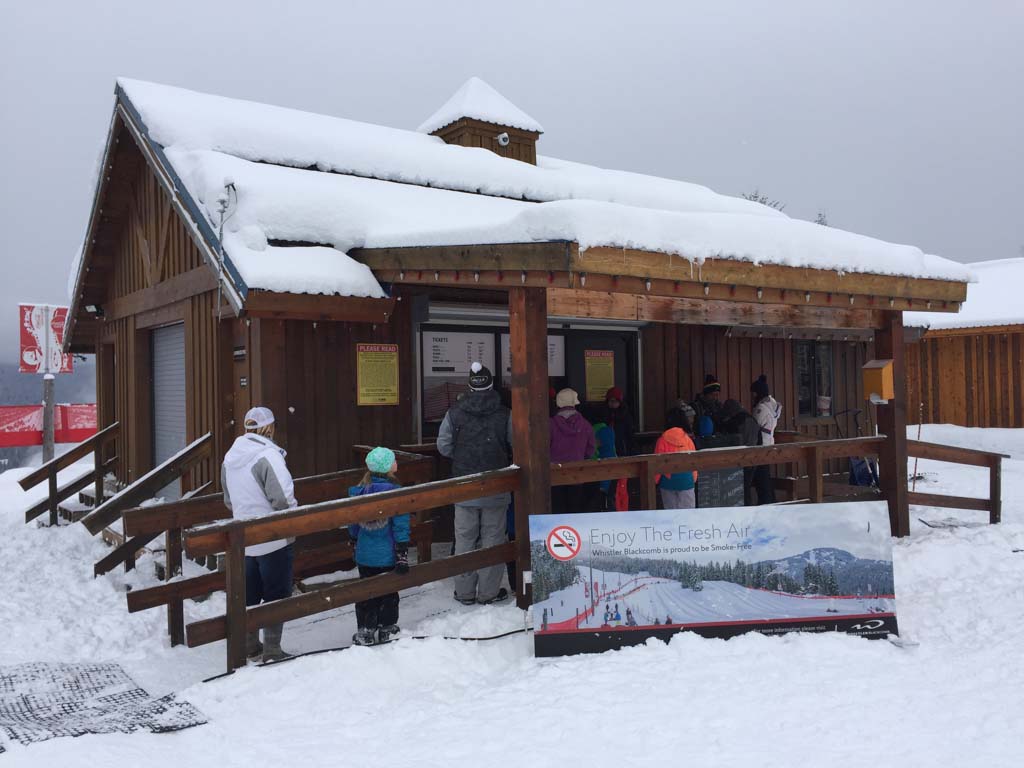 When you arrive at the Tube Park you get to choose if you want to stay for one or two hours. I highly recommend two. If it's not very busy you'll enjoying getting lots of runs in! If it's during peak times then you'll need a few more minutes for when you're waiting in line and you'll want the extra time for runs.
Family of four or more (with at least two children under 19 yrs of age) get a 10% discount. (Or a cost of $94.50)
| | | | | |
| --- | --- | --- | --- | --- |
| TUBE PARK RATES | ADULT (19-64) | YOUTH (13-18)/ SENIOR (65+) | CHILD (12 & UNDER) | MINI-KIDS (3 YRS + AND UNDER 42" OR 91CM TALL RESTRICTED TO LANE #1 ONLY). |
| One Hour | $23 | $21 | $18 | $14 |
| Two Hours | $31.50 | $29.50 | $21 | $17 |
When visiting Whistler during the winter season, make sure the Coca-Cola Whistler Tube Park is on your list of things to do with your family, you won't regret it and the kids will be begging you to go back!
Is this a sponsored post?: While we received complimentary passes, our words reflect our experience and we're excited to share it with you.
Whistler is a wonderful winter vacation destination for families, whether for the day or a multi-day trip. When planning your visit we also suggest a ride on the Peak to Peak Gondola, a Snowmobiling adventure and a stay at the Aava Hotel.