There really is nothing like Whistler Tube Park! The feeling of your stomach rising into your throat as you fly down the hill on a snowy slope. Looking over in the lanes next to me I could see that my children were each experiencing their own thrill while they held on tight and flew down the hill, squealing with joy the whole time. This is the epitome of the Whistler tube park experience!
Whistler bubly™ Tube Park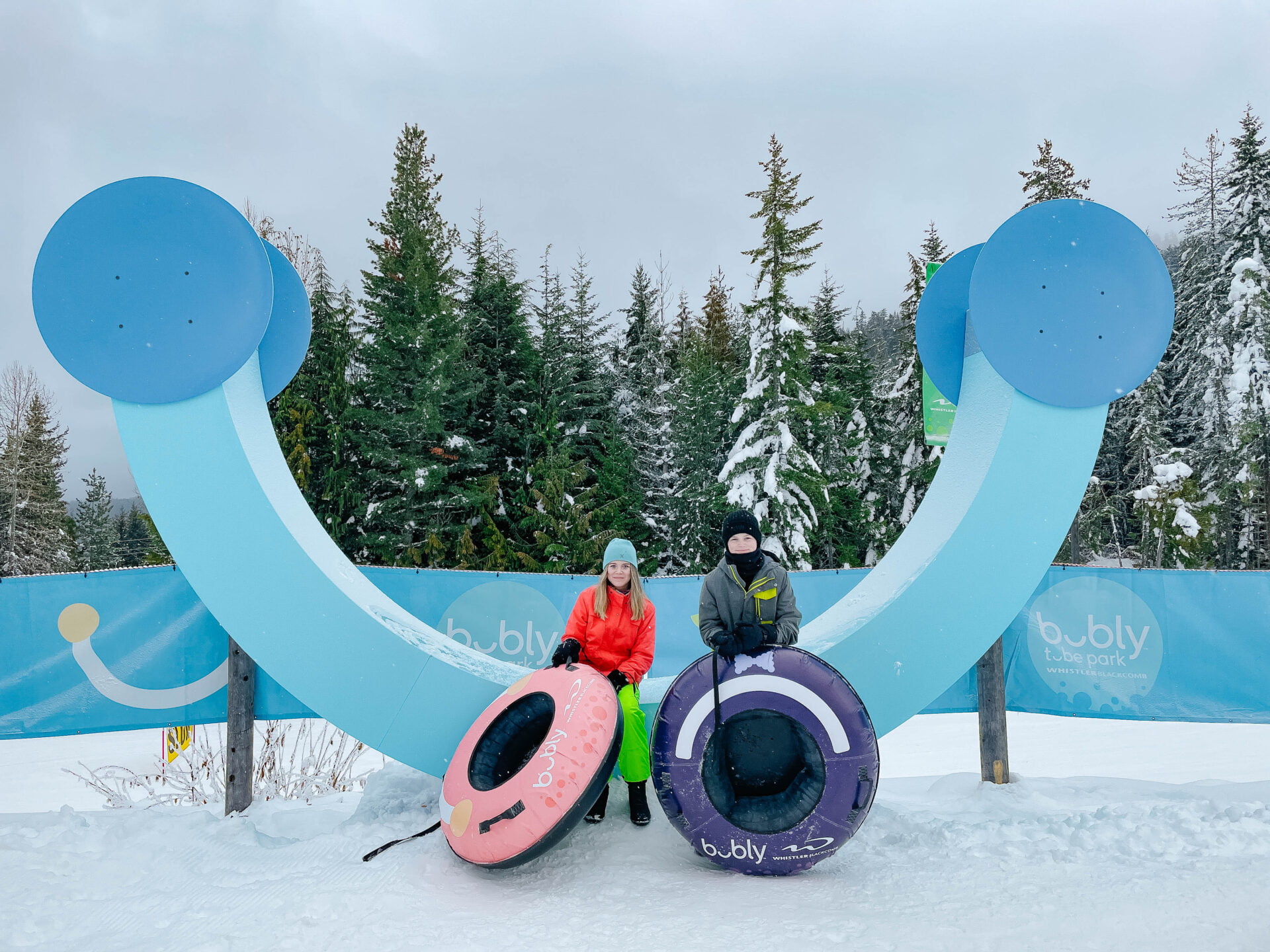 The Whistler bubly™ Tube Park welcomes you to explore 7 lanes of tubing adventures, perfect for the whole family. With slower green runs to "what did I sign up for" exhilarating blacks, each run offers over 1000 feet of sliding ready for you to enjoy.
The best part about the park is that they've made it easy to do lap upon lap of sliding. A state-of-the-art magic carpet lift that takes you from the bottom of the tubing runs back up to the top allowing you to maximize your time on the hill.
Where is the Whistler Tube Park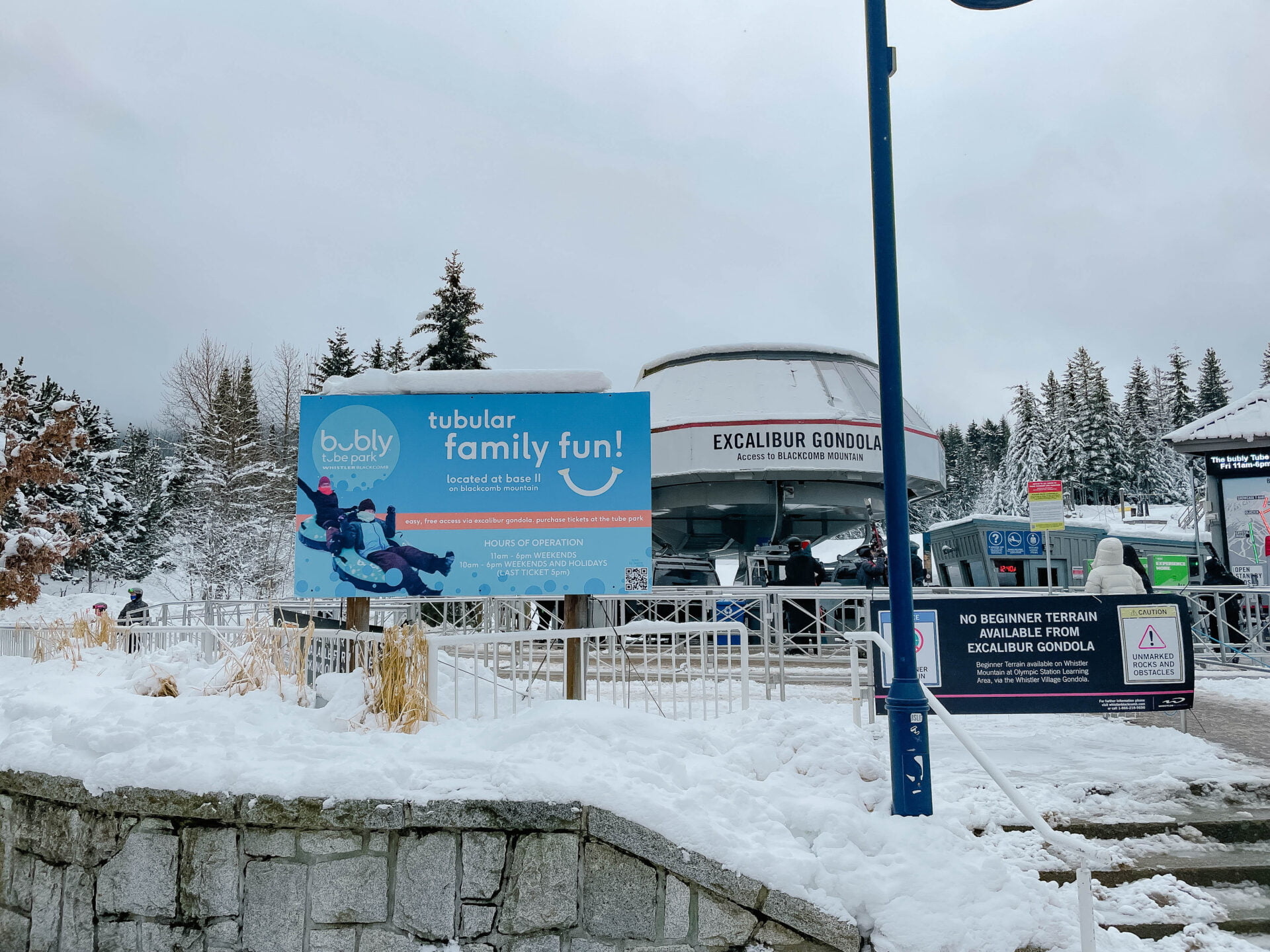 If travelling by foot:
The bubly™ Tube Park in Whistler is located on Blackcomb Mountain and is a good 20-minute adventure from the village if travelling by foot. While easily doable, know that it's a long trip for shorter legs! If you're walking up from the village, take the Excalibur Gondola to the mid-station (no charge) and then walk towards lot 7, and then take the walkway to the Whistler Tube Park pathway entrance (it's well-marked and easy to find).
Do you need a ski pass to go on the Gondola to the Tube Park?
Access to the bubly™ Tube Park is free, just be sure to enter the "bubly™ Tube Park" lane which can be found at the exit of the Excalibur Gondola.
If travelling by car:
If you choose to drive, head into the upper village and follow the signs to parking lot 8. The directional signs to both lot 8 and the Whistler Tube Park are great.
Is there a parking lot at the bubly™ Tube Park in Whistler?
Yes, the closest is parking lot 8. Parking is free and you'll be right next to the tube park. If you go during peak times, be prepared to search for a parking spot as lot 8 is busy, especially during ski times. An alternative is to find somewhere else to park closer to the village and take the free Blackcomb gondola.
What To Expect When Tubing In Whistler
The bubly™ Tube Park welcomes you with music blasting and the kids screaming… and you know you're about to have a good time. Imagine flying down the hill in a tube, listening to your children scream and their grandparents laugh. The Whistler Tube Park offers just that, a perfect adventure for everyone in the family!
When Is The Best Time To Go To The Whistler Tube Park?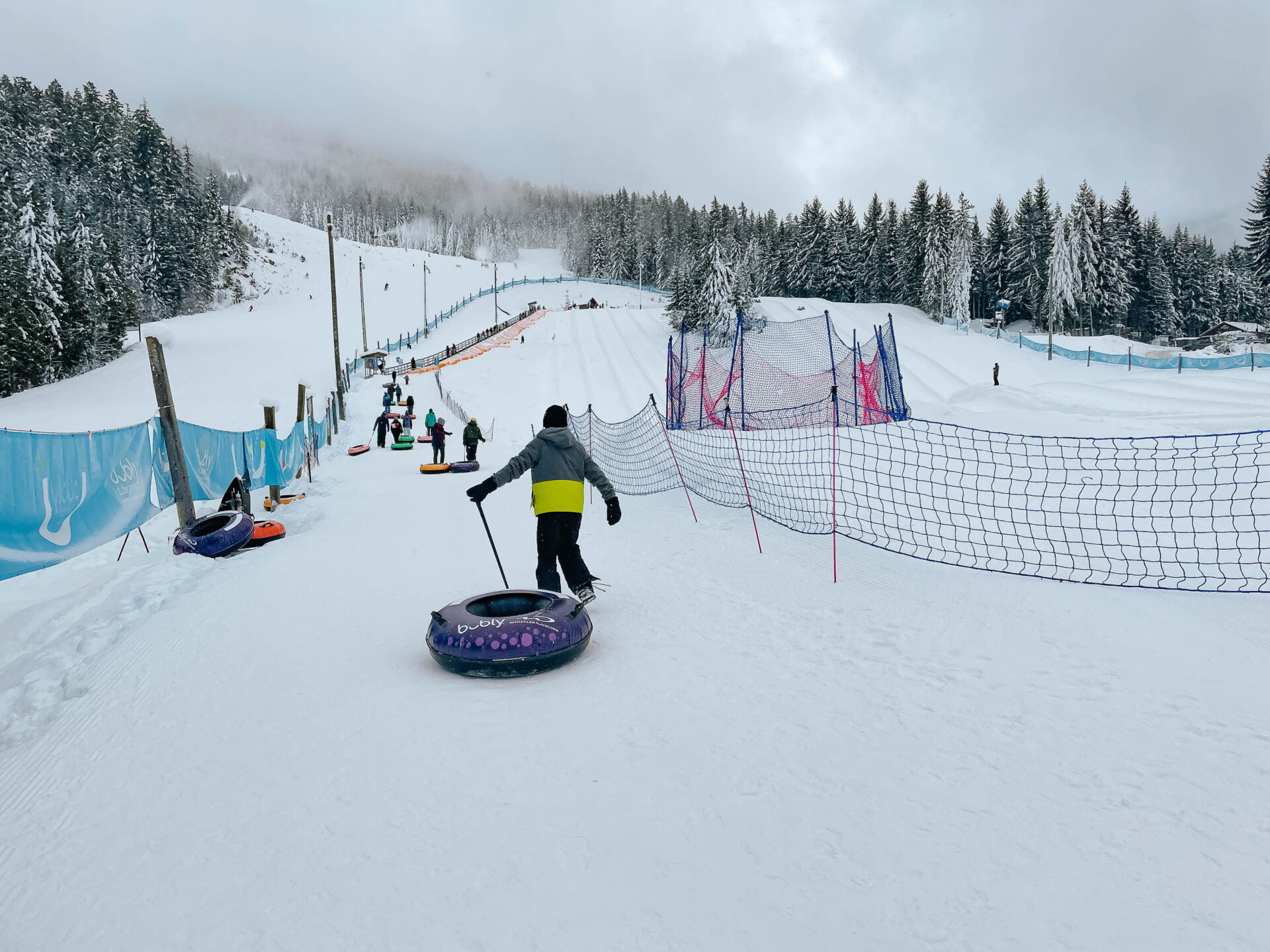 Our family has visited the park during evenings, weekends, and afternoons. I would recommend that you try to choose non-peak times to maximize your riding time. I absolutely love going in the evenings! Snow tubing in Whistler in the dark is not only fun, but it's not as busy and it's a great way to burn out the kids. Plus, there's nothing like warming up in a nice hot tub after and then sending the kids off to bed!
Height & Age Requirements For the bubly™ Tube Park in Whistler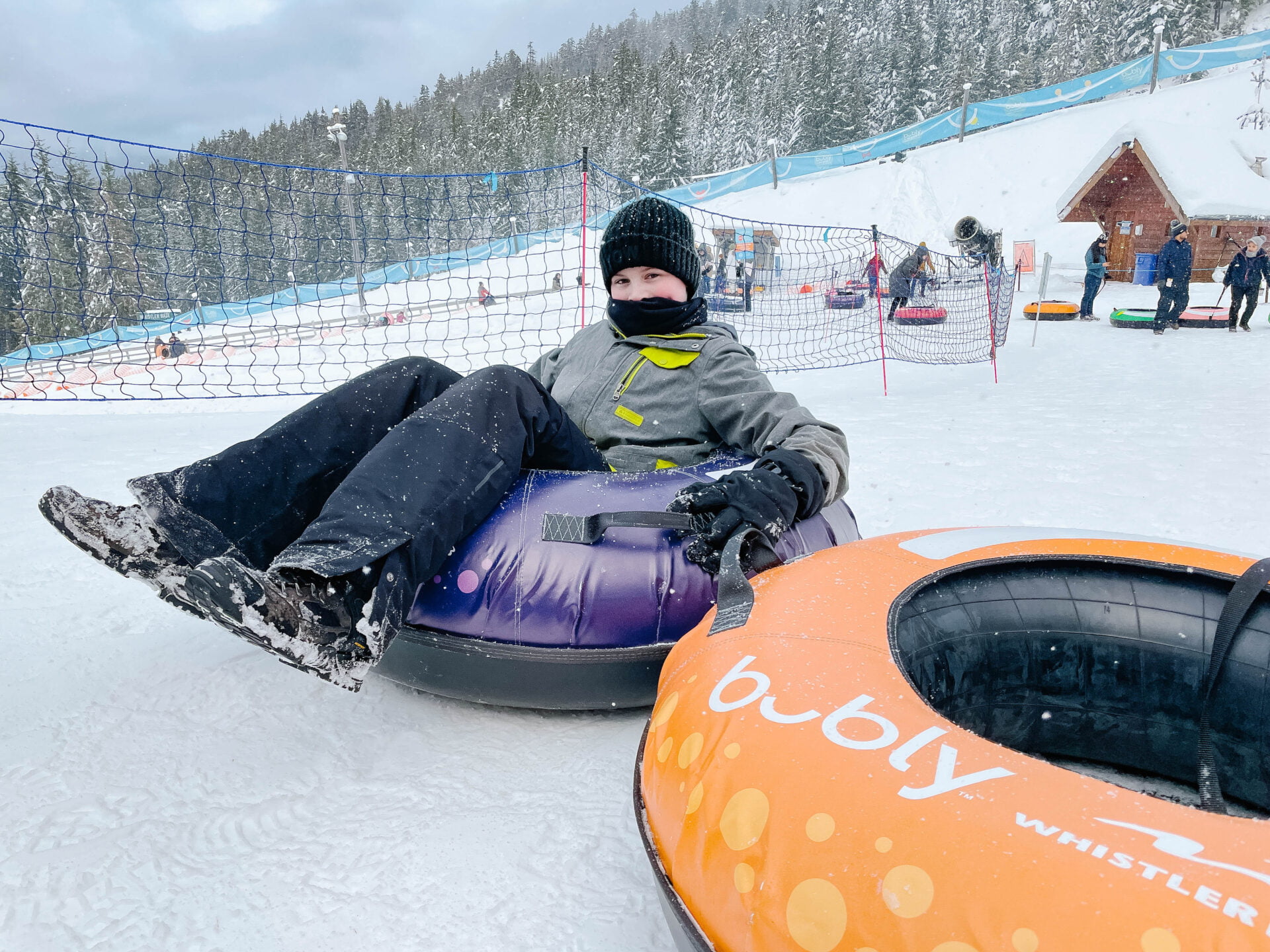 Whistler Tube Park Age:
This activity is perfect for children three and up and who are a minimum height of 36". Children that are between 36" and 41" only have access to the "mini-kids" lane, which is a shorter lane at the halfway mark of the long slides. Parents are invited to ride with children on their own tubes and can hold the mini tube handles. The best part about the Mini-Kids lane is that there are never any lineups!
Children over 41″ are allowed to tube on the longer lanes. Children 12 and under must be accompanied into the park by an adult (but can slide on their own if they are over 41″), making this activity the perfect family adventure.
Are Helmets Required At The Whistler Inner Tube Park?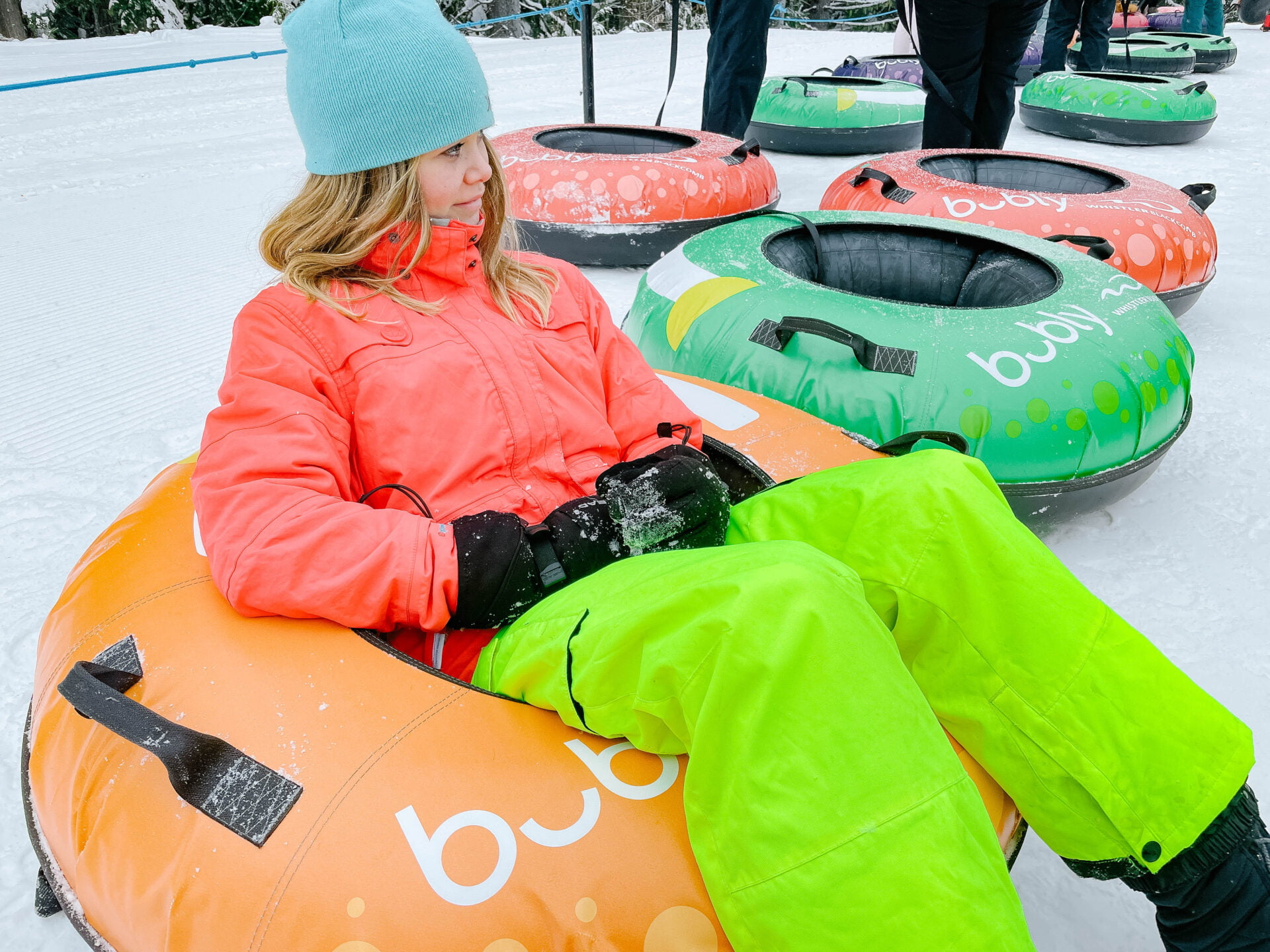 Helmets are not required, as it is a personal preference, but it is now recommended by the tube park according to their website: "Helmets are recommended, especially for the little ones."
Is Tubing In Whistler Fun For Little Kids?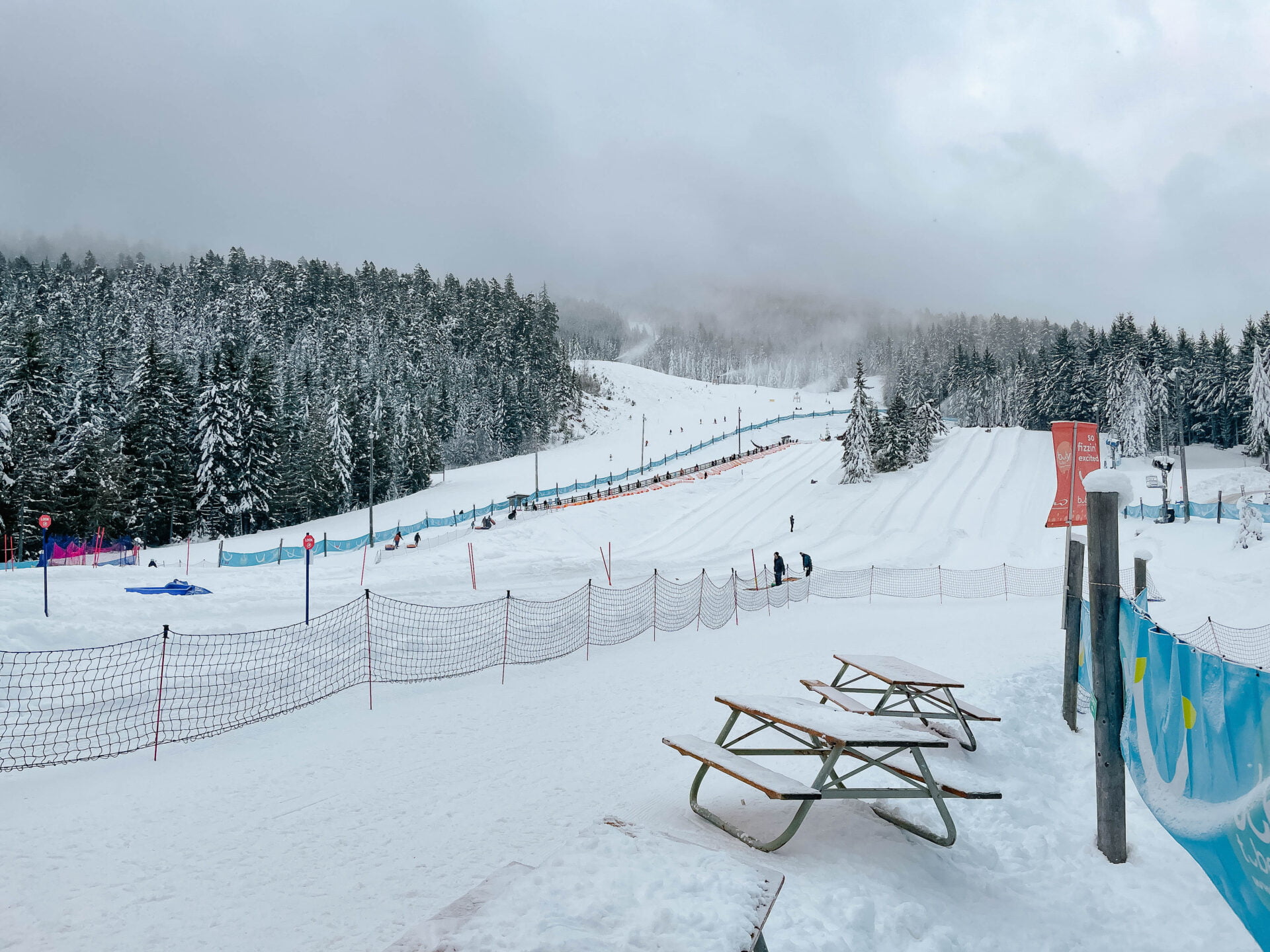 There are two short runs for the little kids (under 36″) to play on, which was more than enough when my kids were younger. There is no lineup for them to wait in and they get a good thrill rushing down the hill. The only challenge would be if there is only one adult attending, the adult must stay with the younger child and send the older one (over 36″) up the hill and meet them at the bottom. With great sightlines and facility design, I felt totally safe doing this with my children.
What Should You Wear Tubing in Whistler?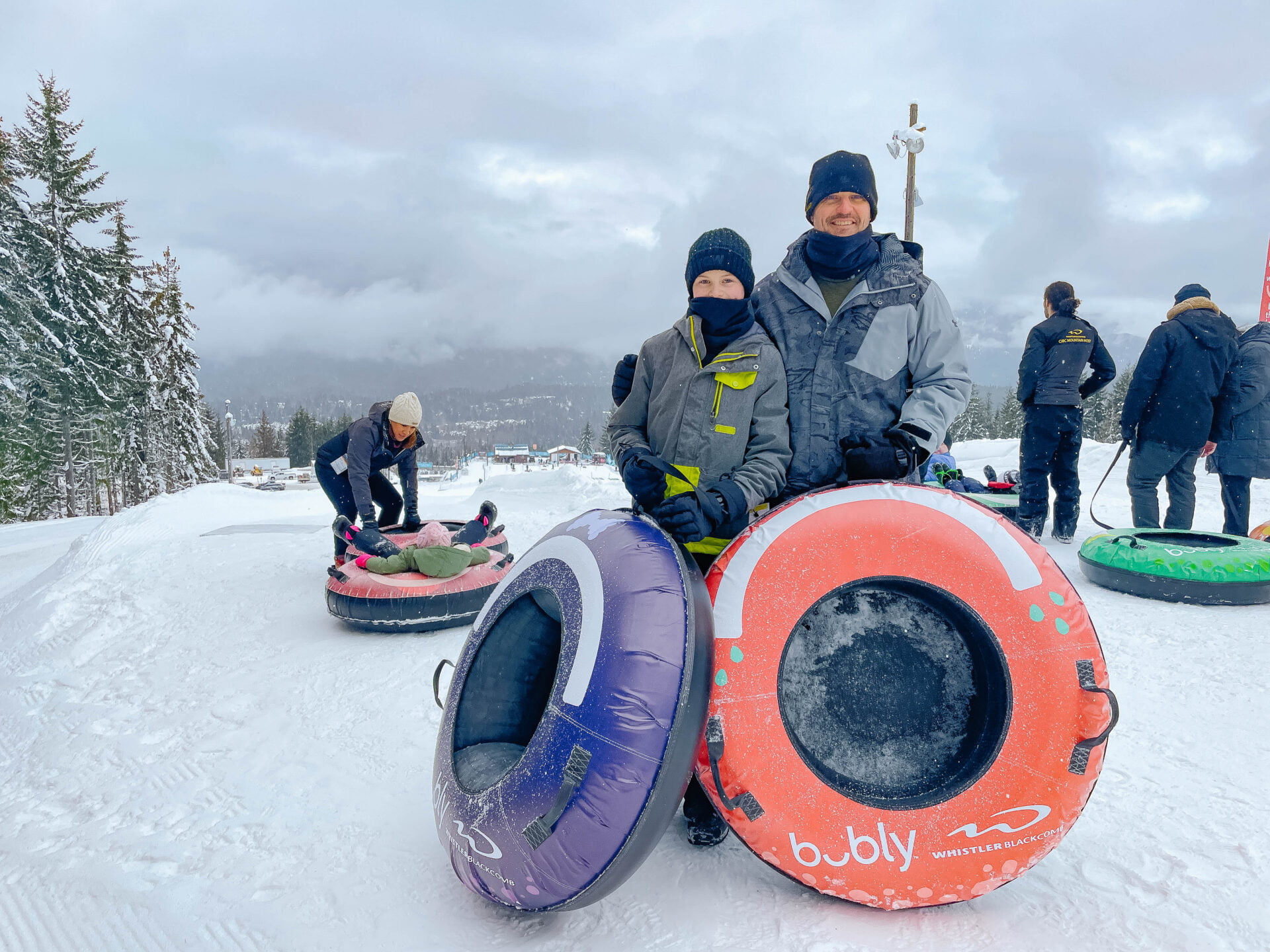 I highly recommend that you prepare for a day in the snow and have your family geared up head to toe, nice and warm! The basics include base layers, full snow gear, toques, gloves and warm boots with good grip. I also recommend two key pieces of equipment not to be left at home: goggles for the little kids and neck warmers for the whole family. These items will take your comfort to the next level and make your trip more enjoyable (The Clearance Center in the Village sells neck warmers for $6).
Note: Ski boots are not allowed at the tube park in Whistler so plan alternative footwear.
Mom tip: Don't go without a neck warmer or scarf! Your neck will get too cold when tubing down the hill so avoid having to make a trip back to the village and pack one.
Do You Have to Bring Your Own Tube?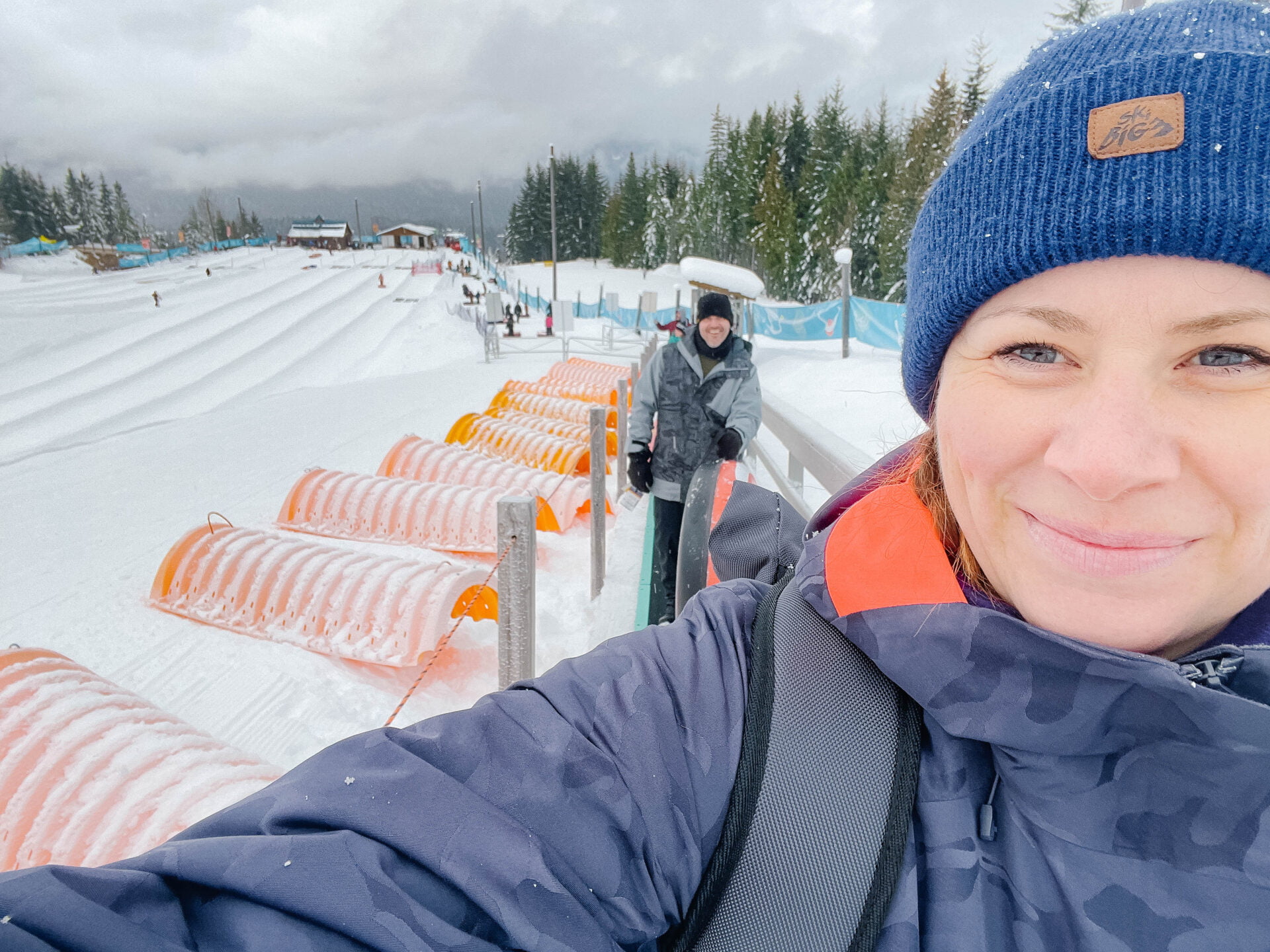 Nope, you don't need to bring your own tube to go tubing in Whistler! The tubes are designed specifically for the park (complete with a pull handle). When you show up you'll grab one and hit the hill.
What To Do After Tubing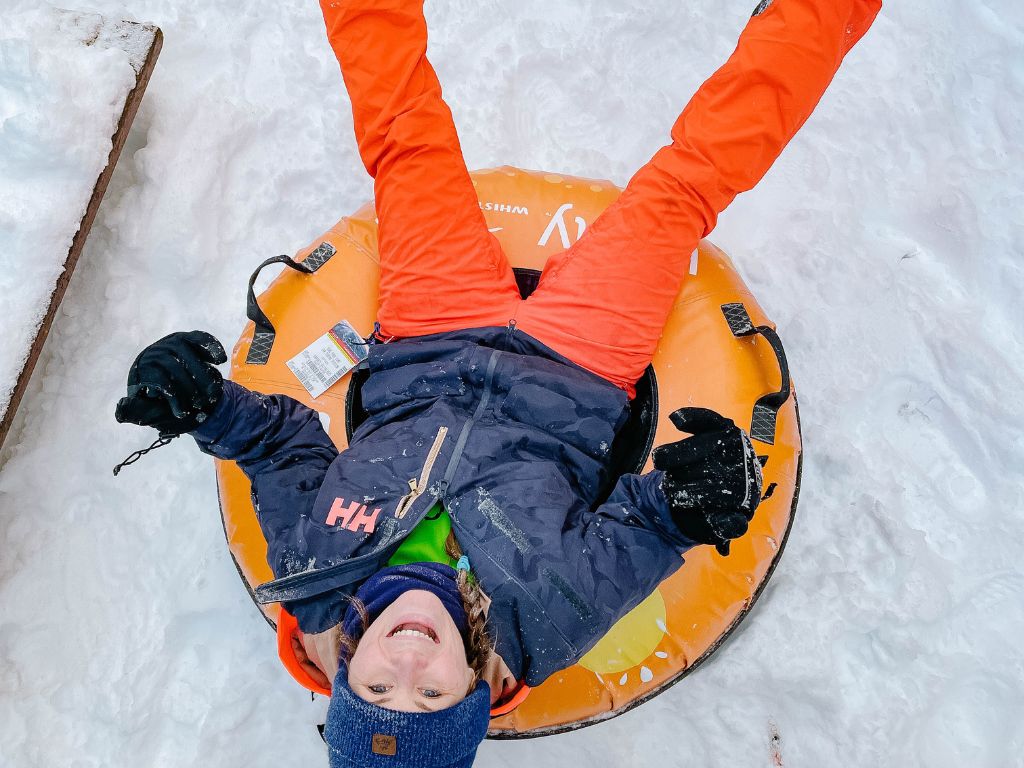 When your day is done and you're ready for a sit-down and a snack, there's nothing like cuddling up to the huge outdoor fire pit with a bag of kettle corn and hot chocolate, sharing stories with the kids about your rides. We chose this time to fuel up and reconnect before heading back into the village.
Whistler Blackcomb Tube Park Reviews
If there was a rating system for reviews and it was based on 5 stars, we'd give our experience 6 stars! This adventure is fun for all members of the family, even Nana who wasn't up for riding but wanted to hang out and watch the kids go down the runs.
So whether you're a little one and this is your first time going tubing, or you're a parent who wants to keep up with the big kids on the run, this sliding slope is great fun for the whole family.
Tips For Planning Your Trip To The Whistler Tubing Park
How much does it cost to go tubing in Whistler?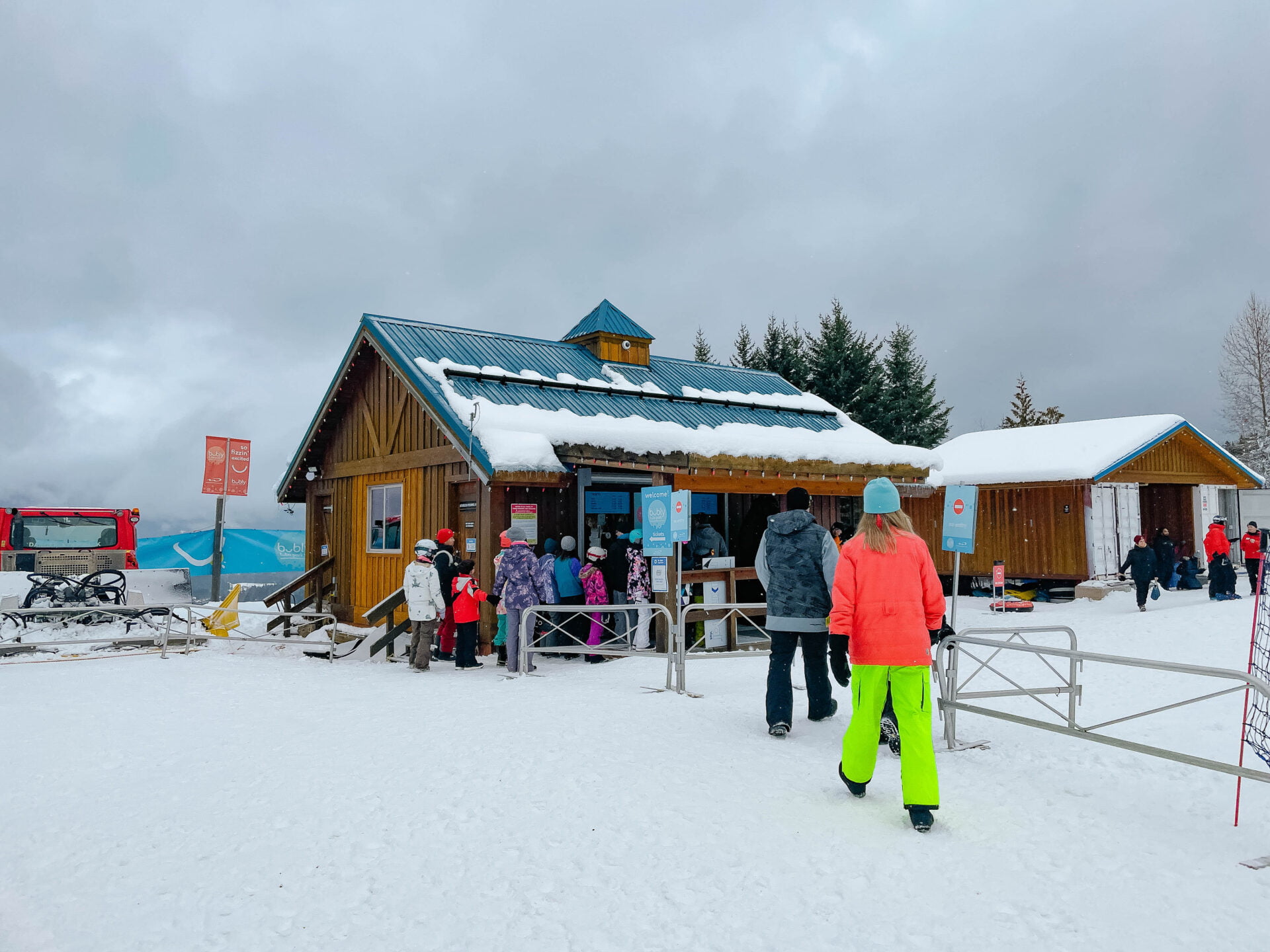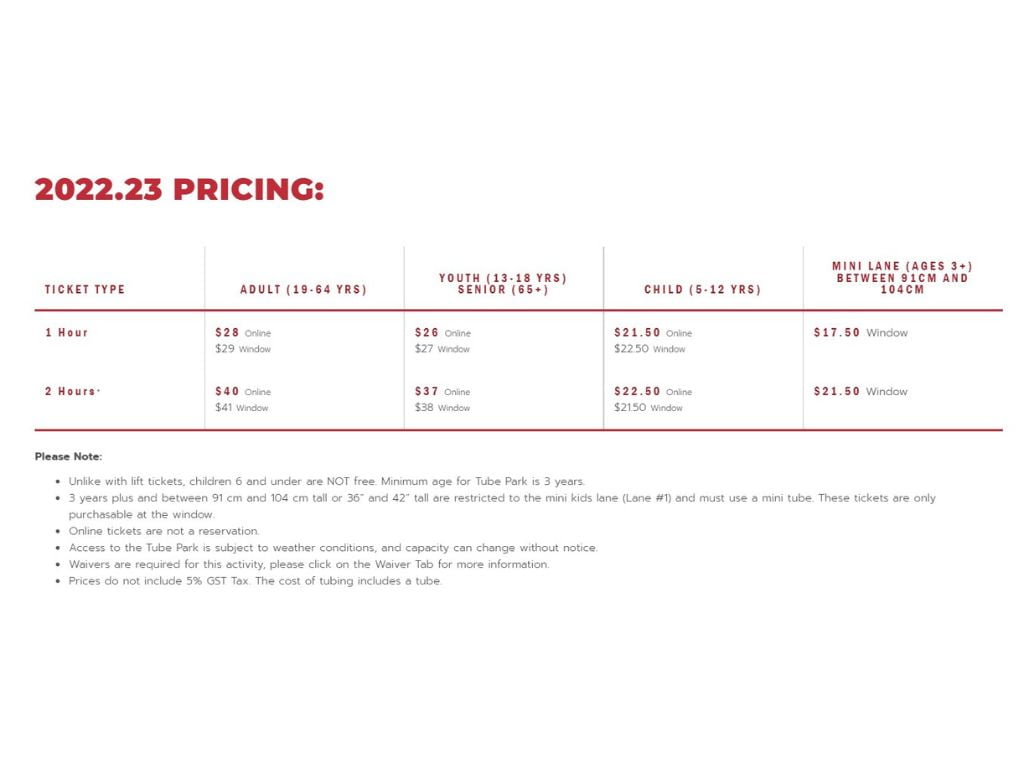 The Whistler tube park prices vary based on how long you want to ride. When you arrive at the bubly™ Tube Park you get to choose if you're going to stay for one or two hours. I highly recommend two. If it's not very busy you'll enjoy getting lots of runs in! If it's during peak times, you'll need a few more minutes for when you're waiting in line and you'll want the extra time for runs.
Apparently (I haven't personally experienced this) but if you show up and only pay for an hour and want to stay longer you can add on the difference and extend your stay.
When visiting Whistler during the winter season, make sure the bubly™ Whistler Tube Park is on your list of things to do with your family, you won't regret it and the kids will be begging you to go back!
When Does The Whistler Blackcomb Tube Park Open?
Tube Park Whistler Hours of operation are as follows:
WEEKENDS, HOLIDAYS, & Dec 17 – January 1: 10 am – 6 pm
WEEKDAYS (Monday – Friday): 11 am – 6 pm
Special notes about hours:
The last ticket is sold at 5 pm.
Hours are subject to change and are dependent on weather conditions.
Whistler Tube Park Tickets
Tickets to the bubly™ Tube Park can be purchased online or at the Tube Park hut in person. Once you have your ticket you can ride as many times as you want within your 1-2 hour timeframe.
Can you book your tickets in advance for the Whistler Tube Park?
Yes, once the park is open you can purchase your tickets online for a specific day and time. The park typically announces its opening dates in the late Fall.
Are there washrooms at the Whistler Tube Park?
There are washrooms available at the tube Park in Whistler AND they are heated, making for a more enjoyable experience, especially for the children.
Is there food for sale at the bubly™ Tube Park?
There are no restaurants or food service on site but you can shop at one of their vending machines for eats and treats.
Are there lockers available at the Whistler Tube Park?
There are no lockers available for guests so we recommend you small items in zipped-up pockets or bring a small pouch to wear while riding.
Mom tip: If you have keys make sure to attach them to the inside of your jacket. Many snow jackets have little loops. Or I'll use a hair tie to attach them to a zipper so that if the zipper opens on the rides I don't lose my truck keys in the snow!
Is this a sponsored post?: While we received complimentary passes, our words reflect our experience and we're excited to share it with you.
---
Check out these Articles for More Whistler Travel Ideas: