The bus was full. A loud roar from the back reminded us that we were sharing our ride with a large group of men out on the stag. Next to us a young couple from New York shared the details of the great deal they had secured with their university group. They were having a "Whistler trip of a lifetime. "Whistler" they said, can you imagine?" they posed the question as they were still in disbelief that they were actually going snowmobiling in the world famous, Whistler, BC, Canada.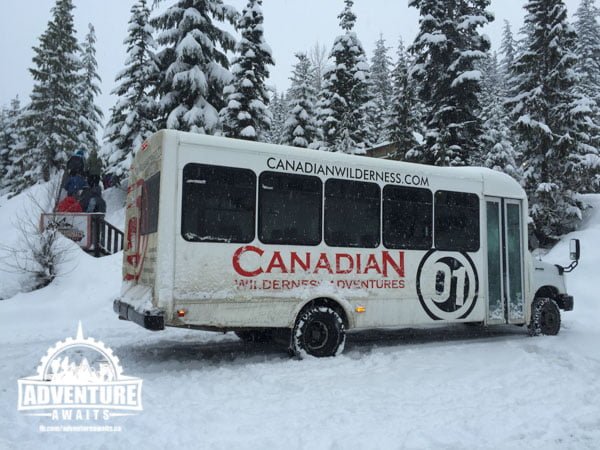 I sat next to my husband, with my parents in front of us and my in-laws behind. The bus had brought adventure seekers from all across the continent and we all had one thing in common – we were all ridiculously excited.
Our bus twisted and turned up the windy road and we could barely see outside as it was snowing so hard outside. "We're here!" the driver announced and cheers erupted. Apparently the 20-minute ride was a long one for this excited bunch.
How often are we really tourists in our own backyard? How often do we get to go snowmobiling?
We rounded the corner to the parking lot overlooking row upon row of snowmobiles. A short hike up to the chalet to get geared up and we'd be on our way. This is where we met Georgie, our feisty and sarcastic tour guide who has obviously spent lots of time on a snowmobile and in the mountains. Her wit kept us on moving and paying attention at all times.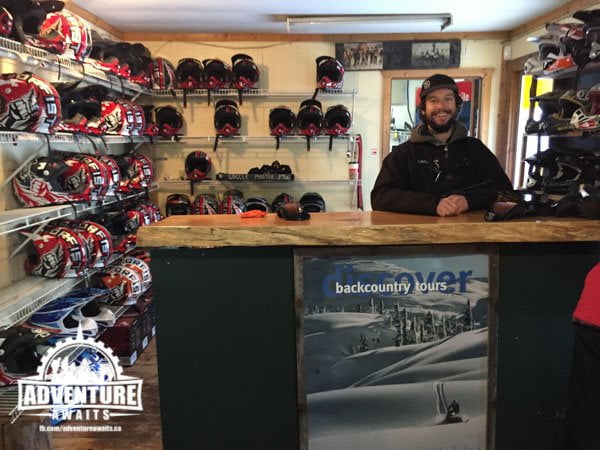 We started off our Whistler snowmobile tour with some quick safety and how to's: gas – check, brakes – ya right! … watch where you're going and don't be an idiot. My husband laughs…. Oh right, he'll have to behave this time, won't he?
The machines were big and heavy and took some getting used to but after playing follow the leader and doing some technical training, such as learning to stop, round corners, avoid the ditch (okay, maybe I missed on the first attempt and needed help) we were on our way.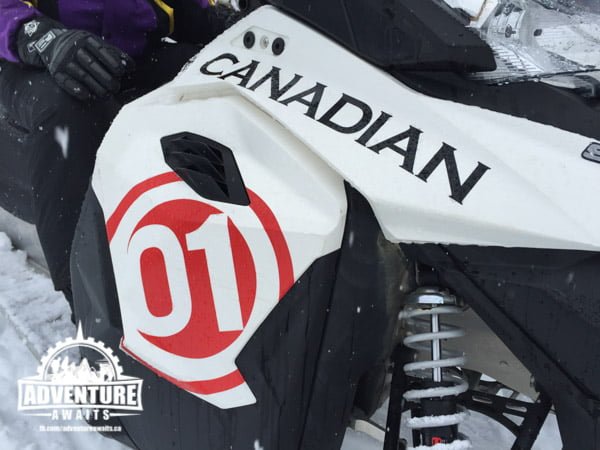 We sped through the trees, up and around big corners and then into smaller trails where it got really fun. My fingers enjoyed the built in hand warmers on the handlebars. My goggles were covered in snow… which was absolutely perfect. The white stuff kept falling from the sky. The occasional mogul made us pop up out of our seat! It was fun in so many ways.
We got to an open lake where we were able to ride around and play. We were having fun seeing how fast we could get our machines to go as we ripped around on the snow and ice. My husband enjoyed racing his father while the rest of us took a bit of a slower pace around the track.
After our races we followed some trails up to what should have been an amazing view point. However, we were snowed in so badly that all we could see was each other! We took the opportunity to pose some fun photo shoots and shoot some video before heading back down the trail.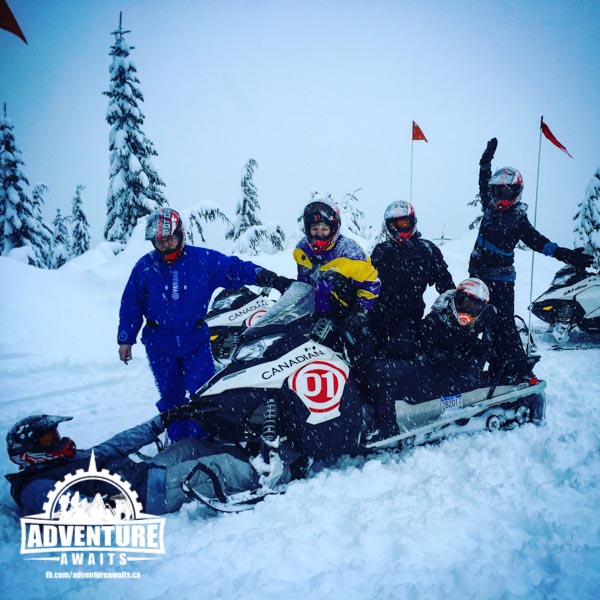 Now that we've got the snowmobile bug we will know we will be back. We think it would be fun to check out one of their longer tours, such as their Backcountry X Half day tour or Powderhound Full Day Tour. My Father in Law said he thinks that it would be a great team building activity and is thinking of bringing his staff, perhaps I can sneak myself on payroll so I can go along!
Thank you to Canadian Wilderness Adventures for being such amazing hosts. From the time we signed up to saying our goodbyes, we felt welcomed and well taken care of.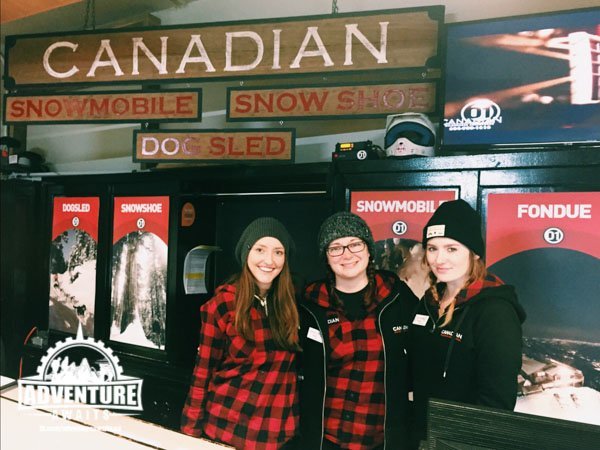 For more information about a Whistler snowmobile tour and Canadian Wilderness Adventures check out: http://www.canadianwilderness.com/snowmobile/