Are you in full vacation planning mode and researching for the best Tofino family resort?
Disclaimer: While I share my own thoughts and stories about these experiences, should you click on the affiliate links, I may receive a small commission on that sale which helps fund Adventure Awaits.
13 Reasons Why The Long Beach Lodge is The Best Tofino Family Resort
A world-class destination, Tofino, British Columbia offers a wide arrange of accommodations for families, but having visited the region more times than I can count, I wanted to share why I think the Long Beach Lodge Resort is truly the best resort in Tofino for families. The property and experience are kid-approved, Dad approved, and most importantly, MOM APPROVED!
Mom Tip: Plan a visit where your needs are taken care of too so you can have a great vacation (cough: surf club, spas, great food!)
1. Location: Long Beach Lodge Resort on Cox Bay, Tofino, British Columbia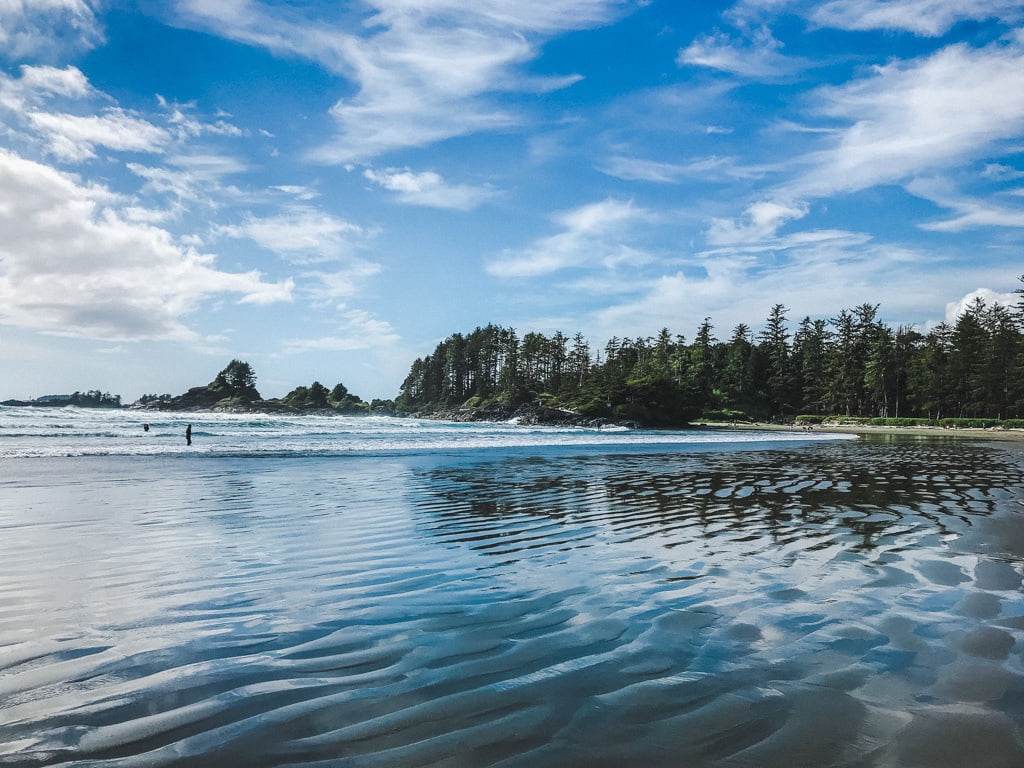 Long Beach Lodge Resort is located on 8 acres of oceanfront property, on the sandy shores of Cox Bay Beach. Only 5 minutes outside the hustle and bustle of Tofino, this West Coast resort sits on the edge of Cox Bay Beach, nestled in between the Pacific Rim National Park and Clayoquot Sound. Known as one of the most picturesque beaches in all of Canada, Cox Bay is truly a marvel. Its crescent shape is perpetually shaded in the whites and blues of lapping waves, which are just large enough for surfing, but still gentle enough for a family swim. Coupled with some of the most incredible sunsets you'll ever see, it's clear why Long Beach Lodge chose this exact location to build their incredible family resort in Tofino. Tofino is a great destination to add to your Vancouver Island road trip.
2. Tofino Family Resort: The #MyLBLMoment Experience
Now when I say incredible resort, I truly do mean it. The iconic lodge that sits on the shore is shown above, with 41 guestrooms that look out over the west coast sky. Long Beach Lodge is a full amenities destination that's great for couples, trips with friends, and families young and old. And with a variety of hotel room options, as well as a selection of large private cottages, there is a lodging style for every type of group.
Just check out the hashtag #MyLBLMoment where guests have spent time sharing their own experiences on social media. You'll see families running on the beach, dogs chasing sticks into the sea, kids taking their first surf lesson, and dining over the sunset that can only be experienced in Tofino.
In addition to world-class lodging, Long Beach Lodge Tofino family resort has an incredible list of activities and amenities right on the resort grounds. From the 24-7 beach access and the surf club to the Great Room Restaurant and Lounge located right off the lobby, there is no shortage of amazing things to do and see (and eat!) during your visit. It's the quintessential British Columbia experience.
Book your stay at Long Beach Lodge Resort here!
3. Cottages: Long Beach Lodge Cottages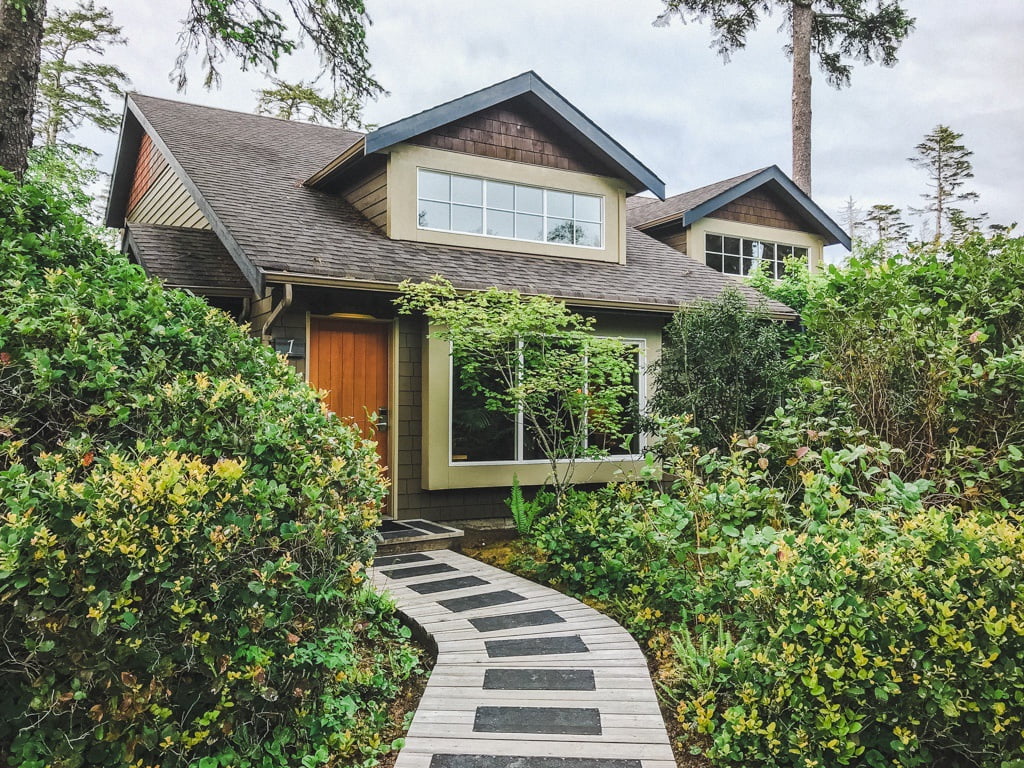 Long Beach Lodge has 20 two-bedroom cottages that come with 2 bedrooms, a pull-out couch, a full kitchen and dining room, and our favourite, a private hot tub. Walking into the cottage, we nearly had to pick up our jaws off the floor! At 1,000 sq. ft., this spacious two-story cottage boasted everything we needed for a true home away from home. The ground-floor master bedroom featured a beautiful bathroom with a soaking tub and a separate shower. And right outside the master, a large, private hot tub awaited us!
Long Beach Lodge Cottage – Living Room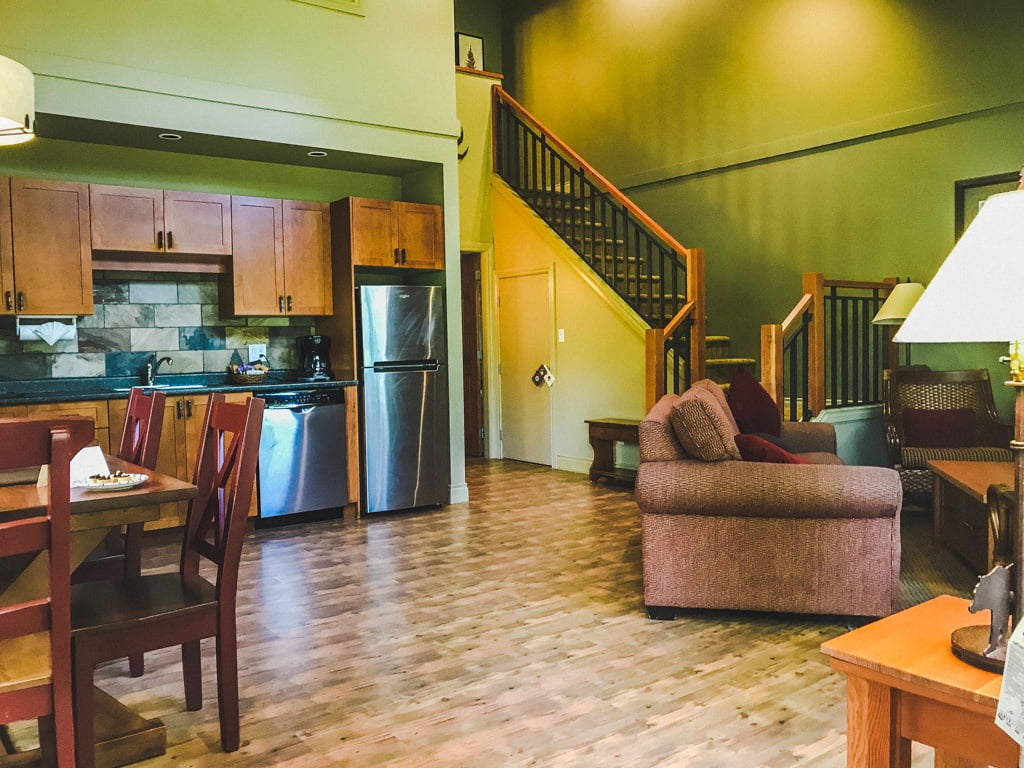 The living space was highlighted by a large gas fireplace and comfy couches, all of which were near the full kitchen and dining area. From cooking private, healthy family dinners, to playing board games in front of the fire, this cottage was the perfect basecamp for our Tofino adventure.
King Size Beds Big Enough For The Whole Family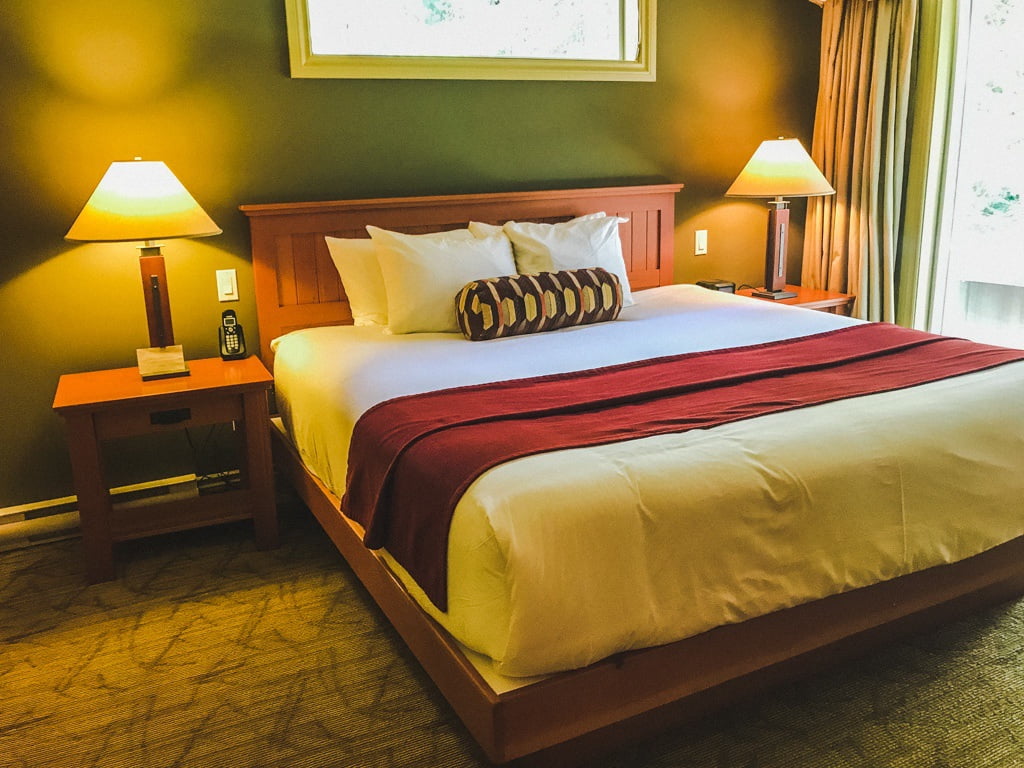 Upstairs, bedroom number two was perfect for the kids, as it had an incredibly comfortable king-size bed that lulled them to sleep the second they rested their heads at night after their west coast adventures.
Private Hot Tub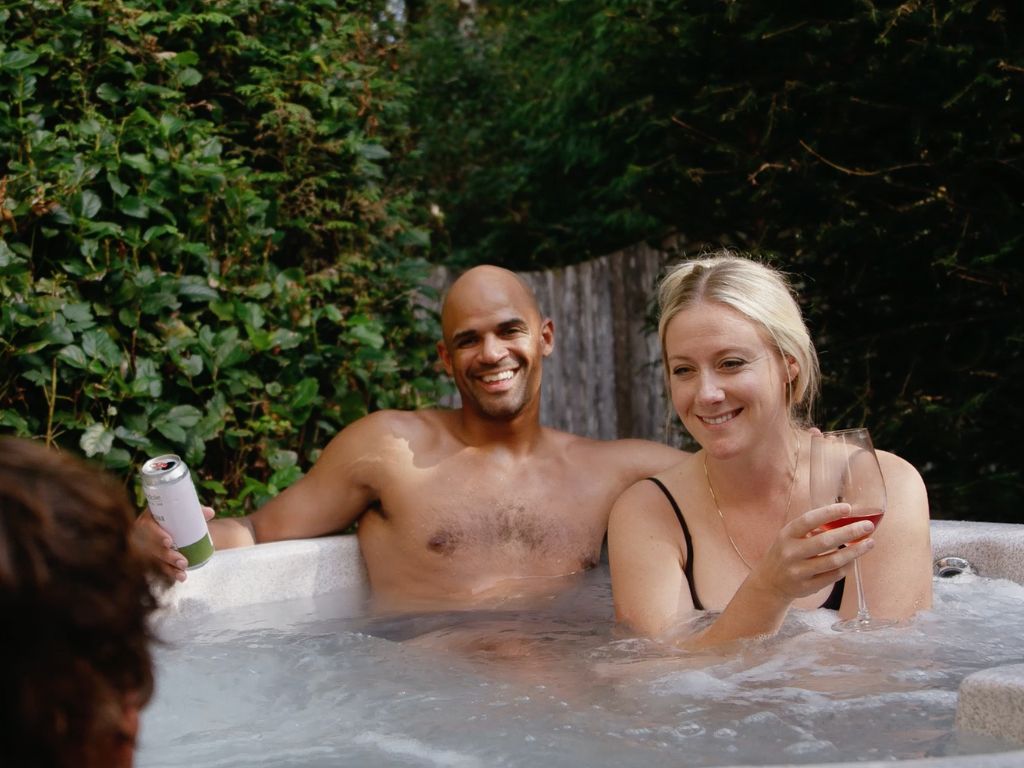 The number one reason to stay at a cottage at the LBL Tofino Resort is to have your own private hot tub. Whether it was morning coffee with my husband while the kids were still sleeping, or warming up after playing on the beach, having our own private yard complete with 4 person hot tub was an amazing amenity to enjoy.
Different Cottage Layouts
Needless to say, the Long Beach Lodge Resort cottage was the perfect place for our family of four. However as we came to learn, the resort actually features several different furniture layouts for its cottages, including an option for a second bedroom with two double beds instead of a king, meaning a family of six could all sleep very comfortably!
4. Long Beach Lodge Tofino Restaurant
The Great Room Restaurant & Bar is located in the centre of the main lodge and welcomes you to come in and stay a while. The Long Beach Lodge Tofino Restaurant is full of massive windows that offer breathtaking ocean views, the ideal location for refuelling after a long day of adventures with family and friends.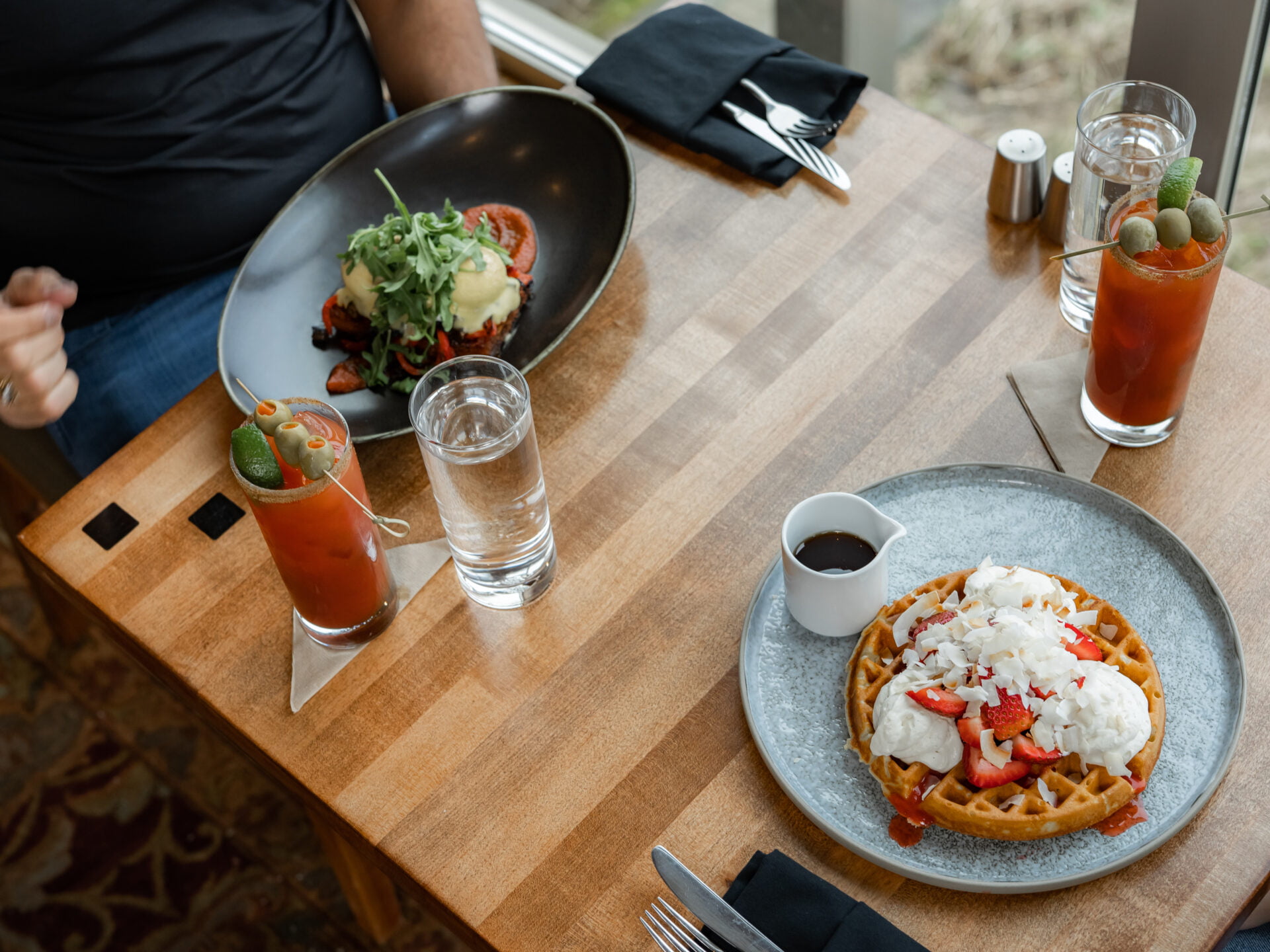 5. Long Beach Lodge's Happy Hour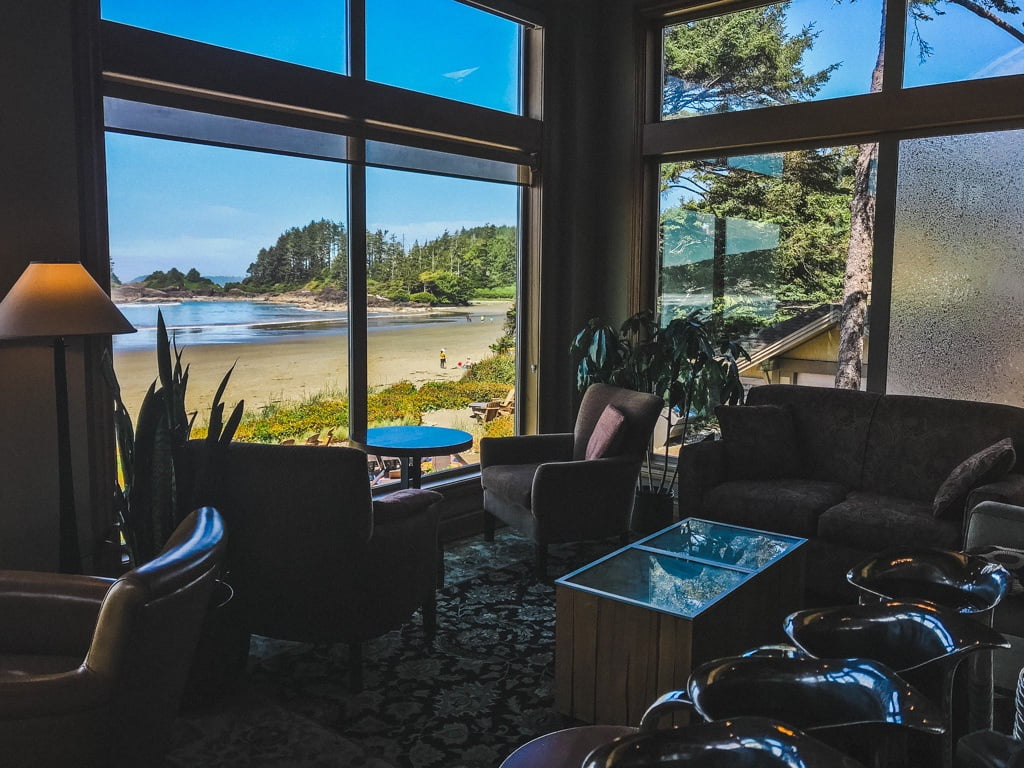 In addition to world-class fine dining all evening long, The Great Room offers a wonderful Happy Hour each and every day. Settling into the cozy, Canadian lodge feel, our entire family was able to enjoy this time together each evening. We all got to explore their happy hour menu, which to my approval included delicious mocktails for everyone to enjoy.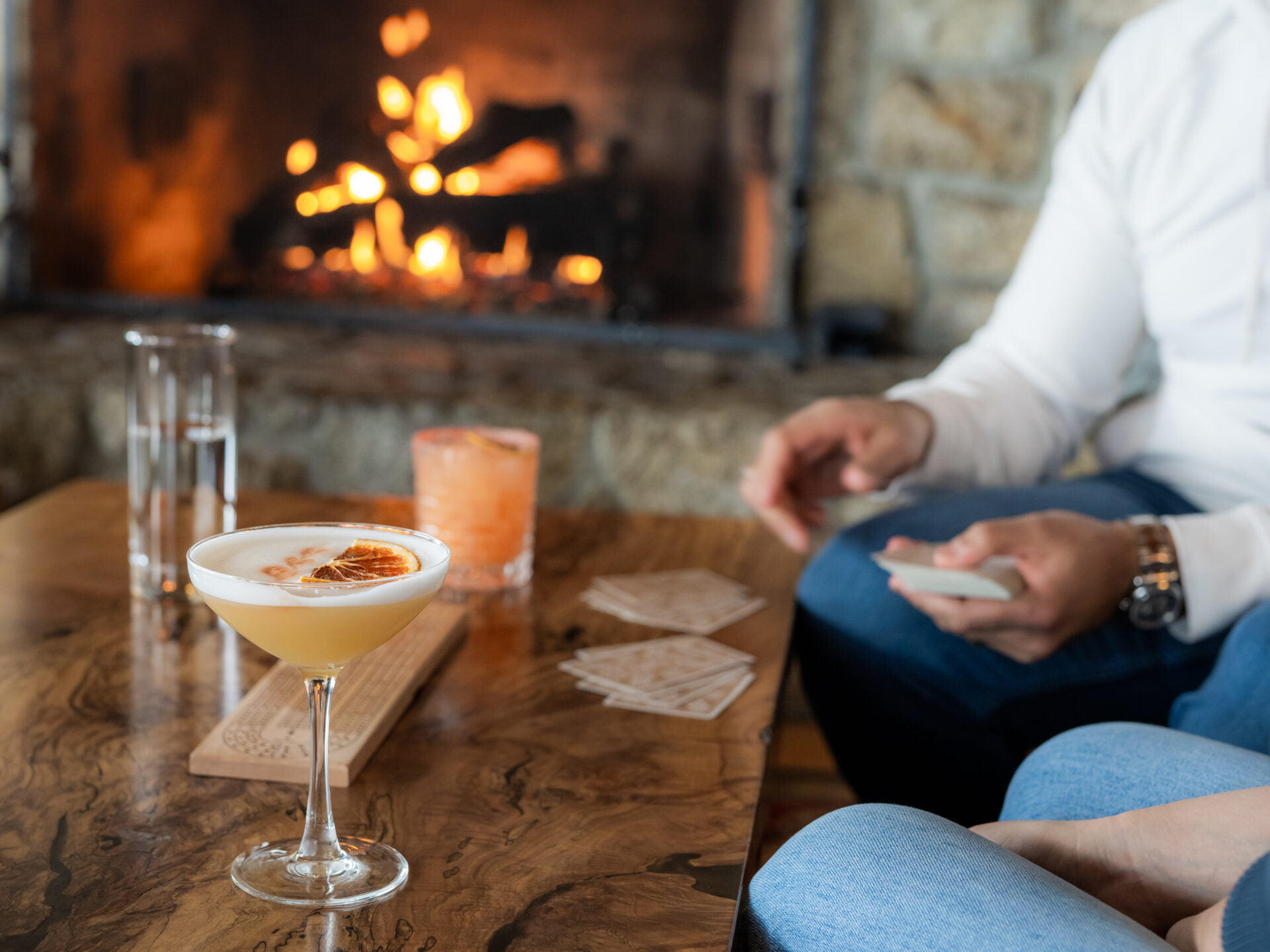 6. Game Time in The Great Room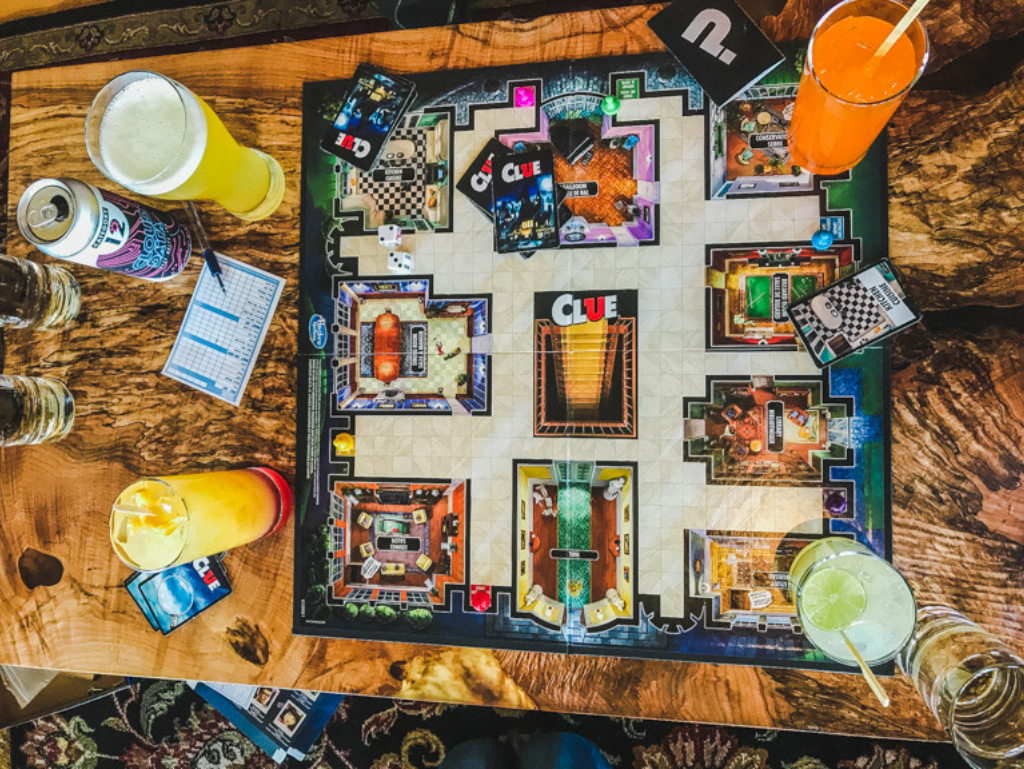 Settle in around the fireplace where you can soak in the warm ambiance all while still being able to check out the 180-degree view! Send the kids to the front desk to pick up some board games, and enjoy a round or two of family board game night in The Great Room.
7. Pet-Friendly Accommodations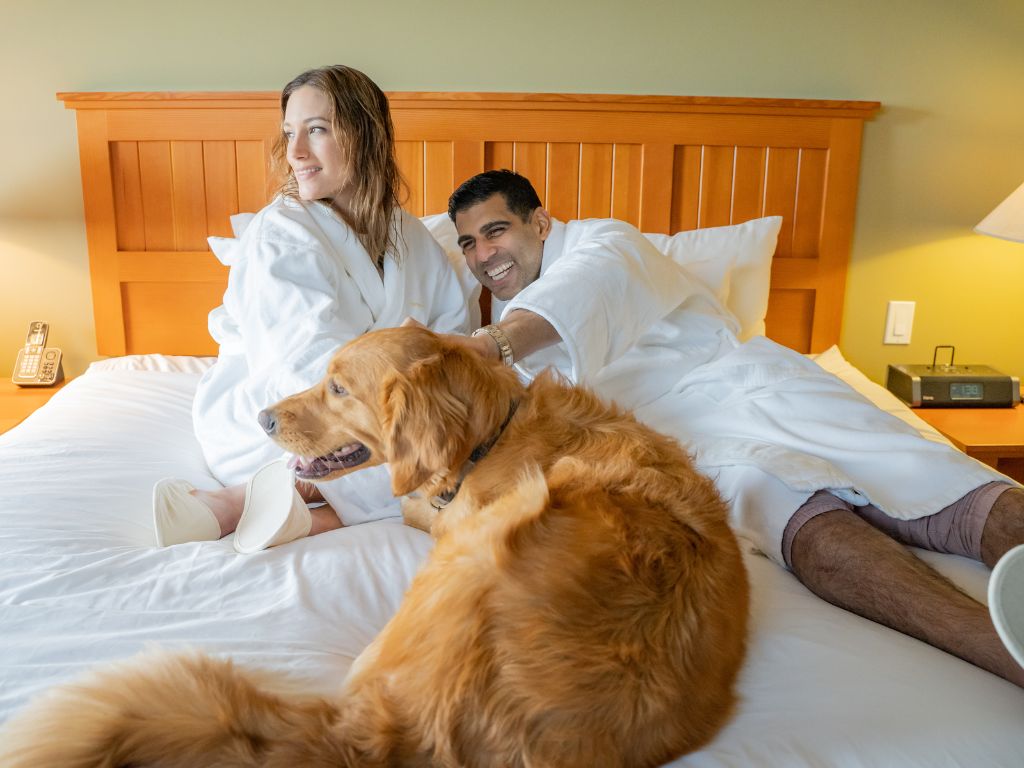 Are pets allowed at Long Beach Lodge Resort?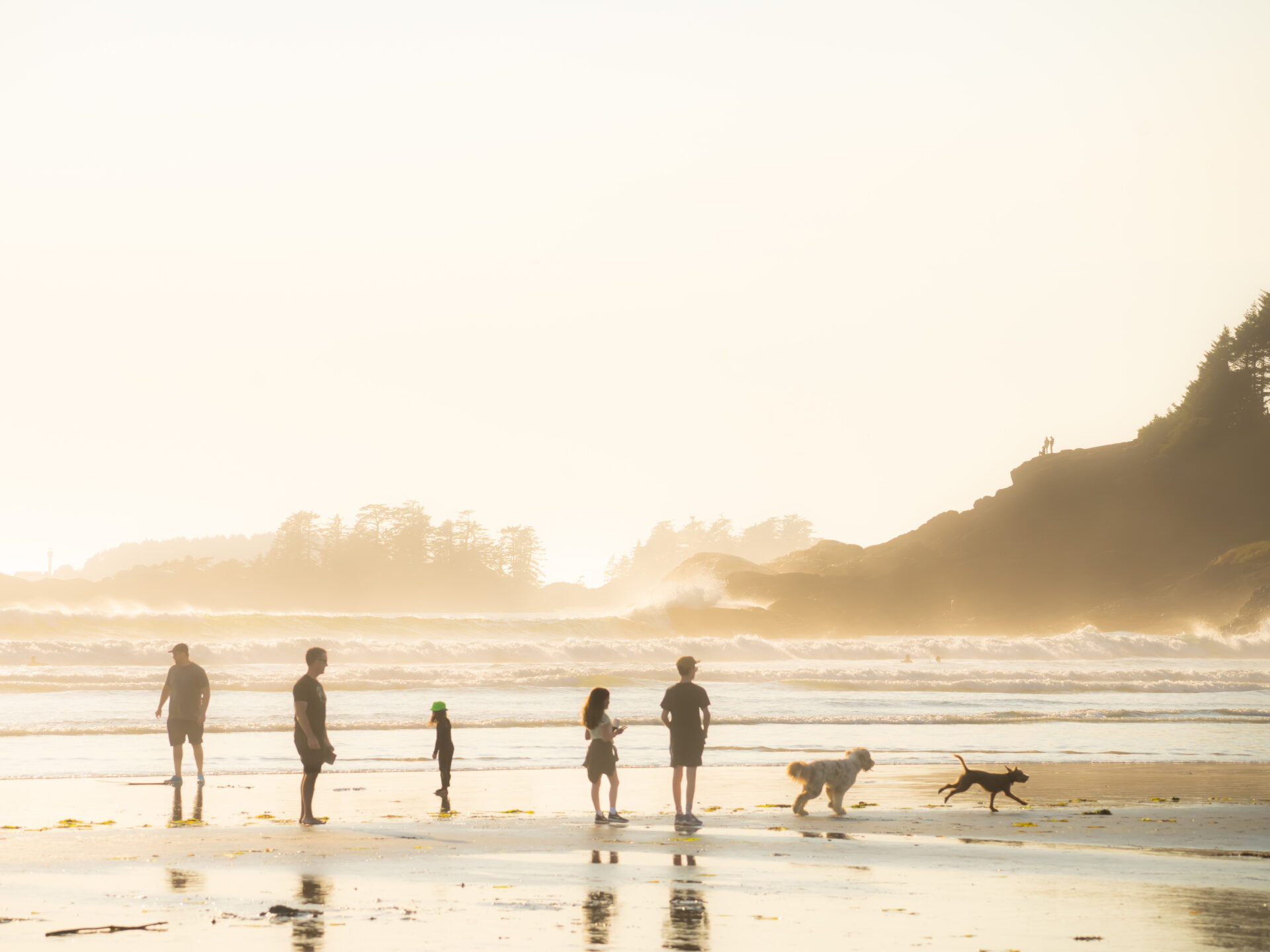 Long Beach Lodge Resort British Columbia is pet-friendly, it's clear that the resort is the perfect place for all two and four-legged family members. There is an extra fee for pets so be sure to inquire when booking.
Book your stay at Long Beach Lodge Resort here!
8. The SandBar Bistro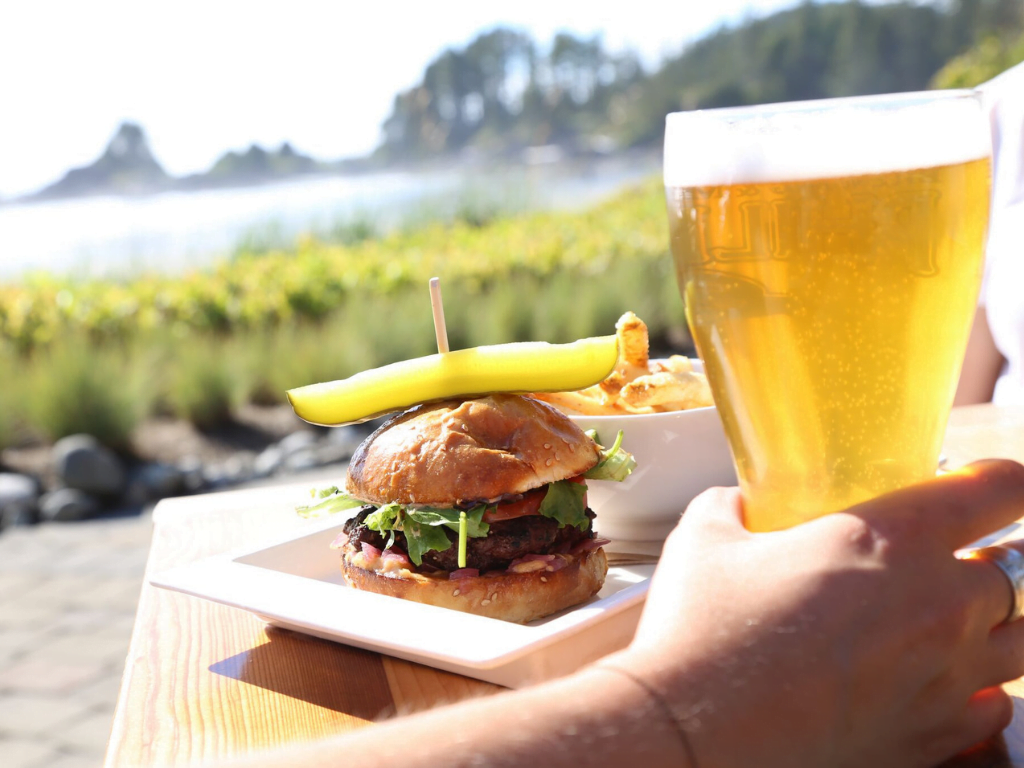 Our visit was just in time for the season-opening of The SandBar Bistro, a beachside retreat offering amazing refreshments all summer long. Whether it's for a warm post-surf coffee or a snack and ice-cold beer, the SandBar Bistro is the perfect place to relax, enjoy, and unwind without ever having to take your eyes off the ocean.
Activities at Long Beach Lodge Resort British Columbia, a Tofino Family Resort:
9. The Surf Club At Long Beach Lodge
While our family is no stranger to the ski-in/ski-out resorts that dot Canada's Rocky Mountains, The LBL Tofino Resort Tofino was our FIRST-ever introduction to surf-in/surf-out. After our visit, I discovered that The Surf Club at Long Beach Lodge Resort is actually Canada's ONLY Beach Side Surf Club!
Located just outside the hotel on Cox Bay Beach, the Surf Club Adventure Centre is the destination for fun for the entire family. After a quick orientation to your swimsuits, you're invited into a spa surf change room where you can swap out your street clothes and "jump" into your wetsuit. Being able to stay warm, put your items into lockers, and come out fully dressed (instead of having to change on the sand) was an incredible experience.
Once you're geared up your instructors will give you your surfboards and you can head down to the beach to begin your private surf lesson.
Surf's Up, Dude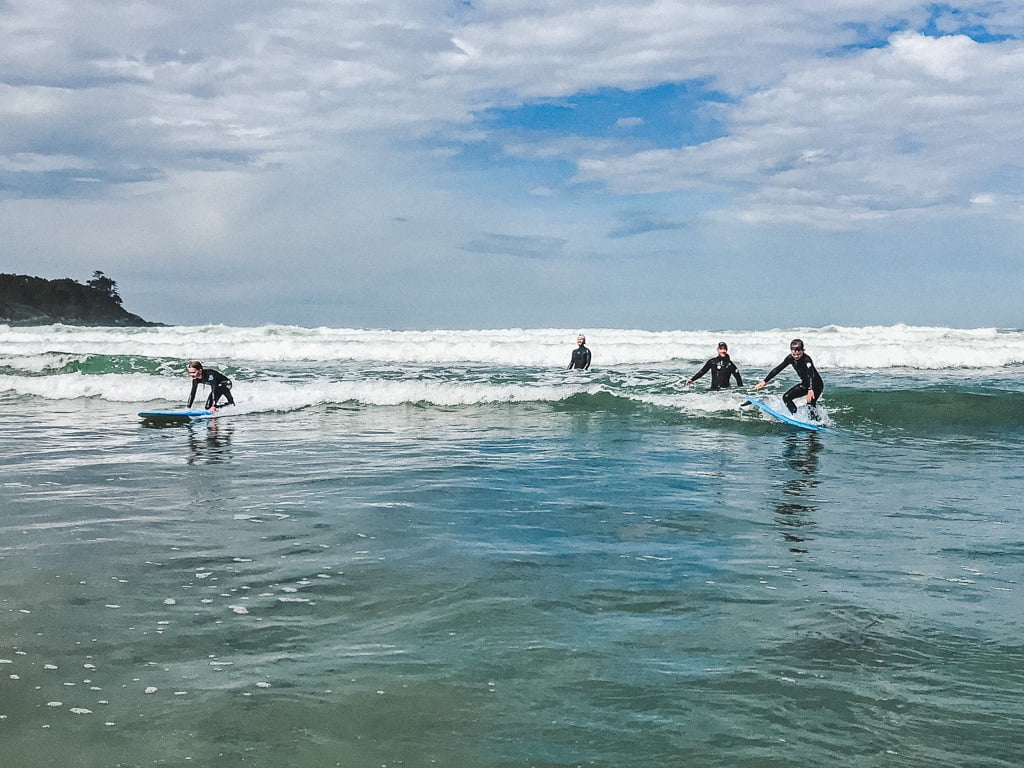 With private family-friendly surf lessons at Long Beach Lodge Surf Club, you'll have an experienced instructor all to yourselves, tailoring the lesson to your family's skill levels and preferences. Your lessons will start out on the sandy beach, where your instructor will teach you the basics of surfing including the science of waves, body positioning dos and don'ts, the best ways to improve, and how to communicate with your instructor.
Cox Bay is known for its consistent, gentle waves, making it the perfect spot for beginners and those looking to improve their technique. Once we were out on the water it wasn't long before my kids were popping up and surfing, making for a memorable day out on the water. The instructors were amazing with the kids, stabilizing their boards and making it easier for them to stand up quickly. I also was spoiled with tips and tricks, making for one of the best days of surfing in my life!
10. The Surf Club Hot Tub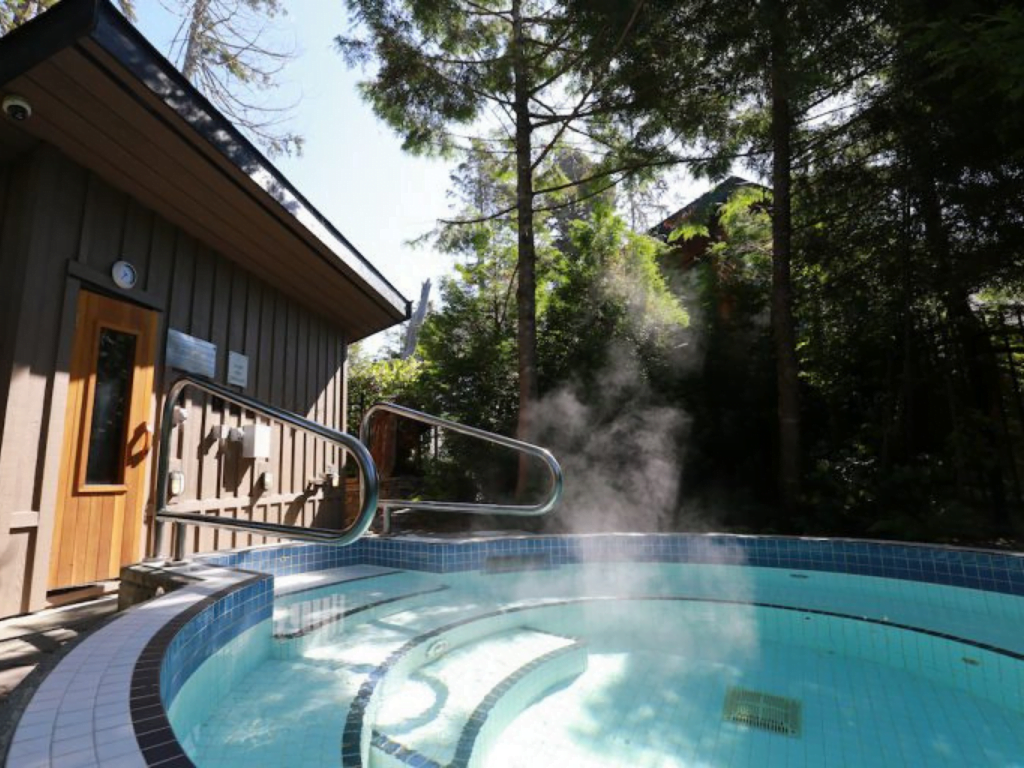 After getting our fill of the waves, it was time to come back in. This is where the Surf Club really shines. After so much time in the chilly Pacific waters, we were ready to warm up. Thankfully, the Surf Club has a beautiful spa-style bathroom and changing room where we could walk right into a nice hot shower, wetsuit and all. After warming up in the shower and taking our suits off in the shower (where it's easier as you are wet) you can then walk right over to a private hot tub for a proper post-surf soak.
Mom Tip: If this is the first time taking your kid surfing acknowledge that this is a real treat! Most of the time surf lessons finish on the sand with you taking your wet suits off and walking in your cold bathing suits to the car or back to your room. Being able to finish a surf in a hot spa is now the only way we will go surfing! We've been surf club spoiled!
11. Cox Bay Beach – All Beach, All the Time
Another wonderful feature of this resort is its private beachfront. With its quiet setting on Cox Bay Beach, Long Beach Lodge Family Friendly Resort offers guests unrestricted access to the waterfront 24 hours a day. Whether it's for an early morning surf or swim at dawn's first light, or an evening campfire to watch the sunset with your family, the beach experience here is second to none!
Mom Tip: Be sure to check with the hotel if beach fires are allowed as there are times during the year when a fire ban is on. There are gas fire pits along the beach that guests can visit if this is the case (or you don't want to do the work of building a fire).
12. World-Class Hiking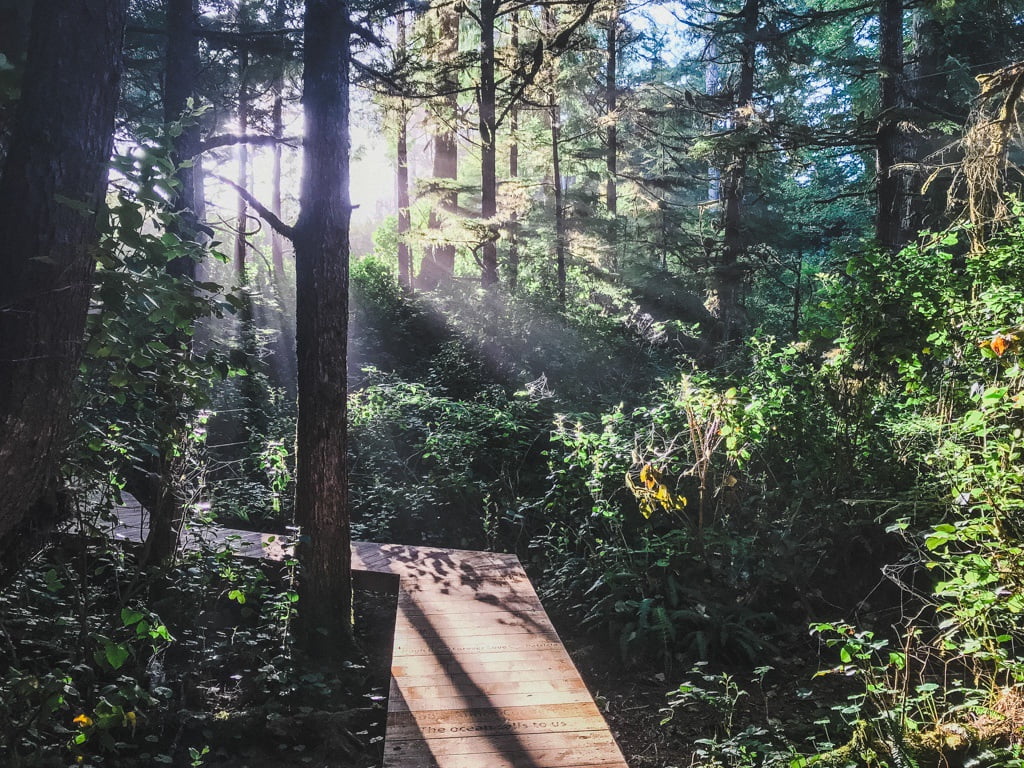 Vancouver Island is full of many natural wonders, and Tofino is no exception. Thankfully, Long Beach Lodge has a variety of family-friendly hiking trails and boardwalks that lead right up to the hotel, making family hikes as simple as lacing up your boots.
On the last night of our trip, our family walked out to Pettinger Point. Weaving through a canopy of natural growth, the old wooden boardwalk twisted and turned until it eventually led us out onto the point itself. From there we were given one of the most breathtaking views of the ocean and sunset that we have ever experienced. A must-do when you visit Tofino!
Custom Boardwalk on Pettinger Point Trail
On one trip to Tofino with my girlfriends we took a hike up to Pettinger Point and we all fell in love again with the sea and the scenery. As a thank you for planning the trip a few months later, my friends surprised me with my own board on the boardwalk! So if you go, be sure to check it out (it's close to the entrance) and send me a photo!
Tip: Also be sure to read the other custom boardwalks, they are personalized and so fun.
13. Gas Firepits At Long Beach Lodge, a Tofino Family Resort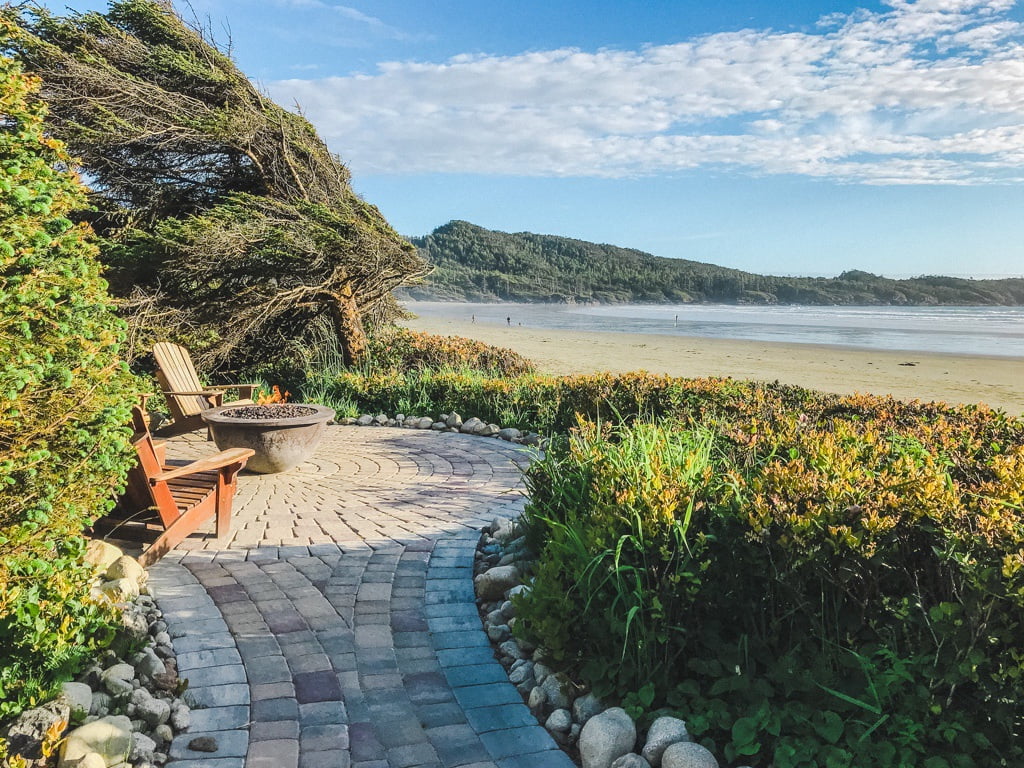 Here's one of the gas fire pits that are open for guests to sit back, warm up around a fire, and enjoy the incredible scenery out over Cox Bay. While I expected them to always be busy, there was regular turnover and we were regularly able to sneak in and get a spot if we wanted one.
Plan Your Visit To Tofino – Tips and Tricks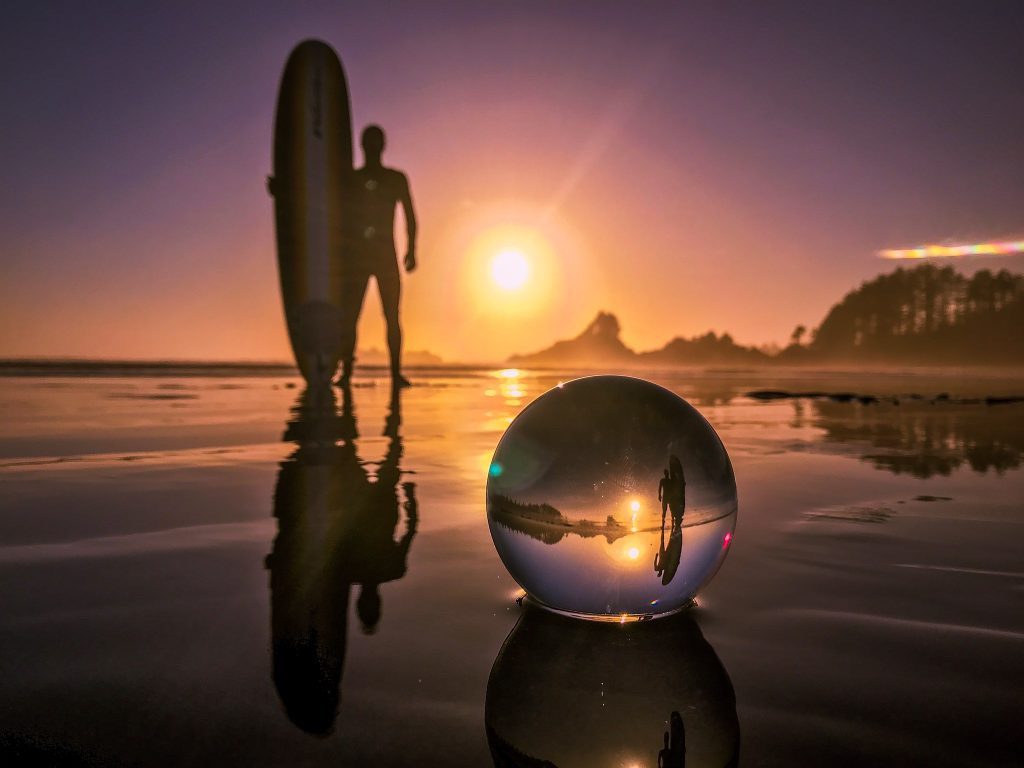 My first tip for anyone considering visiting Long Beach Lodge is simple: GO! I promise you it will be an amazing trip. Here are some of the FAQs to help you plan your own family-friendly adventure:
How many stars is Long Beach Hotel?
The long beach lodge is a four-star hotel on a 10-star property (see point number 1: Location!).
When is the best time to go to the Long Beach Lodge?
This really depends on your interests as well as your personal schedule. Here's a list of seasonal events that you can plan your trip around:
January/February – Storm Watching
March – Pacific Rim Whale Festival
May – Feast BC in Tofino and Ucluelet
April – Shorebird Festival
June – Tofino Wine & Food Festival and the Annual Edge To Edge Marathon
August – Locals call Tofino "Fogust" as the local town can experience heavy fog.
October – O'Neill Cold Water Classis professional surfing competition
November – Clayoquot Oyster Fest
November/December – Storm Watching
December – Christmas & New Year's celebration
Who owns Long Beach Lodge?
The Lodge is owned by Tim Hackett. While on the property you may see him around, sitting down for a meal in The Great Room or grabbing a surfboard and heading into the waves. His passion for the local community and his staff are evident in the resort that he leads as well as the work that they do. For example, last Christmas he shut down the resort for 3 weeks to allow his staff a long holiday break.
When was Long Beach Lodge built?
The Long Beach Lodge was built in 2002 and celebrated its 20-year anniversary in 2022.
What are the best family resorts in Tofino?
There are so many magical properties in Tofino, but for my family, the decision is easy as we keep going back to LBL again and again.
What activities are there to do in Tofino?
Tofino is an outdoor mecca and has many exciting activities and adventures for families to explore. From whale watching and soaking in natural hot springs to checking out the local art scene, diving into the local eats and exploring the ocean by kayak, there is something for everyone in Tofino.
In Conclusion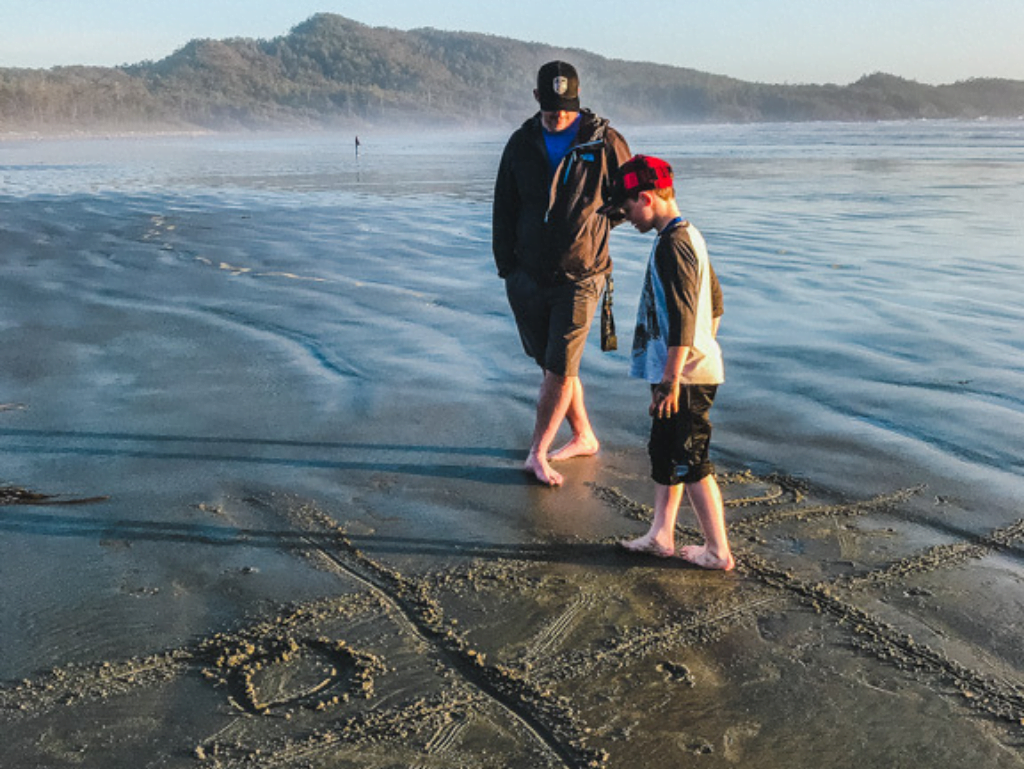 Our trip to Long Beach Lodge Resort in Tofino was the perfect long weekend for our family to relax, recharge, and most importantly, spend some quality time together. So while we listed 13 reasons why this is the perfect Tofino family resort, the only reason that really matters is quality family time together.
Families shouldn't be limited to one long trip a year to reconnect. By finding opportunities to travel to someplace special together – even if just for a night or a weekend – you'll ensure that bonds are always being strengthened, and memories are always being made, year-round. And at the end of the day, isn't that the whole point of travel?
What are you waiting for? Book your stay at Long Beach
Lodge Resort here!
---
Check out These Articles for some Tofino Inspiration!
Is this a sponsored post?: While our stay at the Long Beach Resort was sponsored, all our thoughts, views and ideas are our own.