If you're looking for the best family hiking guide in Banff my children will tell you that "Sam is the man!" Unequivocally the best guide we've ever had (of over 300 adventures) Sam and the Banff Hiking Company provided us with a family hike that was educational, entertaining, engaging, and fun.
Before Your Adventure Begins
Before you head out on your Banff Hiking Adventure, Sam will connect with your family to learn more about your hiking style, family pace, and any requests or special requirements for your group. After our talk, Sam recommended Lake Minnewanka, located a short 15-minute drive out of Banff. This hike would provide us with scenic views of the iconic lake, a lakeside trail with limited elevation, and a timeline that would allow us to be back in town for our early afternoon airport shuttle departure.
While Banff has a lot of "must-see" attractions, I appreciated that prior to picking out our trail our family's needs and wants were considered, and then the location and trail were picked custom to our family.
Your Chariot Awaits
Our Guide Sam picked us up from the front door of our hotel at 8 am sharp! An early morning for the little kids, they were quickly surprised with the warm welcome they received. Inside the van were homemade smoothies, warm drinks, and home-baked goods awaiting our arrival. The kids fueled up and were ready to start their day. What a way to make an impression with the littles! (And for Mom not to have to worry that they had skipped breakfast!)
Highway Hide And Seek
On the drive up the highway to get to Lake Minniwanka, Sam was able to spot a variety of wildlife that we would otherwise have driven by. It was like they were playing hide and seek but only he could see them at first! From deer jumping through pastures, to Elk grazing on the morning grass, to a baby mountain goat, waiting for its Mother's arrival, our adventure started as soon as we were on the road!
Kid Centered Interests With The Best Family Hiking Guide In Banff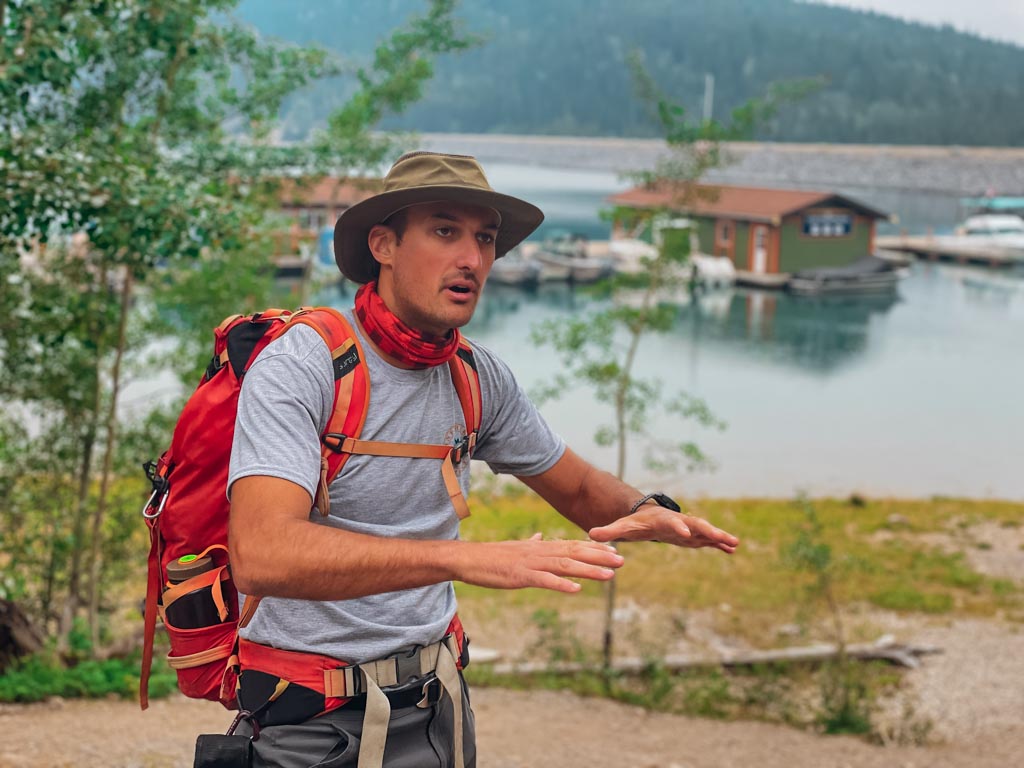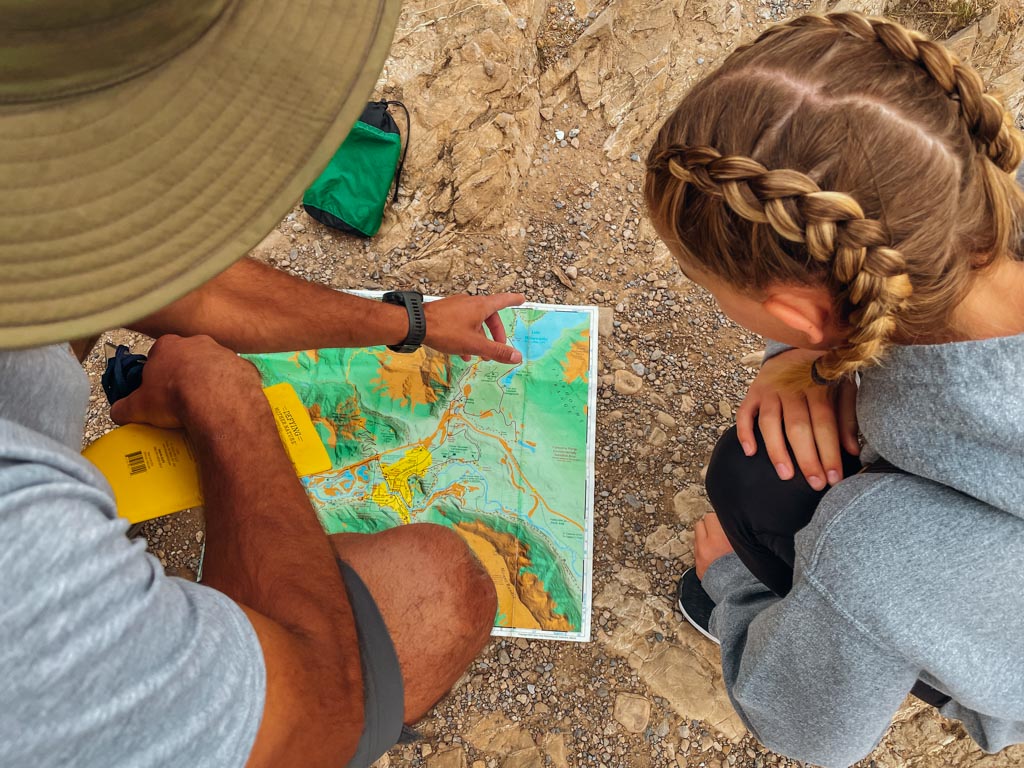 If the youngest hiker is happy then everyone is happy. Sam was able to quickly learn about the kids and their specific interests on the hike. My son, was keen to learn about geology and limestone in particular, while my daughter wanted to see more animals (but no bears). Sam took the opportunity to share some interesting stories on top of limestone rock and then pointed out the other features in the park as our hike progressed.
Happy hikers + happy mom = perfect adventure day!
Superb Mountain Shots with the Best Family Hiking Guide in Banff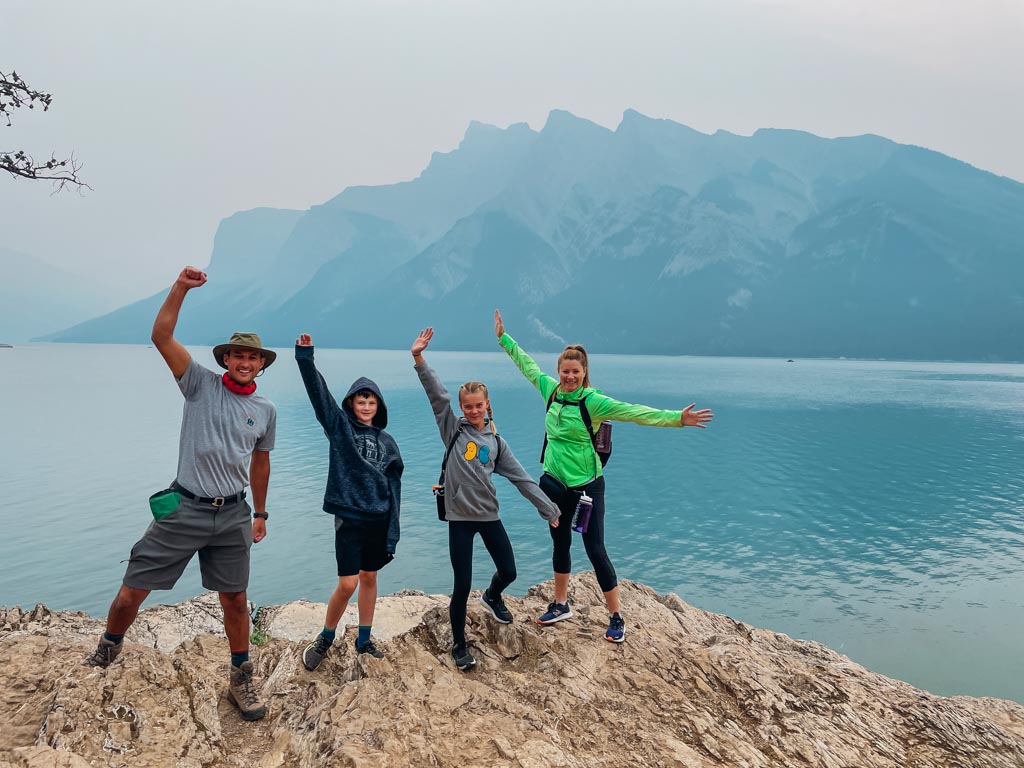 While we were visiting there were smoky skies but that didn't make us put our cameras away. We still found many splendid shots where the beautiful scenery made for fun family photos (or fun family photos with your Guide) with ideal landscapes in the backdrop.
Happy Hikers Hopping Down The Trail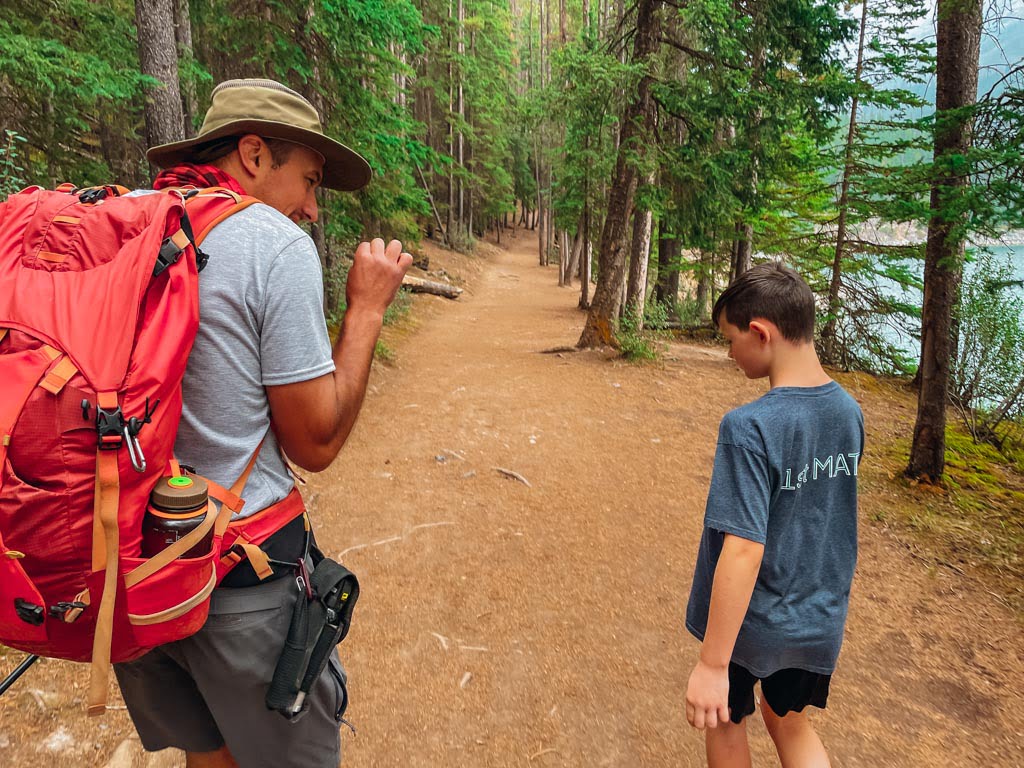 My son was literally hopping down the trail in excitement to be back in the forest and exploring the area. Whether he was bouncing and spinning, or just running around, Sam gave him the space and often hopped along with him down the trail.
Taking The Scenic Route
While we wouldn't have won any speed races on our trek that day we wouldn't have it any other way. From stopping to watch the local prairie dogs, to see a scenic island, to do some rock yoga, or wave at passing by paddlers, taking the slower route gave us the opportunity to experience more within the trail.
Oh Deer…
When we stopped for lunch we saw a head peeking over the trail and was happy to see that it was a young deer coming to say hello and see if he could make his way by. After seeing we weren't to be feared he took a high trail around us and carried on his way looking for his own lunch.
Speaking of lunch, if you want a healthy and child-friendly lunch can be included on your hike with The Banff Hiking Company. My son's favourite was the "juicy" cherries that Sam brought. Fruit always tastes extra delicious on the trail!
Bear Aware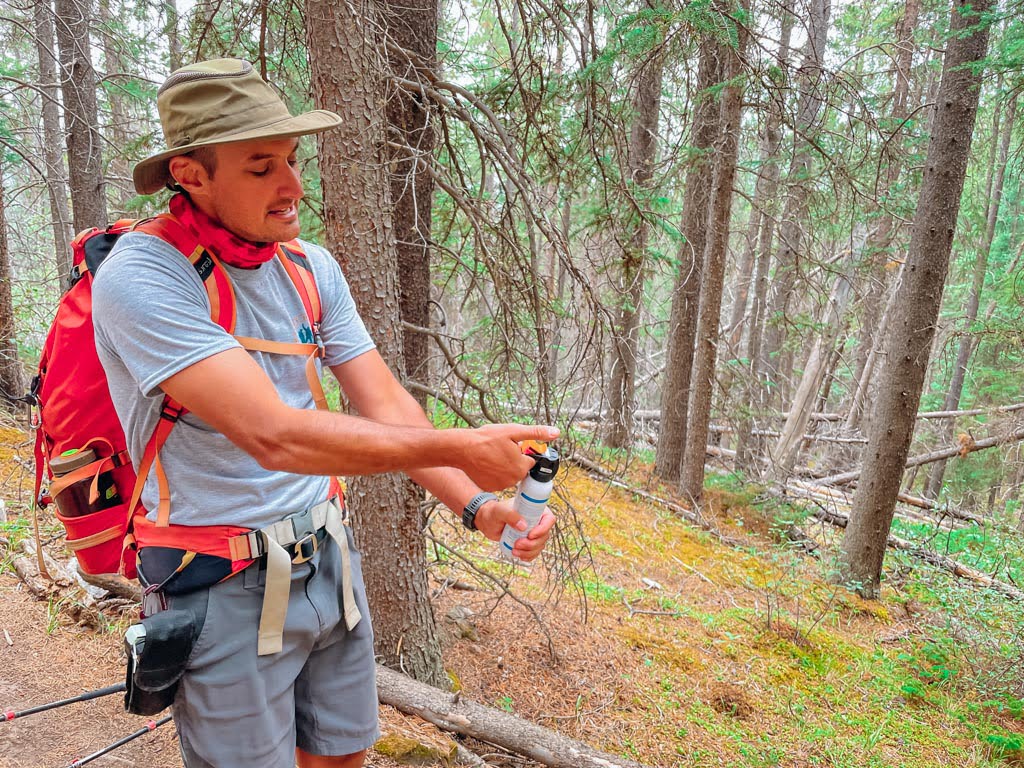 Hiking in this area of the national park has some strict rules to ensure the safety of both visitors and the resident black and grizzly bears. There is ample signage to showcase the importance of this to visitors but having a guide who was trained to deal with such situations made me feel much safer as a parent. We followed the park protocol (hike in groups of at least four people, bring bear spray, no dogs) and we discussed what to do if we saw a bear. Sam even let us practice with his practice bear spray as part of the lesson which my kids thought was extra cool!
Namaste Sam the Best Family Hiking Guide in Banff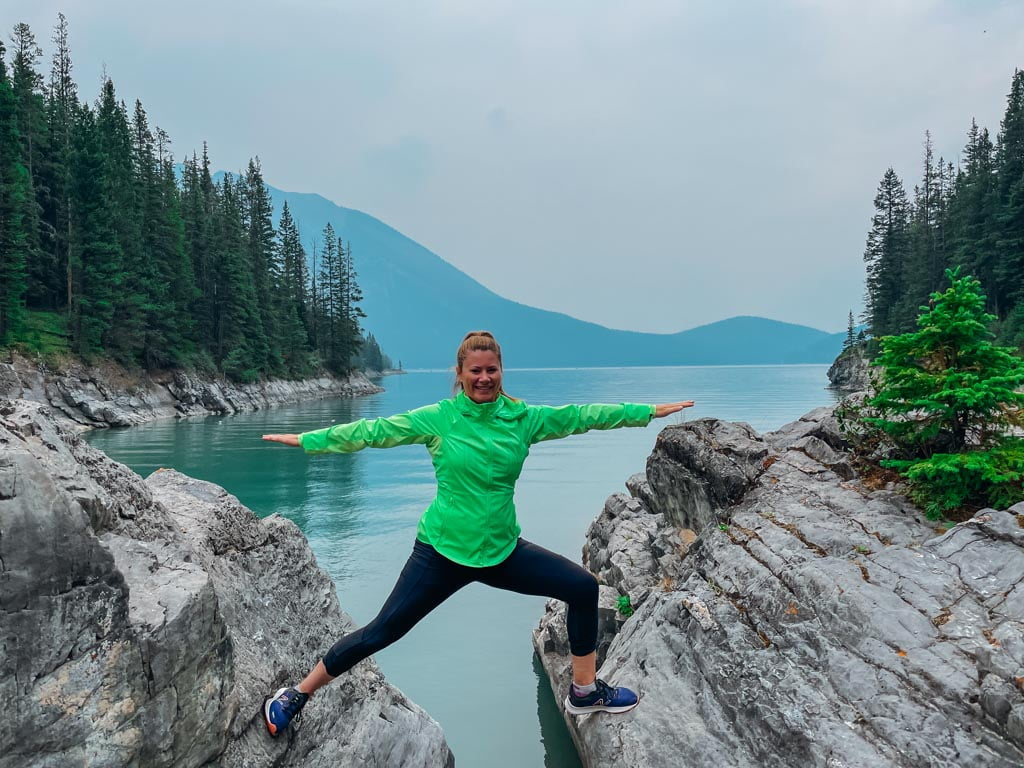 A special thank you to Sam, who truly was one of the best guides we've ever had. From entertaining the children every step of the way to sharing his pure passion for hiking and our national parks, our hike in Lake Minniwanka with Sam was the highlight of our trip and something my kids continued to talk about, weeks after our adventure.
---
Looking for More Banff Adventure Ideas? Check out These Articles!
Sponsorship Disclosure: While this experience was hosted on behalf of Banff & Lake Louise Tourism and The Banff Hiking Company the opinions, thoughts, recommendations, and media is all my own. I only recommend companies that I would trust my family and friends with and that I would invest resources into myself.