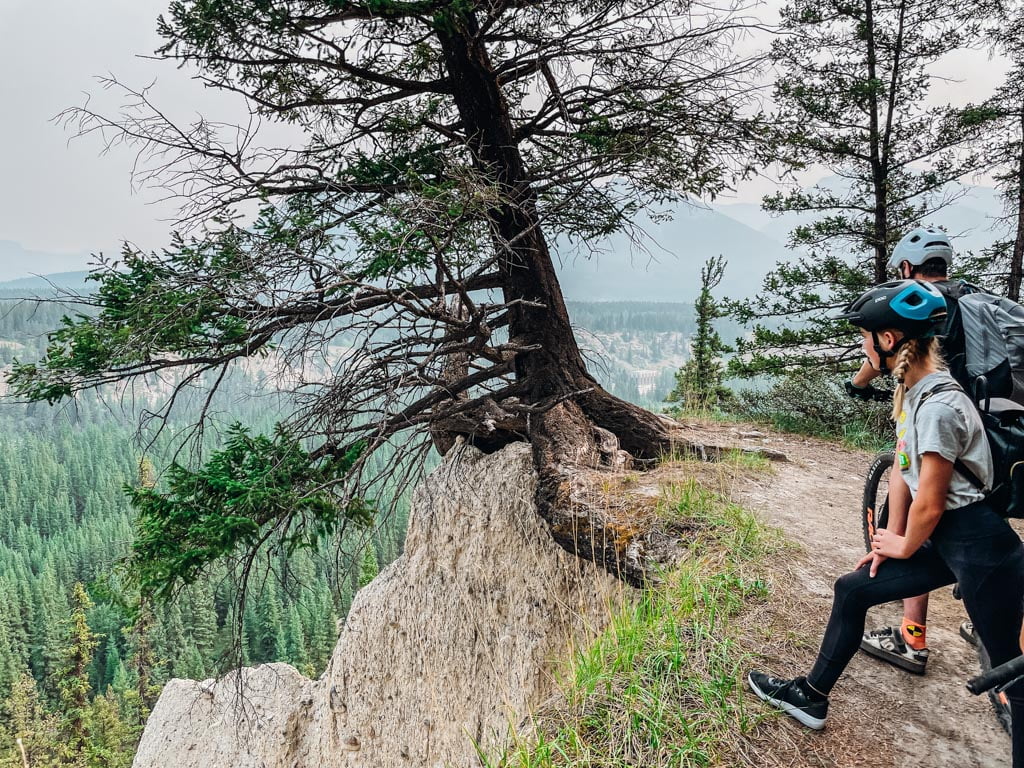 As we toppled on what felt like the edge of the world on our family mountain bike tour in Banff, my daughter asked "Is this why you love mountain biking so much?". Yes dear… you're starting to get it.
I quickly explained that I love mountain biking because there are so many incredible places that can only be accessed on two wheels. And this morning's family mountain biking in Banff was one of those moments where after only what feels like a few minutes of peddling you find yourself being transported to a whole new world. On top of hoodoos, the forest floor eroded beneath us, leaving us on the edge while we looked down onto the turquoise blue river. Up to our left was Cascade Mountain, the iconic Banff rock that looks down upon the town like a King sitting on his throne.
Yeah… it's moments like this that make my heart pump and yet again inspired by Mother Nature as she shows off all her glory.
Introducing Bikescape – Banff's Newest Mountain Bike Operator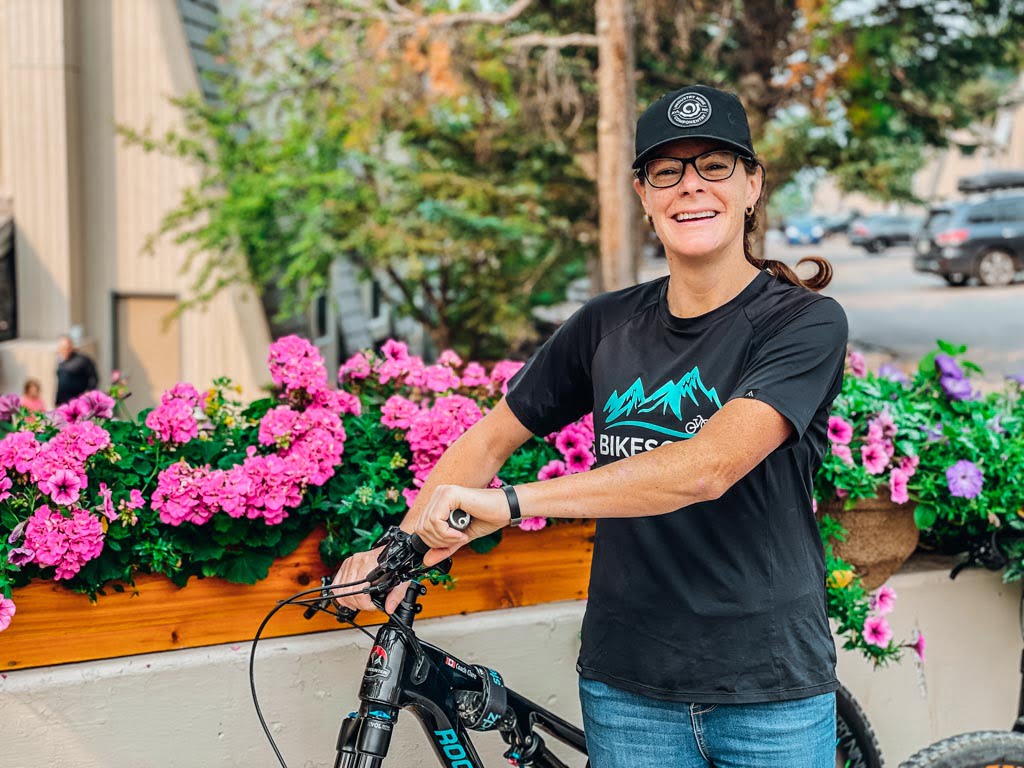 Born out of the Covid Pandemic, this locally owned and operated company is one of the best things to come out of the devastation that 2020 caused the Tourism Industry. When one door closed, owner Clare McCann pioneered her way into the Banff Mountain Biking scene and took her idea to market. There, she worked collaboratively with local partners including Parks Canada to make mountain biking tours in Banff finally available! We were honoured to learn more about this new company and excited to see mountain biking becoming more accessible for families in Banff!
Mountain Biking Basecamp – Hello Tunnel Mountain!
Tunnel Mountain is the natural basecamp for mountain biking as the trails lead out like an octopus all through the forest floors. Well-groomed and maintained (thank you volunteers) cross country trails await eager riders. Whether you're an easy rider looking for some nice green trails or wanting some more challenging climbs with fun descents, Tunnel Mountain is the best spot for mountain biking in Banff. The best part? If you're staying at one of the resorts on Tunnel Mountain, Bikescape will pick you up at your resort and you can start and end your tour right at your front door!
Best Family Mountain Biking Tour In Banff
My kids are confident bike riders and have spent some time in the mountains, but after a few months off due to their busy baseball schedule, it was fresh legs and shaky arms as they got back into the rhythm of things. As a Mom, this is why I LOVE being on a tour because the instructor can be the expert and cue my kids on little ways to improve their riding. You see when I say the same words, it's seen as nagging, but when instructor Mike said it, well changes were made and they were excited to improve their skills for him! (#MomLife)
As a Mom, I also love going on a tour because they make it easy for me to participate in this local adventure. From the front door pick up, to bringing all of the equipment, to planning the appropriate route, I got to go along and enjoy the ride (literally) while my kids had a great time.
What To Expect On A Family Mountain Bike Tour In Banff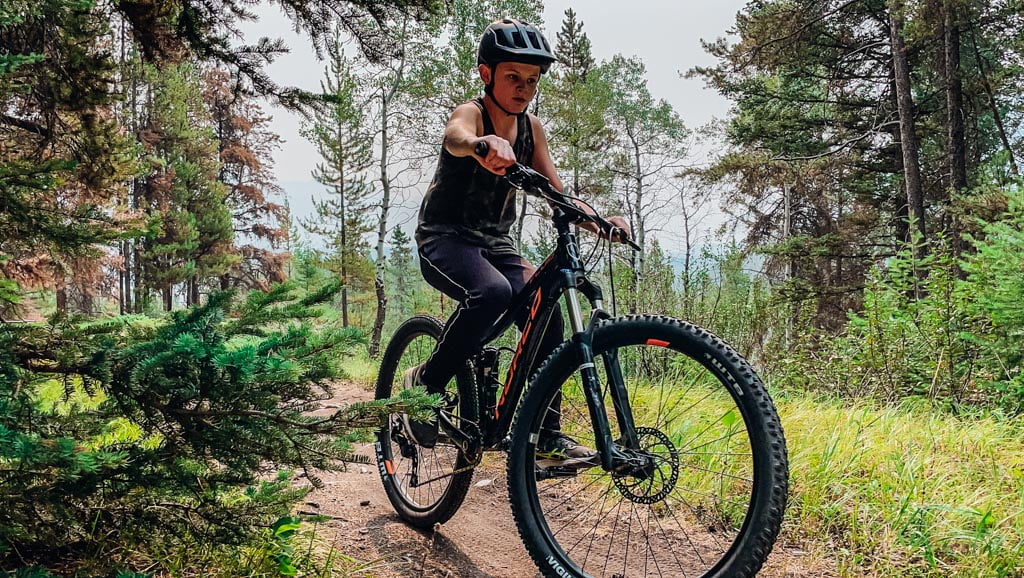 Whether you're looking to try mountain biking for the first time or are looking for a new challenge, the team at Bikescape can build a customized tour to suit your family's skills and needs. Children should expect to ride single track (some trails have a maximum width of about one foot) and be prepared to do some pedaling when needed, although that too can be accommodated to group skill level and physical ability. Your guide will know the elevation and best trails for your crew!
Once you're on the trails expect to have a combination of cross country trails through beautiful forests, meandering grassy knolls, single track alongside rivers, and fun downhill lines that'll make you pop out of your seat (if you choose to ride a little harder). With mountain biking, you'll choose the challenge and your instructor will find the right course for you!
What The Locals Can Teach You About Mountain Biking In Banff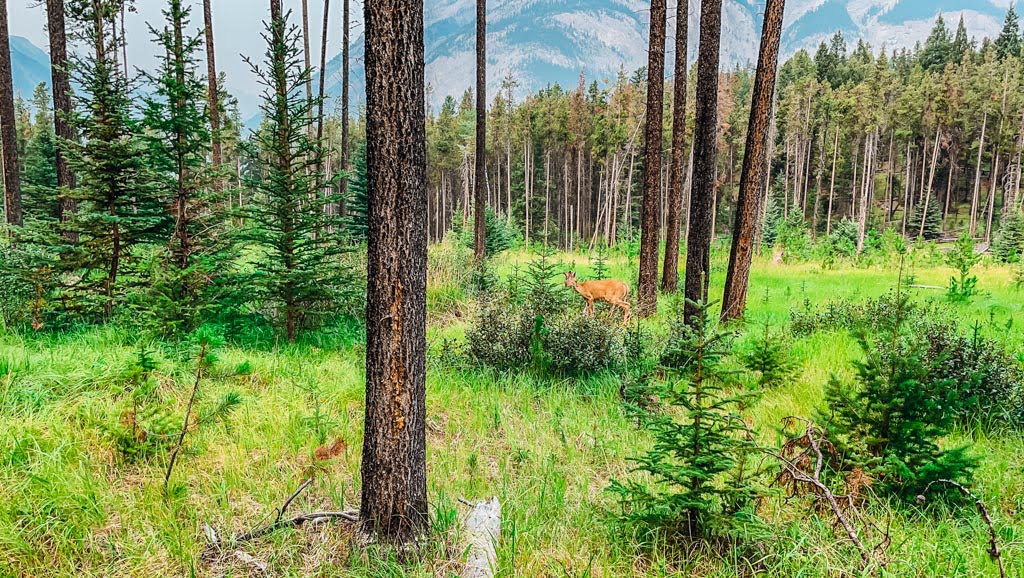 When your local guides aren't busy showing you the wicked trails you may have time to slow down and hang out with the other locals, the wildlife. We were fortunate to get a visit from a teenage deer, who was happy to hang out trailside while we slowly rode by and waved.
It's very common to see other wildlife on our bike tour including elk and deer. Other animals such as bears, cougars, and wolves may be in the larger vicinity, but are not often found on the trails of Tunnel Mountain. Your guide will be prepared to handle animal encounters and please listen to their recommendations on what to do and when. A negative animal encounter is bad for both the visitors and the local animals.
Best Places To Stop On The Family Mountain Bike Tour in Banff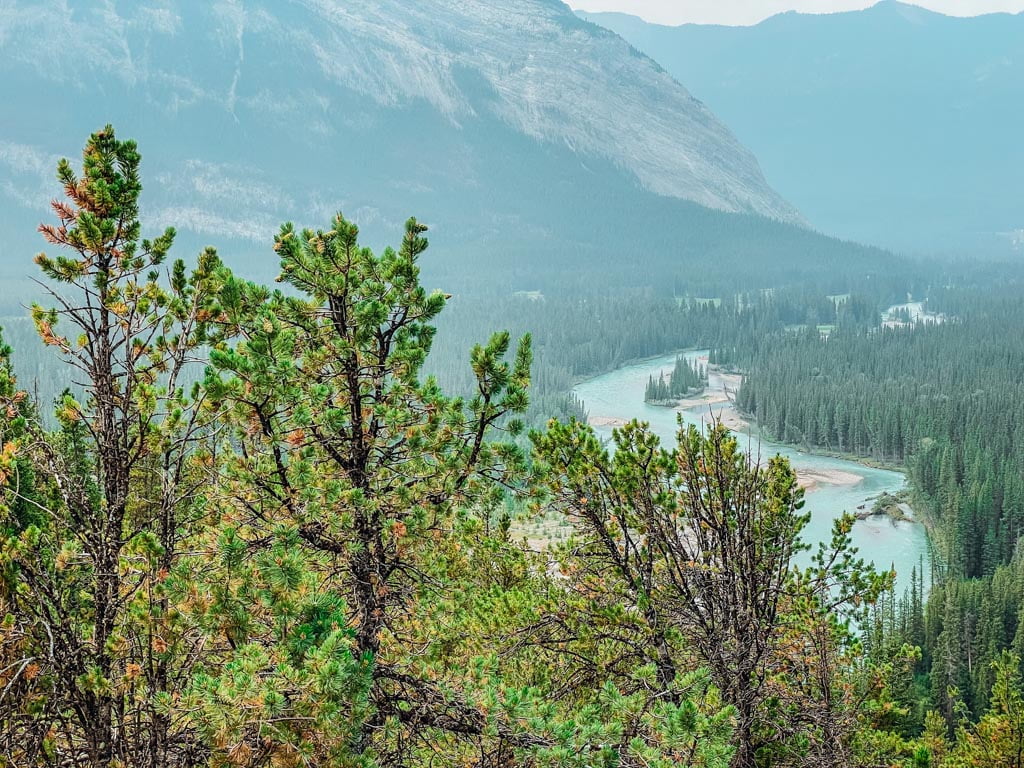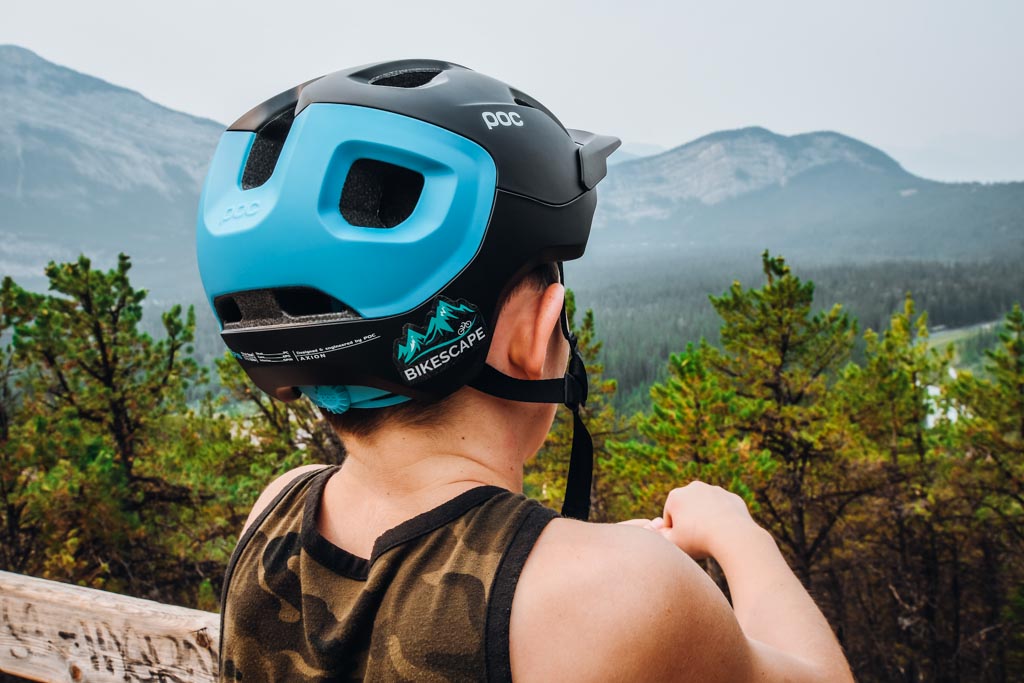 My kids enjoyed the breaks where they could grab water and a snack and I could snap more photos than I could ever consume! But with scenery like Tunnel Mountain, Cascade Mountain, and Rundle all surrounding you, it's hard not to get too click-happy in the mountains. I loved that our guide Mike accommodated my need to see all the best viewpoints and aligned them with the best rest breaks my kids would need, making for a win-win experience for all.
Mom Tips: What To Pack On Your Banff Family Mountain Bike Tour
Camera

– Whether it's your iPhone or Nikon camera, bring something to capture the moments in the forests as well as when you reach those scenic viewpoints!

Water

– Choose a water bottle that can fit in the holder on the bikes. (We chose too large of bottles and ended up carrying them, so go for normal sizes, not oversized bottles).

Layers of clothing

– bring a long sleeve jacket for when you warm up and if you have a break that's a bit cooler. Otherwise, be prepared to take it off and store it in a backpack during your rider.

Pocket snac

k – I recommend a granola bar that each rider can put in their pocket. I also recommend that Mom have a little sour candy in her pocket for when they need a little motivation.

Backpack

– Because you're a Mom and you'll end up carrying something of someones. Okay, but to be honest you'll need somewhere for your room key, and all of the little items above.
To book your own family mountain biking tour visit Bikescape's website and reserve your very own custom tour!
---
Check Out These Blogs for More Ideas on What to Do in Banff!
Sponsorship Disclosure: While this experience was hosted on behalf of Banff & Lake Louise Tourism and Bikescapes, the opinions, thoughts, recommendations, and media is all my own. I only recommend companies that I would trust my family and friends with and that I would invest resources into myself.