If you're looking for How to Discover The Best Family Friendly Resort In Banff, search no more. We're excited to introduce you to Tunnel Mountain Resort!
We should have known that something was going to be different when she handed us a bundle of kindling for our condo.
Any expectations we had made about our stay at Tunnel Mountain Resort were quickly thrown out the window once we opened the door to our mountainside retreat. What appeared from the outside to be a simple two-bedroom room quickly revealed its secrets, and we were greeted by a completely renovated, two-story modern cabin feeling condo complete with a full kitchen, two bedrooms, 2 bathrooms, living room with sofa bed, and even a classic wood-burning fire that could be used to heat our little home.
Innovation & Timeless Experience Collide at The Best Family Friendly Resort in Banff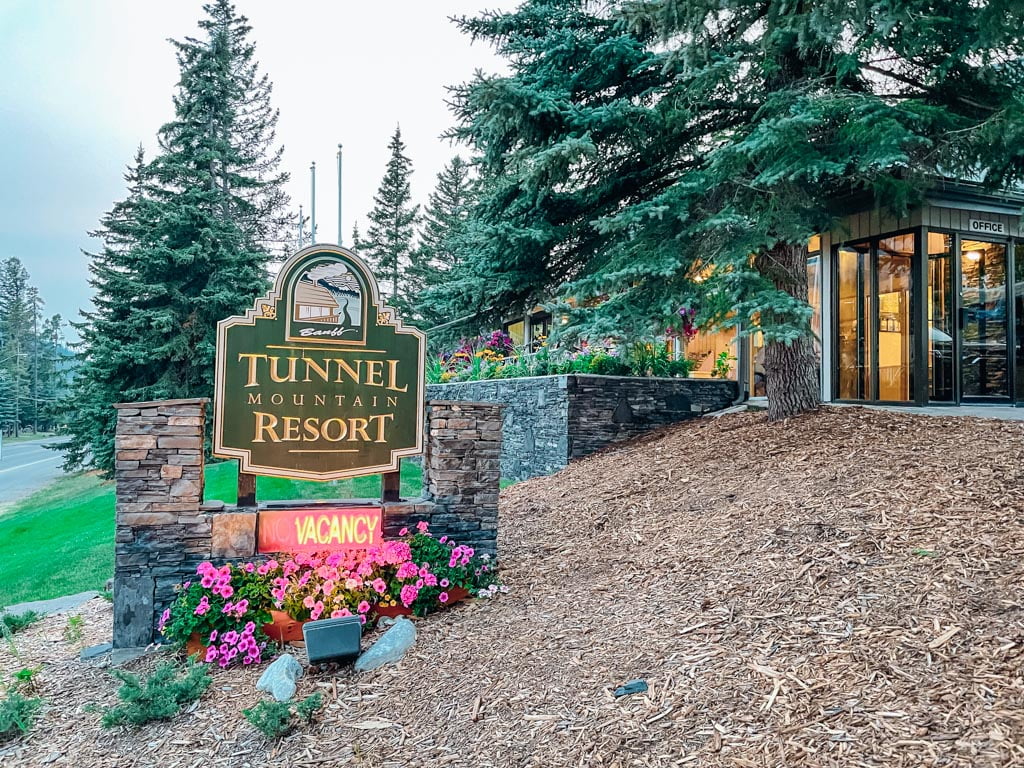 From the outside the Tunnel Mountain Resort embraces its classic 1970's look, with shaker siding that blends into the mountainside, reminiscing of simpler times that have gone by. But the insides have seen a complete renovation, showcasing innovative use of the space all while maintaining a classic Canadian Banff decor with a modern twist.
Creative & Classic Banff Decor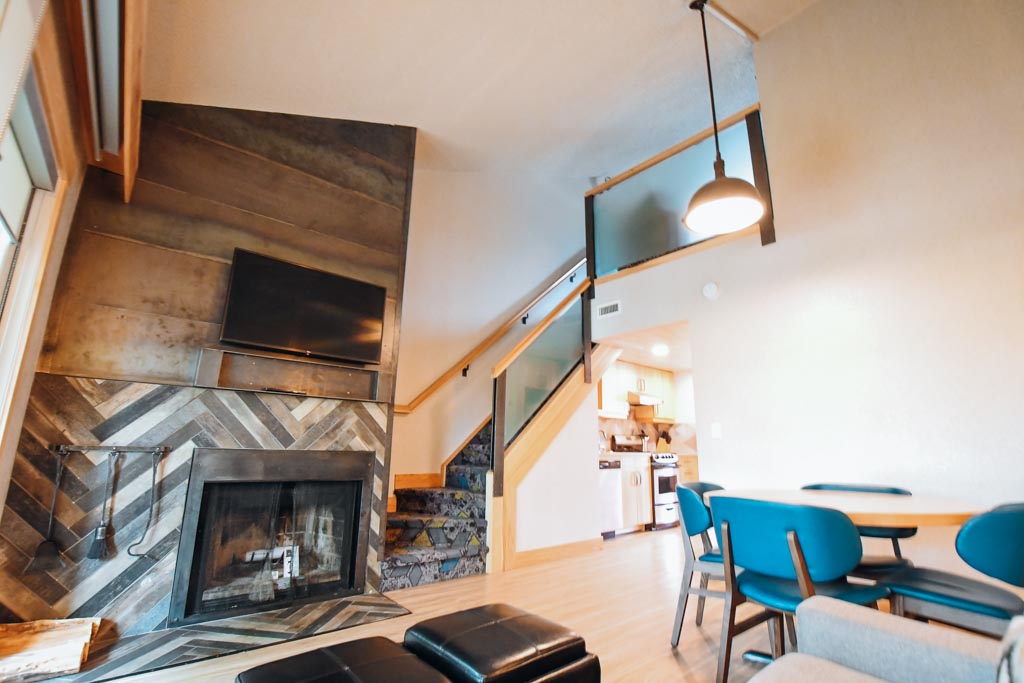 I loved every unique element of decor that showcases the Canadian spirit for guests from near and far. With an abundance of natural elements including wood and metals, stones, and fabrics that could easily be sourced from the local market, you felt a unique connection from inside the resort to the outdoors it was surrounded by.
Bedrooms At Tunnel Mountain Resort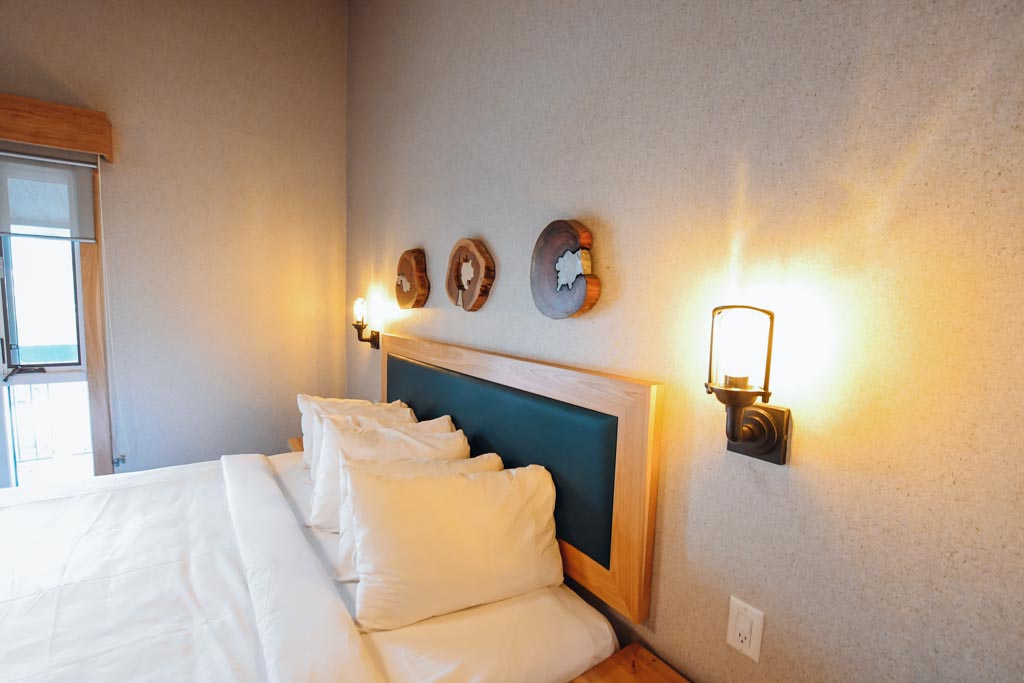 The condos offer a variety of layouts to accommodate your family's needs, making this the perfect basecamp for your Banff Adventure. Whether you're looking for a simple stay for a family of four or have a bigger family and need more room for grandparents or extra kids, they have a variety of accommodation options to suit all family sizes.
Full Kitchens & BBQ At Tunnel Mountain Resort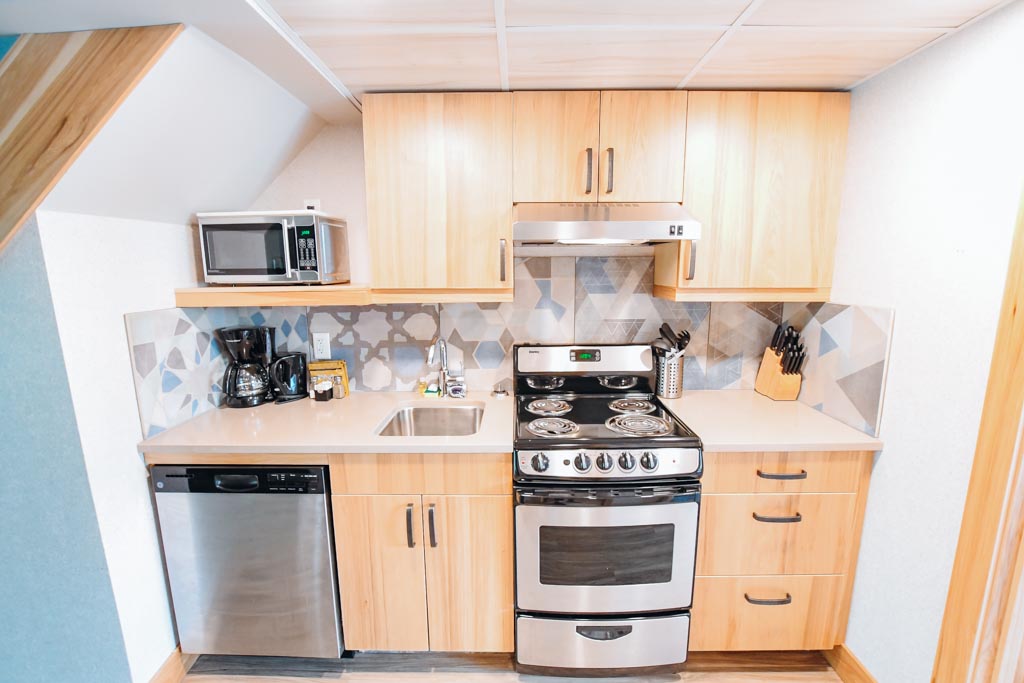 As a family with a plethora of allergies, having a full kitchen is a must. The kitchens at Tunnel Mountain Resort are fully functioning kitchens, and the design makes you feel like you can whip up any meal in the well-designed space. With a full stove, dishwasher, and full kitchen, the chef of the house will be excited to start crafting meals in this woodsy-inspired culinary oasis.
If you're looking to head outdoor, there's two BBQ's located next to the kids playground that are perfect for frying up hamburgers and steak!
Free ROAM Bus Pass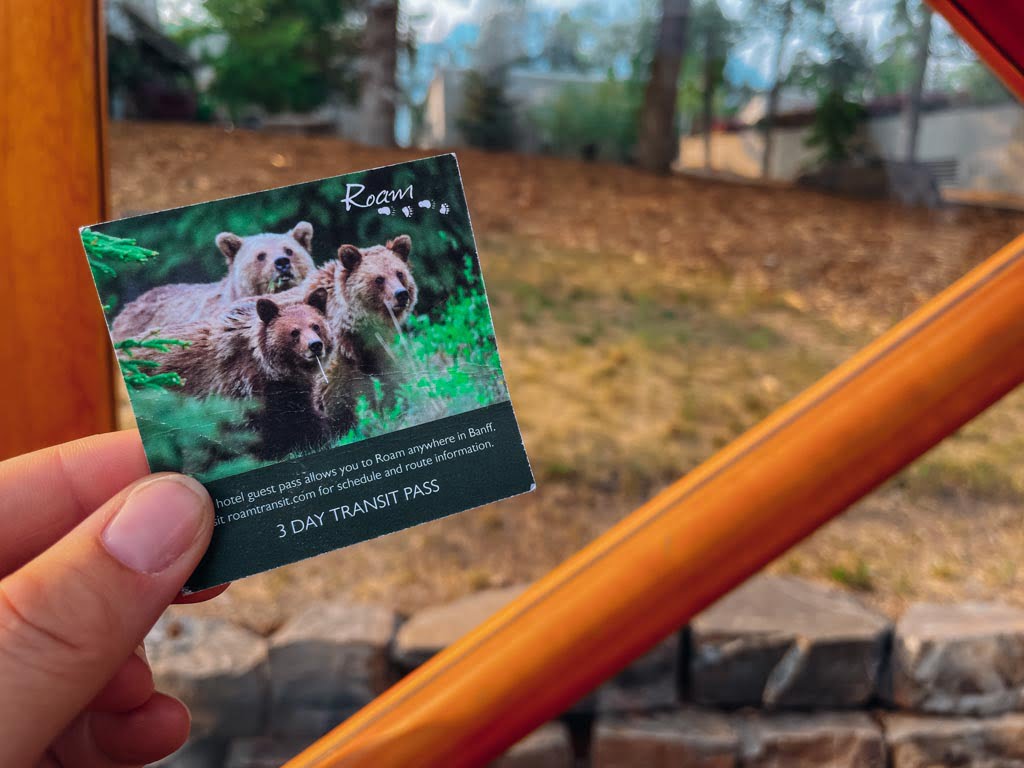 With your room comes a ROAM bus pass, and with the bus stop located right out the front door, getting to and from the townsite is as easy as checking the schedule and walking out your front door, landing you in Banff in under 6 minutes. We loved that it supports the Parks Canada goal of exploring the region by bus, where they along with Banff & Lake Louise Tourism encourage guests to leave their cars once they arrive in Banff and utilize public transit to help reduce the vehicles and congestion in the park. No wonder this is the best family friendly resort in Banff!
Pool at The Best Family Friendly Resort in Banff
Nothing says "Family Friendly" like a pool where kids can burn off their last bit of energy before bed. This cute little spa-like pool is the perfect place to make a splash.
Where to Eat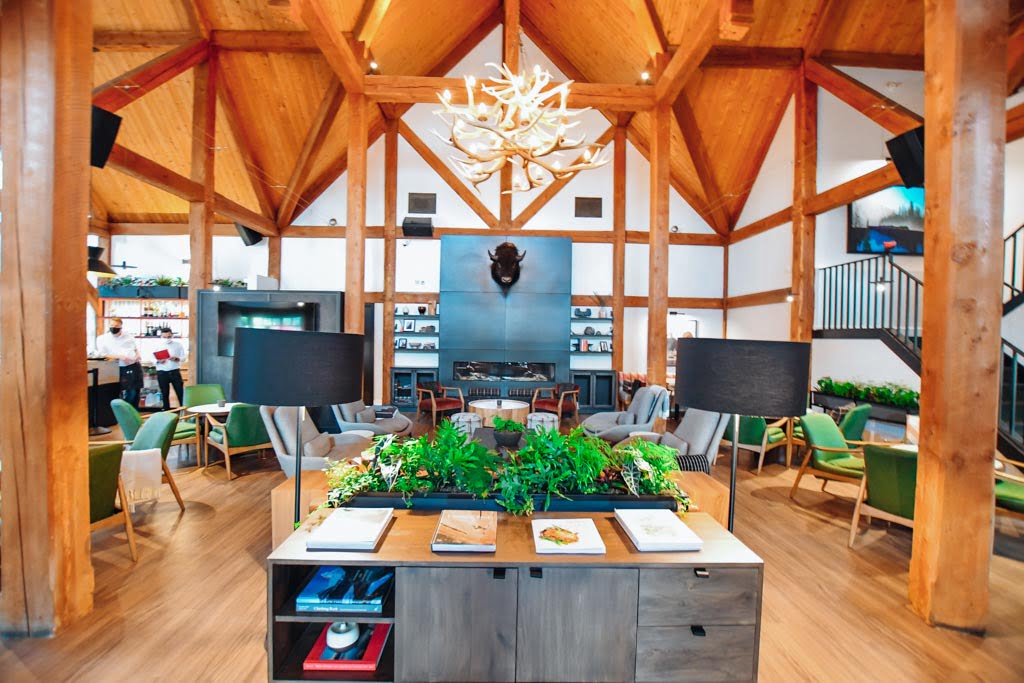 We were fortunate to be able to visit the brand new restaurant across the street called "The Prow" at Buffalo Mountain Lodge. "A brand new restaurant concept is now open in Banff. Chic design, approachable pricing catered to every diet, and a menu centered around mountain shareables, local game, and house-made pastas. You can also expect an exciting happy hour and rainy day specials."
My kids enjoyed the very creative Mocktails Menu, where my son indulged in a Cotton Candy Lemonade, complete with mini marshmallows. They were quick to order the "Popcorn of the day" which as a parent, I appreciated having them snack on while we waited for our main course. My roasted free-run chicken meal was nothing other than exquisite and it'll easily go down as one of the best meals I've ever had in my life. My daughter called my husband right after our meal to tell him all about the restaurant where she had a "fully loaded" burger for the first time. After the kids were in bed my hubby asked, "Was it really THAT good?" and I assured him that yes, yes it was! A trip to Tunnel Mountain Resort wouldn't be complete without a visit to The Prow.
Mom Tips:
Eat-in! Save money and ease by making some meals in your condo. Whether you prep food or stock up at the local grocery store, this kitchen will make it easy for your family to enjoy some meals right at the resort.

Eat out! Splurge on a few meals and enjoy the local dining scene.

Choose the room that's right for you! With so many options there's a layout for every family.

Take the Bus – It's less stressful, more environmentally friendly, and an easy way for your whole family to get around.

Go biking – Tunnel Mountain Resort is located in the center of Banff's mountain biking mecca. Whether you do a tour or bring your own bikes and hit the trail, you'll love exploring the intricate trails that loop around your resort. Check out our family mountain biking tour in Banff here!
---
Heading to Banff? Here Are Some Adventures to Add to Your List!
Sponsorship Disclosure: While this experience was hosted on behalf of Banff & Lake Louise Tourism and Tunnel Mountain Resort, the opinions, thoughts, recommendations, and media is all my own. I only recommend companies that I would trust my family and friends with and that I would invest resources into myself.