"Drishti, or focused gaze, is a means for developing concentrated intention. It relates to the fifth limb of yoga concerning sense withdrawal, as well as the sixth limb Dharana relating to concentration." As we settled into our yoga mats at Banff Yoga Practice we were invited to find our Drishti, and while this term was not new to me, I found the unique setting of doing yoga on a rooftop in the middle of one of the most iconic and beautiful mountain towns a challenge.
I had to simultaneously concentrate with intention on the experience that was unfolding around me. A sunrise yoga class where the sun peeked out over the mountain top, officially bringing us a new day. My two children are at my side, keen on embracing the experience that had them out of bed oddly early for a summer holiday break. A yoga class where the crips mountain air danced between my toes, reconnecting me with the physical environment that I was fortunate to embrace.
And she said "find your Drishti" and I'm swirling with overloaded excitement… "Am I really supposed to be able to concentrate on finding my Drishti right now? This is way too exciting and amazing to be able to settle down and focus! I'm on a rooftop in the middle of Banff National Park doing a sunrise yoga class with my kids!!!"
Banff Family Sunrise Yoga Practice
Located in the heart of Banff is Banff Yoga Practice, where their location and passion collide. "At the practice, we hold space for transformation and inspiration to happen. There is no better place to find balance, be mindful and remember to breathe"
"Breathe" Right. This isn't hard, this is yoga. But as a regular Yogi, being able to experience it in the mountains with my kids certainly isn't your everyday class. And a private Family Sunrise Yoga Experience in Banff truly was a unique way to connect with the surroundings and each other.
About The Banff Family Sunrise Yoga Instructor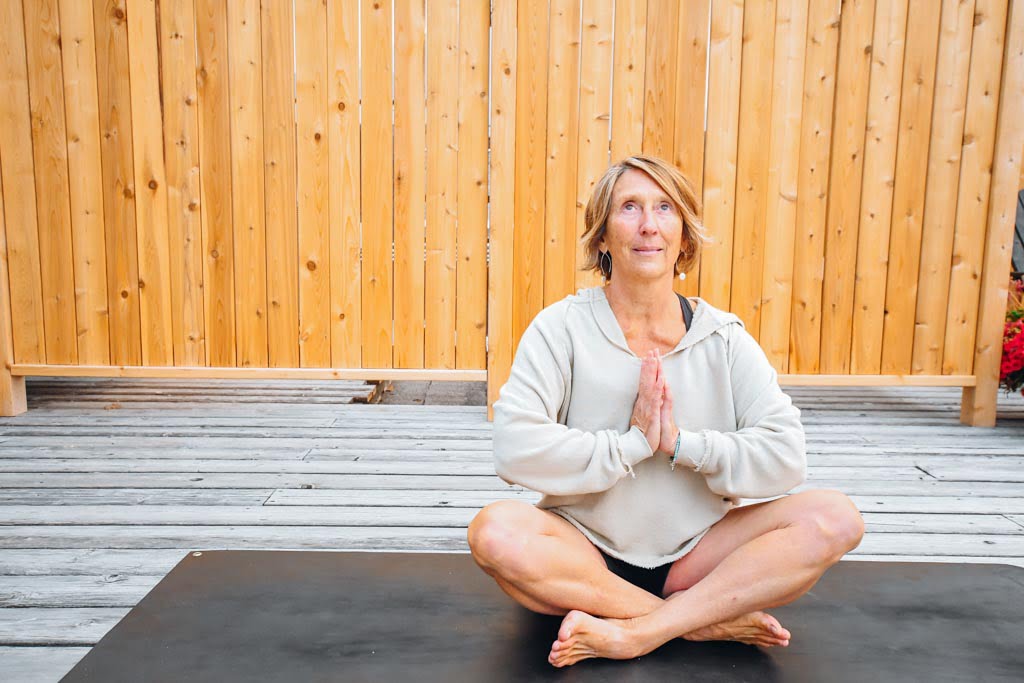 Mystee's calming voice and child-friendly cues led us through a family-friendly yoga class that challenged each of us in our own way. The connection to the environment was strong as we felt the cool mountain air slowly warm up as we transitioned through our practice. We felt the wood planks below our yoga mats as we sank into savasana. And our eyes darted between the mountains that encased us like bookends, both protecting us as well as inviting us to experience their majesticness.
Wonderful Way to Welcome the Day
If you're looking to kick off an adventure-filled day there's nothing like a yoga class to limber up and wake up the soul. In our class, we worked through a gentle child-friendly warm-up and then transitioned to more challenging poses that allowed each of us to flow into our own yoga practice. Mystee expertly guided us through the class allowing us to embrace the surroundings and yet meet our own appropriate yoga challenges through the experience.
What To Bring To Banff Family Sunrise Yoga
If starting out your day on a rooftop is on your calendar (if not it should be) here's what I recommend you pack for your family to have the best experience:
Warm Clothes in Layers – Banff is a mountain town with morning mountain temperatures that can be unexpectedly chilly for a summer morning. The morning we went it started out at 9 degrees, but quickly warmed up with the greeting of the sun. Dress in layers that can be peeled off as you warm up from outside and from within. This includes socks!
Water – Start the day off right and hydrate! If it's an extra chilly day perhaps bring thermoses with a warm drink for the littles (like apple cider) or stop by a local coffee shop after your visit for a warm and toasty treat!
Sunscreen – It's never too early to embrace protection from the sun, and if you're going to be adventuring all day you'll want to slap on some 'screen before yoga class.
To learn more about Banff Yoga Practice or book your own Banff Family Sunrise Yoga Class visit their website.
---
For More Exciting Banff Adventure Ideas, Check Out These Articles:
Sponsorship Disclosure: While this experience was hosted on behalf of Banff & Lake Louise Tourism and Banff Yoga Practice, the opinions, thoughts, recommendations, and media is all my own. I only recommend companies that I would trust my family and friends with and that I would invest resources into myself.