Are you looking for the best patios in Langley?
When the sun is out there's nothing better than being out on a patio enjoying good food with friends and family, and Langley has an epic food scene that combines the great outdoors with even greater food!
As a Langley local for over 20 years, I've personally been to almost all of these restaurants and have picked the best to share with you. The best part is if you're a picky eater like me you'll enjoy all of the variety, from vegan, to gluten-free, to grab and go… Langley has a lot of great patios waiting for you to come and party on!
Ultimate Guide To The Best Patios In Langley – 21 Foodie-Approved Restaurants
The Best Fort Langley Patios
Beatniks Bistro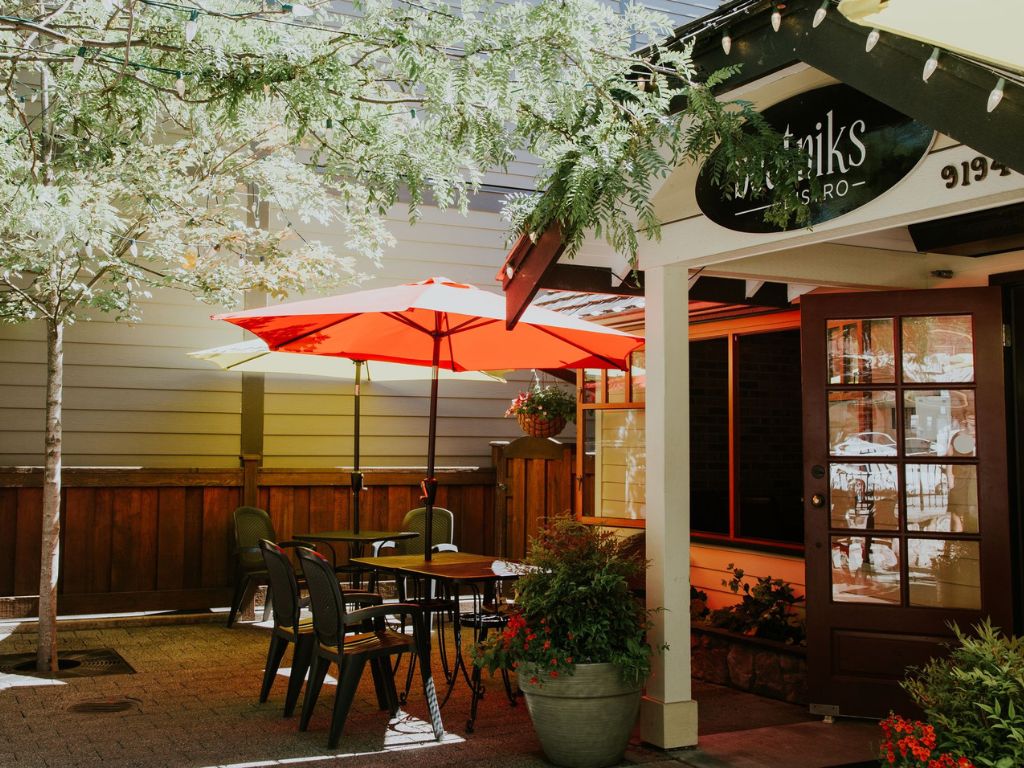 Beatniks Bistro in Fort Langley has been a staple in the heart of the Fort for almost 100 years. What started out as the Moorhouse residence in 1933, Beatniks is one of the oldest buildings in Fort Langley.
The Choquette family transformed the little house into a neighbourhood gathering center, where good food, excellent service, and live music and events brought the house into a home, welcoming visitors and locals to experience Fort Langley.
What I love the most about this patio is the location right on the main street of Fort Langley, sun-drenched and perfect for watching the visitors go by, the location and the food make this the perfect patio to visit in Fort Langley on a nice day! Click here for details.
Google review: "Great outdoor patio, in a picturesque little town. Had the French toast which was excellent and our server was super friendly and efficient. Great summer patio spot." – Terry M.
Mangia e Scappa
When the question was posed in a local Facebook group, "What is the best patio in Langley?" a lot of local residents were quick to recommend Mangia e Scappa. The Trattoria (restaurant) is touted as "Small Village Italian Food." Regulars love the authentic Italian experience while dining on high-quality Italian meals made with Chefs from Venice, Bologna, and Roma.
Their patio and piazza (outdoor courtyard) are southern facing, inviting guests to come and experience lunch, dinner, Italian cocktails, as well as my favourite, weekend brunch!
This small, locally owned and operated business is a great place to experience authentic cuisine, sip on a cup of Sicillian Coffe, or visit the Mercato to stock up on some ingredients for your own kitchen. Click here for details.
Google review: "Delicious! We visited this restaurant a couple of times. Each time we had a different dish. Each time was a blessing! Absolutely coming back whenever we are in the mood for high-quality meals." – Yanina V.
Trading Post Brewing, Fort Langley Eatery
If you haven't heard of the Fried Chicken Sandwich at Trading Post, let me warn you that this is a legendary meal that has a reputation all on its own. "Crispy buttermilk marinated rossdown chicken, crunchy slaw, chipotle mayo, b&b pickles, tomato, on a brioche bun." this is one of the amazing meals you can experience on the patio of the Trading Post (open year-round, not to worry!).
Opened in May 2016, the 100-seat Eatery is the perfect place to visit in the heart of Fort Langley. They have a heated patio which has been newly upgraded with turf, allowing it to be opened year-round. What I love the most about the trading post is that they source as many ingredients as possible from local farmers, which means their menu changes seasonally with what is being harvested by local farms. Click here for details.
Google review: "Come here every week!! Spicy fried chicken sandwich is my all-time favourite + staff is super friendly. Always a go-to." – Izzy S.
Maria's Gelato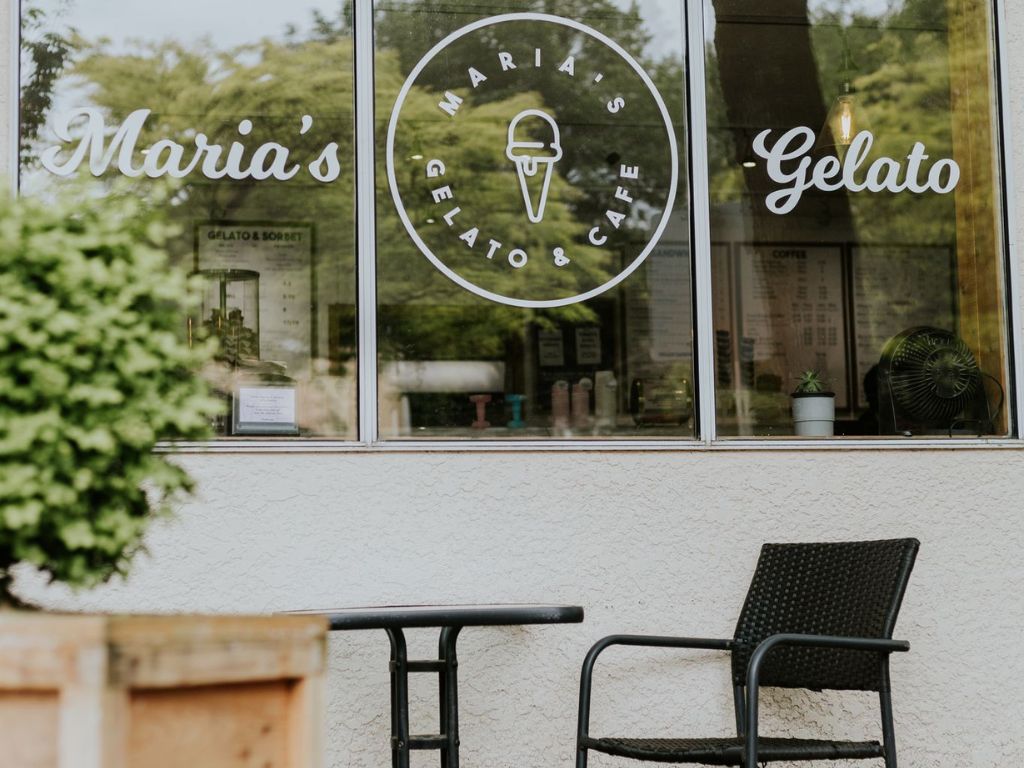 When I used to have an office in Fort Langley one of my favourite things to do was sneak over to the patio at Maria's gelato on a hot afternoon and enjoy a sweet treat while sitting on the shaded streetside. As far as gelato comes, Maria's is the best, inviting you to make the difficult decision of choosing between 30 flavours.
What I love the most is that they believe, "our gelato is only as good as the ingredients we use" and they make hand-crafted gelatos and sorbets, made fresh in-house, daily! If you're looking for a little patio to indulge in a sweet treat in Fort Langley, Maria's Gelato is the place! Click here for details.
Google review: "Absolutely delicious vegan and dairy Gelato! Super creamy and every flavour we tried was 10/10. None of us had a drop left in our cups when we were done and that's not typical for us! Worth the wait you won't be disappointed!!!" – Ania K.
Rail and River Bistro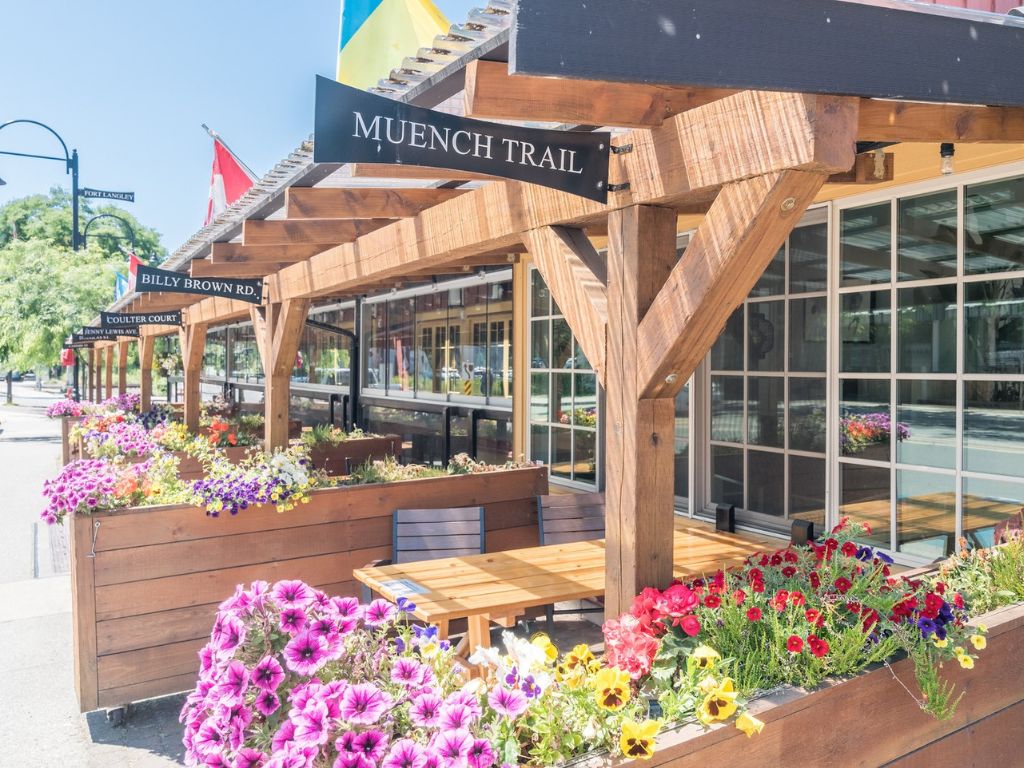 Located on the banks of the Bedford Channel, the Rail and River Bistro is perfect for those looking for a pub vibe in the Fort. Rail and River Bistro specializes in serving Mediterranean bistro dishes, with a focus on local flavours and seasonal offerings (hint: be sure to check out their daily feature sheet).
One of the unique offerings they have is live music on Tuesday nights from 7 pm – 9 pm, and for true foodies, they have a special offering called the Voyager Club. "We would like to take you on a gastronome adventure into unknown places, right here along the river." This is a monthly themed and upscale event where your tastebuds are the star of the show. For $75 you'll get an exquisite meal, wine pairings and themed entertainment! Click here for details.
Google review: "We had a post-celebration of life lunch here yesterday and I can't speak highly enough about the experience. The food was fantastic, the service was impeccable and the environment was perfect for our family get-together. Highly recommended!!" – Dave M.
Sabà Cafe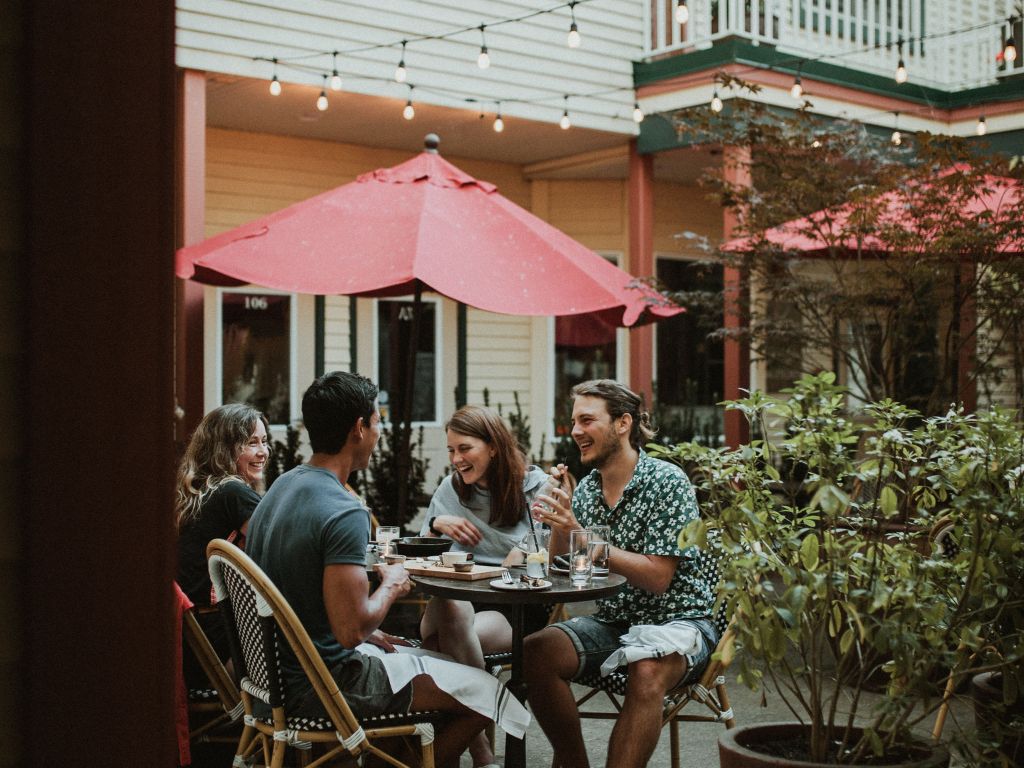 Seasoned travellers will tell you that no matter where in the world you go, to always source out where locals eat for the best food, and Saba is Fort Langley's example of this. I can honestly say I've never been to Saba without seeing someone I know!
The good food, the quaint vibe, and the village location invite both locals and visitors to come to dine. I've enjoyed their gluten-free muffin in the courtyard (pictured above) as well as met with friends for meals (their pasta is a friend's favourite!).
And Saba now has two locations in Fort Langley so be sure to check them both out! Click here for details.
Google review: "So freakin good! Baked goods are delicious and taste homemade. The coffee is incredible and the restaurant is fantastic!!! Staff is super great!! Dietary restrictions: GF options offered at restaurant…very cool!" – Stargurl
Glen Valley Patios
Locality Brewing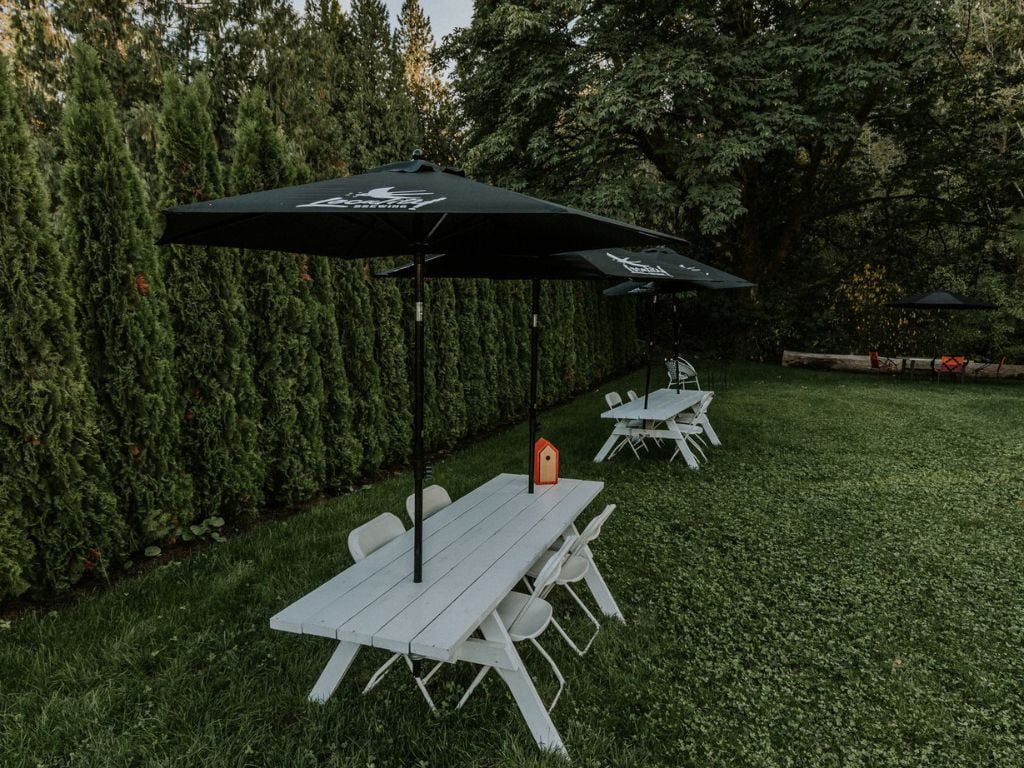 Locality stands for community, where they say "It's about gathering with friends and family, enjoying nature and connecting to the land that produced the beer in your hand." With that, they've created multiple outdoor picnic areas around the Brew Barn.
You and your friends are invited to come and sit, overlooking ponds or nestle yourselves into the Fraser Valley hop vines. How about a weekend ride or a Sunday Funday hike? Done! This all-inclusive outdoor picnic area is kid-friendly, pet friendly and the perfect place for a local adventure. Click here for details.
Google review: "Lovely location to hang out while enjoying delicious food and drinks. Clearly the owners are passionate about what they do. Thank you for sharing your space!" – Melissa M.
Roots and Wings Distillery
Imagine heading out of the busy city, driving into farmland, and pulling over only to find the most perfect farm overlooking the beautiful valley views. Pair that with a unique cocktail, and delicious food in a quiet and relaxing atmosphere and you have Roots and Wings Distillery. Want something fancy? Try one of their sophisticated cocktails. Want some soul food, dig into a grilled cheese that is absolutely amazing.
This locally owned business is heavily involved in the community and as a local, it's been neat to see them grow their business from the roots up (pun intended). Click here for details.
Google review: "Well worth the visit. We recently discovered RAW! The patio is so private and we got such a warm welcome. We both tried flights – whisky for me and gin for me wife. We had charcuterie cups which were much more generous than we expected. Such a fun experience and incredible flavours matched only by Fiona's excellent service. We'll be back!" – Jonathan C.
Walnut Grove Patios
Down 2 Earth Plant Parlour
If you're looking for me on a patio, chances are this is the best place to look. I know I shouldn't have favourites but Down 2 Earth is really special to me as they offer you to come and try vegan food in a whole new way. Gone are the days of rabbit food salads and in is vegan comfort food, upscale cocktails, and a vibe that you'd expect to see in upscale San Fransisco. The owner Alyssa is relentlessly dedicated to her community, her excellence in food, and ethical business leadership, from sourcing locally to providing exemplary customer service.
In other words, if you've never tried vegan comfort food, D2E is the go-to place waiting for you! Click here for details.
Google review: "I've already shared my review in Yelp but google deserves one as well. Honestly, my go to vegan restaurant locally for pastas, burgers and brunch if I don't wanna spend 40 minutes driving to downtown. The food are delicious and most of the pastas will have you leave the restaurant full. Their hot/cold horchata is the best there. Staff and service are just very kind and A+." – Kris S.
The Barley Merchant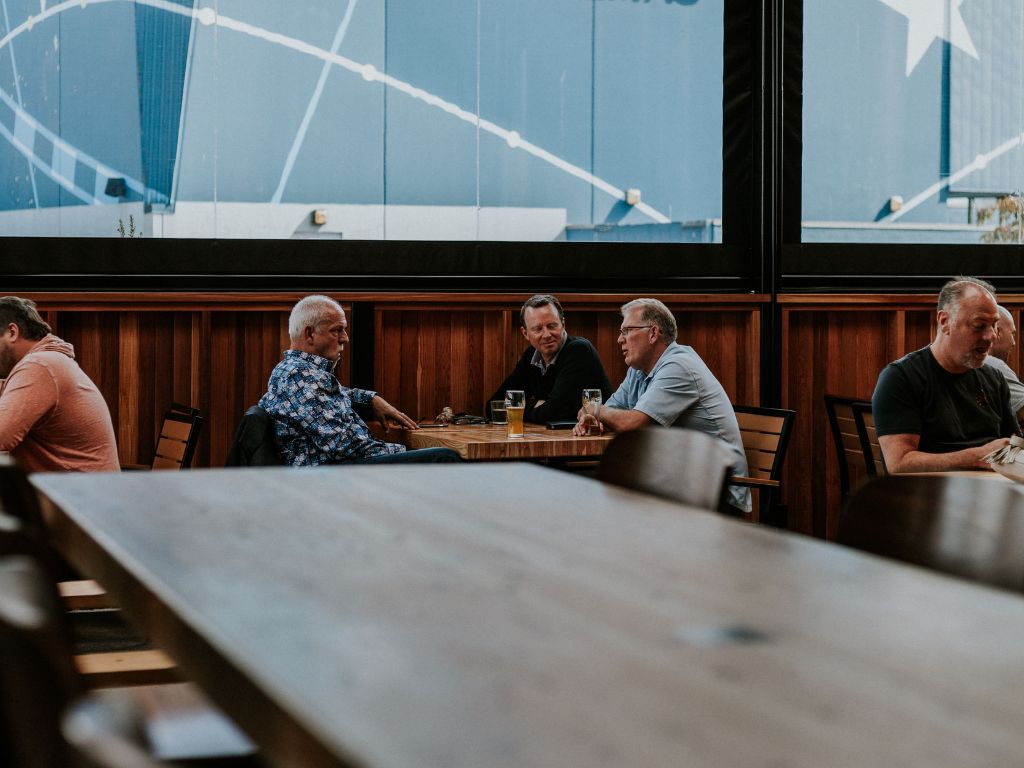 The Barley Merchant is a staple in the Walnut Grove community, welcoming guests to experience high-quality, fresh ingredients, in an eatery that boasts decor that is as modern and tasteful as its menu. "From our scratch kitchen, we proudly offer dishes that are crafted, not cranked out". Barley Merchant. "All dressings sauces, stocks, soups, and dips are made fresh in-house, along with our sourdough, gnocchi, and desserts.
What I love the MOST about the Barley Merchant is that they have a Gluten Free menu (yes, this is the first I have ever heard of a restaurant offering an exclusive GF menu!). This means I can go and choose from multiple items, not just one or two and feel safe knowing that my meals will be delicious and free from Gluten. THANK YOU, Barley Merchant! Click here for details.
Google review: "Great variety and tons of selection. Lots of seating and always have had good service. Highly recommend to anyone liking craft beer as they have around 50 on tap at all times. Always changing also! Food is good also." – Joel
Smugglers Trail Caskworks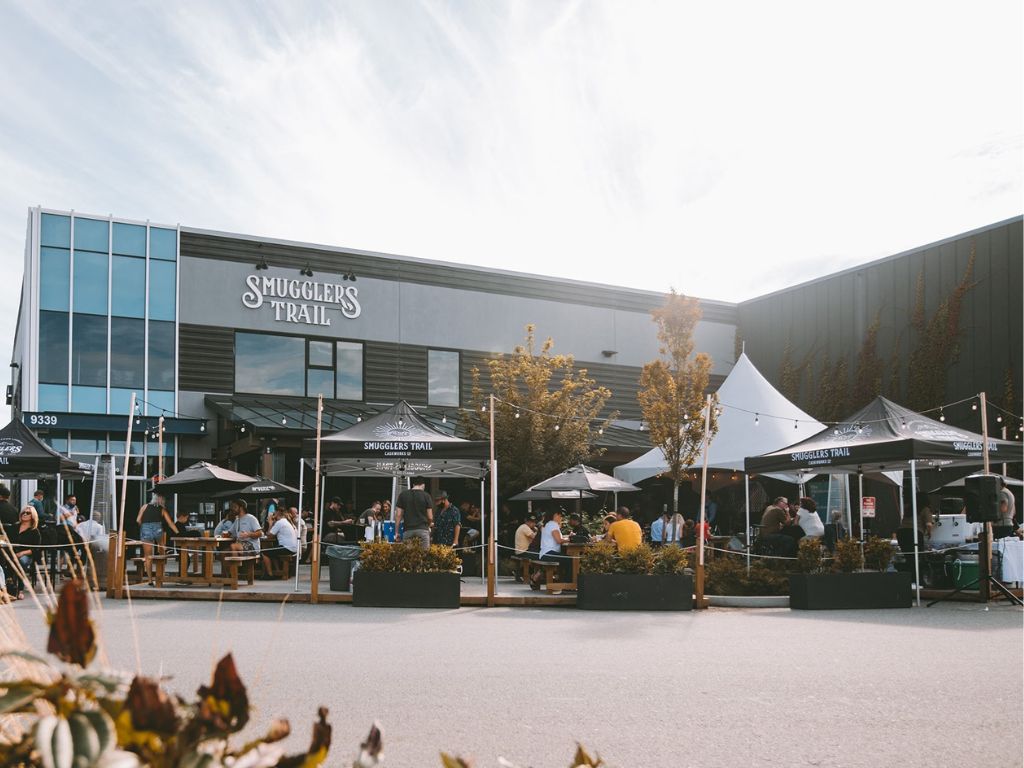 From hockey teams hanging out after a game to football fans watching the latest match, Smugglers Trail in Walnut Grove makes the patio so comfortable that you never want to leave.
Pair that with great menu items like pulled pork sandwiches, poutine, and a pizzeria that cranks out the dough, this local watering hole is a great patio to check out year round! (Yes it is tented and heated in the cooler seasons). Click here for details.
Google review: "Wow, the beer was so good and the food was phenomenal! We were so pleased with this little hidden gem." – Tanya R.
Dead Frog Brewery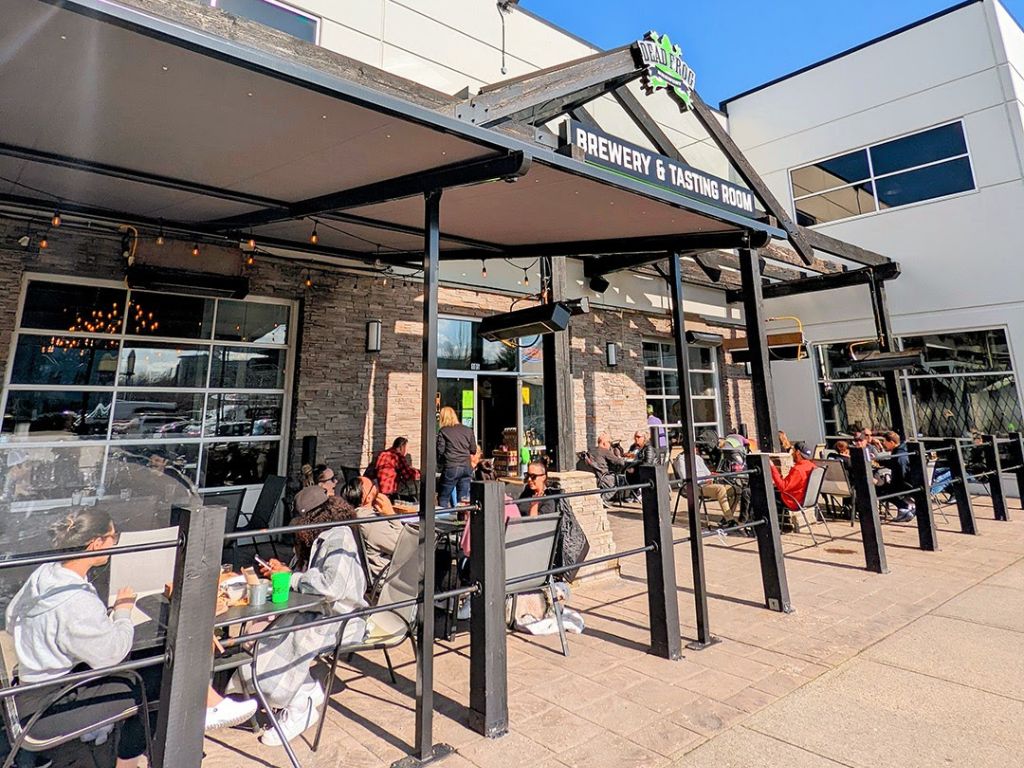 "Born and raised in the Fraser Valley" Dead Frog Brewing is proud of its roots and welcoming guests to experience its Brewery and Tasting Room. For over 15 years they have been operating in Langley, proudly serving only the best products made from quality ingredients to their customers.
The Patio experience invites you to try the "triple P" which stands for Pizza, Popcorn, and Pretzels, of course on the patio! Click here for details.
Google review: "Best place after work on a nice, sunny day! Girlfriend and I are often off work around 4 so we find ourselves here soaking up some rays and enjoying their Happy Hour menu! Oddly, not many other breweries have Happy Hour during the week in the area so this is why we're here." – Long T.
Moxies Restaurant and Bar
An unexpected rooftop patio awaits you a the Moxies just south of Walnut Grove. Once you're up on the roof you'll be surprised by the mountain views that don't seem so far in the distance once you're high in the sky. 
At your table, you'll find a host of fresh and nourishing meals from salads to bowls, as well as handhelds and comfort foods. 2 pm – 5 pm is a great time to visit as they have happy hour on with deals to be had! Click here for details.
Insider Tip: Moxies has 2 patios, one on the rooftop that is a licensed premise that does not allow minors, and it has a four-season lower patio as well. In the summer months, the restaurant will be having live music on the rooftop patio on Thursday evenings.
Google review: "As good as it gets when it comes to service, food and ambience. I highly recommend." – Debby D.
Willowbrook Patios
Haven Kitchen + Bar
If you're looking for Langley's best decorated and most upscale and unique patio, Haven Kitchen + Bar in Willowbrook is the go-to place. Awarded one of the top 100 restaurants in Canada by OpenTable, there's a reason for the accolades.
"Modern casual dining with a global, adventurous approach. Proudly independent, quirky, and probably too loud for your grandma." It's easy to see that Haven just does things differently. From the Instagram-perfect decor to the fun atmosphere and vibe to the locally sourced food that has my mouth literally watering as I write this, Haven is more than a restaurant, it's an experience. Click here for details.
One of my favourite things to note is their social media, they have a hilarious account and have shared some candid #behindthescenes accounts of running the business. Check it out here.
Google review: "Always a great experience at Haven! The food is consistently top quality, delicious and flavourful. The drinks are also tasty and unique. It is not the cheapest place to dine but I would say it's an experience worth paying for. And I didn't even mention the decor, friendly staff or lots of great photo opportunities! Vegetarian options: There are a lot of vegetarian options that do not compromise on taste." – Natalia B.
Camp Beer Co.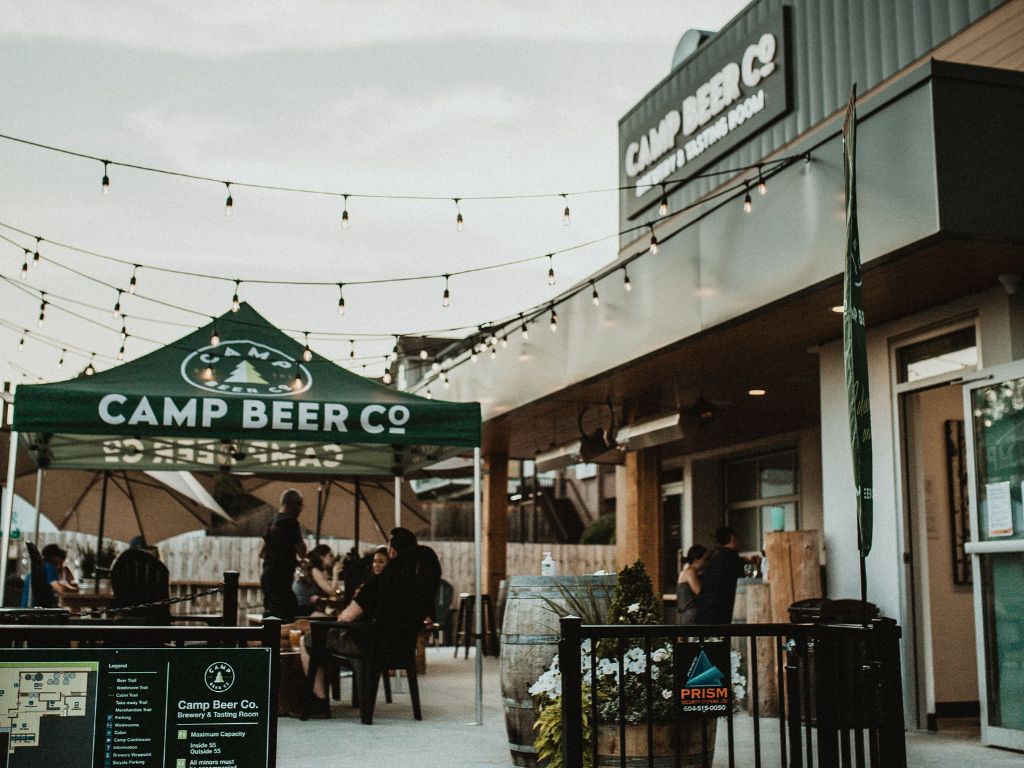 If you're looking for a patio experience with a chill and laid-back vibe Camp Beer Co in Willowbrook is your go-to place. Picture Adirondack chairs, campfires, servers with the perfect mix of hippie Canadian vibe, and nachos that the locals all flock to and you have your perfect afternoon patio party planned!
"We wanted to bring a relaxed casual meeting place to the Fraser Valley. With an oversized outdoor patio and glass roll-up doors to the tasting room and brewery, we believe beer is best enjoyed outdoors." Click here for details.
Google review: "Great patio and outdoor space. Dog-friendly and awesome service! My fav is probably the pilsner. Very light and refreshing. Great for summer." – Kelly L.
Otter District Patios
Backyard Vineyards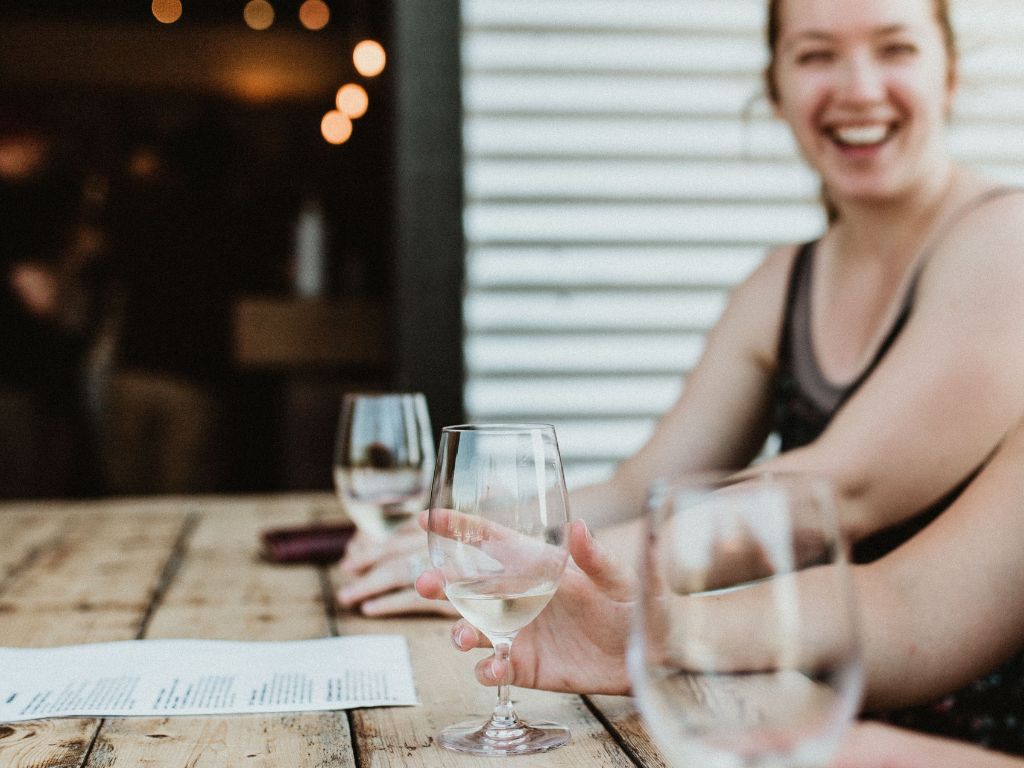 Backyard Vineyards invites you to their "Picnic Hill" where you can have a unique outdoor adventure in a vineyard. Picnic Hill is a large grassy area with tables where you can bring your own food and enjoy it all while indulging in flights or wines from the vineyard. Puppies are even welcome as long as they stay on a leash and behave themselves.
If you choose to order the food they have incredible charcuterie boards on their menu that are perfect for sharing with family and friends. Tip: order a variety of boards and let everyone share! Click here for details.
Google review: "I visited your beautiful winery on Saturday with friends from out of town. Kathy gave us a lovely and informative tour of the winery and the wine tasting was a lot of fun." – Arita R.
Festina Lente Estate Winery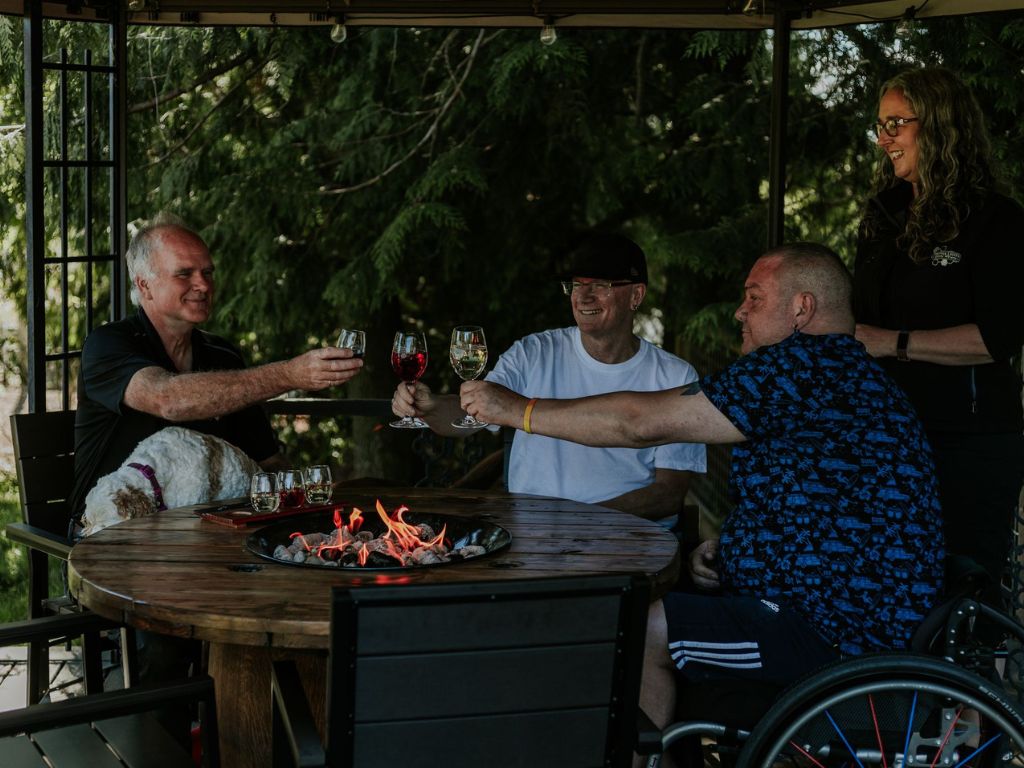 The live music on Saturdays is a great reason to head out to Festina Lente Estate Winery. Their heated and covered patio is ready to welcome you (and your dog) to their Fraser Valley Winery. On the weekends you can check out the local food trucks that come on-site, and well let's be honest, who doesn't love a good food truck? Click here for details.
Tripadvisor review: "This is a good winery in Langley that also does some honey wines/mead. Tasting is waved if you buy a bottle and they have lots to choose from. There are spots to sit outside and also a pizza food stand on site. Worth a stop!!!" – Cameron F.
Brookswood Patios
The Lodge Steakhouse
One of my favourite things to experience is a surprise and The Lodge Steakhouse in Brookswood is exactly that. When you drive up you may be unsure about what you're about to experience as the Lodge's patio sits on top of an ice rink.
What awaits you though is a 5-star luxury dining experience. Delicious food, a gourmet menu, and upscale decor will surprise and delight you. Fire torches light up the patio after dark, ensuring your conversations can go late into the night… because meals are meant to be savoured and the environment in which to do so is perfectly aligned at the Lodge Steakhouse. Click here for details.
Google review: "We went to The Lodge tonight for our anniversary dinner and everything was amazing. The service (thank you Stephanie) was exceptional, the steak was delicious and perfectly cooked and the the rotating table side dessert is a must have. They made our night so special." – Holly N.
South Langley Patios
Fraser Valley Cider Company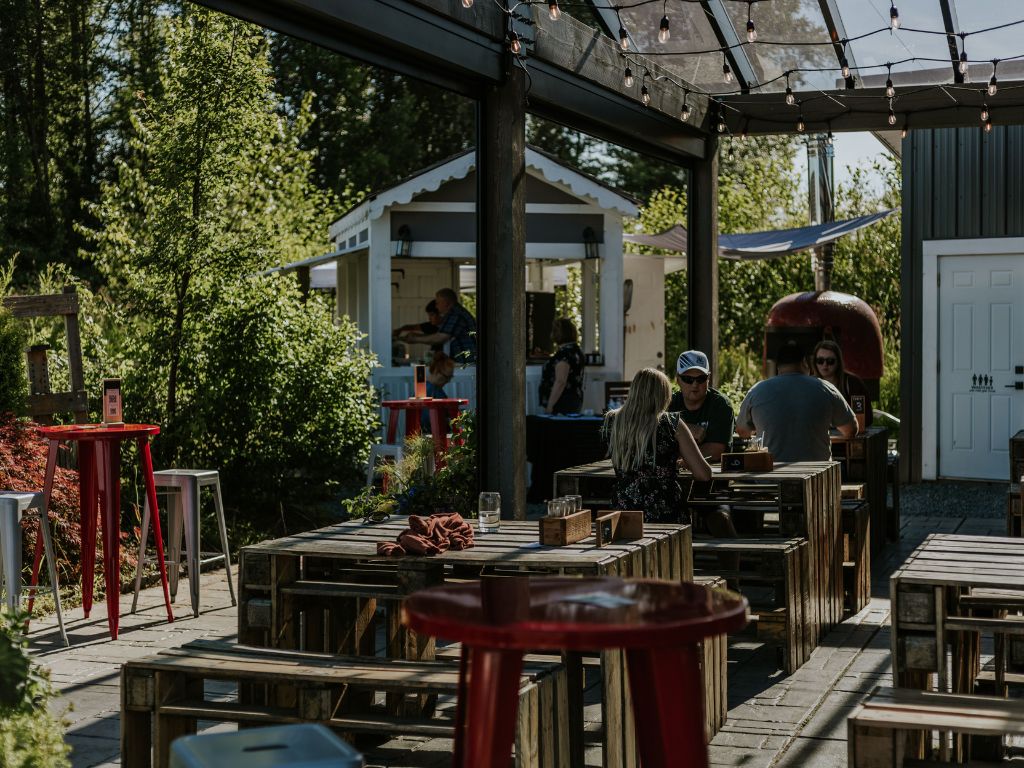 A 12-acre farm that hosts an orchard of 1800 trees with 25 varieties, Fraser Valley Cider Company was born on a dream and has been serving the Fraser Valley for over 7 years. With unique pairings like Cider and Chocolate, Craft specials and pizzas from the pizza oven, Fraser Valley Cider company has all the ingredients for the perfect patio day.
Speaking of the patio, locals define it as "cute" and "adorable", with a quaint vibe in the back of the winery, inviting you to cozy up on a high-top table under the shade umbrella and tackle the challenging task of deciding what to order. Fraser Valley Cider Company is the perfect combo of casual feel mixed with good eats and treats! Click here for details.
Google review: "Delicious locally made ciders. They are so good. They have a cute little bar inside and lots of seating inside and out. They don't have a huge menu, but they do have a few things, including an incredibly apple and onion tart. I always get a couple bottles of cider to go." – Chance S.
Chaberton Estate Winery & Bacchus Bistro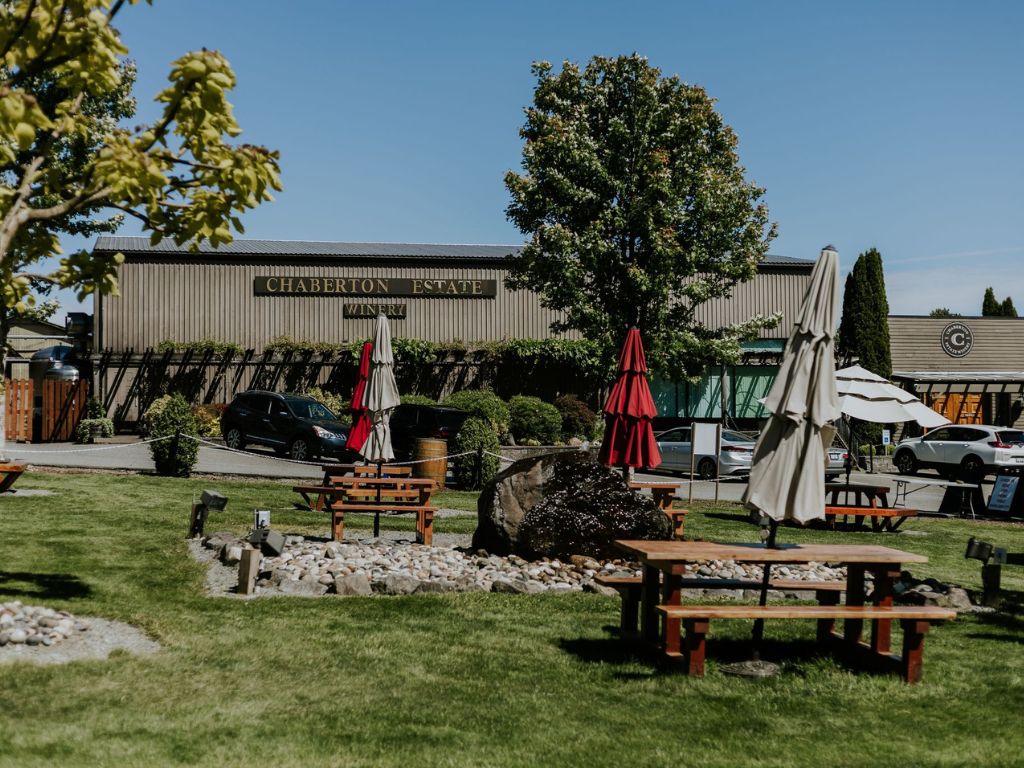 Chaberton Estate Winery has a rich French history combined with wines that are 100% made in BC. They boast the title of being the Fraser Valley's oldest winery and offering you an on-site bistro with spectacular vineyard views as well as wine tours and a tasting room for you to explore.
Their outdoor picnic area invites you to bring your own boxed lunch or outside food and then visit with friends over a cocktail or glass of wine. Click here for details.
For those coming through Abbotsford may we suggest picking up a custom picnic box from Abbotsford's newest custom Charcuterie Board company, Blossom Boards.
Google review: "This winery was great! Nice atmosphere to just sit and enjoy some wine. Try the Pink Chaberton very nice estate wine." – Robb D.
Best Patios In Langley FAQs:
Where is the best place for brunch in Langley?
The top three favourite places for brunch in Langley are Down To Earth Plant Parlour, Beatniks Bistro, and Saba Cafe.
Final Thoughts: The Best Patios In Langley
This article was a fun one to research and put together but the biggest problem was that it made me hungry almost the whole time writing it! The reality is that Langley has so many amazing patios to visit with world-class food ready to be consumed, that now all I want to do is book some lunch dates with my friends and head out to be a tourist in my own backyard! Here's to patio hopping this season (and all year round on heated patios!)!
---
Check out These Articles for some Fraser Valley Inspiration!