Are you looking for the best haunted house in Langley?
If you're a fan of Halloween like me, you're googling all the best haunted houses in and around the Fraser Valley to plan out a weekend or two worth of seasonal adventures to make the most of this ghoulish season.

As a local Langley resident for years, there's nothing like Fall in Langley. The crisp fall air, crunchy leaves on the ground, plus all the witches, ghosts, superheroes and other creatures running around. Not to mention all the candy and trick or treating! It really is a magical time and one of the biggest challenges is finding time for all of the Halloween activities happening in Langley!
So we've put together a guide to the Halloween Haunted House Langley as well as other local attractions you can add to your schedule to make the most out of the Fall Season in the Fraser Valley.
What to Expect at Langley's Best Haunted House
Two families in Langley have teamed up for the past 7 years to bring a haunted house to the streets of Willoughby. "We live in an amazing community that surrounds Lynn Fripps Elementary and the looks of enjoyment on the kids' faces – and the parents too – is why we do this. It brings everyone in the community together. We started with just a few decorations in the front yard in 2012 and it's grown from there. Every year we add a little something new."
Willoughby Slumber Yard & Haunted House – Langley's Haunted House that Gives Back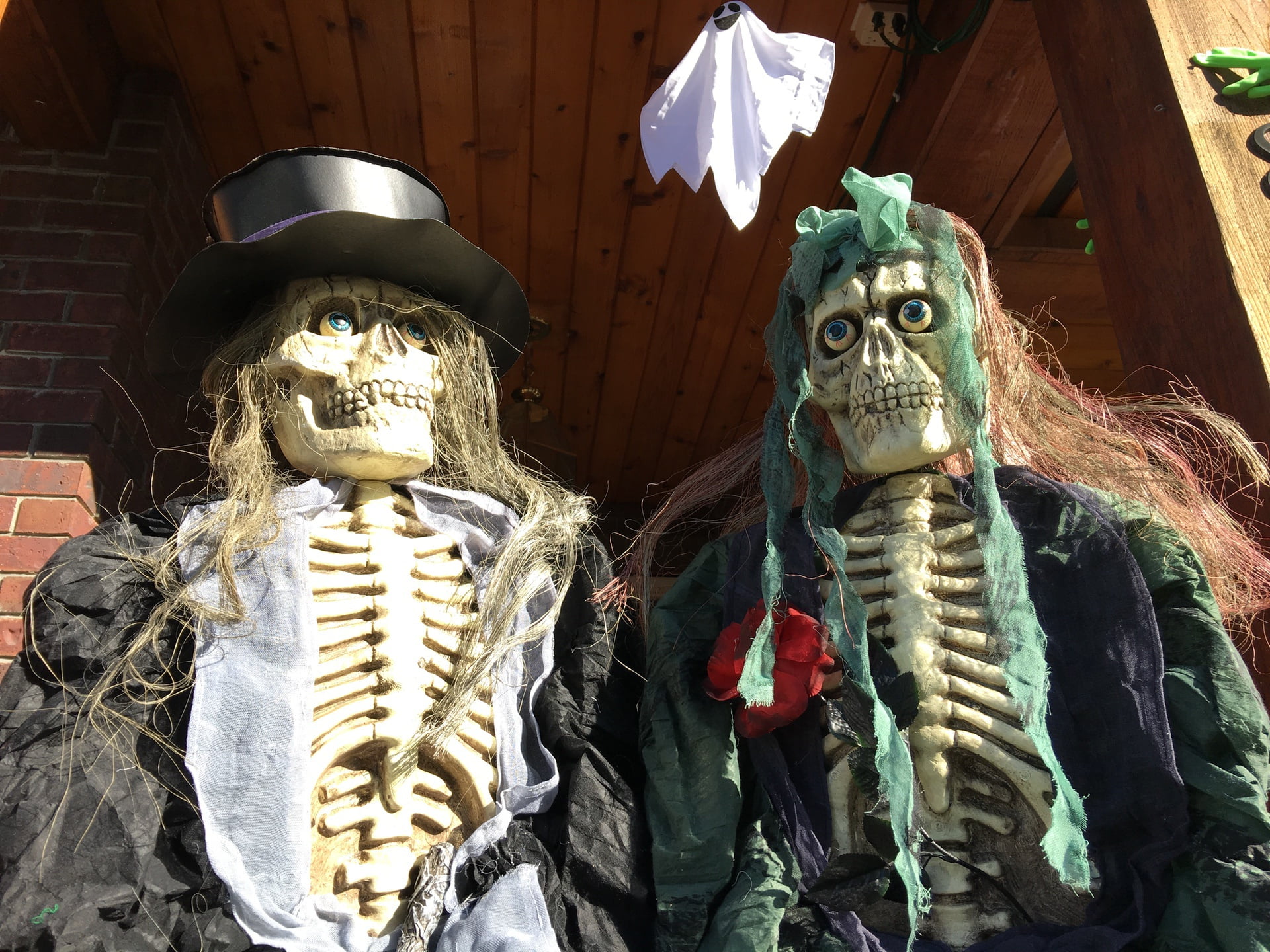 Known as the Willoughby Slumber Yard & Haunted House, this family is truly helping by haunting! Every year they transform their garage and front yard into a spooky Halloween adventure where families can come and visit for free, to celebrate all the spooky and fun elements of the season.
"Visitors were often asking if we charged an entrance fee to come through the Halloween haunted house Langley and view our displays. They were shocked to hear when we told them no and it was free to enjoy. One neighbour suggested we collect food donations instead. So we figured it was a wonderful idea because it meant we could all work together and help our whole community give back even more."
Guests who want to donate non perishable food items are invited to do so, with all collections going to the Langley Food Bank. Last year the families raised 250 pounds of food for the Langley Food bank!
BONUS: If you tell them that "Adventure Awaits sent me!" we will donate $2 to the Food Bank every time they hear this! (To a maximum donation of $200). So be sure to spread the word!
What to Expect at the Willoughby Slumber Yard & Haunted House Langley
The Willoughby Slumber Yard starts off in the front yard where a graveyard sets the scene. A life-size skeleton in a wooden coffin awaits, and Helga the Witch mixing potions in a giant cauldron that bubbles. Keep an eye out for entertaining skeletons and a couple on the front porch who are just "dying" to get married!
I was in awe to learn that the wooden décor in the front yard was all designed, constructed and finished by one of the residents himself!
Head On Into Langley's Halloween Haunted House
If you think the front yard is amazing, the real treat lies within the garage of the house, or the Haunted House shall we say! Their haunted house decoration game is incredible. The whole garage is transformed into a walk-through maze full of spiders, bugs, skeletons, a talking witch, a creepy science lab, Frankenstein keeping a watch on those who visit, a hallway of bones and even an electric chair (perfect for Instagram selfies!).
Mom Tip: This is definitely a family-friendly Halloween haunted house, as there isn't anyone or anything that jumps out at you. It is dark inside and many things make noise and have lights on them. Some younger children might not like it, so I suggest parents take a walk-through a haunted house first to gauge whether or not their children will be okay with it.
After Dark Night Light Show at The Willoughby Slumber Yard
When the sun goes down, even more fun begins when the music and light show turns on. The whole house is covered with over 3000 LED lights that are timed to spooky haunted sounds and enchanting Halloween tunes, the ultimate Langley light show. Enjoy a dance party as you and your kids boogie to The Monster Mash and This is Halloween from the Nightmare Before Christmas movie.
Where is the Best Haunted House In Langley
The Willoughby Slumber Yard & Haunted House is located at 8156 211 Street, Langley, BC. There is lots of parking on the main street or nearby streets during peak busy times.
What to Bring To Langley's Haunted House
I encourage you to go visit with your family this Halloween season and don't forget to bring a non-perishable food item to donate. Together we can all help our local Langley community! The display in the front yard is available for viewing throughout the month of October, but if you want to visit inside the haunted house, be sure to visit during their opening hours.
Is it busy at the Haunted House In Langley?
The bustling community of Yorkson is a great place to visit during Halloween as it is very family friendly, has lots of people out on the streets, but isn't busy enough to have you standing and waiting in long lines to visit the haunted house. This Langley Haunted House is one of the Fraser Valley's lesser-known seasonal attractions and with there being no fee to enter it's the perfect place to visit with the family. When I'm planning family adventures I love cheap or free, and no lines! (Plus I love that they give back) So this is the perfect match!
Langley Haunted House Hours of Operation
Stayed tuned for their announcement of 2023 dates and times on their Facebook page!
What's New at the Langley Haunted House this year?
I spoke with the owners and found out that they are adding a pair of skeleton friends on a seesaw this year! Keep an eye on the ground as it may be moving in new ways as well but I don't want to spill the beans on all of the new things, you'll want to go and check them out for yourself!
Be sure to take time to admire all of the carpentry and artistry that went into creating the beautiful Halloween displays. Most of the things you will see are handmade by the hosts and are pieces of art to be appreciated.
For more information and for the haunted house hours visit the Willoughby Slumber Yard and Haunted House Facebook page.
Halloween House FAQs
Is Langley's Haunted House accessible?
Parents have brought their strollers through the haunted house in the garage with no problem, however, wider wheels may struggle around some of the corners. The front yard runs parallel to the sidewalk and is completely wheelchair accessible.
Haunted House Langley Tickets
If you're wondering what the Haunted House Langley ticket prices are, you won't find them here as there are NO tickets required and the event is open to the community for free!
How long does it take to set up the Haunted House in Langley?
Two families work together to put on Langley's Haunted House. They dedicate the month of September to cleaning out the garage, getting out the Halloween decorations, setting up the old decorations, building the walk through haunted house, setting up light displays and getting ready to spread Halloween cheer with neighbours near and far. Throughout the year they spend many hours building new decorations and adding in new light/music sequences (timing one 3 minute song to lights can take anywhere from 6-8 hours!).
Other Haunted Houses in Langley Worth Visiting
Halloween of Yorkson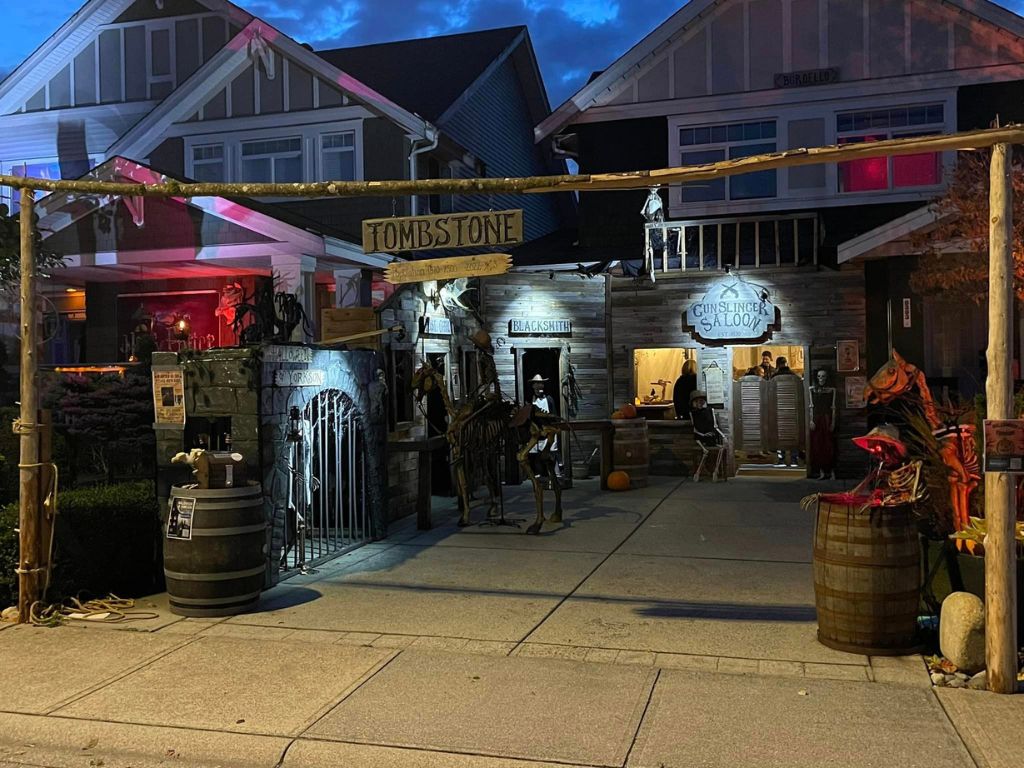 What started off as a shipwrecked pirate ship in a Yorkson family's front yard transformed into an annual Halloween celebration, each year welcoming visitors back to come and see the new theme (2022 was Western) and activities happening at the Halloween of Yorkson site! Last year "was the biggest, best display 209Eh Street has ever hosted with the most amount of interactive human characters and animatronic jump scares. And it was entirely our pleasure to build it all for you."
In 2022 over 7000 pieces of Halloween candy were handed out in the weeks leading up to Halloween and $2773 was raised for the Make-a-Wish foundation. "Most important is the number of smiles and good vibes from our community. Some chose not to partake in our display but they didn't complain about all the traffic and noise either. Quite remarkable really."
I believe that they started a movement, and now you can find elaborately decorated houses all along "209Eh" street in Yorkson. So while you should plan to go and visit the Halloween of Yorkson site be sure to check out all of the houses along 209Eh street!
Be sure to follow along for updates on their Facebook page!
Brinkworth Dungeon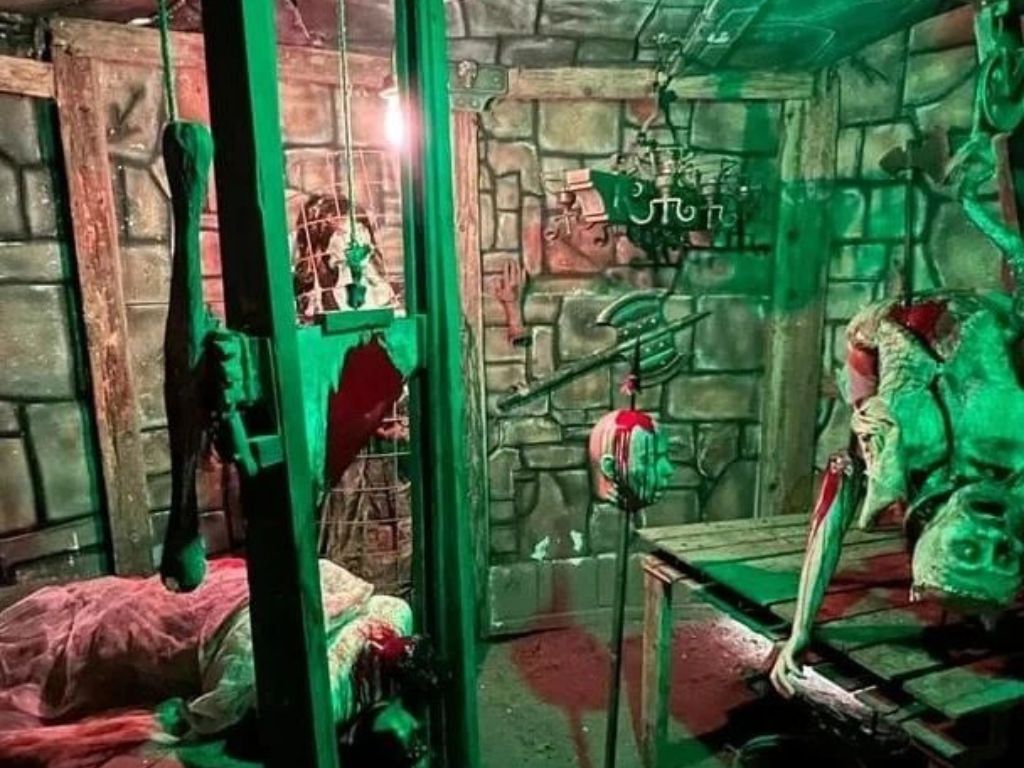 If you've got older kids or want a scary haunted house in Langley check out Brinkworth Dungeon in Murrayville. For 23 years they have been celebrating Halloween by scaring visitors, one scream at a time (I have never been to this as I'm a scaredy cat but looking at friends posts and their site tells me that they really know how to set the scene for scares during the Halloween season!).
Ticket Prices for Brinkworth Dungeon
There are two experiences to choose from including a Pre Booked VIP and General Admission:
Pre Booked VIP Reservations-
– Adults: $25
– Children (12 yrs & under*): $10
General Admission –
– Adults: $18 (Sun. thru Thur.), $20 (Fri. & Sat.) – plus a non perishable donation going to Gateway of Hope
– Children (12 yrs & under*): $8 (Sun. thru Thur.), $10 (Fri. & Sat.)
– Children 5 years and under*: Free
*Children must be accompanied by an adult at all times!
Brinkworth Dungeon Location
22260 48th Avenue, Langley, BC
Be sure to check out their website and Facebook page for more information.
Whimsic Alley Halloween – Harry Potter Inspired Experience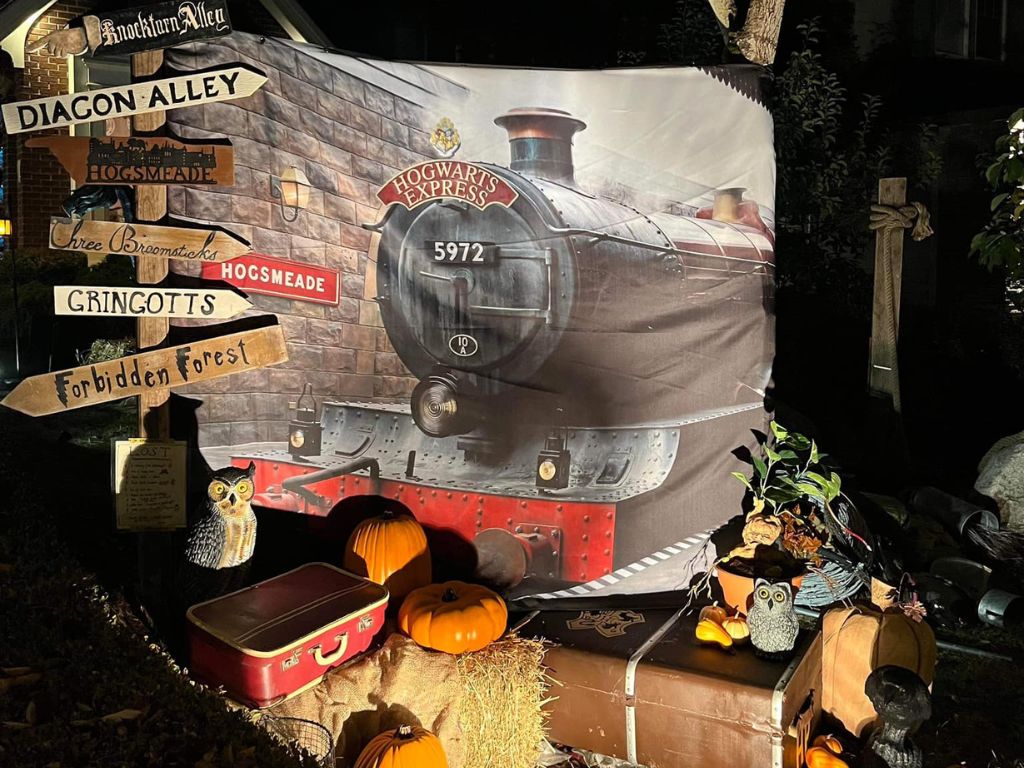 Fans of Harry Potter flock to the Whimsic Alley to celebrate "The Half Blood Prince." Where a Langley family has been welcoming fans to visit their Harry Potter themed house for over 5 years. This year's invite reads, "All aboard the Hogwarts Express. We walk down main street Diagon Alley. Come and celebrate the opening of Wizard Wheezes. Window gazers are most welcome. But don't feed the Thestral. Hagrid won't thank you for that."
The invite goes on to share "Maybe a visit to Borgin and Burkes is more to your taste. It's just a quick trip through the Vanishing Cabin into Dumbledor's office. Warm yourself by the fire in Gryffindor Common Room, then wander through Professor Slughorne's classroom. Be sure to check if you've been included in the Slug Club! Can you find the horcrux in the Crystal Cave? Come and join us as we go back to Hogwarts!"
Whimsic Alley Halloween Hours
October 27, 28, 29, and 31, 2023
5:00 pm – 10:00 pm
Whimsic Alley Halloween Location
7166 198 Street, Langley BC
Food Bank Donations
Whimsic Alley has a very creative way of collecting food donations. When you bring your non perishable food items you get to choose which house cauldron you want to donate them to. The house with the most donations at the end of Halloween wins the House Cup!
Read more about their Harry Potter-themed Halloween in this Aldergrove Star article. Visit their Facebook Page to stay in touch with event updates. 
Step into the Past with Grave Tales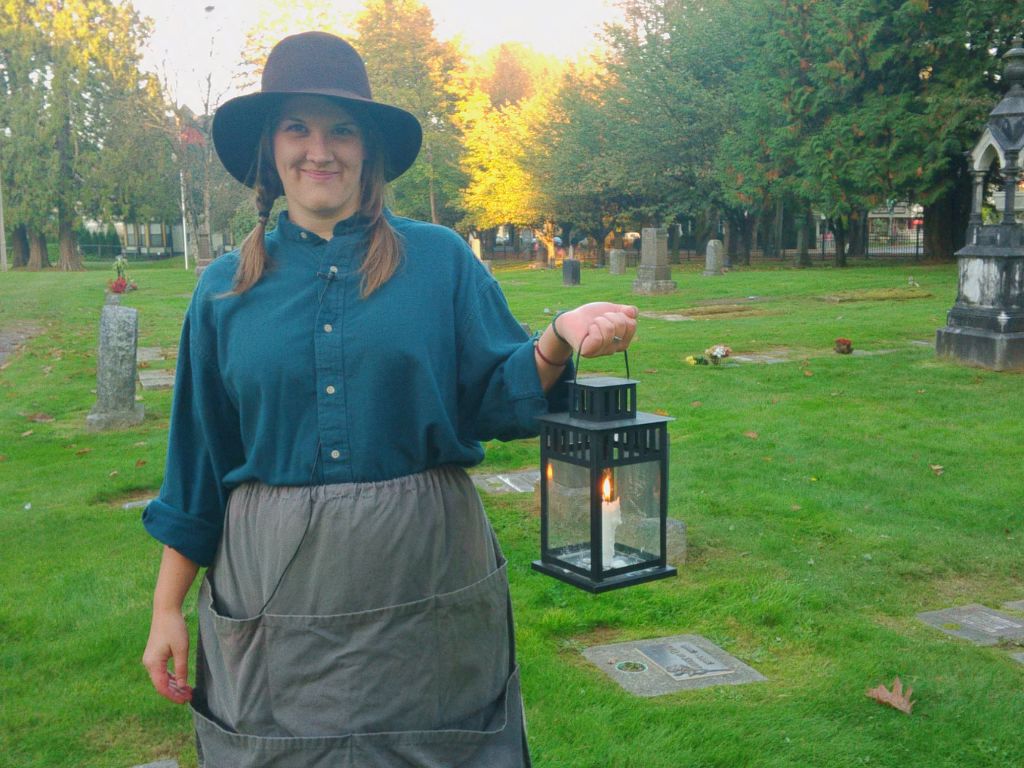 Head to the Fort Langley National Historic Site for the ultimate walking tour through their most intriguing cemeteries. "Uncover forgotten stories and unlock the secrets of those laid to rest as our expert guide leads you through three hauntingly beautiful burial grounds. From legendary figures to unsung heroes, prepare to be captivated by tales that will send shivers down your spine. Join us on this unforgettable journey into history, where every tombstone holds a story waiting to be told." This tour is offered on Friday, Saturday and Sunday: October 13 – 15, October 20 – 22, and October 27 – 29, 2023. Be sure to book your tickets in advance, as this tour sells out quickly.
With so many Halloween houses in Langley, you and your family are sure to have a howling good time this year!
---
Are You Looking for Other Fall and Winter Activities? Check out These Articles!