Are you looking for a Turtle Bay blog? One that helps you understand what the magical Oahu resort is all about and help you plan your dream vacation.
After dreaming about Turtle Bay for more than 30 years our family was finally able to take our dream family vacation to the shores of Turtle Bay and spend our nights watching the sunset after sun-soaked days hopping between the pool and the sandy shores.
To experience Turtle Bay Resort truly is a bucket list, luxury experience so I wanted to put together a comprehensive blog showcasing what this resort is all about, what to expect, and how you can plan your own dream escape to Turtle Bay Resort.
Disclaimer: While I share my own thoughts and stories about these experiences, should you click on the affiliate links, I may receive a small commission on that sale which helps fund Adventure Awaits.
Turtle Bay Blog Guide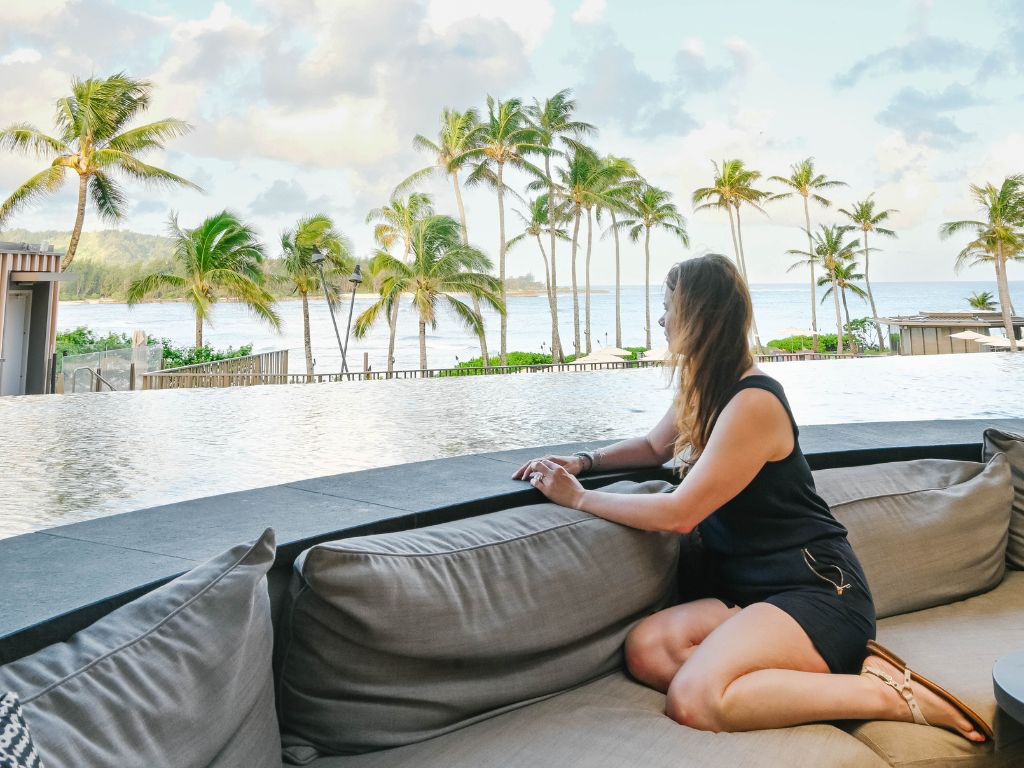 Let's turn back the clocks to 1989 when Full House was America's favourite family and we tuned in on Tuesday nights to see what the Tanners were up to. In one episode the family headed to Oahu, in celebration of an anniversary, their destination, the iconic Turtle Bay Resort. I vividly remember dreaming of one day pulling up a car into the grand entrance… planning out days full of activities with the family, wearing colourful Hawaiian plaid as I ran along the white sand beaches.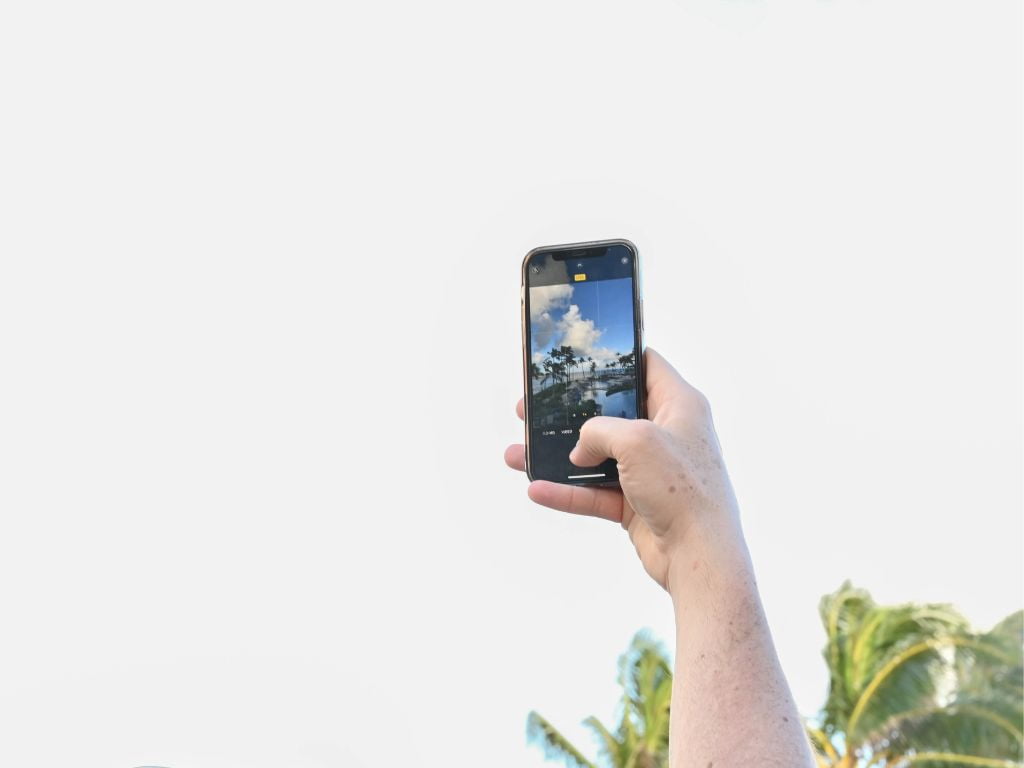 30 years later, with a family of my own, and a multi-million dollar renovation to the property, we found ourselves living in a bucket list dream, taking our family to Turtle Bay Resort for the very first (but not the last) time.
Click here to book your luxury family vacation at Turtle Bay Resort!
Where is Turtle Bay Resort?
Turtle Bay Resort is located on the North Shore of Oahu, Hawaii at 57-091 Kamehameha Highway, Kahuka HI 96731. The resort sits on a peninsula of land that allows the property to be surrounded by Mother Ocean on three sides. The hotel takes up a relatively small area of the overall land owned by Turtle Bay, with 1300 acres of lush, historic land awaiting you to explore it. There are 5 miles of pristine sandy beaches, and 12 miles of trails to explore by bike or by foot.
What Makes Turtle Bay So Special?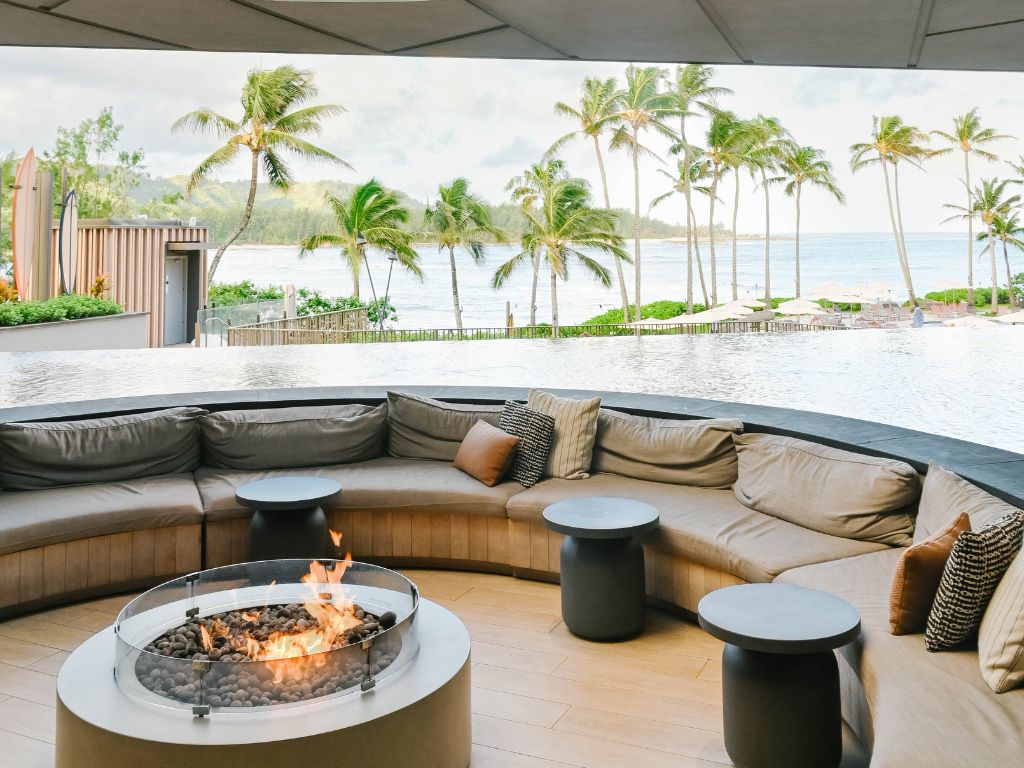 Turtle Bay Resort rises up to the magic that is its location and creates the ultimate immersive experience that connects guests to Hawaii's land, culture, and local traditions. That passion for excellence combined with their commitment to sustainability makes Turtle Bay Resort truly a special experience.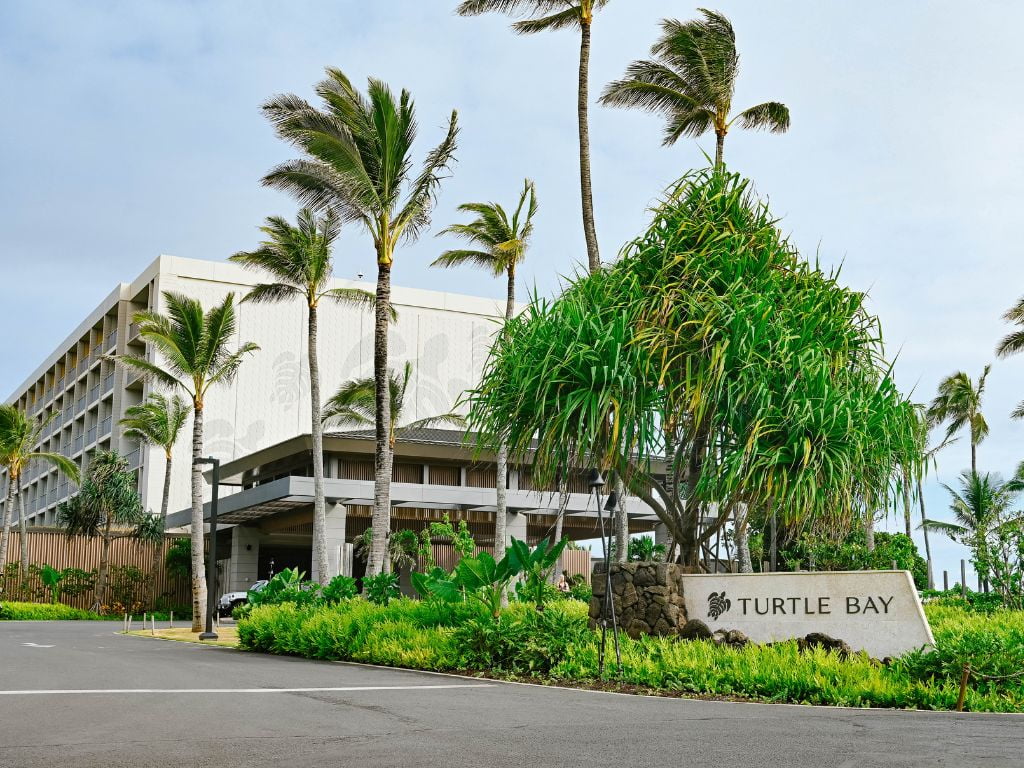 The experience at Turtle Bay starts as soon as you drive up through to the main entrance. Lush native species of plants (30% of which are endangered) intermingle with surfboards, all overlooking the crashing waves as they hit the sea. A modern Hawaiian luxury resort experience welcomes you as you walk through the grand entrance, the smell of ginger blossom and salty sea air hitting the senses. A look to the left and your eyes will take in infinity pool after infinity pool and then spot bright pink surfboards off in the distance.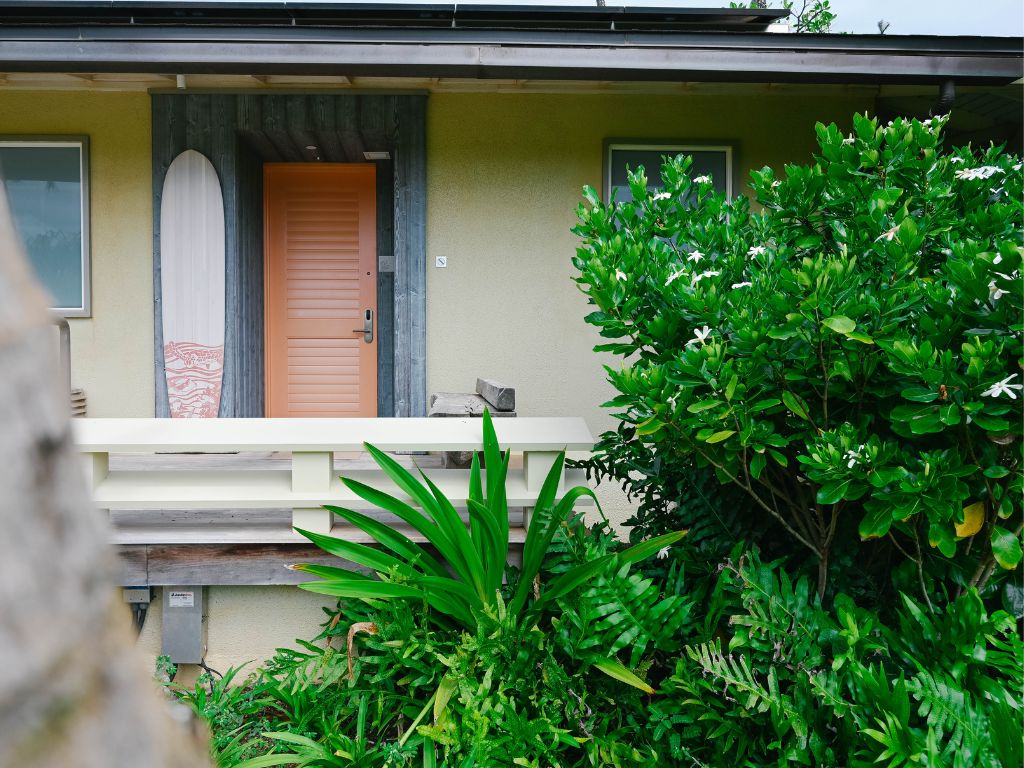 "Aloha" is the traditional Hawaiian greeting that you'll hear as an orchid lei is gifted, ensuring a warm Hawaiian welcome in this re-imagined resort. Once settled in, you'll hope for time to slow down so that you can soak in all of the incredible experiences including the Nalu spa, salon, and fitness centre, Jamie Obrien Surf lessons, Whale watching and whale sanctuary, stand-up paddleboarding, Kayak Turtle Tours, Go-Pro rentals, and our families new favourite sport, pickleball! (This is only a short list of the amenities!)
Embracing Kuleana through Sustainability at Turtle Bay Resort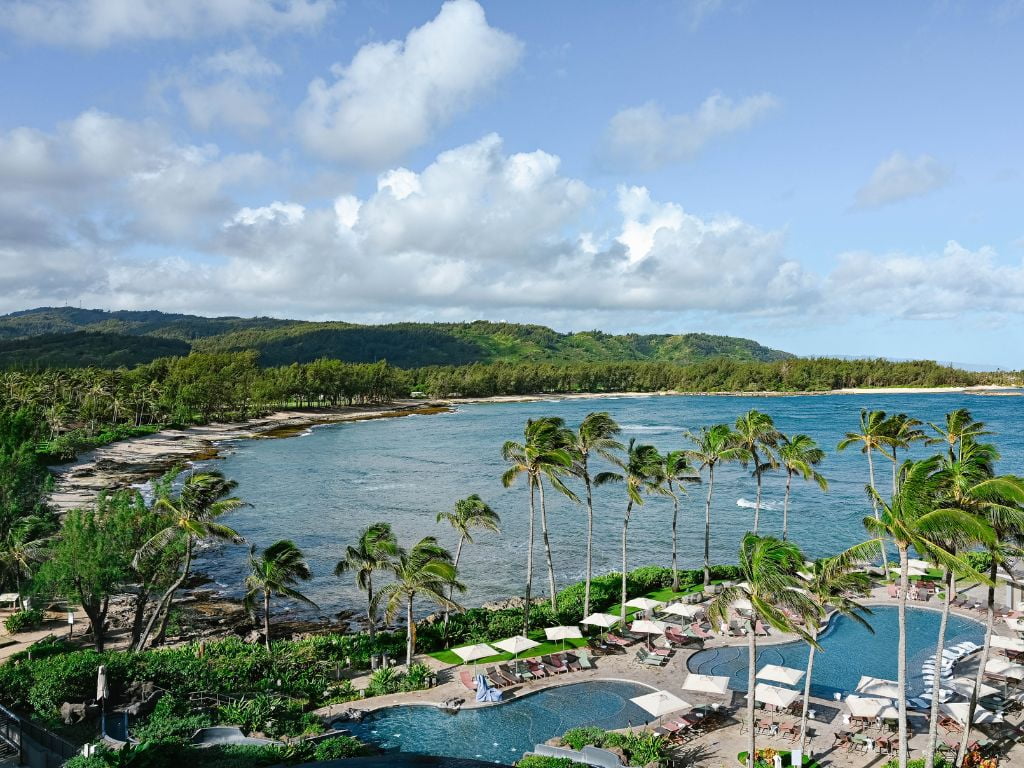 One of our family values is to stay and support businesses that are rooted in sustainability and we are willing to invest and support resorts that are leading the way to a greener future. When researching Turtle Bay Resort we were happy to see their sustainable initiatives and elated to see how this leadership transitioned to on-the-ground action for guests.
Sustainable Certifications and Awards
Investing in sustainable certifications is an excellent way for resorts to show their commitment and leadership in creating eco-friendly stays and businesses that support the local environment and economy. Here are some of the certifications and awards that showcase their commitment to sustainability:
Green Eco-Leaf Rating
Hawaii Green Business Program and Award
Trip Adviros Award Plantium Green Leaders
How To Be a "Green Guest" At Turtle Bay Resort
"Kuleana" translates to "Our Responsibility" and as a guest, it is clear that the resort is committed to honouring its location and protecting it for generations to come. Here are some of the easy ways that as a guest you can embrace the leadership in sustainability and have a more eco-friendly stay.
Refillable Water Bottles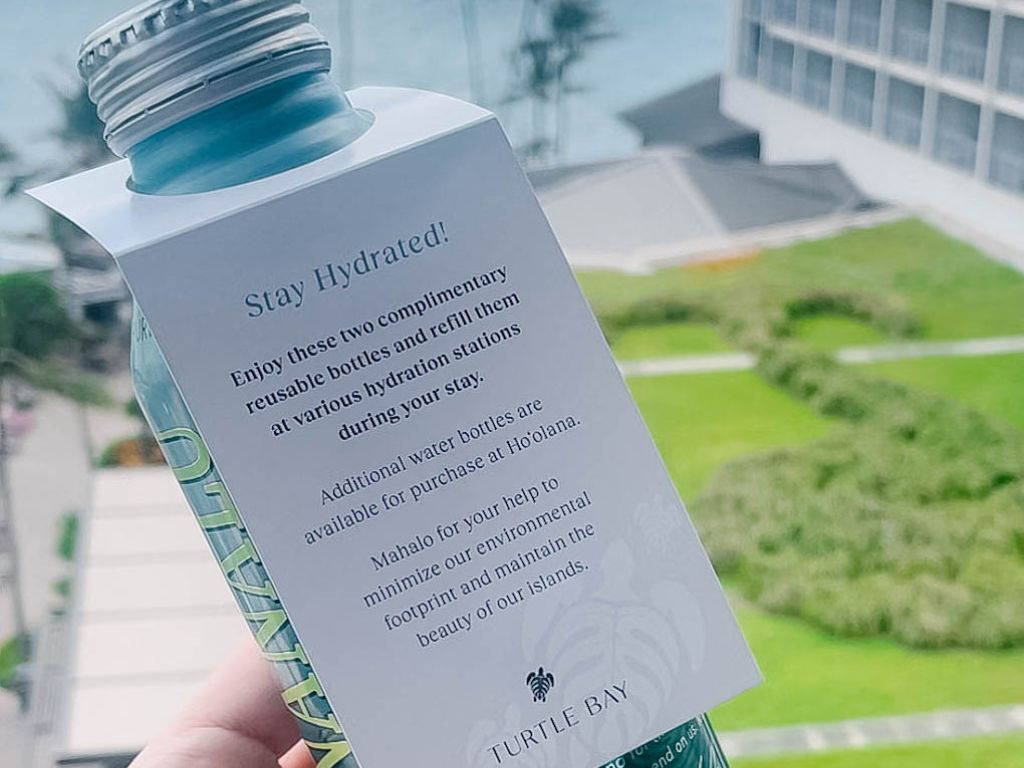 In each room, there are refillable water bottles and on each floor, there's a water dispenser located next to the ice machine. This little step saves thousands of single-use plastic bottles from even being put into the ecosystem! My kids loved running back and forth to fill up their water bottles and they made a great take-home souvenir after our trip.
Farm to Table – Plan a Tour to Kuilima Farms
Kuilima Farm is located on the property and guests are invited to go for a tour to learn more about the local produce that is being grown on-site with the goal of promoting stable and sustainable food production on the island. "A part of being one of the islands' eco-friendly sustainable hotels is using local and organic produce. We're very pleased to have partnerships with the North Shore's many farmers, using their fresh produce in our restaurants, of which 80% are organic. "
With 11 local farmers working 468 acres of land, you can experience firsthand what farming on the island is like, learn how the food from the farm is featured on the menu at the hotel, and even plant some flowers while you are there!
Traveller Tip: The tour ends at the roadside shops where farmers have produce and treats for purchase. One of the "must" indulgences is the CAROLINE deep-fried bananas, which taste like a Hawaiian doughnut!
Recycling & Composting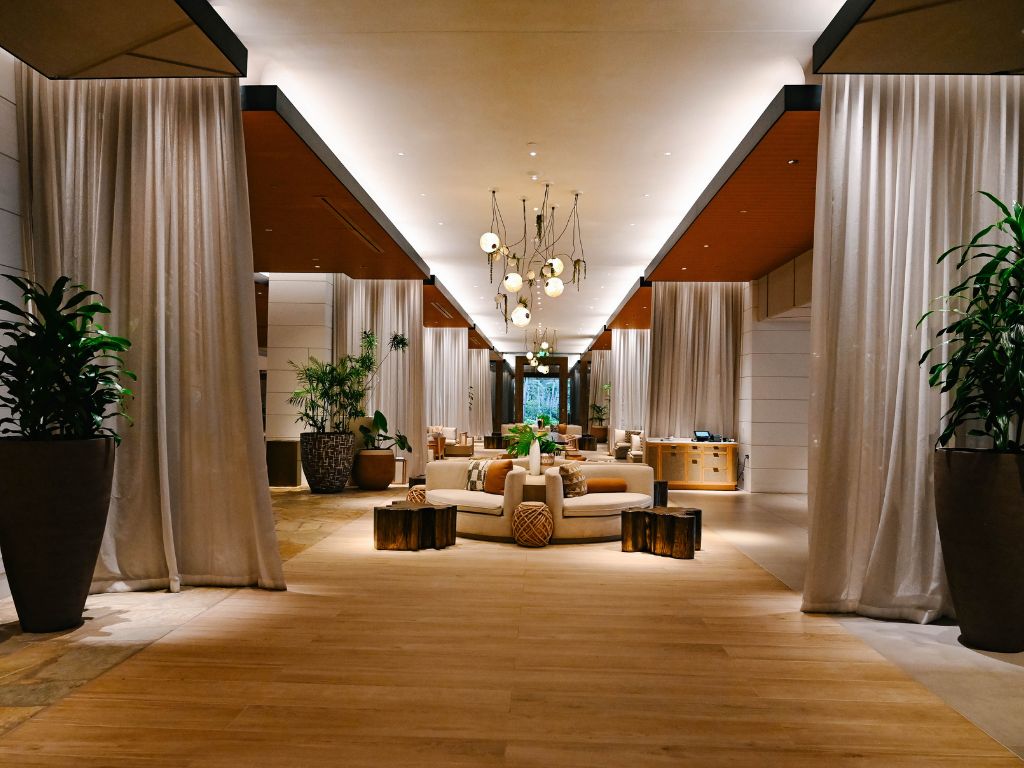 As Canadians we love recycling almost as much as we love hockey, so to see a resort embrace recycling at all points of our stay, was inspiring. From inside our guest rooms, to in the hallways and shared spaces, as well as out on the pool decks, you could see that recycling is a way of life at Turtle Bay too! "Resort-wide recycling has gone full-effect, with an average increase of 1.8 tons of recycling over the last two years. Trash numbers have also gone down 0.4 tons each month. Recycling collection centers are located in designated areas of the resort for both guests and employees.
The bulk of green waste from the foliage is turned into mulch, while a small amount is used in our composting area. Our landscaping company mixes green compost with horse manure from our stables for planting material."
Traveller Tip: Recycling is EASY at Turtle Bay Resort!
Reusing Towels & Linens at Turtle Bay
Gone are the days of travellers requesting fresh sheets and brand-new towels after each wash. We always ask, if we wouldn't do it at home, why would we do this on vacation?
The resort will offer to change bed linens every third day of your stay if you wish, whereas we opted to keep our sheets for the whole week. We also reused our towels until they needed refreshing by hanging them up and only putting towels that needed to be replaced in the tub.
EV Charging Stations & Tesla Rental
If you rented a green car (bravo) to get to Turtle Bay, know you can take advantage of their on-site charging stations in between your island adventures!
They also have an on-site Tesla that is available to rent by the hour during your stay!
Reducing Food Waste & Eliminating Single-Use Plastics
Being surrounded by Mother Ocean and the amazing creatures that call her waters home, it's easy to see why single-use plastics need to be eliminated. At Turtle Bay Resort all beverages are served in either a reusable glass or a compostable biodegradable one.
Food waste is also donated, specifically leftovers from special events. Food that can't be shared is sent off to local farmers to feed their livestock.
Turtle Bay Blog – Rooms at the Resort, Your Hawaiian Home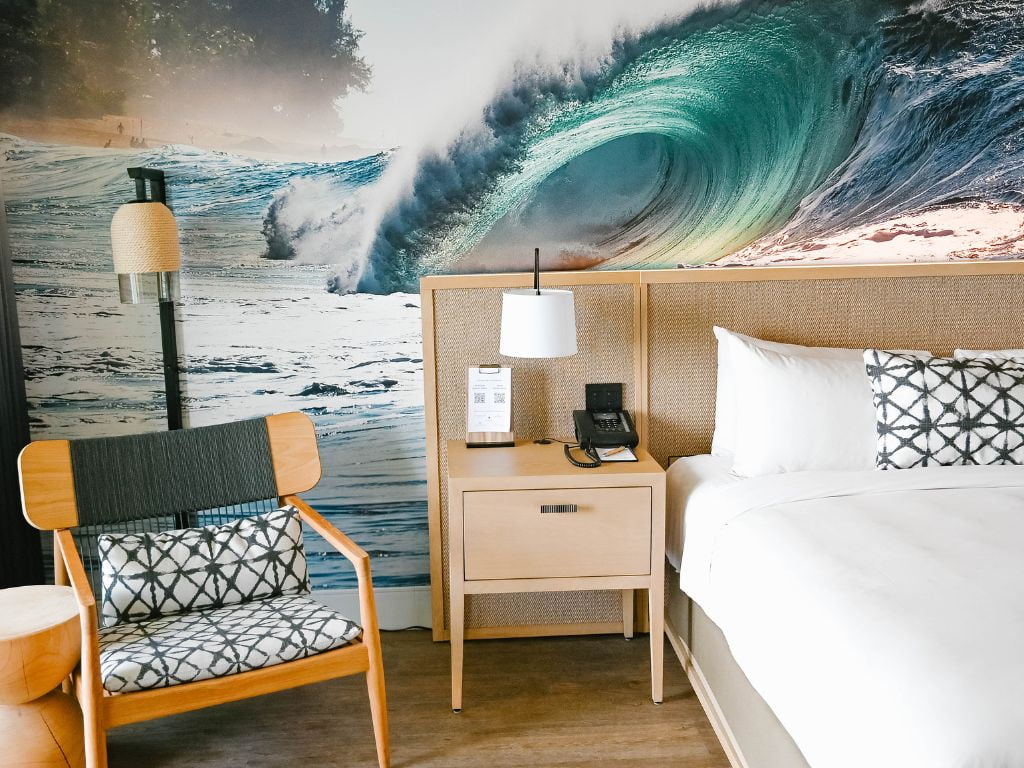 How many rooms does Turtle Bay Resort have?
The resort has 450 guest rooms, with a variety of styles of accommodations to suit your needs. From standard rooms with a single king, or two queen beds, to luxury suites with a living room and soaker tub, to VIP bungalows with four poster king beds and private infinity pools.
Ocean View Rooms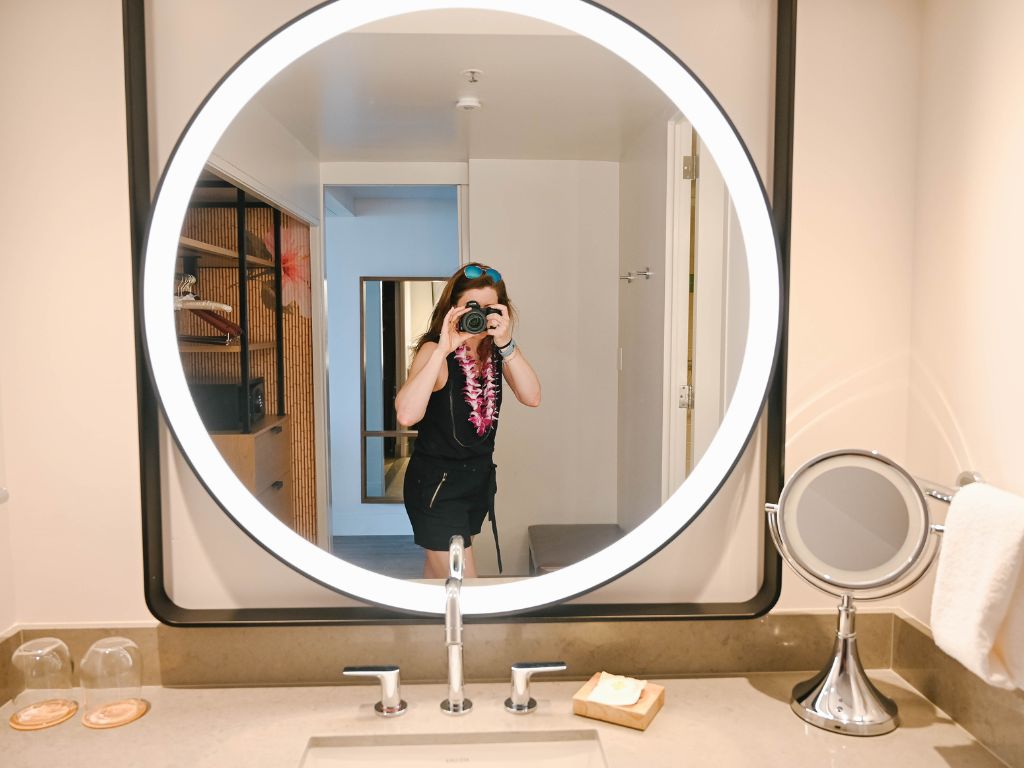 478 square feet of Hawaiian luxury await, where you can choose between a king or a double queen for your stay. This was the room we stayed in where we enjoyed incredible views out over the infinity pool and kids pool, right out to the surfers on the sea. The rooftop garden was also a work of art, where we loved seeing the gardeners tend to the foliage, leaving a green roof and beautiful display for us to enjoy.
Mom Tip: These rooms were great as they had a very large bathroom with storage for clothing and a large closet and DOUBLE VANITY for getting ready (perfect for the family).
Ocean View Suites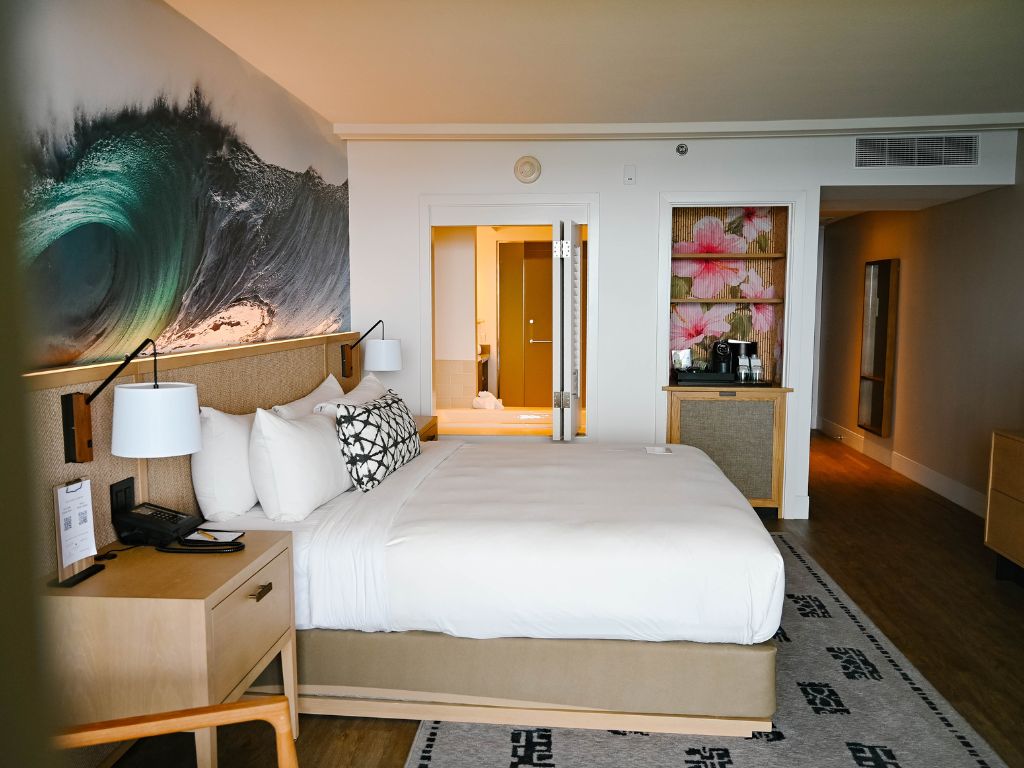 There are three different types of ocean view suites for you to choose from including 2 presidential suites (1450 square feet) and ocean view suites with a king, or double queen (725 square feet). These rooms are located at the end of each of the wings, allowing you extra space and scenic 180-degree views out over the landscape. There are two reasons these rooms are "extra awesome." The first is the large soaker tub and the second is the pullout sleeper sofa and amazing living room.
Premium Ocean View Rooms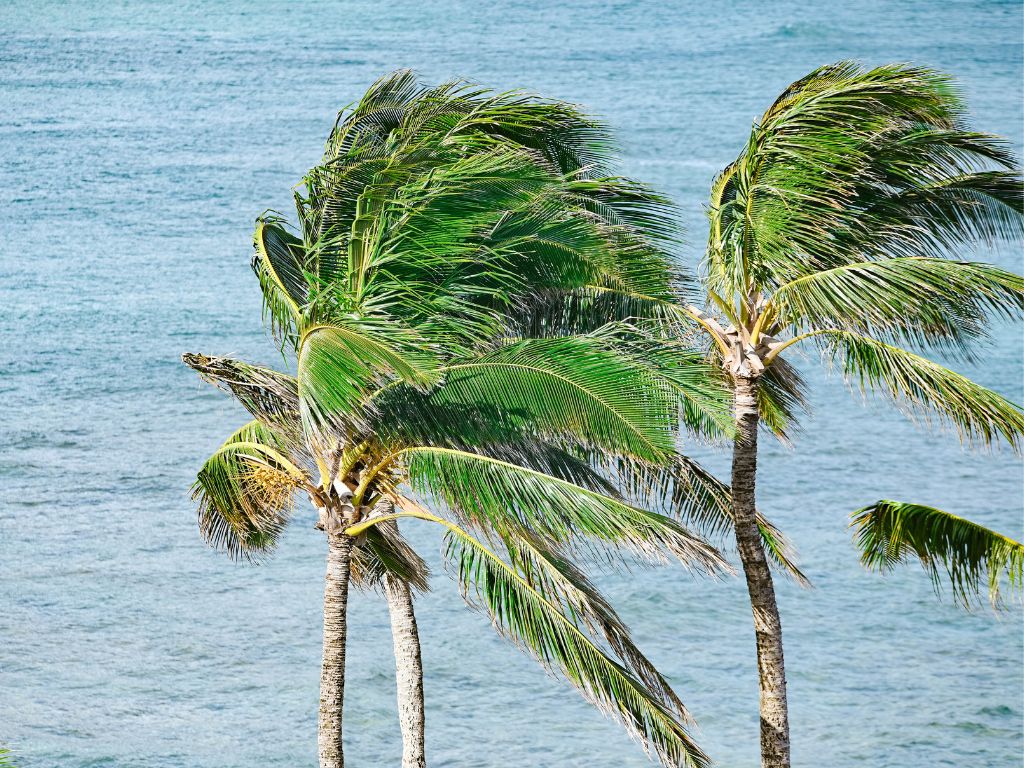 Located on the top floor of the resort, you can soak in your drawn bath and get peekaboo views from the tub (you thought it couldn't get any better!). Whether you choose from a king or double queen configuration, you'll enjoy 478 square feet of luxury from the top floor of the resort.
Ocean Bungalow Rooms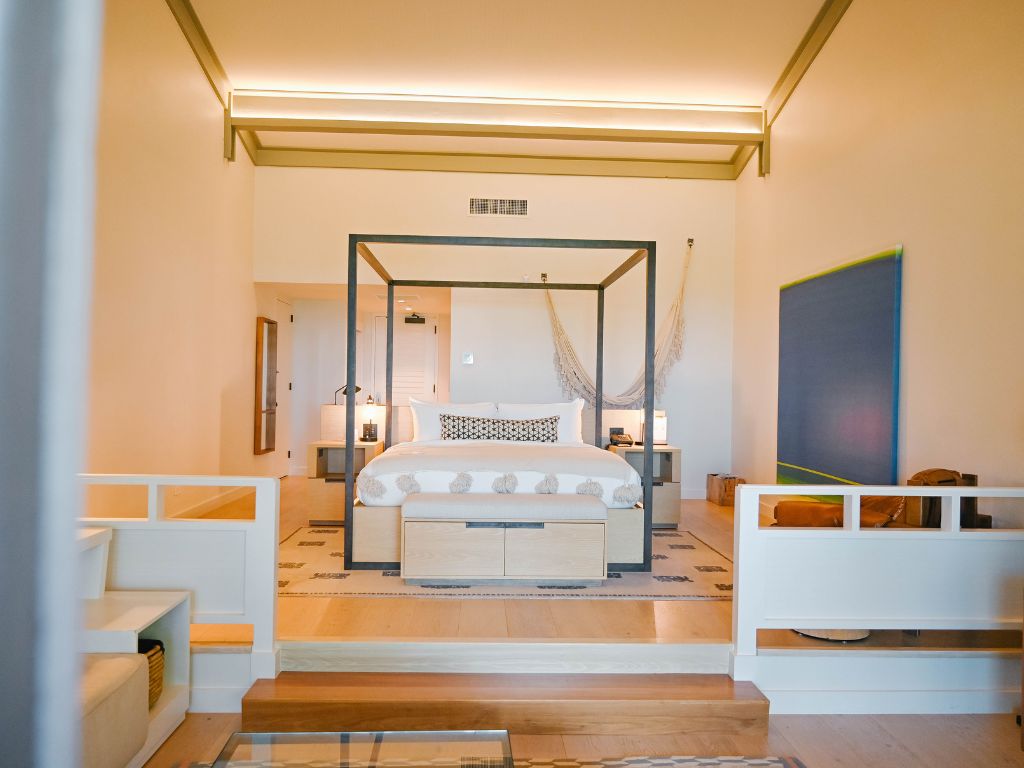 The VIP experience awaits those looking for ultimate privacy in the Ocean Bungalow Rooms. Located adjacent to the main resort, a private walkway takes you to 750 square feet of luxury, where an exclusive, oceanfront hideaway is yours to indulge in. A king bed suitable for a Queen overlooks a large sitting room and private lanai.
Steps from the lanai are an infinity pool, a small private bar, and oversized lounge chairs, perfect for cuddling up with a book or your favourite travel buddy. With a dedicated VIP concierge, you'll have everything you need to have the ultimate luxury experience.
Click here to book your luxury family vacation at Turtle Bay Resort!
What are the main highlights of Turtle Bay Resort?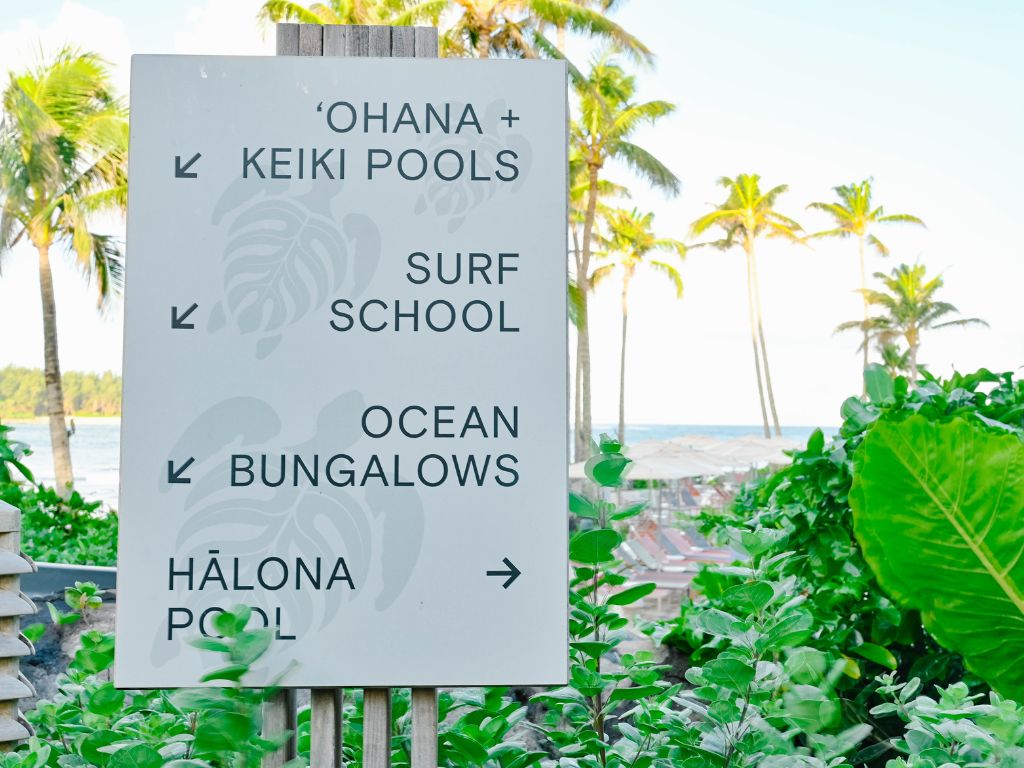 The Turtle Bay Resort has more amenities than you could visit in a single trip (if not two) offering activities and adventures for all types of explorers. When you first arrive you'll be given a two-page guide that showcases the map of the property as well as the daily scheduled activities for the day. There you can note which ones are offered complimentary as well as which ones have a fee.
Traveller Tip: Register for the classes you are interested in to ensure your spot. I often didn't register and had no problem getting in but we went during slow season so I recommend booking if it's important to you to save that spot!
Kumilima Farm Stands and Tours
Learn from my mistake and make one of your first stops at Turtle Bay Resort the Kumilima Farm Stand. Located just down from the main entrance to the resort, this stand is stocked with fresh fruit, produce, and treats that would be perfect for stocking up your fridge with healthy snacks.
Kids Pool and Waterslides
The kid's pool is the perfect temperature and invites kids to explore 2 waterslides! (Okay, maybe Moms are allowed to play on them too!) My kid's favourite part (other than playing with us) was being able to order special drinks and snacks right to the poolside!
Adult Only Infinity Pool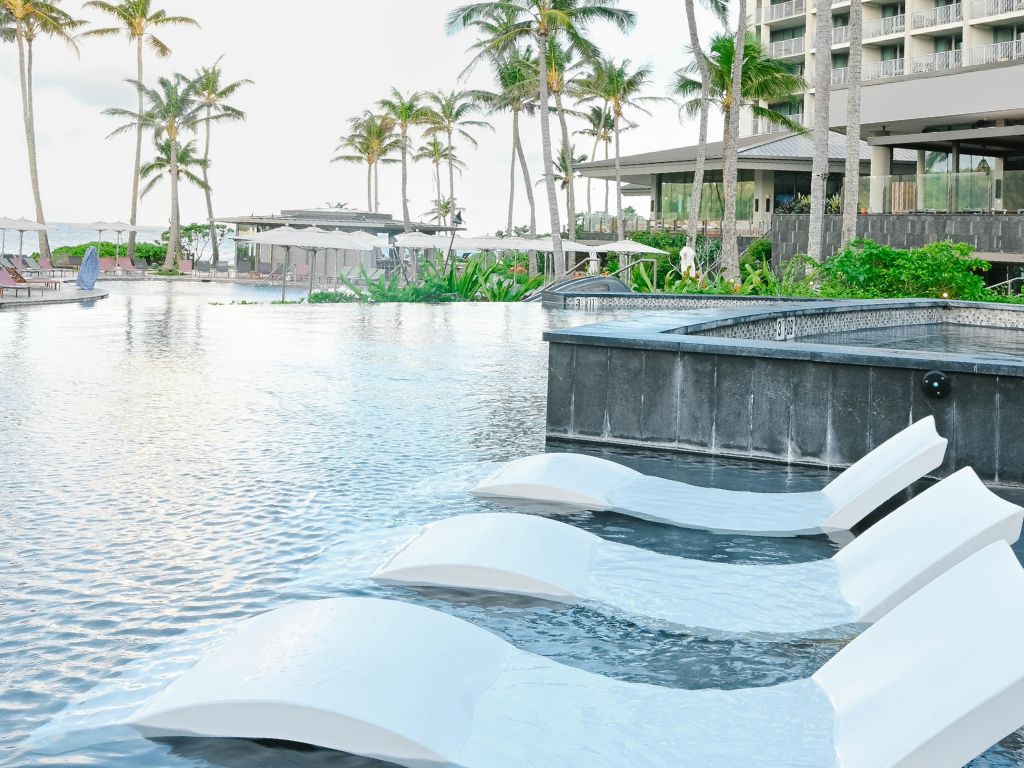 My husband and I loved the adult-only infinity pool, which we would often sneak down to when it opened at 7 am. We'd enjoy a scenic swim and then start off our day with coffee in the hot tub (well water for me as I'm not a coffee drinker). One of my favourite mornings was our last morning when we had the whole place to ourselves and I managed to capture a really cool photo with the palm trees reflecting off the infinity pool.
Turtle Bay Beach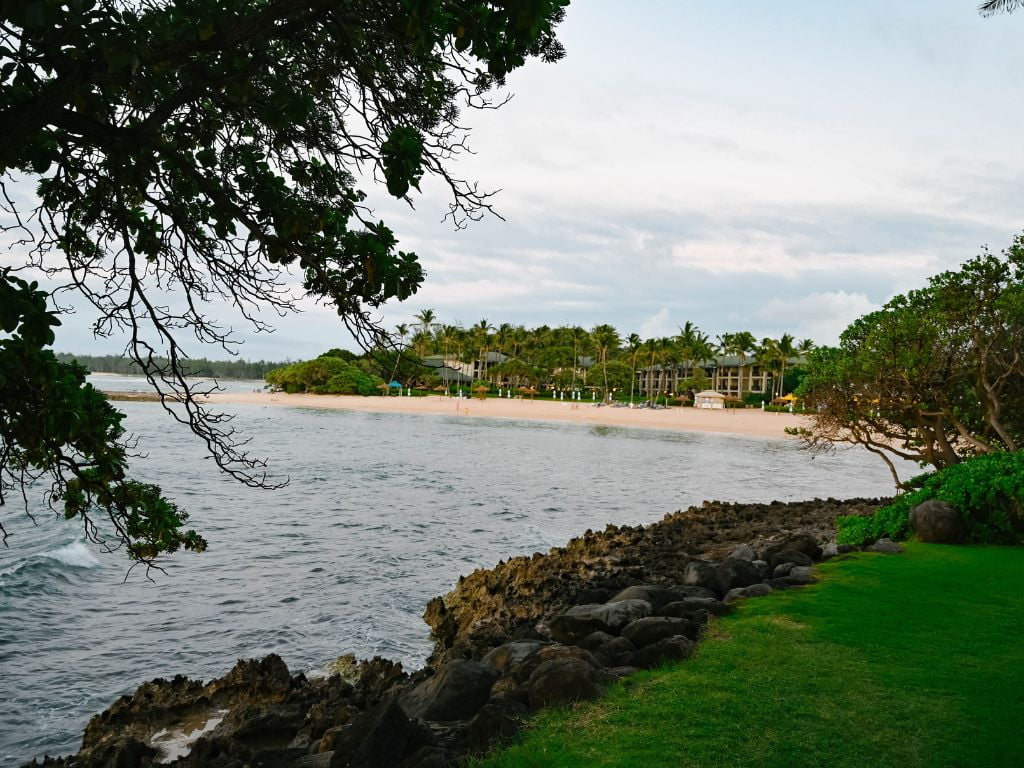 Most of our mornings started off with the question, "Is this a pool day or a beach day?" and when it was a beach day we'd pack up the essentials and hop over to the beach. Upon arrival, a beach attendant would set us up with complementary chairs and an umbrella, and we could all gear up and head out into the sea for swimming or snorkelling… or just hang out and enjoy the feeling of the sun on our skin.
Lei Making
Complementary Lei making is available in the lobby several days a week for hotel guests. You'll be able to choose from making a haku lei (headband) or a traditional lei, depending on your interest. Also depending on the flowers of the day you may craft your masterpiece with traditional pink orchids, or you may get to experience white, green, or other colours, depending on availability.
What we loved the most (and as a Mom I loved) was our incredible host who provided us with hands-on stories, sharing the significance of the leis and the Hawaiian traditions that were passed down, generation to generation. For example, in our class, we learned how leis are never to be thrown out but are to be returned to nature. To respect and embrace this, we kept our leis for the duration of our trip (sprinkled with water and stored in the fridge) and on the last night, we took apart our leis and gave the flowers back to nature via Mother Ocean (apparently, the sea turtles love the fresh snack!).
Ukulele Lessons
Bouncing fingers plucking random chords could be heard various times in the lobby, where a lesson looking out over the infinity pool was a pretty special place to learn ukulele. Guests ranging from 8 years old to 60 years old took part in the small group session, each trying their hand at the traditional Hawaiian instrument.
Jamie O'Brien Surf Experience
Swimsuits on and towels slung over our shoulders, we walked out onto the boardwalk ready to tackle Hawaii's North Shore waves. As beginner surfers we weren't looking for the big walls of water, but rather the little ripples that would run long enough for us to stand up and ride the waves.
Right next to the beach and tucked into the resort is the Jamie O'Brien Surf Lessons. Award-winning and world-renowned surfer, Jamie O'Brien has teamed up with Turtle Bay Resort to invite guests to experience surfing hands-on, right in front of the resort. With gentle waves, kind and educated instructors, and warm water (meaning no wet suits were needed), the experience was out of the world! One of our biggest regrets from our trip is that we only went surfing once and we wish we had gone again, and again!
12 Miles of Trails to Explore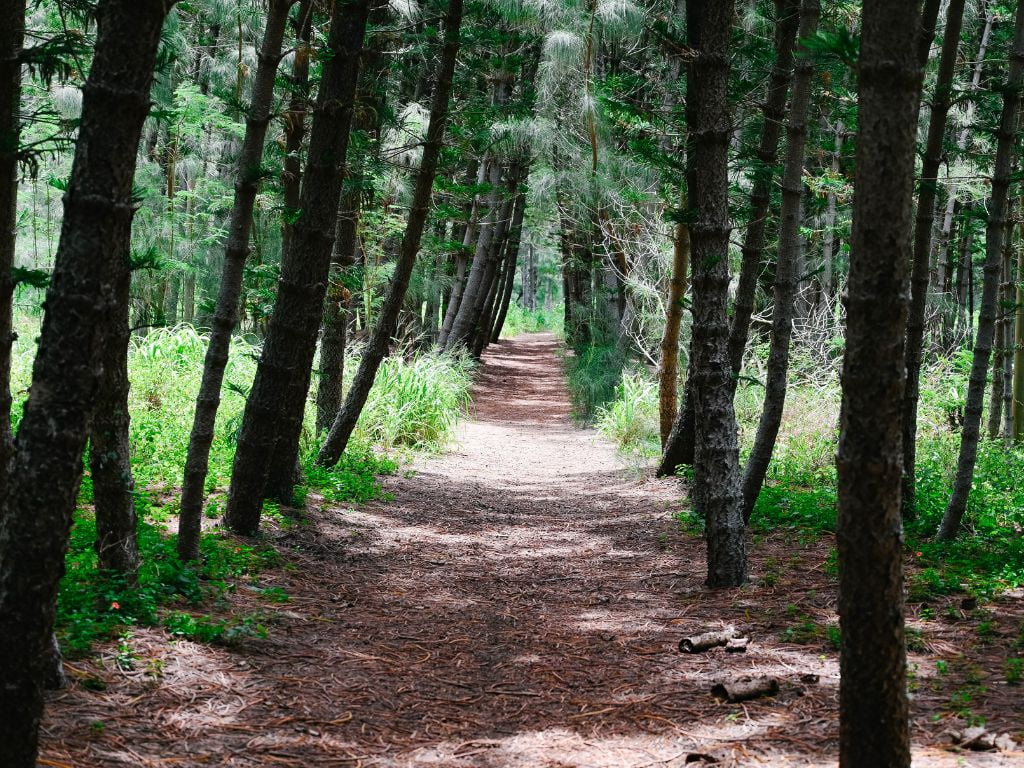 One of the things I love the most about the Turtle Bay Resort is how much land they have left untouched by development. With 1300 acres, 5 miles of beaches to explore and 12 miles of trails, they easily could have developed the land and made a North Shore resort mecca… but they didn't. And that says a lot to me.
What's left is wide open places to explore. Beaches where you and your family will be on only ones in the sand. Bays where turtles still come home every morning to eat and can crawl up onto the beach to soak in the rays. This oasis is yours to explore and is best viewed on foot or by biking around the property.
Complimentary Bike Rental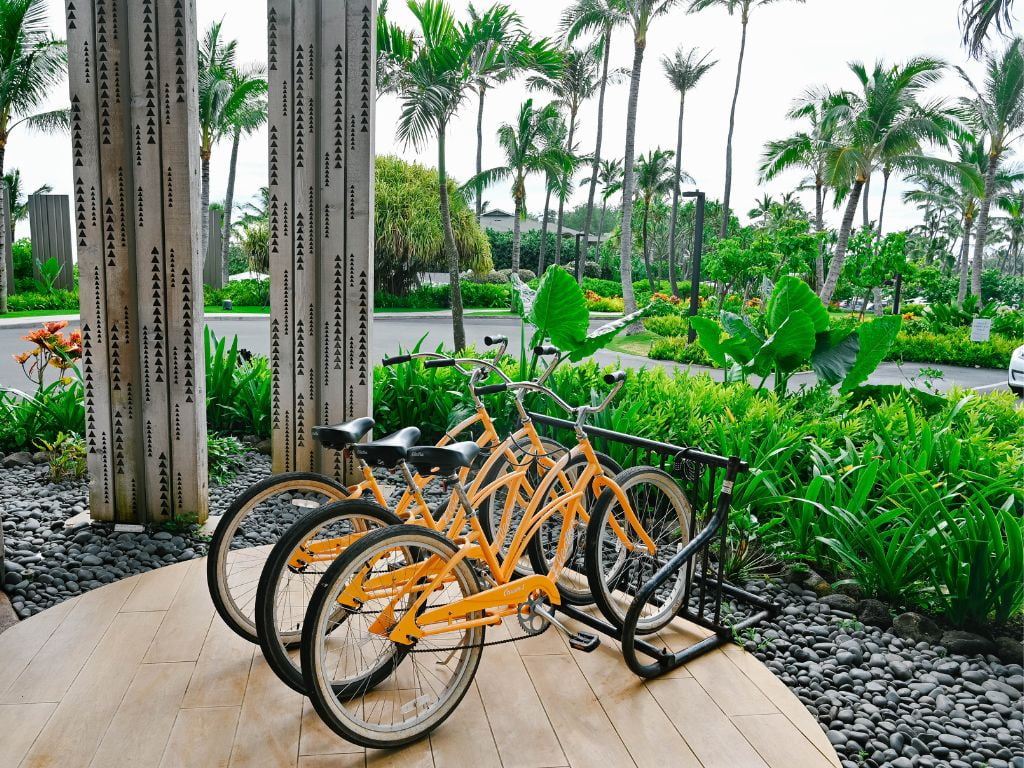 Down at the activity centre, there are complimentary pedal bikes available for every rider in your family. Whether you go for a cruise along the coast or hit up the trails next to the sand, it's a great way to pack a picnic and take the family exploring. This was an activity we did on our last day and brought out so many laughs, we can't even begin to tell you!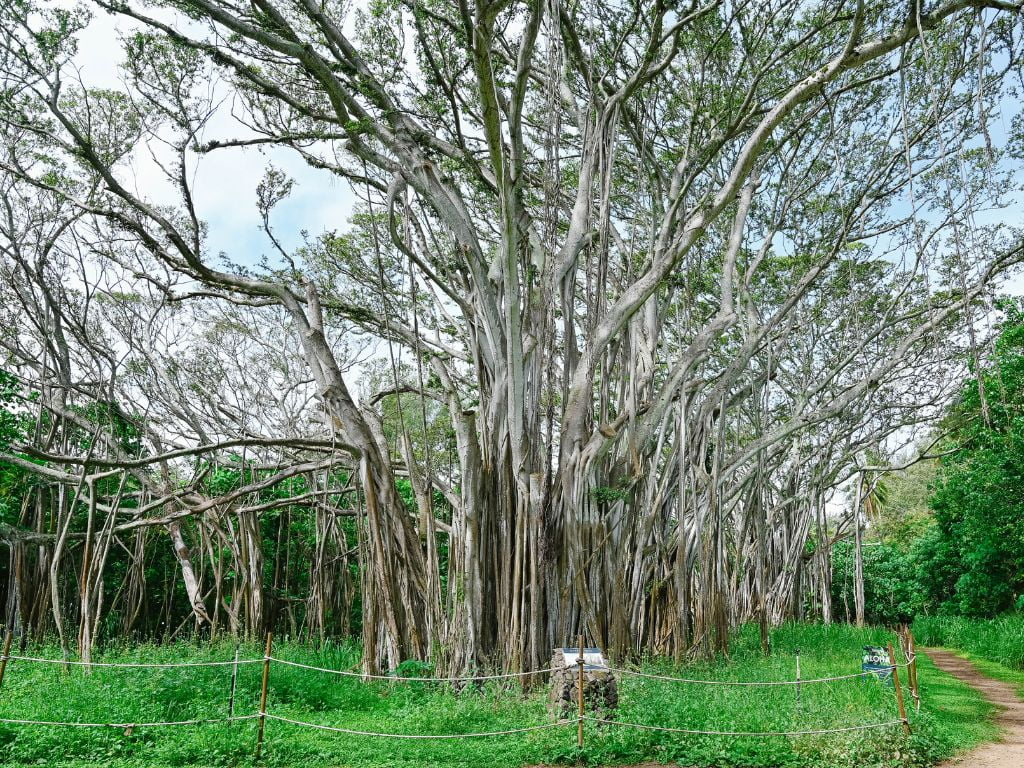 Mom Tip: Make your way to the famous Banyan tree… it's a sight to see!
Horseback Riding Stables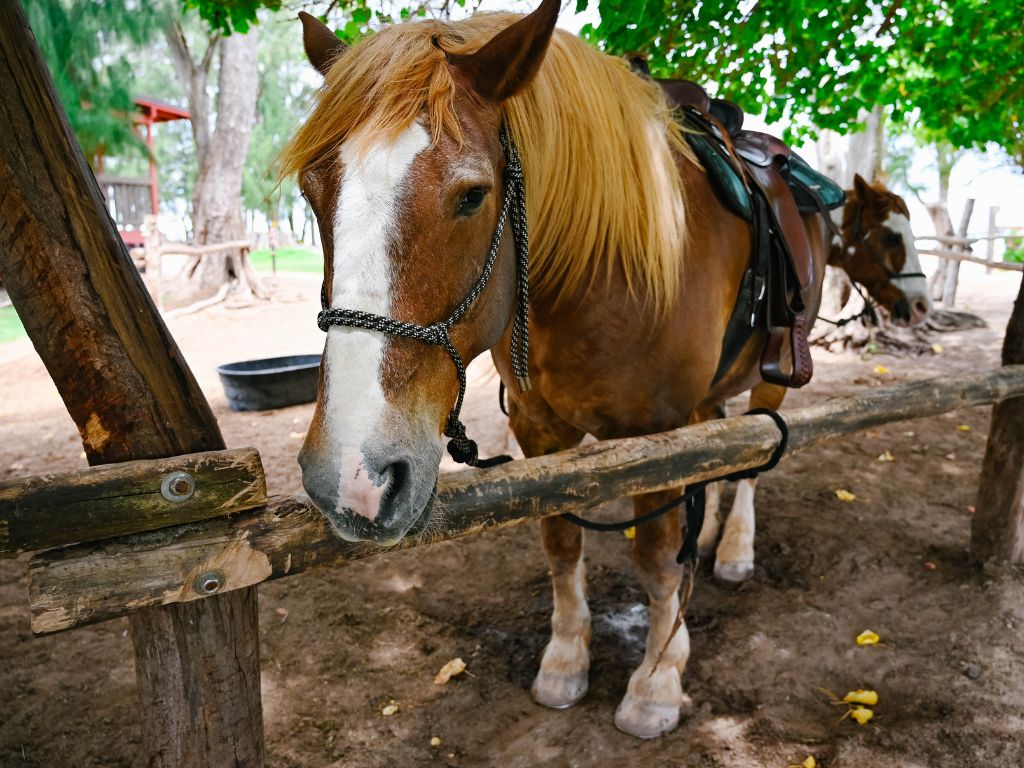 When you're out on your bike rental you'll pass the stables, where you can stop and visit with the resident horses. My son has already decided that on our next trip, we will be going for a horseback ride as he made us go back and visit the horses multiple times!
E-bike and Mountain Bike Rental
If you're wanting to go for an easy cruise (and a further distance) renting an e-bike may be the perfect fit. If you want to hit the harder trails, the resort offers mountain bike rentals as well. Being able to explore the area in an eco-friendly way is one of the best ways to experience Hawaii.
Pickleball & Tennis Courts
Our family has a new favourite sport after being introduced to Pickleball at Turtle Bay Resort. Easy to pick up and play, with several courts we opted to head out first thing in the morning when it was still cool enough and we could get some games in. The best part, was when we got home we bought paddles so we could keep playing!
Snorkelling
On the beaches of Turtle Bay, there is a beach stand that rents out snorkel gear (or you can bring your own). The coral reefs in front of the resort are best explored up close and our whole family loved swimming out and seeing the changing scenery beneath the waves. From big bright fish to beautiful coral it's definitely something worth checking out.
Sunset and Sunrise Watching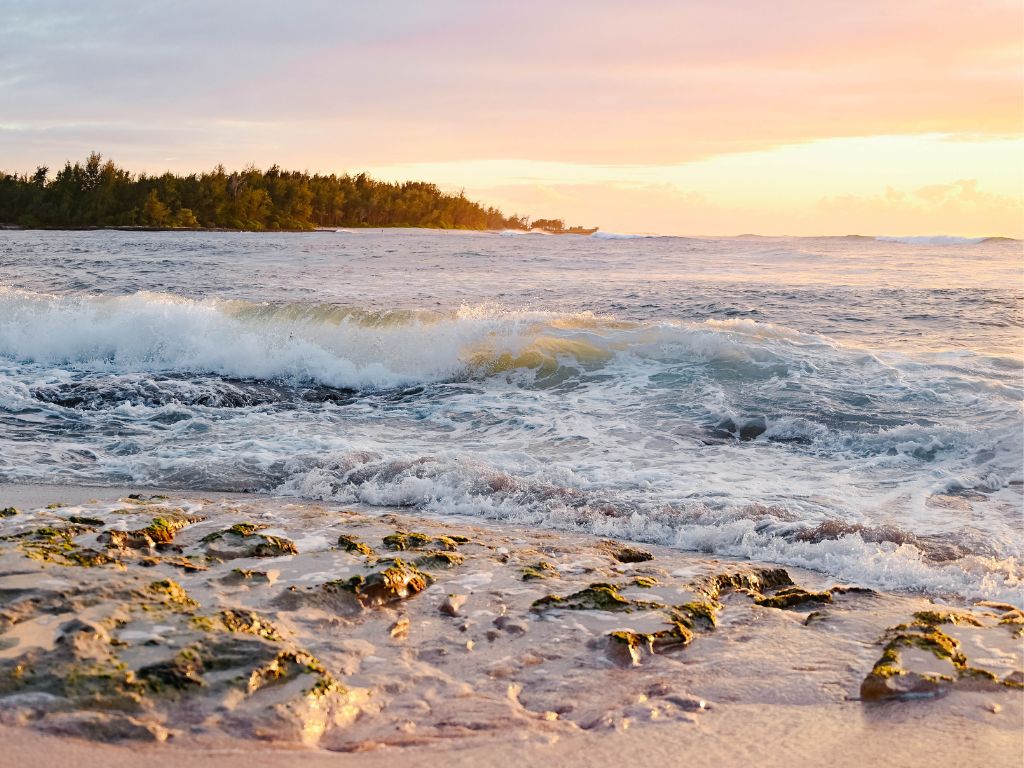 Whether you watch the views from your balcony or head down to the beach, there's nothing like a sunset in Hawaii. On our last night we got dressed up and took our leis down to the ocean, brought a bottle of sparkling pink lemonade, and enjoyed our last sunset as a family. We shared some of our favourite memories, cut our leis and returned the flowers to the sea, and took a family photo that I'll forever cherish.
Fitness Centre & Fitness Classes
The resort offers a lot of complimentary fitness classes (as well as paid classes) for guests to experience. I loved being able to start off my day with a workout. The instructors are locals who are clearly passionate not only about fitness but about their beautiful homes and were high energy and willing to share information.
When I wasn't at a fitness class I could hop over to the fitness centre which I think boasts the best views in the whole resort. A 180-degree view surrounds you with state-of-the-art equipment including free weights, machines, treadmills, yoga equipment and even peletons.
Newly Renovated Nalu Spa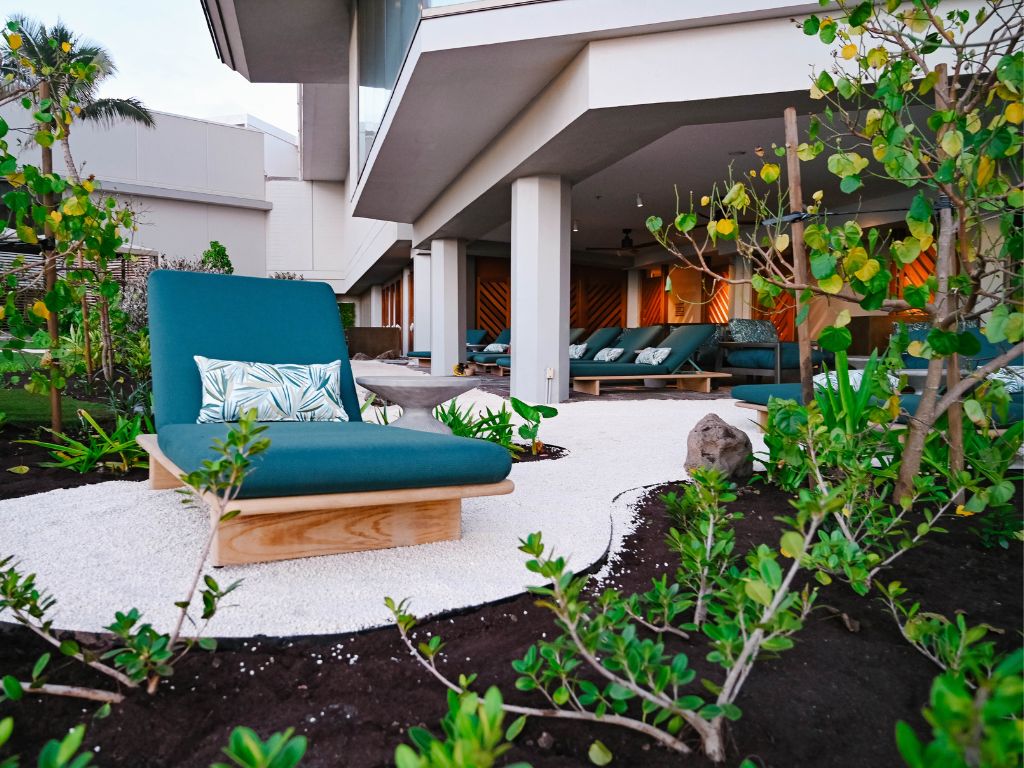 How welcoming does this seaside retreat look? After an extensive renovation, the Nalu Spa is now open, welcoming guests to experience the new and modern Hawaiian Spa at Turtle Bay Resort. I was fortunate to sneak in before opening day and see the renovation and all I can say is WOW! I can't wait to come back and experience a seaside massage, or a facial, or a pedicure! (too many difficult choices to be had!).
Two Championship 18 Hole Golf Courses & Putting Course and Driving Range
If you are a golfer then this is the place for you. With two championship golf courses to choose from on what I think must be one of the most scenic courses in the world, this is definitely a golfer's dream come true.
Whale Watching & Whale Sanctuary
Being able to see whales in their natural environment is one of the most moving experiences I've ever had… and I've been fortunate to see Humpback Whales in Hawaii, leaving me in tears more than once. An ideal day trip and ecotourism experience, this is a great way to learn more about these beautiful creatures as well as how we can do our part to protect them.
Stand-Up Paddleboarding
If you like being out on the water, SUPing is a great way to get out on the water. Tours launch from the protected Kawla Bay, offering calmer waters than those that are right outside of the resort that the surfers love!
Kayak Turtle Tours
Early in the morning is the best time to see turtles, so set your clock and get ready for a morning kayak with some of the island's most famous residents. The kayak tours launch from Kawela Bay where the turtles love the protected inlet and the ability to cruise around without encountering too many waves.
Traveller Tip: Check with your guide if this is okay, but it was recommended in our Lei Making class that if you're done with your lei, you can take out the string and drop the flowers into the water as the turtles love the flowers and see them as a fresh treat.
Complimentary GoPro Rentals
With so many adventures awaiting, you may want to rent a go-pro to capture some of those memories. Turtle Bay offers complimentary GoPro rentals (you just have to purchase the SD card for $30 – or perhaps you could bring your own). But being able to use one for free is a pretty great bonus.
Is Turtle Bay Resort good for families?
Turtle Bay Resort is GREAT for families. With a variety of activities for kids of all ages, it is the perfect basecamp for your Oahu vacation. From spending the day at the resort with the littles, to planning epic day trips with the big kids, there's more to do than you'll be able to explore in one trip, making it the perfect place to return to again and again.
Click here to book your luxury family vacation at Turtle Bay Resort!
Things to do around Turtle Bay Resort?
Staying at Turtle Bay Resort is an incredible adventure but there are so many amazing eco-experiences that will introduce you to the unique environment and create deeper connections with the land and the people that call Oahu home. Here are our top recommendations for things to do while staying at Turtle Bay Resort:
Kualoa Ranch Adventure
A 40-minute drive east of Turtle Bay Resort will bring you to the incredible, world-renowned Kualoa Ranch. Spanning over 4,000 acres, this beautiful sanctuary invites you to experience adventure, eco-tourism, as well as explore movie sets all in one location. Depending on your interest you can choose a tour that is best for you and your family. Options include hiking, biking, ziplining, horseback riding, ATV, UTV, bus tours, and even tours that give back through their Malama Program. I've been to the ranch twice and will definitely go back again on our next tour as there's so much to explore.
Our family favourite was the Jurassic Park and Jumanji movie sets, as those are two of our favourite movies. Being able to hide behind the iconic log or see where some of those scenes were filmed as well as take photos with the props was truly special.
Click here to book your Kualoa Ranch – Jurassic Adventure Tour tickets!
Click here to book your Kualoa Ranch – Horseback Walking Tour tickets!
Click here to book your Kualoa Ranch – Jurassic Valley Zipline tickets!
Waimea Valley Waterfall
Located only a ten-minute drive from Turtle Bay Resort is the Waimea Valley Waterfall. A popular tourist attraction, the 1875 acres have been protected to allow guests to experience the area all while ensuring the natural wonders that make it so special are preserved.
Your visit will start off with a 10-minute walk along a paved path through the Hawaiian jungle. Native species of plants, birds, and butterflies will invite you on this beautiful scenic walk. Keep an eye open for historical sites that showcase cultural significance as well as historical insight as to how the land has been used in the past.
Once at the waterfall, you'll get into your swimsuits, put on a life jacket (mandatory) and hit the water. It's pretty powerful to feel the rush of the water as it pushes you back away from the waterfall. Click here to learn about rates and to plan your visit.
Mom Tip: Wear swimsuits, bring a towel as well as a water bottle, sunscreen, and hat. Comfortable walking shoes are also recommended as it's a 10 – 15 minute walk to and from the waterfall.
Polynesian Cultural Centre
To connect with the history and the people of a destination is truly how to be a responsible traveller and one of the great places to start this exploration is the Polynesian Cultural Centre. Touted as a living museum, this centre is a celebration and educational experience introducing you to the traditions and costumes of 6 different cultures. On-site you'll be able to tour the authentic villages, eat traditional Polynesian food, try an art class or paddle a canoe. One of the attractions that they are most famous for is their luau, so if you're interested be sure to get tickets in advance.
Click here to book your Polynesian Cultural Centre tickets!
Other North Shore places worth checking out:
Enjoy Famous Kahuku Shrimp & Food Trucks
Historic Waialua Sugar Mill
Explore Hale'iwa Town
Catamaran Cruises
Deep Sea & Off-Shore Fishing
The Seven Mile Miracle
Watch Professional Surfing at Banzai Pipeline
Boat Rides with Dolphin Watching
Swimming With Sharks
Scuba Diving
Hiking
Resort-Wide Sustainable Initiatives
The ancient Hawaiians have cultivated a culture of respect and responsibility and here are some of the modern initiatives that are in place helping lead the change on a daily basis.
Green Rooftop at Turtle Bay Resort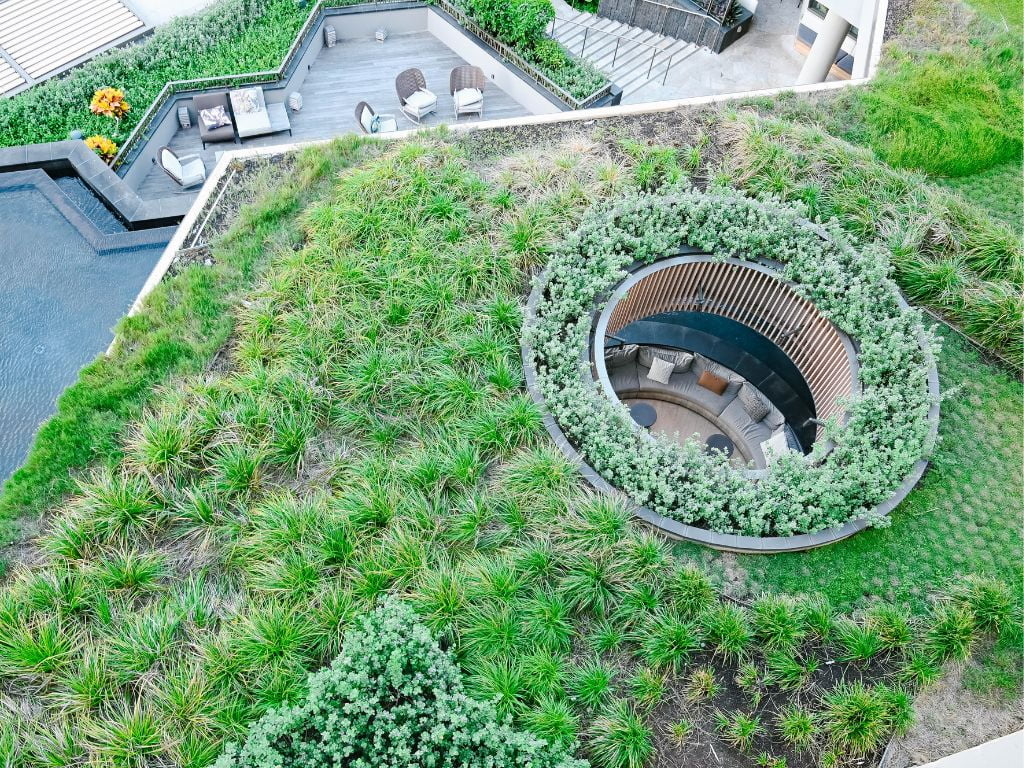 As soon as you've settled into your room, you'll look out onto the balcony and spot the beautiful "green" rooftop. Patterns of native Hawaiian plants including Nehe and Akulikuli intermix with river rocks in a variety of patterns and layouts that make for rooftop art. As a guest, this new roof provides you with more beautiful views, but it also has a lot more function beyond the stunning scenery. The new roof helps improve energy efficiency, reduce greenhouse gases, and yes, the view is also even more stunning with this roof.
Traveller Tip: Keep an eye out during the mornings of your stay and you may be able to see gardeners out mowing the roof, weeding the gardens, or checking on the plants. This was a hit among the young kids who got to sit out on the balcony and see people working on the roof!
Solar Rooftop
Out of sight but under the sun, Turtle Bay Resort was the first resort in Oahu to install a solar roof. "The energy savings are immense, reducing the amount of fossil fuel usage equivalent to 4.3 million pounds of carbon dioxide emissions over the next ten years. That's equivalent to planting 350 acres of forest. Our new roof also saves 1,000 barrels of oil annually, diverted from the production of electricity."
Smart Rooms
Rooms are equipped with Energy Management Systems, which for us didn't mean much until we noticed that when our patio door was open, the AC would turn off. This simple system monitors the settings of the rooms and ensures that the AC isn't on when it doesn't need to be. As a resort, there are much larger systems in place such as setting the room temperatures for large events, but for us, we noticed how the power of many small actions could lead to a major positive impact.
Upgraded Restrooms & Showers
A part of the multi-million dollar renovation was updating the restrooms and showers to reduce water usage, resulting in a significant decrease in water consumption.
Water Waste to Golf Course Greenery
To reduce the demand for freshwater, Turtle Bay's golf courses use the resort's wastewater (after it's gone through an on-site treatment plant) to water the turf on the golf course!
Chlorine-Free Pool
The new pools at Turtle Bay Resort have been converted to natural salt water (versus a traditional chemically based chlorine pool). This results in the elimination of the need to manufacture, transport, and store pool chlorine (which is also not as friendly to the environment).
Bio-Diesel Conversion
Turtle Bay Resort has partnered with Brigham Young University and together they turn hundreds of gallons of oil that are used in the kitchens into biodiesel that is used to fuel the university's fleet of vehicles! I love this creative way to rethink waste!
Turtle Bay Blog FAQs
When was Turtle Bay Resort built?
Turtle Bay Resort was originally built in 1972. Its unique design ensures that every room in the resort has an oceanfront balcony and stunning seaside views.
When was Turtle Bay Resort renovated?
Turtle Bay Resort was closed for renovations from 2020 – 2021 for a total of 16 months.
When did Turtle Bay Resort open?
After the renovation was complete the resort opened again to welcome guests on July 1, 2021.
Is Turtle Bay windy?
Located on a peninsula out into the ocean, the resort feels its share of wind on a regular basis. This wind makes for great surfing conditions and as guests, we loved the breeze as it cooled down the hot sun (be sure to put on extra sunscreen as you can't feel the heat of the sun but it's still burning). There were some days on our trip where it was really windy but a waitress said the wind is normally around 20km/hour, which we welcomed, especially on hot days!
Why Is Turtle Bay Resort Famous?
Full House wasn't the only famous show that was filmed at Turtle Bay, there have been over 150 movies and television shows that have used Turtle Bay as a set. Here's a list of some of our family favourites:
Alvin and the Chipmunks III: Chipwrecked
The Amazing Race
The Big Bounce
Blue Crush
Forgetting Sarah Marshall
The Hunger Games: Catching Fire
Journey 2 The Mysterious Island
Jumanji: Welcome to the Jungle
Lost
Magnum P.I.
Mike and Dave Need Wedding Dates
NCIS: Hawaii
Pirates of the Caribbean: On Stranger Tides
Snatched
Soul Surfer
How Far Is Turtle Bay From the Airport?
It is a 55-minute drive from Daniel K Inouye International Airport and an 85-minute drive from Waikiki Beach.
Does Turtle Bay Resort have an Airport Shuttle?
Yes, contact the concierge and they can connect you with shuttle options.
In Conclusion…
A trip to Turtle Bay Resort is an investment. An investment in time spent with the ones you love. An investment in sustainability and protecting sacred places and the people that live there. An investment in believing that through the actions we take today, we can make for a better tomorrow, and travel is a wonderful way to do so.
Click here to book your luxury family vacation at Turtle Bay Resort!
Is Turtle Bay Resort worth it?
If you're looking for a luxury stay that has a foundation set in sustainability then yes, this is unequivocally one of our most treasured family vacations and we can definitely recommend it. And if you ask my kids, it's already time to start planning our next trip back!
Turtle Bay Resort Reviews
Don't take our word for it, hear what others have to say about Turtle Bay Resort:
"Amazing resort. Everyone from the front desk to the house keeping was incredibly friend and helpful. The breakfast buffet was the best I've ever had anywhere (Shoutout to Manu for making the best omelettes). And the views are the best I've ever seen in Hawaii. All around phenomenal experience." -Dylan S.
"I really enjoyed visiting the hotel and the surrounding areas of beaches, forests and hiking trails. Learned about the property history and its important role in environmental protection." -Matthew W.
"Our first time back since 2014, and traveling now as a family, and we loved every minute. All the amenities of a massive resort in a scaled-down, approachable setting with charm and service. Surf lessons for the kids were a hit, as was everything on the keiki menu (standard fare but with legit quality and flavor which isn't always standard). We are already planning our next return." -Jen L.
"This was our 1st time staying on the North Shore. This resort is fantastic. The staff were friendly and accommodating. We stayed in The Villas and we had plenty of room as well as all of the comforts of home. The kitchen was well stocked with cookware, dishes, appliances, etc. All around a great stay and we will definitely return for another awesome vacation." -Brian S.
---
Check out These Articles for some Hawaii Inspiration!