Digging Deep into My Family History at Big Pit National Coal Museum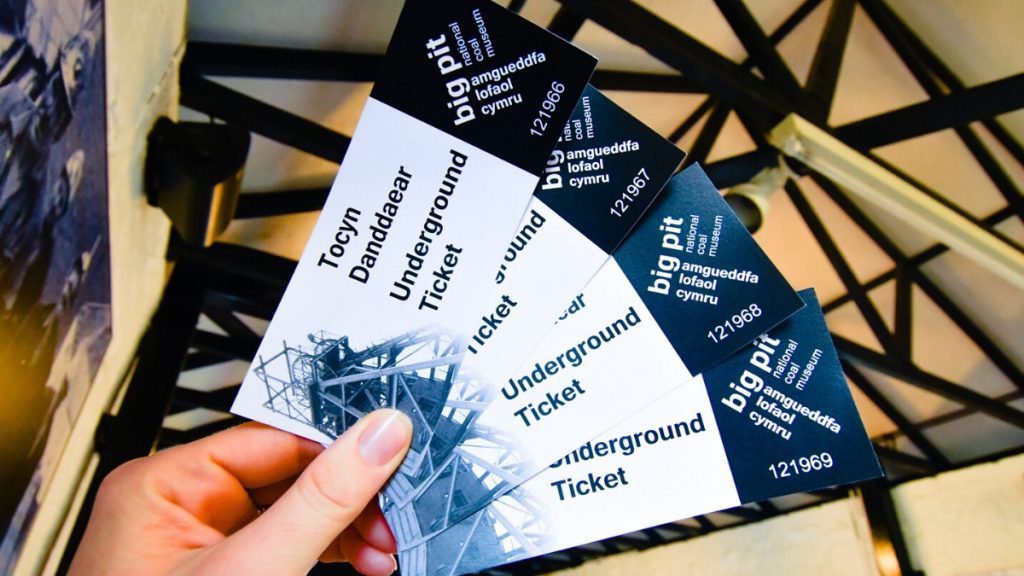 As my family and I, along with our ever-cheerful guide, crammed into the elevator, or 'the cage' as it is more accurately called, I had to swallow the rising panic in my throat. I may be a world traveller and adventurer, but I do have my weaknesses. One of my big ones is claustrophobia, and it was kicking into high gear as the door clicked shut and we started our ninety metre (300 foot) descent down the mine shaft. We were at the Big Pit National Coal Museum in Wales and just starting the highlight of our visit, the underground tour.
We would spend the next fifty minutes deep in the bowels of the coal mine, exploring the narrow shafts, visiting the coal seams, and stepping into the lives of generations of miners who had spent most of their waking hours underground. Fifty minutes, I told myself. What was that, compared to the thousands of hours hundreds of workers toiled below the surface since the mine opened in 1860?
Face to Face with Family History at Big Pit National Coal Museum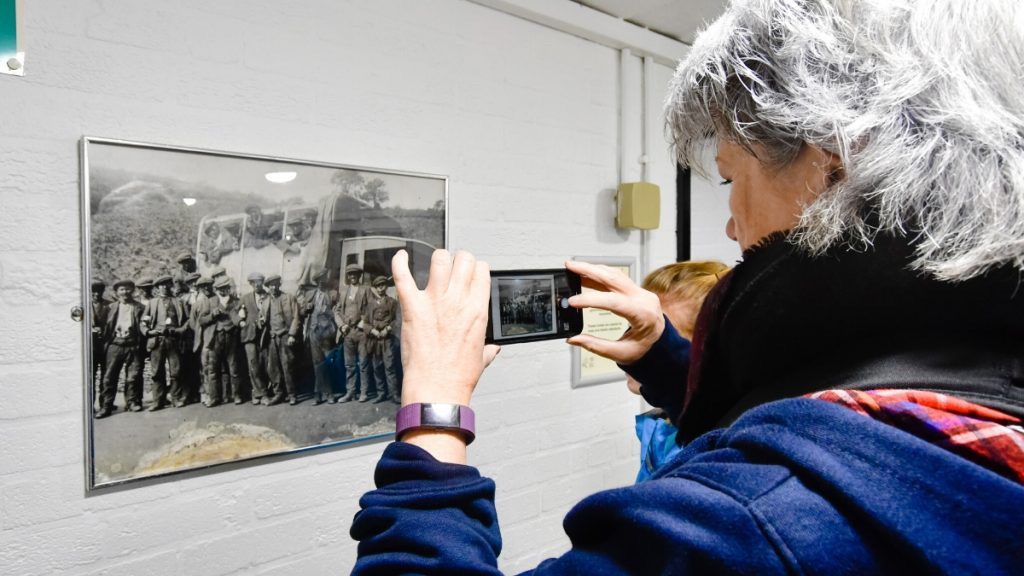 My great-grandfather was one of those miners. I was at Big Pit with my parents and my kids, three generations of us, to experience a taste of his daily life, to step into his black-dusted boots for a moment and see what we could mine about ourselves from his past. I tried to focus on him; what would he bring for lunch? Some kippers (salted, cured herring or other fish)? Maybe a chunk of bara brith (speckled bread) and some cheese? Probably a thermos of tea. One thing for sure, he probably wasn't as happy as I was to get out of 'the cage'. The door opened and we stepped out into a completely unfamiliar subterranean world.
Above Ground Explorations at Big Pit National Coal Museum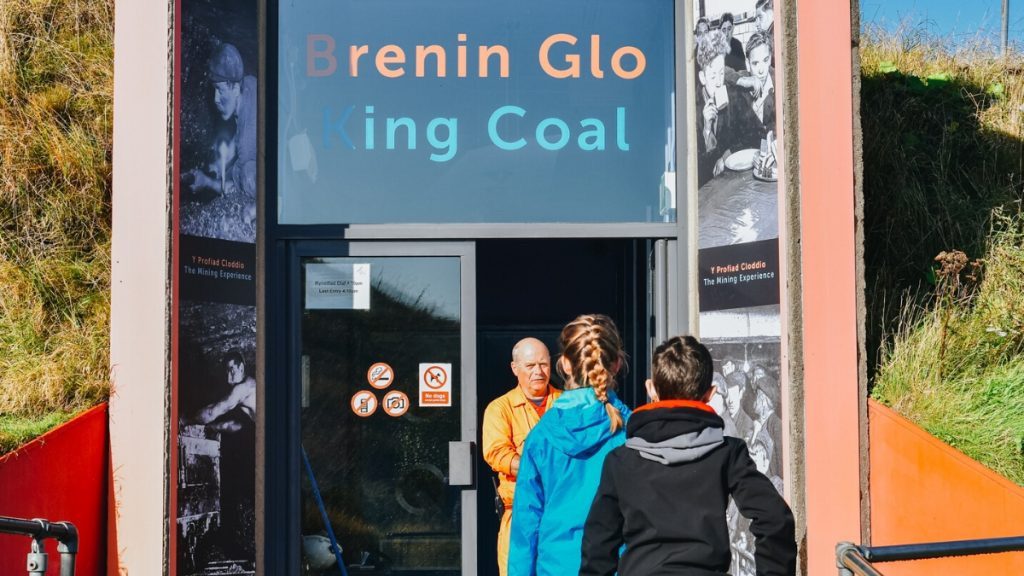 Before descending into the pit, we toured the other exhibits at the mine. For those who don't wish to venture underground, King Coal: The Mining Experience might be for you. A true audio-visual experience, this exhibit recreates the underground mining experience with a series of displays showcasing the various mining methods used throughout the years. Be prepared for flashing lights and simulated explosions – dynamite was used regularly!
Big Pit Mine Gets Hands-On With History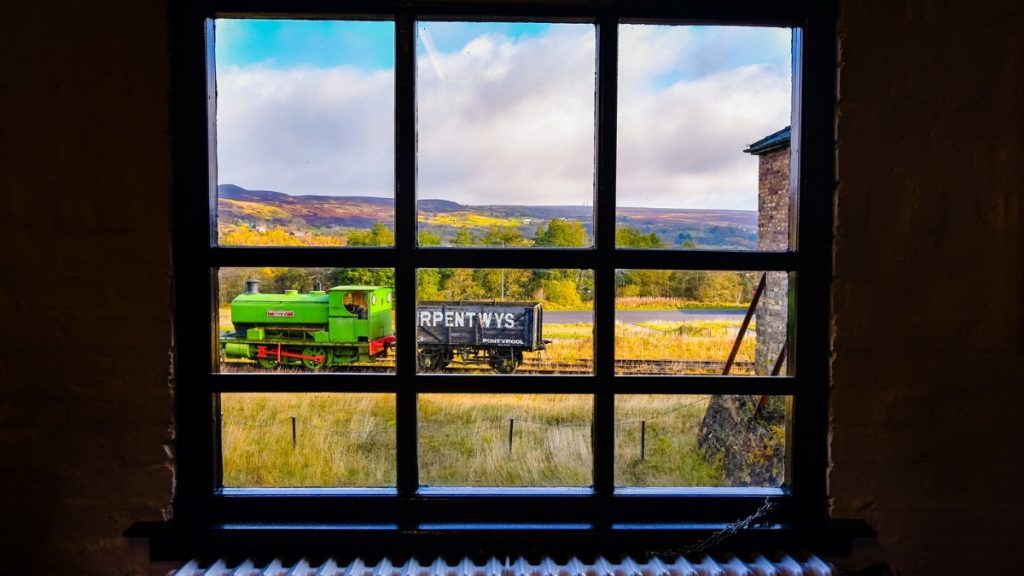 A number of historical buildings and machinery, dating back to the 1870's, are scattered across the museum site. My kids found the Explosives Magazine building, strategically located away from the other buildings, of particular interest – it was designed to explode up and back, away from the other buildings, just in case.
Grappling With Hard Times at Big Pit National Coal Museum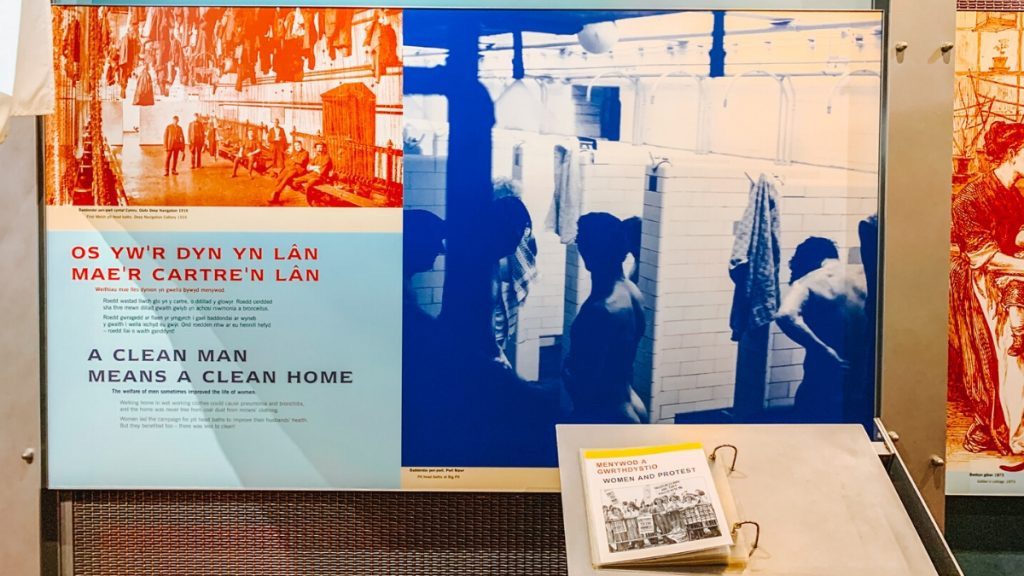 The hardest part of the visit for me, at least emotionally, was visiting the Pithead Baths, where the miners washed the worst of the clinging coal dust off at the end of their shifts, and learning about the history of coal mining in Wales. In those early days, children, some as young as nine years old, were sent into the mines to work. I looked at my own kids and reflected on the lives of the people who had little choice but to send their children into the pits. Even later, when child labour was banned, scant educational opportunities meant that many young men were destined for a life underground. It made me wonder if this brutal reality, perhaps more than anything else, drove my great-grandfather to pack up his young family and his few belongings and leave Wales to immigrate to Canada, with little more than the money in his pocket and the hope of a new beginning.
Back under the earth, with 300 feet of rock pressing down upon my claustrophobia, we were met by an eerie silence and the faintly acidic smell of rock. No cameras allowed down here. Just like the miners, our equipment was limited to our hard hats, cap lamps, belt, battery, and 'self-rescuer' – a portable breathing apparatus which my claustrophobic mind found particularly disturbing. The beams from our lamps danced along the walls as we walked along the ever-narrowing wood-beamed rock corridors. We toured a couple of coal faces, where the miners would combine machinery and physical labour to extract the coal and send it along to the cages for the trip topside.
Hard Realities of Big Pit Mine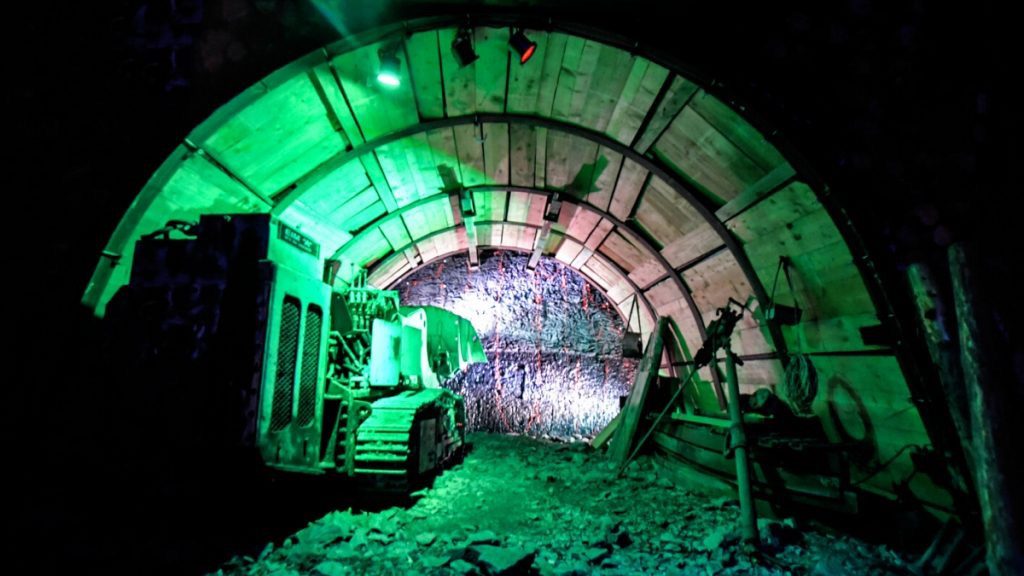 One thing became increasingly clear: these were hard men doing a hard, dangerous job to support themselves and their loved ones. And they did it well – the pride of work showed on the faces of the miners in many of the old photos I had seen up above, and is still to be seen today on the faces of those who continue to work in the coal industry. While most of the coal mining done in Wales today is open-pit, there are still a handful of underground mines in operation, and, thanks to hard-fought battles for workers' rights, they are safer than they have ever been.
Feeling a Family Legacy at Big Pit Mine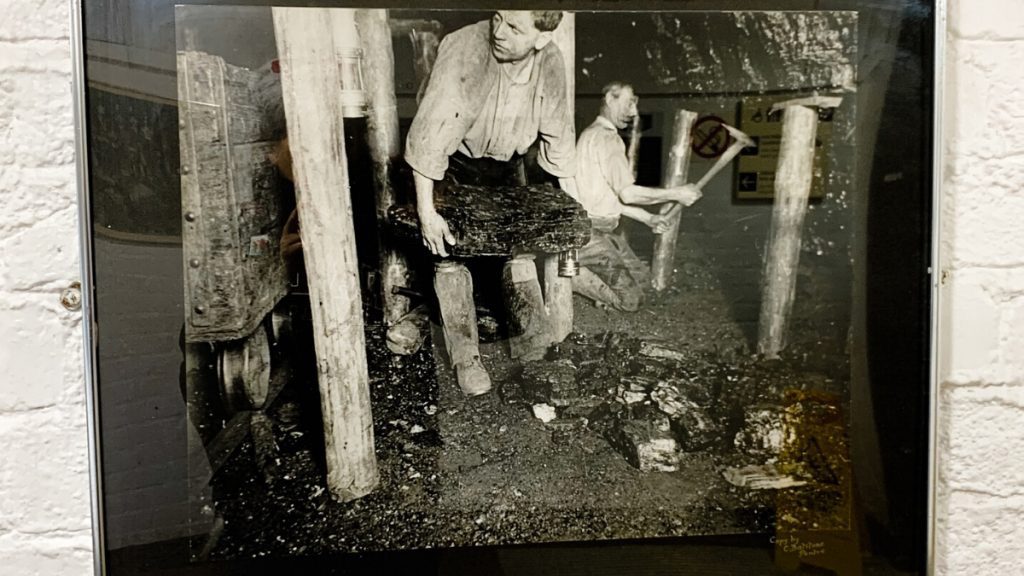 By the time I reached the surface and washed off my claustrophobia near the baths, I was truly in awe of the people who had lived and worked down in the black, my great-grandfather included. He worked long shifts every day, not just a fifty-minute stint. Then I looked at my parents and my kids, and I couldn't help but be thankful for my great-grandfather's gifts: an iron work ethic, a devotion to family, and a new beginning for all of us.
Big Pit Mine National Coal Museum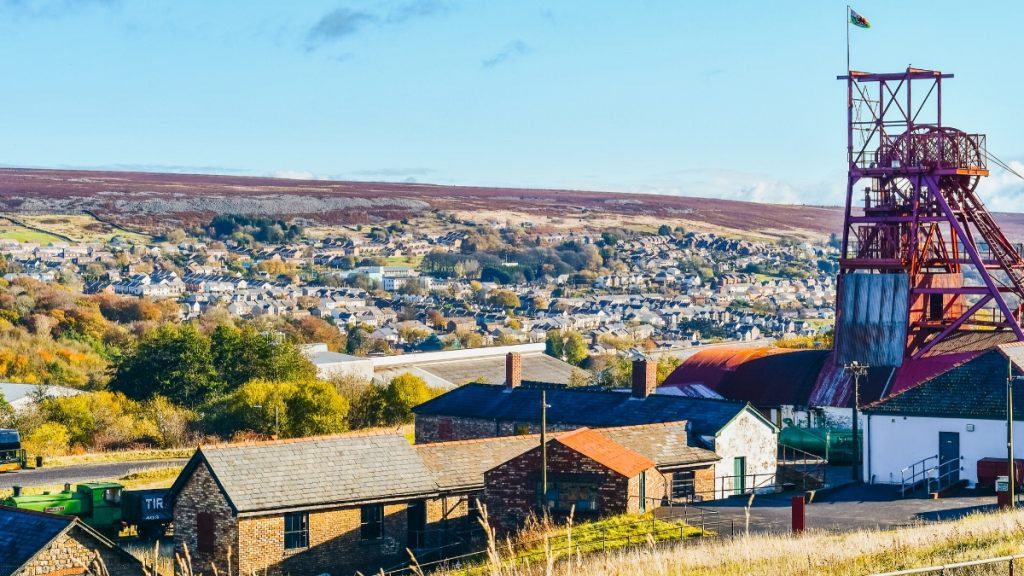 Big Pit National Coal Museum is located in Blaenafon, Torfaen, Wales, approximately fifty miles west of Gloucester, England and lies within the Blaenavon World Heritage Site. The museum is open daily from 9:30am to 5pm, with underground tours available from 10am to 3:30pm. The mine is suitable for all ages, though the underground tour is restricted to children over one metre tall. They must be able to walk about 700 yards with 5 kilograms (11 pounds) of equipment on. Remember, this is an actual underground tour, and you know your child best, so use your discretion.
If you are in Wales, I highly recommend a visit to this unique and informative museum. The immersive displays and underground tour bring history to life for visitors. You can sense the lives of the people who lived and worked there, and isn't that the point of travel – to step into someone else's shoes for a while?
Our visit to Big Pit Mine was a wonderful way for my family to connect to our past. It was also an opportunity for my kids to see another world where choices were hard and few, and that alone was worth the trip.
---
Planning a UK trip of your own? Check out these posts for inspiration and ideas!
Is this a sponsored post?: No, we just wanted to share this experience with our followers.