If there is a list of classic iconic Canadian hikes, The Chief hike would be near the top of the list. At 700 meters above the town of Squamish, with claims of being the "second largest granite monolith in the world", and bellowing over Howe Sound, hikers work hard to earn this amazing panoramic view, where glacier-peaked mountains and clear blue oceans collide. Oh, and bring your binoculars—the Stawamus Chief is home to the world's fastest bird, the Peregrine Falcon, which nests in the safety of the massive vertical cliffs.
Disclaimer: While I share my own thoughts and stories about these experiences, should you click on the affiliate links, I may receive a small commission on that sale which helps fund Adventure Awaits.
The Chief Hike
Location: Squamish, BC. The Chief is the flat-faced, towering mountain that overlooks the town of Squamish. The Chief is one of the most popular hikes for locals as well as Vancouverites making the day trip, as well as visitors from near and far. With a hard hike up the reward is big, where 360-degree views overlooking Howe Sound, Squamish, and the Tantalus Mountain Range await.
Where do you access the trailhead for the chief Hike?
To access the trailhead follow Highway 99 towards Squamish and the signs to the Stawamus Chief Provincial Park.
Where do you park for the Chief hike?
Park in the parking lot at the day-use area and follow the wide gravel path to the trailhead.
How long is the Chief Hike?
Distance: 11 km for all three peaks, but much shorter (5km) if you only do the Chief First Peak.
Time: 3 – 6 hours depending on how many peaks you do (shorter route to First Peak recommended for families) and how many breaks you take as well as your hiking speed.
Elevation: 600 meters
Difficulty: Intermediate
Additional Hike: If you'd like to do a longer hike there are two additional peaks you can explore taking you the full 11 km route.
Dog Friendly: Yes, but not recommended as it is a very technically challenging hike with features including ladders which can be hard to maneuver with dogs.
Stroller Friendly: No
Washrooms: In the parking lot
Bikes Allowed: No
Horses Allowed: No
Is The Chief Hike Suitable for Children?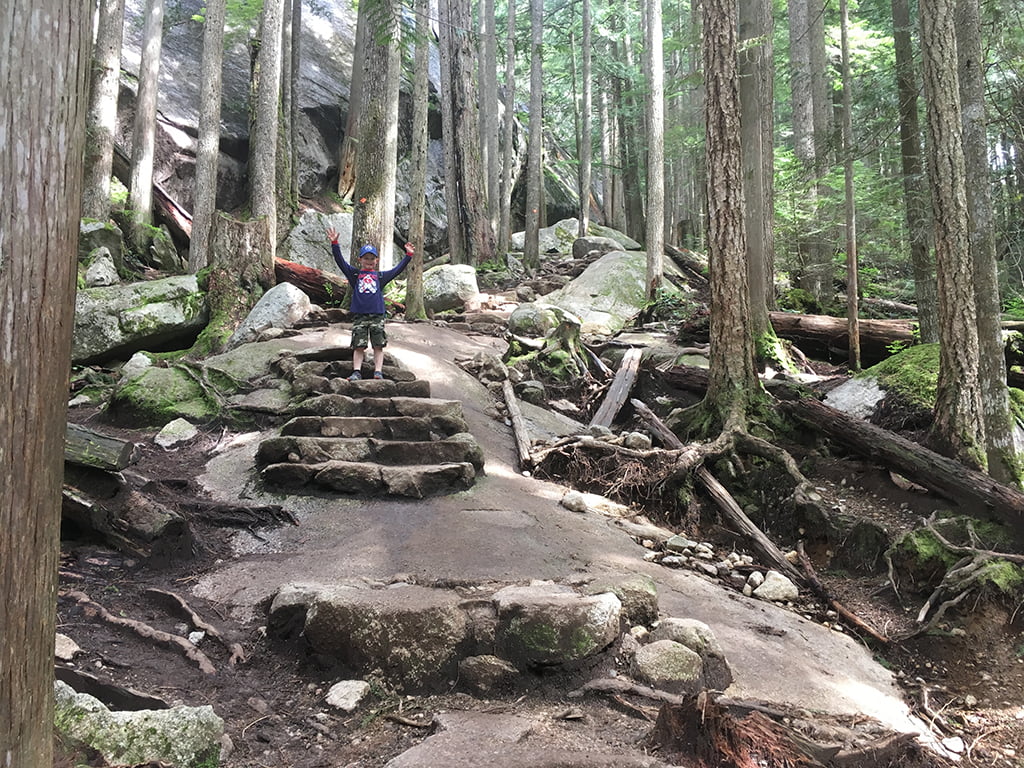 "Your kids did The Chief?" so many people ask. I'm going, to be honest, this is a challenging hike meant for intermediate fitness levels and those willing to get sweaty. 
However, my children are hikers and do very well on The Chief as it is a shorter hike (around 3 hours) and the best part is that there are people cheering them along the way. It's really uplifting to them when complete strangers say "Good job, buddy!" or "You go, girl!" on the trail. Hiking The Chief First Peak with kids adds a layer of challenge, but if your kids are ready, The Chief is simply spectacular. That said, The Chief is not the place to take your kids for their first-ever hike: start small and work up to the big ones. Hiking with kids pays off in quality family time and a boost to your child's self-confidence. For more tips and tricks for hiking with kids, check out our Hiking with Kids Guide.
Should Kids do all Three Peaks on The Chief Hike?
Personally, I have never taken my kids on all three peaks as I find by the end of the first peak we are all at physical capacity and ready to start our descent. The additional peaks add time, distance, and effort so depending on the skill set of your kids as well as their endurance you can decide if going on is the right move for your little (or not so little) hikers.
How Hard Is The Chief Hike?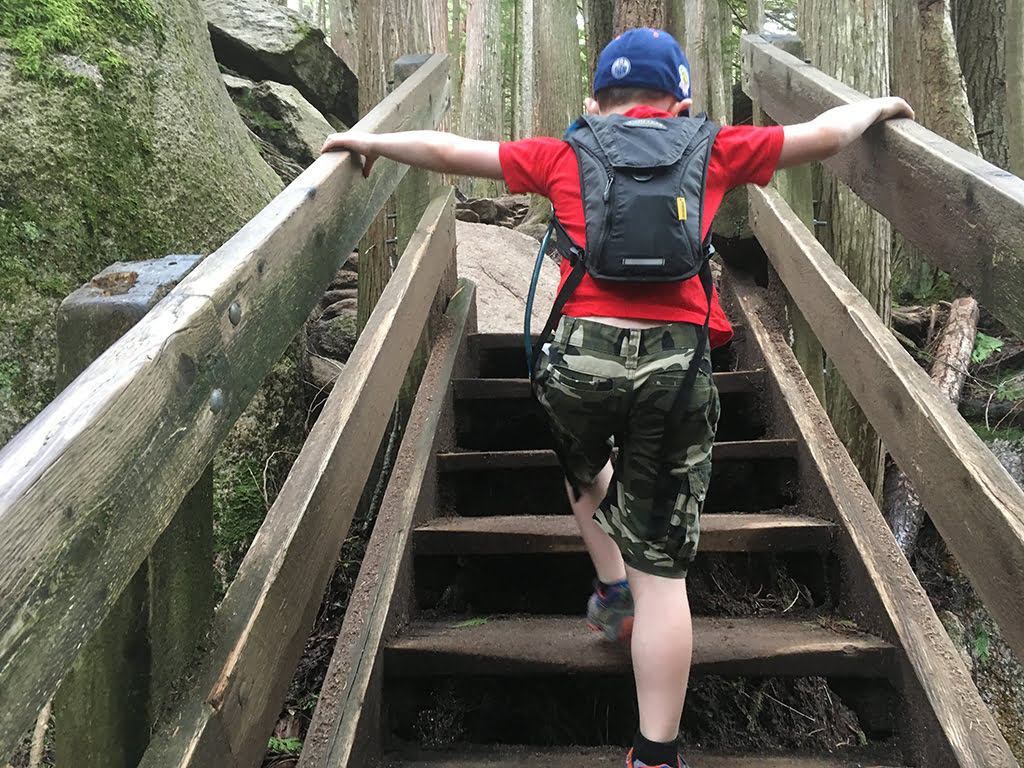 How hard is it to climb The Chief in Squamish? The Chief hike is classified as an intermediate hike, and that's for good reason. There is a 600-meter elevation gain and it's mostly all straight up, making this hike challenging every step of the way (aka no relief!)
How hard is it to climb The Chief in Squamish?
I reiterate, this is a hard hike that is guaranteed to challenge everyone, but my kids do it about once a year and love the challenge and the reward that is at the top, so I can say that it is worth it.
To help, be sure to bring the ten essentials, wear layers and be ready to peel them off as you warm up and the sweat starts to pour. While not on our official list of Vancouver Area Grinds, The Chief certainly qualifies.
Is The Chief Hike Harder than the Grouse Grind?
In fact, one of the questions we hear regularly is, "Is The Chief hike harder than the Grouse Grind?" The answer: Yes.
In The Chief vs the Grouse Grind debate, I'd say The Chief hike is tougher. While similar in vertical ascent, The Chief involves more chains and ladders over uneven terrain. While there are fewer stairs than the Grouse Grind, you can still expect to spend an hour and a half climbing big stairs before breaking out of the forest and into already spectacular views.  Kids love the second half as it's more of a scramble, while adults love the glute workout (okay, love/hate the glute workout!). Again, we recommend The Chief First Peak for those bringing along their kids or trying it for the first time. Save the Second Peak and Third Peak trails for another day!
Can Beginners Do The Chief Hike?
This is a well-marked trail that is very popular and because of that makes the trail easy to navigate for beginner hikers (be sure to be safe, know the trail map and take a picture or use an app to track progress). Beginners should understand the physical elements including elevation and distance to decide if this is a good trail for them to try.
Motivation: How To Motivate The Kids While Hiking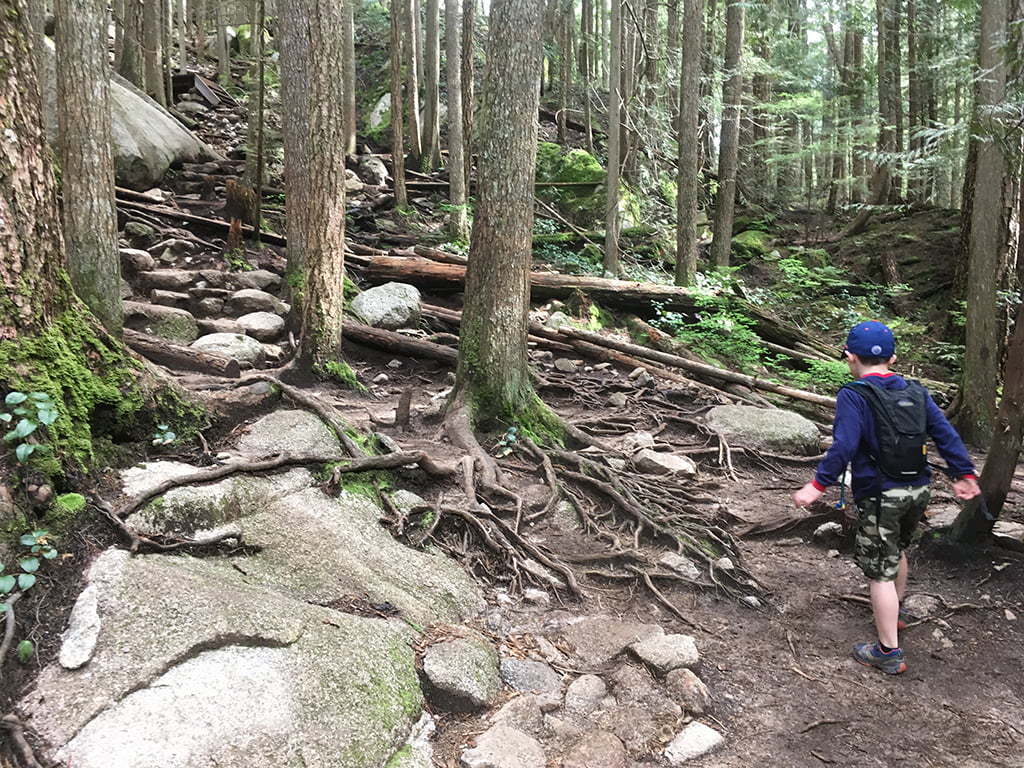 About halfway through the novelty starts to wear off and the kids need a little push, so we pull out candy and offer it at intervals. Remember, it's not bribery… it's a well-earned treat! We like to set out goals (ie. the top of that flight of stairs) to help us cover some more ground during the not-so-fun stretches of hiking. 
Closer to the top of The Chief, the stairs (finally) transition into ladders, chains, and crevice climbs that kids find fun, which helps motivate them to the top. It's pretty much like a natural playground that is really fun watching kids and kids of all ages scatter over, under, and through.
Points of Interest on The Chief Hike
There are a few lookouts directly off the side of the trail that are great places to stop and check out, hydrate, and fuel up. These were great markers as well as places to take some photos. This rock never ceases to amaze me! 
Don't stop for too long though, the real fun is just around the corner!
Rock Climbing and Ladders on The Chief Hike in Squamish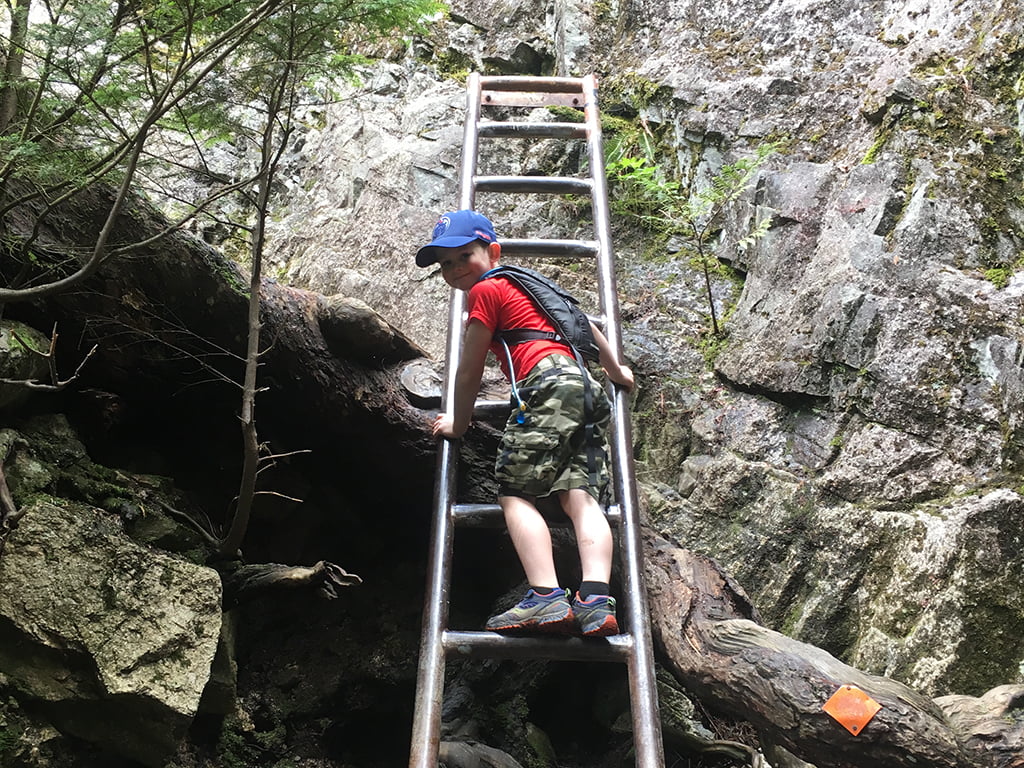 Near the top of the trail, you'll find ladders, chains, and some crevices and cracks that you'll need to navigate: it's Mother Nature's jungle gym. Kids have a ton of fun here and are often challenged. Somehow, tired legs seem to find new life when the fun ramps up!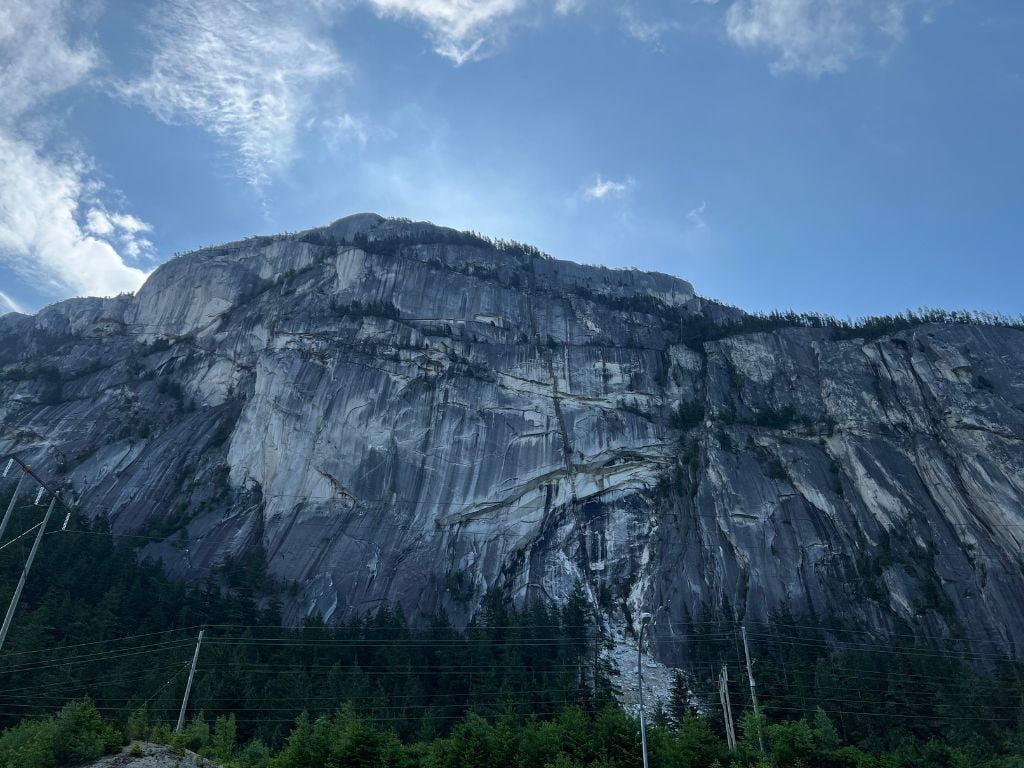 Speaking of rock climbing, did you know that the Stawamus Chief is considered one of the best rock climbing locations in North America? The Chief trail goes around the back of the near-vertical cliffs, but for those with the proper skill and equipment (and ONLY those with the proper skill and equipment!), the best way to the top is straight up the sheer rock face. You may catch a glimpse of some climbers on your drive into the parking lot. But, honestly, I'm good with the long way around!
The First Peak at The Chief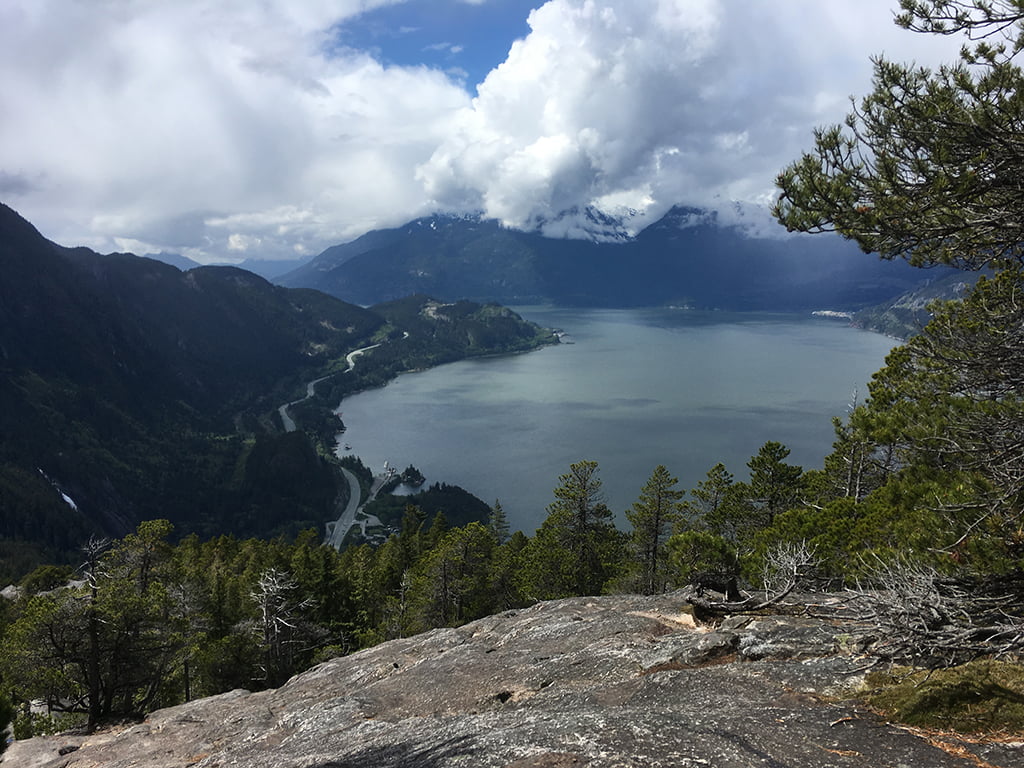 Look. At. That. View!
With the Sea to Sky Highway winding along the turquoise ocean, over to the snow-capped mountains, over to the town of Squamish, and all the way up to Whistler…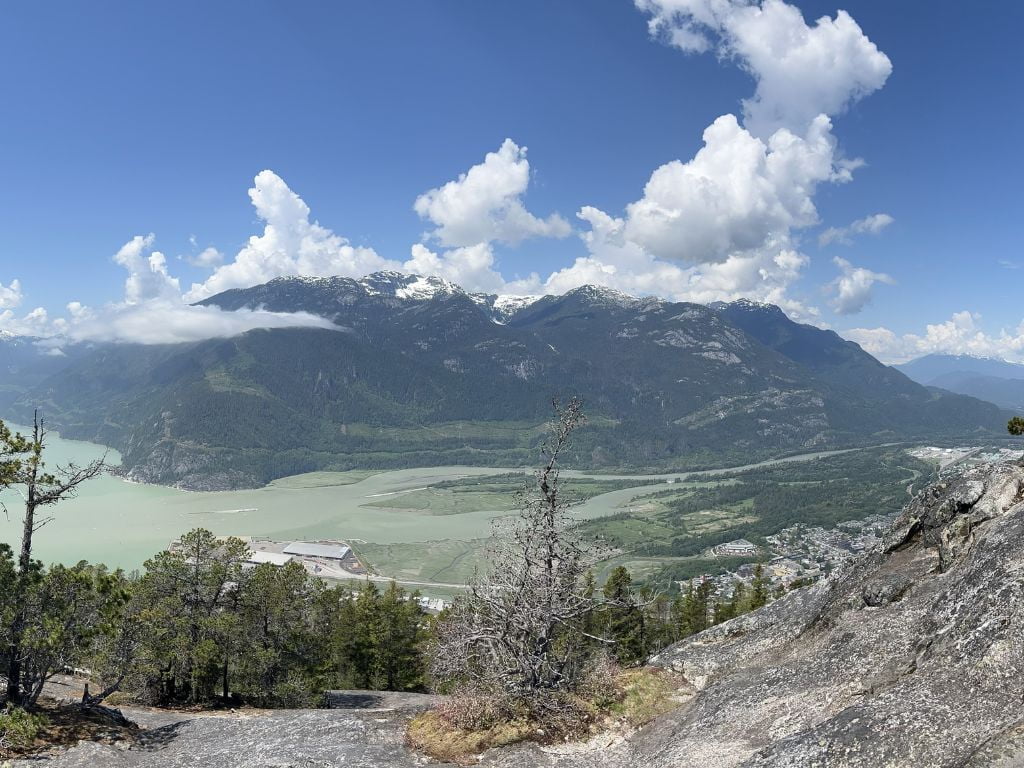 We typically have The Chief First Peak as our destination as the longer loops take more time than is suitable for our young family. But if you are on your own or have older kids, the trails to Second Peak and Third Peak offer additional challenges and rewarding views.
Descending Down The Chief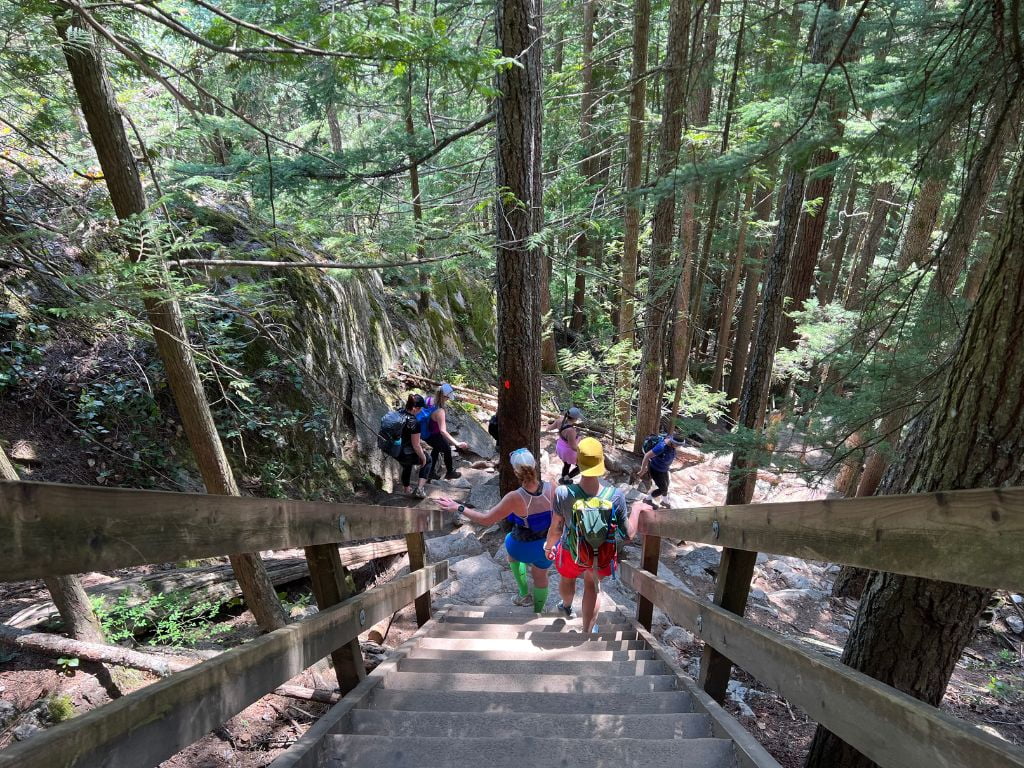 Be kind to your knees and take your time going down the trail. Hiking downhill can be even tougher than hiking up, and let's face it, you are already tired from getting to the top. Traverse slowly and carefully to avoid injury and take as many rest breaks as needed.
The Chief Hike FAQs
When is The Chief hike open?
The Stawamus Chief hike is open year-round, but we recommend May to October as the best months, especially if you are taking kids along. November through April is typically cold, wet, and even snowy near the top, making for slippery and dangerous conditions. Try to avoid rainy days. The Chief is a popular hike and can get very busy on a sunny summer weekend! Choose weekends in May, June, September or October or weekdays during the summer months to avoid the crowds.
Do you need hiking shoes for The Chief hike?
We always recommend sturdy, broken-in hikers for any hike that isn't a flat urban trail. While sturdy running, day-hiker, or trail shoes may work, hikers are designed for grip on rock and mud and provide much-needed ankle support on the steep scrambles of The Chief hike.
Can dogs hike The Chief?
I don't recommend it. While technically dogs are allowed on the trail, the trail is steep, rough and definitely not for growing puppy joints. The trail is very busy with people, so your dog needs to be on a leash or very well-behaved. The chain and ladder sections can be difficult for dogs to navigate and they may need significant help through these sections. Lastly, there are many chipmunks and squirrels for dogs to chase, and in an area full of cliffs, this is a recipe for disaster. Leave the pooch at home, at least until you are familiar with the trail and can judge for yourself.
What clothes will you be using during the hike?
The key to dressing appropriately for The Chief Hike is to dress in layers with sweat-absorbing clothing, to an outer, warmer layer like a sweater or jacket. This hike is challenging from the get-go so you are sure to warm up quickly, having you peel off the layers. But once you're at the top (and you've completed your victory dance) you may want to throw the sweater or jacket on to stay warm.
The Chief Hike is for intermediate hiking levels and not all families will find it suitable for them. It is an extremely fun, yet challenging hike. If you think that this hike is too advanced for your family, we encourage you to explore shorter hikes until you can build everyone up to tackle this one!
Extend Your Stay With Sustainable Travel In Squamish
If you're heading up to hike The Chief one of the ways that you can help protect this incredible environment is to be a responsible traveller, and embrace the movement that is slow travel. Not only are you encouraged to do your hike, but plan to stay in the region investing time and resources in local restaurants, shops, and hotels. This helps put tourism dollars into the local economy and helps support locals as well as the local environment. Here are some of our other top recommendations for adventures to explore in Squamish:
Eco Adventures in Squamish
A few girlfriends and I were fortunate enough to find ourselves rafting down the mighty Elaho River, deep into the mighty Squamish Valley on this thrill-seeking 5.5-hour tour (learn more about our trip and see pictures here). We squealed through class III-IV rapids and loved the challenge that it presented us along with the breathtaking wilderness. From eagles to bears, beavers to deer, there were lots of eyes watching us from the shore while we soaked (literally) in the river rafting experience in Squamish.
Click here to book your Wet and Wild Elaho Exhilarator Rafting trip!
If you're looking for a family-friendly rafting tour in Squamish, a smooth sail down the Cheakamus may be the perfect fit. With smaller rapids, lots of incredible scenery, and guides that keep the kids engaged, this is a unique way to experience the region and engage in an eco-friendly adventure that's fun for all ages.
Click here to book your Family Friendly Cheakamus Splash Rafting Trip!
If you're looking to head back into the mountains after you hike The Chief (or I've scared you off completely and you want to take an easier route) the Sea to Sky Gondola is a great way to head into the mountains for 1% of the effort it takes over climbing it! The gondola not only welcomes you to explore the beautiful vistas but once you're on top there are a variety of things to explore from the suspension bridge, hiking trails, and often special events including live music. With food to chow down on and epic views, there is a reason this is such a popular attraction in Squamish.
Fun note: Visiting the Sea to Sky Gondola was one of our first assignments with Adventure Awaits! I cringe at the photography and the writing but here's one of our first articles to check out showing you some of the behind-the-scenes pics and what to expect! (And yes I hope to head back this summer and update this article too!).
Click here to book your Sea to Sky Gondola tickets!
If you're wanting to get up close with the mighty geography that makes Squamish so special check out the Via Ferrata Tour. "Italian for 'Iron Way,' this engineered vertical adventure consists of metal rungs and a specialized cable system." This tour will take you high up into the mountains to experience views of Howe Sound and surrounding mountain peaks. Suitable for adventurers 8 years and up, this is a great tour to take the family on.
Click here to book your Squamish Via Ferrata Tour!
If you've never spent time in the waters of Howe Sound I highly recommend you do it, and this sailing tour could be the right fit! (Howe Sound is one of my favourite places on earth). This small group sailing experience will have your captain welcoming you on board to try your hand at sailing. Keep an eye out on the water for the locals, local whales, seals, eagles, and others that call the region home. This experience is truly a small group experience and is capped at 6 guests, so it is popular to fill up so advanced booking is recommended.
Click here to book your Sea to Sky Afternoon Sail experience!
An excellent place to take in some of BC's mining history is the Brittania Mine Museum. Celebrating its 100th anniversary in 2023 there are hands-on exhibits, real train rides into the mine tunnel, gold panning, award-winning sensory experiences, as well as shows. Whether you stop on your way to Squamish or on your way home, the historic copper mine is a fun experience and interactive way to learn about this important part of the region's local history.
Click here to purchase your Britannia Mine Museum admission tickets!
One of Squamish's newest attractions is the Rope Runner course located in the heart of Squamish just behind the visitor information centre. The aerial adventure park offers 50 different routes for you to navigate through over four stories. Once your safety briefing is complete you can head in and test your navigation and agility skills at climbing, cargo nets, slacklines, suspended bridges, monkey bars, and suspended surprises (I'll let you experience that for yourself!).
Click here to book your 2-Hour Ropes Course Adventure Squamish experience!
If you want to take a peek into Squamish's backcountry and see the untouched land, a great way to do it is with this 35-minute Flightseeing tour in Squamish. You'll get to sit back while your pilot takes you over the mountainous terrain that is the Squamish Valley. Keep an eye open for glaciers, alpine lakes, and snow-capped mountains.
Click here to book your Squamish Explorer Flightseeing Tour!
Where to Stay in Squamish
Executive Suites Hotel & Resort
If you're looking for one of Squamish's most popular resorts it's the Executive Suites & Hotel in Garibaldi Highlands. This hotel is pet friendly and kid-friendly (aka there is a pool) and is set off the highway allowing you to soak in the natural surroundings that is Squamish. I have personally stayed at this property and love it as a clean and amenity-loaded property.
Click here to book your stay at the Executive Suites Hotel & Resort in Squamish!
If you are looking for a great family-orientated hotel, then look no further. This hotel has it all, an indoor pool (complete with a waterslide!), a hot tub, free continental breakfast, pet-friendly and is centrally located to all the action that Squamish has to offer.
Click here to book your stay at the Sandman Hotel & Suites in Squamish!
If you're looking for a more budget-friendly hotel but one that will have the kids excited to check in, head over to the Mountain Retreat Hotel, where the big yellow slide says all you need to know… Kid Approved! With clean rooms, a great location, and a kid-centred pool this hotel is an excellent location to use as your basecamp for your Squamish adventures.
Click here to book your stay at the Mountain Retreat Hotel in Squamish!
Where to Eat in Squamish
If you only make one stop in Squamish (and you shouldn't, but if you must) it has to be for breakfast or lunch at The Watershed Grill. This cozy little bungalow restaurant is perched on the edge of the river inviting you to explore local foods including salmon and seafood as well as homemade burgers and more. It's casual dining mixed with a world-class location that is a must when visiting Squamish (and for my fellow Virgin River Netflix series fans, this restaurant is where they film the exterior shots of Jack's Bar!).
---
Check out These Articles for some Hiking Inspiration!