The Chief Hike
Location: Squamish, BC. The Chief is the flat faced, towering mountain that overlooks the town of Squamish. To access the trailhead follow Highway 99 towards Squamish and the signs to the Stawamus Chief Provincial Park. Park in the gravel parking lot and follow the wide gravel path to the trail head.
Distance: 11 km for all three peaks, but much shorter if you only do the first peak.
Time: 3.5 – 6 hours depending on how many peaks you do (shorter route recommended for families).
Elevation: 600 meters
Difficulty: Intermediate
Additional Hike: If you'd like to do a longer hike there is two additional peaks you can explore taking you the full 11 km route.
Dog Friendly: Yes
Stroller Friendly: No
Washrooms: In the parking lot
Bikes Allowed: No
Horses Allowed: No
If there is a list of classic iconic Canadian hikes, the Squamish Chief would be near the top of the list. At 700 meters above the town of Squamish, with claims of being the "second largest granite monolith in the world", and bellowing over Howe Sound, hikers work hard to earn this amazing panoramic view, where glacier peaked mountains and clear blue oceans collide.
Is the Chief a Family Friendly Hike?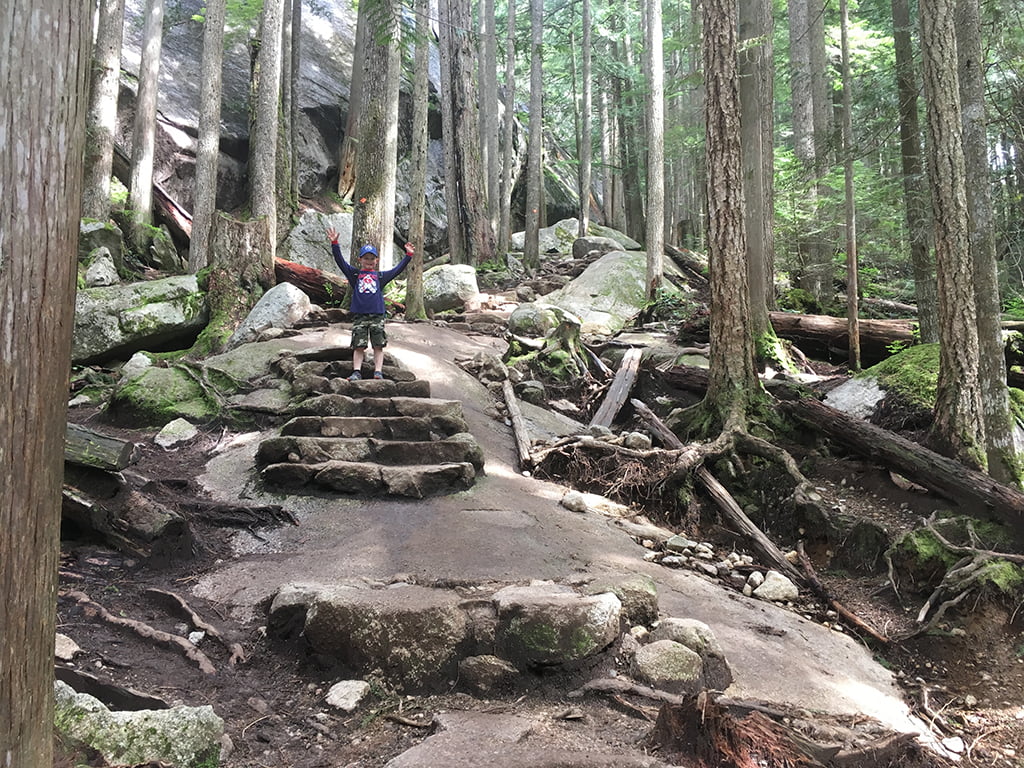 "Your kids did the Chief?" So many people ask. I'm going to be honest, this is a challenging hike meant for intermediate fitness levels and those willing to get sweaty. However, my children are hikers and do very well on the Chief as it is a shorter hike (under 2 hours) and the best part is that there are people cheering them along the way. It's really uplifting to them when complete strangers say "good job buddy!" or "you go girl!" on the trail.
How Hard Is It?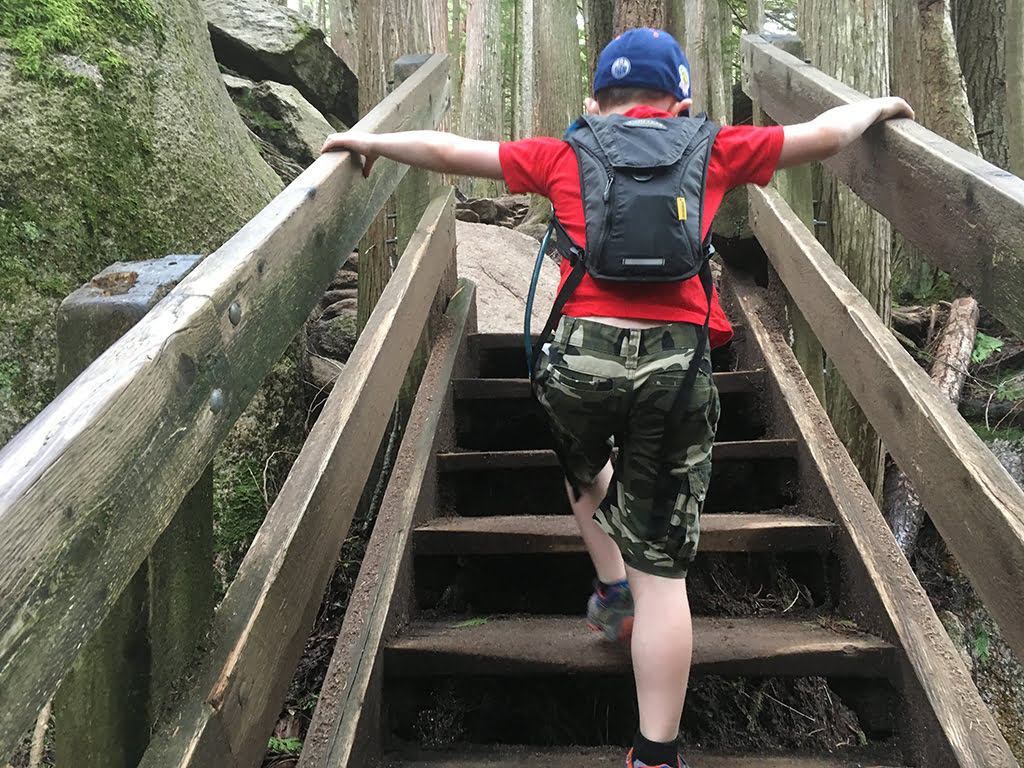 There is 600 meter elevation gain and it's mostly all straight up, making this hike a challenging one. Wear layers and be ready to peel them off as you warm up and the sweat starts to pour. Expect to spend an hour and a half climbing big stairs. Kids love it as it's more of a scramble… adults love the glute workout.
Motivation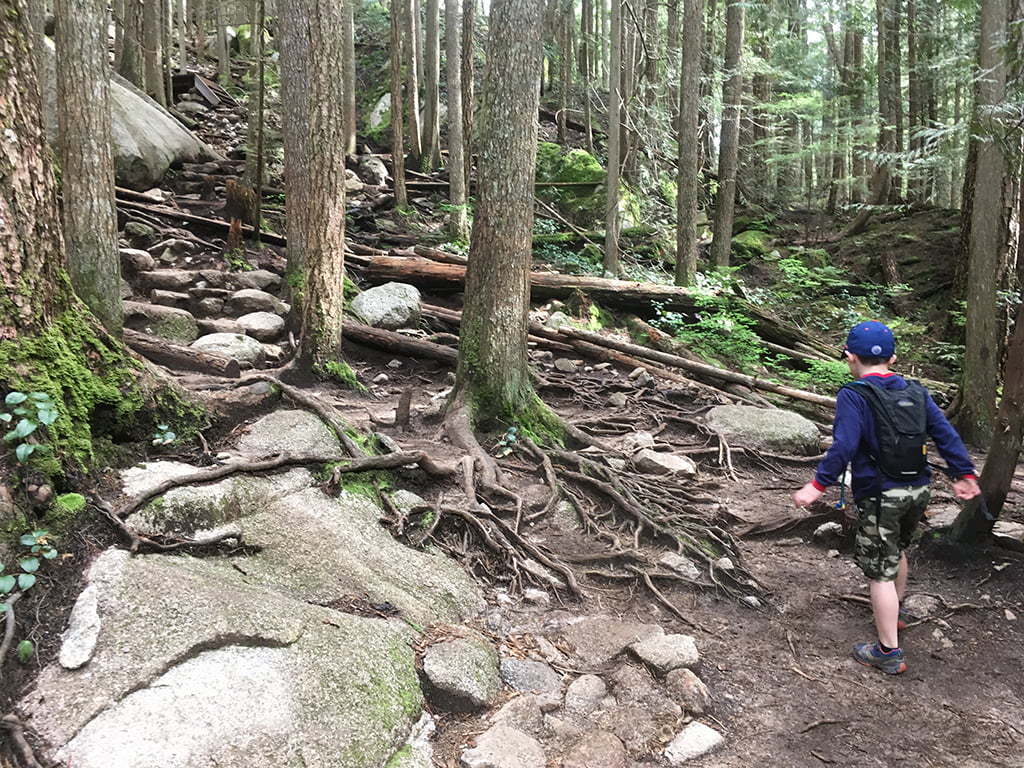 About halfway through the novelty starts to wear off and the kids need a little push so that's when we pull out candy and offer it at intervals.
Points of Interest
There's a few lookouts directly off the side of the trail that are a great place to stop and check out, hydrate, and fuel up. Don't stop for too long though, the real fun is just around the corner!
Rock Climbing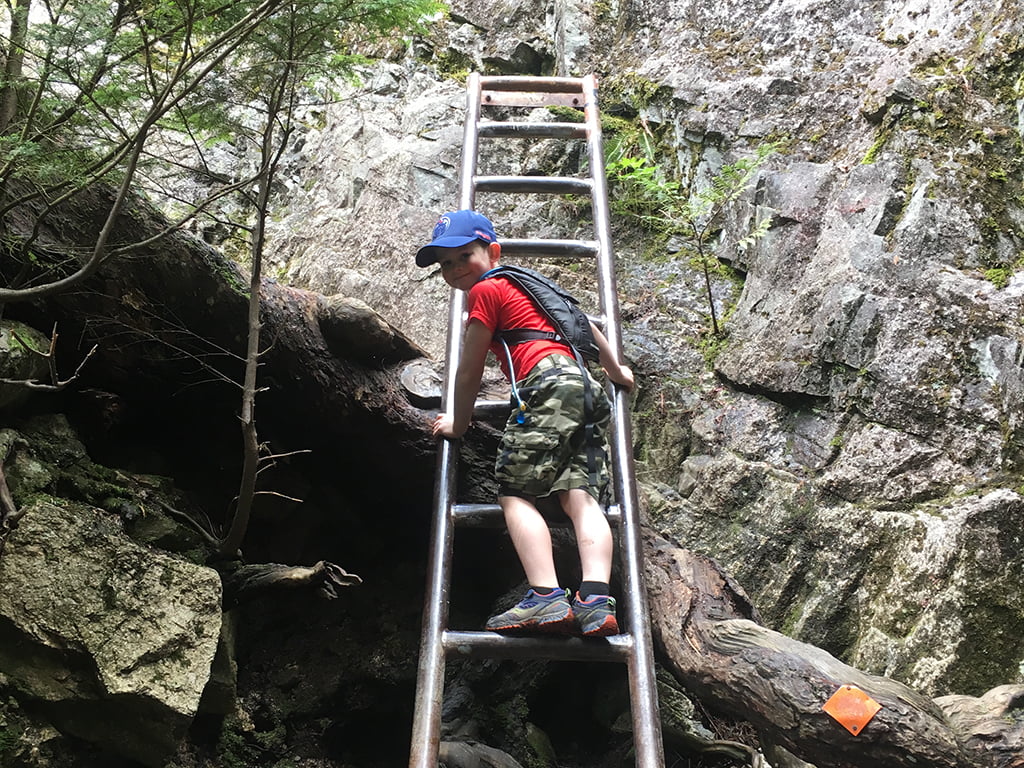 Near the top of the trail you'll find ladders, chains, and some crevices and cracks that you'll need to navigate: it's Mother Nature's jungle gym. Kids have a ton of fun here and are often challenged.
The Peak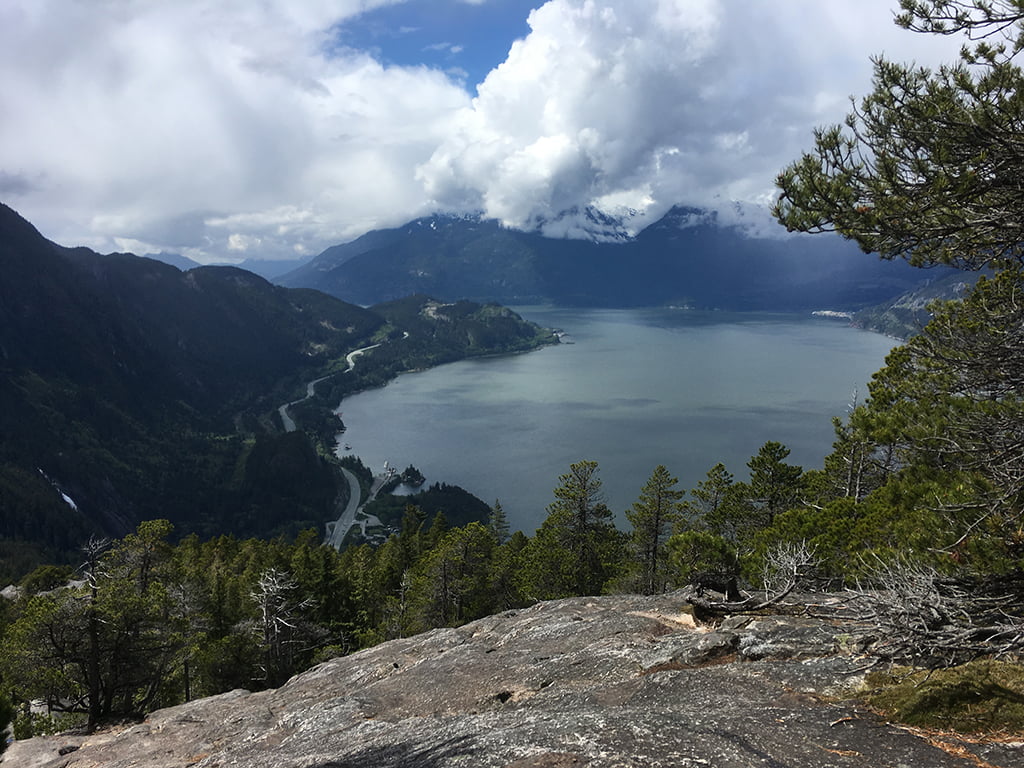 Look. At. That. View! With the Sea to Sky Highway winding along the turquoise ocean, over to the snow capped mountains, over to the town of Squamish, and all the way up to Whistler… We typically have the first peak as our destination as the longer loops take more time than is suitable for our young family.
Be Nice to Your Knees!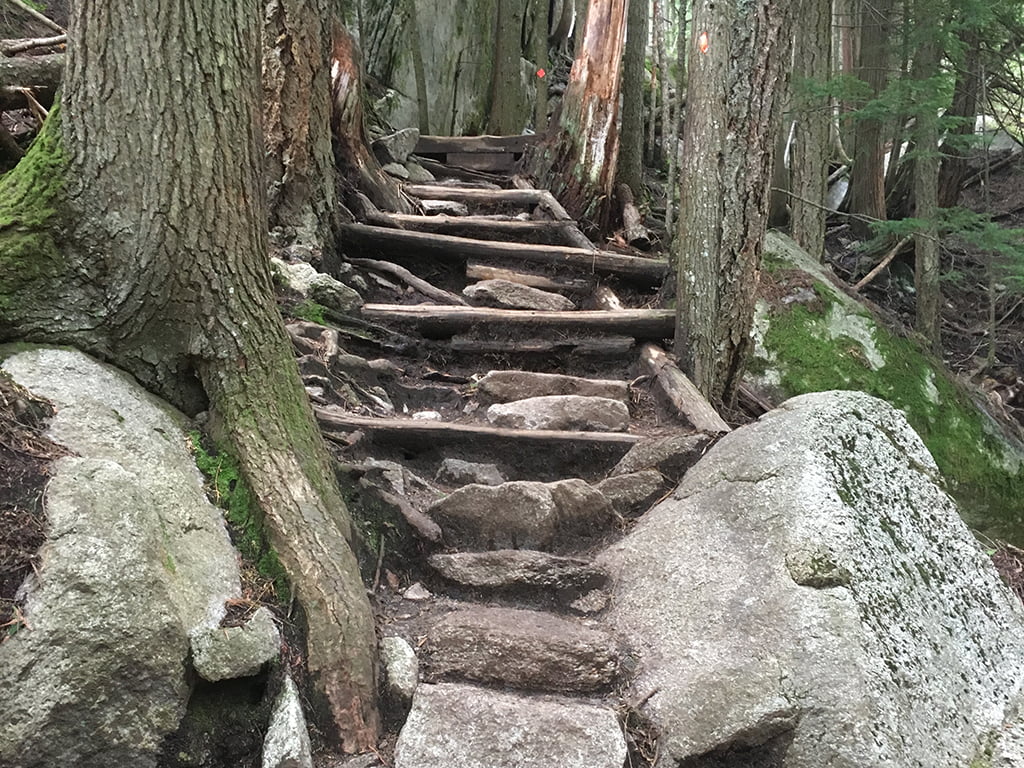 Take your time and tread lightly down the trail. Your knees will thank you!
The Chief hike is for intermediate hiking levels and not all families will find it suitable for them. It is an extremely fun, yet challenging hike. If you think that this hike is too advanced for your family, we encourage you to explore shorter hikes until you can build everyone up to tackle this one!Looking for more hiking resources? Check out these informative articles!
Family Friendly Fraser Valley Hikes
Is this a sponsored post?: No, we regularly get asked about our family adventures and love to share our experiences with our followers.