Are you planning a trip to the Sea To Sky Gondola in Squamish BC? As a local, this is one of the "must-see" attractions that I recommend to my family and friends when they are visiting Vancouver and BC. As an outdoor family we love visiting in all of the different seasons and have put together this ultimate guide showcasing when to go, what to expect, what to bring, and special events worth checking out.
Whether you're visiting on a sunny summer day, or enjoying all the mountain-top activities in the winter, the Sea to Sky Gondola is an adventure and action-packed activity center set in one of the most beautiful settings in the world! (I know I'm biased as this is my backyard, but the pictures will help you see just how magical the Sea To Sky Gondola experience can be!) Let's get started.
Sea To Sky Gondola – What to Expect in 2023
The Sea To Sky Gondola is located in Squamish at the edge of Howe Sound on the unceded traditional territory of the Squamish, Tsleil-Waututh and Musqueam First Nations. Visitors will be welcomed at sea level and after loading into the 8-person gondola, be transported on a 10-minute ride through the skies.
What is it Like to Ride the Sea To Sky Gondola?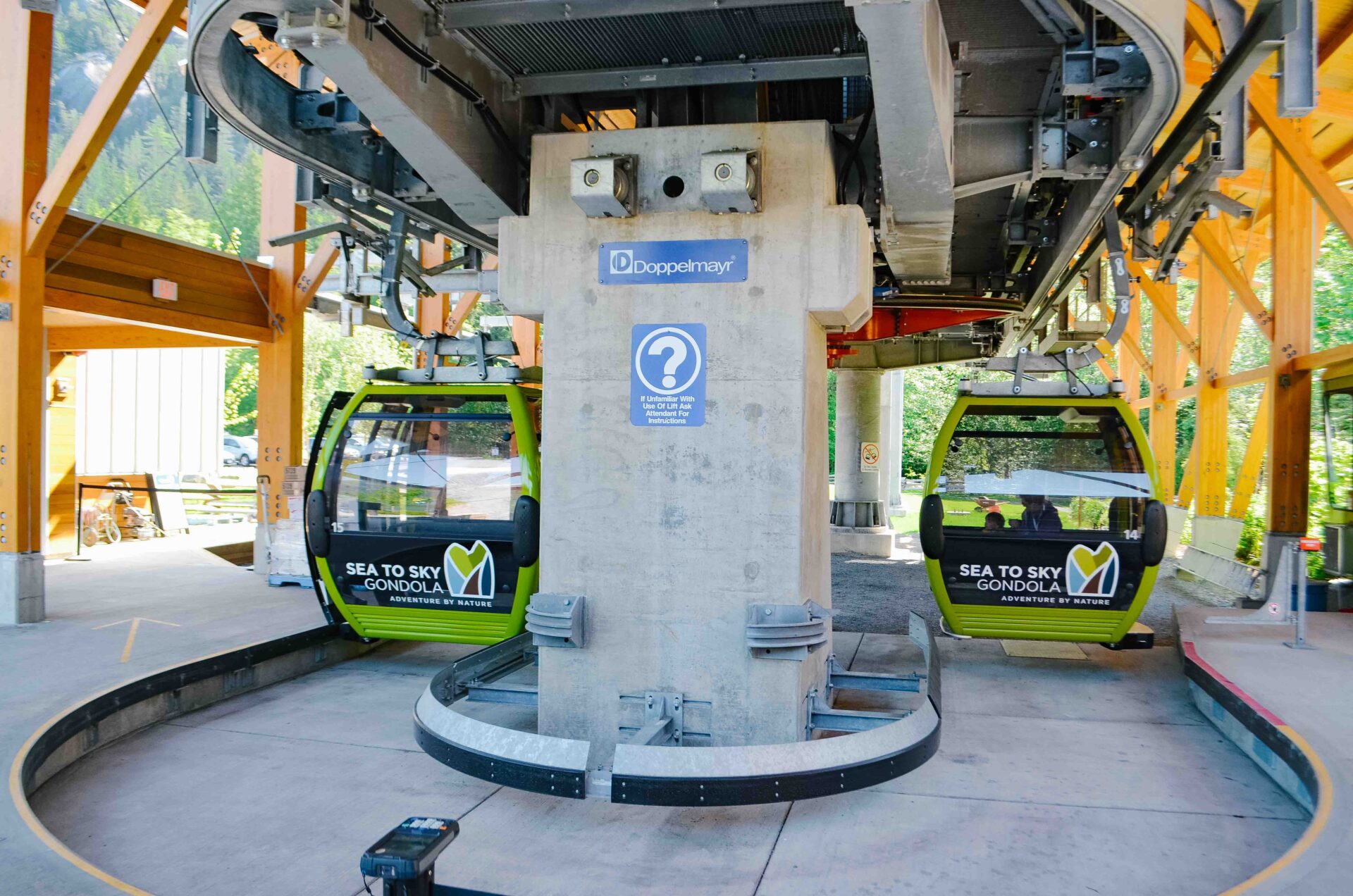 After presenting your ticket to the Sea To Sky Gondola team member you'll be welcomed to step inside your own gondola. With capacity for 8 guests, most of the time when you go you and your crew will be able to have a gondola all to yourselves. Floor-to-ceiling windows allow you to get a 360-degree view, allowing you to see up, down, and all around as you look out over views of Shannon Falls, Diamond Head Mountain, Stawamus Chief, Howe Fjord and the town of Squamish.

Comfortable padded seats are perfect for the ride but I'll be honest I tend to spend most of my time on my feet, taking photos in every direction (fun fact, on my first trip to the Squamish gondola in 2014 I took 199 photos and 27 videos!).
How long is the Sea To Sky Gondola ride?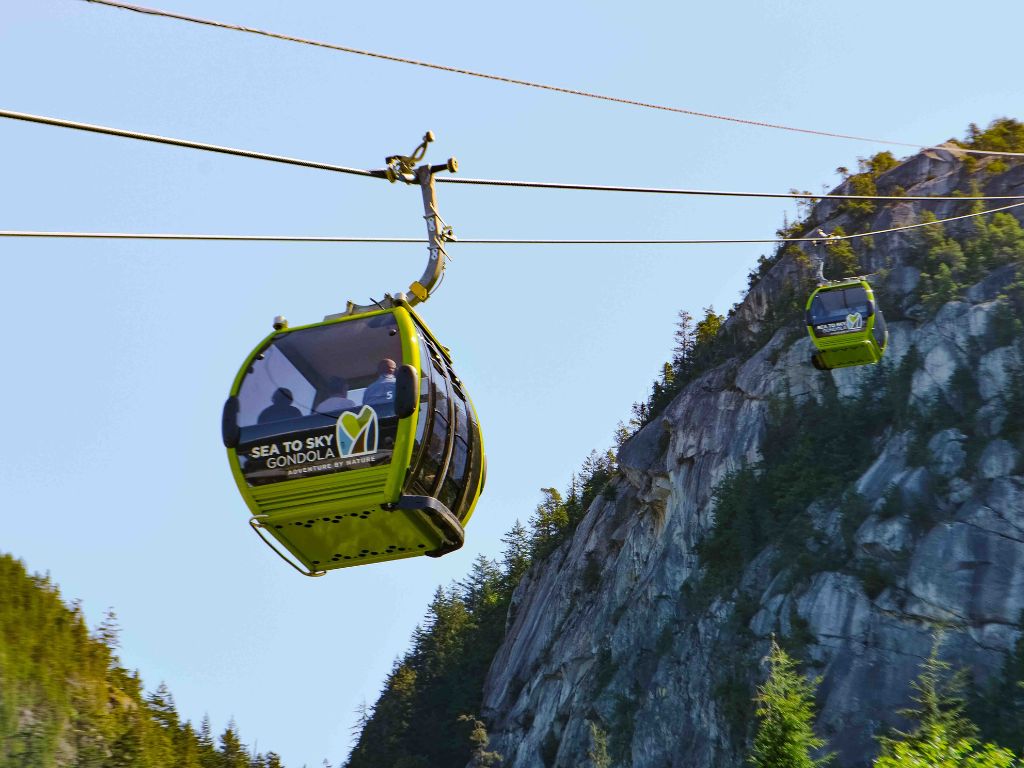 The ride takes approximately 10 minutes, however, please note that it does stop regularly to assist guests who need a longer transition time on and off of the gondola. So if your gondola stops during your trip know that it traditionally starts up again within a minute or less.
Purchase your Sea to Sky Gondola Admission Ticket Here!
What is at the Top of the Sea To Sky Gondola?
Sea to Sky Gondola Map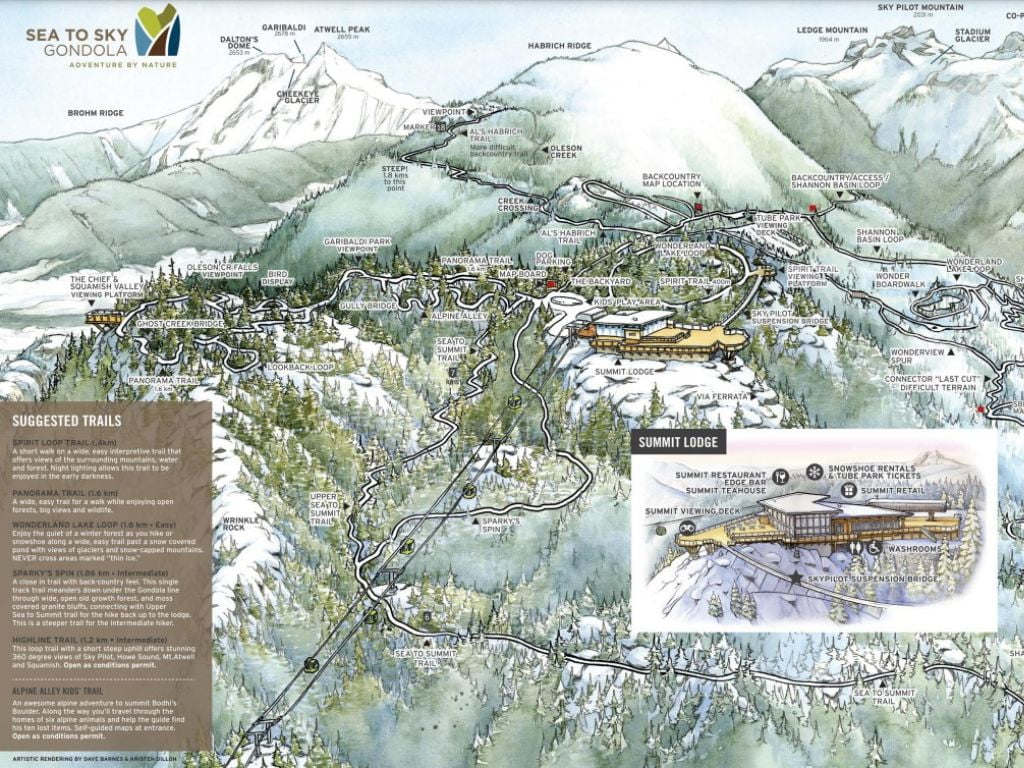 While the incredible views may be what brings you up to the top of the ride, as you can see from the Sea To Sky Gondola Trail Map, there's so much more to explore once you're at the summit. From lookout platforms, the Sea To Sky Gondola suspension bridge, cantilevered lookout points, walking trails, hiking trails, and a Via Ferrata experience, you can plan to spend as much time exploring as your adventurous spirit wants!
Summit Lodge
The first stop upon arrival will be the Summit Lodge, as that's where the gondola exits. This is essentially the basecamp of the Sea to Sky Gondola experience as this is where you'll find the restaurants, guest services, largest viewing deck, washrooms, and retail spaces. In the winter this is also where you can rent snowshoes as well as purchase tube park tickets.
Summit Viewing Deck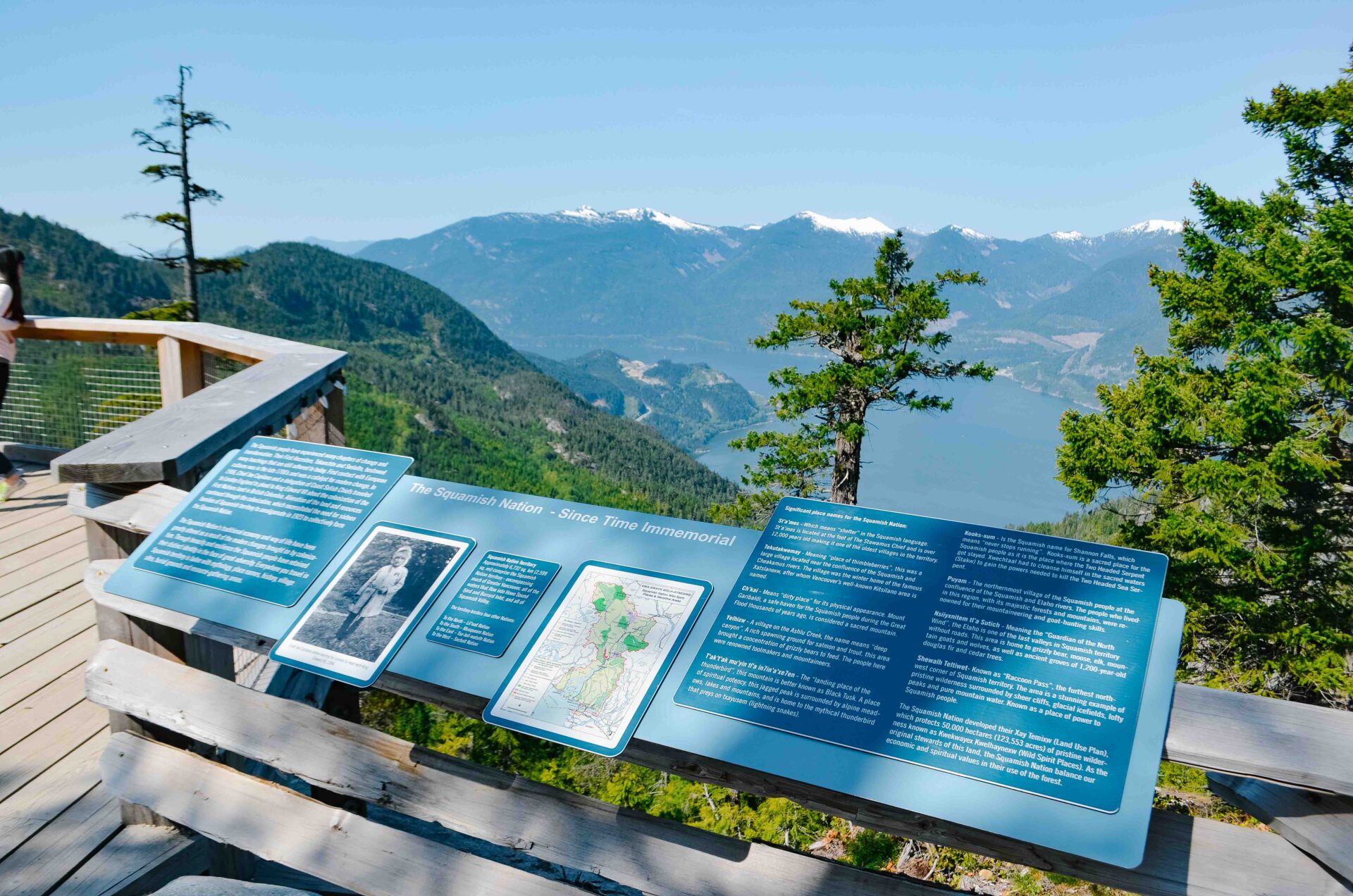 As soon as you step off the Squamish gondola you'll be invited to walk through the gift shop and out onto the largest viewing platform. The surrounding scenery is overwhelming, no matter how many times you visit. Your views start out overlooking Howe Sound and the Salish Sea (which often boasts beautiful turquoise waters). To the North, you'll look down on the "Adventure Capital Of Canada" mountain town known as Squamish. All around you you'll be surrounded by the snow-capped Coast Mountain range and your biggest challenge will be deciding what to do first!
Sky Pilot Suspension Bridge
There's nothing like a suspension bridge to get your heart pumping! The Sky Pilot Suspension Bridge at the top of the Sea To Sky Gondola is approximately 100 meters long (300+ feet) and looks down on a canopy forest and out onto the Salish Sea. As you walk across the suspension bridge be sure to move slowly so that you can soak in the 360-degree alpine views that surround you, and appreciate just how high up you are in the mountains.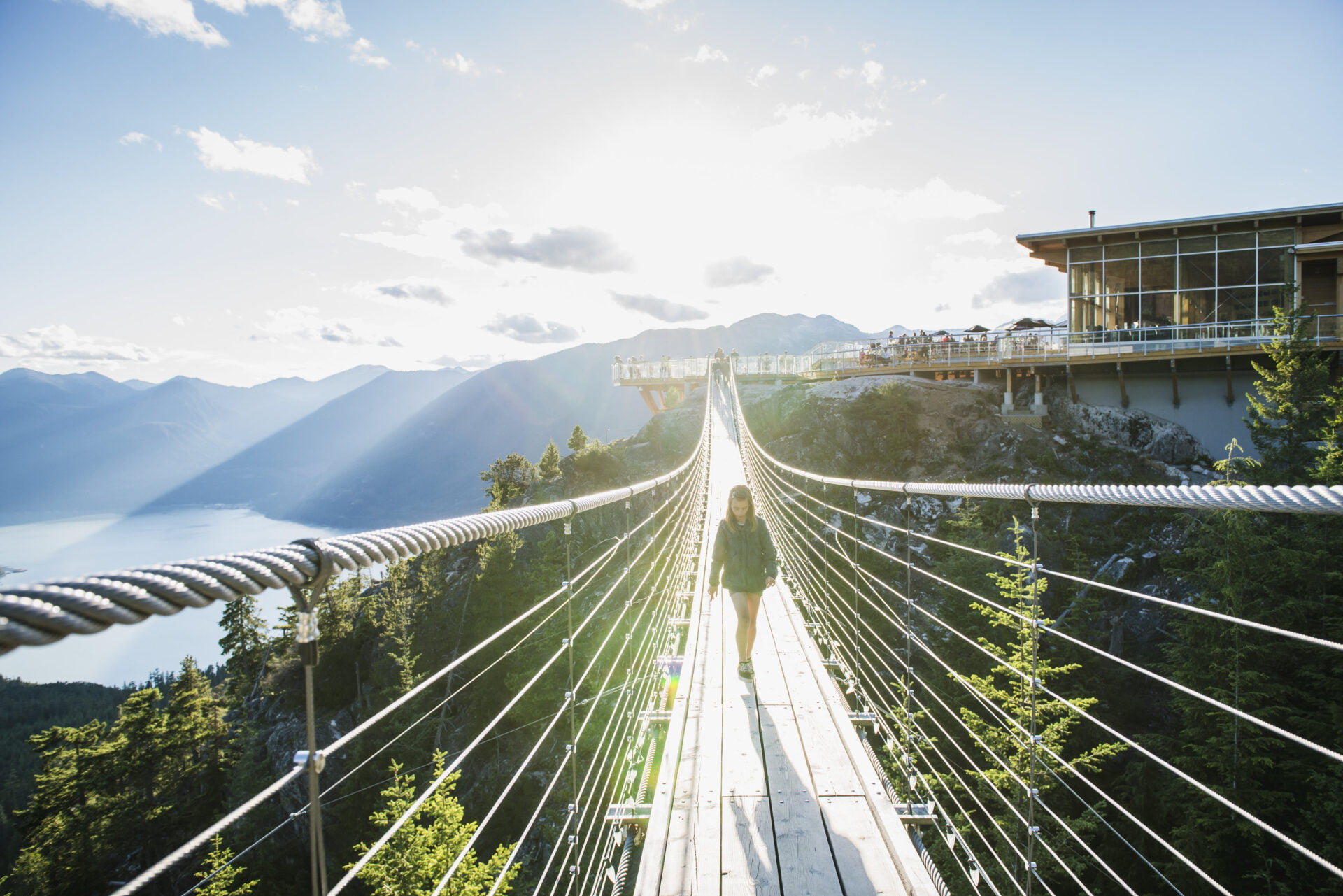 One of my favourite moments from our last visit was an international visitor who was quite scared to cross the Sea To Sky Gondola suspension bridge but really wanted to overcome his fear. The other visitors could feel this and so everyone stopped and waited for him, allowing him to have more time on the bridge to cross, and cheered him on when he struggled halfway. When he reached the end the whole crowd erupted into cheers, I wish I had asked him for a photo as he was so excited to have crossed the bridge and to share it with all of his new Canadian and international friends.
Purchase your Sea to Sky Gondola Admission Ticket Here!
Is the Suspension Bridge at Sea To Sky Gondola Accessible?
While I've never seen a stroller or wheelchair personally on the bridge, this is what the Sea to Sky Gondola website had to say, "The bridge is open year-round. It is stroller and wheelchair accessible and is one of the many adventures that are available to you with your day ticket or annual pass."
Spirit View Trail Platform
As soon as you cross the Sky Pilot Suspension Bridge you'll be welcomed to the Spirit View Trail Platform. I actually prefer this platform over the first one at the Summit Viewing Deck as this one is often less crowded and it looks back over the suspension bridge and summit lodge, offering unique views of the lodge as it's tucked into the mountainside. This angle also allows you to see Sky Pilot Mountain and Stadium Glacier easier, and they really are magnificent signs to see.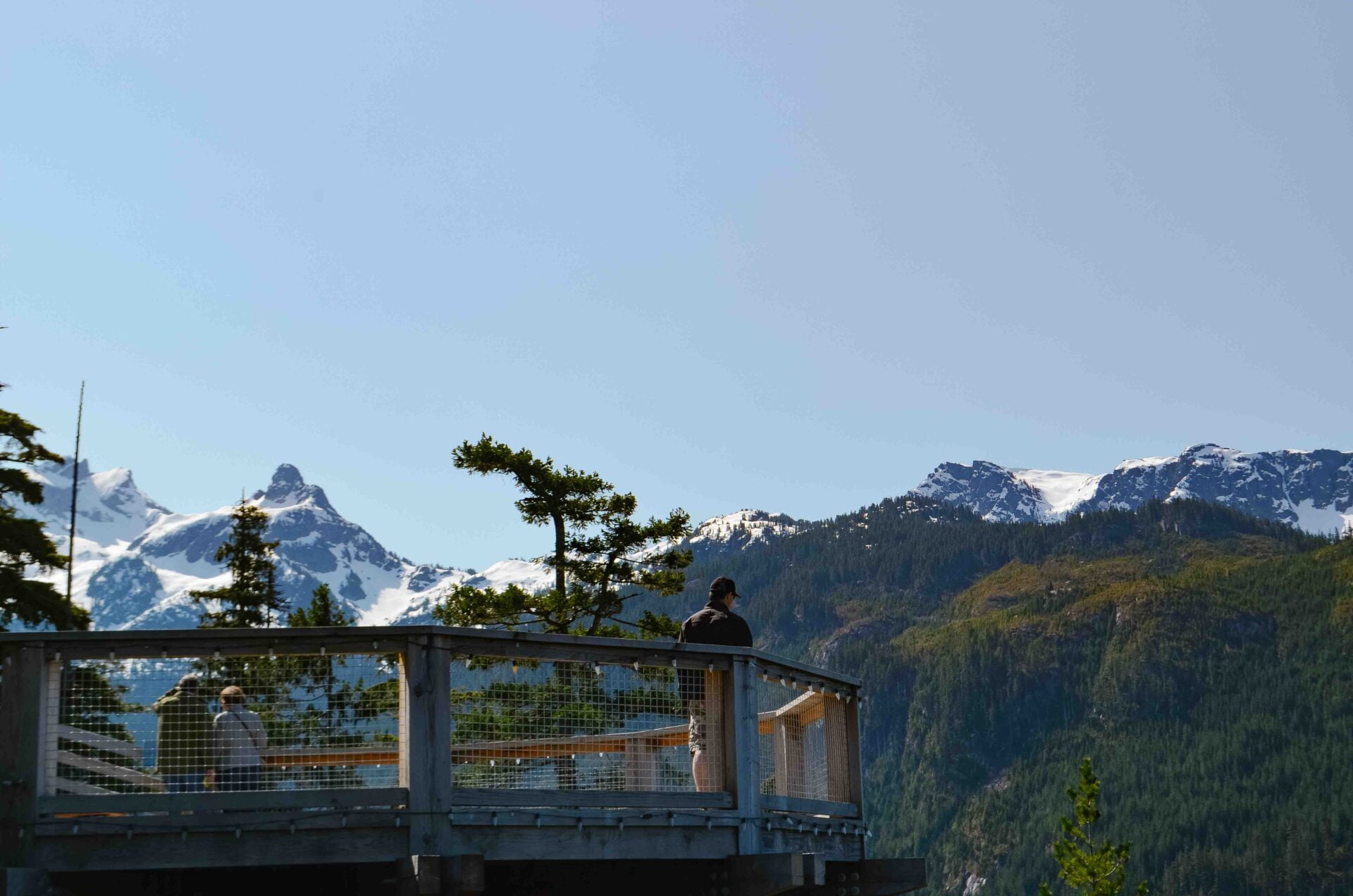 Tip: Take photos of the Spirit Viewing platform while you're walking over to it if you want mountains in the backdrop.
Spirit Trail
Once you're done soaking in the sights (never an easy thing to ever truly be done with) you can choose to cross the bridge again or head down the 400-metre Spirit Trail, which takes you back to the kid's playground and lodge. The trail has limited elevation, is wide and well-cleared, and is accessible for strollers. There is also another lookout point which brings you even closer to the mountains and has a great bench for those who want to stop and soak in the incredible views.
Kids Play Area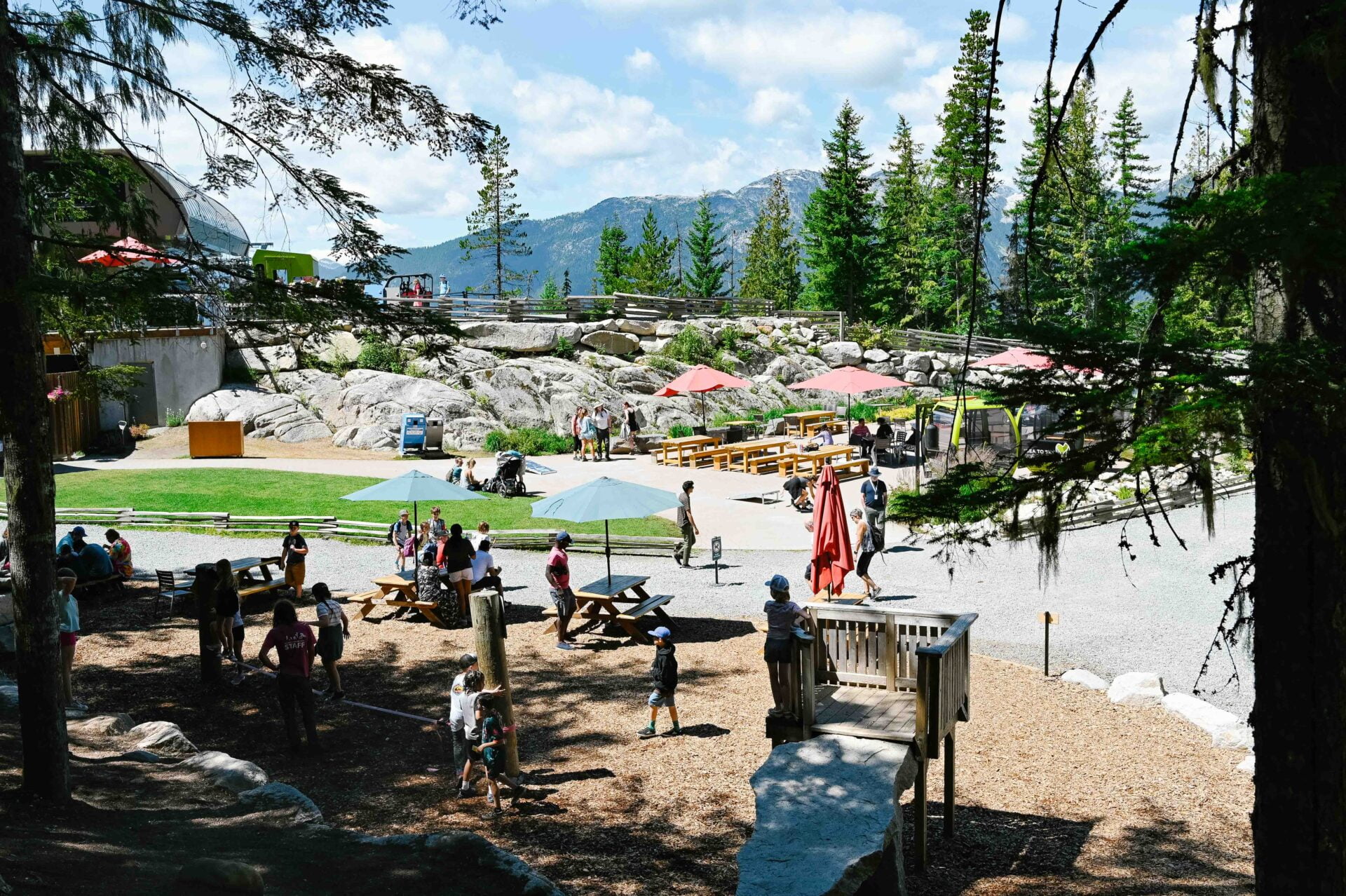 Up behind the Backyard Plaza, there's a shaded kids play area and picnic tables that are perfect for taking a break and letting the kids run around. From climbing structures to balance beams this little park area invites kids to run around, jump, and play!
Panorama Trail
After you come out of the Spirit Trail, directly across the way there is the entrance to the Panorama Trail. If you've spent any time on Instagram researching the Squamish Gondola you'll have certainly come across the iconic Chief and Squamish Valley Viewing Platform which is arguably one of the most spectacular places to view the scenery at the Sea To Sky Gondola. (Sidenote: If you have time in Squamish and like to hike, The Stawamus Chief is an incredible hike, and now that you've seen it from the top go and check it out from the ground!)
The Panorama Trail is 1.6 km and takes between 30 – 60 minutes to complete. With only 30 metres of elevation gain, this wide, accessible trail is perfect for most guests. The trail will have you winding through the forest with lookout points including Garibaldi Park Viewpoint, Olsen Cr Falls Viewpoint, and Lookback Loop. The variety on the trail keeps it interesting for all guests as there's also Ghost Creek Bridge as well as Gully Bridge to mix up the adventure.
Winter Tip: If travelling during the winter you'll need to bring or rent snowshoes to explore this trail. I've never done it but it's on my winter bucket list as I want to see these views covered in snow!
Chief Overlook Viewing Platform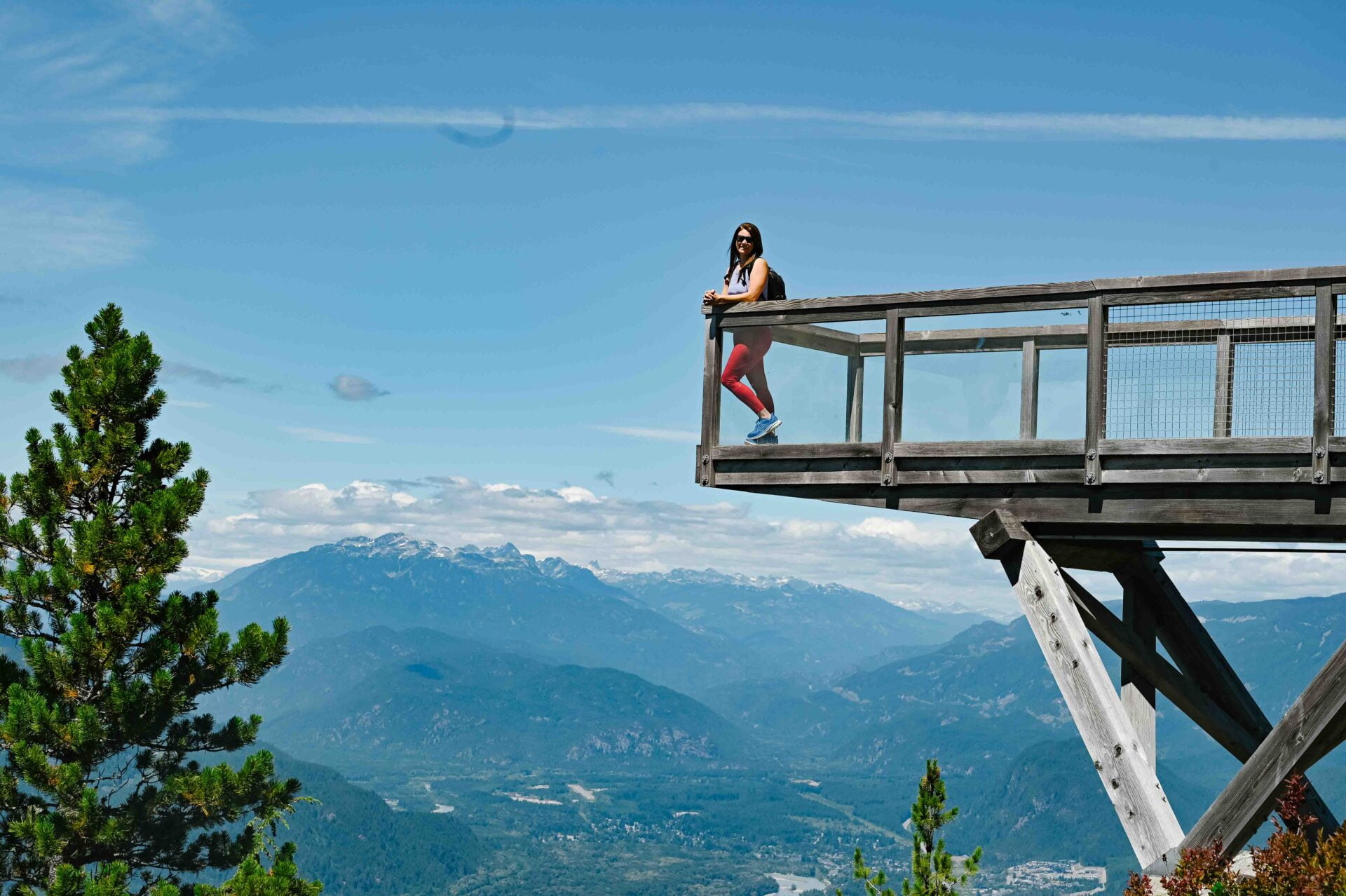 Halfway through the hike, you'll come to the viewing platform that photographers' dreams were made of.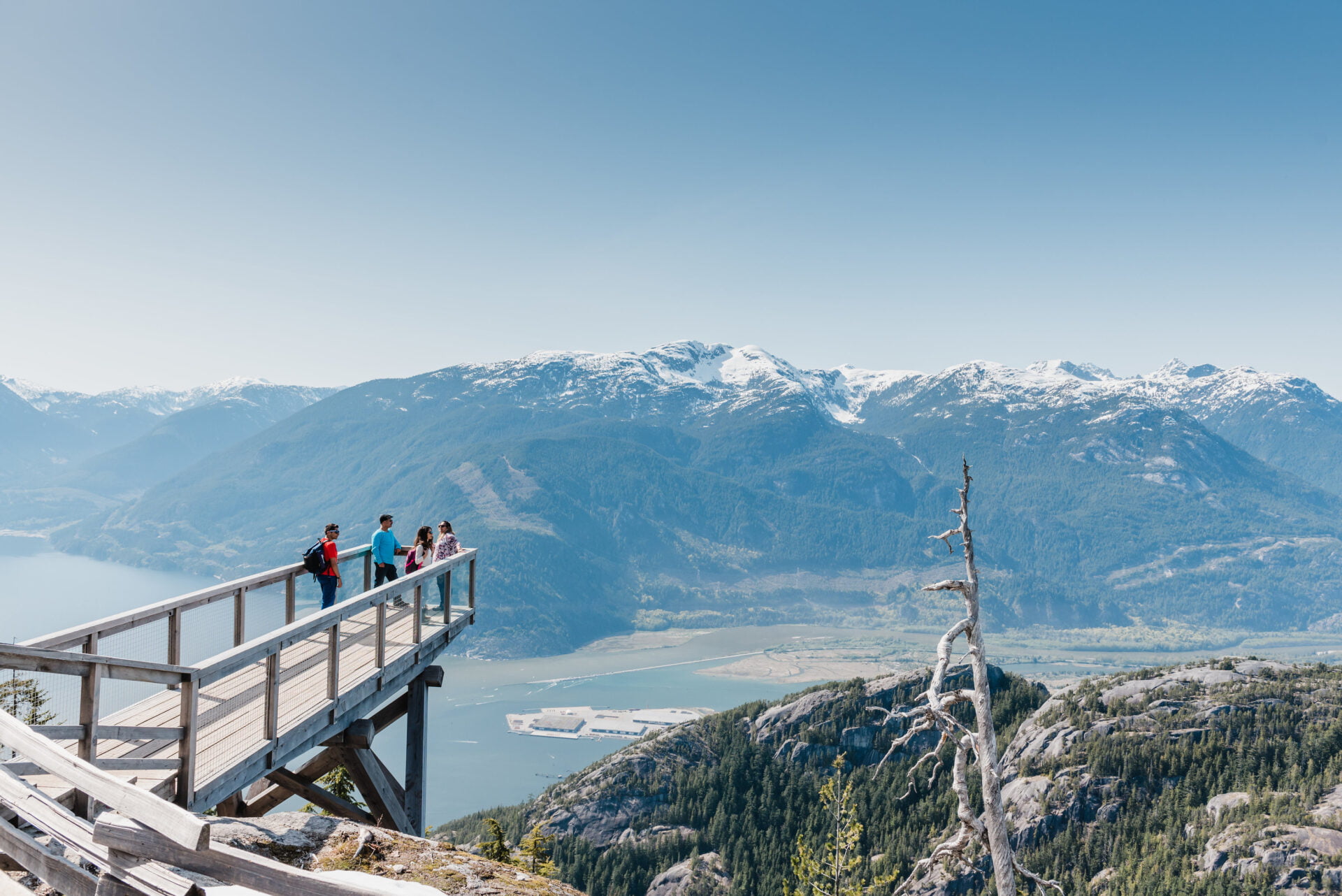 The destination speaks for itself so here are some tips on how to get great photos and enjoy the experience:
Look for different angles, below the viewing platform there's a great spot to look up and capture the cantilever viewing platform that appears to be sitting in the clouds.
Above the platform, you can look down onto the lookout and capture neat photos of the lookout as well as the west coast scenic backdrop of which it sits.
Once on the platform you can take many photos, and if you're there during a slower period you may be able to have the platform to yourself. Guests are often great at sharing the platform and helping others take photos, just be sure to share the space and not interrupt others' experiences.
Purchase your Sea to Sky Gondola Admission Ticket Here!
Stay Safe on the Trail
Hiking on the mountain side comes with inherent risks, be sure to stay on marked trails and away from the edges, for your own safety and for the safety of those around you.
Interpretative Signs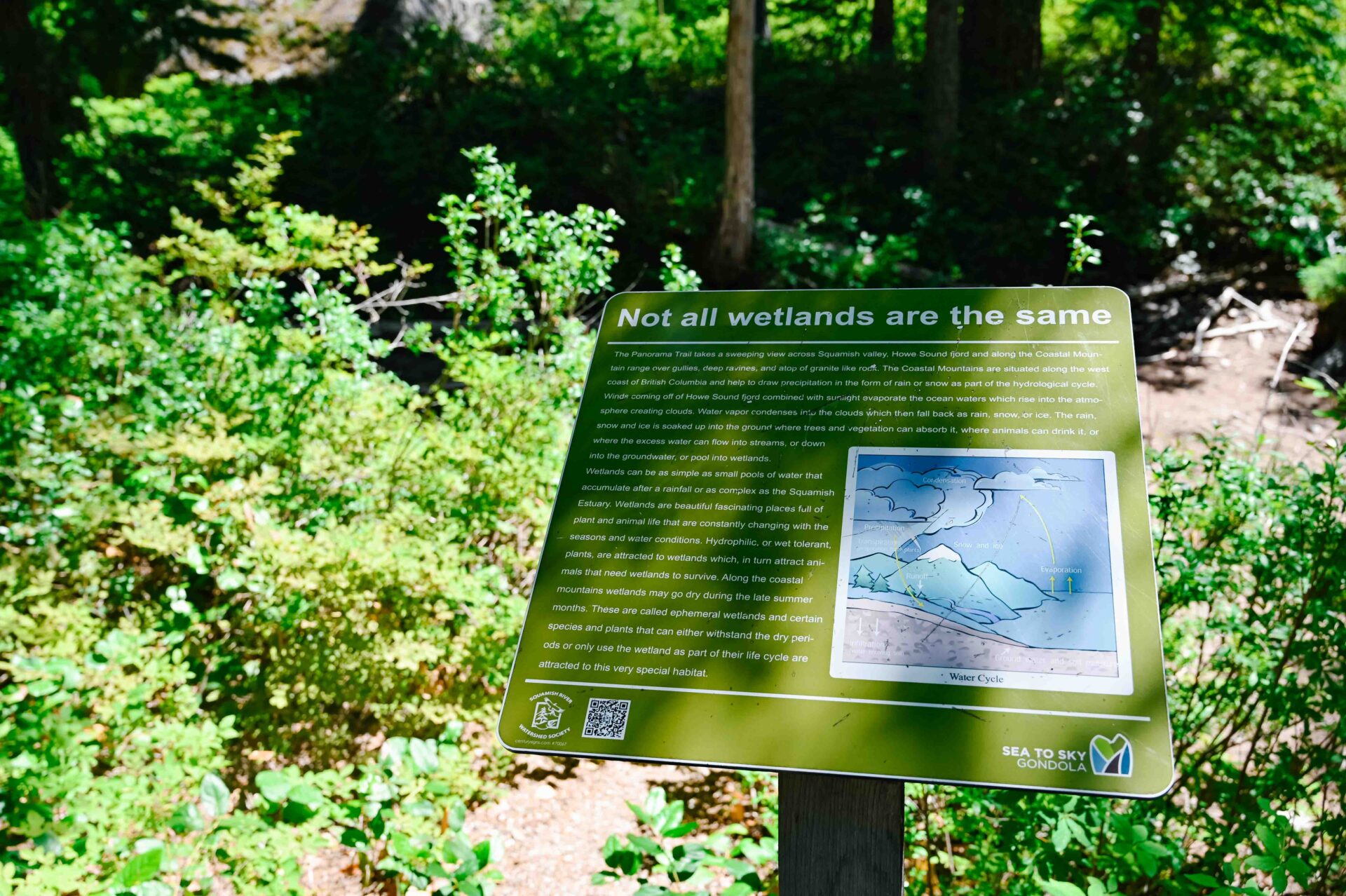 The trail is filled with educational signs throughout, teaching guests about the flora and fauna, what's happening within the different ecosystems, and of course how to protect this area for generations to come. These offer great talking points for your crew and are definitely worth stopping and learning more.
Wonderland Lake Loop
If you're loving hiking and want to check out a forest-infused route, the Wonderland Lake Loop is a great choice as it's a beginner / intermediate trail, is 1.6 kms and has only 40 metres of elevation gain. Accessible off the Backcountry Access Road, you'll turn right into the forest where you'll hike alongside granite rock bluffs, open meadows, and vibrant coastal forest. There are a lot of great viewpoints along the trail where you can snap shots of Summit Lodge, Sky Pilot and Co-Pilot Mountains, as well as Goat Ridge. Hint: This is a great place to stop and have a snack!
Once you're further into the trail you'll find Wonderland Lake which in the summer welcomes lily pads to its surface and is set among mountain wildflowers and Alaskan Blueberry. A boardwalk invites you to follow the loop around the lake, allowing you to see the water from every angle. Sea to Sky states, "The Wonderland Lake Loop provides a real glimpse into the rich flora and fauna of the local ecosystem and at 30 to 60 minutes for the entire loop, it is the perfect intermediate hike for those wanting a new trail to explore at the Summit of Sea to Sky Gondola."
Alpine Ally (Kids only nature walk) 11am Daily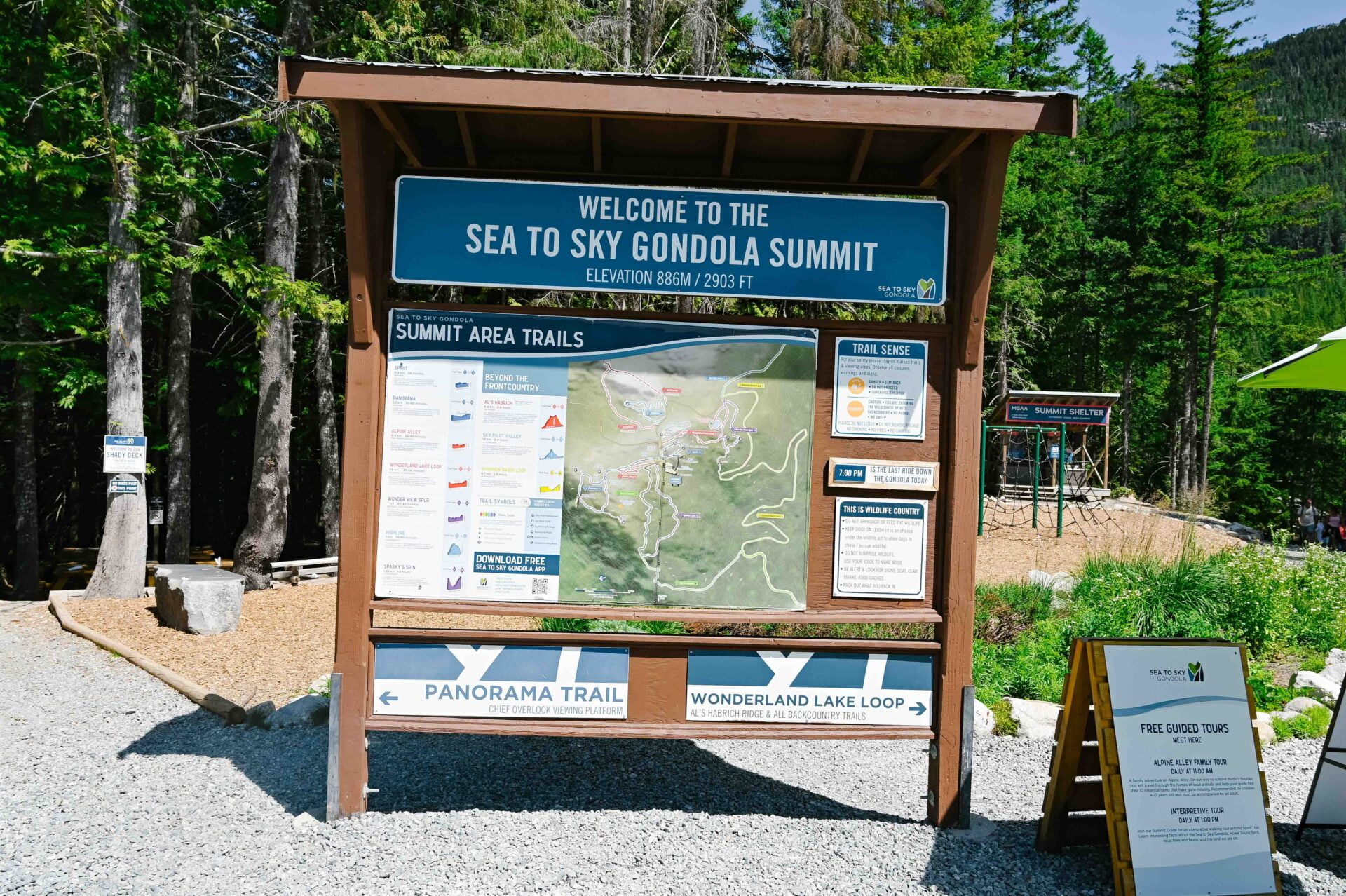 If you're visiting the Squamish Gondola with kids, be sure to be there for 11am when you can take the kids on a "Kids Only" nature walk. This "kid-approved" guided experience will allow your littles to explore rock climbing features, chains, ropes, and balancing areas as well as animal games along the way. (And the guides may even teach them a few things in between all the fun!)
Where to Meet: The trail map board next to the Panorama Trail Entrance
Cost: Free with lift ticket or pass.

Tip: Only one adult per family is recommended to attend as the tour is limited to 15 people and this allows more kids to be able to take part.
Sea to Sky Gondola Hikes
The hikes and routes that I have highlighted are the ones that traditional visitors go on when planning a stop at the Sea to Sky Gondola. However, there are many additional front-country and back-country hiking trails available that, if you are prepared and an experienced hiker you could explore. They include The Sea to Summit Trail, Al Harbrich's Trail, Sky Pilot Valley Trail, Shannon Basin Loop, and more. To learn more about the trail system and get photos and descriptions of these more advanced trails visit their website.
Sea To Sky Gondola Restaurants: Where to Eat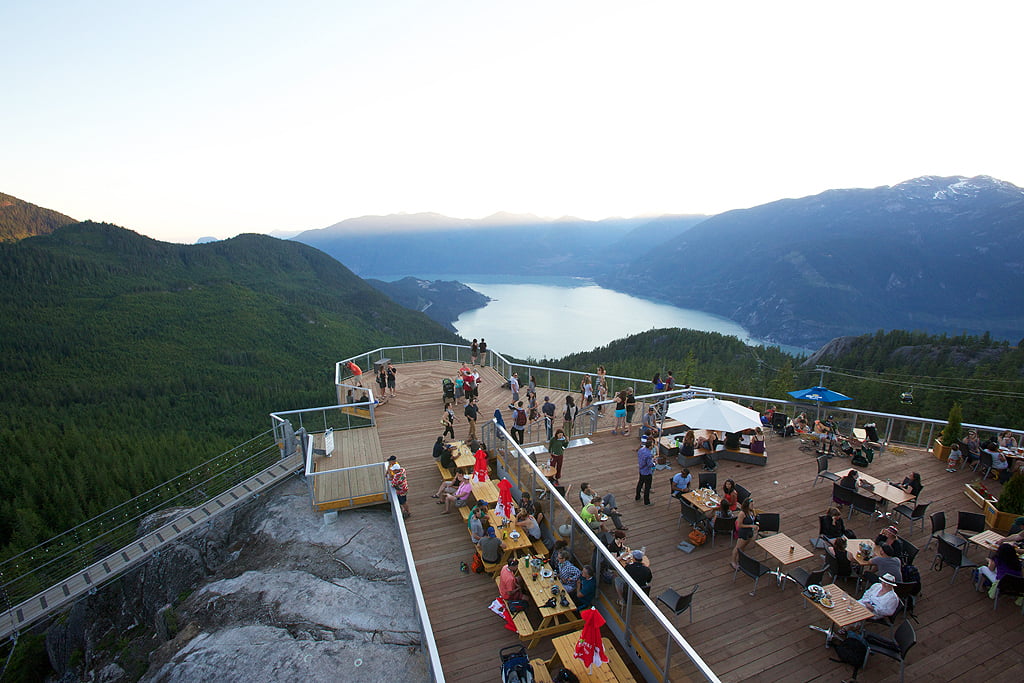 Food always tastes better after an adventure and the views combined with the forest setting makes for the perfect place for lunch. With six food and beverage mountainside options to choose from your hardest decision will be choosing where to eat!
Sky Pilot Eatery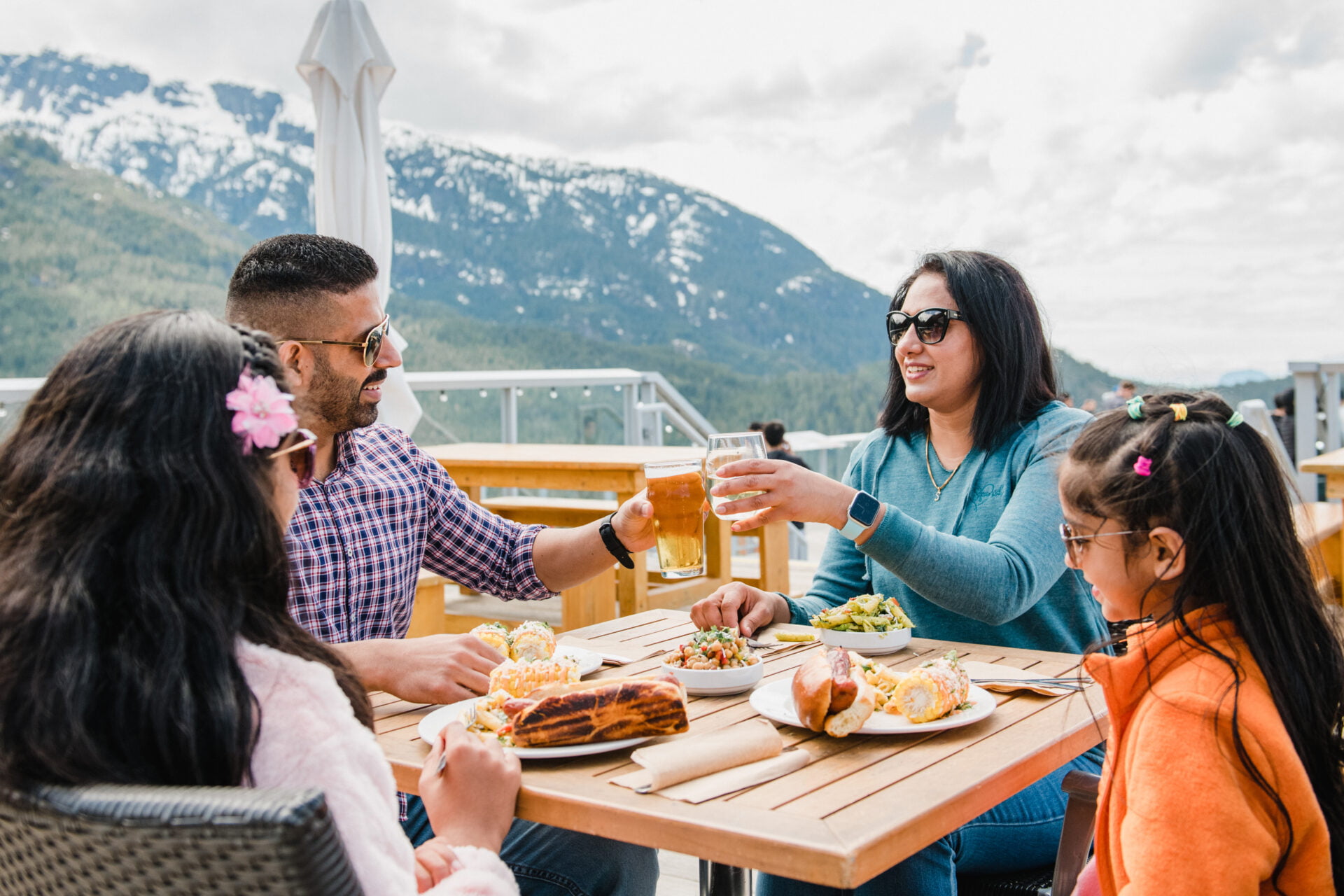 Touted as "Apres Adventure Eats" this Sky Pilot Eatery is in the center of the Summit Lodge, inviting you to load up on tacos, loaded fries, or grab and-go items and sit down next to a floor-to-ceiling window to soak in the views over the Howe Fjord.
Tip: This is a great place for quick snacks and drinks.
Oceanview BBQ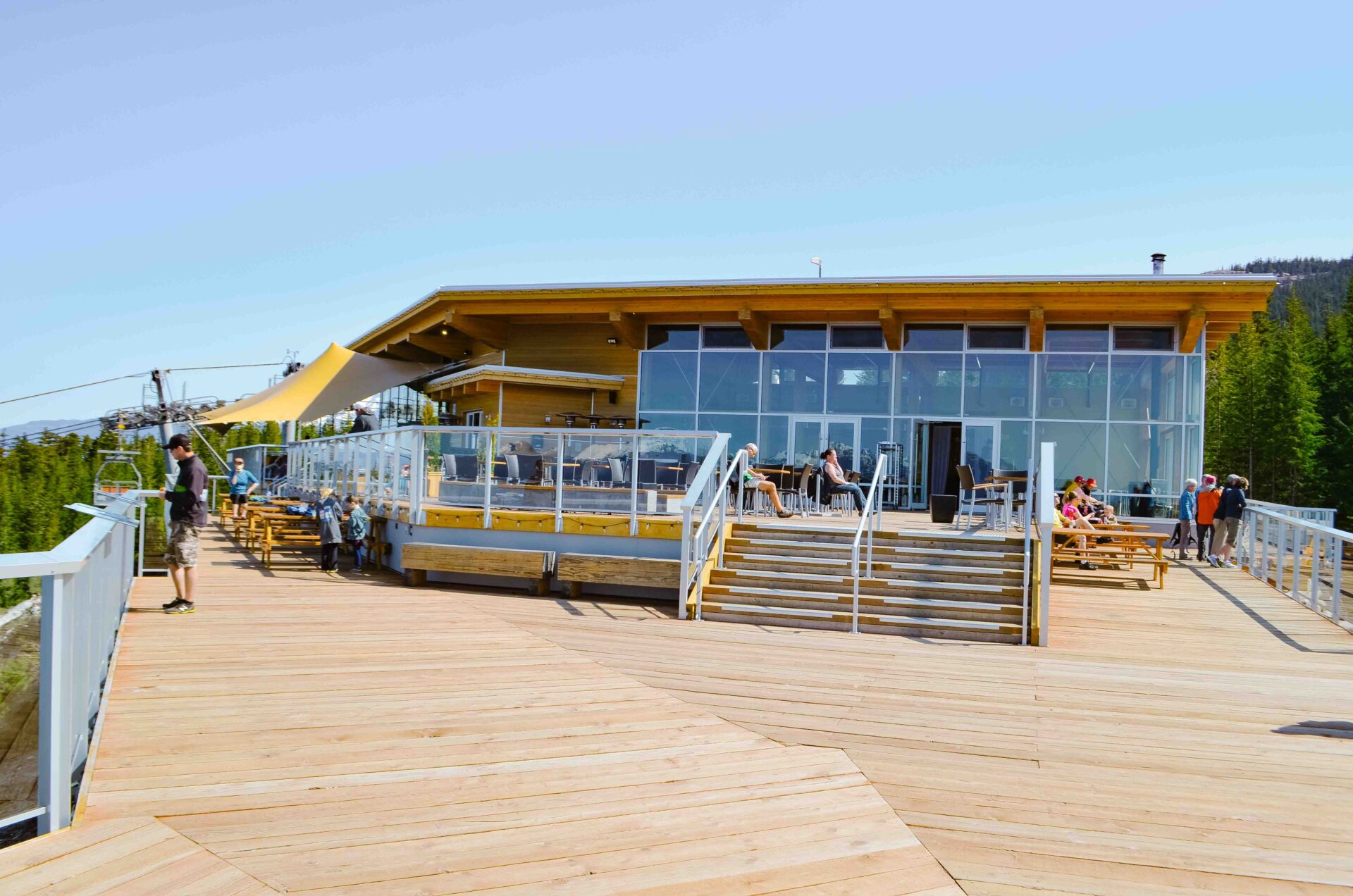 Located on the patio, the Oceanview BBQ name tells the story. With classics like smokies, hot dogs, and street corn, this is grab and go outdoor staples with a view!
Co-Pilot Cafe
If you're starting off your day early and need a cup of coffee, or are a "any time is a good time for a coffee" kind person, the Co-Pilot Cafe is the place for you. Beyond coffee you can expect to find handheld sandwiches, freshly baked pastries, and of course, the amazing view.
Backyard Bites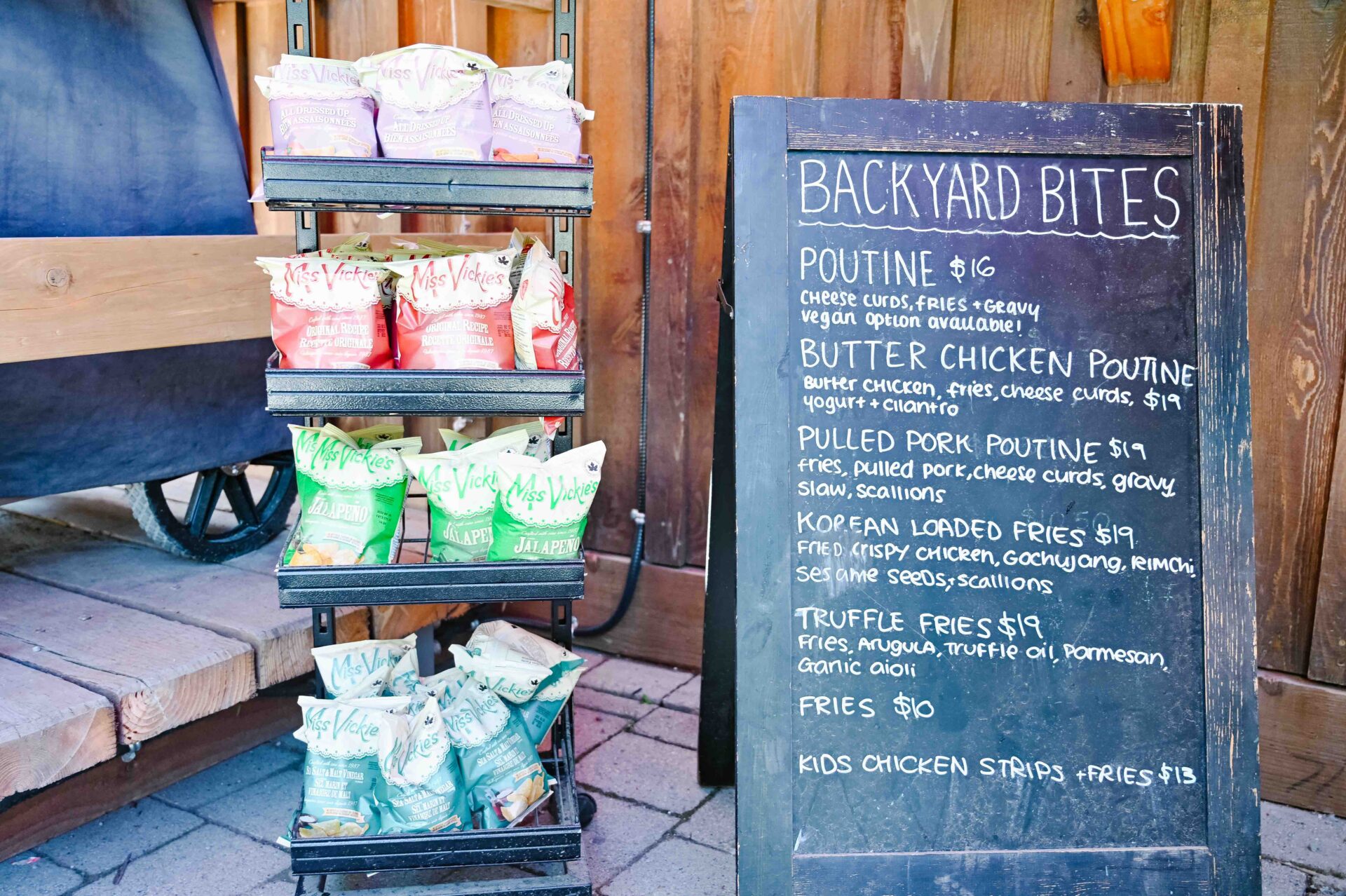 If you're looking for something to grab so you can go to the playground and picnic area, Backyard Bites is your place. Located right next to the kids playground on the Backyard Plaza you'll be able to indulge in a variety of gourmet poutines (how Canadian eh?) or get snacks like pop and chips, and in the summer our favourite, the freezie!
Edge Bar
With a focus on supporting local, the Summit Restaurant Edge Bar has craft beer available from all of the local Squamish Breweries. If you're not a drinker like me, no worries, you can still enjoy a zero-proof beverage while overlooking the iconic west coast views.
Will the Summit Restaurant Edge Bar be the highest elevation you've sat down for a drink?
The Praguery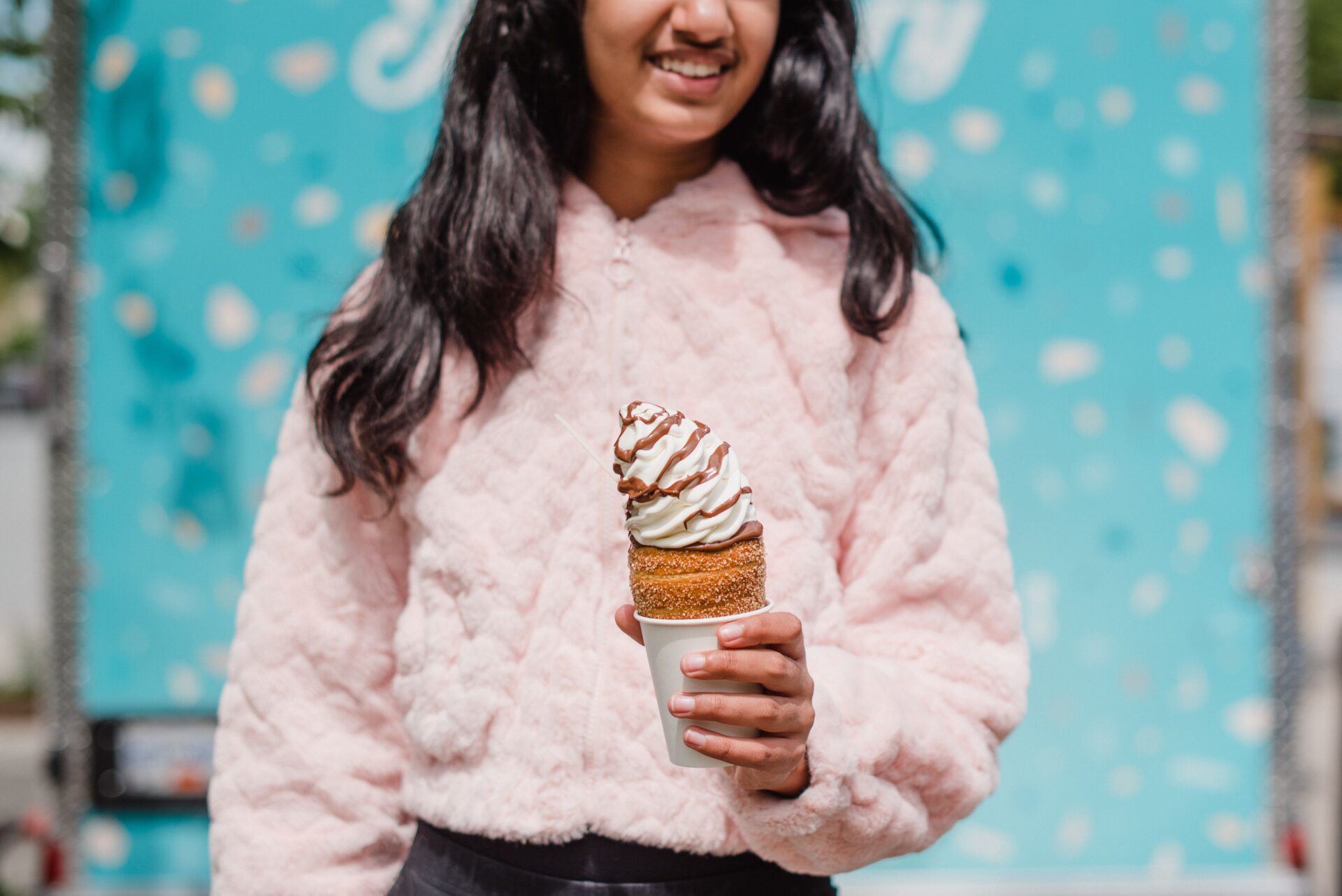 For one more stop before you load into the car and continue your adventures, the Praguery invites you to line up outside their turquoise truck and indulge in freshly baked chimney cakes and ice cream. #VacationModeActivated
Backyard Plaza
You can find the backyard plaza behind the main lodge. It's got a ton of open-air seating and even a few gondolas for you to hang out in and pose with if you want!
Sea To Sky Gondola Playground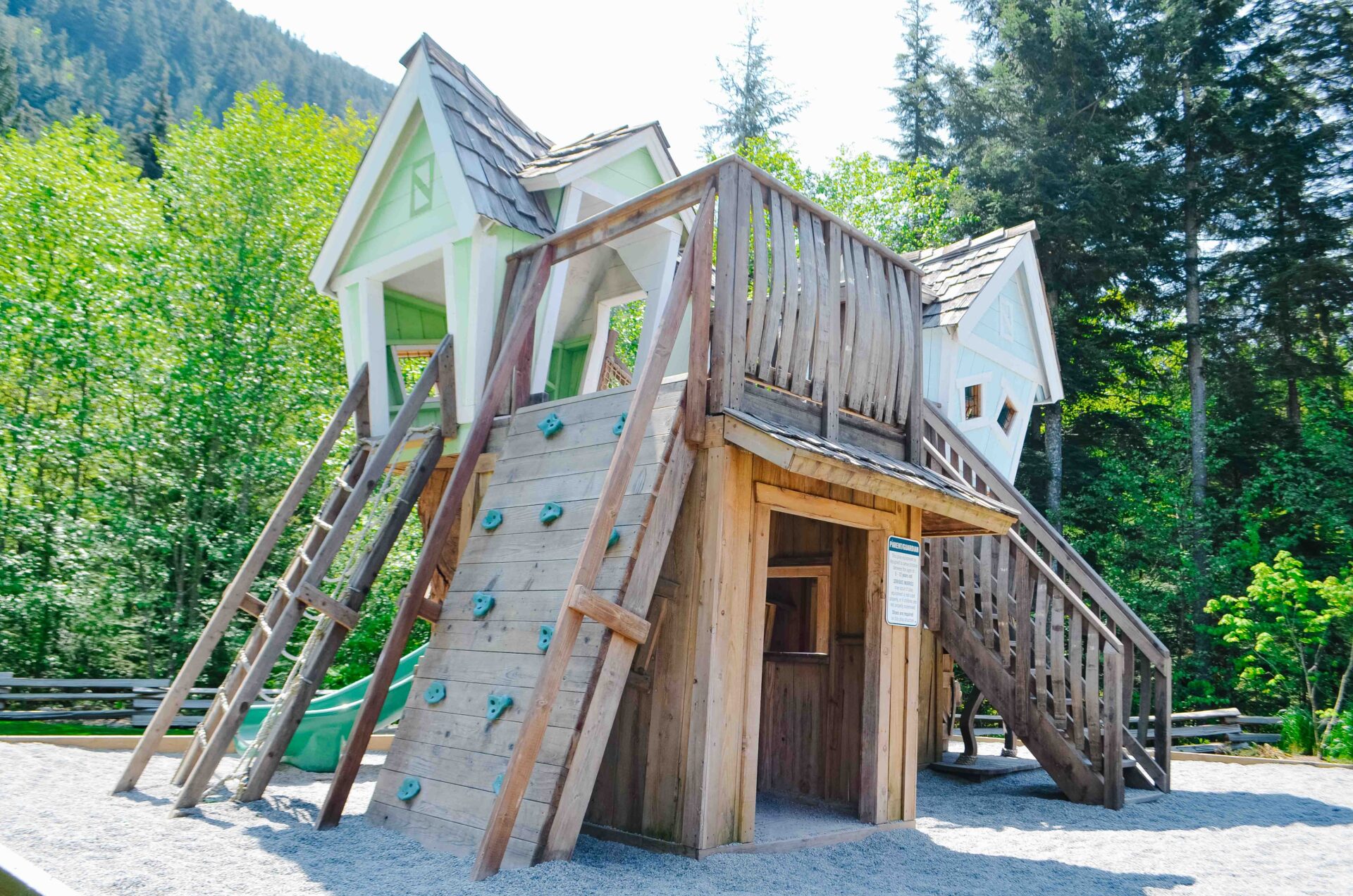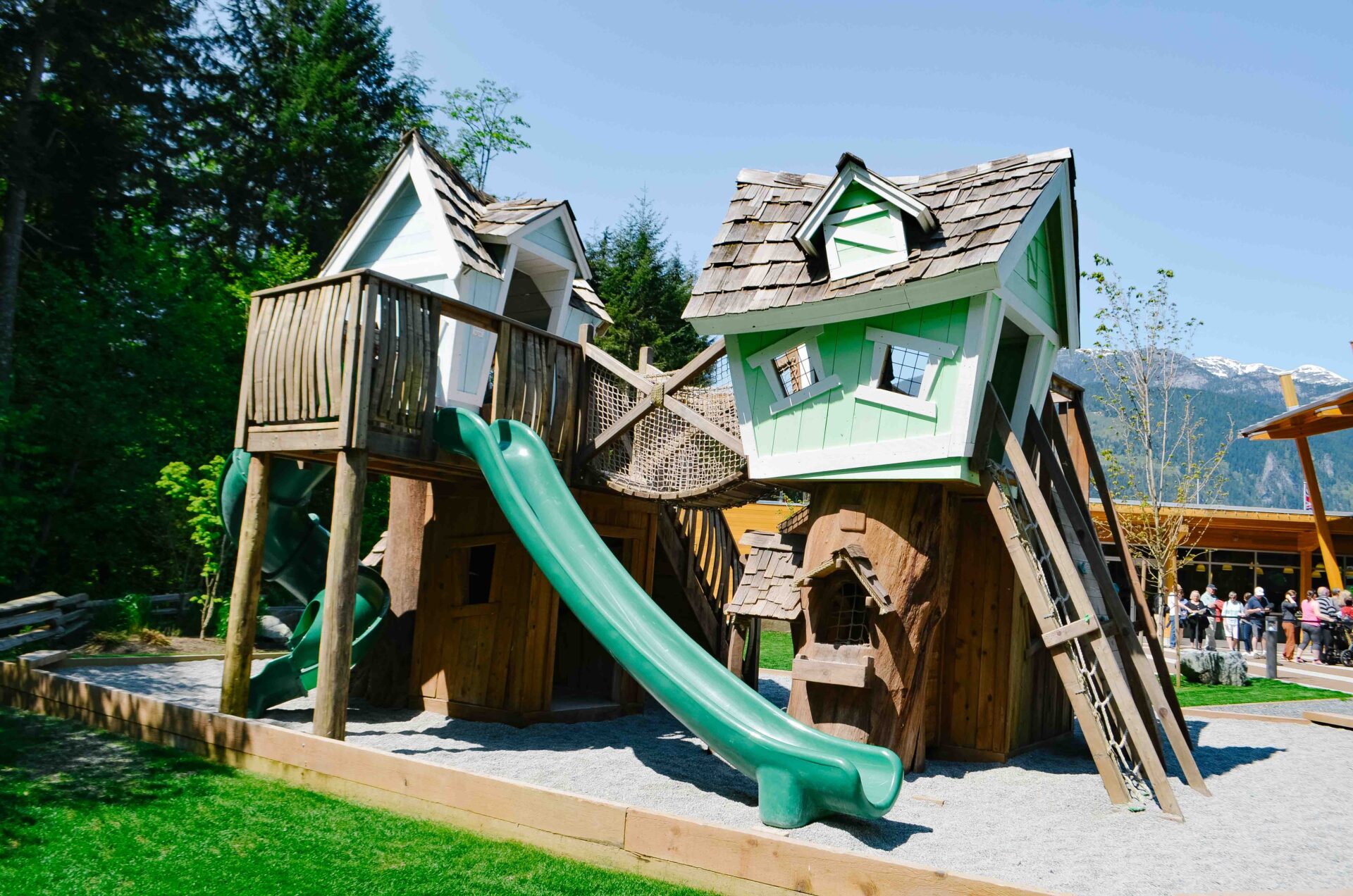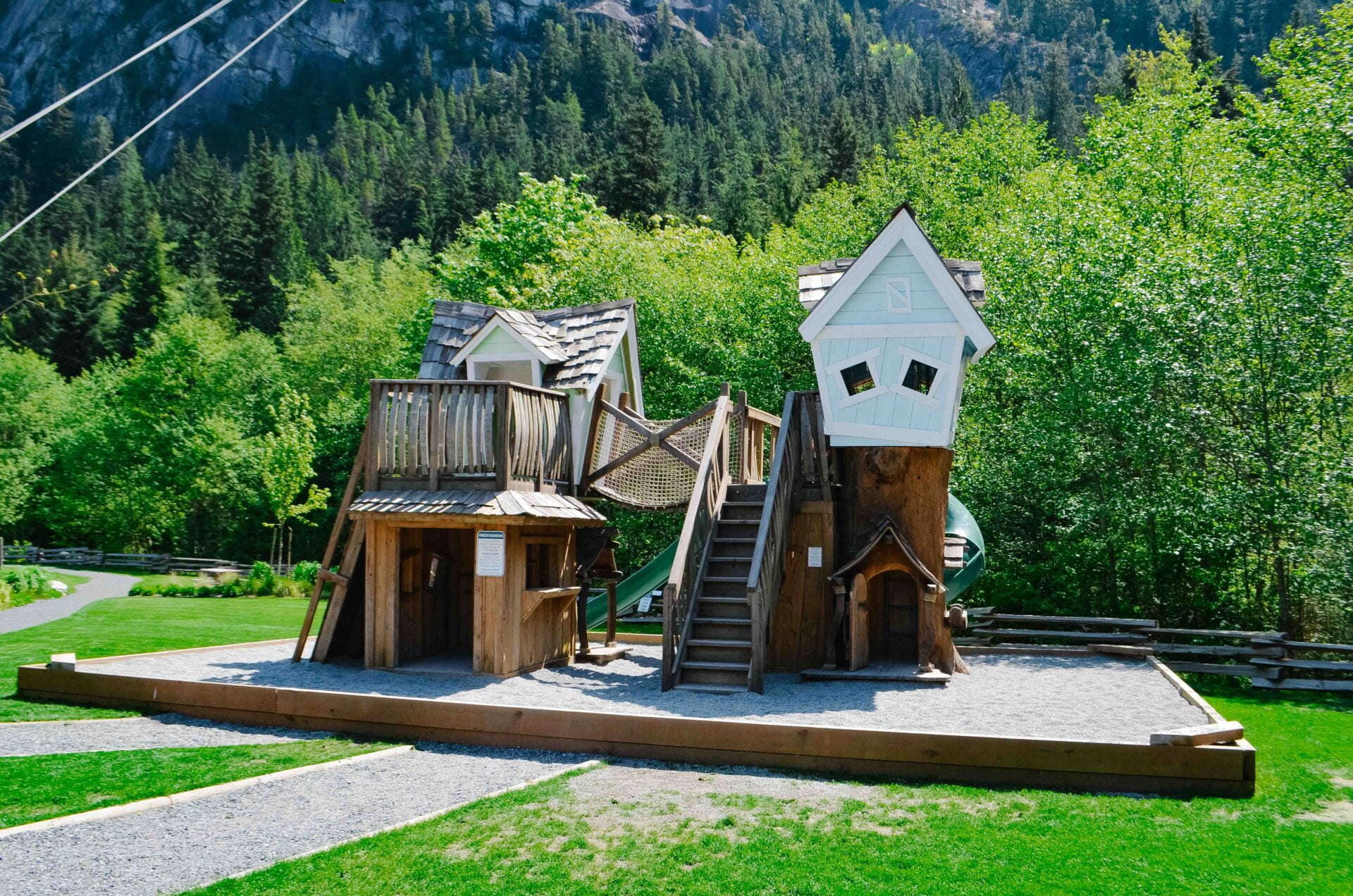 Once you're back at basecamp (and perhaps have picked up a treat from the Praguery), I recommend taking the kids for a run around the playground. Uniquely west coast, this treehouse invites the kids to climb, hide, peek, slide, and crawl around next to the grassy shaded areas. One of my favourite playgrounds in Squamish!
Sea To Sky Gondola Events
Do you want to take your adventure to new heights (see what I did there?)? The Sea To Sky Gondola is regularly offering unique events that you could plan your trip around and create a really unique mountaintop experience. Here are three worth knowing about!
Sea To Sky Gondola Music – Mountain Music Series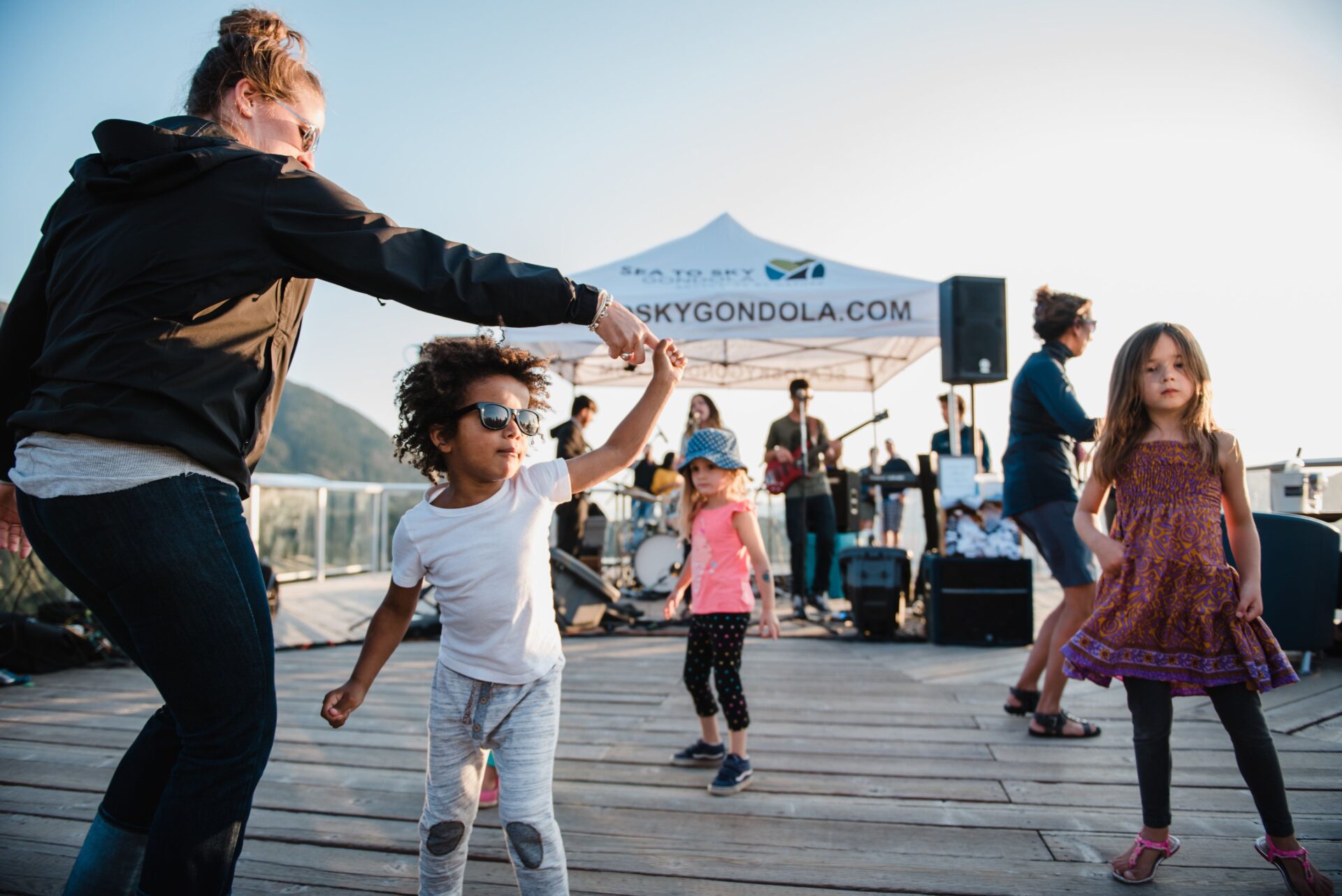 On Friday nights the Squamish gondola invites you to explore their Mountain Music Series. In 2023 they start on June 9th and run through September 8th. With a wide variety of musicians including classic rock, indie soul, modern-acoustic, celtic rock, world fusion, and country rock, their schedule will ensure something that aligns with your style.
Combine the Sea to Sky Gondola music with the summer-inspired patio BBQ, sunsets that will leave an impression, and nothing but good vibes, the mountain Music Series is something worth checking out!
When: Friday nights starting June 9th through September 8th.
Yoga With A View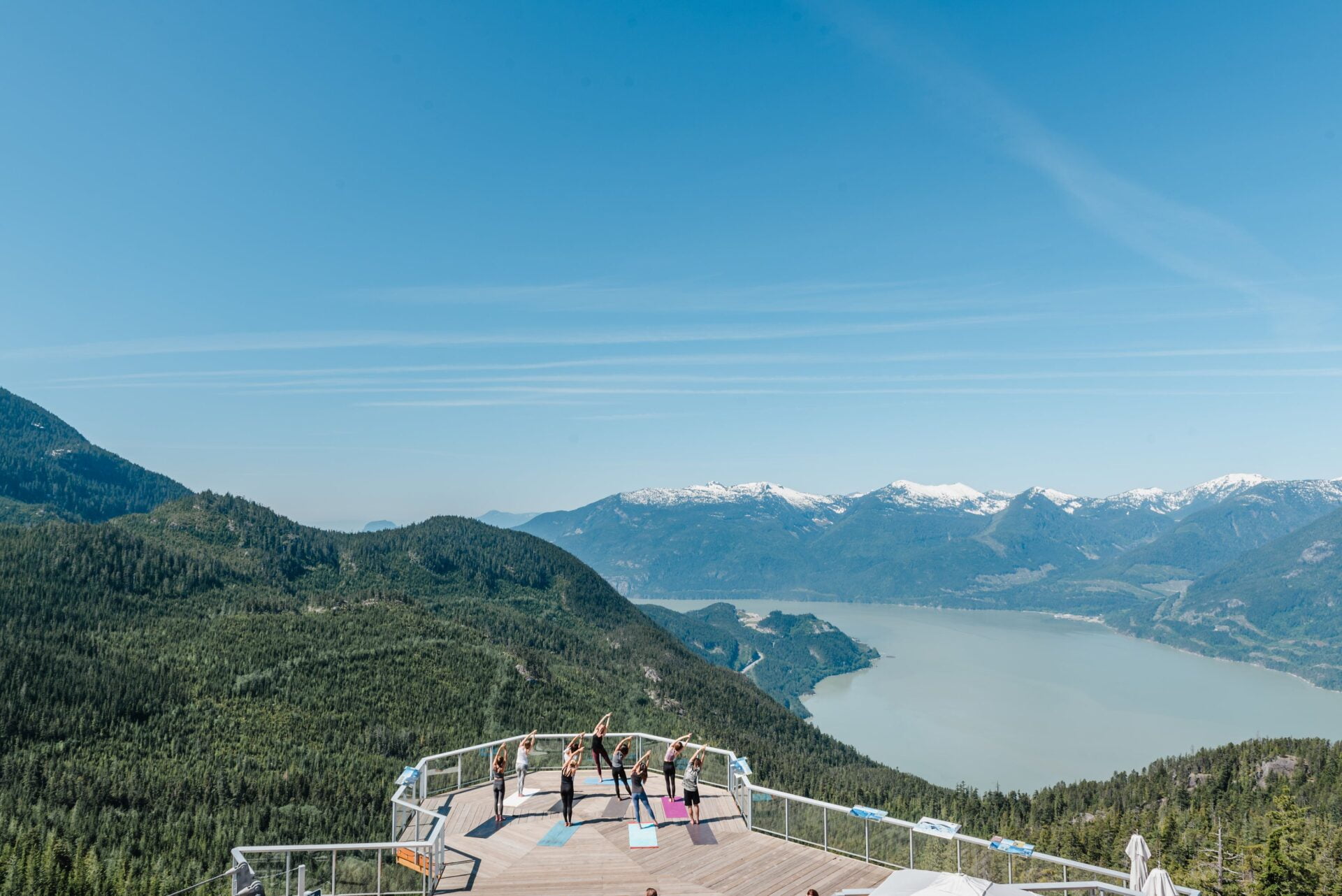 As a lifelong yogi, going to a mountaintop yoga class is one that tops my list. This passion for yoga in unique places was sparked in Banff and to see a local option has me adding this experience to my Squamish adventure list!
"Join us for mountaintop yoga with a view" An energetic flow class led by certified yoga instructors will take place every Monday, Tuesday, Wednesday, and Friday during the summer season. Suitable for all bodies, you'll enjoy an energetic flow yoga class that will leave you feeling connected, nurtured, and present. (and in this setting I can only imagine how incredible it is!)
When: Every Monday, Tuesday, Wednesday, and Friday (June 19 – September 15)
Time: 9:30 am – 10:30 am
Location: Octagon Deck at Summit
Cost: $20 per yoga class (20% off lift ticket for non-pass holders)
Register Pre-registration is required. Book your class here.
What to bring: Yoga mat, water and extra layers (it can be cooler on top)
Rise and Climb Hike
How does starting off your weekend by crushing your wellness goals sound? The Rise + Climb encourages hikers to kickstart their weekend by hitting the trails and taking part in their signature hiking program. This program runs every Saturday from June 24th to September 9th and is run in partnership with Helly Hansen.
There's even a chance to win epic prizes, "The more you participate the more chances to win prizing from our event sponsor and partners including tentree, Soave Coffee, Squamish Water Kefir, Passage Hat, Hydro Flask, Knockaround Sunglasses, Northern Bars, MTNPK Glassware, Fahlo Bracelets and the Sea to Sky Gondola​."
Participants also get to receive a complimentary hot beverage between 8:30 am and 11 am… just see the Summit download desk to get your voucher!
When: Every Saturday until September 9th
Cost: No cost to take part in the Rise and Climb but you will need a download ticket, ($19) or have a pass.
Register: Passholders click here to register and non-pass holders click here to register to collect your participation points for a chance to win prizing.
How to Get to the Sea To Sky Gondola From Vancouver
Did you know that there is a shuttle that will take you from downtown Vancouver to the Sea to Sky Gondola for a minimal extra fee? For approximately $15 per person each way, you can add shuttle service to your ticket and get a packaged deal that will have you sitting back and soaking in the view while you traverse from Vancouver to Squamish via bus. This full-day experience picks you up in Vancouver at 7:55 am and returns at 4:00pm. Alternatively, you can rent a car and drive the world-famous Sea To Sky highway yourself.
Purchase your Sea to Sky Gondola Admission Ticket Here!
Sea to Sky Gondola FAQs
Is there parking at the Sea to Sky Gondola?
Yes, there is ample parking for vehicles and oversized vehicles (in case you're renting an RV). If you are planning on hiking up, you'll need to park in the second parking lot as the primary parking lot is reserved for those taking the gondola up.
Who made the Sea to Sky Gondola?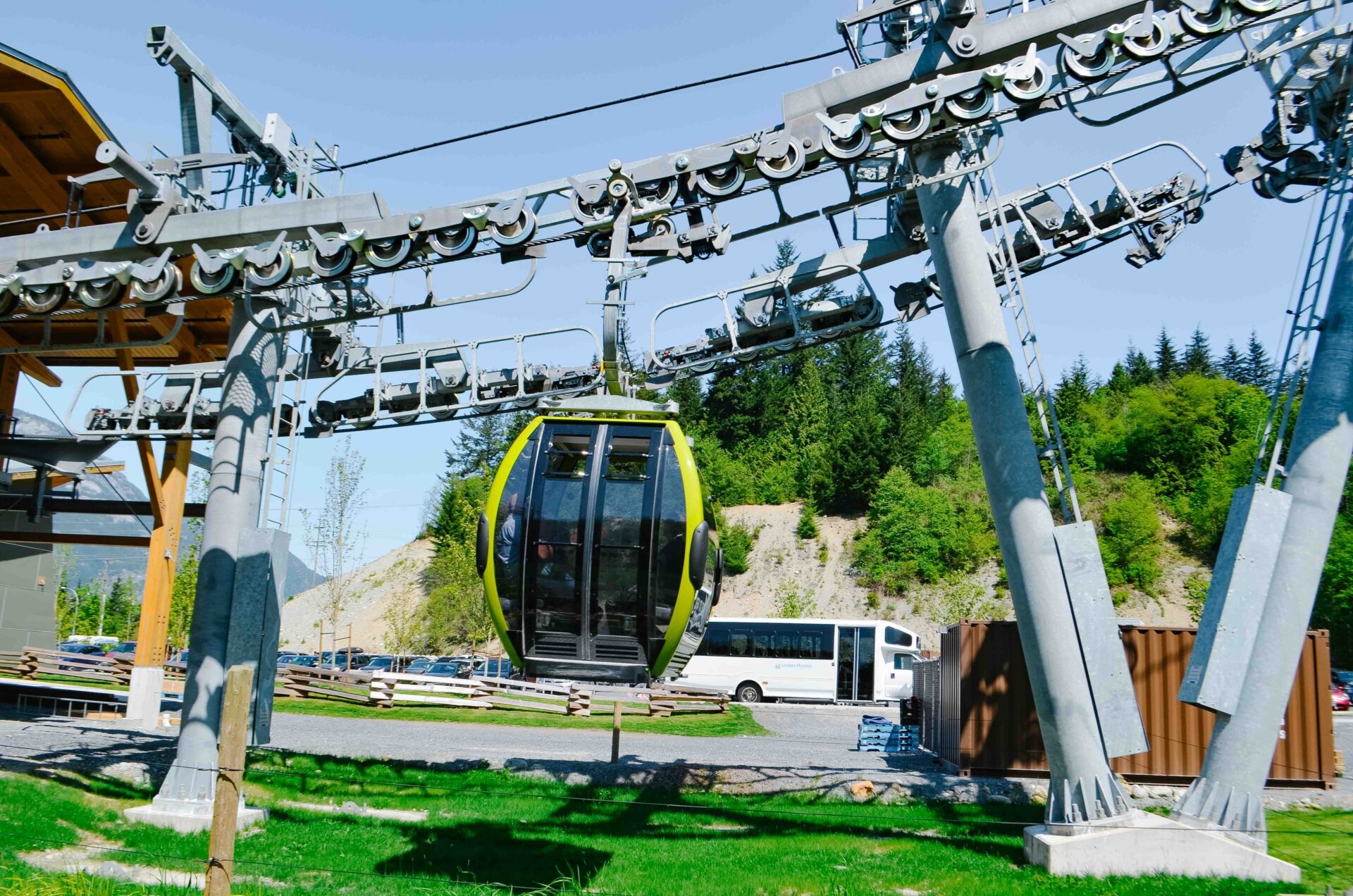 The Sea to Sky Gondola was custom-made by Swiss manufacturer CWA, and the gondola itself was manufactured by Austrian manufacturer Doppelmayr.
Are gondola rides worth it?
As someone who has visited a lot of Gondola rides across the country including the Banff Gondola and Peak to Peak in Whistler, I can without a doubt say that gondola rides are an amazing way to experience a mountain top eco system. The ability to traverse through the sky and be placed among the mountains in record time is truly unique and allows you to access the backcountry without having to do the physical labour of hiking up the mountain, or the technical skills that would limit so many.
Are dogs allowed on the Sea to Sky Gondola?
Due to the nature of the eco system and the gondola, dogs are not allowed on the Sea to Sky Gondola, with the exception of approved service dogs.
Do gondolas only take cash?
The Sea to Sky Gondola does not accept any cash as form of payment for their tickets or food and beverage purchase. They accept Debit, Visa, Mastercard and American Express.
What is the biggest gondola in BC?
The biggest gondola in BC is the Peak to Peak in Whistler.
Which is better Sea to Sky or Peak to Peak?
If you're planning a trip through Squamish and to Whistler you could easily visit both and have two completely different experiences. Having experienced them, I love doing both as they offer very different scenes, and experiences, and that can especially change if you visit in different seasons.
Which is better Sea to Sky Gondola or Grouse Mountain?
Impossible to compare, as each one of these experiences offers guests different things. The Grouse Mountain Gondola takes you up to a mountaintop experience overlooking the city of Vancouver. In the summer you can see bears, lumberjack shows, and go hiking. The Sea To Sky Gondola offers a longer ride and a private gondola experience, epic views over the coast mountains and hiking trails that you can explore endlessly.
In short: Don't make difficult decisions like one or the other, plan enough time to do both!
How many people fit in a Sea to Sky Gondola?
Each gondola can fit 8 people, and most of the time you'll be able to ride with your party and have the gondola all to yourselves.
What is the height of the Sea to Sky Gondola?
At the top you'll step out into the mountains at 2900 feet (or 880 meters) above sea level.
Is the Sea To Sky Gondola Accessible?
The Sea To Sky Gondola has done a wonderful job of ensuring the attraction is as accessible as possible. The following amenities are available to make the Sea to Sky Gondola as accessible as possible:
Wheelchair-accessible parking spaces directly adjacent to the Basecamp facilities.
The access point and exit to the gondola are flat and accessible for wheelchairs as well as strollers.
Wheelchair-accessible gender-neutral washrooms are available at Basecamp and in the Summit Lodge.
Wheelchair-accessible tables are available at the Basecamp Cafe and in the Summit Lodge.
Baby changing tables at the base and at the summit.
Are service dogs allowed at the Sea To Sky Gondola?
Service dogs are invited to meet the Guest Services staff at the base of the Sea To Sky Gondola to get their very own Service Dog pass. The pass is used to identify you and your dog to the staff and fellow guests in order to provide the best experience for all visitors.
To learn more about their inclusion and accessibility visit their website.
Sea to Sky Gondola Reviews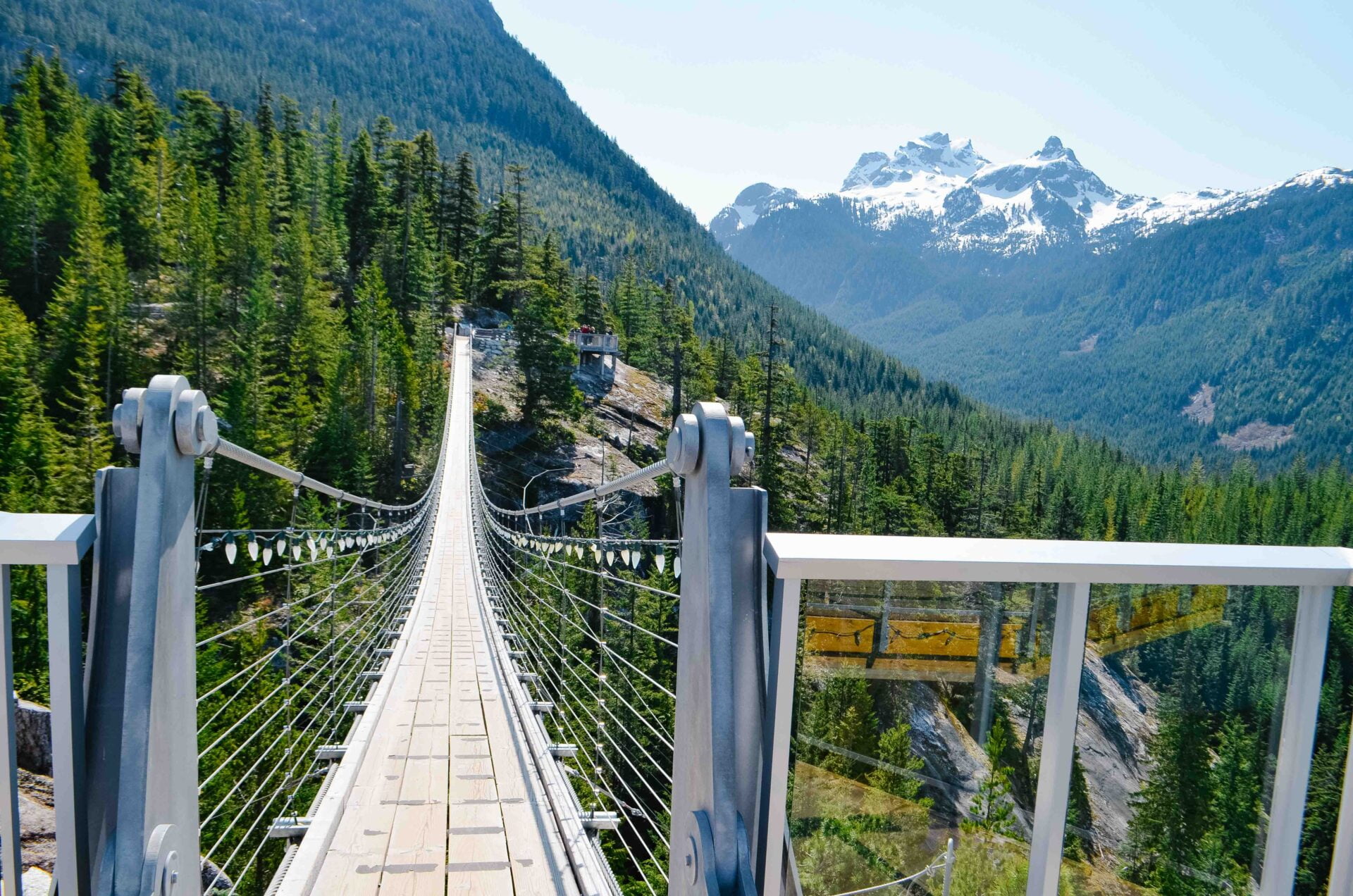 "This is definitely a must if you're visiting BC! Such a perfect experience. The ride lasts about 10 minutes and the view from the top is absolutely spectacular. There is a suspension bridge and lots of trails to explore – we did the panorama trail, wonderland lake loop and spirit trail. It seems pricey, but it's totally worth it." ~Karmela K.
"This is a must see attraction for anyone visiting the city of Vancouver. The drive is slightly more than 1 hour from downtown, but the scenery is magnificent! The gondola ride is very enjoyable and the view from the lodge is breathtaking. There is a suspension bridge between 2 of the viewing platforms. We spent around 2 hours there including the time for a small snack at the lodge." ~Rafik N.
"Beautiful place with some adventure. Once your at the summit you get a beautiful view of the Howe Sound and the surrounding mountains. They have great coffee shop too. The suspension bridge is definitely the best part of this visit." ~Sweeton D.
"What an experience! The ride to the top is breathtaking, but once on top, it gets even better. There are plenty of trails to hike that will take you to fabulous viewpoints and through deep forests. There is a Cafe with good food and drinks. Be sure to bring your water bottle with you and stay hydrated." ~Peter C.
Where to Stay in Squamish
We love the variety of options that Squamish has to offer, here are some of our favourite base camps for our adventures:
The Executive Suites Hotel and Resort is perfect for families, as all of their rooms are suites (studio and one or two bedroom options) and feature fully equipped kitchens. Enjoy a swim in the heated outdoor pool and a soak in the hot tub, grab a bite to eat at the on-site restaurant, or marvel in the scenic sights from your private balcony after a day full of adventures. There is plenty of room for everyone (including your four legged dog family members!) at this condo-style getaway.
Book your stay at the Executive Suites Hotel and Resort here!
Looking for a cabin retreat experience? Sunwolf Riverside Resort is an ideal place to bask in the sounds and sights of nature from your own cabin in the woods. With 12 cabins to choose from (pet friendly), you can listen to the sounds of the Cheakamus and Cheekeye Rivers while enjoying the views of the Tantalus Mountain range. With an on-site restaurant, outdoor fire pit, barbeque area and easy access to hiking, fishing, wildlife viewing, horseback mountain biking trails, this resort is a great basecamp for your Squamish adventures.
Book your stay at Sunwolf Riverside Resort here!
Located right off the Sea to Sky highway, the Sandman Hotel and Suites Squamish is an ideal basecamp for all of your adventures. The hotel is packed with family friendly amenities including an indoor pool with waterslide, guest laundry, pet friendly rooms, hot continental breakfast and a variety of room types and sizes. Centrally located, this hotel is a great choice no matter what activities you choose to fill your days with.
Book your stay at Sandman Hotel and Suites Squamish here!
Getting Around Squamish
There are a few different options for getting around Squamish, the easiest being by car. There are a variety of car rental companies in Vancouver to choose from, all offering many types of vehicles. There are also public buses that can get you around Squamish as well.
Book your Vancouver Car Rental Here!
Other Squamish Adventures
Squamish truly is an outdoor mecca full of exciting adventures. Here are a few more recommendations:
The Rope Runner Aerial Adventure Park allows visitors of all ages to push their limits as they work their way through a high ropes course full of cargo nets, climbing walls, slacklines, suspended bridges, monkey bars, and even a suspended kayak and snowmobile!
Book your Rope Runner Ropes Course Adventure here!
Enjoy a wet and wild river rafting experience with Canadian Outback Adventures as you navigate through the twists and turns of the Elaho River's class 3-4 rapids. With your knowledgeable and professional guide, you are sure to enjoy lots of laughs and maybe a few screams as you paddle your way through the rapids downstream!
Book your Canadian Outback Adventures River Rafting excursion here!
Want to take your adventures to new heights on a daring but safe climbing experience? Italian for "Iron Way," the Squamish Via Ferrata is an engineered vertical adventure consisting of metal rungs and a specialized cable system, allowing you to climb your way up for fantastic views of Howe Sound and surrounding mountains. With a fully secure route throughout, this fully guided tour is one not to be missed!
Book your Squamish Via Ferrata Tour here!
Free Things to Do in Squamish
There are lots of free adventures to be had in Squamish, some of our favourites are:
Lace up your hiking boots and explore some of the incredible trails the area has to offer (like the Stawamus Chief hike).
Wander in Downtown Squamish and enjoy the murals and all of Squamish's street art.
Support local artisans by visiting the markets, fairs and galleries around town.
Visit the Squamish Activity Centre to view the Squamish Story Exhibit, an interactive journey through time.
Pack your swimsuit and go for a dip in one of the many beautiful lakes close to town.
Things to do In Squamish in the Winter
While there may be a plethora of adventures to be had during the summer months, there are lots of winter activities in Squamish as well. Here are a few of our favourites:
Britannia Mine Museum
Step back in time and learn about the history of the copper mining activity that once took place here. Get a fascinating look at mining's evolution over the years, through their interactive exhibits, films, and hands-on activities. Give gold panning a try, enjoy the multi-sensory BOOM show and take a ride on the mine train as you travel inside a real mine tunnel.
Purchase your Britannia Mine Museum Admission Ticket Here!
Flightseeing Tour
Take to the sky for a birds eye view of Squamish and the surrounding mountains during a flightseeing tour! Explore the Squamish Valley as you fly high above glaciers, alpine lakes, snow capped mountains and many valleys. Enjoy learning about the geography of the area from the pilot through your headset.
Book your Squamish Flightseeing Tour Here!
Conclusion/Final Thoughts: Unlocking the Beauty of Sea to Sky Gondola: Your 2023 Ultimate Trip Guide
The Sea to Sky Gondola really is a unique way to experience the Squamish region from undoubtedly the best vantage point. What I love the most is that it's not just about going up and taking a photo of the incredible views (although they ARE epic), The Sea To Sky Gondola has enhanced the experience with education, and conservation and given you a way to create deeper connections while you are exploring the sacred region.
So whether you're a local and looking to plan a staycation style adventure, or coming to BC and want to check out one of the best experiences, the Sea to Sky Gondola is a great place!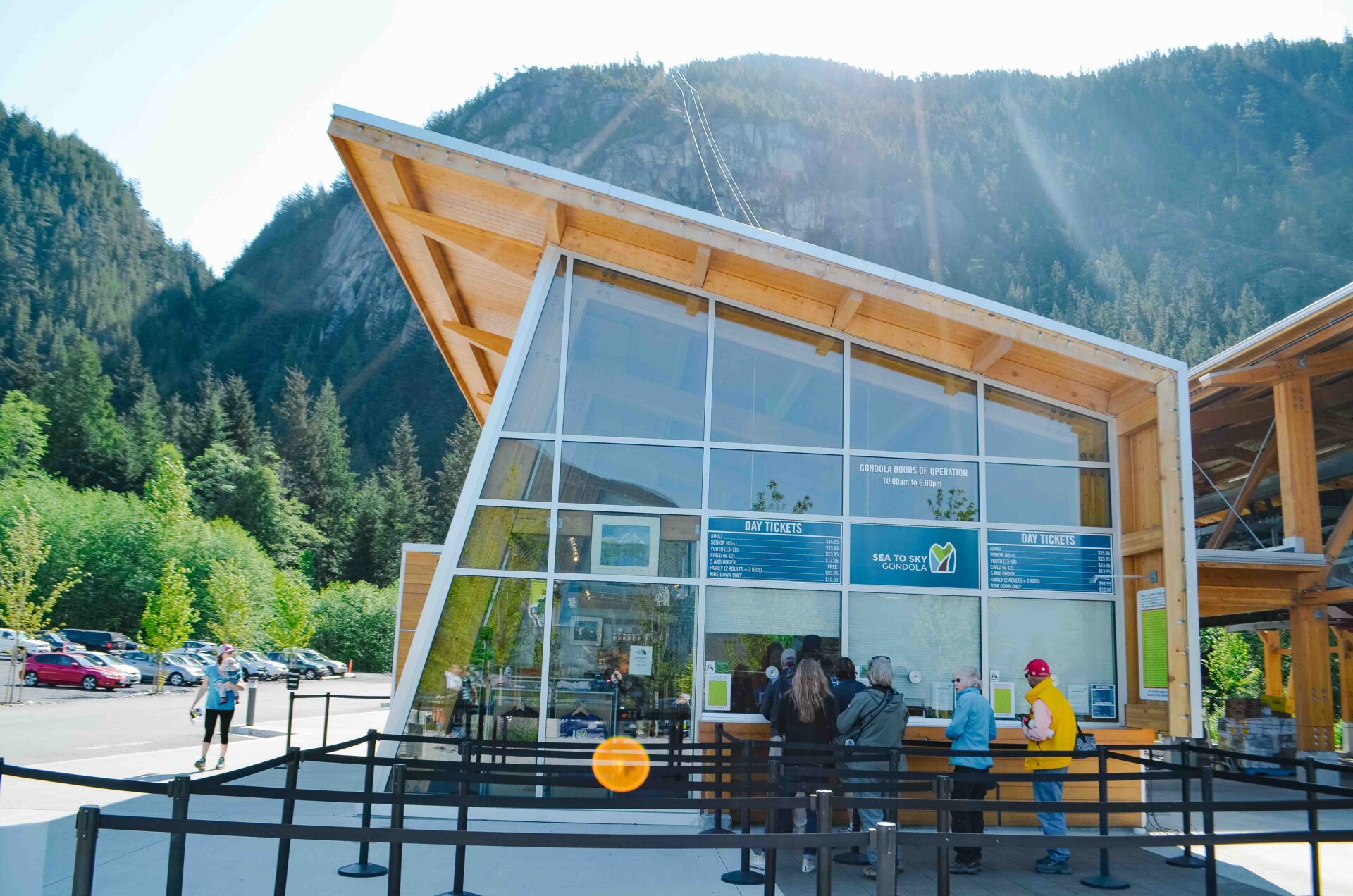 Purchase your Sea to Sky Gondola Admission Ticket Here!
---
Here are Some Great Articles to Inspire

Sea to Sky Explorations