Are you planning a trip to the Golden Suspension Bridge?
I have spent a day exploring one of Golden's ever-evolving attractions and am excited to put together this comprehensive guide showcasing The Golden Skybridge and all of the amazing adventures to explore as well as tips to help you plan the perfect day. As a BC adventurer for over 40 years I can say this is a great stop on a BC Road Trip and a great way to get out and explore with some hands on adventure.
Whether you're wondering if it's worth stopping for on a road trip, or if you plan to make the Golden Skybridge your Banff to Golden road trip destination, this ultimate guide will share all my personal insight and photos from our recent trip there and help you plan out the perfect trip for you and your crew (after all, isn't that what us planners do, create dream itineraries and amazing family memories?).
And full disclosure, I thought that we were going to see just the Golden Suspension Bridge, but what surprised me the most was that we got to explore a whole adventure center including zip lines, mountain coasters, ropes courses and more!
Disclaimer: While I share my own thoughts and stories about these experiences, should you click on the affiliate links, I may receive a small commission on that sale which helps fund Adventure Awaits.
The Ultimate Guide to Planning the Best Visit To Golden Suspension Bridge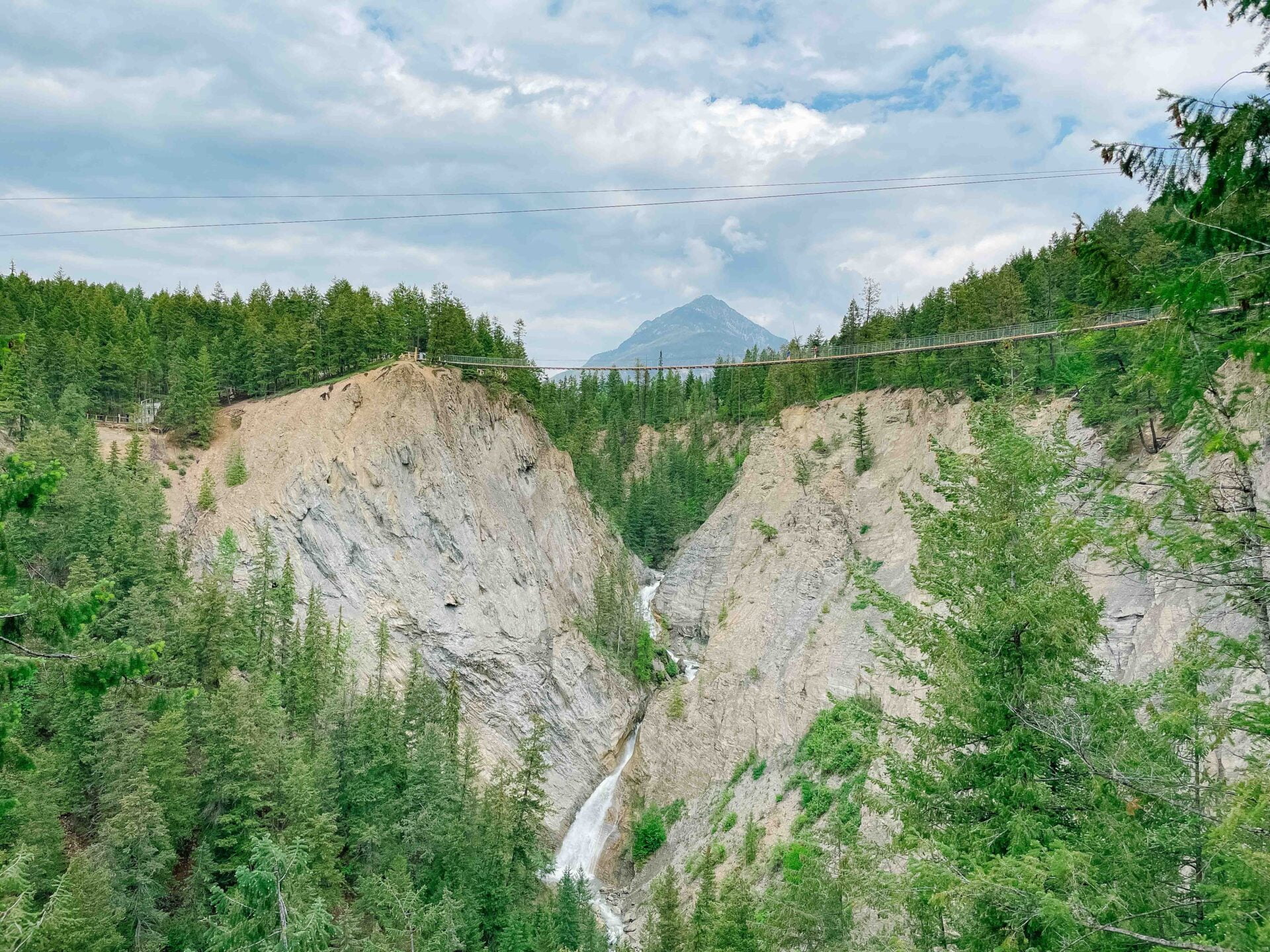 The Golden Suspension Bridge may be the image that caught your eye on "the gram" but what is surprising is how what started off as Canada's highest suspension bridge in 2021 has continued to evolve into a full adventure park, inviting you to stay and explore the area, rather than taking a quick pit stop on your way through!
Golden Skybridge Map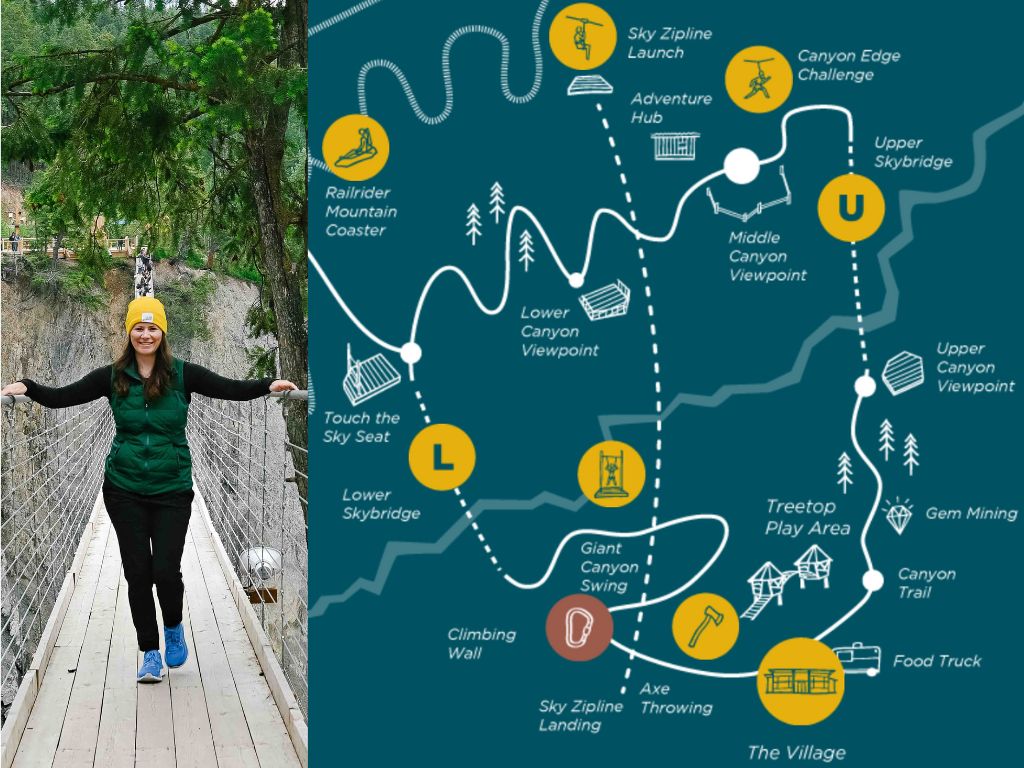 To give you an idea of the size of the park and the amenities that are included, here's a map of the park showcasing the walking route and all of the fun things to do along the way beyond the bridges. From the canyon edge challenge to ziplining to my personal favourite, The Railrider Mountain Coaster, there's a lot to explore once you're at the Golden Skybridge.
Who should visit the Golden Skybridge?
The Golden Skybridge is perfect for those looking to take an adventure break on their road trip or as a destination in itself worth exploring. If you fancy a slice of adventure mixed in with epic scenery, a little bit (or a lot) of adrenaline The Golden Skybridge and adventure centre attractions are perfect for you!
Purchase your Admission Ticket to Golden Skybridge here!
Where is the Golden Skybridge?
Golden Skybridge is located at 503 Golden Donald Upper Rd Golden, BC V0A 1H0, only 2 minutes off the Trans-Canada Highway. The bridges and adventure park are in the middle of the Columbia Valley, allowing you to enjoy an immersive eco-experience and soak in the stunning scenery overlooking the Rocky and Purcell mountain ranges. From walking among old-growth forests to looking down over the top of a waterfall to literally swinging in the trees, this quintessential BC experience is the perfect mix of mother nature and the exploration of adventures.
Did you know?: Golden is in the middle of six Canadian National Parks! If you're a National Parks fan like me, this makes Golden a great place to stay and to use a base camp to explore the other parks.
Tickets start at $26.10 for children and $35.10 for adults for a basic entry. If you want to purchase the adventure pass, tickets are $62.10 for children and $71.10 for adults. The Adventure Pass gives you access to all of the adrenaline-approved rides and activities including Golden Suspension Bridge, Railrider Mountain Coaster, Sky Zipline, Canyon Edge Challenge Course, Axe Throwing, and the climbing wall.
Note: Both tickets will give you access to the Adventure Hub, the playgrounds, the bridges, walking paths, and scenic lookouts.
Whether you're a photographer like me and love to hit up the scenic spots during golden hour, or you like to save money and visit at the end of the day, golden hour tickets provide both beautiful views and great deals! Adult tickets start at $31.20 and children's admission is $23.20.
Golden Skybridge Adventure Pass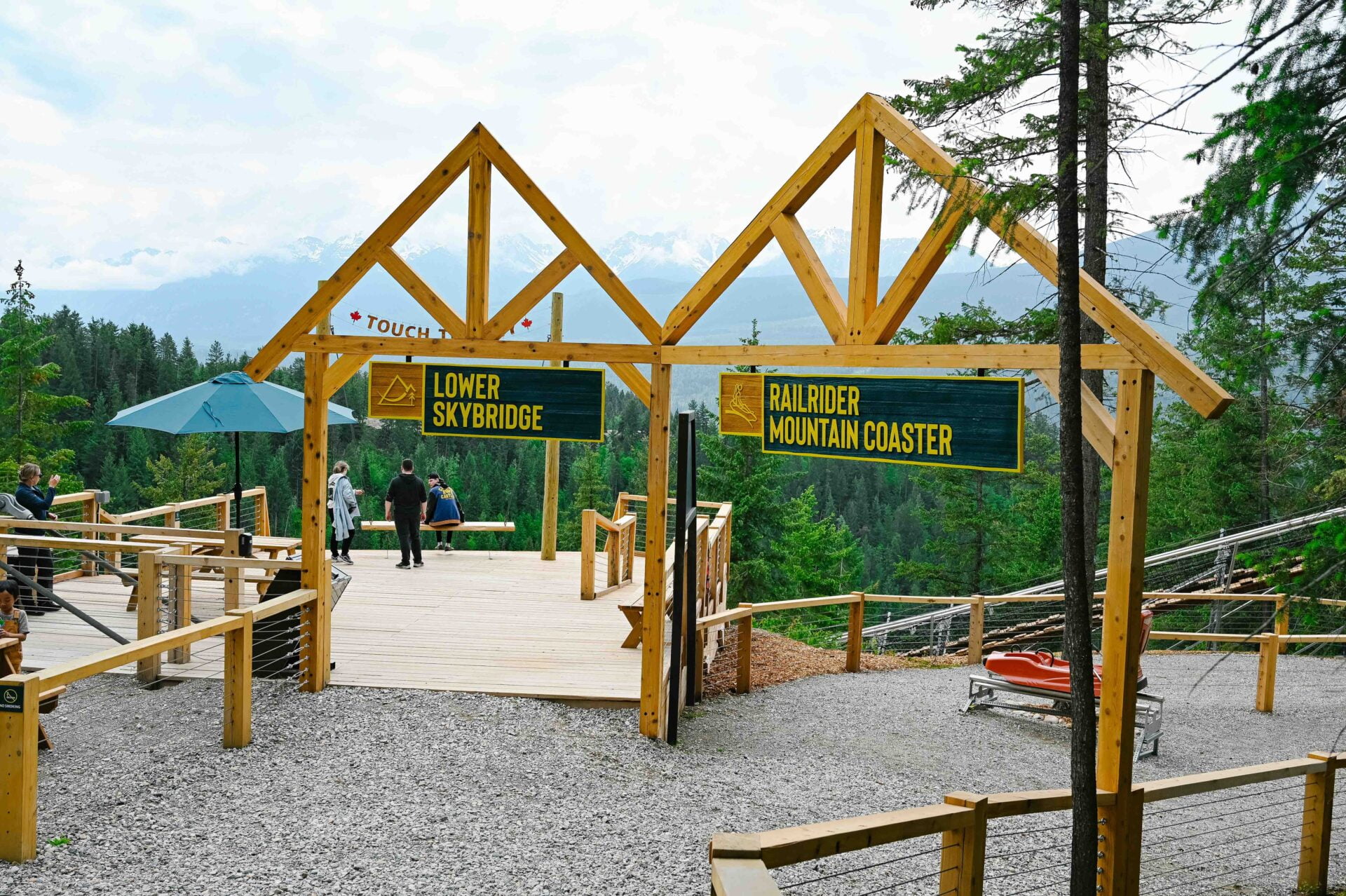 The Golden Skybridge Adventure Pass is $63.20 and $55.20 for kids.
If you purchase your tickets ahead of time you'll save 10% off, which as a Mom I'm always up for finding the best prices.
Purchase your Admission Ticket to Golden Skybridge here!
Golden Skybridge Hours
When is the Golden Skybridge open?
The Golden Suspension Bridge is currently open 10 am – 6 pm, Monday to Friday and 10 am -8 pm Saturdays and Sundays. Be sure to check out their Google Business page or call to confirm hours.
How long does it take to visit Golden Skybridge?
For guests doing the Adventure Pass at the Golden Skybridge, they tend to spend about 2 – 3 hours during their visit. This gives them ample time to experience all of the attractions without being rushed, as well as stop and order food and drinks from the on-site food truck.
Upper Skybridge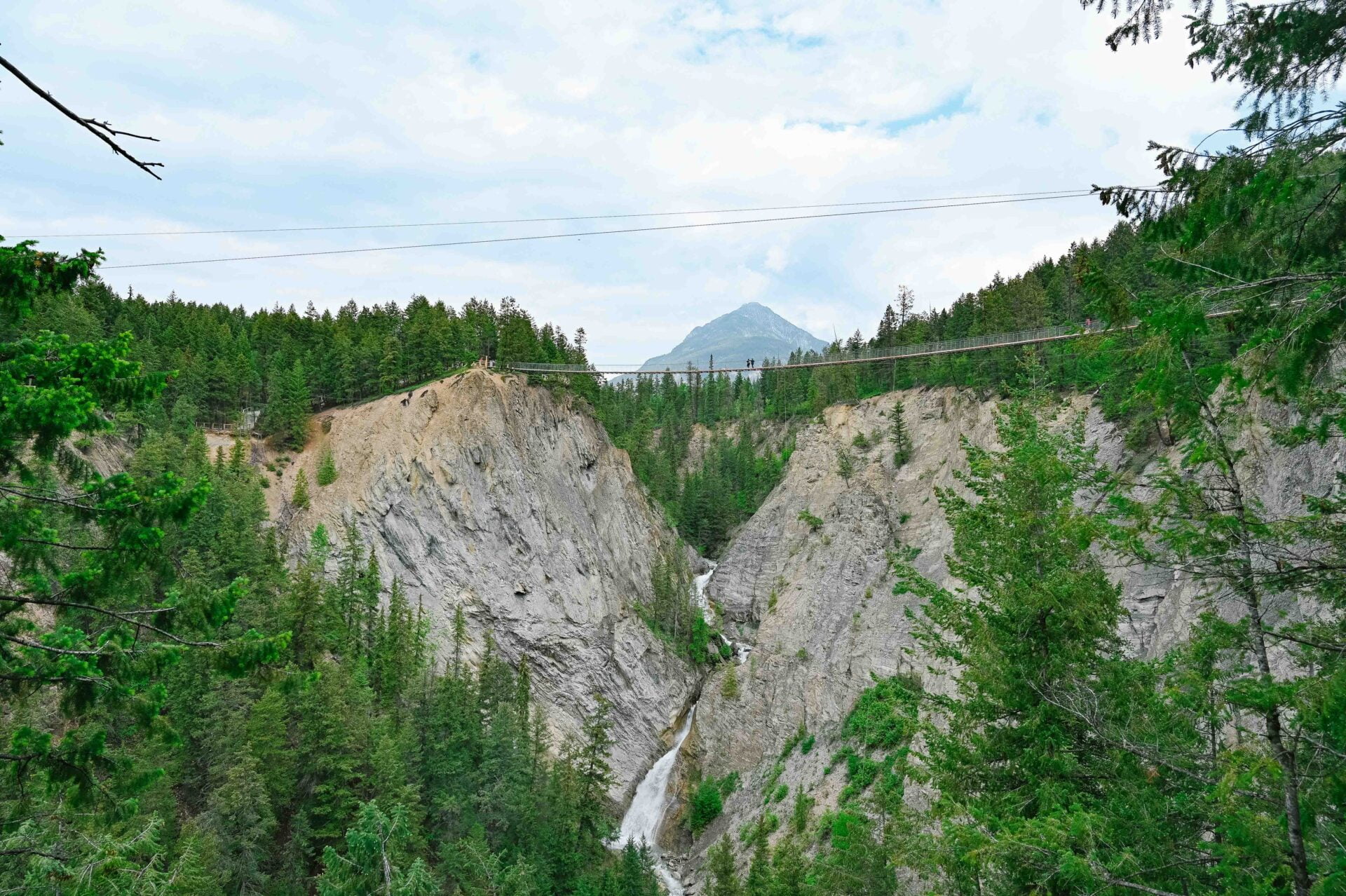 The Upper Skybridge is the first bridge that you'll cross, which is 130 meters high and 150 meters long. Suspended between the expansive canyon you'll be able to see stunning views out over the Columbia Valley. The best part about Upper Golden Suspension Bridge is looking down at a huge waterfall!
How long and difficult is the walk on the Golden Skybridge?
The Upper Skybridge is 150 meters long and the Lower is 140 meters. It is not a difficult walk for most visitors. If you don't like walking on moving surfaces or are afraid of heights there are a lot of great lookouts from solid ground that may be a better fit.
Lower Skybridge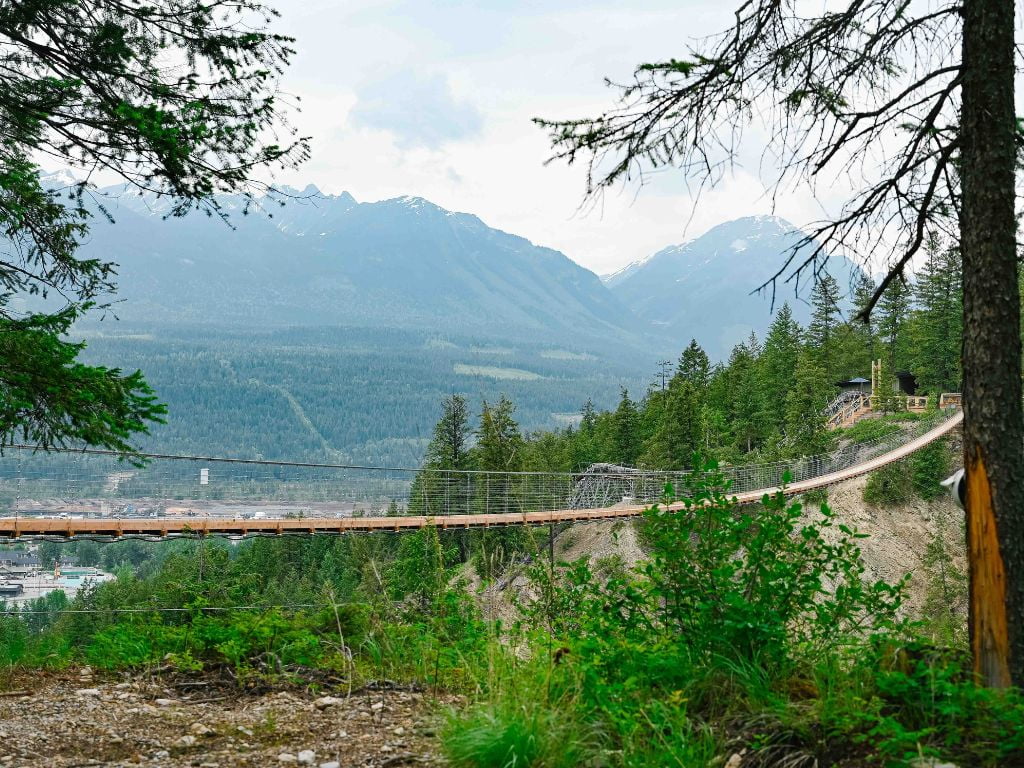 The Lower Skybridge is the second bridge that you can cross over the canyon back to the base camp should you choose not to take the zipline back. This Golden suspension bridge is lower at 80 meters above the ground and is 140 meters long.
How long does it take to walk across the Golden Skybridge?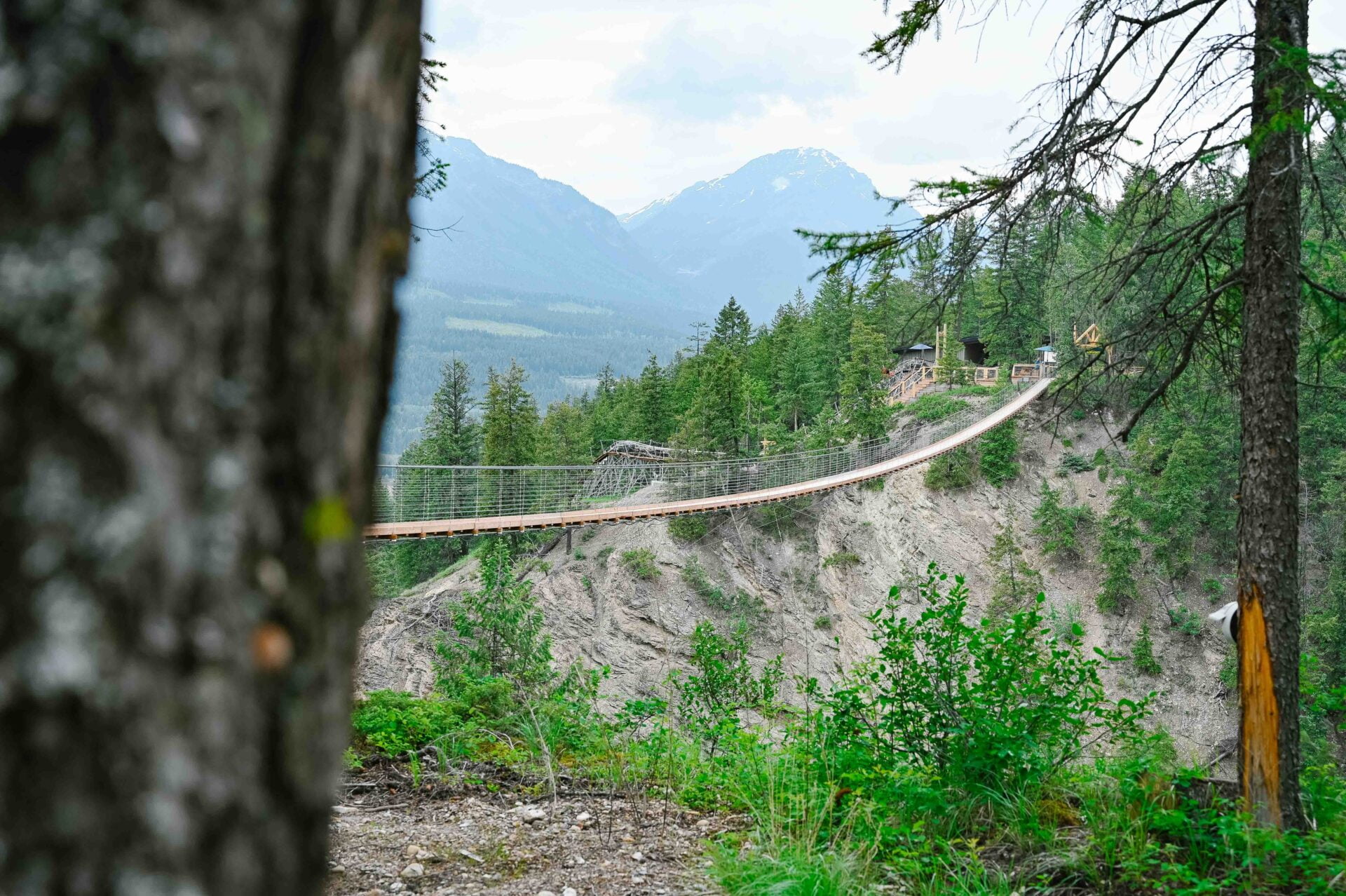 This question makes me giggle as it really depends on your comfort level with heights. Some visitors loved a brisk stroll across the canyon, snapping photos along the way. Others preferred to hold on to each side and take a slower steadier pace to the other side. Let's just say when you combine a faster walker with a slow and steady traveller you end up with a tortoise and the hare story, 426 feet in the sky on the Golden Suspension Bridge!
What are the other things to do at the Golden Skybridge?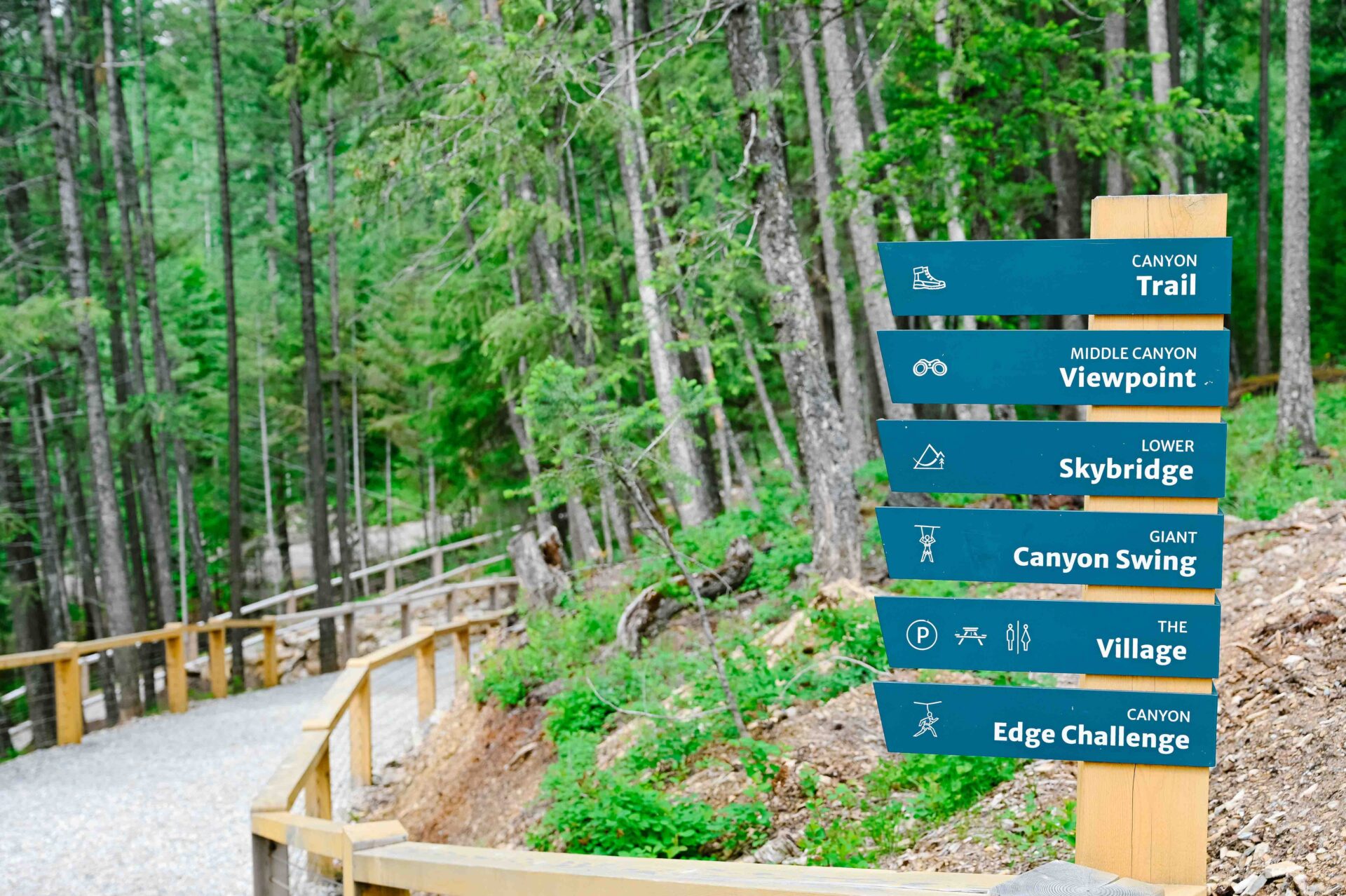 I was shocked at how many eco-friendly adventures were waiting to be explored at the Golden Skybridge. Here's a deep dig into each adventure including what to expect, tips and tricks, as well as my favourite, the Railrider Mountain Coaster!
Purchase your Admission Ticket to Golden Skybridge here!
Rail Rider Mountain Coaster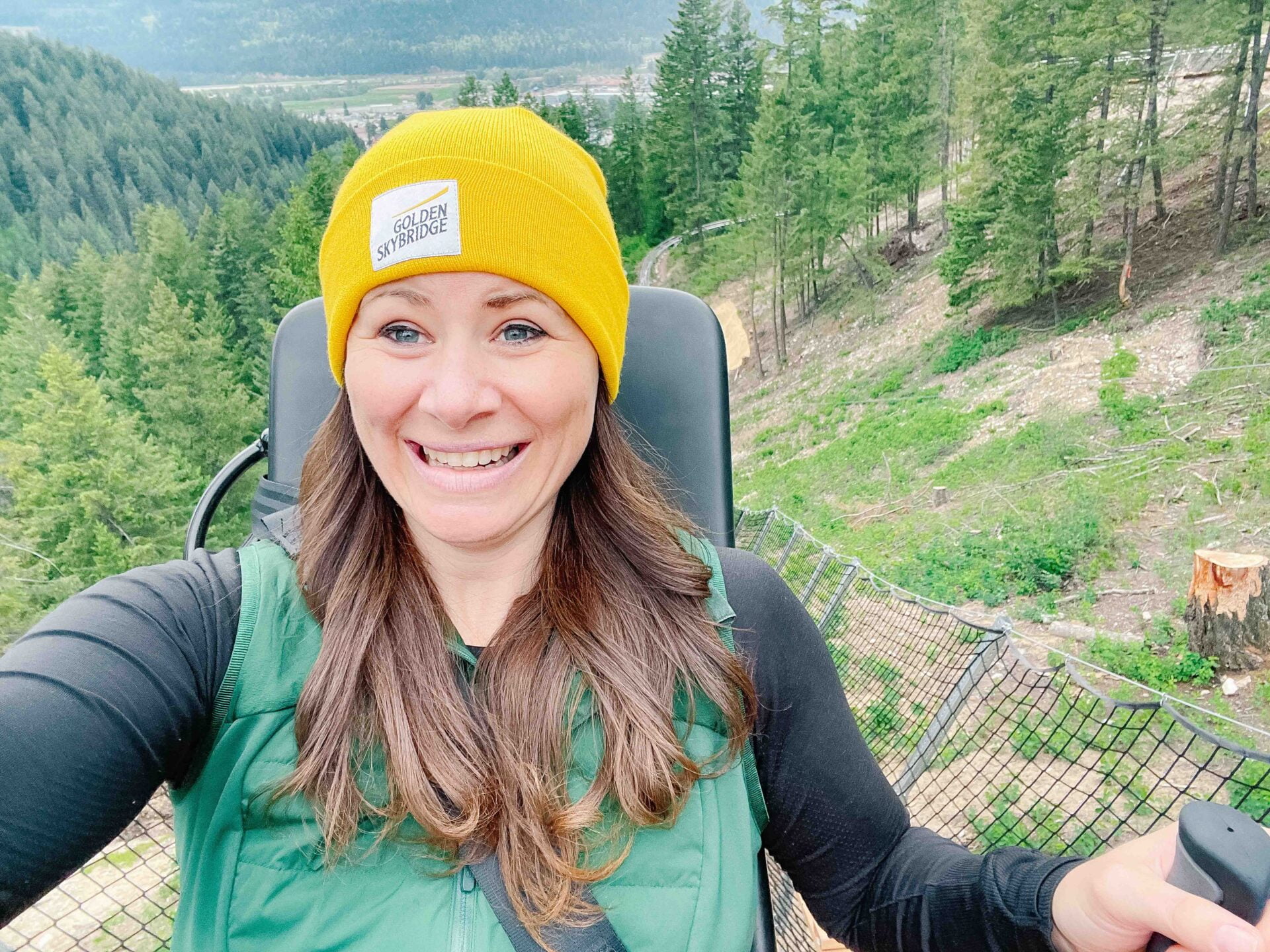 If you've heard all the buzz about the Golden Skybridge Coaster, I'm here to tell you firsthand that it is a ride that gets your heart pumping in all the right ways.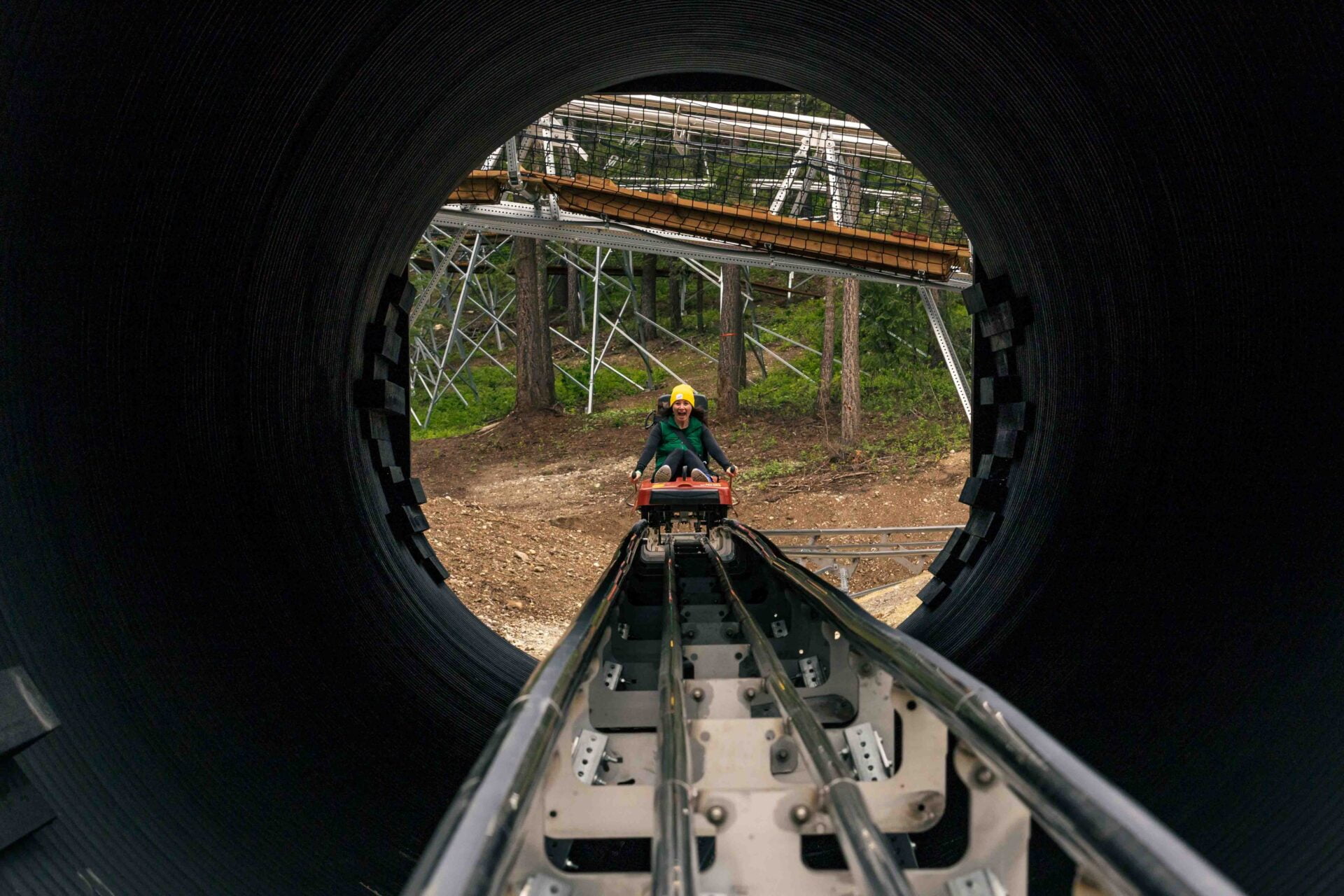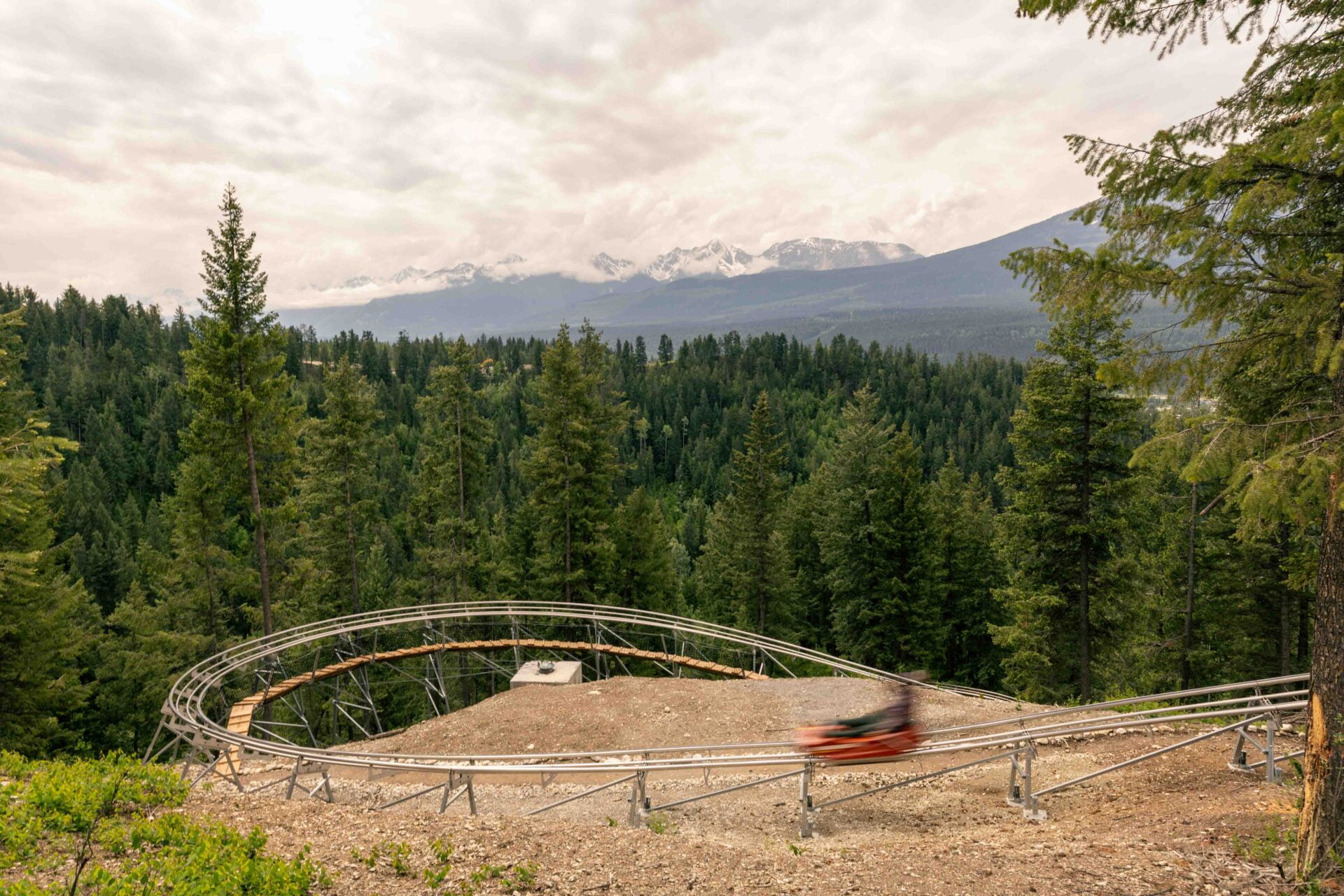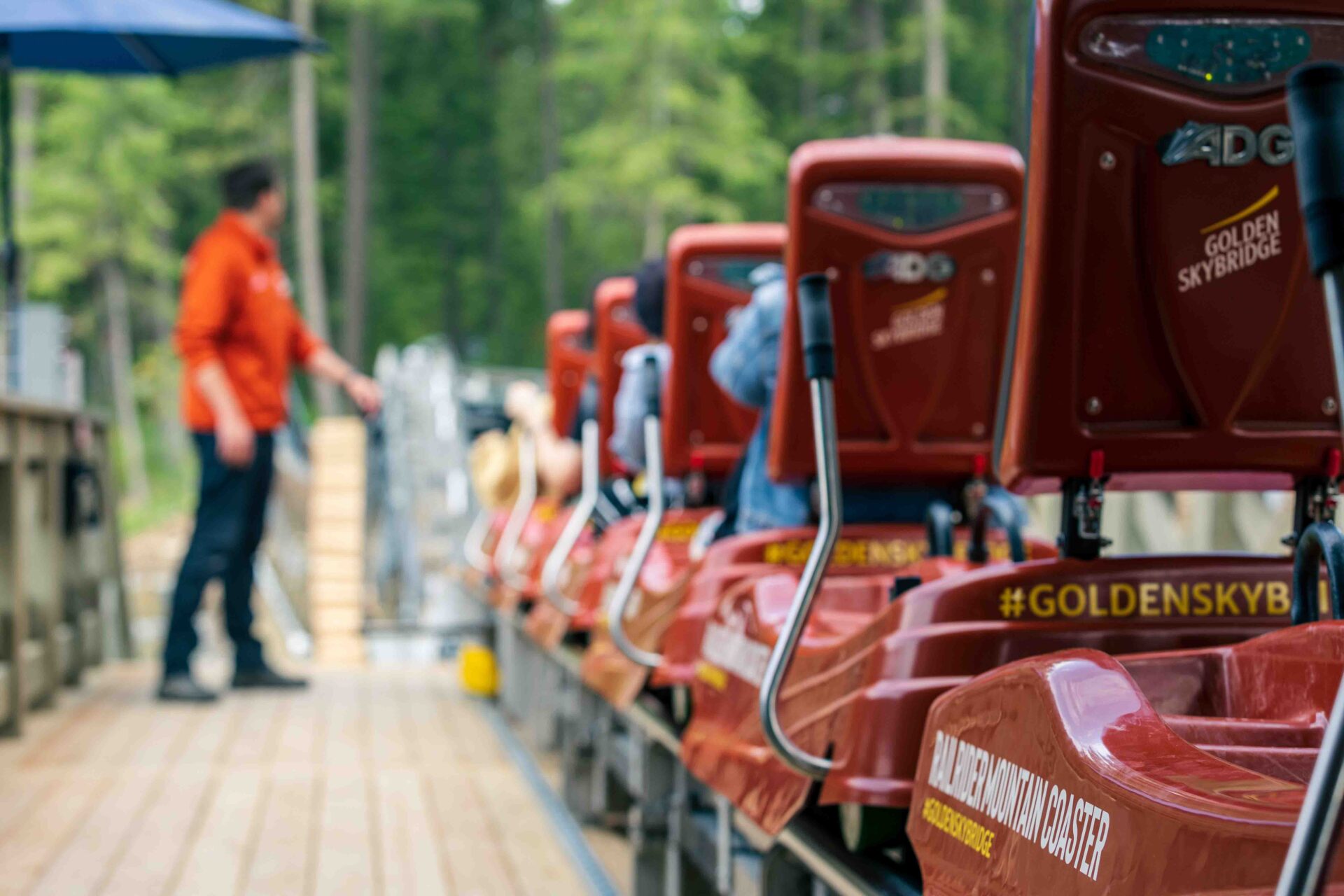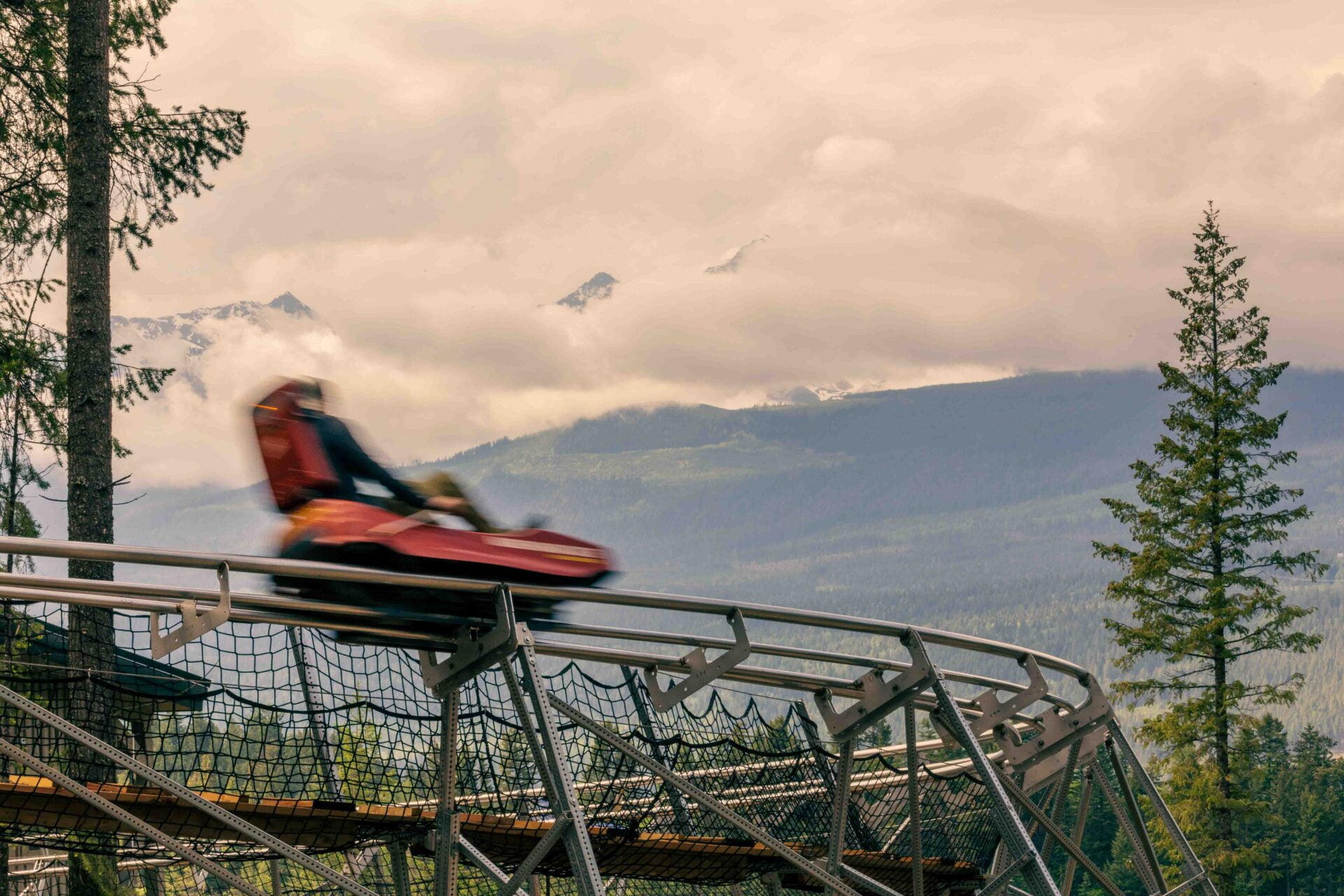 After your safety briefing, your trip starts off ascending up to the top of the 3,375-foot ride… where you can hear the traditional clickety-clack of an old-fashioned roller coaster (being piped into the headset on your coaster).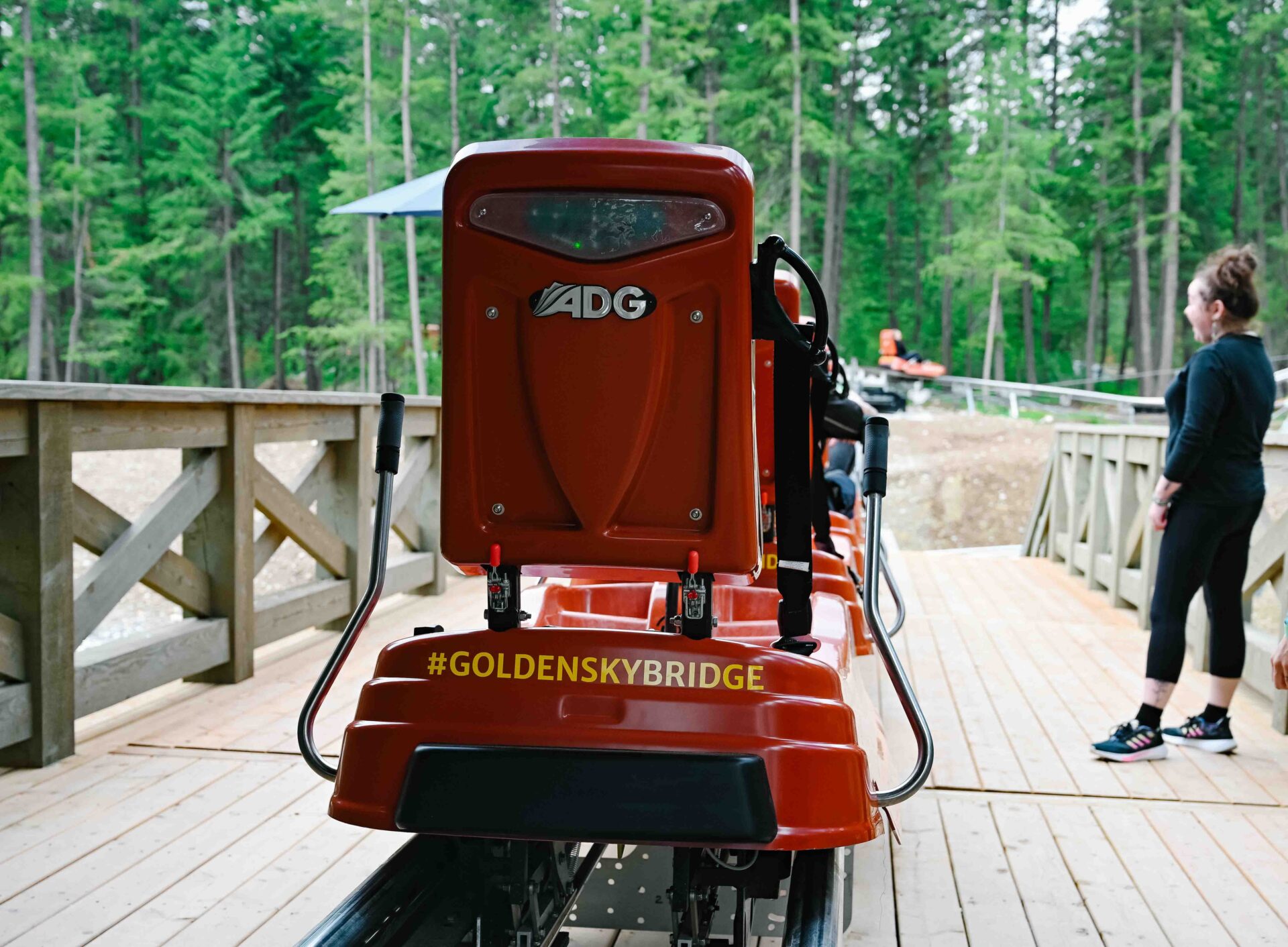 The ride was inspired by the railway history of Golden BC, and once you're at the top you'll be taken on "as wild as you want" ride down 73 meters (240 feet) through the forest, under a tunnel, and even out onto the Rocky Mountain side. With the breaks in your hand you can control the speed but if you're anything like me it's fun to push down the throttle and have some fun while traversing through the forest!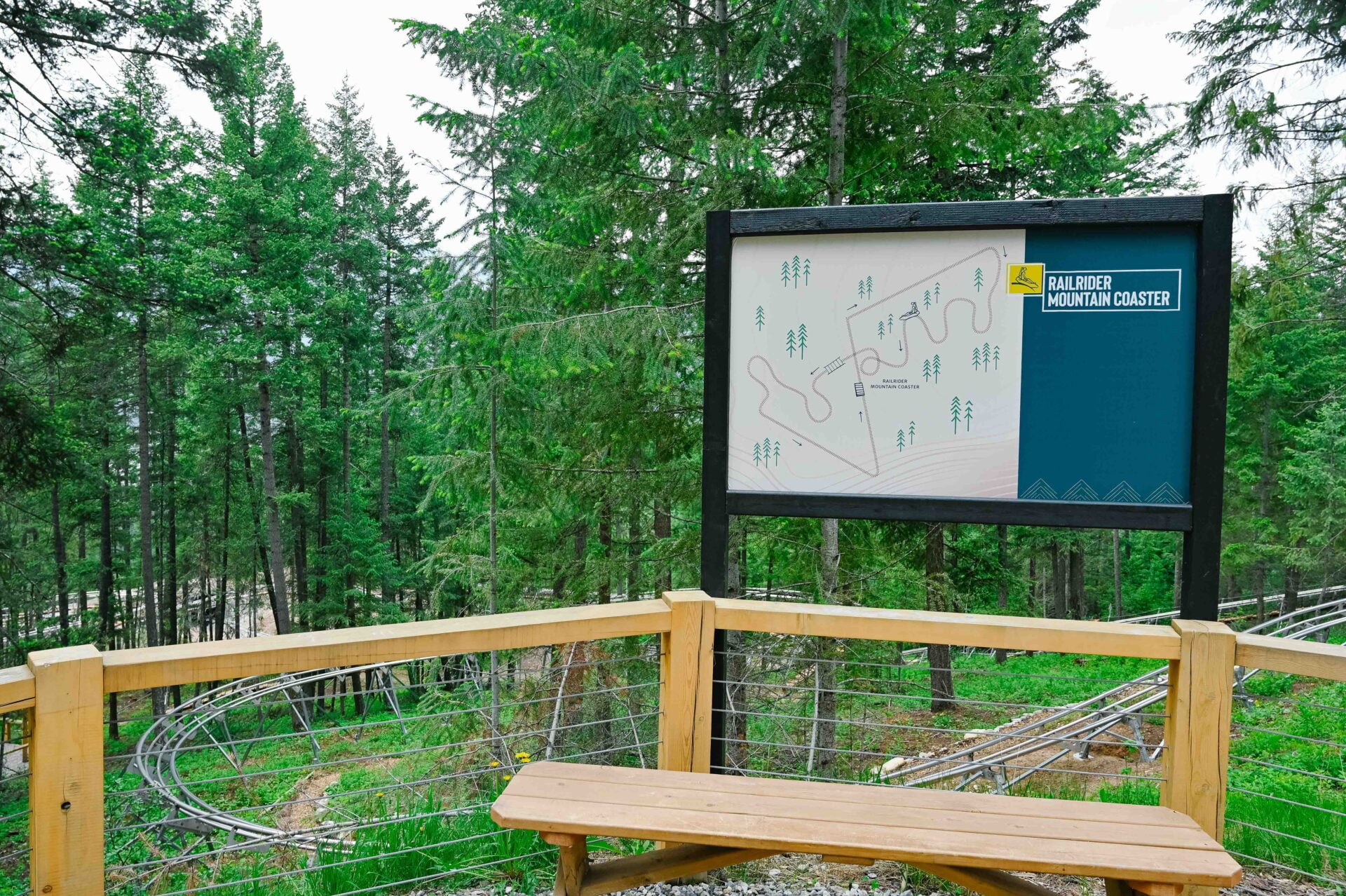 Riders must be a minimum of 3 years old and 3 feet tall. Children 3 – 8 years old will need to ride with an adult (16 years +), which is awesome as it makes the ride go faster! The maximum weight for the cars is 310 pounds. Drivers must be a minimum of 4'4 tall to drive solo.
Tip: Don't try to film the ride or take photos (it's not allowed) but really soak into the experience and enjoy the adventure as it unfolds.
Golden Skybirdge Zipline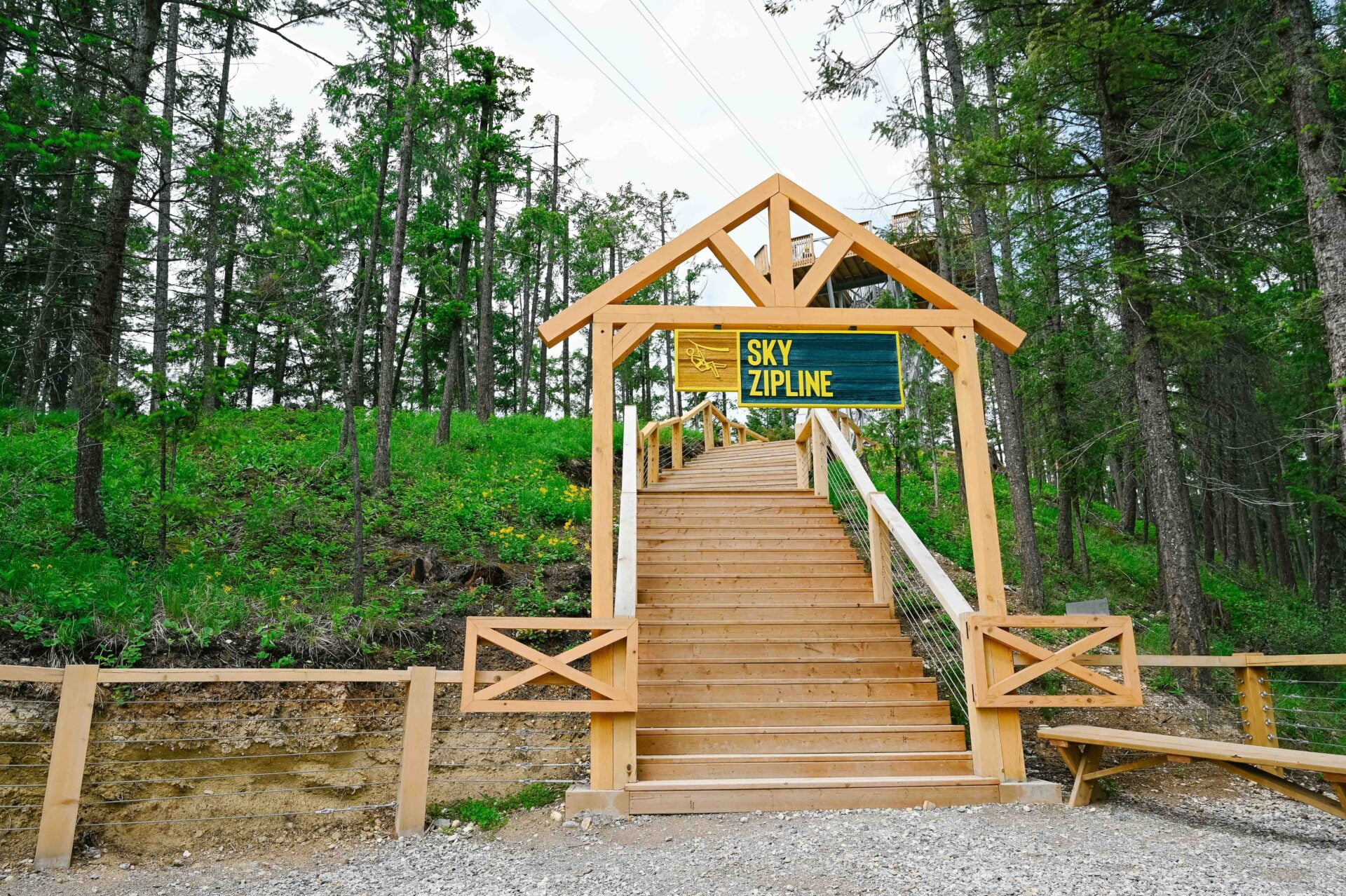 Does your group want to do the 1,000-foot Golden Skybridge Zipline across the canyon? This thrilling ride was fun to watch as visitors soared 500 feet in the air, taking in the bird's eye view of the big skies, forest treetops, and canyon below. The best part was seeing families ride together and race towards the finish line (Hint: The Dad's always seemed to win!).
How high is Golden Skybridge zipline?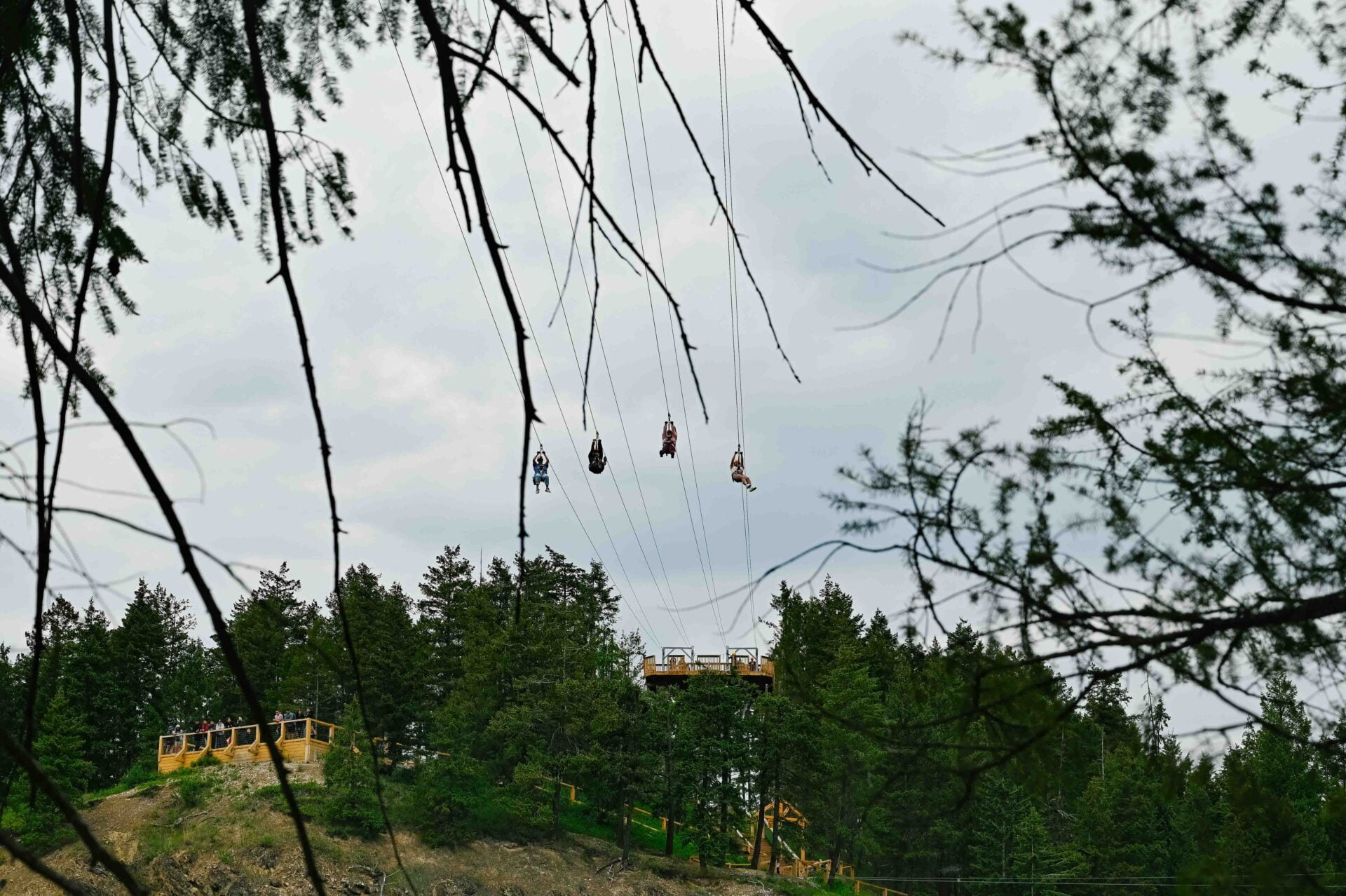 152 meters or 500 feet above the ground.
Canyon Edge Challenge
I'm a firm believer that you're never too old to play and the Canyon Edge Challenge Course is the perfect playground for kids of all ages. After you're buckled in you'll be invited to try the ropes course, traversing in the trees with the challenges getting harder and harder along the way. You can choose your level of difficulty allowing you to navigate the course by climbing, balancing, swaying, and swinging, all while being suspended 40 feet in the air!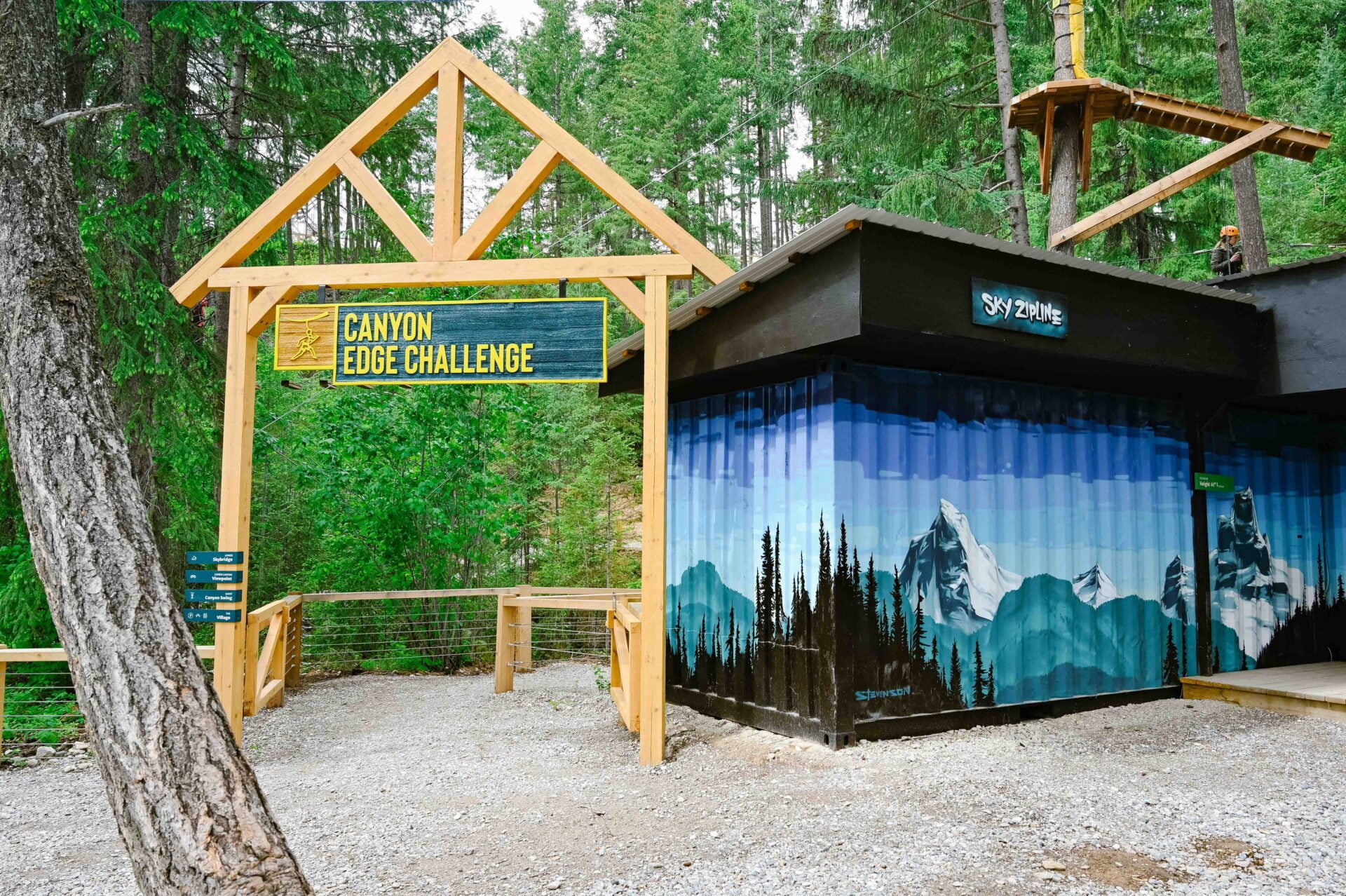 This course is suitable for children who are at least 6 years old and weigh a minimum of 60 pounds (maximum 250 pounds). Adventure seekers need to be able to reach a minimum height of 5'1 with fingertips stretched overhead, and fit into a harness properly.
Tip: If you're not doing the Canyon Edge course it's fun to go and watch others take the course. I got to see a group of 20-year-old men squealing in the trees while they navigated the obstacles, having the perfect combination of fun and thrills in the trees.
Touch the Sky Viewpoint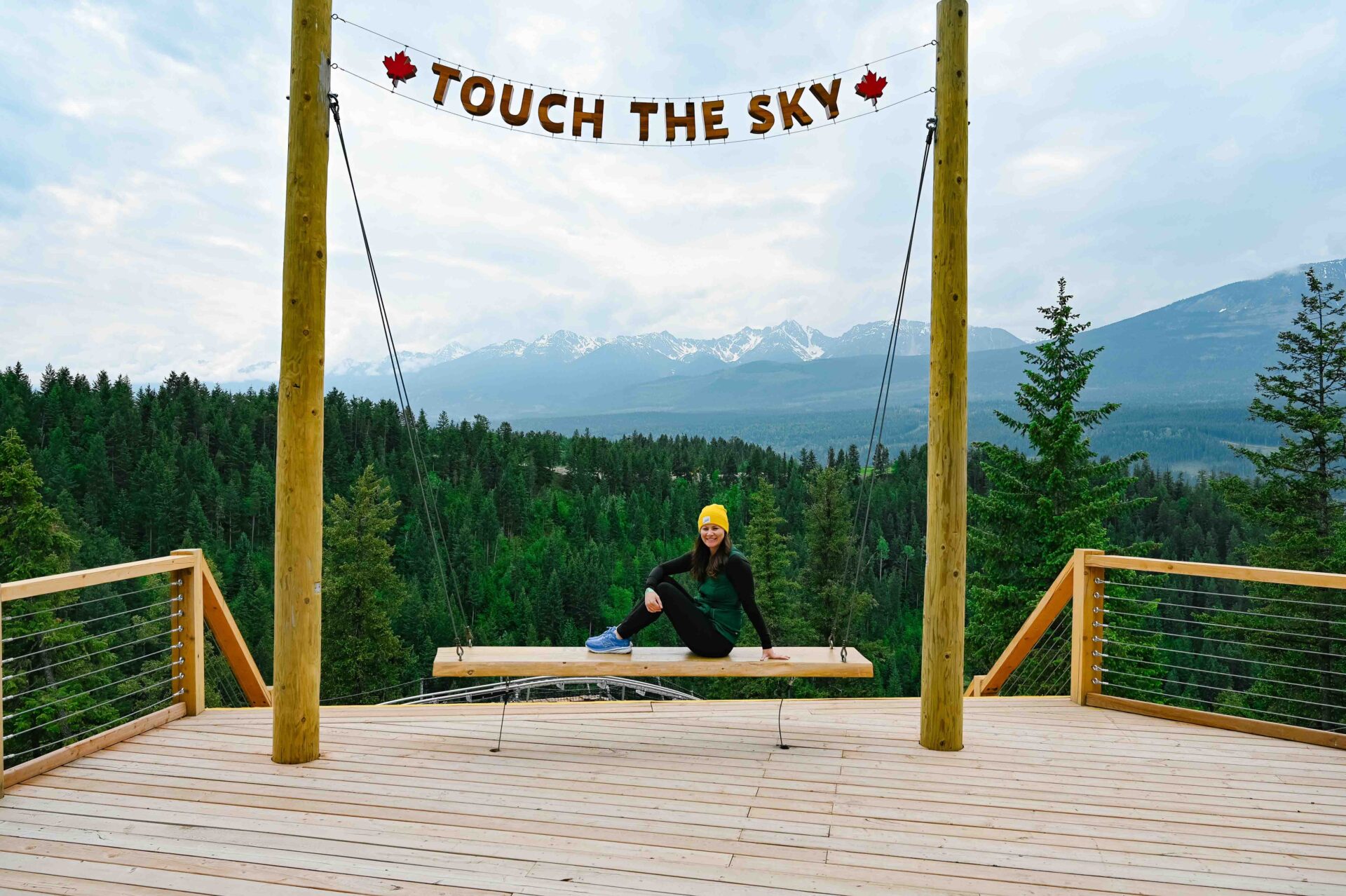 If you're looking for a more mellow experience but want to soak in all the scenery, the Touch the Sky Viewpoint is a picture-perfect spot to capture the essence of the Skybridge experience.
Tip: Don't just sit on the swing and smile… the best photos are the ones that have action and movement! Throw your hands up, strike a pose, and make the photo one that rises up to the scenery that surrounds it.
Golden Skybridge Canyon Swing
The Golden Skybridge Swing is a borderline bungee experience. Adventure seekers will free-fall over the canyon's edge waiting for the bungee cord to kick in. Once in swing mode, you'll start soaring, swinging side to side – hence the name "Canyon Swing". This is the most adrenaline-pumping attraction in the park and not for the faint of heart or those scared of heights!
To Be Transparent: There are no pictures of me doing this because this is way out of my comfort zone! I do love adventure but there's no way I will ever go bungee jumping or skydiving, or on a canyon swing.
Climbing Wall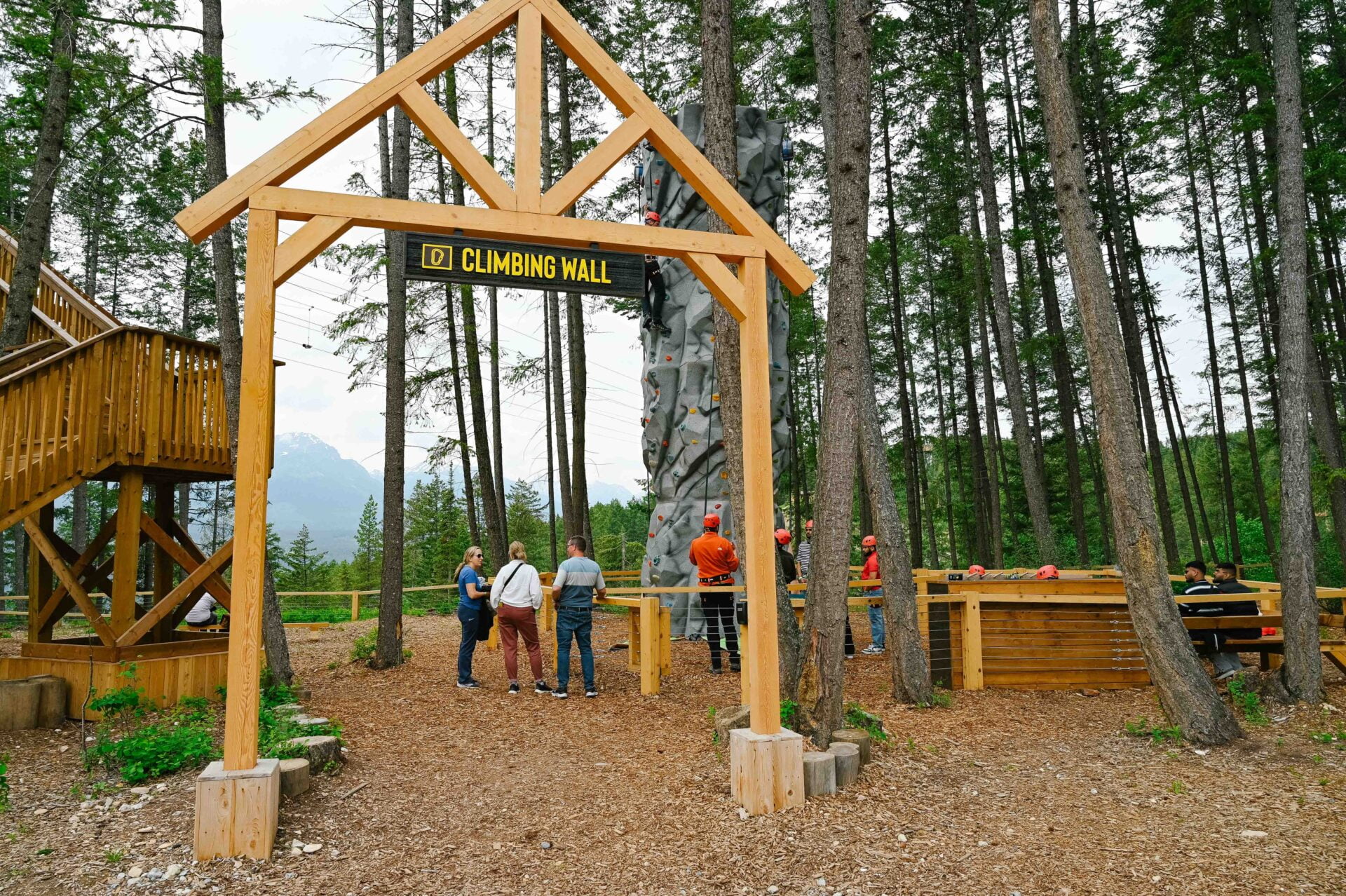 In the adventure hub at the Golden Suspension Bridge, you'll find a 28-foot climbing wall designed by world-renowned Eldorado Climbing Walls. With a nature-inspired look and three different routes, there's a climbing wall ready for you. If it's your first time and you want to do a solo run, or you are visiting with a group and want to race up and test your climbing skills, this is a fun activity with 6 routes to try out! (See that little rhyme I snuck in there?).
Axe Throwing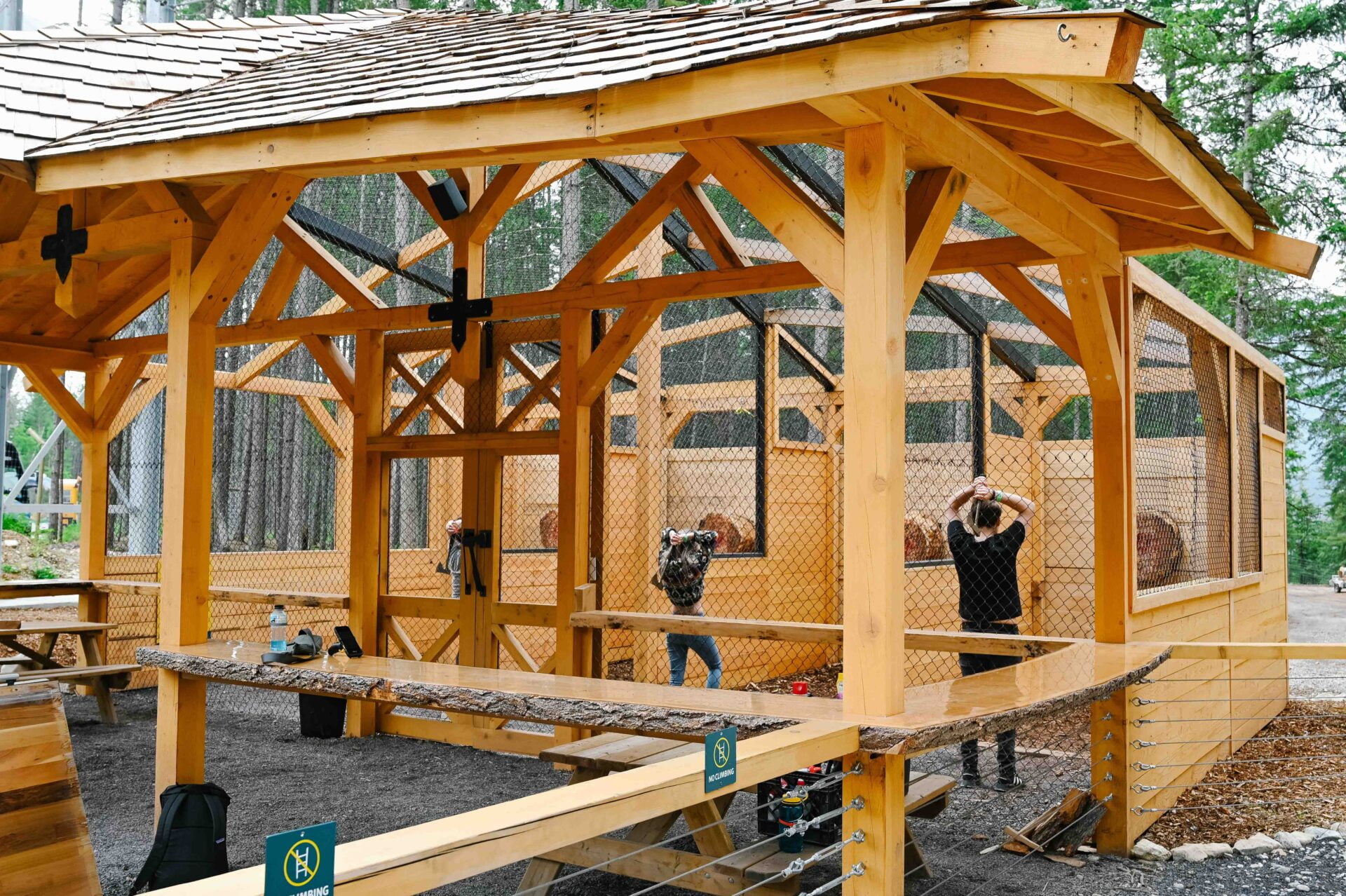 Once your safety brief is done you can head into the axe-throwing lanes and test your skills at being a Canadian lumberjack (full disclosure, it's not as easy as it looks!). With four lanes to try out, you can head in as a group and challenge your family and friends to a throwing competition.
Note: This experience is only available for guests over 16 years of age.
Treetop Village Playground at Golden Skybridge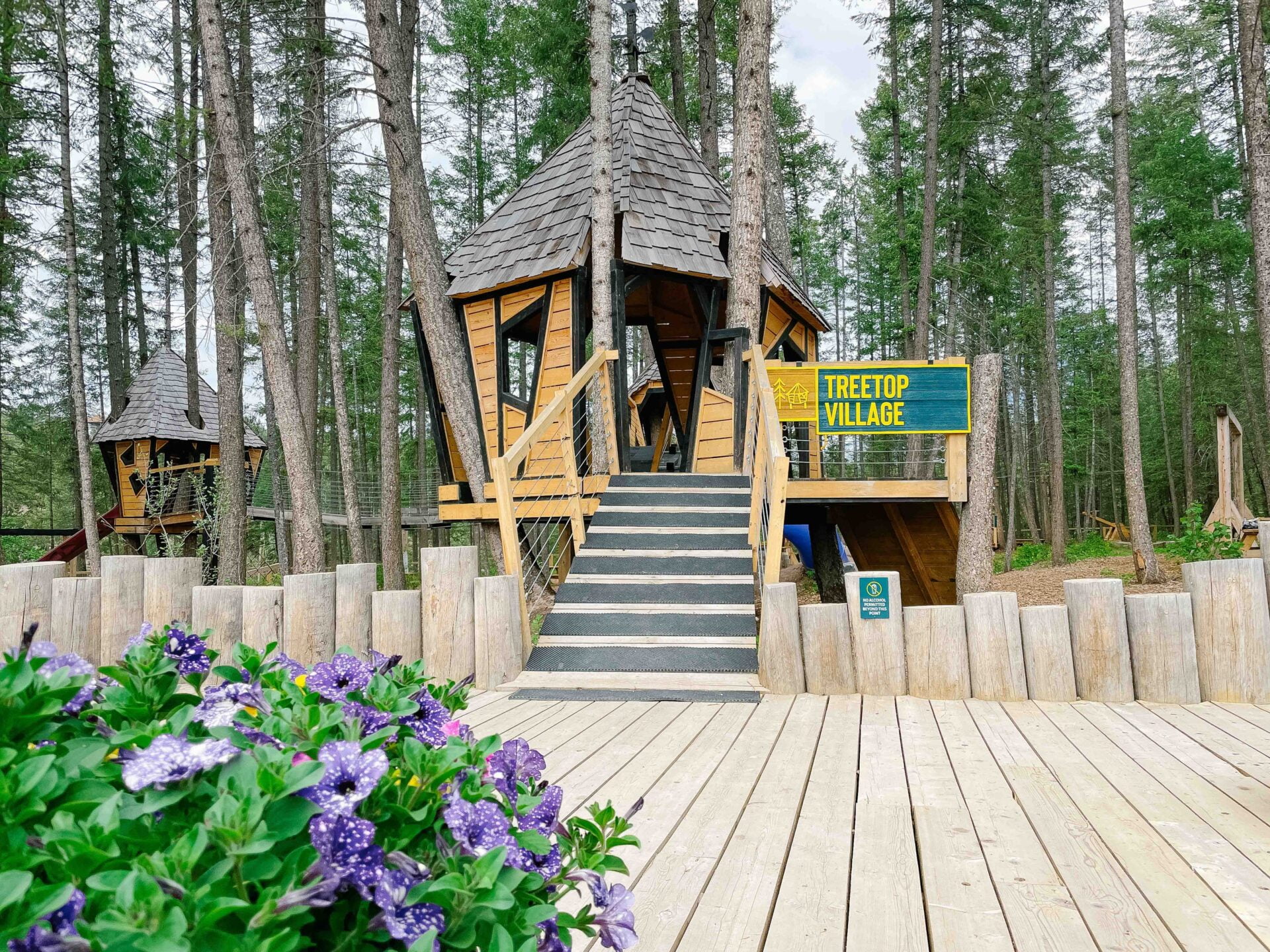 I think that someone finally asked kids what their dream playground would look like and this was the result. From real treehouse structures to long winding slides, to kid-friendly zip lines, and swings and… okay you get the point. But this playground is worth rambling on about as I could imagine pulling up to the Golden Skybridge after a long BC road trip and seeing the looks on kids' faces as they ran out into the forest-inspired playground.
In other words, Mom, this playground is a home run (and we've been to a lot of playgrounds)! Here are a few more pictures to show you just how epic this playground is!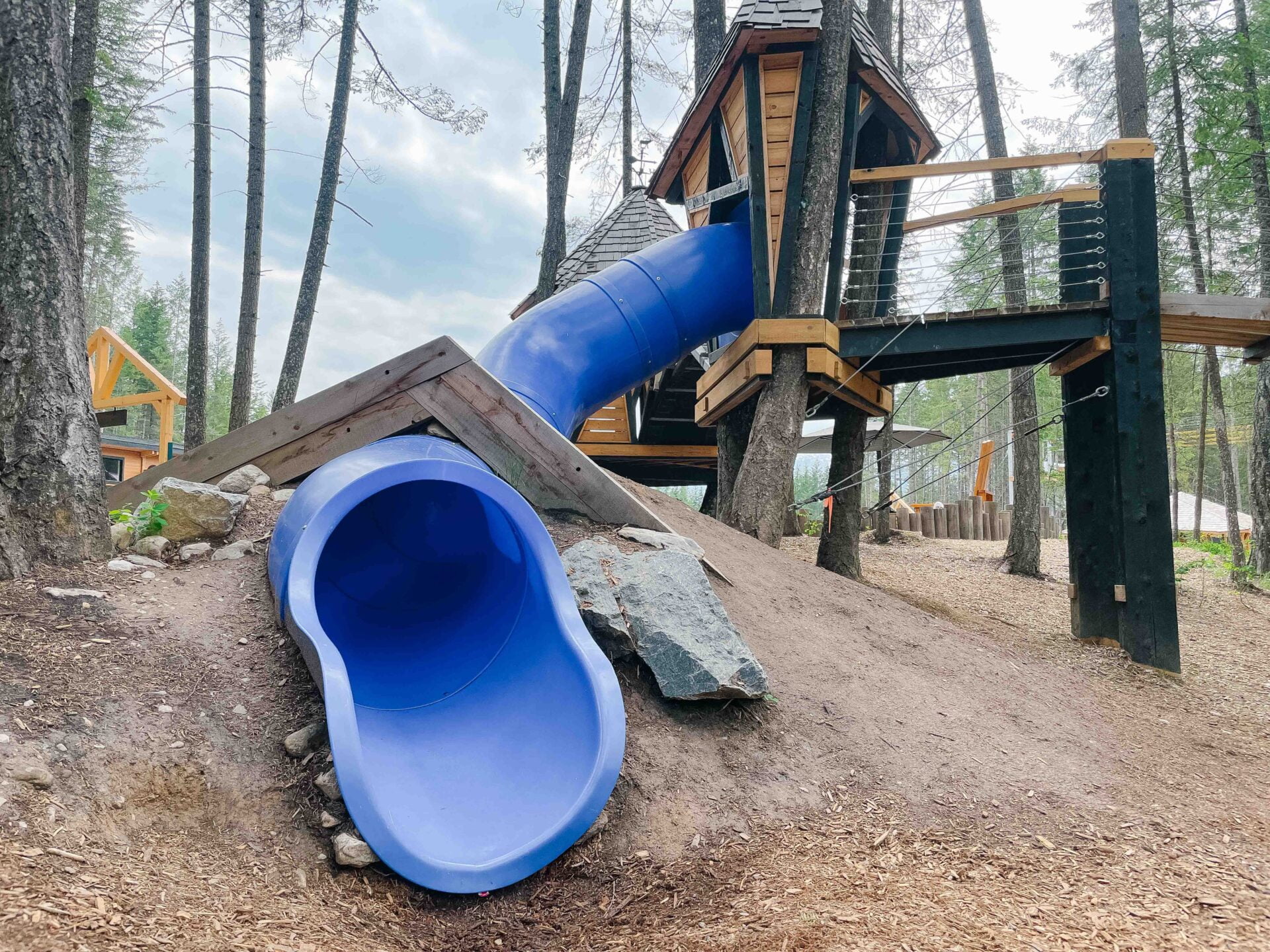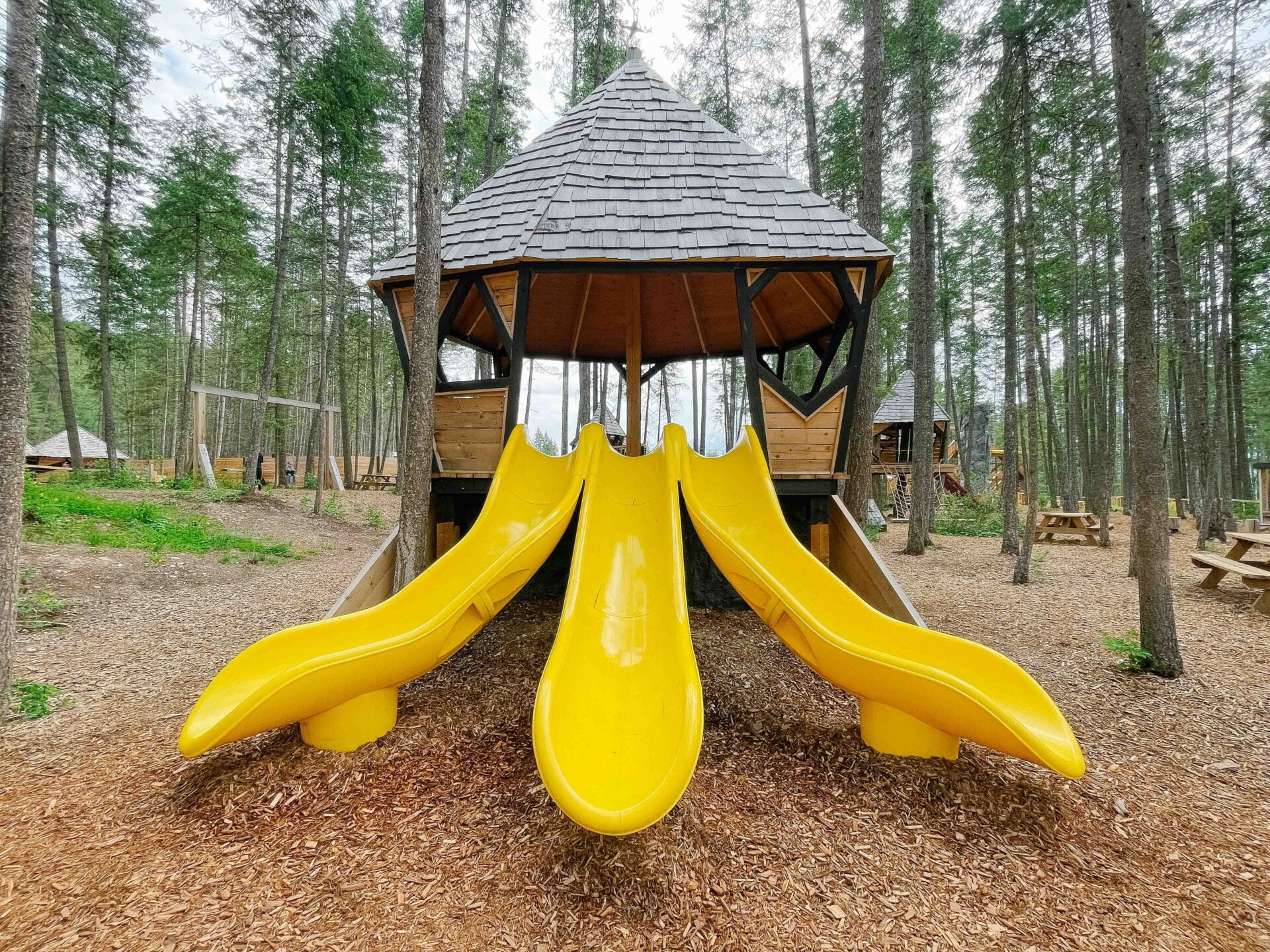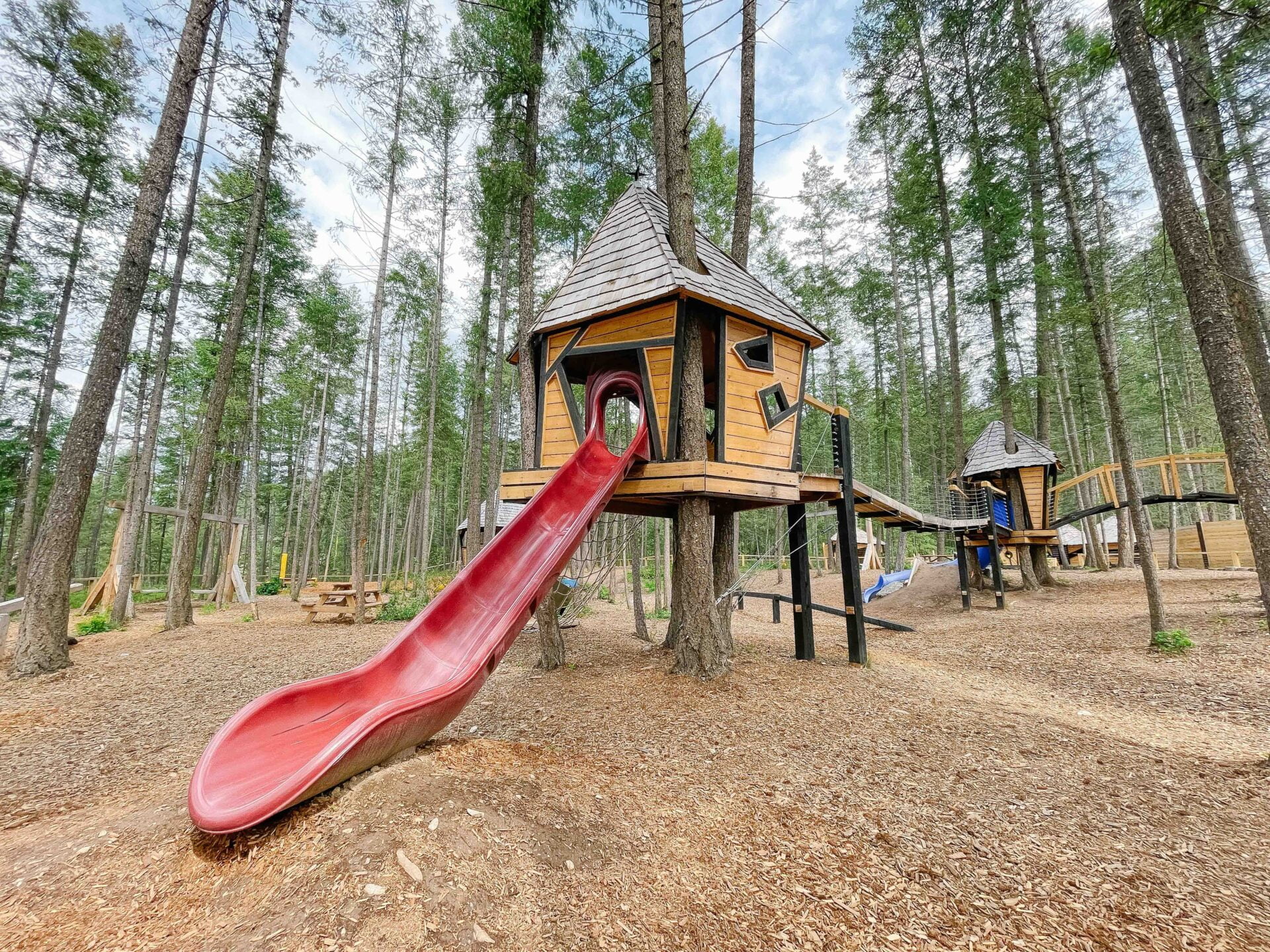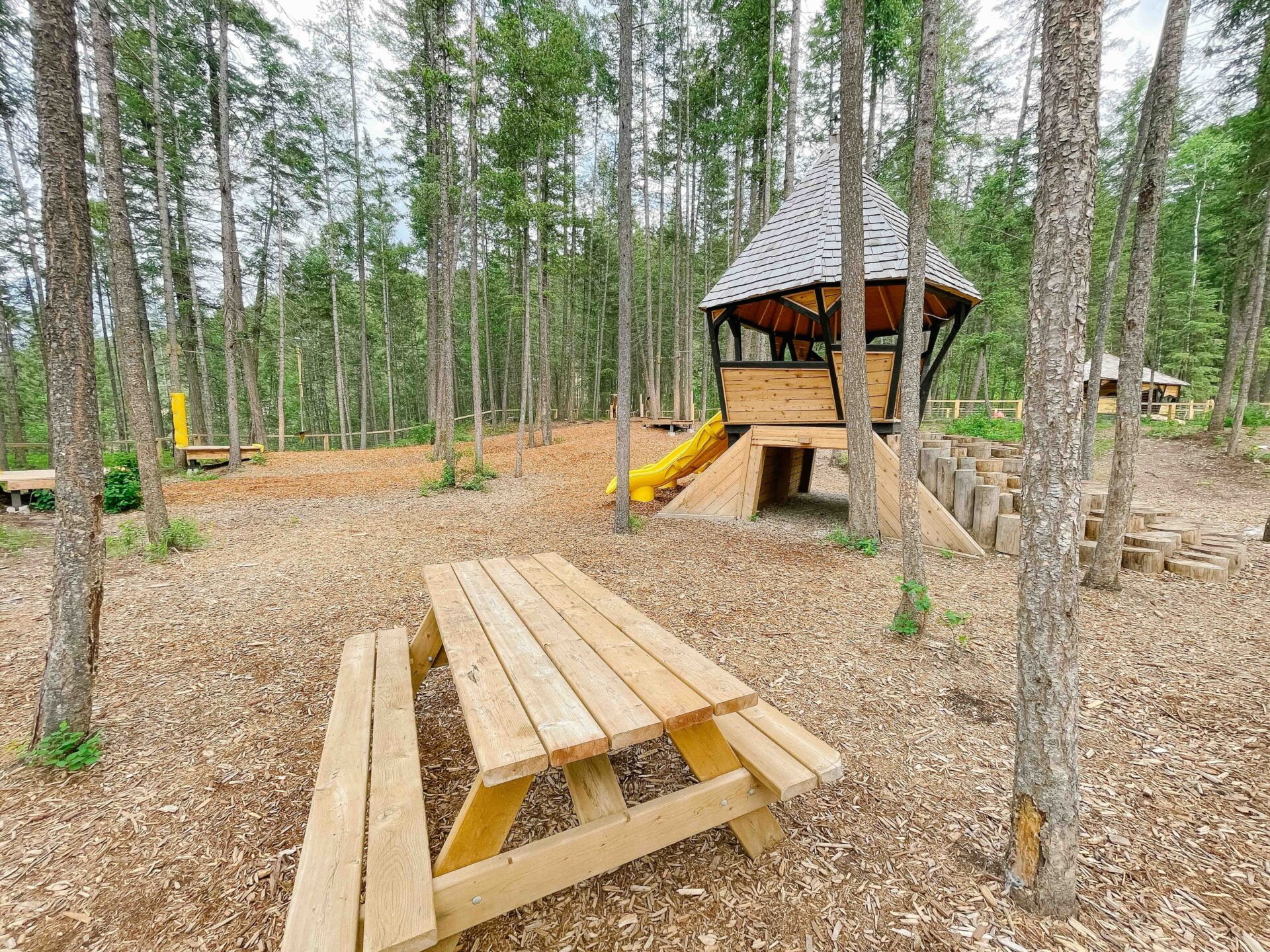 Toddler Play Area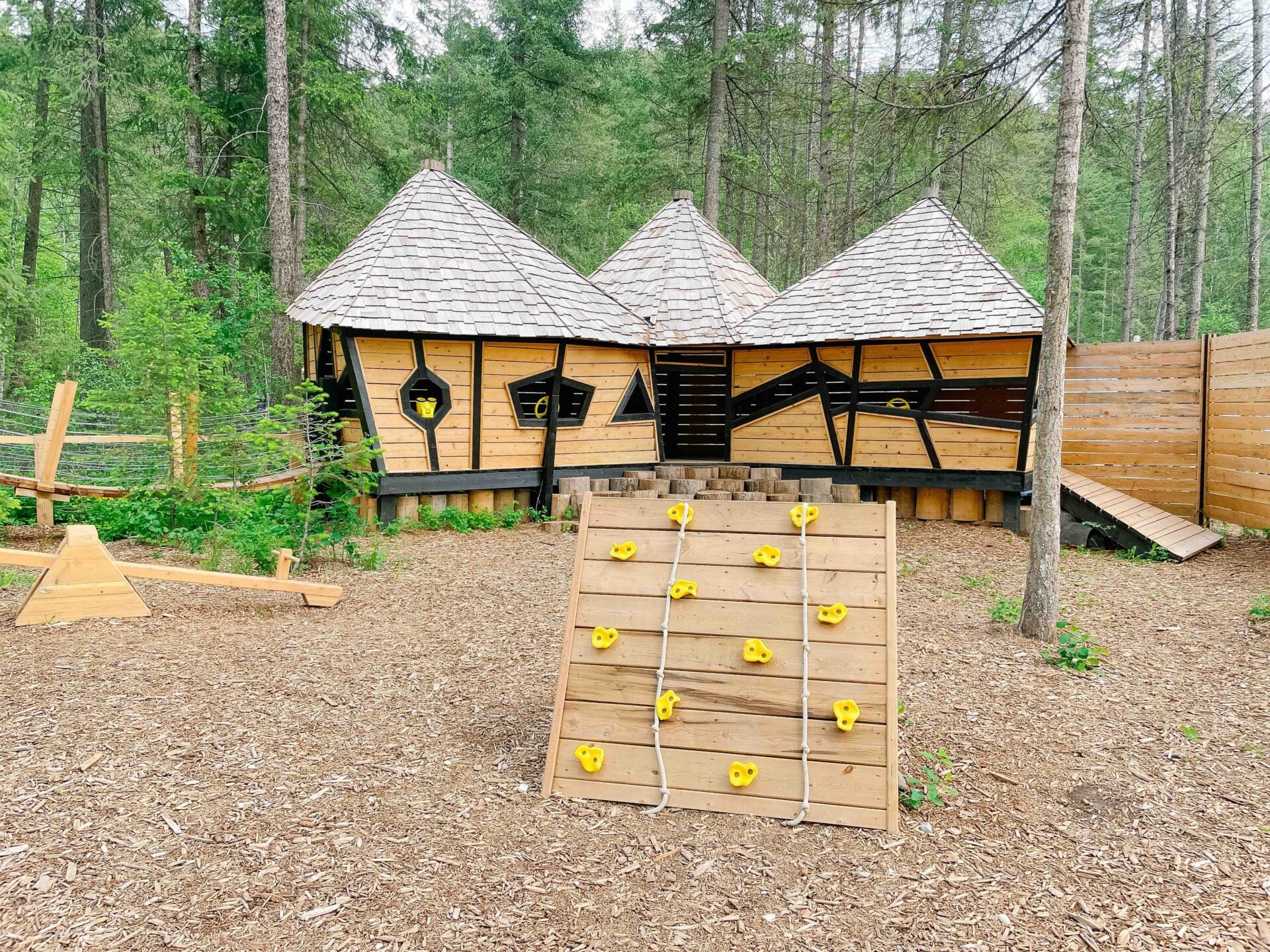 Not to be left out but also not to get trampled, the toddler play area at the Golden Suspension Bridge is a great addition that ensures the littles get to have their own adventures without having to compete with the bigger kids and the larger structures. The little climbing wall is my favourite!
Canyon Trail – Forest Walk
The Forest Trail Loop that connects all of these adventures is 3 km (or 1.9 miles) in length. In other words, wear comfortable closed-toed shoes for walking on this trail.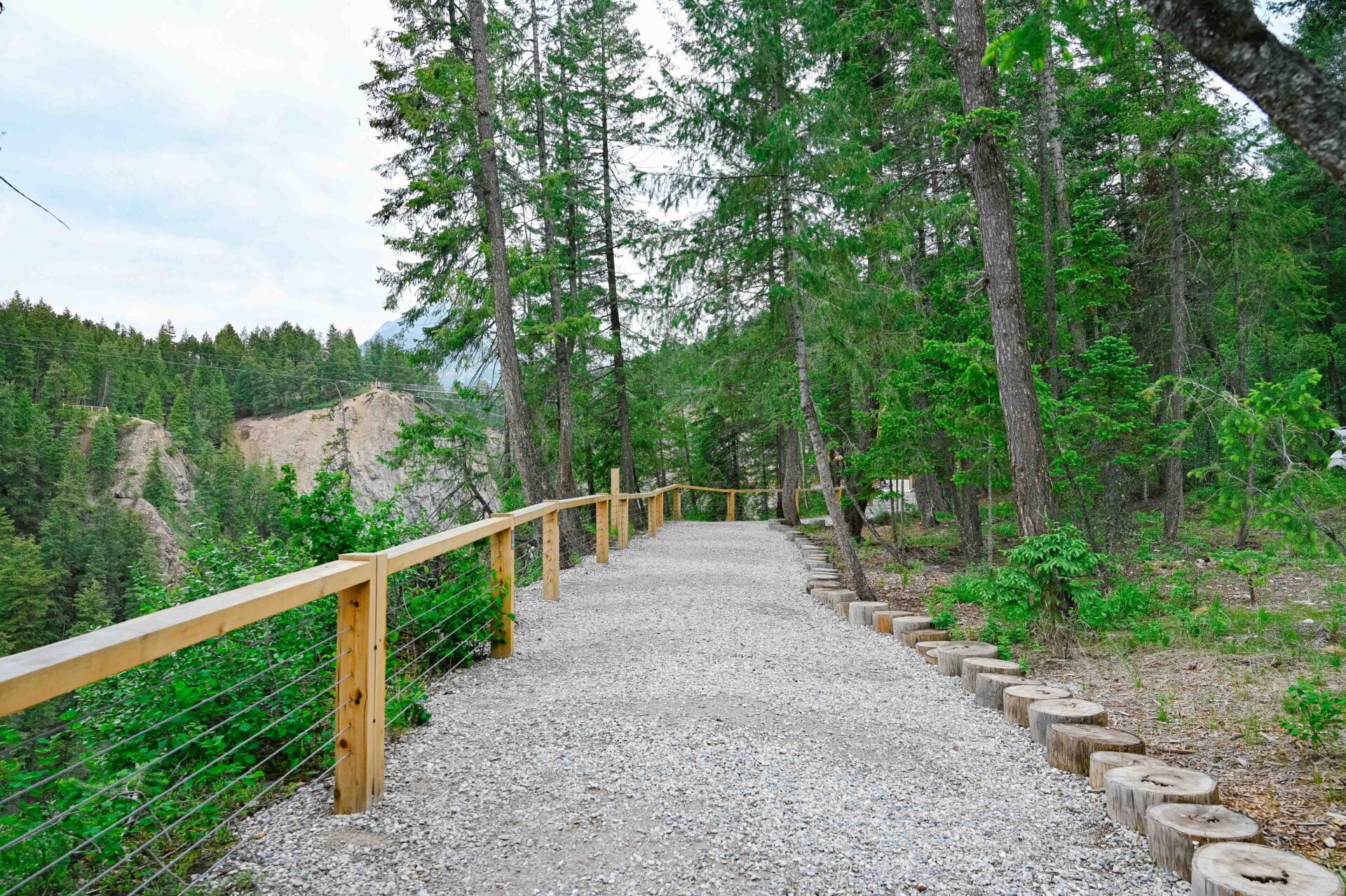 Educational Spots Of Interest
Be sure to take your time strolling through the forest, you never know what you may learn! With little spots of educational interest including quizzes and facts, it's a great way to learn more about the canyon.
Facilities at the Golden Skybridge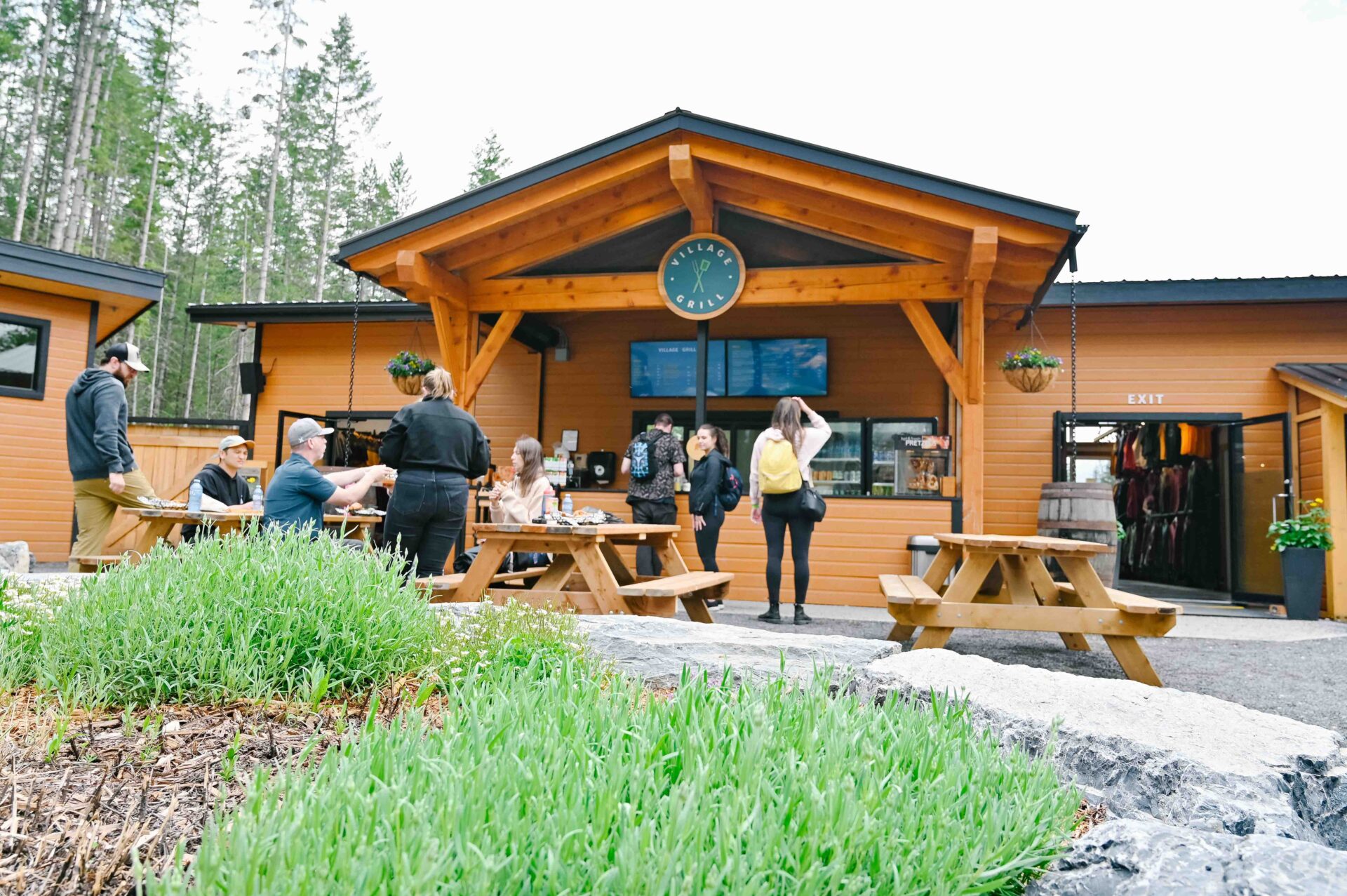 Once you've had your fill of adventures on both sides of the canyon, it's a great idea to head back to the village where you can stock up on essentials as well as indulge in a meal before you head out on the road again or into Golden for a night.
Golden Skybridge Adventure Hub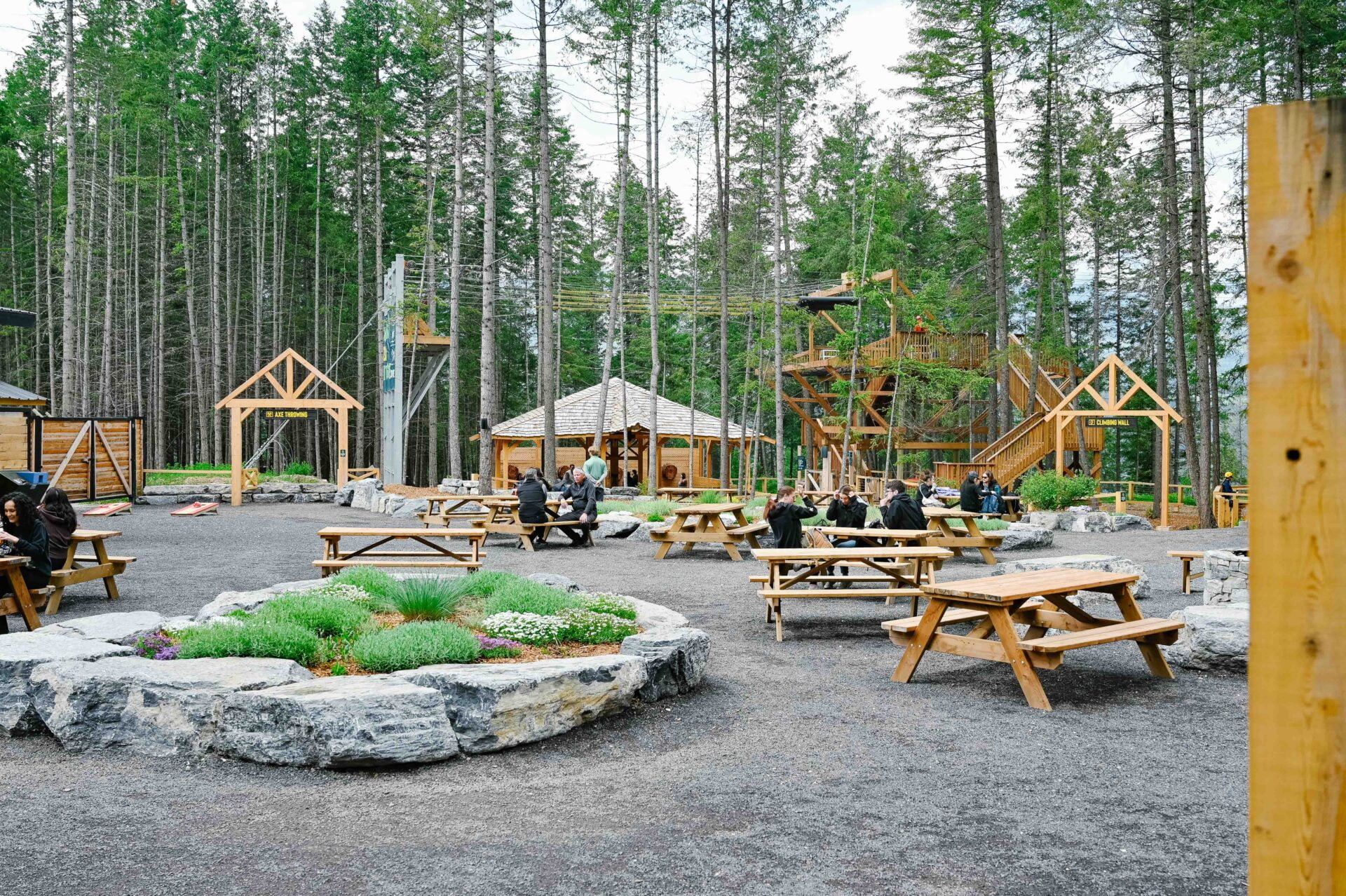 Walking into the Adventure Hub felt like a combination of a big social campfire and summer camp when I was a kid. With a central gathering area of picnic tables, beautiful garden accents, activities happening around the outside of the circle and music pumping out the good energy, it was positive and welcoming vibes all around.
Village Grill Food Truck
After ordering ginger ale and a burger we scooped up a picnic table and waited for our buzzer to go off telling us our lunch was ready.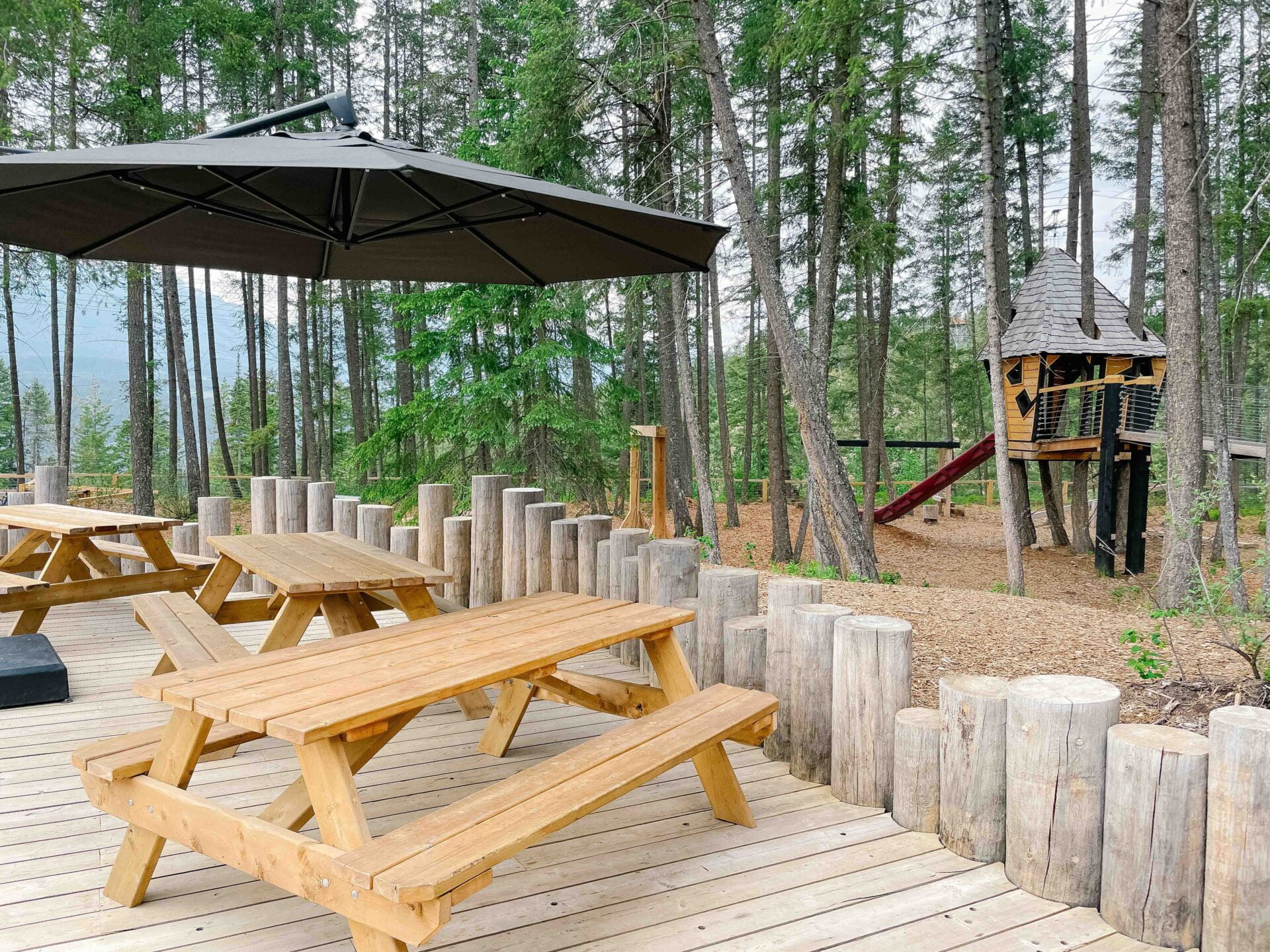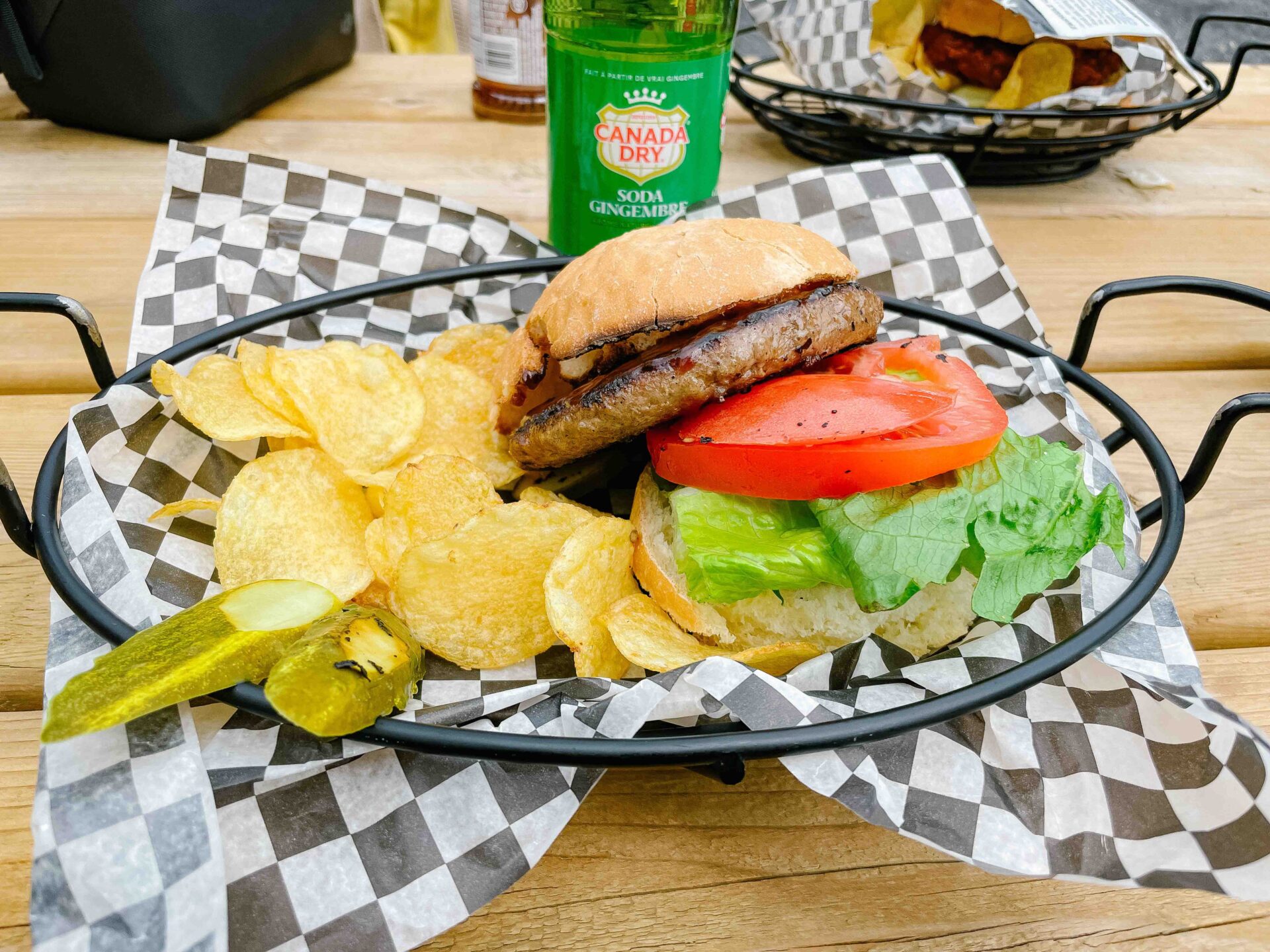 There's nothing like a burger and chips under the summer sun!
Washrooms
Full-service washrooms are available including flush toilets, running water, and mirrors.
Waterbottle Refill Station
As someone who is passionate about the environment, I was very happy to see a water bottle refill station for guests. Less plastic = better for the environment. YEAH!
Golden Skybridge Iconic Adirondack Chair
An iconic chair and the perfect pose make this a perfect place to stop for a photo!
Store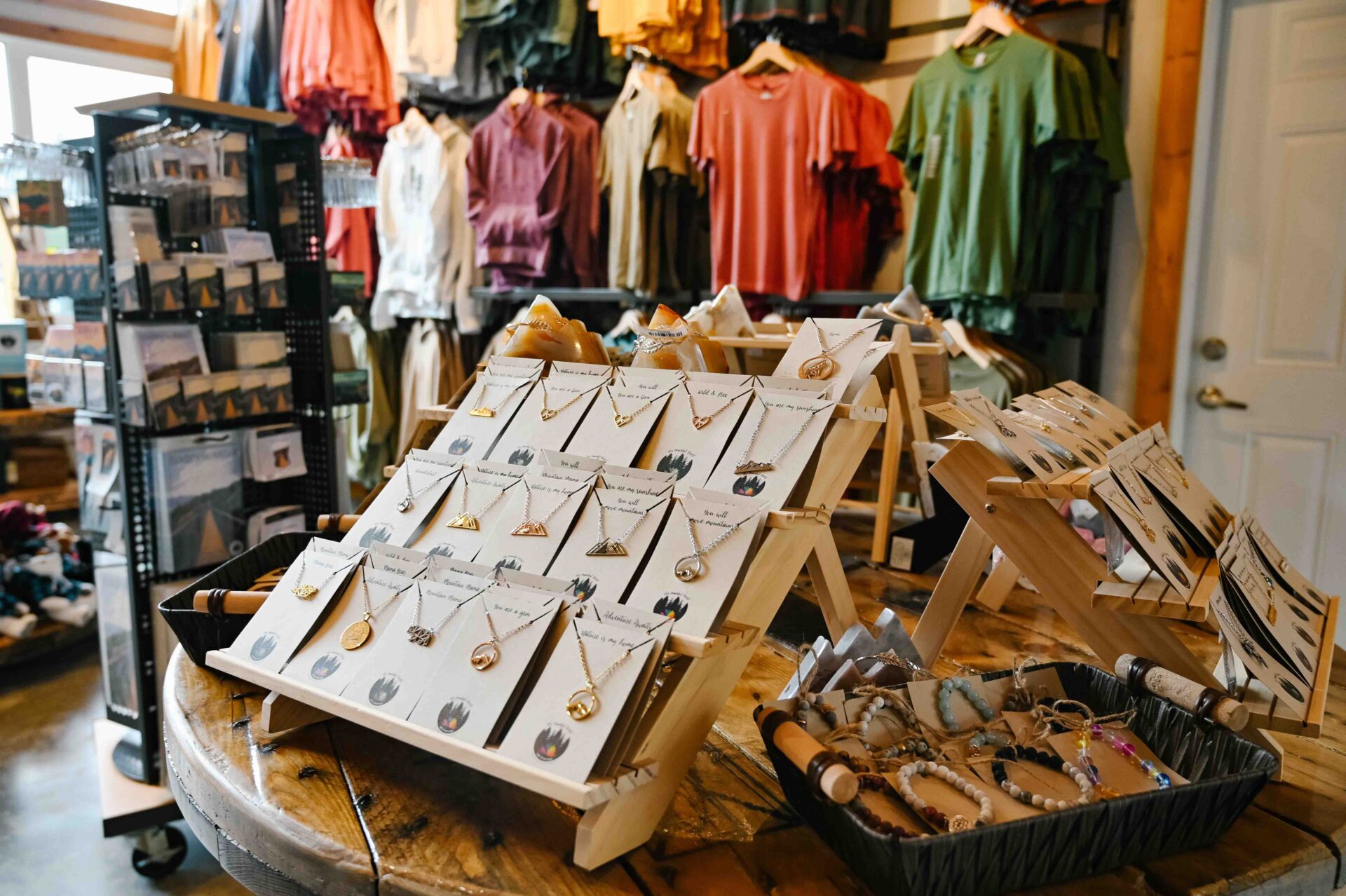 I love souvenir shopping even though I don't often buy anything. I love seeing what is on sale from local artisans and how the destination has reflected the area that it is set in. The store at the Golden Skybridge was exceptional, offering high-quality swag at great prices… I bought my new favourite hat and toque! I also loved seeing the locally sourced items including a cute necklace that said, "Adventure Awaits!" (and yes I'm still kicking myself for not buying it!).
Purchase your Admission Ticket to Golden Skybridge here!
Golden Suspension Bridge FAQs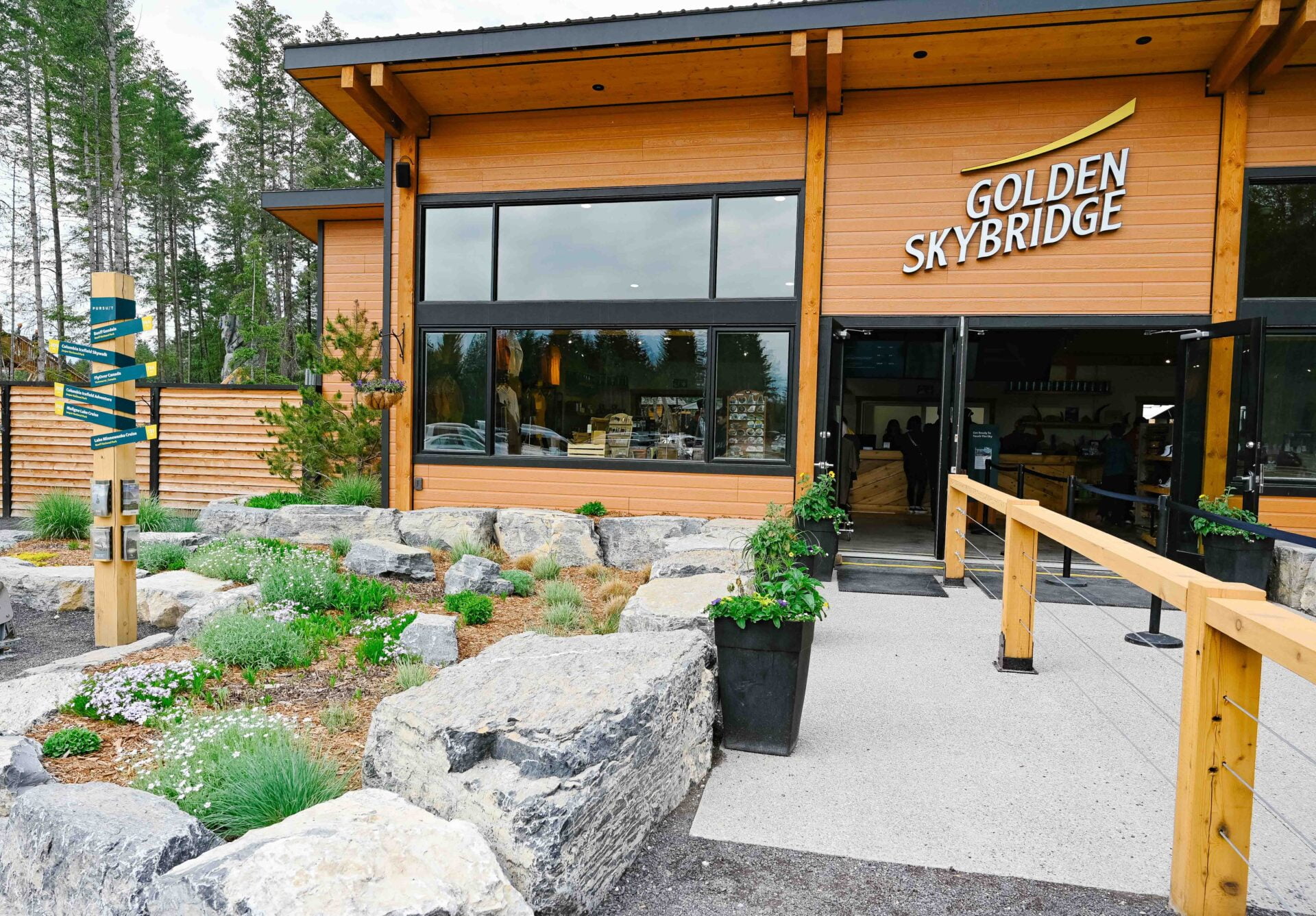 Is there parking for RVs at Golden Skybridge?
There is a large gravel lot that provides ample parking for cars, RVs and those pulling a truck and a trailer.
Do you have to ride the Skylift to get to the Skybridge?
No, there is no skylift or gondola needed to access the Golden Skybridge. It's a short walk from the main entrance to the first bridge.
How long do you spend at Golden Skybridge?
You could spend as little as half an hour or as long as the whole day. My guess is that most guests invest in the Adventure Package and spent 3-4 hours on their visit.
When is the best time to visit the Golden Skybridge?
I think the best time to visit would be non-peak hours, or seasons, allowing for shorter (or no) wait times at their popular attractions. As a family, we always try to travel during the off-season for these reasons. If you are going during peak season (think mid-summer) I'd plan to visit after they first open or during golden hour.
Is the Golden Skybridge pet friendly?
As much as they love dogs, the Golden Skybridge is not open for four-legged family members. They do have an off-leash area located next to the Skybridge in the parking lot. Service dogs are the exception and are welcomed into the Skybridge with their owners.
Is Golden Skybridge accessible?
Is the Golden Skybridge wheelchair friendly? "Due to the nature of the Golden Skybridge, we are not fully wheelchair accessible. The Canyon Trail, the Adventure Hub, Skybridge and washrooms are accessible for motorized wheelchairs, but navigation may be limited given the outdoor terrain and gravel trail."
What should you bring to the Golden Skybridge?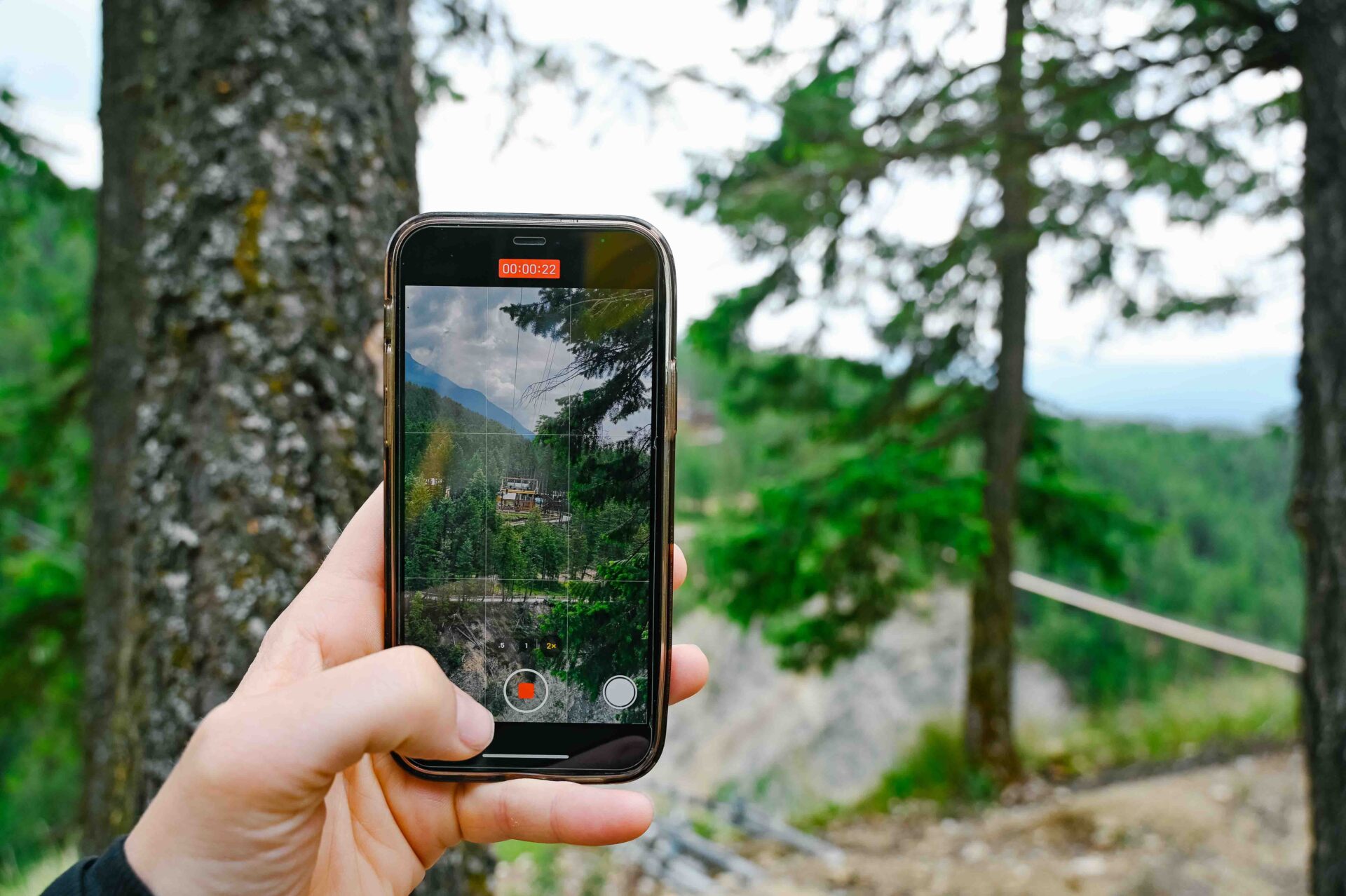 The Golden Skybridge is an adventure centre and it's important to be prepared to explore no matter what the weather is. Here's a quick list of recommendations on what to bring to the Golden Skybridge:
Wear: Sunscreen, Bug Spray, a Hat, Comfortable Clothes, and Comfortable Close-Toed Walking Shoes (a requirement for ziplining and rock climbing!)
Bring: Refillable Water Bottle, Backpack, Camera, Wallet/Money, and an Extra Layer (sweater/jacket)
Visiting with kids? Here's a great resource on what gear to pack for a family.
I don't have a custom promo code but I have researched and discovered that if you purchase your tickets online prior to your visit you will save money.
Purchase your Golden Skybridge admission ticket here!
Other Activities to Do While you are in Golden, BC
Exploring the Golden Skybridge is just one of the many exciting adventures and things to do in Golden. Here is my list of suggestions for other things to check out!
There are kilometres and kilometres of trails to explore in Golden and the surrounding area. Whether you are looking for a more leisurely stroll through the woods or a heart-pumping hike in the mountains, there is a hike for everyone in Golden!
Book your guided hike to Paget Lookout and Sherbrooke Lake in Yoho National Park here!
Banff Day Trip
There are so many things to see and do in Banff! A short 1 hour and 45 min drive from Golden, this popular town in the Rockies is not to be missed. Be sure to take the gondola up to the top of Sulpher Mountain or take a day trip to experience the beauty of Lake Louise.
Book your Banff Gondola Ride Admission tickets here!
Book your Lake Louise and Icefields Parkway Sightseeing Tour here!
Head out on the Kicking Horse River for a thrilling whitewater adventure. Offering both beginner to experienced trips, you'll witness stunning scenery as you head down the river through waves and rapids on either a half-day or full-day trip.
Book your Wild Water Adventure here!
Explore Golden!
Don't forget to head into downtown Golden and explore all the shops and restaurants that the town has to offer. It is full of history, so be sure to stop at the Golden Visitor Centre, as they are a wealth of knowledge!
Where to Stay in Golden
If you are planning on visiting the Golden Skybridge, then I highly suggest you stay in the town of Golden and explore the area to the fullest! There are a variety of accommodation options, here are my recommendations.
This centrally located hotel is the perfect spot to set up your base camp for adventures. Start your mornings off with their free breakfast buffet and end your day with a swim in their indoor pool and a soak in the hot tub.
Book your stay at the Holiday Inn Express Golden-Kicking Horse here!
The Moberly Lodge in Golden offers 2 cabins perfect for families seeking a more private accommodation experience. The cabins can sleep 4 (each cabin has 1 queen and 2 twins), feature fully stocked kitchens (as well as a dining area with BBQ), board games to bring the family together after a busy day of adventures and have incredible views of Moberly Peak, the mountain that faces the lodge.
Book your stay at Moberly Lodge here!
A ski resort in the winter and an outdoor mecca in the summer, a stay at the Glacier Mountaineer Lodge at Kicking Horse Mountain is the perfect accommodation for an adventurous family. Located in the heart of the action, a short walk from the Glacier Mountaineer Lodge will bring you to a mountain bike park, a Grizzly Bear refuge, a bike pump track, a kids' playground, an extensive hiking trail network, a scenic gondola and a village full of restaurants and shops.
Book your stay at Glacier Mountaineer Lodge here!
In Conclusion, Is Golden Skybridge Worth It?
As a professional traveller, I can say I've been to a lot of attractions and many don't take me by surprise anymore, but this one did. I anticipated going to see a sky bridge, and not only was there one but there were two. Then add in all of the adventures including the zipline, Railrider Coaster, ropes course, axe throwing (and more) and I'm thoroughly impressed that this isn't just a place to stop on a road trip, but a destination worth putting a mark on the map for.
Tip: To make the most out of your experience plan to spend at least 3 hours there so no one is rushed, you can enjoy a meal during your visit, and you have lots of time for free play and exploring.
---
Check out These Articles for some More Rocky Mountain Adventures!