Imagine waking up inside your family tent, birds chirping and the warm sun coming in from the East inviting you to come outside. You open up the zipper and hear the hustle and bustle of other families. A brother and sister rush by on their mountain bikes, talking up the bike park and challenging each other to see who's going to ride harder once they hit the hill.
They already know Golden's secret… this is where you come to PLAY!
Golden is a mecca for families who love the outdoors. The campground is filled with groups who have travelled from towns big and small to come and take advantage of everything Golden has to offer. Mountain bikers, hikers, fishermen, and paragliders all come to explore Golden's vast array of trails, views, and lakes. It was no wonder that we felt right at home!
We  woke up early, ready to start day our first full day in Golden. Paragliders filled the camp and flew in overhead as we made breakfast. You see, The Golden Adventure and Eco Lodge is a landing site for paragliders to touch down. The only challenging part about having this be a part of your campground was trying to explain to your children that they couldn't go and pilot their own glider!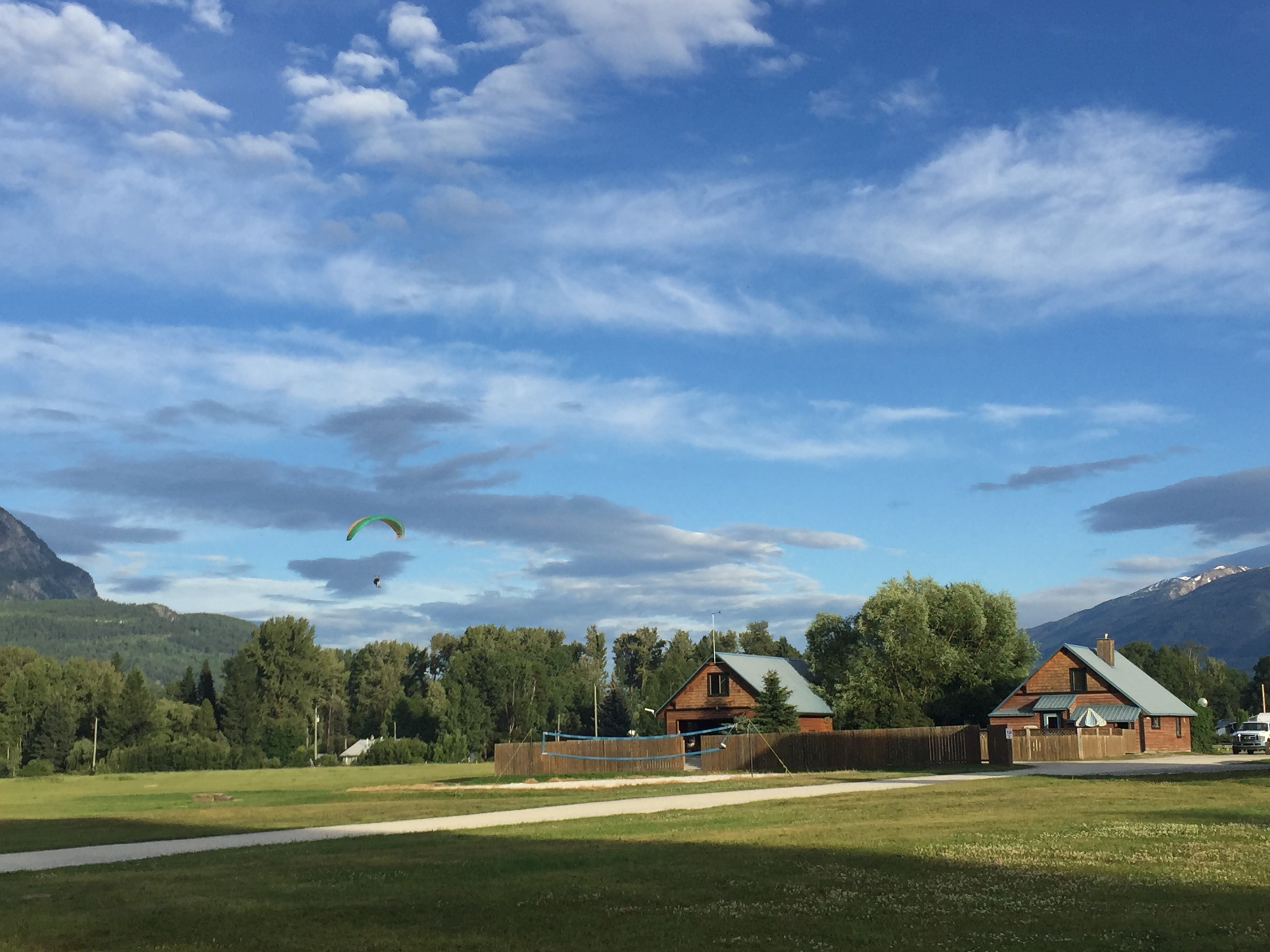 After our stomachs were full and our daypacks were loaded with water, snacks, and lunch we were off to spend the day at Kicking Horse Mountain Resort for a day of Gondolas and Grizzlies! The day was so amazing that it deserved its own blog. Check out our full story and be sure to see the bear Boo playing with his toy.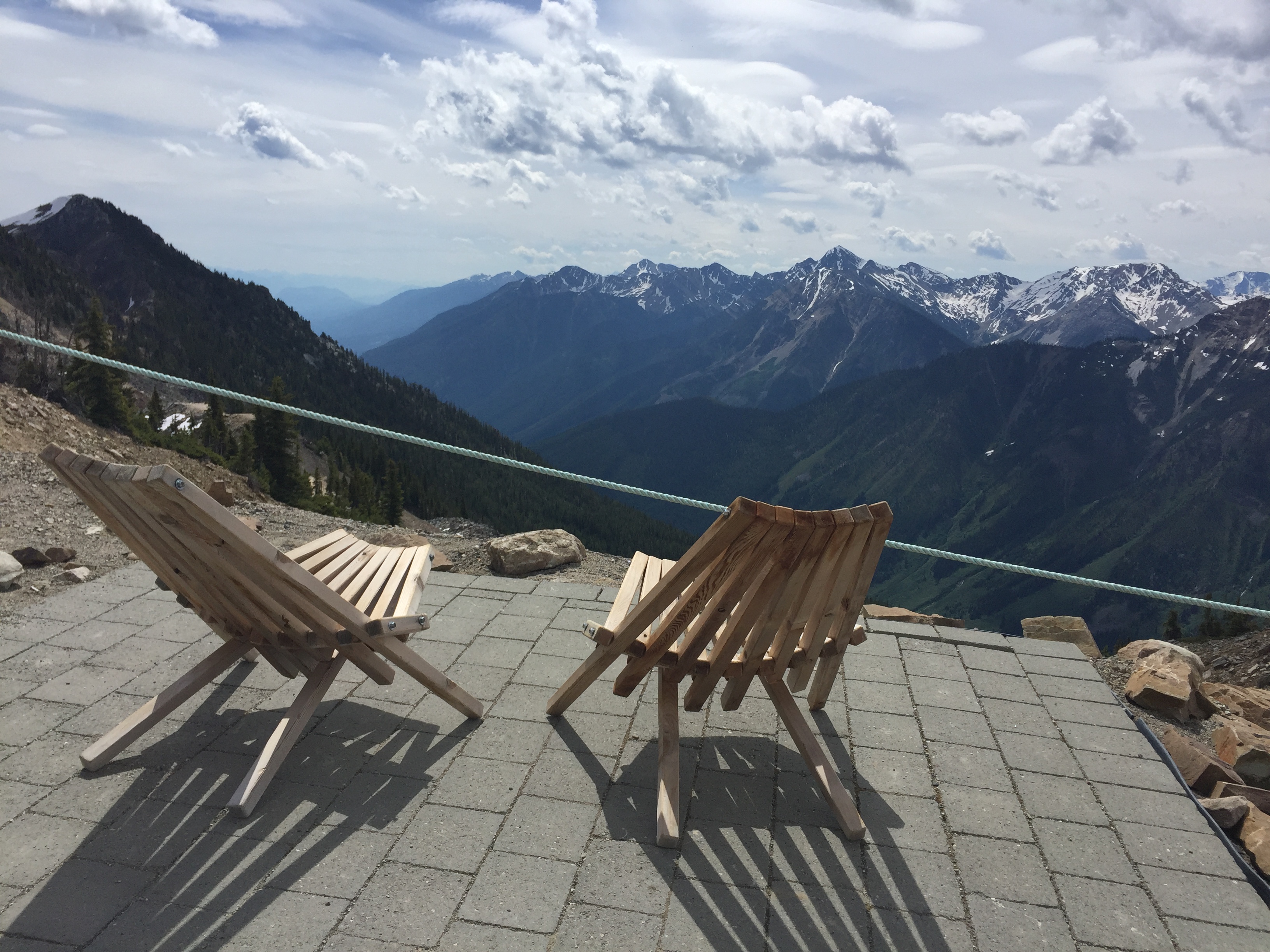 After our day on the hill we headed back to the campground to cool down. There's a few swimming holes on site and I have it say, it was the first time we had ever swam in a swimming hole! (Super cool, both literally and figuratively)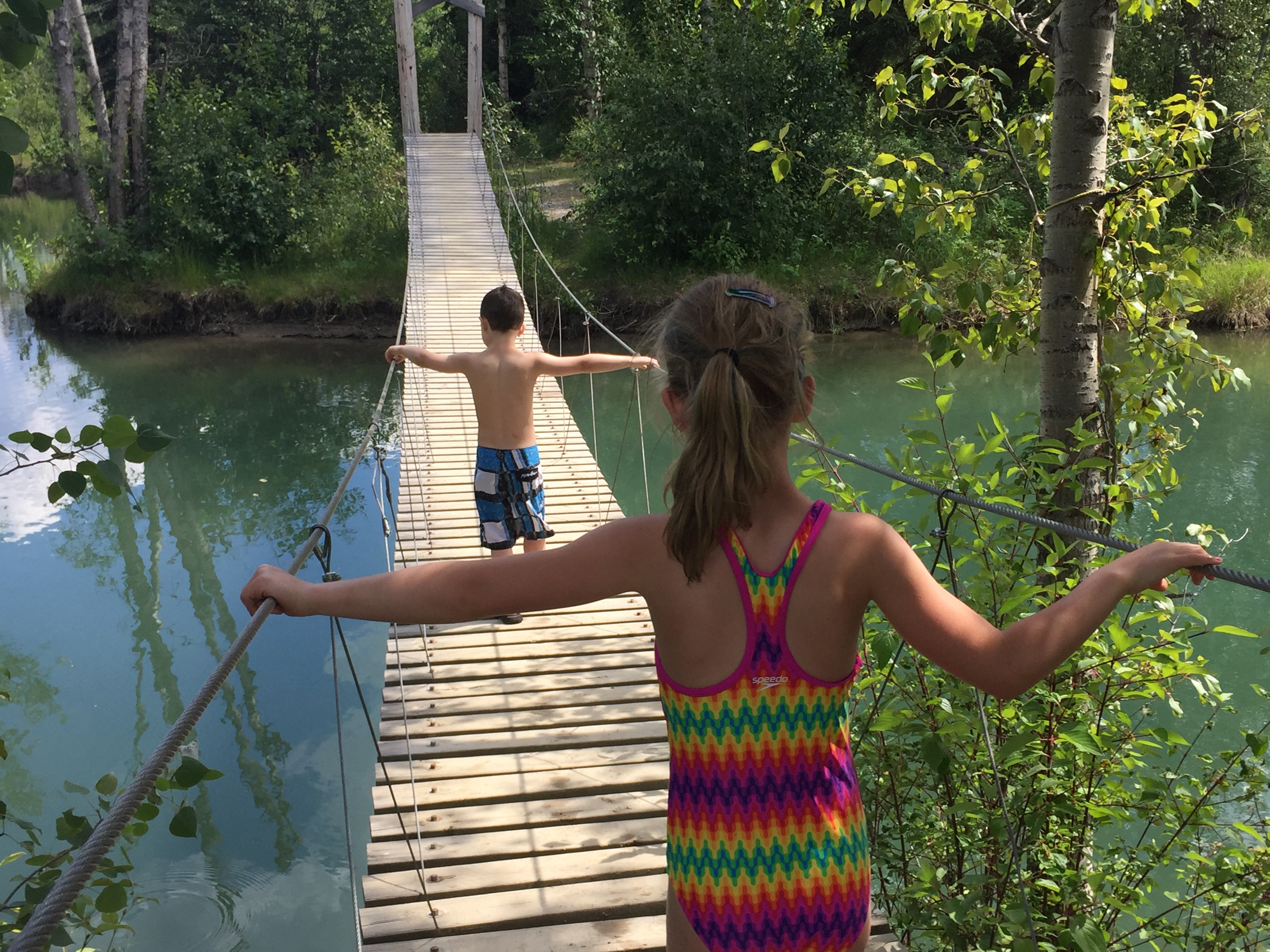 Dinner was exceptionally fun at the campground as the parents and kids met on the walkways sharing their experiences from the day, "We went to this trail and the kids did awesomely… have you ever been?" The swapping of stories and trails was really fun to take part in as well as hear the enthusiasm from both the kids and the parents.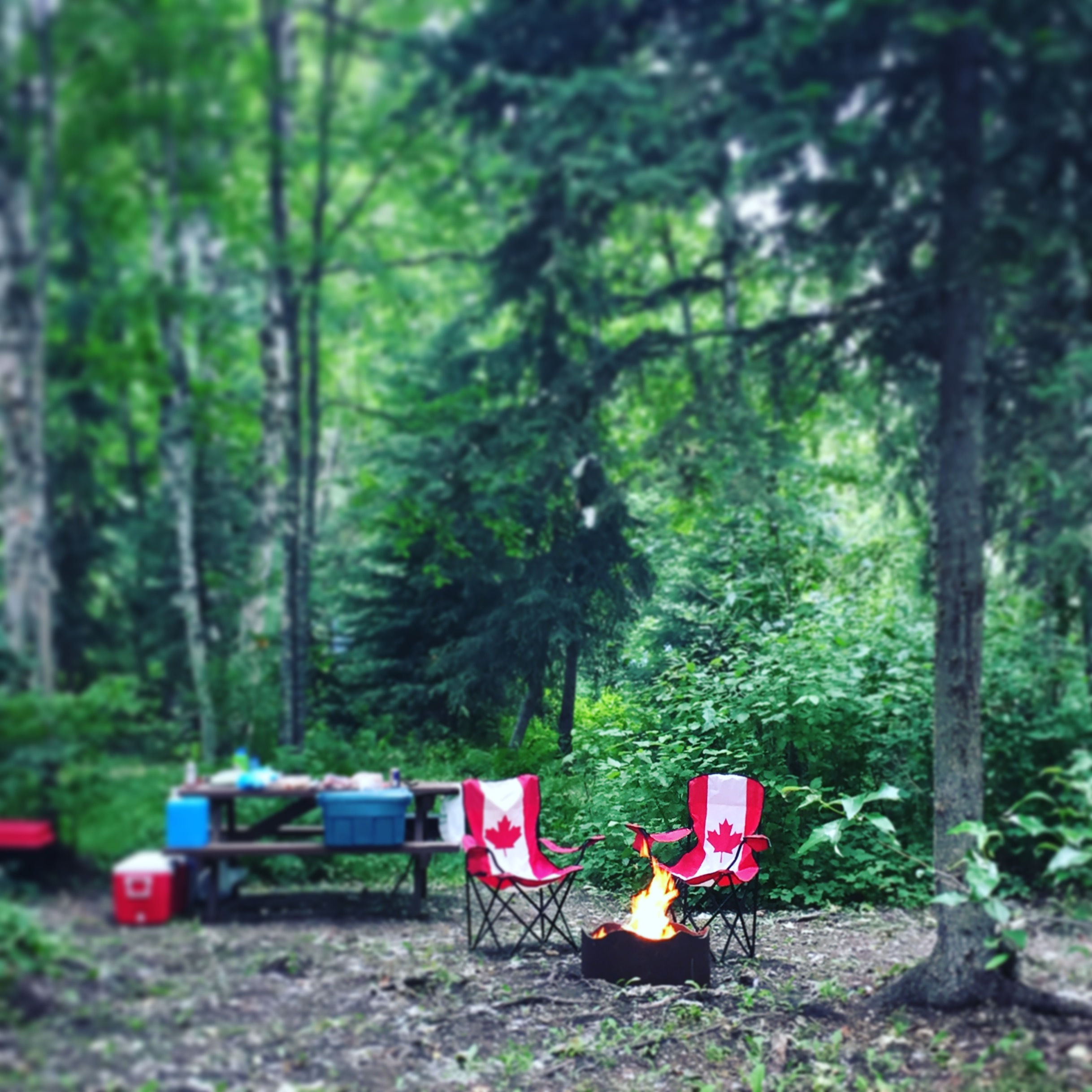 As signs of darkness began to fall upon our campground we knew it was time to dress warm and load up the truck again… the town of Golden was hosting  fireworks  that would be starting at 10:45. We didn't want to be late! We headed down to the municipal campground and parked the truck where we could see the fireworks being let off… We all brought our camp chairs and set them up in the back, sleeping bags and blankets and stuffies over us keeping us warm.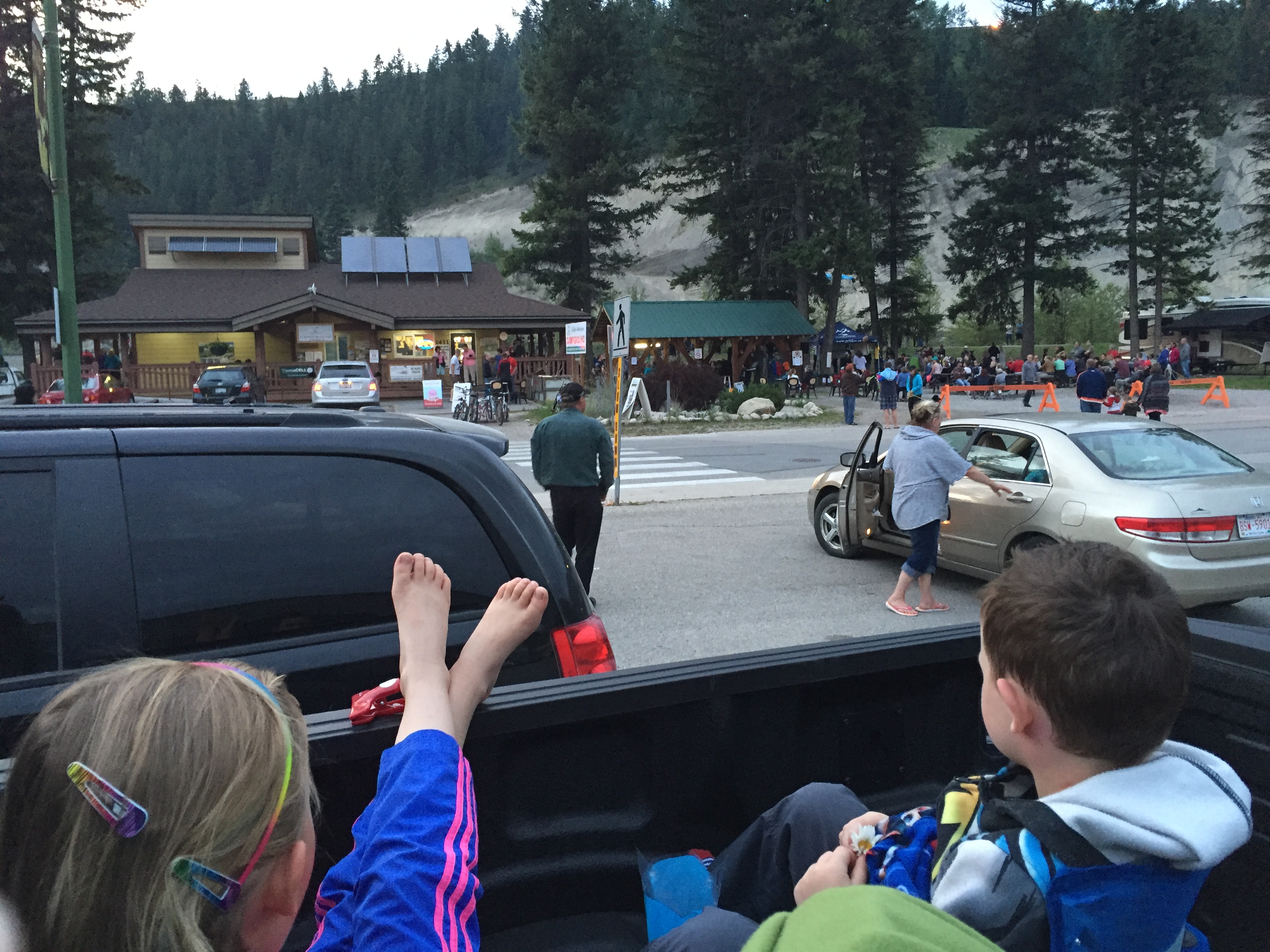 The fireworks were truly amazing… we were expecting a short show of two to four minutes but after 15 minutes the show seemed to just be getting started. Some of the fireworks were so big and so amazing that my five-year-old was scared! It was the perfect way to end the day.  
https://www.youtube.com/edit?video_id=1mpIWzeDTZs&video_referrer=watch
When we look back at Canada Day 2016 we will always remember our time at Kicking Horse Resort, the small town of Golden, the warm people and the community. My daughter honestly asked me, "Why is everyone so nice here?" For, when celebrating Canada, does it really get any more Canadian than this? Epic, 360 degree views, wildlife encounters with some of the most amazing animals in the world, endless trails to explore and connect with nature, and all of it being done as a family. Oh Canada, you really are an amazing "home and native land."