Imagine walking with your children through an apple filled orchard on a warm summer's afternoon. The children are wide eyed, on the lookout for the next set of fairies as many have been known to hide among these very apple trees. You wind yourself around the back of the property and then your residence for the evening comes into view. A picture perfect yurt, with every comfort you could imagine included. A family stay at Merridale yurts isn't an adventure, but rather a place to stop, breathe, cuddle, talk, think, reflect, and reconnect.
Merridale is a 20 acre boutique farm set in the beautiful Cobble Hill region of the Cowichen Valley. Located a 17 minute rural drive out of Duncan, this destination cidery and distillery is the perfect place to stop for lunch and to stay for the evening when you're in the Cowichan region.
Founded 19 years ago by Janet Docherty and Rick Pipes, they have grown from a one room tasting house to a full destination facility. The farm is now home to an eatery, lounge, store, brick oven bakery, cidery, distillery, and vinegar shack! Combine that with the on site activities including self guided tours, entertaining treasure hunts for the kids, and the luxury glamping experience and you have the perfect relaxing family destination.
Here's some highlights from our time at Merridale Cidery and Distillery:
Welcome Tour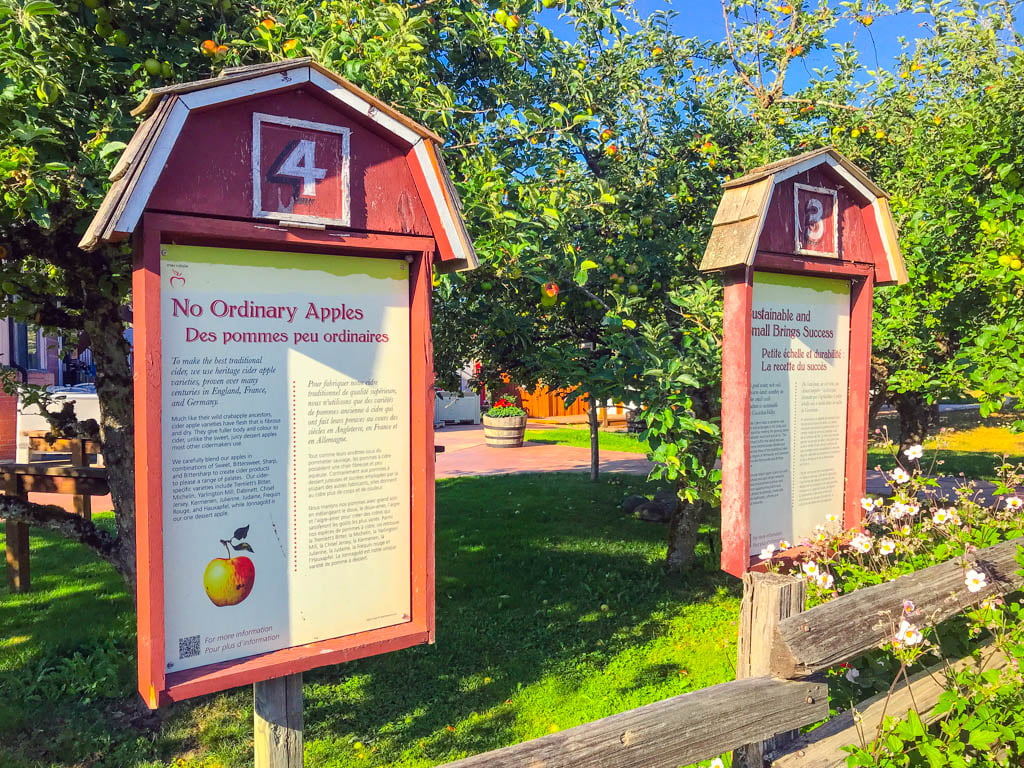 We were welcomed with open arms by staff and the owner Janet, who took us on a tour of the property. We were able to learn about the self guided tour and where all the faeries are said to be hiding!
Cidery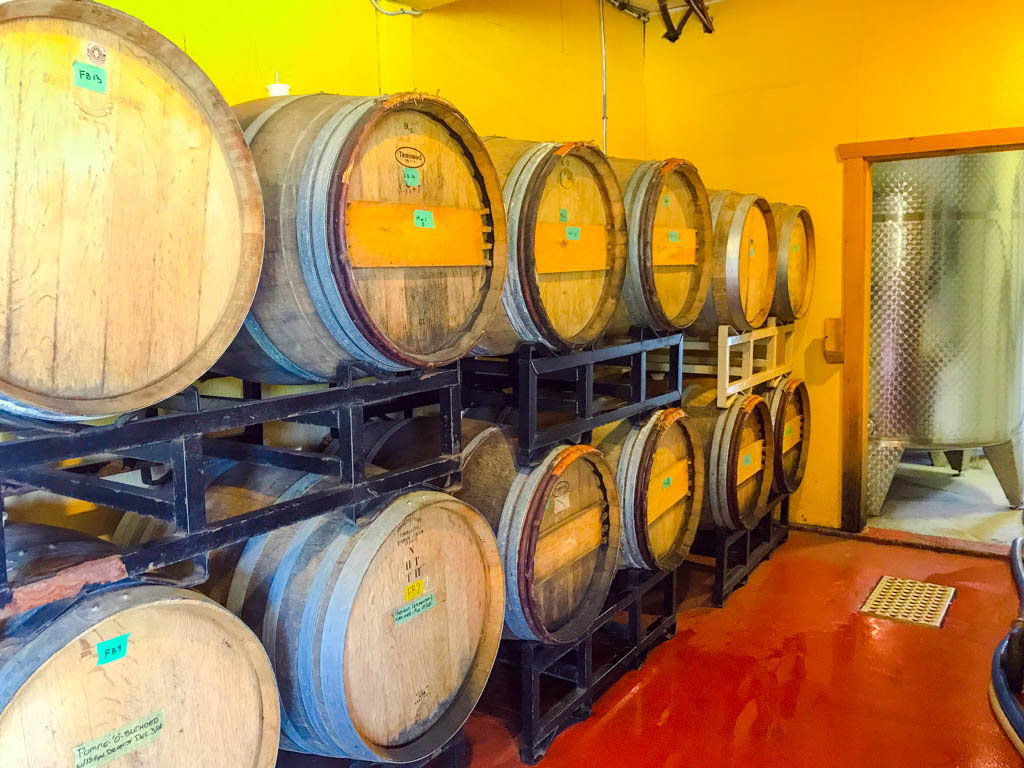 Next stop was the actual cidery where my husband asked most of the questions, being more well versed in the subject than myself! Some of the things that really impressed me about this farm was how everything is organic (although not certified) and how they are dedicated they are to the environment as well. (For example they help reduce their requirements for water during the hot seasons by not watering their trees!) Janet's passion for creating a high quality end product is evident in every aspect of her business. After all this talk about ciders I was excited to get to the table to try some!
Distillery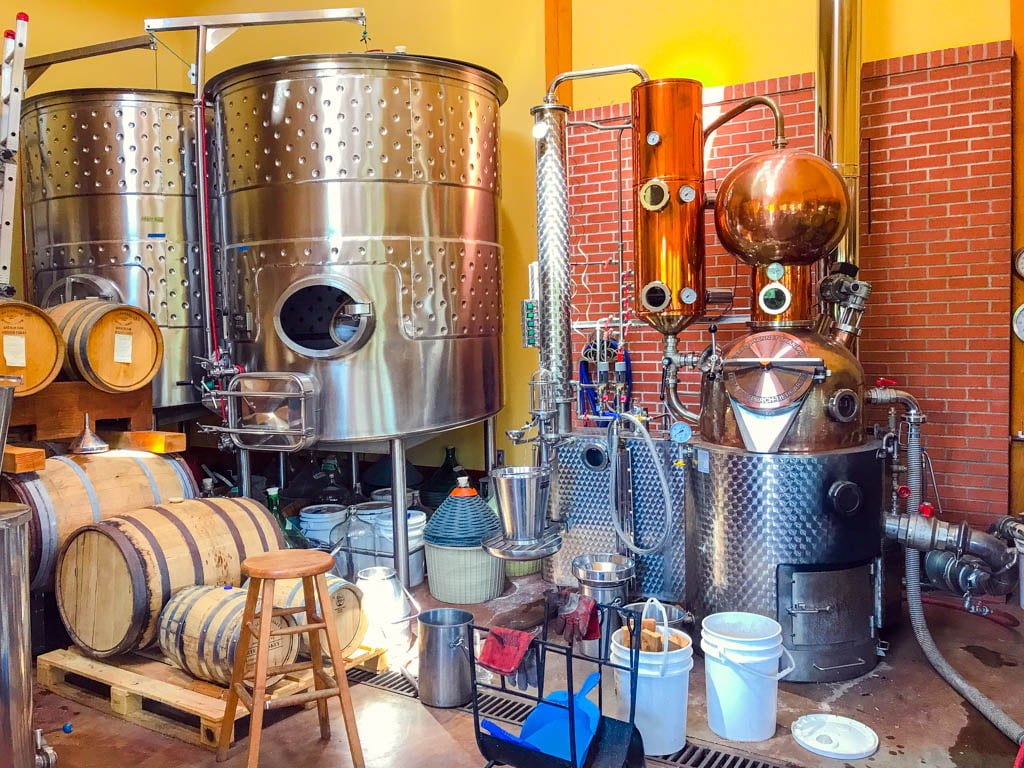 I can honestly say that this was the first time I had visited a distillery. This craft "house of creation" was run by lead Paul who was busy working, scientist style in testing and crafting new spirits for Merridale to feature (such as copper gin, gin, brandy, and vodka).
Lingering at Lunchtime
Chef Ben spoiled us VIP style with a 5 plate lunch showcasing the Eatery's finest food. Locally sourced fruits and vegetables made up our salads and charcuterie board. Hand made pizza fired in their wood oven was a favorite of the children, that is second only to their blueberry pie dessert. It was a true pleasure for my daughter, who has a life threatening allergy to nuts, to be able to eat at this restaurant. Because everything is made from scratch, in house, with no preservatives they are in full control of all the ingredients and she swooned over the delicious food and being able to eat in a restaurant!
Settling into our Yurt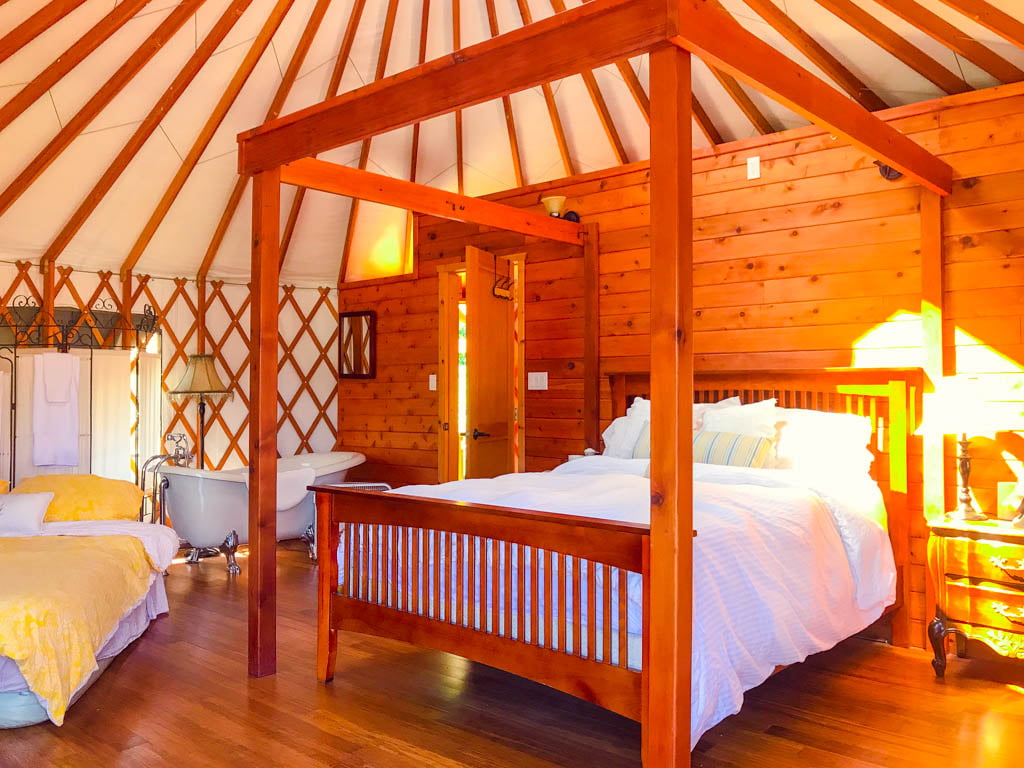 If Instagram itself made a yurt it would be the Yarlington Yurt at Merridale. As soon as your feet hit the hardwood floor in the Yarlington your eyes are on stimulus overload as there are so many luxurious amenities surrounding you. Crawl into the into the queen size canopy bed and fall into the plush mound of pillows and luxurious linens, or disrobe and head into the claw foot tub for a long afternoon soak. Grab a book and cozy into the living room corner, or have the the kids head to the large armoire and select a board game to play.  Sit out on the over sized deck and watch the sun set over the orchard. The Yarlington is truly a special place to spend the night!

Being Free to Explore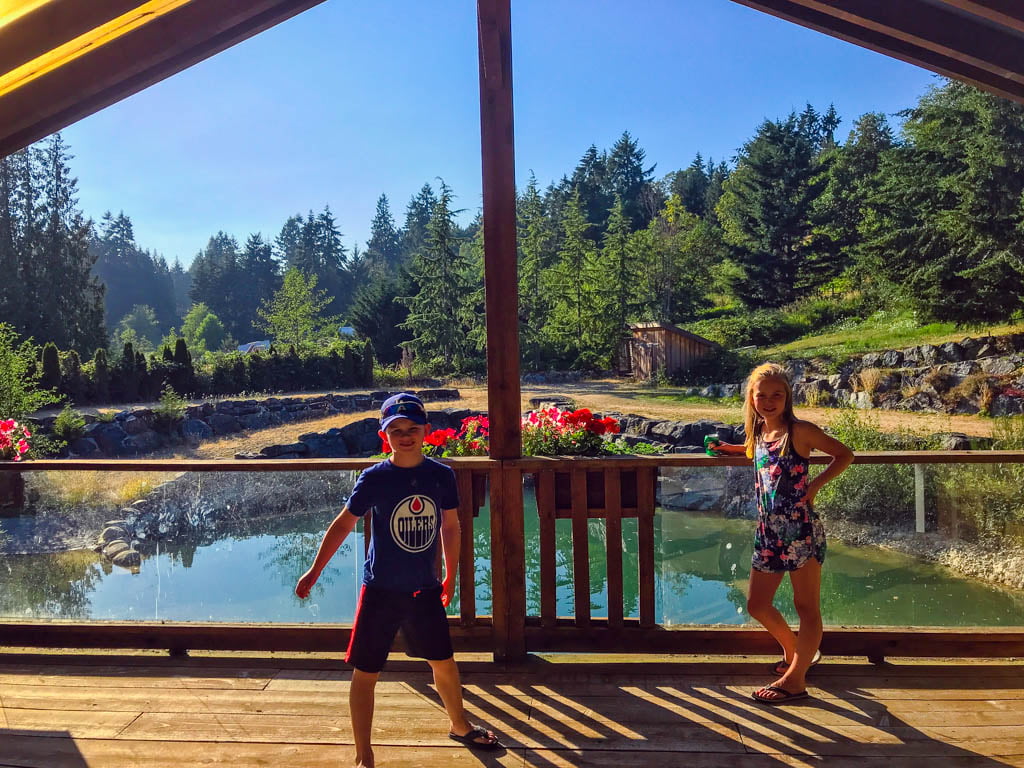 "Go Play" we said, and told them that the orchard was theirs to roam. They couldn't believe the freedom and quickly were off, checking out the pond area, searching for bunnies in the orchard, counting fairies along the path, and picking blueberries in the back forest. They kept running back to the yurt to tell us what they had seen and then were off again, loving every second at Merridale. They were heartbroken when I told them that we were only staying for one night (of which I was quickly asked, "When can we come back?!").
Eatery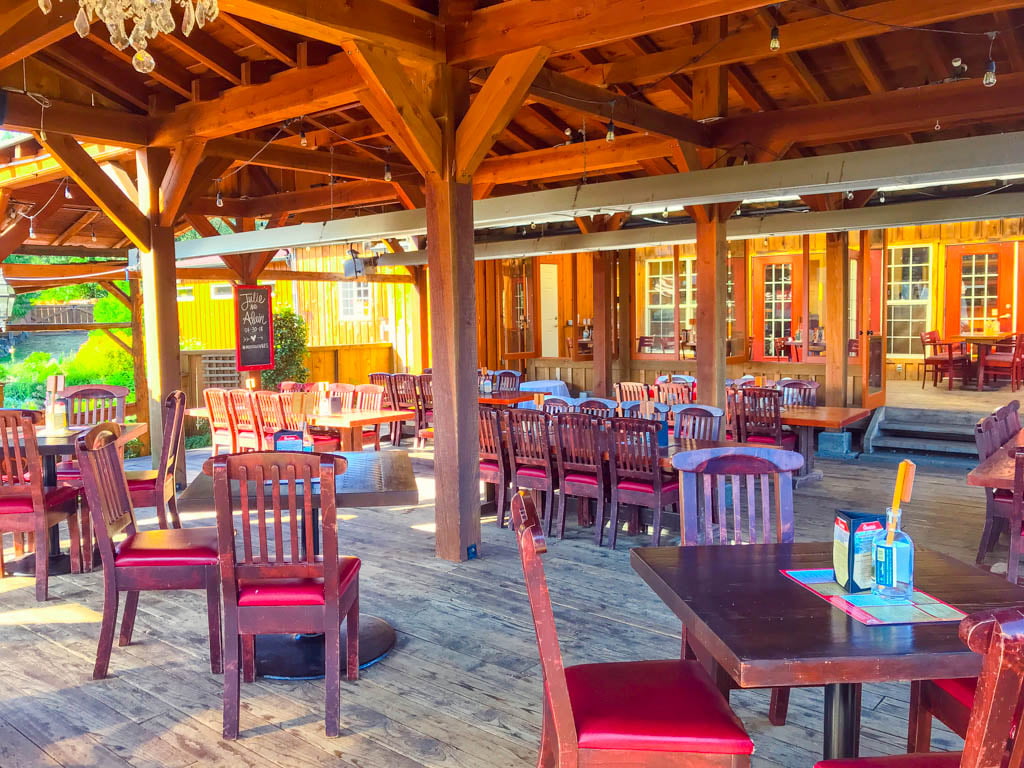 Merridale's eatery is a casual English style pub where you head up to the bar to order your food and then settle into your orchard side table and enjoy the company and the view.

Reconnecting at Cocktail Hour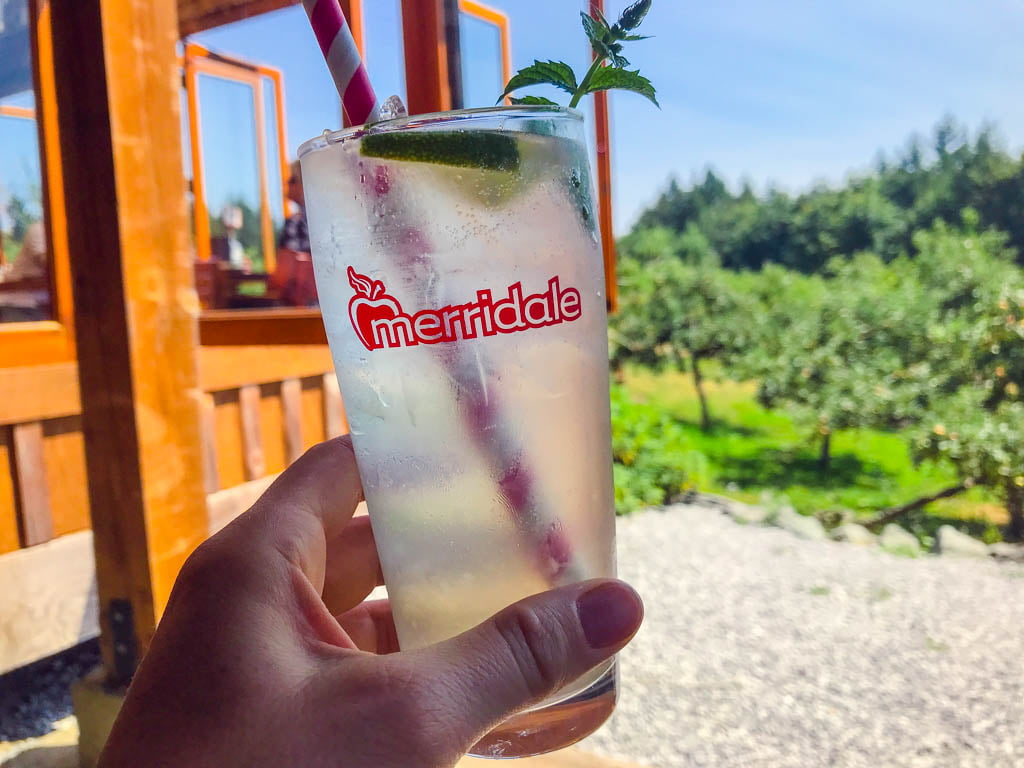 One of our favorite moments at Merridale Cidery and Distillery was when our kids were tuckered out from exploring the vineyard and needed some downtime. They headed into the yurt to play board games and my husband and I headed up to the Drinkery to enjoy some ciders.
Inspiring Entrepreneur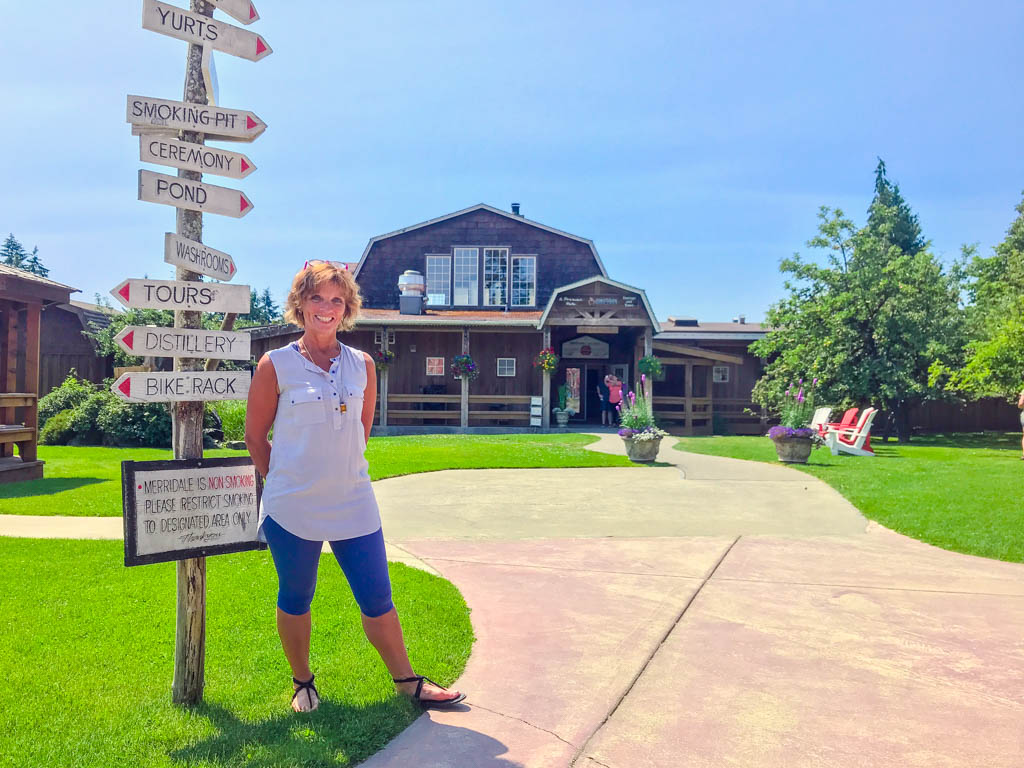 I really connected with Merridale's owner, Janet Docherty. Her high energy and passion for her business is evident and it's clear she also never stops moving. Her relentless dedication in delivering the best product and expereince to her customers shows in everything she does. It was an honor to have Janet take time out of her busy schedule and join us for lunch. Over the delicious food her we discussed the opportunities and challenges of being a Mompreneur and she recalls the early mornings, late nights, 11 hour days all scheduled around your kids school and extracurricular activities. While her children are now older she reminisced with me about "those days" and how it was worth all the juggling and chaos of being an entrepreneur and mother of young kids.
Janet doesn't just juggle work and family though, she is a fierce leader in her community in all the right ways. She volunteers her time on multiple boards, is a champion for community history and supports local initiatives like the rebuilding of the Kinsol Trestle. She also believes that sustainability isn't a trendy word but a key to our future success and has built an orchard with sustainable practices and also protected areas of her farm that have sensitive ecosystems and has partnered with the land conservation to ensure this region is protected for generations to come.
Janet said to me, "You never know where your future will take you" and after seeing such a hard working, dedicated woman, I really believe this to be true. Janet has grown an amazing business by hard work and commitment to quality, and as an entrepreneur it's very inspiring to look up to another business leader and see what she's accomplished.
Reflecting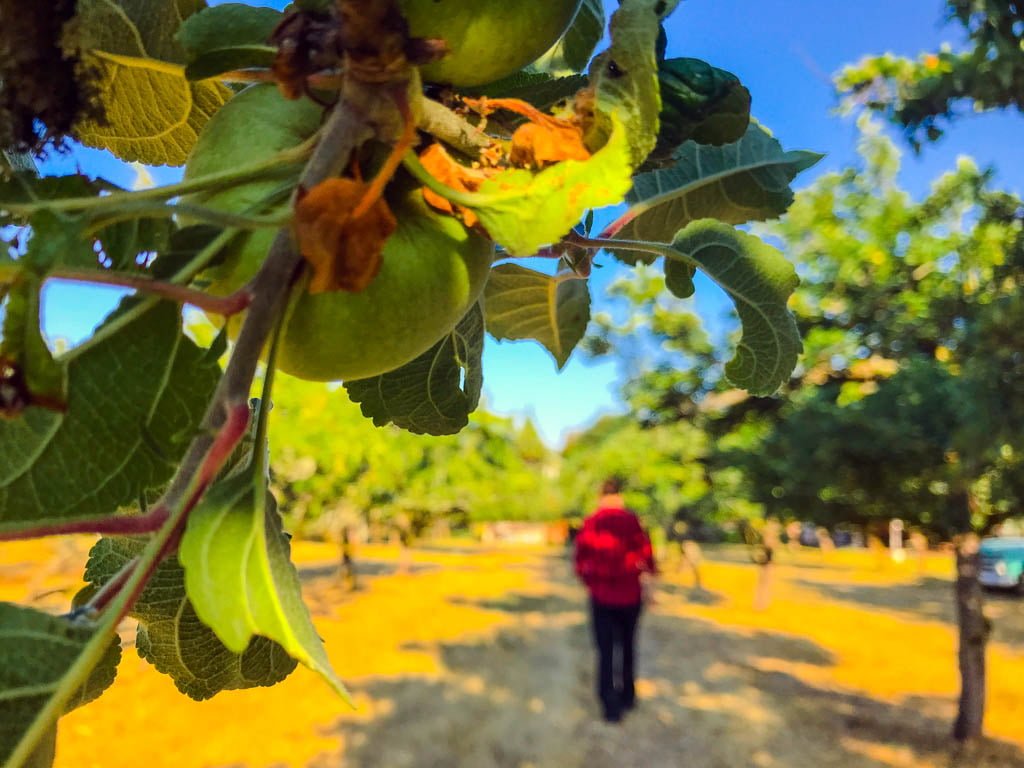 As I woke up the next morning I sat up on the restaurant deck and watched the sun rise over the orchard I sat and did a lot of reflecting. While my trip to Merridale Cidery and Distillery was supposed to be about glamping in an orchard it ended up being so much more. It was a moment to slow down. To taste our food and enjoy the conversation around the table. To not be rushed off to a destination or into checking another item off a to do list. It was a hot bath in a yurt and cuddling with the kids before we all snuggled into bed. It was meeting an inspirational women who proved when passion and purpose collide, amazing things can happy. Thank you Merridale for giving me more than I knew I needed in a glamping experience. Until we meet again…
If you are heading to Vancouver Island, be sure to check out these articles for ideas and inspiration!
Getting Real Close with The Raptors
Ultimate Underground Eco Tour – Caving
Hotsprings, Hiking & Humpbacks in Tofino
Is this a sponsored post?: While we were graciously hosted at Merridale Cidery and Distillery, all of our opinions and experiences are our own.