Have you ever driven between Victoria and Nanaimo without stopping? Us too, but this trip we're moving a little slower and taking time to explore a variety of the areas adventures and attractions so we can get to know the region better. If you're wondering what to do in Cowichan Valley area look no further, here are our top six family-friendly recommendations!
Get Up Close and Personal with The Raptors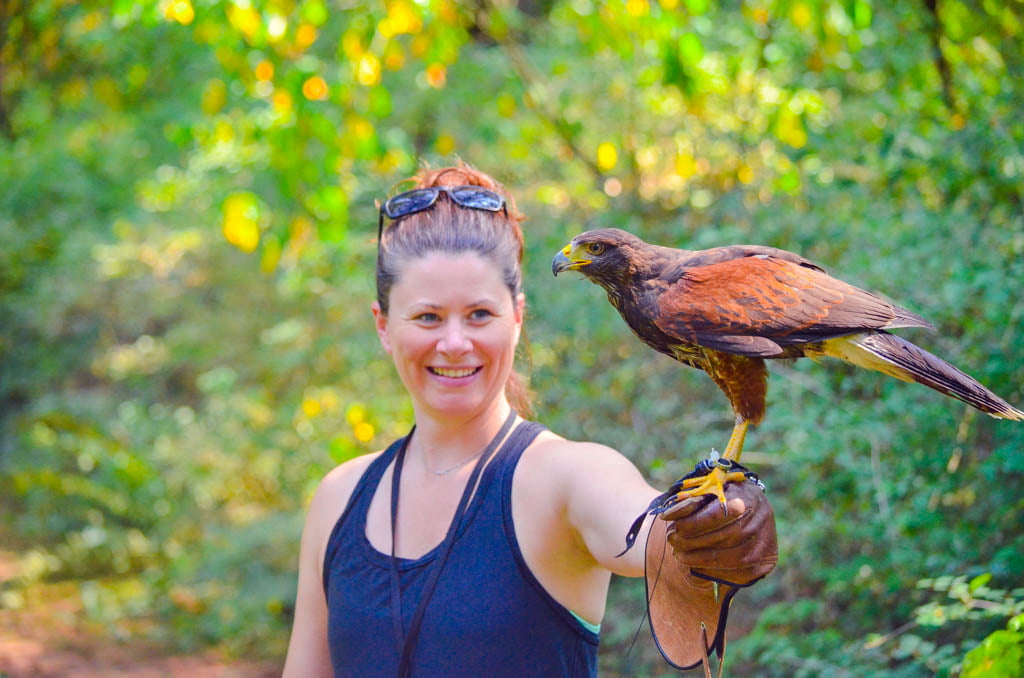 Founded in 2002 with the goal of promoting conservation and education, The Raptors is an attraction that the whole family will be talking about years later. Start your day off with a flying demonstration where majestic birds will fly within arms reach! After that head up to the entrance and get close and personal with one of the residents. Kids will enjoy holding birds of smaller stature while adults get to hold larger raptors such as the Spectacled Owl. We also recommend the hawk walk, where you'll get to experience birds of prey in action in the forest and then welcome them back to you with an extended arm and a treat in your glove. We expected to be there for one hour and hours later we're still exploring!
Explore The BC Forest Discovery Centre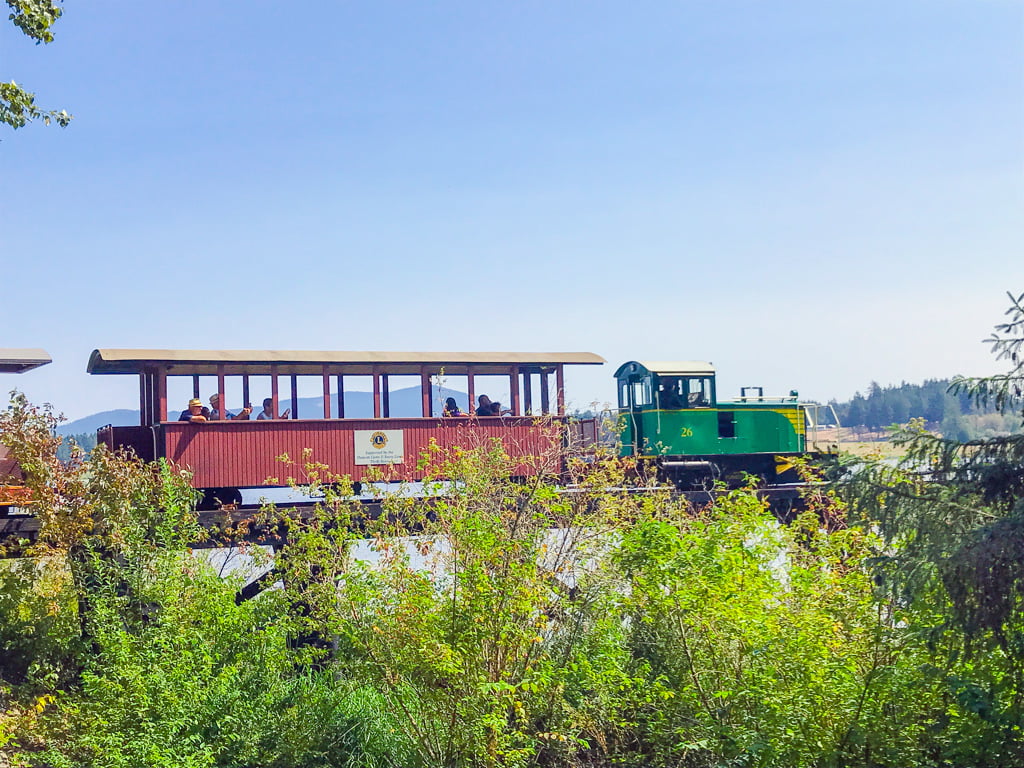 Located in Duncan, this 100-acre property showcases the best of the BC Forestry Industry, including past, present, and future. We turned our trip into an "Amazing Race" style experience with the help of their scavenger hunts! We chose the hardest one and set out on the property trying to find as many clues to help us get all the answers. My kids loved running room to room, exploring what was in there and searching for the mysterious items. I loved all the learning that was happening all while laughing and having fun as a family. Our absolute favourite part (there were many) was the train ride over the lake. (pictured above) To learn more about the BC Forest Discovery Centre and plan your visit check out their website. 
Pose with The World's Largest Hockey Stick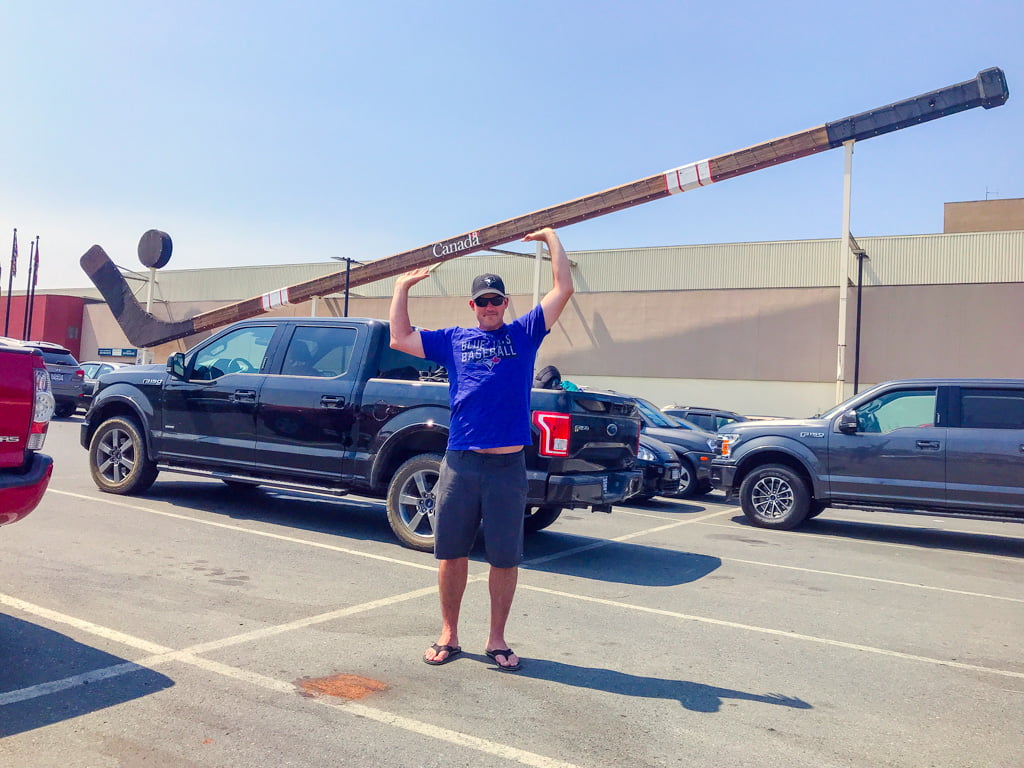 Pose for a selfie with The World's Largest Hockey Stick outside of the Island Savings Centre Cowichan Arena! Originally made for the entrance of the Canadian Pavilion at Vancouver's Expo '86, it was transported to Duncan in 1988 and was authenticated in the Guinness Book of Records in 2010. Check the schedule and take the kids for a swim and a slide down the recreation center's awesome slide!
Search for Totem Poles in Duncan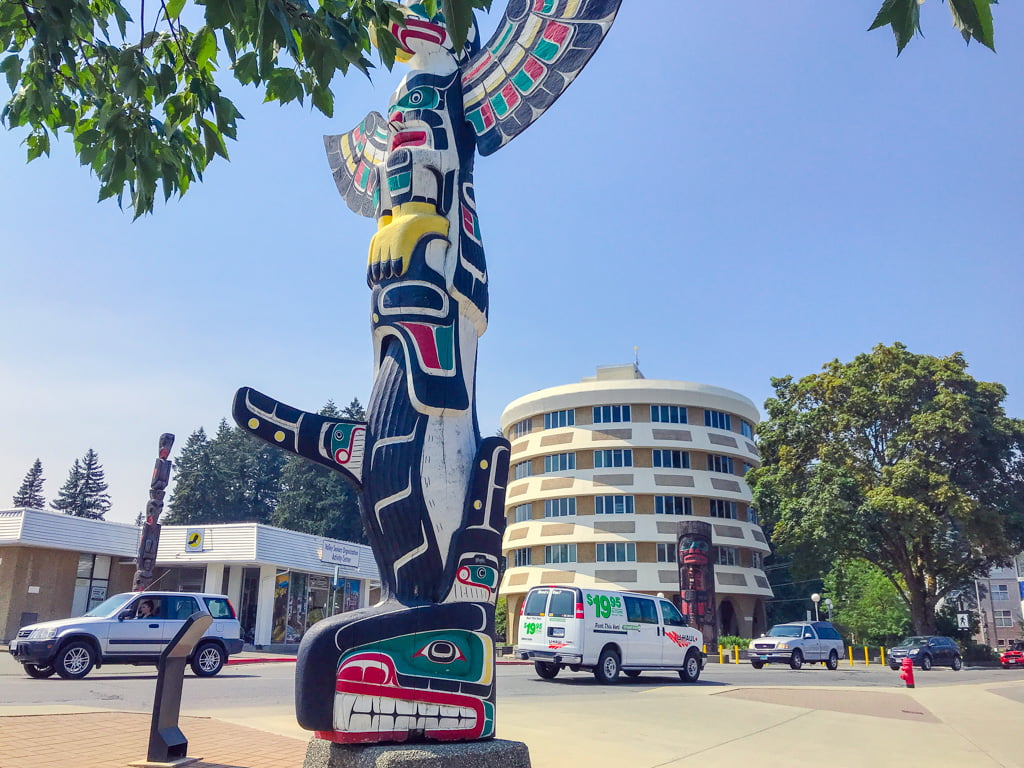 Known as the city of totem poles Duncan has a unique connection between its past and its present as demonstrated by the totem poles on display through the town. While you're strolling down the streets sneak into a shop or two to enjoy some local arts, treats, and eats!
Search for Murals in Chemainus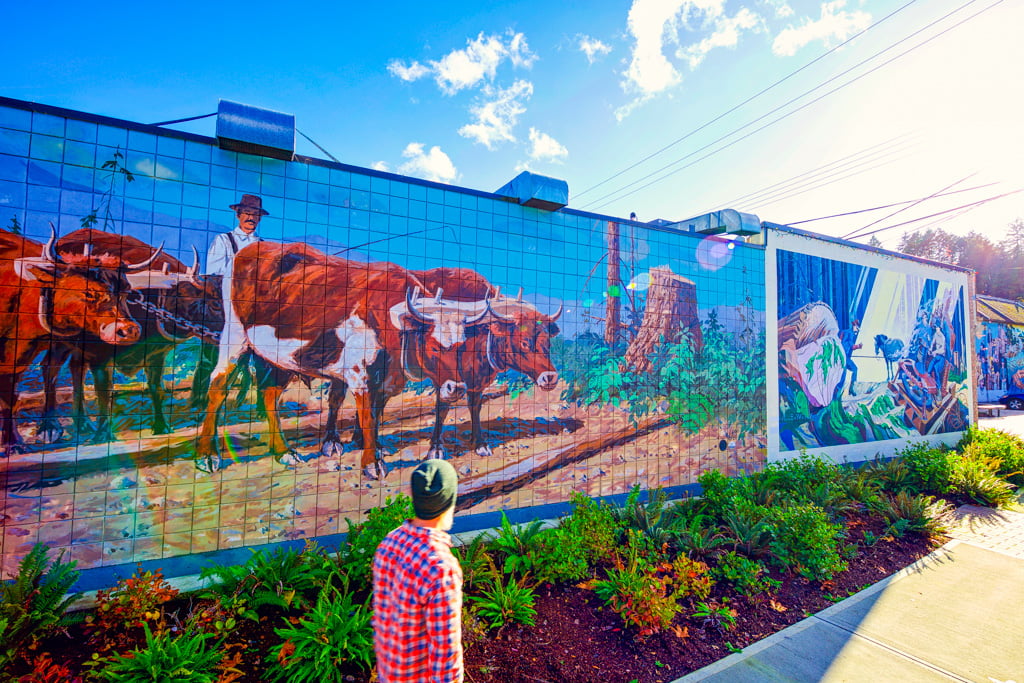 With over 50 murals depicting the history of the region, Chemainus is a place you need to go with no set time of return. Wander through the historically preserved streets and soak in all of the education found in each mural. This is an absolute gem of a town that needs to be explored!
Walk Across The Iconic Kinsol Trestle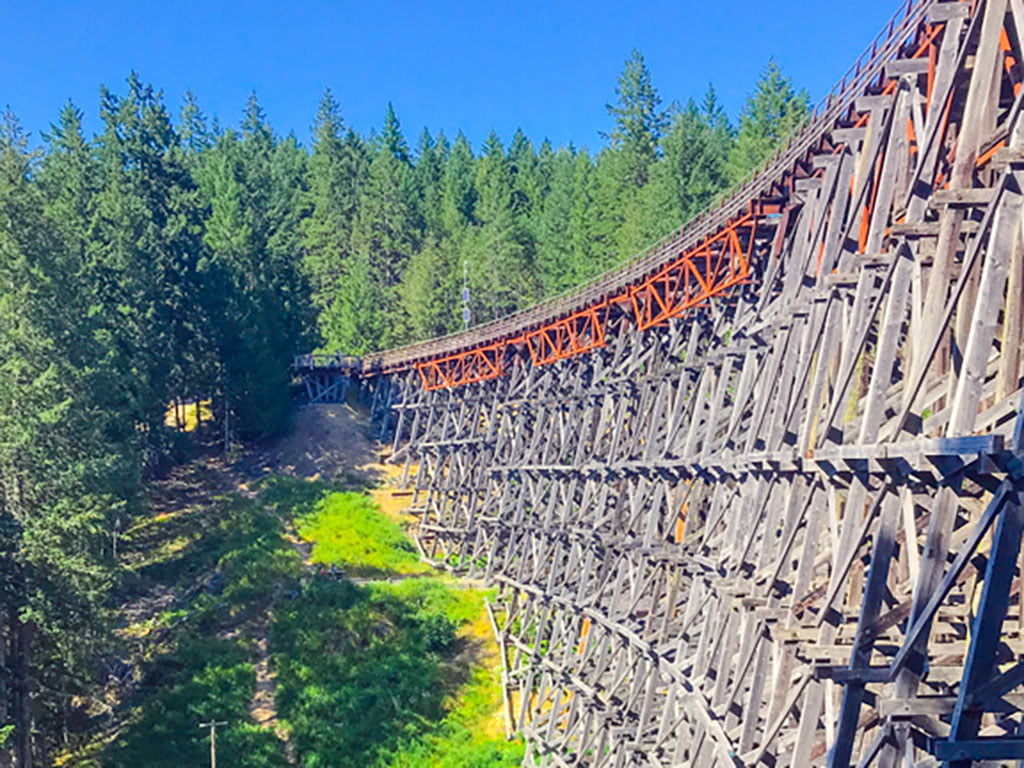 A short 1.5 km easy stroll from the parking lot and you're suddenly standing on an architectural masterpiece as you walk across a slice of BC's history. This is one of 8 trestles along the Cowichan Valley Trail and one of the tallest free-standing and most spectacular all timber rail trestle structures in the world. Standing tall at 44 meters above the Koksilah river, be sure to bring your camera and slowly soak in the amazing view from the Kinsol Trestle!
Chow Down in Cowichan Bay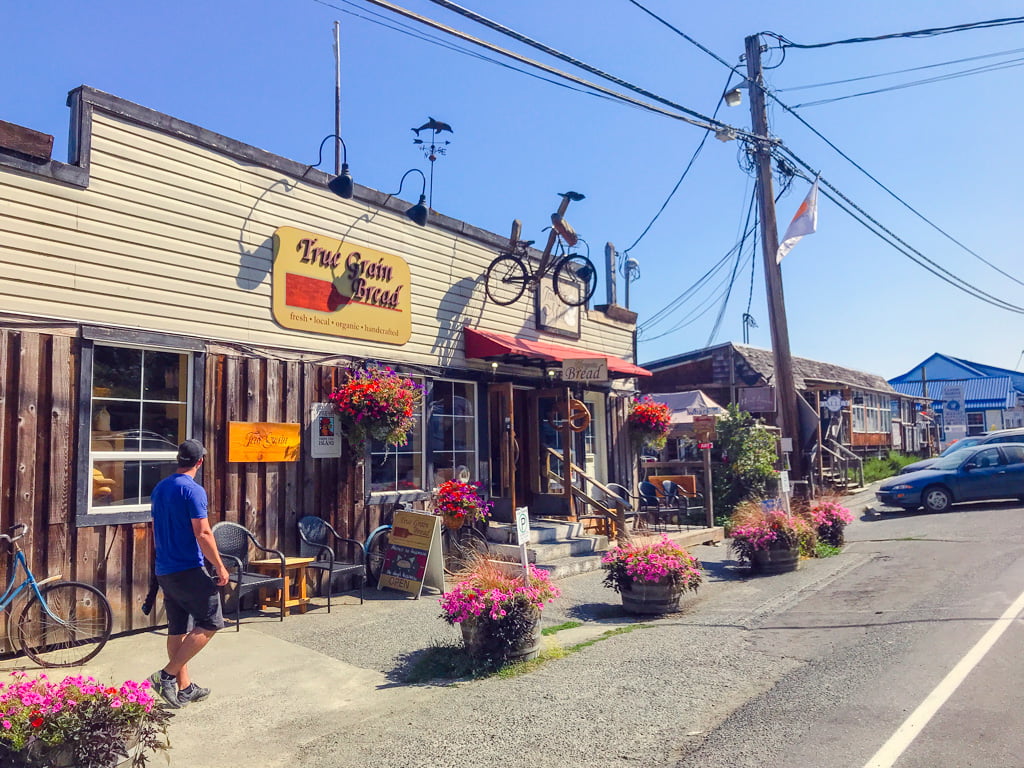 This seaside town is known as the first Cittaslow village in North America. Founded as an offshoot of the slow food movement in Italy, community members believe that a better world starts in ones own community. Seaside living with a variety of restaurants and shops to explore this is a great place to spend a couple hours or the whole day!
Now that you know what to do in Cowichan Valley, check out these other Vancouver Island adventures!
Surf's Up at Tofino Surf School