Dropping the kids off at school was easily the quickest goodbye since September! The weekend we had been planning for over three months was finally upon us. The truck was packed and loaded with mountain bikes, hiking gear and way too much food as we left for our adventure filled weekend in the Okanagan.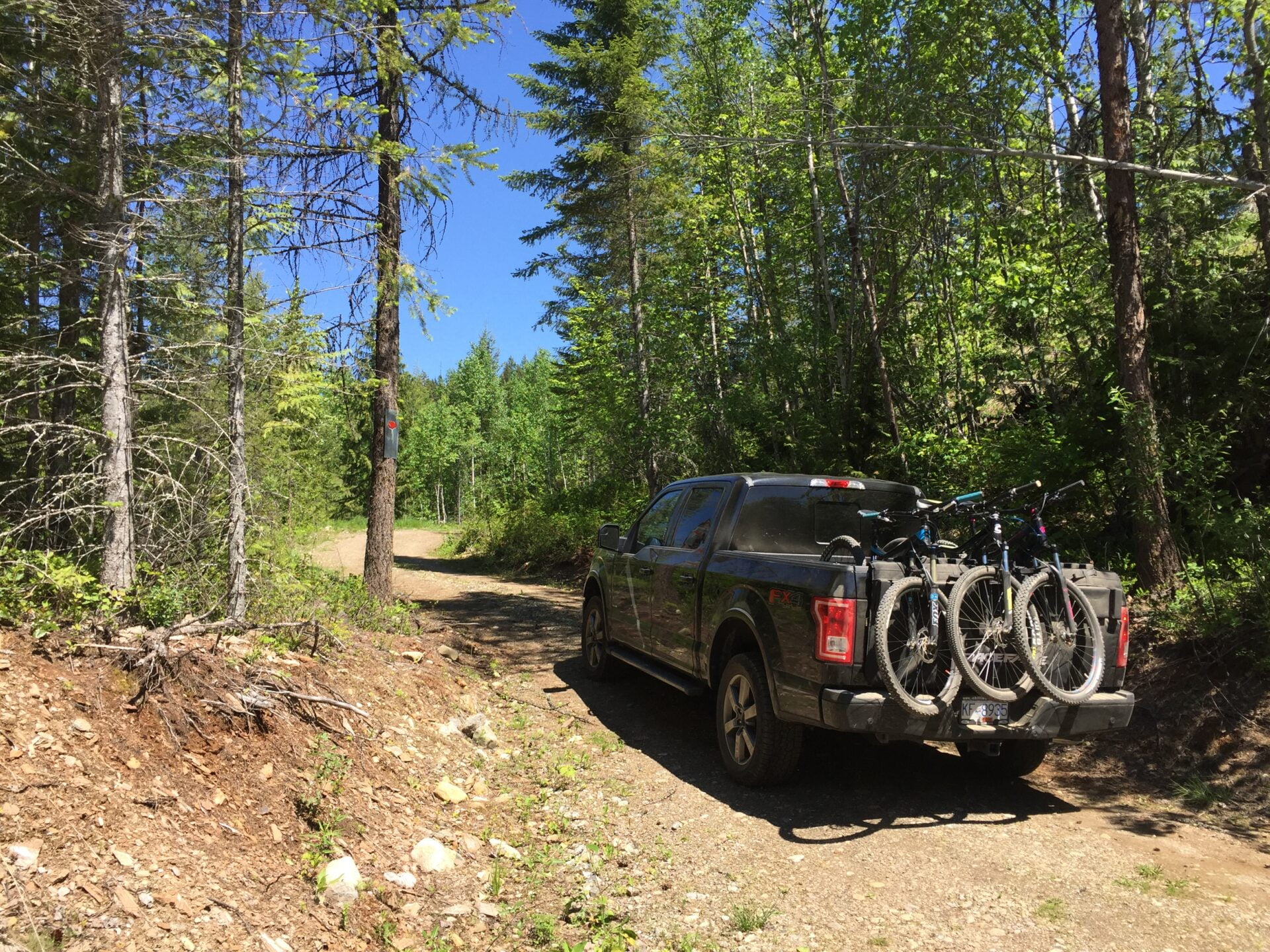 We were invited by Tin Poppy Retreat to come and experience their converted (and expanded) retro/modern camper in the Larch Hills area of the Okanagan. Located on a logging road 24 km outside of Salmon Arm, this eco lodge was a great base camp for an adventure filled weekend away. Tin Poppy is a 1953, 32 foot travel trailer approximately 200 square feet, encased in a modern screened-in, post and beam structure. So you have approximately 1200 square feet of super funky decor in which to relax and enjoy.
What we loved:
Eco Friendly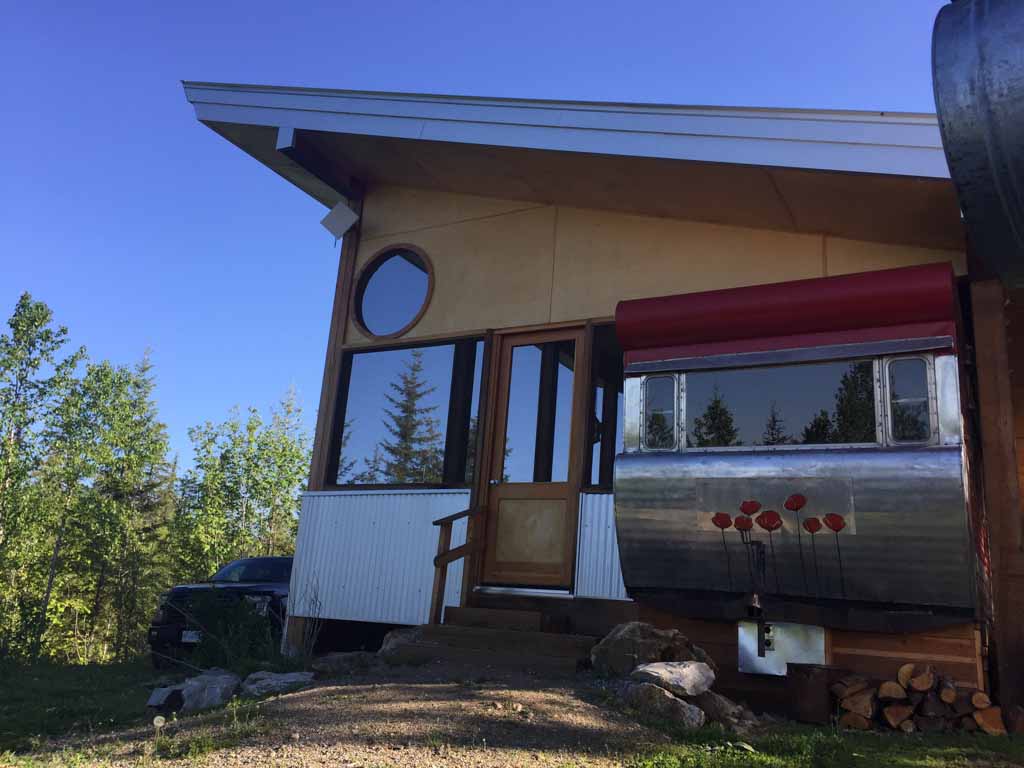 Tin Poppy is 100% Eco Friendly operating completely off the grid, exclusively on solar power. The glampers of our group truly appreciated the modern conveniences of great wifi, plenty of hot water, lots of lighting and a full functioning kitchen all while being able to fall asleep under the stars in comfortable beds and snuggled up under cozy fleece down filled duvets.
Creature Comforts
The owners have done a wonderful job of including many creature comforts such as games, lots of towels and slippers for for the cool mornings. There is plenty of drinking water provided as water from the taps is not recommended  (we brought lots of water bottles and fillables to take on our excursions). You can wear the plush robes provided as you head outside to the shower located just outside the 'camper'. There was lots of hot water and shower toiletries were provided.
Outdoor Shower

The outdoor shower has everything you could need… great water pressure, plenty of room (unlike most camp showers) and an abundance of hot water due to their on demand hot water system. Tin Poppy has even supplied soap, shower gel, shampoo and conditioner should you forget yours at home.
Great Basecamp for Adventure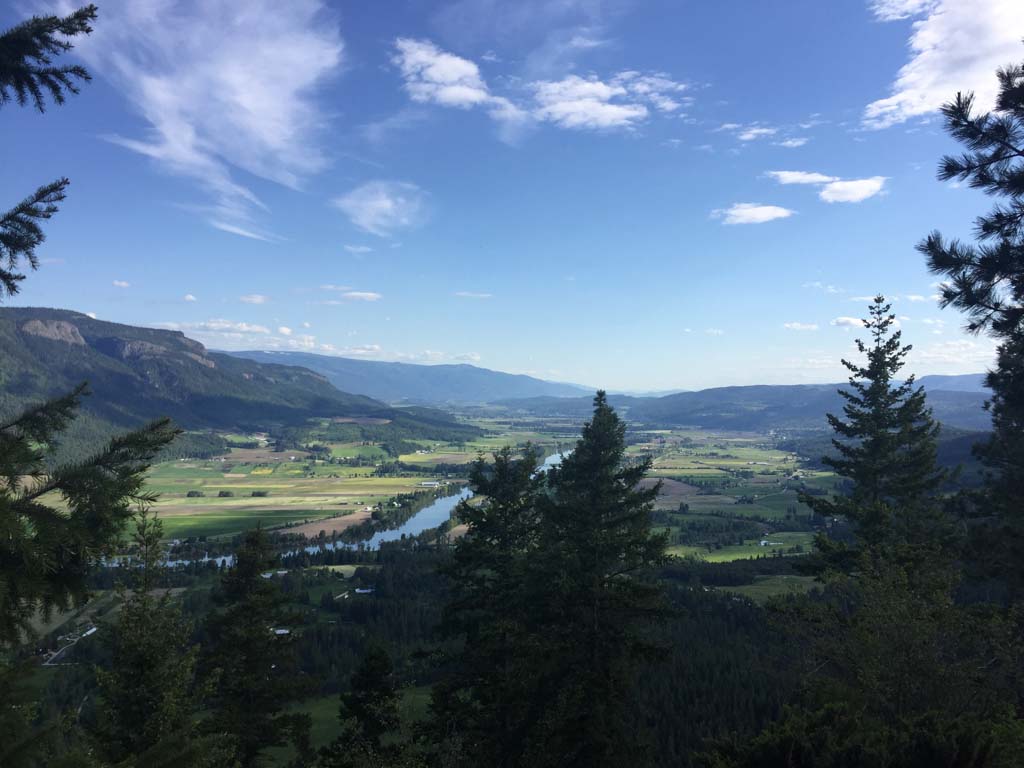 This modern and rustic 'home away from home' is a great base camp for adventure and access to outdoor activities. Located right on your doorstep is a lovely 5 km loop walk along a logging road that brings you to wonderful views of the Okanagan Valley below.  Due to the time of year, the whole area is quite 'buggy' as it's up in the mountains so plenty of insect repellant is recommended when spending time outside of the Glamper.
Outdoor Amenities
The Tin Poppy is also equipped with a six person wood fired Finnish style sauna, a BBQ, and a fire pit where you can chop the wood provided and build the perfect campfire to end your day. Be sure to check fire restrictions before striking a match.
What we didn't love
Tin Poppy is remotely located in the mountain area of Larch Hills so the bugs were out! This is quite typical for the region this time of year but manageable with bug spray. The Glamper itself is very well sealed so we only caught one or two buzzing intruders and no one was bothered through the night. As it is so remote, you need to be planned in your activities and groceries so you aren't spending time drive to and fro. Additionally, a 4X4 vehicle is encouraged for the rough access road.
The last thing we wished for was the opportunity to recycle and compost. It was our understanding that the owners have to bring recycling out to depots themselves so plastics and such we would recommend trying to keep to a minimum.
Suggested itineraries – What our weekend looked like!
Friday Night – Settle in and Relax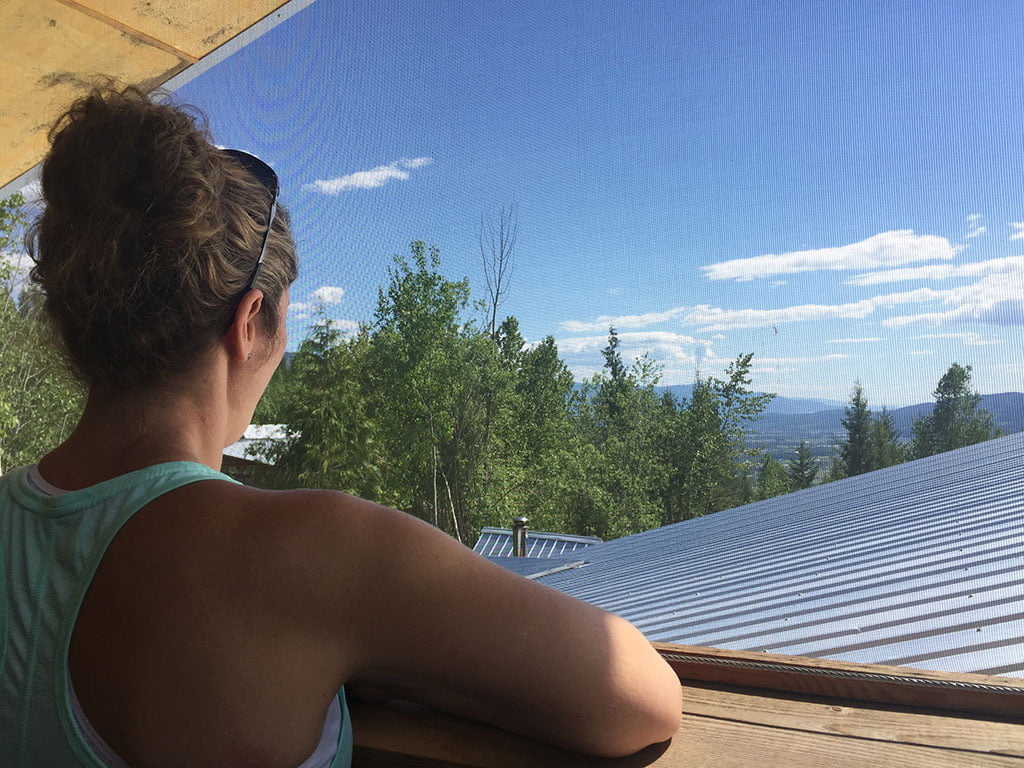 We arrived on Friday afternoon in time to unpack the truck, get settled and enjoy some snacks while watching the sunset from the tower facing the west. We made dinner and hit the hay early as we knew we had a full day of adventures ahead of us tomorrow.
Saturday Morning – Go Biking!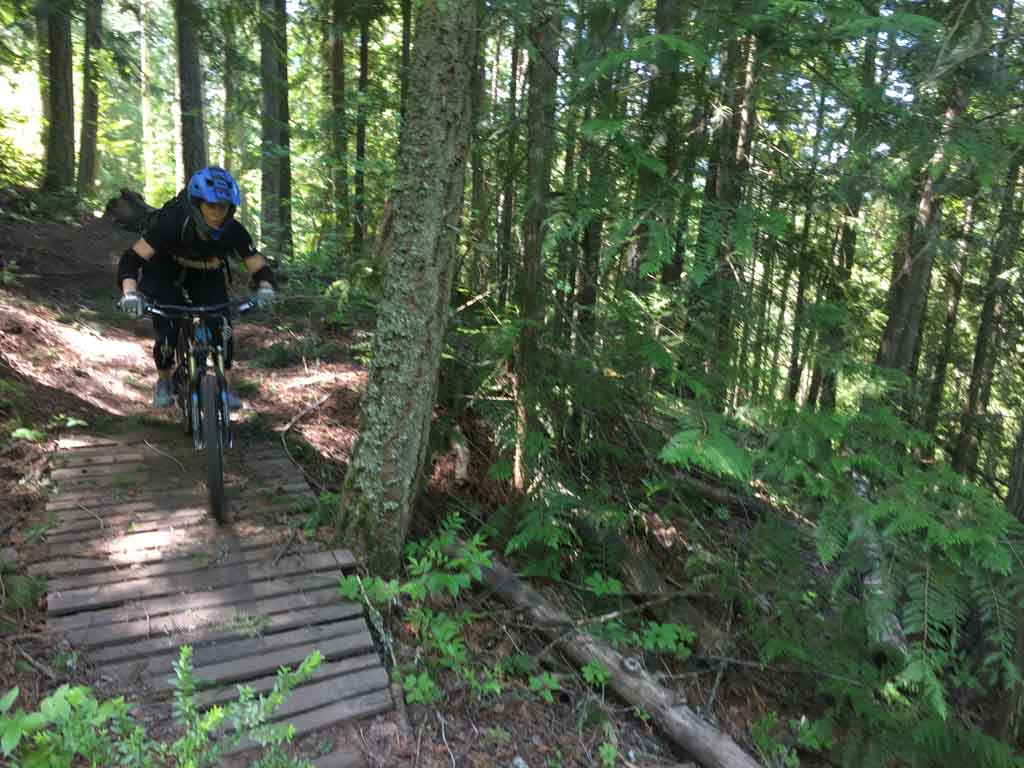 Saturday we woke up early, had a quick breakfast, threw the bikes in and headed out to the South Canoe Trails just outside of Salmon Arm. We rode the Salty Dog Enduro Race loop once using the well marked signs to help us navigate. The trails had lots of challenging terrain but very few obstacles and jumps. We enjoyed 'the Climb' and summiting Rd. #3 but enjoyed tearing down Schitzo and Flying Nun much better! The trails are more in line with a cross country course than the technical and more aggressive runs on the North Shore Mountains.
Saturday Afternoon – Hike your heart out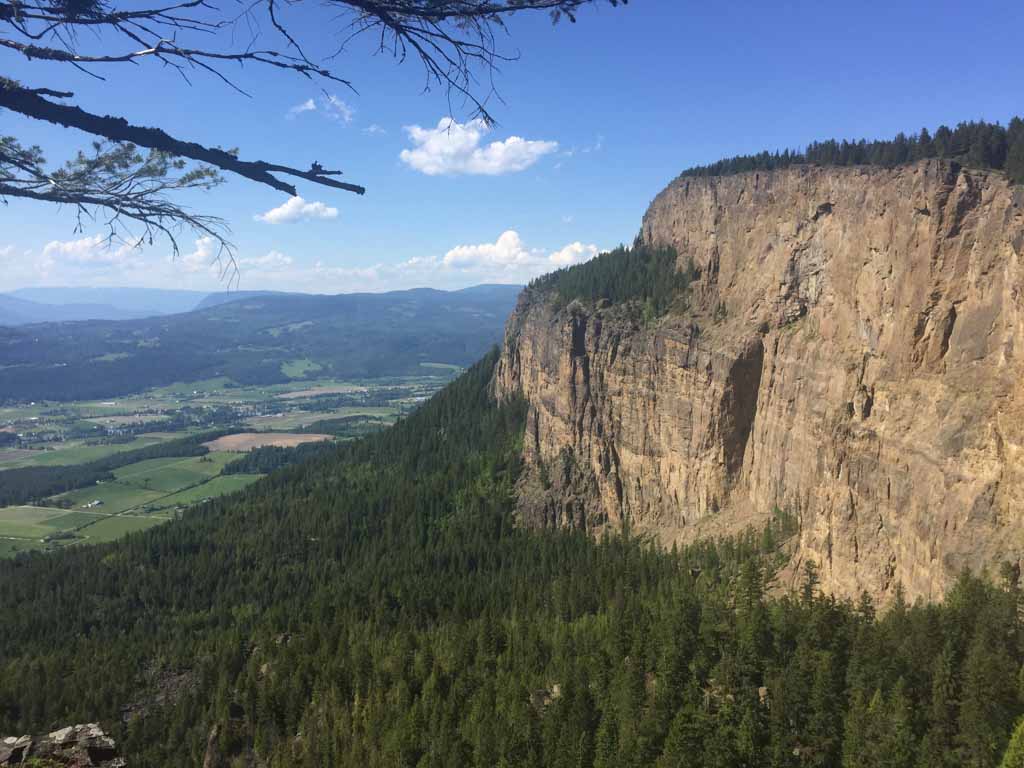 For lunch we went back to Tin Poppy where we dropped off our bikes refilled our backpacks and had some lunch. We set out for the Enderby Cliffs hike a 14 km hike located about 10 minutes from Enderby. It was hot, about 32°, so we would highly recommend the use of a little electrolyte tablets and a snack along the way. The trail was well marked and well used so don't be worried about getting lost. Once at the summit, the views of the cliffs and of the valley are quite breathtaking.
Day 3 – Adventures all the way home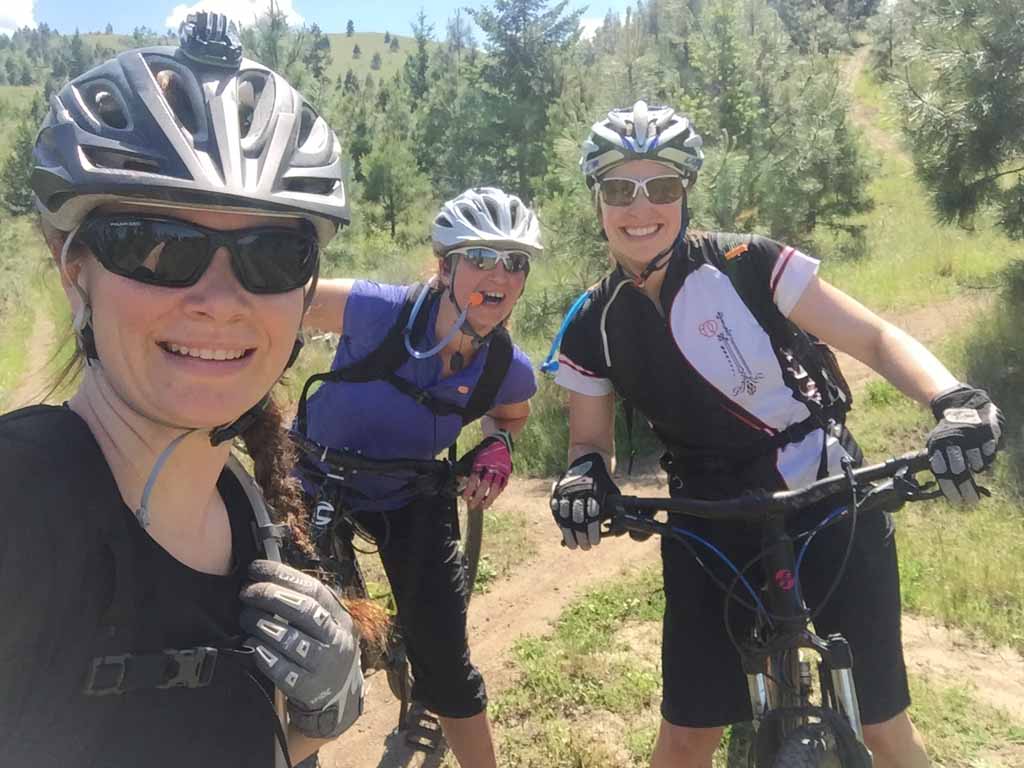 On day three we packed up heading for home with a stop at Kenna Cartwright Park in Kamloops for a quick play in the trails while we still could. The parking lot off of Hillside Drive has maps of the trail system and basic tools to adjust your bike should you need it. Once again we found that the trails were well marked and easy to navigate with not many technical obstacles in our way.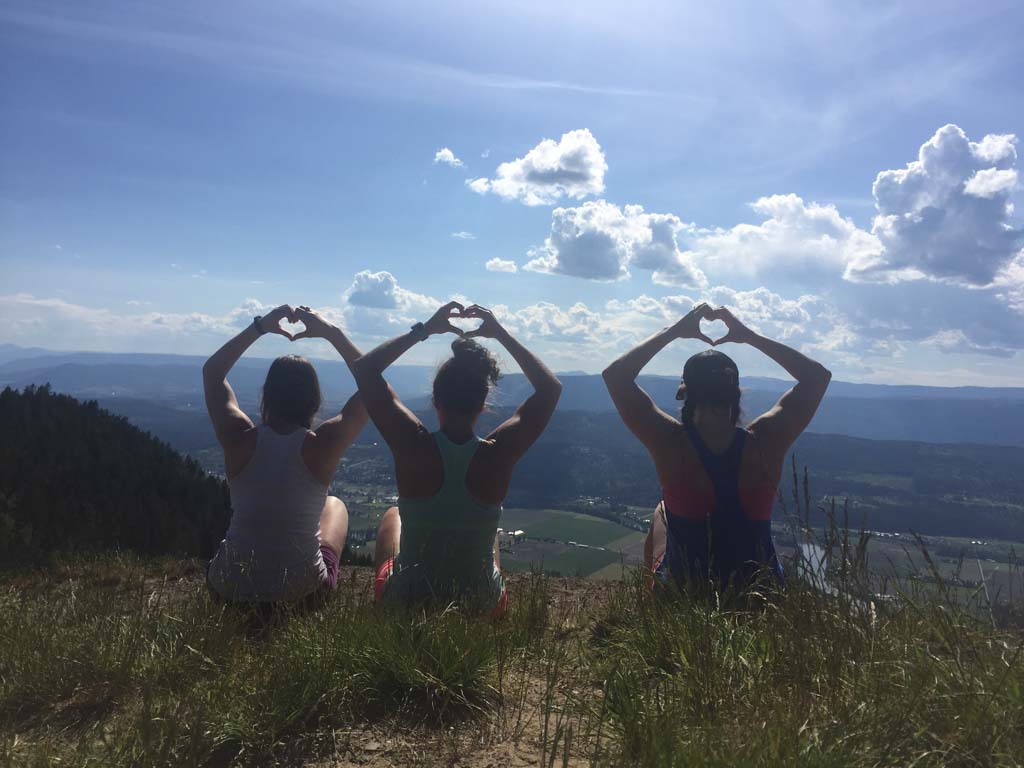 The Tin Poppy Glamping experience was a wonderful way to get outside and reconnect with each other doing what we love. The retreat was welcoming, comfortable, cozy and had us feeling 'chilled out' instantly. The weekend was filled with laughs, thrills and luckily… no spills and had us heading back to our families 'topped up' and refreshed.
To book your own Tin Glamping Retreat visit http://www.tinpoppy.ca
Are you looking for other glamping experiences? Check out:
Is this a sponsored post?: While we were graciously invited up to Tin Poppy for the weekend the stories and experiences are our own and we can wholeheartedly recommend this experience to our followers.