It was a warm fall September day and we were sitting around the kitchen table dreaming of a Whistler girls weekend. The logistics of getting 7 women together isn't easy so we set forth a date and let everyone know to put it in their calendar as a "non-negotiable" must-attend weekend. The months flew by and when June was finally here all of us were buzzing with excitement as we planned the final stages of our getaway.
Our goal was simple, "Whistler, whatever YOU want it to be". We created an active weekend where all members of our group could partake in as many (or as few) adventures that they wanted to. The result? The ultimate Whistler Girls Weekend.
The Destination
I've always had a love affair with Whistler, heck, I was even married there! The town offers the ability to spend all day outside exploring world class destinations with amazing hotels to come home to at the end of an adventure filled day. Unwinding in the hot tub, getting cozy by a fire, refueling with treats and eats, and then a village full of restaurants and nightlife for your evening adventures!
A 2 hour picturesque drive from Vancouver, along the edge of Howe Sound and through the Coast Mountains, Whistler is the ultimate destination for anyone looking to explore the outdoors.
Where to Stay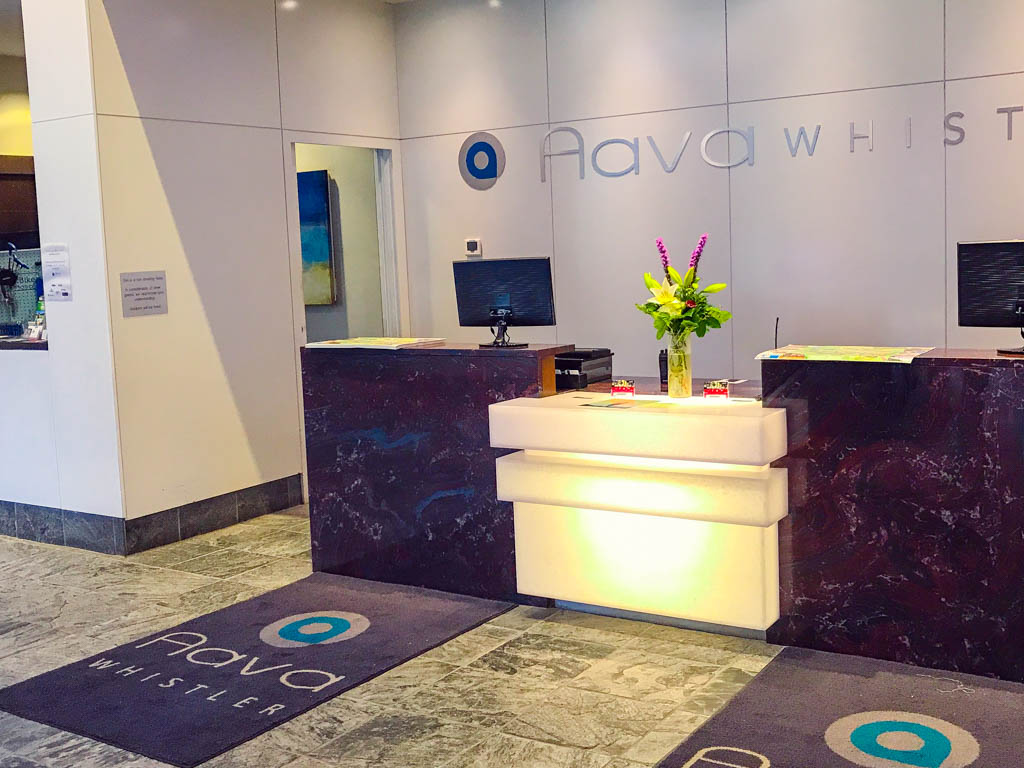 I regularly get asked where to stay in Whistler and hands down my favorite hotel is the Aava Hotel. It's perfect for families, groups, and women's retreats in Whistler! Here's 5 reason this hotel stands out above the rest:
Location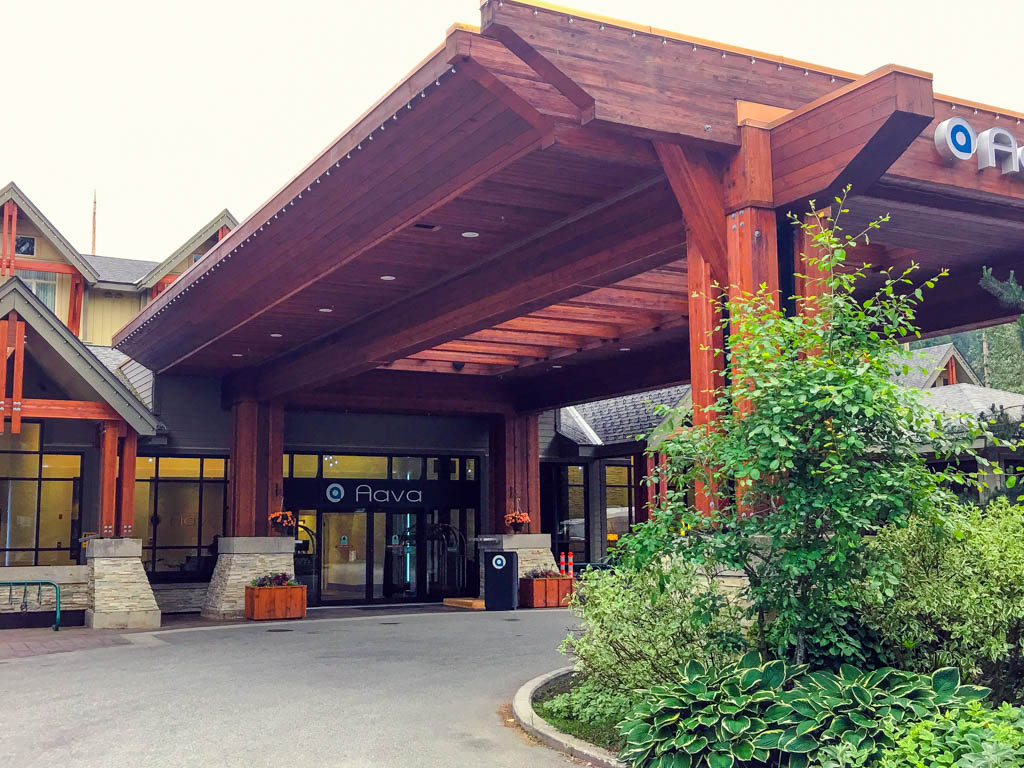 Located 10 feet from the village, this hotel gives you all the conveniences of being IN the village without the noise or foot traffic of actually staying in the Village.
Rooms
The beautifully renovated rooms are larger than many other hotel rooms. We prefer to rent the two bedroom suite which offers two full private hotel rooms on either side of a large communal room. We slept 7 in our room and had plenty of room with 4 beds, 3 bathrooms, large dining room table, and full kitchen! By far the best value and experience you'll have in the village.
Hot Tub & Pool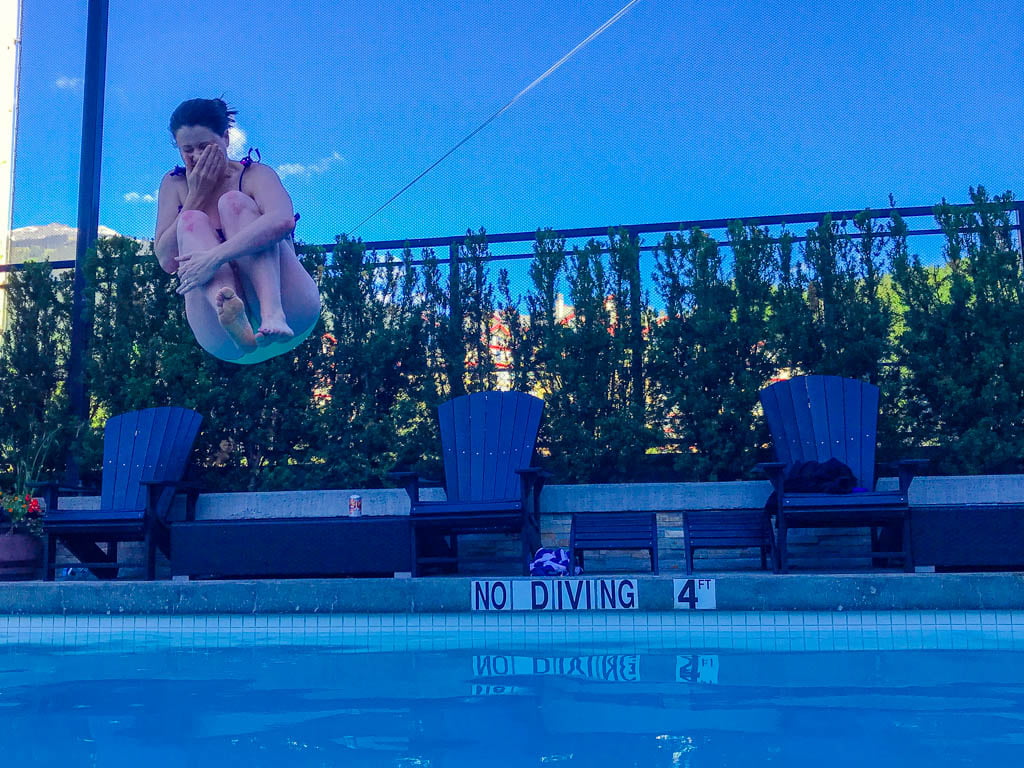 There's nothing like sinking into a hot tub to soak after a long day of hiking and biking. Throw on your bathing suit, cozy into a robe, and hit the deck for some poolside fun (including cannonballs!). When you're all warmed up you can unwind around the fire pit in the big comfortable loungers. If you've got a big group you can also use the deck side long table and cook your own dinner on the BBQ! So many outdoor entertaining ideas!
VIP Treatment for Mountain Bikers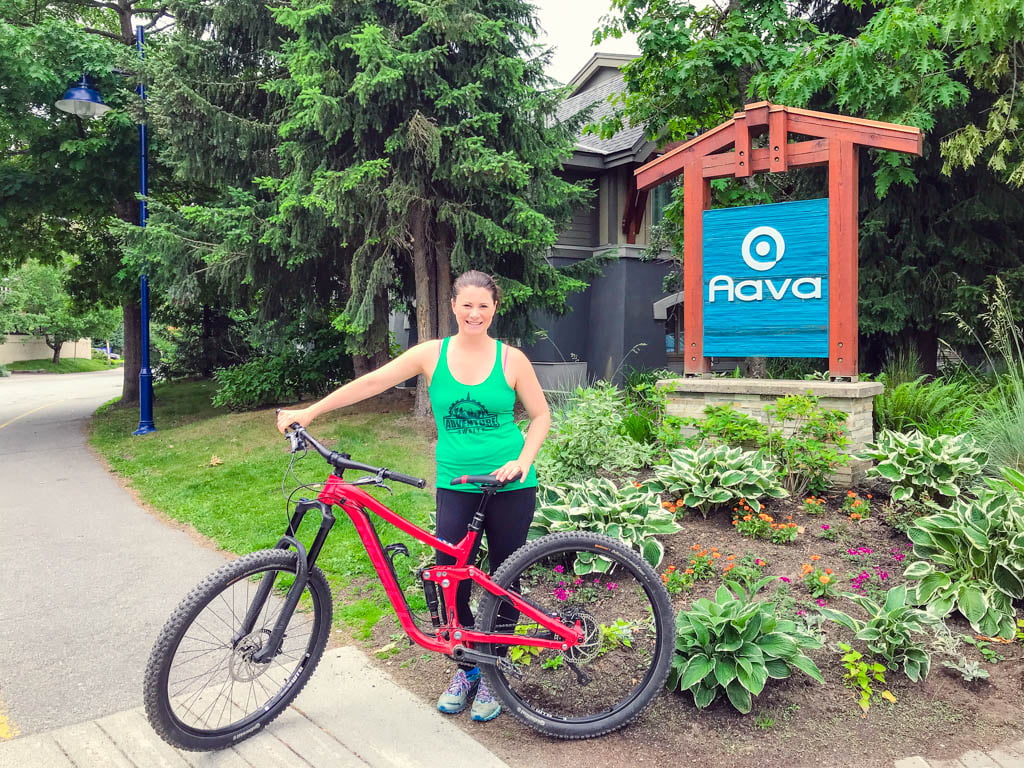 The moment you pull up to check into the hotel, your bikes are given white glove treatment. The bike valet team carefully helps you unload your bikes, tags them and takes them down to a secure storage until you're ready to hit the park. Not only that, but they have all the tools and cleaning stations you could need, and fun extras like free go pro rentals to capture all your adventures! Check out more about why we think the Aava is the best hotel for mountain bikers here.
Malin + Goetz Shower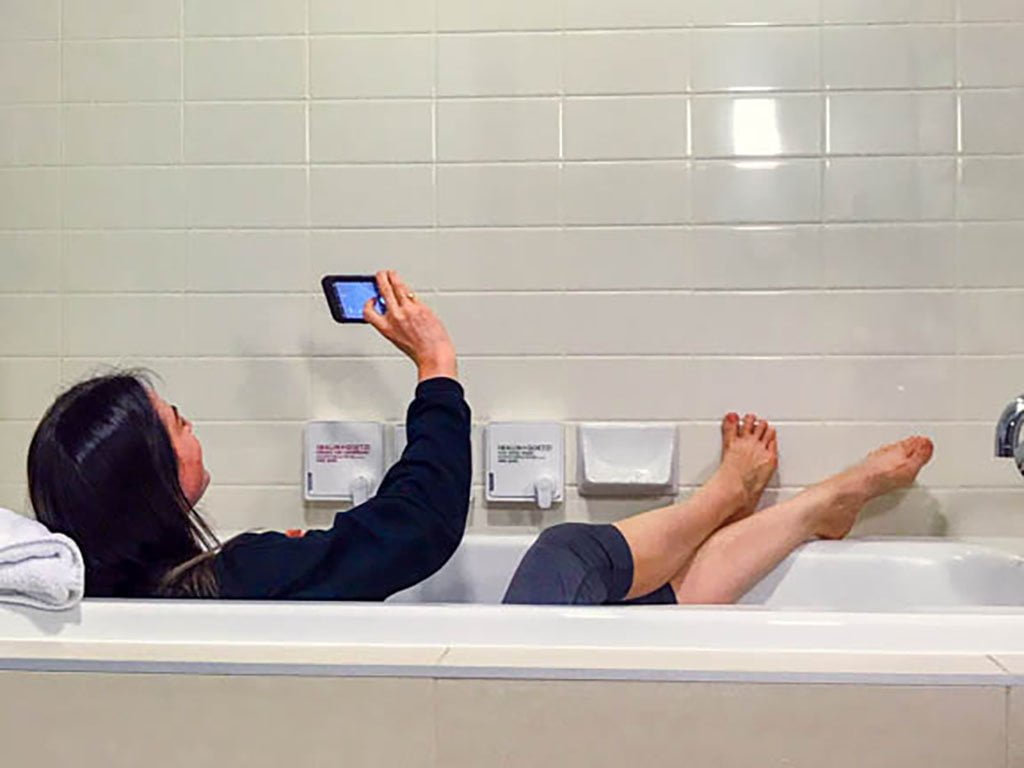 When it was time to get cleaned up and ready to head out, we all really enjoyed the Malin + Goetz products. These aromatic products, designed for sensitive skin, left us all with soft skin and smelling great! We also loved that the products were directly installed into the shower, meaning less waste, no little bottles and also no limits on if you needed a bit of extra conditioner for long curly hair!
What to Do
We quickly coined the hashtag for the weekend as #WhistlerOurWay and wanted to cram as much outdoor adventures into our weekend as possible. This meant an action packed itinerary and everyone could partake in as many, or as little adventures as possible!
Morning Cruise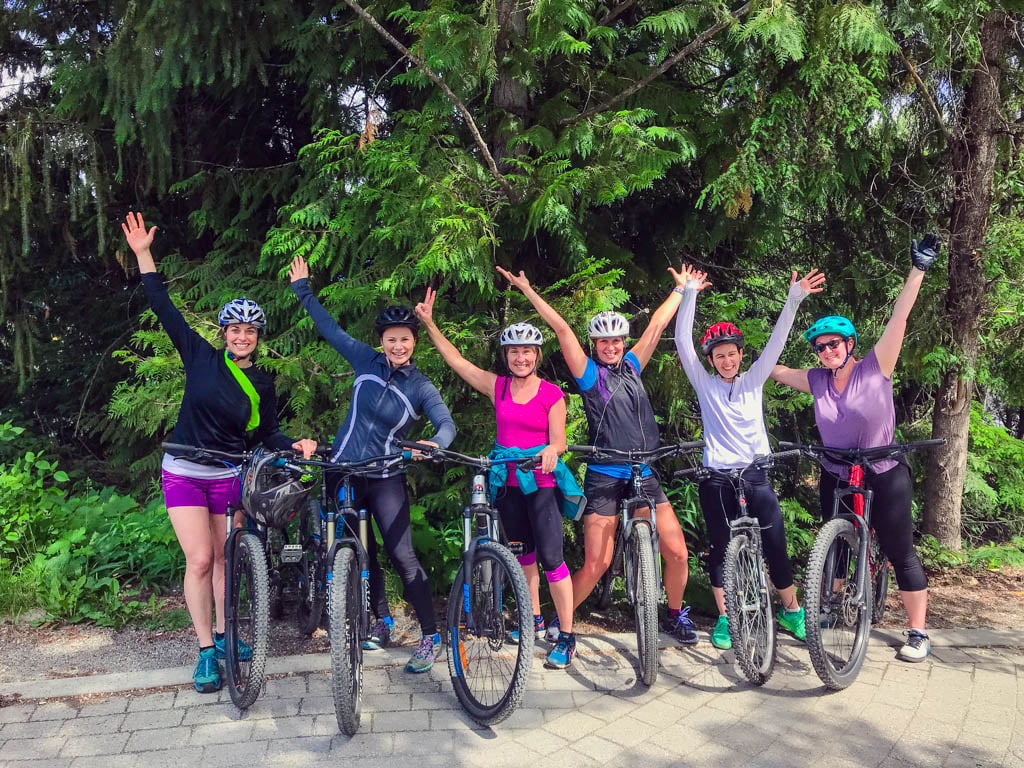 To get us warmed up for our adventures, we took advantage of Aava's free bike rentals and went on a quick one hour loop around Lost Lake. Whether you use Aava's free bike rentals or need to rent your own bikes, the local riding is well marked and easily accessible for beginner bikers (and yet scenic and fun enough for riders of all levels). The trails are well marked and you could spend the whole day exploring different areas around Whistler if you wanted to.
Tip: If Aava doesn't have any rentals available (as they are first come first serve), we highly recommend heading over to Gateway Bike Rentals. They are one of the most welcoming businesses I've ever been into and will quickly get you on the right bike for your day!
Hike to See the Sights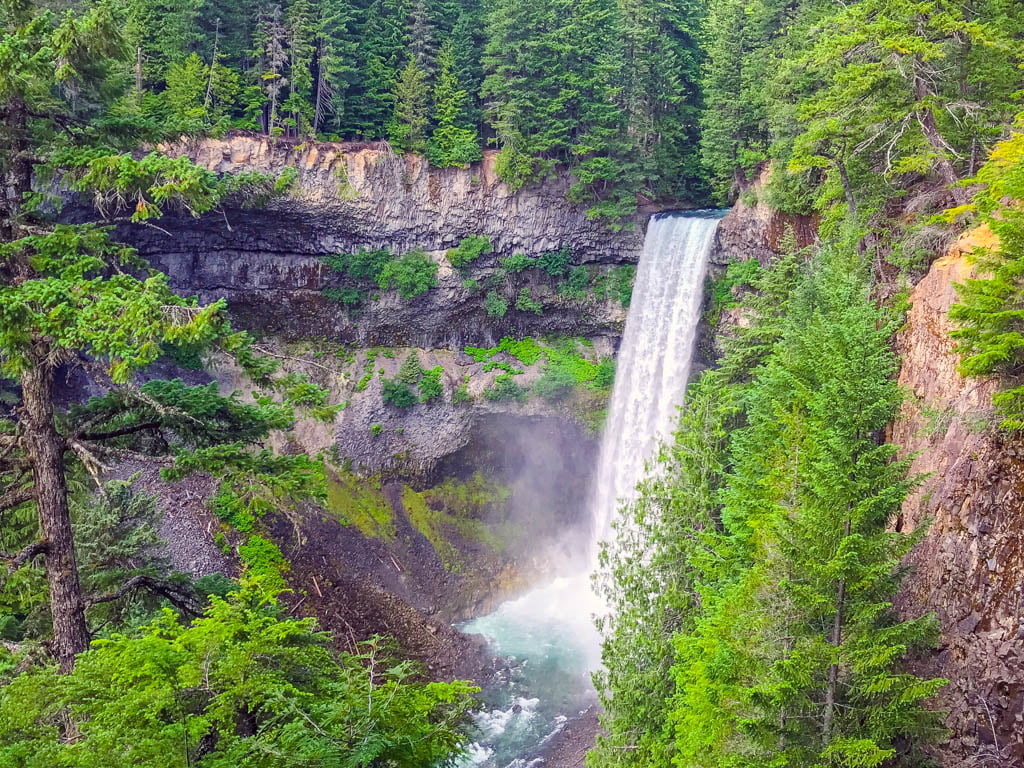 We took a stroll through the Brandywine Falls Provincial Park, first checking out the stunning 70 meter waterfall. Next we passed through several different eco systems and trekked up to a large bridge which acts as base camp for Whistler bungee jumping. It was the perfect spot for a quick refuel and some people watching as they threw themselves off the bridge! We continued to walk up to the suspension bridge at the Cal-Cheak Recreation Site and then did a loop back towards the falls. While it wasn't a challenging hike, as there was very little climbing, it was a long loop which covered 10 km and took us about 2.5 hours.
Tip: Be prepared! It was really hot, especially in the areas where there was no tree cover, so make sure you're wearing sunscreen, have food and water and your essential ten items.
Whistler Bike Park
"I thought I'd spend a lot more time being scared, instead I spent the whole day having fun!" ~Sarah. Sarah is an intermediate rider and the thought of riding the Whistler Bike Park was somewhat intimidating, but she was willing to try it anyways! After getting up there and seeing how many accessible trails there were, from "easy down" greens, to blues and blacks, the progression of being able to comfortably go at your own pace made for a fun day!
Tips:
#1 – Know how to change your own tire! I popped mine and had to get help… lots of people are very kind and willing to help, but I should have been more self sufficient.
#2 – Know your bear safety rules. We shared the bike park with a local bear and while it was not confrontational at all, we still wanted to give it lots of space and make sure that we were respecting it and its environment.
#3 – Wear Gloves! One of the most challenging things about going to an all downhill park is the vibration on your hands and how much you burn out your hand muscles from gripping the brakes so hard. Rent or buy gloves if you're heading into the park!
Retail Therapy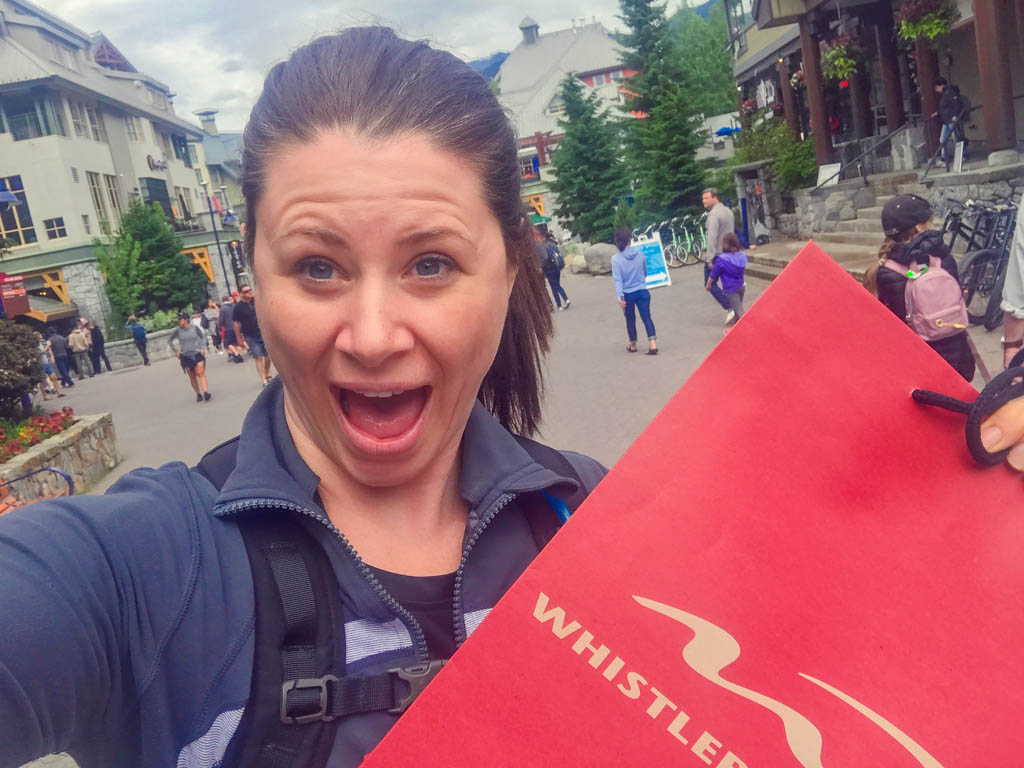 After we had showered off the bug spray, sunscreen and dirt, we headed into the village for an afternoon of retail shopping. I love hanging out in the stores with all the mountain biking gear and picking up a few things for my kids and my husband. The other ladies loved being able to shop at stores like Lululemon, The Gap and Roots and found some amazing sales! When we weren't shopping on our Whistler girls weekend we had fun in the village window shopping and people watching!
Food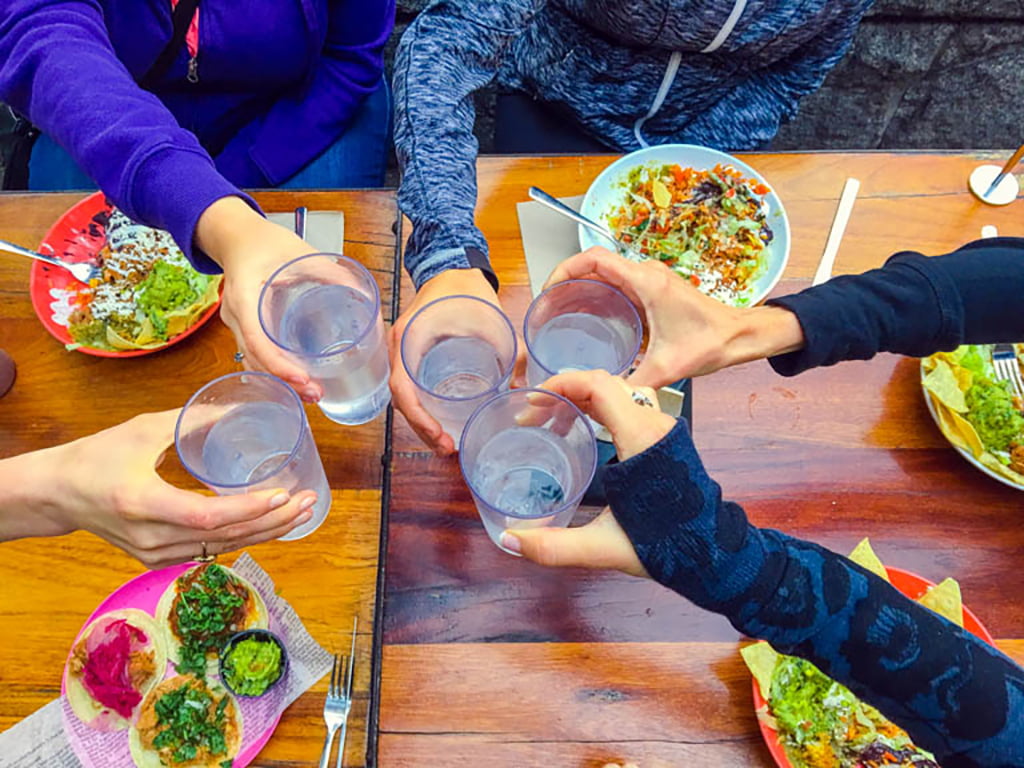 With so many restaurants and eateries to choose from, there truly is something to satisfy all tastes. We found an amazing Mexican place for dinner on the Friday when we arrived for our Whistler girls weekend. And while some of us hit the Whistler Bike Park on our last morning in Whistler, the other ladies enjoyed their relaxing morning by having brunch on a sunny patio while people watching and reminiscing about the adventures from the day before, all while reconnecting with each other.
Dinner and Dancing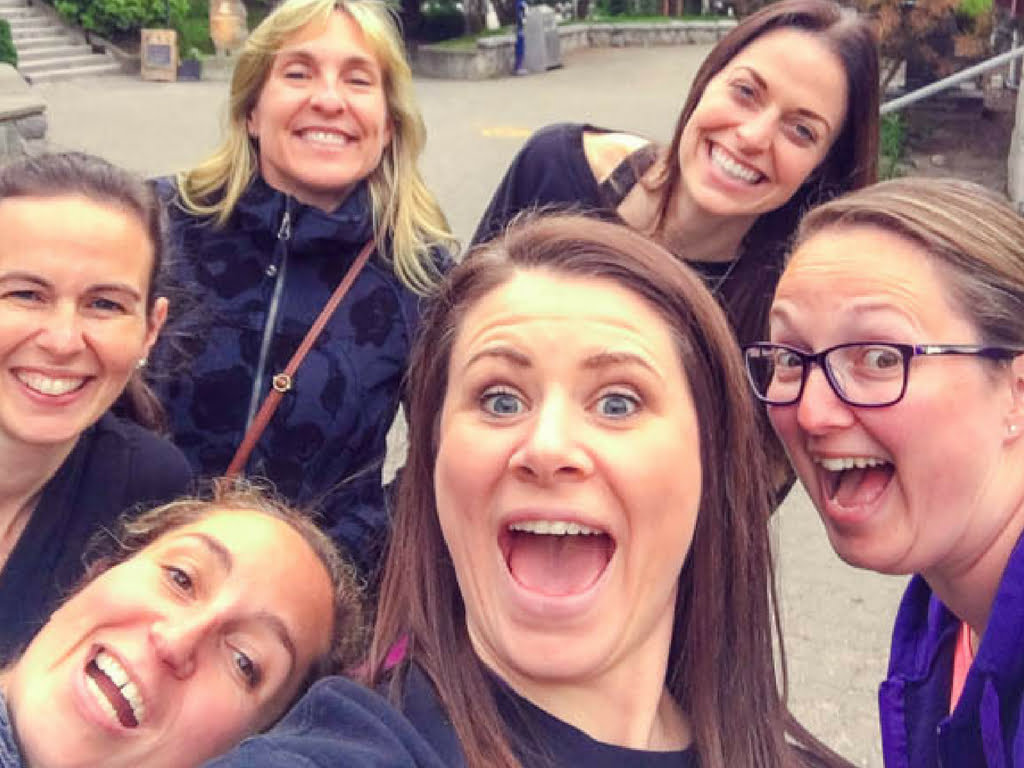 On Saturday night we were in full girls night out mode! We all left our phones at the hotel and headed over to Stonesedge for some delicious local food and then down to Buffalo Bills for some dancing. We ended up being on the dance floor for 2.5 hours (even though it felt like 20 minutes) as the DJ was amazing and kept the dance floor packed all night long!
Let's Be Honest… Getting Away Isn't Always Easy!
While we all knew that we WANTED to do a Whistler girls weekend, being able to make it happen can sometimes be a whole other challenge. Especially for business owners and moms, making the time to get away can seem like an impossible task. When we were putting together this blog and interviewing everyone who came out, we all felt the need to emphasize the value of why weekends like this are so important and also provide you with tools on how to make it happen.
Why Women's Weekend Getaways Are Important: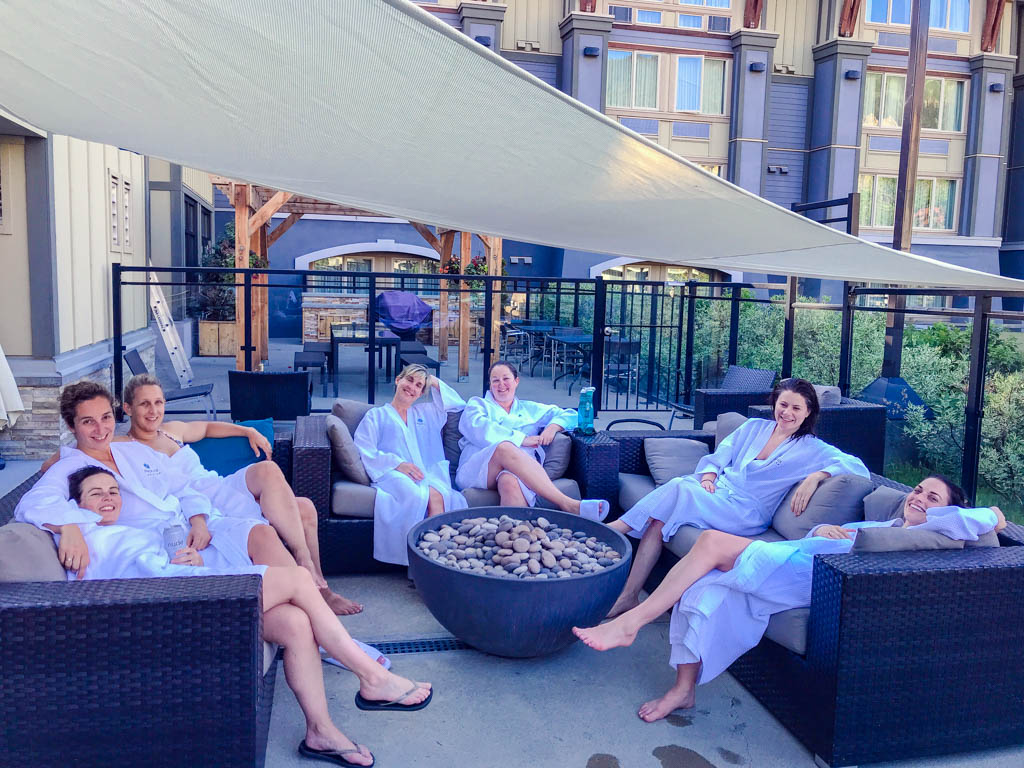 In today's society we are all too busy, have too much on our plates and not enough time for recreation or socialization. Getting away from our daily lives allowed us to:
Relax and rejuvenate

Socialize without interruption

Be physically active

Get in some downtime – including sleeping in!

Be away from home

Take part in fun, different, and inspiring activities

Reconnect with nature

Build relationships with your tribe – We all know that it takes a village to raise a family, to run a business, and to thrive. This weekend away allowed us to deepen our relationships with each other, invest in each other and lift each other up.

Role model for our children – We know the benefits of socializing for our children but often don't prioritize it for ourselves. Being able to show our children that we have friends and a social life, and making time for it is truly practicing what you preach. It is showing your kids that maintaining positive friendships are just as important as an adult, as it is as a child.
How to Plan Your Own Successful

Whistler Girls Weekend

:
Plan Ahead – Seems obvious, but with peoples busy schedules, get your dates picked out and set in stone as early as possible.

Carpool – Start your adventures as soon as you leave home. This is more environmentally friendly and allows you to share in the excitement of getting to your destination together. If you can't carpool or someone has to arrive late we recommend taking the bus up. With the centrally located bus loop and a lot of direct bus lines, it makes for a cost effective trip.

Bring Food – We loved staying at the Aava where we had a kitchen in the hotel room and could do potluck breakfasts, appies, drinks, and more together. This saved money and made for a more social, laid back trip.

"Free" Activities – Hiking, biking, exploring local destinations, Whistler has a LOT of free activities for women to explore.

Guilt Free – When we first started going on adventure weekends many Mom's felt guilty. Guilty that they were leaving their kids. That they were spending money on themselves instead of their family. That they were inconveniencing family and friends with childcare. Guilty that they should be working or cleaning their house. After going on more and more adventures, we all realize that this investment is so important and we want to empower other women to make time for more adventures in their lives.

Find Your Tribe – Whatever it is you love to do, find your tribe so that you can do more of it in your life. Whether it's being outdoors like me, or crafting, or bowling… find people in common so that you don't miss out on those opportunities to follow your passion!
We all left this weekend feeling relaxed, energized, reconnected, grounded, empowered, and grateful and returned back to our families and businesses refreshed and inspired and ready to tackle daily life again. We are all still buzzing from the epic weekend we had in Whistler and we are all looking at our calendars and brainstorming our next adventure filled weekend away!
Want to see more of our Whistler girls weekend? Check out this video!
Have you gone on a women's weekend away? Where did you go? We'd love to hear your suggestions!
Thinking about your next girls trip? Check out these articles for planning inspiration!
Rugged River Rafting Princesses
Girls Gone Glamping – Tin Poppy Retreat
Top 5 Adventures for a Girls Weekend
Is this a sponsored post?: While portions of our Whistler girls weekend were graciously sponsored, all of the reviews are our own. We truly know the value of women taking time for themselves and wanted to share our ideas so other women have the tools to plan their own weekends away with the girls!