The cameras' shutters were going off faster than fireworks on New Year's Eve, each operator pointing in a different direction off different sides of the boat. We were surrounded by a group of curious Beluga whales, as visitors to their home, they welcomed us with songs from below the waves. The "canaries of the sea" would spend the next two hours zig-zagging around the boat, diving under us, and even following us from behind, just as curious about our existence as we were about theirs, as we experienced our family tours in Churchill. Just as much as I was sharing this unique viewing experience with my son, they too were bringing up their babies to see what all the excitement was about.
Disclaimer: While I share my own thoughts and stories about these experiences, should you click on the affiliate links, I may receive a small commission on that sale which helps fund Adventure Awaits.
And this excitement was only our first adventure with Frontier's North Adventures on their Belugas, Bears, and Blooms Summer tour. Frontier's North Adventures was founded in 1987 and was one of the first providers of adventure tours to the Churchill Region. Their passion has evolved over the past 35 years and they remain leaders in acting as a force for good to support the communities and environments in which they operate in. Now, a certified B Corporation, they are leaders in sustainable travel and regenerative travel, meaning when you travel with Frontiers North you can know that your tourism dollars are investing in the most ethical way to travel.
Benefits of Booking Packaged Family Tours in Churchill
When booking the Belugas, Bears, and Blooms tour with Frontiers North, who offer family tours in Churchill, the benefit is that it is an all-inclusive experience, including the flights to and from Winnipeg. This also means that every detail is included with your package, including hotel stays before, after, and during your trip, all adventures, and activities, a door-to-door shuttle experience in between each adventure as well as all meals (excluding alcohol), plus a few special surprises in between. This luxury trip allows you to be professionally guided by expert leaders in an incredible destination all while not having to worry about any of the logistical details (as a Mom I absolutely love this style of travel experience). Click here for more information and to book your Classic Night Churchill Polar Bear Adventure.
How Your Vacation can be a Force for Positive Change
The long-term benefit of booking a Summer Beluga Tour with Frontiers North is how your tourism dollars will be a part of Frontiers North Adventures' commitment to regenerative travel. Regenerative travel is a way of thinking about tourism that prioritizes the health of both people and the planet. Unlike traditional forms of tourism, Regenerative Travel leaves places better off than before visitors arrived. It is based on the idea that travel can be a force for good, and that everyone – from tour operators to travelers – has a role to play in making this happen.
Benefits of Booking your Experience with a Certified B Corporation
Frontiers North is Canada's only Certified B Corporation. B Corp Certification is a certification awarded to businesses that meet rigorous standards of social and environmental performance, accountability, and transparency. The certification is administered by the non-profit B Lab. To become certified, a business must first complete a detailed assessment of its impact on all stakeholders, including employees, customers, suppliers, the community, and the environment. Once the assessment is complete, the business must make changes to its governance structure and operations in order to align with the B Corp Declaration of Interdependence. The certification process is ongoing, and businesses must recertify every three years to maintain their status. B Corps are part of a global movement of people using business as a force for good. There are currently over 2,700 certified B Corps in more than 60 countries.
Belugas, Bears, and Blooms Family Tours in Churchill Overview
How to Get to Churchill Manitoba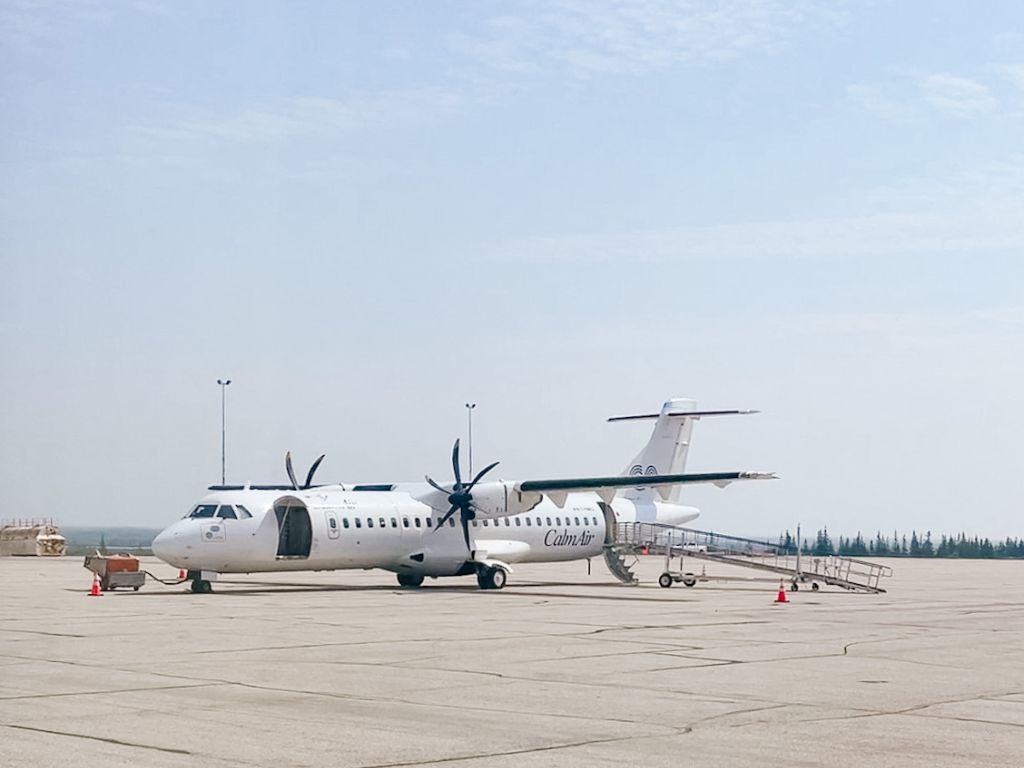 Can you fly to Churchill Manitoba?
Churchill Manitoba is located in the north of the province, on the west coast of Hudson Bay. Churchill Airport is served by Calm Air with flights from Winnipeg that take 2 hours and 15 minutes. Frontiers North runs their own charters during Churchill's peak polar bear season which departs from Winnipeg, Calgary and Montreal. Churchill is also the northern terminus of the Hudson Bay Railway, which offers passenger service from Winnipeg with VIA Rail on a 2-day, 2-night experience.
Can you drive to Churchill Manitoba?
The town is only accessible by plane or train, so road trips are out of the question.
Can you drive from Winnipeg to Churchill?
There are no roads from Winnipeg to Churchill so explorers will need to commute via Plane or Train.
The Frontiers North Welcome
Meet your Crew – Welcome Night Dinner and Adventure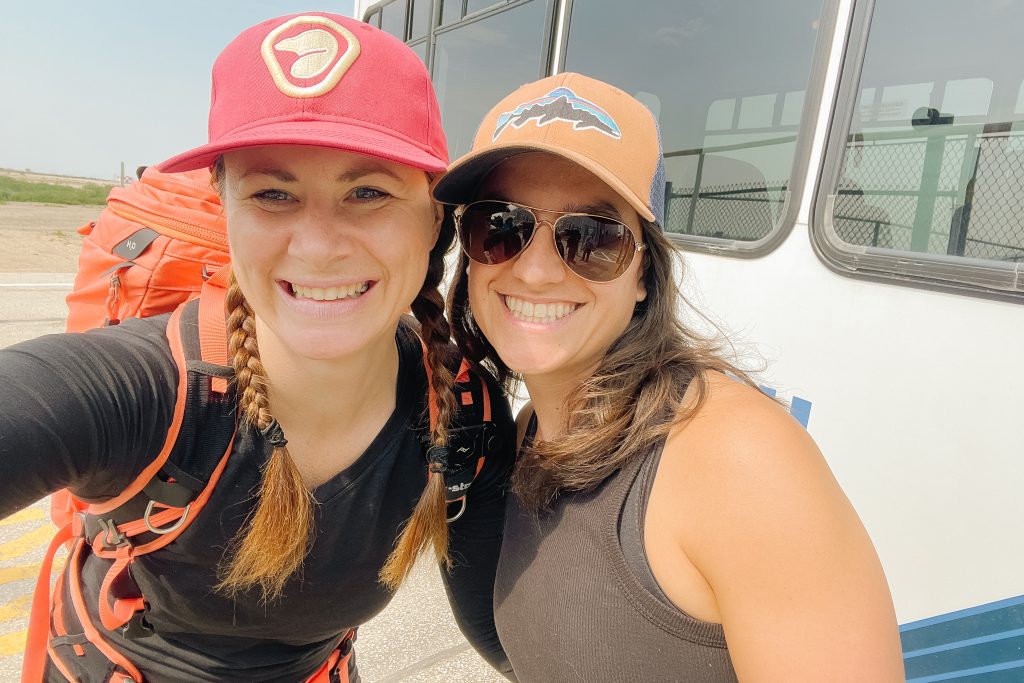 There are 2 key benefits to travelling with a group, being led by local experts and making new friends with fellow travellers. In order to kick off this intimate experience Frontiers North welcomes guests to a "Welcome Dinner" in your hotel restaurant, where you get to meet your Interpretive Guide, get your fun name badges and detailed itineraries, as well as fuel up on great food before you head off on your evening activity.
All aboard! Once you are ready to head out you'll join the Winnipeg-based Trolly company on a two-hour tour through the streets of Winnipeg. One of my favourite tours of our whole experience was a fantastic way to see the city and hear all the behind-the-scenes stories about famous people and places that make this region so special. My favourite stop was the Back Alley Arctic Murals, click here to read a full story and see all of the images that this artist created.
Welcome to Churchill!
After touchdown, your private driver will welcome you at the airport to collect your bags and load up your Frontiers North excursion bus to take you around Churchill to get your first sights of this unique town.
Polar Bear Holding Facility in Churchill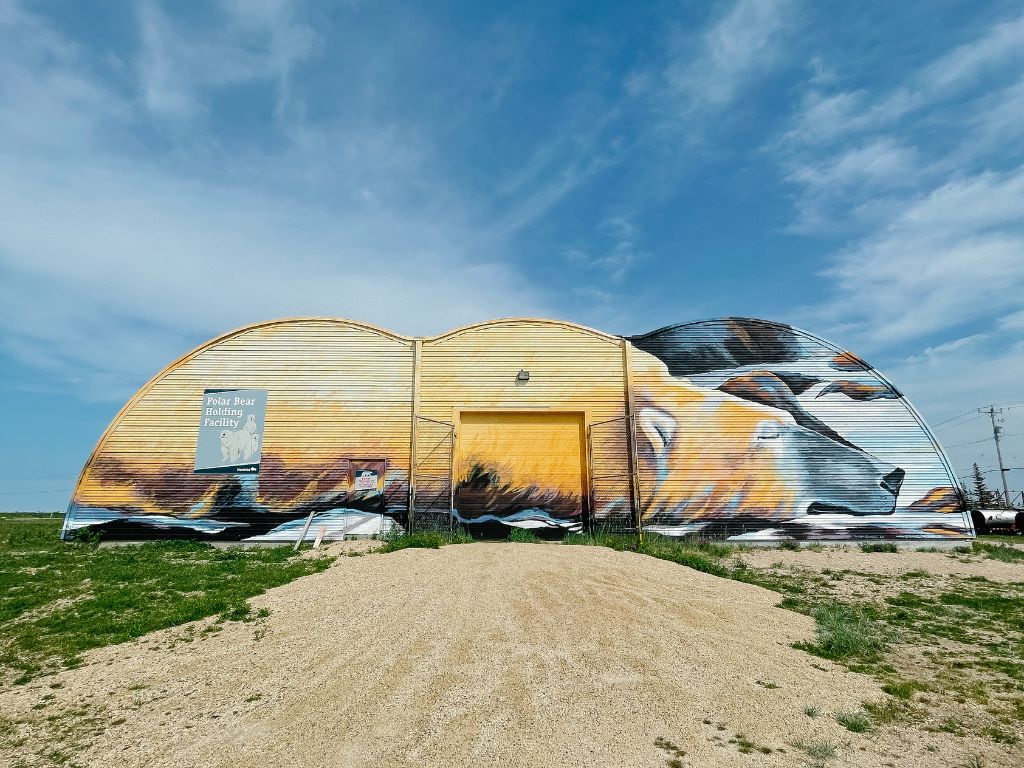 The Polar Bear Holding Facility in Churchill, Manitoba is one example of unique animal protection practices allowing bears and humans to cohabitate in this world. Every year, hundreds of polar bears congregate in the Churchill Wildlife Management Area, the Polar Bear Capital of the world. While the Polar Bears are a top tourist attraction, they can also pose a danger to residents and visitors alike. As a result, the town has built a holding facility where polar bears who are repeatedly cashed from town can be safely contained. They are then placed "in jail" (also known as a timeout) and then relocated north of the town or out onto the frozen tundra. This practice has deterred bears from coming back into town and has helped keep both safe.
While visitors are not invited inside to see any of the bears in time out, the outside of the building has an incredible painting by the artist Kal Barteski where she used the outside of the building to create an image looking like the bear is laying down. It's an incredible piece of art that showcases the uniqueness of the region so well.
Miss Piggy Plane Crash Site
The Miss Piggy plane crash happened on November 13, 1979. The plane was carrying a total of nine people, including six American tourists and three crew members. Shortly after takeoff, the plane hit a flock of geese, causing one of the engines to fail. The pilot attempted to turn back to the airport but was forced to make an emergency landing in a nearby river. Thankfully, everyone on board survived the crash and the plane still remains there today for visitors to check out. Stay close to the bus and don't wander too far into the rocks as it's a known area for bears to hang out and they could easily be hiding in the rocks.
SeaWalls Mural Project
The SeaWalls Mural Project was an ambitious undertaking that will see the creation of a series of large-scale murals in the town of Churchill, Manitoba in only three days. The project was spearheaded by Manitoba artist Kal Barteski, who enlisted the help of several other talented creators. Put into motion after the train was cut off, these murals brought brightness and hope, showcasing Churchill's rich history and vibrant culture to life through the art.
The Churchill Inukshuk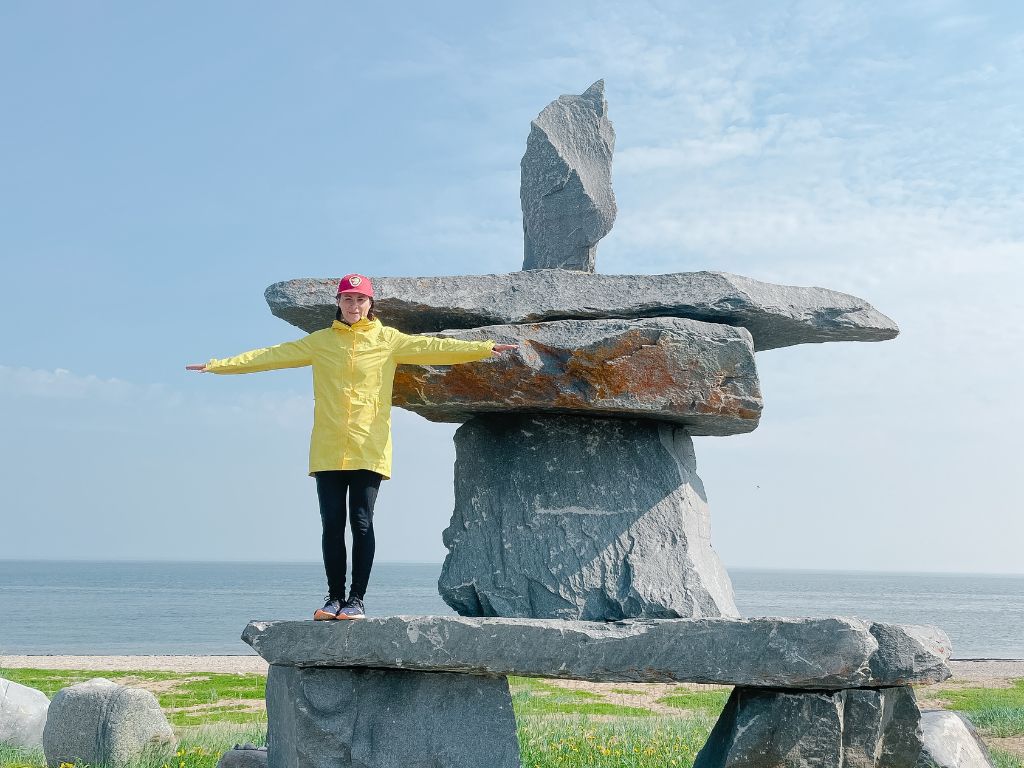 The Churchill Inukshuk is a massive stone sculpture that towers over the town of Churchill, Manitoba. The sculpture was created by an Inuit artist and stands 18 metres tall. The Inukshuk is a traditional Inuit sculpture that has been used for centuries as a navigation tool. The word "Inukshuk" means "in the image of a human" in Inuktitut, the language of the Inuit people. The Churchill Inukshuk looks out over the Hudson Bay and is a popular place for visitors to come and take photos. Stopping here for photos was a highlight on our family tours in Churchill.
Interesting fact: The provincial border is at the tideline of Hudson's Bay. So if you walk down to the shore and stick your toes in the chilly water you'll technically be in Nunavut as well as Manitoba at the same time!
Cape Merry National Historic Site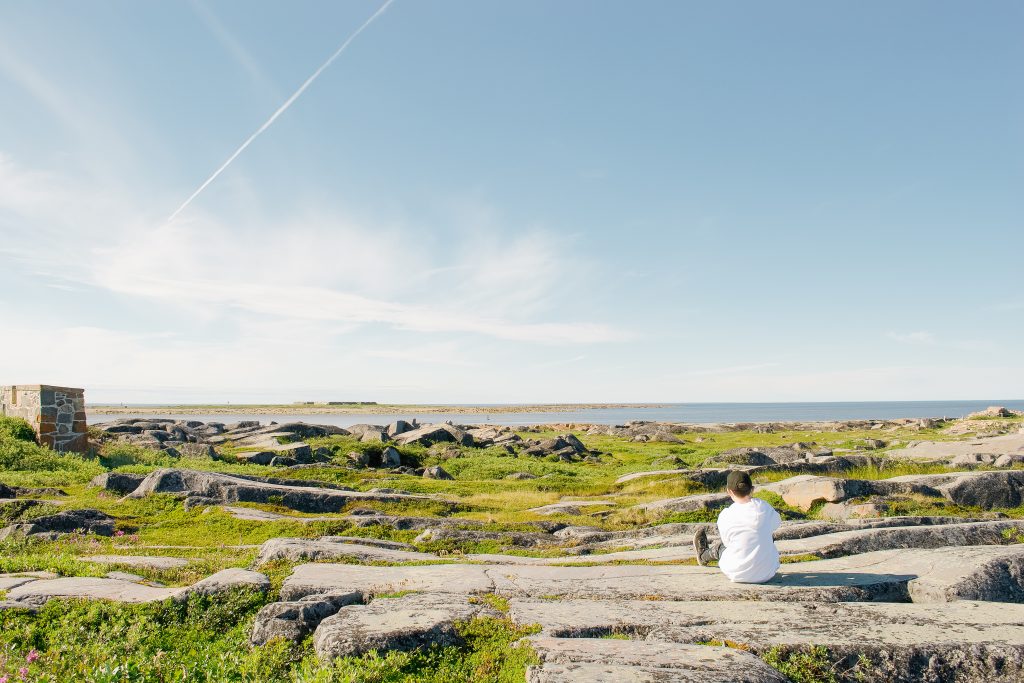 Located at the confluence of the Churchill River and the Hudson's Bay, is the Cape Merry National Historic Site. A stone battery was built on this site in 1746 as it provided extra protection overlooking the Prince of Wales Fort across the river. One of the most scenic spots in Churchill is the perfect place to see sunrises or sunsets, watch the migrating birds or see the belugas down below. This is a very popular area for bear sightings so do not visit without taking proper precautions (on our visit we went with an armed bear guard, stayed in a group, and had eagle eyes watching at all times).
Itsanitaq Museum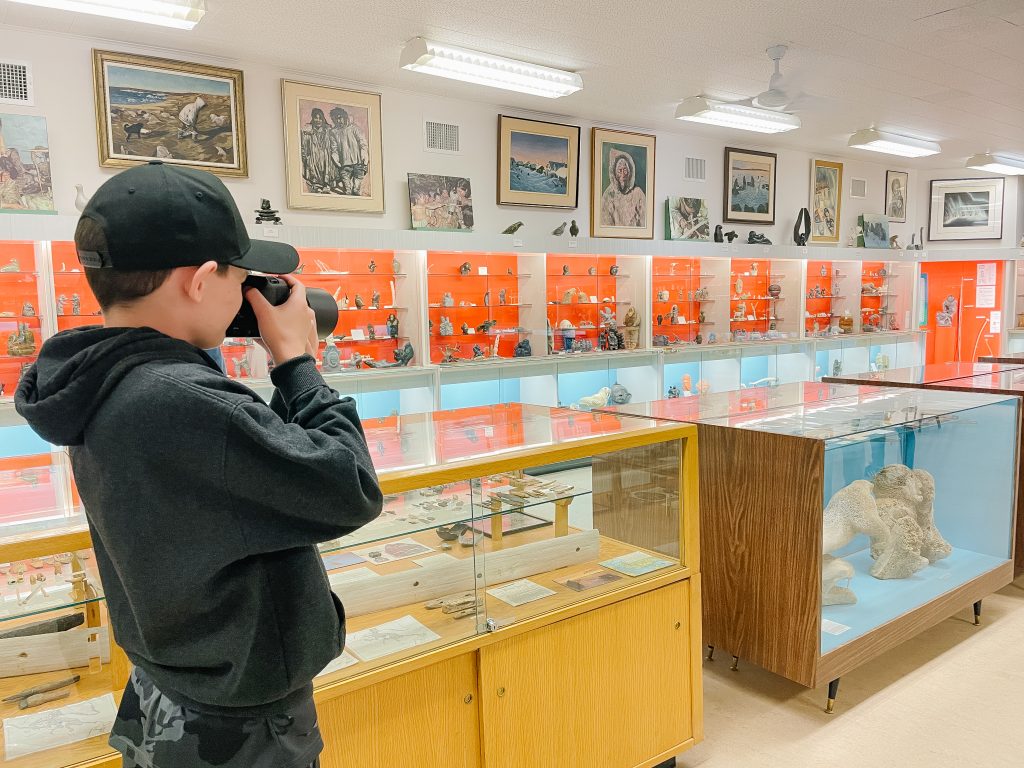 The Itsanitaq Museum contains a unique collection of Inuit art and artifacts that date back to the 1700s. The Itsanitaq Museum is home to more than 2,000 pieces of Inuit art, making it one of the largest collections of indigenous art in the world. Visitors can see traditional carvings, sculptures, and masks, as well as contemporary works by Inuit artists. The museum also offers a variety of educational programs and workshops. Whether you're interested in Inuit culture or just looking for something unique to do in Churchill, the Itsanitaq Museum is definitely worth a visit.
Where to Stay while on Family Tours in Churchill Manitoba
Guests of Frontiers North Adventures get to stay in Frontiers-owned and operated Tundra Inn. This cozy basecamp is the perfect place to stay for anyone looking to experience the true Canadian north. Situated right in the center of town you'll have access to everything you'll need including the Tundra Pub across the street, the Northern Grocery Store one block down, as well as a variety of convenience and souvenir shops to explore during your free time (be sure to be bear aware and follow all safety protocols).
Beluga Whale Tour In Churchill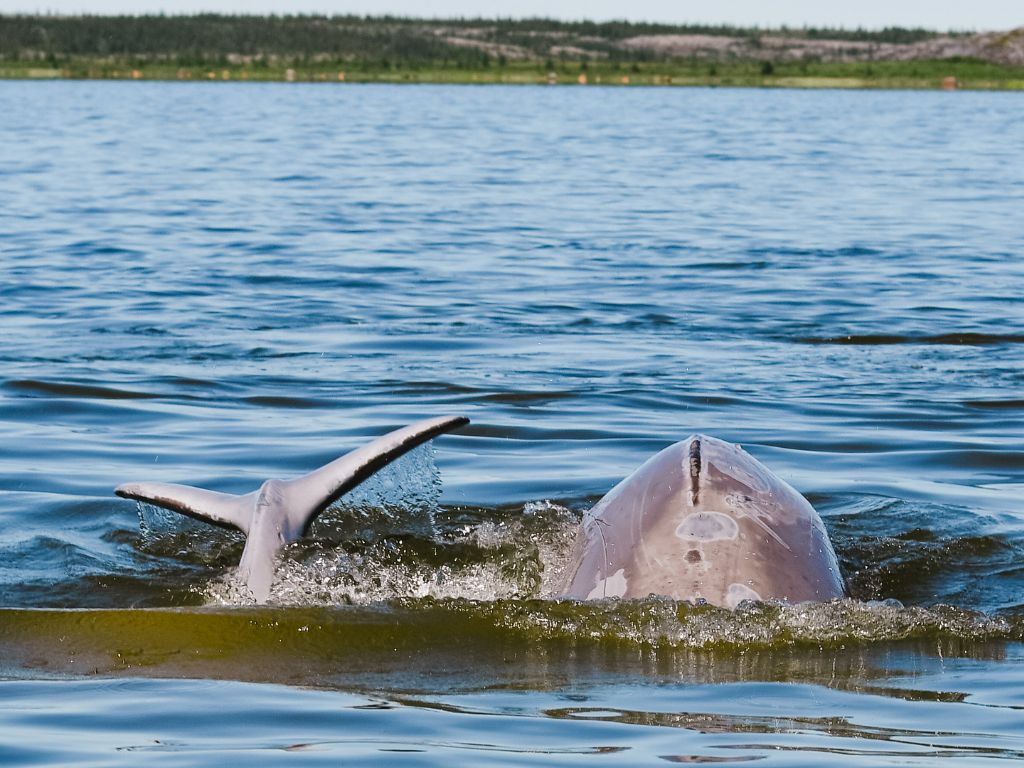 A Beluga Whale Tour in Churchill, Manitoba is an amazing experience that you will never forget! On the tour, you will have the opportunity to see these majestic creatures up close as they migrate through the Churchill River and Hudsons Bay. Your interpretative guide will help you learn about their fascinating behaviour and biology, and how they thrive in life in the Arctic. The tour takes place aboard a comfortable zodiac, bringing you to eye level with these curious and fun creatures. During the tour, you will have the chance to see beluga whales feeding, socializing, and even breaching out of the water. You may also see other wildlife, such as seals, polar bears, and sea birds.
When can you see Beluga Whales in Churchill?
If you're wondering when is the best time to see Beluga Whales in Churchill, know that Summer is when they make their way migrating through the region. Did you know Churchill is the Beluga capital of the world?
Where Can I See Beluga Whales In The Wild?
These majestic creatures can be found in the Churchill River from July to September each year. However, the best time to see them is in July and August, when they are most active. During this month, they can often be seen breaching and socializing in large groups. Our favourite was seeing the Moms and the babies swimming together.
Prince of Wales Fort National Historic Site
After spending the morning with beluga whales, we headed over to The Prince of Wales National Historic Site, just across the river. This unique star-shaped Fort took 40 (yes, that's not a typo) years to build, and was an active fort for 10 years before being attacked by the French. After seeing their incoming boat loads filled with soldiers a white flag was raised and the Fort was destroyed. While on-site you'll be escorted by Bear Guards as the area is a popular spot for Polar Bears to visit, another fantastic experience of our family tours in Churchill.
Churchill Tundra Buggy
®
Tour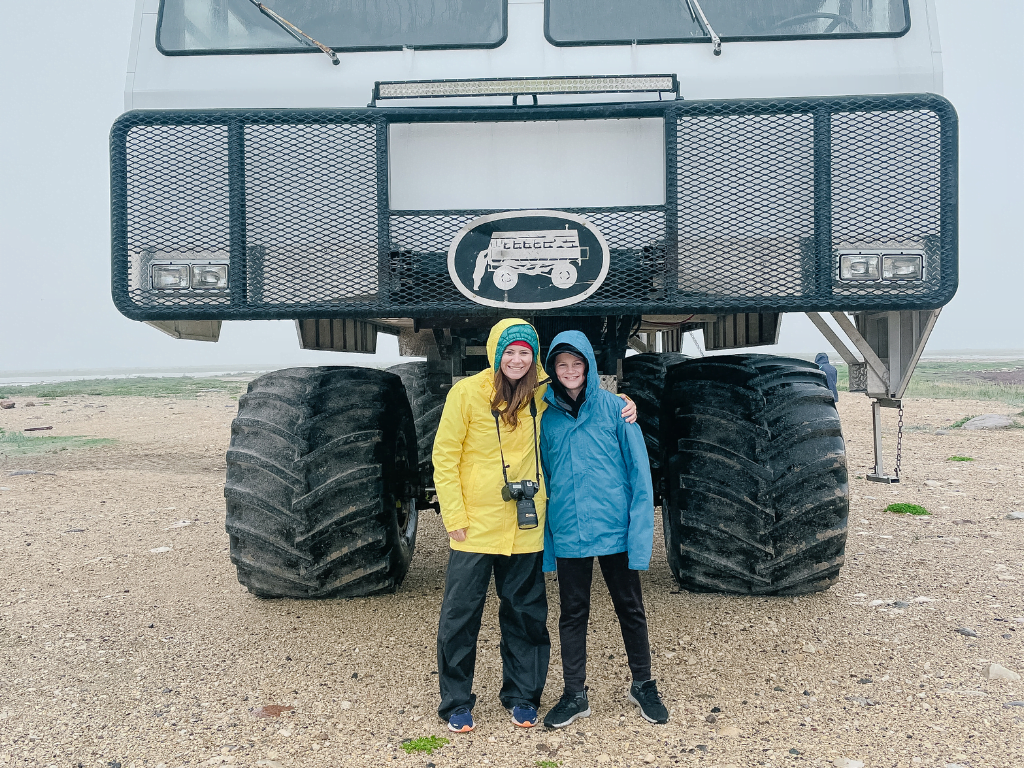 You could insert every once-in-a-lifetime adventure adjective when it comes to traveling the tundra via Tundra Buggy in Churchill. "Unbelievable" "Remarkable" and "Spiritual" all come to mind. These custom-designed all-terrain vehicles allow you to safely get up and close and personal with the tundra's wildlife in the protected Churchill Wildlife Management Area. This "reverse zoo" model (as our Driver Jim called it) is where you get to go into the arctic habitat and the animals are in control of coming up to visit you. Keep your eyes peeled for polar bears, arctic foxes, and arctic birds as you explore this remote and beautiful region.
What to pack on your Tundra Buggy Tour
The Tundra Buggy has guests' comfort in mind and includes key amenities like heat and washroom facilities. Be sure to pack warm clothing including a jacket, gloves, and toque in case you want to head out on the back viewing deck for outdoor watching. Camera gear is also essential so you can film and capture all of the animals you will encounter.
Polar Bear Family Tours In Churchill Manitoba
I knew something was up when the captain of our zodiac veered away from the beluga whales. While we were heading out to see more belugas he headed straight across the river, as he knew that a group of four polar bears had pulled a dead beluga out of the water and had been feasting on it for a couple of days. To our delight, we enjoyed a one-hour experience watching 4 different bears as they lazed around in the summer sun. The highlight was watching a mom and cub, going back and forth from laying on the rocks to wrestling in the bay, splashing around and jostling each other to cool off in the water. In those 60 minutes, I took 1500 photos of the stunning animals, with every click capturing this incredible "once in a lifetime moment."
Can you see Polar Bears in Churchill in Summer?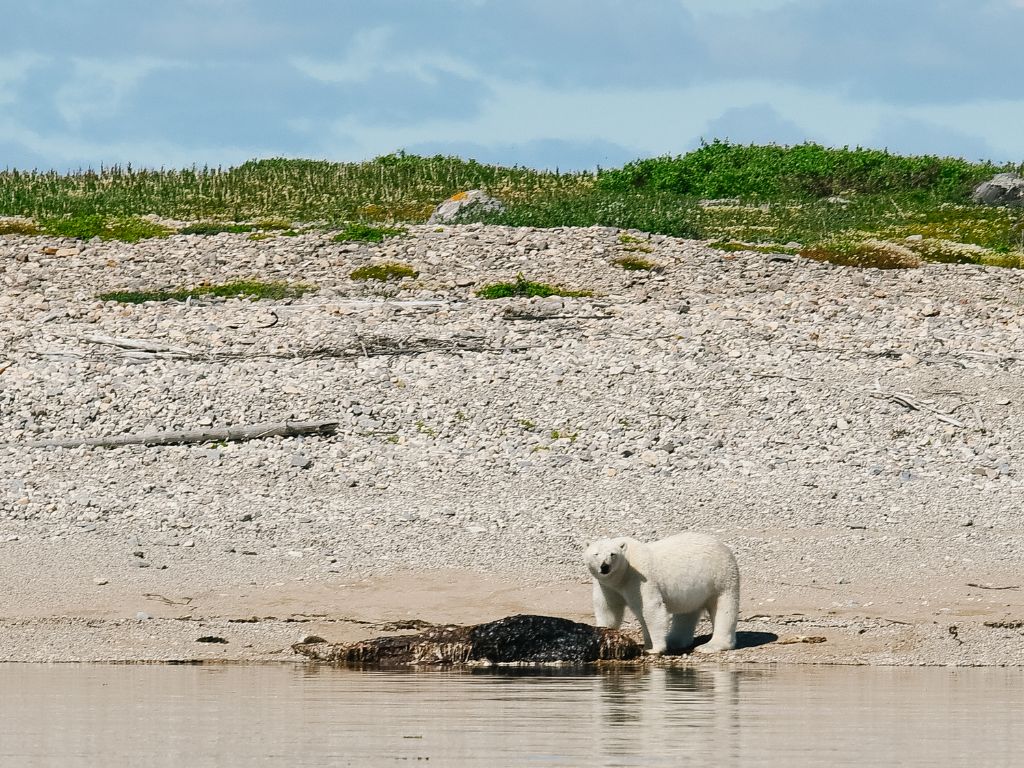 Churchill is the Polar Bear Capital of the world with hundreds coming off of the ice and migrating through the small town each year. As wild as the animals are though, there is no guarantee that you'll see them on your trip. We were visiting during mid-July, when traditionally there are more bears around, however with the ice having a slower melt this season, there were fewer around town than usual. So we had prepared ourselves not to see polar bears on our trip which made seeing them even that much more spectacular.
Parks Canada Visitor Centre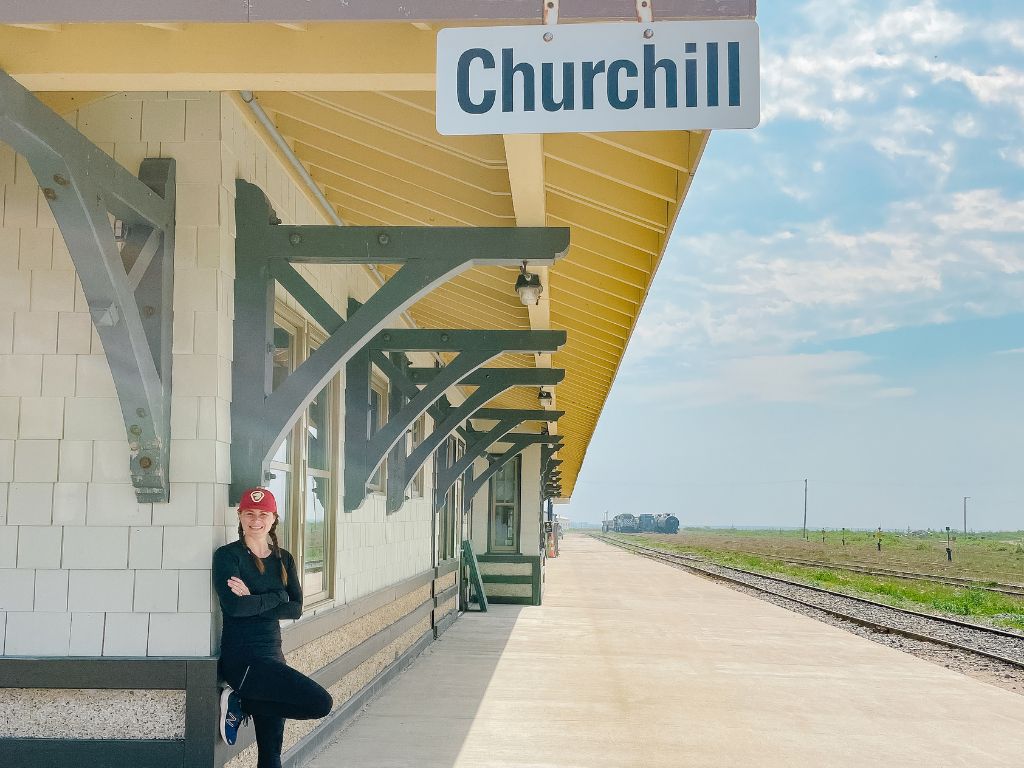 Whether you are a guest arriving by train to Churchill or a visitor looking to learn more about the region a stop at the Parks Canada Visitor Centre is a great place way to learn more about the area. With a variety of exhibits that focus on Wapusk National Park, The Prince of Wales Fort, and the indigenous history of the Churchill region the train station provides an iconic Canadian stop while on family tours in Churchill.
Polar Bears International House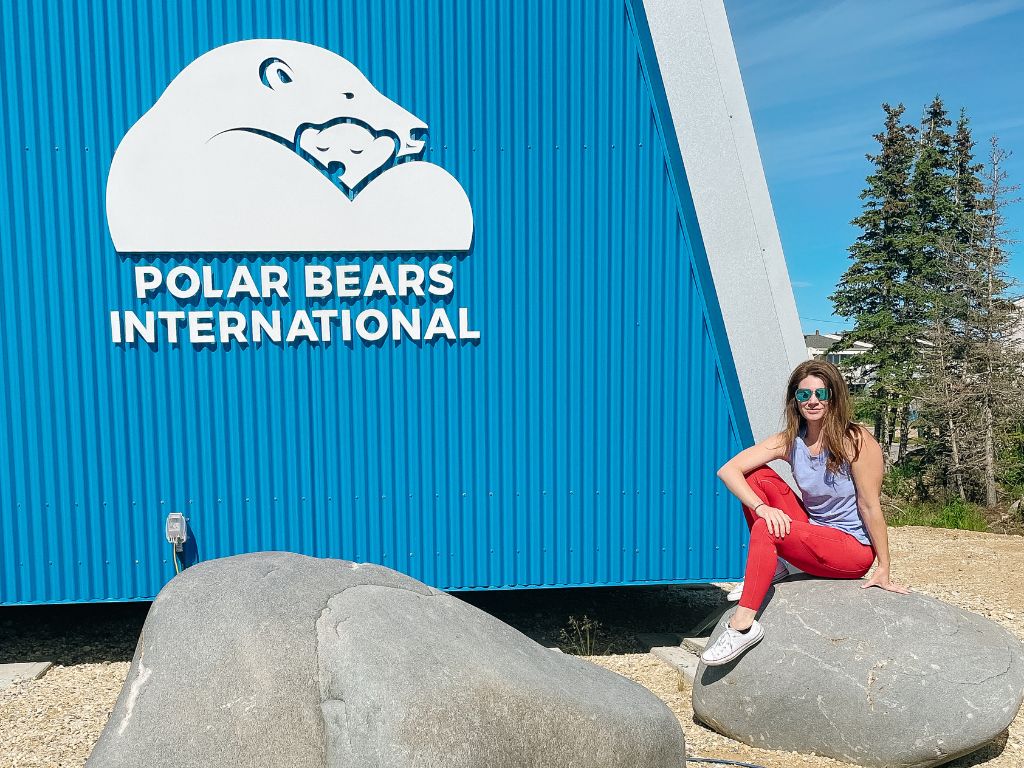 Walking through the doors of the Interpretative centre you'll quickly feel the importance of the work that is done here. A PBI Ambassador will welcome you to the centre with a short talk and answer all of your questions about polar bears, research projects, climate change, and more. You'll be given free time to tour the centre and learn how you can support conservation efforts at home as well as on your visit to Churchill.
Dog Carting Experience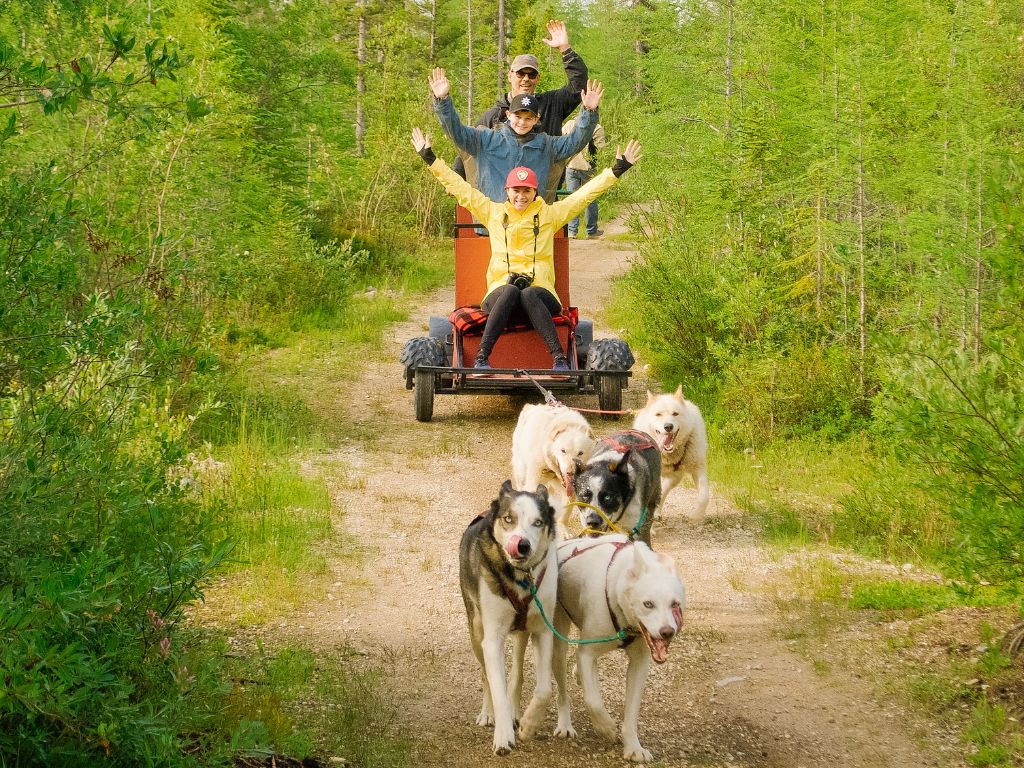 Start off your experience in the welcome room where you'll be surrounded by photos, trophies, and awards won by Dave, Owner of Wapsuk Adventures Dogsledding. His engaging storytelling with sharing of real-life examples of him and his team as they've raced on world-class expeditions. He'll share his passion for his pups, what day-to-day life is like, and everything dog team related including healthcare, food, exercise, socialization, leadership development, and training. Once you're geared up you'll head out with your guide and a crew of sled dogs to go carting in the boreal forest. Be sure to add this exhilarating experience to your family tours in Churchill.
Exclusive Churchill Stamp from Canada Post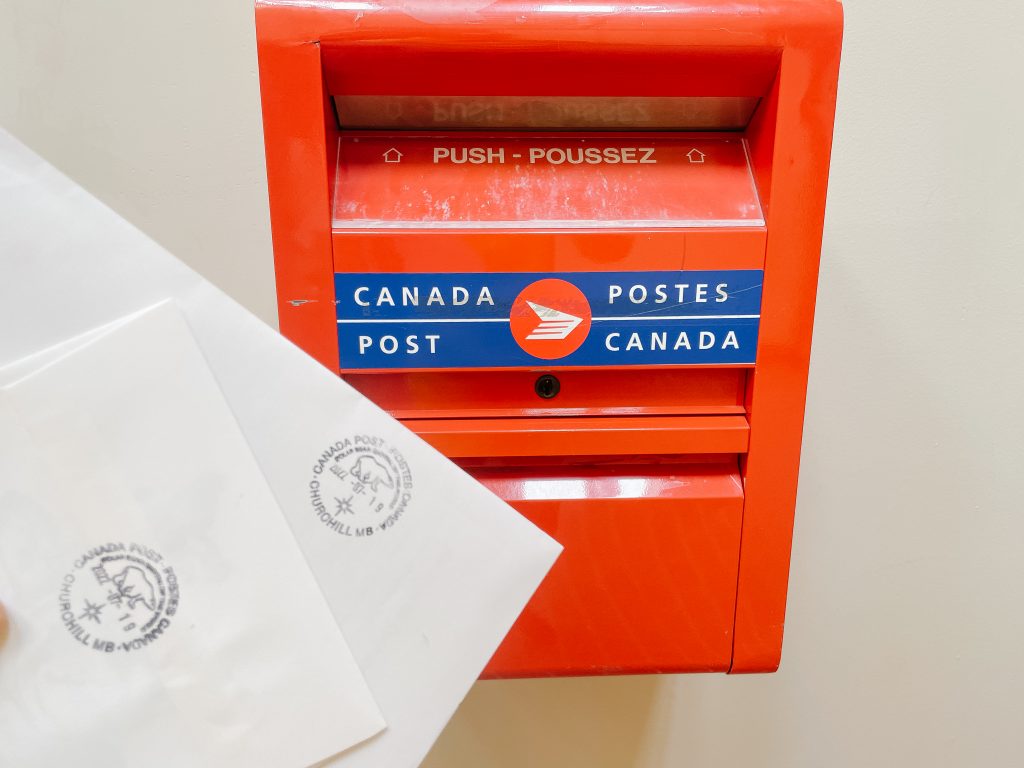 Before you head home be sure to stop by the Canada Post Office and send yourself or your loved ones some postcards with the exclusive polar bear stamp found only at the Churchill location!
What to Pack for Family Tours in Churchill in the Summer
Based in Canada's sub-arctic region, packing for a trip to Churchill in the summer needs to be done with attention and care to ensure you have everything you need for your family tours Churchill adventure.
The basic rule of a successful trip to Churchill in the summer is summarized in one word, "layers". Being able to layer up and remove layers when needed will allow you to deal with the fluctuating temperatures that can vary so much with each activity, the time of day, and the wind.
Here's an essential packing list:
Layered, breathable clothing.

External waterproof/windproof layers (rain pants and rain jacket)

Sweater

Hat / Toque

Gloves

Mosquito Repellant

Bug net if you're spending time hiking or extended periods outdoors.

Sunscreen

Camera gear

Extra batteries

Extra charger for cell phone (as you'll probably be taking lots of videos/photos)

Daypack for storing all your items.

Personal snacks

Extra socks
What are the Summer Temperatures in Churchill Manitoba?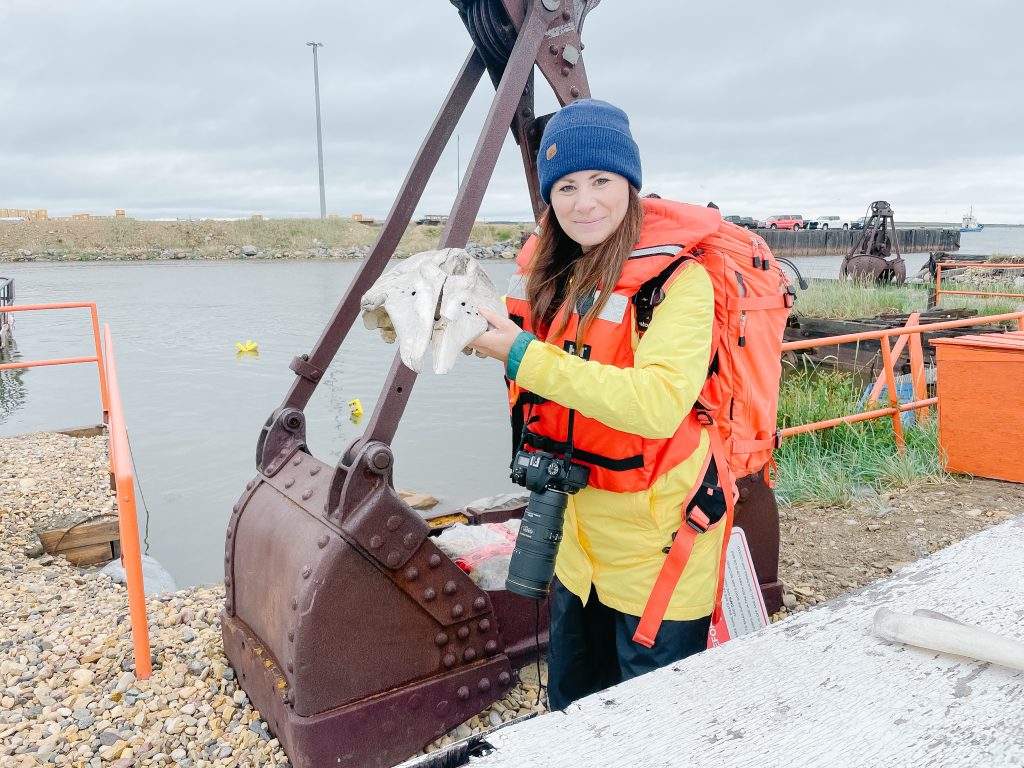 From June to August, the average temperature is between 10 and 20 degrees Celsius, and we saw the full range when there on our trip. Layers were the key to staying comfortable on our whole trip.
FAQs About Planning Family Tours in Churchill Manitoba
What is the best time to visit Churchill Manitoba?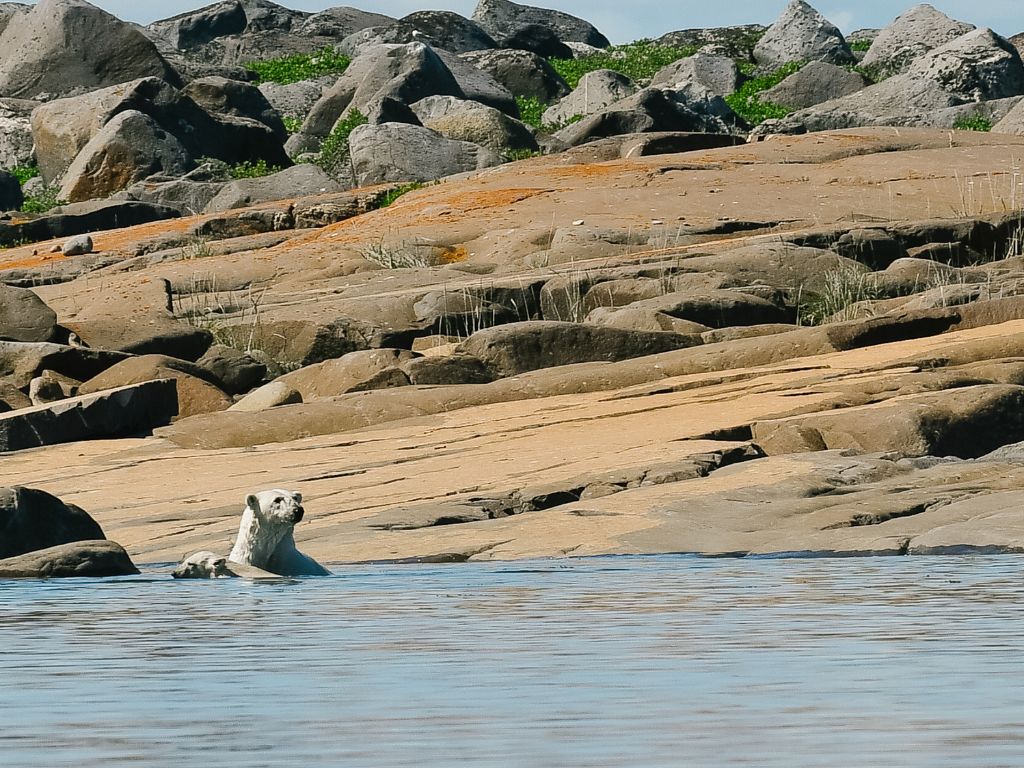 Are you asking the question, "When should I go to Churchill Manitoba?" Churchill has three distinct seasons in which travellers get to choose when to come based on what they are most interested in seeing:
Polar Bear Season: Each year, hundreds of these majestic creatures congregate in the area, making it a mecca for wildlife enthusiasts. The best time to see polar bears is between October and November when they are most active.
Beluga Whale Season: Beluga whales can be found in the Churchill River and Hudson's bay from July to September.
Northern Lights Season: While sightings of northern lights have been seen year-round in the Canadian Arctic, the most popular viewing season is January to March when the nights are longer and the weather is colder making for optimal viewing.
What amenities are in Churchill Manitoba?
For a small town, this community has everything you need for a wonderful visit. To start off the town has a complex that is unlike anything I've ever seen. All under one roof you'll find:
Hospital

A school (With rooms that look out onto beautiful views!)

Indoor playground

Curling rink

Ice rink

Pool

Gymnasium

Library

Long-term care facility

Pharmacy
Down the main street, you'll find a well-stocked grocery store, corner store, and souvenir shops (which also have any last-minute items you may need).
What is Churchill Manitoba Famous For?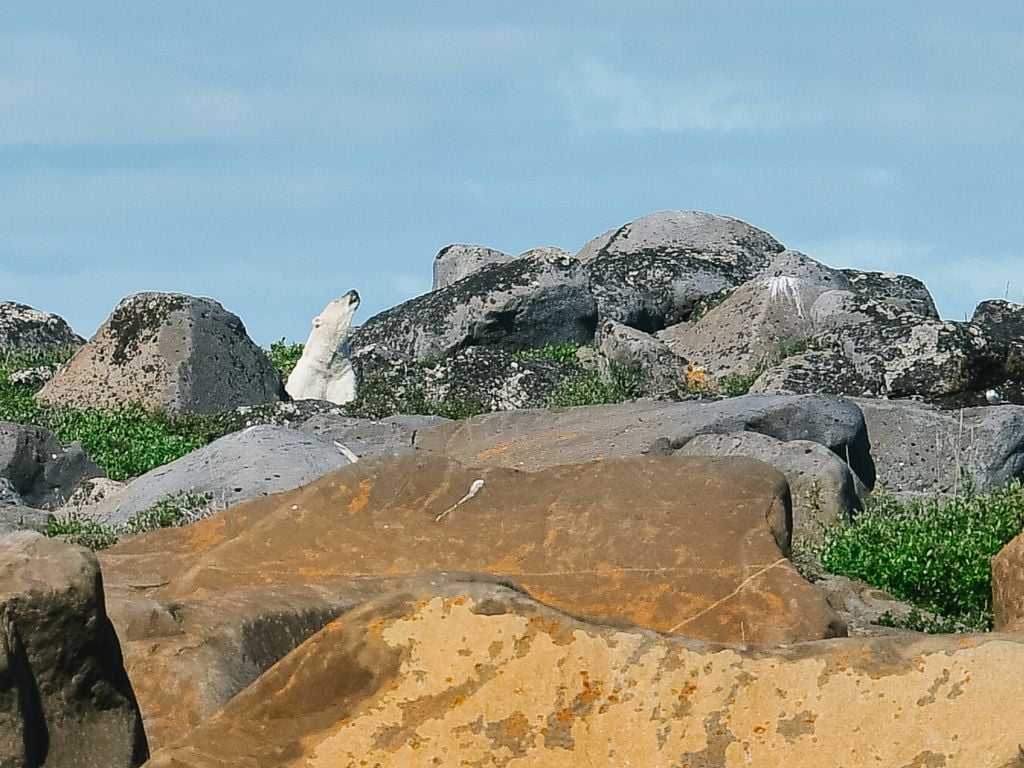 Churchill is known as the "Polar Bear and Beluga Whale Capital of the World." Each year, hundreds of these majestic creatures congregate in the area, making it a mecca for wildlife enthusiasts and scientists.
Is Churchill Manitoba worth visiting?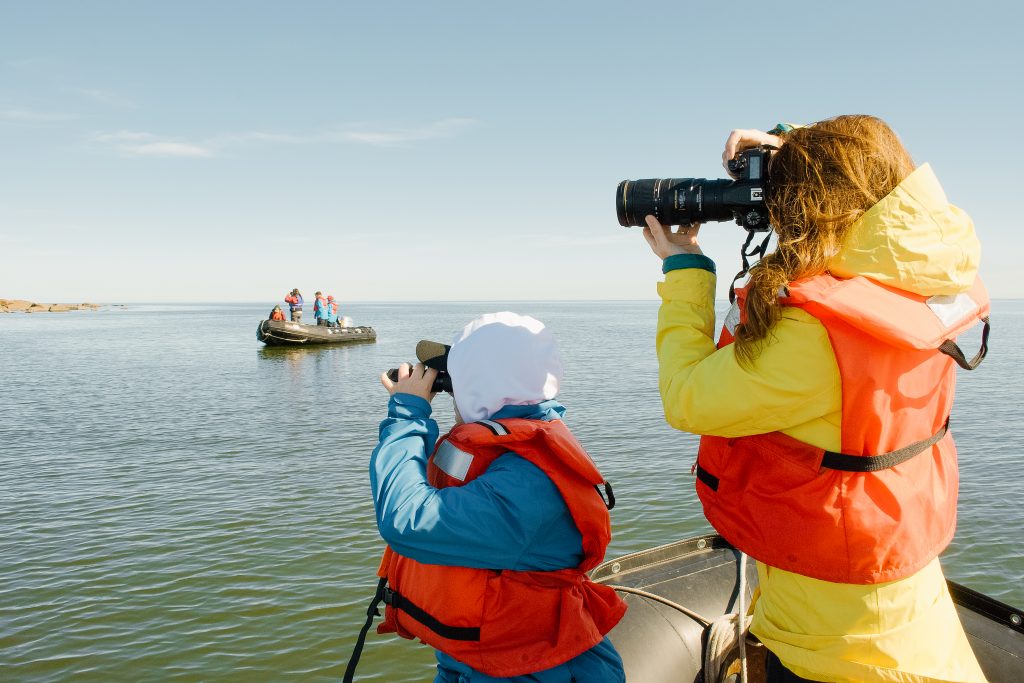 As a Family Travel Writer, we have the opportunity to travel the world on a regular basis and have been actively doing so for 7 years. After 5 days in Churchill, my 11-year-old son said that this was the BEST trip of his life and it was truly transformational for me as well. This is a trip worth investing in, for the ultimate family adventure and way to explore one of Canada's most incredible regions.
How many days do you need in Churchill Manitoba?
This really depends on what you want to do on your family tours in Churchill, what you want to see, and what your budget is. When travelling to a region like this we prefer to work with a local guide as it allows us to see the most in a condensed time. Our trip took place over 5 days and we felt like we got to see it all, but also left us with a deep appreciation for the area and a yearning to go back and experience it in a different season. If you're looking to head out on the Tundra Buggy multiple times for additional polar bear viewings then you'll need to stay longer. Check out all of the tours offered by Frontiers North to learn more and start planning. Click here for more information and to book your Classic Night Churchill Polar Bear Adventure.
Can you see the Northern Lights in Churchill?
Yes, but viewings are more likely to happen during the darker days of winter (January to March) when the days are short, the night skies are long, and the chilly weather brings forth the beautiful skies.
What is the population of Churchill Manitoba?
The bustling town of Churchill Manitoba has a relatively small population, with approximately 841 permeant residents calling Churchill home.
---
Looking for other adventures and experiences while visiting Manitoba? Check out these articles:
Disclosure statement: While Frontiers North invited us as guests to share this experience the views expressed are our own.