Ottawa sure knows how to throw a party! We weren't at the festival even two minutes before our kids were taking off in different directions full of excitement, exclaiming which activities they wanted to do first. I was grateful not to be the only adult to run—chase—watch, play and otherwise keep up with them. As we explored Jacques Cartier Park to the steady beat of the drummers through groups of people laughing around campfires, beneath others who ziplined overhead, we were immersed in the sights and sounds of a winter festival like nothing I've ever experienced before. Winterlude is winter fun at its very best and I want to help you experience it too with this Winterlude guide for your family.
What is Winterlude?
Winterlude is Ottawa's annual winter festival that celebrates all the wonderful things the cold, snowy season has to offer. For the first three weekends of February, you can explore, play and enjoy numerous indoor and outdoor activities, all highlighting Canada's diversity in ways that everyone can enjoy. Most festival activities are free which makes it a great low-cost opportunity to get your family outside in our nation's capital and experience the best of winter.
Dress For The Occasion – Winterlude Guide
Even the best experiences can go sideways when someone gets cold. When we woke up in the morning the temperature outside was 35 degrees below zero. By the time we headed out at 11 AM, it had warmed up by about 17 degrees still leaving the temperature well below freezing. With these subzero temperatures, one thing was abundantly clear: If we were going to create good memories at Winterlude, we were going to have to layer up!
Keep everyone toasty with warm base layers all the way up to snow pants, neck warmers, toques and gloves. We even brought a backpack with extra socks and gloves in case we still underestimated the chilly temperature.
Mom tip: Throw some candies or other things your kids enjoy into your backpack to help with lineup waits or for little pick-me-ups in between meals.
Getting to Winterlude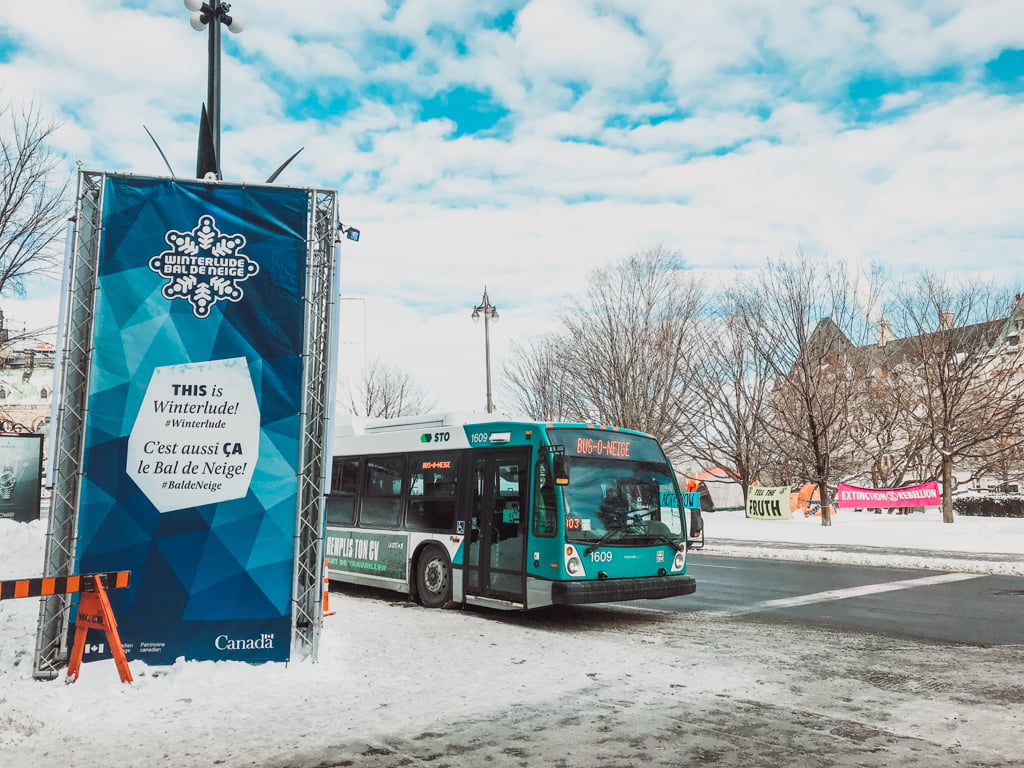 Getting to Winterlude is easy with the complimentary Sno-Bus. The OLG Sno-Bus is a shuttle that departs every 15 minutes from downtown Ottawa to take you around the festival. We caught the bus just outside the parliament buildings and were in Jacques Cartier Park in under ten minutes. Consult the bus schedule for pick-up times and locations.
Mom tip: Get there early to board the bus for an extra few minutes of warmth!
Snowflake Kingdom at Jacques Cartier Park – Winterlude Guide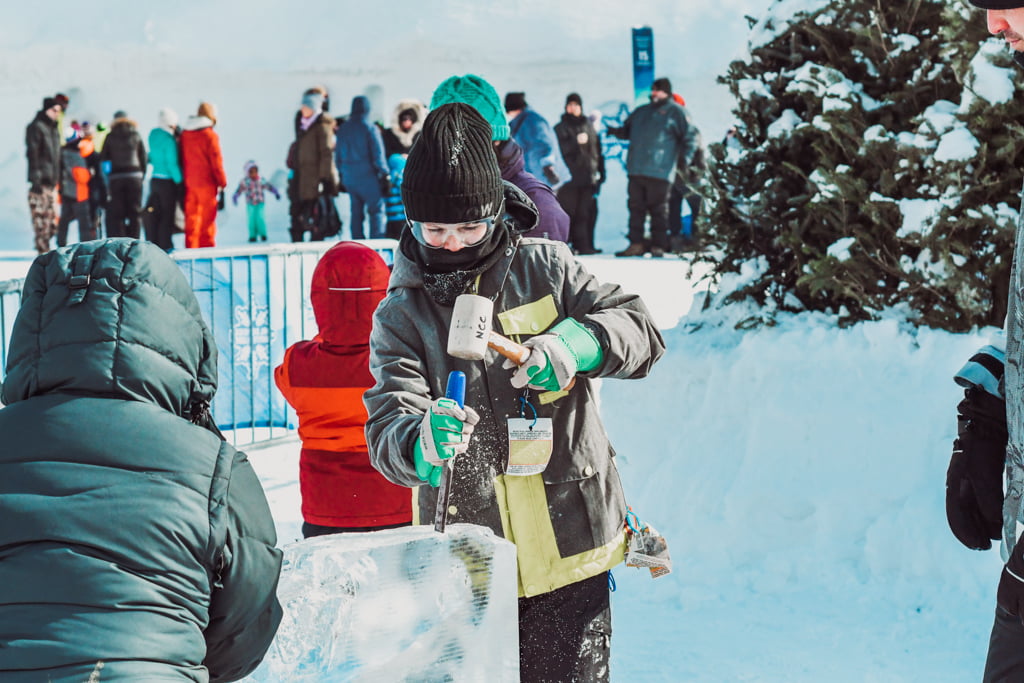 Across the river from downtown Ottawa is where you will find the Snowflake Kingdom inside Jacques Cartier Park. The park is a winter wonderland—made even more beautiful by the view of Parliament Hill and downtown back over the river—and the Snowflake Kingdom is kid central! You may find these kinds of events are often geared towards younger kids but not Winterlude. There were activities here for kids of all ages which means there is no need to worry that older siblings will be begging to leave.
For the two hours we spent here, the kids were 100% active, engaged and entertained and had we had the time, we could have easily stayed for another two hours. There was so much to see and do but we had a few favourites to highlight.
Tubing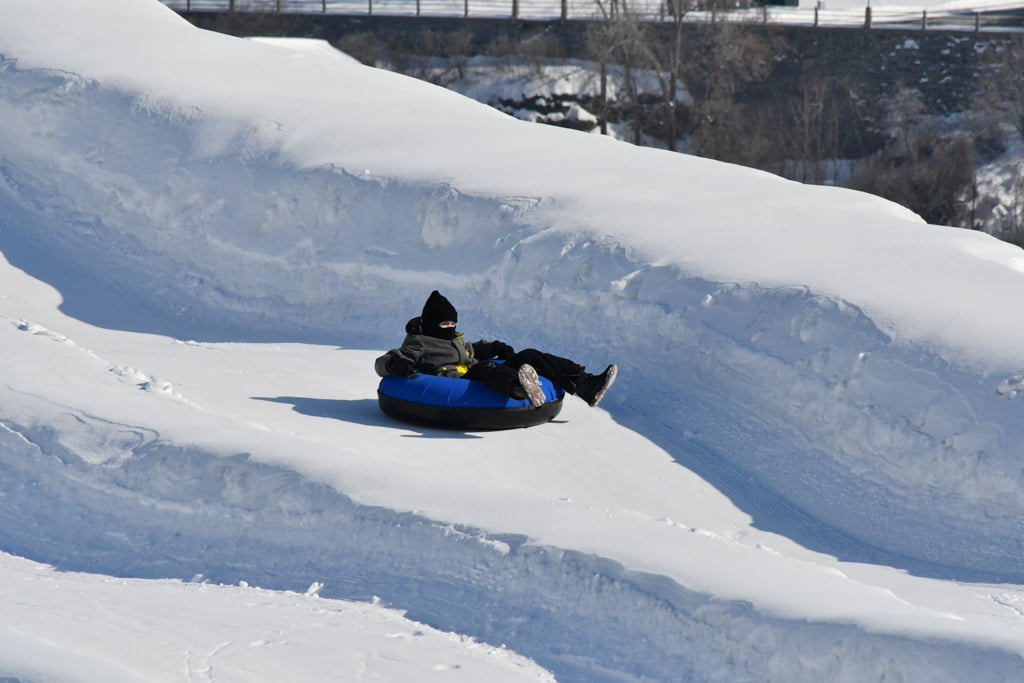 The thrill of tubing without the trek of going to the mountain. The Super Slides at the Snowflake Kingdom were built with different age groups in mind. From basic sliding to spinning tubes and steeper hills, there was something to satisfy everyone's thrill level. And if your little one isn't ready for tubing yet, not to worry. Head to the Kiddie Snow Slides so they can join in the fun too.
Zip Lining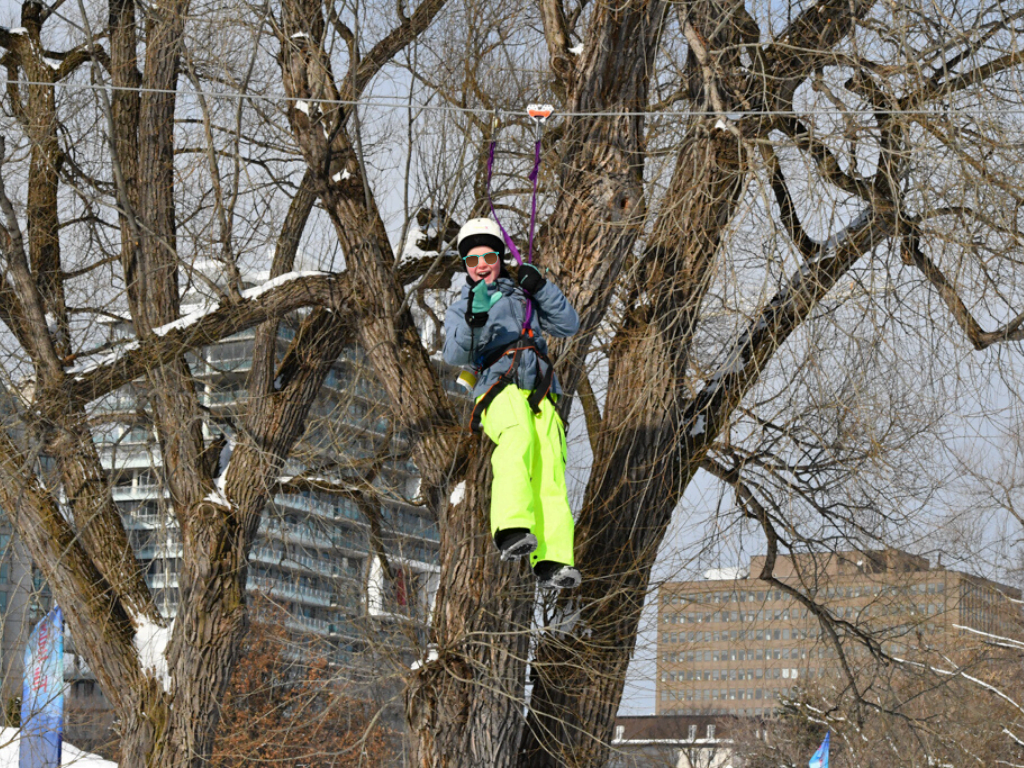 Fly overtop the Snowflake Kingdom and take in the best views of the park on the zip line. This is one of the few paid activities at Winterlude but the smiles and squeals of delight were certainly worth the cost. Note that riders must be at least 42 inches tall and no more than 225lbs.
Winterlude Guide Challenge Course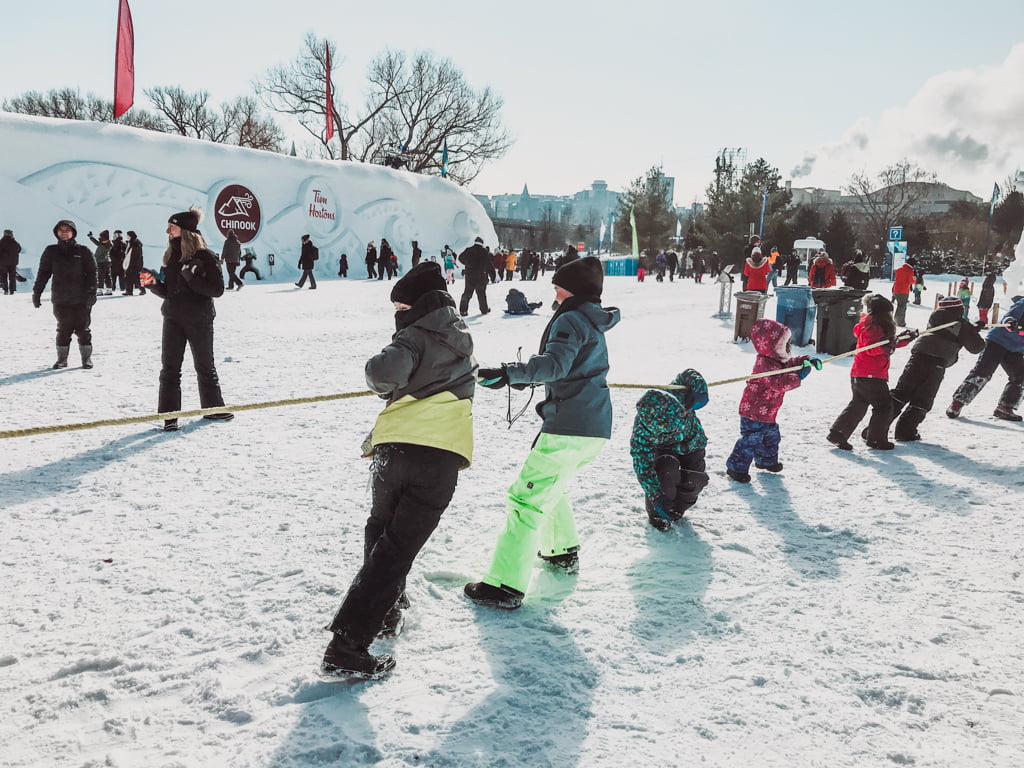 Push your way through pool noodles, have a game of tug-o-war, crawl through truck tires and navigate tunnels as you race the clock, a friend or—better yet—the kids! This snowy obstacle course was a good way to get our blood pumping and warm us up from the inside.
Entertainment – Winterlude Guide
If I could use one word to describe the drummers at the festival it would be captivating. No, I need two words: captivating and passionate. Their high energy performances had you feeling the beat in your bones. They interacted with the crowd and had the kids dancing the day away.
Gigantic Snow Sculptures
Making art from the elements. These snow sculptures were absolutely massive and absolutely beautiful. I'm always in awe of what people can create—especially with limited materials. You can't miss these amazing works of art.
Fueling Up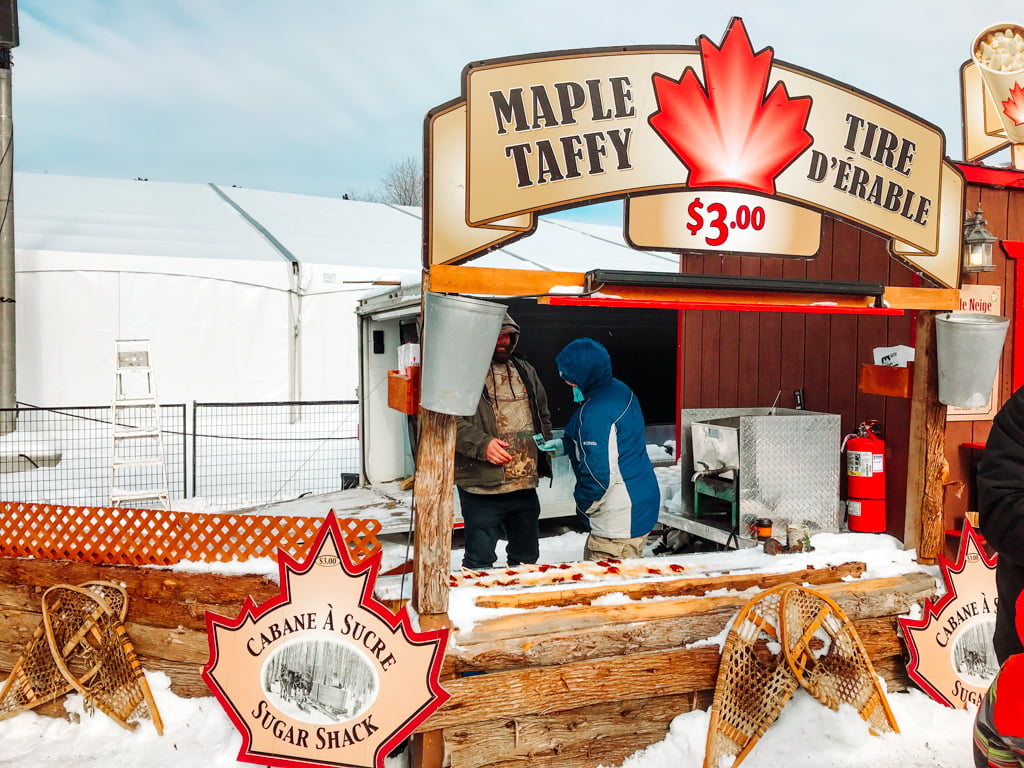 Active kids mean hungry kids and who doesn't love food trucks? From pizza to hot dogs and Canadian favourites like beaver tails and maple candy, there is plenty to choose from at Snowflake Kingdom. Don't forget to grab a cup of hot chocolate to warm up so you can keep on playing.
The Rest of Winterlude
While we focused most of our time at the family-friendly Snowflake Kingdom, there is plenty more to see at Winterlude. Skate the Rideau Canal or head to Sparks Street to see amazing ice sculptures. There are plenty of photo ops and chances to get active on Sparks Street by dancing or shooting hockey pucks. It's another great stop at the festival.
The Winterlude Festival is the best, most interactive festival I have been to and I'm so glad we included it on our ultimate Canadian winter road trip. It was a fantastic way to experience the outdoors in the middle of winter and it's absolutely an experience that should be on every Canadian's winter bucket list.
---
Planning an Ultimate East Coast Canadian Winter Road Trip? Check out these other articles for inspiration!
Is this a sponsored post?: Yes, while our visit to Winterlude was sponsored, all of our thoughts and views are our own.