The four of us sat around the dinner table all talking at once. We left Sky Venture—our indoor skydiving Montreal experience—hours before, but the adrenaline was still surging through our veins. As we all attempted to share our excitement at the same time, each one of us still buzzing with the thrill of flying, one thing was abundantly clear: this adventure was a hit!
What is it all about?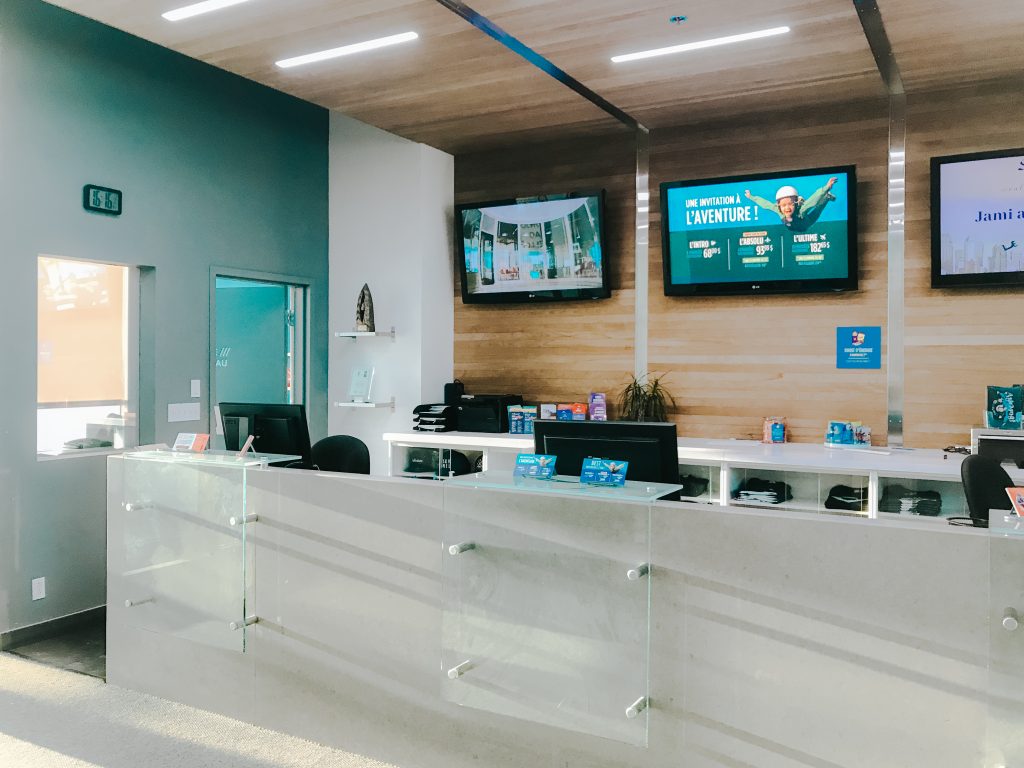 Sky Venture Montreal is Quebec's one and only indoor skydiving facility. Built to simulate the free-fall portion of a skydiving jump, you get the thrill and freedom of falling through the air without actually falling through the air. From children to adults—beginners and experts—anyone can take flight and defy the laws of gravity in Sky Venture's specially designed flight chamber. It's the excitement of skydiving in a safe and supervised environment—no planes required.
Training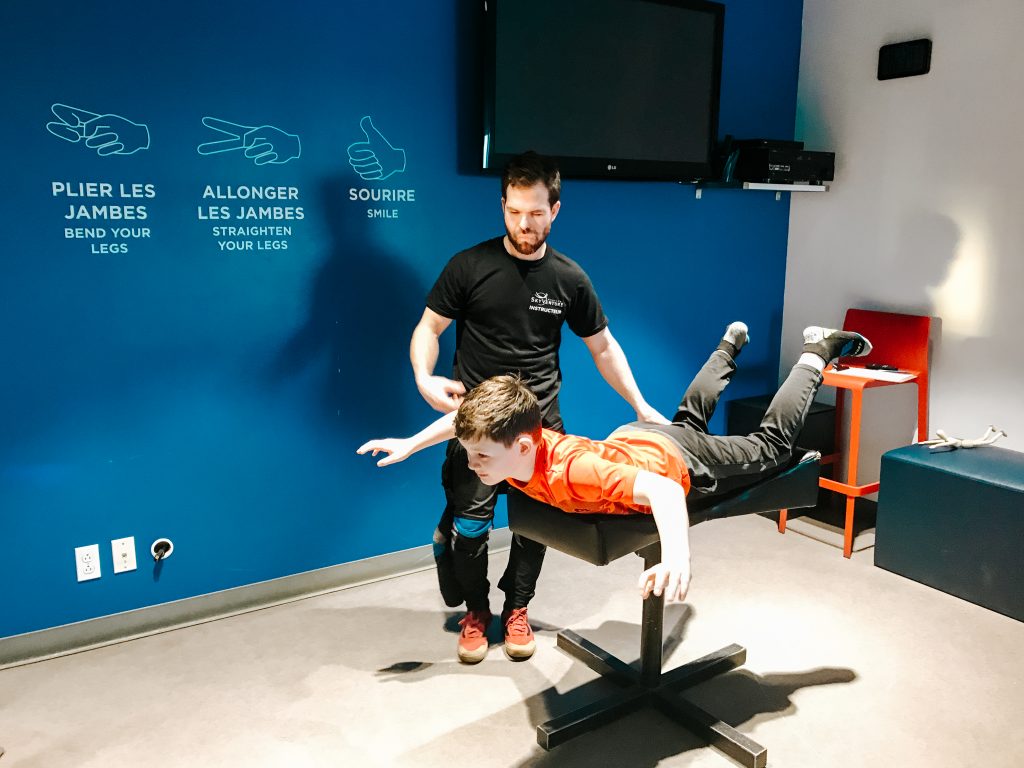 Just as you can't jump out of an airplane without training, you can't blast off in a flight chamber without a little prep work. After an incredibly warm and personalized welcome from the staff, we got right to it. In about 30 minutes we had learned the hand signals, proper body positioning—chin up, legs straight—tips and tricks for maneuvering around once airborne and what to expect when entering and exiting the experience. We were ready for take-off…almost.
Gearing Up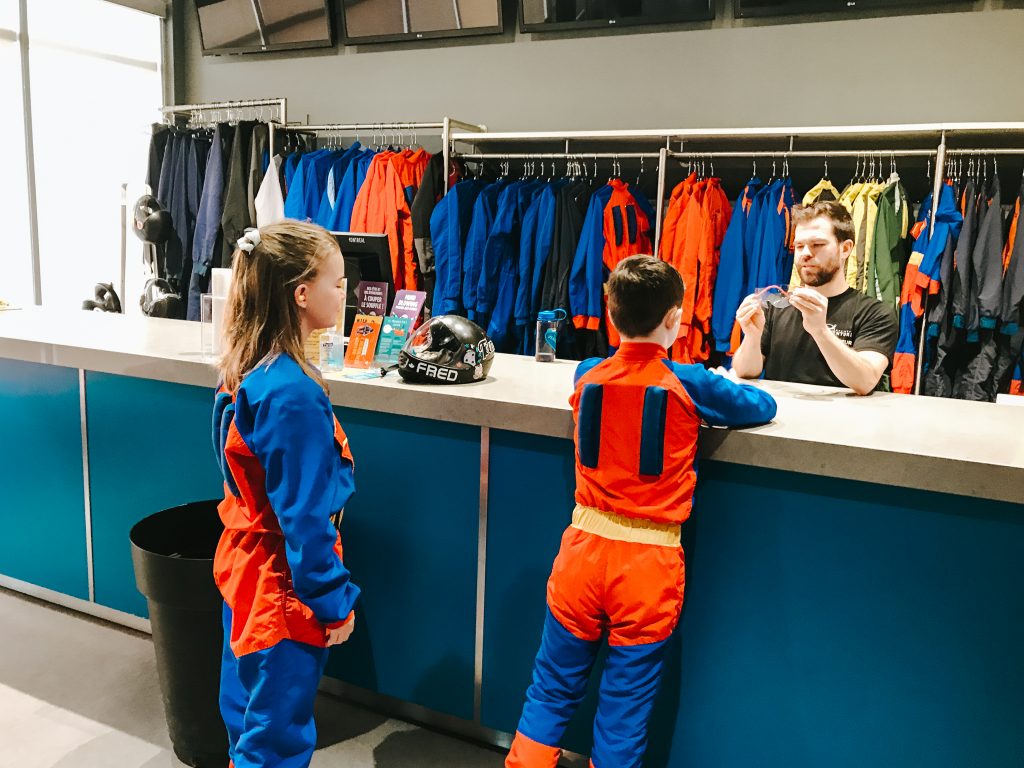 We couldn't hit the flight deck quite yet; we didn't look the part. Safety aside, I would choose to fly in a Superman flight suit over my regular clothes any day of the week—who doesn't want the chance to fly as Superman? We completed the look with helmets, safety goggles and earplugs before we were finally ready for lift-off.
Time to fly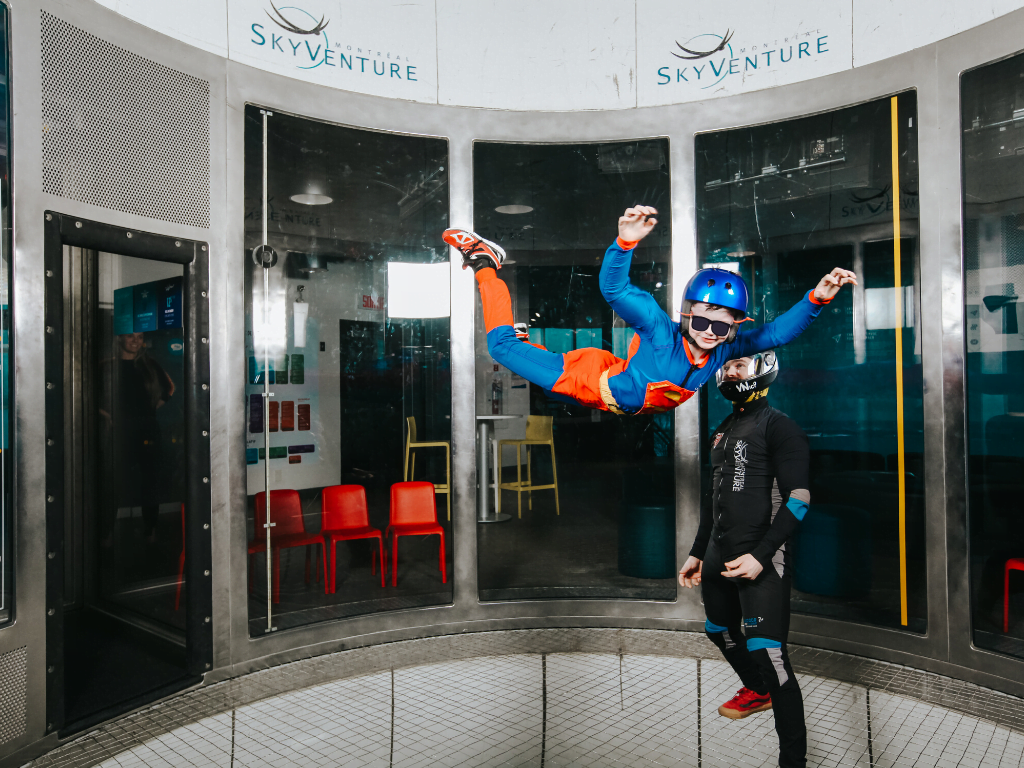 There were definitely a few nerves floating between us but our fearless eight-year-old was eager to start us off. With complete trust, he happily fell into the instructor's arms as the wind came up and his feet left the floor. Even if everybody else in our group had let the nerves win and their feet had remained firmly planted on the ground, the grin that spread across my son's face during his "free-fall" would have made the entire experience worth it.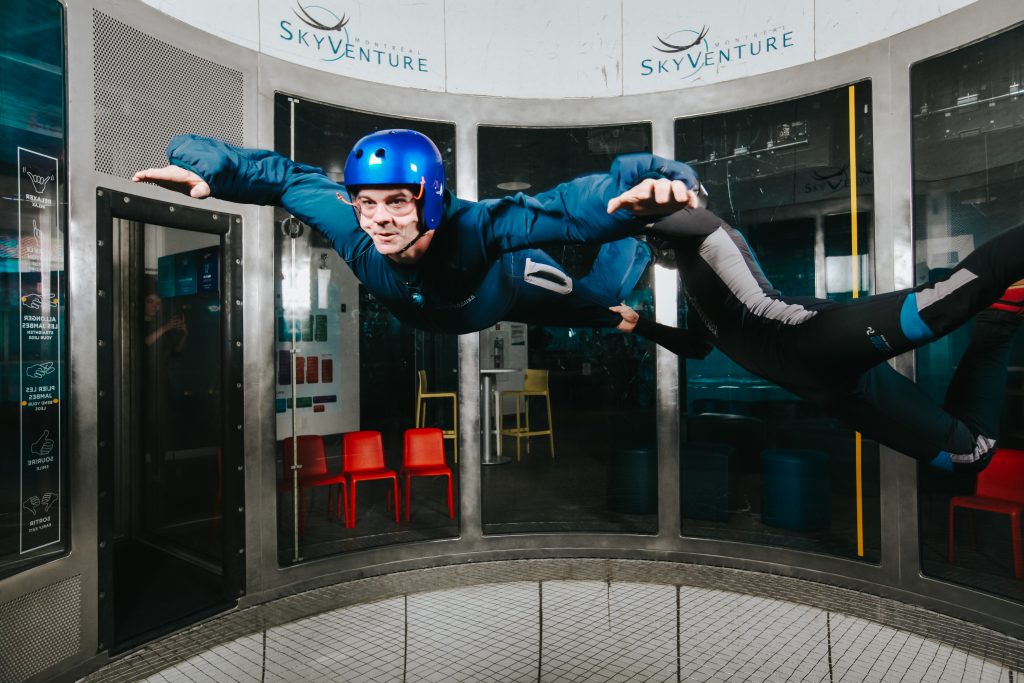 Thankfully though, nobody let their fears get the better of them and we all took our turns in the tunnel. Jason was next and we all teased him when they had to turn up the jets to achieve lift-off—even if it was due to the understandable size difference between dad and son. The wind speed was set at approximately 350km/h when Jason was in the wind tunnel—100km/h higher than the wind gusts of a category 5 hurricane!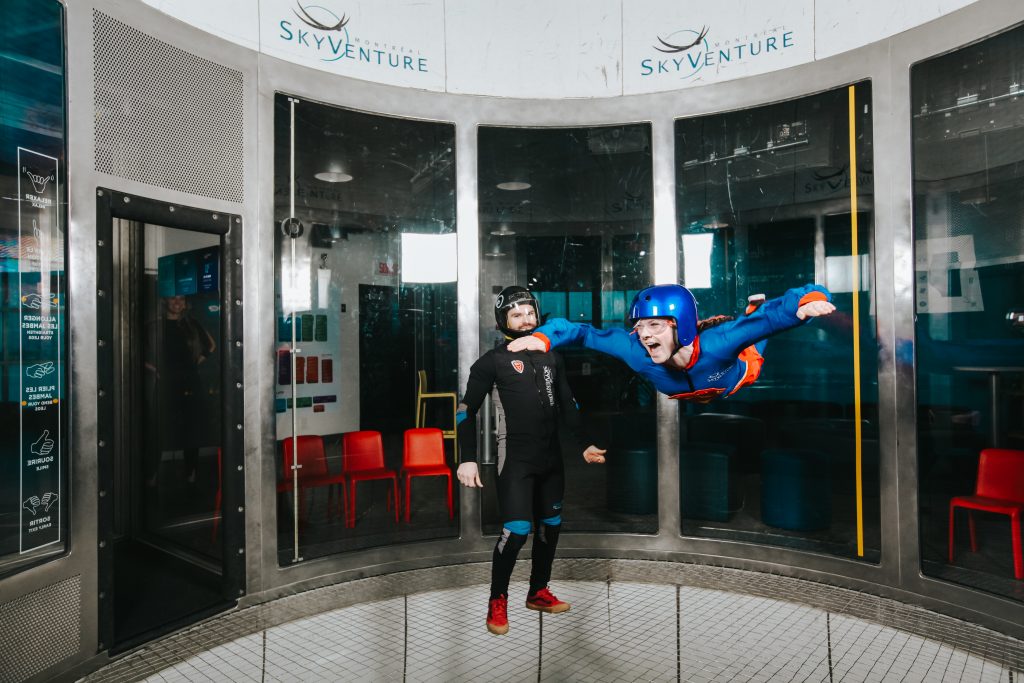 We saved the ladies for last. As a spectator, my anxiety was elevated, but all my trepidations quickly disappeared in the tunnel. The instructor's confidence was infectious and soon I was moving up and down and even spinning around the chamber.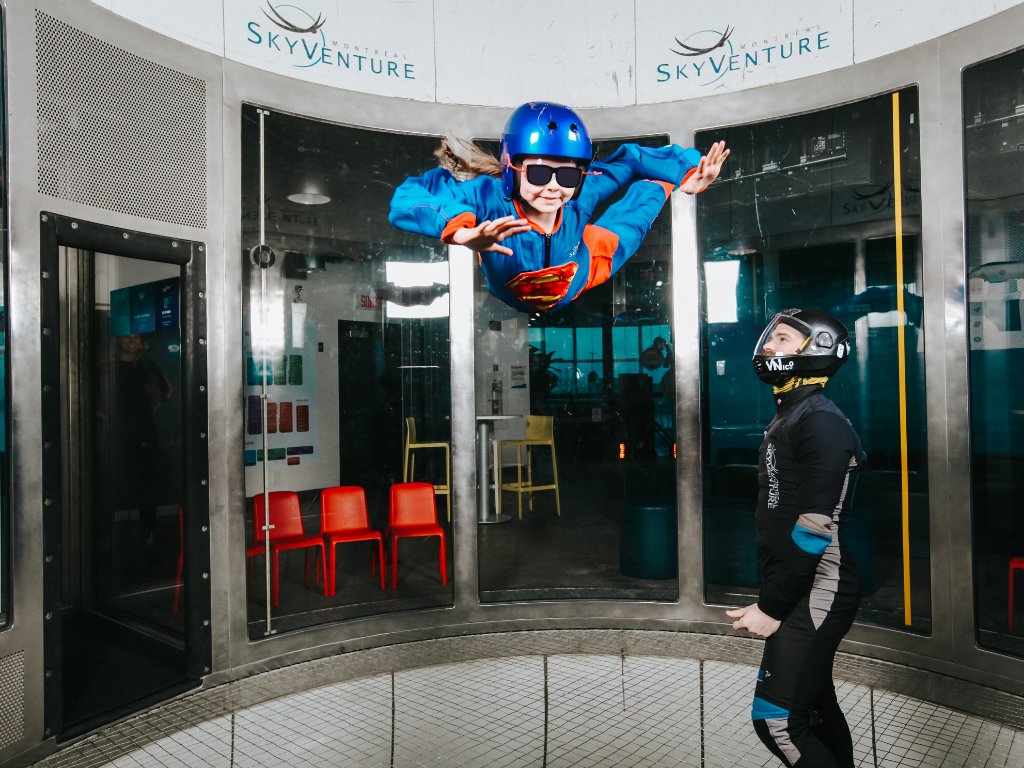 However, it was my daughter who, despite her nerves, went into the tunnel and absolutely killed it! And as she posed for a photo in her Superman suit with her fist pumped high in the air, all I could think was that I hope she can carry this confidence and bravery through life—the confidence and bravery of the time she walked into that Sky Venture wind tunnel and took flight.
Know Before You Go
Before you head to Sky Venture Montreal to go indoor skydiving, there are a few things to know.
Make a reservation
Sky Venture Montreal often books up! They highly recommend to contact them and make a reservation to avoid disappointment.
Decide on your package
Fly-time depends on which package you choose. Our family did the Absolute Package which included four flights per person. We each got two one-minute flights and one two-minute flight. With the two-minute flight, we were given the option to go tandem with the instructor for part of it and really get the feel of moving around the tunnel.
You can check out the packages they offer here https://www.skyventuremontreal.com/en/online-shopping-gift-card
Give yourself enough time
Expect to spend around two to three hours at your indoor skydiving experience.
Make sure you meet the criteria
While almost everyone can experience the amazing simulated free-fall at Sky Venture, make sure to read their policies and criteria first to avoid being disappointed.
Whether you live nearby or are planning a trip to the area, our entire family highly recommends this unique experience. It is absolutely worth the time and is guaranteed to be an adventure you won't soon forget.
---
Enjoyed reading about our indoor skydiving experience? Check out the blogs below to see what else we got up to in Quebec and Ontario!
Is this a sponsored post?: Yes, while our indoor skydiving experience is sponsored, all opinions are our own.