When you're on holiday and someone asks you to get up at 7am to go spend your day sitting on a frozen sheet of ice waiting for a walleye to nibble on your bait, what's your first reaction?
For many of you, I imagine it's "thanks, but no thanks!"
However, as the mom of one excited 8-year-old boy, when the opportunity to ice fish in Laval presented itself, "no" was not an option. So, there we were, bundled up against the cold as we made our way over to the host hut at Parc de la Rivière-des-Mille-Îles to grab our gear for ice fishing in Laval.
As we walked into the hut, we were welcomed by our friendly guide for the day. She immediately made my son and I feel right at home, and got us all the gear we would need: poles, hooks, bait, and more. With our gear in hand, we were back out the door, and heading down the trail towards the ice.
The Setting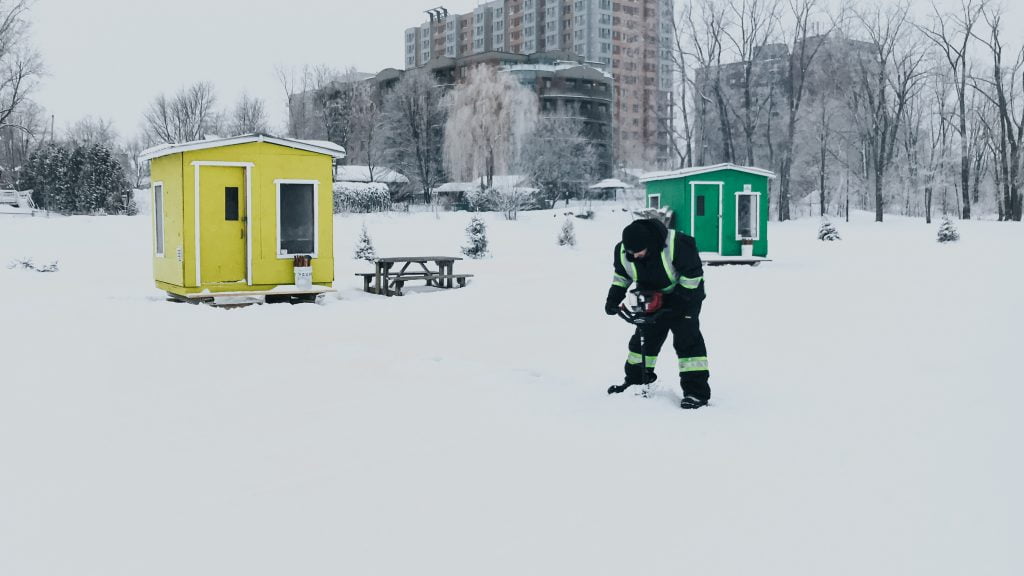 As we made our way through the beautiful trail in Laval's beloved Parc de la Rivière-des-Mille-Îles, my son and I were struck by the beauty that surrounded us. Tall trees capped with fresh white snow made the setting picturesque, and as we emerged from the trail and onto the ice, we were met with a scene so surreal, it felt as if it were ripped straight out of a Canadian nature magazine.
Out on the ice, a large circle of snow had been shoveled off and marked for safety. To make this ring even more visible, old Christmas trees had been placed caringly in the snow ridge around the ice, forming the perfect circle of evergreen. Inside, colourful ice fishing huts dotted the ice, their bright paint popping against the snow-white background. Truly something unlike anything we had ever seen!
Hands-On Experience
As our guide brought us over to our very own ice fishing hut for the day, it quickly became clear that this was going to be a hands-on experience.
First up, we had to prep our fishing hole. While (thankfully!) the holes had already been drilled through the thick ice, my son and I had the job of clearing out the ice chunks and snow debris that had fallen in since the last group had fished. Using a gigantic metal strainer, we scooped out all we could to make way for our fishing lines. It was here that we learned the first of many interesting ice fishing facts and tricks that day. Our guide instructed us to position our poles flat against the ice and then pour our strained water directly over them, cementing the poles to the surface. This allows them to remain in perfect position, even when you get a big nibble from a walleye or a perch.
Hole prepped and poles ready, our guide showed my son and I how to get our bait – super stinky minnows – onto our hooks. Ready to go, we dropped our lines into the water and eagerly awaiting our first catch of the day.
Educational Factor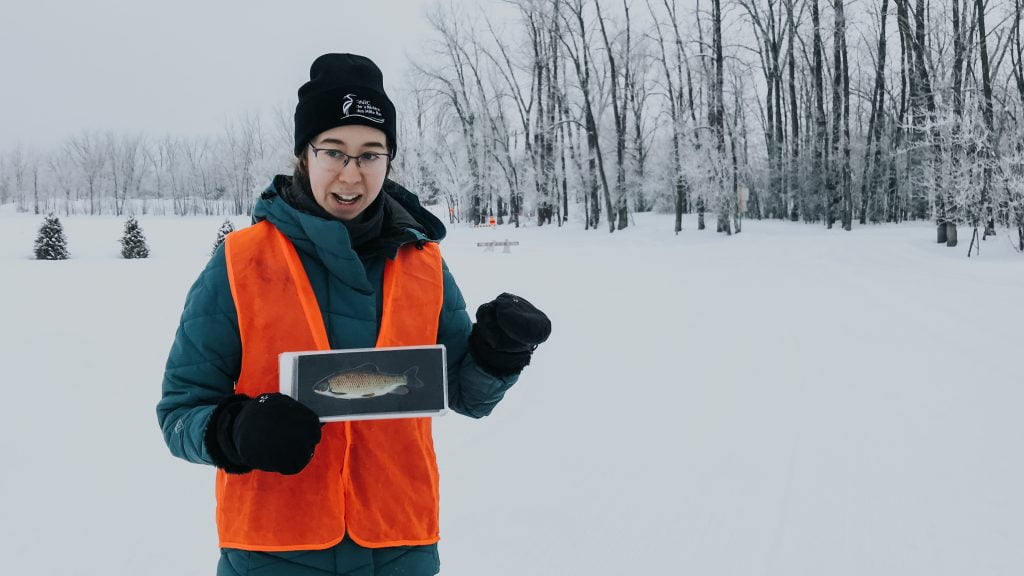 As we waited for our first bite, our guide took our minds off the cold by sharing some great stories and facts with us. My son learned so much during this excursion, including why we had to use such stinky minnows (so the fish could smell them from far away), why the minnows were shiny and bright (it's super dark in the water so you want a reflective bait), and why we would occasionally give our poles a gentle shake (fish feel vibrations in the water, which would attract them to our bait).
As a mom who wants our holidays to be equal parts fun and educational, I really appreciated the efforts our guide took to educate us on the history and culture surrounding ice fishing. She was also sure to educate us on the fish of the region. Our goal for the day was to catch either walleye or perch, which are plentiful in that part of Québec. However, there are many other varieties of fish that roam the waters there too, including one crazy specimen that is actually a distant relative of sharks, with several rows of 700 razor sharp teeth!
The Hospitality
With the fish slow to bite, and the wind chill making it feel much colder than the actual minus 7 it was, my son eventually reached a point where he was ready to warm up. Thankfully, our wonderful guide had us inside a nearby warming hut in a matter of minutes, where we drank a warm mug of hot chocolate while we de-iced our fingers and toes. Not wanting the cold to sour our experience, our guide continued to share fascinating facts about fishing in the region, and my son's eyes remained wide as she told stories of all the amazing creatures swimming just below the surface of the ice!
First Nations History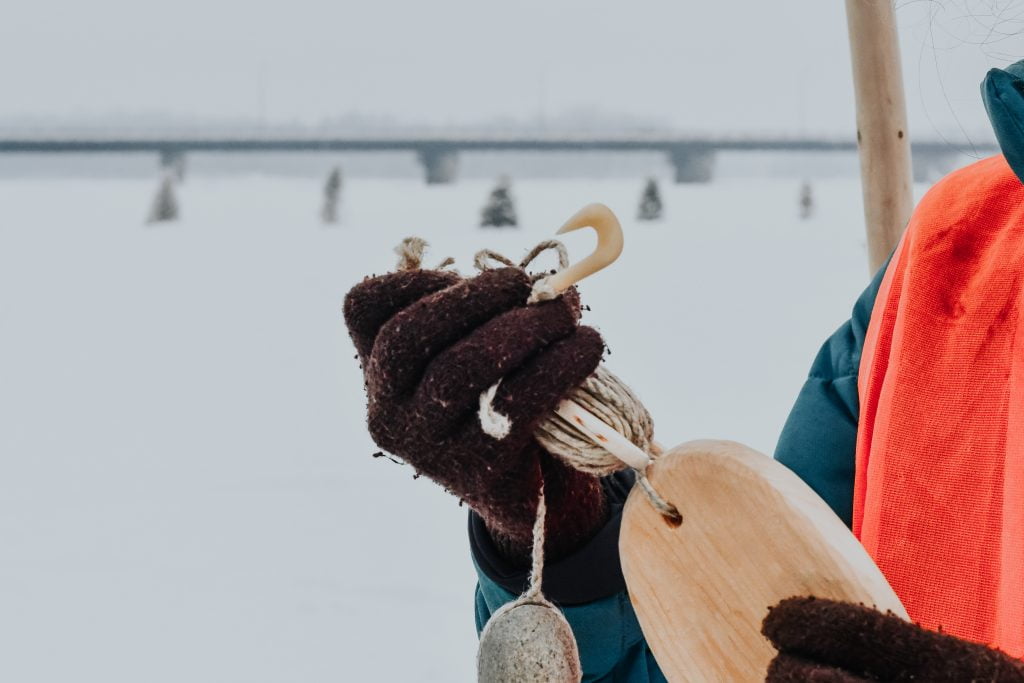 Canada has a rich history with its First Nations communities, and this area of Québec was no exception. In fact, our guide even prepared a little show and tell for my son and I. As we continued to warm our bones, she brought out a whole collection of incredible First Nations fishing replicas!
My son was captivated as our guide let him hold a deer bone carved into a fishing hook, plants woven into fishing line, rocks used to wind the line, and even a replica harpoon that First Nations used to catch fish back when they roamed the land. It was the perfect reminder of the rich Canadian history that laid right beneath our feat, and the perfect blend of entertainment and education for my son while ice fishing in Laval.
The Fish Don't Matter
We spent the next few hours moving back and forth between our fishing hole and the warming hut. Unfortunately, we ended the day without catching anything…but honestly, it really didn't matter. Ice fishing in Laval is such an amazing experience regardless of whether or not you actually land a fish!
From the picturesque setting and engaging guide, to the wonderful lessons in First Nations and ice fishing history, my son and I could not have asked for a more memorable, fun eco-tour experience. So, the next time someone asks you to get up at 7am on a holiday to hit the ice, let me be the first to tell you that your answer should an enthusiastic "yes"!
---
Planning an Ultimate East Coast Canadian Winter Road Trip? Check out these other articles for inspiration!
Is this a sponsored post?: Yes, while our ice fishing Laval experience is sponsored, all opinions are our own!