So where is Taiwan Mom? My son asked as we stood in line at the FlyOver Canada Taiwan new Soar Over experience…
Seeking out cultural experiences and exploring new lands is something that we often talk about, however, our daily lives, busy schedules, and never-ending to-do list often capitalize our good intentions and opportunities to explore something new in your city, goes by as a "Maybe next time" reality.
However, the squeal of the kids as they ran down the hall after an early pick up from school and our afternoon adventure reminded me quickly of how important it is to put our own schedules on the priority list and seek out adventures big and small whenever we can. When FlyOver Canada invited us down to experience their new Soar Over Taiwan we knew that it would be a unique way to see what the country that was so unfamiliar to us would be like in this unique 4D experience.
Tickets To Soar Over Taiwan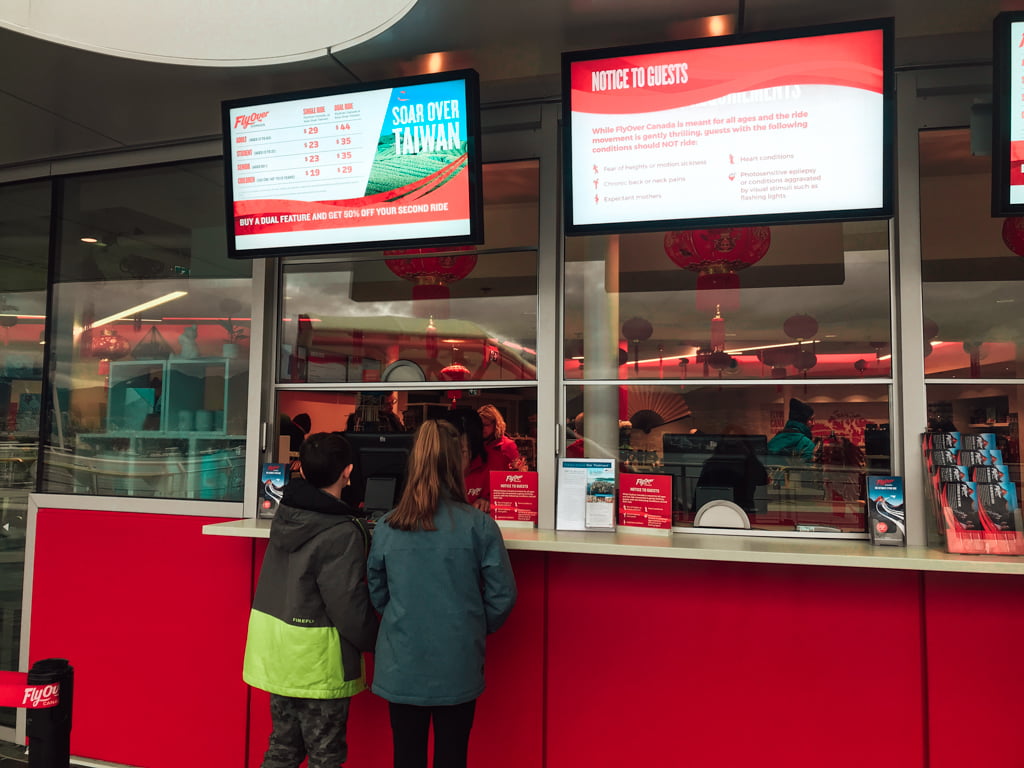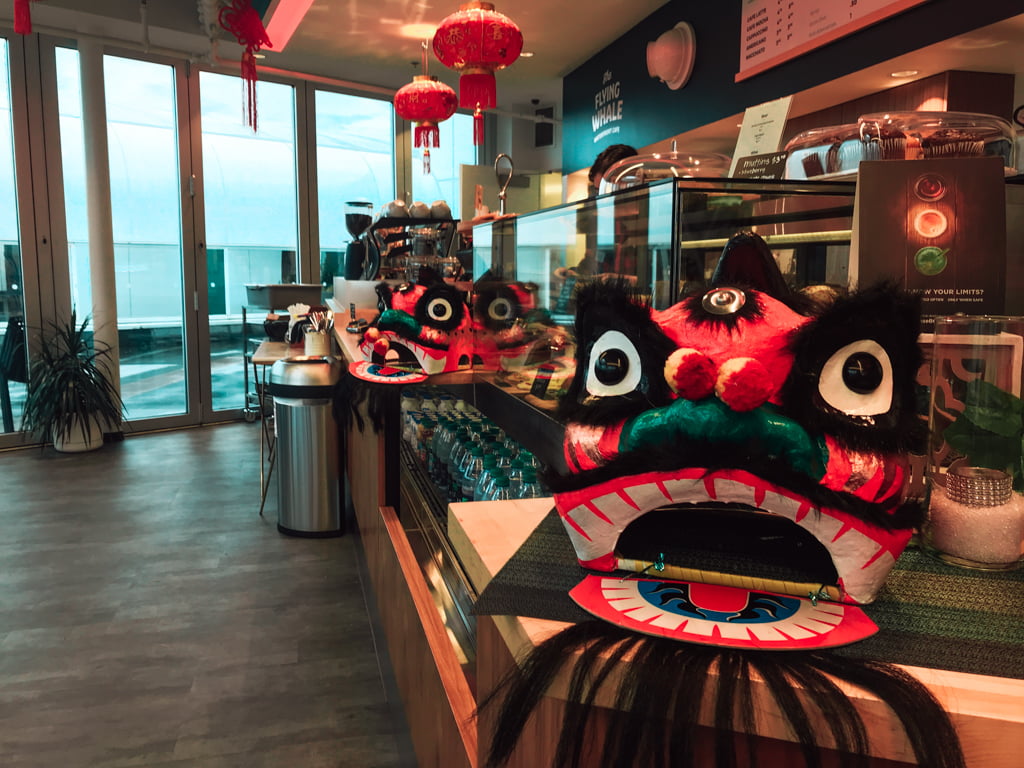 As soon as you head to the ticket desk at FlyOver Canada you're welcomed into a cultural infusion, as the decor and theme of the flight invites you to celebrate the Year of the Rat. The beautiful decor takes over the entrance and coffee shop, with delicate masks watching you as you peruse the treats on display.
Mom Tip: Check out their promotions page to take advantage of special perks and pricing
Cultural & Educational Immersion At FlyOver Canada Taiwan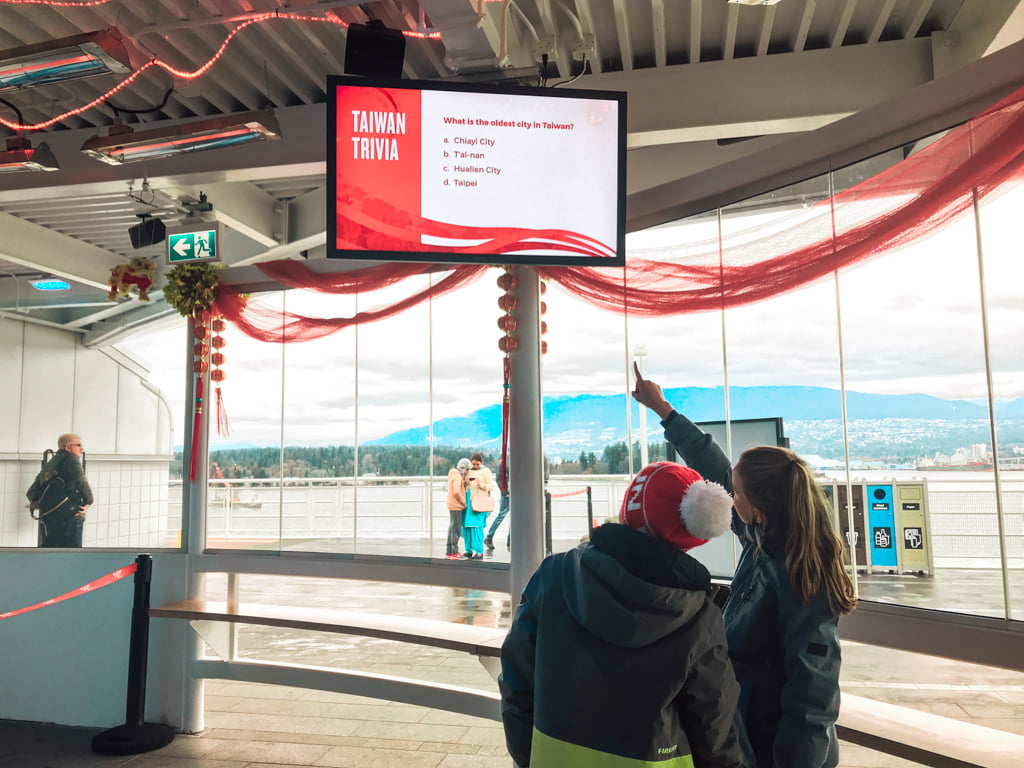 With no time to waste, the kids ran up the stairs to get in line for the ride. Even though there were only 5 minutes to wait before our show, they typically would be bouncing with excitement (and equally driving me a little crazy!). However the team at FlyOver Canada had Taiwan themed questions and answers on the big screen ready for the kids to play, and see who was better at Taiwan Trivia.
Mom Tip: These are very family-friendly and fun so that everyone can get involved.
The Celebratory Lunar New Year Themed Pre Show at FlyOver Canada Taiwan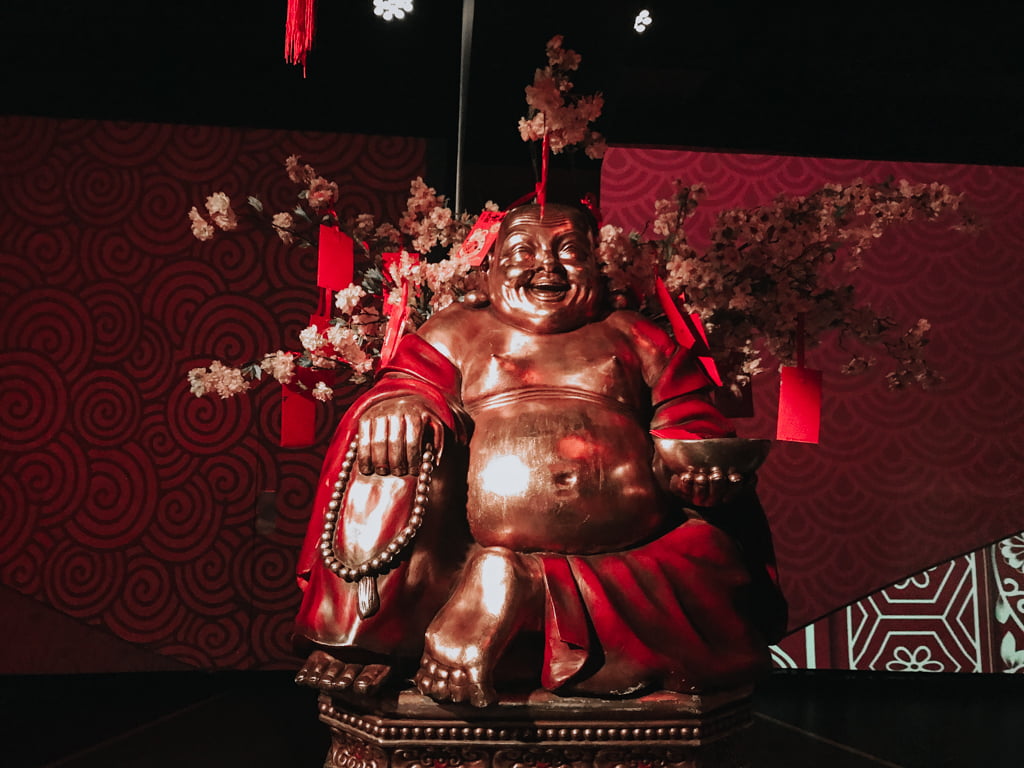 When the doors opened we were the first ones through and welcomed into a transformed pre-flight show. A ceiling of lanterns welcomed us and a friendly Buddha greeted us into the space. After the lights went down it was time to learn about the lunar new year, the history of which it was formed and the traditions and ways that the Taiwanese people celebrate with every year.
Taking Flight at FlyOver Canada Taiwan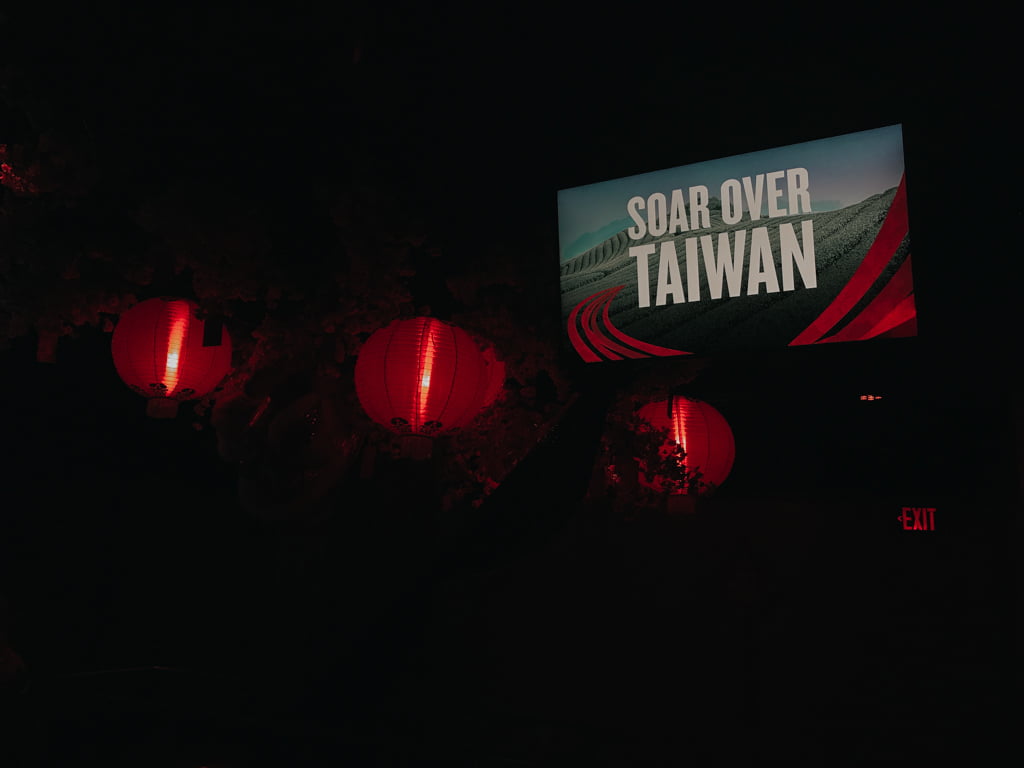 "Please pull firmly on your seatbelt prior to takeoff" and with one more safety check we were strapped in and ready to Soar Over Taiwan. As much as I'd love to pour over the juicy details of the experience, (including the big splashy surprise) the magic in this adventure is not knowing what to expect. I will say keep an eye (and nose!) out for the beautiful cherry blossoms though… it's quite a magical part of the show!
However, I don't want to leave you hanging so here's the official description so you know what to expect. "It's the beauty of Taiwan as seen from above—from the Ruan'an Bagua Tea Farm to the glittering towers of Taipei, see the best of Taiwan from downtown Vancouver. During this special feature, feel the ocean breeze, dive into the water at Green Island, fly over the Yanshui Beehive Fireworks and experience the sounds of bustling cities. Don't miss this first-ever Vancouver showing, on for a limited time."
When is Soar Over Taiwan On Until?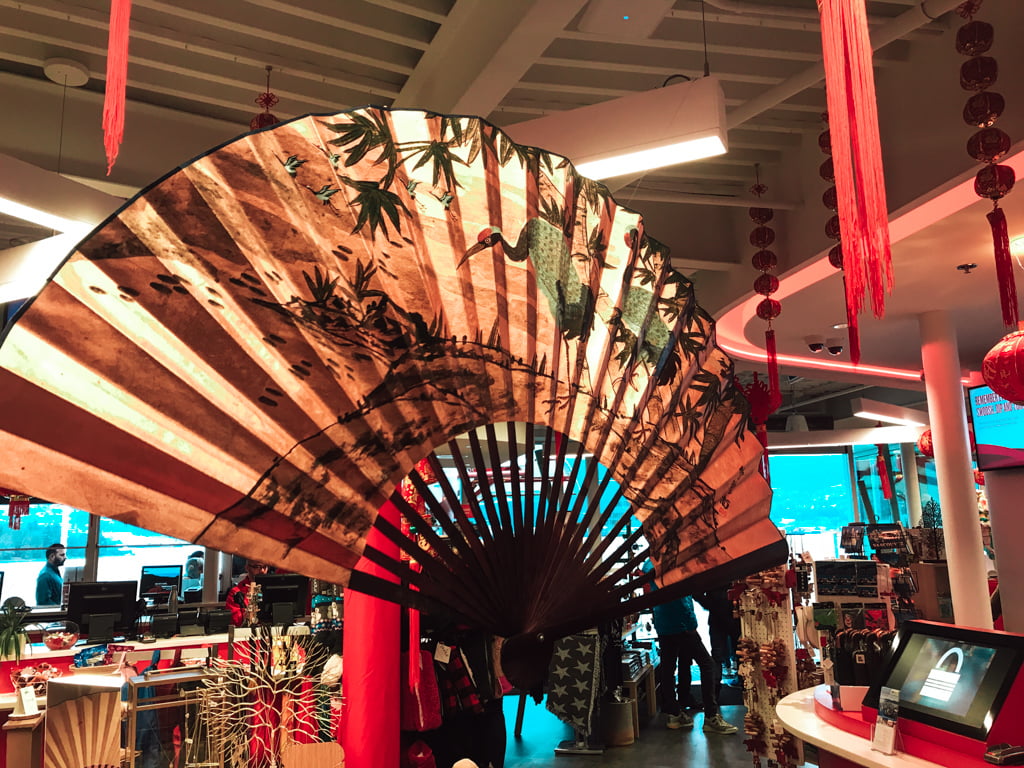 Celebrate the new year and exploring a new country between now and February 17th, 2020. Whether you're looking for a unique way to celebrate a birthday, a long overdue visit with a relative, or would like to explore a new country from the comforts on the city limits, my kids love the ride and the whole FlyOver Canada Taiwan experience!
Where is Taiwan?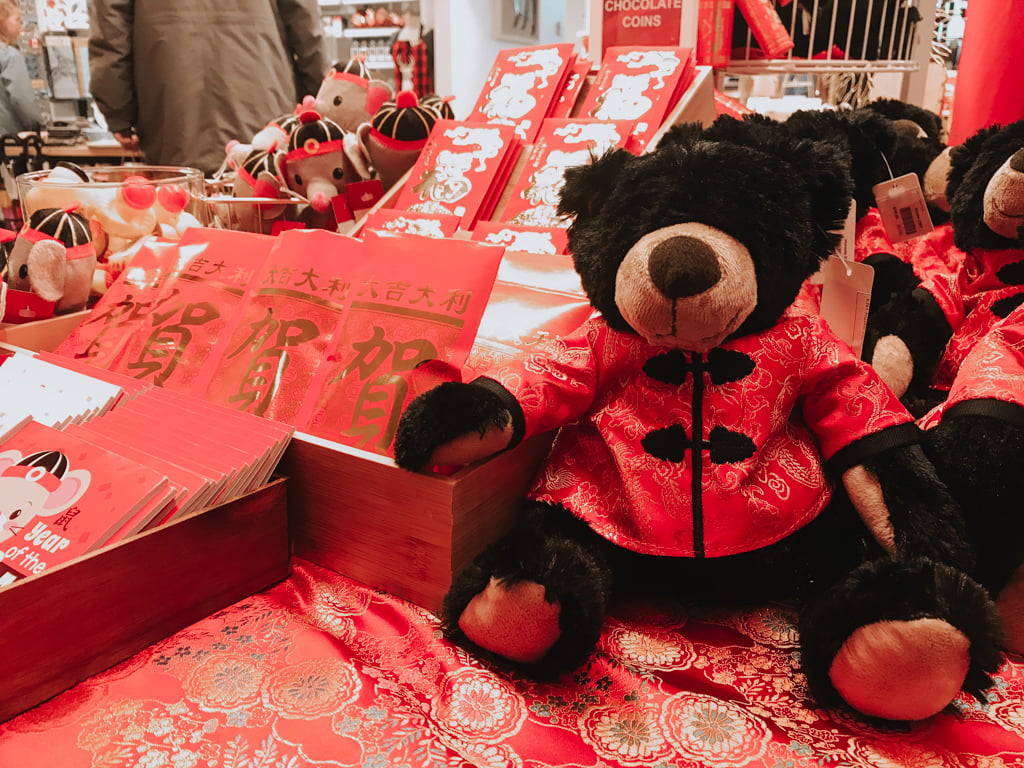 This simple question and so many others came out of my littles mouths as they navigated where this beautiful country was located and what life is like on the other side of the world. And this is the magic of the FlyOver Canada Taiwan experience, from our home in Vancouver we were transported to a new country, being able to feel the water hitting up against the sandy shores, and share in the celebratory fireworks welcoming the new year.
Our world is a small and delicate place and while we are all connected, we tend to be deeply disconnected as our day to day lives and routine settle in.
So pull a cultural escape and explore a new country at Soar Over Taiwan by FlyOver Canada.
---
The Vancouver area has a plethora of activities for families! Check out these articles for inspiration.
Is this a sponsored post?: While we were compensated for our visit to FlyOver Canada's Soar Over Taiwan experience, all of our thoughts and views are our own.